At the end of May, we were prepared to hit Snow Summit bike park in Big Bear for their season opener over Memorial weekend. Mother Nature had different plans though. Instead of warm and sunny weather on the mountain, there was snow on the trails and the top of the mountain was in the 40's during the day. We don't mess around with cold, crappy weather so we decided to head to Utah instead where the forecast for the weekend was 75-80 degrees. Although there wasn't a chair lift assisted bike park where we were going, the good weather alone sound much more appealing.
Quail Creek State Park
We casually arrived in Utah mid-day on the Saturday of Memorial weekend. Like many of our "advantures", we didn't have much of a plan. I was feeling a little tired after the drive from Vegas so we decided to stop off at Quail Creek State Park. We just wanted a nice place to chill with a good view. I spotted a parking lot down near the water that looked perfect for hanging out in the van. We walked down to take in the view. The day couldn't have been nicer.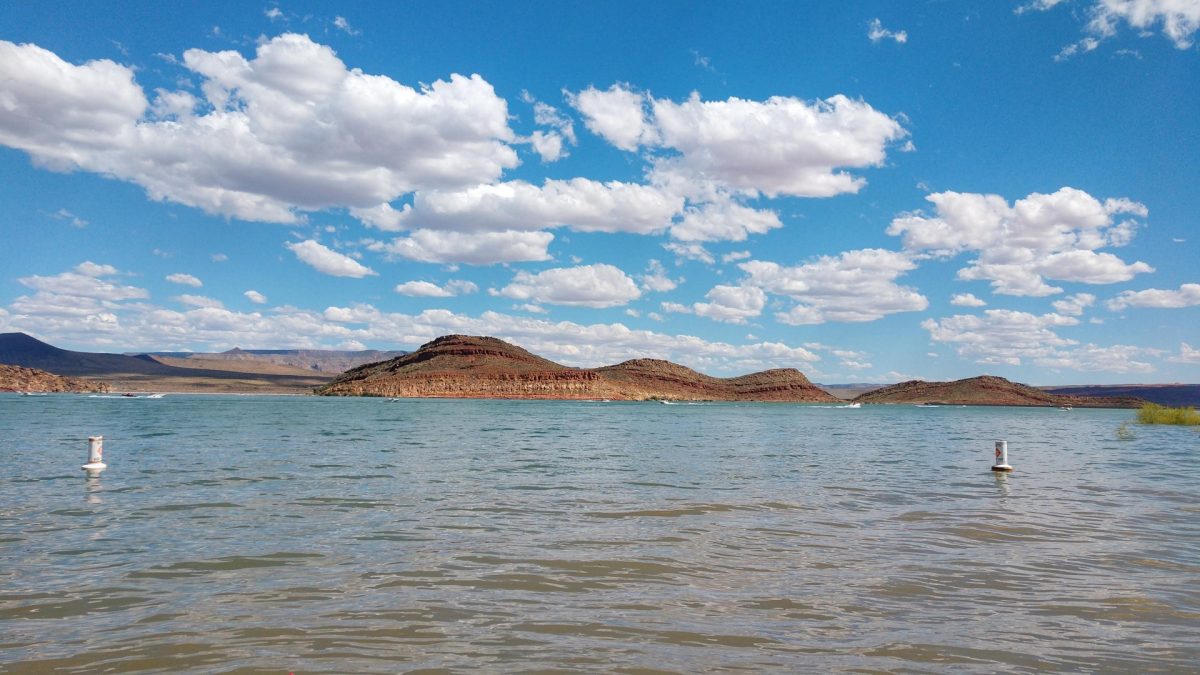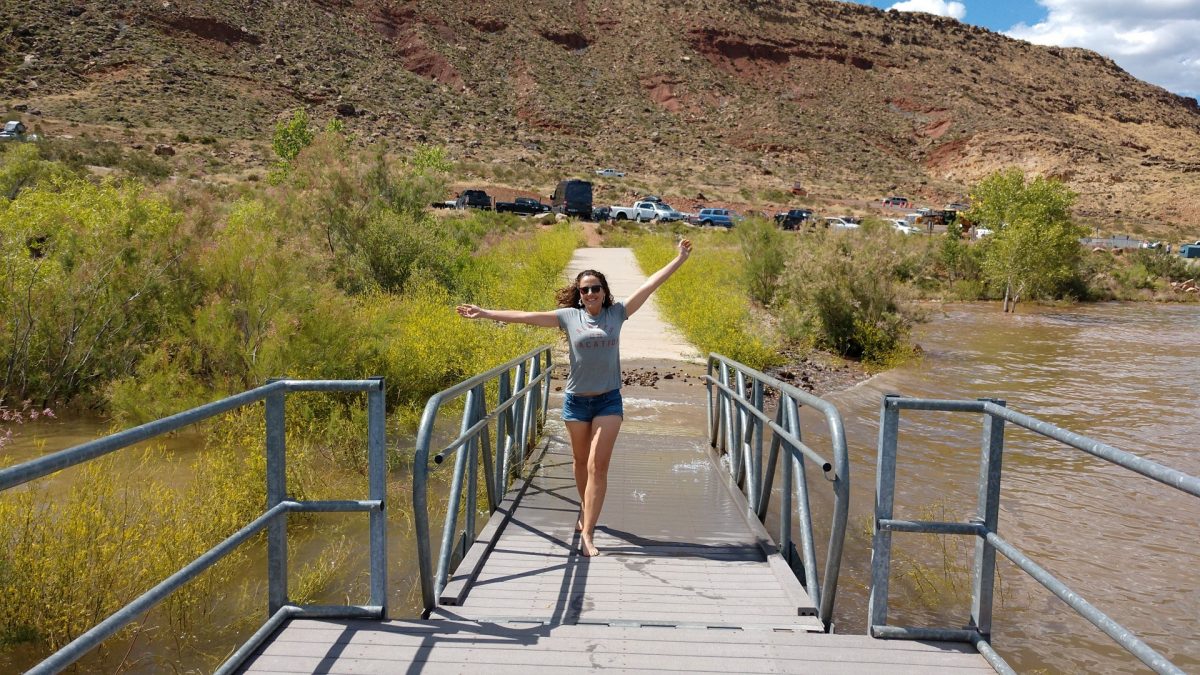 Back at the van, we kicked open the back doors and kicked on some music. We had the platform bed set up for this trip since we were bringing the mountain bikes. This was the first trip since installing the rear door storage nets as well. They proved to be very useful!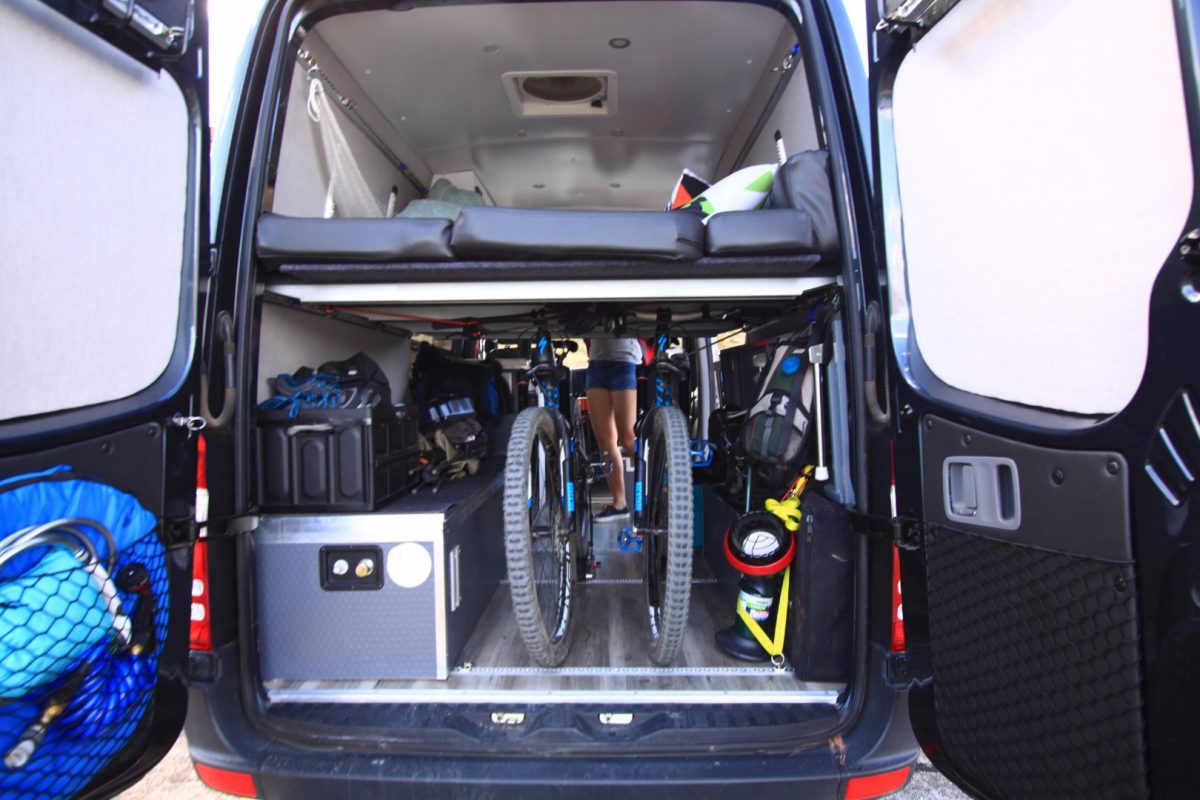 I cracked a beer and we just lounged in the van enjoying the gorgeous day.
I'm not gonna lie. We got pretty lazy and wasted away the day for the most part. That's ok though. We never put too much pressure on trips like this. We bring our bikes for when we feel like riding. We also bring beer for when we just want to relax and appreciate not being at work. Today was a relaxing day. We hit up a gas station for a couple more snacks and supplies, then we headed to Hurricane Mesa to scout out a camp spot for the night. The great thing about Utah is there is no shortage of places to camp for free with some pretty epic views.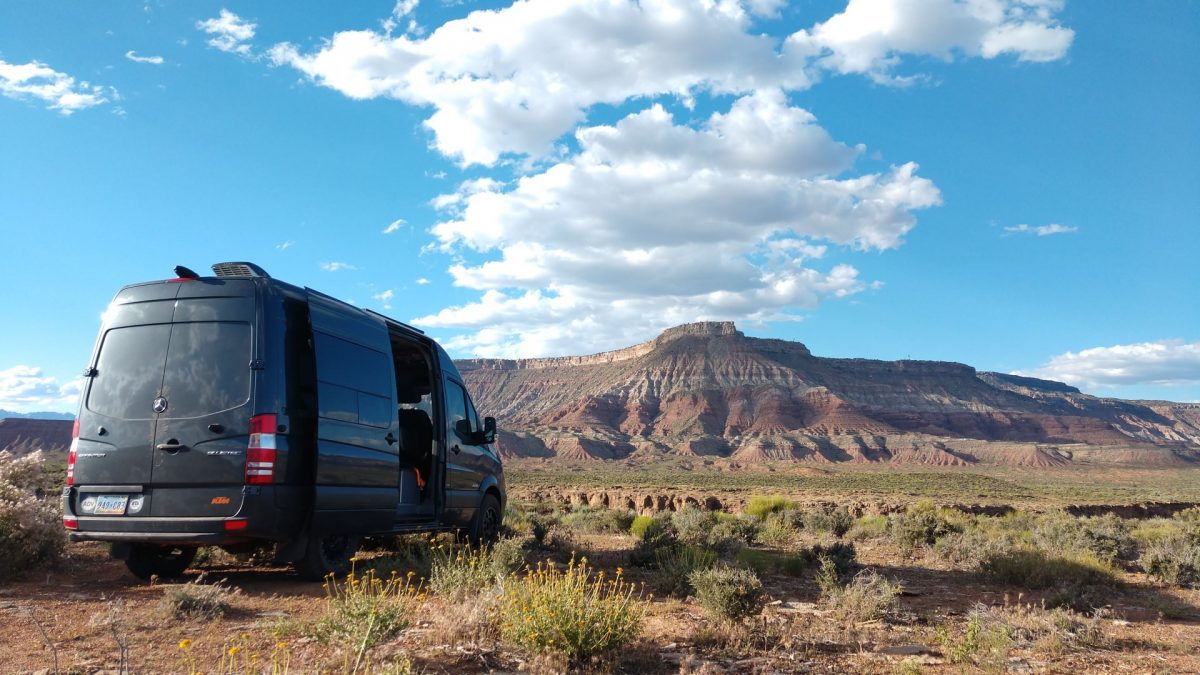 Time For a…HOT Foot Bath?
Anna was feeling like a nice, hot foot bath so we kicked on the water heater and filled up one of our plastic storage totes. Why not right?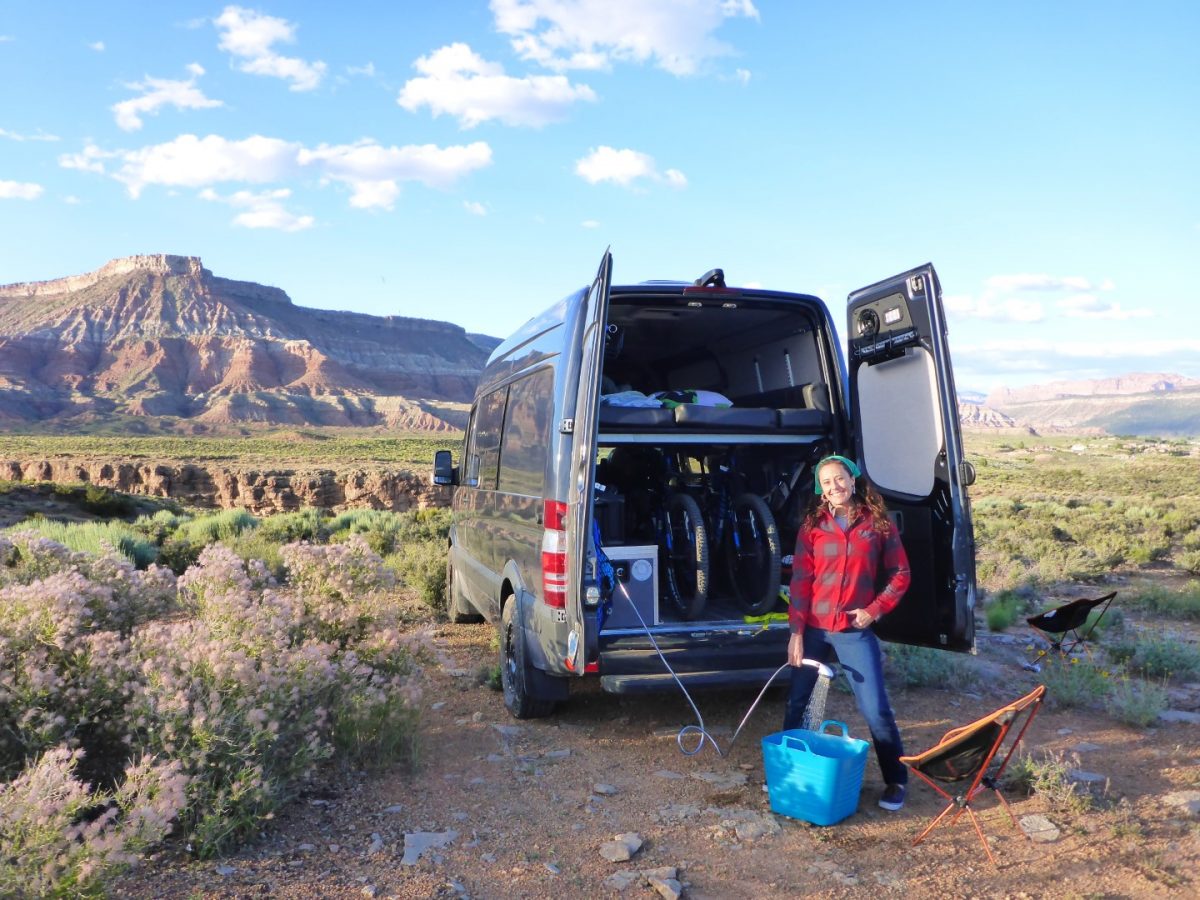 Water Heater Tech Info
Our water system uses a 4-gallon electric, Bosch water heater. Running it through our 2000W inverter, it takes 10-15 minutes to heat 4 gallons of water.
It pulls a load of about 125-130 amps when it's on and it uses about 40Ah of our battery capacity which is usually replenished the next morning thanks to our solar.
We run one 200aH Renogy AGM battery with two 6-volt Trojan AGMs under the hood.
It worked out great. How fancy do we look?  😆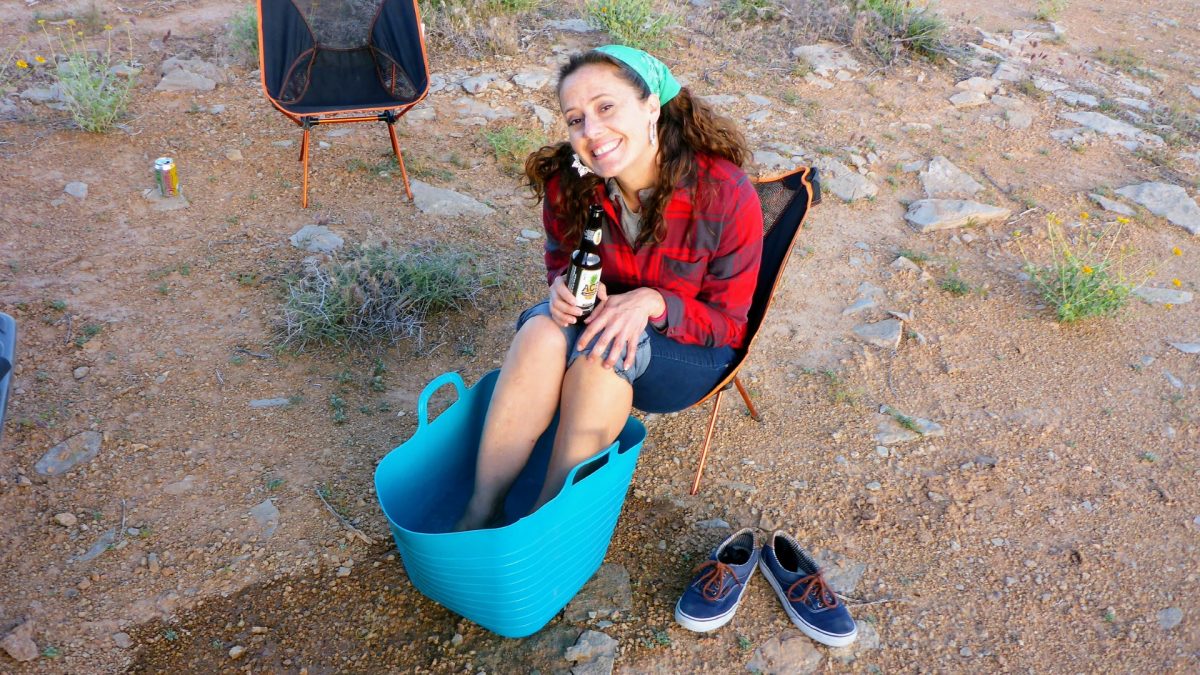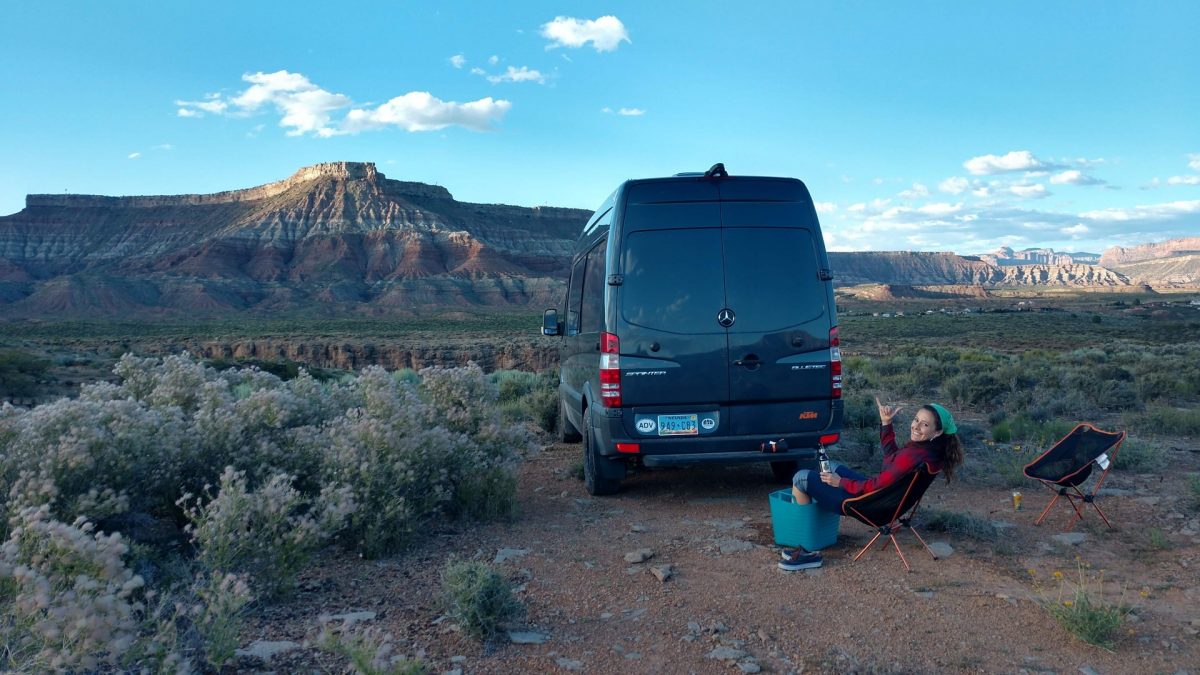 Hurricane Mesa Camping
There are tons of places to camp on Hurricane Mesa accessed from the 59 or the 9 via Sheep Bridge Rd.
Dinnertime
Once the sun went down, we decided to pan fry some steaks on our little Gas One stove. We normally don't cook fatty (smokey) foods in the van, but it was a little more buggy outside. The only things I have ever cooked on this stove has been breakfast food so this was going to be a good test of it's claimed 15,000 BTUs! I gotta say it did get a little smokey when those steaks were cooking up, however, we had the CRL windows
wide open (with screens) and had our MaxxAir vent fan on high. It did a great job of keeping the smoke flowing up and out of the van, but what really helped was placing our little rechargeable fan next to the pan to help direct the smoke immediately up to the roof. It's little vanlifehacks like this that I love discovering.
The next morning we had some coffee and a healthy breakfast to get the day started. Whenever we plan on pedaling or doing any sort of heavy exercise, we like to keep it fairly light. We avoid greasy, fatty foods so we get the most out of our ride. These Backpacker's Pantry
cereals are great. They are more than enough to feel full and taste good for being freeze dried food that you just add water too.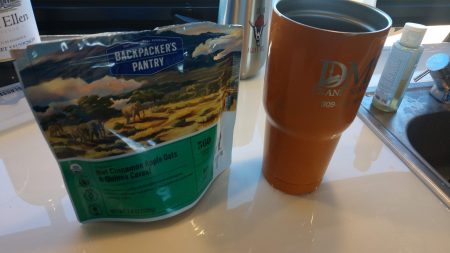 Let's Ride!
We got geared up and hit the Jem Trail. It's a nice singletrack trail that winds across Hurricane Mesa and also borders the edge of the canyon looking down at Virgin River below. The Mesa is relatively flat with just some fairly gradual hill climbs, nothing too grueling. Since it was Memorial weekend, we saw several others on the trail that day. It was pretty busy out there, probably because this is one of MTB Project's featured rides and there was some awesome weather.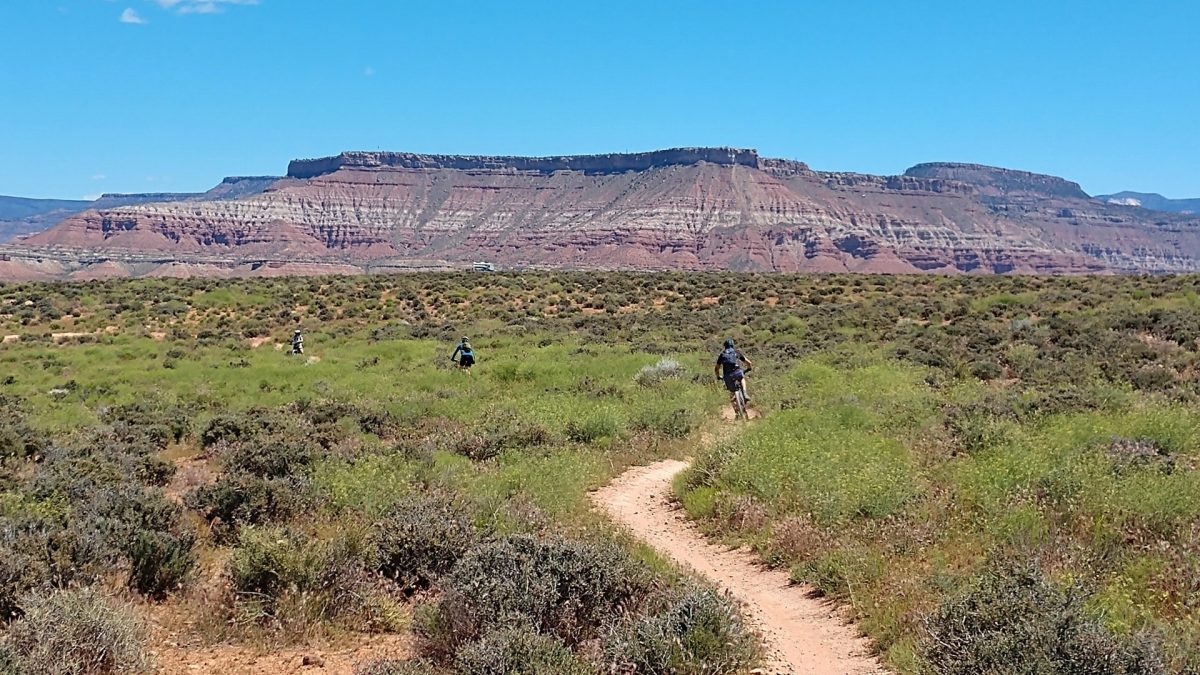 Jem Trail
The views on this trail do not disappoint.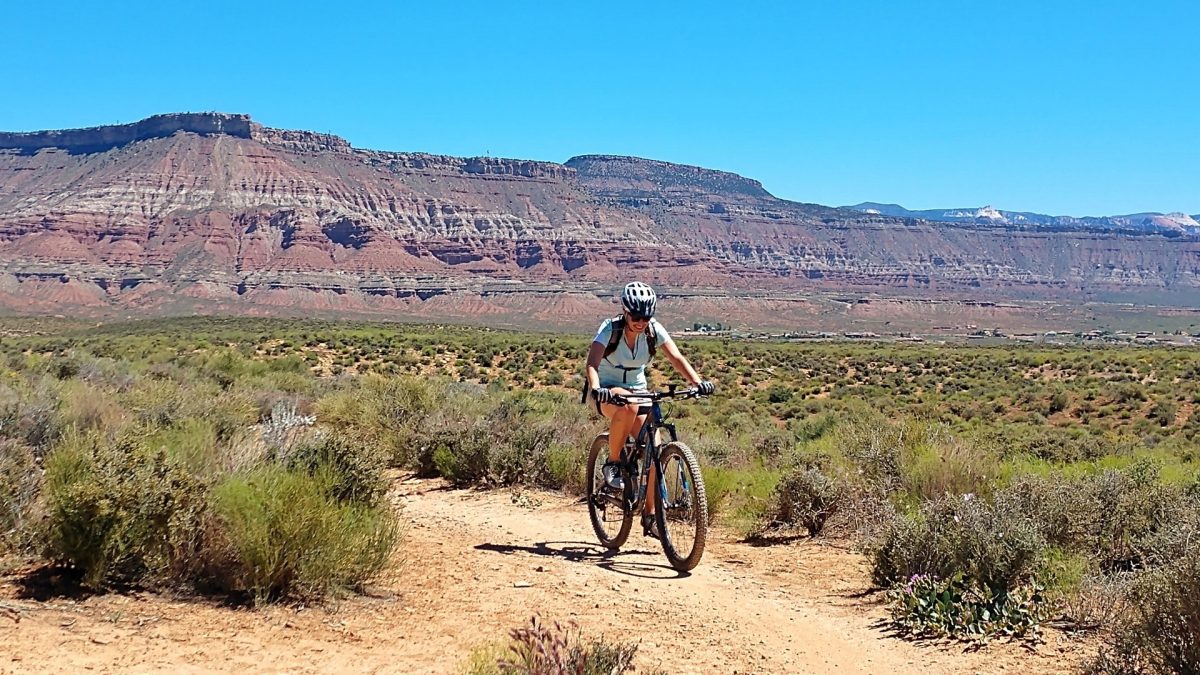 As we got toward the south end of the Jem Trail, we cut over to Goosebump. The Jem Trail and Goosebump trails together for the Goosebump Loop. I highly recommend this for a moderate pedal with some fun and flowy sections.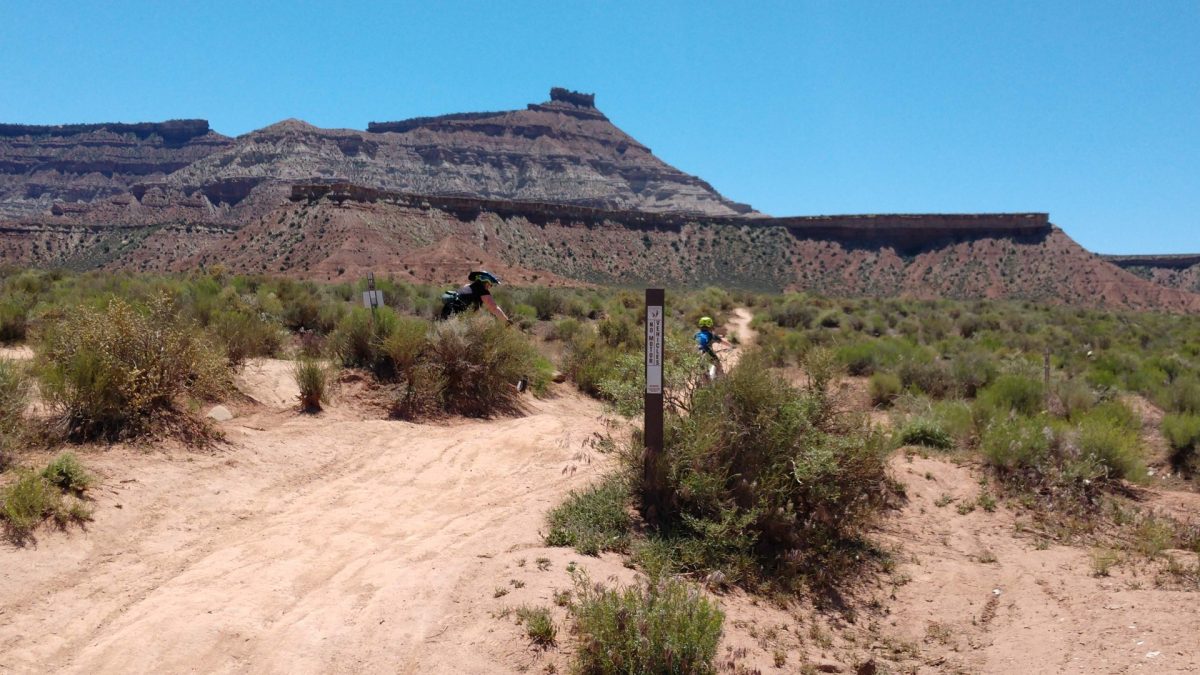 Goosebump follows the bottom edge of the mesa. The views never get old.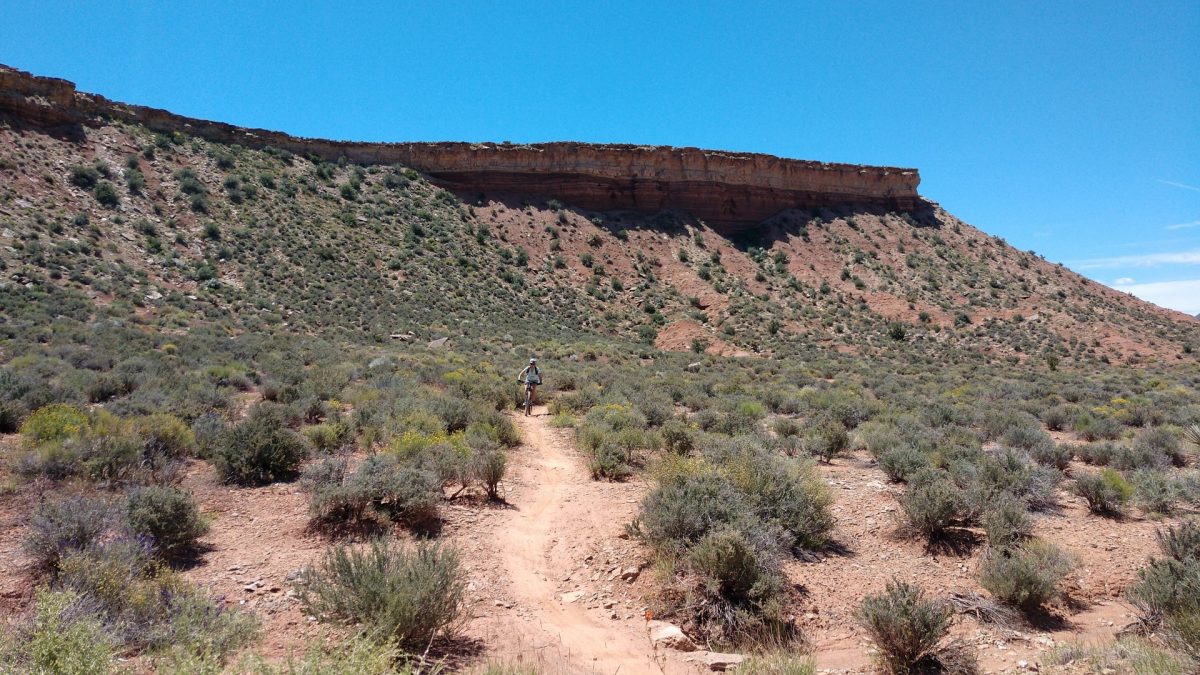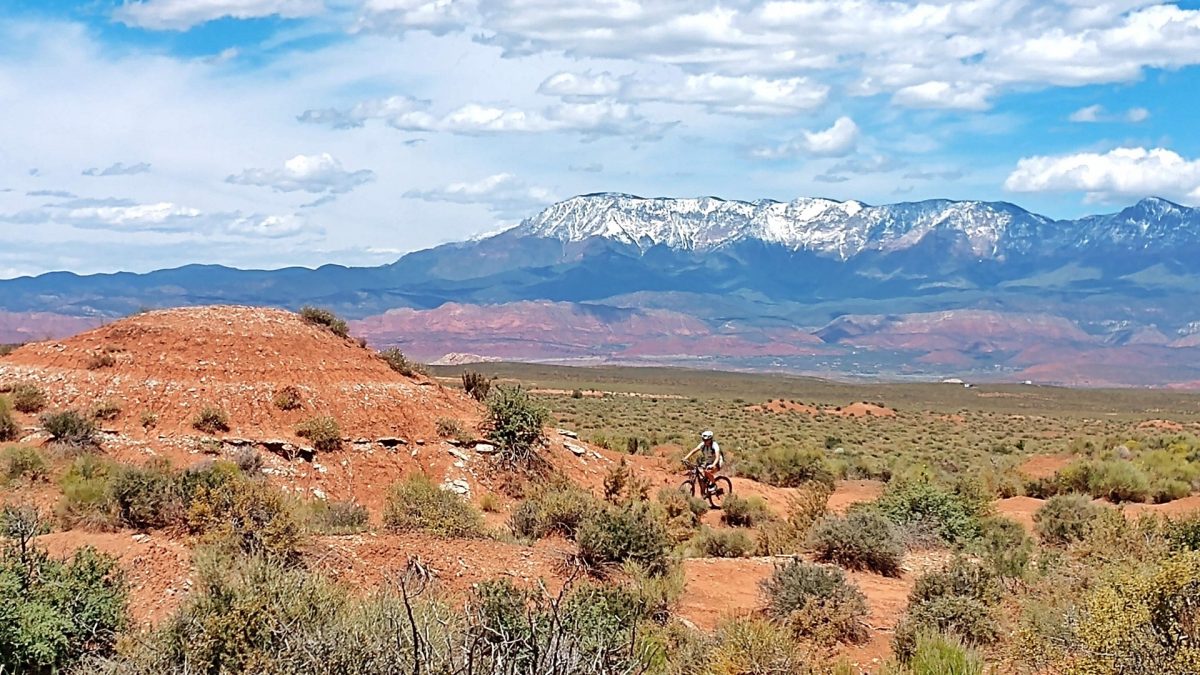 There are a couple of short climbs and then it gets fun and technical following the wall of the mesa coming back. It's a bit of a roller coaster ride!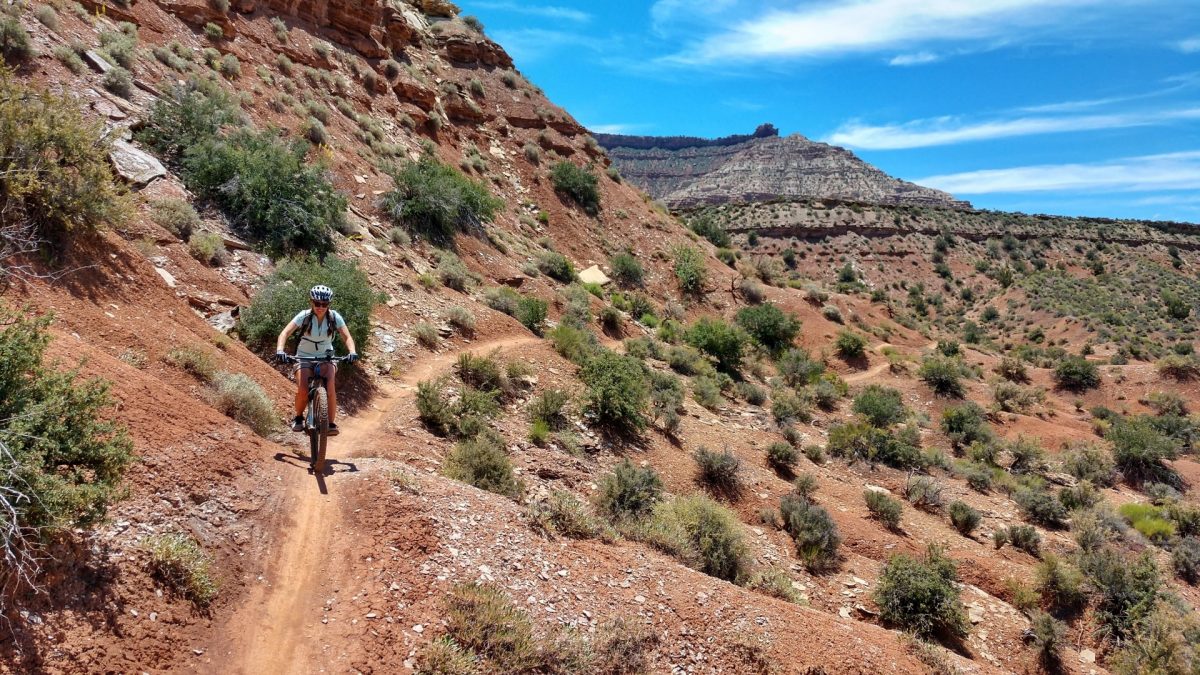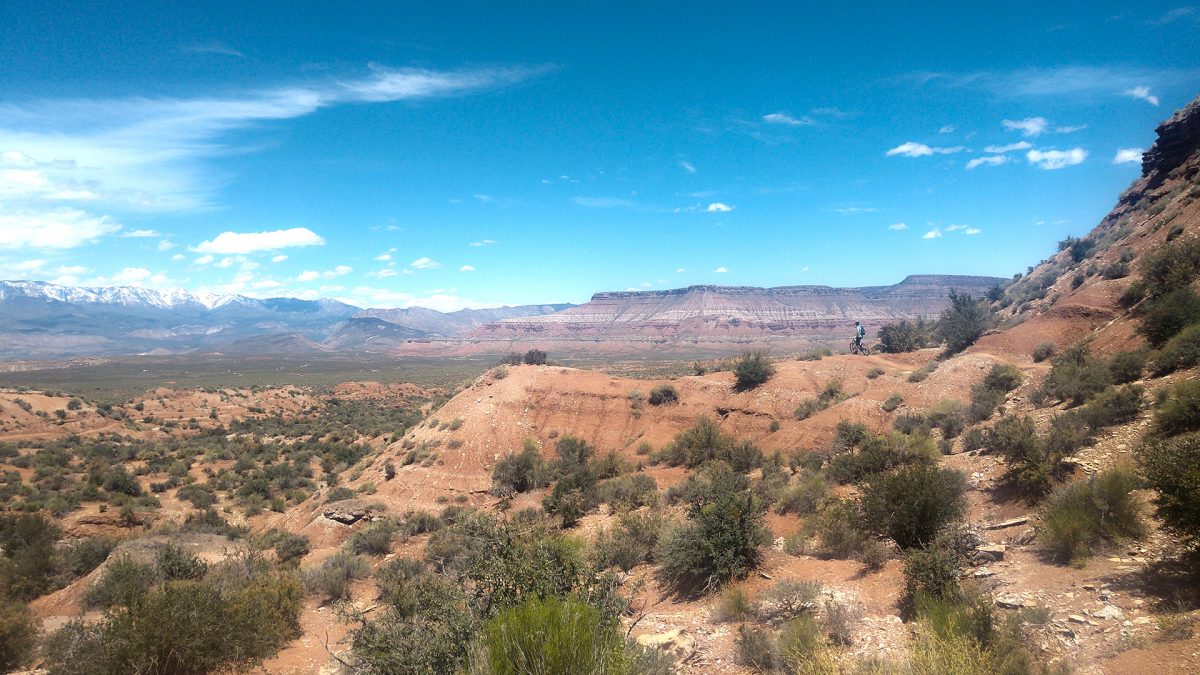 After we were done riding, we sat and chatted with a couple from Ogden. We all threw back some beers chatting about the van, mountain biking and life in general. It's always great connecting with others that are into the same stuff. They were thinking of picking up a Sprinter van soon so they had a lot of questions and I, of course, had lots of input.
When we were done killing a few hours of the afternoon, we parted ways and decided to go check out Grafton because we wanted to hit the Wire Mesa Loop. As we drove up the rugged road to the trailhead, the weather did not look like it was going to cooperate. I just wanted to get a feel for the area and then head back into town for a burger and that's exactly what we did. The area at the top of the mountain looked great for camping and the trails/ terrain looked intriguing. After a quick scope out, we jammed into town. By the time we ate and headed back up to the Wire Mesa area, the weather had gotten got worse. There were some ominous clouds overhead and it definitely looked like rain. Since the Utah dirt (clay) turns to slippery snot when it gets wet, we decided to stay at the bottom because we didn't want to go sliding down the mountain on the way back. Those hills were pretty damn steep. It's not something you want to tackle with a 9-foot tall van. We pulled into a camp area just off the road and found a perfect little level spot to park our van for the night. Sure enough, it began raining late in the night. It woke us up, but thankfully my earplugs helped me go back to bed.
Wire Mesa/ Smithsonian Butte Camp
In the morning, we woke up to quite a bit of rain. It was really wet outside so just I made some coffee on the Jet Boil
and french press and kicked back for a bit
in front of our Little Buddy Heater
.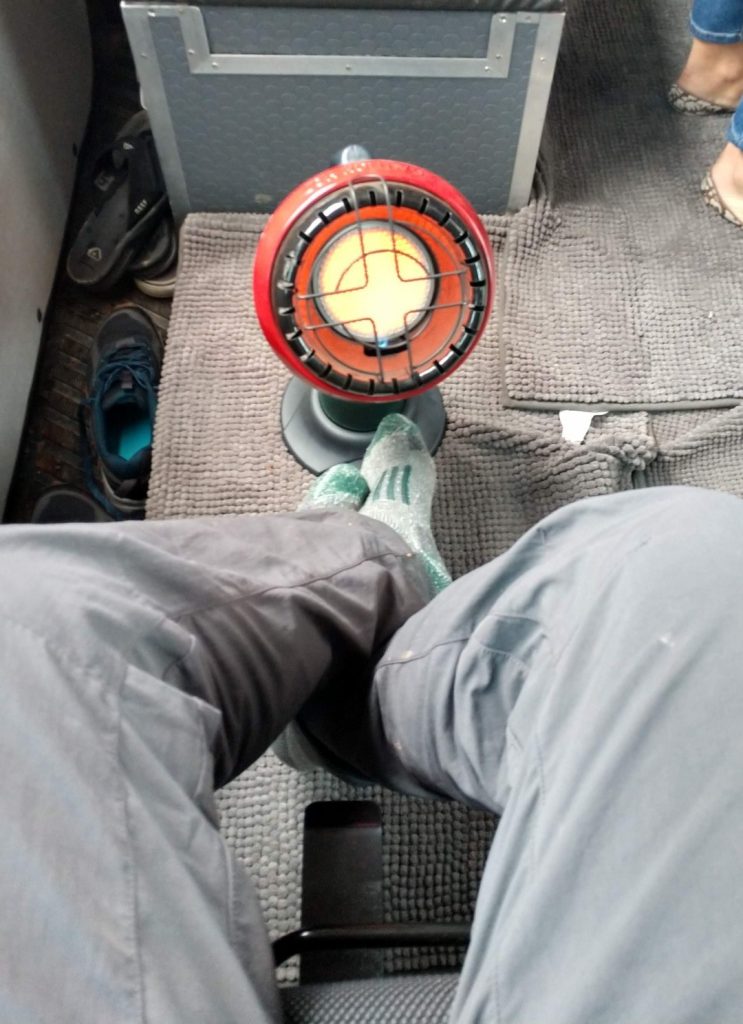 Once the rain subsided, I walked up the road for a pic and it reassured me I made the right decision to stay at the bottom. I was slipping and sliding in the mud even on foot. The view was incredible though with Zion in the background.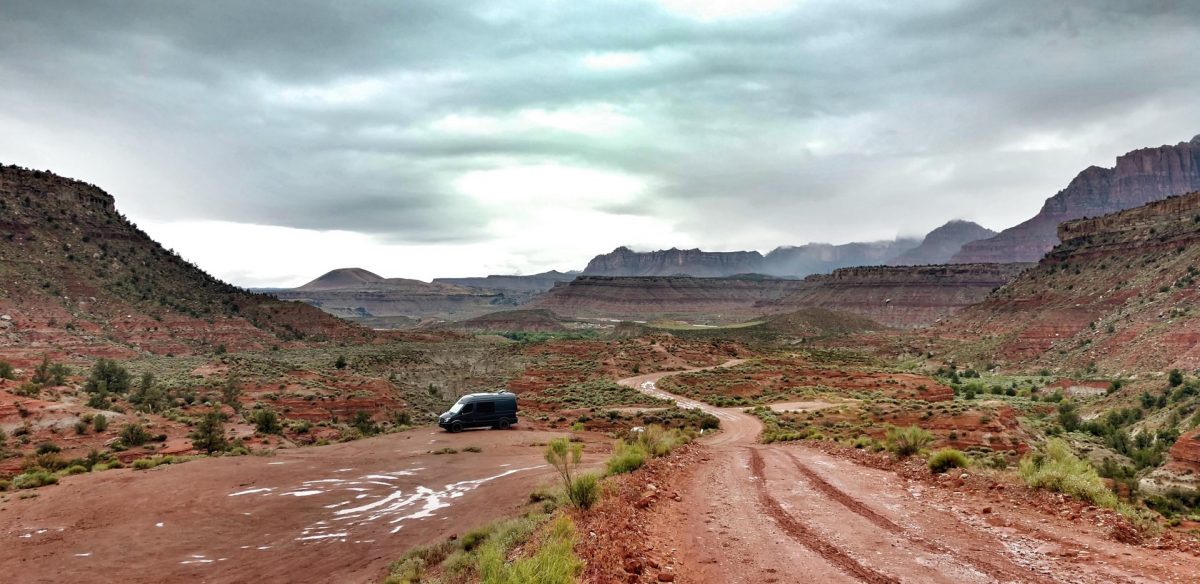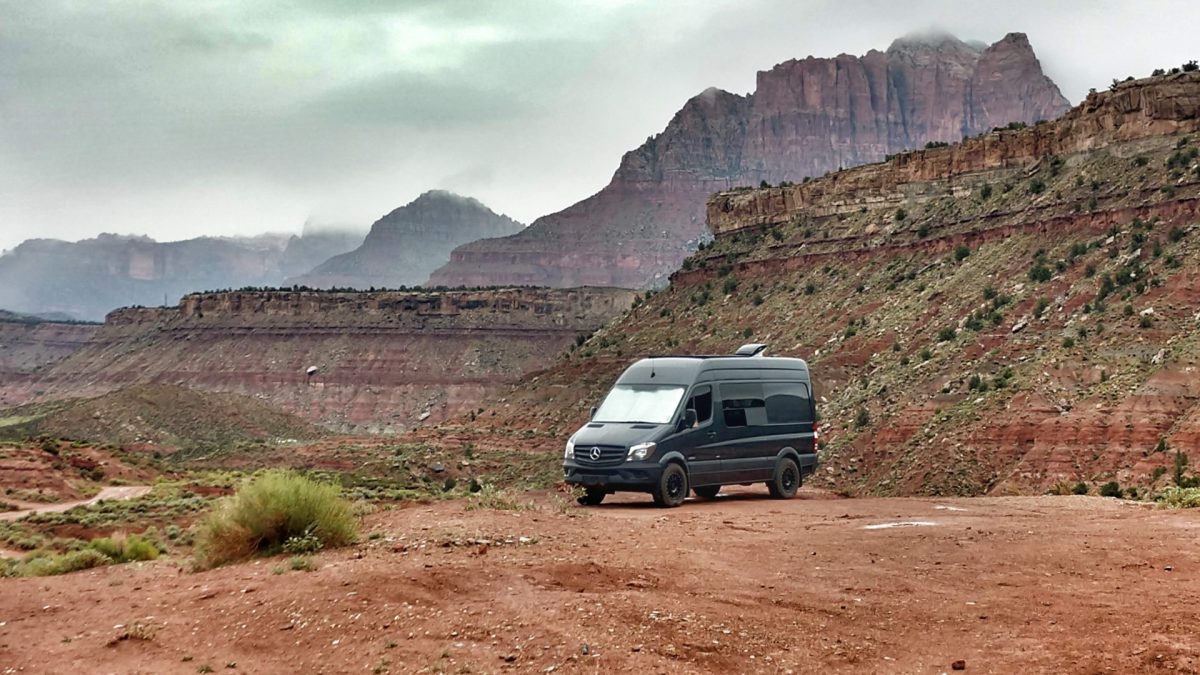 Since the rain made the roads so nasty, we decided the Wire Mesa Loop wasn't going to happen on this trip.  🙁  The trails would be soaked anyway. So we decided we'd go exploring and cross our fingers that we could make it back to the main road. The van was getting crossed up and sliding all over that road going down some of the hills. There was definitely some pucker factor at one point, but we made it to the road ok. I was glad we had good tires. The stockers wouldn't have cut it.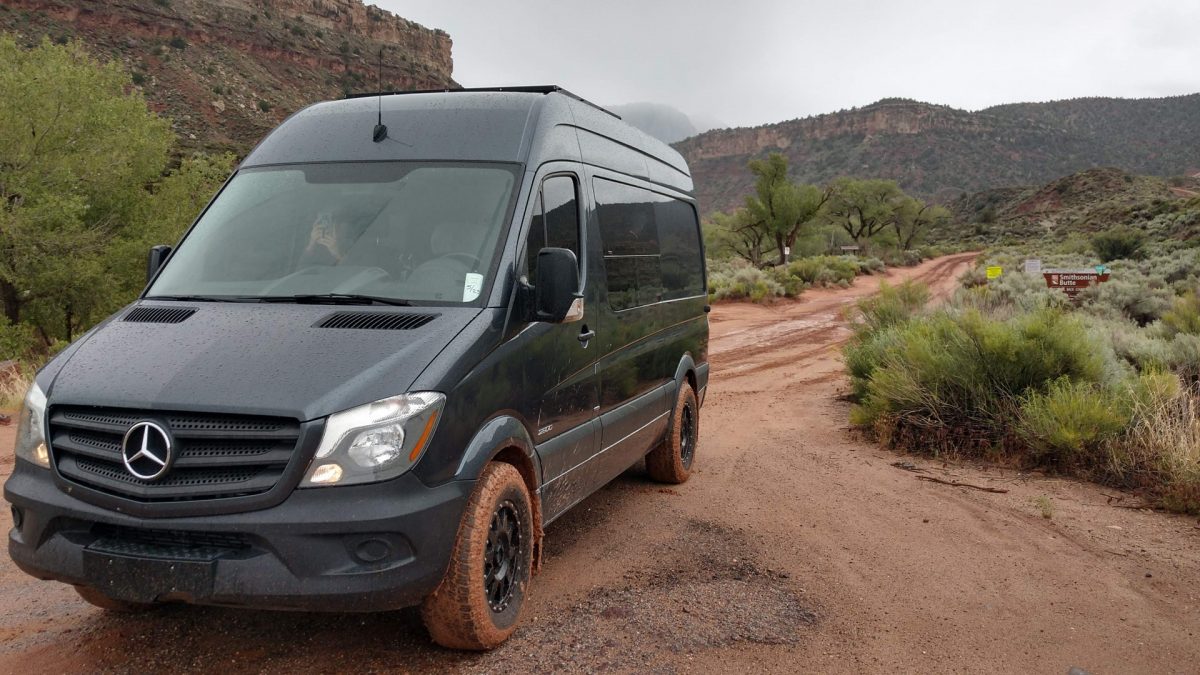 Since we were in the area, we figured we go scope out Grafton Ghost Town. On the way in, we stopped off at the Grafton Cemetery. Many of the headstones dated back to the late 1800s.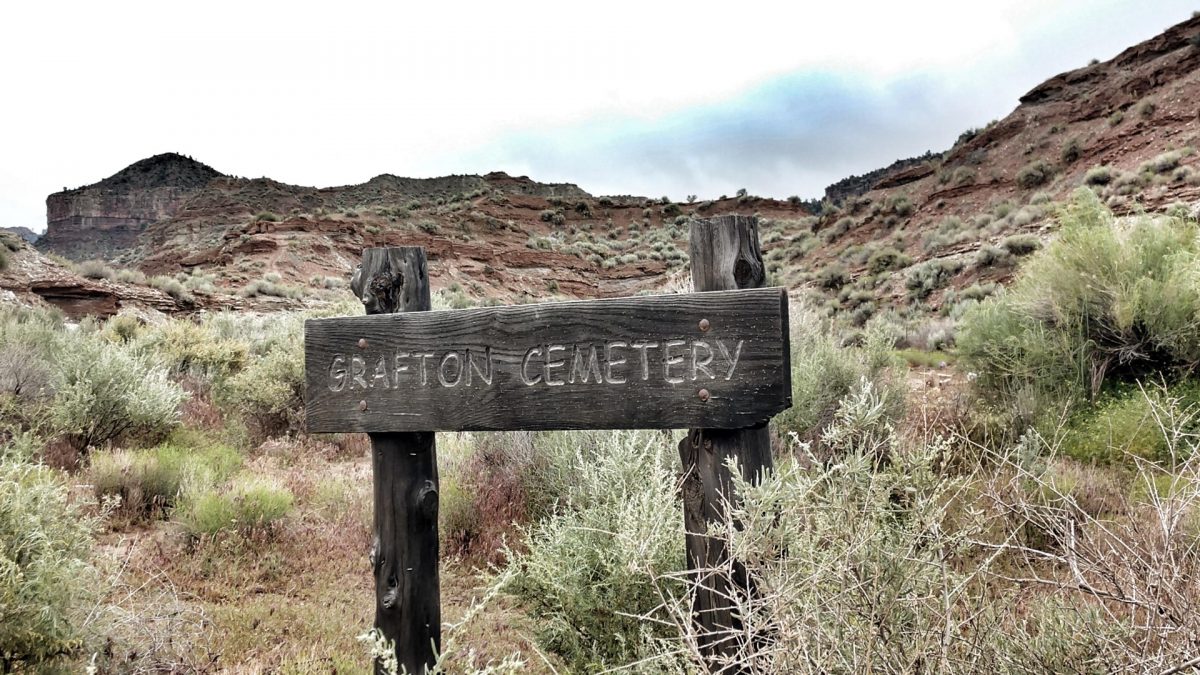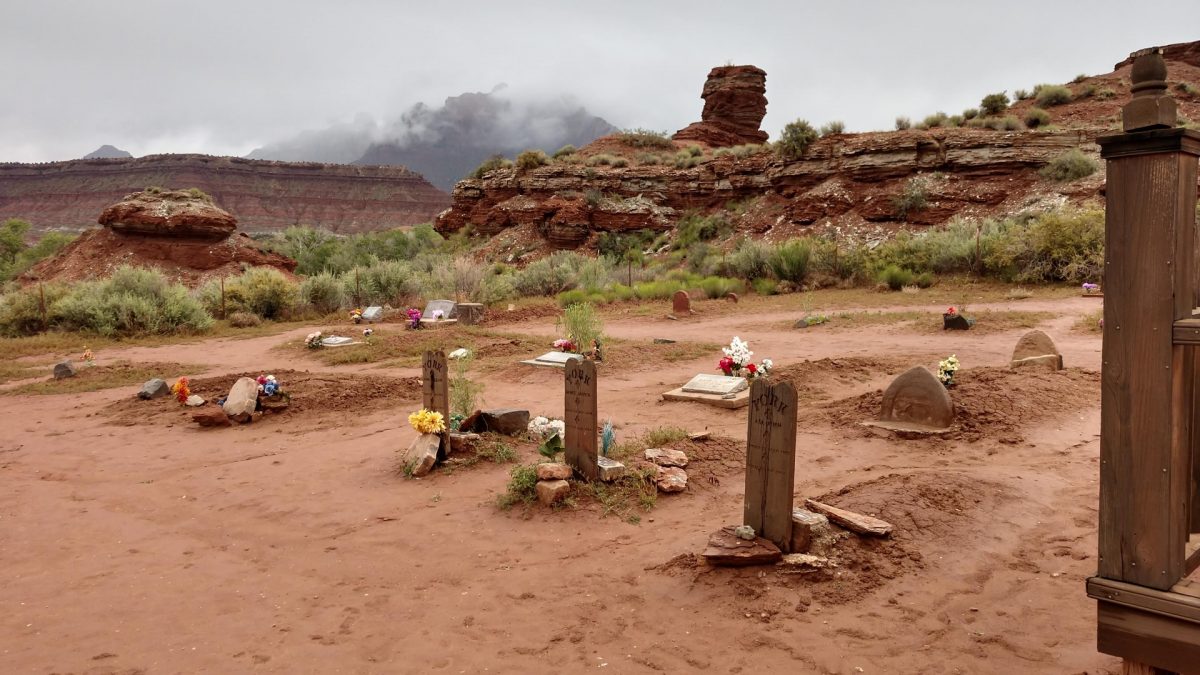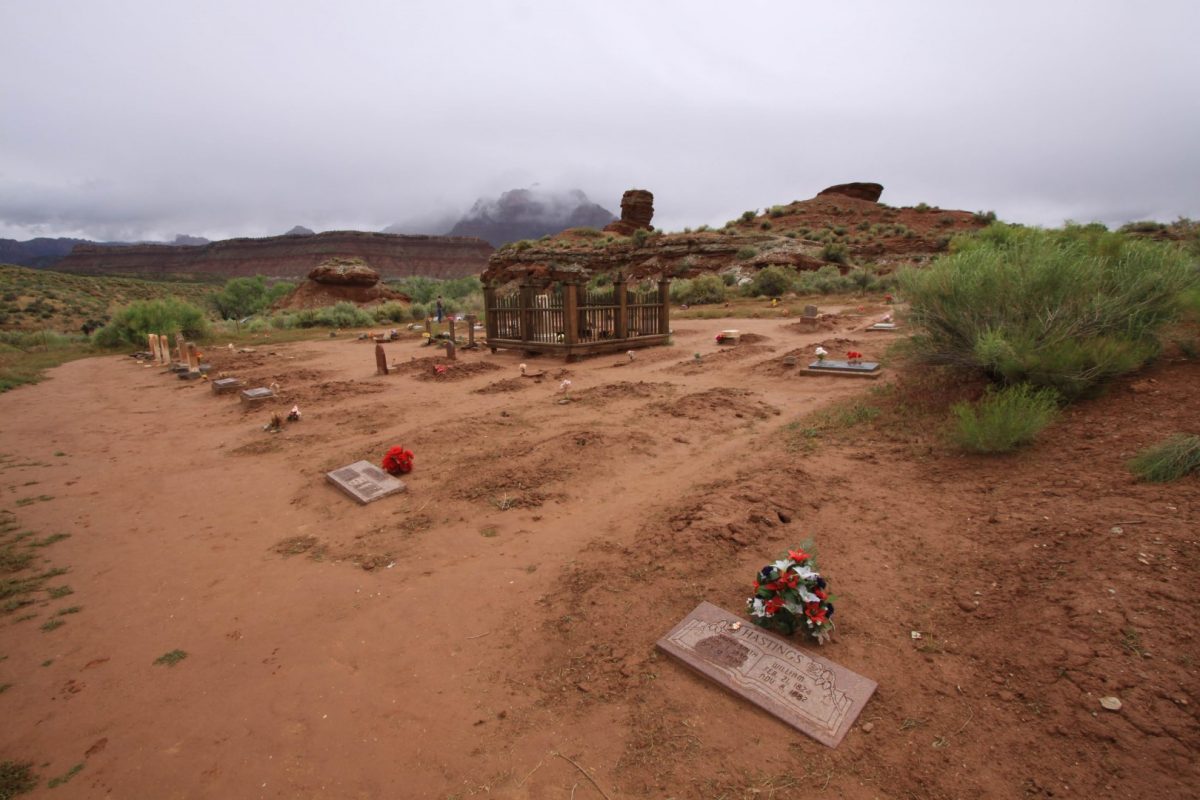 Just down the road, we came upon Grafton Ghost Town, one of the most photographed ghost town in the west. It's where Butch Cassidy and the Sundance Kid was filmed. Much of the town and buildings have been refurbished, but they still retain their original appearance and building materials.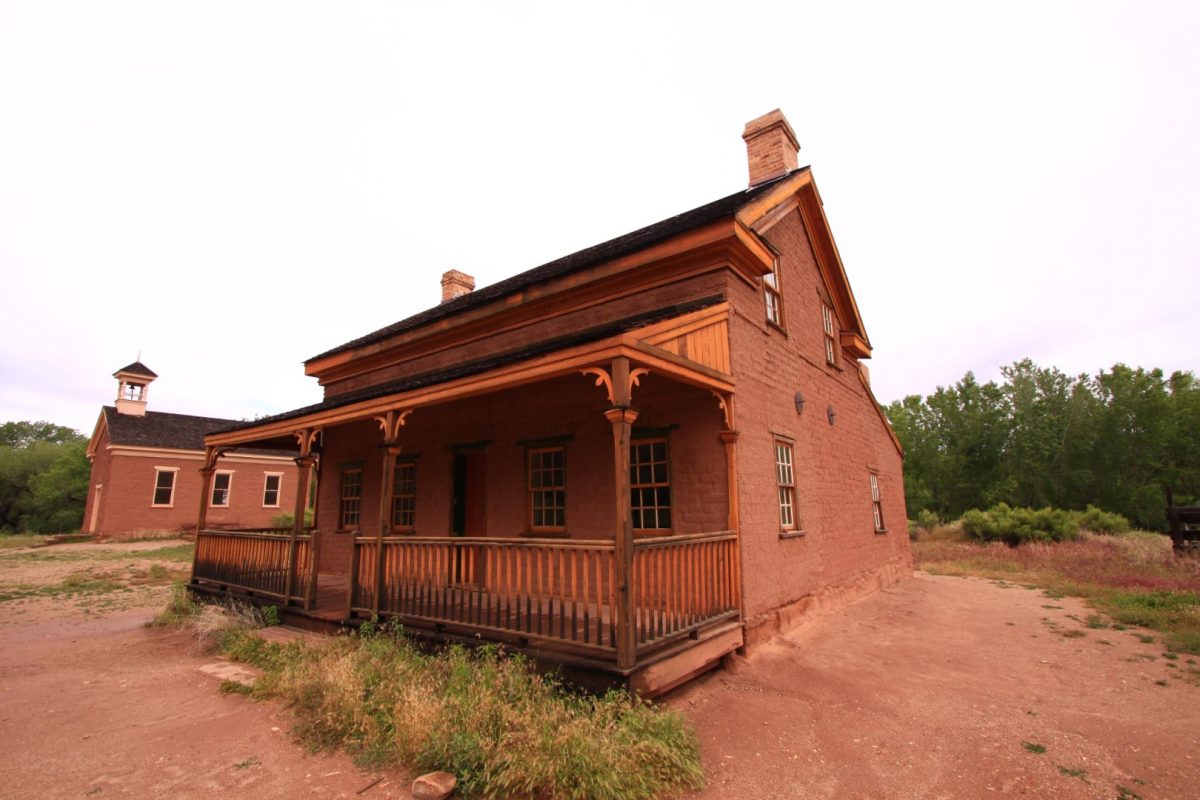 After the ghost town, we figured we'd make good use of our national parks pass and head into Zion.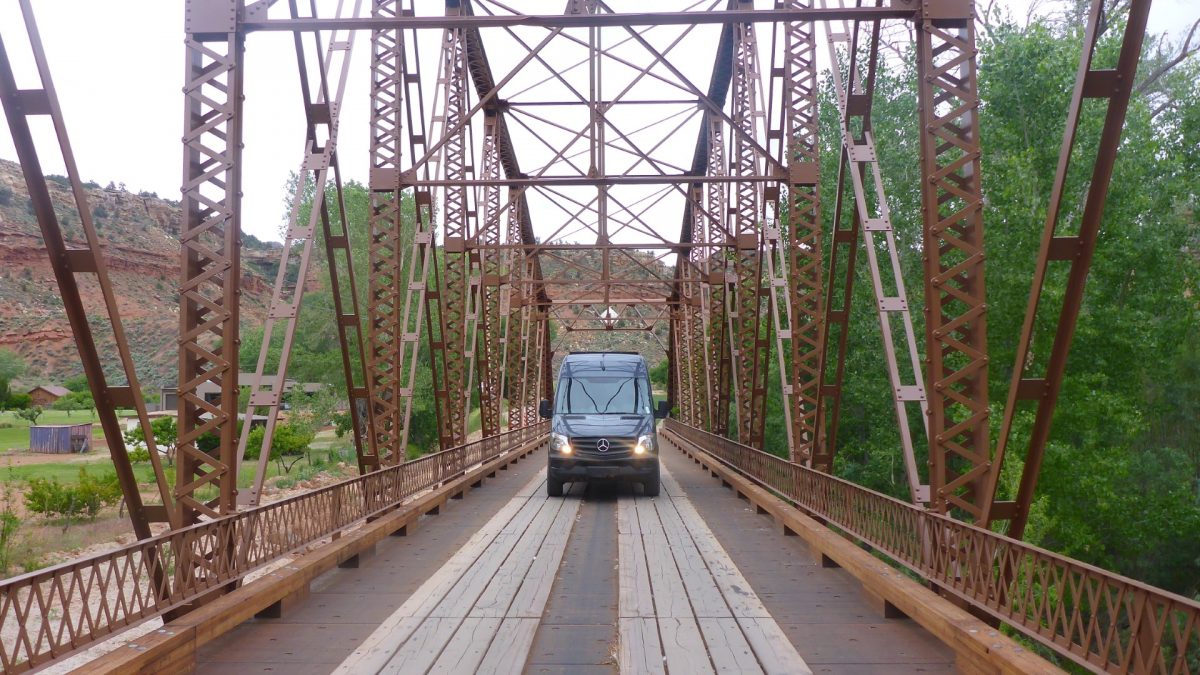 We had a great lunch at Oscar's Cafe outside on their patio. I highly recommend that place. Afterward, we stopped at a little park to walk the Virgin River in the rain. Bad weather is always the best time to visit Zion. It's empty!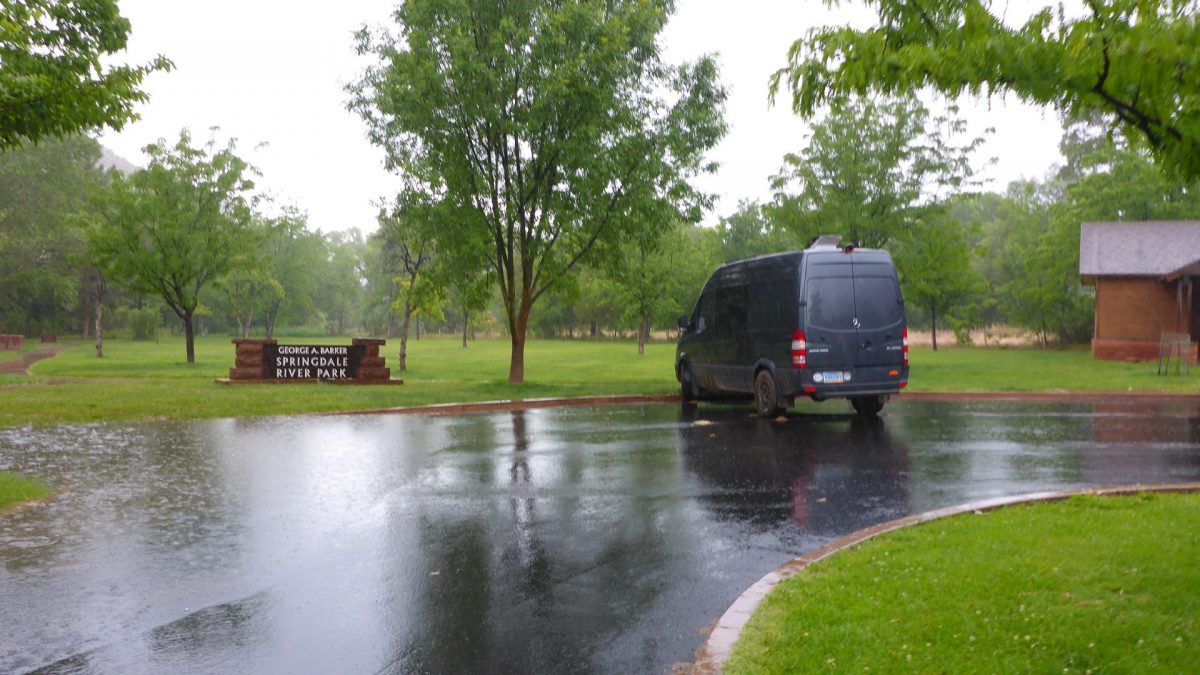 The Virgin River was raging from all the snow melt and recent rain!
After the park, we took the scenic drive up and through the tunnel to do an easy, scenic "beer hike" near the road.
Utah is always a great, easy getaway destination for us. From those killer mountain bike trails to the amazing views of Zion, there's always so much payoff for the short 2.5-hour drive. Although we were looking to enjoy some mountains this weekend, this was just we wanted. We'll hit some higher elevation in June! Stay tuned for more of our summer advantures.
Comments
comments