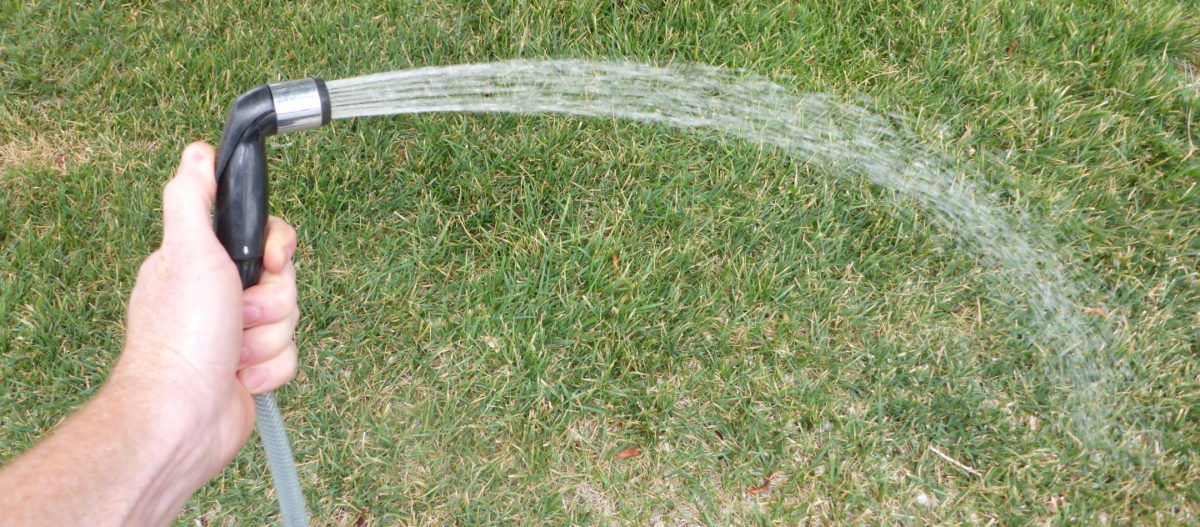 Whether you are out on a hike, shredding down a mountain on your bike, or just want to freshen up before going to bed, some form of shower is required when camping without an RV. You can be a minimalist camper without smelling like a dirty hippie! I recently built this outdoor shower sprayer after finding the idea on YouTube. I've found it to be extremely useful not only for showering and rinsing off, but for cleaning the Jetboil, utensils, and gear.
1. Buy a NEW garden sprayer
I went with a basic, grey, 2 gallon sprayer. I tried to avoid the brands that look like bug sprayers or were vibrant colors. You might get some funny looks with "Roundup" printed on the side of it.
Note: Do not try to rinse out an existing sprayer unless you like smelling like bug spray or fertilizer. That would be bad.
Remove the sprayer attachment. Many of these sprayers have a small hose and filter for the pickup. Remove them both so you have just the large hose as a pickup reaching the bottom of the tank. This allows you to spray a larger volume of water at once.
---
2. Buy and attach a kitchen sink sprayer with hose
Some kitchen sprayers, like this one pictured, come with a hose. Others use a kitchen sink sprayer hose that plugs into the bottom of it. You will find the hose near the sprayer in the plumbing section of Lowes or Home Depot. Since I'm tall, I purchased 2 and joined them together with a barb union to have enough length to stand up and shower.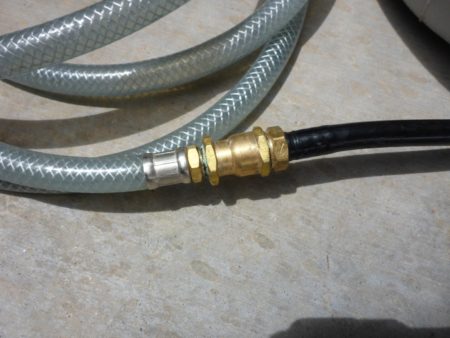 ---
3. Attach the hose to the sprayer using a barb fitting or union.
Depending on what kind of sprayer hose you end up buying, you are going to need to attach it to the sprayer hose. I used clamps on the barbed end so the fitting doesn't leak when fully pressurized.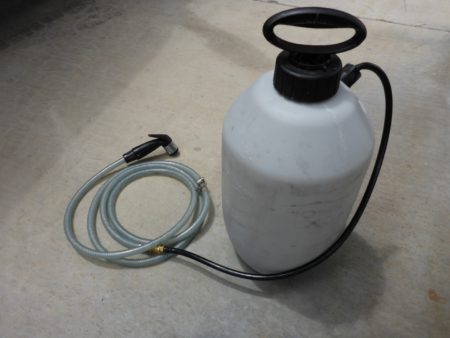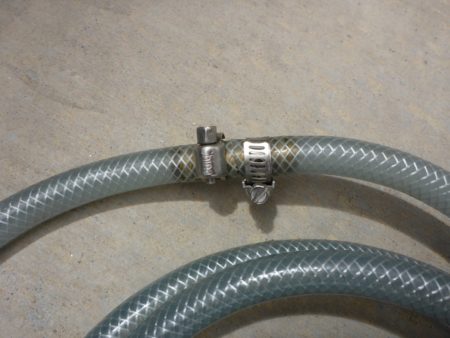 ---
4. Fill with water, pump it up, and enjoy!
There's nothing better than a good rinse after a hike or ride. You can use it to wash off your gear or bike too.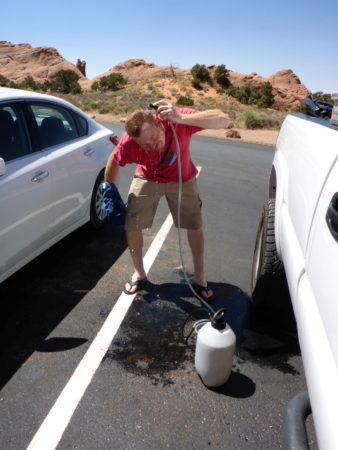 ---
Tips
I use a seal-able and locking bucket in bear country to avoid getting odors on the ground. Bears are attracted to all scents. I use this bucket like a grey tank in a motorhome. This also leaves no trace or environmental impact where you are visiting.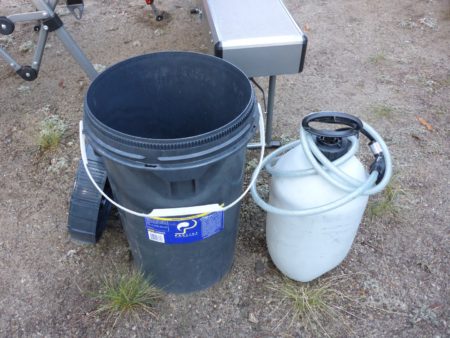 The slightest breeze can be freezing when you are wet. We sometimes use an outdoor shower tent to take full showers and for privacy.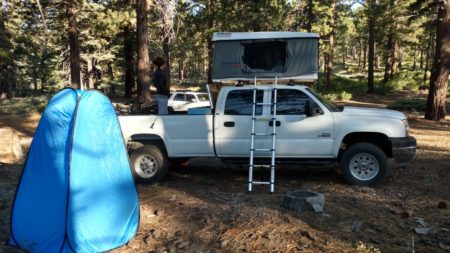 ---
Other options.
Rinse Kit: The Rinse Kit looks awesome, but you are limited on water pressure and how you can fill it. You must have pressurized water from a spigot in order to fill it. Then, when the water or pressure runs out, you are done unless you have a water spigot. With my DIY sprayer, you can fill it from a river or stream and then pump it up.
Helio Nemo: The Nemo shower is a good alternative. It's about as close to the DIY sprayer as you can get. The only difference is it is foot operated. It packs small and you can fill it up anywhere. The downfall is the price. $100 seems a bit steep for what it is.
Comments
comments