The one thing that had to go immediately on our 2016 Sprinter 144 2WD van was those stock wheels and tires. They not only make it look like an ugly delivery van, but the highway tires won't do us any good once we start venturing off-road. We wanted a tire that would give us more traction in loose conditions, but also be quiet and last long on the highway.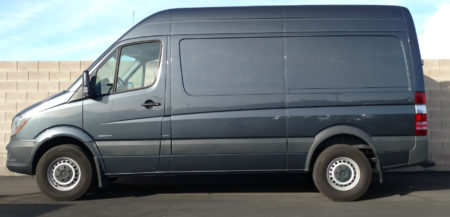 Wheel Choice: 17″ Method Race Wheels
We went with the Method MR301 wheels made specifically for the Sprinter van. They are 17×7.5″, have 6.2″ of backspacing with a 50mm offset, and are the Sprinter 2500 6x130mm lug pattern. I was happy to find out they come with lug bolts too so there was no guesswork as to which ones to buy. I purchased my wheels from 4 Wheel Parts. The wait time was forever because, at the time, Winnebago bought up a bunch of Method's stock for their Revel conversions. Since buying them from 4WP, I have found them on Amazon so that may be a decent resource now.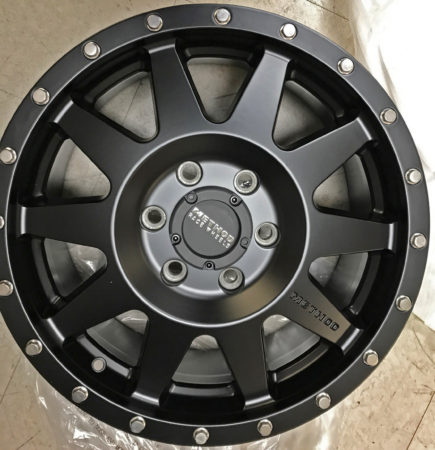 Tire Choice: Nitto Terra Grappler G2
For tires, I went with what I knew worked well already, Nitto Terra Grapplers. I run these tires on my Z71 and have about 50,000 miles on them so far. They are quiet, ride great, and offer good off-road traction. The Terra Grappler G2s come with a 65,000-mile warranty and are reasonably priced. I usually buy all my tires from Discount Tire, but this time I decided to just buy them from Amazon. I avoided fees and taxes by mounting and balancing them myself with the help of a coworker. Although the new tires are not E-rated, they are rated at 2679 lbs each which puts them at 10,716 lbs, much higher than the GVWR of 8500.
Comparing Tire Sizes
Since the wheels are 17″ and I wanted one size taller than stock, we chose 265/70/17 tires. That makes these tires about 1″ taller and a little less than 1″ wider.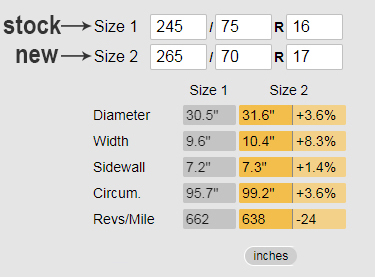 https://tiresize.com/calculator/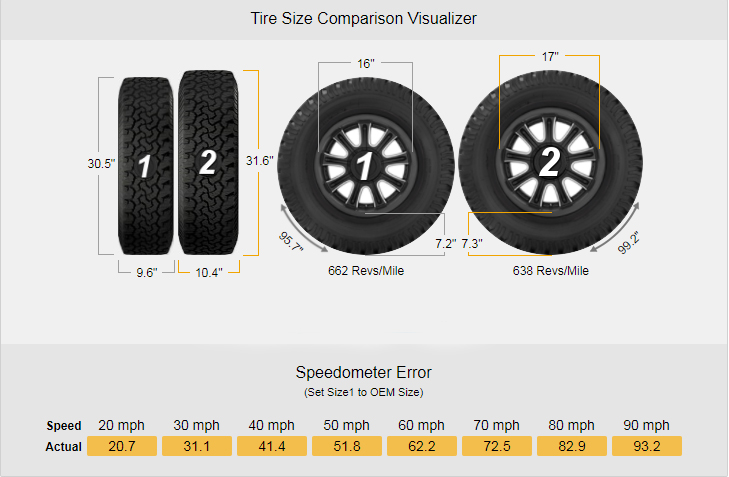 Off come the old wheels and tires…
Before and After. What a difference!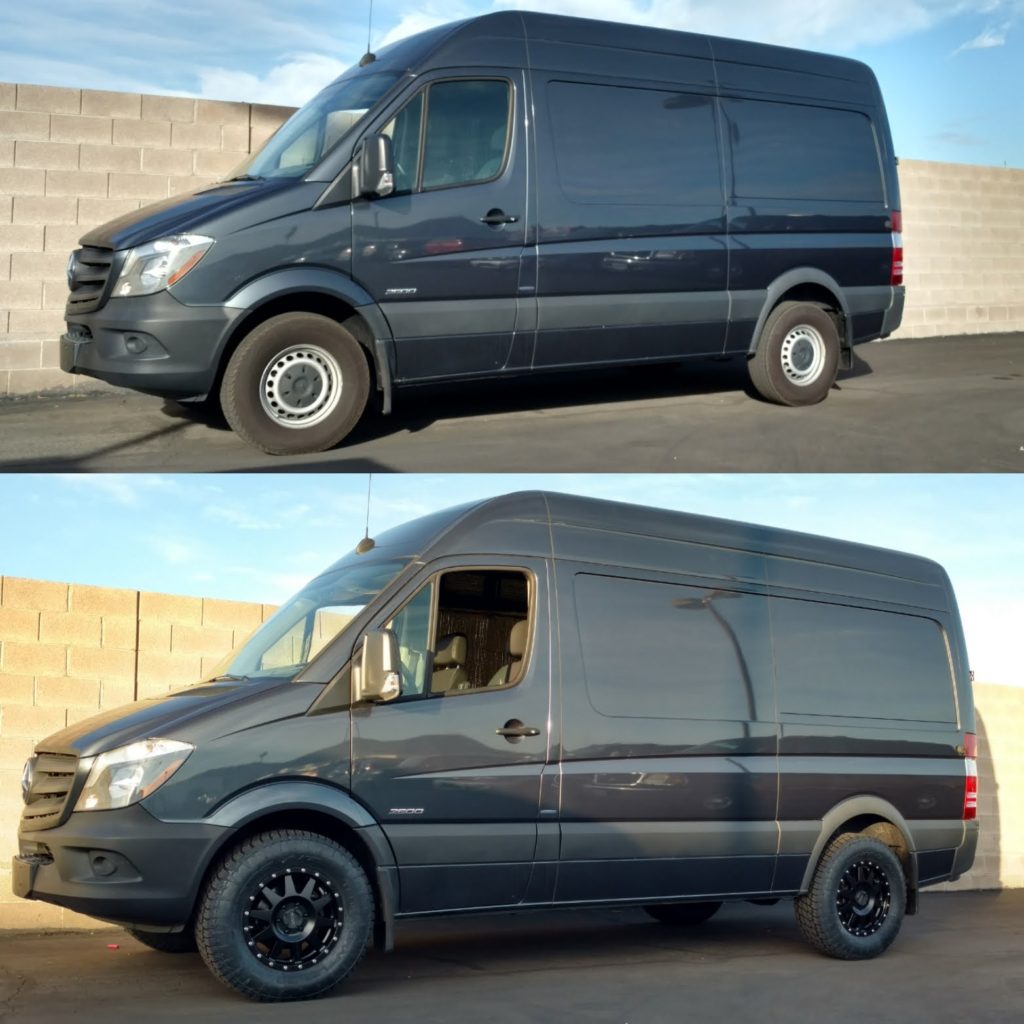 The Perfect Fit
The new size tires and wheels fit the van perfectly. There is zero rubbing and they have plenty of clearance even at full lock.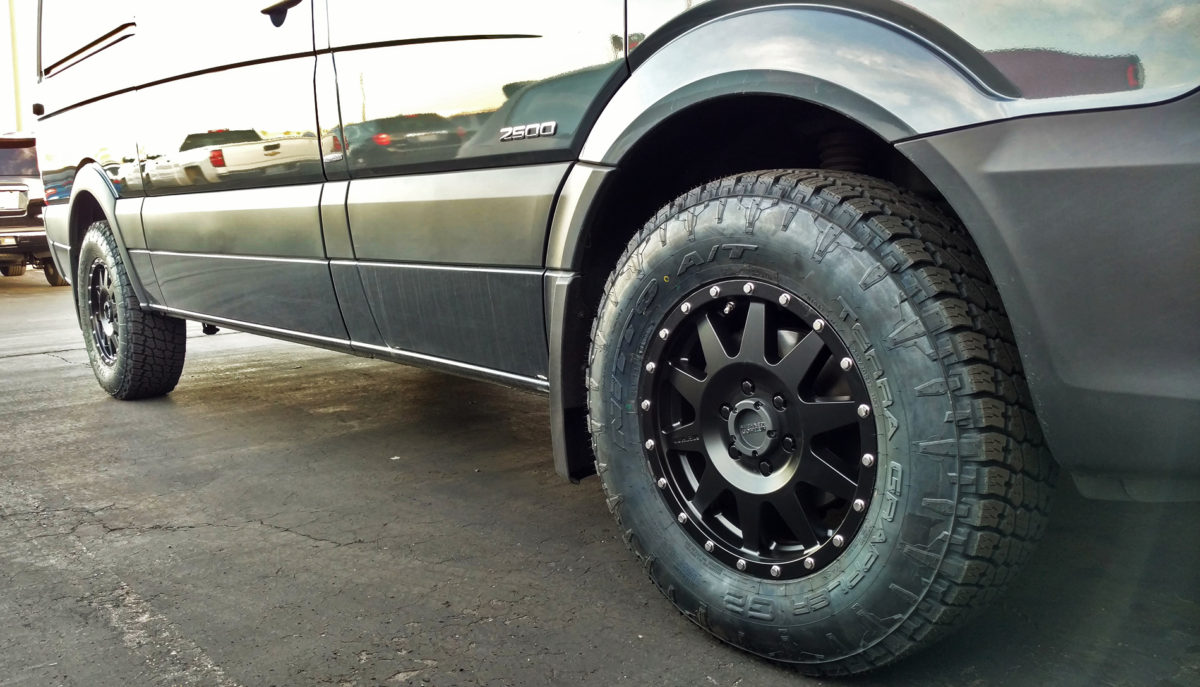 NOW it's an adventure van!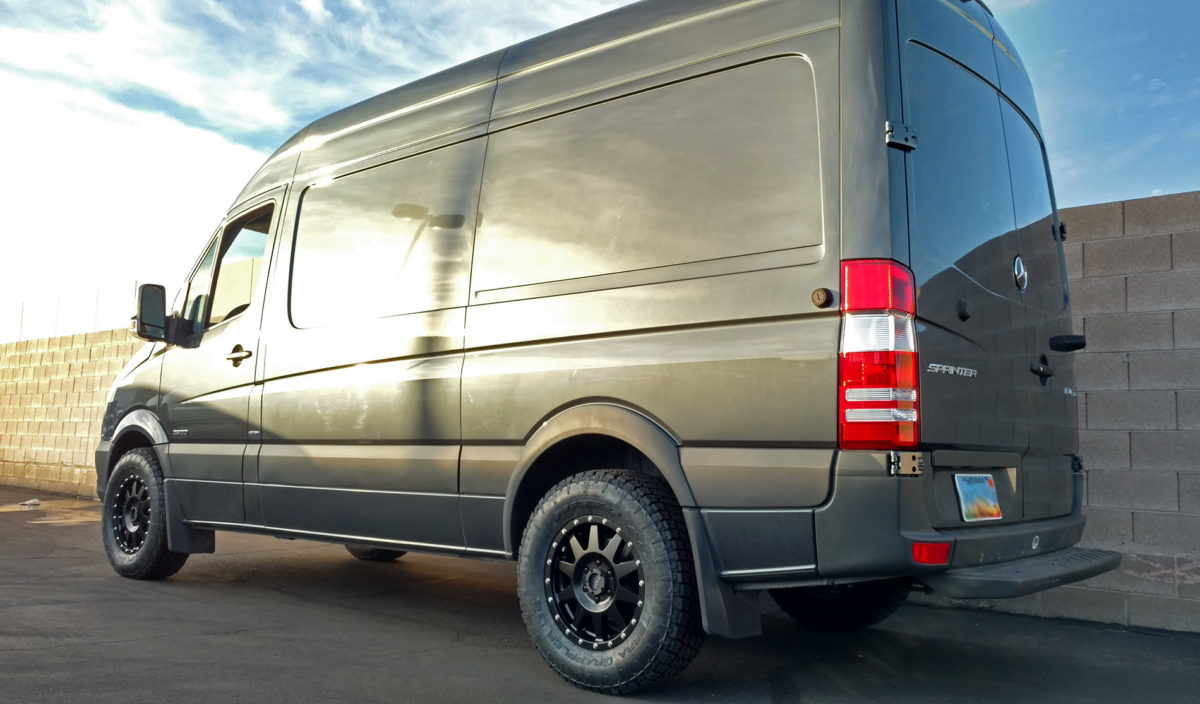 Additional Photos
Updated photos after our build.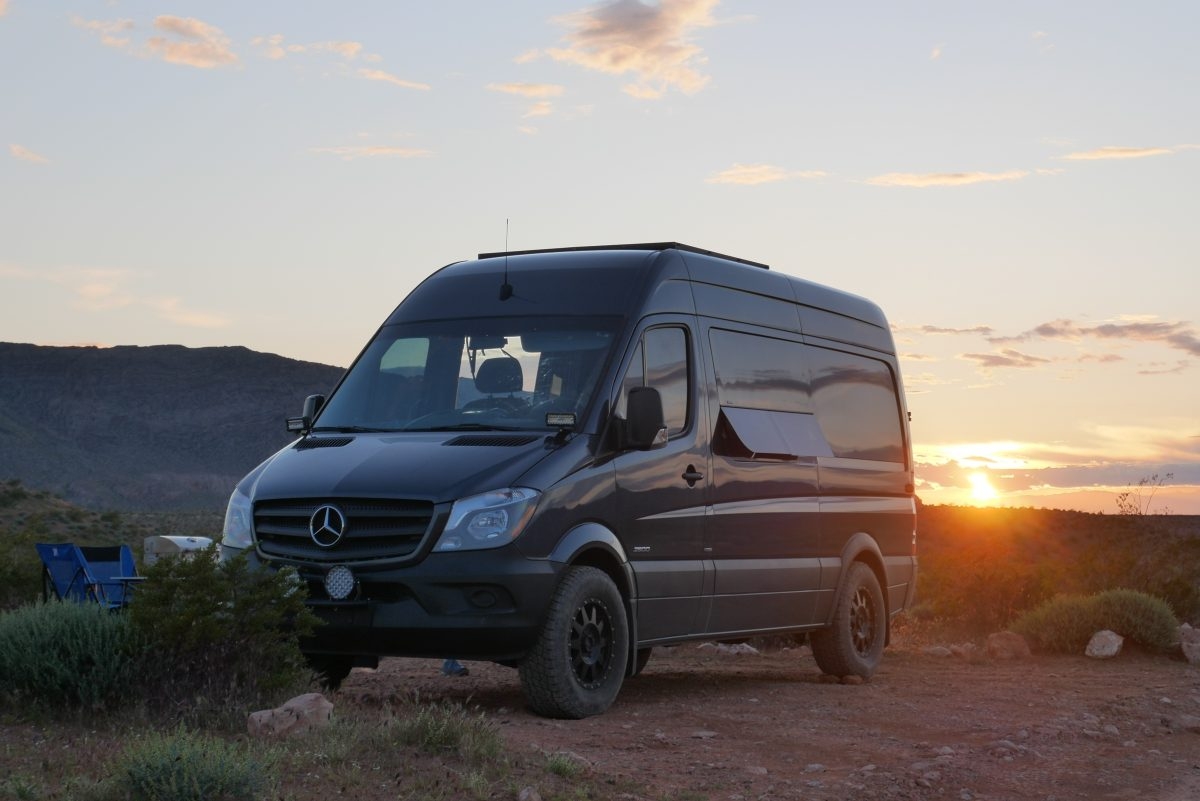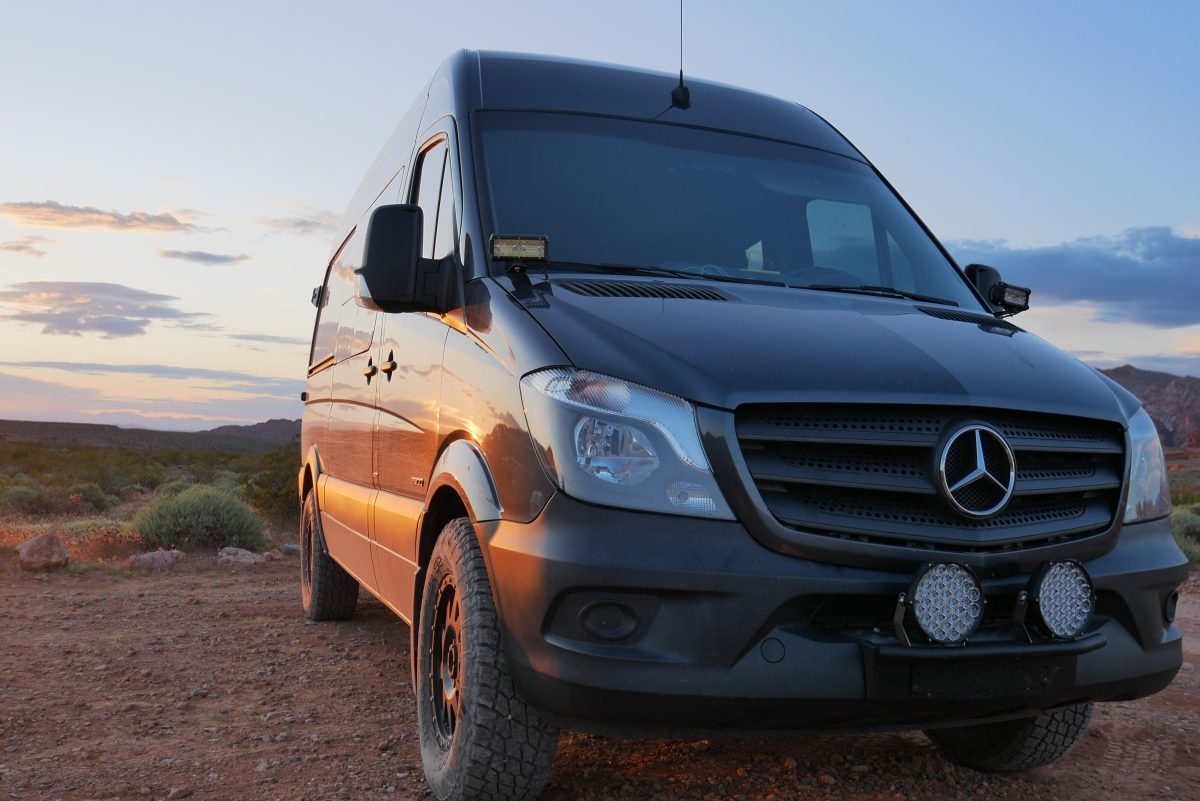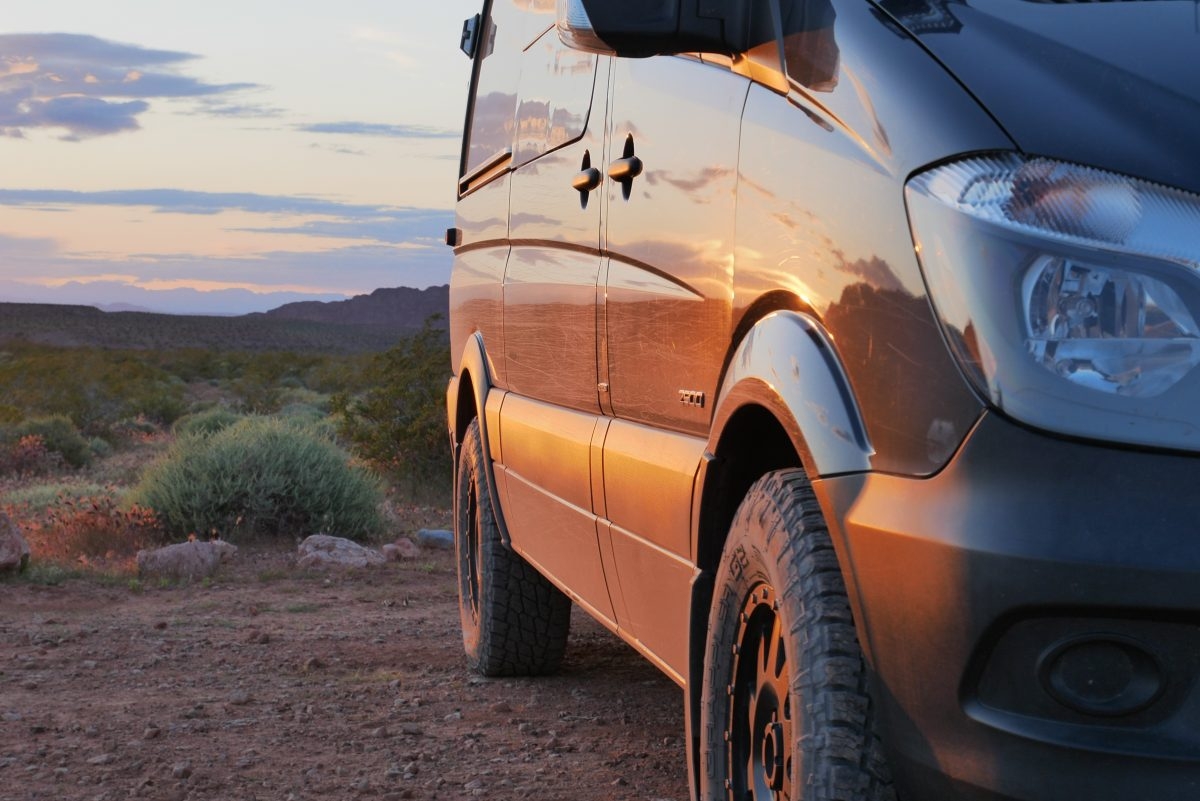 Wheels & Tires
Nitto Terra Grappler G2 | 265x70x17
Method MR301 wheels | 17×7.5″, 50mm offset, 6×130 Sprinter lug pattern
Comments
comments