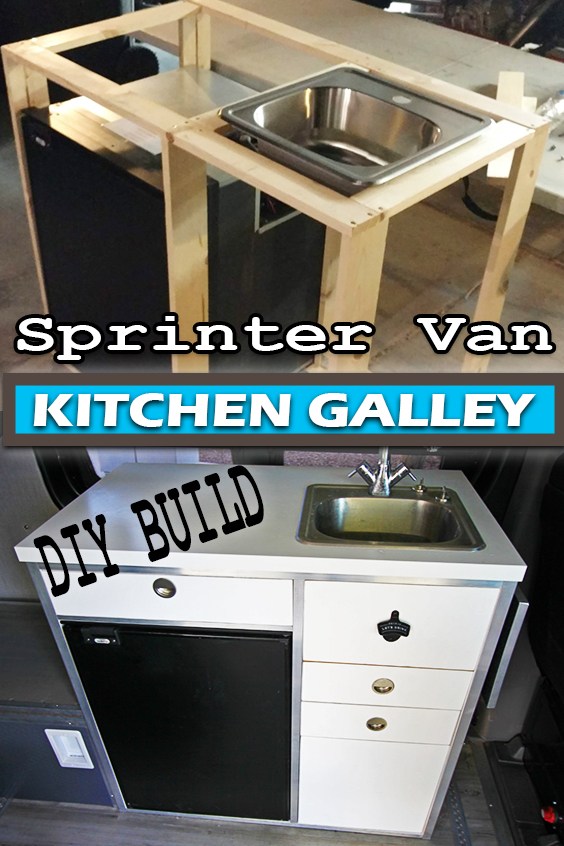 We designed the kitchen galley in our Sprinter van to be simple, yet functional for being on the road for extended periods of time. Our requirements were ample counter space, a fully functioning sink with a faucet, a few drawers for storage, simple gray water containment, and a large refrigerator.
The cooking that is done in our van is pretty simple.  We usually just use the JetBoil to heat water for coffee and dehydrated meals or we'll make a simple meal that would only require a skillet on our GasOne butane stove. Many people choose an electric induction cooktop for their cooking needs. I didn't want to have another electrical consumer in the van so we chose to use butane or propane to cook with.
The very first part of building the galley was to get some wood and start framing up the cabinet and some drawers.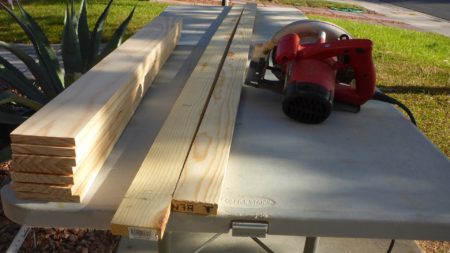 After the general layout was decided, I built the cabinet around our TF130 Truckfridge refrigerator. The framing was mostly made up of 1×3 and 1×4's. I used wood screws, tie plates, and corner braces to secure much of the framing.
Next up: drawer boxes. You can buy drawer box kits online, but I opted to build my own. It was too stressful to have dimensions that I couldn't adjust if something didn't line up right.  These came out really nice and I actually surprised myself.
The drawers were mounted with some soft close drawer slides sourced from Lowes. They require a little force to open therefore they won't slide open on their own.
For the bottom door, we used a latch that holds the door shut until pushed from the outside. These work great on our overhead cabinets too.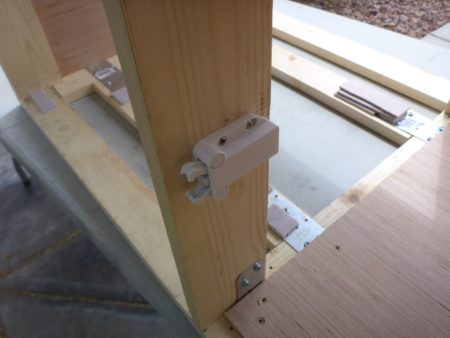 The countertop that was used was actually a tabletop from Ikea. It's clean, simple and cheap! Nine dollars to be exact. It was also the exact size we needed. So I traced out the hole for the sink and majorly screwed it up on my first try. I completely forgot to take the radius corners into account. Back to Ikea we went. Good thing it was cheap!
Cutting of the sink hole: take two!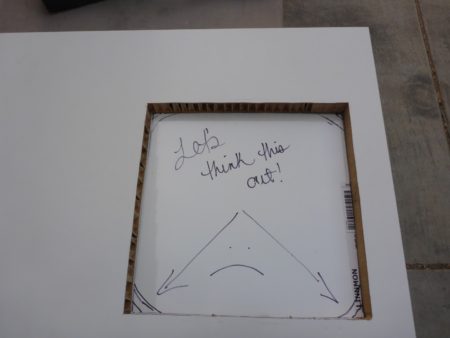 There we go. Much better! The hole turned out well and the sink was set in with silicone to seal it to the countertop.
The sides were paneled in 1/4″ plywood then covered in rubber coin mat using 3M 80 Rubber and Vinyl adhesive.
Holes were cut for the power outlets. The bezel that came with them was used as a template.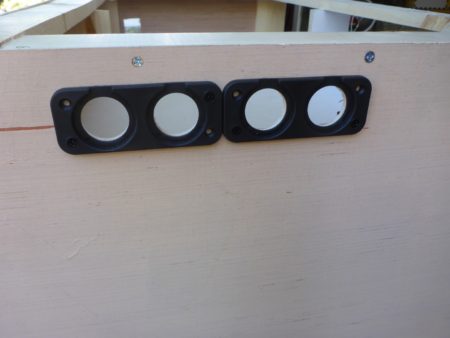 Once the galley cabinet was covered in rubber matting, I finished the edges in 1″ aluminum trim sourced from Lowes. I didn't take any pictures of this part because it consisted of many long nights, It was dark and I was irritated.
Behind the galley, the water fittings and power cords were mounted in plates that secured nicely to the van's wall panel.
For a more in-depth look at the water tank, pump and install, visit the water system install post.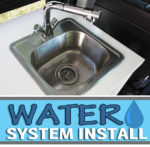 The cabinet was ready to be mounted. It was a very tedious process getting all of this to line up and fit together. It was quite the puzzle. I had the amps, power receptacle, and water fittings to take into consideration on that wall. The drawers were pulled out and I attached the cabinet with some long bolts that secure into rivnuts in the wall of the van.

CAUTION
When mounting anything to the Sprinter's metal structural wall ribs, be very careful not to overtighten them. Use thread lock and just cinch your bolts down. If you don't, you'll find what looks like dents on the outside of your van. They come out by loosening the bolts that were mounted, but just be careful.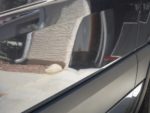 It was coming together, but there was still a bit of work to do.
The countertop was screwed to the cabinet and Ambassador sink faucet was plumbed in using quick connect ½" male fittings, some brass fittings from Lowes and ½" clear hose. Originally the galley was going to be modular, but I don't think it will ever need to come out. The great thing about this faucet is it doubles as our indoor shower head because it pulls out about 6 feet.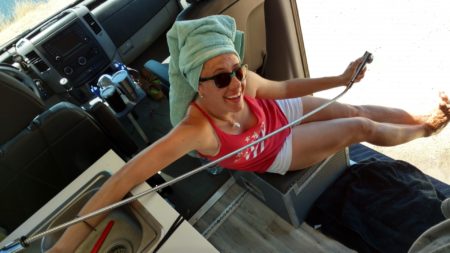 The drain that came with our sink was not as low profile as I would have liked, so I just bought a regular kitchen sink drain and screwed on a Camco RV drain adapter to get a 90° bend. The black, plastic hose that came with the drain adapter was not used. I pulled it off and used clear, braided hose instead.
The sink drains into a 5 gallon, clear jug via 1″ clear braided hose. We may add a level indicator alarm or a second small bottle, but 5 gallons is usually plenty of capacity for a few days if conservative. We didn't want a gray water tank under the van for a couple of reasons. It would only add more weight, cost, and work. Using Dr. Bonner's Castille soap allows us to dump our gray water just about anywhere and still be Earth-friendly.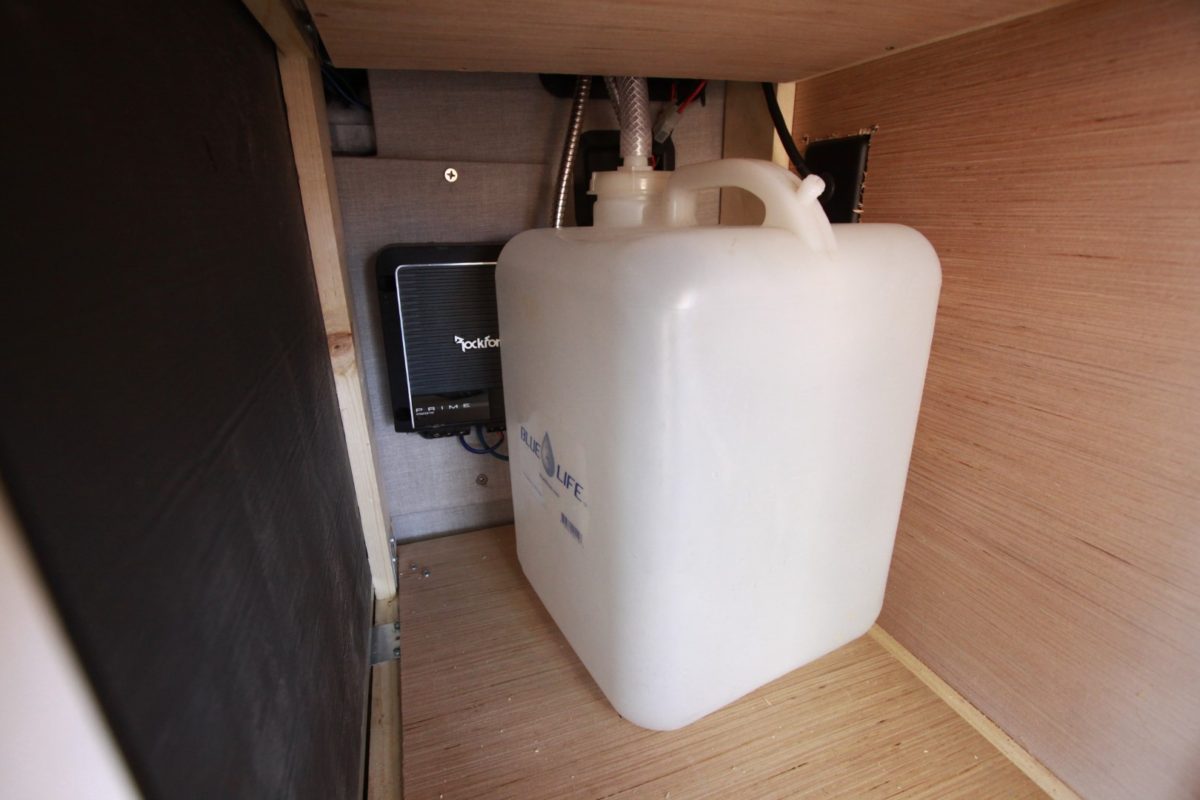 Drawer fronts were cut out of MDF board, sanded, and painted using furniture spray paint.

110V power outlets with USB and a refrigerator switch were installed in the right side of the galley. The power cord you see below powers up the 110V outlets in the galley.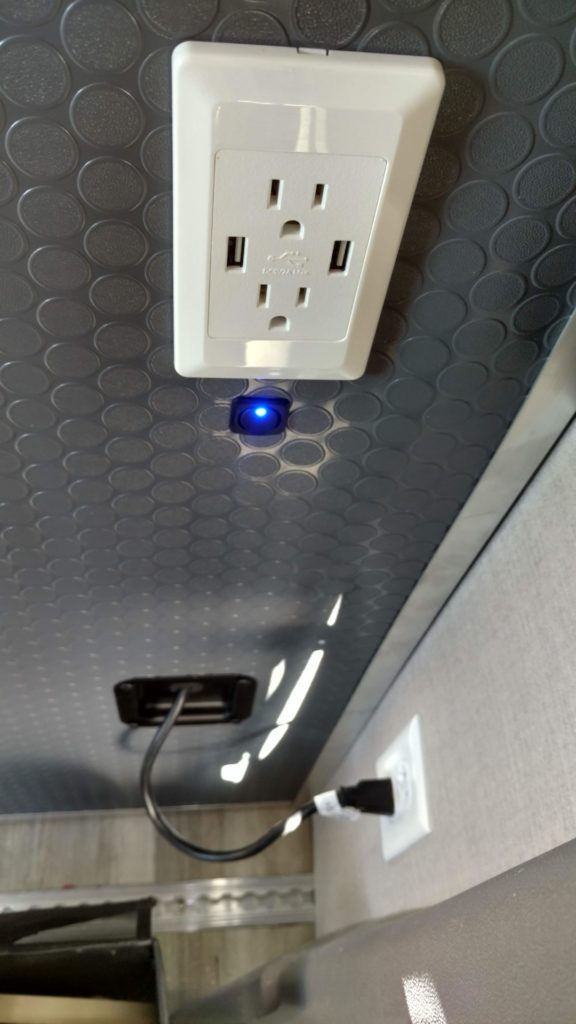 The drawer fronts were installed, the fridge was turned on and the water was flowing!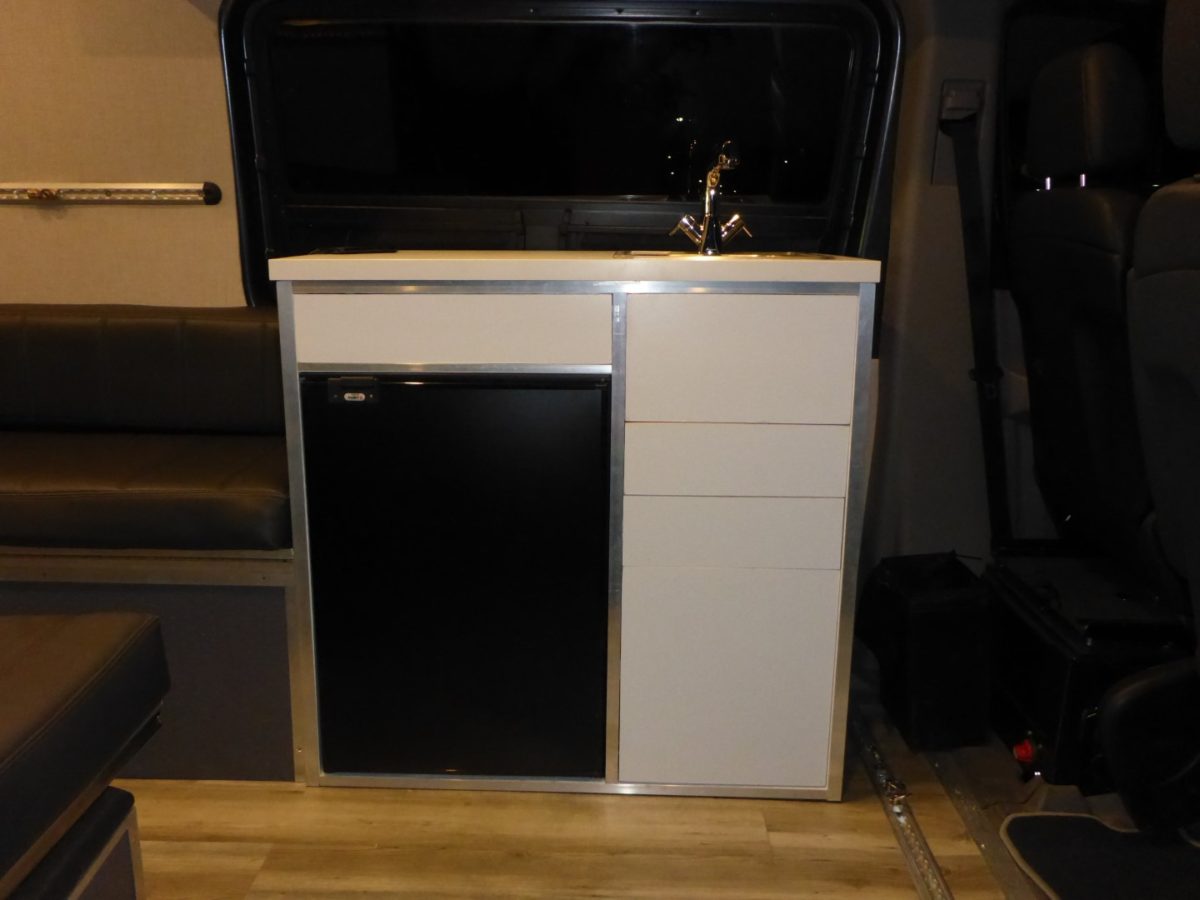 The fridge is awesome! It is plenty big and even has a little freezer and crisper.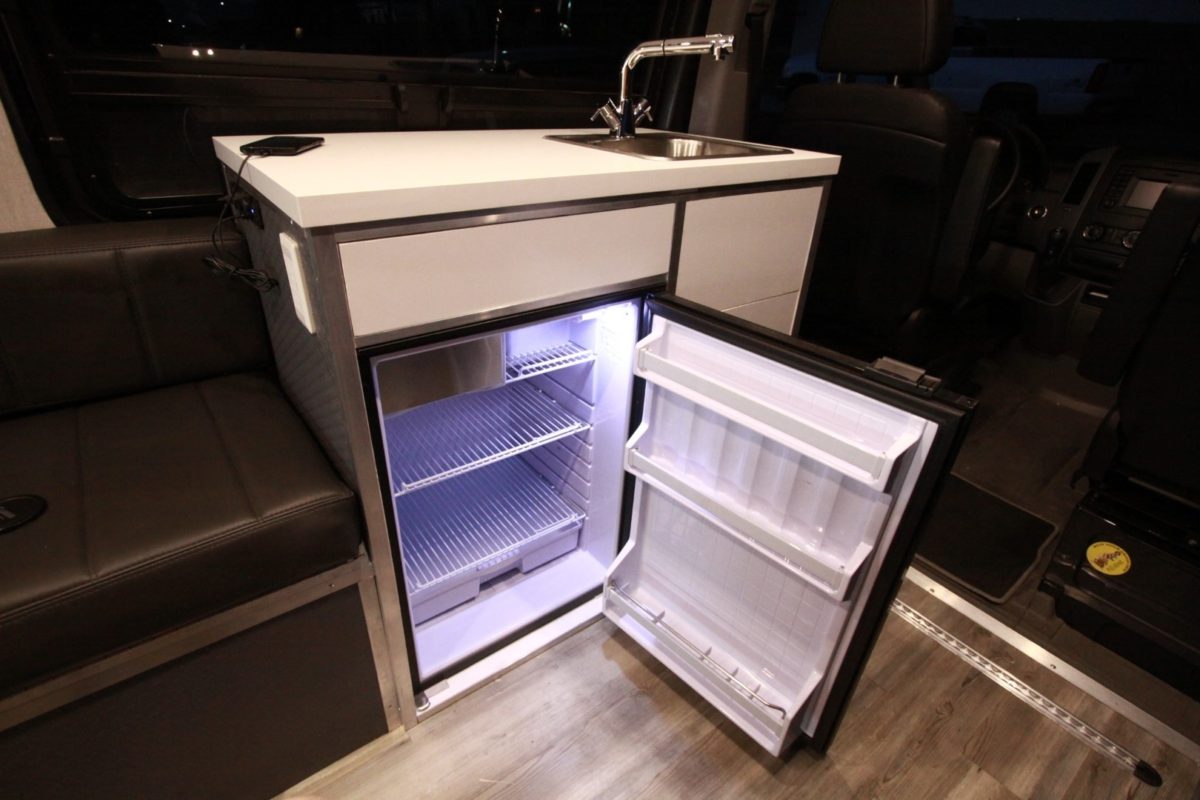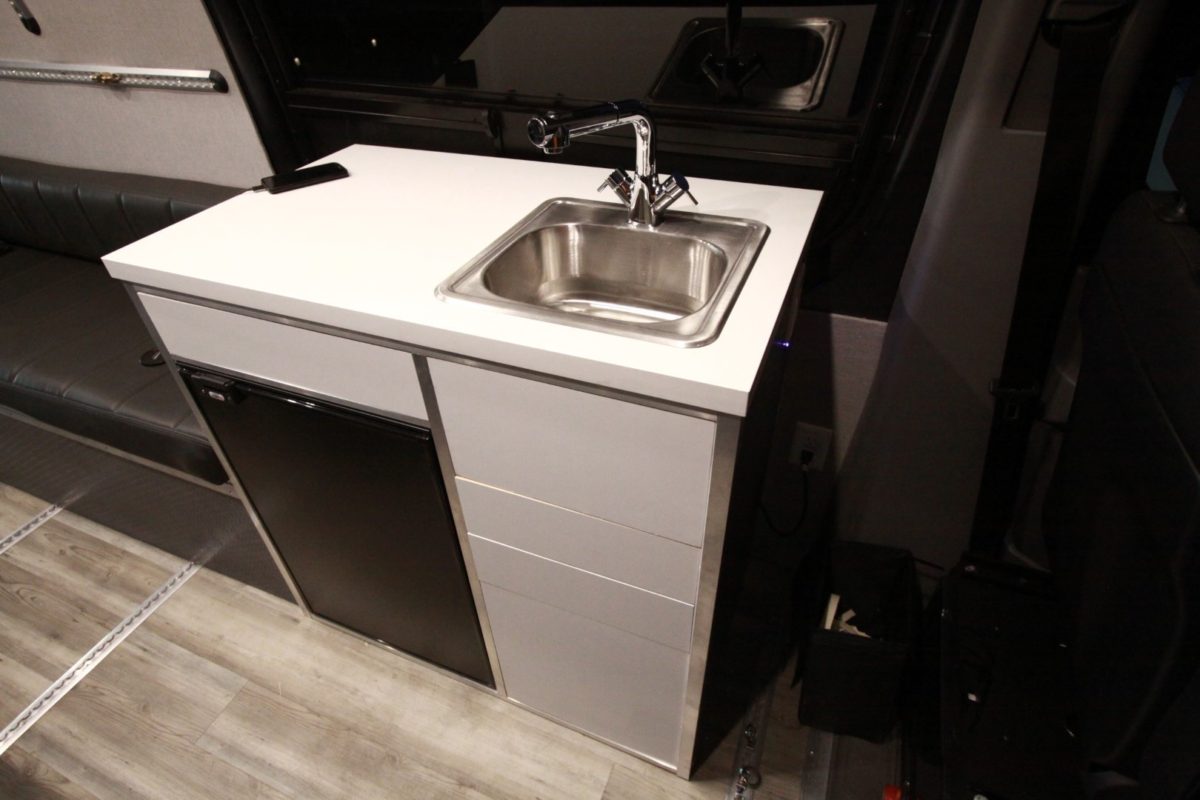 There are plenty of 12V and USB outlets in the galley to charge devices.
We added a bottle opener along with some flush drawer pull hardware. We didn't want them sticking out and catching on anything.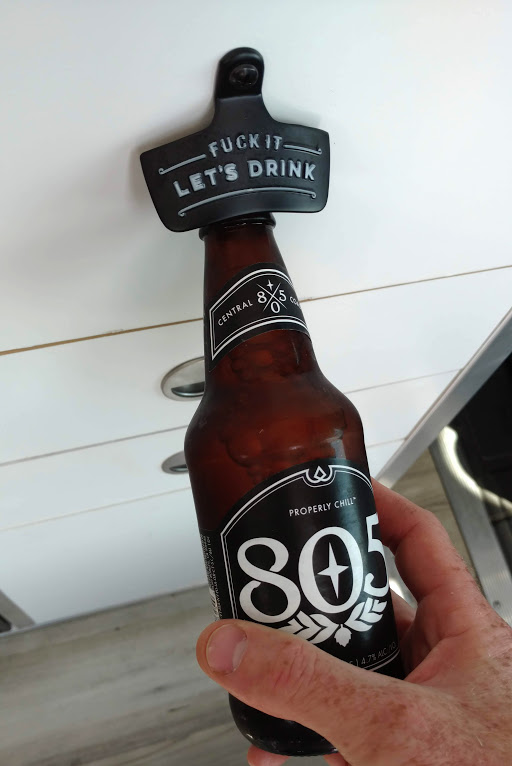 A side shelf was added to the cabinet to expand our counter space and also to be used as a table. The folding brackets allow the shelf to be folded down and out of the way.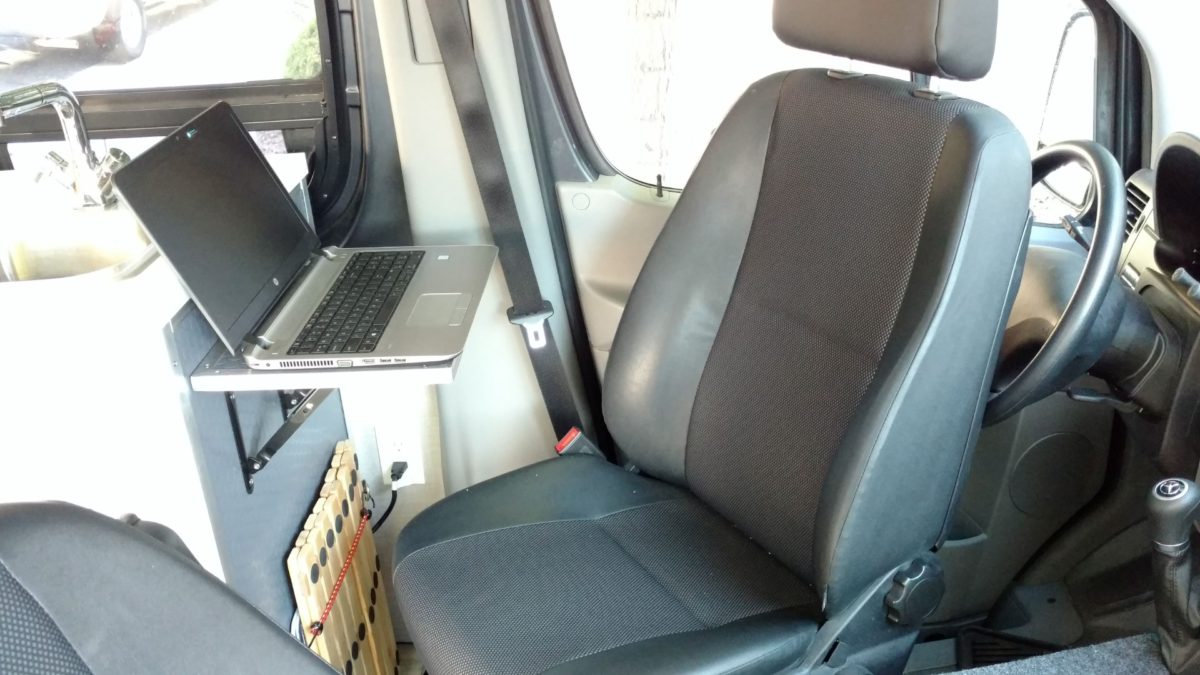 And there's our kitchen! Simple, yet very functional.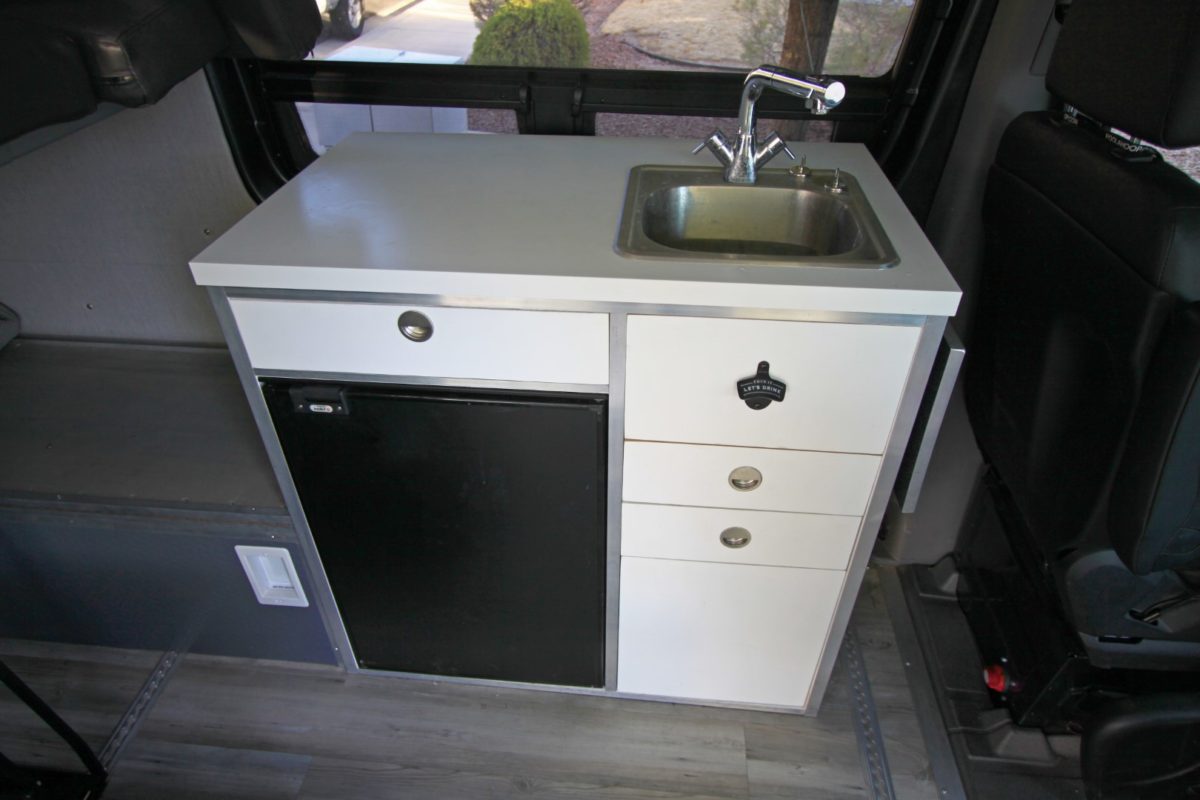 Galley Dimensions

width: 39.5 inches
height: 38.0 inches
depth: 23.5 inches
Countertop Update!
Here's how our Ikea tabletop worked out and what we did to make it MUCH more durable and look a whole lot better.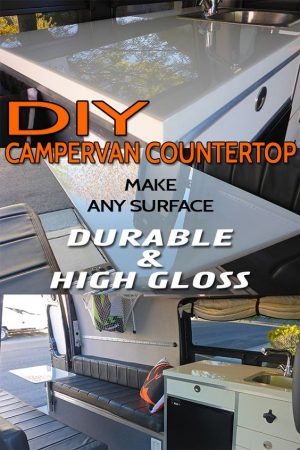 Parts List
Comments
comments