When designing the layout for our van, the bed was the most important part. With me being 6'2″ and Anna being 5'8″, laying sideways in our van was not an option. We would need to build a bed that ran lengthwise and would also fold up out of the way in order to load motorcycles. We also wanted it to turn into a dinette area for hanging out and eating. This posed some challenges, but I was determined to make it work.
Wheel Well Box
One of the first things that were made was a box to cover the right side wheel well. It would double as a storage box for tie-downs and miscellaneous items. I chose to frame it out with 2×2 pieces of wood. Aluminum 80/20 would have been super cool to use, but it would not have been very cost-effective, would have taken more time, and also has more thermal transfer than wood. After framing it out, I covered it with 1/2″ plywood and added a hinged lid. Rubber Coin matting (flooring) was used to finish the outside along with some thin, 1 inch, 1'16" thickness, aluminum angle. I countersank the screws to give it a nice finished look. 3M 90 spray adhesive did not want to stick to the vinyl very well for some reason, so I ended up using polyseamseal adhesive caulking which bonds well to the wood and vinyl. It was installed and secured the box to the van using bolts and rivnuts in the walls and carriage bolts in the L track in the floor.
*Update Feb 2021: Vinyl Adhesive Alternatives
After years of use and temperature swings, some of the vinyl has pulled away from the wood and is not sticking very well anymore. The aluminum edging is basically what's holding it on at this point. The adhesive caulking was not a good choice. I will be regluing it with either 3M Vinyl Adhesive or using flooring adhesive. The 3M vinyl adhesive worked great on our galley and has held up well. I've heard even better things about the flooring adhesive though.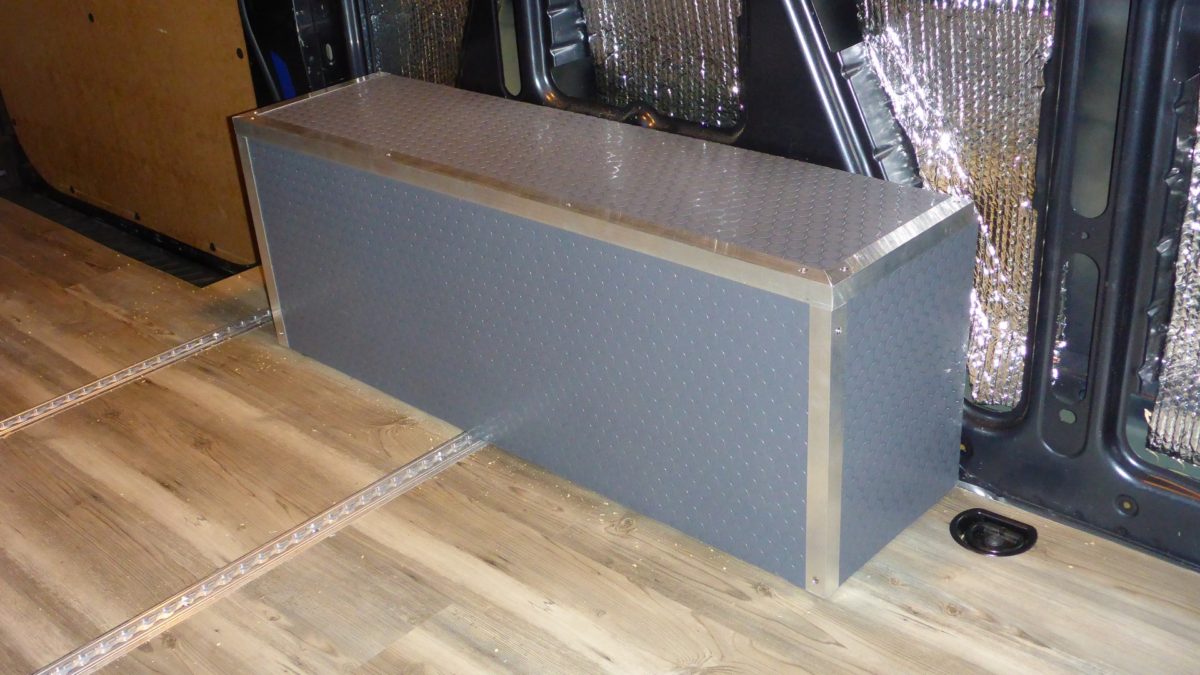 Materials
Left Side Utility Box and Couch
It was time to start on the left side box. This box would serve many purposes. It would cover the left side wheel well, house all of the electronics and plumbing and be our left side couch/folding bed system. I used the same materials and methods as the right side wheel well box.
The frame was built, test fitted, and secured the same way using rivnuts in the walls and anchored to the L track in the floor. Anytime you add anything in a van, it needs to be secured extremely well in the event of an accident. This is very important.
The sizing of the box took a ton of planning and engineering. There were many things I had to take into consideration. It was a flashback to my architecture and geometry days in high school.
It had to be a comfortable seating height.
It had to clear the rear door hinged and stop mechanism in the wall.
The depth (and height) had to be enough to house our 20-gallon water tank that would eventually go in there.
The depth also had to be deep enough for a same-sized hinged top to fold over to the right side bed and fit perfectly.
A hinged lid for the box was cut out of 3/4″ maple plywood for added strength and rigidity. It was attached to the box with a heavy-duty piano hinge (sourced at a local hardware store) at the back, then a second lid or panel was attached and hinged at the opposite side. This panel will fold over and connect to the passenger side bed forming a full-size bed. A thick strip of 1/8″ aluminum was screwed to the edge to rest on the edge of the other bench. I used the piano hinge as a template to mark the holes so they were evenly spaced. The hinges were fastened to the plywood every other hole with 8-32 stainless T-nuts and screws. Wood screws were used on the rest. This was a time-consuming process, but necessary in order to keep it free of bulky hardware which wouldn't allow a flush fit and finished look as well as support the weight of us.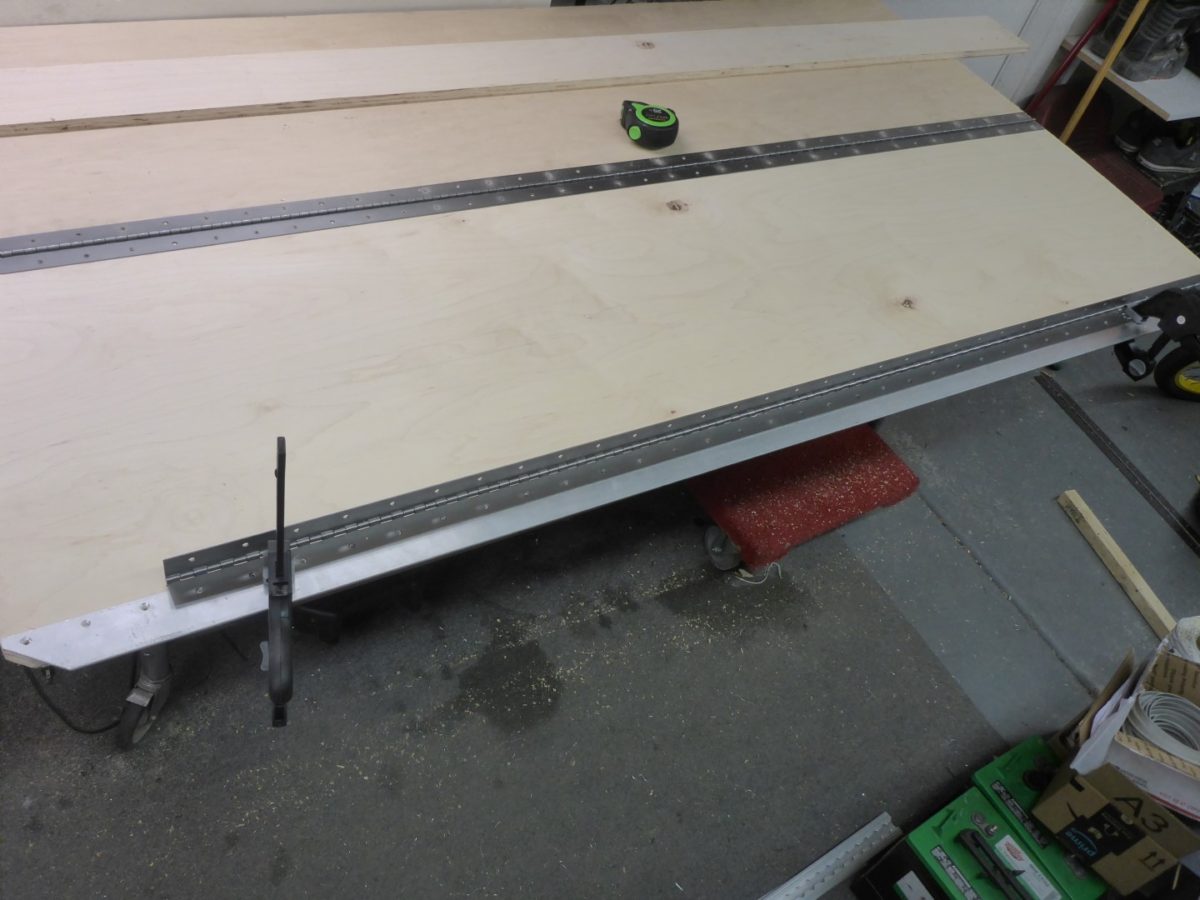 50lb gas struts and brackets were installed so it would open easier and stay up on its own.
It was then time to fab up the passenger side bench. This side would be a bit trickier because it had to allow for the wheel-well box to still be able to open, yet remain the same height as the other side. Oh, and this side would be a metal frame because it would be hinged to the wall. I went out and bought a little Lincoln Handy Mig welder and did a little bit of practicing. It didn't take long and I was welding up the bed frame for the van. I used 1″ thin wall steel and used a chop saw to cut everything.
Once the basic frame was all welded together, I made some brackets and bolted them to the walls
I found some really nice stainless folding legs on Amazon. I cut them to the length I needed and attached them to the frame using rivnuts and a rivnut tool.
The frame was bolted in and it fit just how I wanted it to. It folds up out of the way to load bikes but also functions as a bench or bed.
Time for a test fit. It works!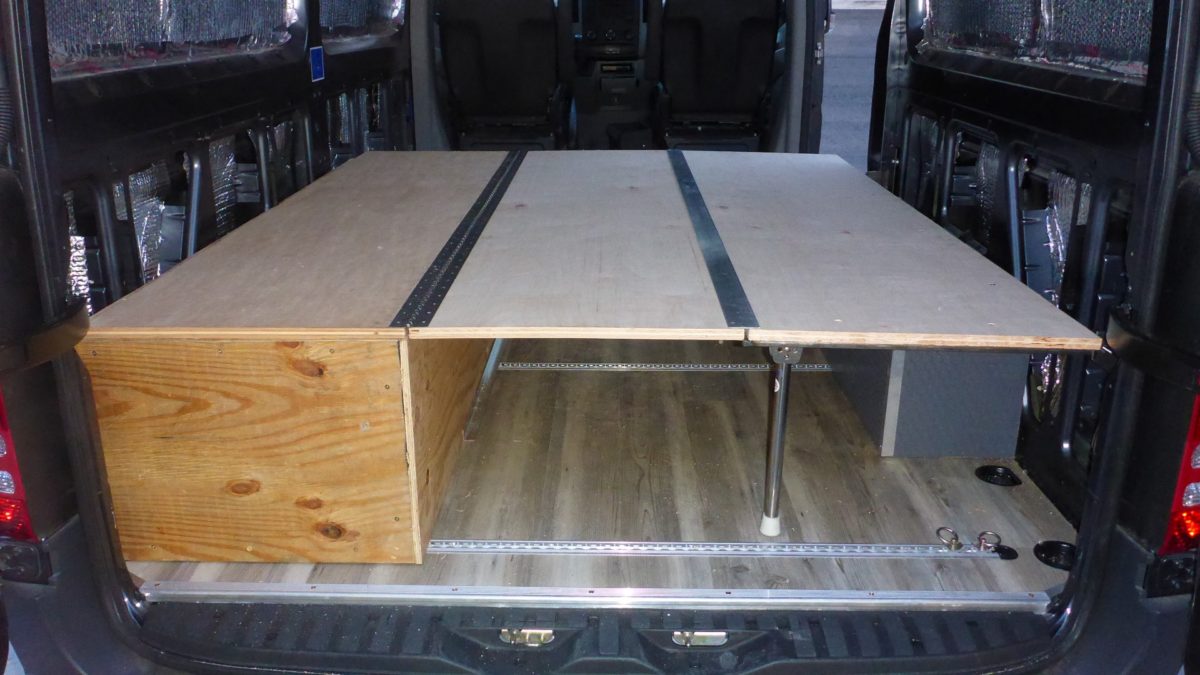 Driver's Side Box Measurements
Left side box: 78″ long x 23″ deep x 16 1/4″ tall
Box: lid panels: 78″ x 21″ These are 3/4″ thick.
Right side panel/ bed: 78″ x 22″ deep. It is 17″ tall.
Time to pull everything back apart to put the finishing touches on it. A couple of coats of stain and urethane were applied to the top panels to give it a durable and finished surface.
Rubber coin floor mat was glued to the panels and 1″ aluminum angle finished off all the edges. The edges of the beds were also clearanced to allow for the rear door stops to pass through.
Cushions and Upholstery
A 4″ foam mattress topper was ordered up off Amazon and cut to fit. It is a combination of 2.5″ high density and 1.5″ memory foam. It's a bit on the soft side for the dinette, but as a mattress it's awesome. We used an electric kitchen knife to cut and it was a breeze.
The cushions were set in place for a test fit and then sent off to a local upholsterer to be covered. A few people asked me if we could feel the separations in the cushions in bed form. We do not. They fit tight enough that it's not an issue.
The cushions came out awesome. We added a dinette an Ikea tabletop ($9) mounted to a Lagun marine table mount. We love the adjustability of this table. It can be swiveled to the side and locked away during transport or it can be quickly slid off the mounting plate and stowed away for when it's time to go to bed.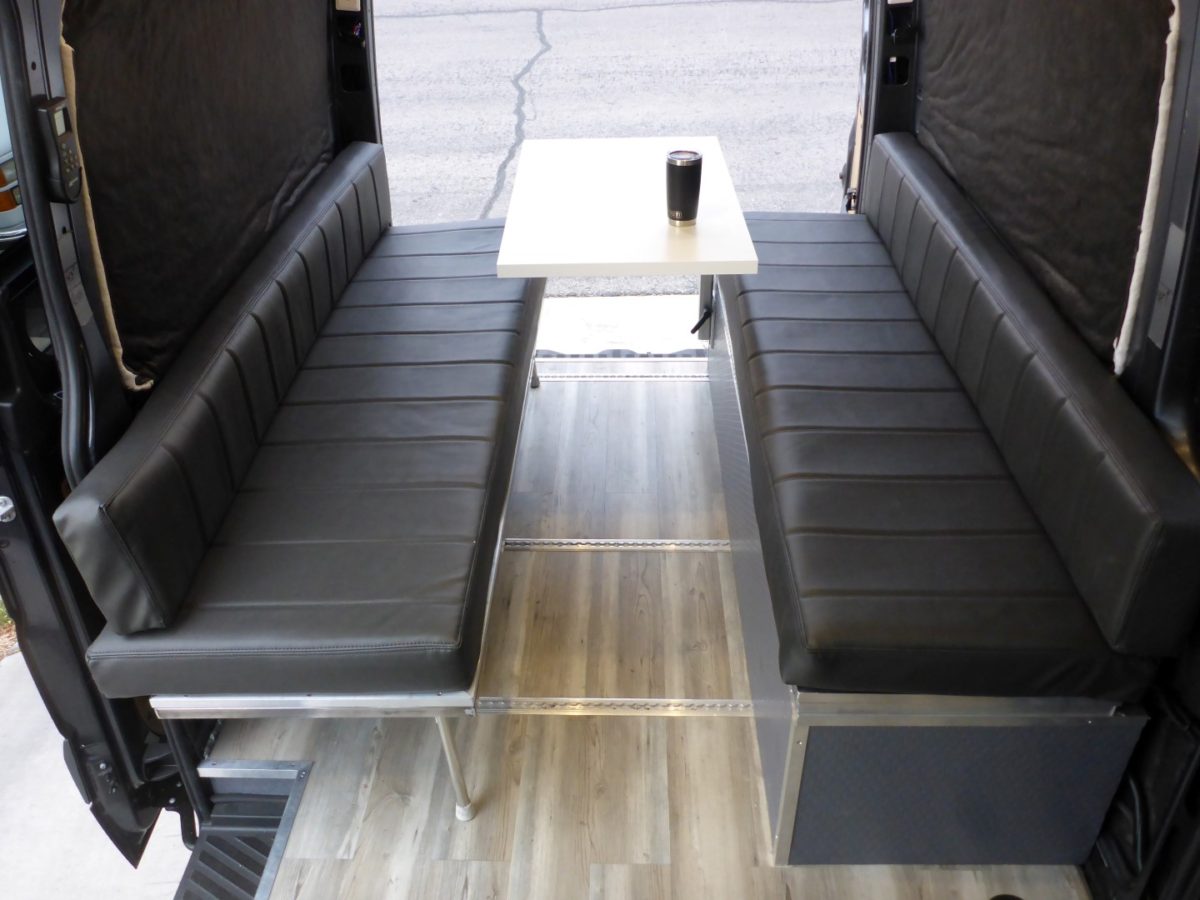 When all folded up, there is plenty of space to load up bikes and still hang gear on the wall.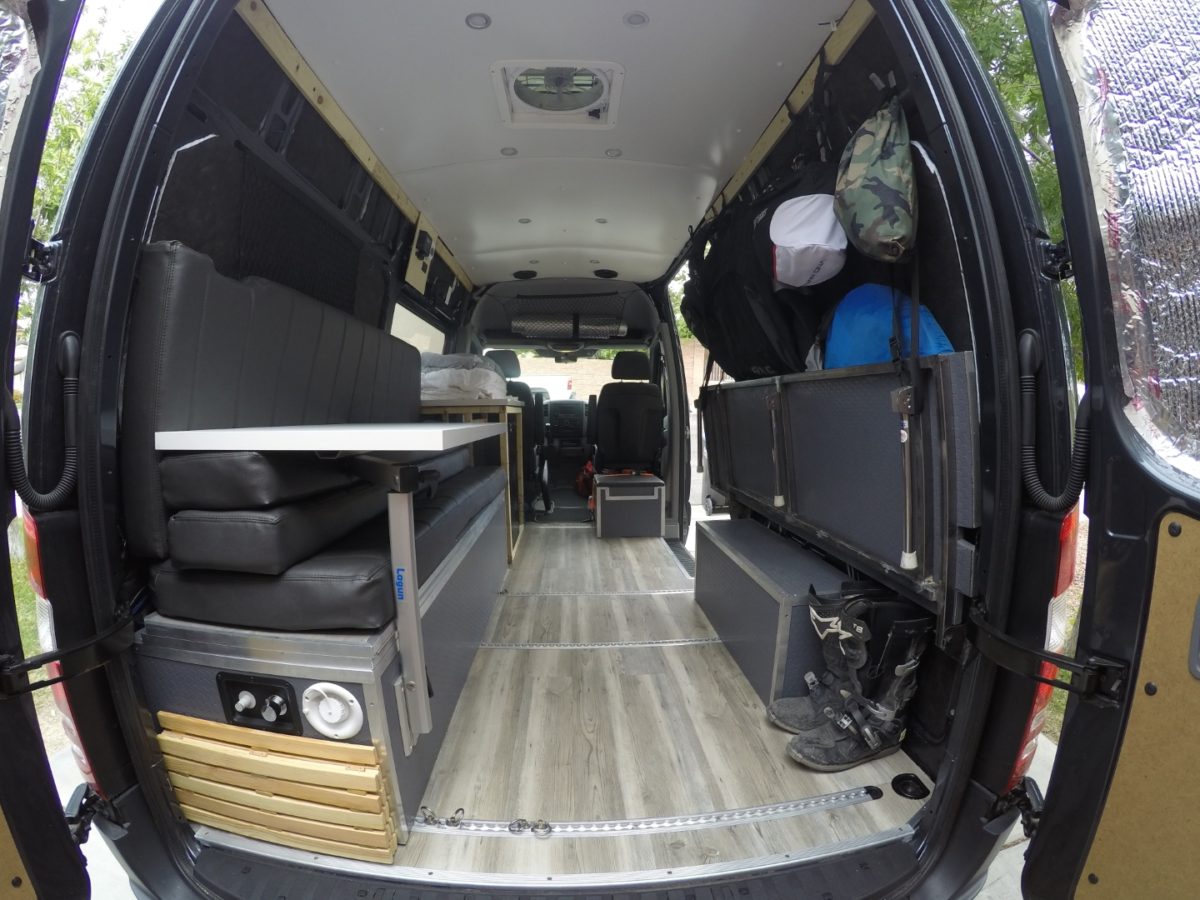 Shown here is the van all loaded up with two full-size adventure bikes (one KTM 500 EXC-F and one KTM 690 Enduro R).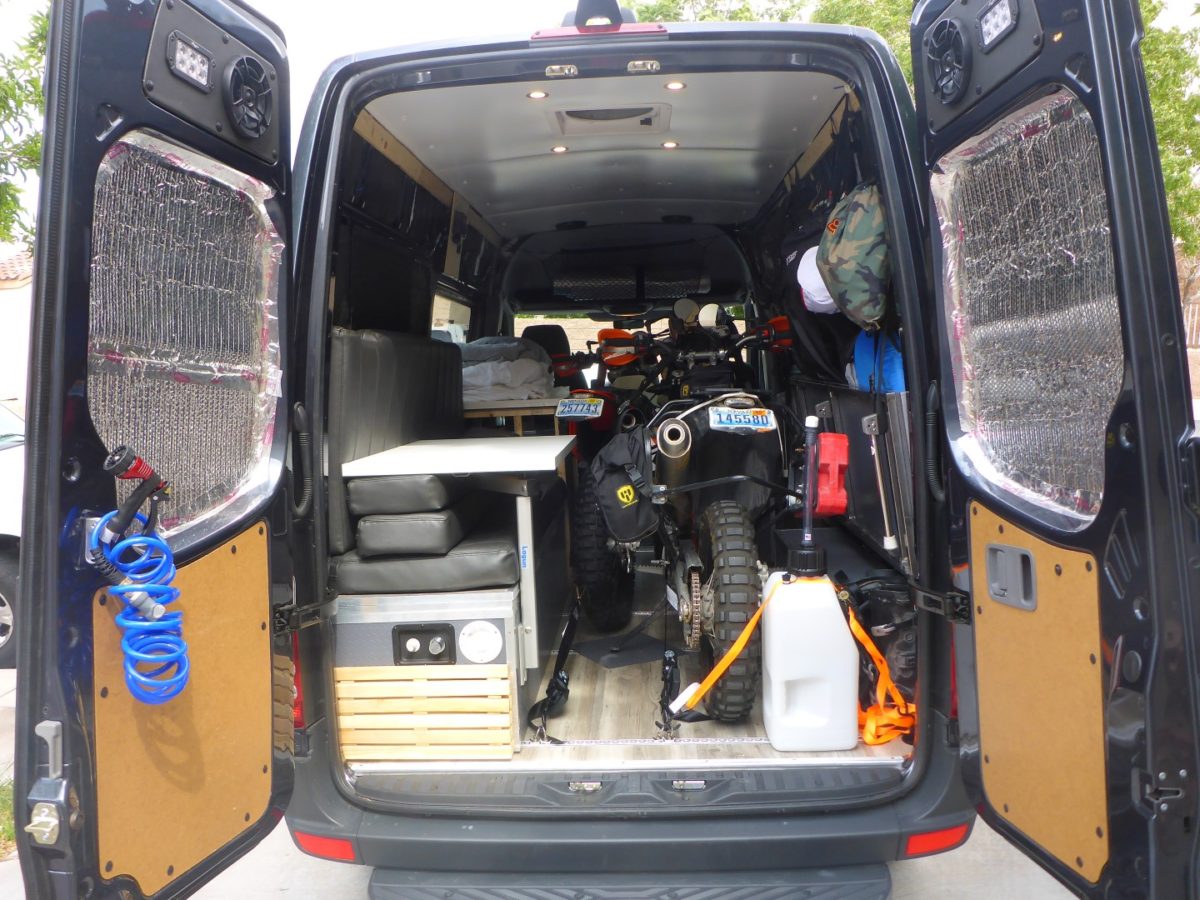 After the bikes get unloaded and it's time to go to bed, we have a big comfy bed that measures almost as big as a Cal King. It's 71″ wide by 78″ long.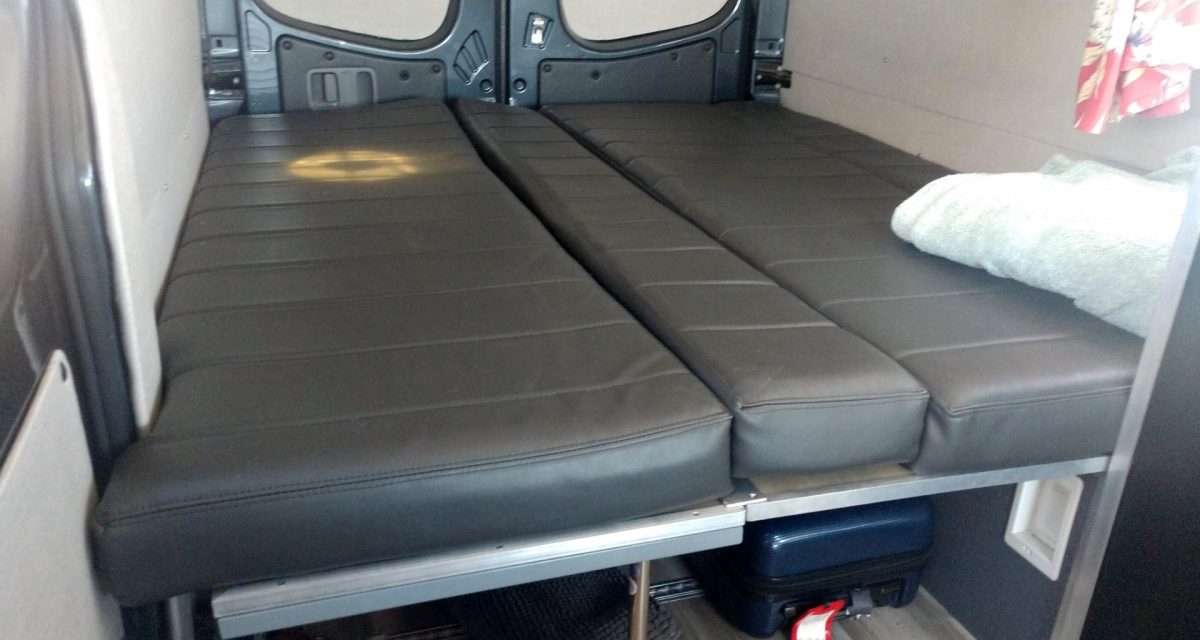 After the build was finished, the dinette was complete with some throw pillows.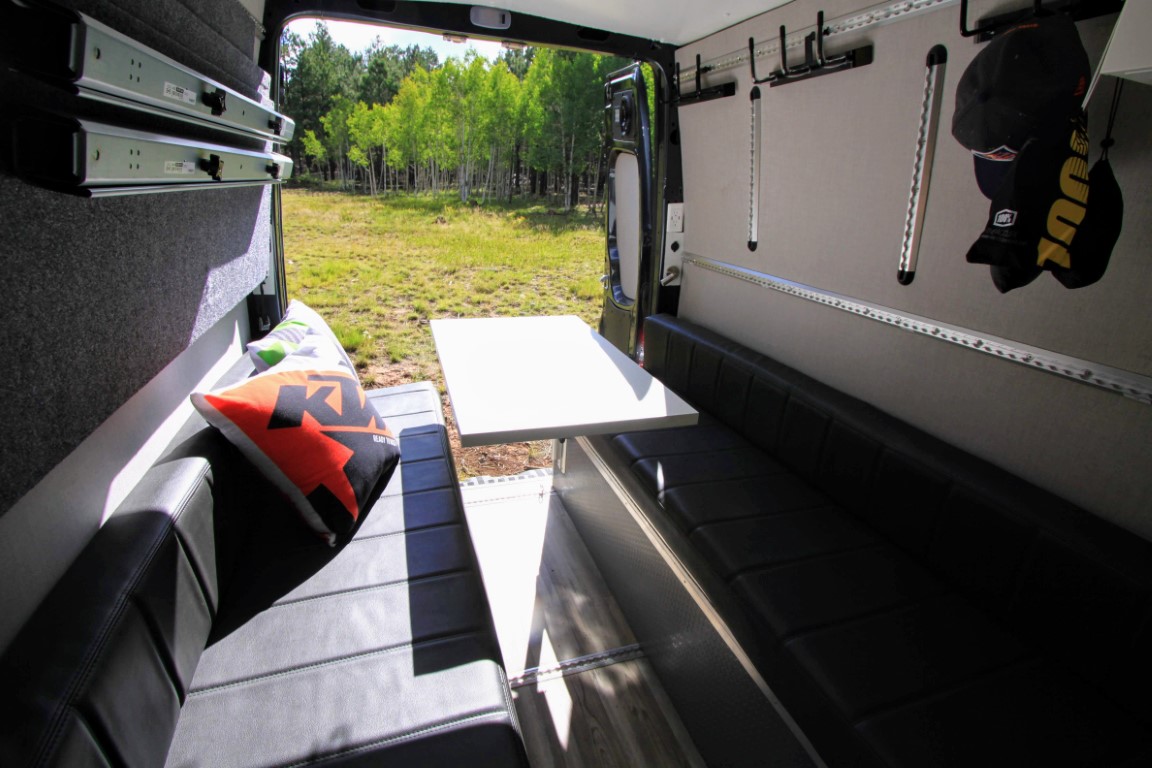 Comments
comments