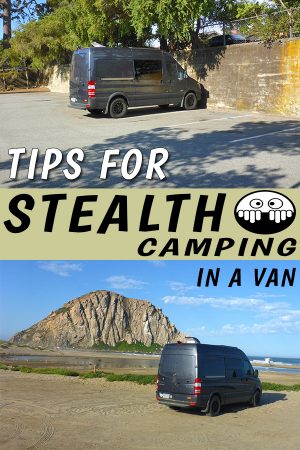 One of the biggest reasons we built a van was to have the freedom and flexibility to camp wherever we park for the night. We prefer to camp out in the wilderness, far away from cities, but when traveling, sometimes we are forced to stay in a more urban area. Hotels are expensive, a hassle, and often times aren't up to our standards of cleanliness. Finding a place to park and stay for the night can often times be a little tricky. You can't just pull in and go to sleep wherever you feel like. There are many things to keep in mind for your safety, convenience, and stealthiness.
Safety
When searching for a place to park, safety is always our very first concern.
Don't Get Robbed: You always want to get a feel for a town when looking for an urban place to park for the night. Keep an eye out for people who are loitering or look like they are just casually killing time for no reason in parking lots. These are shady people and you don't want to make yourself a target for them!
Avoid Panhandlers: Sometimes these people get desperate and it's always best to park where they don't frequently ask for handouts.
Don't Be Roadkill: We always avoid parking along the side of the road for obvious reasons, but sometimes it is our only option. We've heard of other "vanlifers" actually getting crashed into before, so if you have to park on a road, try and find a safe along a well-lit wide side street rather than "the main drag" in a town. Parking lots of businesses that don't open until 10 or 11 AM work well. Get up early and get out. Otherwise, hit up a friend that may live in the area. You are never imposing if you ask to park in front of their house. It's also a good excuse to say hi over a cup of coffee the next morning too.
Accessibility to Safety: Sometimes you can get lucky and find a dirt road just outside of town. We always want to get away from urban areas, but so do the weirdos (the less fun kind). We've come across other dispersed "van camping" areas and we'd like to think we were all of the same mindset, but that is not always the case. Don't assume everyone out there in a van is on Instagram hash-tagging their "epic vanlife" while doing yoga. Some of these people are very separated from society and you never know wtf they are up to. If you plan on having neighbors in remote areas, make sure there is a nearby road, possibly some occasional light traffic, and cell reception.
Have an Escape Plan: If, for whatever reason, you had to bail, you want a plan. Have your keys hanging in the same spot every night and keep your van ready to go and be able to pull away in less than a couple of minutes. A gun or weapon, even if it's something ridiculous like a pipe or machete, is good peace of mind when you hear a startling noise or have an encounter.
Lock Up and Light it Up: Obviously, you should always lock your doors at night, but if you are parked in an unlit area an outside motion light is great security at night. Some teenagers and late-night thieves are known as "door pullers". They walk from car to car checking to see if the doors are unlocked.
Products We Use to Stay Safe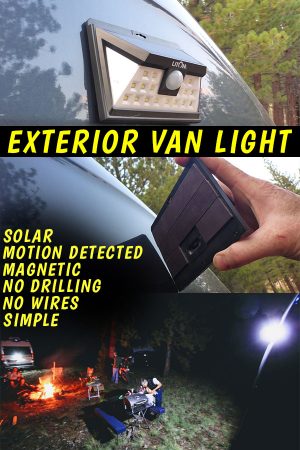 We also plan on eventually installing a camera system in our van similar to this one.
It will allow us to keep an eye out without having to pull back the window covers and will allow us to monitor the van remotely.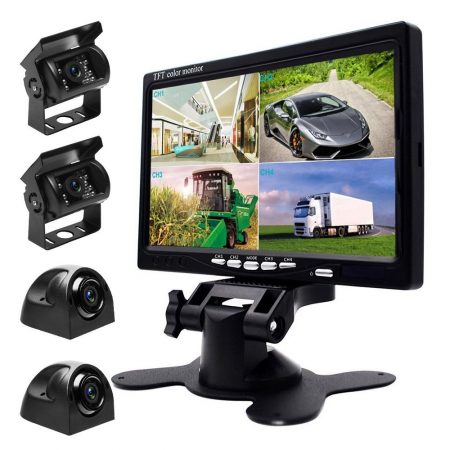 Convenience
Legality: Always be ready to get yelled at or get a knock on the door late at night. Most towns have city ordinances against overnight parking/ camping/ sleeping in vehicles. The key is to look like a parked vehicle rather than camping out for the night. More on this in the "Stealth Tips" section below. We try to have a backup plan whenever we feel we are pushing our limits of stealth camping. Even if it is a less desired place, have a second place to go if you get kicked out.
Showers: Gym parking lots are very popular for travelers. If you have a gym membership, you can have 24-hour access to showers and you can usually park there overnight and blend in. OR…you can build an indoor shower as we did. Although it drains to the underside of the van, a very quick rinse-off doesn't leave much of a puddle at all. We've showered in the corner of a grocery store parking lot without being noticed.
Park Where You Play: Park within walking distance of whatever it is you will be doing in the morning. You may want to take a walk down to a local coffee shop or get down to the beach in the morning. Will your spot be convenient for it? You don't want to have to keep moving around, especially if you already scored a great parking spot. Some places tend to fill up fast.
Restaurants: We like to limit our van cooking and activities if we are trying to keep a low profile. Therefore, we try to park near restaurants. This way we can grab dinner and then walk back and quietly slip into our blacked out van later in the night.
Wifi: Park near a coffee shop and you can usually take advantage of some free wifi.
Get a Travel Toilet: Having a portable toilet inside your van is key to convenience and stealthiness. Most people always have to pee before going to bed, in the middle of the night, or when they wake up. Our toilet seals off odors very well and isn't gross at all. It's one of our favorite features in the van.
Stealth Camping Essentials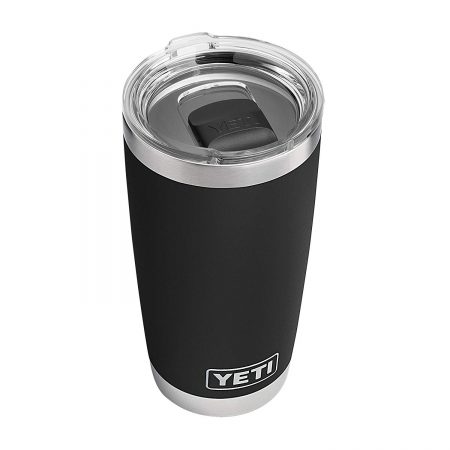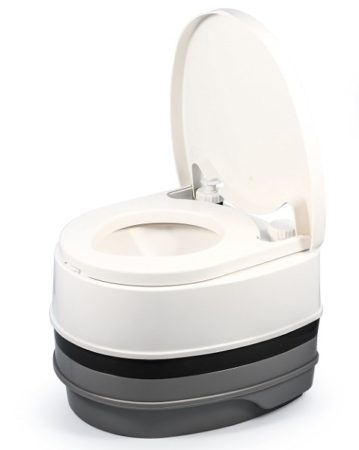 Check out Our Van Can Post Here!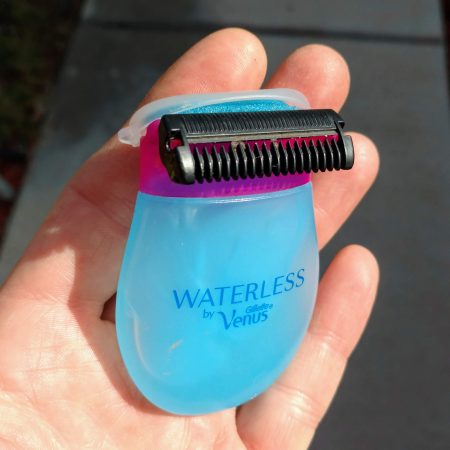 Stay Stealthy My Friends
Sound Deadening: When building a van, sound deadening is a step you don't want to skip. Products like Fatmat are great for reducing noise inside the van, but well-insulated and upholstered walls are ultimately the best noise reducer. Thinsulate is amazing at this. Packing the empty space in walls and doors makes the van very quiet. Rugs on the floor also help sound deaden any noise.
Blackout Your Windows: Don't use foil-faced insulation (Reflectix) in your windows. It is sort of a dead giveaway that someone is inside. Having blackout curtains or shades make it look like very dark tint instead. Another extra stealthy tip is to have no window shades at all, but instead, hang a thick blanket (or moving blankets from Harbor Freight) behind the front seats. This gives the illusion of nobody in the van. Just keep those lights dim or off so no light pokes through.
Go to Sleep! Don't move around in the van or carry on long conversations. This only causes noise and van movement which will attract attention.
Arrive Late & Leave Early: By doing this, fewer people will even see you and have a reason to try to boot you out.
Stay Inside: Don't set out your folding chairs and set up camp like you are in a campground. Keep the music off and the doors shut.
Be Prepacked: Have all your water, food, etc so you don't have to leave or show up with bags of supplies.
Don't Slam Your Doors: When you get out, slowly close the door until the latch first catches then give the door a firm push near the latch in order to close the door completely. Don't forget the latch on the Sprinter slider door is at the back, not the front. It's also a good idea to try and use one of the front doors for getting in and out.
More Stealthy Necessities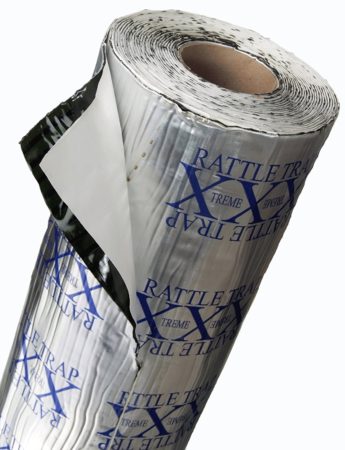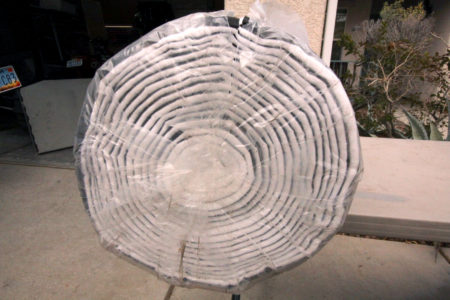 Show Some Respect
Always remember to be respectful of residents and businesses. You don't want to give yourself or the van community a bad name. If asked to leave, don't put up a fight and apologize to them. We try to be as discreet as possible and also try to support the local businesses. Grab a coffee and spend a few dollars in the town where you are staying. Try to give back for your free night's stay. And as always, leave no trace wherever you stay. Don't leave trash behind and don't dump any fluids where you camp or park.
Here are a few epic spots where we managed to camp for free along our 2018 summer trip.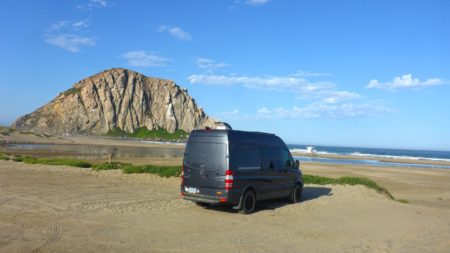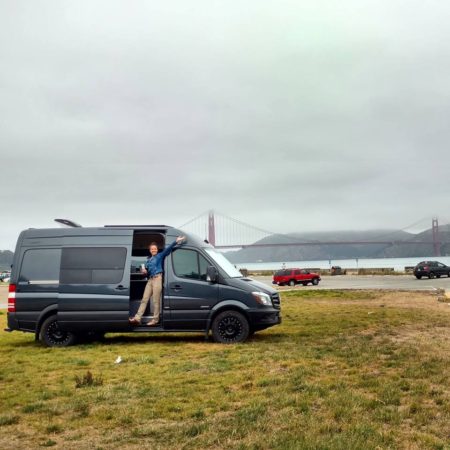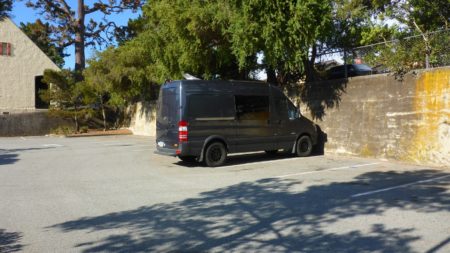 Comments
comments