Although the built-in refrigerator in our van has been a very useful tool on our camping trips lugging plenty of meals, snacks, and drinks across the country, it has its drawbacks. What it hasn't done is kept our food cold in extremely high temperatures, had enough room for ice, or had the convenience of being portable. This is where the Bouge RV 30-quart portable fridge/freezer comes in!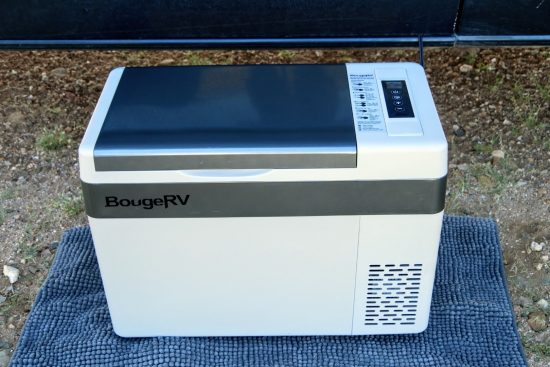 Key Features That Stand Out To Me
For the minimal power the Bouge RV uses (2 to 5 amps, basically runs off the solar) the benefits and performance are impressive. When I power it up to get ready for a trip, this refrigerator is cool and ready to go in just minutes. It's extremely quiet too. It has a low voltage cut-off so we don't have to worry about killing our batteries when plugged into the truck or car. The 11.5-foot long 12V power cord and ability to run off a traditional wall outlet make it useable anywhere (in or out of the van). I really like the option of being able to use it as a fridge or freezer. That's right, it has a cooling range of 50°F down to -7°F! Frozen foods and a ready supply of ice cubes will be nice on long van trips!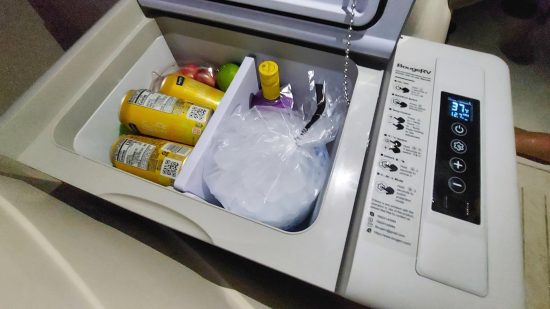 Benefits for Our Van Trips
The convenience of taking the Bouge RV outside the van is major for us for the most obvious reason, not having to get up. Our drinks are right there next to us. But what we didn't realize until we used it was not having to worry about the number of bugs that get in every time we open the slider for a drink. Taking the place of a normal cooler with ice, it's nice to be able to grab a drink without fishing through a frigid sea of melted ice and freezing your fingers. And speaking of ice, when we need to keep ice frozen in the van, we can now hold a couple of bags without the worry of it melting.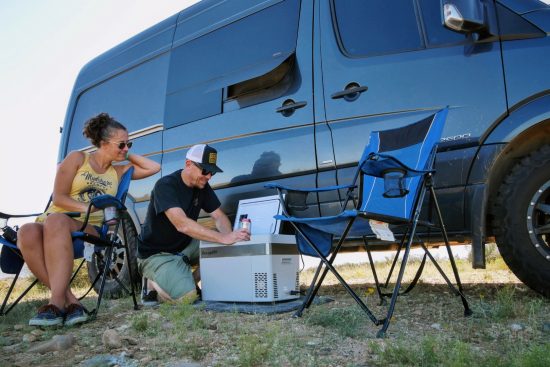 Performance Tested
We try to remember to turn the van's (built-in) fridge on at least a day before we leave on a trip to give it plenty of time to cool. Sometimes we don't remember in time, and the Vegas heat doesn't help. The cool thing about the Bouge RV is it gets from ambient to 32°F in just 16 minutes! When the van is roasting in the sunshine, our built-in TF130 fridge sometimes struggles. The Bouge RV has even maintained its temp in the scorching Havasu heat! It's even served as a step and seat on some trips, so it's pretty sturdy. Of course, we always avoid stepping on the control panel.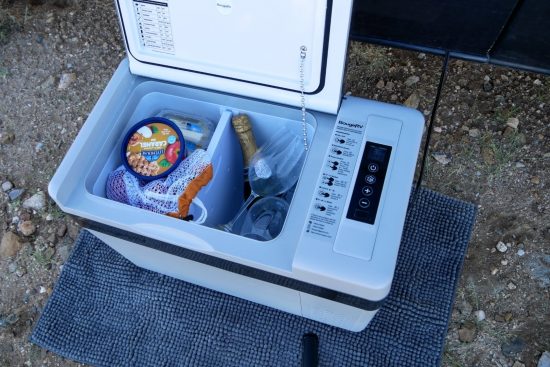 Durability & Adventure Proven
Holding extra food/drinks, taking up minimal space and power, and having the flexibility to be used as a fridge or freezer has made the Bouge RV a great addition to our road trips and adventures. Having ice and dry snacks is now even possible on our boating adventures as well. I hook it up to an auxiliary battery on the boat and it performs perfectly. This is a versatile and well-made item that I highly recommend if you are looking for a portable refrigerator or freezer.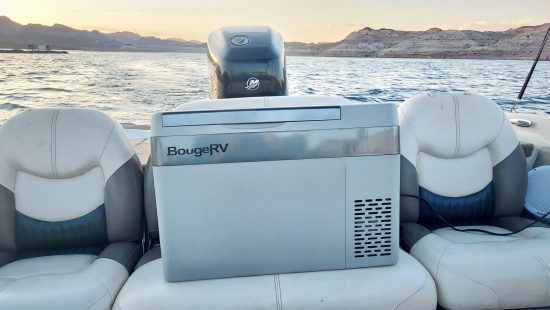 Specs: Bouge RV 12V 30 Quart (28L) Portable Refrigerator
Capacity: 30 QT = 28L = 0.99 cu. ft.
Dimension: 22.68×12.60×15.55 inches
Temperature Range: -7℉~50℉
Weight 22.8 LB
Voltage: 12/24 V DC or 110~240 V AC
Wattage: max mode 60W, eco mode 45W
Noise: ≤45 dB
Refrigerant: R134A
Coupon Codes
AFFFRIDGE47
Get coupon code "AFFFRIDGE47" to save $47 for BougeRV 30 Quart Portable Car Cooler Freezer + Free Shipping
or
AFFfridge
Use coupon code "AFFfridge" to save 12% Off on All Car Refrigerator / Freezer at BougeRV

Comments
comments