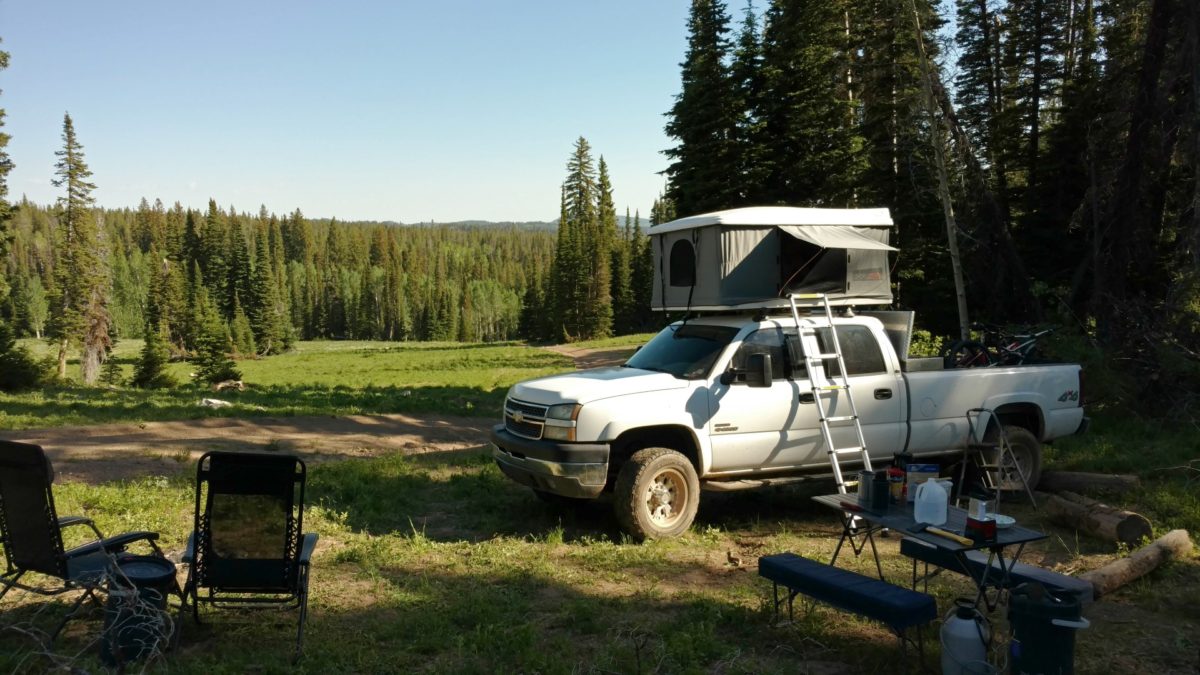 Camping is a major part of our adventures. We love being outdoors and hate paying for expensive lodging when traveling. The two biggest expenses when traveling is food and lodging. Sometimes we just need a place to crash for the night. When Anna and I discovered roof tents, we knew we had to have one. They fit our lifestyle perfectly.
What is a Roofnest?
It is a hard shell, roof-mounted tent that pops up in a matter of minutes.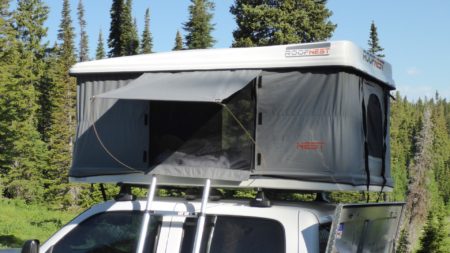 Why did I choose Roofnest over other brands?
It's simple. The biggest reason we bought a RoofNest was because it was the least expensive one I could find. After visiting the Overland Expo, I got to see a few other manufacturers up close and although RoofNest was not one of them, I was convinced they are mostly all the same. The only differences I could see were minor things like the window shapes and door openings. They all ranged from $3000-4500. That seemed a bit steep for a roof tent. While searching for Sprinter Vans on Craigslist, I saw an ad for Roofnest for around $2300. This got my attention. I scoped out as many photos, reviews and videos I could find on the RoofNest. There aren't that many online reviews that I could find, but from what I could tell everyone loved theirs and I couldn't see how the other brands were worth the extra grand or two. We sort of took a chance and just went for it.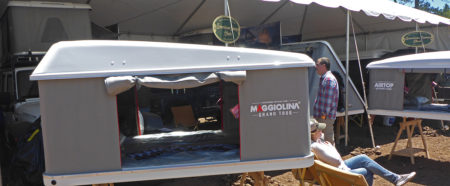 Easy Setup
The biggest reason why we love our Roofnest is the ease of setup. We used to tent camp. Pulling out the tent and messing with poles, a tarp for the ground, sleeping bags, inflatable sleeping pads, etc gets old really quick. Packing it all back up in the morning is even worse. It takes valuable time out of your day that you can be using to get on with your day or next adventure. With the Roofnest, we are ready to roll into bed in less than a couple minutes when we arrive where we will be crashing for the night. Our bedding is already up in the tent and ready to go. All we have to do is undo the 4 buckles and pull out the extending ladder. Walla! Done. Then in the morning it literally takes more time to make coffee than it does to collapse the tent and go.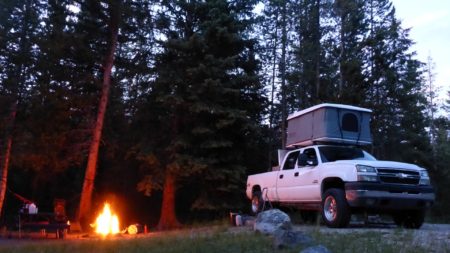 Get a Good Night's Rest
Inside the Roofnest is a 3-4″ high density, queen foam mattress. I found it to be plenty sufficient unless I was laying on my side. My hip bone contacted the floor once or twice. It wasn't a big deal, but I opted to add a layer of foam under the mattress. I weigh 200 lbs so this may be why. Anna never had this issue. I used a mattress topper and it worked great. Sleeping in the Roofnest is awesome. At 6'2″ I can sleep with Anna in the tent without any discomfort. There's room for the both of us. You can open the side windows if you need some ventilation and get a nice breeze going through your tent. It's also nice having real sheets and blankets versus a sleeping bag. I can never get super comfortable in those things. Plus you get to snooze up on your loved one rather than having separate sleeping bags.
Higher Is Better
Being high has it's advantages. No, I'm not talking about not having hangovers. I'm talking about not sleeping on the ground. We have a little added sense of security being up high above our truck roof. We are away from critters and animals that can get into the tent. Not only that, it reminds me of the days as a kid up in my tree fort. Come on, who doesn't like those? The views are great for waking up to. Open the windows and get a cross breeze or keep them shut to keep it warm. The walls are plenty thick enough to block out the wind and don't make a bunch of noise either.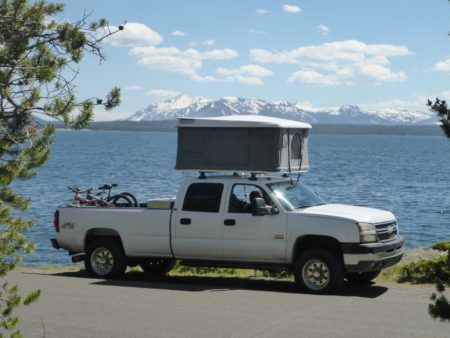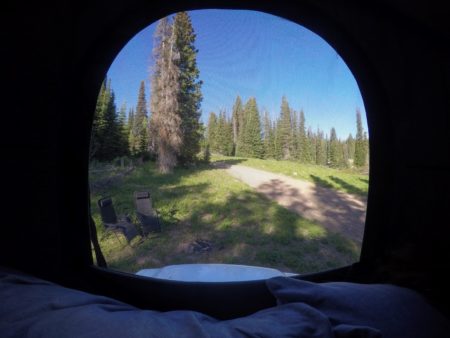 If it's extra cold, we use a propane powered Buddy Heater inside.
It's safe for indoor use and heats up the tent very quickly.
Go Camp Anywhere
The nice thing about the rooftent is the ability to go off the beaten path. RVs are very limited on where they can go and trailers have little ground clearance and maneuverability in tight places. The Roofnest is light enough, it doesn't beat up your vehicle if you are on a rough road. It actually flexes some when you need it to so you don't have to worry about the pan cracking when your vehicle gets into the twisted positions. Not that your roof is going to twist, but some guys mount it over the bed of their truck. Another nice thing is the ability to level your vehicle using leveling blocks. This is much easier than having to find a perfectly level spot on the ground to lay your tent and sleeping bag. I use the Tri-Lynx leveling pads and they pack fairly small and are easy to use.
Installing, Hauling & Storing
Hauling the Roofnest is simple. First, you will need a quality roof rack like Thule. You don't want to skimp and buy a cheap one and have your roof tent go flying off on the highway. Once you get your roof rack installed, the Roofnest uses four clamps to mount to the crossbars. The tent is pretty low profile and does not cause any wind noise or excessive drag. I think my mileage might have dropped about .5 or 1 mpg, if that, but it wasn't significant. As far as storing, I just leave the Roofnest attached to my truck so it's there when we decide to do a quick trip. If you had to remove it, I think I would leave it attached to the rack and remove the whole thing. It weighs about 150 lbs, but two people could easily remove it.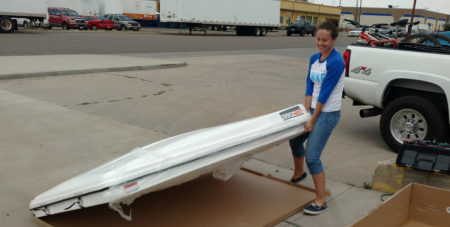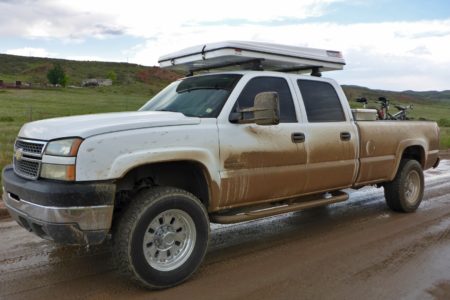 Purchasing (pickup vs shipping)
I emailed and eventually spoke with Tim, the owner of RoofNest, prior to buying ours. Unfortunately, since they were in such demand, he had just sold off his last white Eagle the day I was ready to buy. He gets large shipments about every month from his manufacturer. If you are thinking of buying one and they have one in stock, snatch it up! They go quick. You have two options. 1) You can have it shipped for anywhere in the US for $250 and it will be delivered to a warehouse near your home (because of it's size). or 2) You can also pick it up from his warehouse in Aurora, CO. This is what we did since we needed it for the trip we were on in the area. Just be advised that since it is coming from overseas and it goes through many different carriers, it can be delayed due to reasons beyond RoofNest's control. Tim is very good about keeping you informed about it's expected delivery date as the day gets near.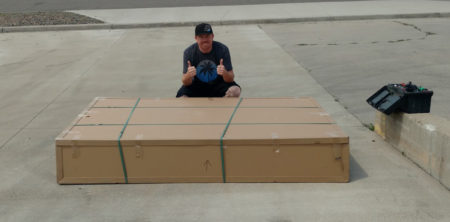 Construction
RoofNests are manufactured in China. I know that sounds bad, but trust me they are very good quality. I was impressed. First off, it's not a complicated design. Second, China manufacturers are not what they used to be. They have come a long way and I have faith in the longevity of this product. If you ever need anything, Tim at RoofNest will help you out any way he can.

Pros:
Fast and super easy setup.
All your bedding is already in there and ready for snooze time. This is a space and time saver.
Great views from your tent when camped in epic locations.
Protection from critters on the ground.
Better cross breeze than on the ground when all windows are open.
The tent doesn't fall over in your face when it's windy outside and is much quieter.
Level ground not required. You can always level your vehicle. You can't level a ground tent.
Cons:
It sucks having to climb down the ladder if you have to pee in the middle of the night. We try to drink less before bed and just in case, bring a seal-able hospital urinal up top with us.
Just like a regular tent, it is not insulated. It will keep you dry in the rain and handle the wind much better, but we use a small heater in very cold weather.
There's a door on each side, but it would be nice a rear door option. It would be much easier to enter and exit with some vehicles like a pickup truck.
Video: Walkthrough and Review
Getting 12V Outlets In Our Roof Tent
As mentioned in my video, we like to keep our phones on chargers at night, therefore we need outlets up there. I wired up an SAE battery tender connector to my truck's battery and have it in an easily accessible place on the front of the truck (my tow hook opening in the bumper). Then I simply connect a battery tender extension cord and run it up to the tent. At the end of the extension cable, you could plug a 12v outlet or USB adapter to eliminate extra wires and connections. I just used a 12v cigarette outlet splitter and plug both our phone's car chargers in.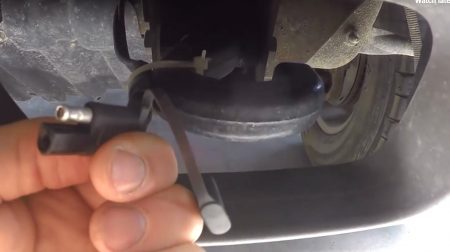 There are a few ways to easily tap into your vehicle's battery using SAE adpaters.
You could also just use the vehicle's power outlet/ cigarette port or clamp directly to the battery.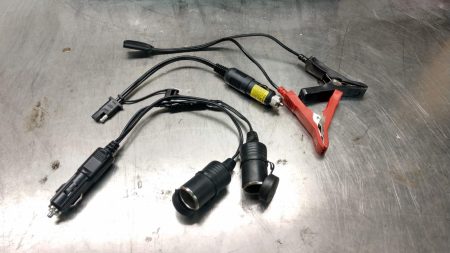 Summary
The Roofnest has changed camping for us in such a great way. We are much more comfortable now compared to when we ground tented it. Being able to set up in a matter of minutes is flat out awesome. When we're on adventures, we don't want to have to set up a tent, inflate sleeping pads, and pull out bedding, let alone destruct all of this mess in the morning when we are trying to get moving. Overall the Roofnest makes camping a cleaner, easier and more comfortable experience. We are very happy with our purchase.
Comments
comments