As most of the country is getting dumped on with snow, Anna and I decided it was time to go explore one of our favorite (and much warmer) parts of the southwest, Lake Havasu. Most of the times we've visited here it has been in the scorching heat of the summer and we're either soaking in the lake or enjoying a beer in an air-conditioned bar. This time we wanted to explore a different side of Havasu. The cool temperatures meant we could explore some parts of Havasu that are pretty much out of the question in the summertime.
The first step to just about every one of our adventures is to follow the good weather!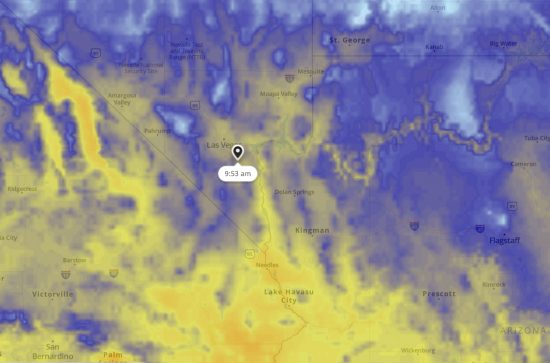 Sara's Crack & Balance Rock
The temperature was in the upper 60's as we pulled into Lake Havasu. We started our day by heading straight to the trailhead of Sara's Crack, a slot canyon located at the south end of town, just 14 minutes from the London Bridge. Located in Sara Park, it is a well-known trail therefore don't expect to be the only one on the trail. Believe it or not, we actually don't really like hiking and wondered about our day's decision about 1 minute into this hike.  😆  Most of the time we're only doing it to be outside, get some quick exercise, and fresh air. We also really love slot canyons.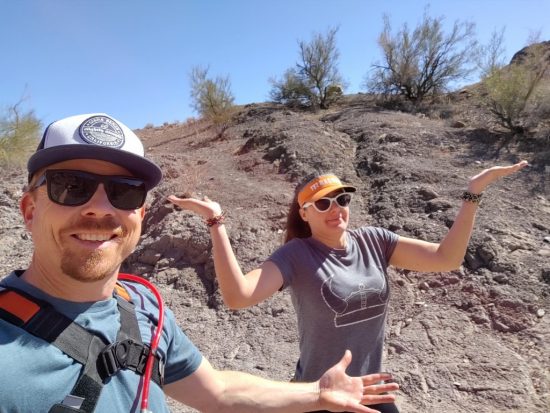 The beginning of the trail was about a mile and a half of nothing too exciting, but you've always gotta cover some ground in order to get to the cool stuff.
After a lot of gravel wash, we arrived at the winding slot canyon.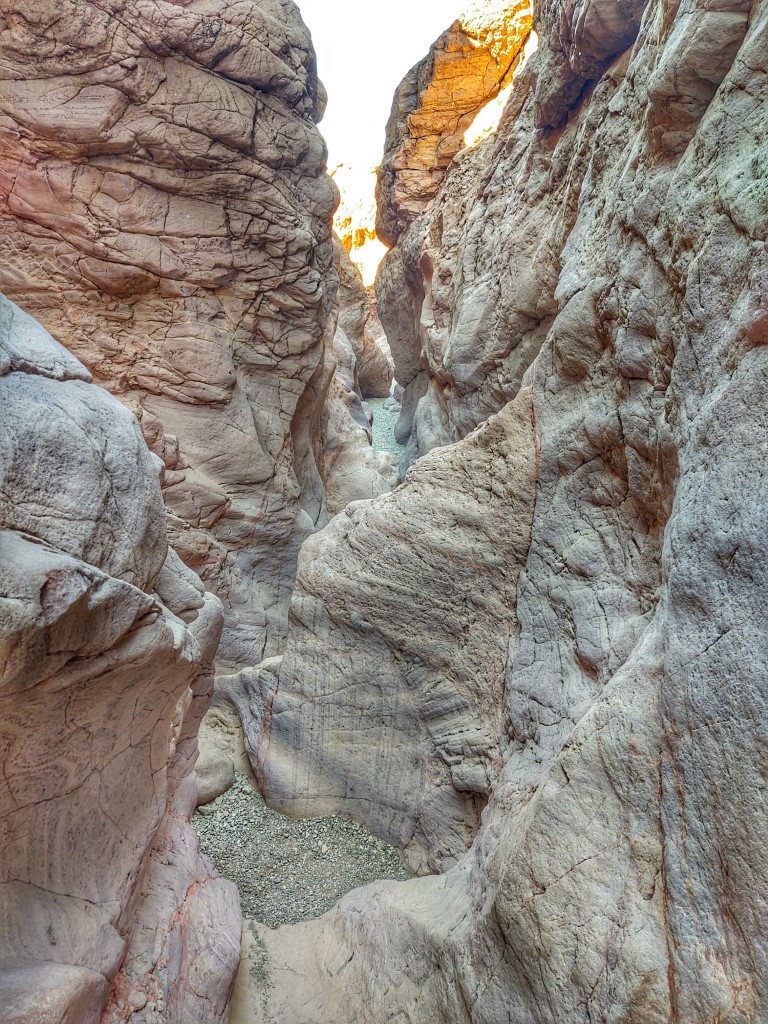 Along the way, locals have added a small ladder, an old bleacher bench, and a rope to assist in some of the more technical parts. Ropes are one thing, but I feel the other stuff takes away from the natural feel of the canyon. If you need a 3-foot ladder to negotiate your way down a rock or a plank to avoid a puddle, you shouldn't be out here. I love canyons like this that take a little effort and careful scrambling to get through.
You can use the rope to go down or use the natural slide method. Way more fun!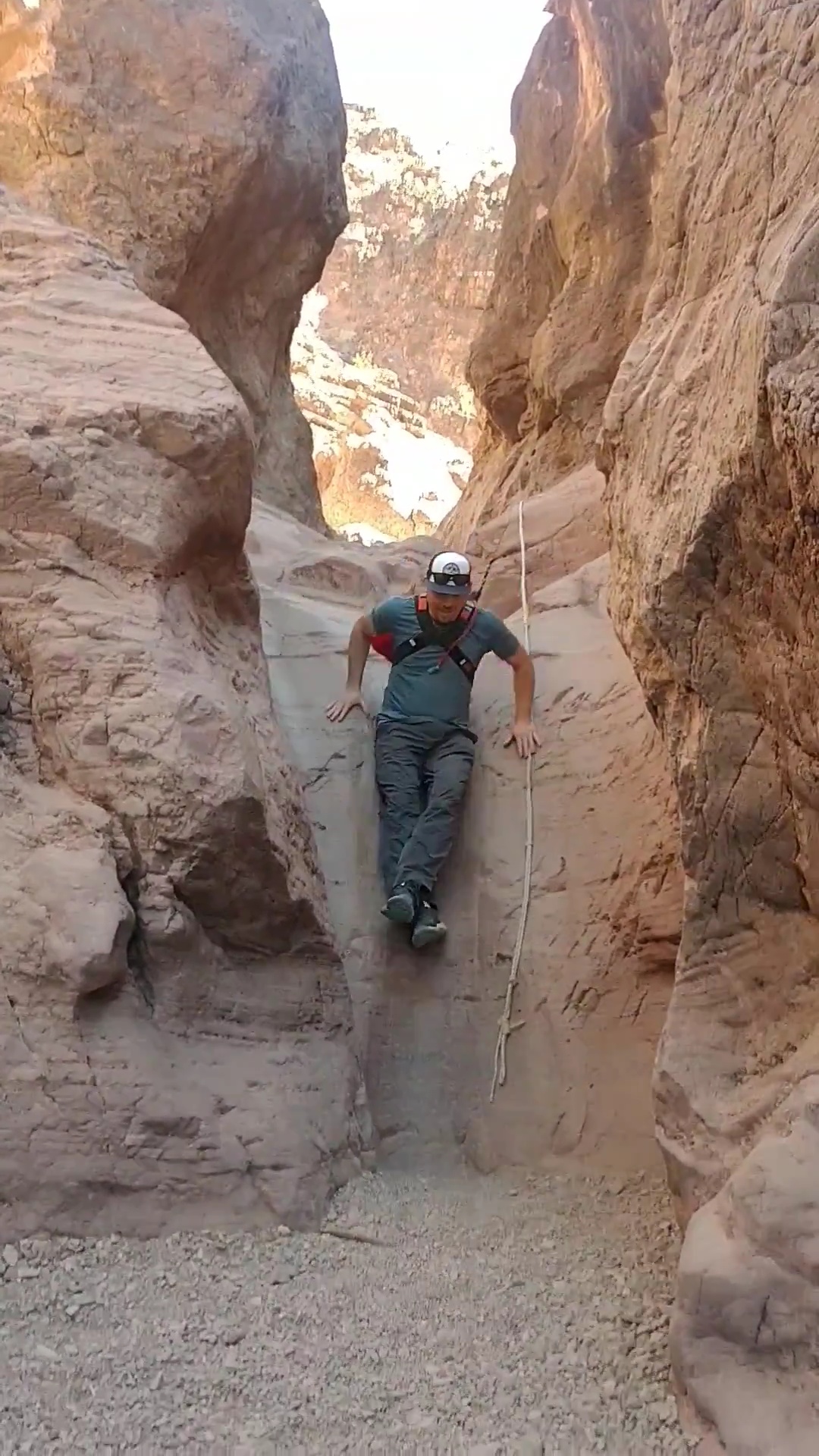 Although this was the best part of the trail, we decided to continue all the way down to the water to check out Balance Rock. There were a few others down there sitting in the only shade so we checked out the funny-shaped rock and jammed back at a brisk pace. We took the "Blue Trail" back which is a single-track type trail that follows the ridge above the wash.
Sara's Crack/ Balance Rock Hike Stats
Our hike out and back was 5.31 miles in total with an elevation gain of 678 ft.
Parker Desert Bar
After our hike, we headed down to the Parker Desert Bar. Named after the old mining claim, the Nellie E Saloon is open from October through April. It's a completely off-grid and self-sufficient bar that caters to offroaders and desert people. Although it's a bit of a bumpy 4.6-mile road getting there from the highway, you don't need a 4WD rig to do it. A car could easily get down it. You just have to be a little patient because it's a slow go! The Desert Bar consists of a full kitchen, indoor and outdoor bars, a gift shop, and a stage for live music. The food was really good and the atmosphere was great!
Finding Someplace to Camp
We usually like to stay in town when we're in Havasu, but this time we were looking for someplace free and in the nearby desert. Just outside of the city limits there is a popular BLM dispersed camping area that many snowbirds utilize. It's easy to get to and not too far out of town. When looking it up on Google Maps they call it Lone Tree Campground, but it's just a BLM dirt area with no amenities so don't expect anything more than that.
We Almost Got Stuck!
We pulled in and were blown away by how many RVs, campers, and vans were there. Not wanting any neighbors, we continued a little way down the dirt road. That was almost a big mistake. It was dark and difficult to judge how steep the trail was as we approached a steep descent into a wash area. Riding the brakes, I slowly crept the van to where it dropped and we drove down. I quickly realized we probably couldn't get back up this road! So we slid down the loose gravel trail and negotiated our way to a level, safe spot for the night. Feeling a little uneasy about my decision to drive down here, I walked up the road to see how rugged it was. It wasn't too bad but the climb out of the wash was similar to the road we just came down. We couldn't do anything about it until morning so we called it a night.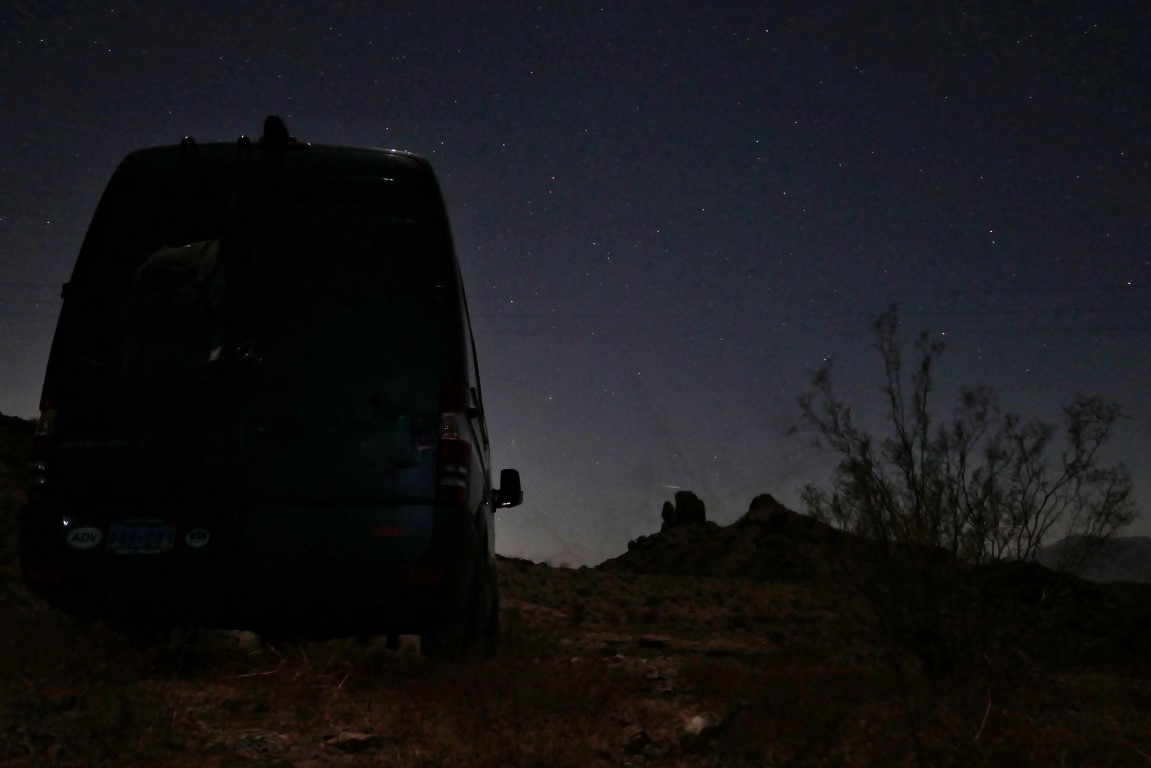 In the morning we woke up to some nice views as the sun illuminated the cool rock formations and surrounding mountains.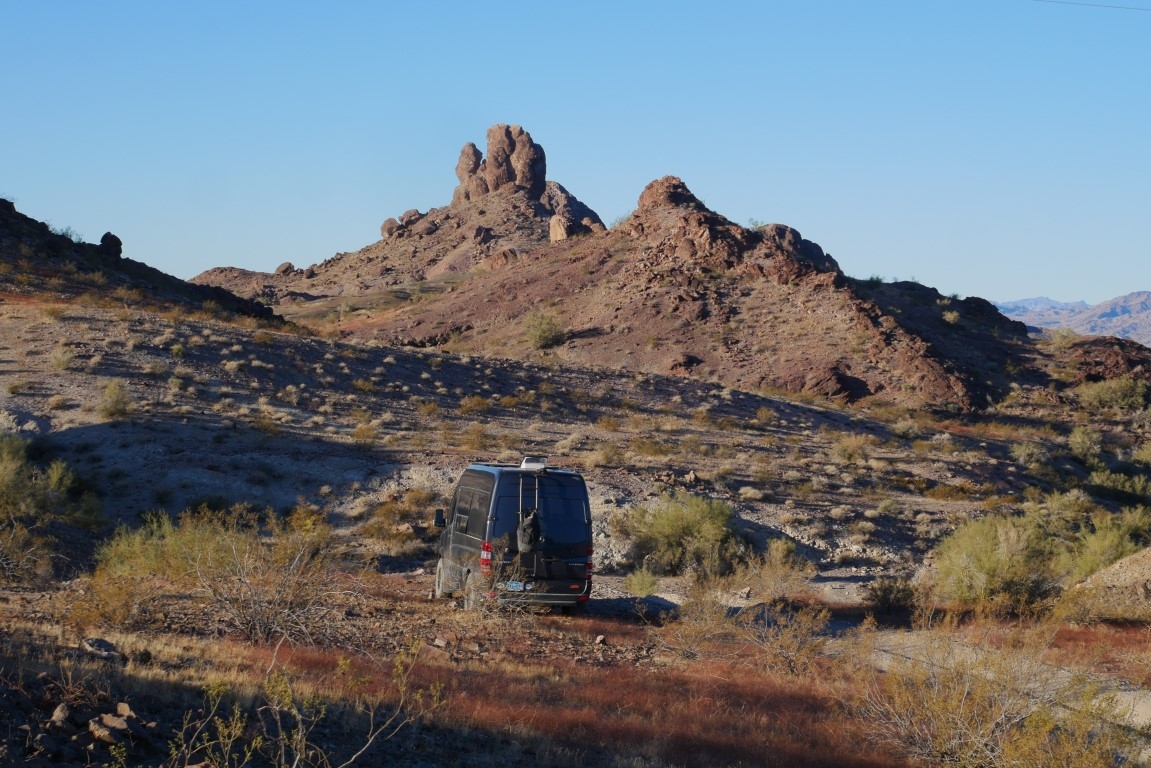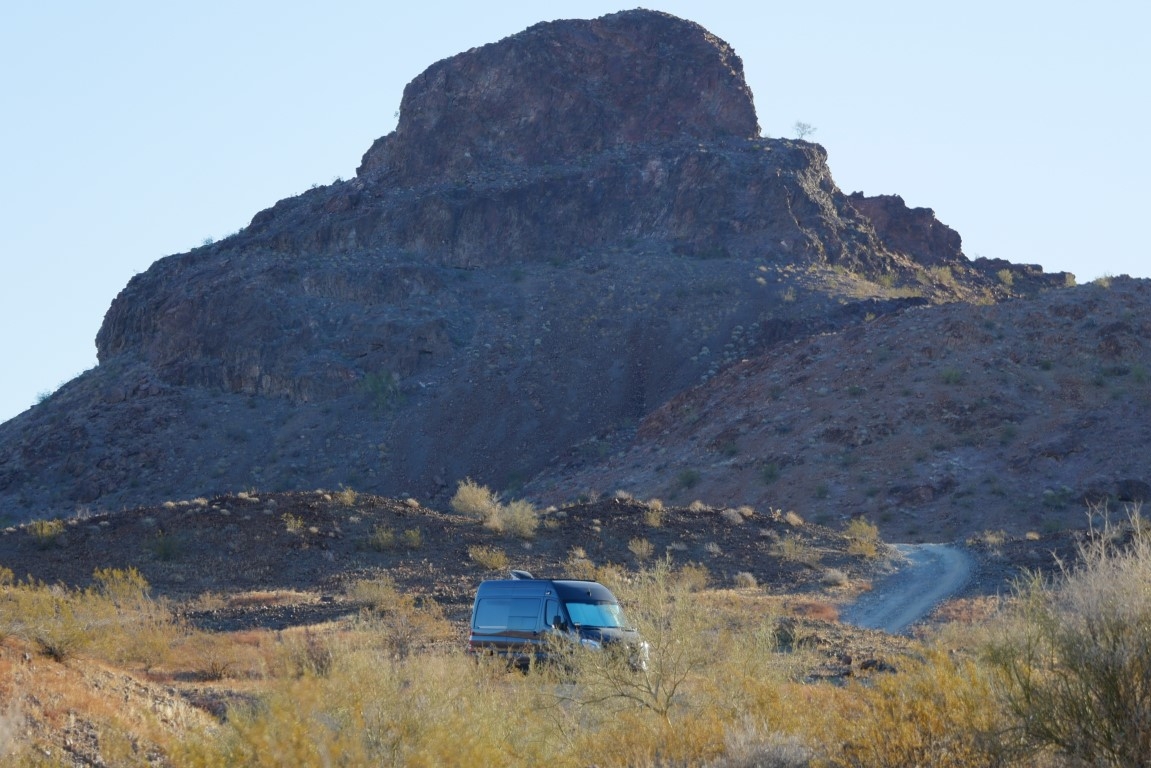 Photos never do it justice, but after walking back to the trail that we came down I was not 100% sure we'd make it back up. It was steep and pretty loose gravel.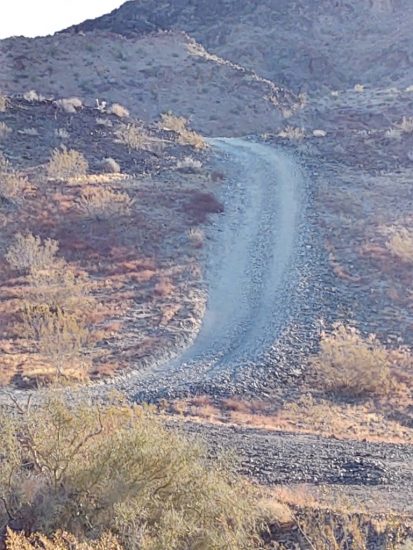 As I mentioned earlier, the other alternative route was just about as steep and loose as this trail. But wouldn't ya know it, our 2WD Sprinter impressed us once again. I shifted into manual 1st gear (so it wouldn't shift when we needed the power most), turned off the traction control, and we went for it. After just a couple of medium-sized jounces, the van went right up with ease! I was having thoughts of needing to air the tires down or possibly ask the help of a Jeep to pull us out of there. Nope, Grayson has got this! (Grayson is the name of our Sprinter  😆 )
Since all of that excitement was finally over, it was time for some breakfast on the beach. We found a nice quiet spot where locals use to launch their jetskis and we pulled up near the water. I made some bacon, eggs, and coffee and then poured us some Prosecco afterward to celebrate not getting stuck.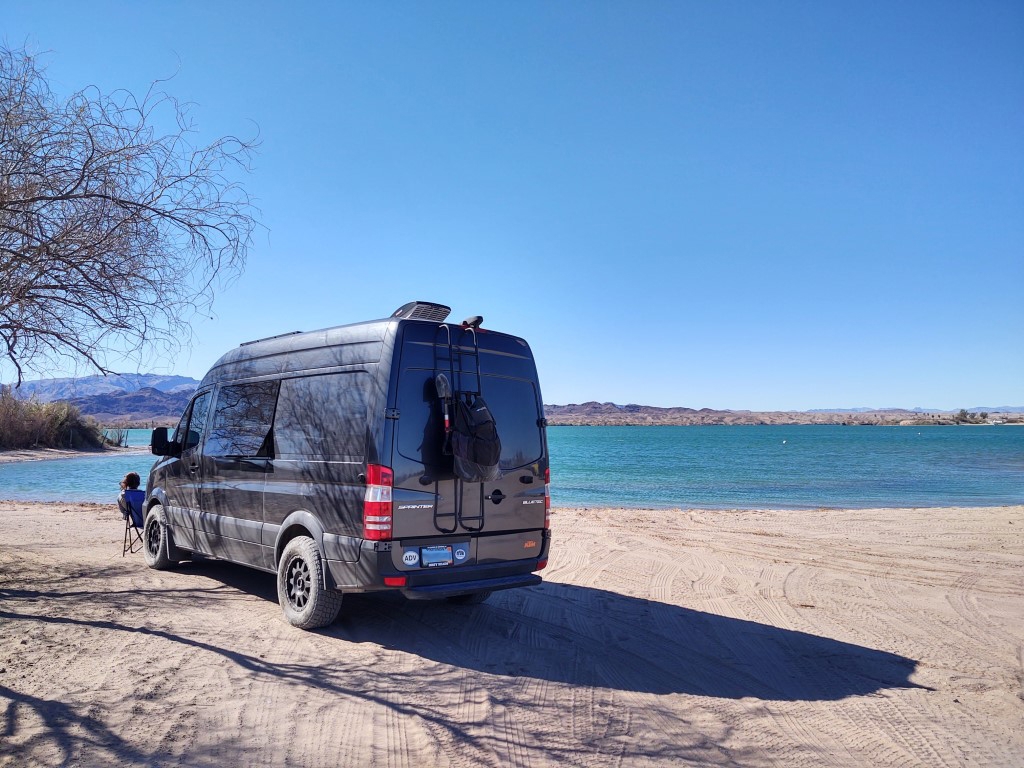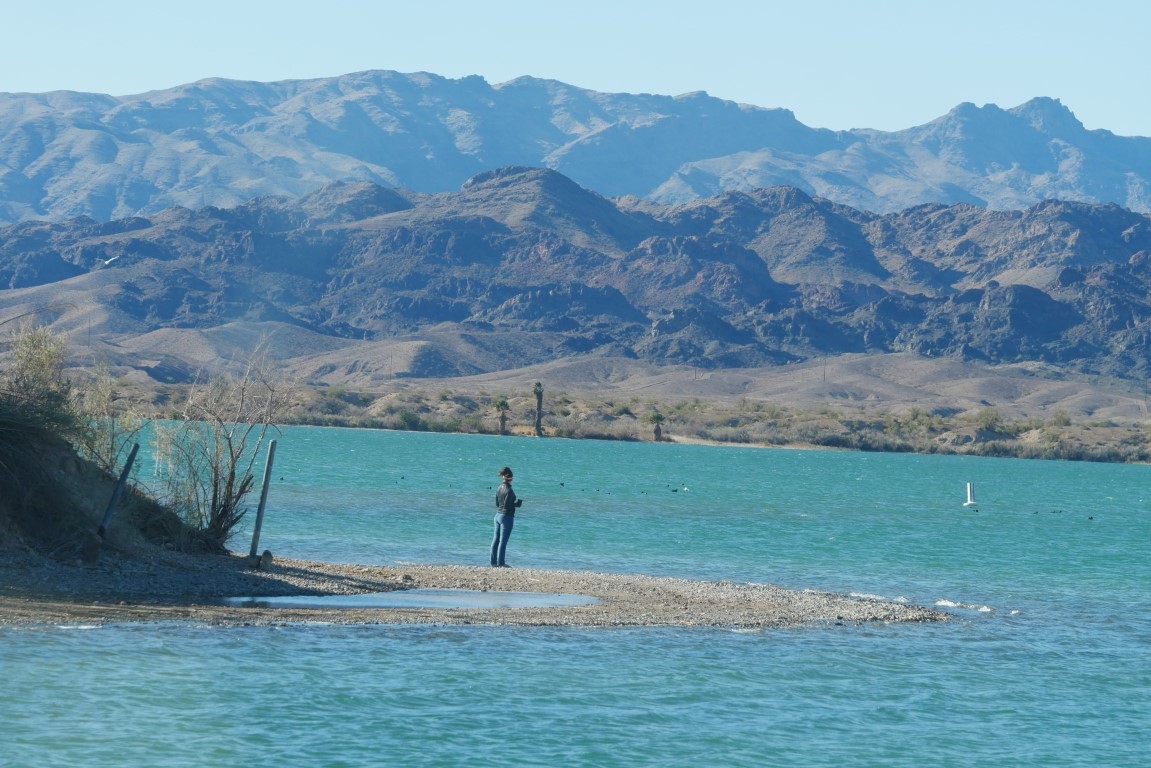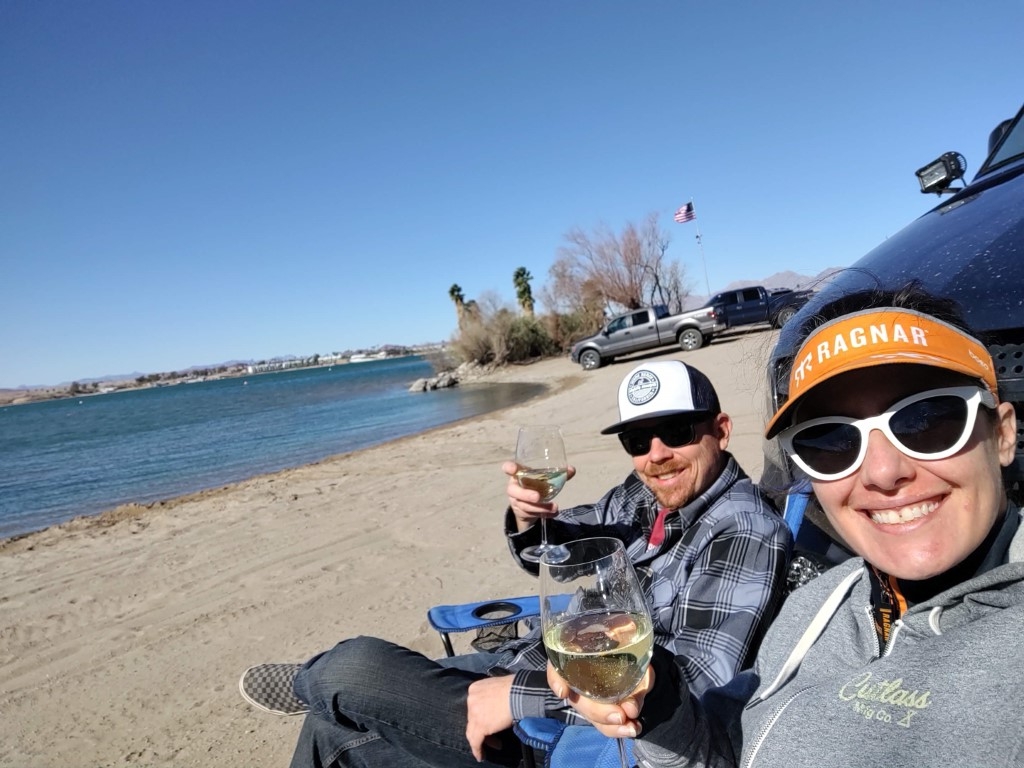 We chatted with some really cool locals with some cool rides.
And of course, Anna played with their dogs.
Mudshark Brewery
After the beach, we stopped at the Mudshark Brewery for some lunch. If you ever want an awesome pizza and some good craft beer, this is the place! Sorry, no pizza pics. We were hungry!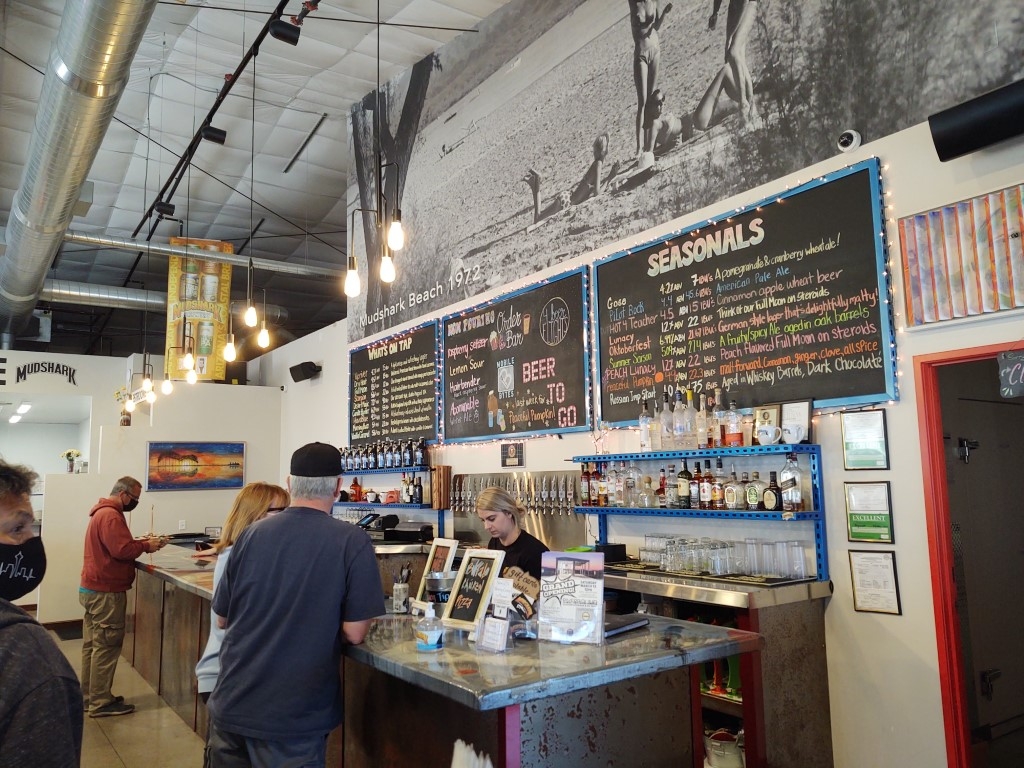 Bunker Bar
On the way out of town, we had to stop and see Havsu's newest desert bar, the Bunker Bar. They just opened in 2020 and are open during the cooler months just like the Parker desert bar. We only stopped for a quick beer and didn't stay long, but we could see ourselves spending an afternoon here. It had a really cool vibe and the staff was really friendly.
Weekend Wrapup
It felt great to visit an old place to us but find some new experiences. Havasu has so much to offer, especially off-road. There are so many trails and canyons in the area I want to get back out there and do some more exploring with the dirtbikes! With plenty of BLM, free camping you could very easily find a cool spot to boondock for several days without any neighbors. This was another quick weekend adventure that felt like much more than that. Our self-built Sprinter adventure van continues to bring us to places we love and always surprise us with its agility and convenience. Until the next trip, thanks for tagging along!
Places and Links
Comments
comments