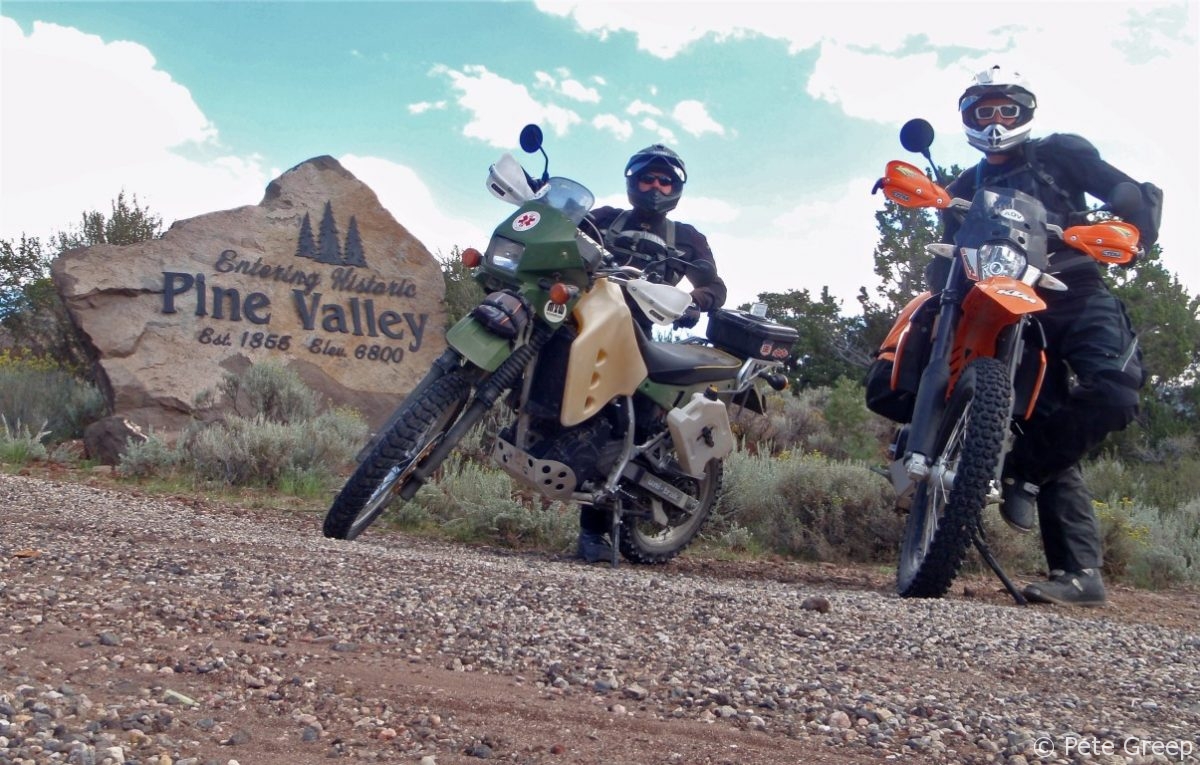 One of the reasons I bought my KTM 690 was to do longer adventure rides. Back in September of 2012, I went on my first out-of-state ADV ride. My buddy Mike H and I rode from Henderson to Pine Valley for a weekend of riding with a group of friends.
Loaded up and ready, I had everything I needed on my bike including clothing and essential tools/ parts. I used the Giant Loop Coyote Bag plus the KTM tail bag to carry all my stuff. We were staying in a cabin so no camping gear was needed.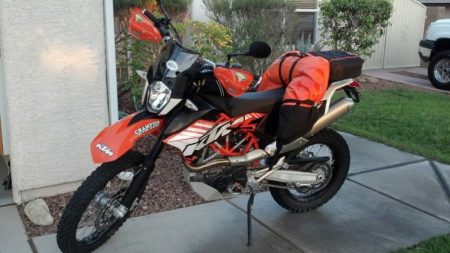 Me on my 690 and Mike on his KLR 650, we were ready to leave town at 7 AM.

Heading towards Lake Mead, we took a short section of dirt.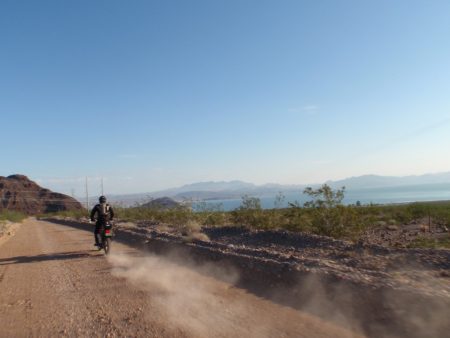 As we headed up North Shore Road, we decided to stop off at Anniversary Mine.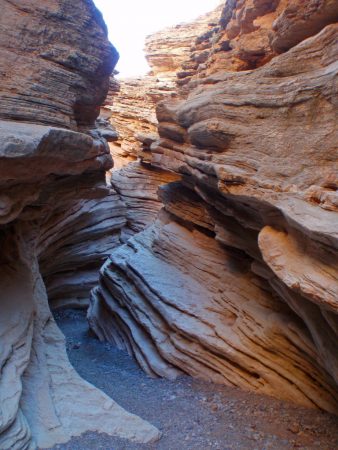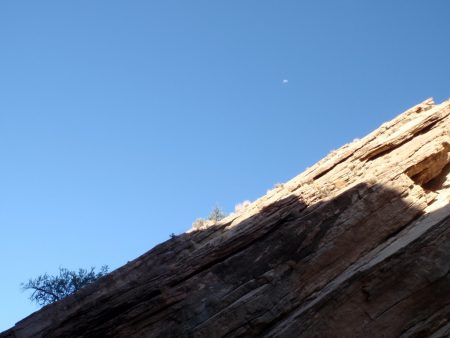 Mike coming out of Anniversary Mine

Taking a wash towards Bittersprings, we were sort of winging it at this point with no known exit point back to North Shore Rd.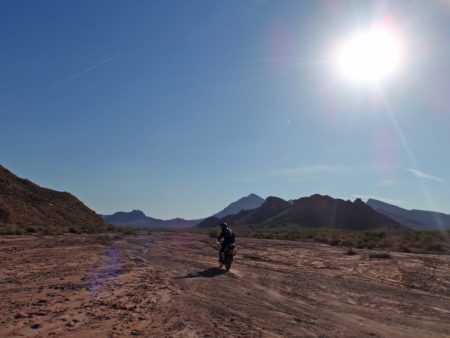 Good times though! That wash was a blast.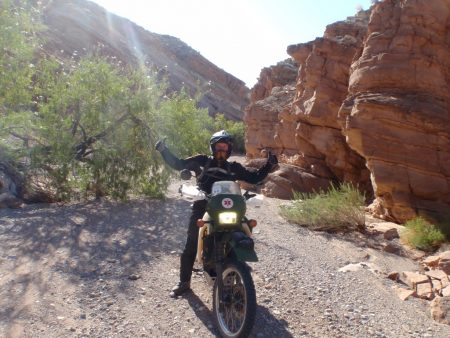 Mike jamming through some rocks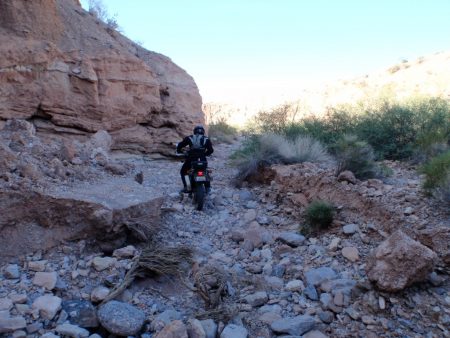 Back on the asphalt, we headed towards Overton.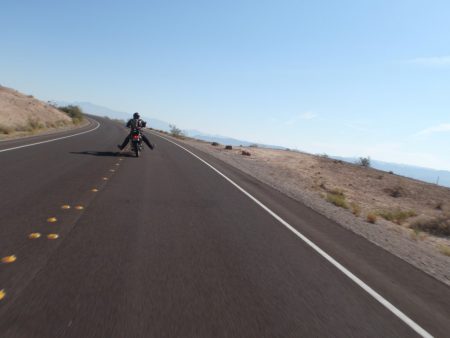 Lake Mead is the distance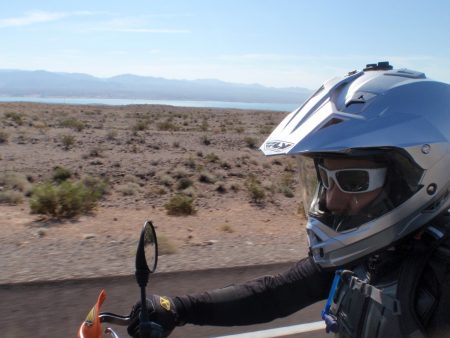 How did we manage to make the ride from Henderson to Overton exactly 100.0 miles?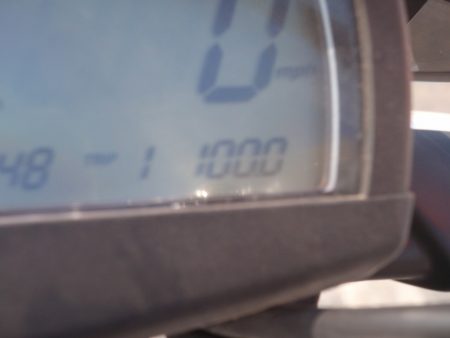 We grabbed some breakfast at Micky D's.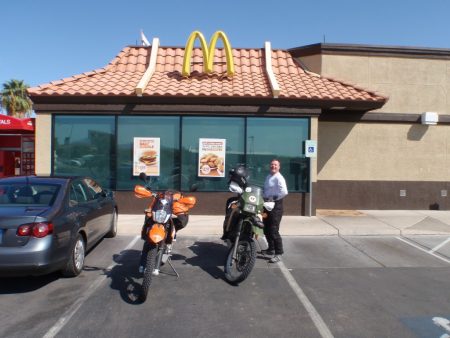 We hit dirt at Mormon Mesa.
Crossing under the evil asphalt of I-15.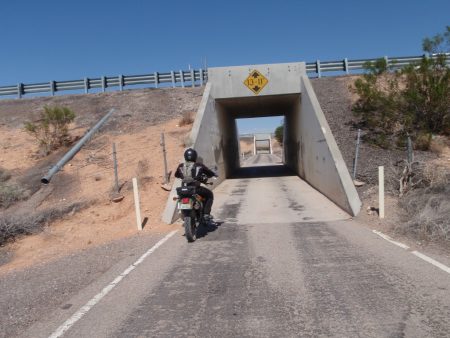 This was our dust trail as we headed up Rainbow Pass.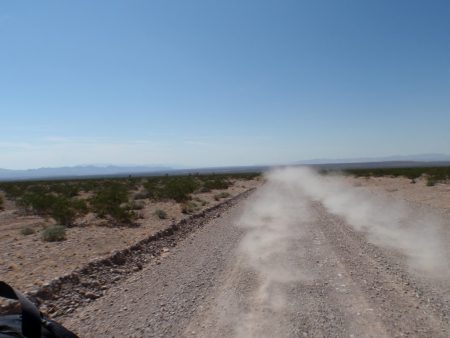 The terrain began to change as we got into the mountains.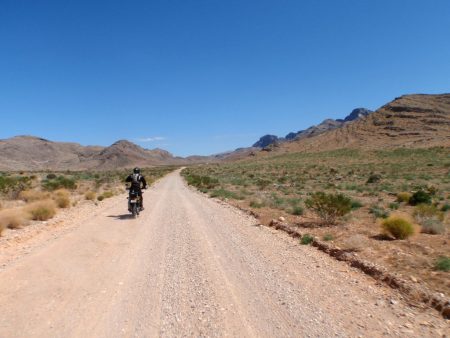 Mike checking the GPS as we turned on Tule Well Rd.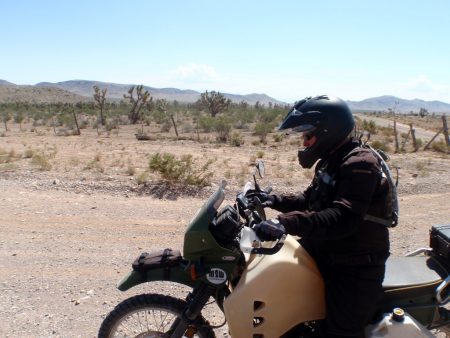 This was an old corral we came across. It still looked like it was in use today.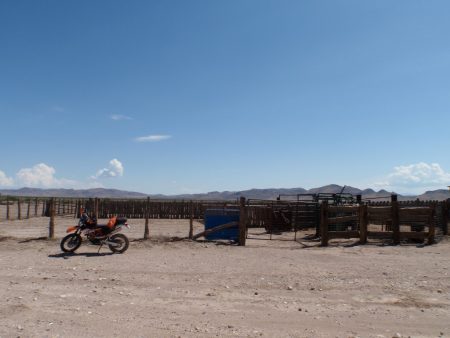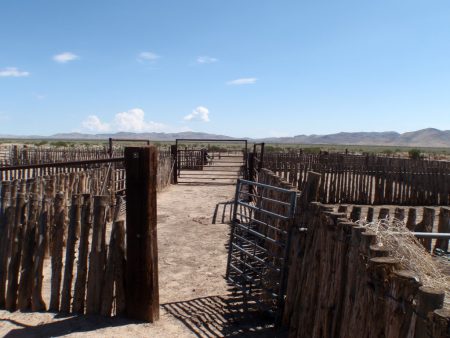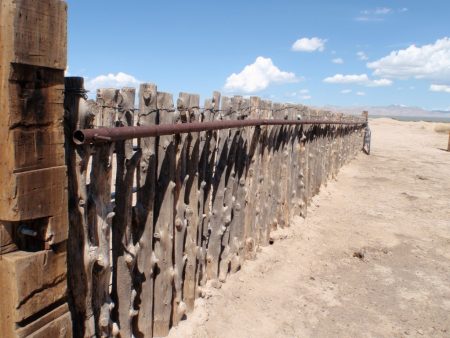 Mike rode his horse around the corral.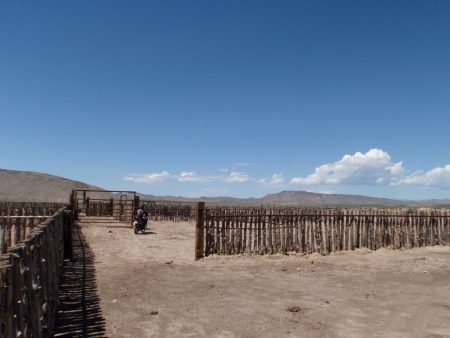 The corral water source…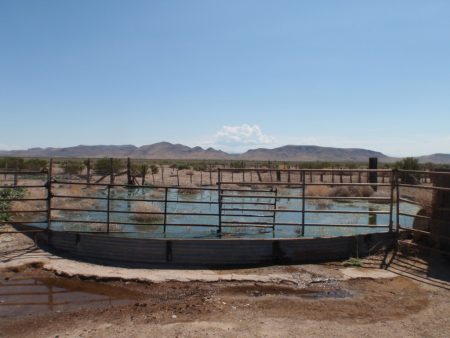 Due to recent rain there were many washouts along Snow Springs Rd. This one was the biggest!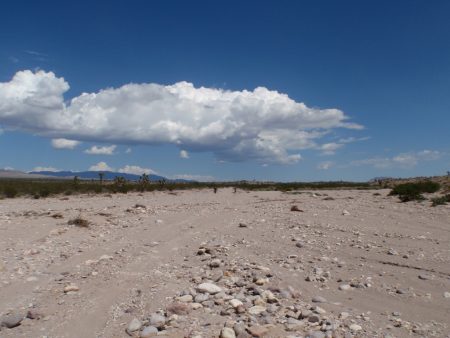 Entering Utah!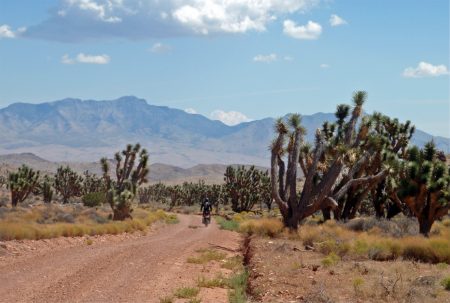 We took a quick lunch break in the only shade out there.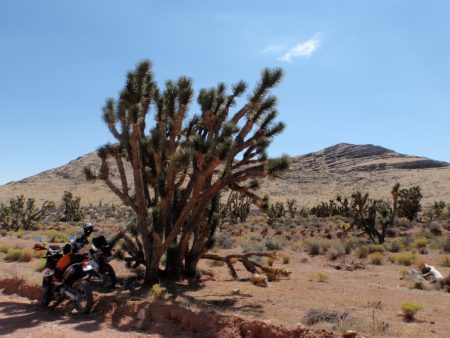 These were some huge Joshua Trees.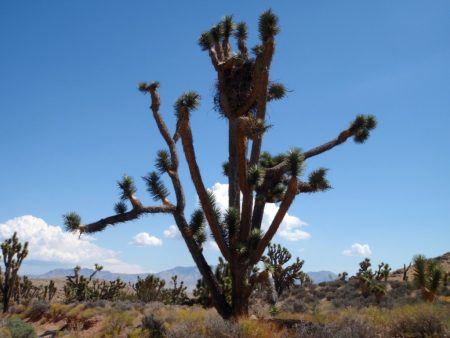 Onward to Utah!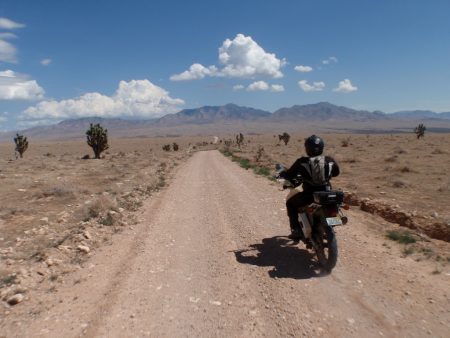 Wash at Bull Valley Rd


Getting close to water!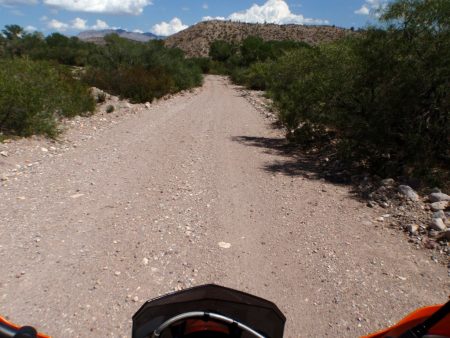 Water crossing on Bull Valley Rd. Mike crossed with ease!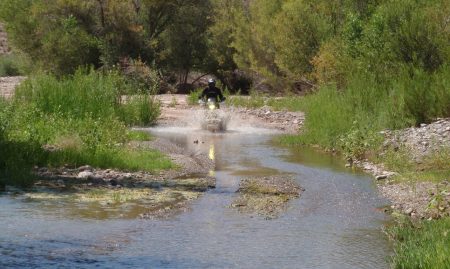 YIAH!

Good stuff!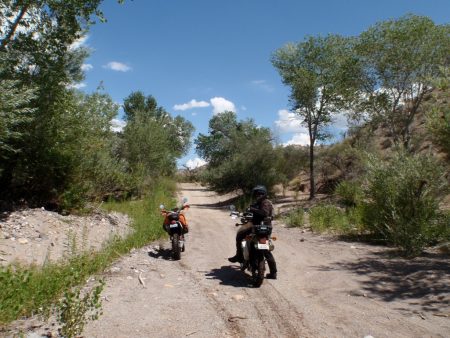 I took the less conservative approach. I was excited to cross water.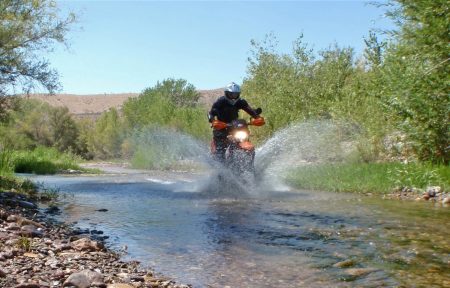 I blasted Mike during my photo op. OOPS. He said it felt great though! haha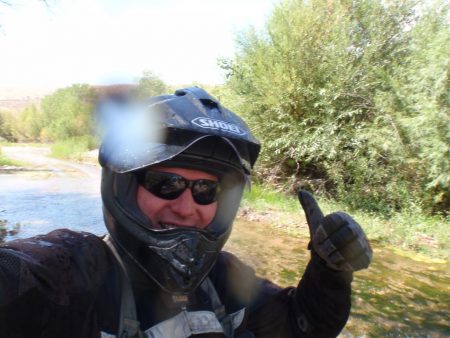 We were getting close to HWY 91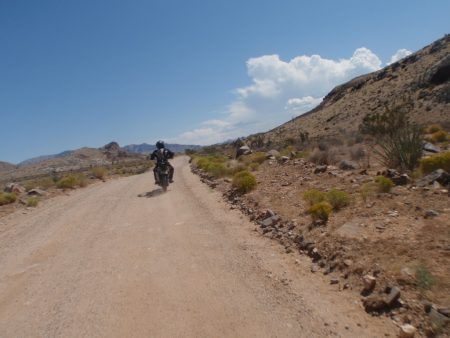 Highway 91!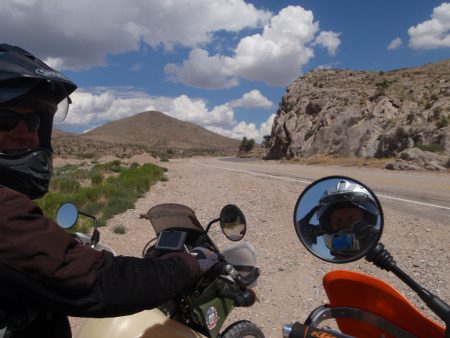 Heading up the very scenic Old HWY91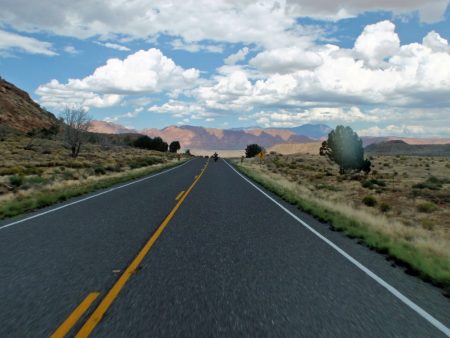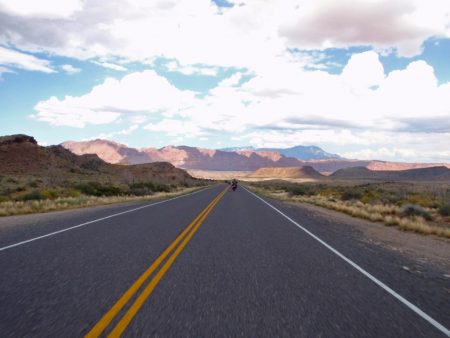 Horses at the 91/ Main St intersection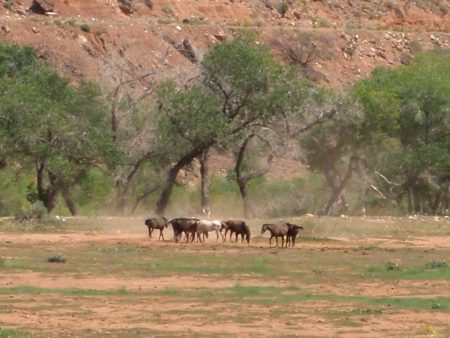 We stopped off to check out Gunlock Reservoir.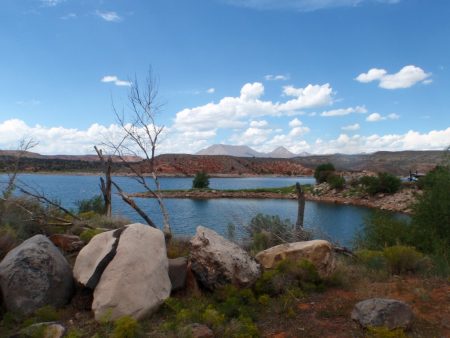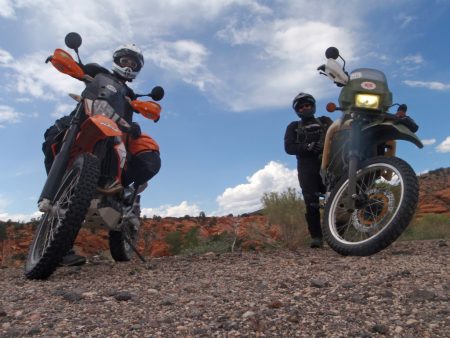 We noticed we acquired some algae spoke bling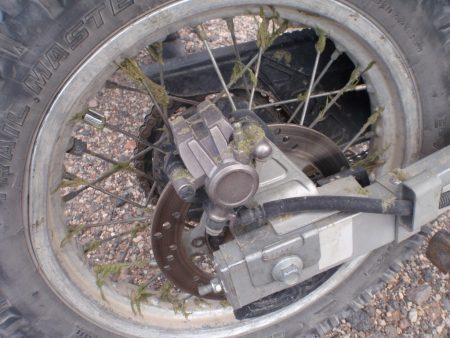 We got back on the road and continued heading north.

Get out out of the road, jackazz! lol That cracked me up. I actually said it out load and laughed.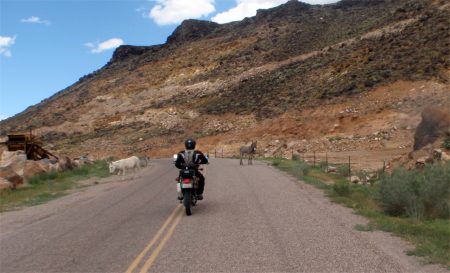 Our first fuel stop was in Veyo.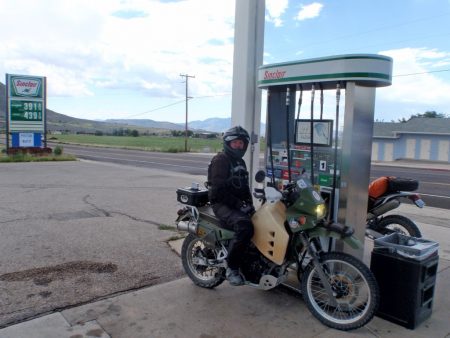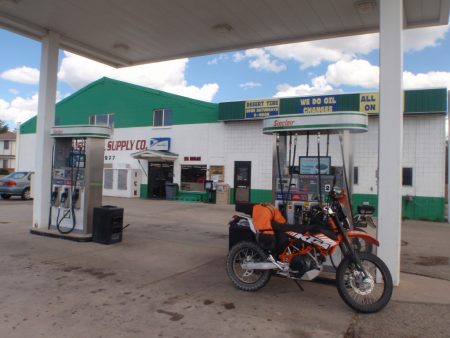 Heading up Pine Valley Hwy. We were getting excited. We were almost there!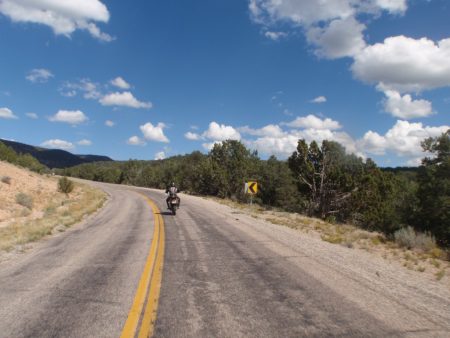 We made it…Pine Valley!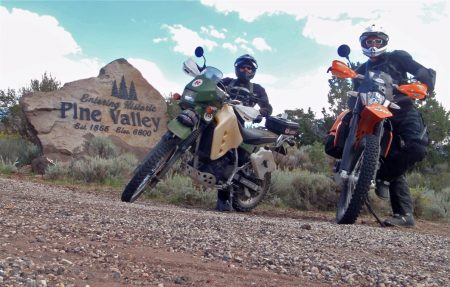 As we climbed up the mountain, the temperature dropped every mile.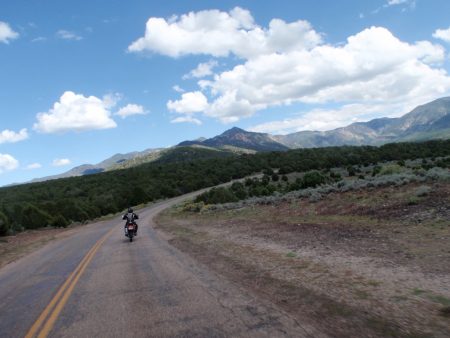 We arrived in Pine Valley with plenty of daylight left.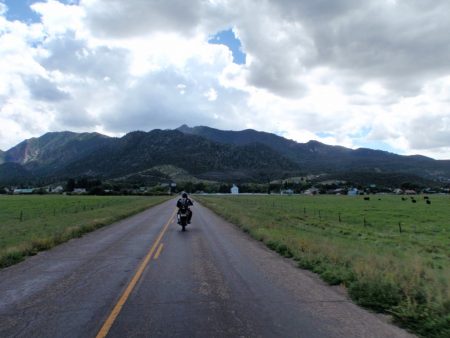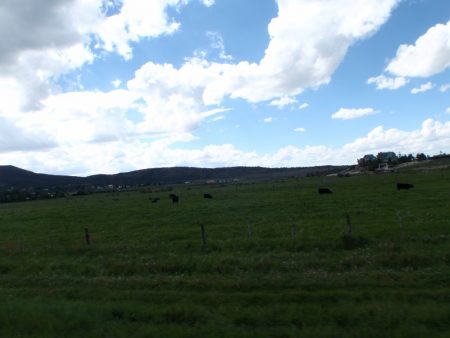 It felt great up there!

LODGING: Pine Valley Guard Station
We arrived at our pre-reserved cabin, the Pine Valley Guard Station. Here's Mike pulling in our driveway.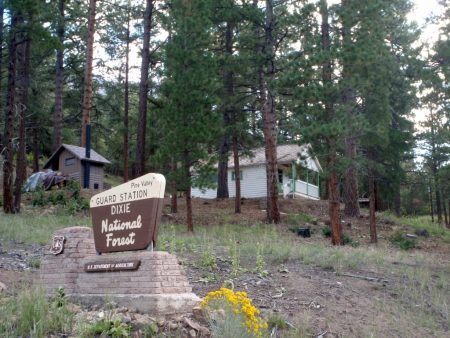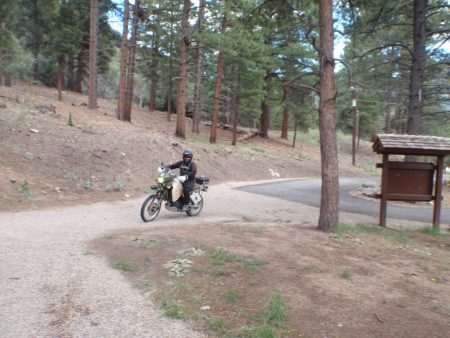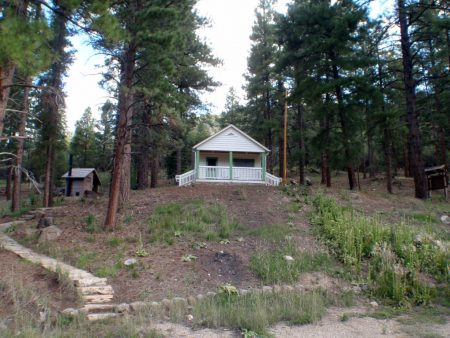 It felt great to cruise around Utah style. We headed down to grab some grub at the steakhouse.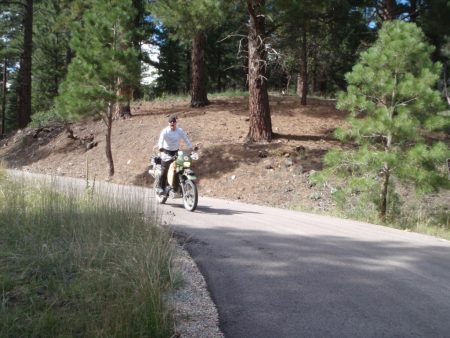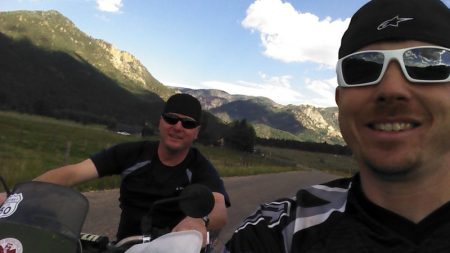 Dang it. Not open yet. They opened at 5PM and we were early. So we had to hit the general store for some snacks to get something in our stomachs.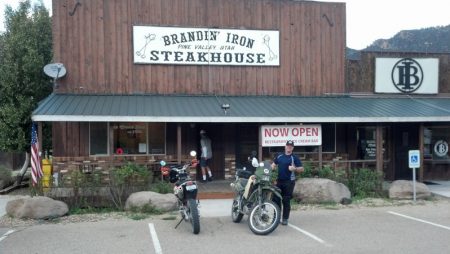 Oh yyyyeah! Enjoying some ice cold drinks on our front porch. Life doesn't get much better than this. It was a great ride up and we celebrated with some "premium" sodas as the general store dude called them.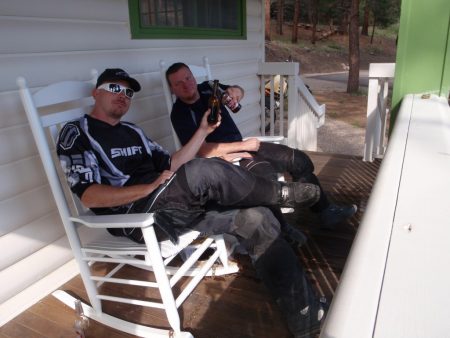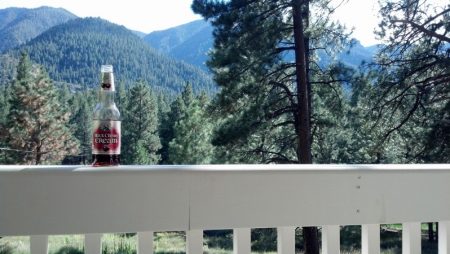 The general store didn't have much so we bought Triscuits and ham and made sandwiches. hahaaaa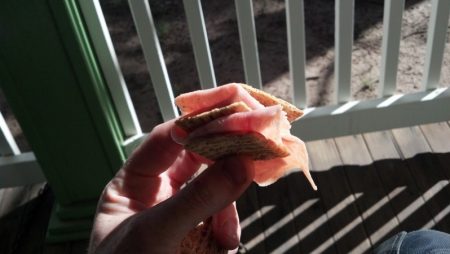 The ride up just wasn't enough so after unloaded our bikes we went exploring. This is the trail heading down the steep trail to "3G stream". We called it that because cel service was spotty at the cabin, but I had 3G service way down here!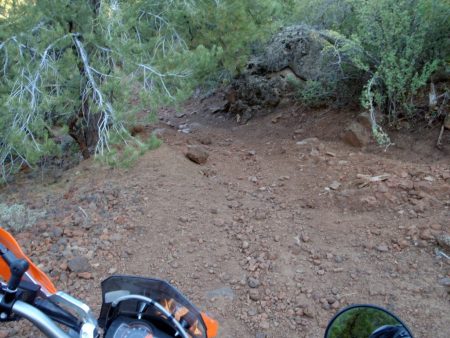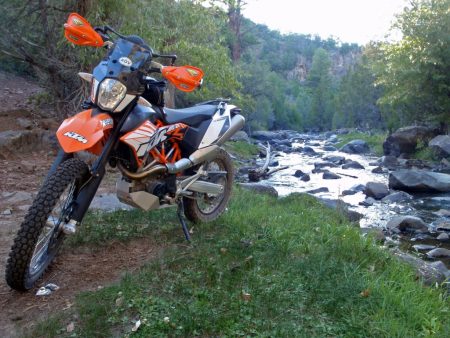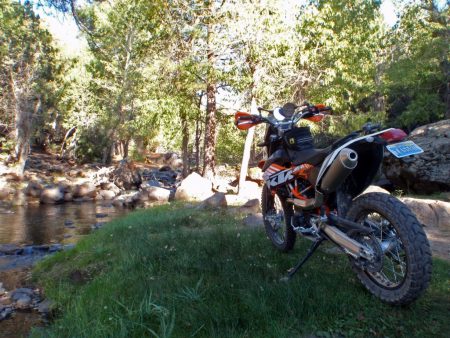 Me and my steed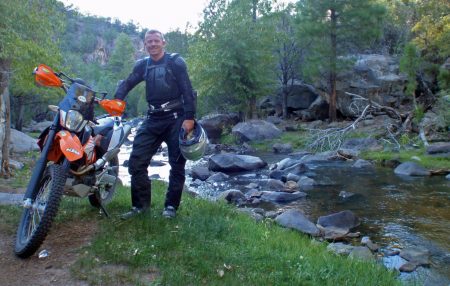 Then we went exploring some more. This place rocks!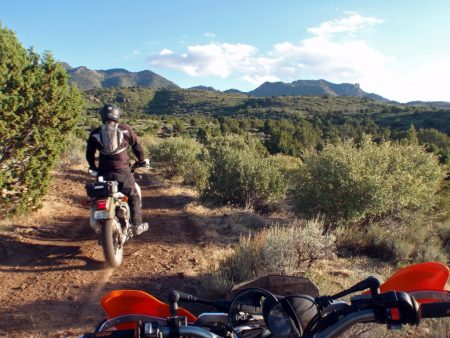 This was a 2 stroke cow. At least that's what he sounded like.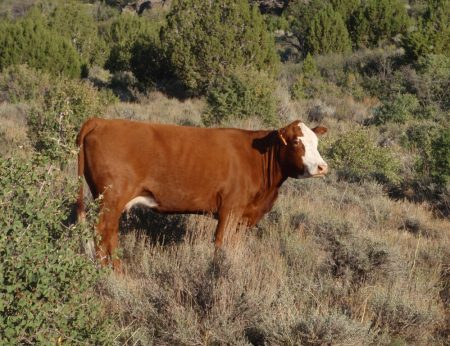 Right after that I got a surprise call from Anna (my wife) that she drove up to join us! I was stoked. She was waiting for us in town so we finished our ride and headed back to meet up.
2 white horses in town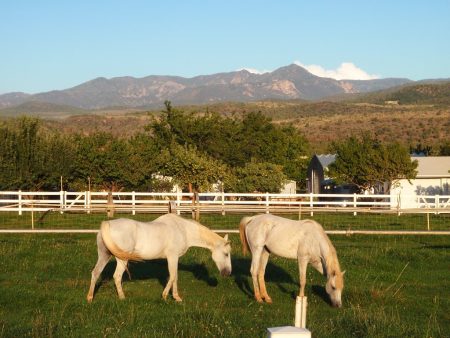 Mike somehow spotted this guy as rode by at 50 mph! How did he spot that thing?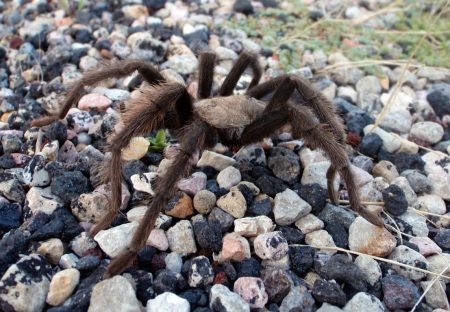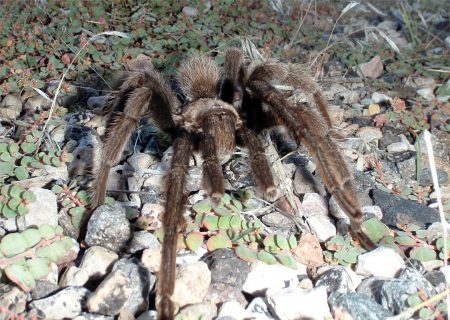 We wrapped up the day by pulling back into town as the sun was low and our shadows were long.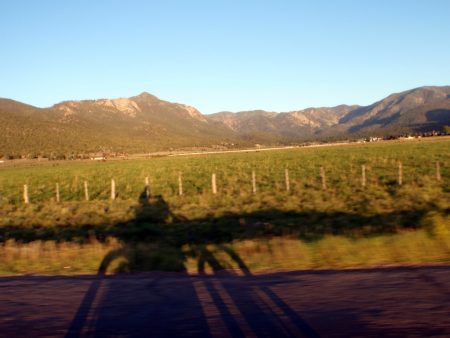 Mike sparked up the wood burning stove in the cabin.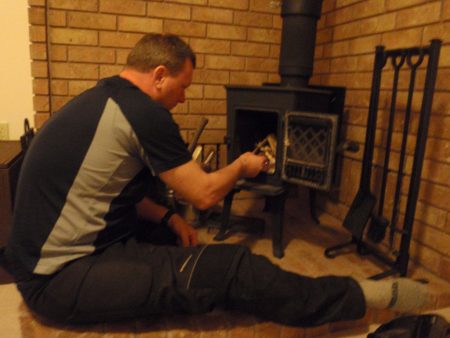 Mike fell asleep next to the fire .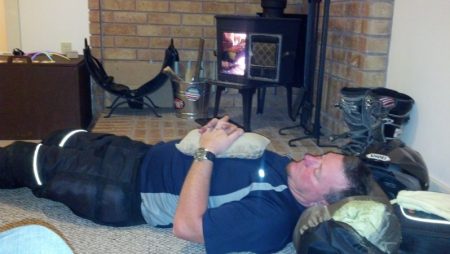 Day 2: Pine Valley and Beyond
We woke up and hit dirt with our group of 7 buddies.
Here are some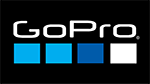 shots and a few phone pics.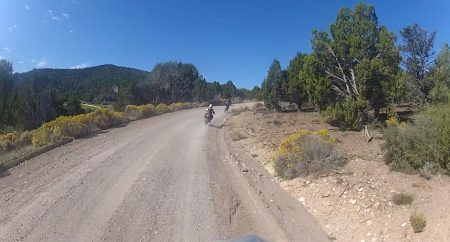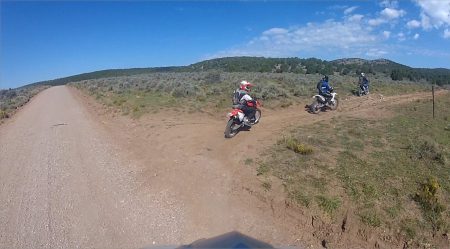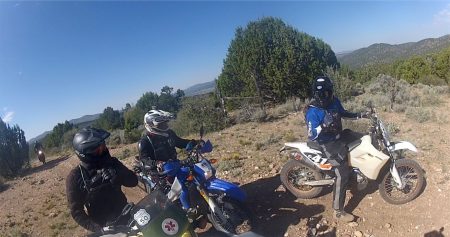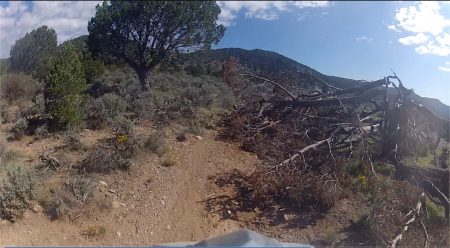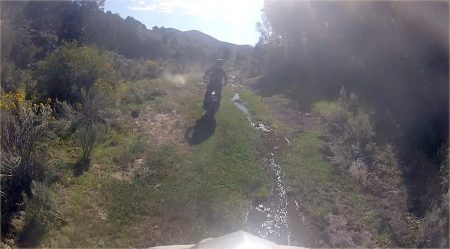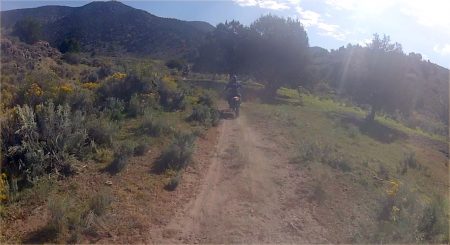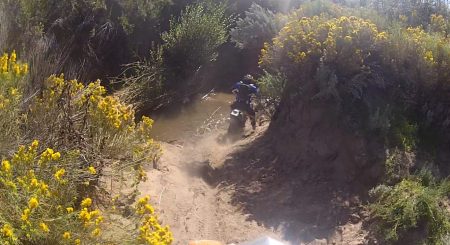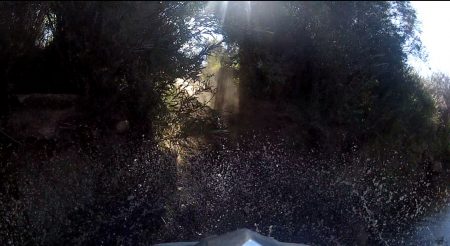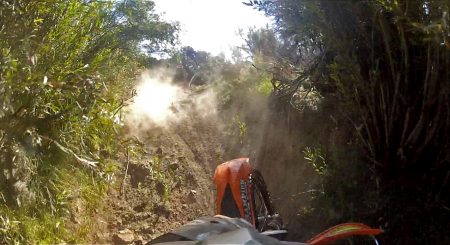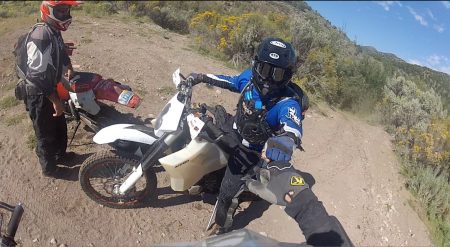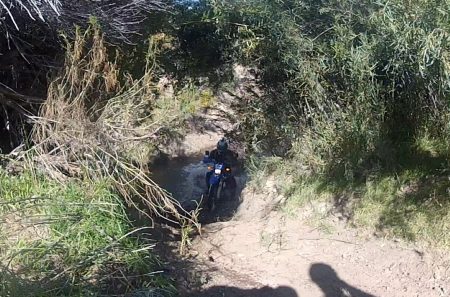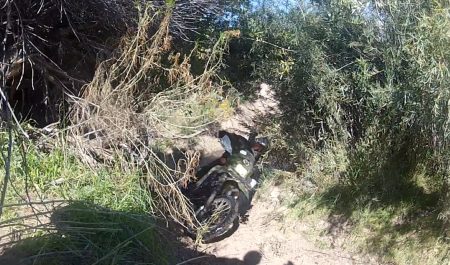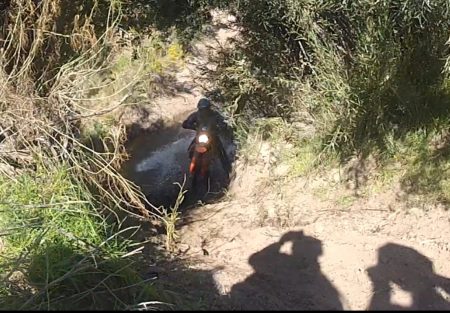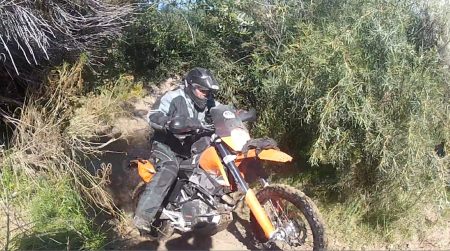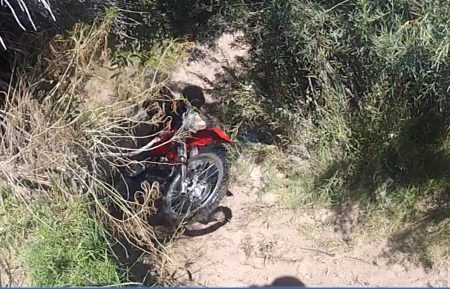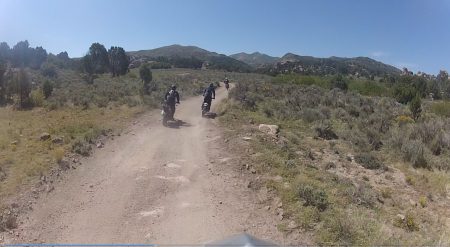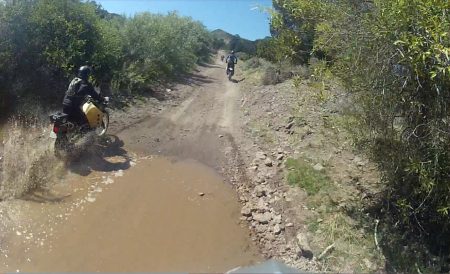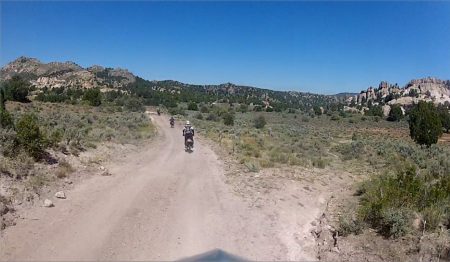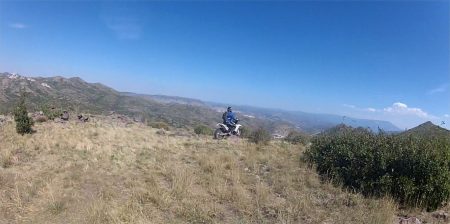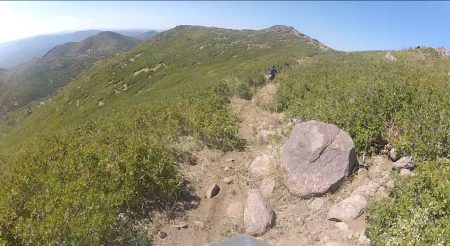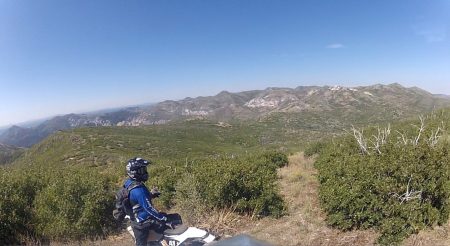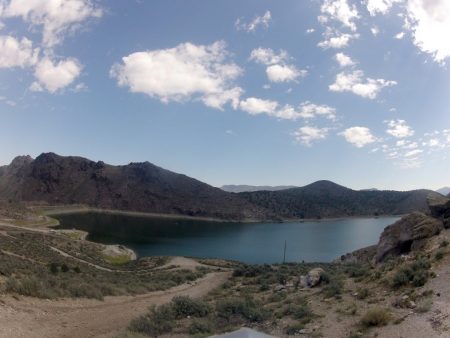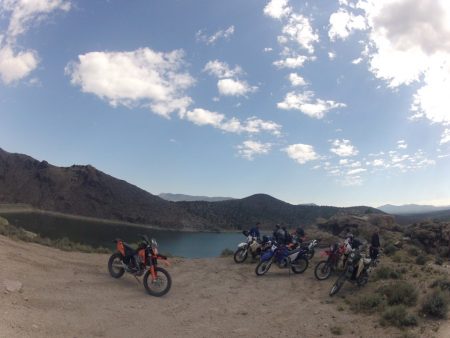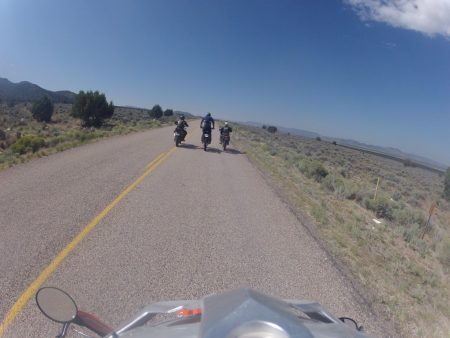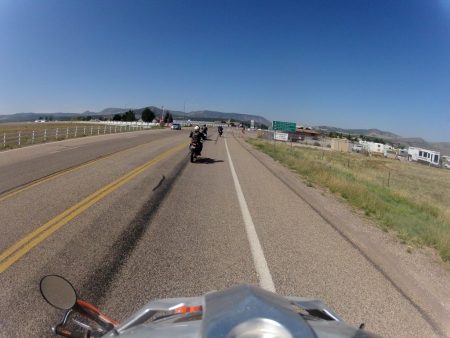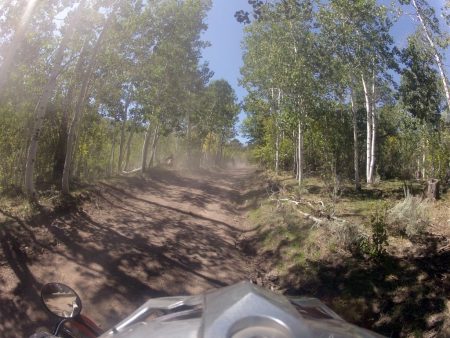 After a long day of riding we relaxed around the fire.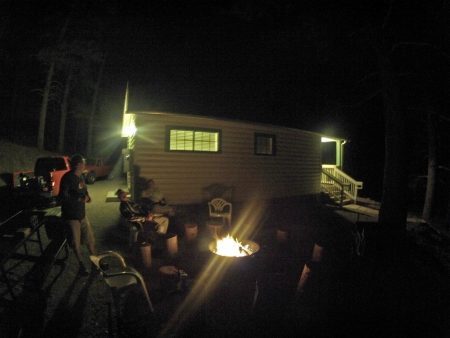 Day 3: Ride Home to Henderson, NV
Sunday morning: Mike and I woke up and started packing and loading our bikes.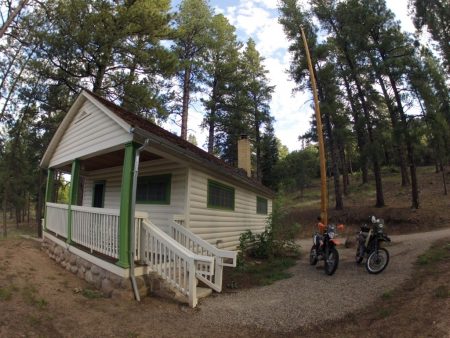 First I needed to do a little license plate repair. Yesterday's ride was a little rough on it. The corners of the plate cracked so I improvised and used two root beer bottle caps as large washers. Worked out great!
I snapped some pics of our cabin before we left. We'll have to remember this place for next time. It had everything we needed and more!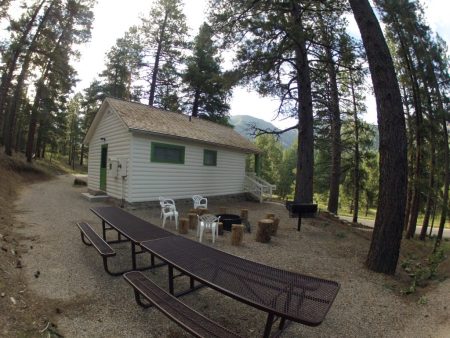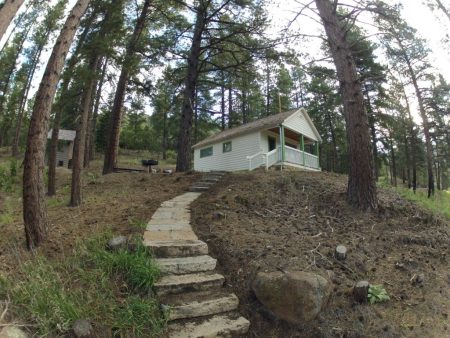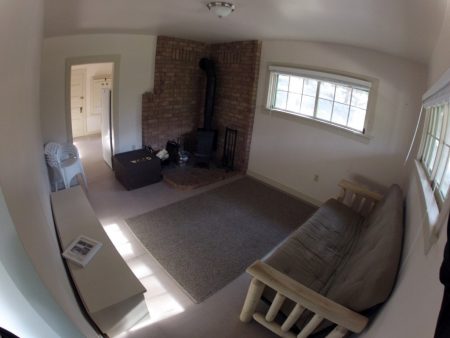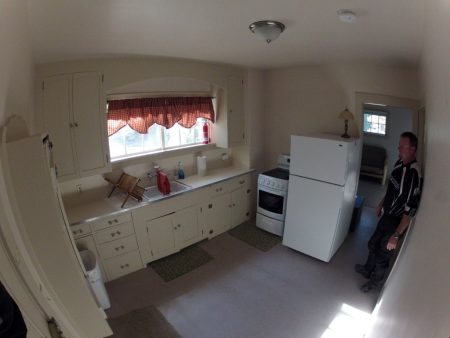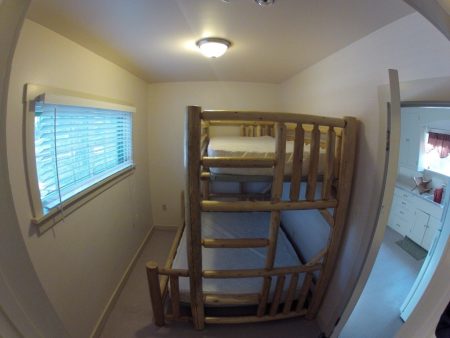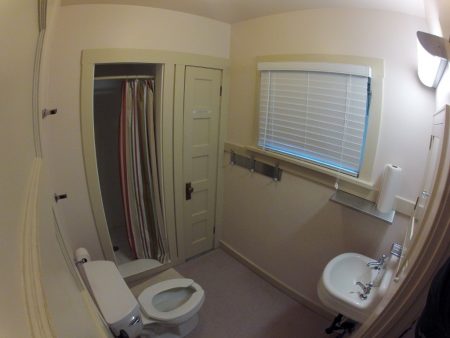 Be sure to keep that front screen door shut!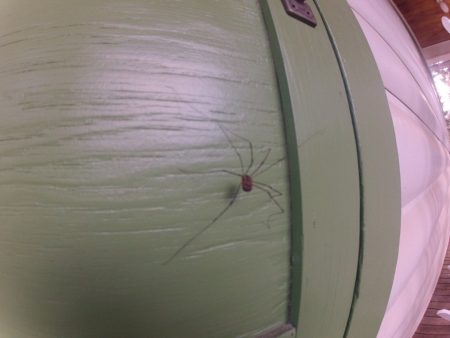 We had a great view from our front porch.

Always Sign the Guestbook!
Inside the cabin was a guest book. I thought that was really neat reading other people's stories and experiences and adding our own. So we had to add to it before leaving.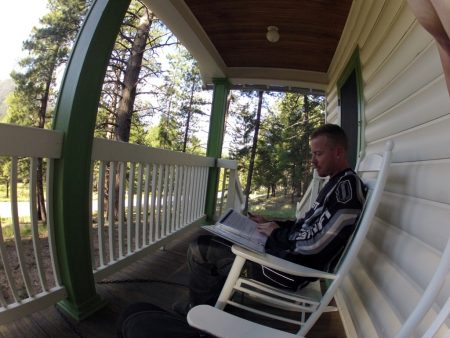 Leaving Pine Valley.
Mountain Meadows Massacre Memorial
We stopped at the Mountain Meadows Massacre memorial. It is an interesting, yet sad, piece of history from 1857.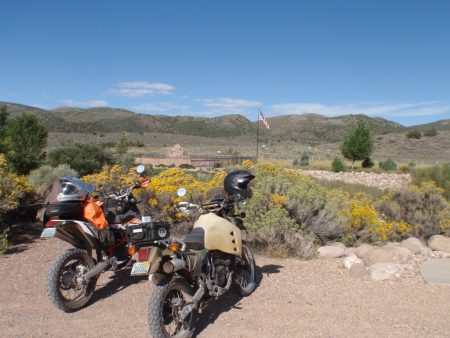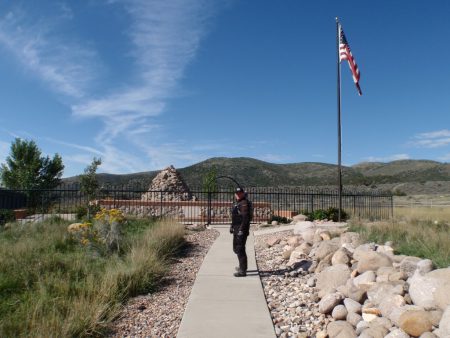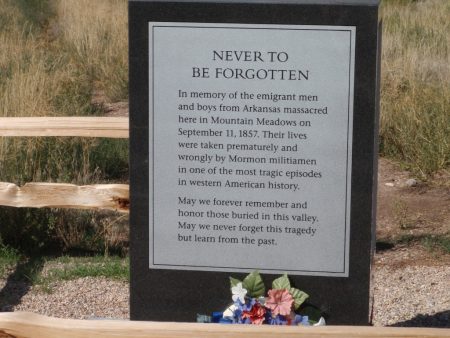 Back on the road. We traveled north on the 18 towards Enterprise.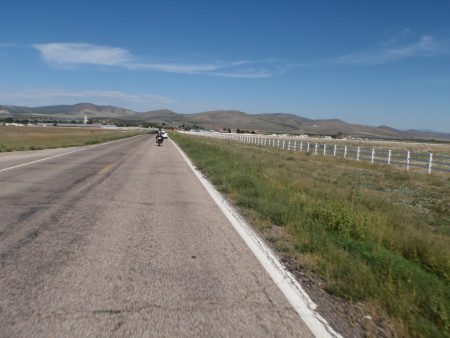 We continued heading northwest towards Panaca.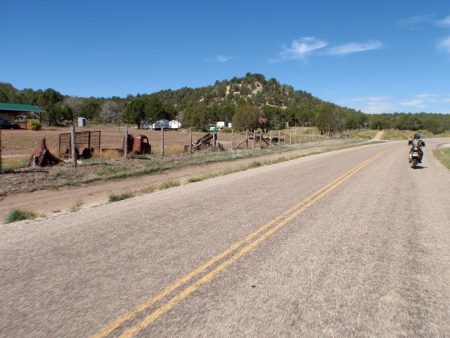 The pavement ended and it turned into smooth dirt.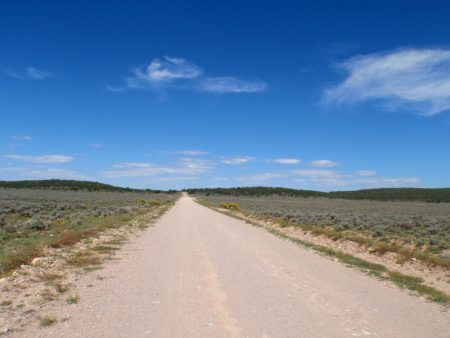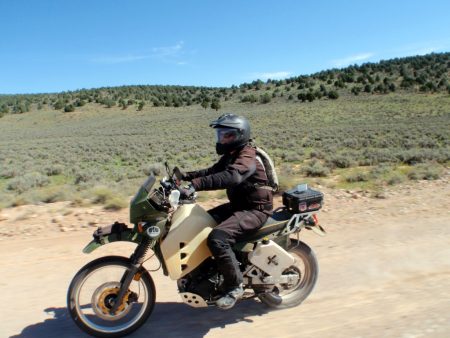 RR crossing out in the middle of NOWHERE!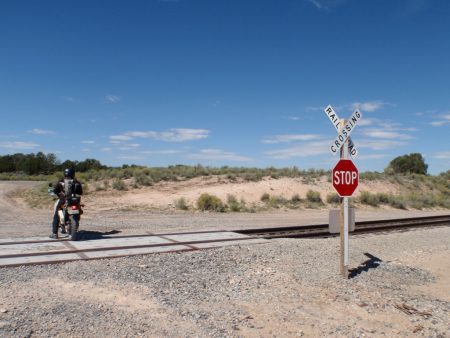 We hopped on the 319 and rode through Panaca.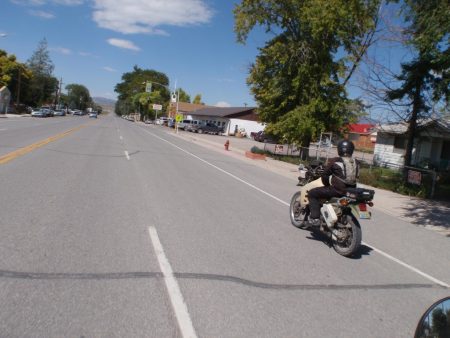 From there we went north on the 93 to Cathedral Gorge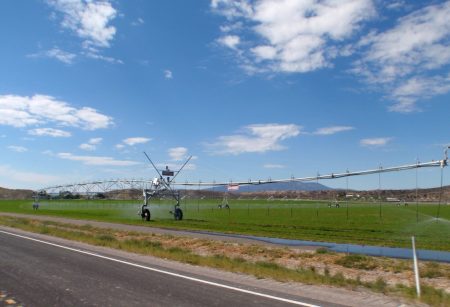 Cathedral Gorge was some really cool, natural "mud art".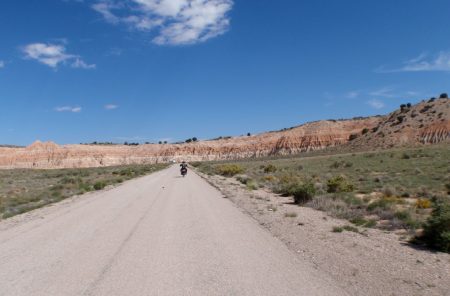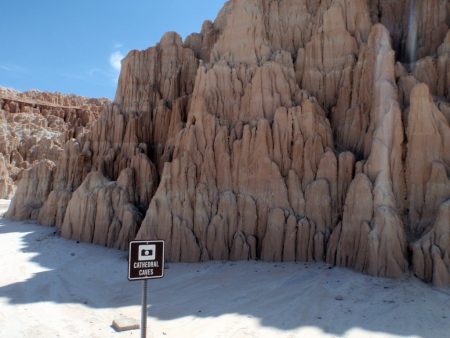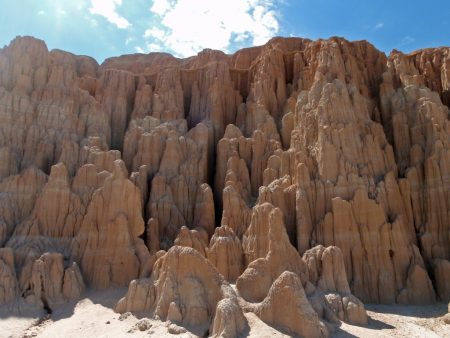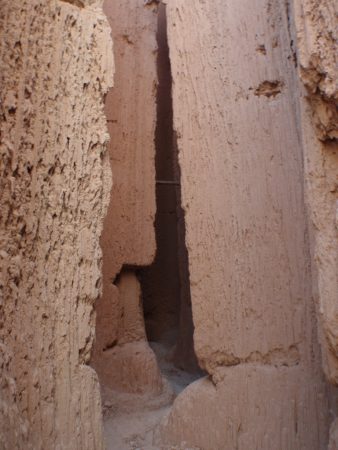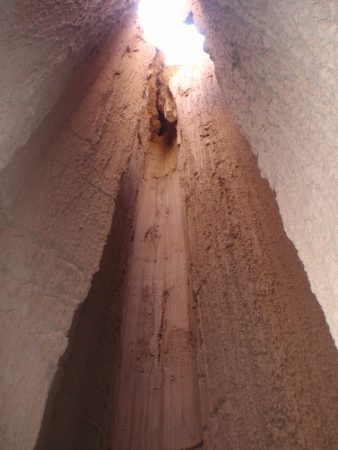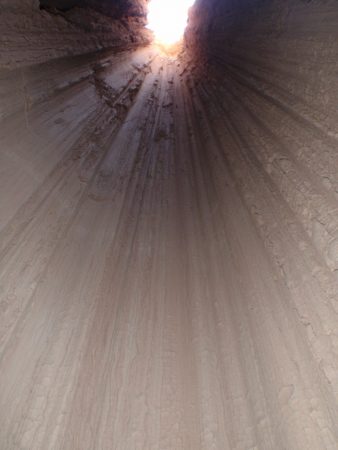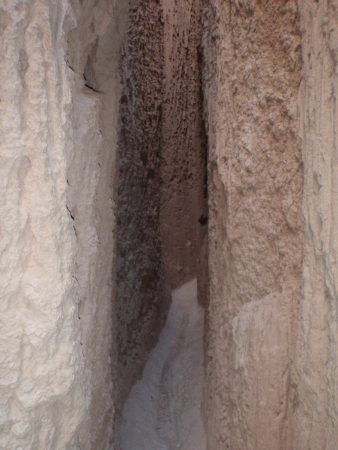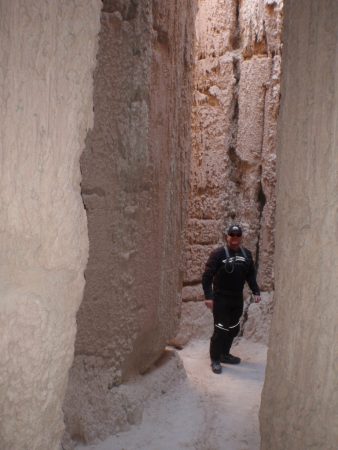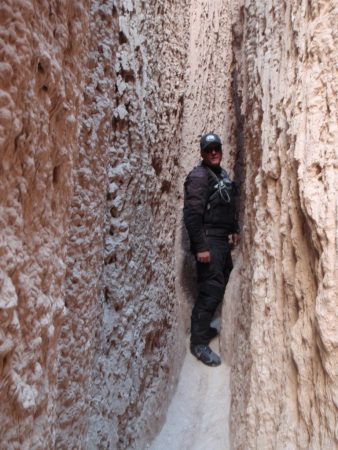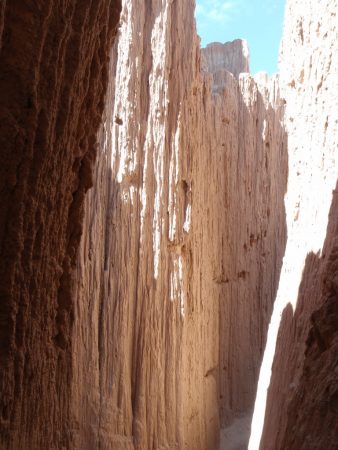 Miller Point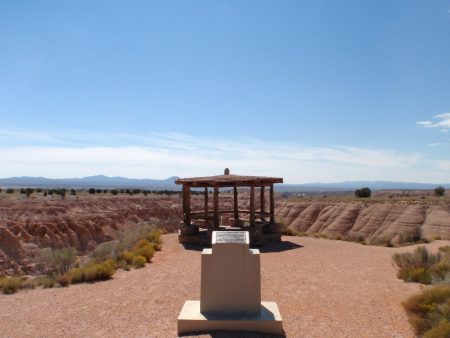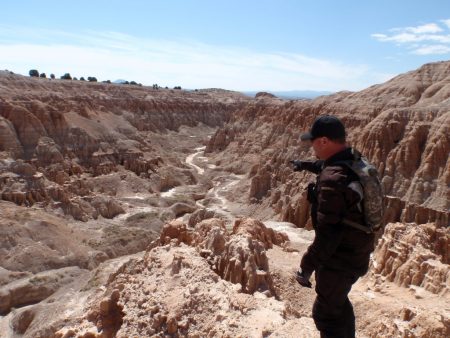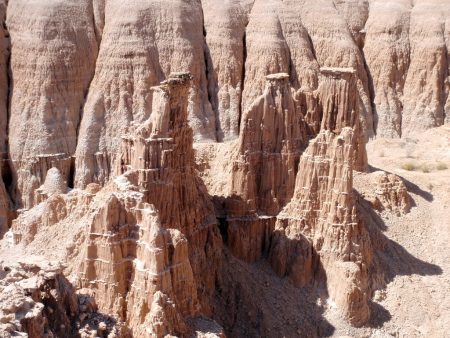 What's that Willie Nelson song? On the road again…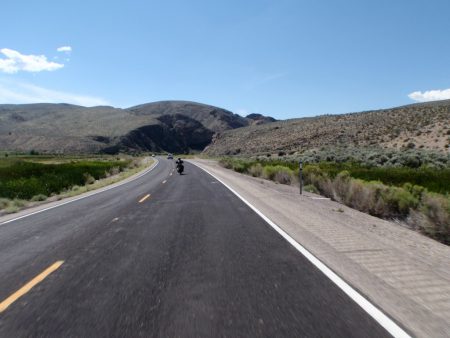 We pulled into Caliente for fuel and lunch.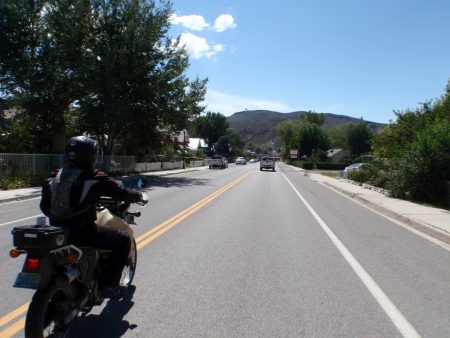 From Caliente we headed south down Carp Elgin Rd through Rainbow Canyon. This stretch was really scenic. I had never been through there before and really liked it.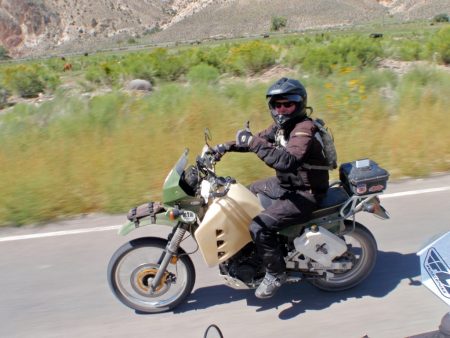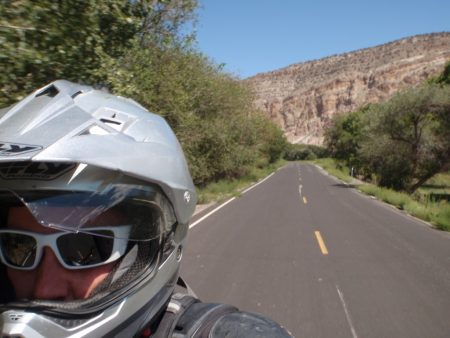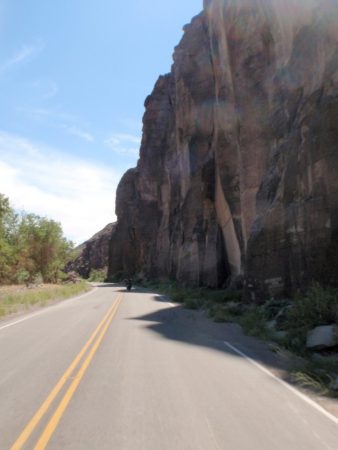 I caught the train coming out of the tunnel!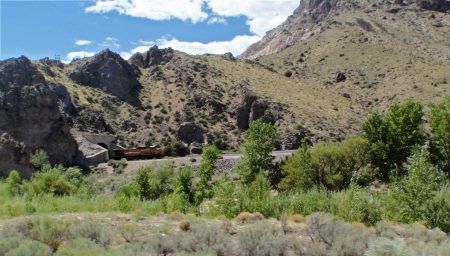 The other side…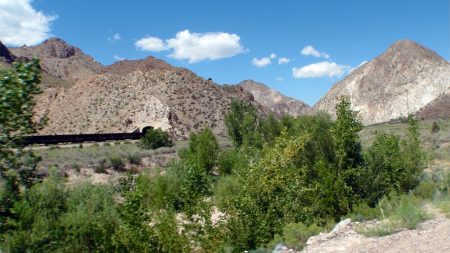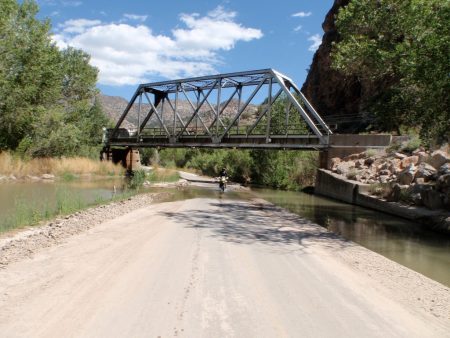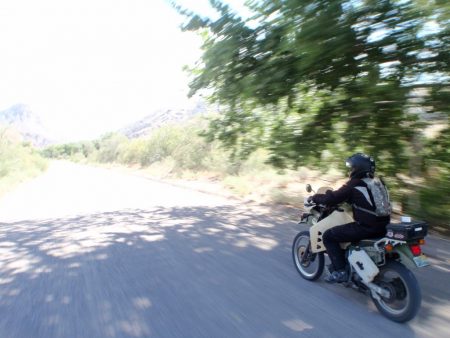 We stopped off at the Carp Elgin School house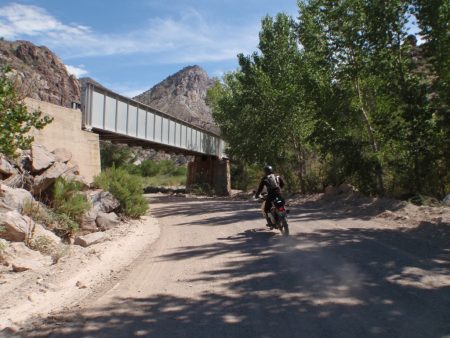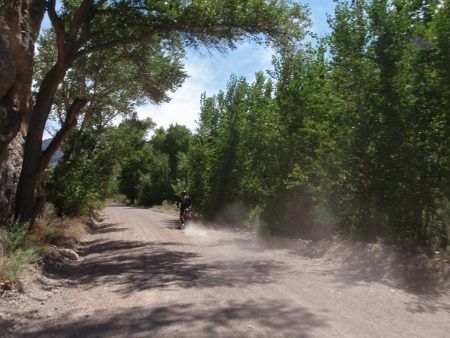 These were some old ruins along the water and railroad.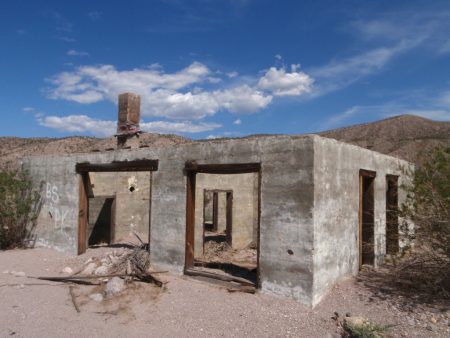 Not much water in this neighborhood.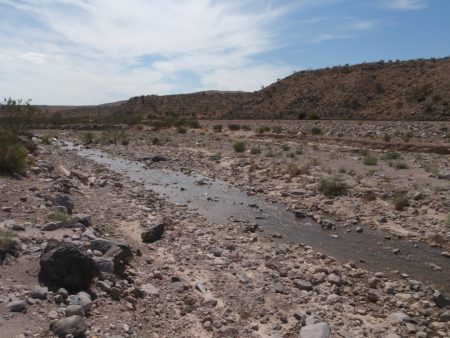 That was cool. Let's roll!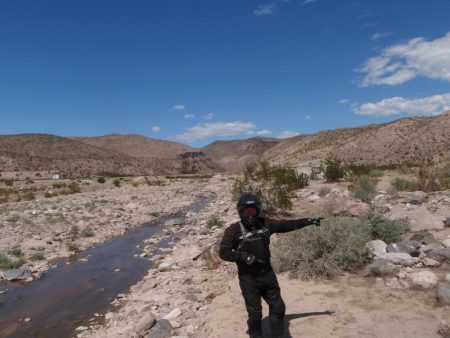 We hopped back on to dirt via Rainbow Pass. We eventually ended up connecting back to our original route that we took to Pine Valley.

Crossing Mormon Mesa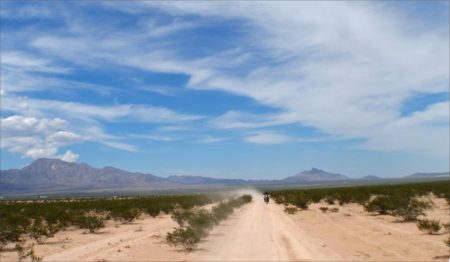 braap braaaaaap braaaaaaaaaaaaap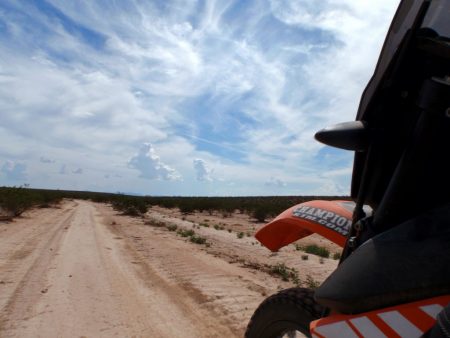 Then we came across a church van full of kids flagging us down. They were stuck in the sand and needed assistance. We weren't able to do much other than explain to air down, dig it out and reverse it out of there. Mike exchanged phone numbers with the driver to call later and make sure they got out ok. They said they were out there looking for art.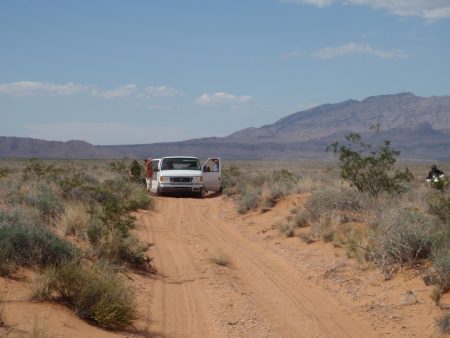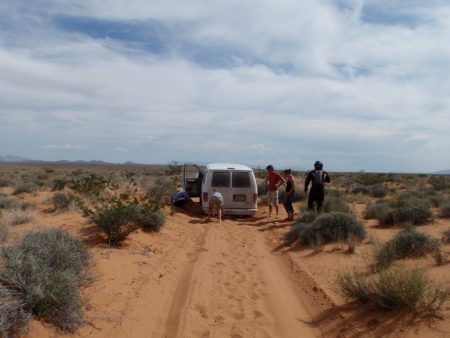 It was very soft on the road. When we went around the road it was SOFT soft. Bushes worked well for traction.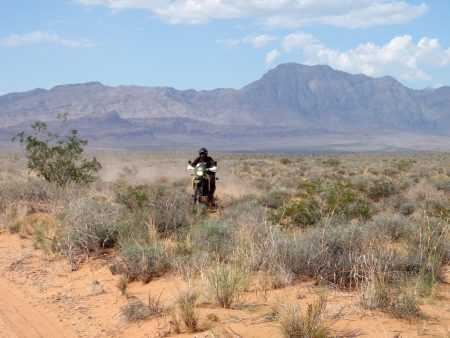 Go Mikie go! YIAH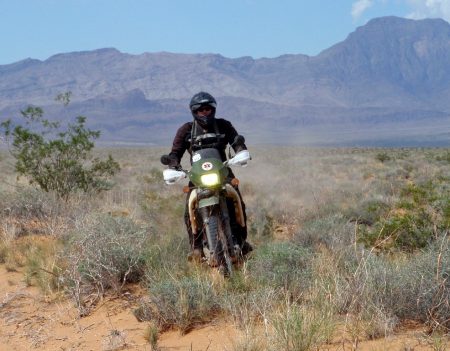 Heading down Mormon Mesa into Overton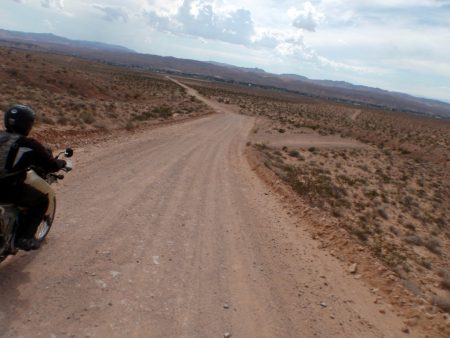 We stopped for a cold drink and ice cream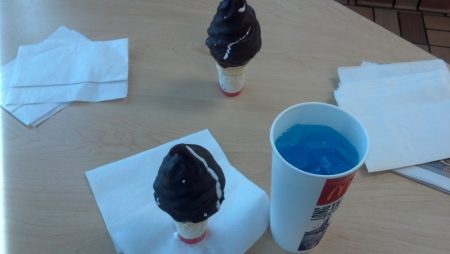 North Shore road heading home!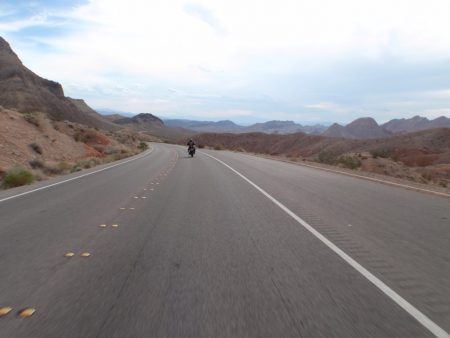 Wait, we weren't done yet! We took another dirt loop through Anniversary Mine.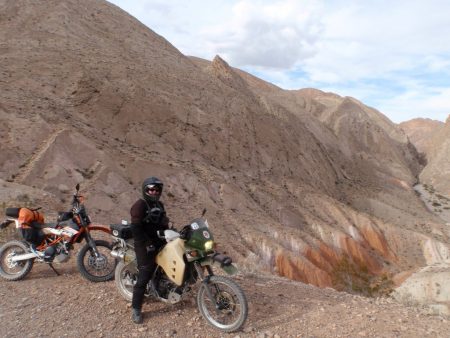 Home safe and sound. Great ride!!!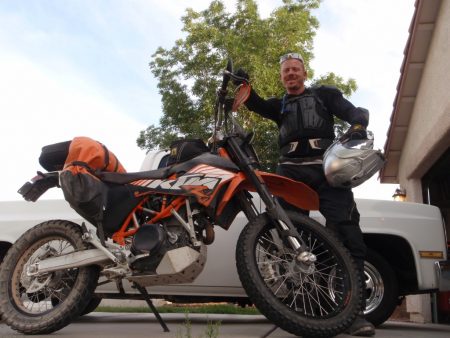 669.2 miles total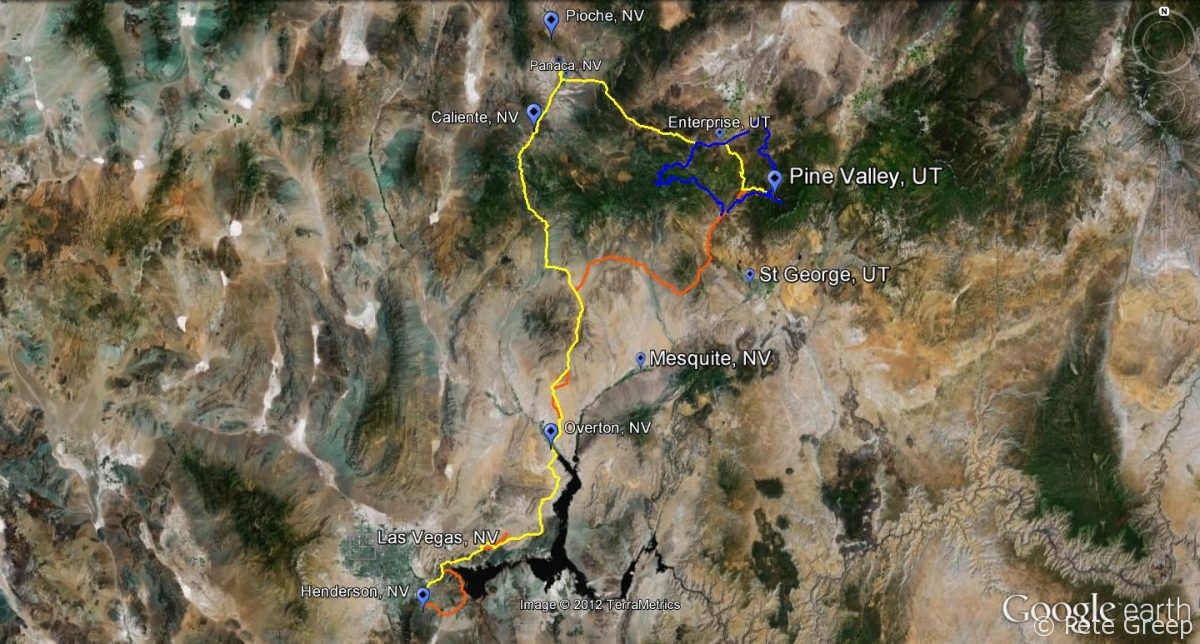 Comments
comments