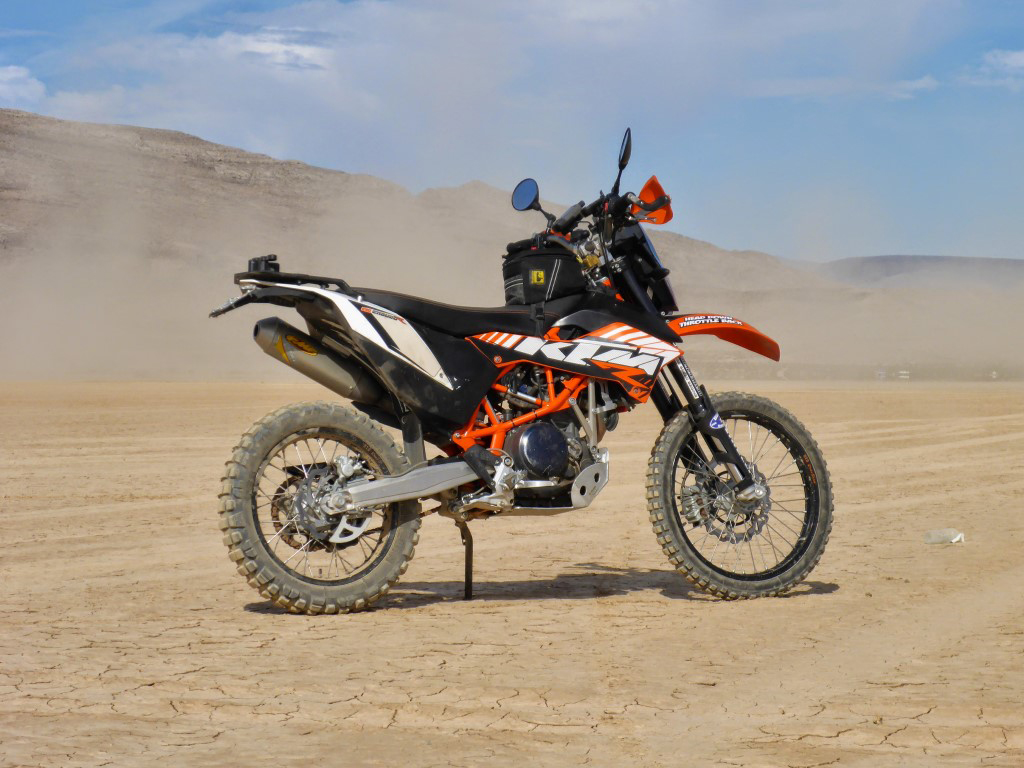 The KTM 690 Enduro is the do-it-all, modern day dual sport / adventure bike. From tight single track to highway speeds, I have loved this bike ever since I bought it new in 2012. Coming from an XR650L, the 690 was a fun upgrade.
There are other bikes that perform better is certain situations, but for an all around fun dual sport, I don't think there is any other bike that performs as well in all categories. For example, a 450 class bike would kill it in the whoops and single track, but you aren't going to be very comfortable on a multi-day, moto-camping adventure ride. 450's are dirtbikes. They hold about a quart of oil and require frequent engine maintenance over time. The KTM 690 is engineered for the long haul. I have heard reports from other owners getting 40,000 miles+ before any sort of engine work like piston rings or valvetrain repairs are needed. So let's compare it to other similar class adventure bikes like the DR650 or KLR650 that perform just as well on long adventure rides. All of these bikes do very well on the highway, dirt roads and trails. But let's face it, when you are on an adventure you run into rugged terrain and want to ride some fun stuff. While they are all capable bikes, the KTM 690 only weighs a little over 300 lbs and the weight placement is very low. The lower center of gravity makes it much easier to ride through rugged terrain and singletrack, even with luggage strapped on the bike!
If you are going to own one bike for dual sport, this is the bike. Otherwise, go pick yourself up a KTM 300 or 500, a 690 and a GS1200 or KTM 1190 and have it all.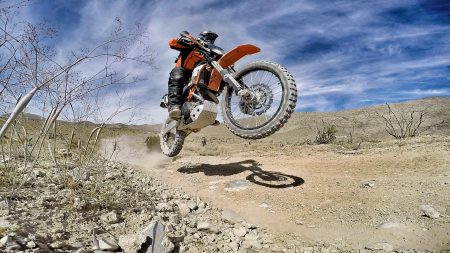 Pros and Cons
Pros
gobs of power (almost 70 hp)
low center of gravity & light weight compared to other adventure bikes in it's class (308.6 lbs dry)
modern ergonomics make it a very comfortable bike
amazing brakes (Brembo and Galfer components from the factory)
fuel injected allows for riding anywhere without messing with jets
reliable
Cons
big price tag ($10,600) You get what you pay for though.
slightly twitchy. This bike requires a steering dampener and occasionally causes head shake on freeway speeds when you have soft, new tires
limited fuel range for LONG adventure rides. ~150 miles is plenty for 95% of my rides, but at least one more gallon would be nice.
a little buzzy in the bars on the freeway, but let's face it, it's still a single cylinder bike. Vibranators help a little bit with this
~1000 mile tops rear tire range lol, ok this is my fault. That throttle is just too fun!
My Upgrades
Exhaust

The first thing that had to go was the nuclear reactor catalytic converter/ muffler that they put on this bike. Not only is it heavy as hell, it gets so hot it will melt your rear turn signal! You can spend upwards of a thousand bucks for a really nice Akrapovic silencer, but I opted for the $300 old skool FMF. I like it and it works for me.
Links
FMF Racing Factory 4.1 Slip-On
KTM Akrapovic Slip-On Silencer 690
Intake
The factory filter is only paper so I upgraded to a Uni replacement air filter. I wanted to keep the factory airbox to reduce that annoying intake noise that is associated with some other open filter setups, not to mention the risk of water intrusion.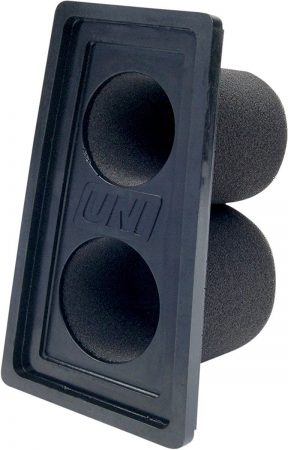 Link
Remap
With all the extra airflow, the engine needed more fuel. As it is, this bike is lean from the factory and flames out easily in the tight stuff. I remapped the ECU using the Tune ECU website (EVO 1 smc map). What a difference! The map wock this bike up and made it much more ride-able.
Protection
I'm not talking about condoms here. I'm talking about not breaking stuff like your case! The factory plastic shield is obviously not going to cut it.
Originally I bought a Rally Raid skid plate. What a piece of junk. It was very thin aluminum and the mounting tabs were a joke. I hit a rock once and the whole thing broke right off my bike.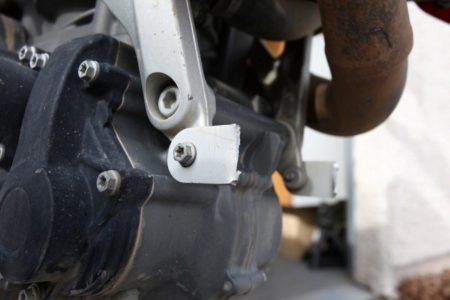 I ended up buying a Flatland Racing skid plate. It's given me zero issues and is very strong. Over the years I have beaten the crap out of it and it hasn't even budged. For the money it's the best skid plate on the market.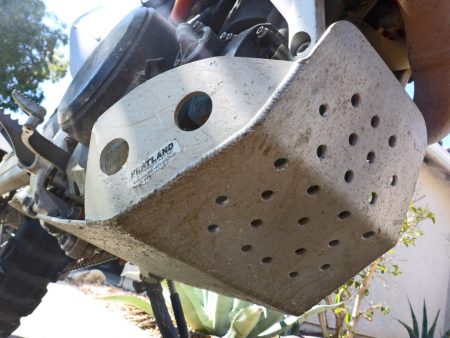 Links
If don't mind spending a bit more $, get an ADV Spec plate. It hugs the bike very nicely and protects even more. It'll be shipped from the UK so expect to wait a few weeks.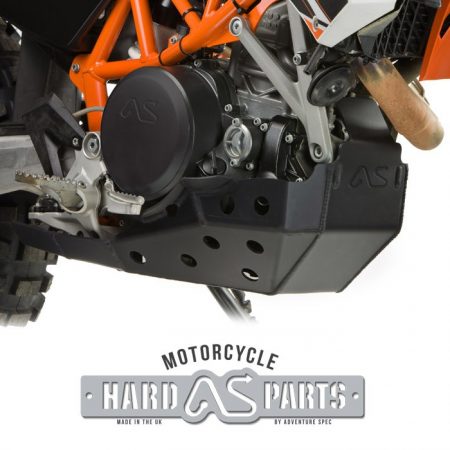 If you go with the ADV Spec skid plate the rear master cylinder is protected, but any other skid plate stops before it and you will want to get some protection. I went with the Touratech plate. It's not super stout, but it's better than nothing. It's done it's job over the years.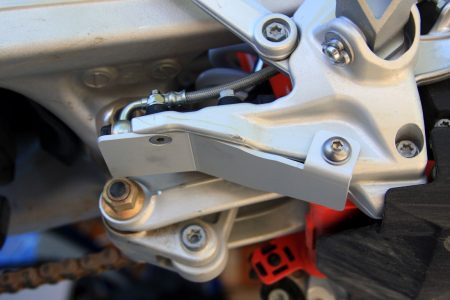 Link
Master Cylinder Protector from KTM Twins
I don't know if I need these, but I really like having them and wouldn't want to find out on a rock. Adventure Spec makes some awesome case protectors for the side covers. They are really easy to put on. You just glue them with RTV to the factory covers.
Links
The rear brake rotor is exposed and needed some protection. You can spend $200+ on a nice Scotts shark fin, or $5 on a cheapy one like this that does the job just fine. It has gotten a little bent when I've bashed on big rocks, but it bends back with no issues. When the brake rotor itself is not mush more than $100, I don't feel the need to protect with for $200.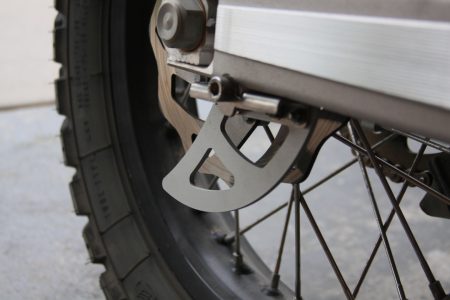 Link
I've never seen a rear chain guide get ripped off a swingarm, but the tabs seems vulnerable and a little more protection is a good thing. I added a Bulletproof Designs Swingarm guard
Link
Seat
Do not buy a Corbin. I bought one and hated it. It was barely any wider than the stock seat and it was hard as a rock. Only one company should ever come to mind when your talking comfortable eats and that is Seat Concepts! They are simply the best. They also offer a complete seat with pan. Get it. The factory one is junk and cracks. Seat Concepts makes a much stronger, thicker one. I love how this seat is wider but doesn't get in the way when standing up. They also offer really cool orange stitching and a gripper top with carbon sides.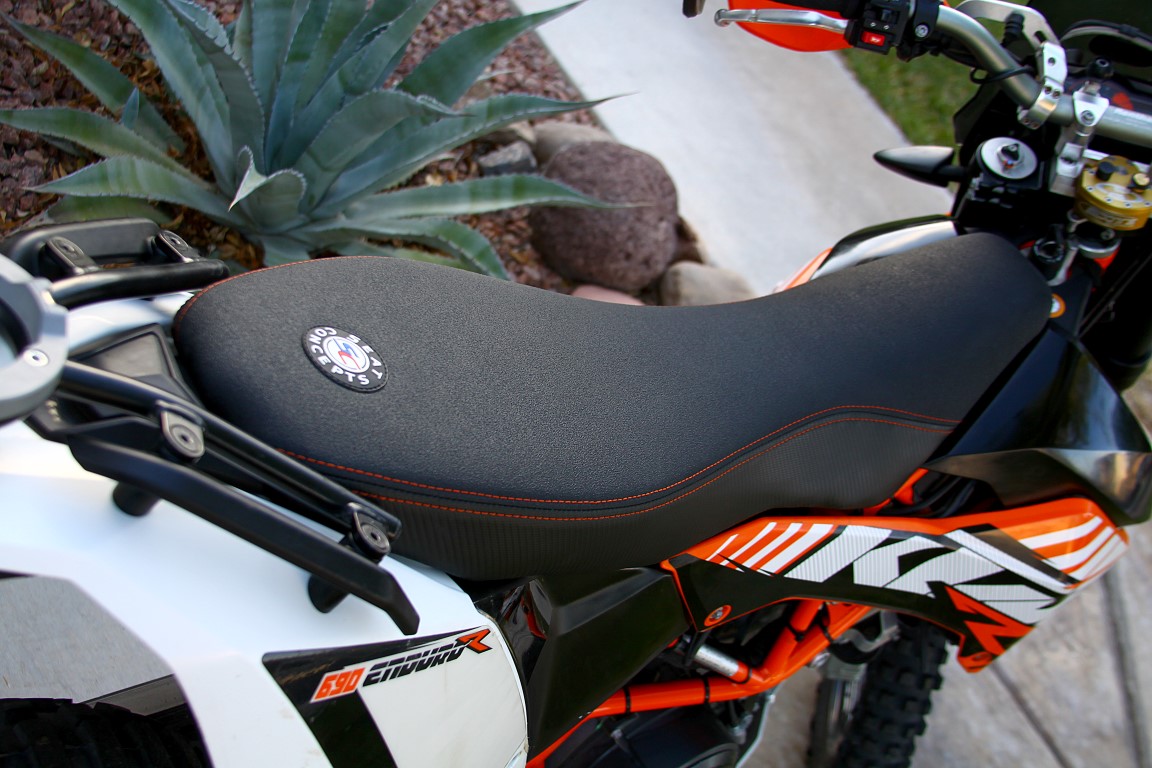 Link
Desmog
There is no reason a motorcycle ever needs emissions equipment on it so I rid the bike of it's cluttery air injection and EVAP equipment.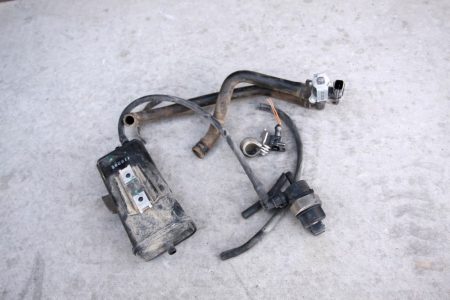 Rear Brake Lever by Clean Speed
The factory rear brake lever can bend like Laffy Taffy if you hit something hard enough. Then unless you have a torch with you to heat it up, it will snap as soon as you try bending it back. Clean Speed makes a beautiful, stout lever for the 690.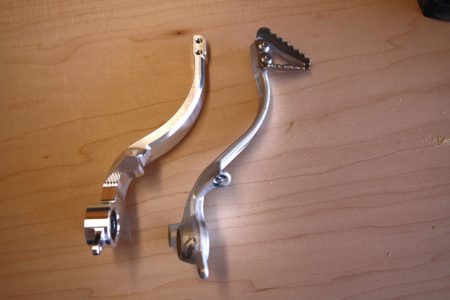 Link
Windscreen
I'm usually against these things, but the KTM windscreen for the 690 actually sets off the front of the bike and keeps the wind off your chest. It reduces fatigue at highway speeds and doesn't get in the way during any other riding.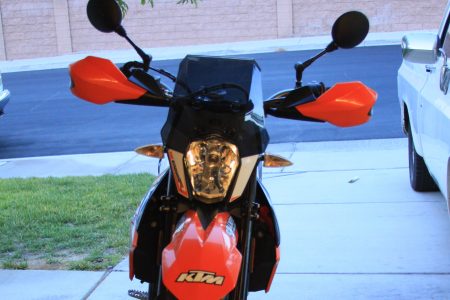 Link
Suspension
Wanna go faster? Suspension is more important than any other thing on the bike. The factory travel on the KTM 690 is 9.8 inches. I had the shocks reworked and had some custom stuff done allowing for a little over 11 inches of travel. My buddy Les at M Power did all the magic. The bike handles like a race bike now through big whoops and high speeds.
Navigation
The only way to explore new areas and plan rides in places where you've never ridden before is to use a GPS. I run a Garmin 62s. It's very rugged and easy to follow a track or see where the heck I'm at if I get turned around. It stays charged off of my bike with a charge cable and also runs on AA batteries. I can create and follow tracks that I make in Google Earth. It records everywhere I go so there's no guessing the way back home if you find yourself lost.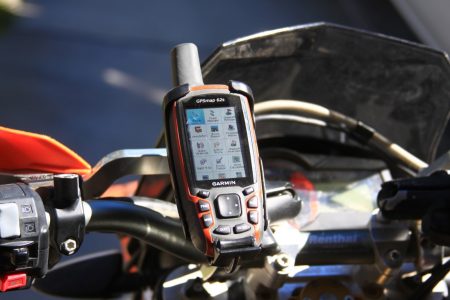 Link
Garmin 64s (the current model)
Confused how to use a GPS? Read my post on How to Create GPS Tracks!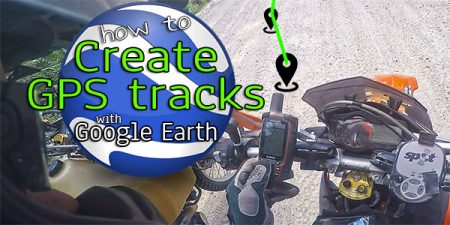 SPOT Personal Tracker
You can never be too prepared. Cel phones don't work everywhere and if you or someone in your group needs medical help or has a breakdown out in the middle of nowhere, you need a SPOT! For about $150 a year you can share your location with loved ones from just about anywhere, check in and call for help. Get the GEOS Search and Rescue service for the extra 18 bucks. Well worth it. It covers up to $50,000 in extraction, ie: helicopter ride.
Link
SPOT Generation 3 Personal Tracker
 Foam Grips
The factory KTM grips look cool, but offer no cush or insulation. I upgraded to the cheapest grips you can buy. Why? Because they are the best! They are super comfortable, reduce vibrations and are slightly larger than factory grips which allows less finger cramping.
Link
Fold Away Mirrors
The factory mirrors are ridiculous and get in the way from time to time. I went with Moto-Science's old away mirrors. I tried the double take mirrors and they move around like crazy. I've broken the plastic hinge on these mirrors many times by crashing or whacking tree branches, but I've still yet to find a better mirror.
Link
Moto-Science KTM 690 fold away mirror
Luggage
The best setup I have found to work for long adventure rides is the Happy Trails SU racks with their soft bags. In addition I use a small Wolfman duffel bag and a tank bag. 5 days of camping gear and clothes fit in the duffel and side bag and my tools and tubes fit perfectly in my tank bag. All the bags are waterproof and they have held up very well in the elements over the years. If I need to bring more fuel, I attach a 2 gallon Rotopax to one side of the rack and the one soft bag is still plenty big enough for a few days of clothes.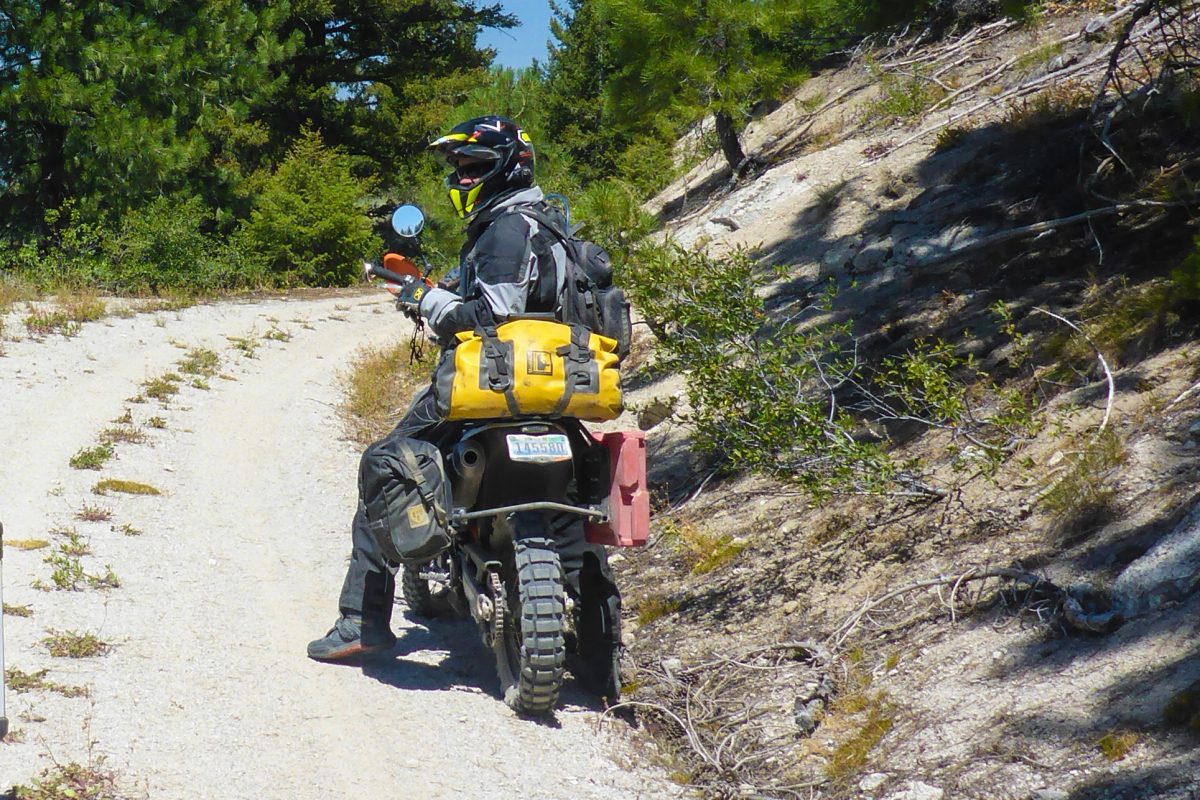 Links
Scotts Steering Damper
As I mentioned earlier, these bikes can be a little twitchy. I believe it's due to the lack of front end rake. By adding a steering damper it has saved my as numerous times. I'll be cruising along not paying much attention and WHAM, I hit a rock with my front tire. The damper saves you from crashing. It prevents the bike from swapping around in certain high speed conditions too.
Since the ignition cylinder on the 690 is smack dab where you need to mount the pin for the damper, some install kits are ugly. There's a guy on ADV Rider that machines the mounts for the Scotts Damper. It's the cleanest install kit out there and a work of art. The link is below.
Link
Underground Machine Scotts Damper Kit for KTM 690
Other Upgrades
I've done a few other odds and ends like upgrading my fuel tank bolts, removed the rear turn signals and installed an LED brake light with integrated turn signals. I've also replaced the automatic timing chain tensioner and installed a Rally Raid manual adjuster. Many of these things are done as a precaution and I might not have had to do them, but if there is an upgrade, I usually do it. I want my bike to perform tip top no matter where I am.
The only upgrade I'd still like to do is add the Moto-Minded LED headlight kit.
Questions/ Comments? 
Please drop me a line below and let me know if you have any questions.
Comments
comments