Adventures should rarely ever be planned out. After all, that's what makes them adventures. Since I needed to get my 500 EXC-F remapped at the Rocky Mountain ATV/MC Dealership Outlet in Washington, UT, I felt I might as well make a trip out of it and take advantage of some Utah dirt. It was a very last minute trip. Since Carter Powersports failed at remapping my bike on Thursday, I called the manager, Jason, at RM on Friday morning to see if he could get me in. When he said to come on up, I quickly put together a plan at the last minute. Anna and I wanted to camp overnight, but we weren't prepared to tough out the chilly Utah weather this trip. Luckily our toyhauler was pretty much ready to go with water, fuel, propane, etc. So I quickly loaded up the bikes, grabbed whatever food we had in the fridge and wasted no time getting on the road.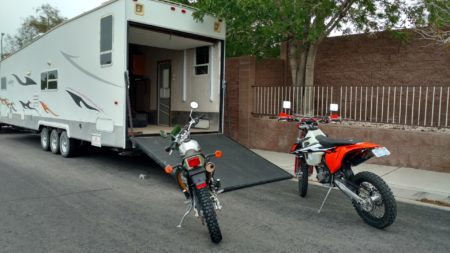 Rocky Mountain ATV/MC Dealership Outlet
We got into Washington, UT right on time and they got me in immediately. The tech got my bike successfully remapped and even set the TPS to spec as I requested. I am very impressed with this dealership. It only took them about 20 minutes. I scoped out all the bikes in stock and even did a little shopping while I was there. I picked up a A.R.C. Foul Weather jacket and some chain lube. I went to pay and was surprised when Jason didn't even charge me for the remap! Wow! These guys are awesome. Definitely worth the drive.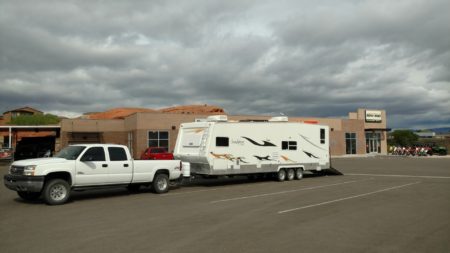 Time to Find Camp
Our next stop would be to find a place in or around Toquerville to park our home on wheels and set up camp. We loosely planned on riding to Toquerville Falls so I scoped out the dirt road in. When we pulled in it did not look promising for a big RV! It was a narrow, single lane road with a steep climb and then it get a little rocky. Luckily there was a nice open staging/ camping area just couple miles in before it got too nasty for my big trailer. The area was gorgeous! We unloaded the bikes and got geared up to ride.
Let's Ride
Before I could even get all my gear on, Anna was already riding around on her bike. She was super stoked to get out on that Super Sherpa again.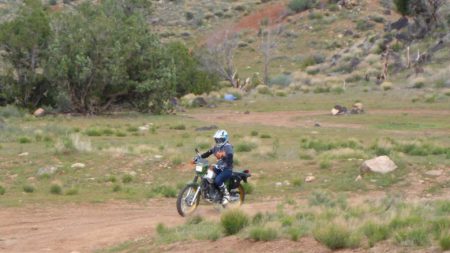 We originally planned to ride to the falls the next morning, but we thought we'd maybe give it a go since there was still plenty of daylight. The road up started pretty rough. I had no idea what we were in for, but we went for it. There were a couple steep sections that were rocky and muddy, but it smoothed out shortly after.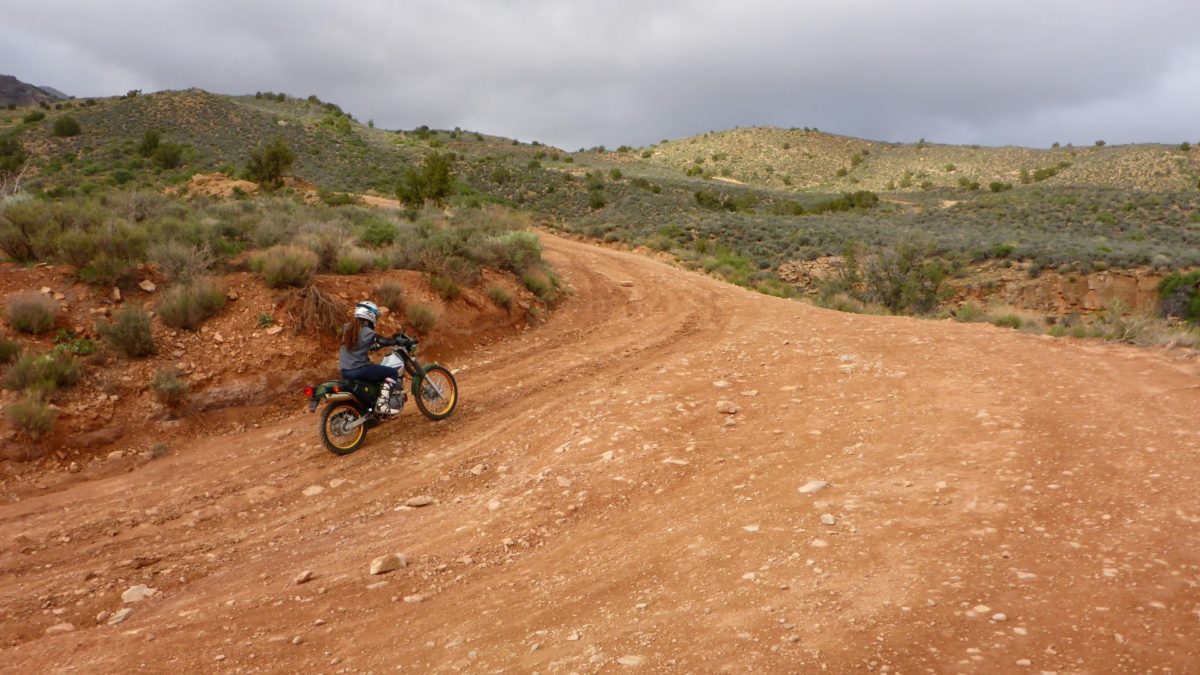 We got about half way to the falls and weren't sure we'd have enough time to enjoy them and get back before dark so we turned around at the top of this hill. There was an awesome view of a rainbow up there.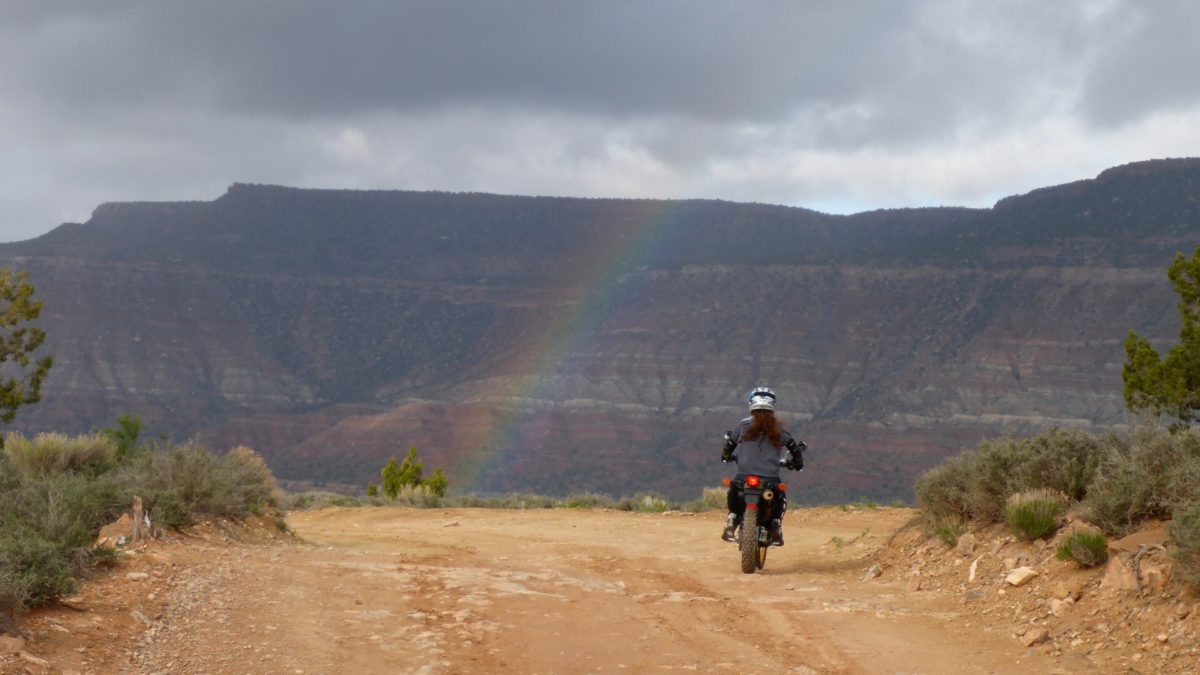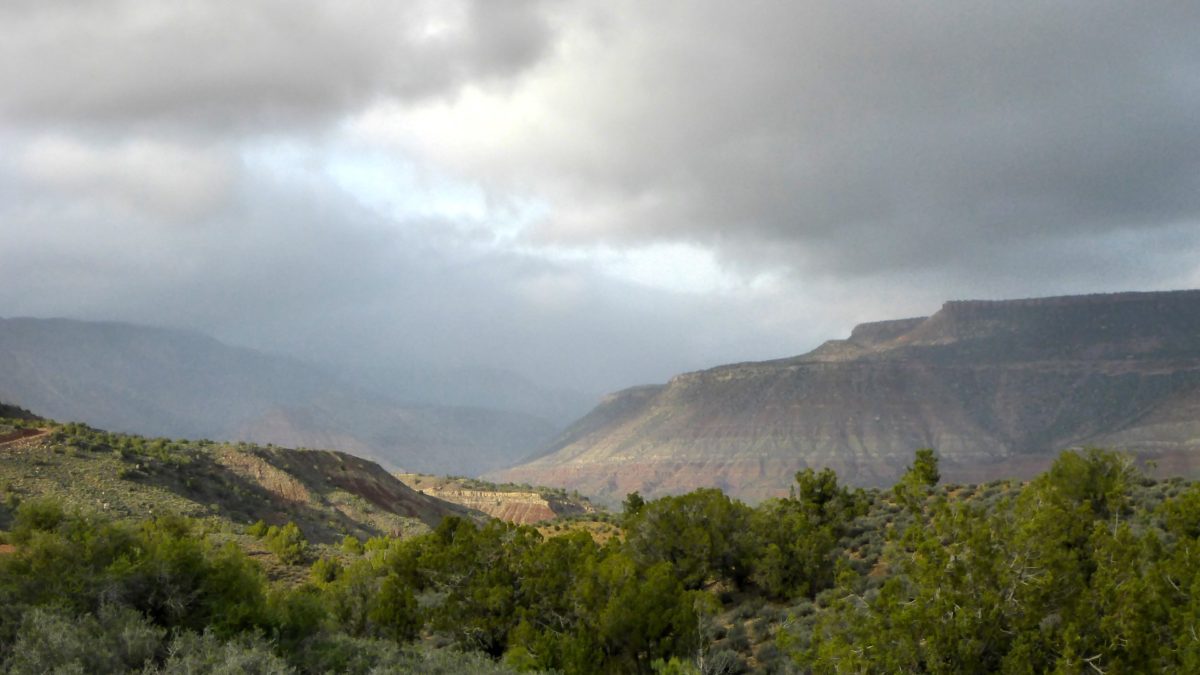 We headed back and turned down a side trail. It led to a dead end where there was an old campfire ring. The views there were incredible. The sun and clouds cooperated just right for some epic bike pics.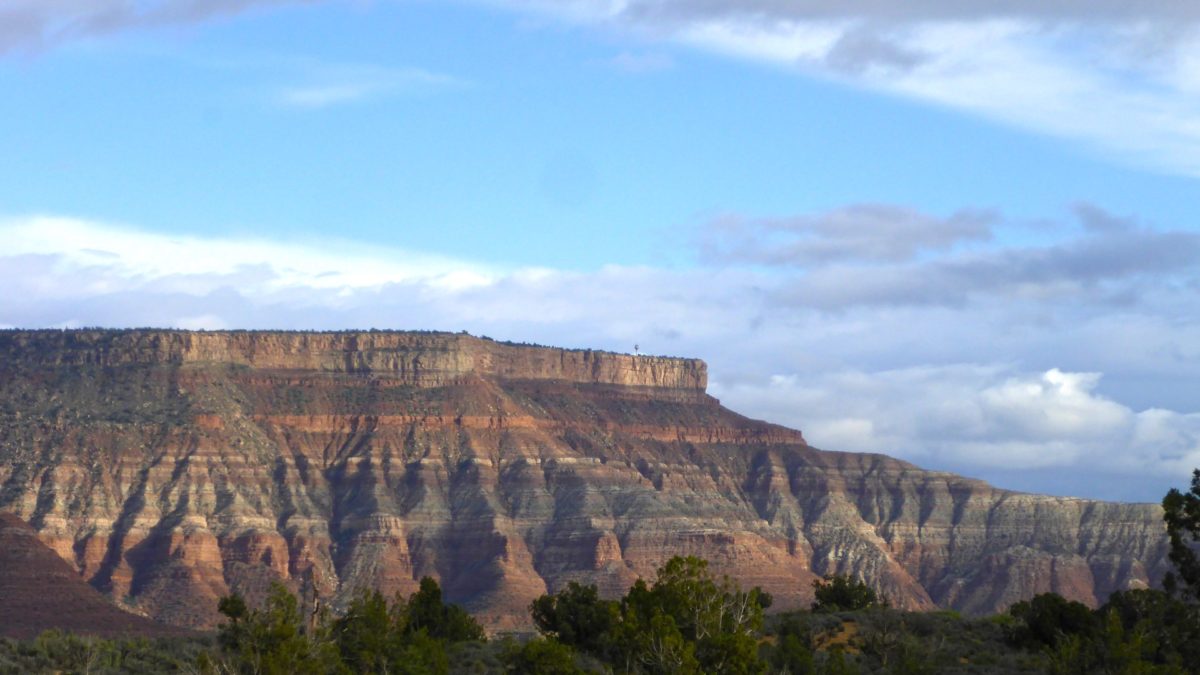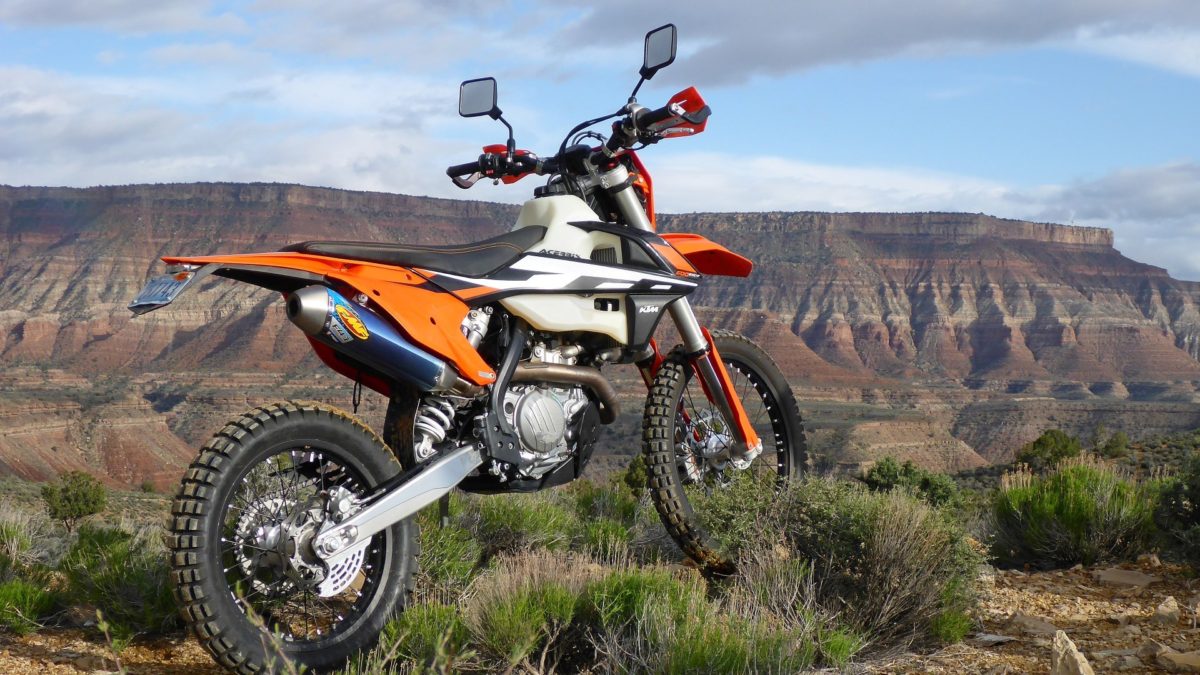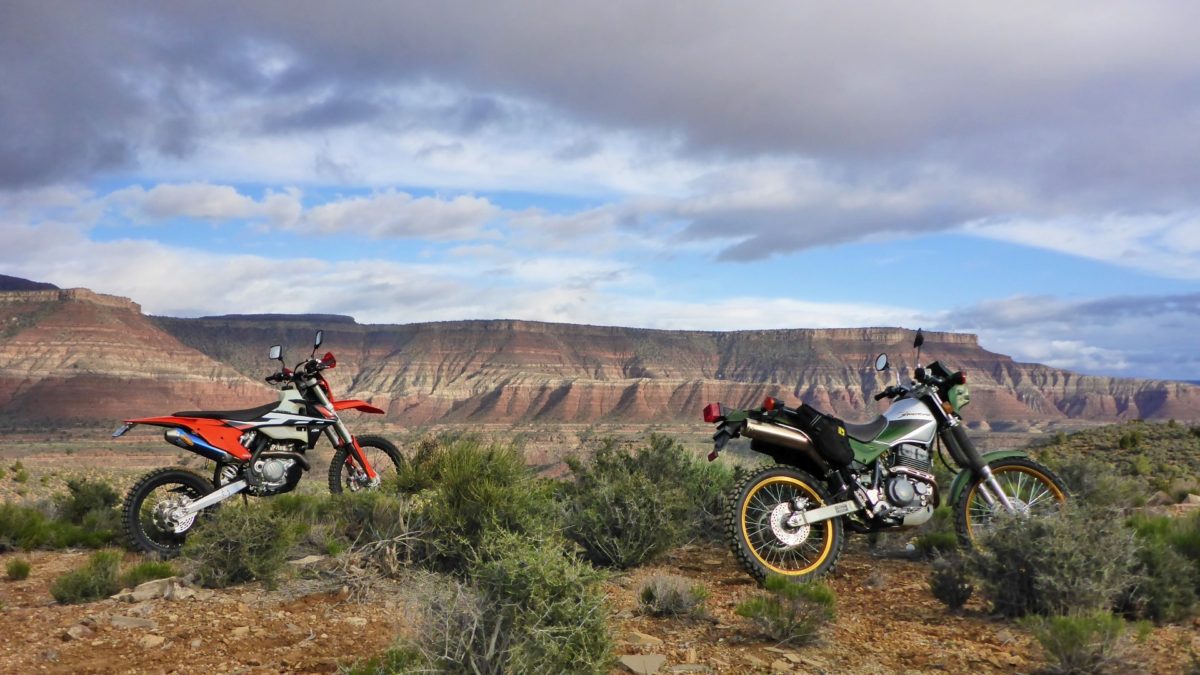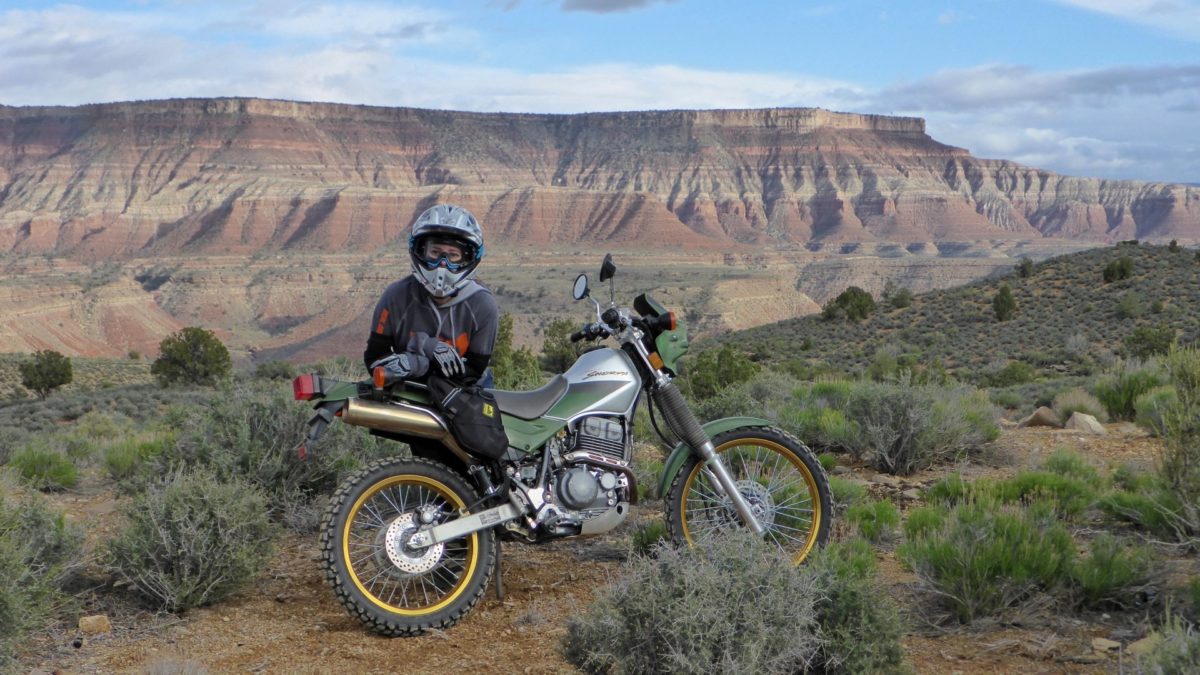 We turned back and headed back towards camp. Those Utah views never disappoint.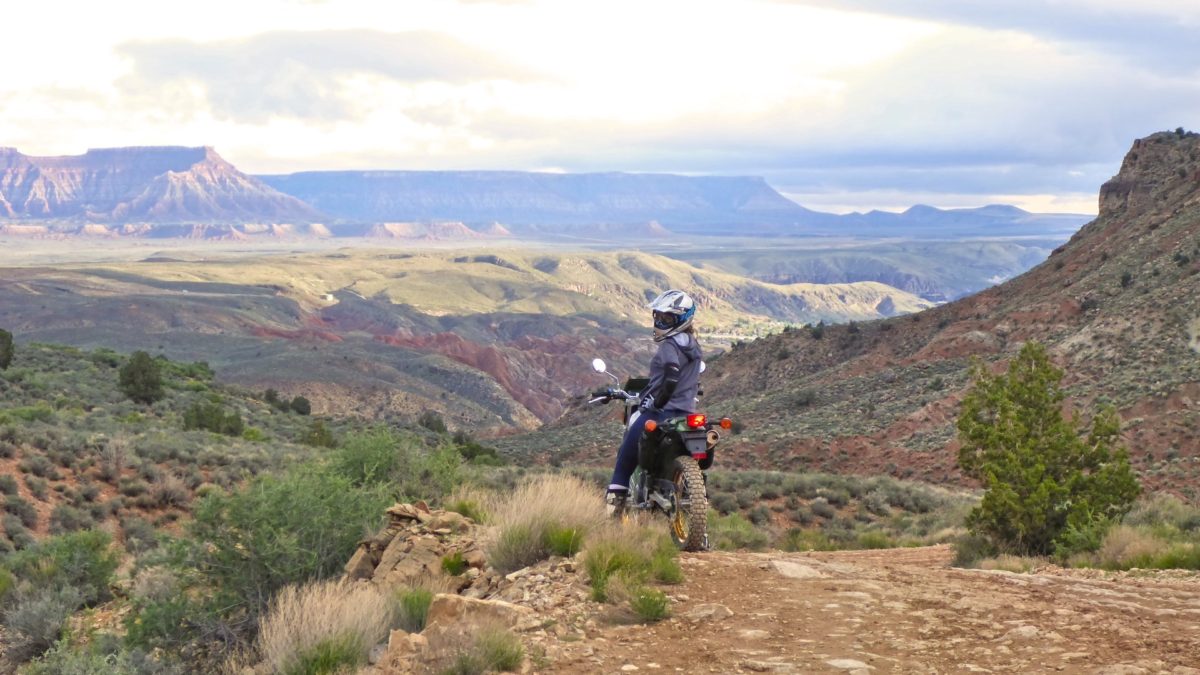 We stopped off at the cows to say hi!
Ash Creek
Then it was a quick ride back to our camp to grab a couple beers and then head down to the a nearby creek.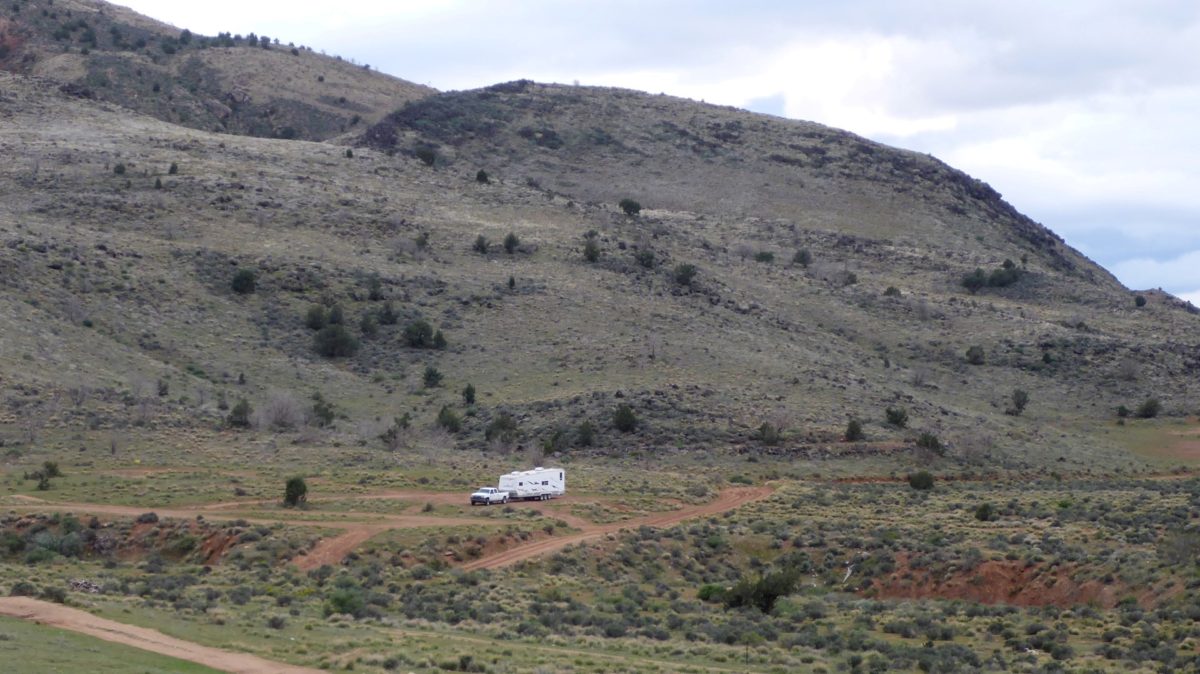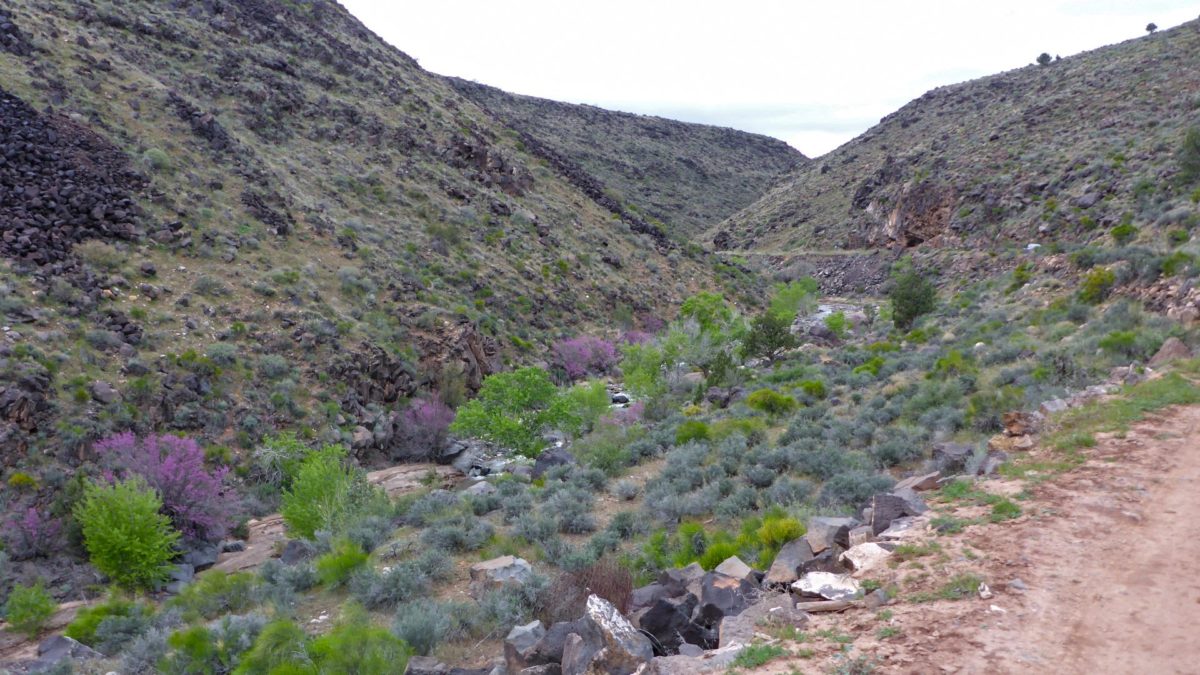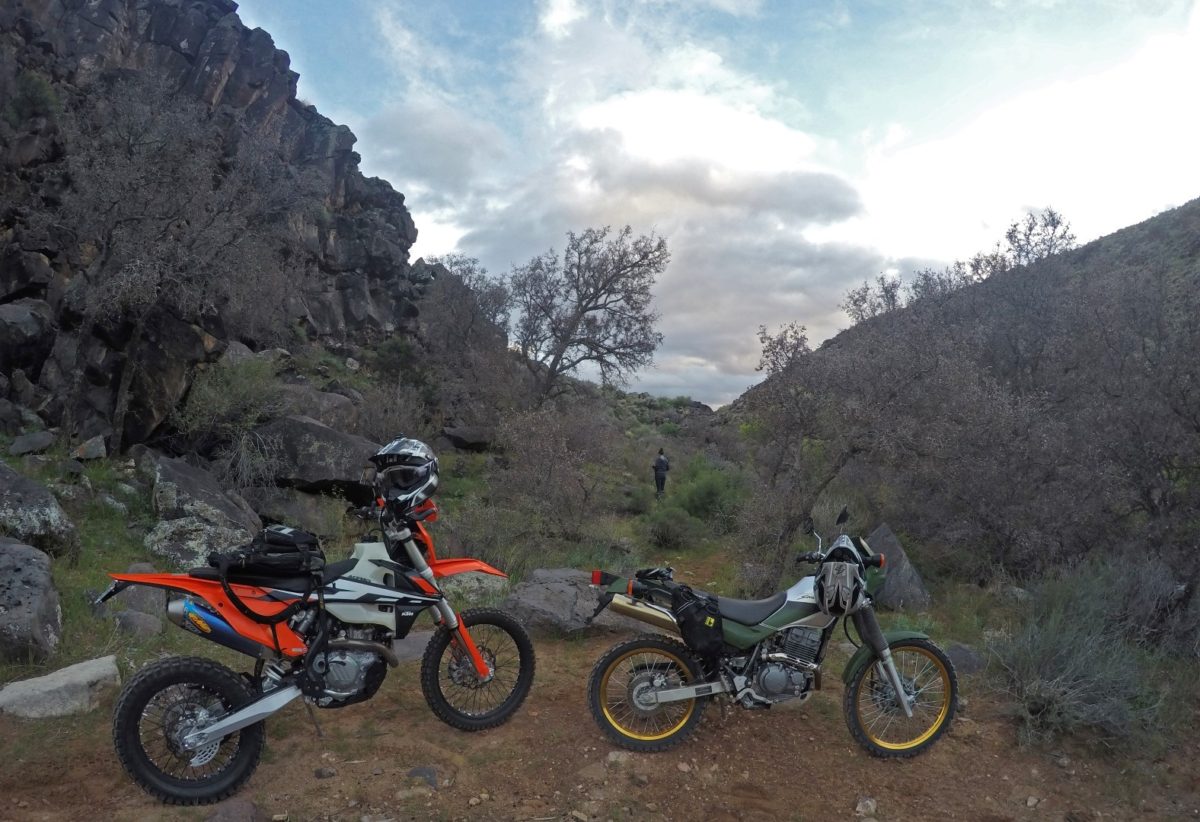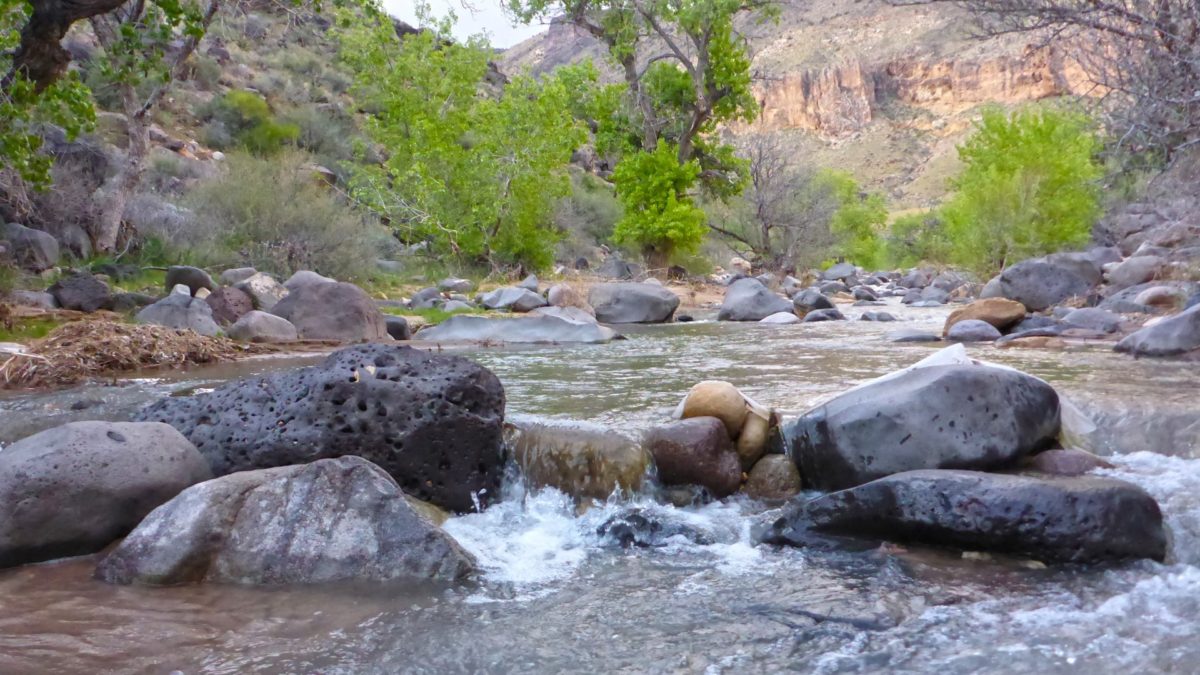 Dinner in Hurricane
It still wasn't dark and we were getting hungry. We took a little cruise down into Hurricane to eat at a Mexican restaurant.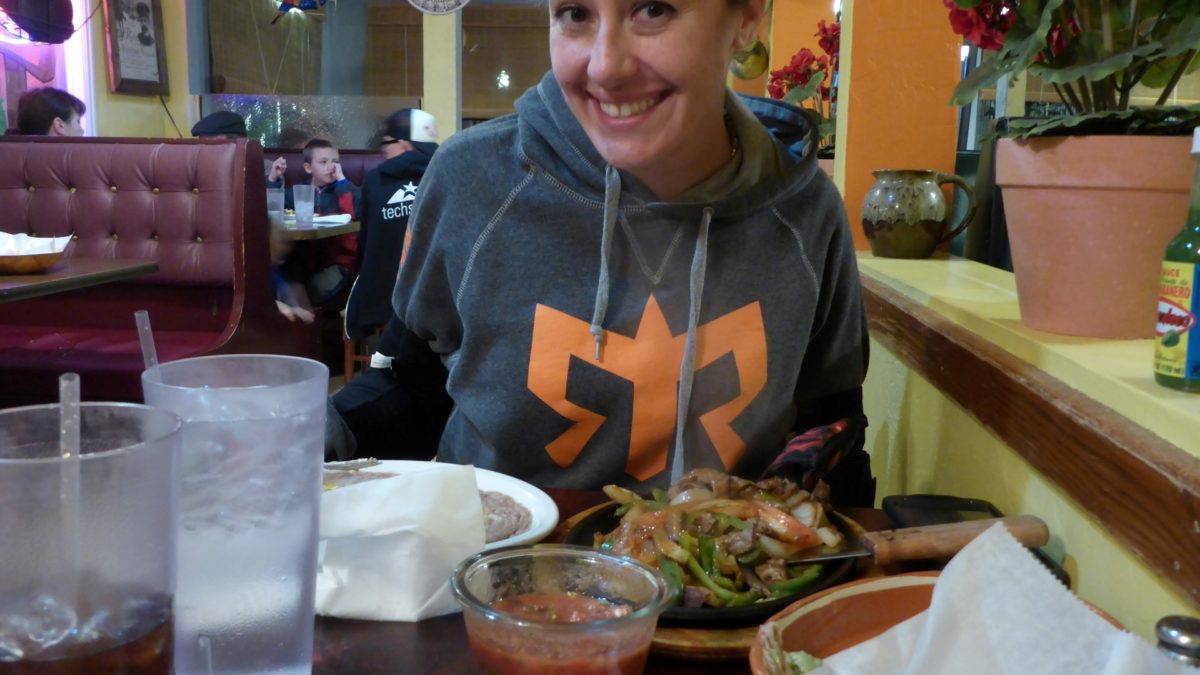 The restaurant took forever and we ended up having to ride back in the dark. That was a COLD ride, especially for Anna. All she had on was a sweatshirt.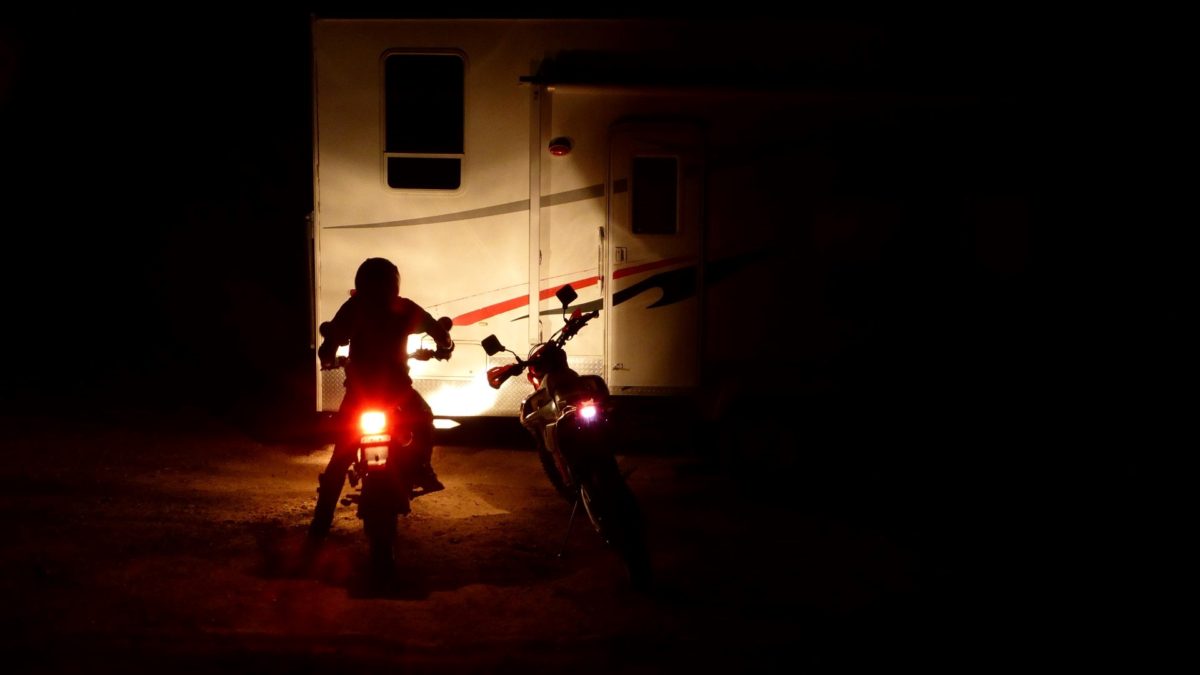 Warming Up Around the Fire
I loaded up our fire drum with wood and dowsed it with gas. It lit right up and the strong winds kept it fueled with plenty of oxygen. It was raging and felt great!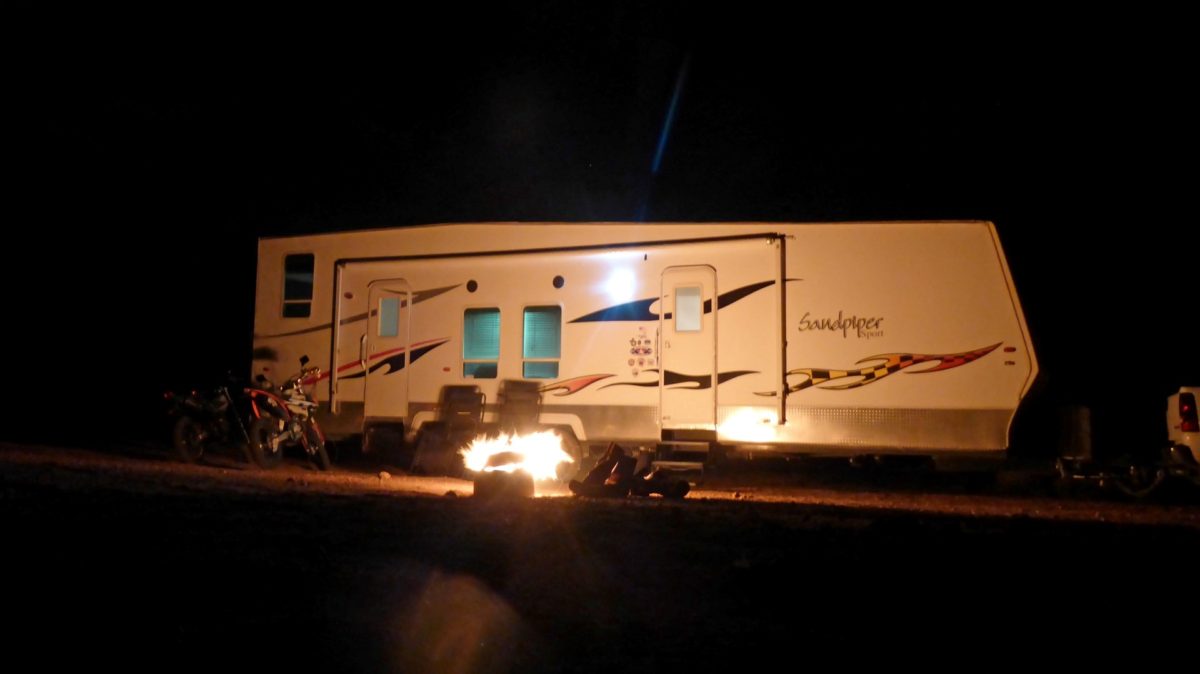 After a little while the wind subsided and the moon came out. We were able to have a nice night around the fire.
The Active Night Sky
The clouds were cruising through the sky pretty quickly, but the stars were still very clear at times.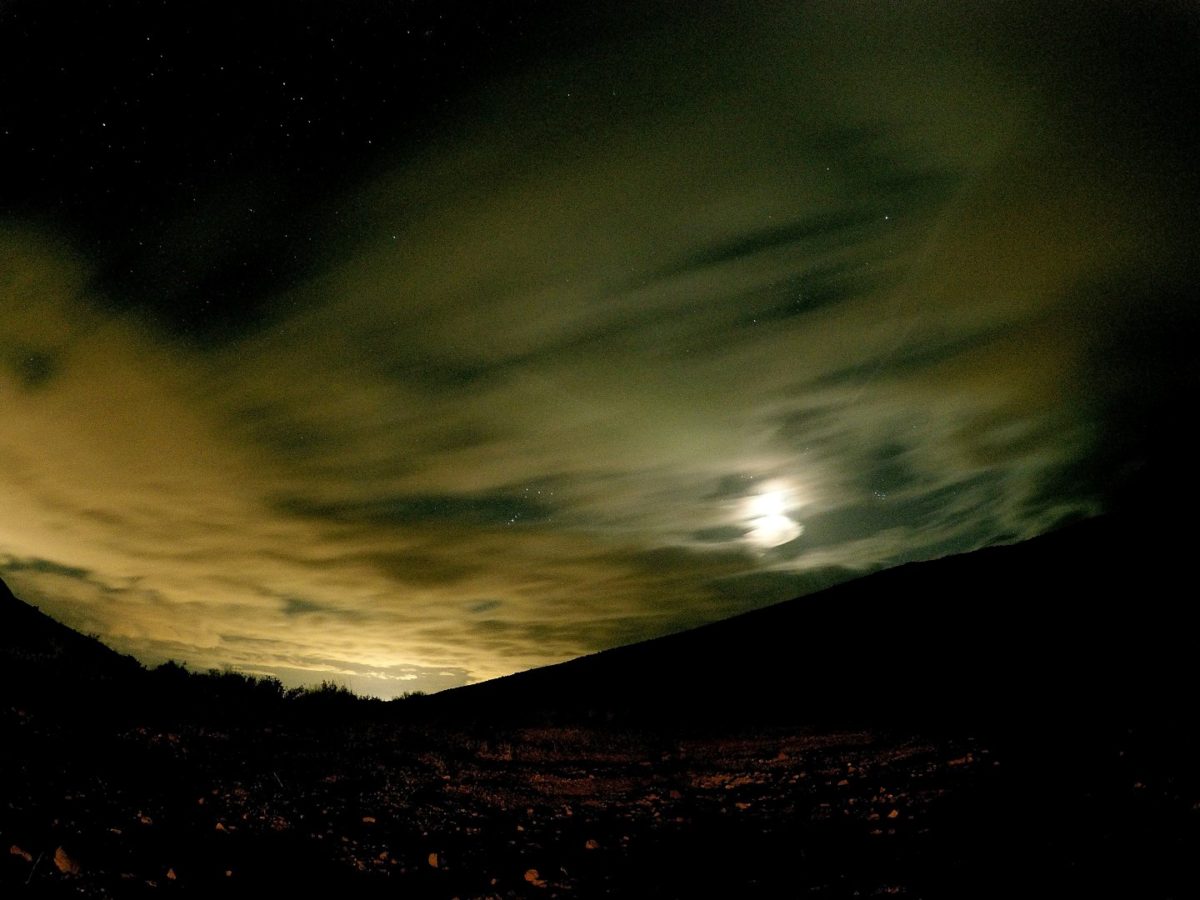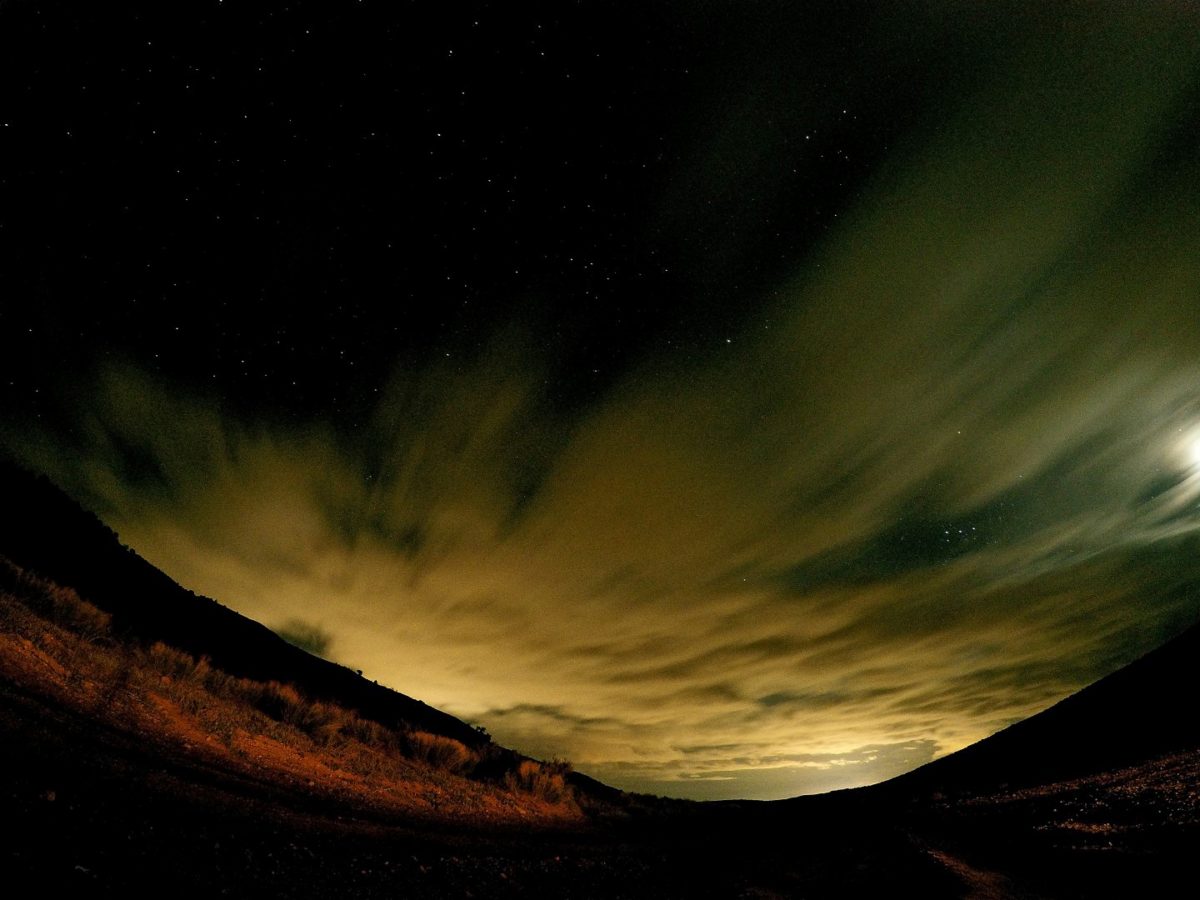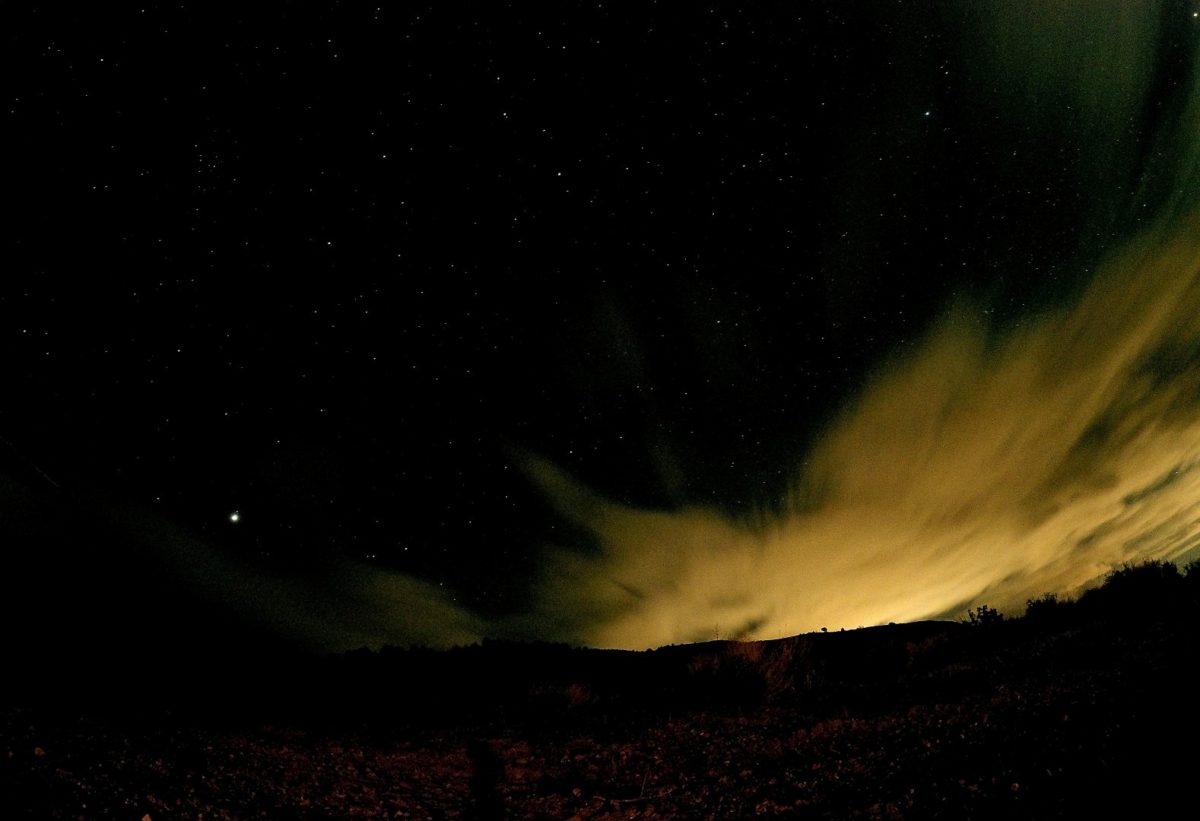 As we sat there watching the clouds roll by, the fire embers painted a picture for my GoPro, set to a 30 second exposure. Around midnight we called it a night. The wind whipped really hard through that valley into the early morning hours. We were thankful we were in our toyhauler and not tenting it this trip!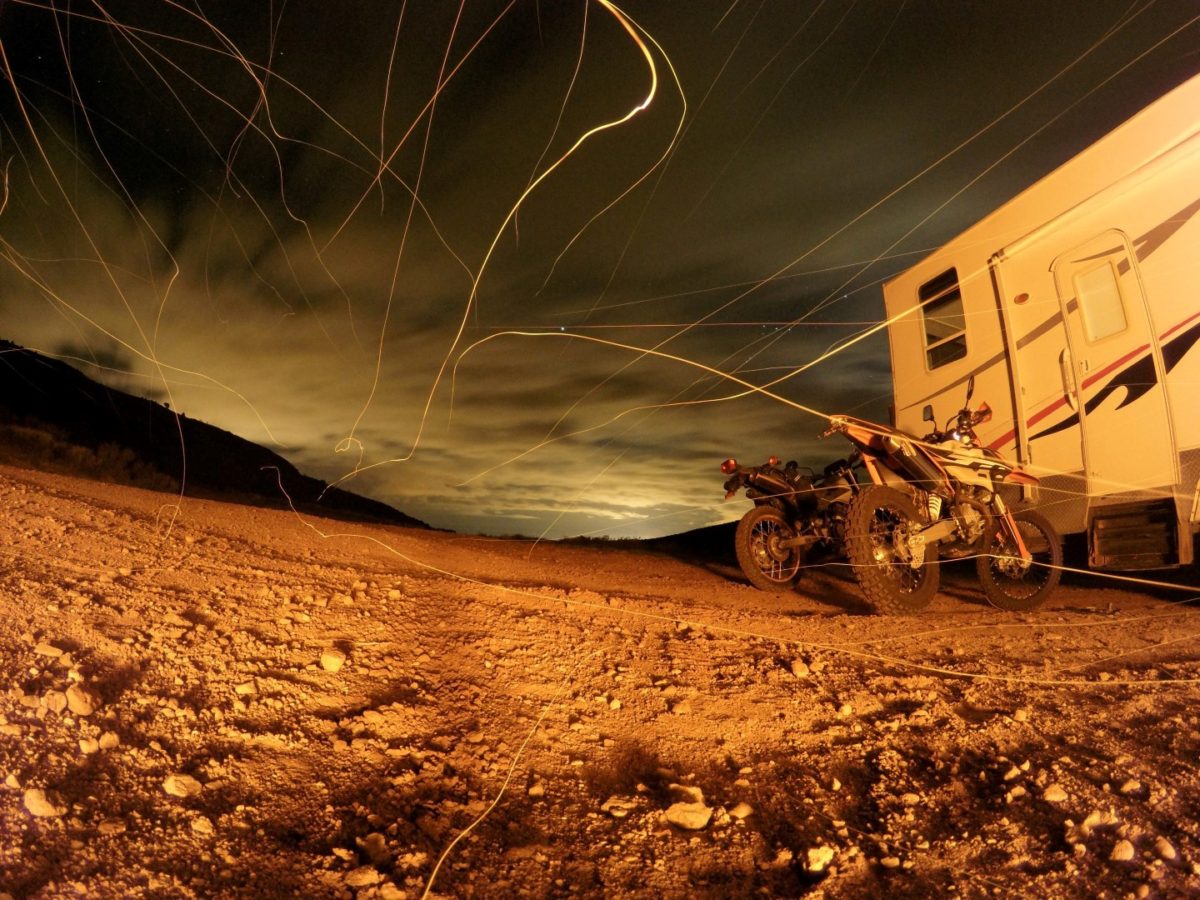 Coffee with the Cows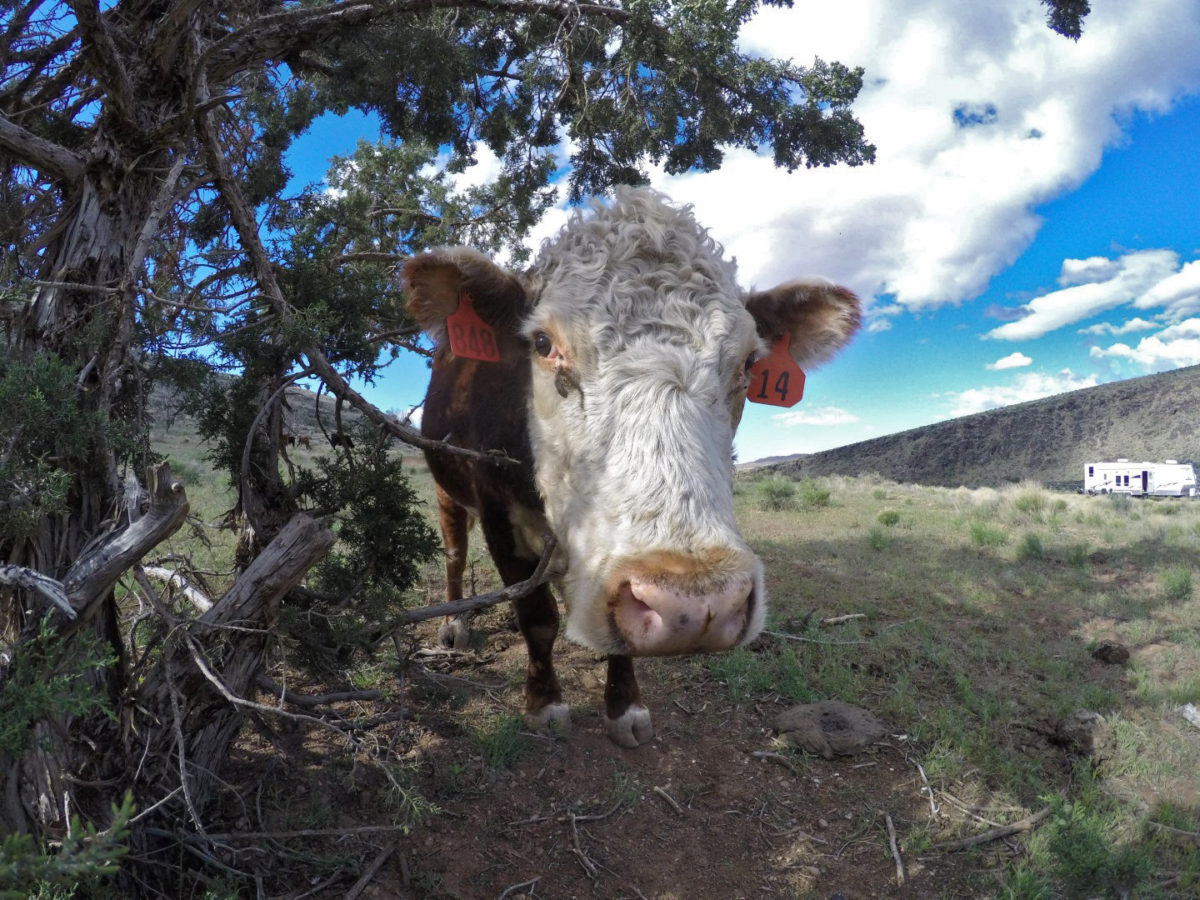 We woke up to some visitors. The local cows rolled through and grazed in the field next to our camp. We were happy to see them.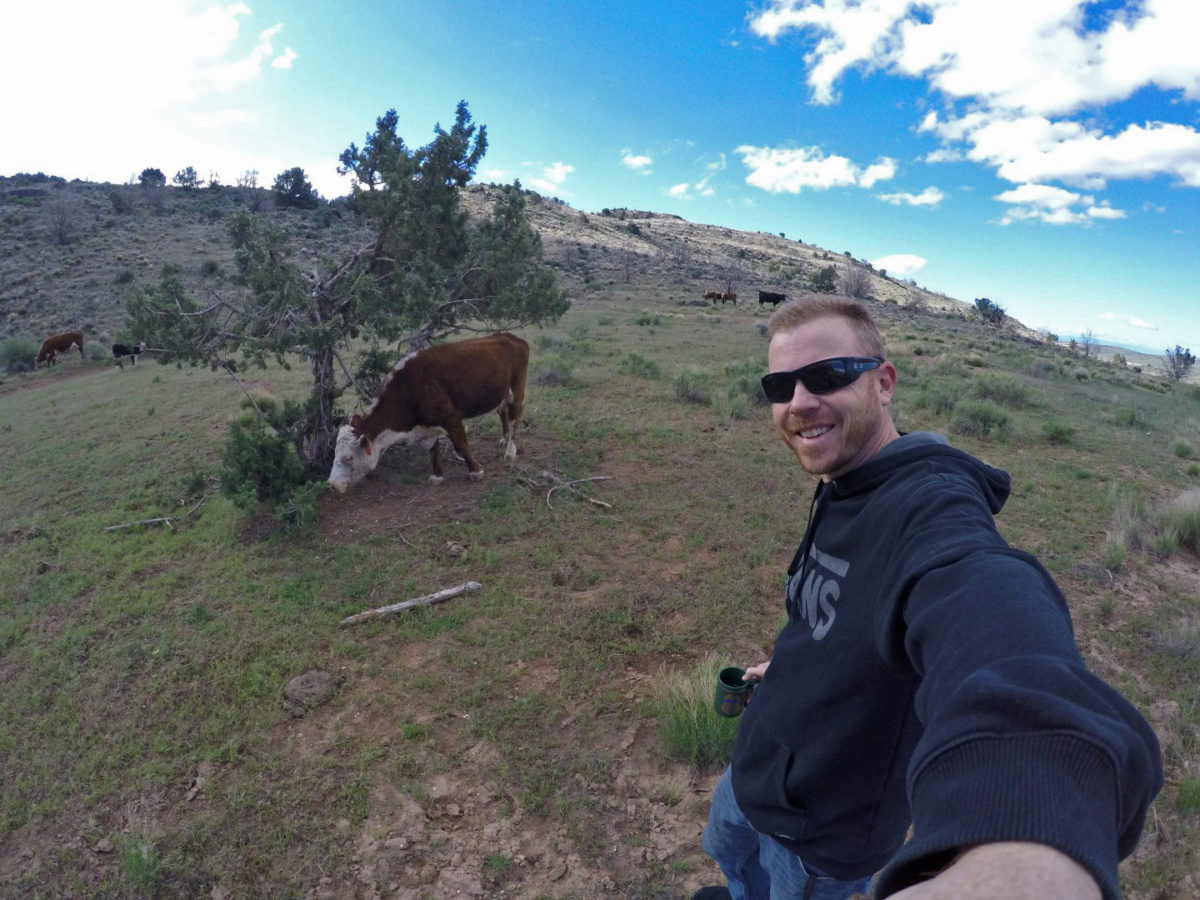 Most of the momma cows were a little cautious with us at first, but then learned to trust us. The little ones were a little more timid.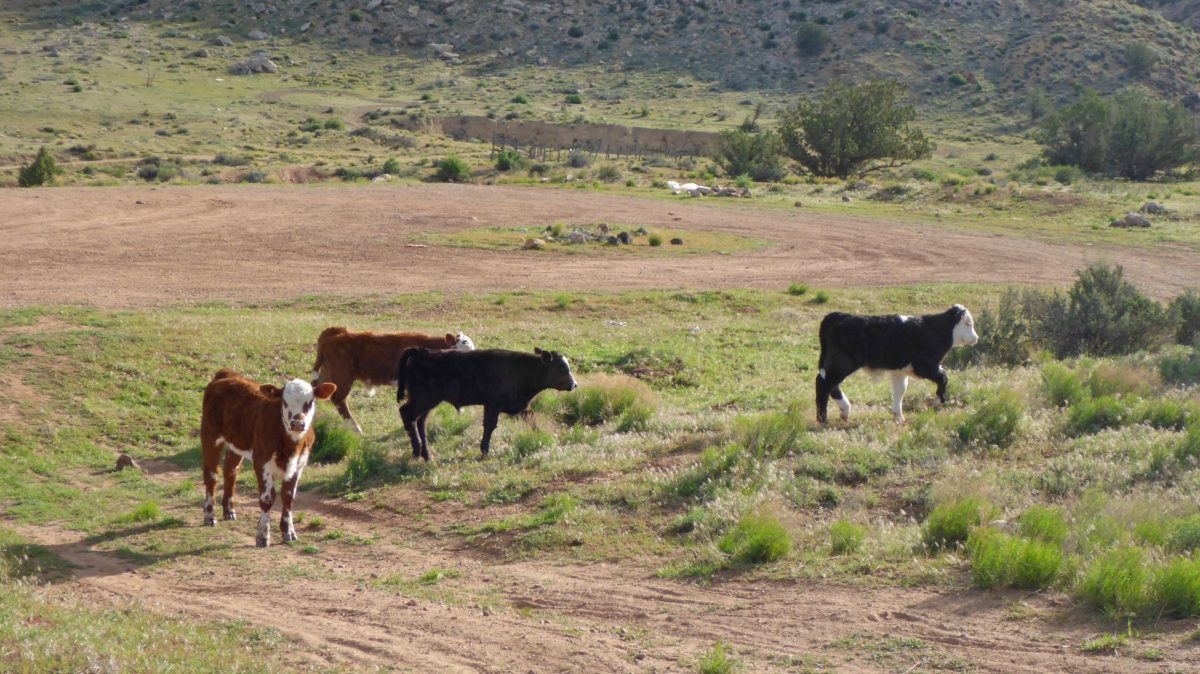 Toquerville Falls
After some breakfast we geared up and rode down to Toquerville Falls. It's about a 5 mile ride down a rugged 4X4/ Jeep road.
You can see the falls in the distance as you get closer.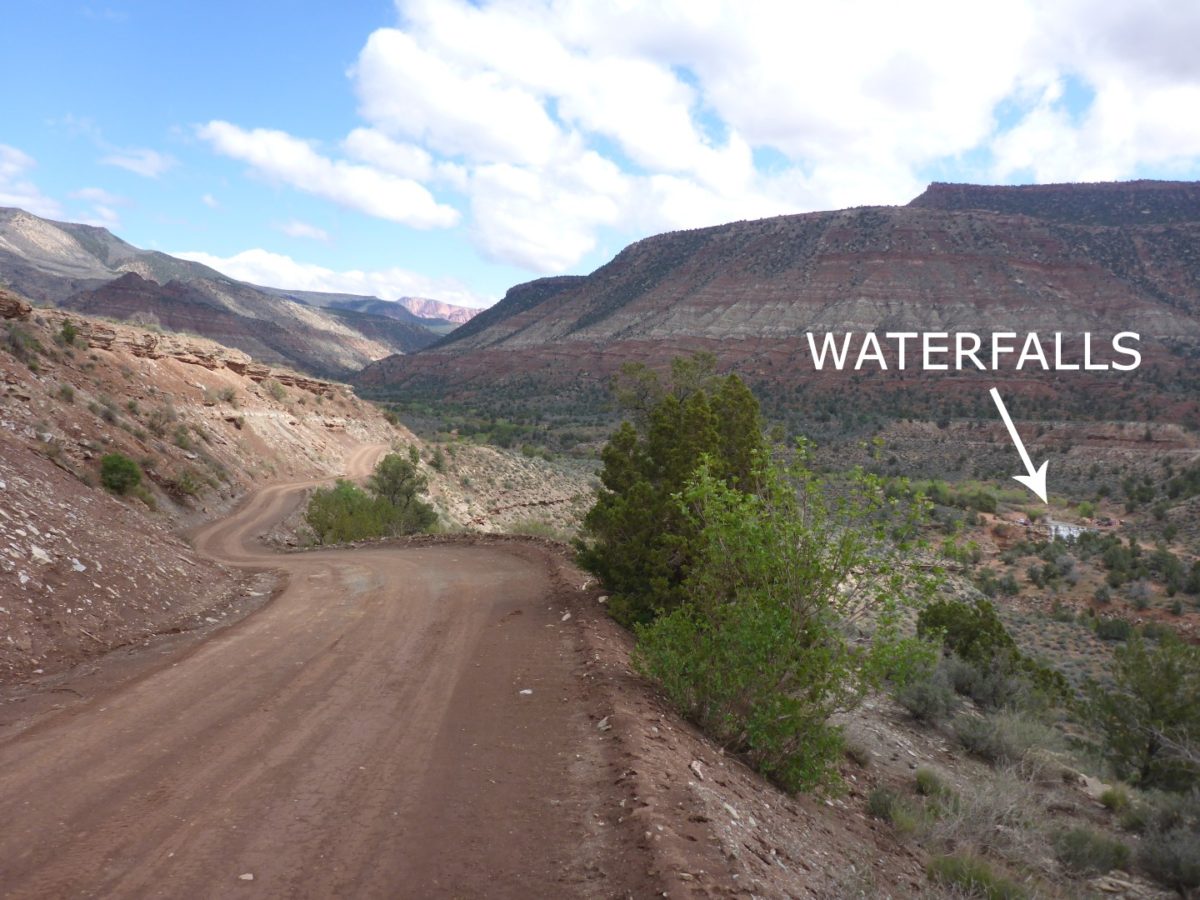 We saw quite a few Jeeps and other vehicles headed down there. Unfortunately, there were quite a few people there when we showed up but they eventually left and we had the falls all to ourselves.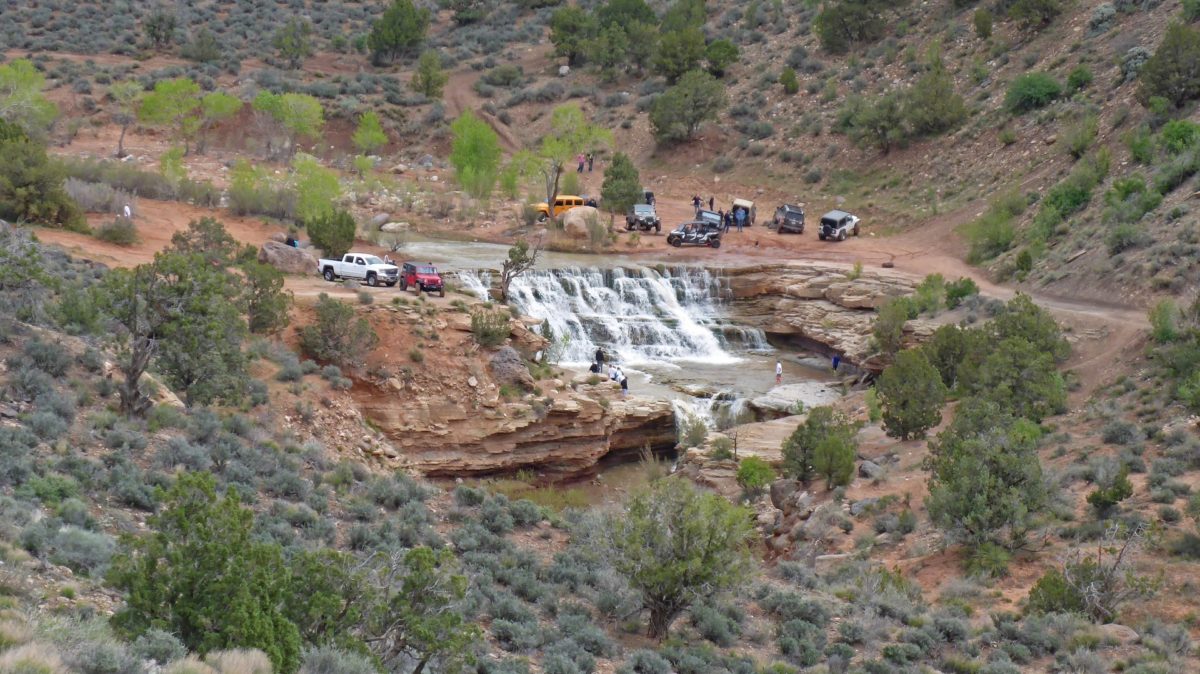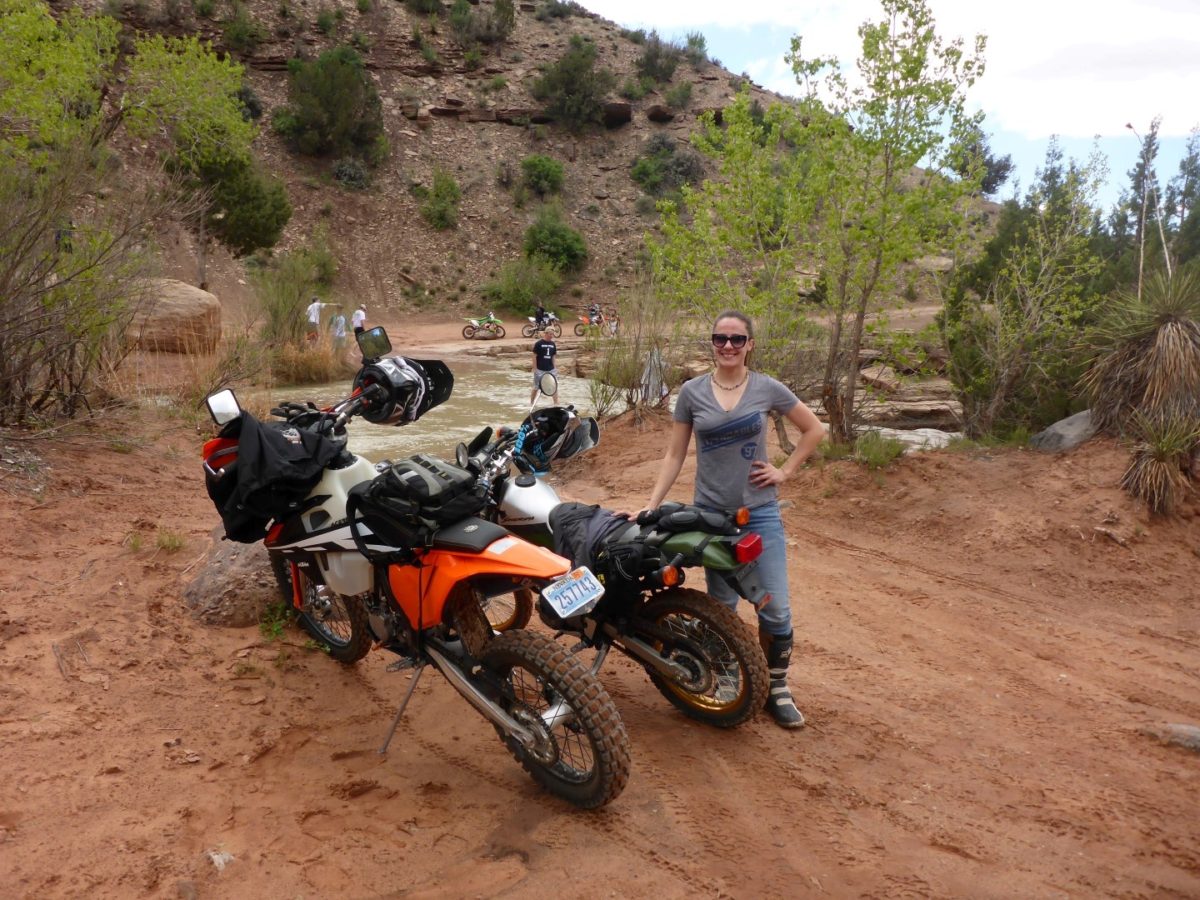 The falls were badass. They were flowing better than I was expecting.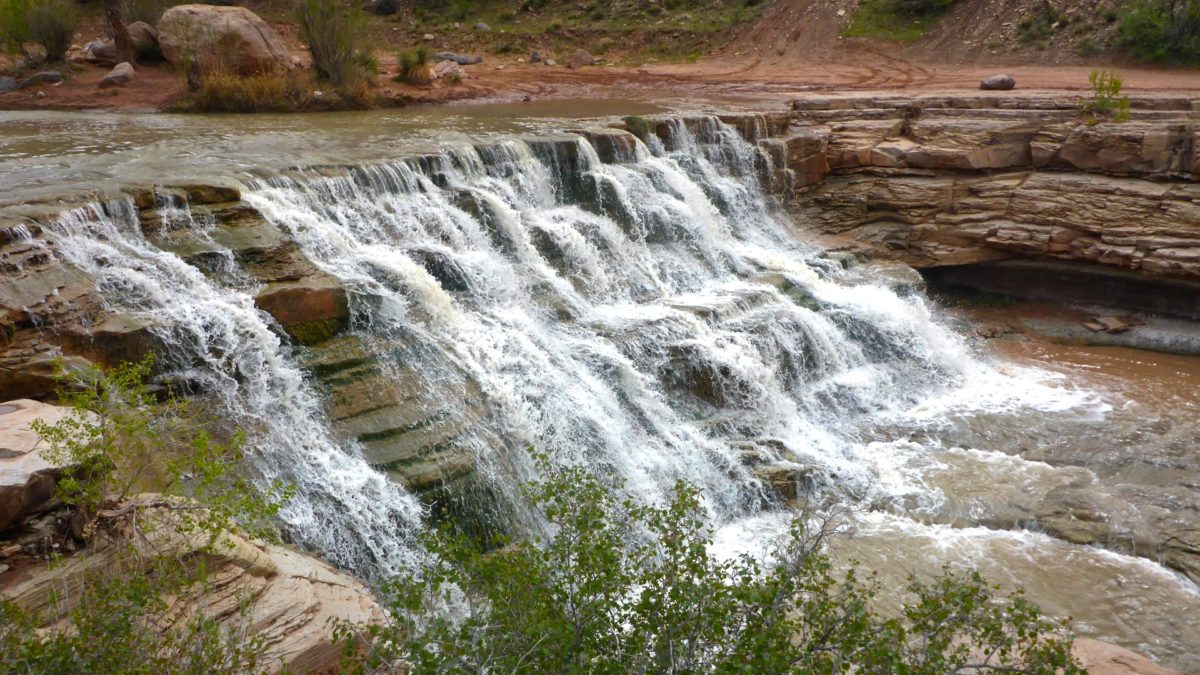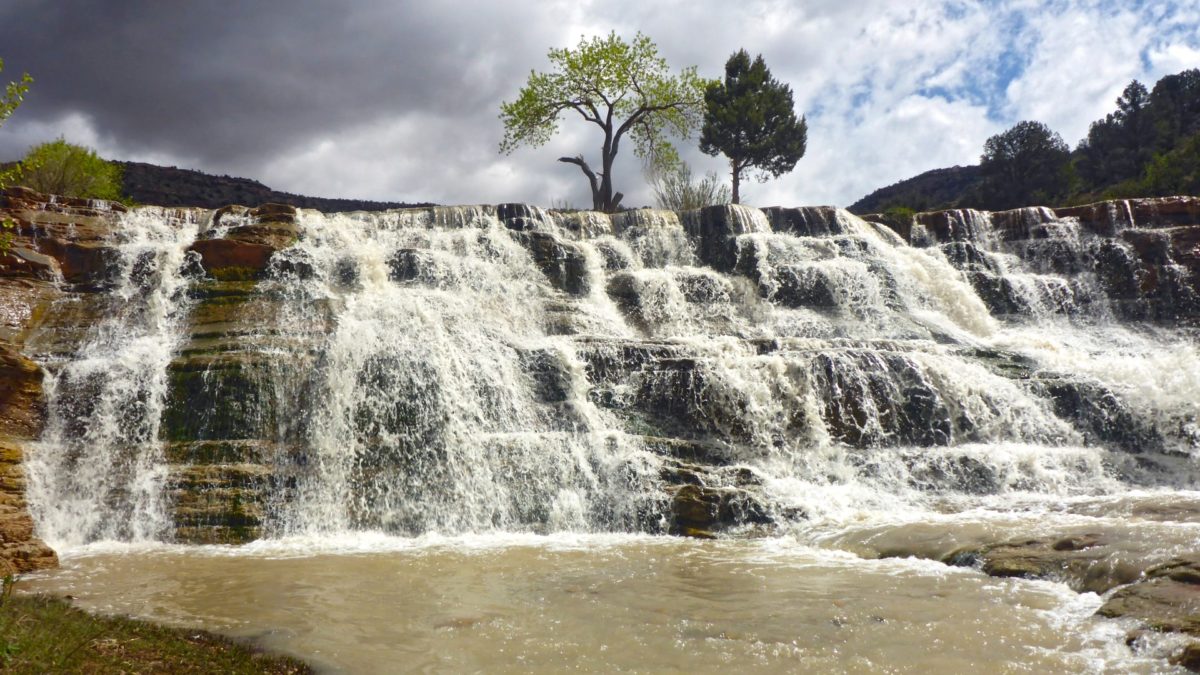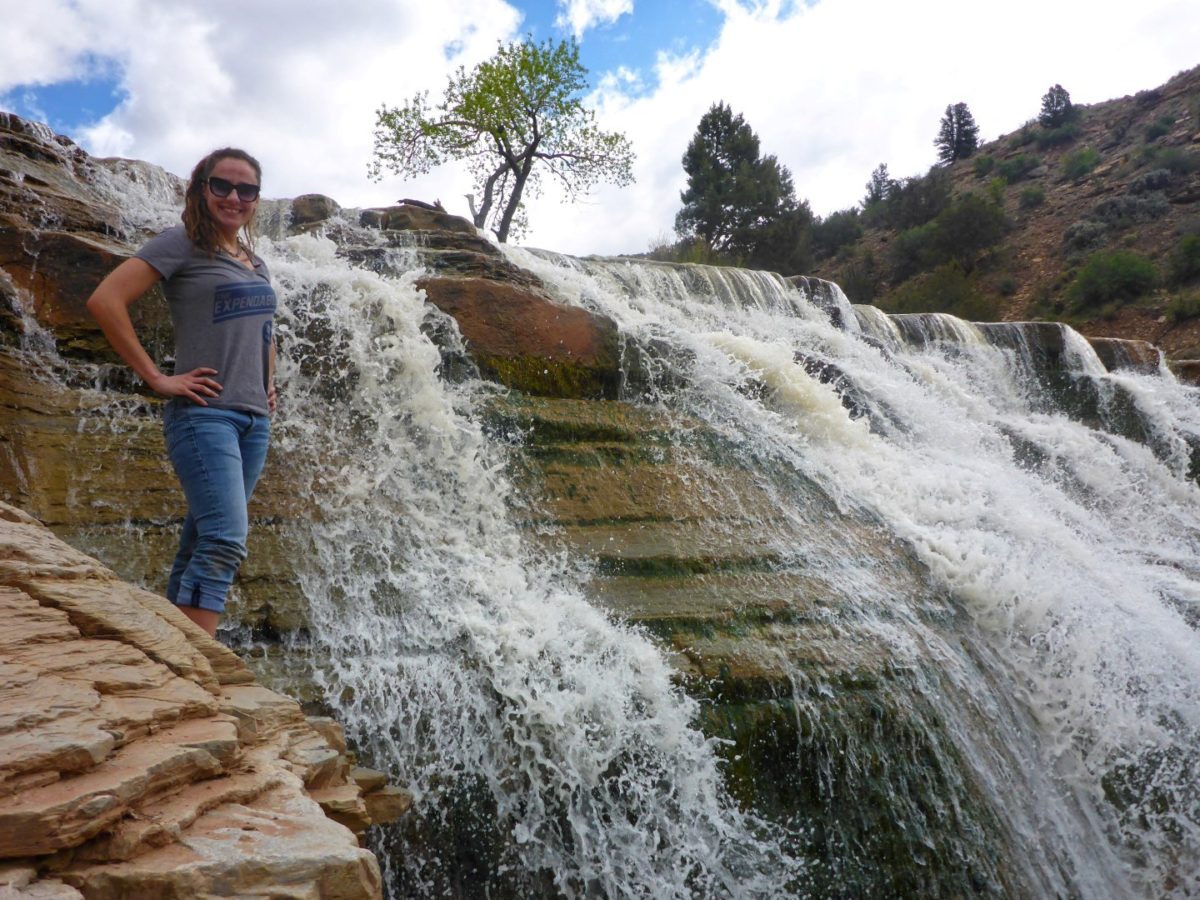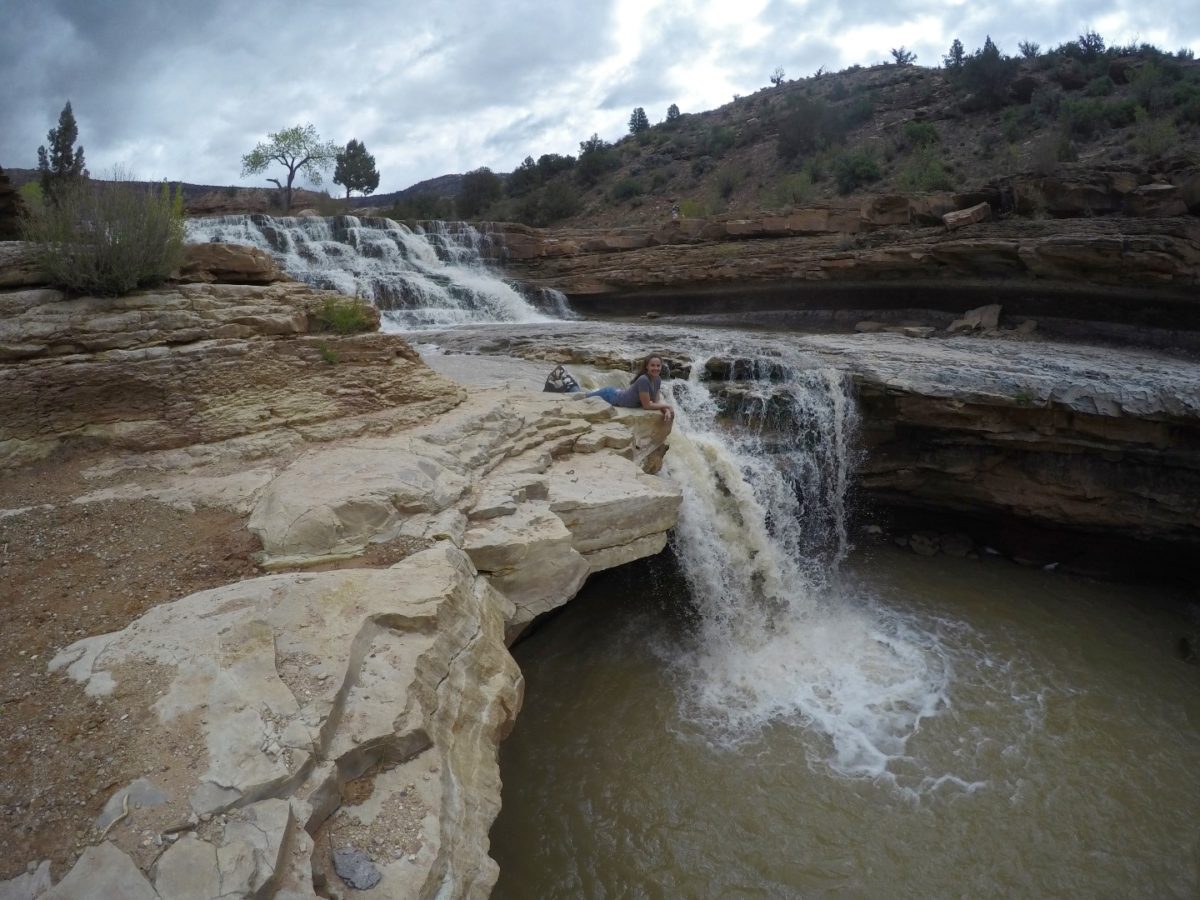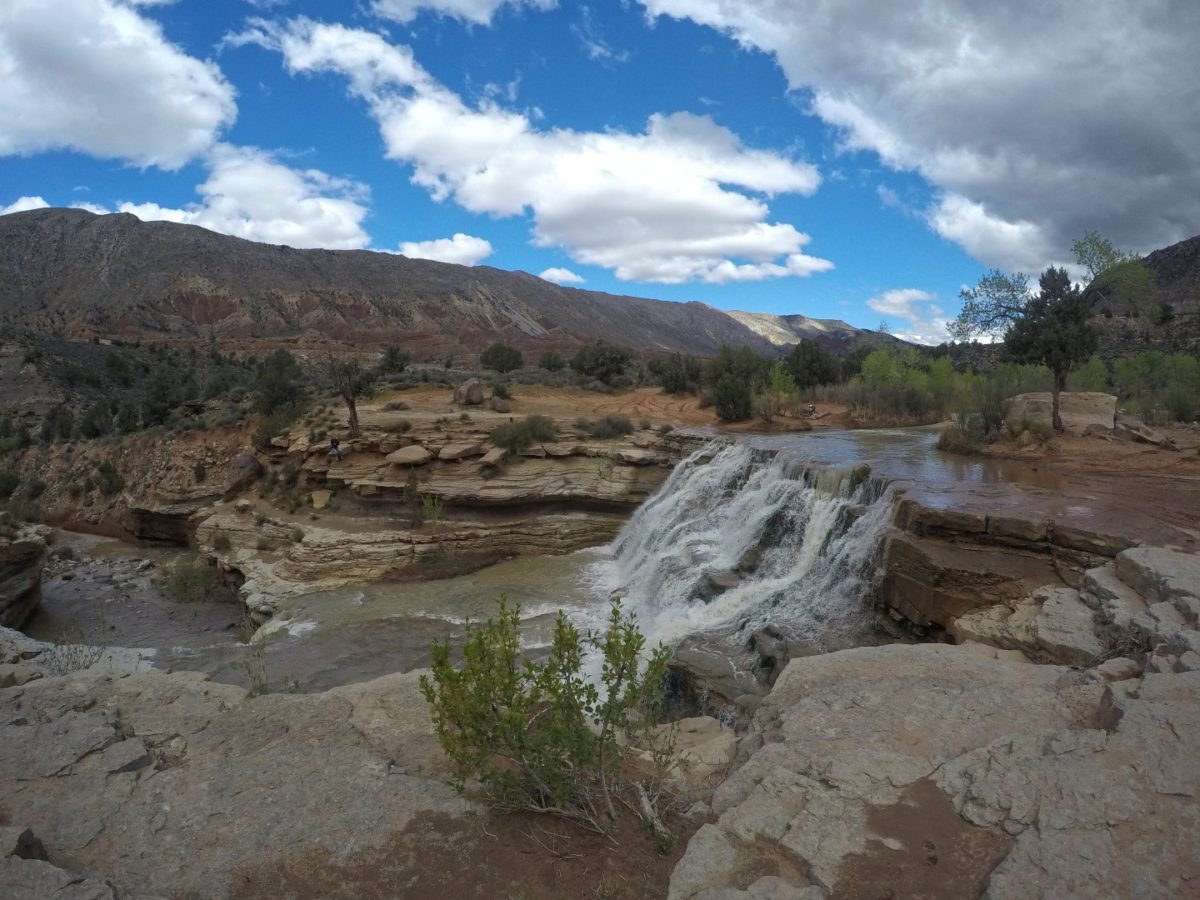 After I saw a couple quads and Jeeps drive across the stream, I had to do it on my bike.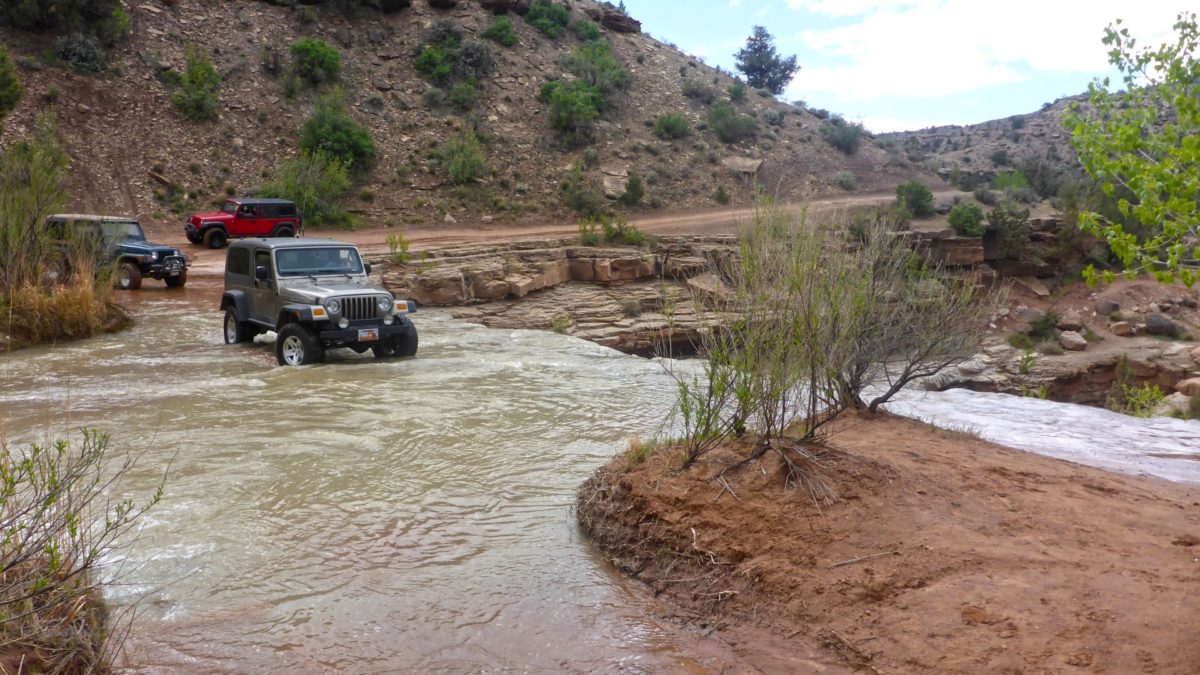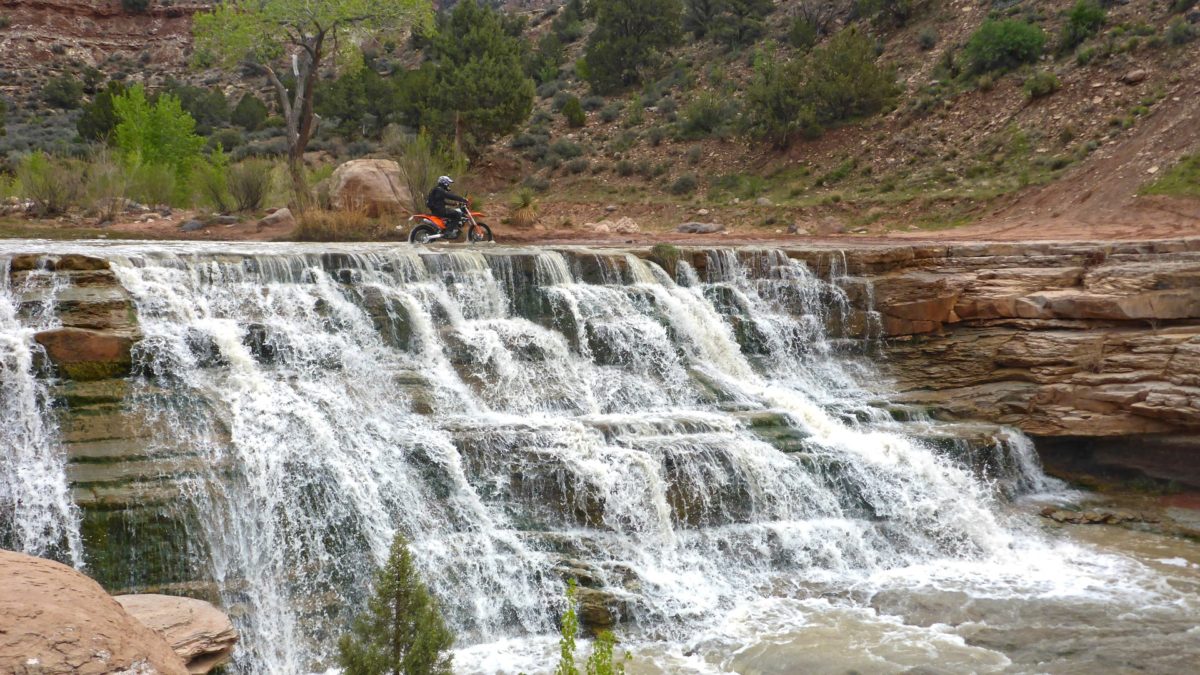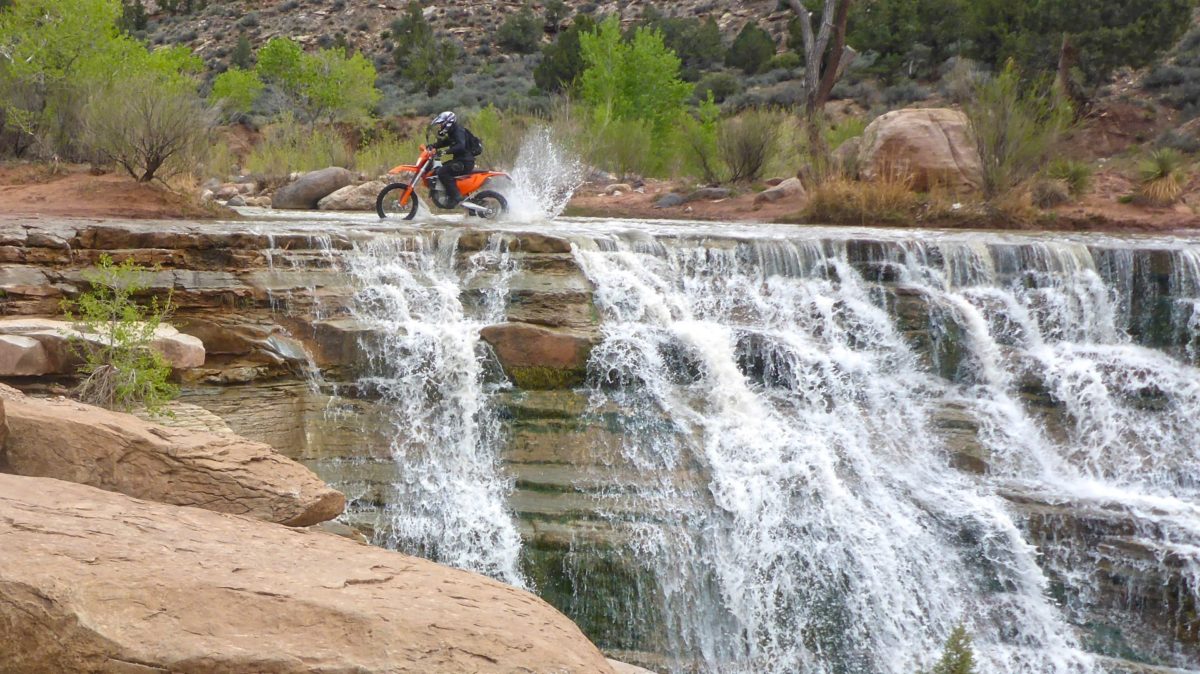 I just had to get a KTM porn pic before leaving!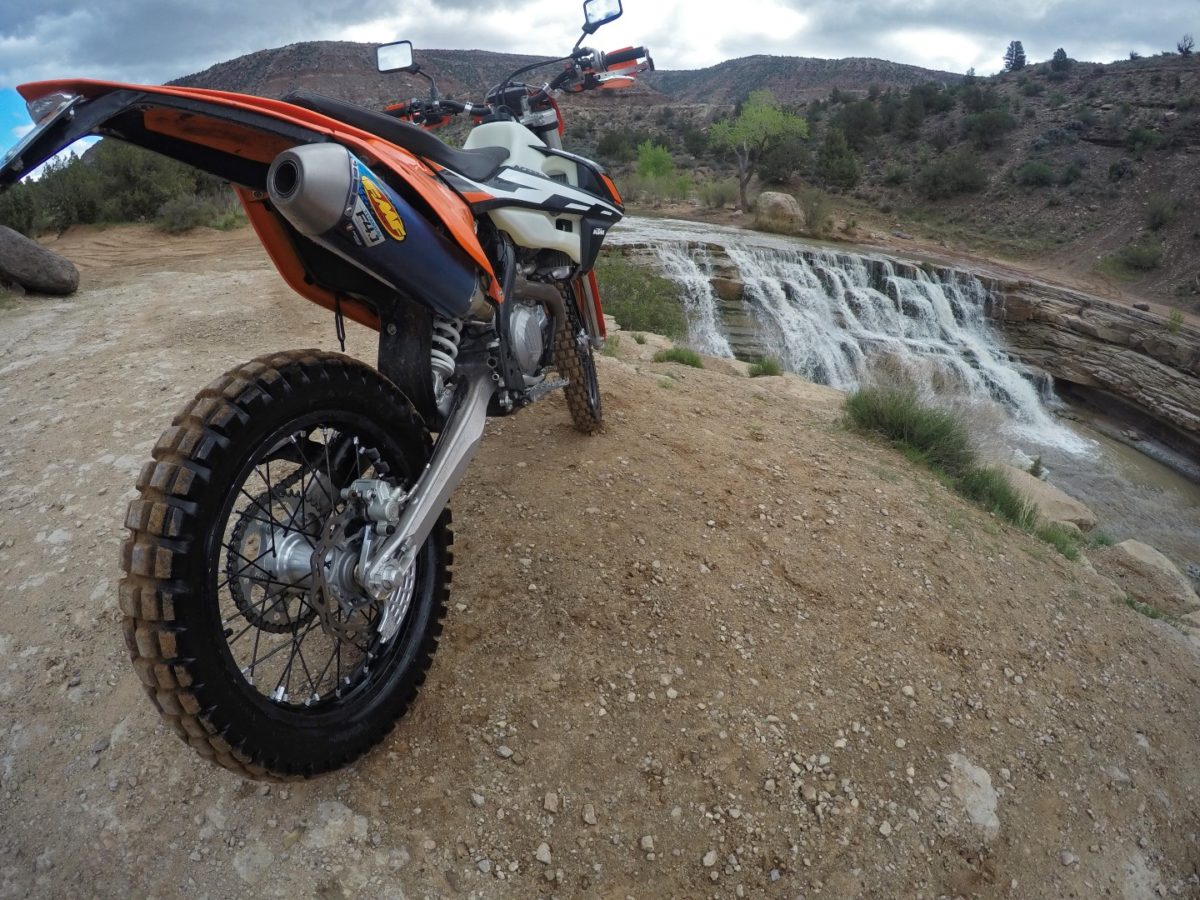 Getting to Toquerville Falls
(click more options for a larger map)
After the falls, we headed back towards camp.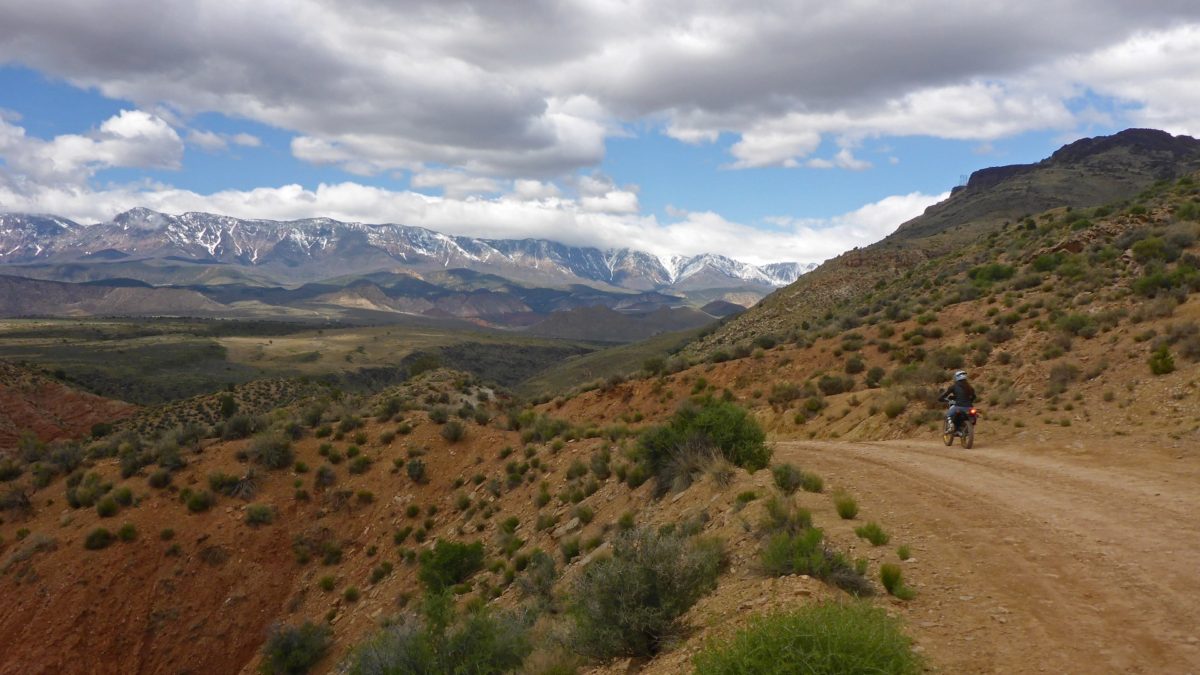 Relaxing Before the Drive Home
We sat and had a cocktail so we could relax for a bit before heading home. Damn that bike pops in the sun!
Cheers to another great trip. These last minute trips always seen to come together perfectly. It just proves that you shouldn't always overthink your adventures. Sometimes you should just let them happen on their own.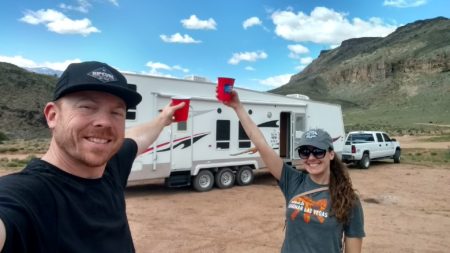 Video
Comments
comments