Overview
Located just outside La Verkin, the Toquerville Twister is some of Utah's best moto singletrack. Featuring 100% twisty singletrack that runs right along steep canyon walls, it is a must-do for riders who love technical trails. It's exposure to the cliff side makes this trail not recommended for beginners. There are a few tricky hill climbs and rocky drops, but nothing like the stuff you see in the Red Bull Erzberg Rodeo. It's just difficult enough to be a challenge for experienced riders. The return route is quite a bit different, but just as fun! Over 25 water crossings bring you back down the creek as you zig zag your way down the canyon.
The Toquerville Twister
Difficulty
Length
Time

3-5 hours depending on how long you spend at the falls

Recommended

Bike

Suitable for dirtbikes (not big bike friendly)
250-500cc

Things to

Bring

Plenty of water
Snack/ Lunch
Swim Trucks
Water shoes
GPS w/ tracks
Tools/ spare tubes/ etc
Map/ Getting There
The best place to stage for a good start/ end point is the LaVerkin Shooting Range, located along the first bend of HWY 9.
Toquerville Twister GPS Tracks
Toquerville Twister GPX tracks file
Video
Photos and Ride Report
5-20-2017
Loaded up with all the bikes, a KTM 500 EXC-F, KTM 500 SXC, KTM 450, CRF450X, and a WR450, we left Vegas around 7AM. There was Dino, Nick, Travis, Tyler and myself. It was a short two and a half hour drive to La Verkin, Utah.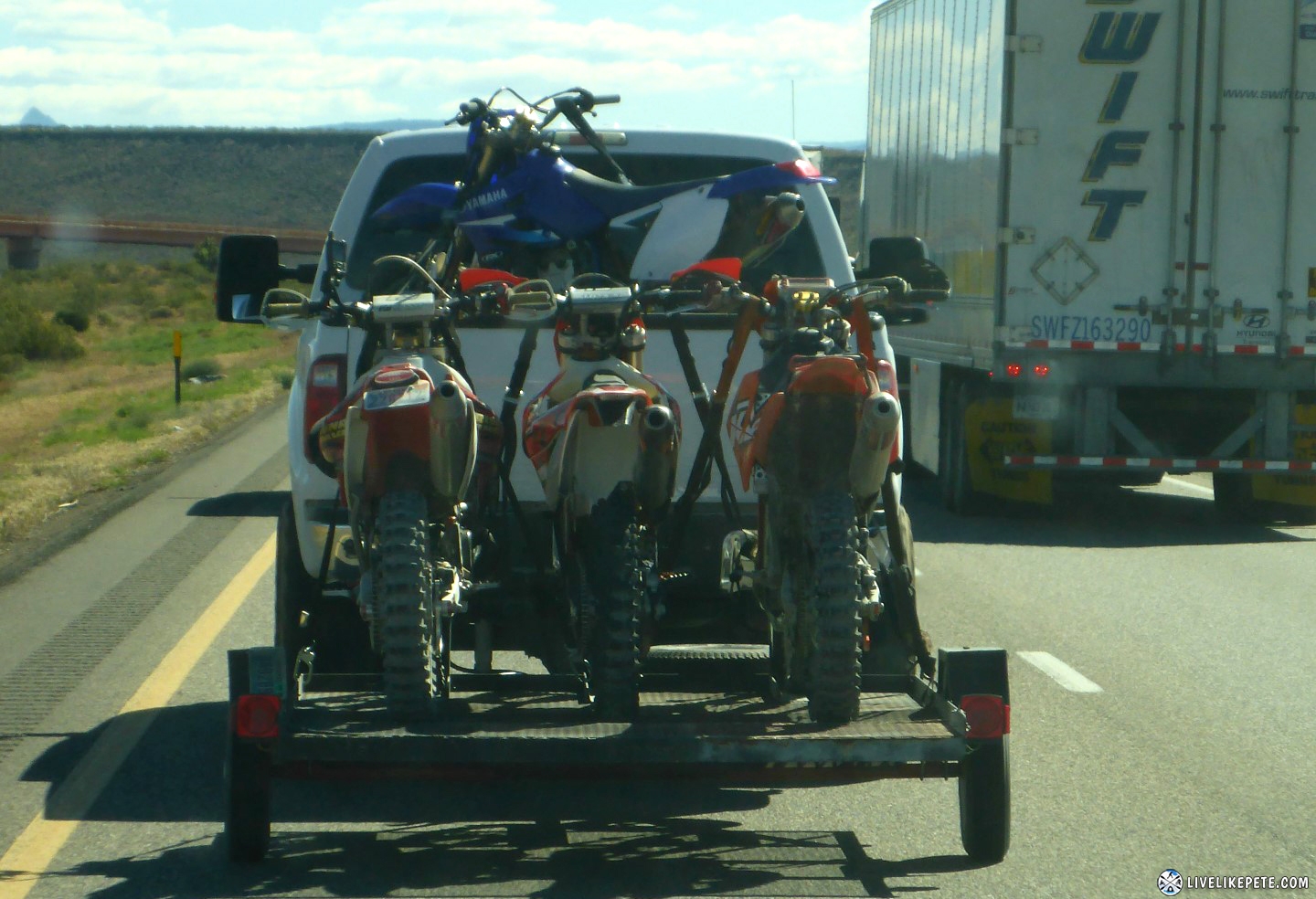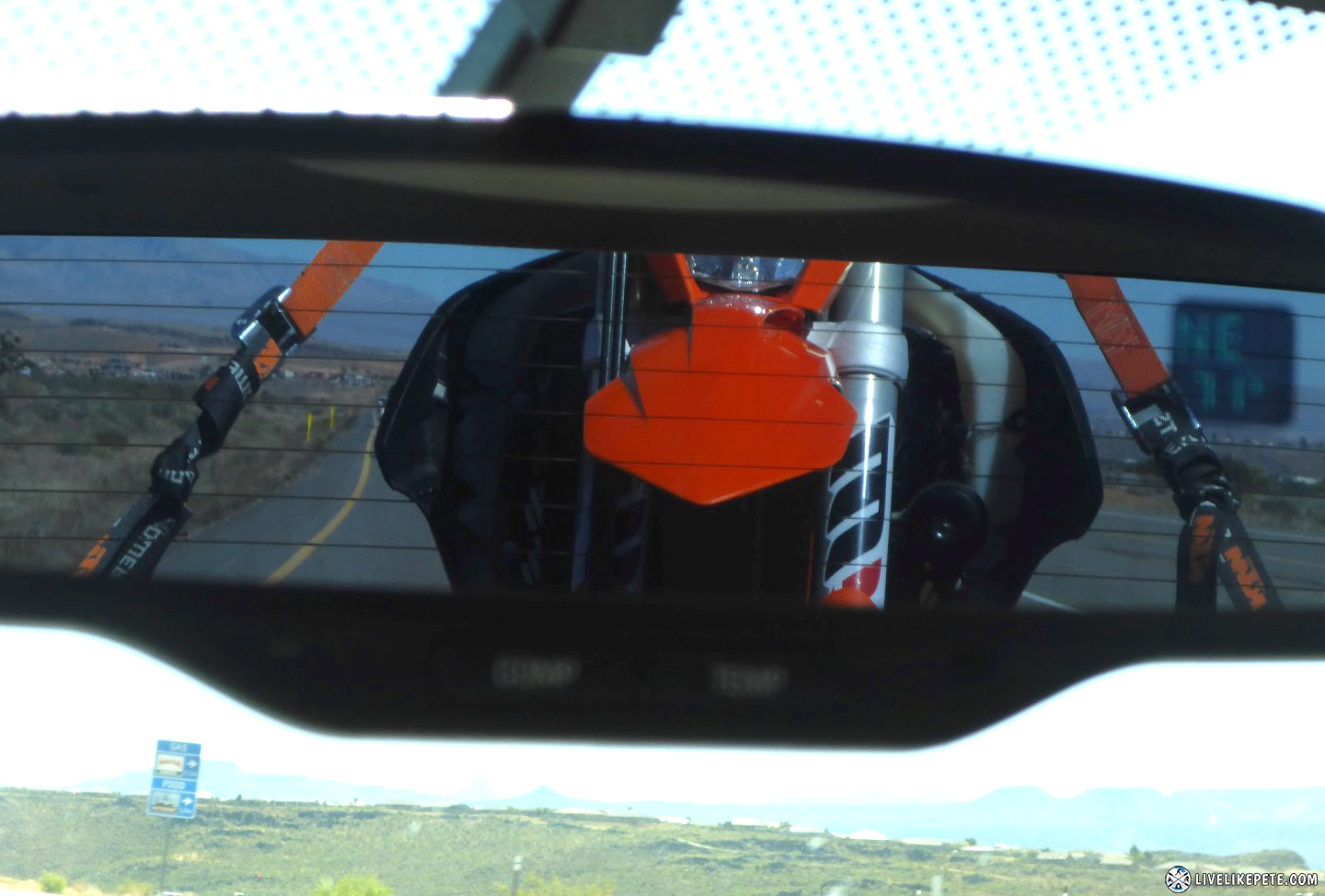 We pulled into the Laverkin Shootin Range to unload and gear up.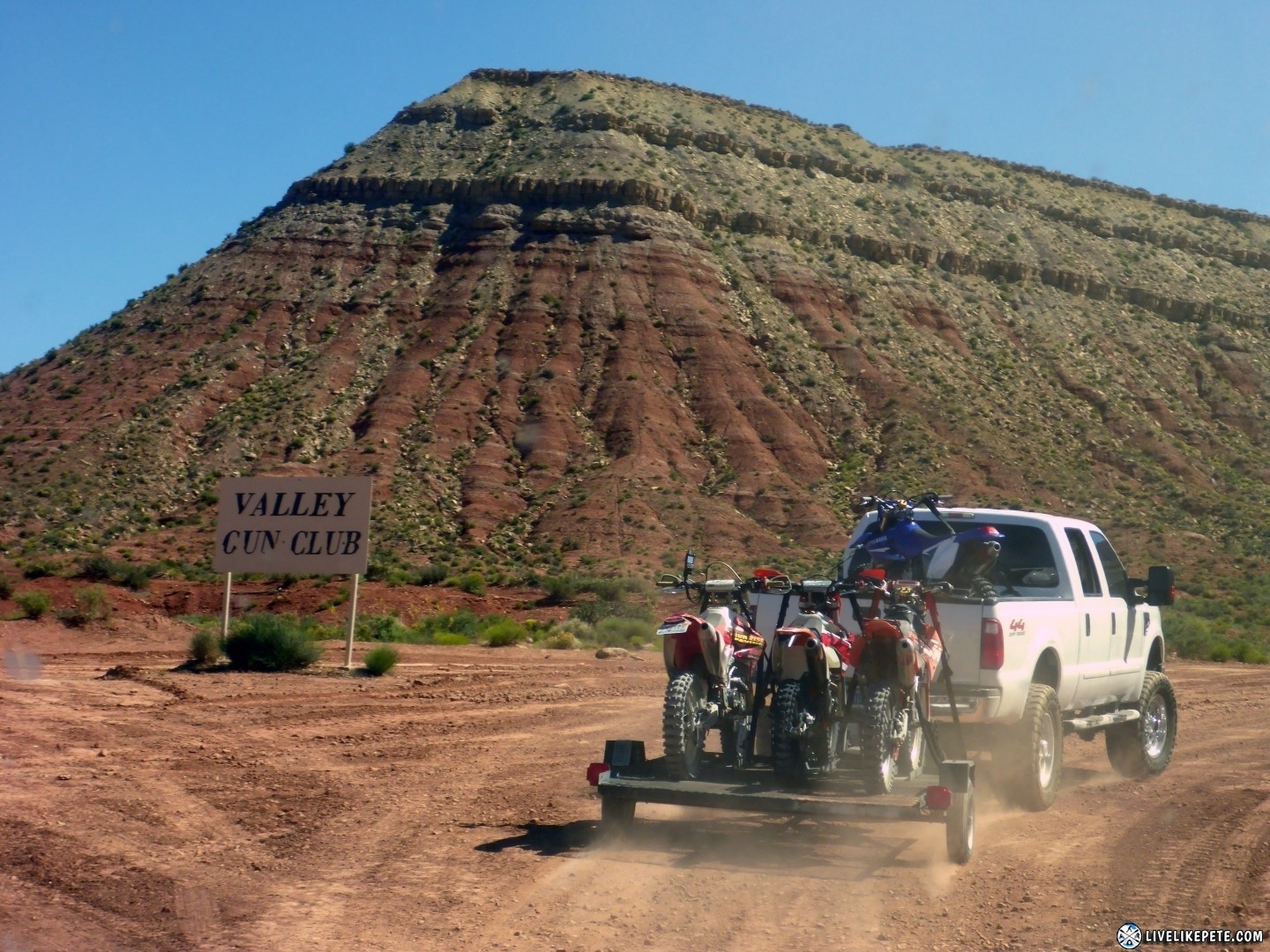 At one of the first steep hill climbs, Dino's bike jumped into neutral right at the top. Tyler came over to help and the rest of us made our way up.
This pic doesn't show it well, but Travis made his way down one of the rocky drops.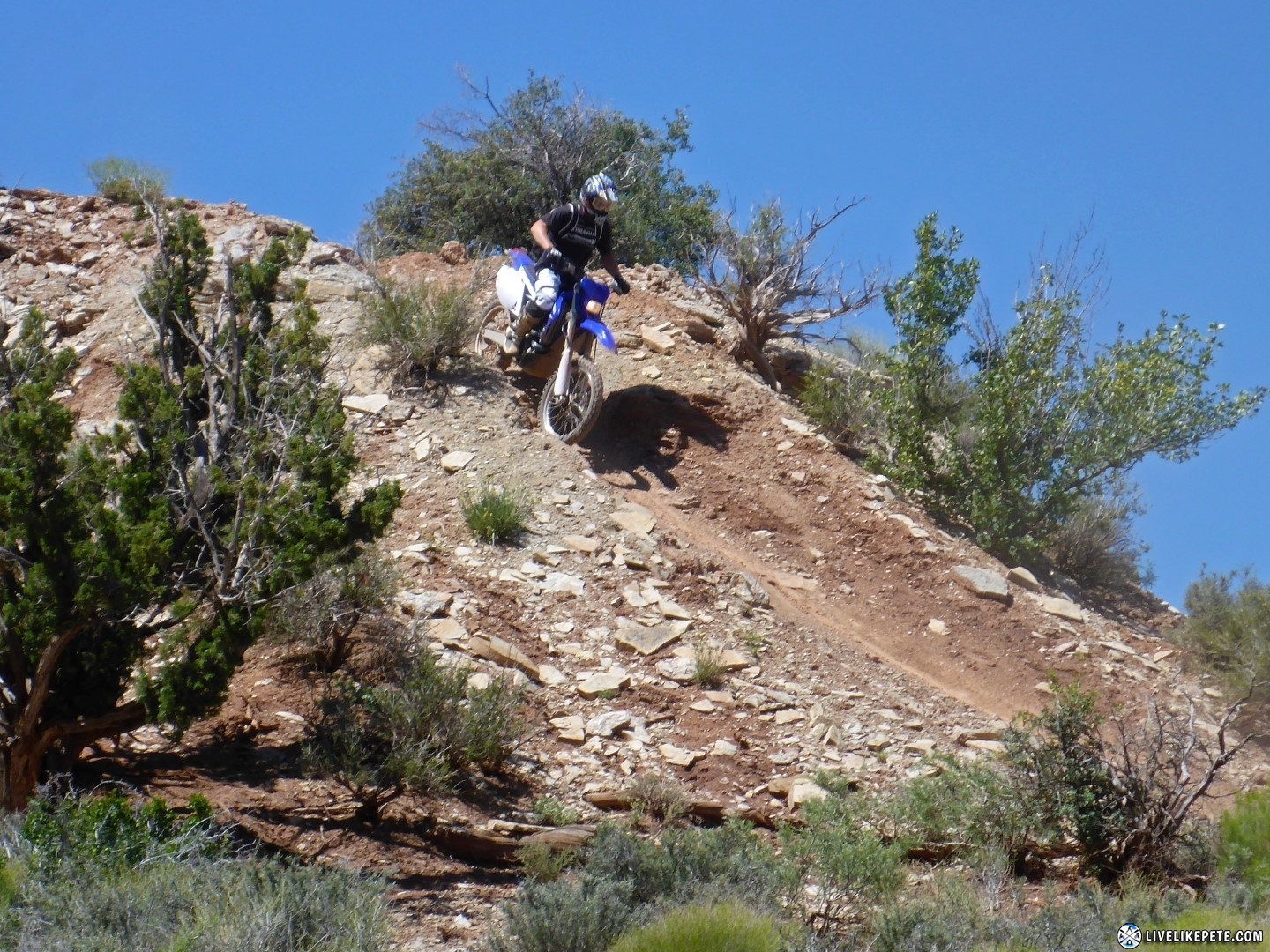 We started getting to the exposed areas of the cliff-side trails. This one required a three point turn. No sense in trying to make it in one shot. The consequences were huge. Those ramps must have been there for safety. I couldn't imagine using them to ride across.
This hill climb was not only steep, but had no opportunity for a run at it. It also had a hard left halfway through then another steep climb right after. Tyler went up first and then spotted the rest of the group at that drop off.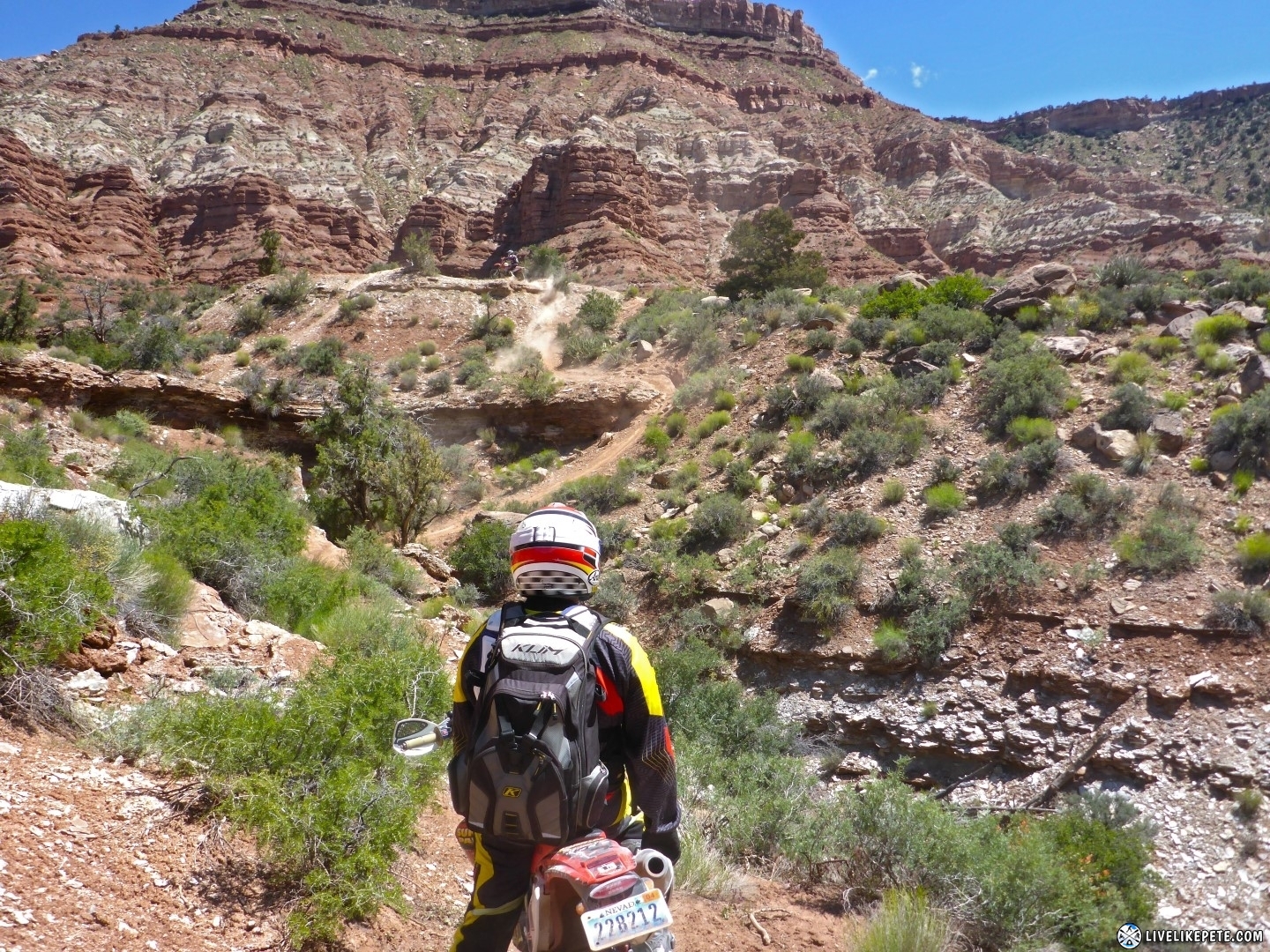 Dino pulled off a nice "trials maneuver" on his way up. It got the front end up and around nicely.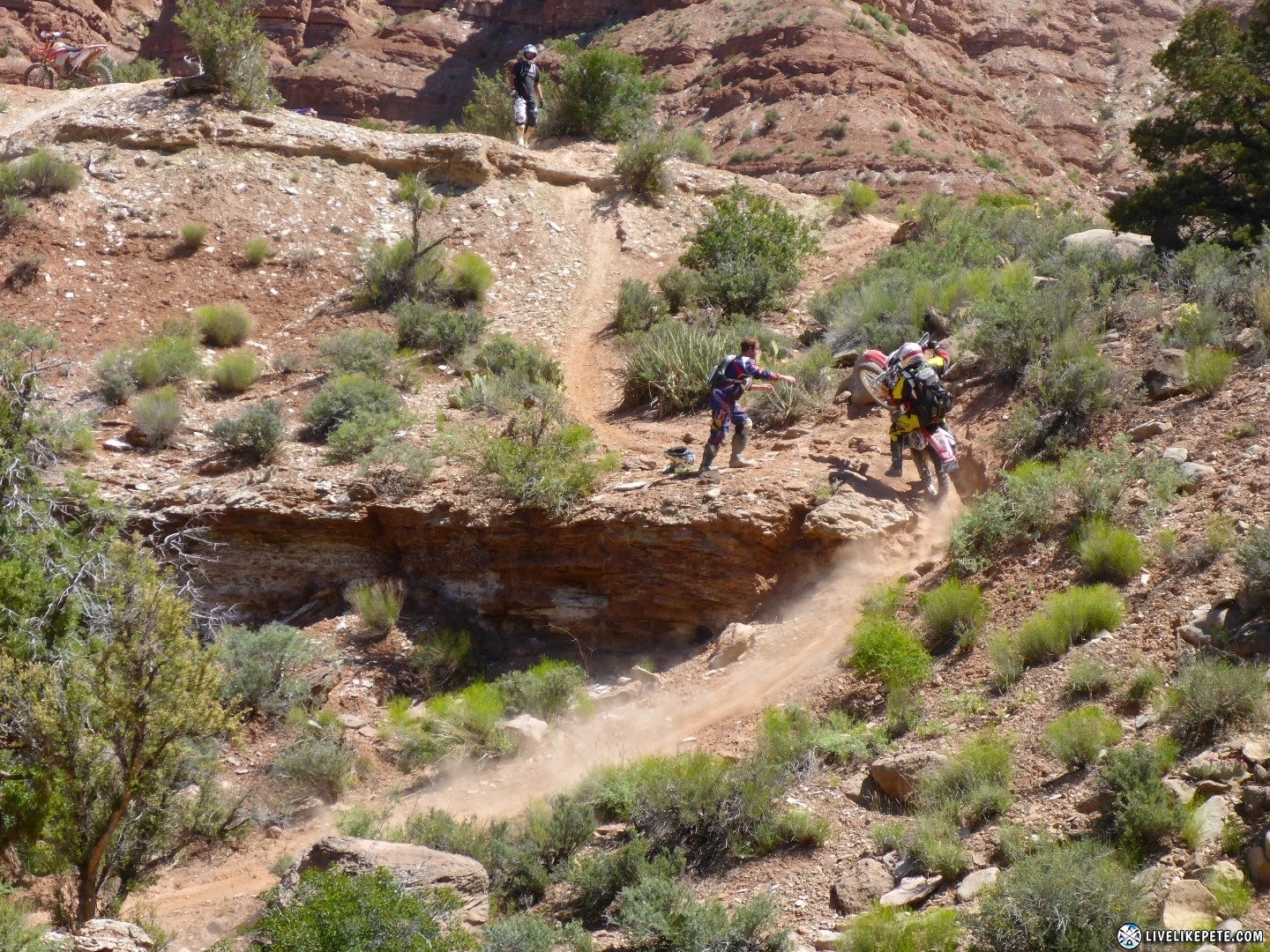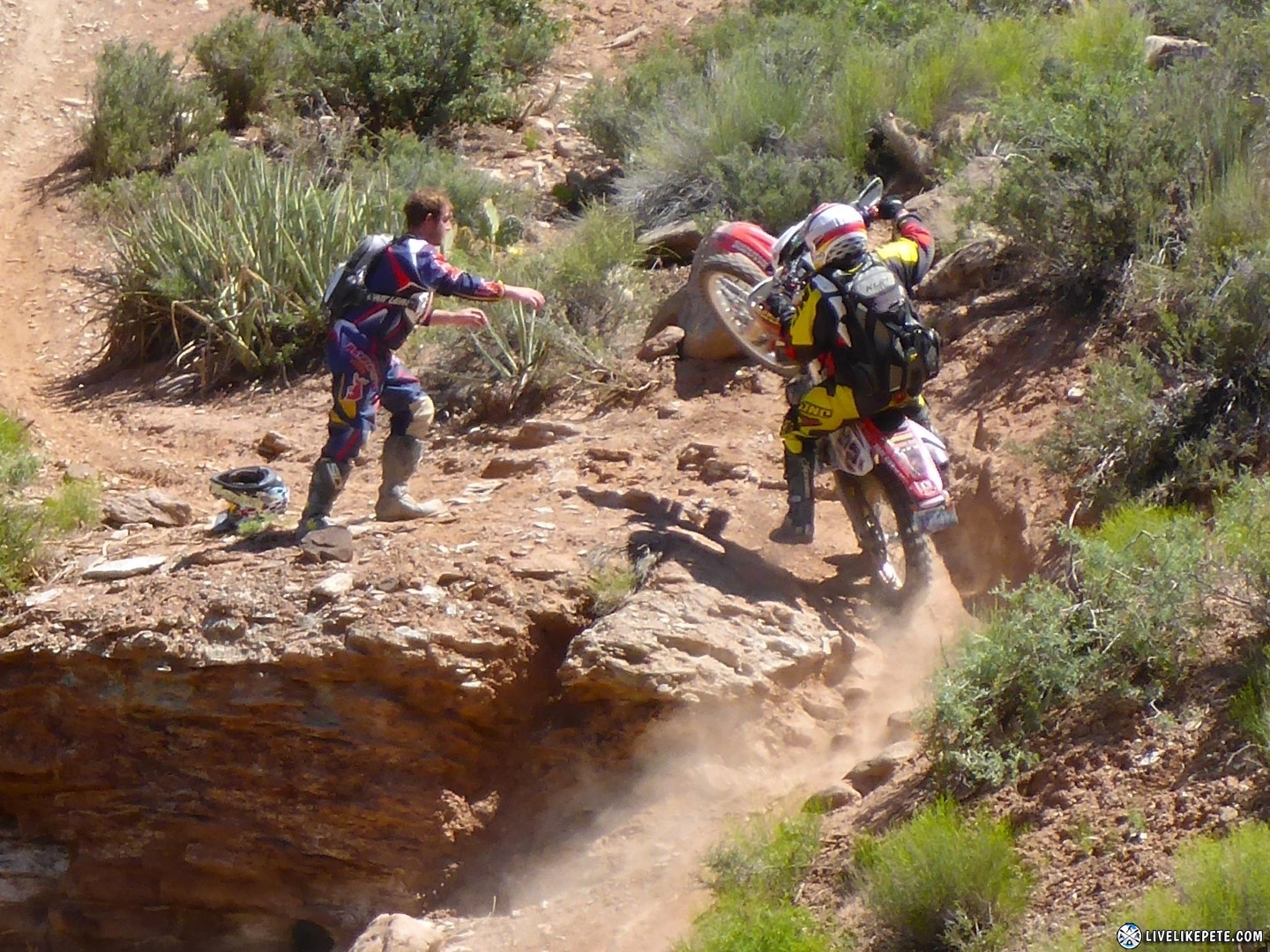 After we stopped at this taillight hanging from a tree, Travis showed Tyler how much better it would make his KTM look and perform.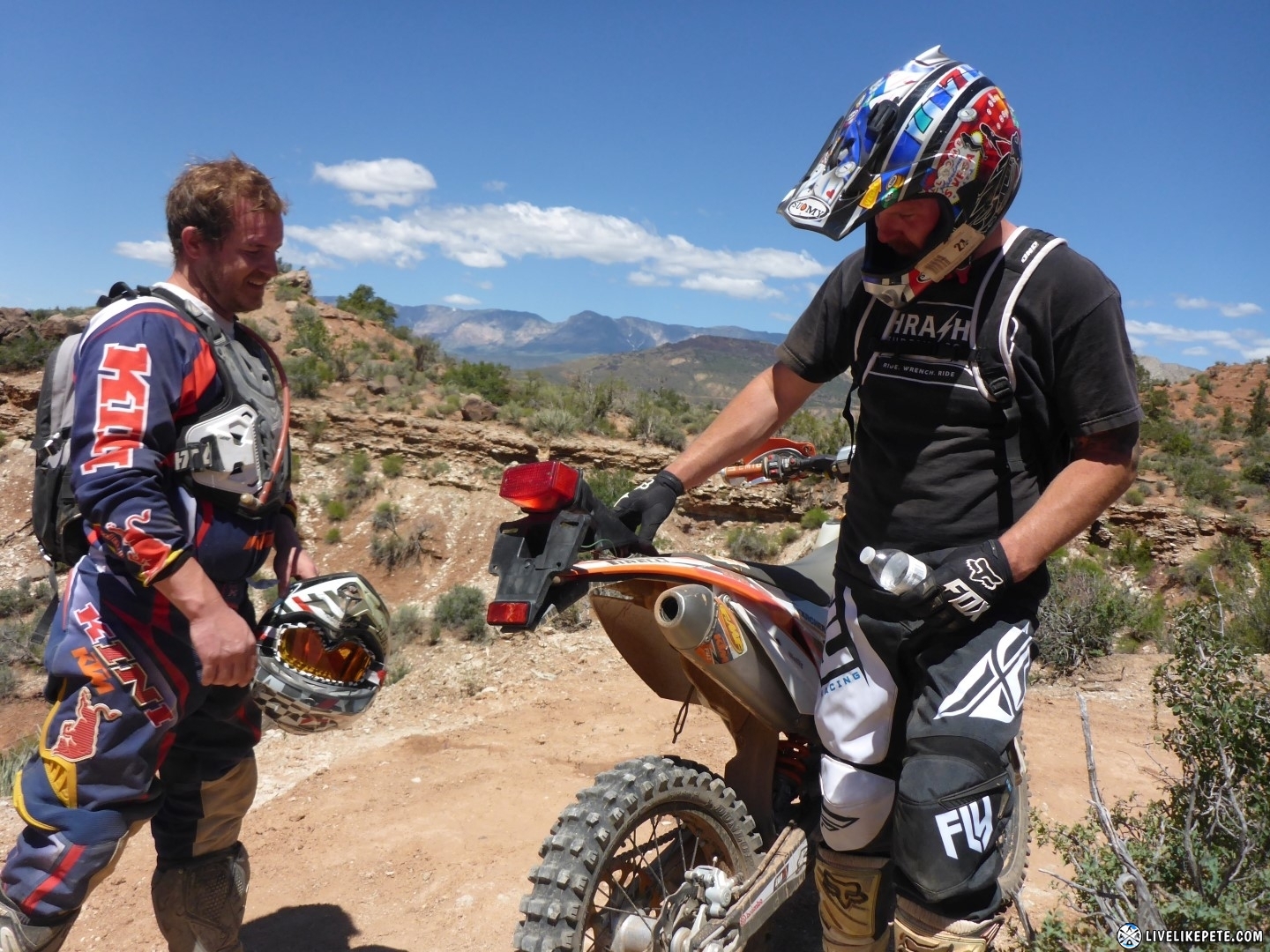 The steep canyon walls were a nice backdrop for a little KTM photo shoot.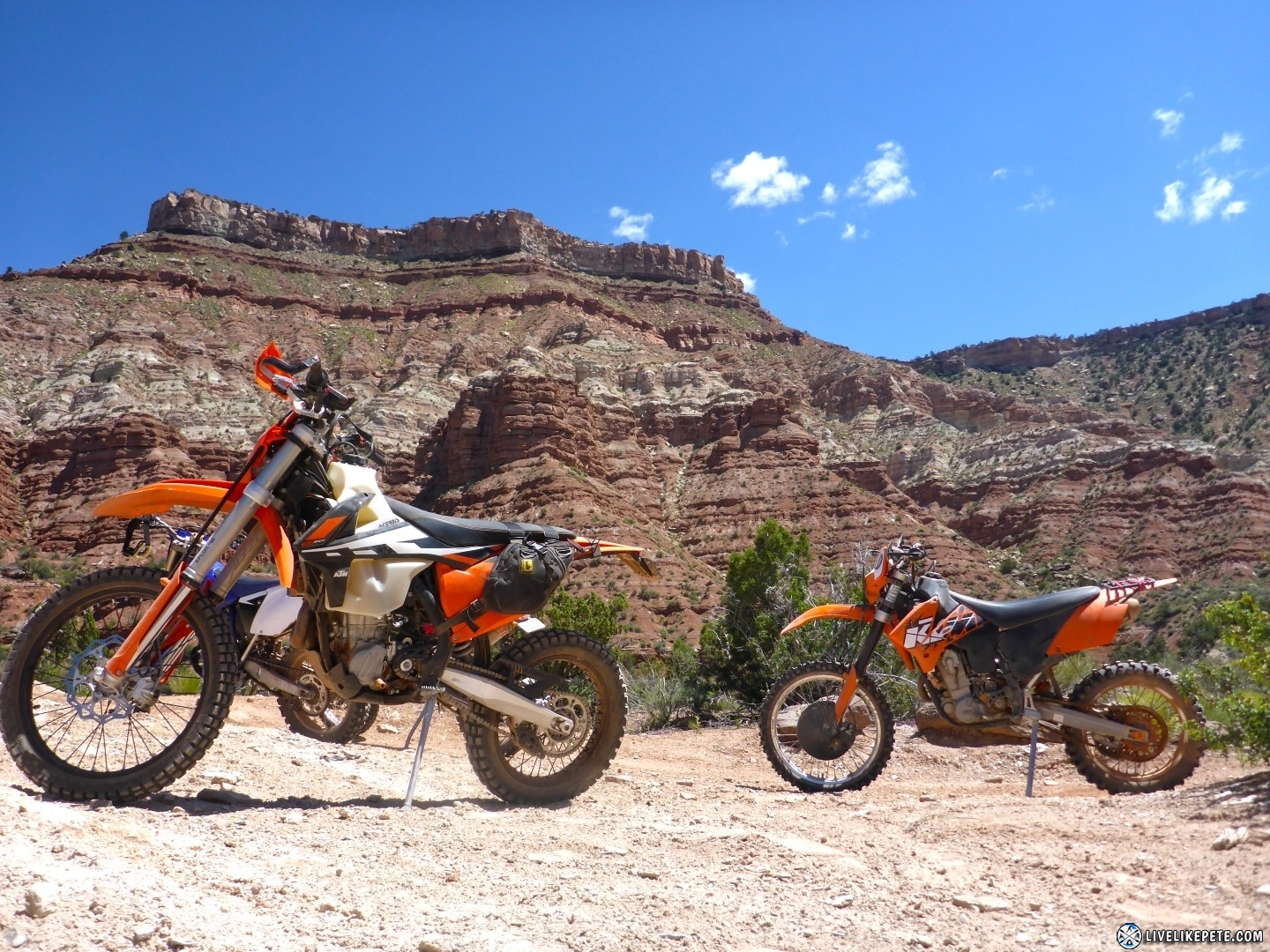 The crew from left to right: Nick, Tyler, Travis, Dino and myself (Pete).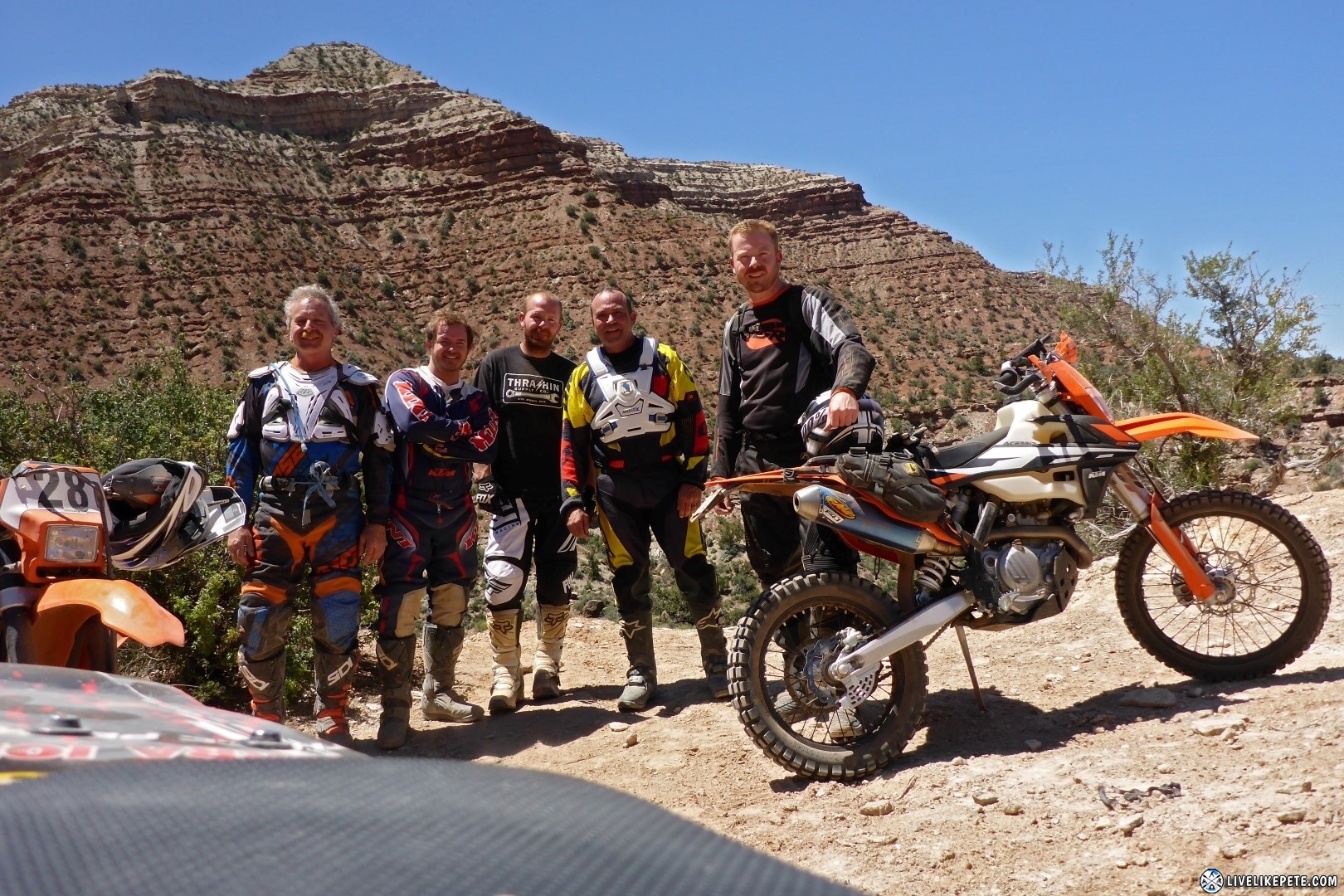 Tyler pointed out that this was quite the optical illusion. We came from the backside of the mountain on the right. Yes, these are two mountains. Right about where that lens flare is pointing in this pic is a canyon that we rode through.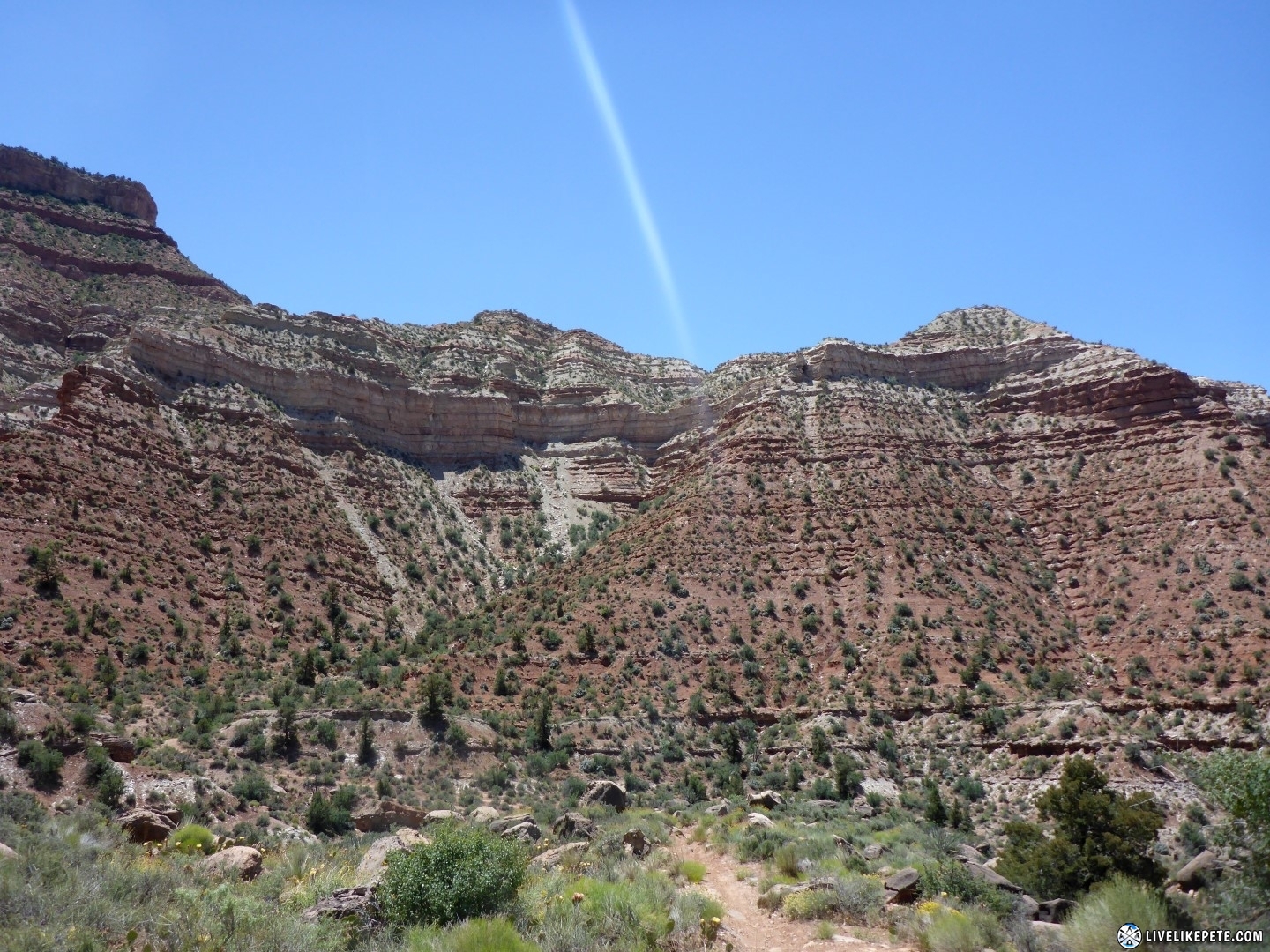 After about an hour or so, we made it to the falls! It was flowing well from the winter's snow melt.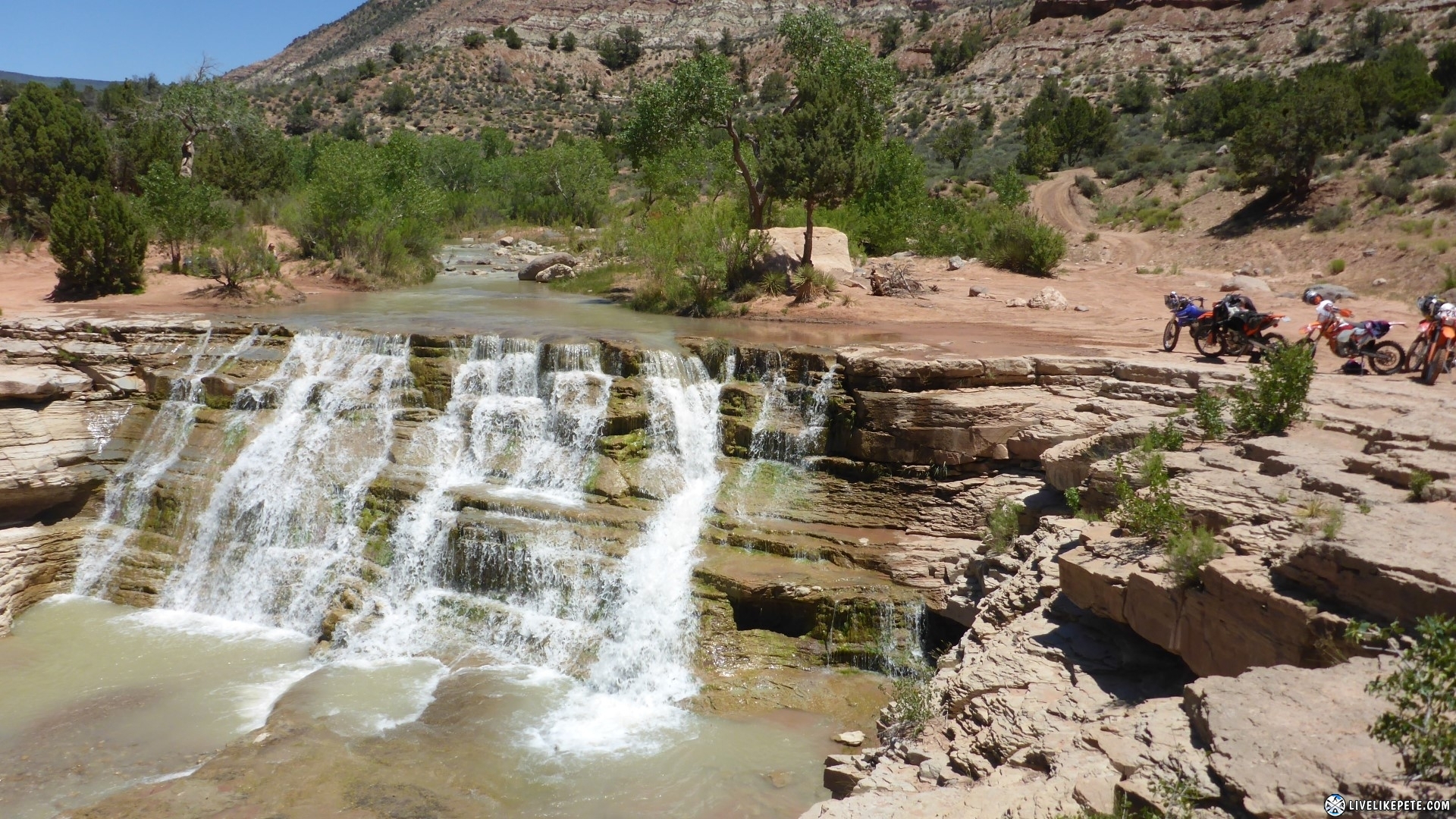 A few of us brought our swim trunks. We walked down to take a little dip and relax in the shade. I say "little" dip because that water was COLD. We just walked through the shallow parts down below the lower waterfall.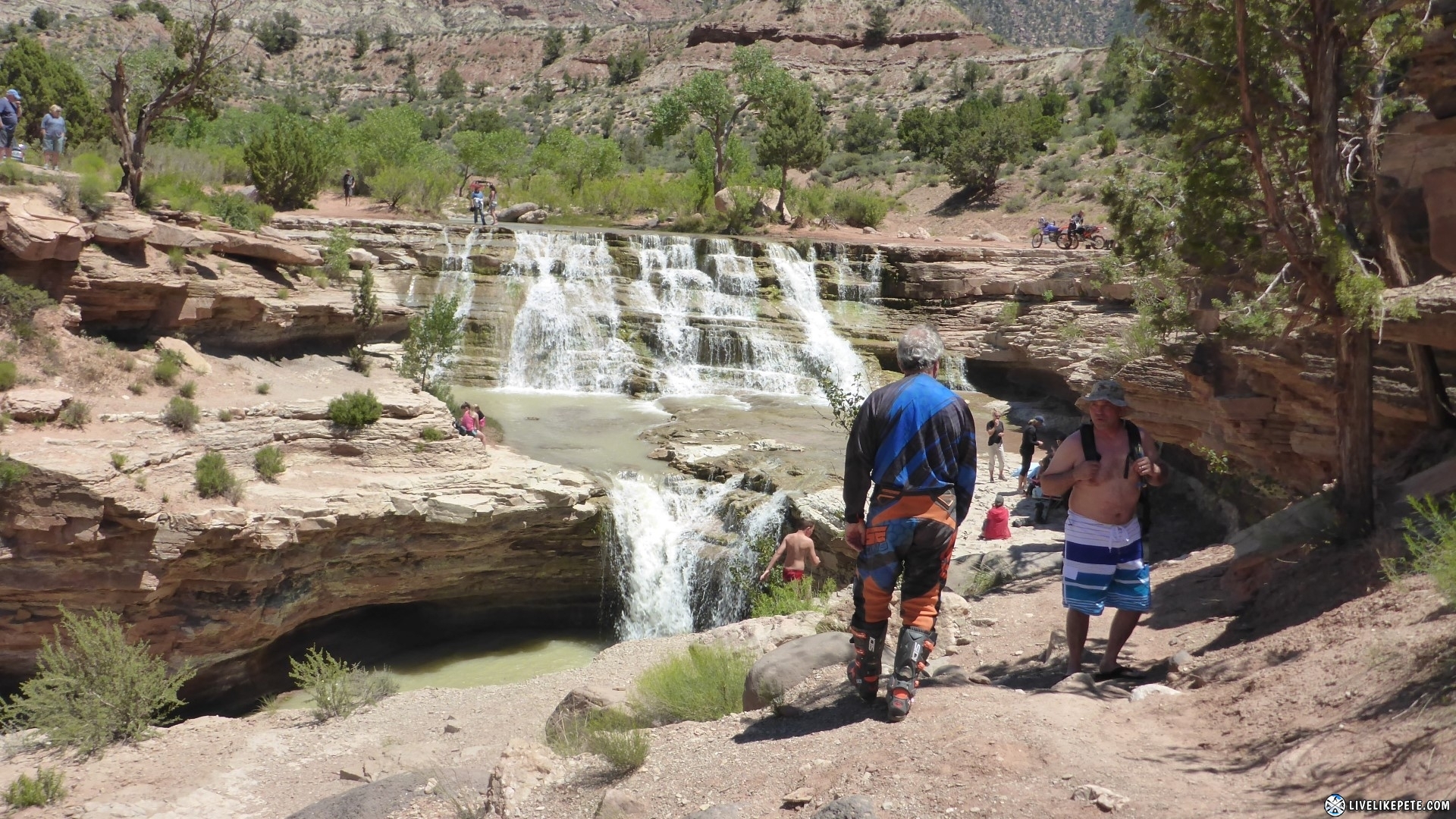 Tyler found a little frog in the waterfall.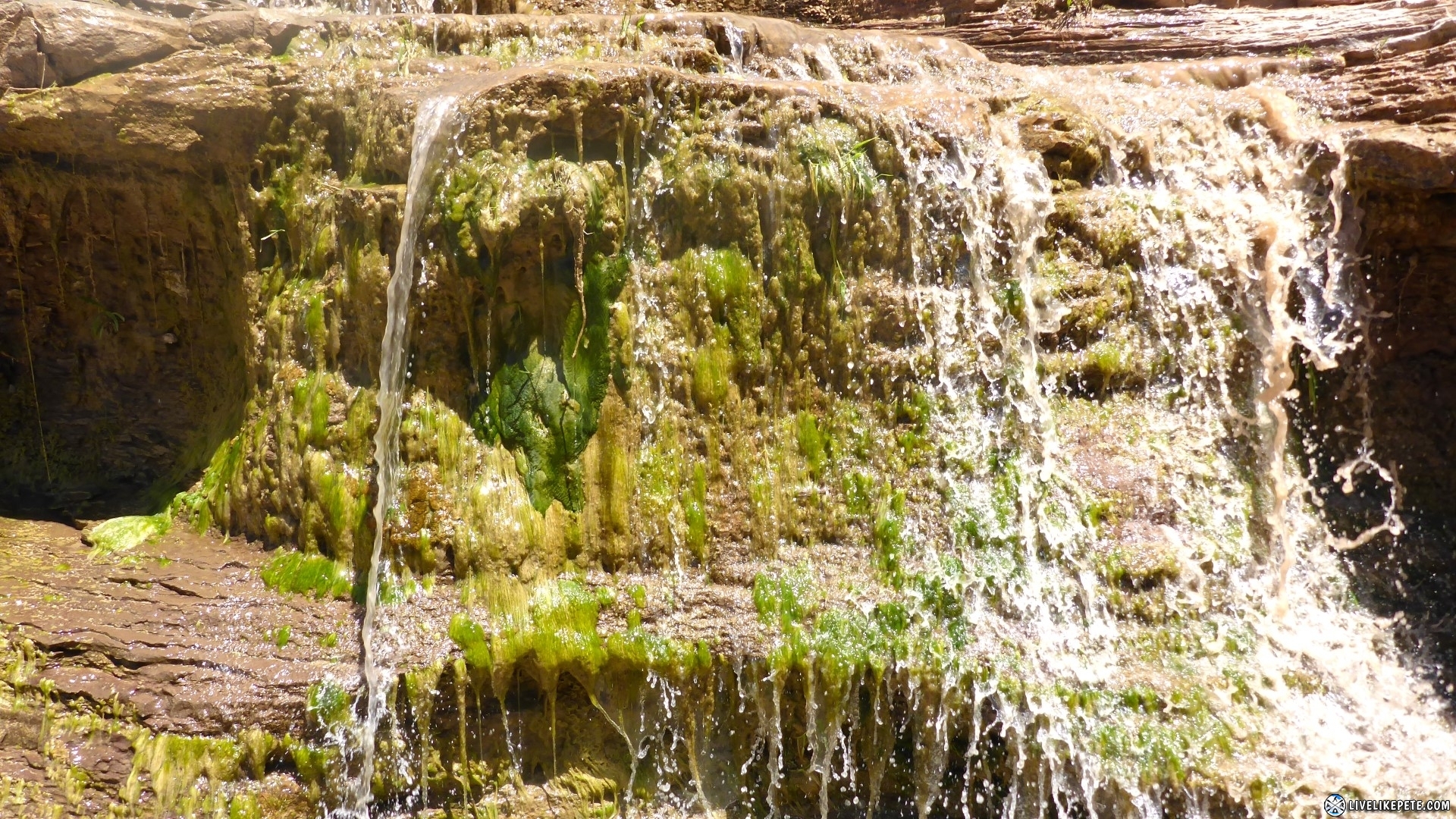 We got back up to the bikes and were ready to tackle the return route, but first a group photo!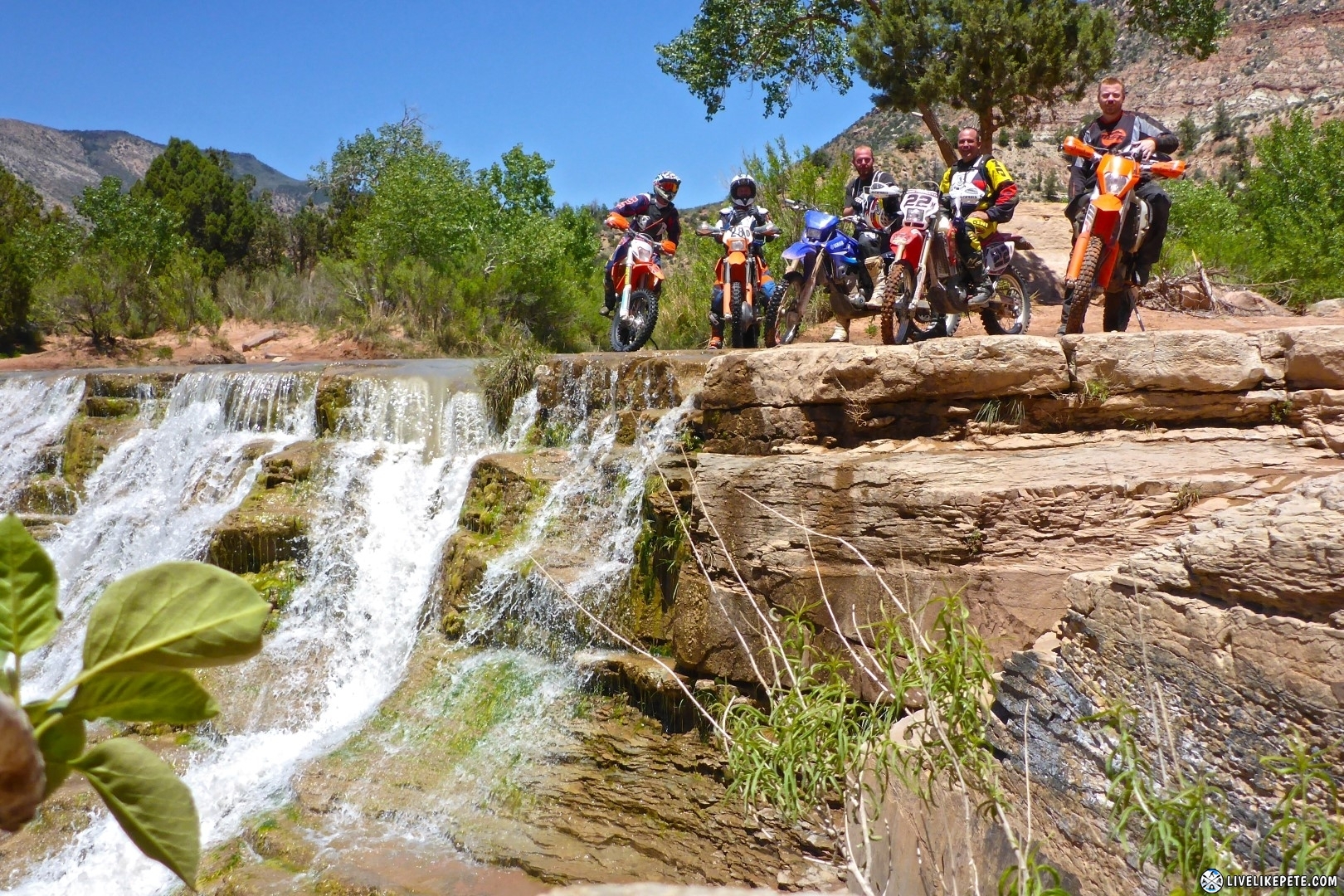 The return route followed and crossed the LaVerkin Creek back down south. It had over 25 water crossings in less than 5 miles. It was awesome! Some crossings were super easy, but others caught us by surprise with slippery rocks, a couple big holes and soft murky sand. There were a few steep hill climbs right out of the water climbing out of the canyon.
Tyler was like the frog whisperer that day. He found another little buddy.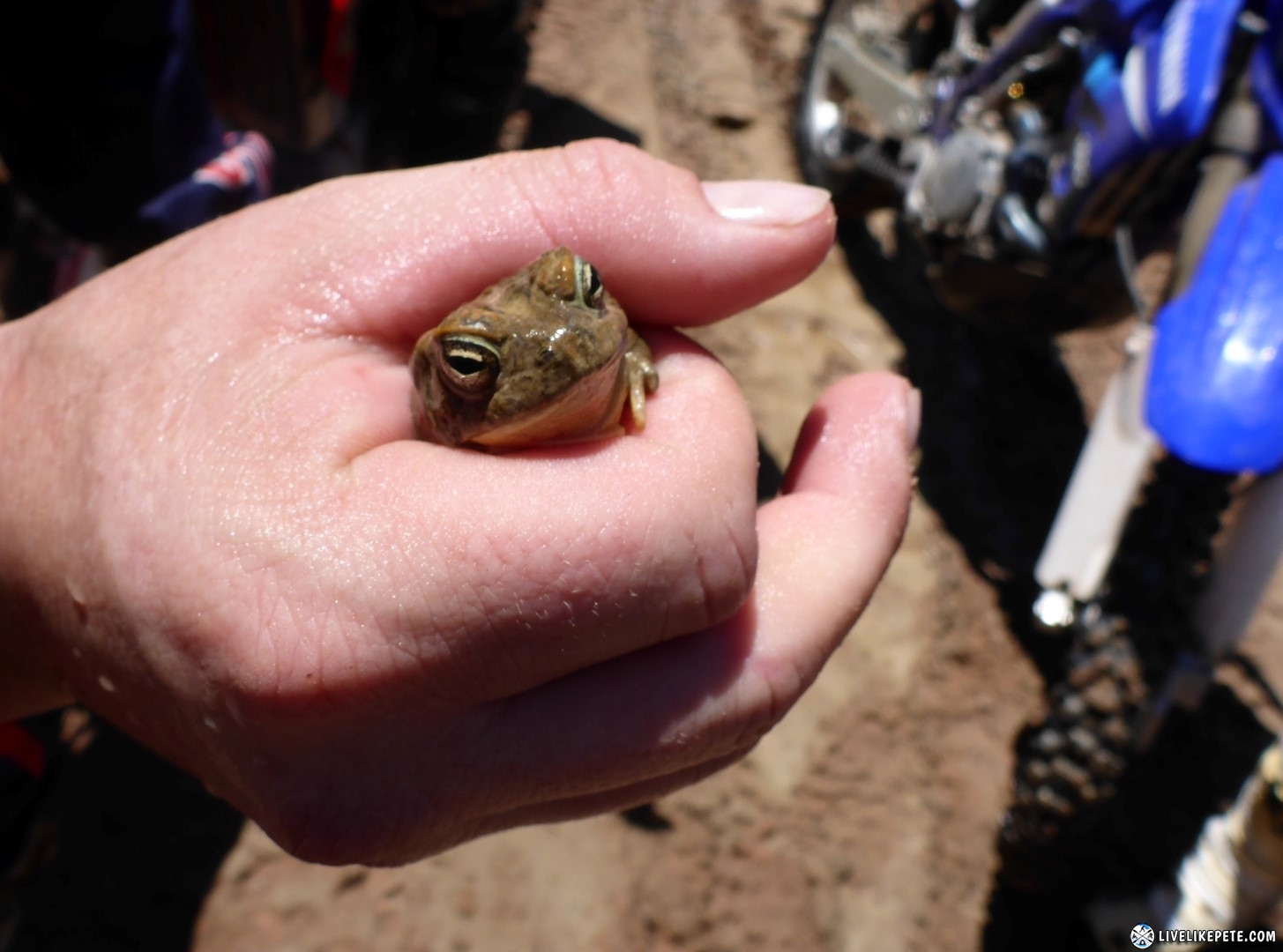 To no surprise, my factory TKC80's don't do well in mud.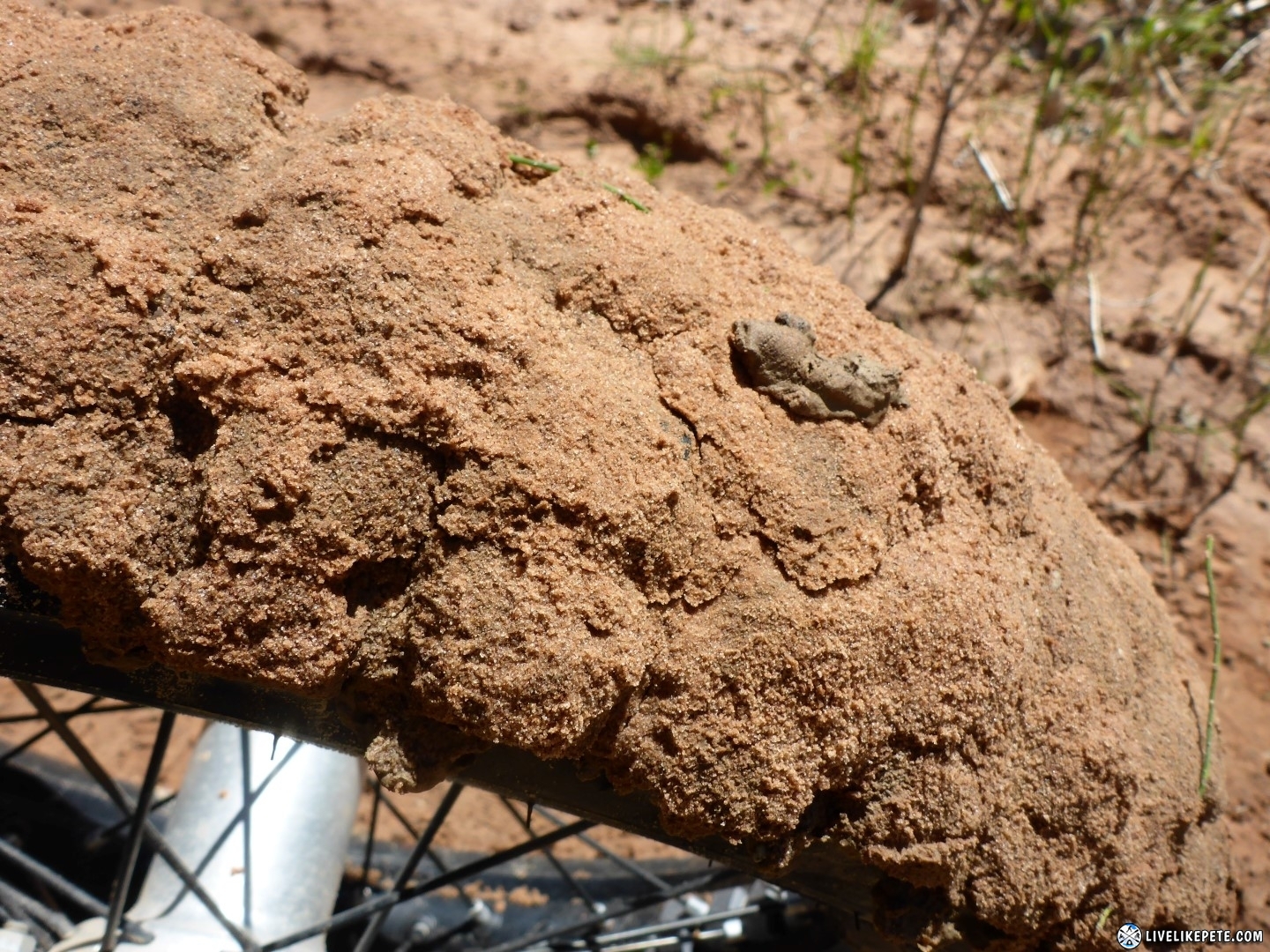 Discussing the trail, we were all smiles.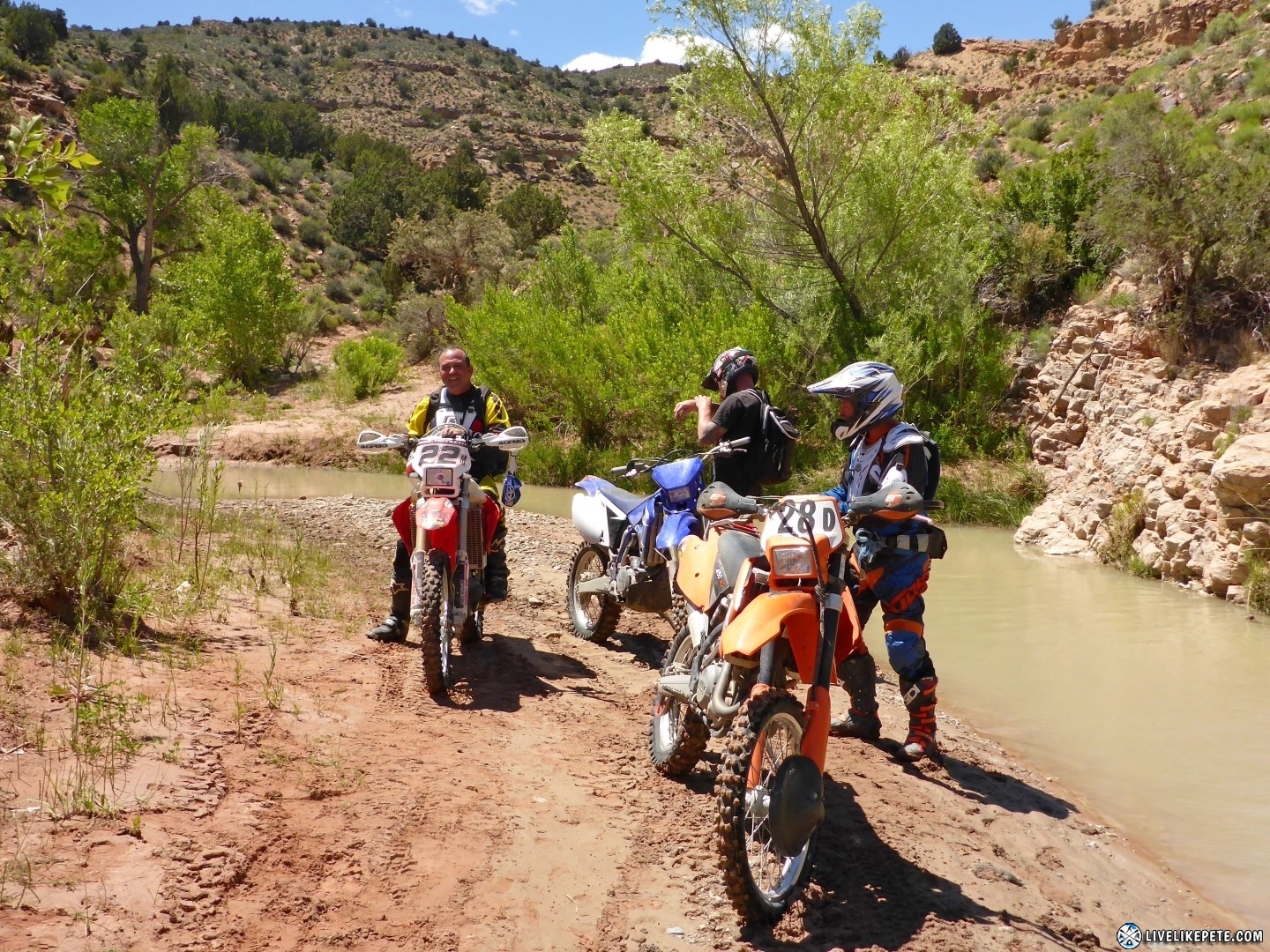 Further down the creek…yes, more water crossings! This ride was so much fun.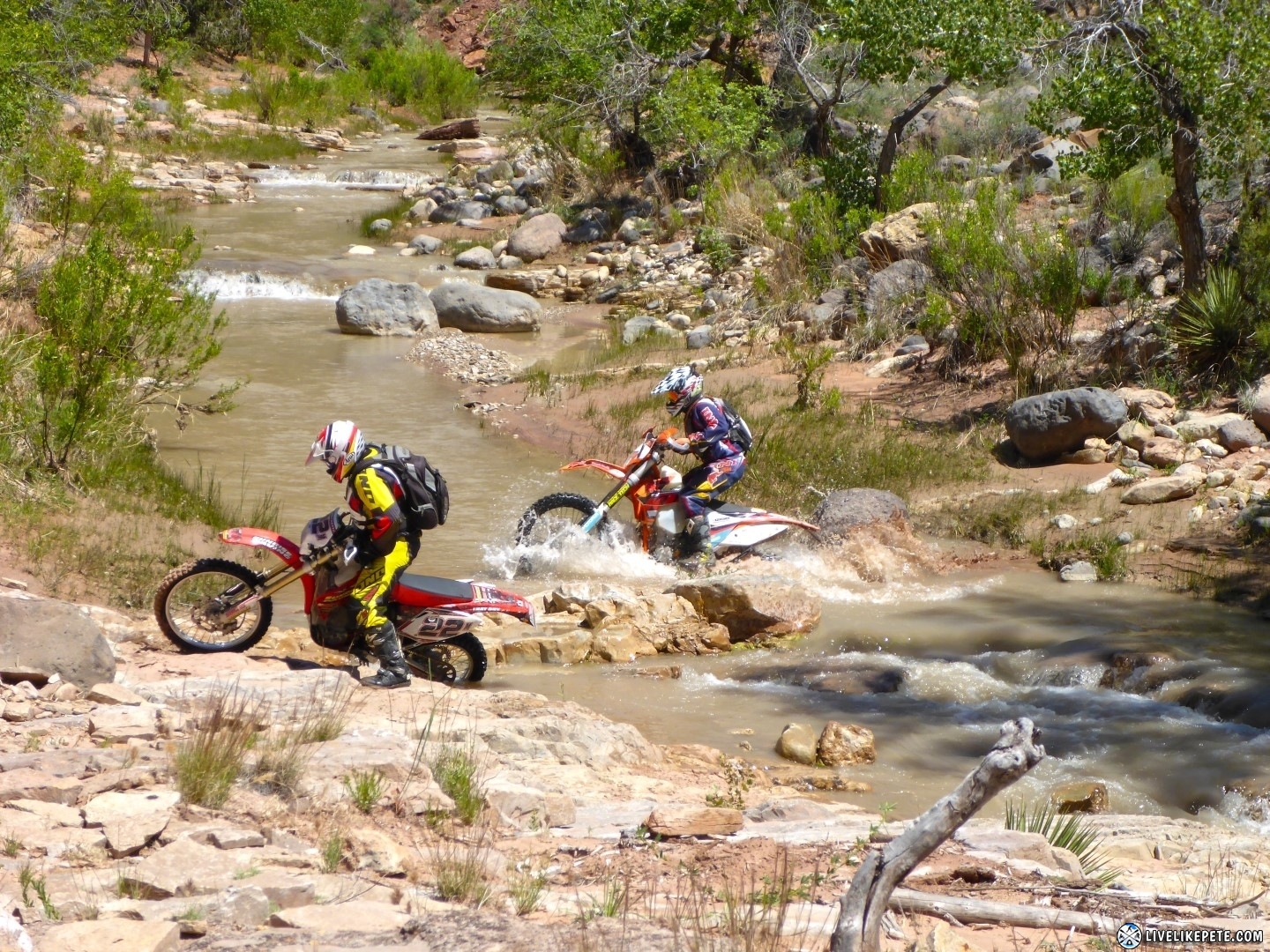 At this point the morning had turned into afternoon and it was getting warm in that sun. We all went down and did a head dunk to cool our noggins. The cool water felt so refreshing!
Unfortunately, the water crossings came to an end. The creek kept flowing, but our tracks led us up and out of that badass canyon.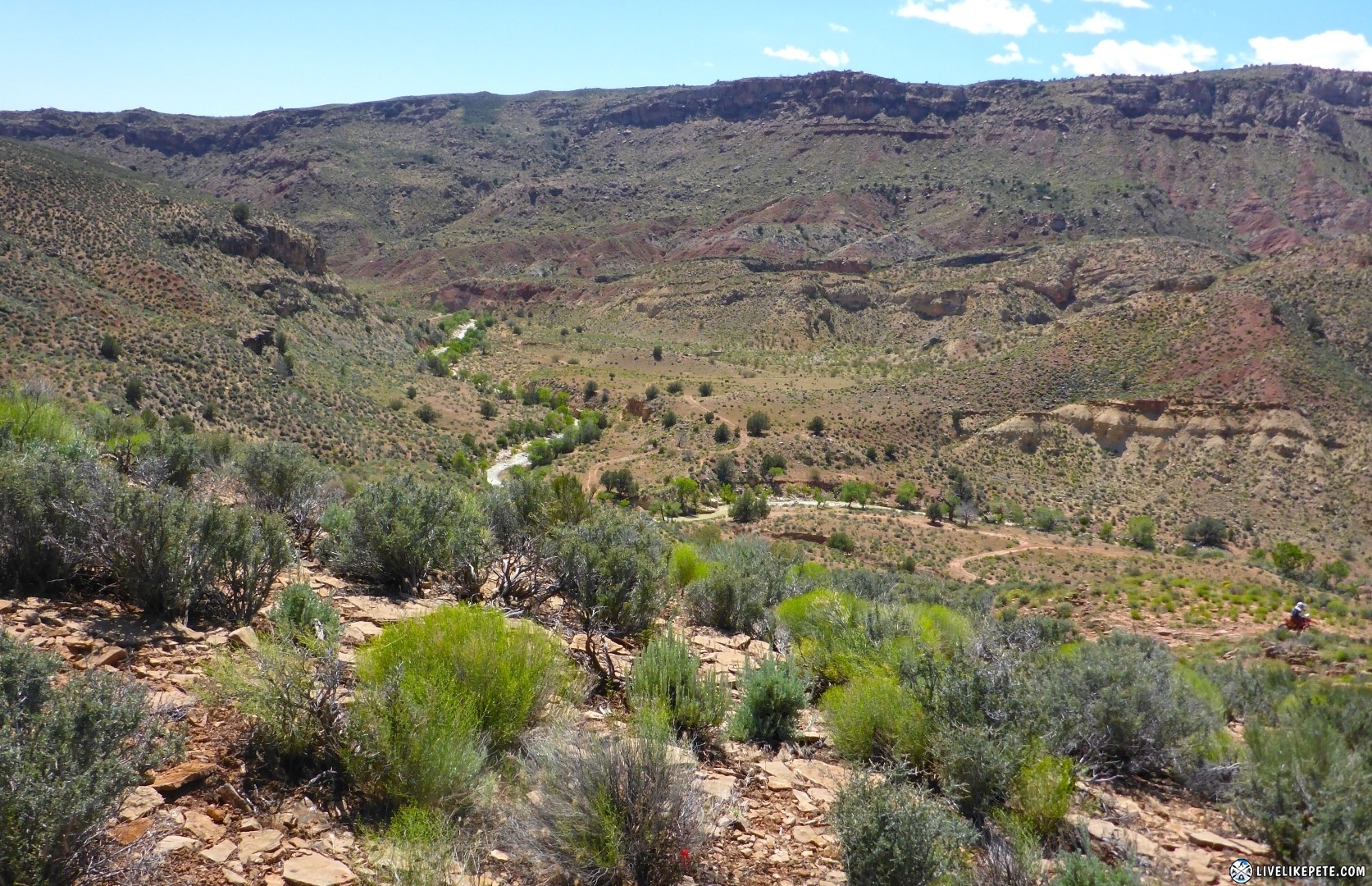 Everyone did a wheelie coming up the hill, but I failed to catch Tylers. haha Sorry man!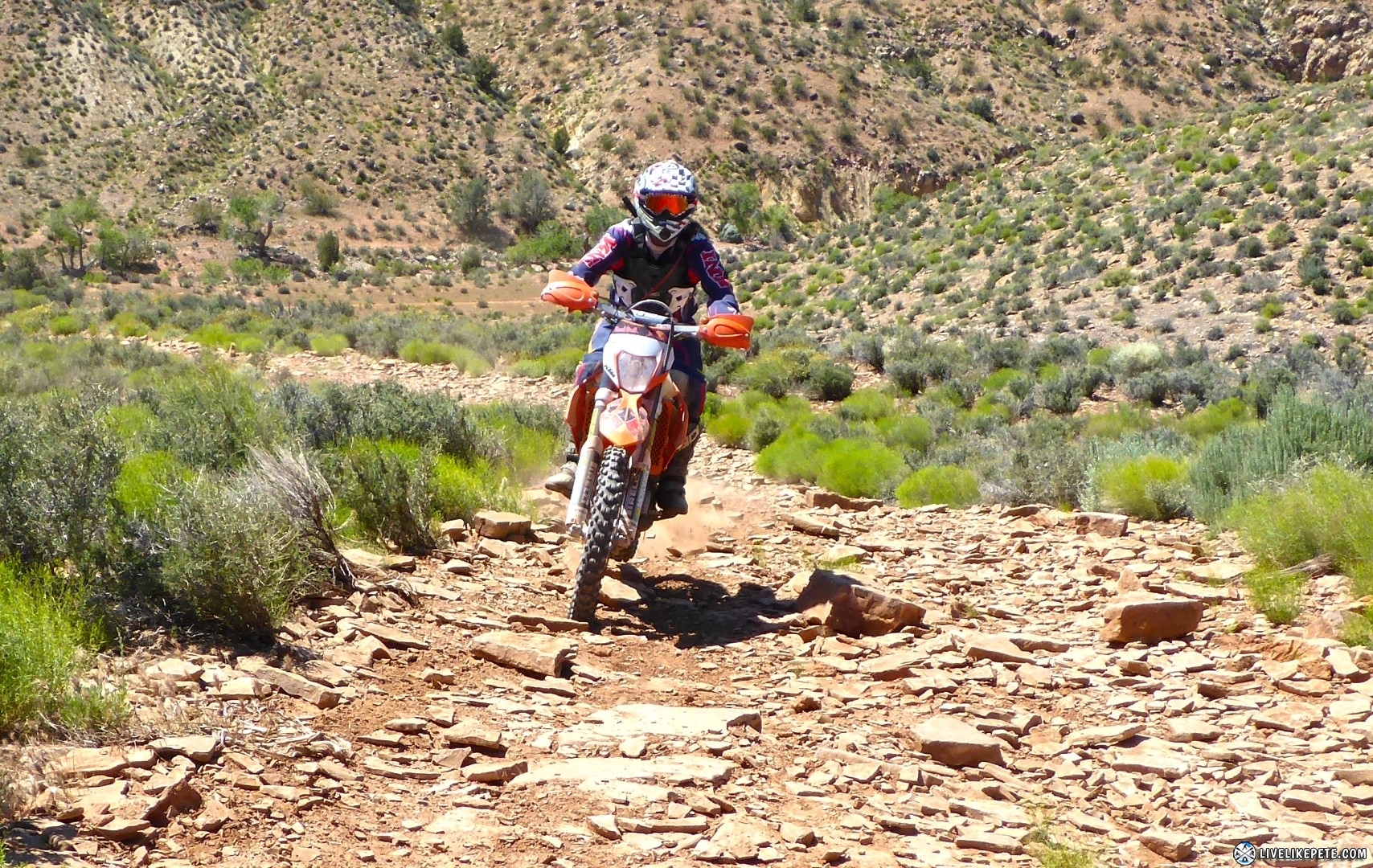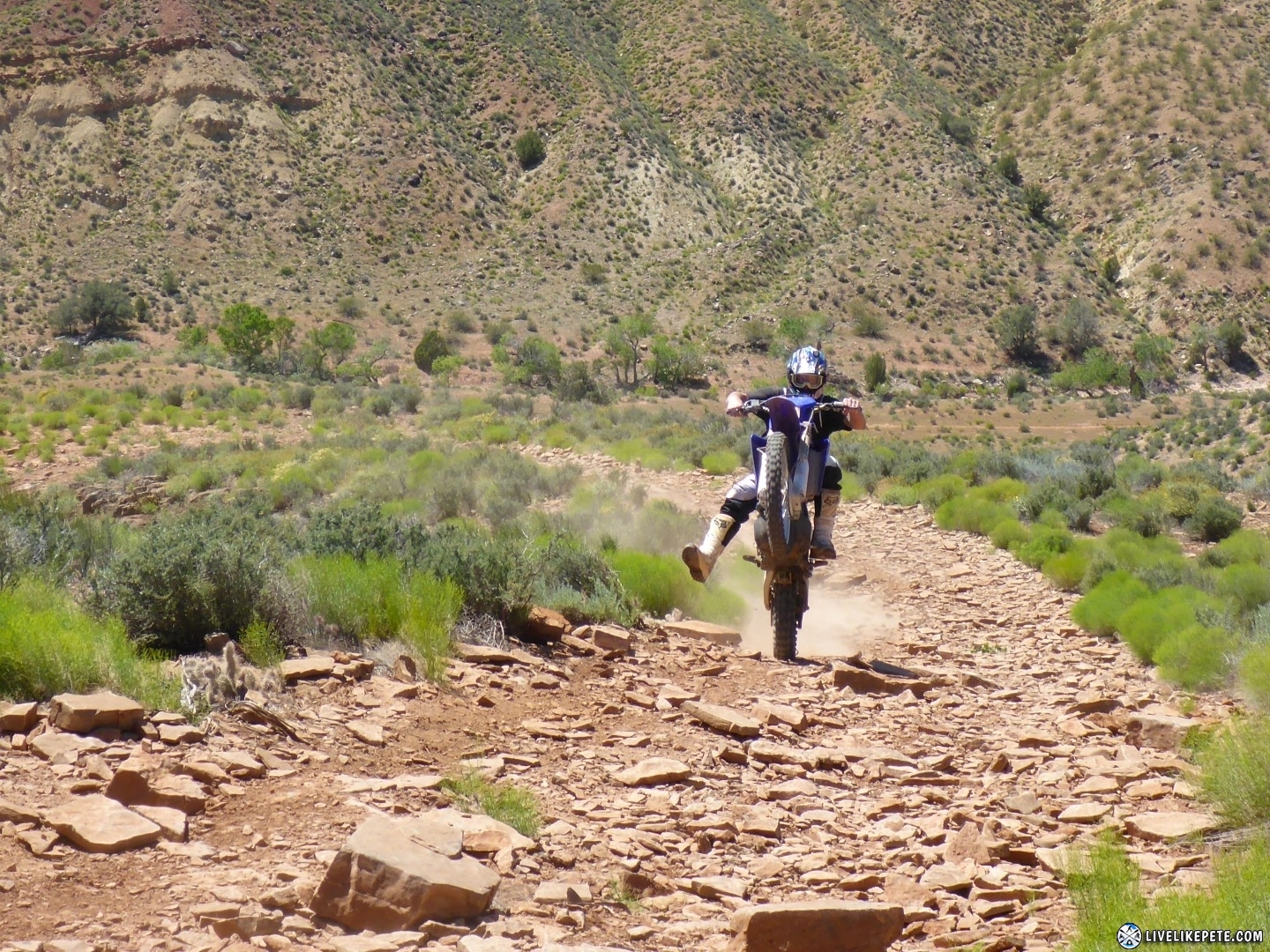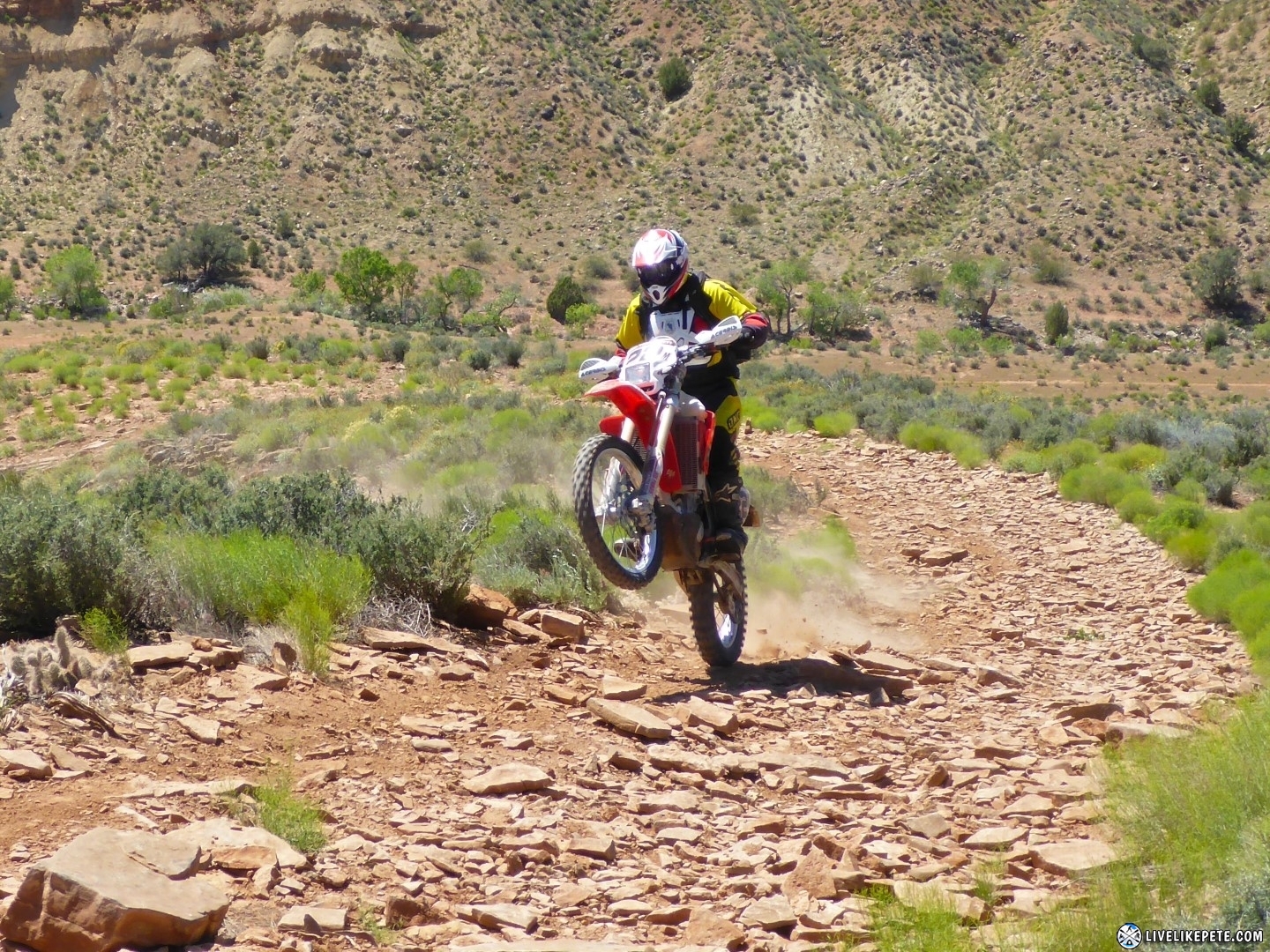 The rest of the route was zig-zagged through some really fun hills and dumped us out at the shooting range where the trucks were parked.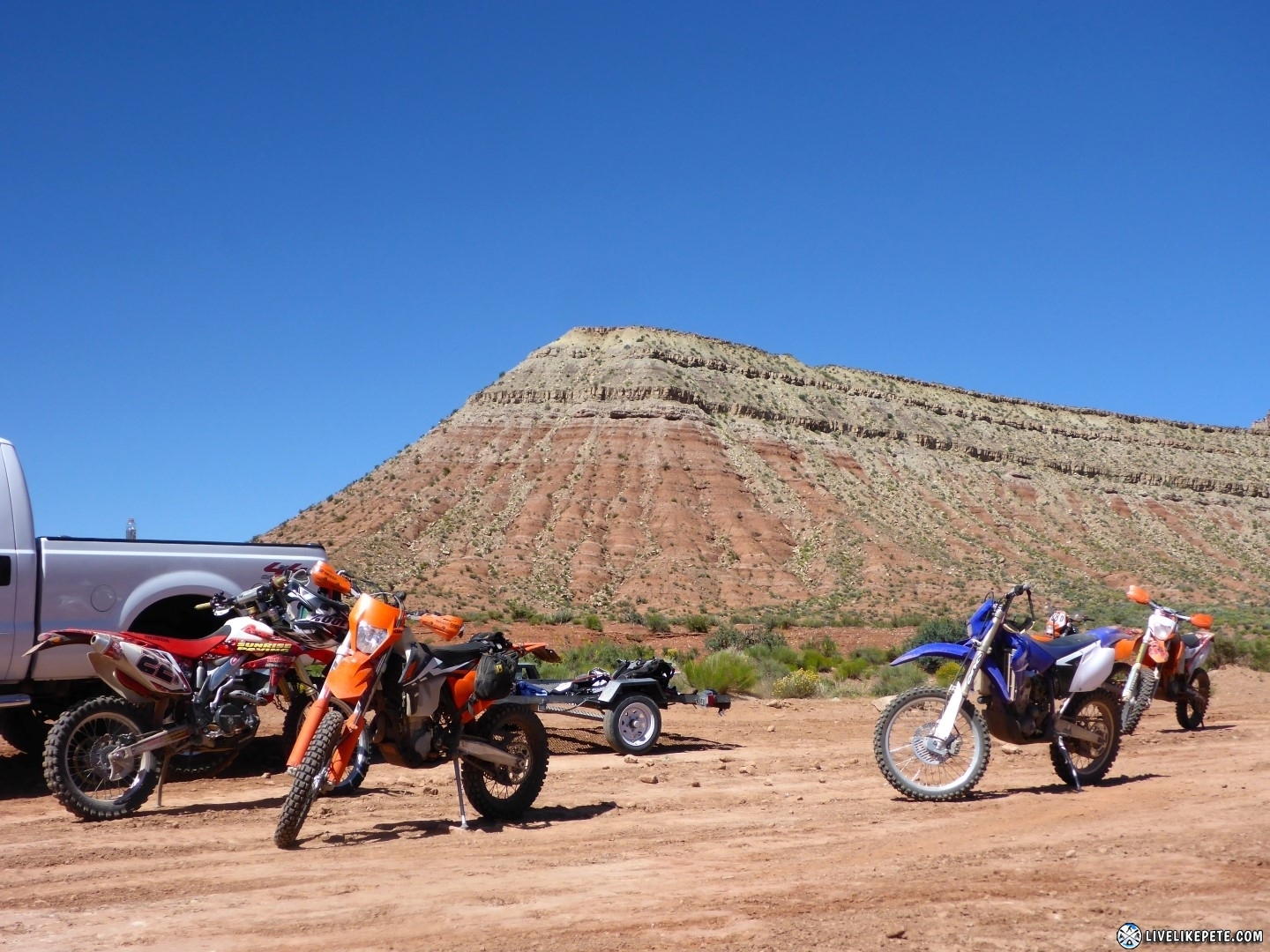 Unscathed and loaded up, I must say this was the best ride I have done on my 500 so far! I look forward to doing it again.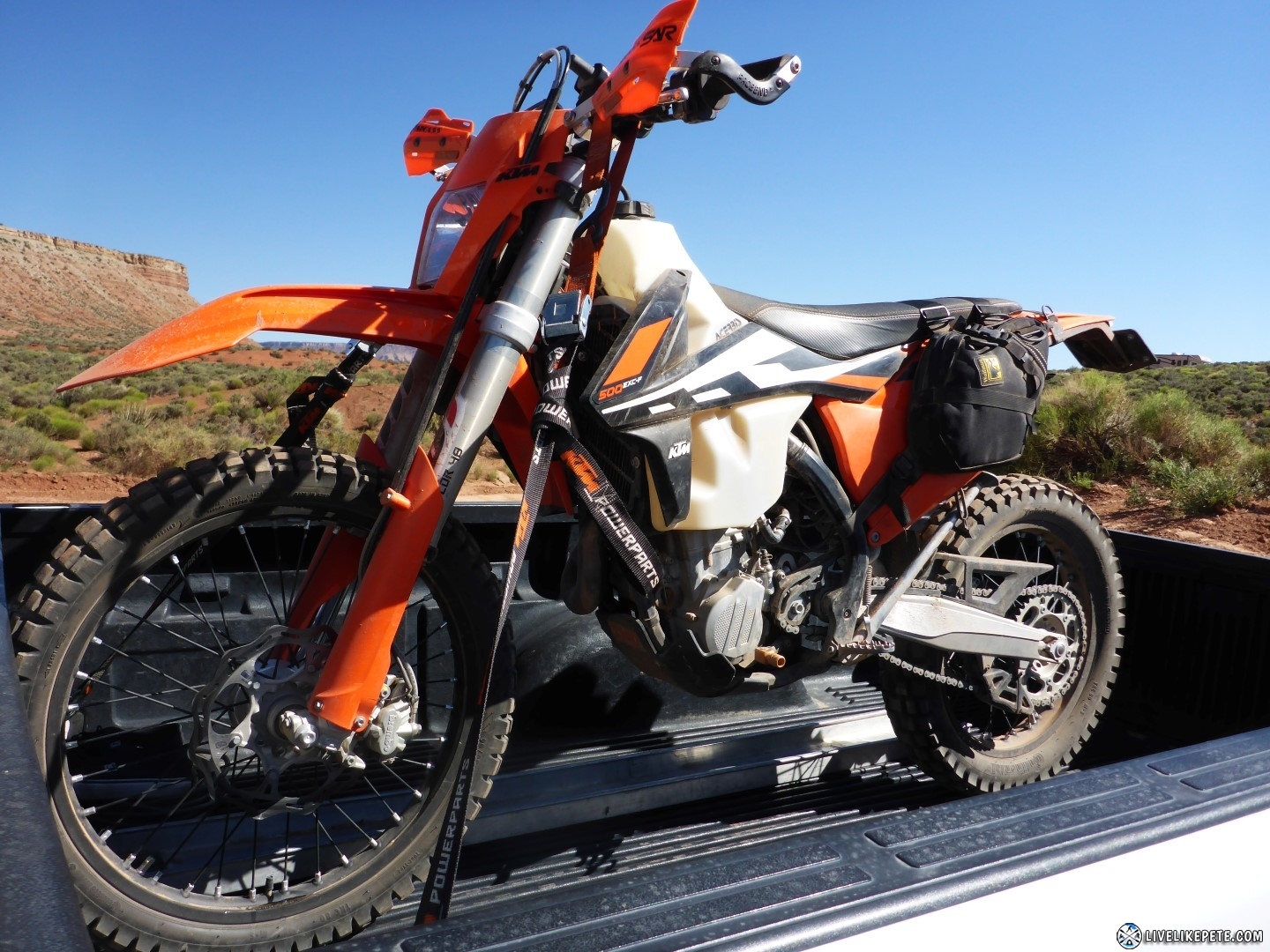 Toquerville Twister GPS Tracks
If you are interested in tracks from this ride, I have them available on Thatch. Toquerville Twister GPX tracks file
Comments
comments