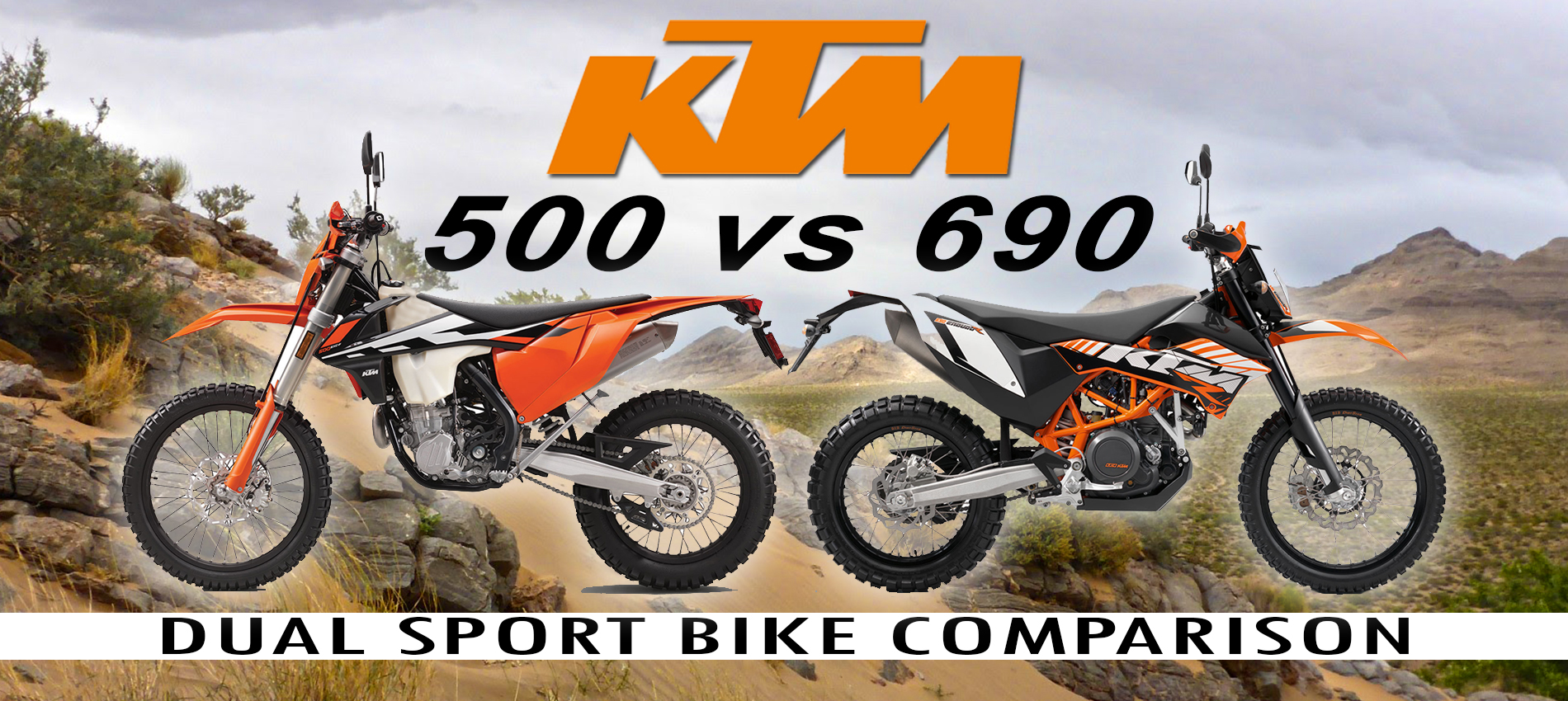 500 EXC or 690 Enduro R?
It is a common question. When it comes to dual sport or adventure motorcycles, they all have their strengths and weaknesses. Compromise is inevitable. There isn't one motorcycle on the planet that does everything extremely well, therefore buying a dual sport can be tricky if you don't plan to own more than one. I've found that a good majority of the ADV and dual sport community are weekend riders who just want to get out and ride some trails, but don't want to load their bike up to get there. Some only have a short stretch of highway while others have to travel great distances to get to the trails. Many of these riders are dirtbikers at heart, but may want a street legal bike to go on longer rides and adventures. You need to start outweighing the pros and cons of each bike if you only plan on owning one. In a perfect world, we'd own one of our every motorcycle we wanted, but let's face it, our budgets and garage space don't allow for that to ever happen. Being a KTM guy, I currently own both a 2012 KTM 690 and a 2017 KTM EXC-F. I did not buy my 500 to replace my 690. I bought it because I wanted a bike that was lighter and more capable of technical terrain. Both bikes are similar in the fact that they cover many of the same types of riding, however each bike can do certain things that the other can't.
KTM 500 EXC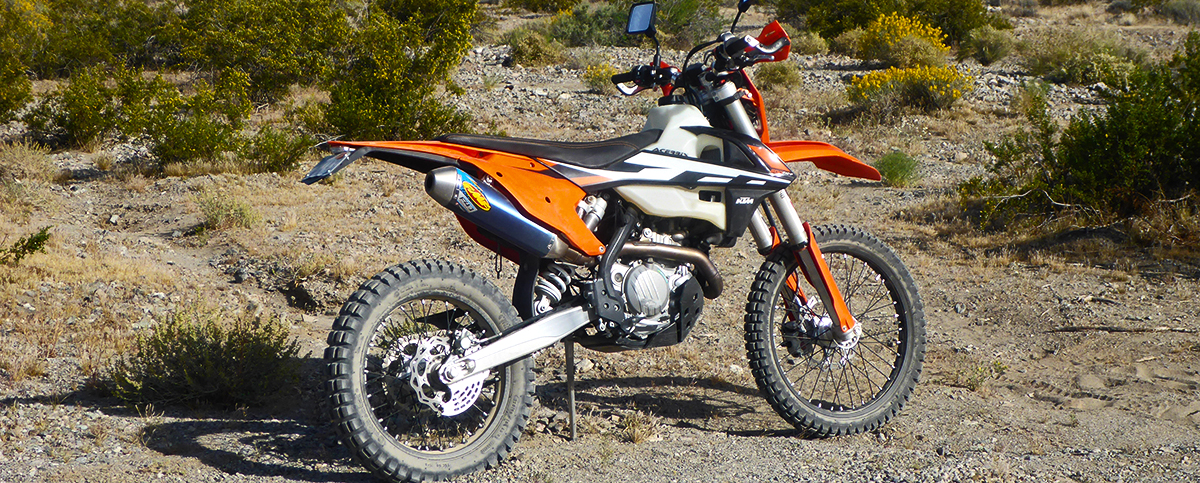 The 500 EXC is a street legal dirtbike or as most call it, a dual sport. Don't let the factory nerdy turn signals and horn fool you. KTM only puts this stuff on there so you can legally ride down the highway with it. (I took mine off and went with the barely legal look.) This bike is extremely capable off-road. Most people can't out-ride this motorcycle. You will likely run out of talent before this bike will be pushed harder than it can perform.
Pros
Tons of suspension: With 12″ of plush WP XPlor suspension, it doesn't get much better. Come up short or go flying off a huge dropoff. No problem. The suspension on the 500 soaks it up.
Lightweight: At only 240 lbs (for 2017), it's light enough to throw around. Lighter than most 450's on the market, it is extremely agile and can go just about anywhere.
Fuel efficient: I've gotten over 60 mpg with this bike. Even when pushed hard, it is extremely good on gas (still in the 40-50 mpg range).
Powerful: This bike can get away from you real quick if you aren't careful. It's got smooth power anywhere you need it.
Fuel Injected: Forget about changing jets. Ride at any altitude without a care in the world if your bike will run right.
Cons
Not a long distance, ADV bike: Although some guys outfit these bikes to be used as an adventure bike, it's not one. It is a dual sport dirtbike. You can get some very long day rides in but you won't be happy with this as an adventure bike for big trips. Without a cush drive and shorter maintenance intervals, it isn't designed to be run at high speeds for long periods of time. Not saying it can't be done, but ideally it's not the right tool for the job.
Limited luggage carrying options: There is a company that makes a rack for this bike but there aren't many options out there since it isn't much of a motocamping or ADV bike. You are limited to soft bags like Wolfman Day Tripper bags or Mosko Moto.
Buzzy on the highway over 65/70 mph: I'm sure this bike can do almost a hundred mph or maybe more, but it will be screaming. I find the comfortable cruising speed is no more than 65 or 70 at the most. Faster than that and it is turning some very high rpms. Overall it is not too bad on the highway, but I wouldn't want to ride more than 30-50 miles in one stretch.
Shorter Maintenance Intervals: Oil changes on this bike are every 15 hrs. That gets expensive if you ride alot.
KTM 690 Enduro R
When it comes to adventure bikes, KTM's 690 Enduro is one of the most off-road capable dual sport bikes on the market. Don't forget that keyword: adventure bike. It's the closest thing to a dirtbike without sacrificing the ability to strap on some camping gear and go a five-day, 800 mile ride through the mountains of Colorado. It's the do-it-all dual sport. If you are going to own only one dual sport motorcycle, this is the bike to have.
Pros
Versatility: From 90 mph on the freeway to singletrack, this bike is very adaptable.
Many luggage options: There are many ways to strap camping gear or other luggage on these bikes. There are plenty of rack systems available and the bike still handles great even with all the added weight. I rode down some fairly tight singletrack in ID with all of my camping gear attached.
Go Motocamping: The 690 has brought me on many multi-day motocamping adventures.
Torque for days: Everyone who has one of these bikes knows about the 690 permagrin. That torque is there for you anytime you need it.
Happy on the Highway: This bike has no problem cruising at 70 or 80 down the highway. The power and gearing is there to be safe passing trucks and getting through traffic.
Singletrack capable: It's probably the one adventure bike that can actually do singletrack and have it still be fun. With it's low center of gravity, it is very agile for a 300 lb bike.
Low maintenance: Oil change and valve adjustment intervals are much longer on the 690 compared to smaller bikes. It holds slightly more oil and is engineered to go long distances.
Cons
Heavy in the rough stuff & sand: Although the 690 can handle singletrack and some whoops, it starts to show it's weight in larger whoops. The suspension has it's limits on these heavier bikes.
Won't hang with the twins or triples on fast or long highway rides: If you're buddies are going to knock out 300+ miles of tarmac on their GS1200's, you aren't going to be happy trying to hang.
Factory fuel range is limited: At only 3.2 gallons of fuel, the factory range is slightly limited for a larger dual sport bike. You can expect about 125-135 miles before the low fuel light comes on. It does get good mileage though (45-65).
Let's Compare
Below is a general representation of what the 500 and 690 are capable of and how they overlap in some areas.

Do I buy a 500 or 690???
As you can see, these bikes are both very good candidates for a dual sport bike. You just have to ask yourself what matters most to you. What kind of riding will you be doing the most? Do you want or need a street legal bike that's fun to throw around and can handle hard enduro like hill climbs and boulders? Buy the 500. Or do you try to stay away from that stuff and just want a bike that can go hit some trails and still be capable of longer distance adventures? Then it's clear that the 690 is for you.
Questions?
Hit me up in the comments below and I would be glad to answer any questions. I scoured forums and reviews before purchasing either of my bikes and have first hand experience with each so chances are I can help you out.
Comments
comments