Monday's ride started near a staging area close to Jean, NV. Our plan was to ride some singletrack and do some exploring in mountains east of Goodsprings. We had 5 guys: two KTM 500s, one KTM 525, one KTM 530 and a fully loaded DR650.
We hit the dirt and headed towards a track I had previously ridden before. It zig-zags through the mountain range east of Goodsprings.
Glen, a local rider that I connected with on the NV ADV Facebook group, was having some issues keeping up with his heavy DR650. Although this was not the ideal ride for him, we've all been there. We assured him we'd wait up and make sure he got out alive.
It started out as double track and gravel wash, but we finally got to the good stuff.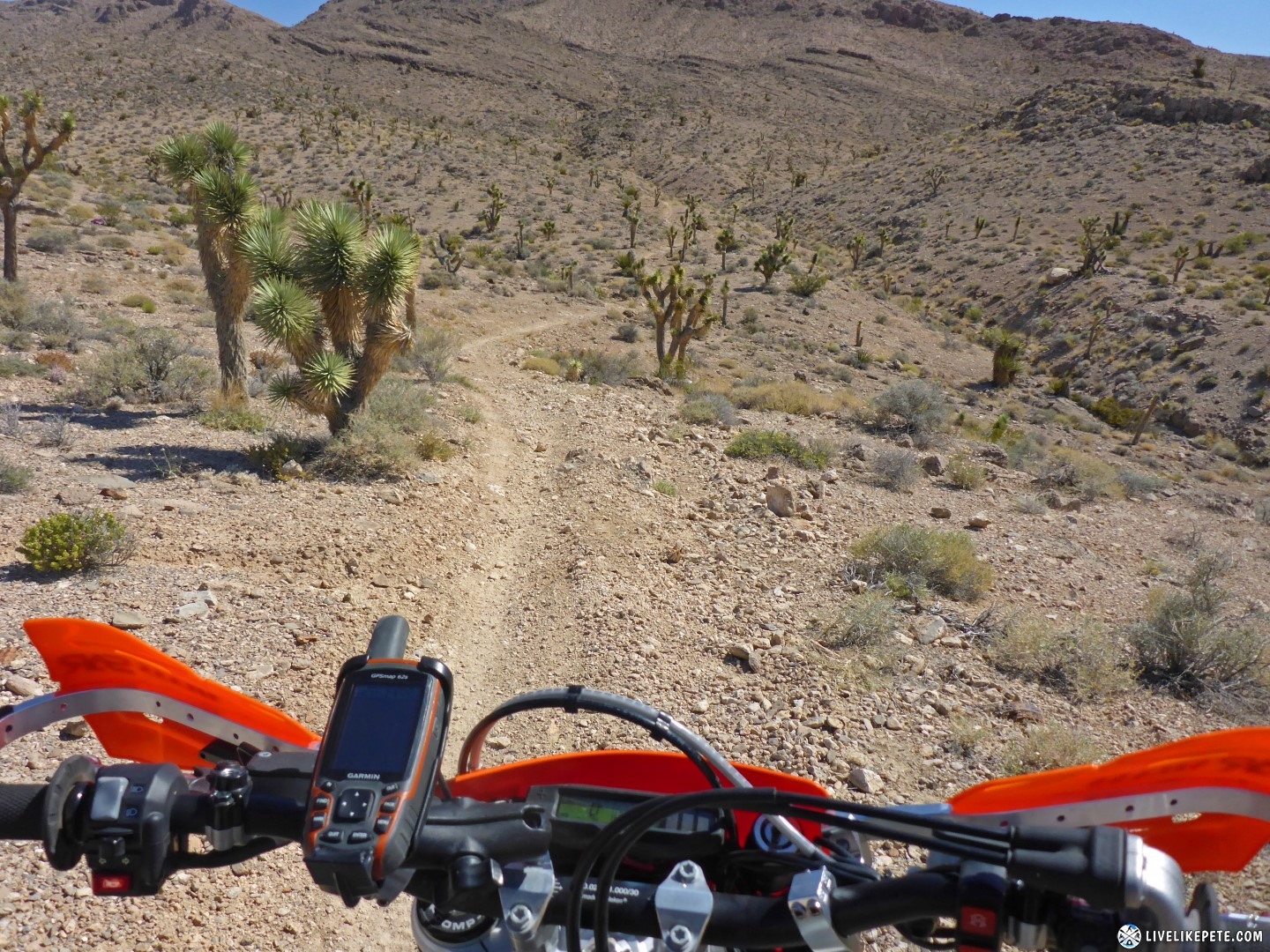 This trail is only known by few experienced riders and ex-racers.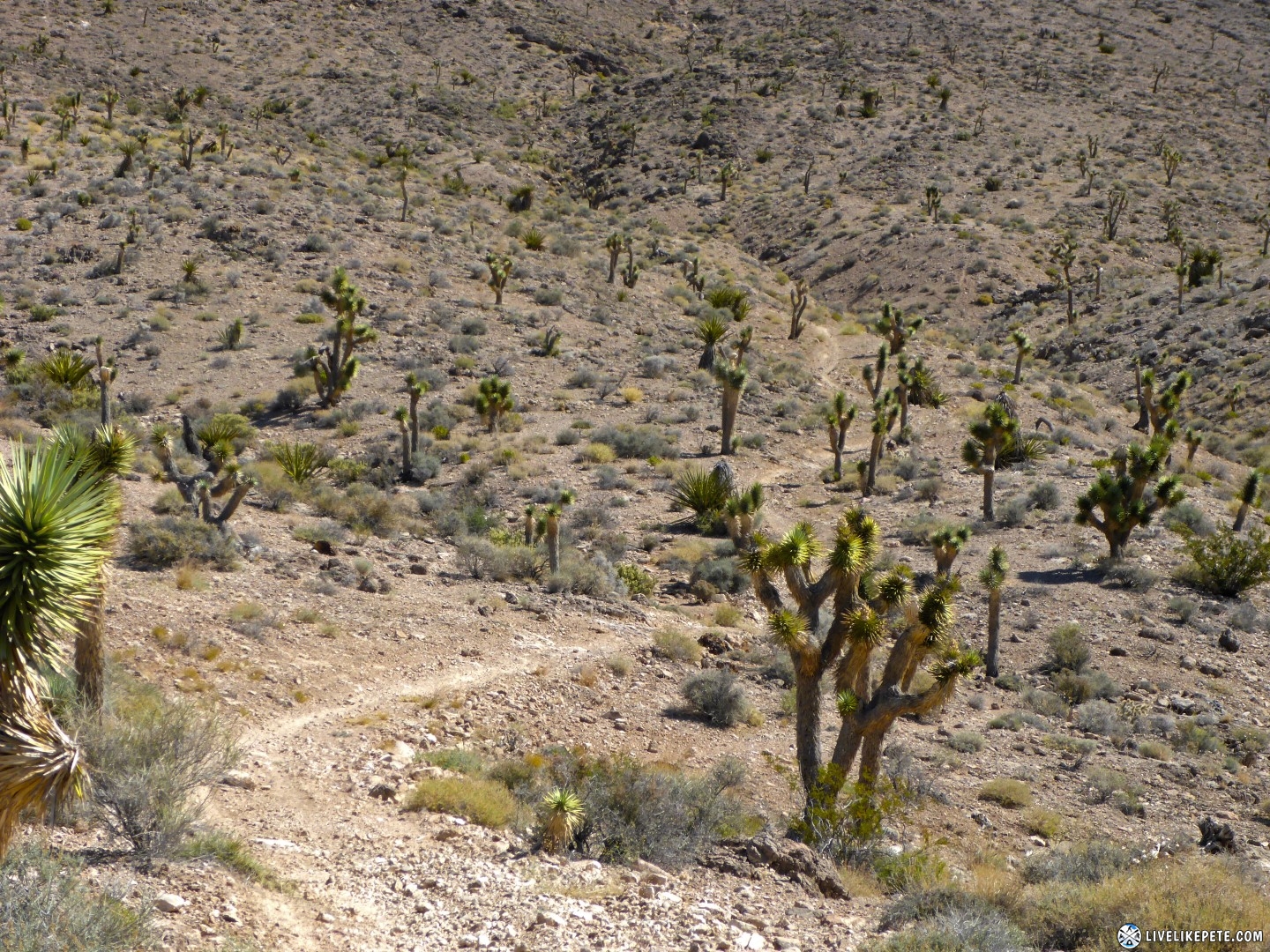 I knew there was a gnarly hill climb at the beginning of the trail, but it had gotten a little worse since the last time I rode it. Slowly paddling my way up the hill, I barely made it up. Once I got to the top, I figured out really quickly that the rest of the guys would struggle at the loose section at the bottom and never make it. Damn. I really wanted to ride this trail on my 500. The last (and only) two times I rode it, I was on my 690.
Joe eventually made it up to the top, but turned around when we realized it was too much for the whole group.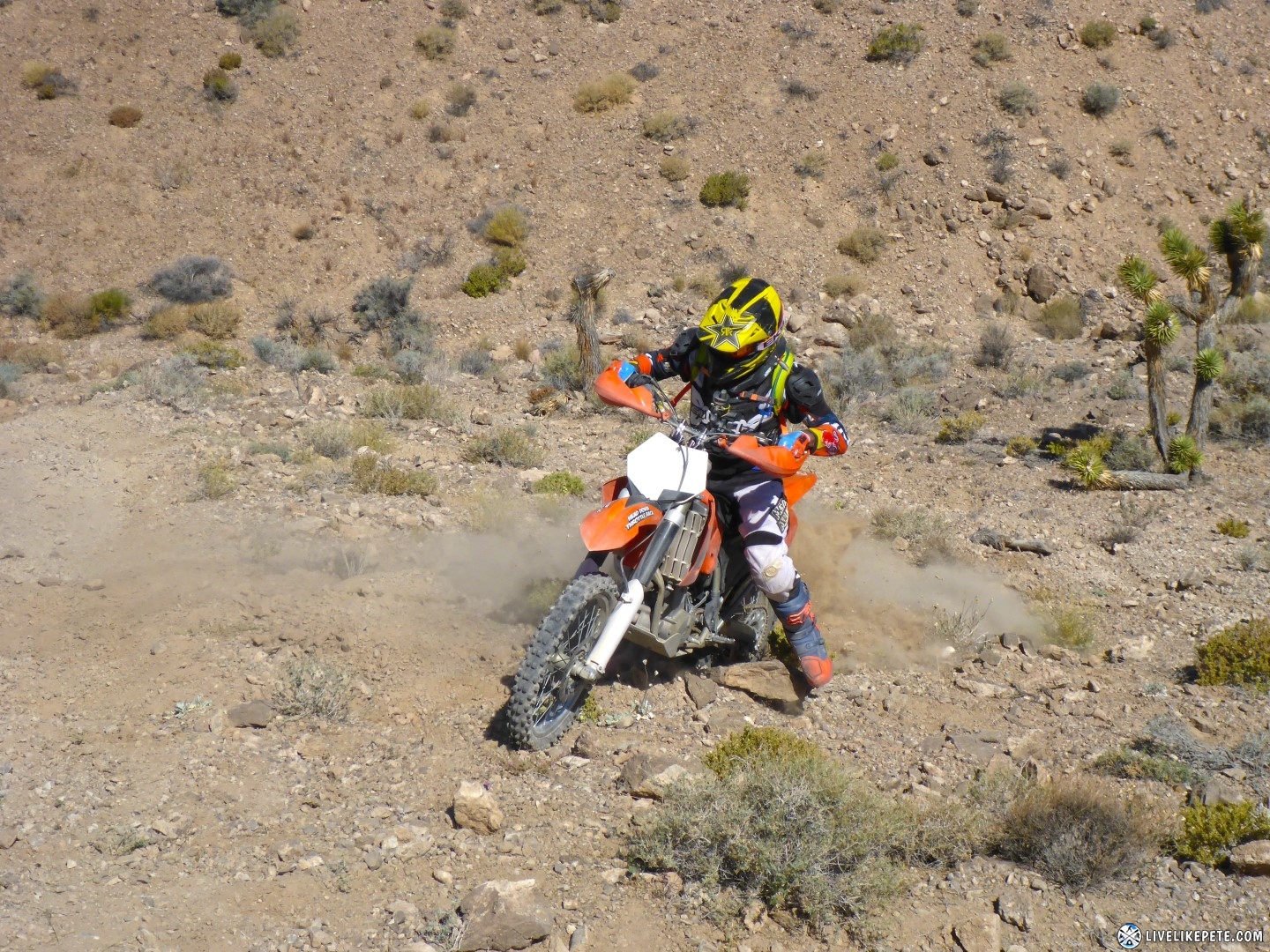 The top of the trail is rugged and rocky, but that just means traction. I'll be back with some riders who are up for the challenge. So I turned around and headed back down the trail so we could find some new stuff to ride.
We made our way into a wash which Darrell thought would take us over the mountain.
It was not the trail he had in mind. The wash sort of dead ended (for motorcycles at least) and we bush whacked around a hill side to try another wash.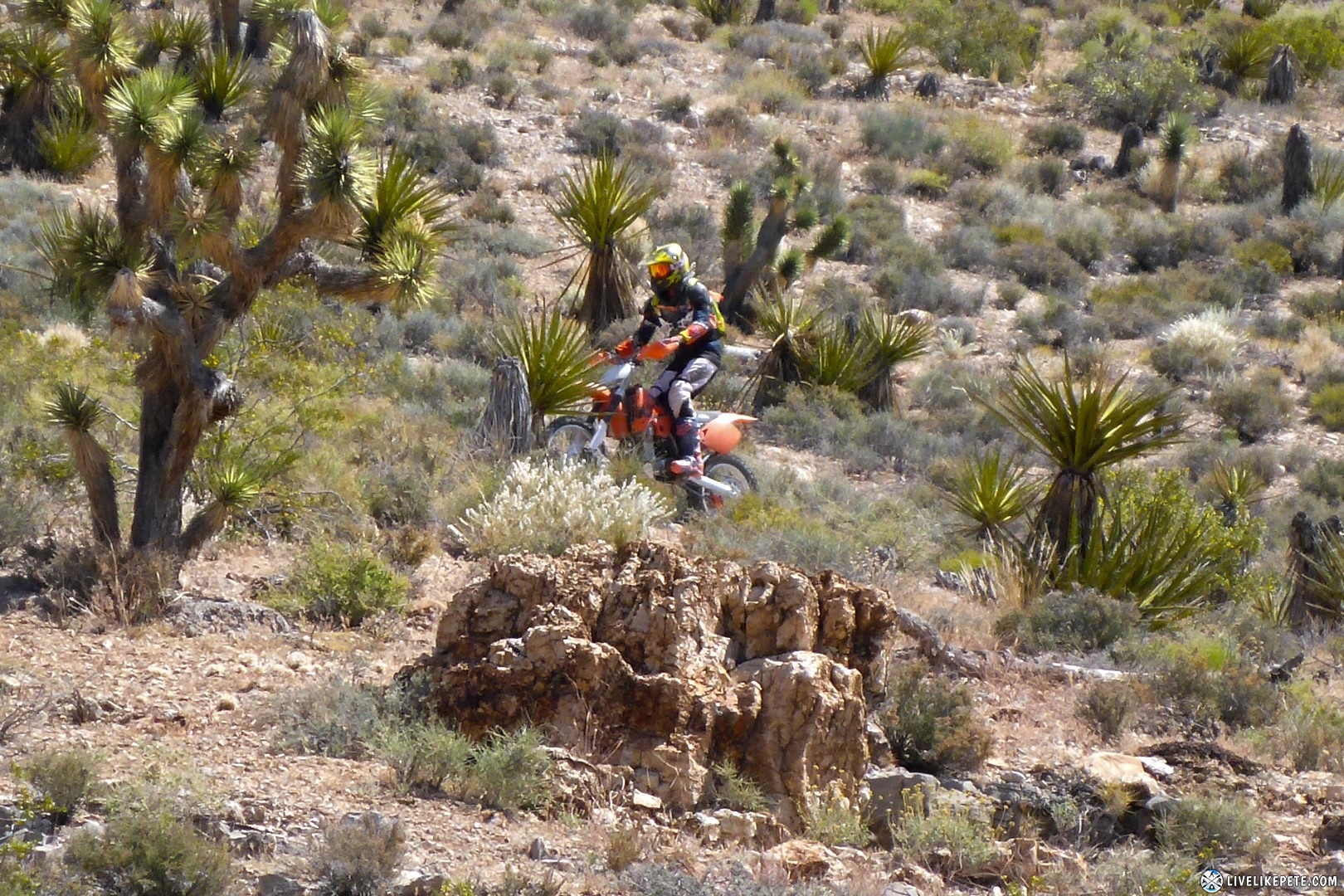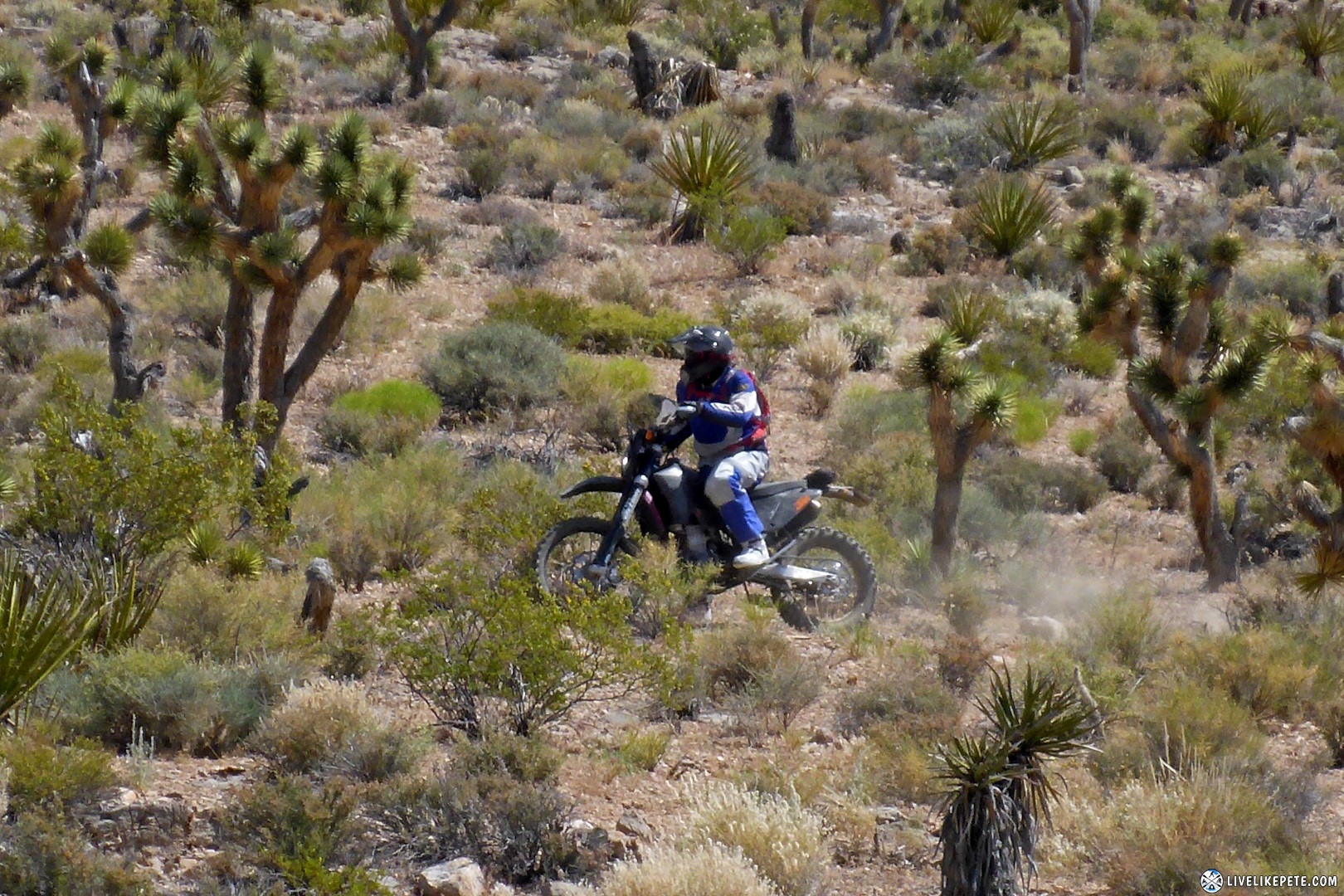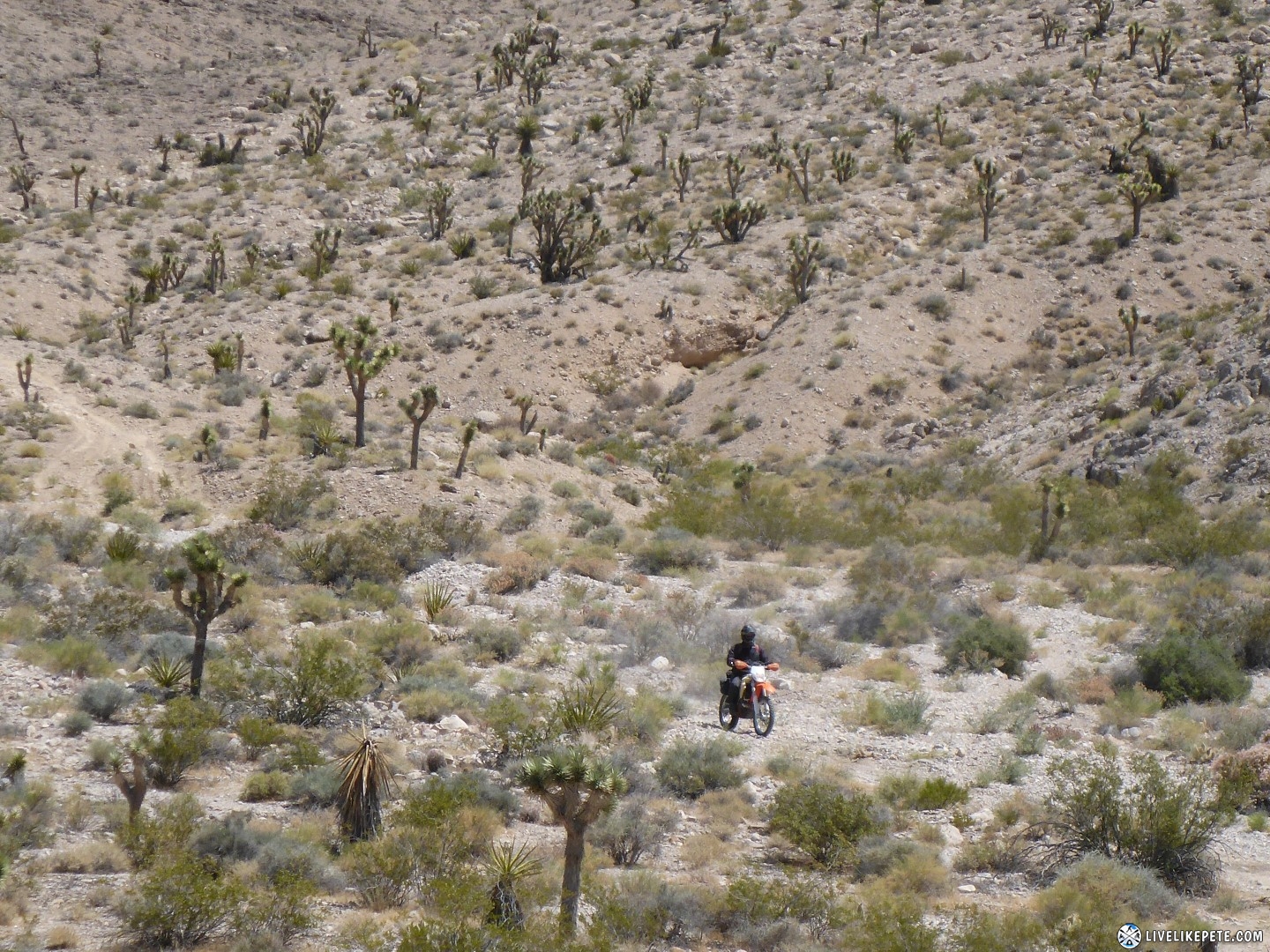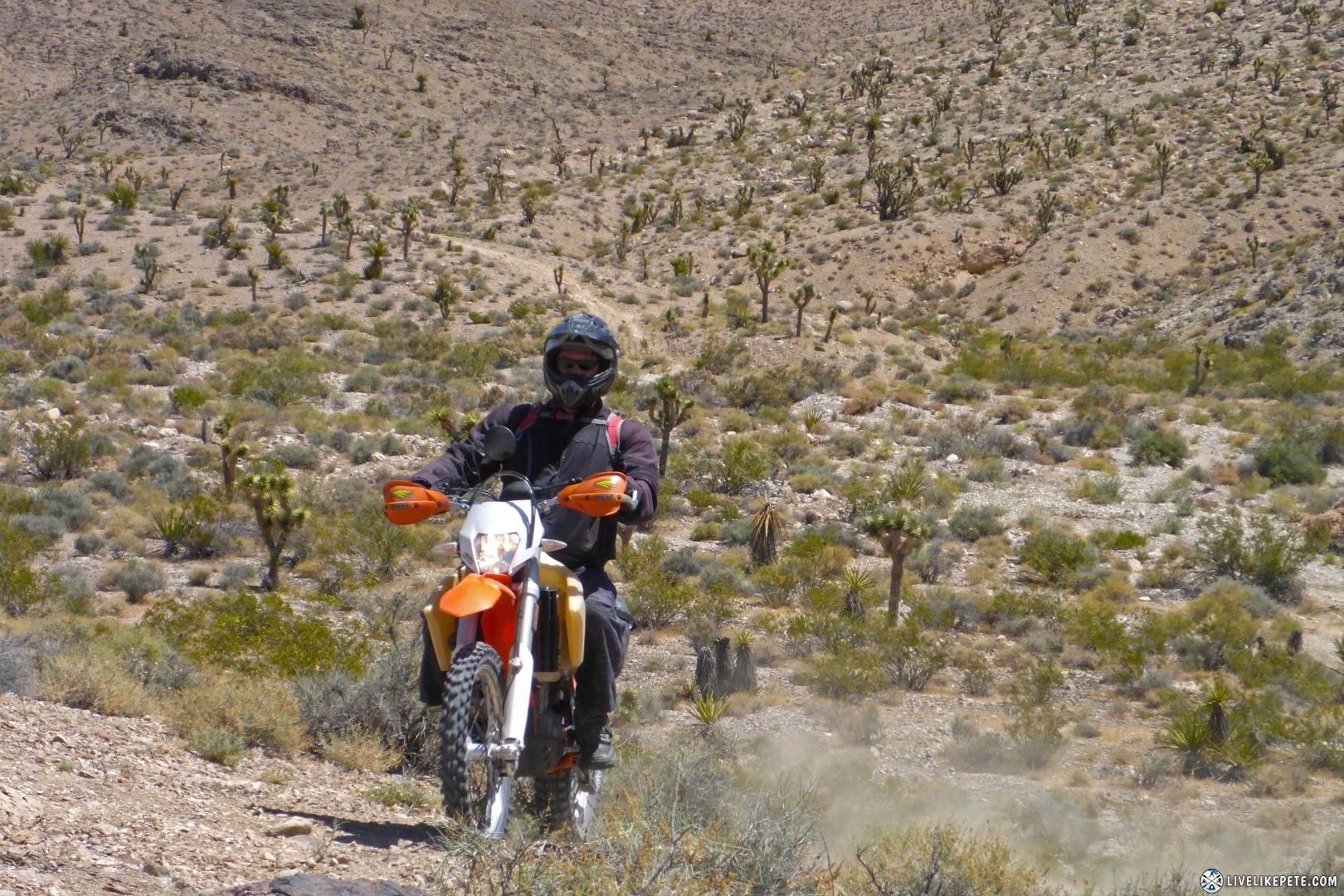 The second wash ended up dead ending as well. It featured a handful of rock steps and much more bushwhacking. I was having fun pushing it further, but it was getting worse and I knew I had to turn around.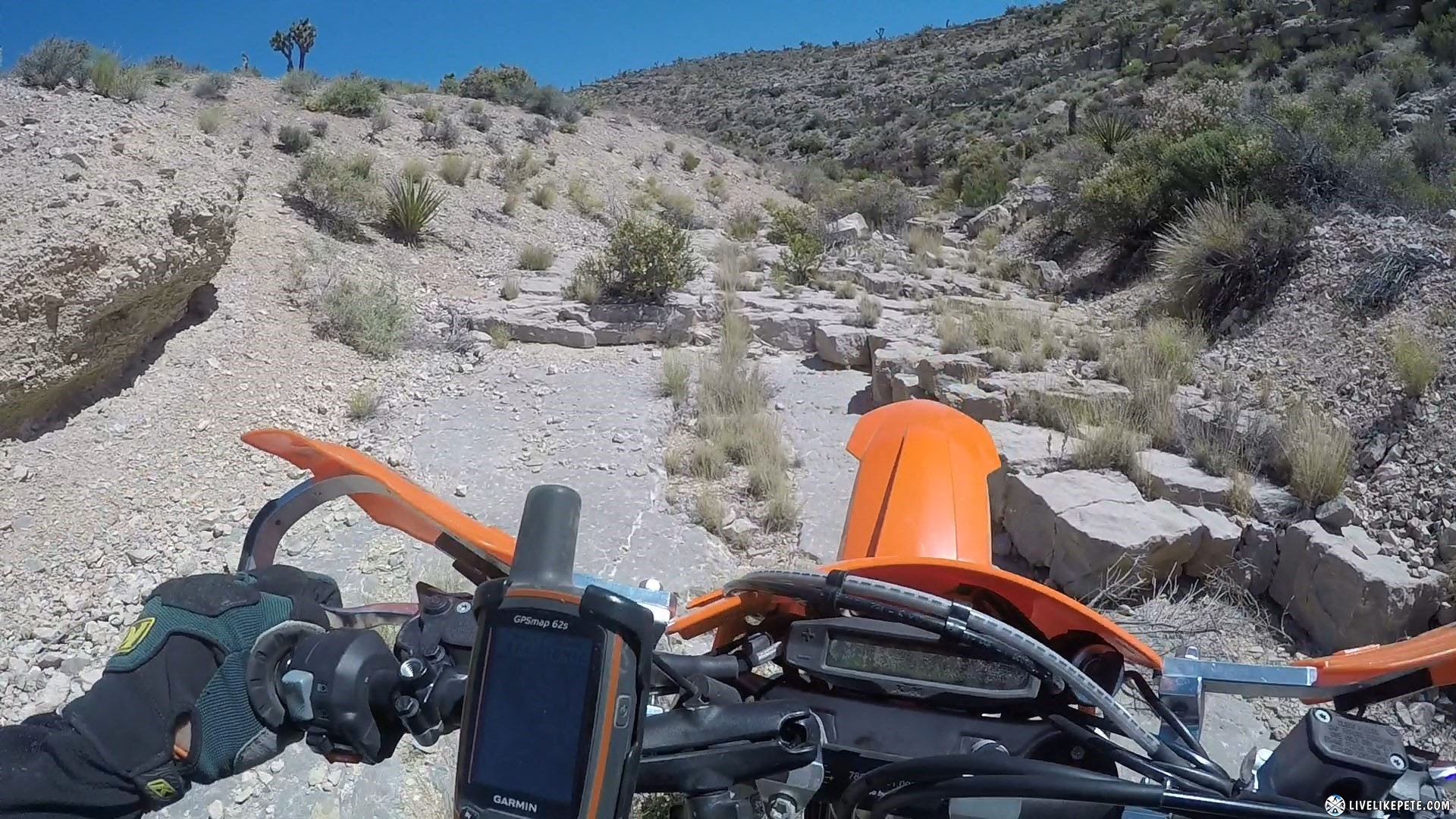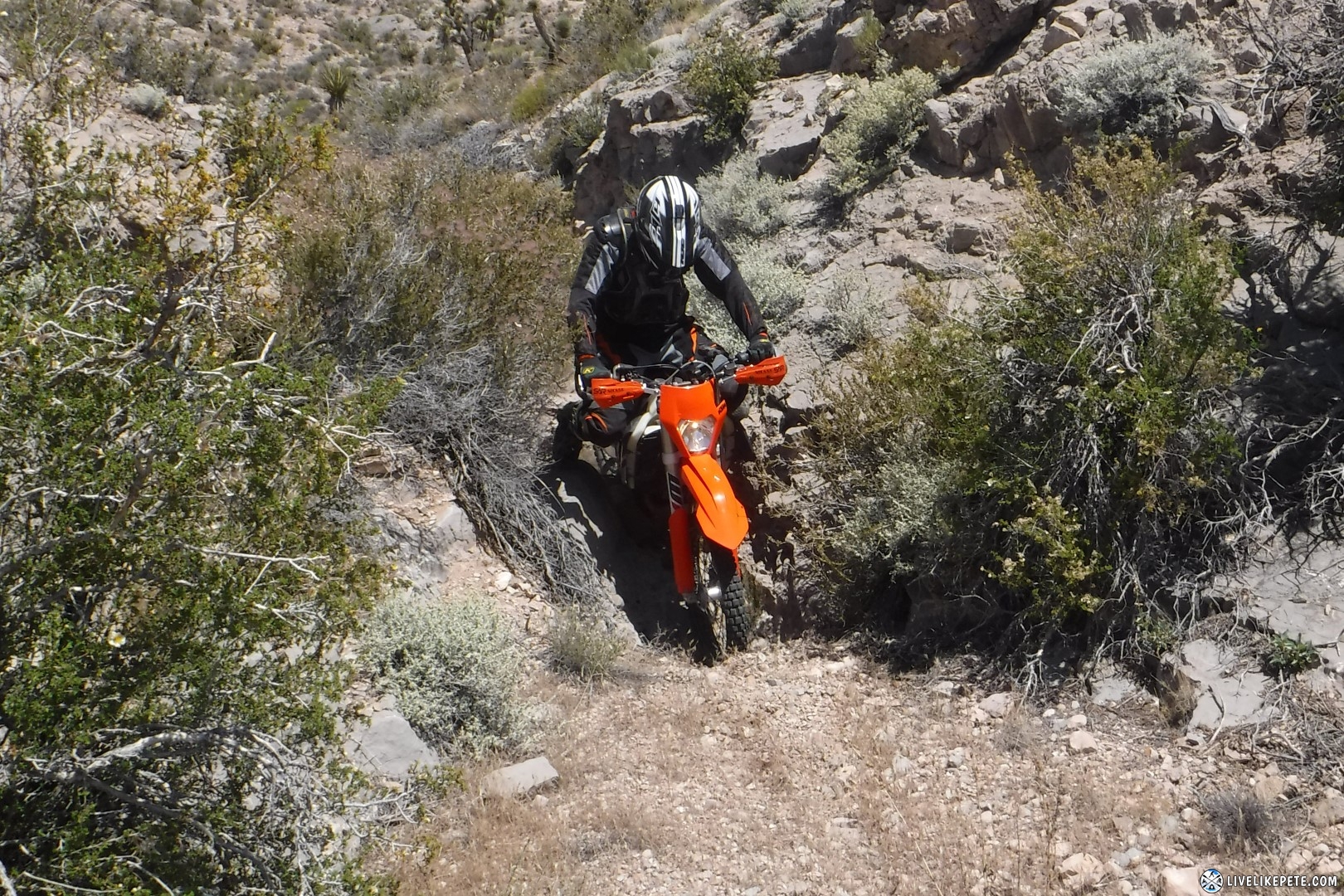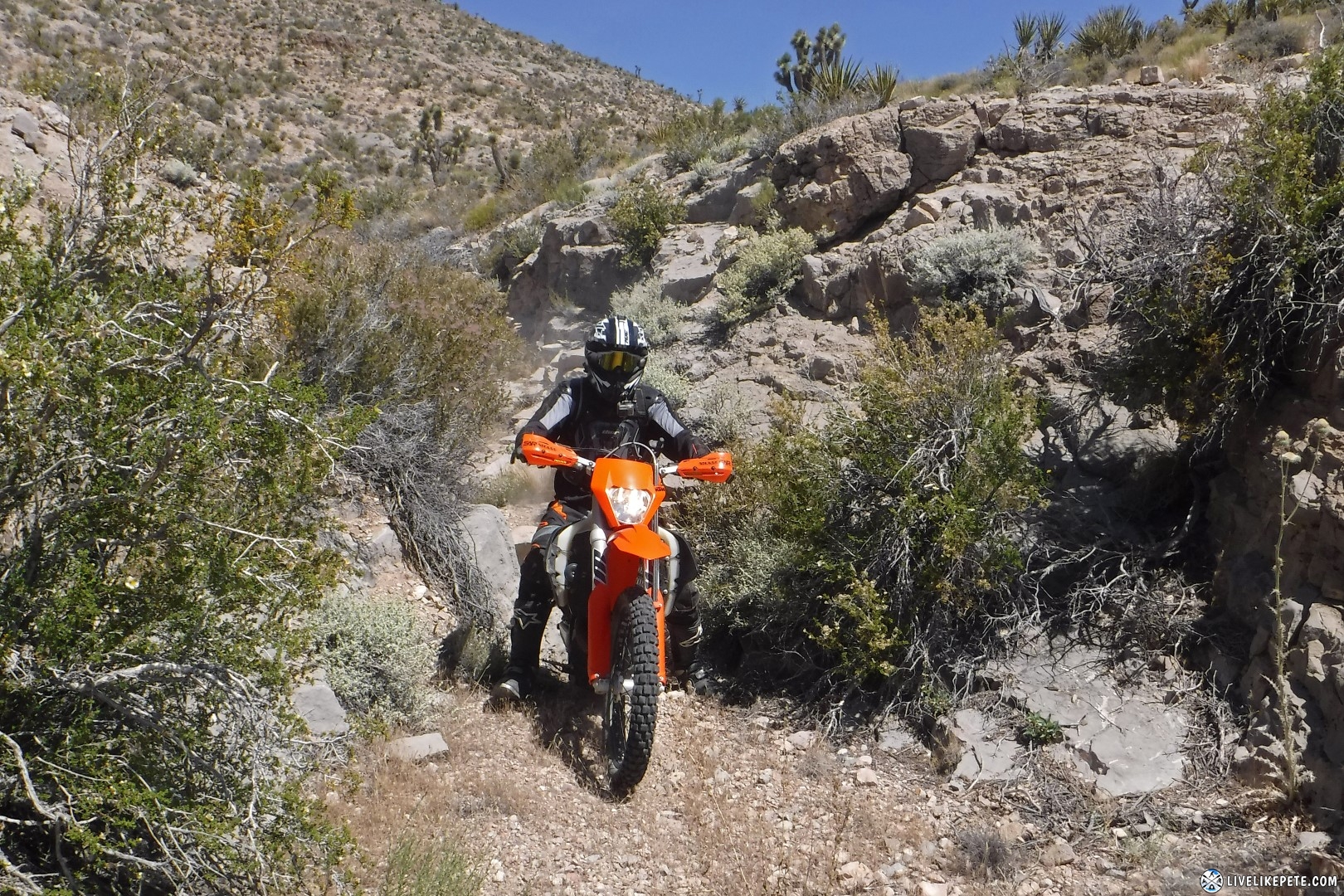 We headed all the way back out of the wash and waited for Glen at the powerline road to Goodsprings. He was ready to head home, but we insisted he joined us at the bar for lunch and a brew.
At the Pioneer Saloon we cooled off and Joe got the special treatment when he got his water bladder filled with ice water.
After the bar, Joe brought us to some singletrack that he'd ridden in the area before. The only problem was it had another huge hill climb to which Tim & Darrel said "screw that". I barely made it up, then Joe followed. He told them where an easier route was and we eventually linked up on the trail.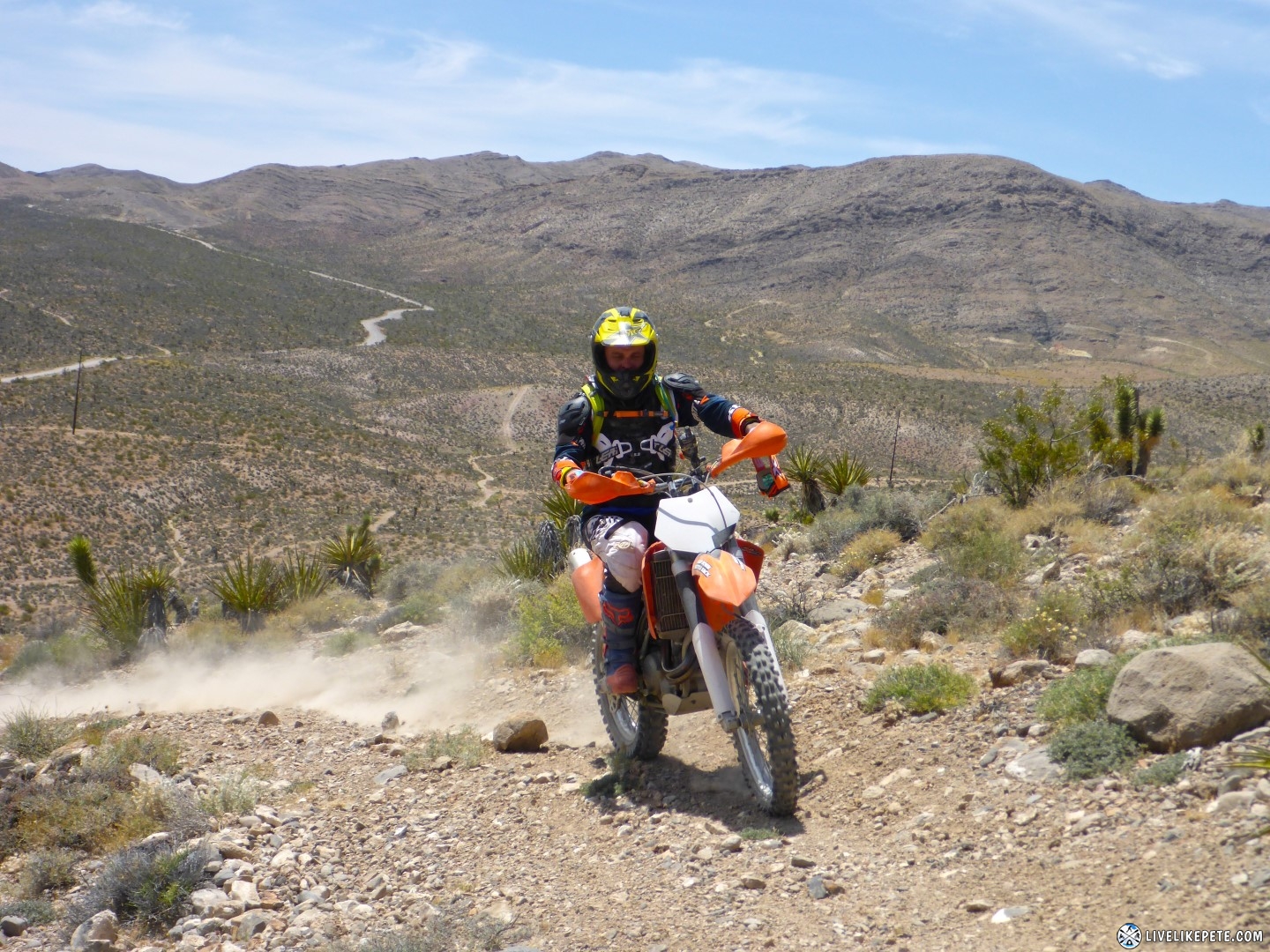 If you look closely, you can see Tim and Darrel getting the hell out of there to seek smoother trails.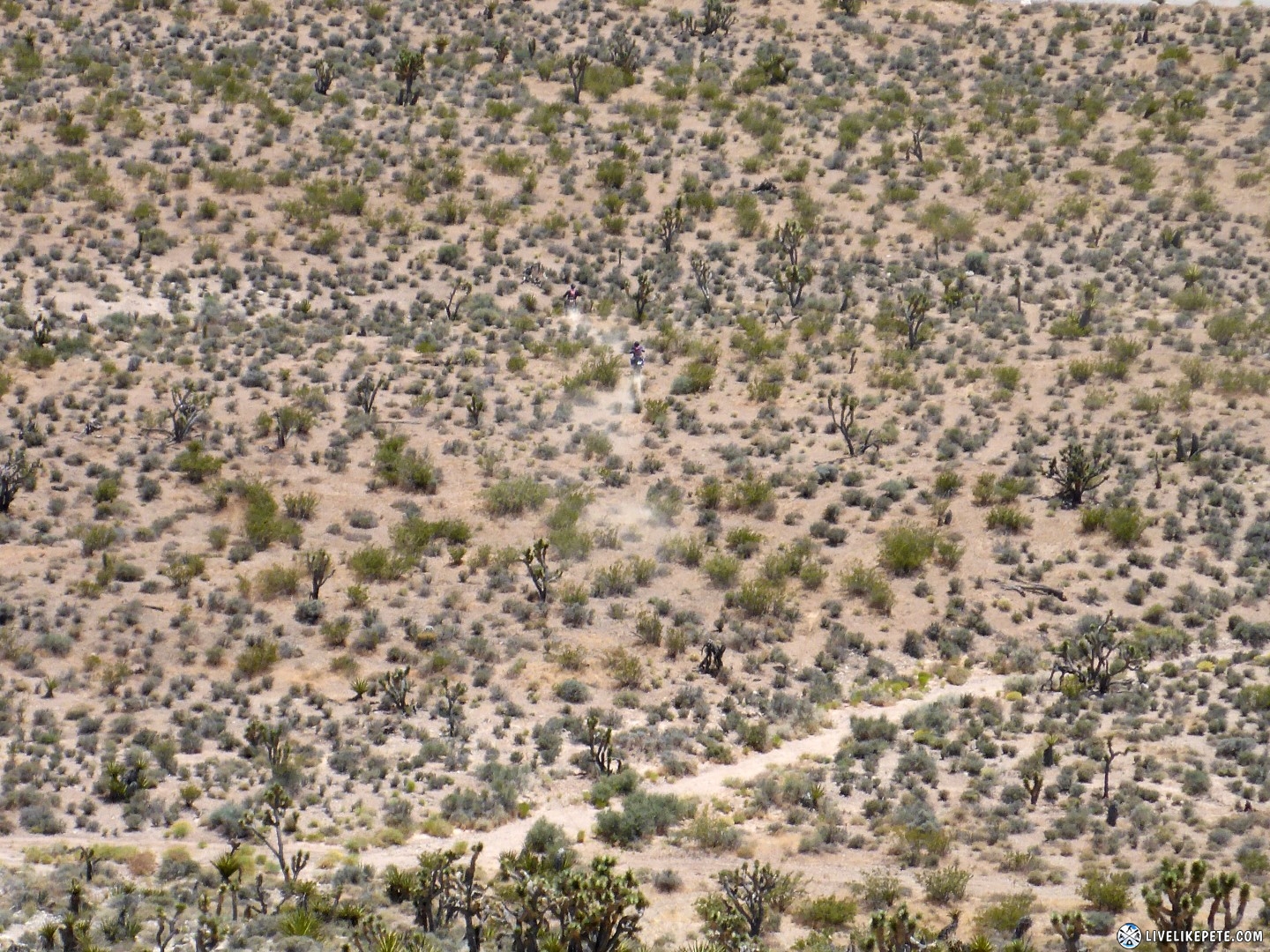 I had a blast on that trail. It was really loose and rocky, but I ripped through it. It got my heart pumping. So much fun! It ended at this bush with a heart in it. Maybe it's a trail marker?
We continued on the singletrack all the way to the main Cottonwood trail.
It was at that time Darrell pointed out that Joe's front wheel was in bad shape. It was cracked on both sides all the way to the spoke. This is something you don't ignore!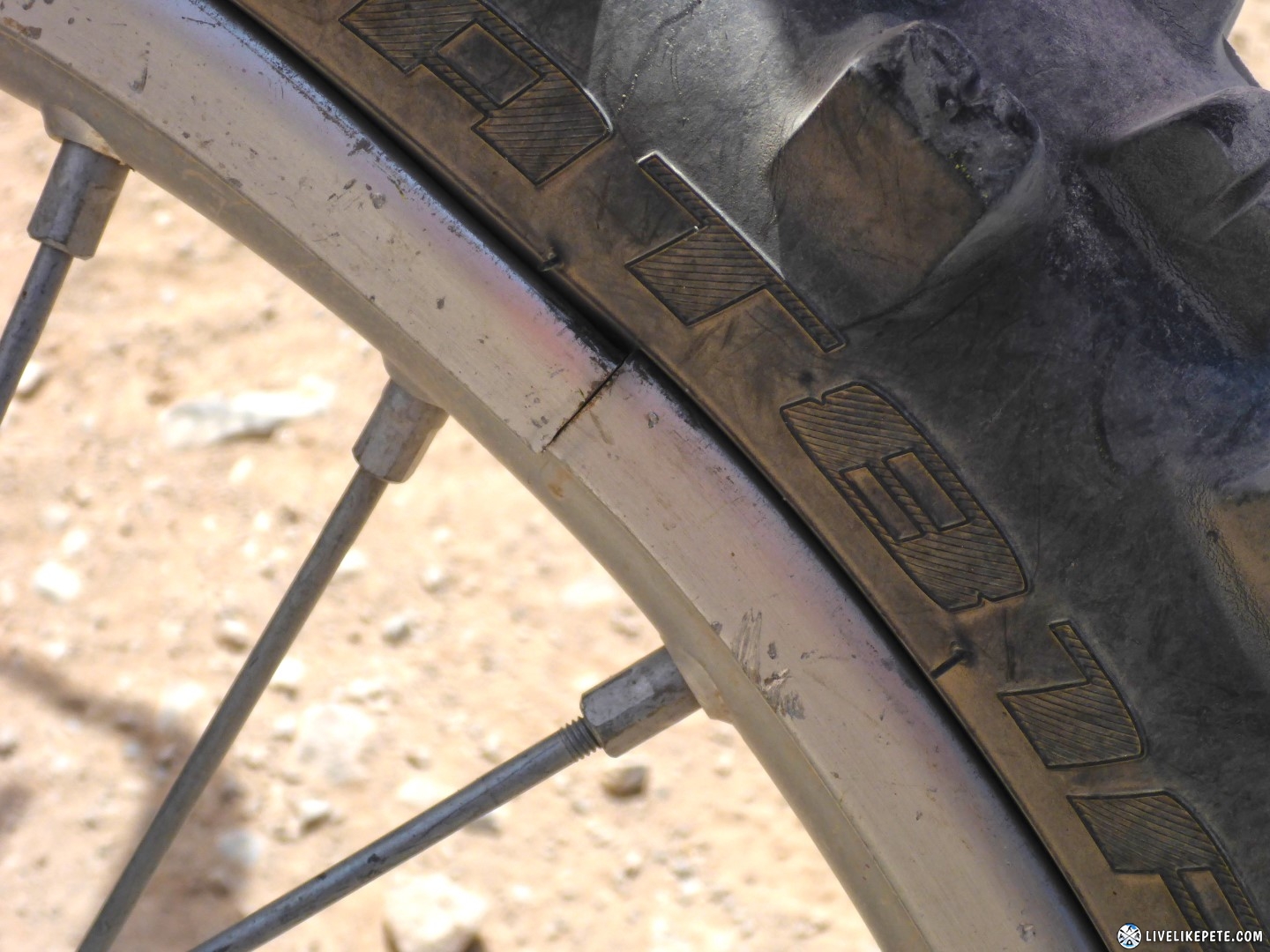 So at this point we all decided it was time to head back. No sense in pushing it any harder. It's just not worth it with that wheel in the shape it was in, plus it was already over 100° out. We took the pavement back nice and slow.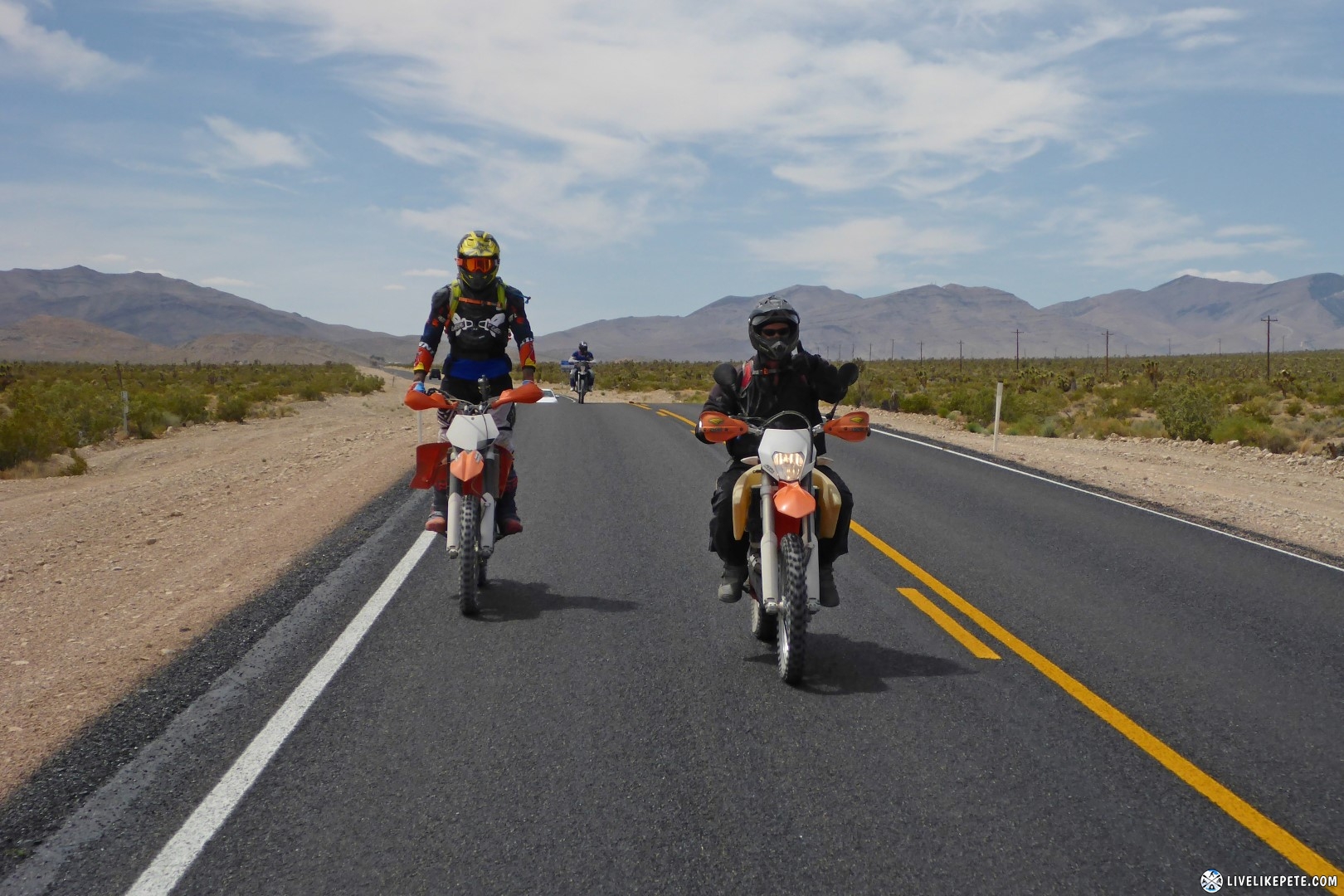 Once is Jean, the Memorial Day Weekend traffic was insane. People were pulling off the freeway and were lined up at the gas stations.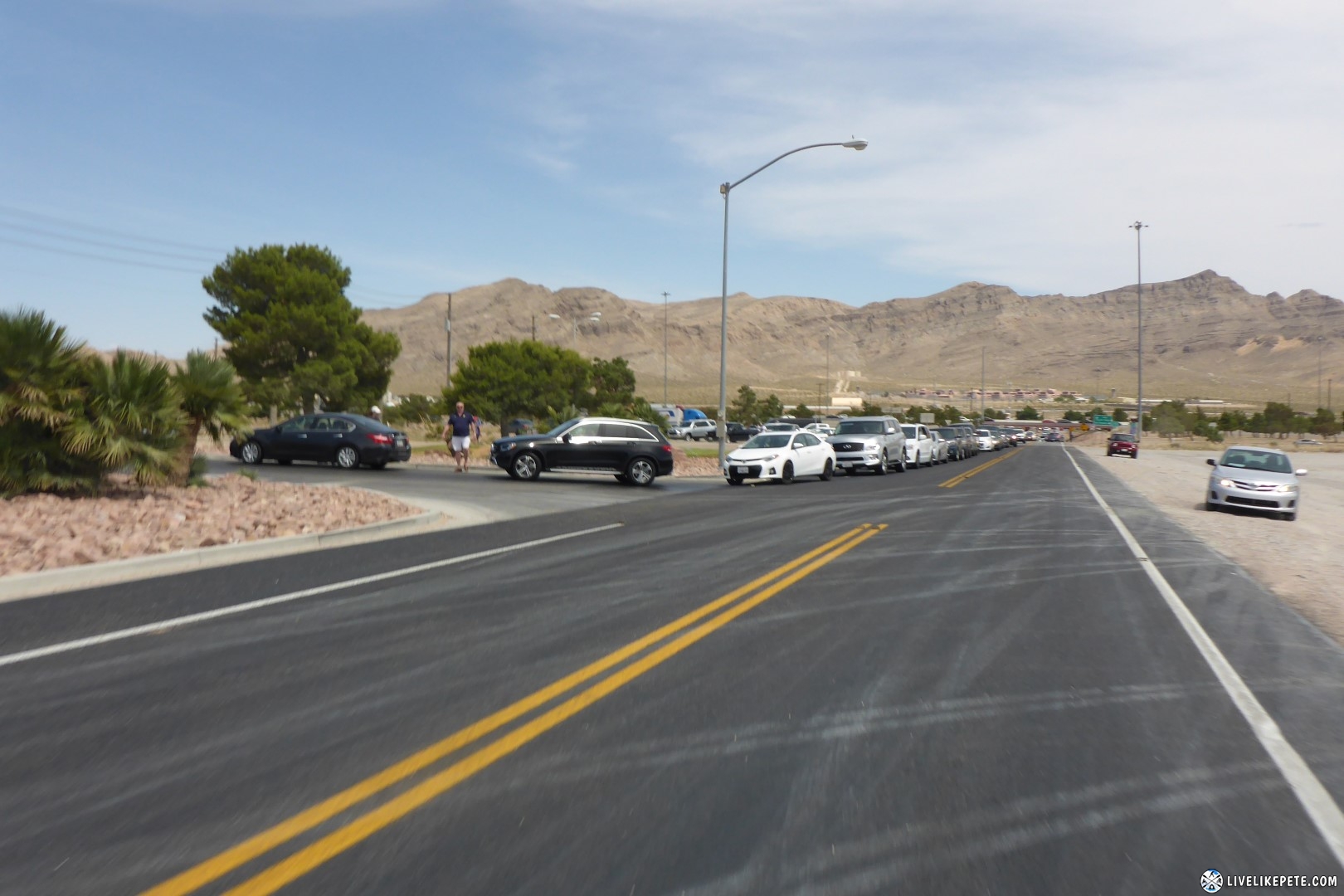 Where We Rode
The red tracks are tracks we meant to ride. I've ridden a portion of these already and added some new ones to explore.
The green track is the actual tracks from our ride. As you can see, we were going deep into nowhere!
Video
Interested in joining me on rides like this?
I'm always looking for other capable riders to hit some challenging stuff and ride some new trails. I believe the bigger your network of riding buddies is, the more places and trails you learn about. It also helps refine your skills. Hit me up if you would like to join in on some future rides.
A few ways we can connect:
drop me a line on my contact page
Follow me on Instagram
Follow my Facebook page
Don't forget to subscribe to my blog so you can be notified whenever I post up.
Thanks for following and I hope to see you on the trail.
Comments
comments