Every year our group makes it up to Utah to ride the Toquerville Twister singletrack. It's a flowy, intermediate/ advanced trail that is only accessible by dirtbike. It hugs canyon walls and borders deadly cliff sides. The hardest part is keeping your eye on the trail because the views are that awesome! Once you make it past all that, it winds through rocks and trees and the singletrack ends at a water crossing and then the Toquerville Falls. So this year, like years past, our group consisted of riders from Vegas, Flagstaff, and Phoenix. We arrived Friday night and camped at the popular staging and camping area at the top of Spring Drive in Toquerville.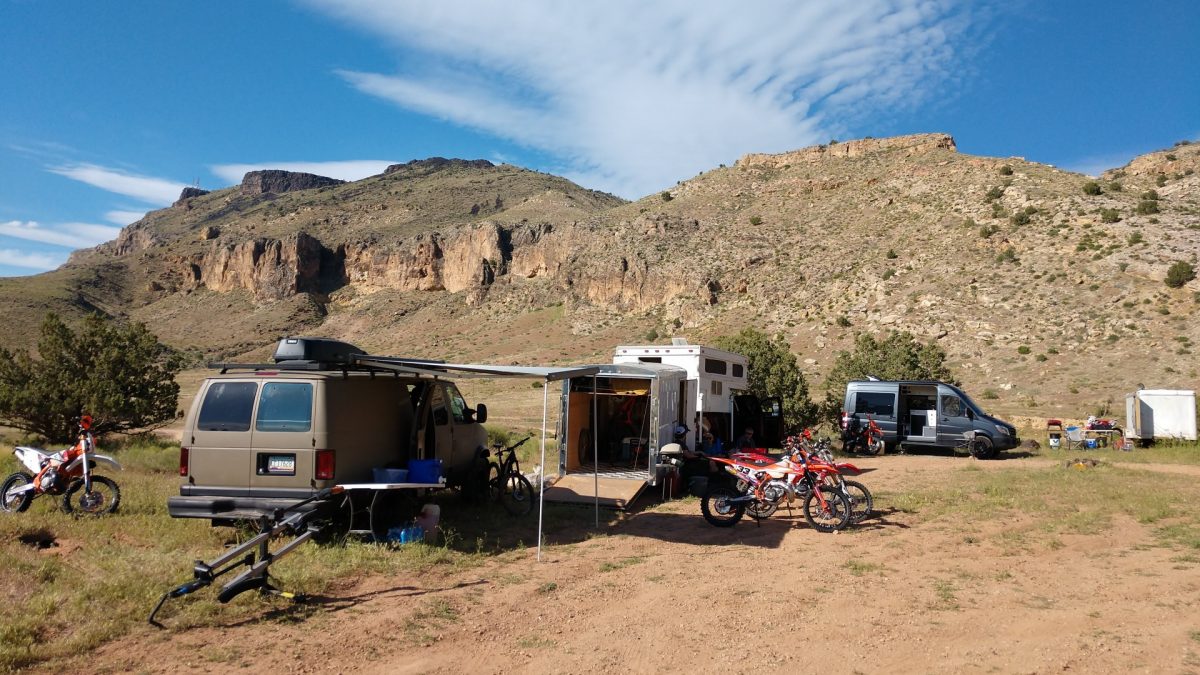 Once we were set up we took a "freedom ride", as I like to call it, down to the creek to cool off. That's when you ride in flip-flops/ no helmet/ no gear type of ride. I  shouldn't recommend it for safety's sake, but it's pretty damn fun if you are careful and not going very far. The temperatures were in the 90s that day and the sun was cooking, therefore it was almost a requirement. Ash Creek is right next to camp and the water was really nice.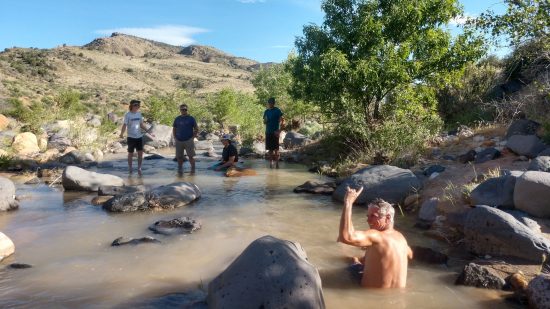 Once the sun went down, we kicked back, made some dinner, and had a nice fire.
Saturday- Toquerville Twister
Saturday morning we had a couple more guys drive up from Vegas totaling 10 bikes in the group. The bike ranged from 250-650cc. There were 2 strokes to adventure bikes if you count an XR650L as an adventure bike. lol Either way, it's a heavy bike for the Twister, but my buddy Mike B handled it with ease! We left the staging area and jammed down the road a couple of miles to the Nephi's Twist, a double-track route that leads to the La Verkin Shooting Range/ start of the Twister.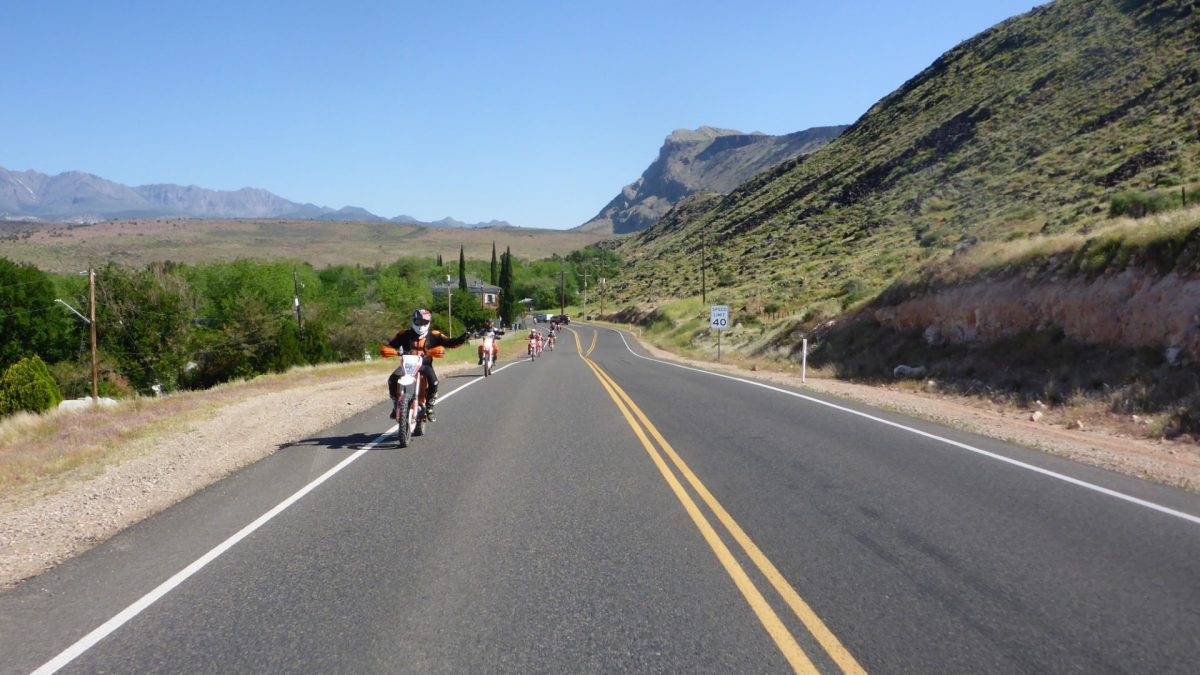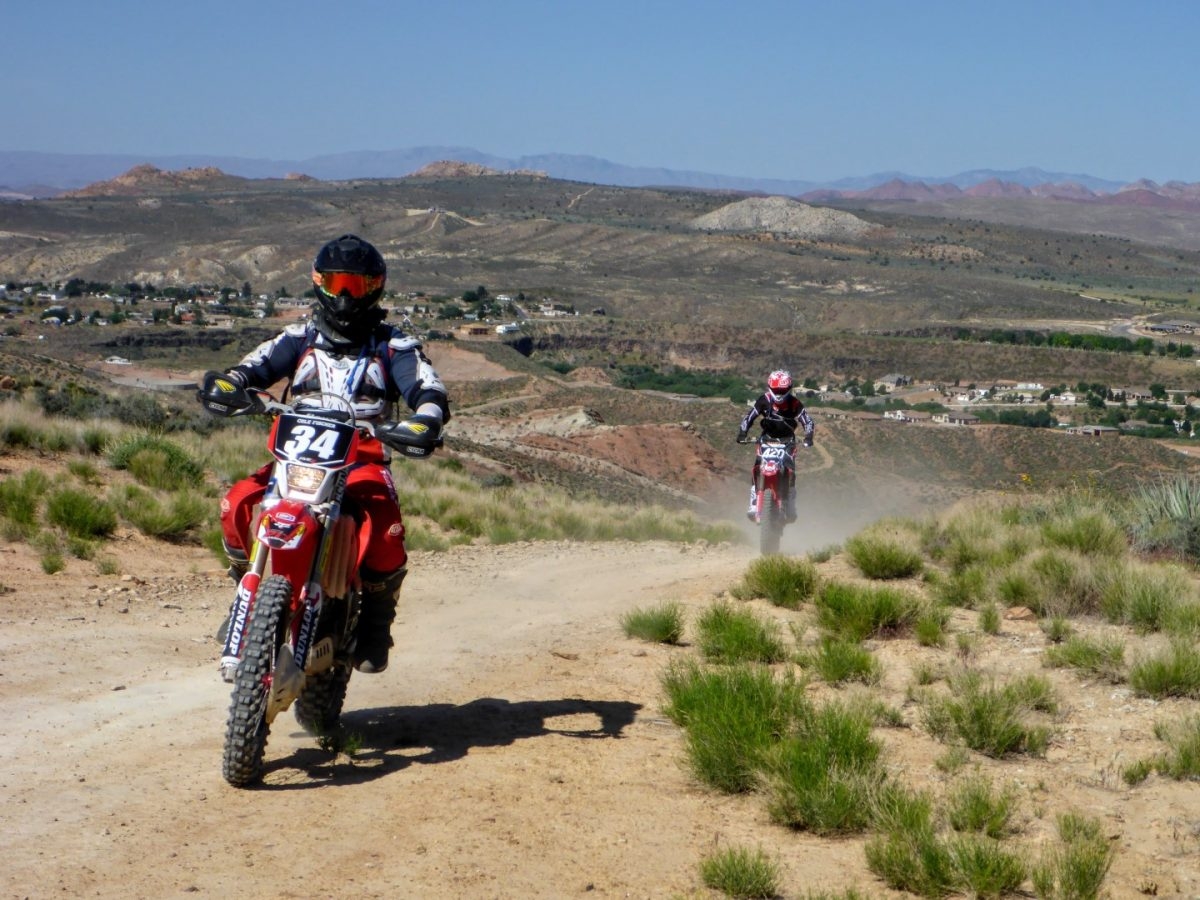 After passing the shooting range, we started on the Twister climbing up from the wash and on to the singletrack.
The start of the ride is a steep few climbs. They aren't very difficult, but beginner riders have been known to turn around here and throw in the towel. lol This photo doesn't show much, but the top of some of the hills have a good 1-3 feet of vertical climb.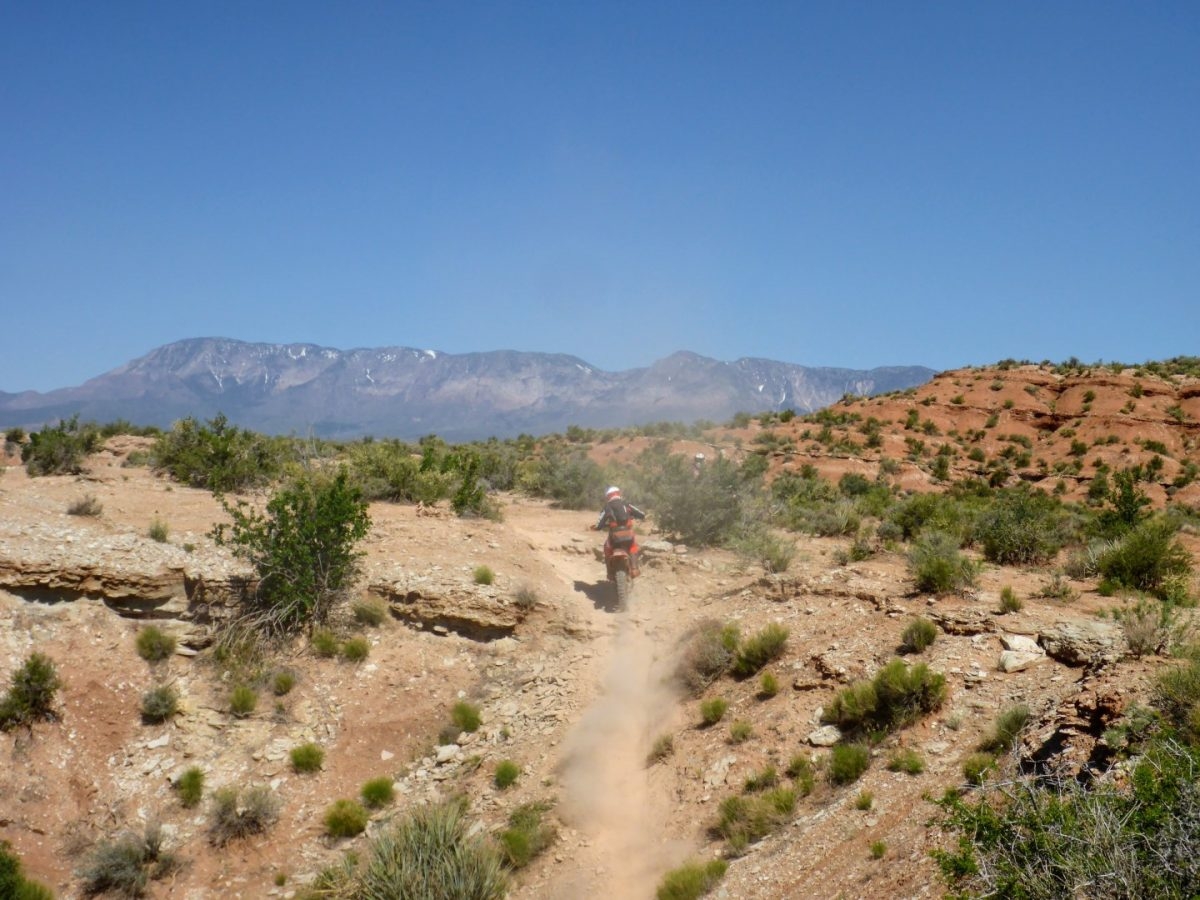 Next up is the crazy fun drops and twists. We dropped down some rocky ledges and rode along some steep drop-offs. Bring your A-game here and be prepared for a whole lot of ups, downs, twists turns, and technical stuff. Each pocket of that canyon offers some super fun riding and negotiating of the terrain.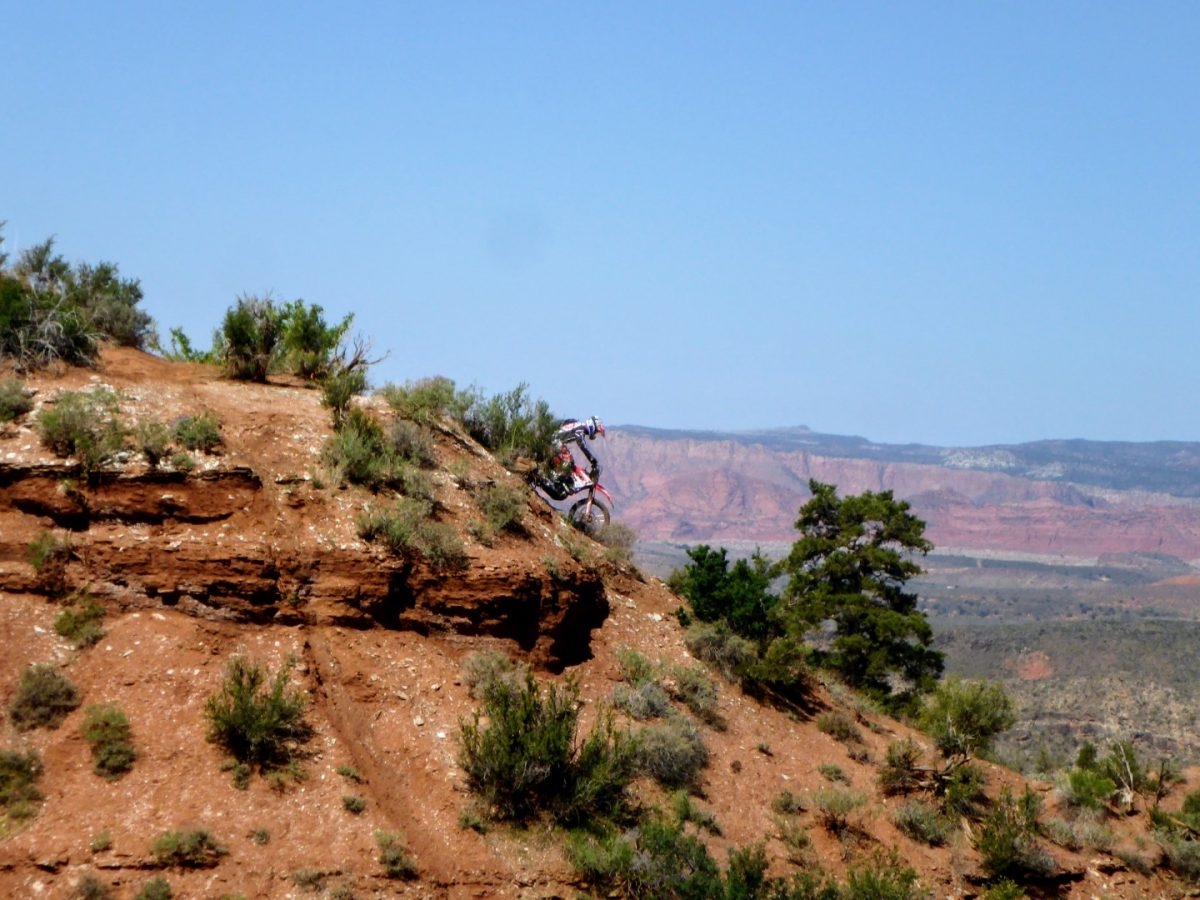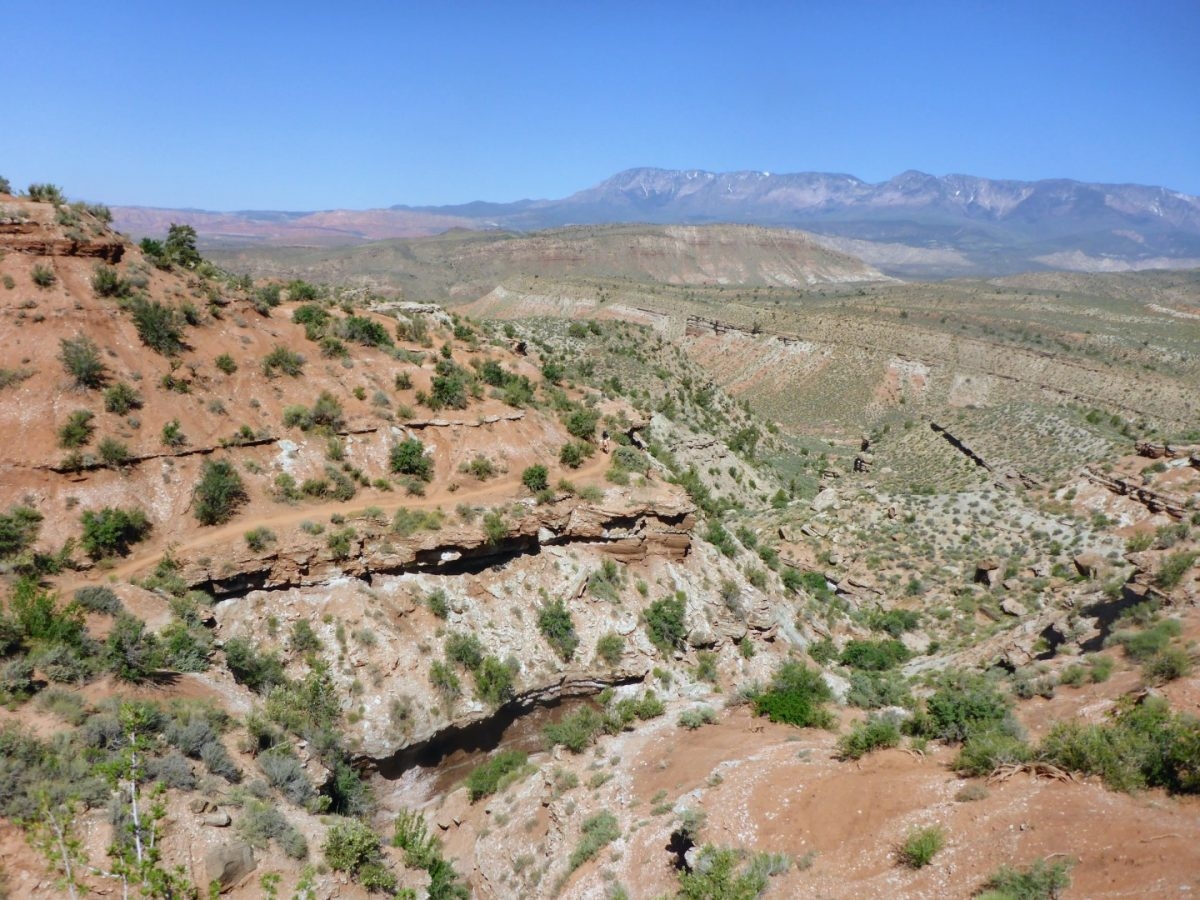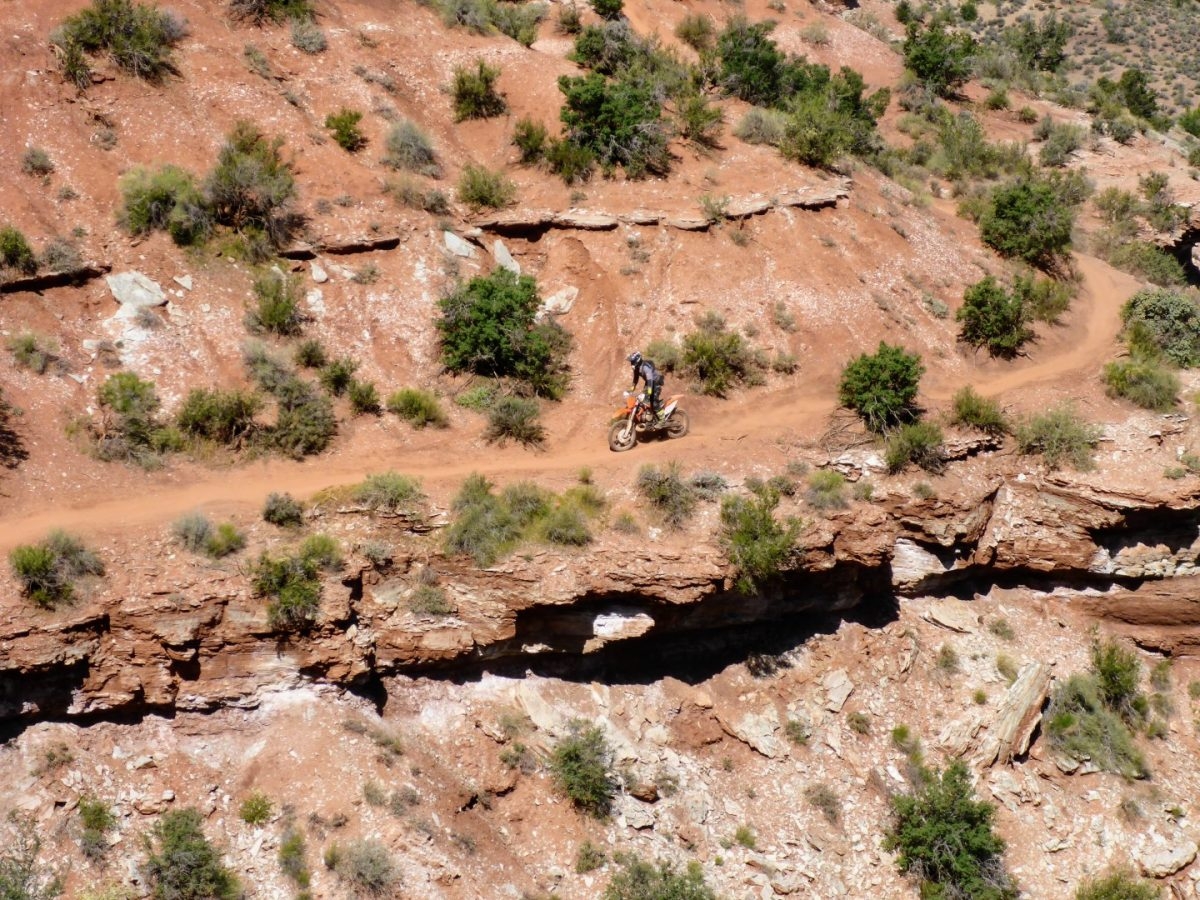 Further up the picturesque canyon, we climbed our way up from some rocky washes.
This is the one spot along the way that isn't super difficult per se, but it always makes at least one or two bikes do some interesting things. LOL It's a steep climb with a 70-degree turn in the middle of it. The rut takes your bikes and makes it snap to the side when it grabs traction. It's easy to stall it so clutch and throttle control is key here!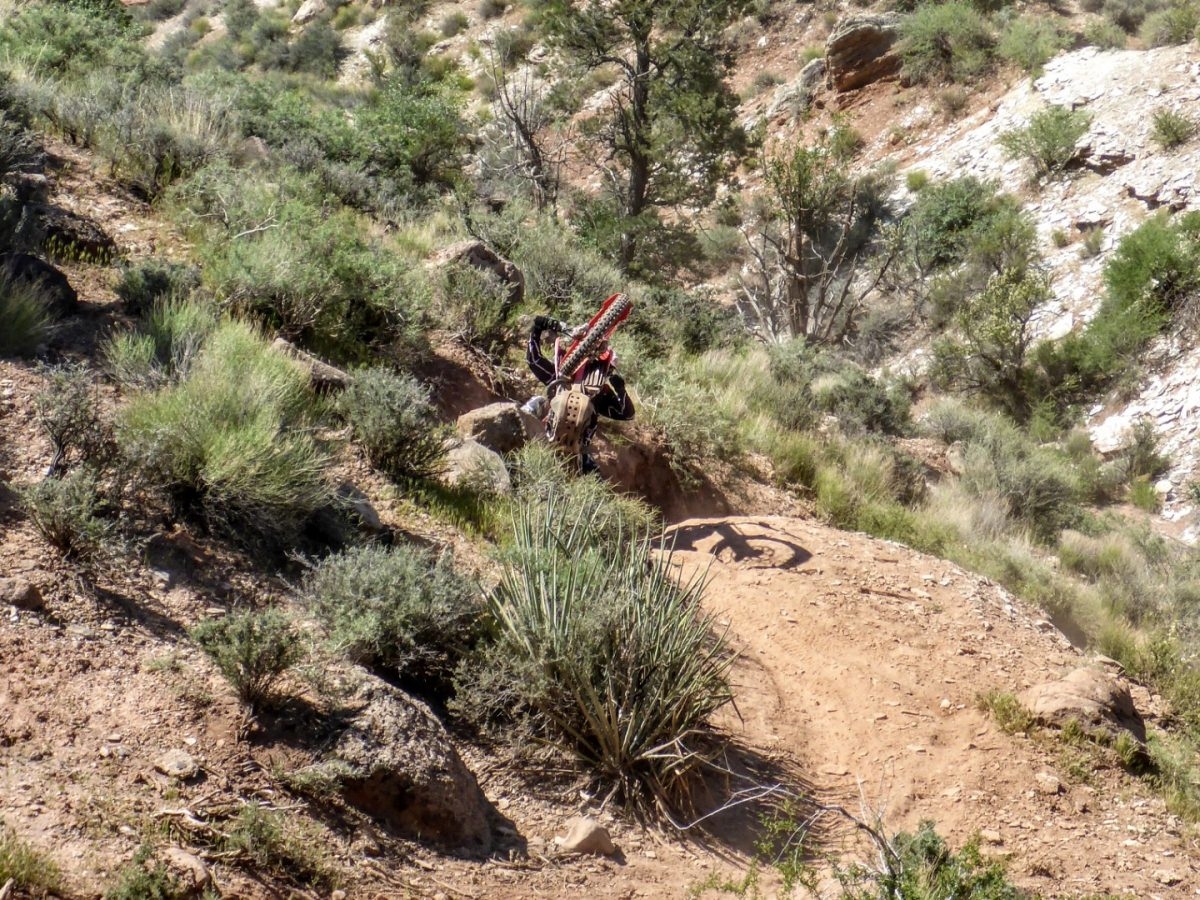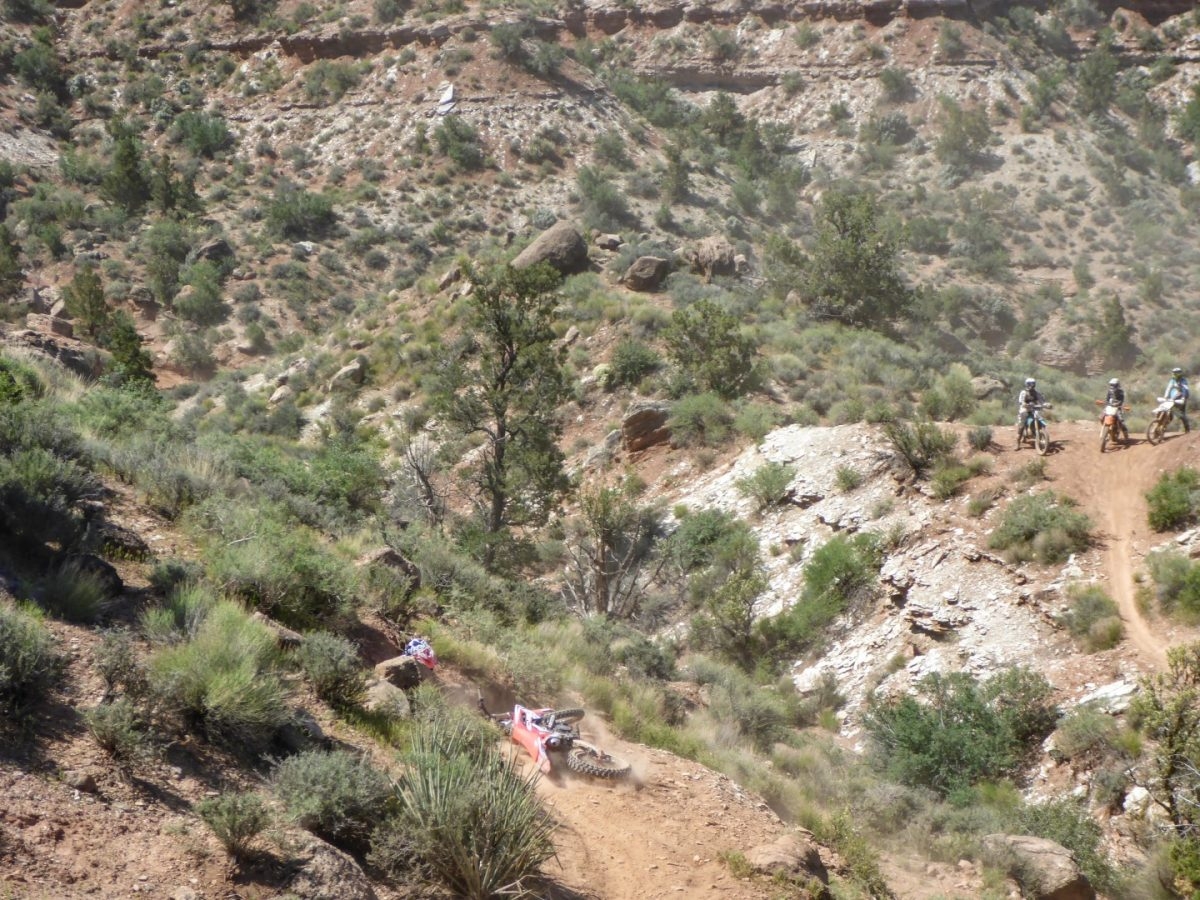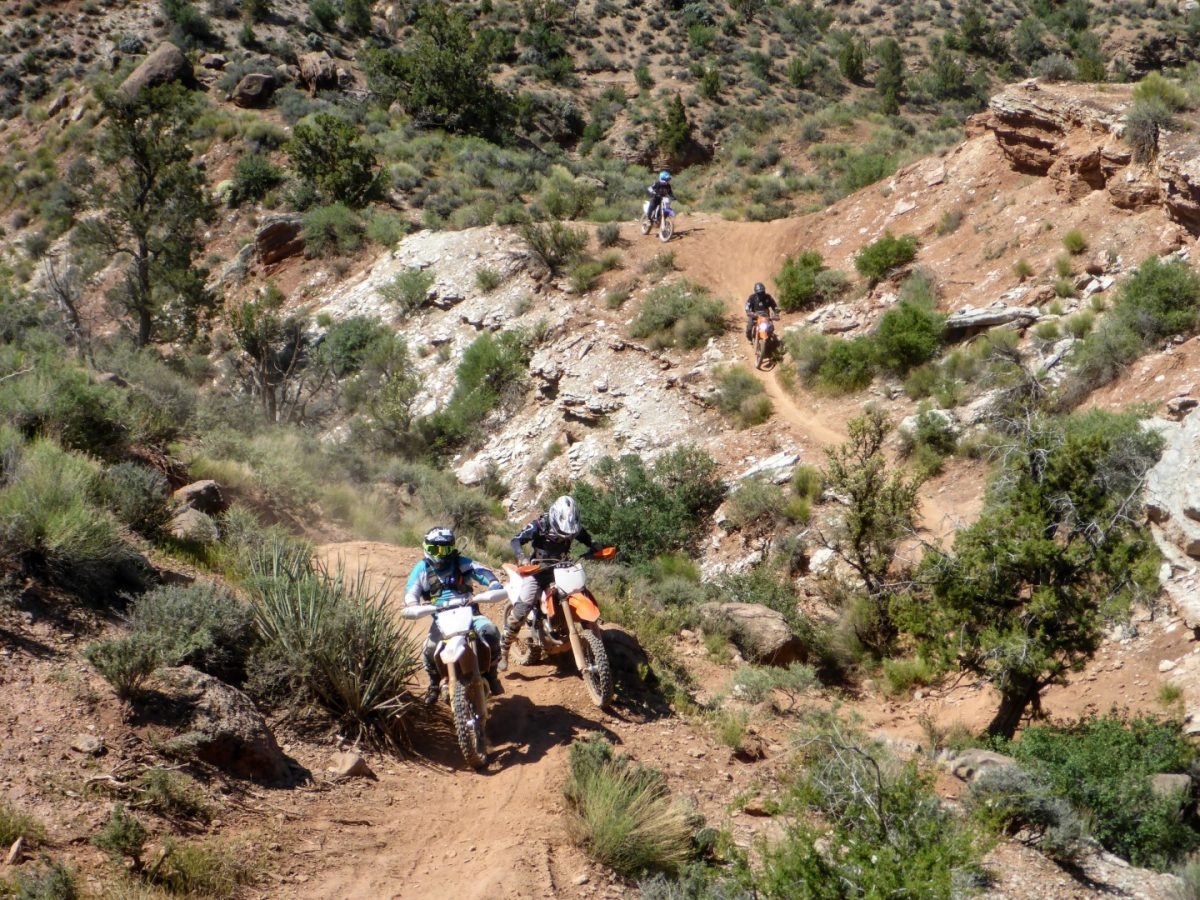 After zig-zagging our way up the canyon, it was time to descend. We dropped down to the river and made the one crossing that was required before arriving at the falls. The water level wasn't too bad so it was passable.
This little guy was "water crossing security". He was just hanging out in the back of a parked truck in the shade. He looked like he was having a good day.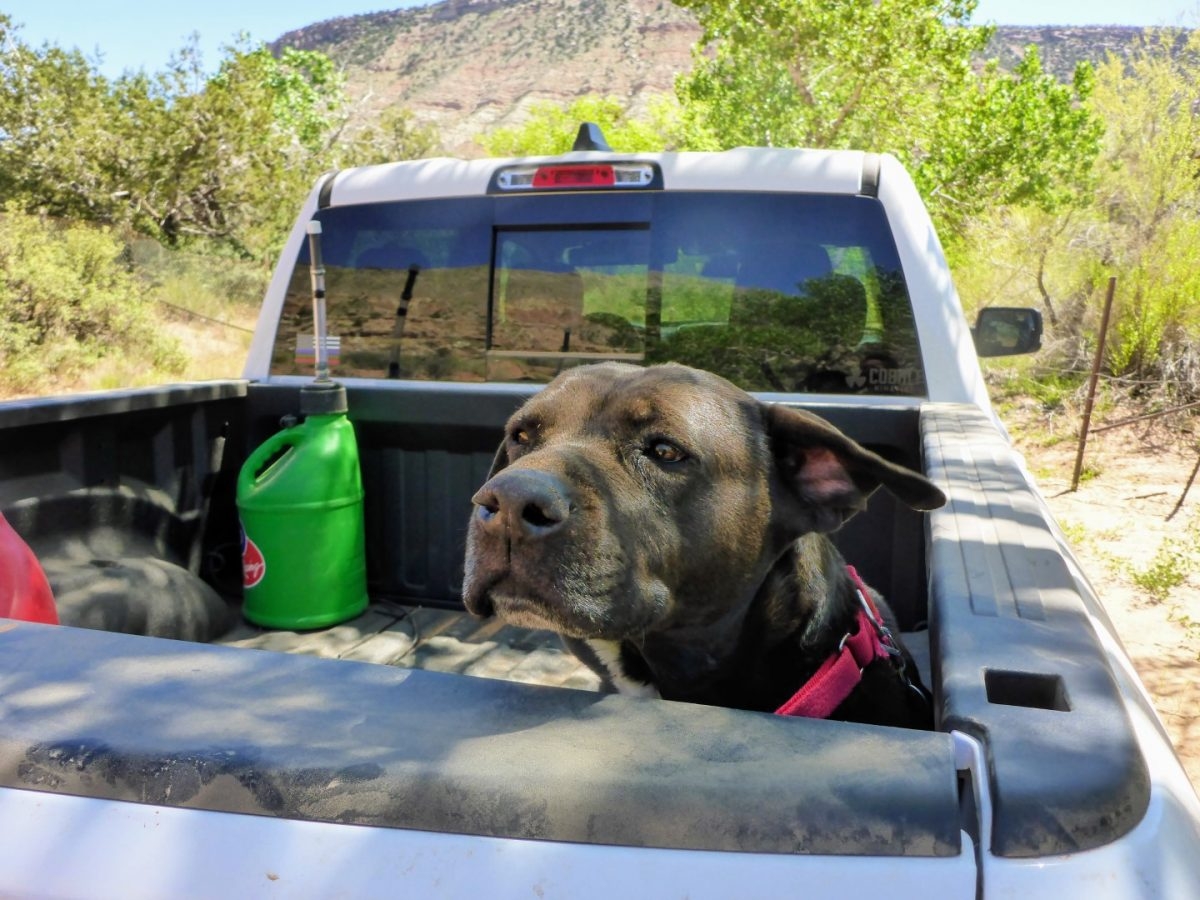 Toquerville Falls
The place was ridiculous! I have never seen so many people at the falls. We usually do this ride when it's a little cooler so I am guessing the 90+ degree weather (plus the COVID-19 shutdown) brought out more people than usual.
The Return Route- 27 Water Crossings
Last year the water was raging so we decided it was not wise to risk the "fun return route". The water was flowing pretty well this year, but it was substantially lower and looked doable so we went for it. The trail crosses over La Verkin Creek 27 times. Each crossing is completely unpredictable. There can be a huge hole, or a big rock, or it can be 5 inches of water with smooth dirt below. Nobody ever knows. You just have to enter expecting the worst.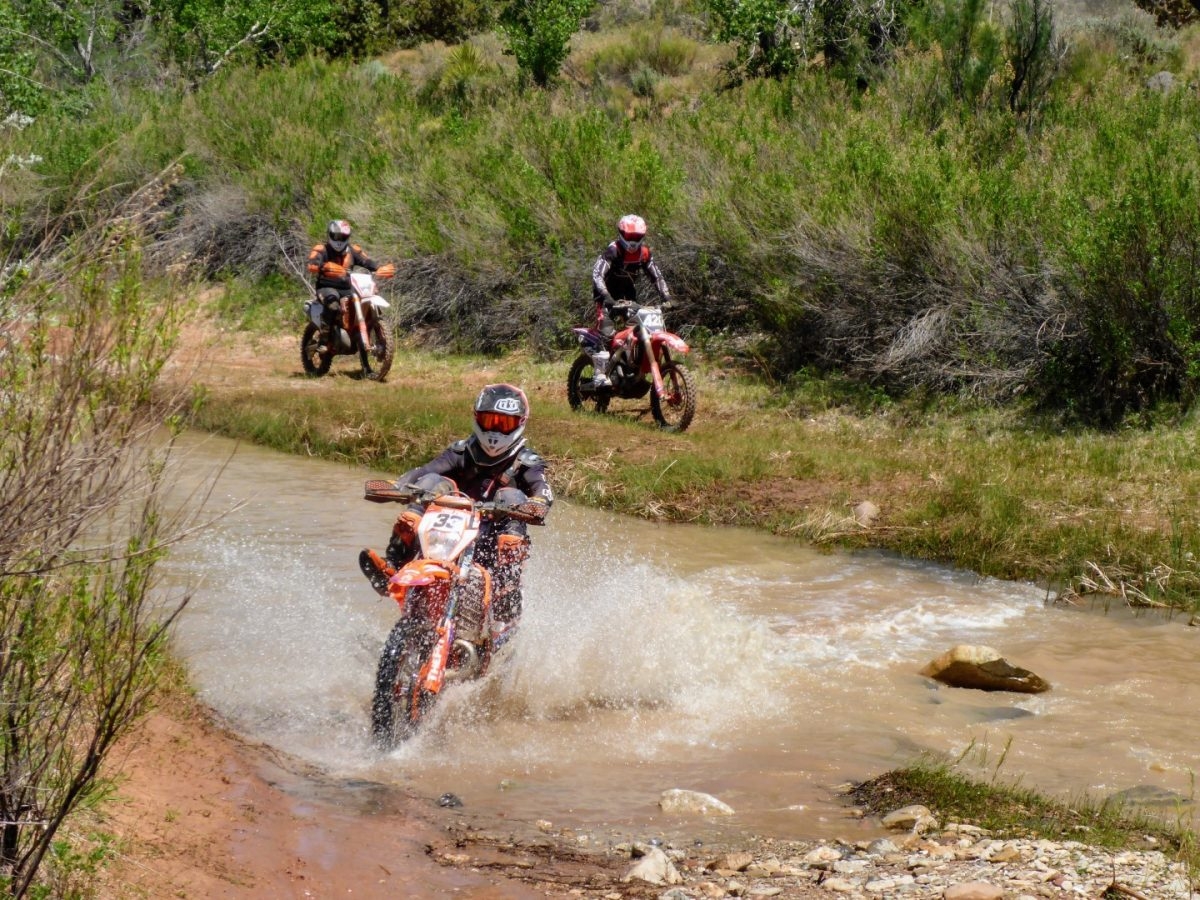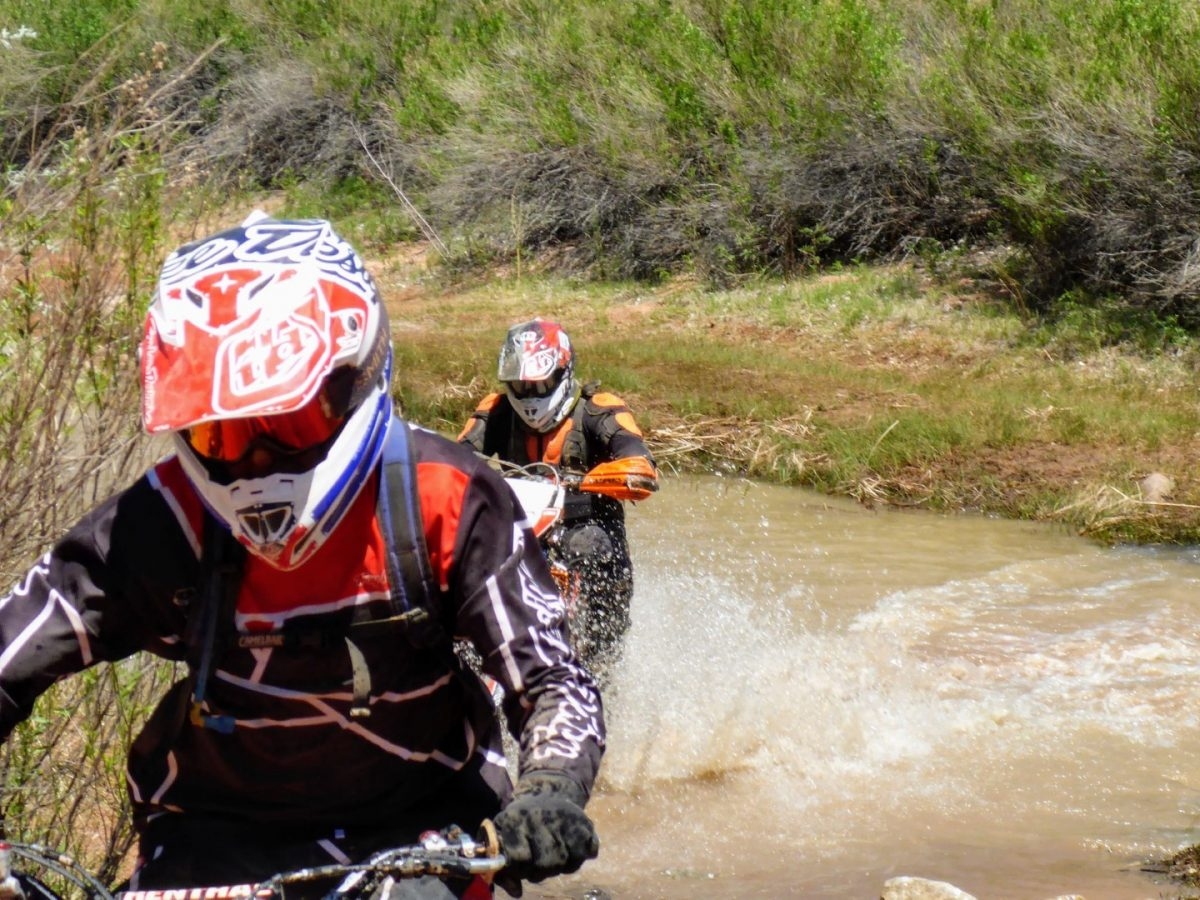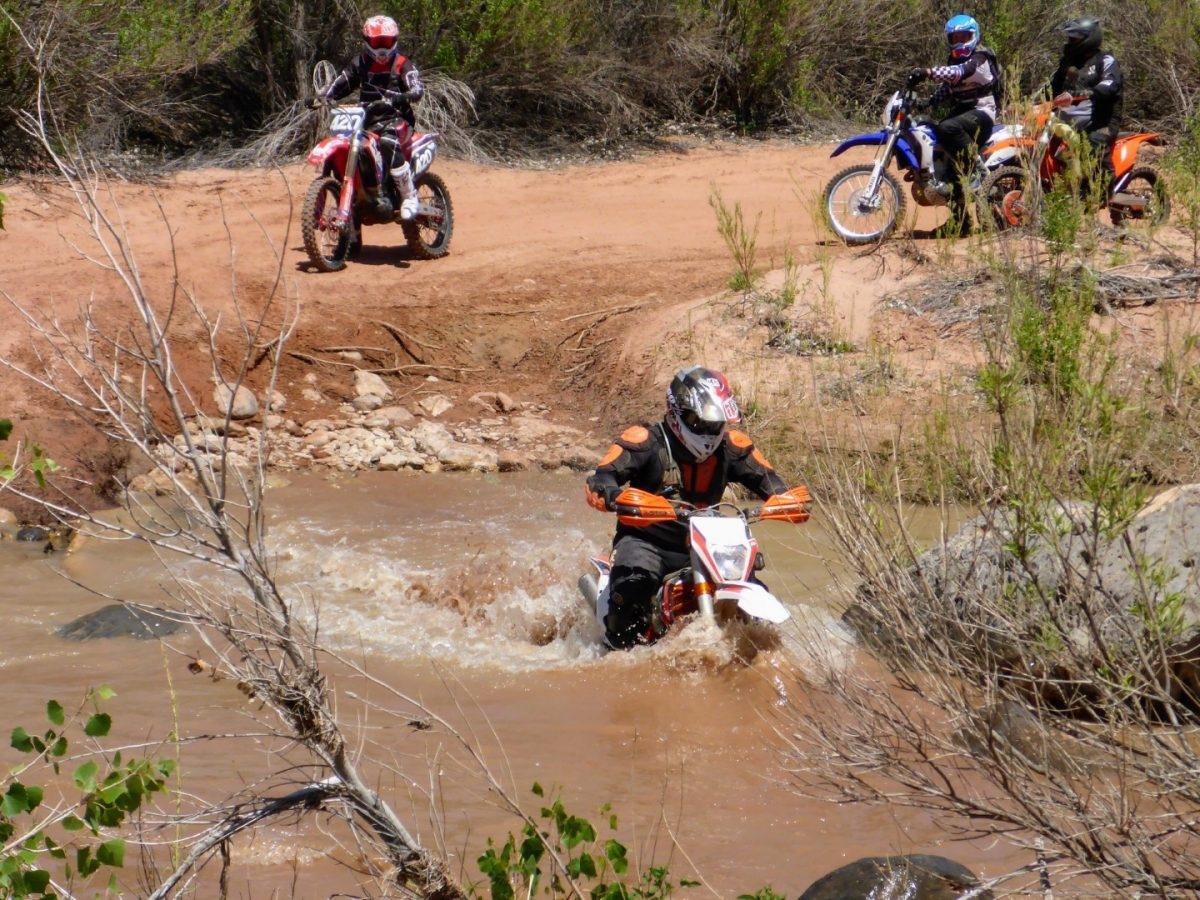 The first 10 or so crossings are all fun and games until you drop your bike in the water.
As soon as you drop your bike in the water you have to make sure you pick it up as soon as possible to prevent the engine from ingesting water, but you also want to keep it running. At the same time, you are exhausted and forced to do something you really can't do in the first place but faster than normal. lol One of the bikes fell over for literally seconds in the water and it locked up. This is a bueno situation. You better hope you can get it drained and running again because there is no bailout along this route. Luckily we flipped the bike over and were able to get it turning over after the water drained out.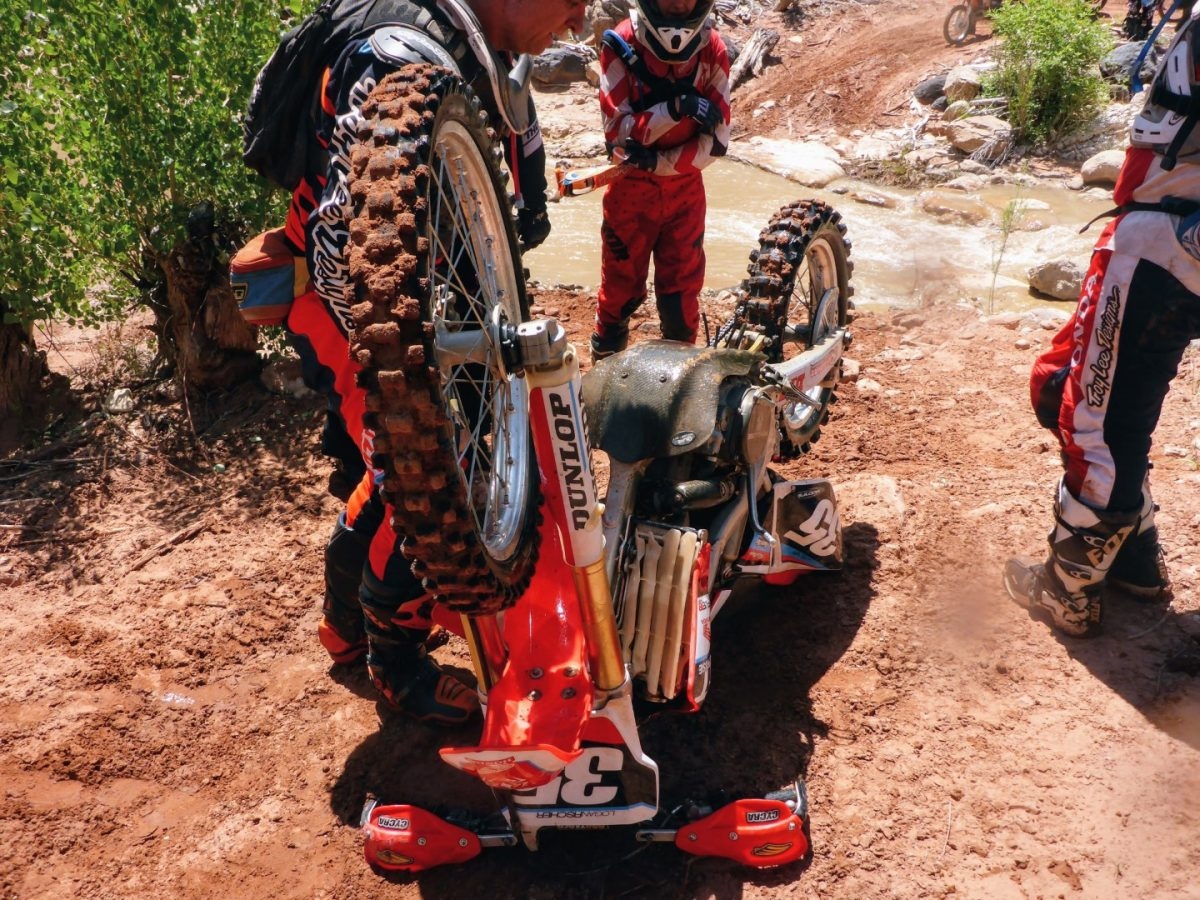 We were about at the halfway point. Some guys were running out of or low on drinking water. We were all gassed and exhausted. Some bikes were having trouble staying running. We kept pushing on though because there was no other option. lol As awful as things could have gotten, thankfully they didn't. This is the high we get from adventure, running that ragged edge of fun and adrenaline, or serious and day-ruining rescue missions.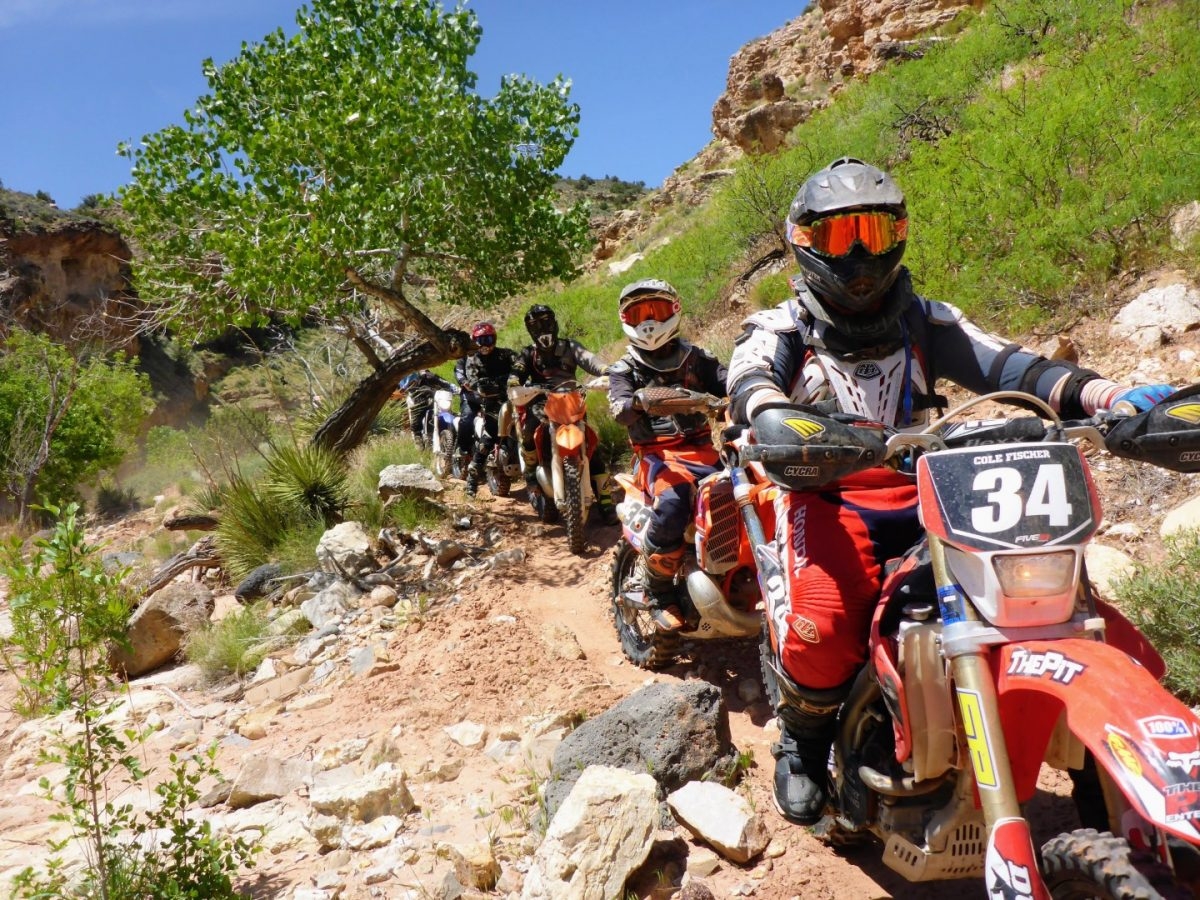 After the dreadful final water crossings were over, we climbed out of the canyon to the shooting range and took the same route back to camp. We cooled off again down at the river and I believe we were all in bed by 11 PM that night!
Sunday- Warner Valley
Well-known from the YouTube video, Cliffs of Insanity, Warner Valley has some insane cliffside trails and some killer singletrack. You just need to know where to find it. Although most of the guys in the group were not planning on any death-defying cliff trails, the techy singletrack is a really fun way to kill an afternoon. We did a desert loop to the south of where we parked. It consisted of some singletrack, but mostly washes and desert two-track. It wasn't what I was hoping, but riding is riding and I was still having fun. The biggest drawback with a group of 10+ riders is the dust. It wasn't as awesome for everyone behind me at faster desert speeds.
Back at the truck, we regrouped and headed to the singletrack that bordered the south end of the Sand Hollow Cliffs. We played around on some hill climbs, ripped through the singletrack, and rode all over that place.
Nick rode up the beginning part of the "Cliffs of Insanity" by himself without even knocking it. He rode up the first challenging section but decided it was too risky to proceed alone. We didn't see him until the end of the day after he came back down from the mountain.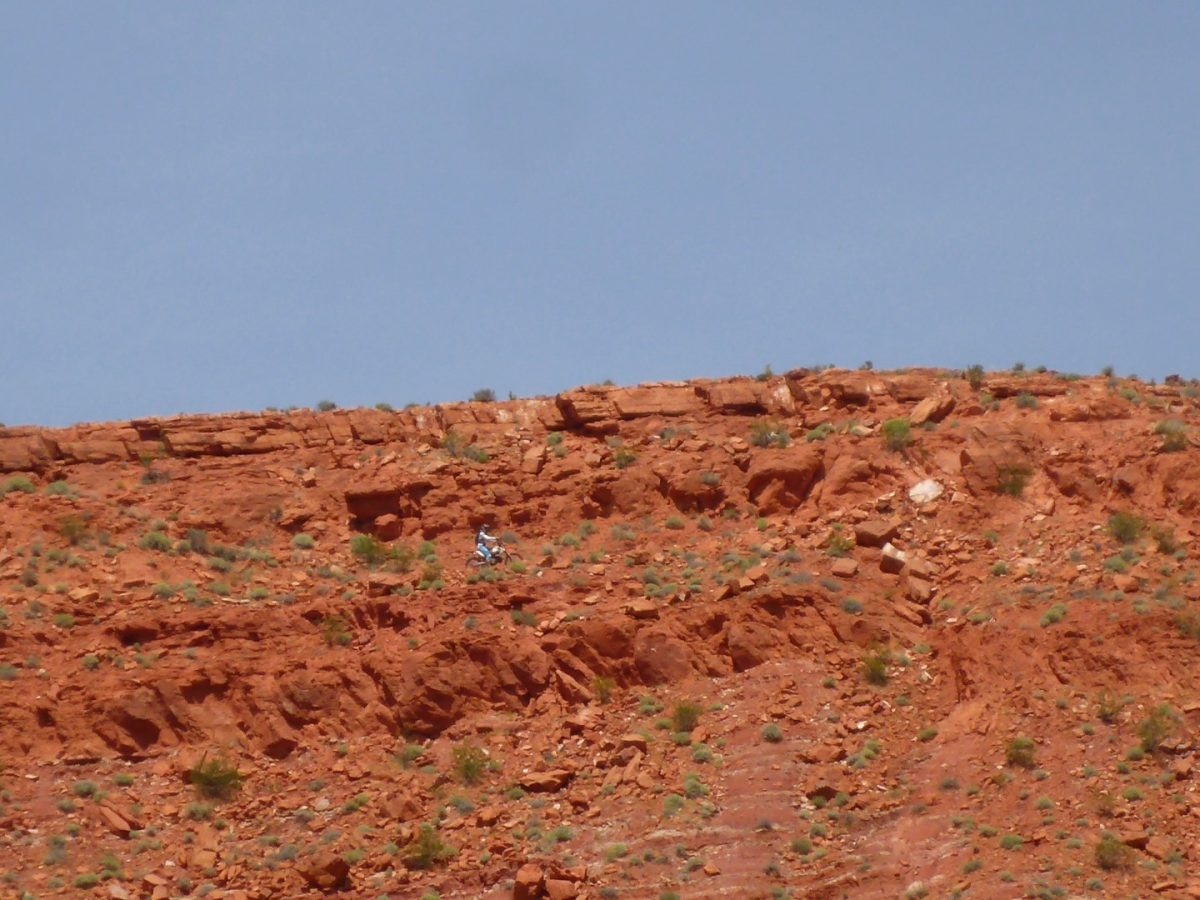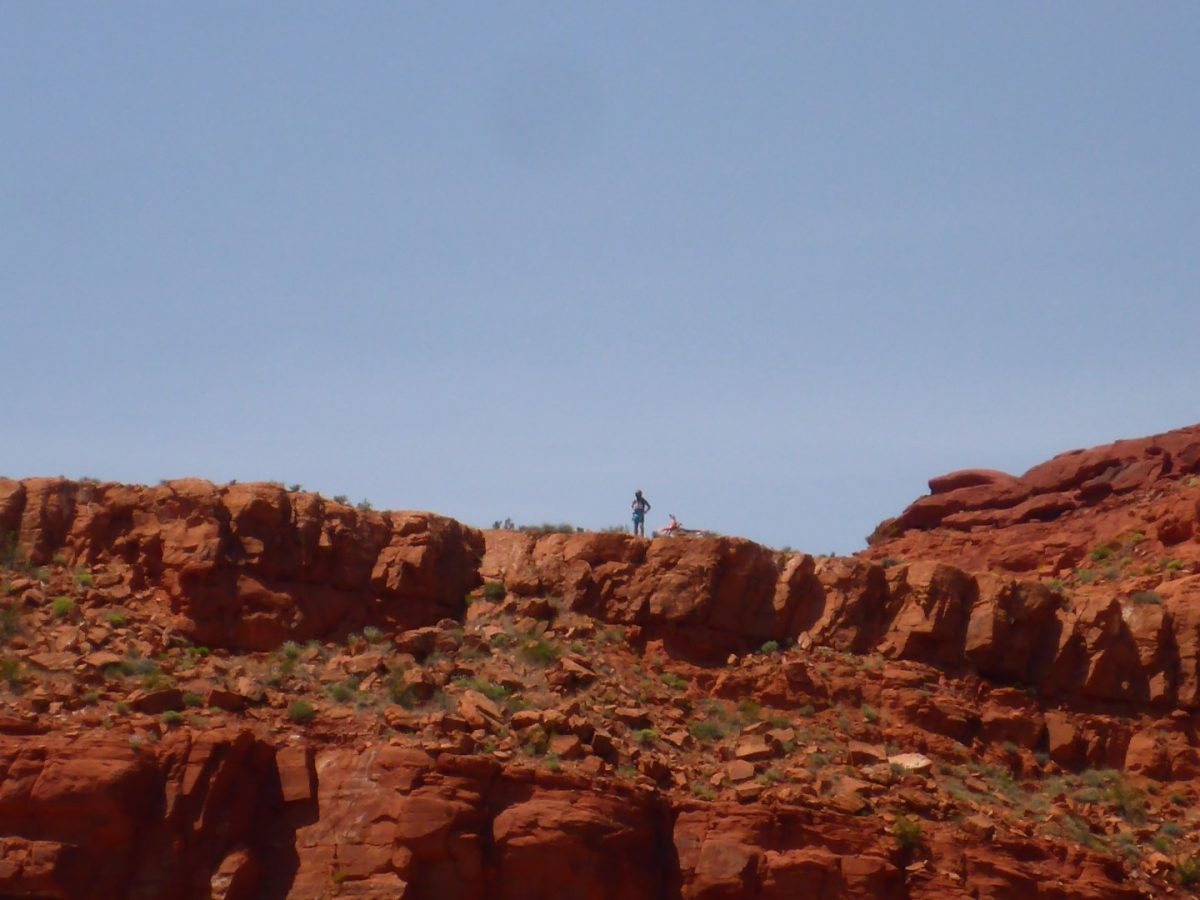 Warner Valley Hill Climbs Videos
View this post on Instagram
View this post on Instagram
Ride Report Wrap-Up
Overall we had a solid two days of riding that will surely remind us that we are all getting older as we head back to work. I waved goodbye to some locals on the way out and as sore as I was driving home, the memories and the ride were 100% worth it. Until next time, Utah! We had a blast!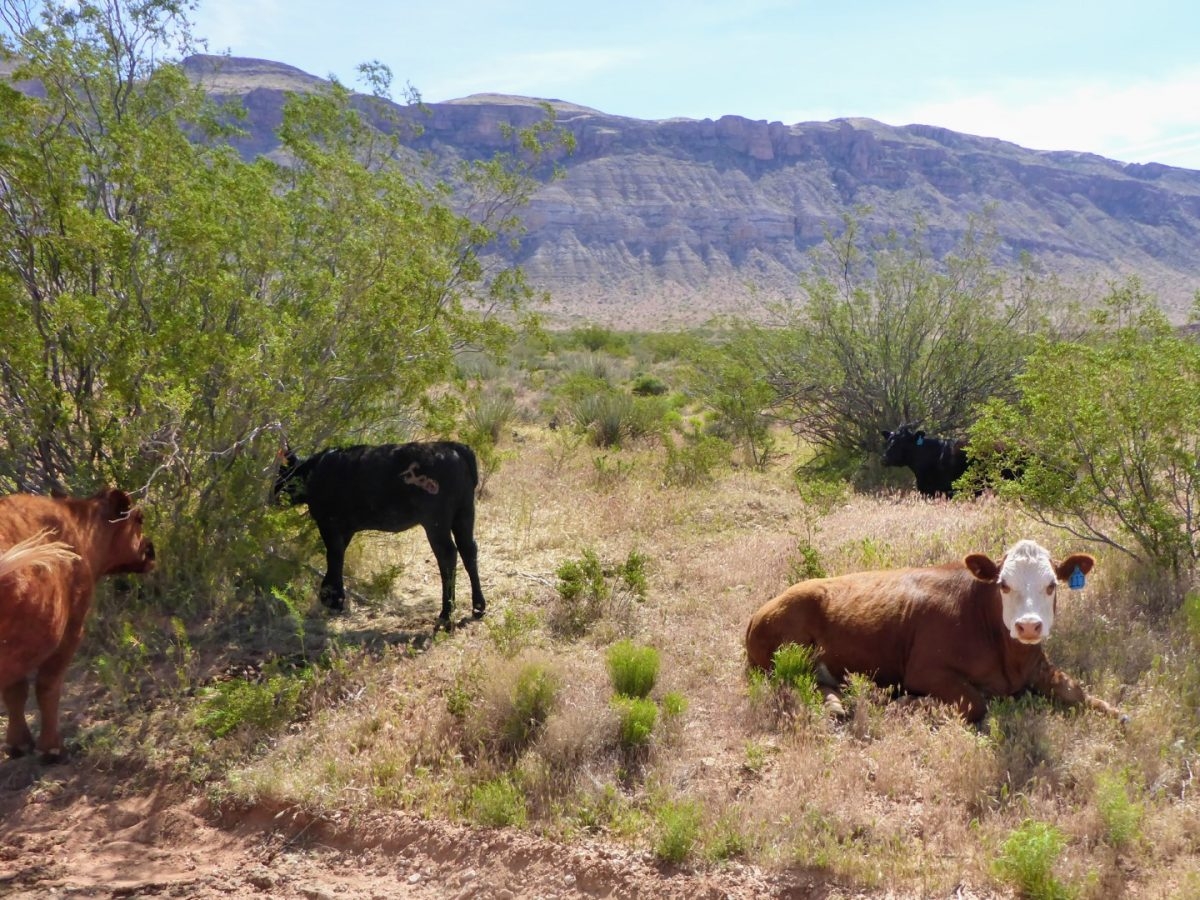 Additional Links/ Info
Toquerville Twister GPX tracks
Toquerville Twister Singletrack: A Utah Favorite

Comments
comments