Since it rained on Saturday, Mike B and I decided to take advantage of the prime dirt and weather conditions on Sunday and head out to find some singletrack near Primm. The Primm and Jean/ Roach area offers tons of trails and singletrack. You just have to look past those powerline roads to find them all.
We left Henderson Sunday morning and headed into Boulder City for some quick Micky D's breakfast. Mike was on his XR650L and I was on the 500EXC-F.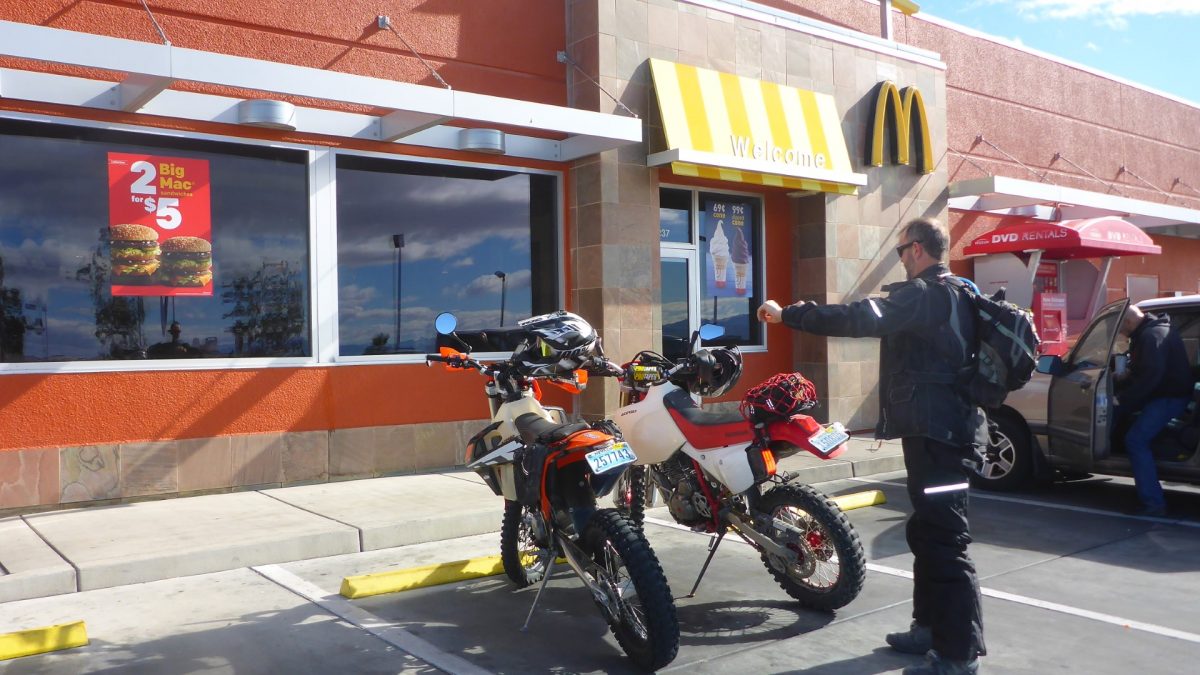 We set off across the desert and headed straight towards McCullough Pass. The powerline road in Eldorado Valley was as smooth as a babies ass, but the conditions quickly changed as we got closer to the pass. McCullough has never known to be smooth, but with all the increased side x side traffic lately, it is torn up like a damn race course out there. I couldn't find a smooth section of trail to save my life, so I opted to throttle ahead of Mike and ride in the dead center of the trail most of the time.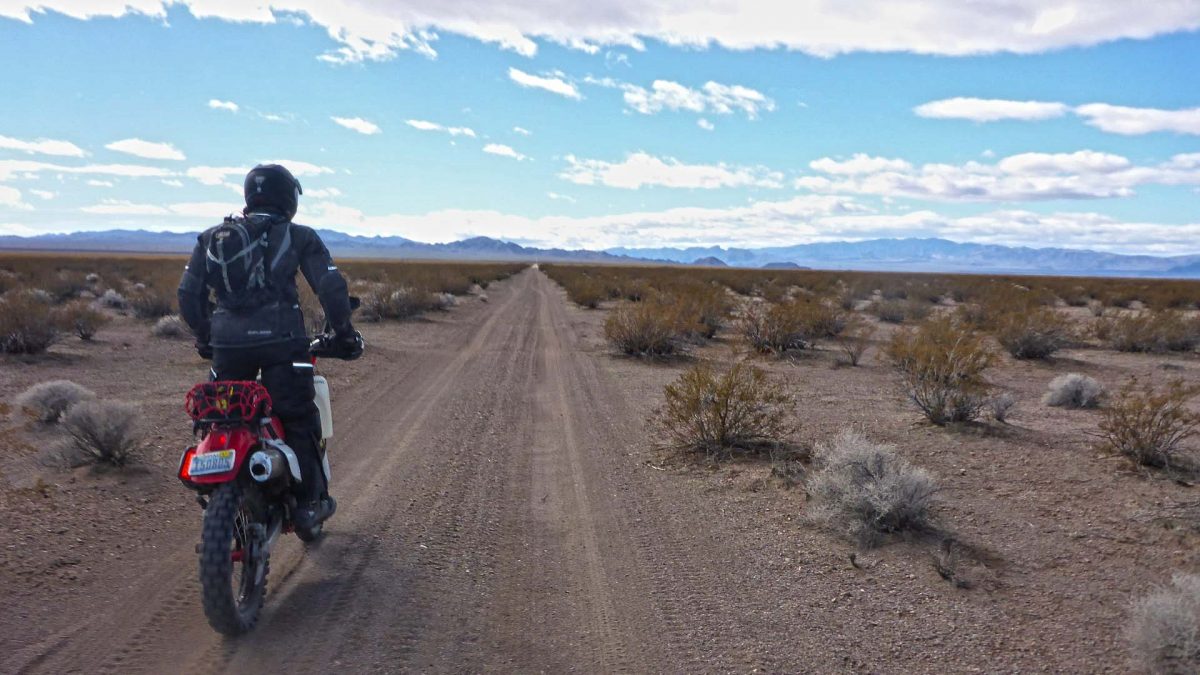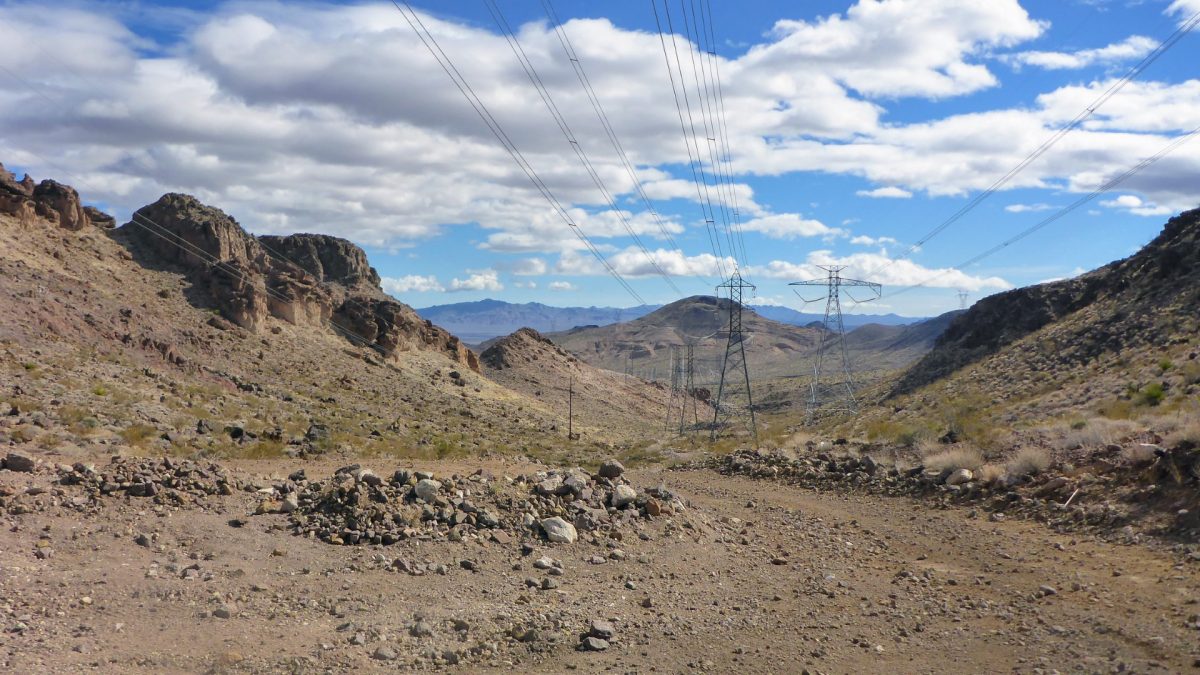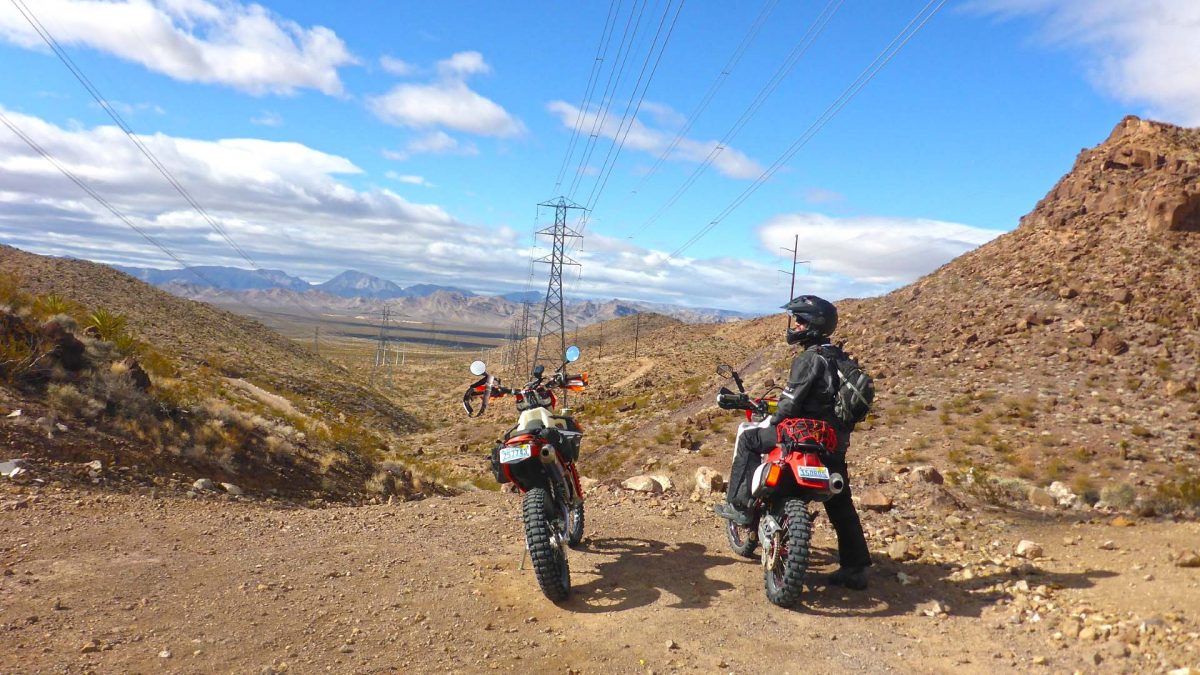 After a quick rip across the powerline road, we headed towards Beer Bootle Pass area. From this point on I can't even explain how we found the trails we did, but they were along the edge of the mountain and they winded all over the place. I felt like we somehow warped to Mt Charleston or something. In all my years of riding out there, I was surprised I had never ridden these trails before. None of them were marked as wilderness or restricted, plus we saw plenty of fresh tire marks from a group that obviously just ride through the area. The recent rain created some damp soil resulting in some really fun stuff. There was great traction even in the washes, which are known for being some of the loosest pea gravel known to man!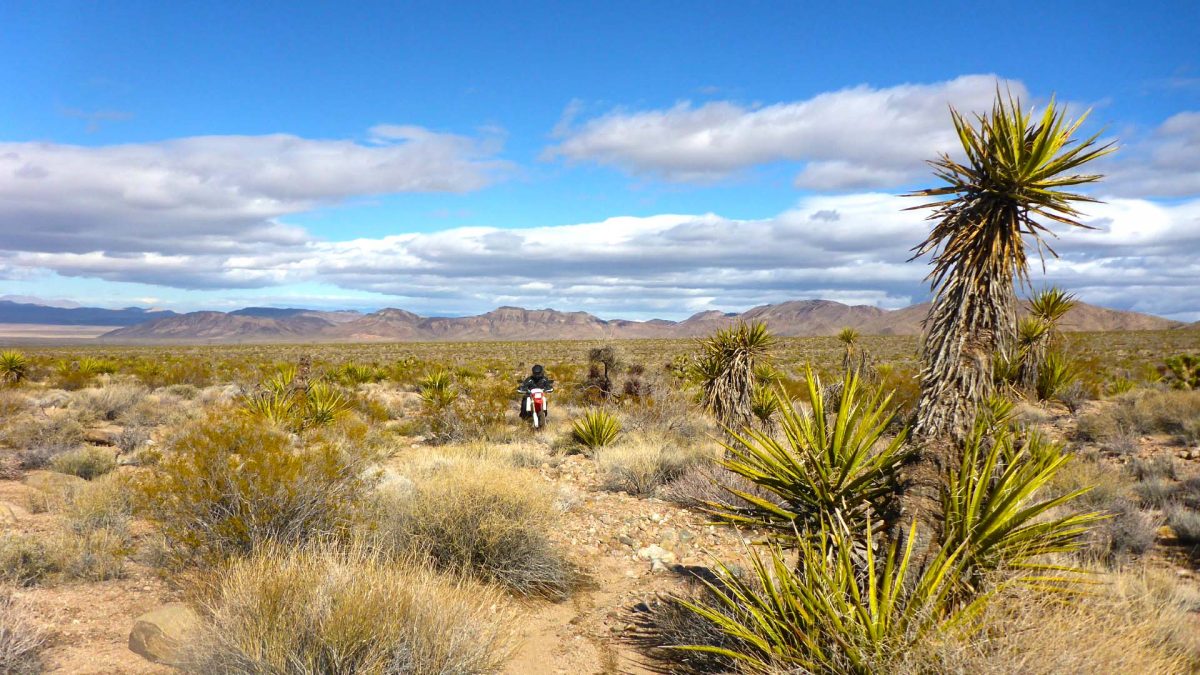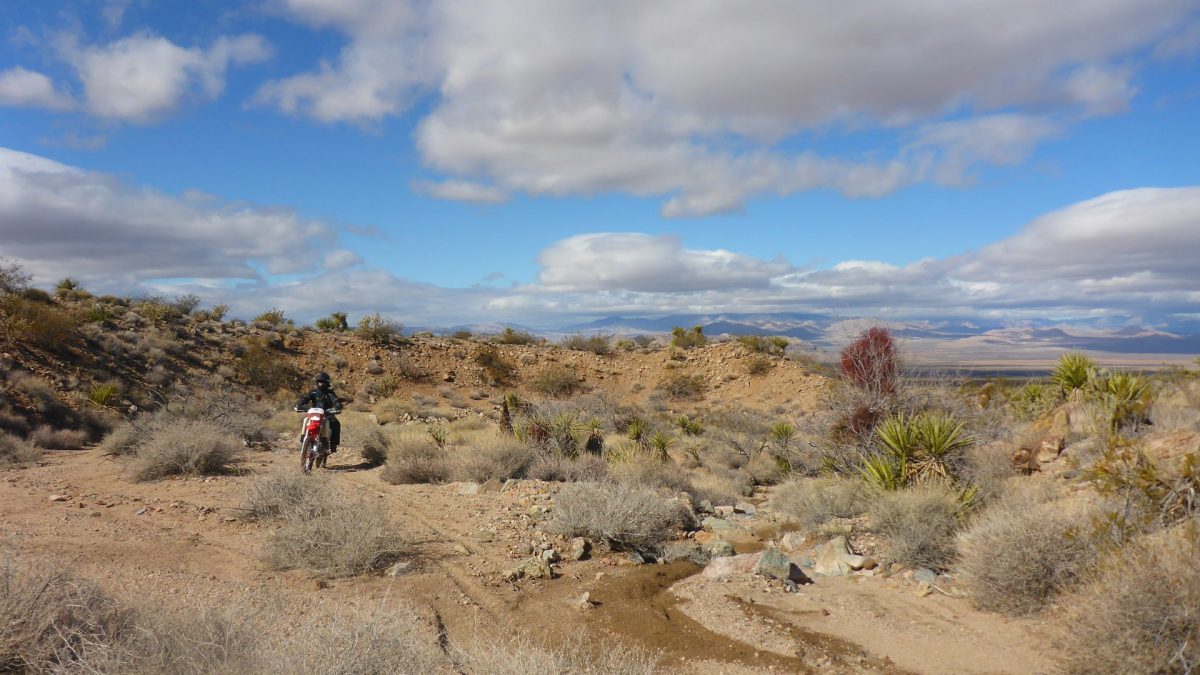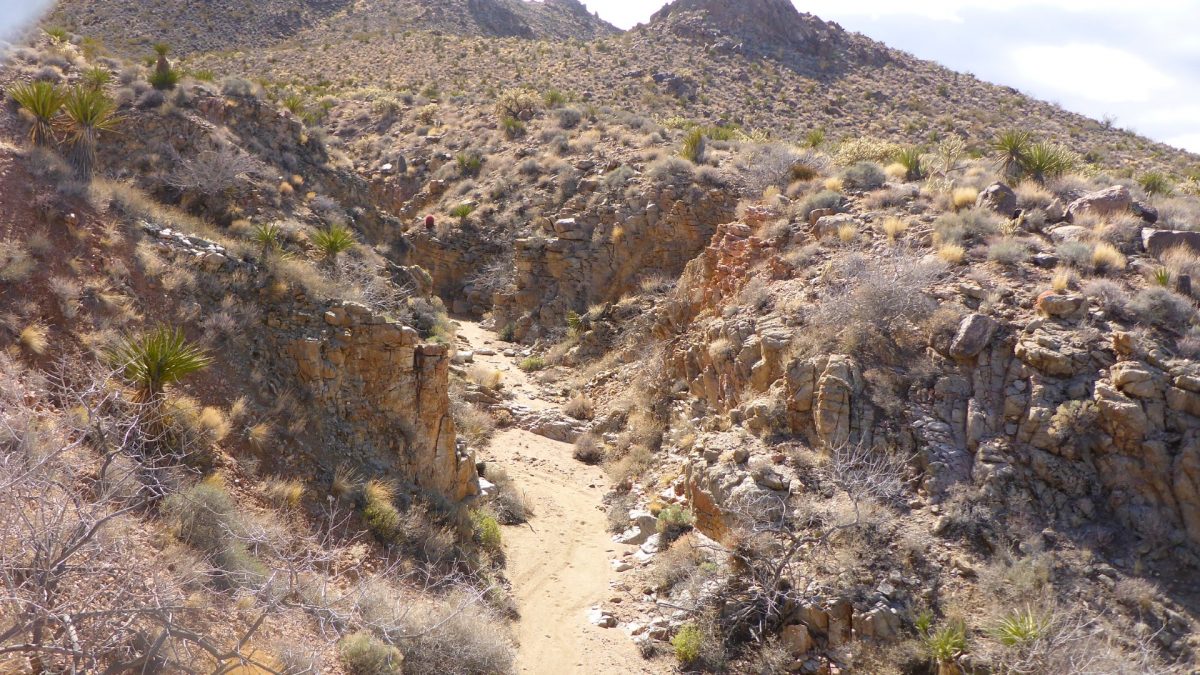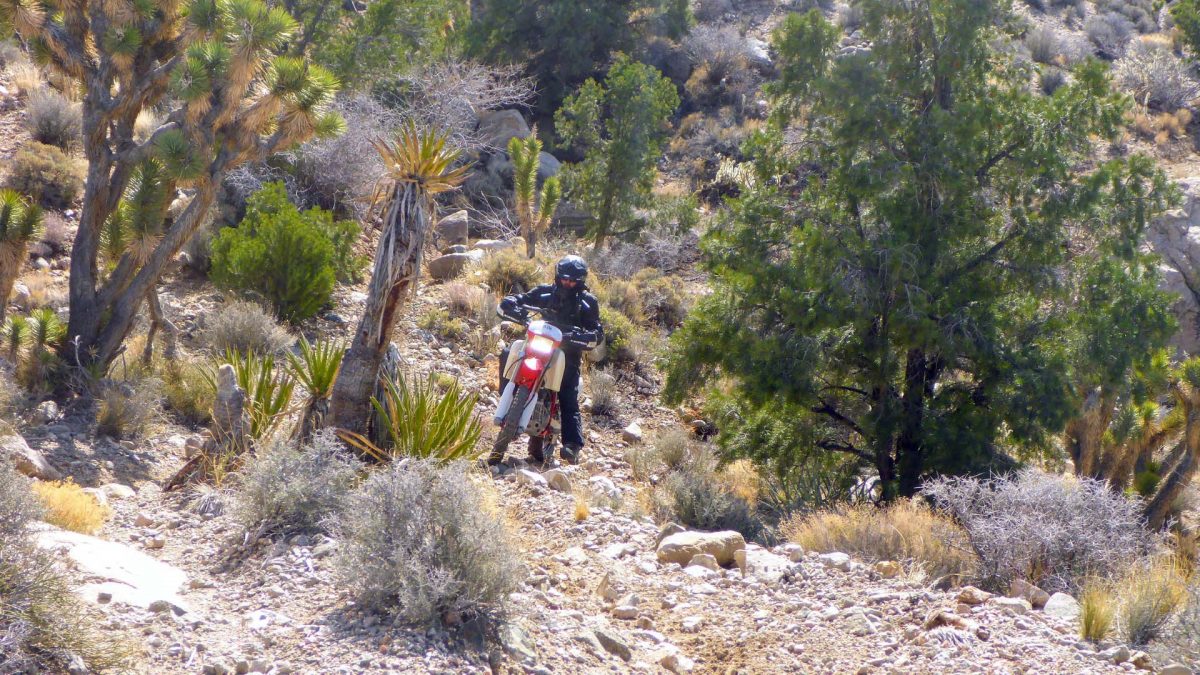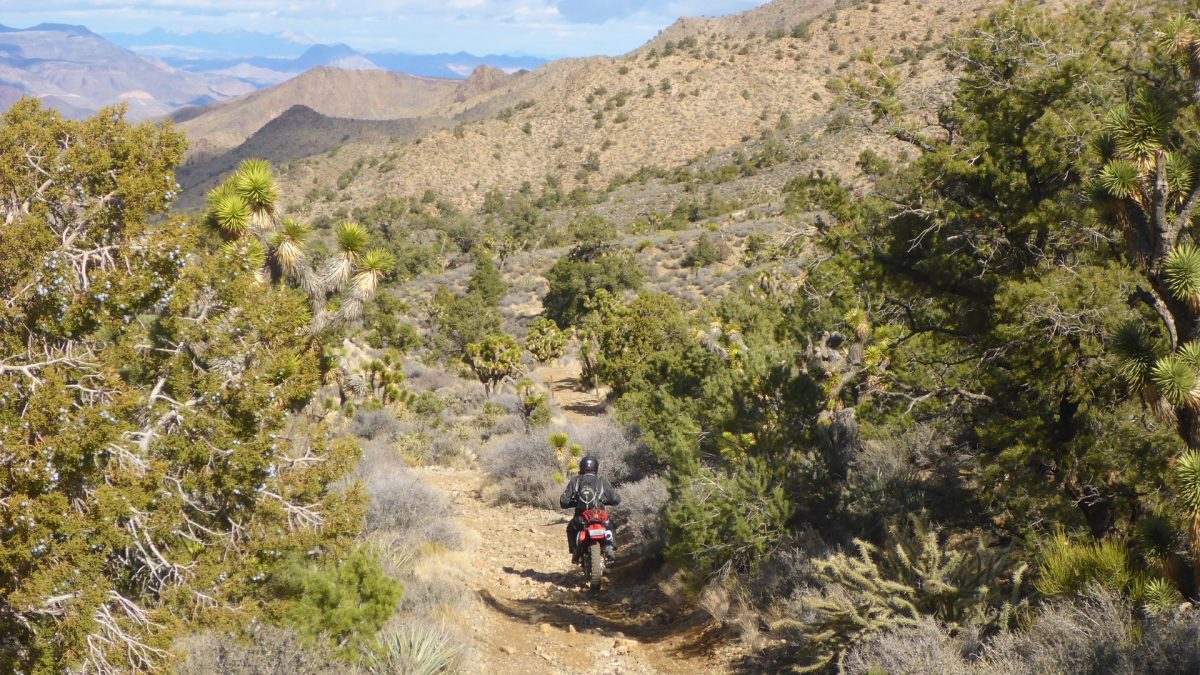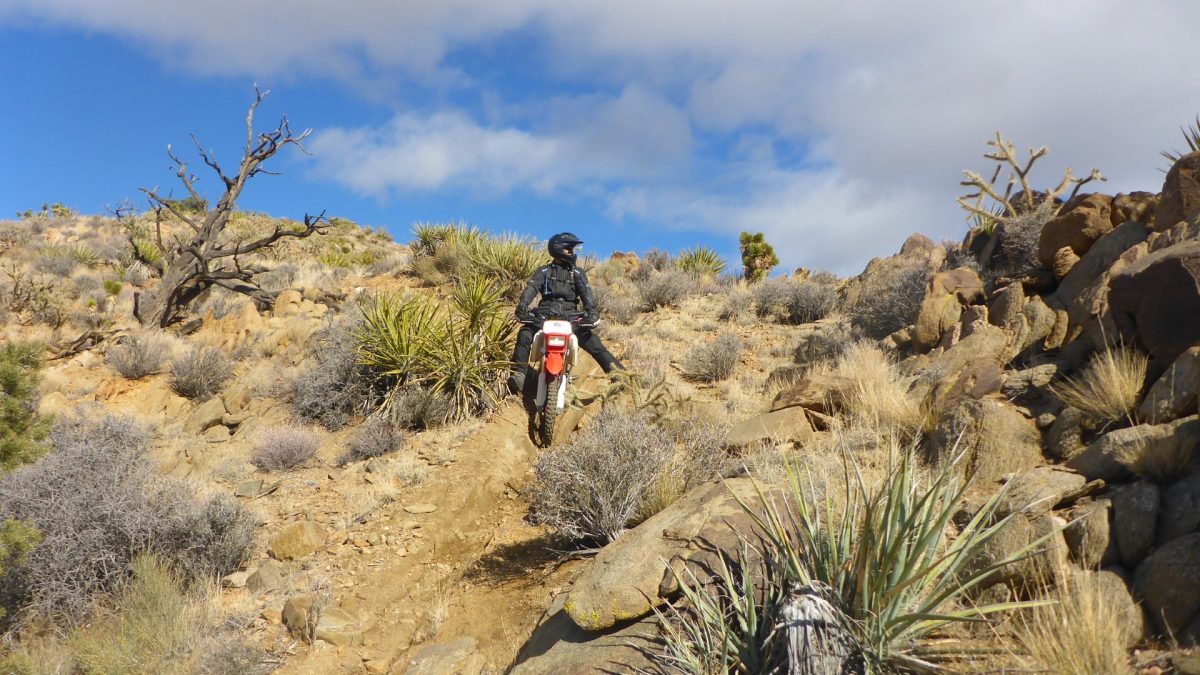 The weather that day was perfect, but the miles and miles of whoops and technical terrain had pushed us to ride so hard that we were soaked in sweat. Following the singletrack and wash trails across the desert, we made our way through a final section of tight and winding singletrack that was an uphill obstacle course of granite rock and loose pumice-type dirt. We finally made our way to the towers overlooking Primm. Again, we were soaked in sweat. The strong winds on that peak cooled us down in literally seconds. I snapped a couple of pics of the solar farms and by that time we were already freezing. We quickly chatted about our route out of there, looking at a less than traveled and faint singletrack down the side of the mountain, but then decided it didn't go anywhere and opted for the road. Although I was exhausted, I still couldn't get enough. I had tracks on my GPS for singletrack that dropped down off the side of that access road, therefore I took them! It was more miles of whooped out, rocky and winding fun and it was so worth it!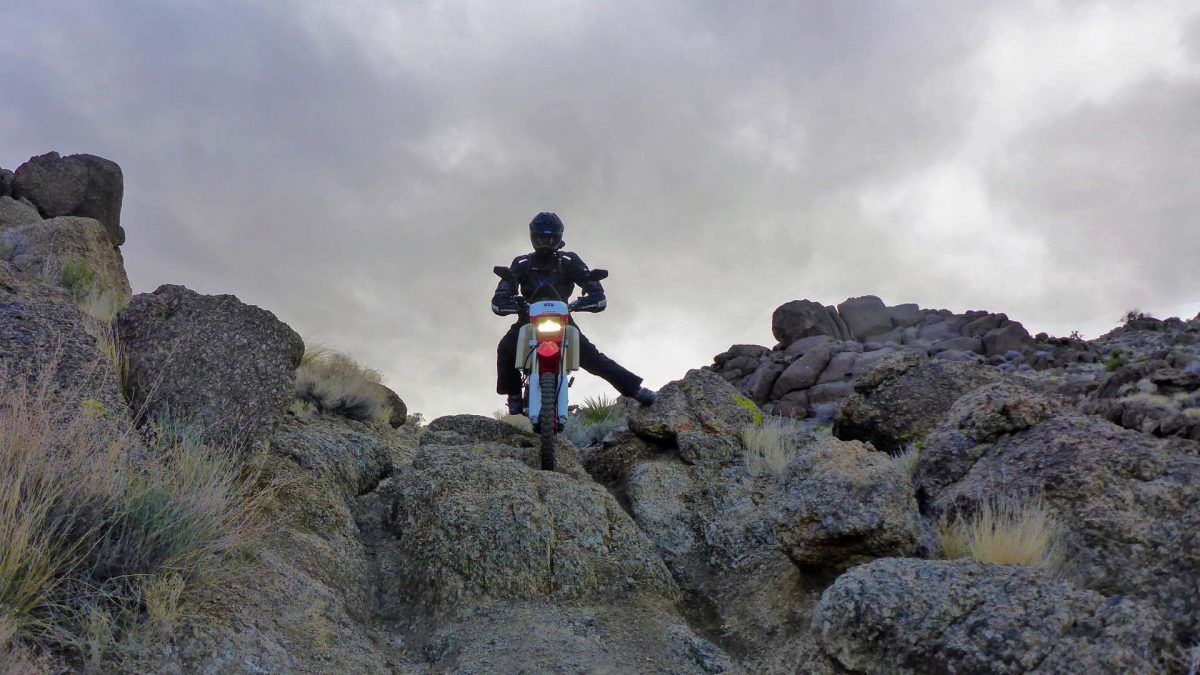 The trail hugged the mountain in that area for miles and then popped us out near the Jean-Roach dry lake bed area. We blasted across the desert down another whooped out trail, bailed out in a smoother-looking wash, then high-tailed it to the dry lake bed. Some parts were super muddy, but it was rideable for the most part. I took advantage of the cloudy skies and great lighting for a shot of my 500.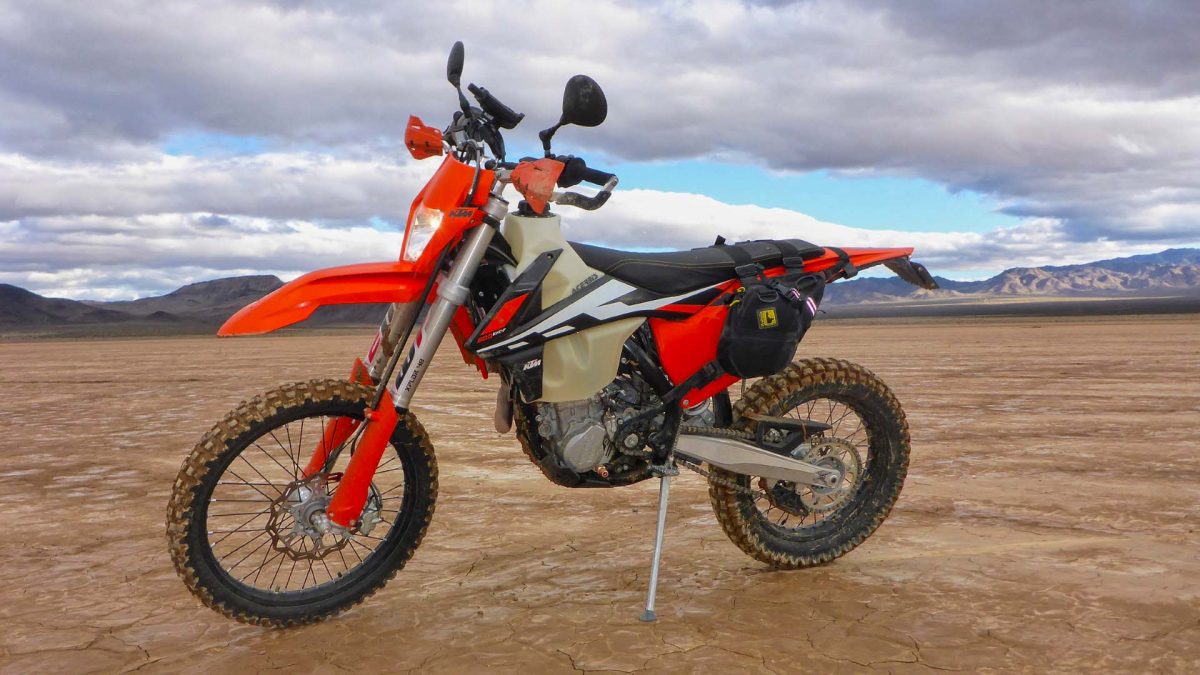 Just as the day was going so well and I was so surprised neither one of us got a flat after everything we just pushed our bikes through, I noticed my bike was crazy loose when I throttled on the highway. Of course, the dry lake bed claimed my rear tube. Why do people have to bring nails out there???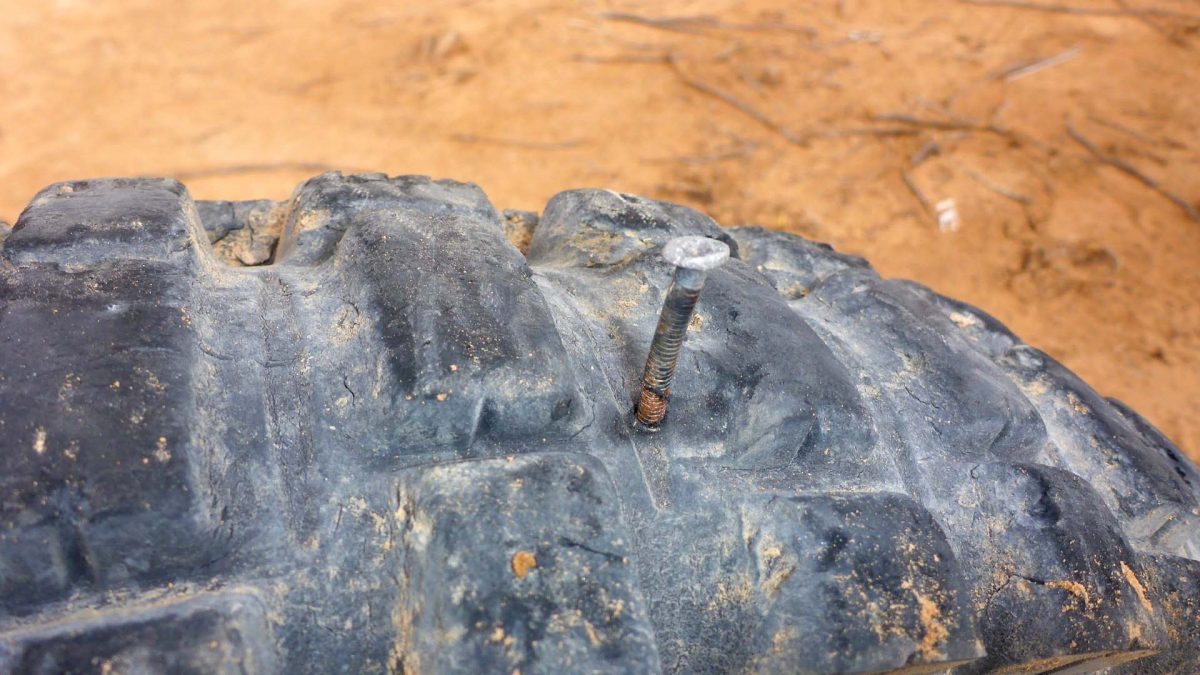 The repair wasn't an issue other than I just didn't feel like changing out a tube and I was ready for lunch and a beer. I rode it out for a while then stopped off at the Seven Magic Mountains to swap it out. We had it handled in no time plus had some laughs and people watched as the swarms of tourists came through to witness the large painted rocks.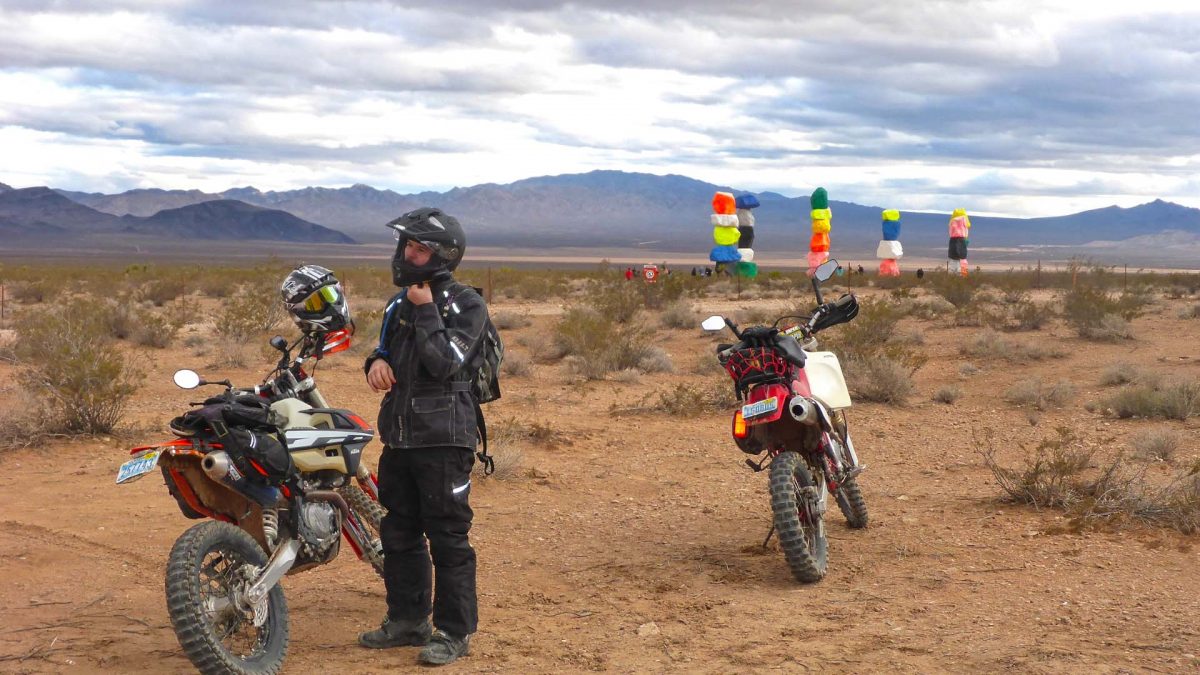 Home safe and without any major issues, the 500 EXC-F once again put a permagrin on my face. This bike is incredible. The 690 has far from been replaced, but this is now my go-to bike for singletrack and local rides. I am focusing on making the 690 an even longer distance, adventure-friendly bike soon. As for the 500, the only things I need to change are the fuel tank and respring it. The Acerbis 4.5 is more than I need plus it bruises my knees in the tight stuff and the bike is a little under sprung for my weight, therefore stiffer suspension is needed.
After a nice hot shower, I met up with Mike to grub. Cold beer, pepperoni pizza, and hot wings! How much better could a day get?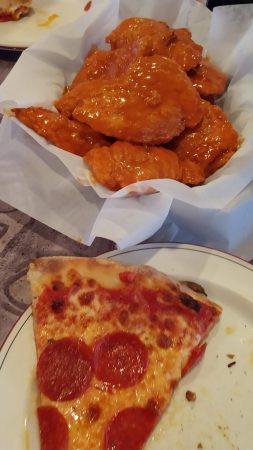 Sorry, no tracks for this ride. If you want to check out these trails, I'll just have to show you one day so hit me up or catch me out in the desert!
Thanks for following! 
Comments
comments