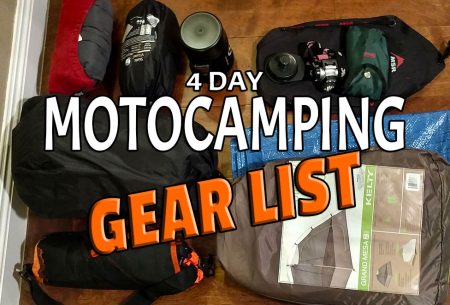 Packing for a moto-camping trip can be a little challenging if it's your first time. I continue to refine my list of essentials every trip by learning to minimize my load. I find out what I can't go without and what I can leave at home. The key to packing for a multi-day adventure is to go light! I can't stress that enough. You don't want to overload your bike but you want to be comfortable. Another thing to keep in mind is the time it takes to unpack, set up, and repack your stuff on your bike. You don't want to waste valuable minutes (or hours) of the day fumbling with your gear, trying to get it all crammed back in your bags.
Clothing, Toiletries & Meals
(click photo for labels)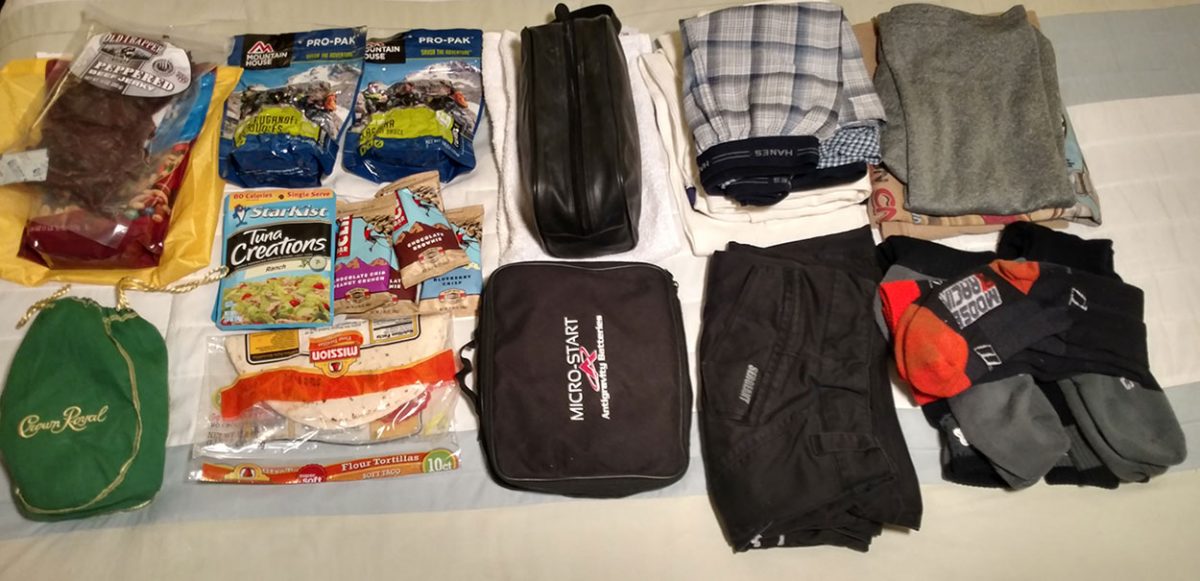 If you are spending 4 days living off your bike, you're going to want to bring a few things other than the riding gear you'll be wearing. On the other hand, you don't need a full change of clothes for every day.
Underwear
I've learned that compression riding shorts are the best underwear for riding. They wick moisture, prevent chaffing, and pack very light. I pack 2 pairs (plus the pair I'm wearing) for a 4-day trip.
Socks
Nothing feels better than a clean pair of socks, therefore I try to bring a pair for every day I will be riding. Since some riding socks don't pack small, you can save space by bringing fewer pair if you have access to a stream or sink where you can wash the pair you aren't wearing.
T-shirts
Realistically, you only need the shirt you are wearing plus one more. One shirt is easily good for two days. I found that activewear shirts like Under Armor work best. Stay away from cotton.
Thermals
The easiest and lightest way to stay warm at night or on the trail is with thermals. I rarely ever need them while riding because my jacket and pants are warm enough, but once you take those off at night you want something to wear to bed. Thermals aren't too bulky and they do a good job of protecting you from cold. Stay away from big hoodies or sweatshirts. They take up way too much space. If you need more warmth at night, you can always put your riding jacket on. I even wore mine to bed in Colorado once. It helped me get to sleep and stay warm.
Shorts
You're going to want to get out of those riding pants that you've been in all day long at some point. Bring a pair of quick dry shorts to change into. I say quick dry because you never know if you're going to take a dip in a stream or lake. Don't bother bringing pants unless you have a very light pair that pack small. Even if it's a little chilly, shorts are usually fine, especially around a campfire.
Sandals
The last thing you want on your feet after a full day on the bike is riding boots! It feels amazing to pull them off and slip on a pair of flip-flops. They also work well for bathing if you walk down into a river or stream. Rocks can hurt your bare feet and you don't want to be the guy walking down there in your boots and underwear. Flip flops can always be clipped on the outside of your bags with carabiners.
Hat
It's optional but it's nice to keep the sun off your head or to cover up that helmet hair when going into cafes.
Toiletries
A small bag containing travel sized deodorant, soap, toothpaste, toothbrush, etc is the best way to pack those items. In this bag, I also pack things like tweezers, nail clippers, earplugs for sleeping better, wet wipes, etc. It's the bag I put in my tent and bring with me to wash up at night and in the morning.
Small Towel
A towel that packs small is nice to dry off after washing your face or bathing.
Portable Power
I use an Antigravity Micro-start Pack but I have bought and used a much cheaper knockoff brand and it works just as good. It can jump start my bike and usually recharge my phone and Go-Pro several times. I try not to rely on it and bring lots of spare GoPro & camera batteries, but it's nice to have as a backup.
Food & Snacks
I like to have a backup meal for every night and a Cliff Bar each morning with my coffee. We usually try to hit a place for lunch and possibly dinner before we find a camp for the night, but it's nice to know you have food if you don't find something. I bring a small dry bag as an option to load ice or food into at a store close to camp. Then I just clip it to the front of my tail bag. Tuna is a good protein source and packs small and without refrigeration. Bring a couple tortillas for extra filler and you have yourself a tuna wrap. As for other meals, the backpacking meals work great.
Whiskey
Ok, this one does not pack light or small, but a bottle of Crown is one of those nighttime campfire necessities!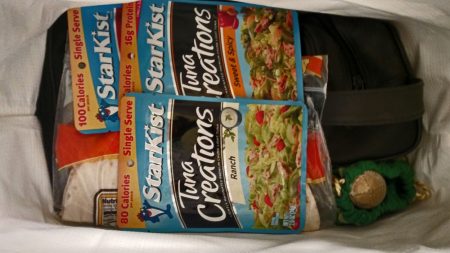 Camping Gear
(click photo for labels)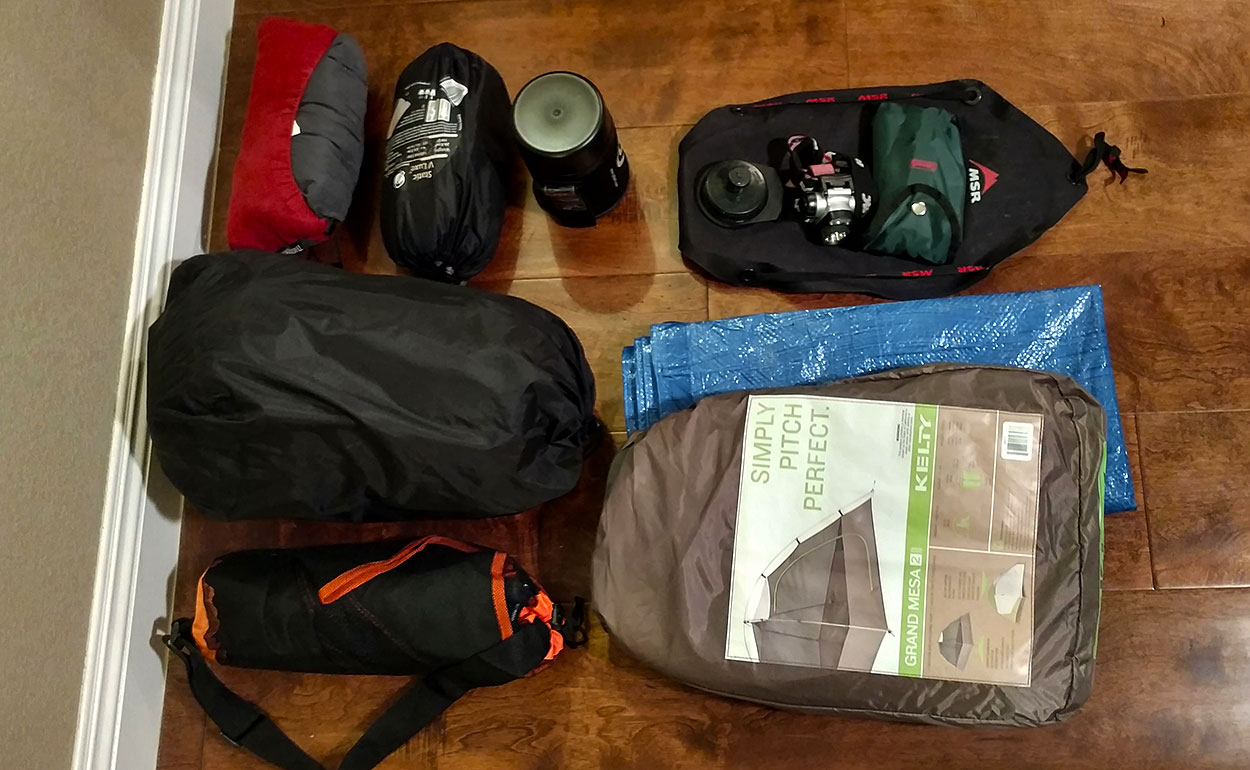 Tent
I use a Kelty Grand Mesa 2
. I like the fact that it comes with a large bag, but packs small and light (4lbs 12oz). It sets up very easily and has plenty of room for one plus some gear.
Tarp
I bring one to put under my tent as a bug and moisture barrier. Kelty makes a footprint
for my tent though that I plan on buying soon.
Sleeping bag
I use a North Face 20° mummy bag. I've learned that you should always go 20 degrees colder when shopping for a tent. This bag is comfortable to about 40 degrees. It works great.
Sleeping Pad
A sleeping pad does 2 things. It provides that extra cush to keep you comfortable and it also insulated you from the ground. I have a Klymit Static V Luxe sleeping pad
. It's not self-inflating like some, but it inflates in about 20-30 big breaths. I like that it is very large (76″x30″) yet packs super small. It only weighs 26.5 ounces.
Pillow
You can always use a rolled up shirt as a pillow, but a Therm-a-Rest Compressible Pillow packs small and helps you get a good night's rest.
Jetboil Stove
I bring a Jetboil Zip Stove with me for boiling water and making coffee. You can go with the cheapy $20 camp stove that attaches to the fuel cans, but they take a little longer and don't work as well in the wind. I love my Jetboil.
Dromedary Bag
I've brought my MSR Dromedary Bag for carrying water, but I have switched to using Nalgene bottle instead. The MSR bag works great, but gives a plastic taste to the water. It's fine for brushing your teeth or washing up, but for drinking water, I've heard the same reports as my experience about the funny taste. A collapsible Nalgene bottle would work the same in order to save space.
Headlight
When cooking, setting up your tent, and doing things at night, a LED headlight is a big help.
Shovel
I bring a Coleman folding camp shovel
to stoke the fire and dig a hole for my business in the woods. It packs super small.
Getting It All on My KTM 690
All of my camping gear fits into a Wolfman Expedition Small Dry Duffel Bag
 which goes on my tail rack. My clothing, toiletries & meals go into one Happy Trails Sahara soft bag which mounts to the left side of my Happy Trails SU Rack. On the right side, I carry a 2-gallon Rotopax for extra fuel range. As for tools, spare tubes, air pump, etc…all that goes into my Camelbak backpack and Wolfman tank bag on the front of my seat.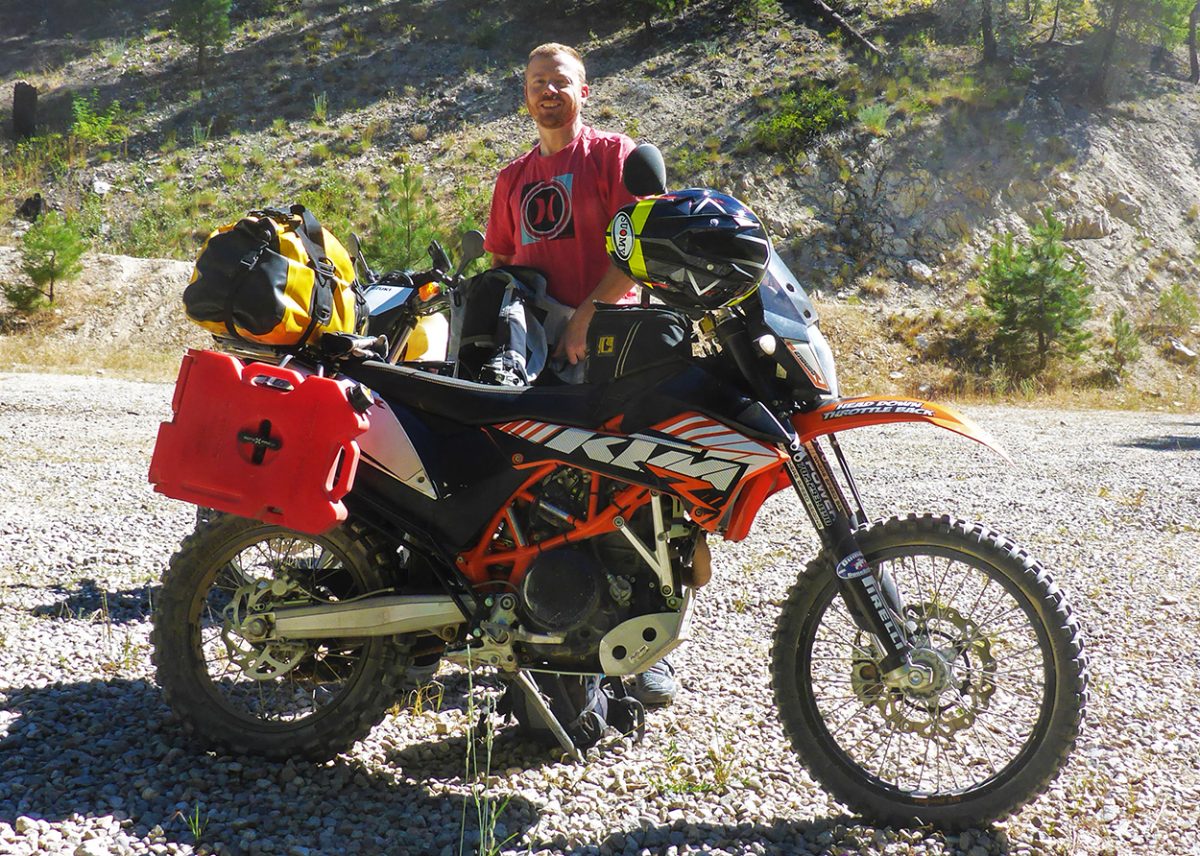 If you have any questions or comments, feel free to leave a reply below.
Comments
comments