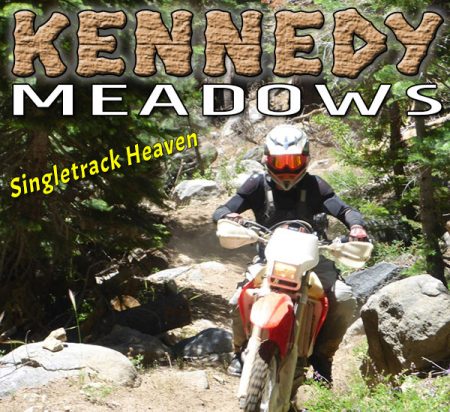 For years I have heard about Kennedy Meadows as an epic place to camp and ride dirtbikes. When anyone asks about this place online I usually see the local So Cal riders respond with something like, "it sucks, don't go there". This is the same way we joke when people ask about Dumont Dunes, therefore I know it must be good.
So what is Kennedy Meadows and where is it? It's just outside the small town of Kennedy Meadows which is nestled in the southernmost part of the Sierra Nevada mountains in California. Most of the trails are near the Troy Meadows Campground which is where we ended up staying. Hundreds of miles of singletrack weave through the Sequoia National Forest hugging mountainsides, crossing creeks, and rolling through rock gardens. Picturesque canyons and bright green meadows are a constant distraction while riding. It's almost impossible to take in all the scenery without crashing.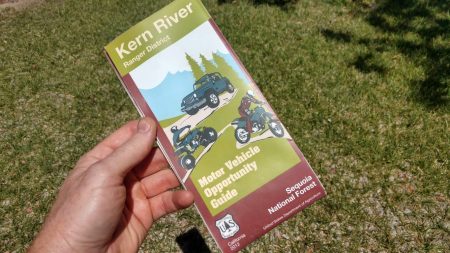 The trail system is very well marked with signage and difficulty ratings ranging from green to black diamond. Pick up a Kern River Ranger District map (available at the entrance to Troy Meadows Campground) and it's easy to navigate around the area. A GPS unit definitely helps keep track of where you are though.
Loaded Up and Ready to Roll
In order to get an early start, I got loaded up the night before on a Wednesday night. There was five of us going and we all took our own vehicles to haul our stuff and to sleep in.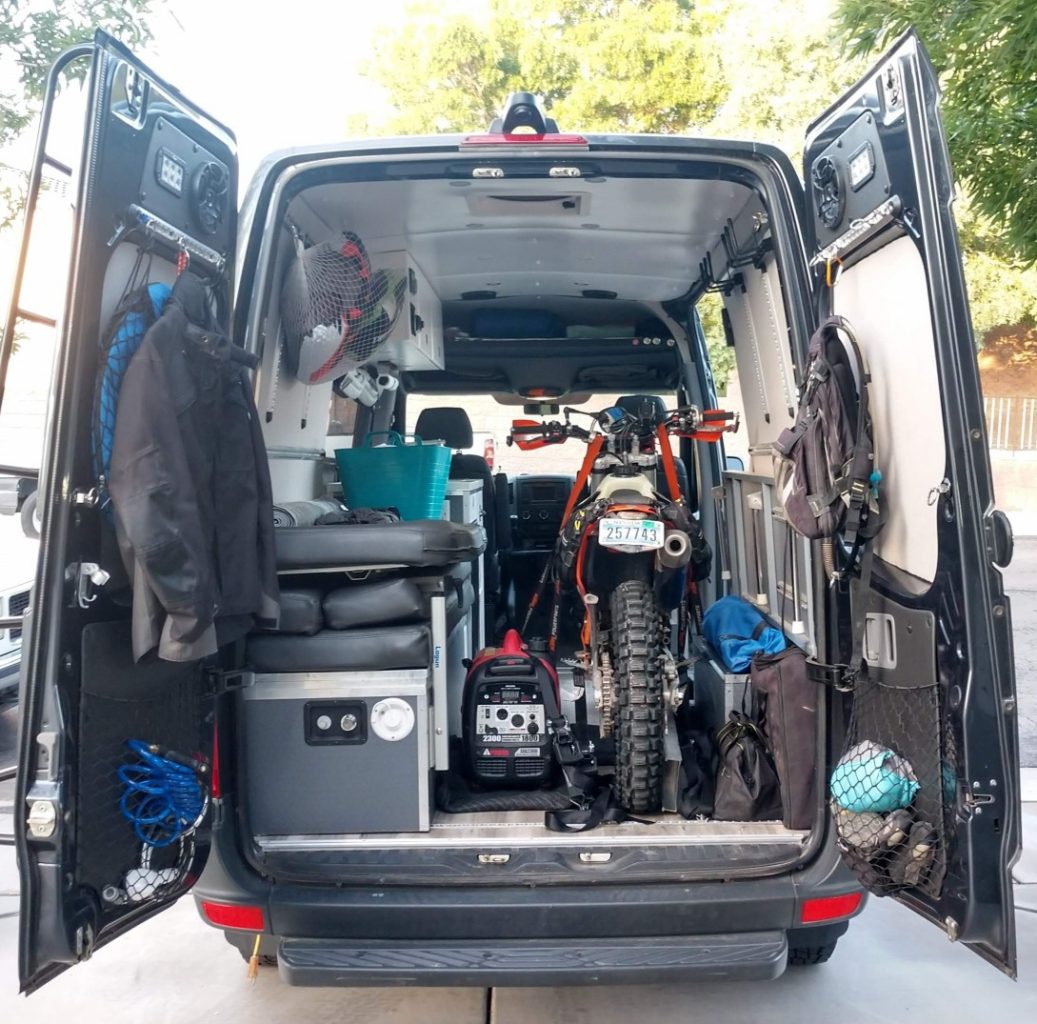 Day 1 (Thursday)
Heading up 9 Mile Road, I immediately lost all cell reception. The winding mountain road quickly gets you away from civilization.
Grumpy Bear's Retreat
I made a stop at Grumpy Bear's Retreat for some ice. $4 a bag but worth it. I could have stopped earlier, but I don't mind supporting local businesses in the mountains. I'll pay a little more to help them stay in business. This place has a bar, food, and wi-fi for a small fee.
Kennedy Meadows General Store
I was meeting Dennis at the Kennedy Meadows store so I decided to grab a Snickers and some firewood there. This place has the basics: dry foods, snacks, beer, ice, firewood and a little outside cafe on the front porch. They are a popular stop for PCT hikers. They also have wi-fi for a fee.
Troy Meadows Campground
We arrived at Troy Meadows Campground and picked a few spots for the group. The spots are first-come/ first-served and $17 per night. Two vehicles are allowed per spot. They offer pit toilets and a running water spigot, although there was a "non-potable" notice on the water due to a bacteria. The camp spots are well laid out with a fire ring, BBQ and a picnic table. Bear boxes are also available some most spots, but we did not see a single bear the whole weekend. There are also pit toilets throughout the campground. The open season is usually from May/June to October/November depending on the first snowfall. Be sure your bike is street legal or has a current green sticker or out of state registration sticker. It's also a good idea to get a fire permit just in case they check for one.
We got set up and relaxed for a few hours. The 5 ½ hour drive wasn't bad, but it was so nice at that elevation (7800 ft), it felt great to set up the hammocks and enjoy a beer or three.
After we got our relaxation on, we decided it was time to gear up and get a quick taste of Kennedy Meadows. We set off down Beach Ridge Trail and then took Jackass Creek Trail north. Steve and I were having too much fun pushing each other faster and faster. We were arm-pumped as hell and exhausted but kept pushing ahead until we absolutely needed a break. We were so stoked to be riding those trails. The singletrack was a blast! We stopped and regrouped then we continued until we were at the turnoff to Albinitas which was just below Jackass Peak (elevation 9052 ft). Albanita Trail was super flowy! Afterward, we explored a doubletrack road then led almost to the top of Smith Mountain (elevation 9423 ft), but it dead-ended and we took the fire road and Beach Ridge Trail back to Troy Meadows Campground.
Back at camp, we fired up the Blackstone griddle, made some chili dogs, and got the fire going. Life is good! For just a quick fix, we squeezed in almost 28 miles! That isn't much compared to what we are used to for rides, but when it comes to singletrack that is quite a ride for just a couple hours.
Day 1 GPS tracks: 27.4 miles
(To download these tracks as a KML file-right click and save link as)
Day 2 (Friday)
Friday morning we all slowly got out of bed, made some coffee and breakfast, and planned out our ride for the day. The Kern River Ranger District map was super helpful and very descriptive. As we got ready to go riding, Dennis showed Steve and Brian his super fancy socket set. They were very impressed except for the $100+ price tag.
Geared up and ready to ride, we decided to go north on Beach Ride trail today. We wanted to go all the way up to the "Beach" and OSA Meadows. The trails ranged from blue to black diamonds and offered plenty of flowy, yet technical throttle twisting. The black diamond trails were actually as tough as I thought they'd be, however, I understand why they had that designation. 90% of it could be super easy and smooth beginner trail, but there might be one 50-foot section with some rocky steps or obstacles to overcome. I won't go into every trail we covered, but I will say they met every expectation and then some for me. Since I had never ridden Kennedy Meadows before, I was astounded at the amount of maintenance that goes into the motorcycle trail system up there. We had to have passed 100 downed trees over the trails that had been chainsawed and cleared just enough to allow for the dirtbikes to ride through. The signage and mapping of the entire area were incredible. I felt like we were doing something illegal like riding on mountain bike trails, but this place is totally catered to motorcycles!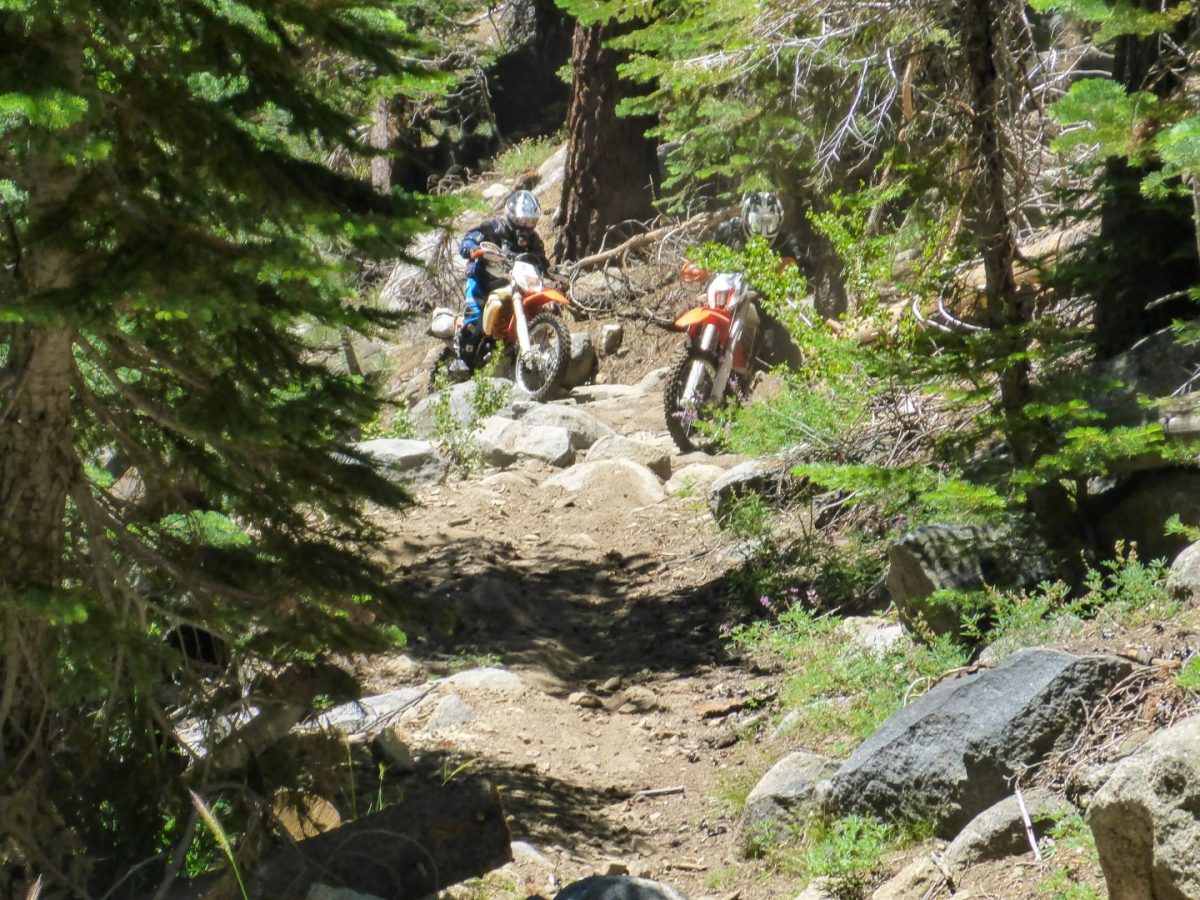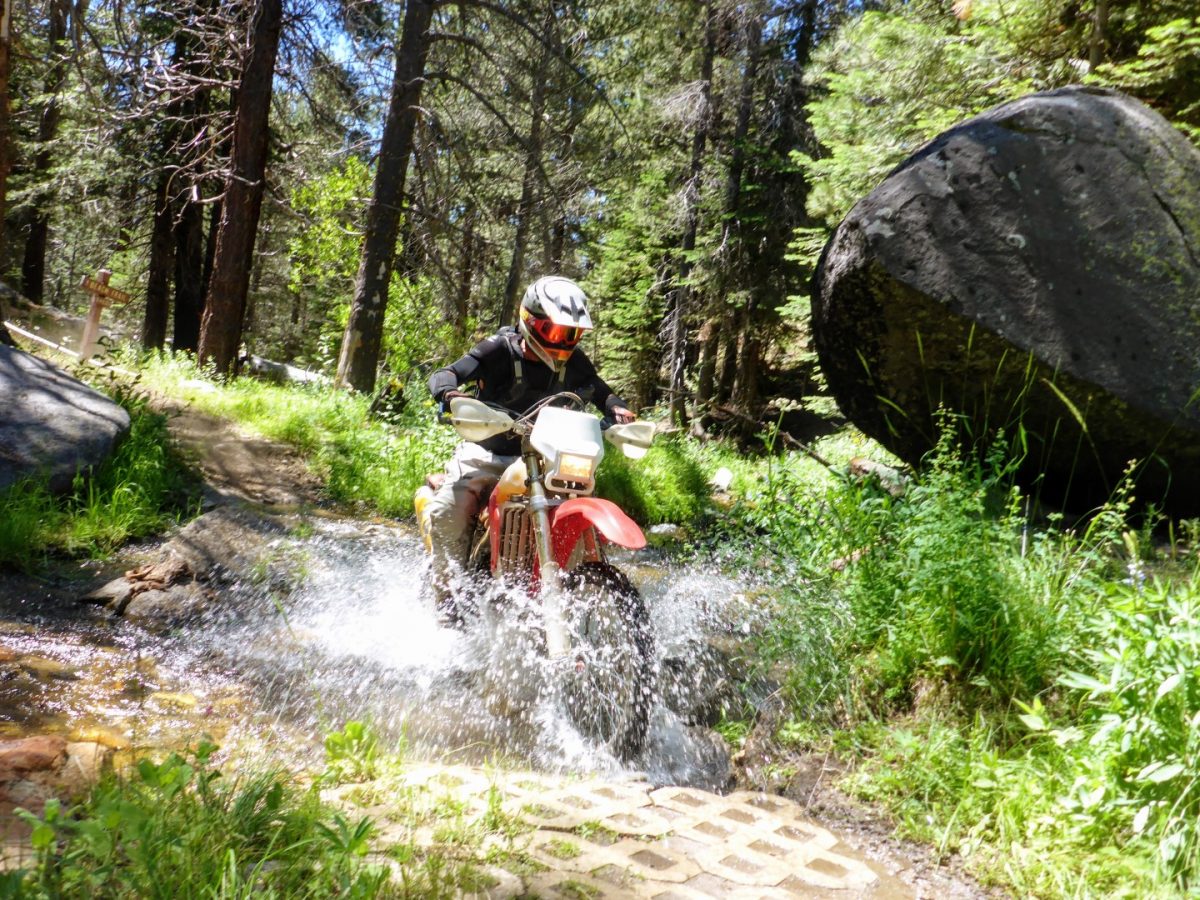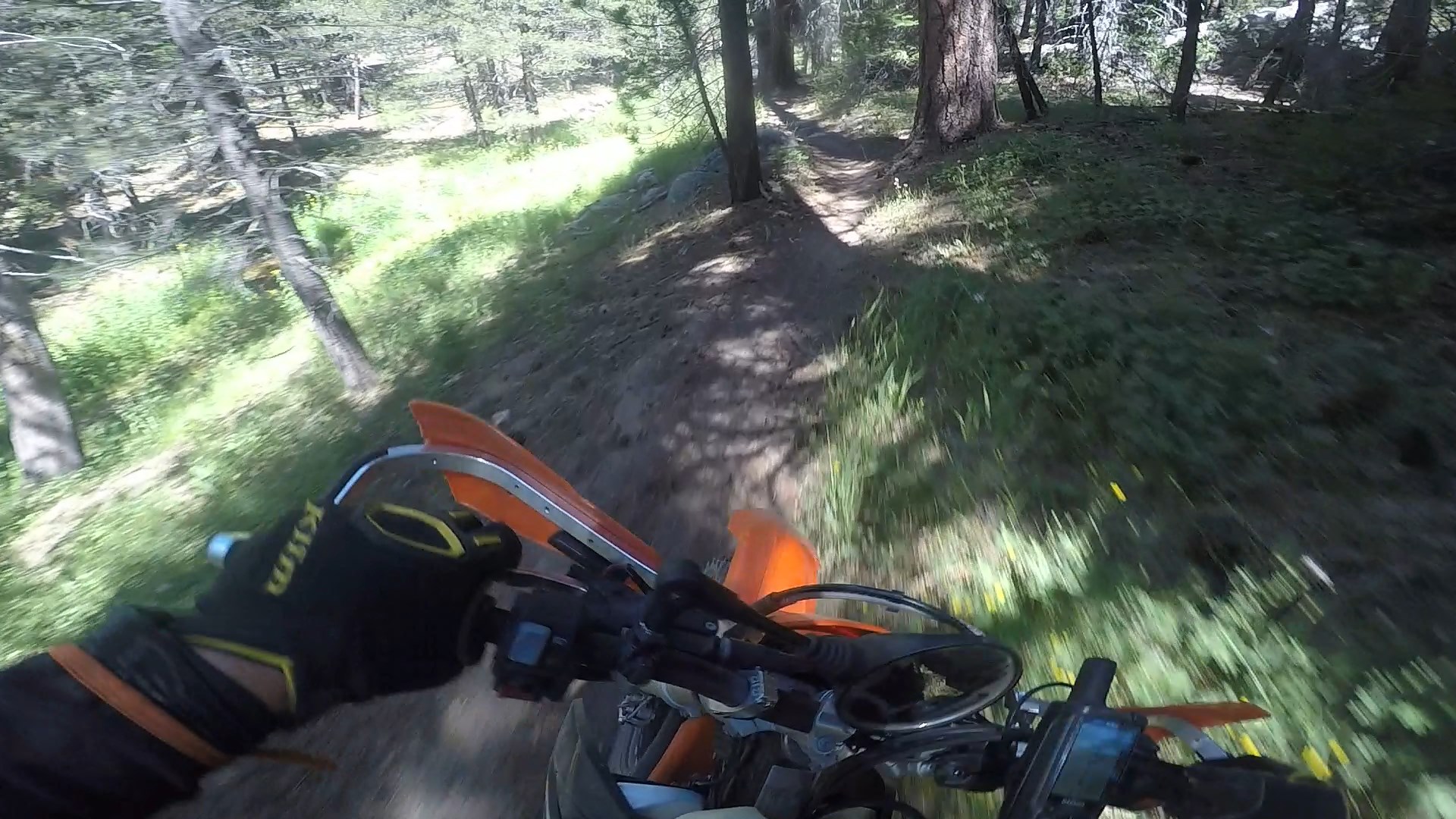 Just as Beach Meadow Trail was flowing so well and we were having fun, I ended up sticking my front so badly in the mud it threw me over the bars. It took me quite a bit by surprise so I'm sorry for the language.  😆  I got my left leg caught between the bars and the gas tank which hurt like hell, but I'll survive with only some bruising. I am glad it didn't ruin the day. I was still able to ride the rest of the weekend with only some ibuprofen and whiskey for the swelling and pain.
Shortly down the trail just after OSA Meadow, we stopped in some shade to take a break. I popped some of that ibuprofen and took a walk down to a creek to rinse the mud off my gloves. They were caked!
It was quite the place to stop and relax!

Once we had a snack and were recharged, we headed south on Little Horse Trail back to "the Beach". From there we backtracked a little bit, took a dirt road, and dropped down Rattlesnake Trail.
Here's where the day got a bit interesting. Being a black diamond trail, Rattlesnake wasn't too bad to drop down into, but heading back up 34E01 (Beach Trail) was good and rugged. After the climb up the super narrow hillside singletrack, it was a fun challenge negotiating up the large rocks. I walked down to assist Brian up a section where he was inseam challenged. That part of the trail I just went for it and pointed the bike up the hill bouncing off the seat with no feet on the pegs Graham Garvis style. haha  We stopped and took a breather to cool down a bit before heading up to the dirt road a ½ mile up.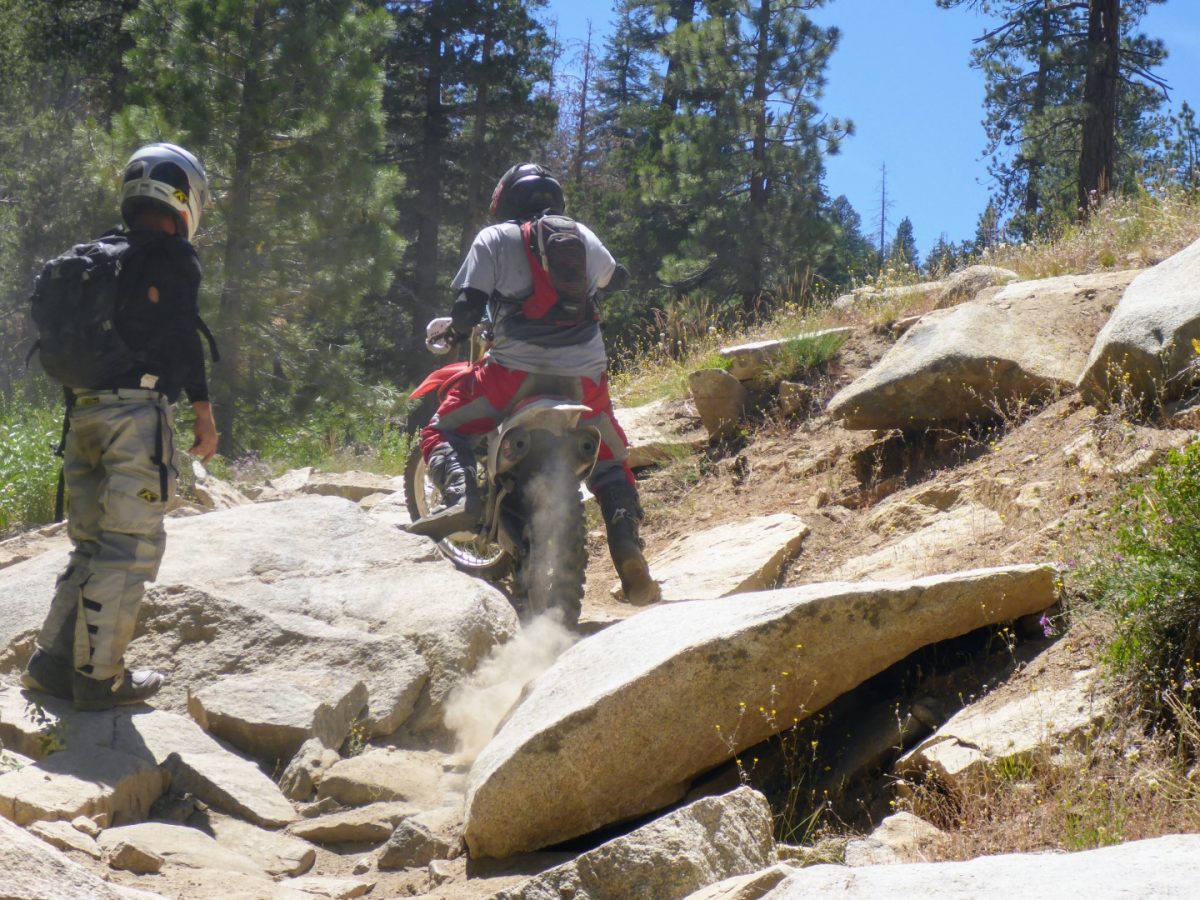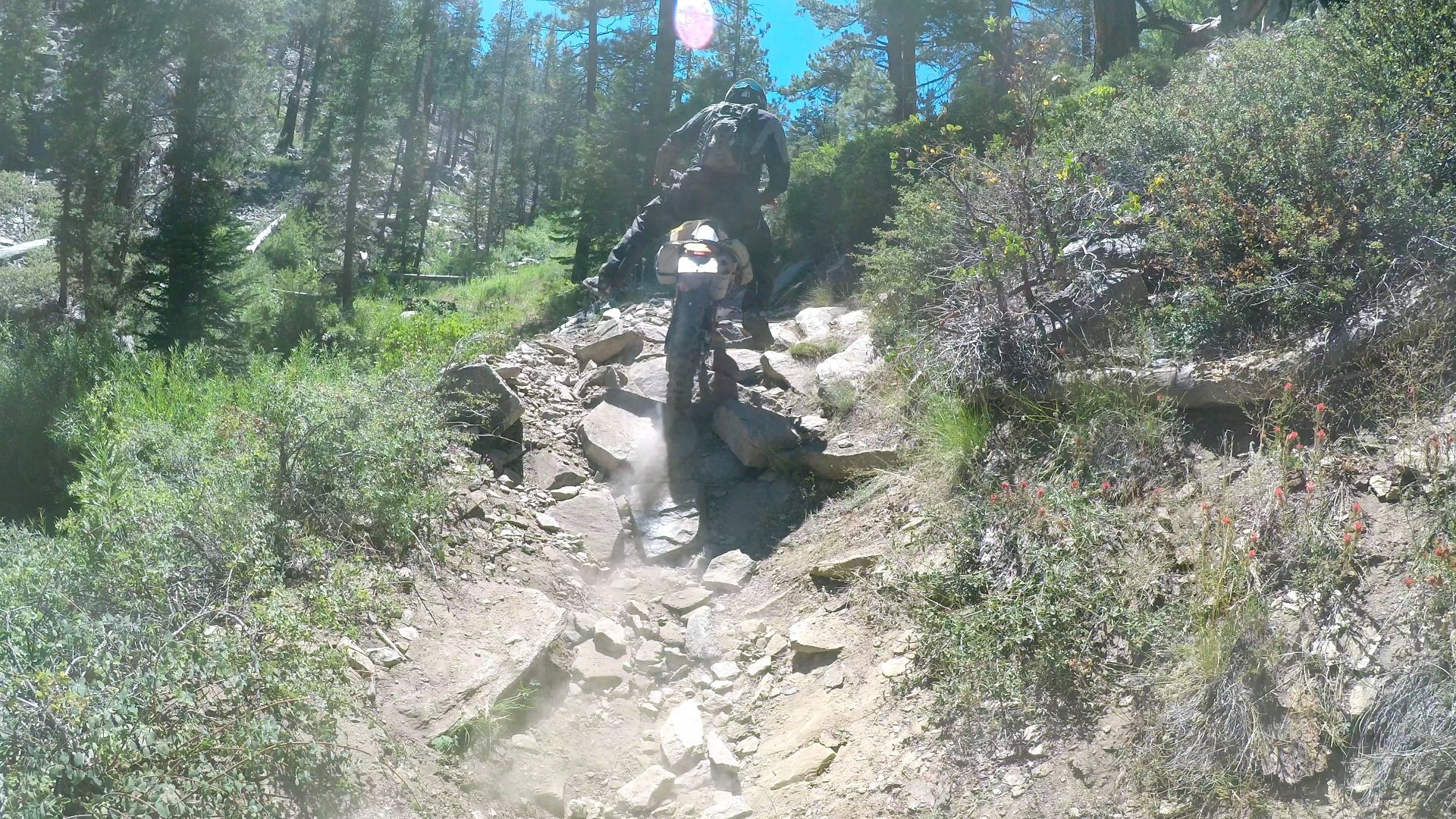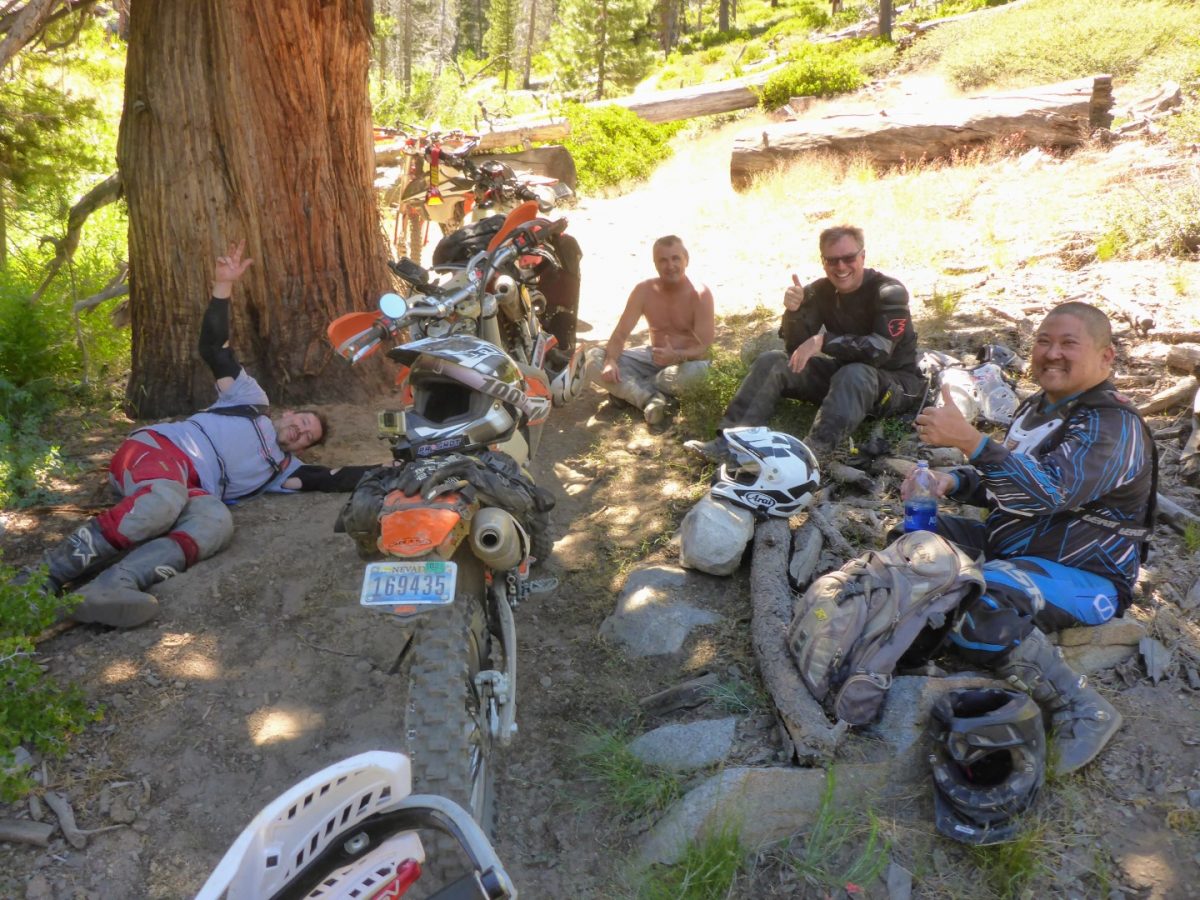 Just as we were leaving, Dennis found out his battery was shot! No indication or anything. It took a jump, but it would not stay running. This is something we all talked about later. We're adding a capacitor to our bikes to keep it running in the event our battery decides to die. In the meantime, we had to get that bike up the hill. I tried towing him up the trail but after 20 or so resets and failed attempts, Dennis had a much better idea. That was for me to head up to the road, pull my battery, then have Brian bring it down to him to install so he could ride it out. Much better!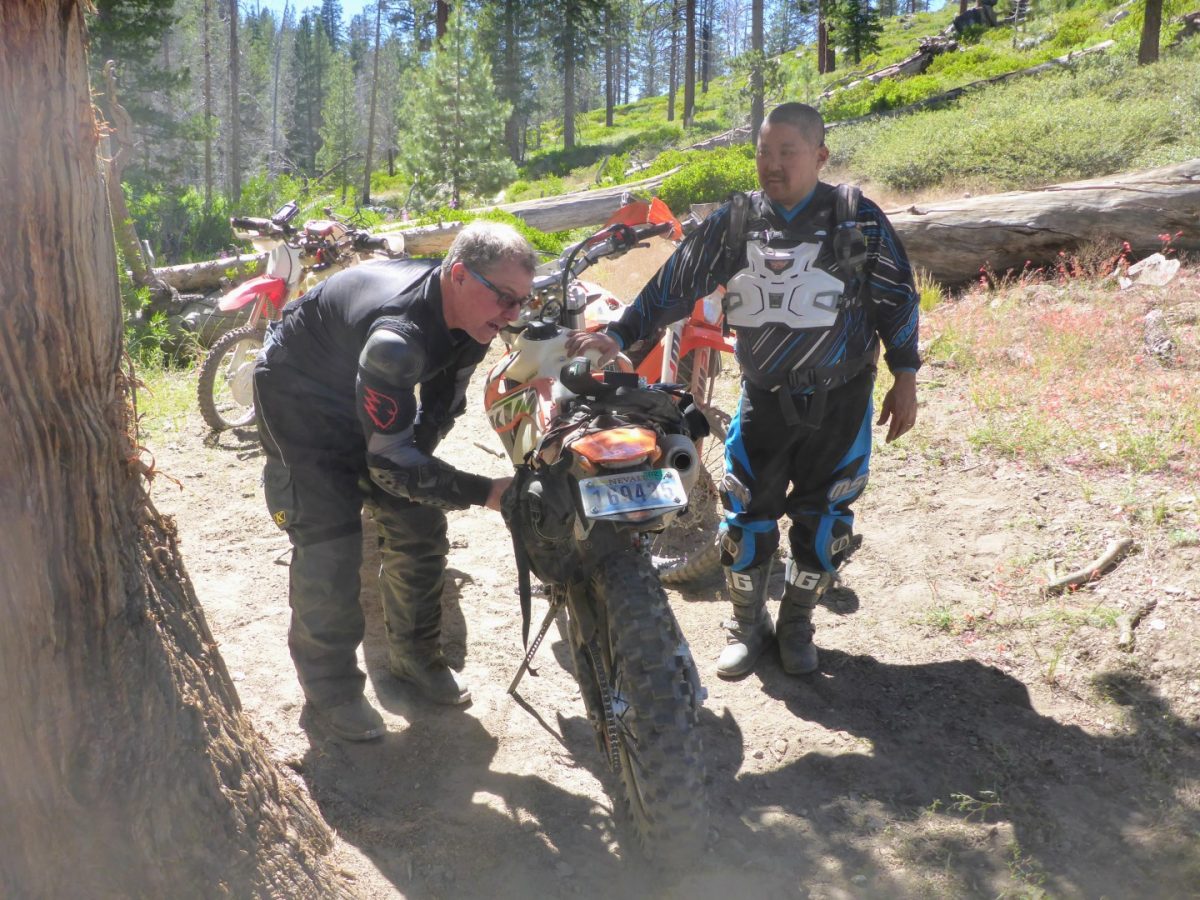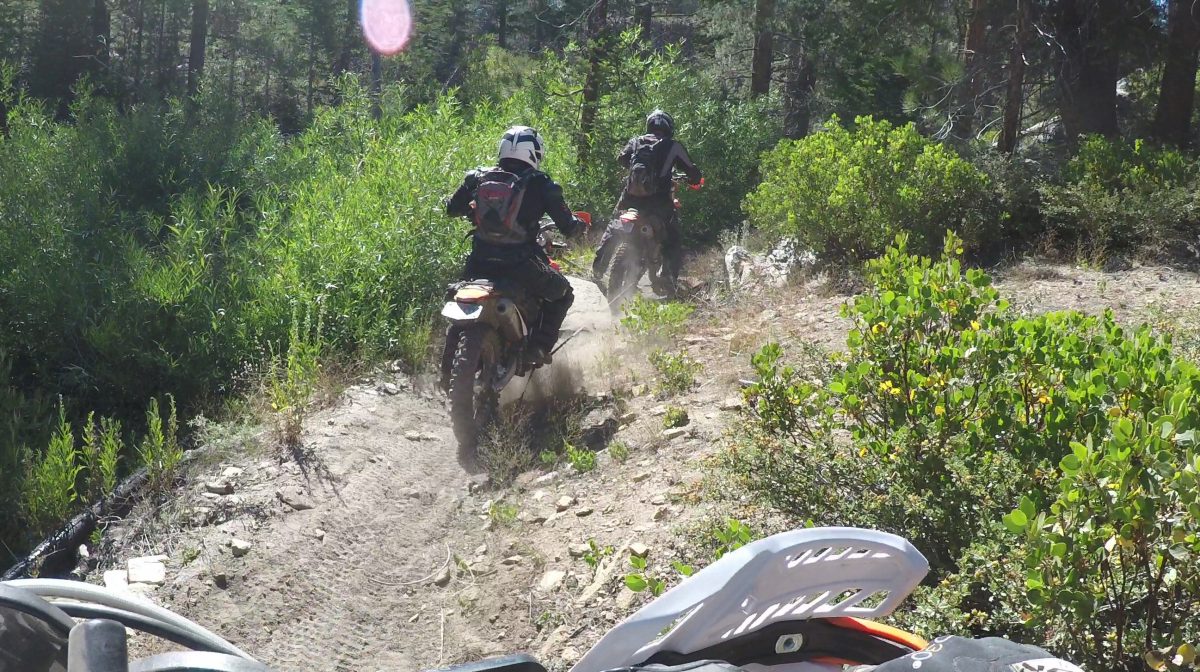 Everyone made it up and I just told them all to head back to camp (about 15 miles) so they could pull the battery and bring it back to me so I could ride back. I didn't realize how long it would take them to go back. My GPS said 15 miles, but 59 minutes! It ended up being about an hour and a half but I got really bored in that amount of time.  😆  I walked all over the place taking pics and checking out anything I could.
Back at camp, Dennis had already run into Ridgecrest with his Jeep to buy a battery while we grubbed on some killer Philly cheesesteaks that Steve whipped up on the grill. Some hammock time was in order as well as a much deserved cold one.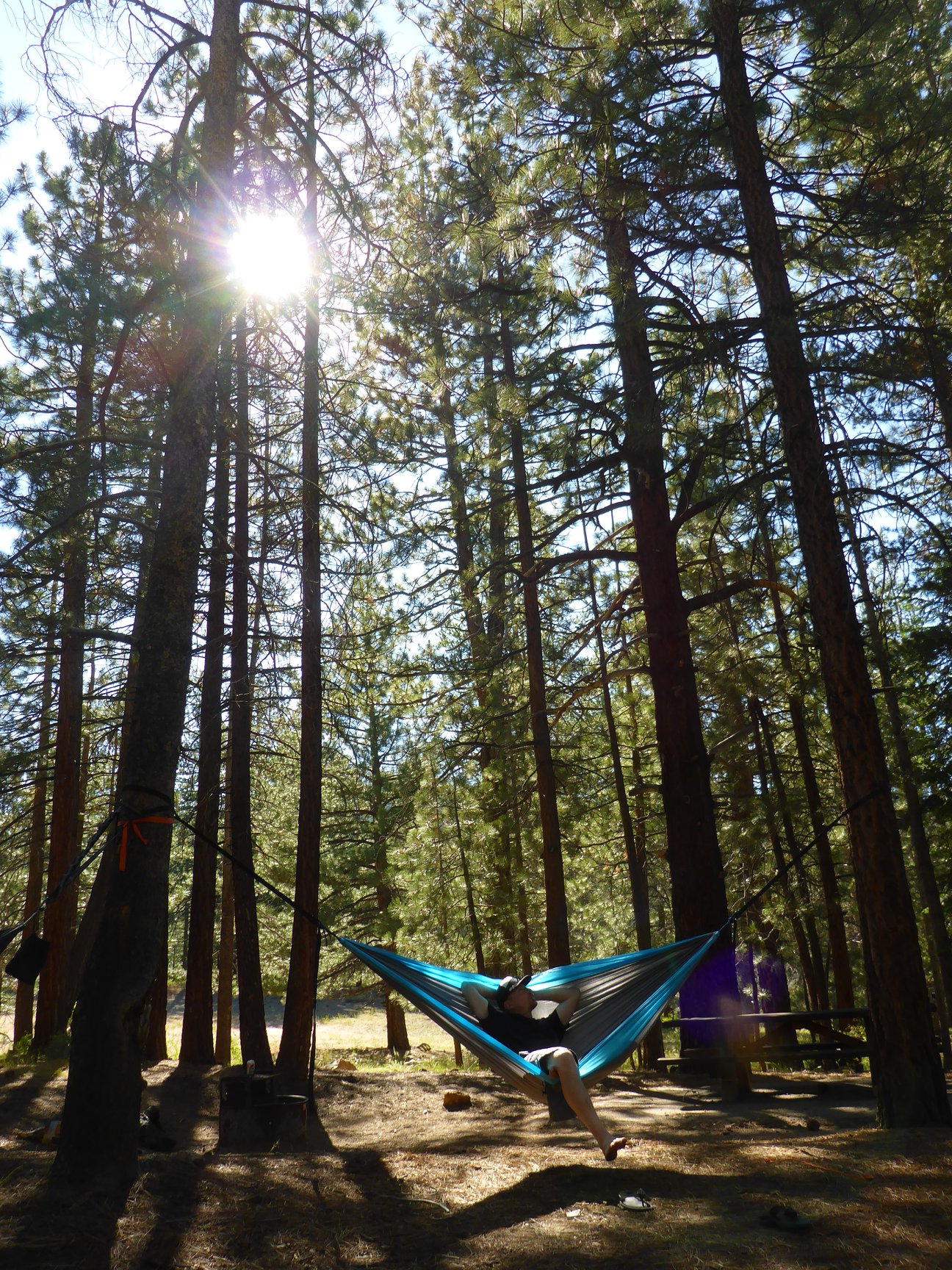 Day 2 GPS Tracks: 39.4 miles
(To download these tracks as KML file- right click and save link as)
Day 3 (Saturday)
By now we all woke up feeling like senior citizens. We were super sore and feeling the toll that Kennedy Meadows had taken on us, but we were not done! Saturday ended up being the longest mileage day of them all! We headed southwest towards Sherman Pass and Durrwood Meadows. It was the most scenic part of the trip. There's no wonder the area we rode through was called Bonita Meadows and Bonita Creek.
All day we were pretty dead-set on sticking to blue trails and avoiding any black diamonds. Then we got to Sherman Pass Trail, a black diamond. It wasn't too bad at first but then it turned out to be one of the rockiest, nastiest trails of the weekend. I made it up and waited at the top but nobody followed. I yelled down the trail and confirmed. We were turning back.  😆 I sat there for a minute and enjoyed the view. It was awesome. I was sitting about 9400 feet elevation looking across the valley at some snow-capped peaks.


I had to figure out a way to turn my bike around on the hillside but I managed, then headed back down to the guys.
We were ready for a break and headed down an overgrown trail to Trout Creek near Boone Meadow. It was a great spot to grub on a quick snack but the flies and ants were eating us alive so we got out of there after just a short while.
Heading back north towards camp, we had a good mix of some new and some same trails plus a Jeep road, and some dirt roads.
That's when I think I had enough. I suggested we head back and enjoy the rest of the afternoon in camp. Everyone was ok with that. Thank God!  😆 So we finished on Mahogany Trail before heading back. Steve whipped up some bomb tortilla Pastrami burgers on the Blackstone. Man those were good! We ate really well on this trip.
We finished the day off with a great fire before calling it a night.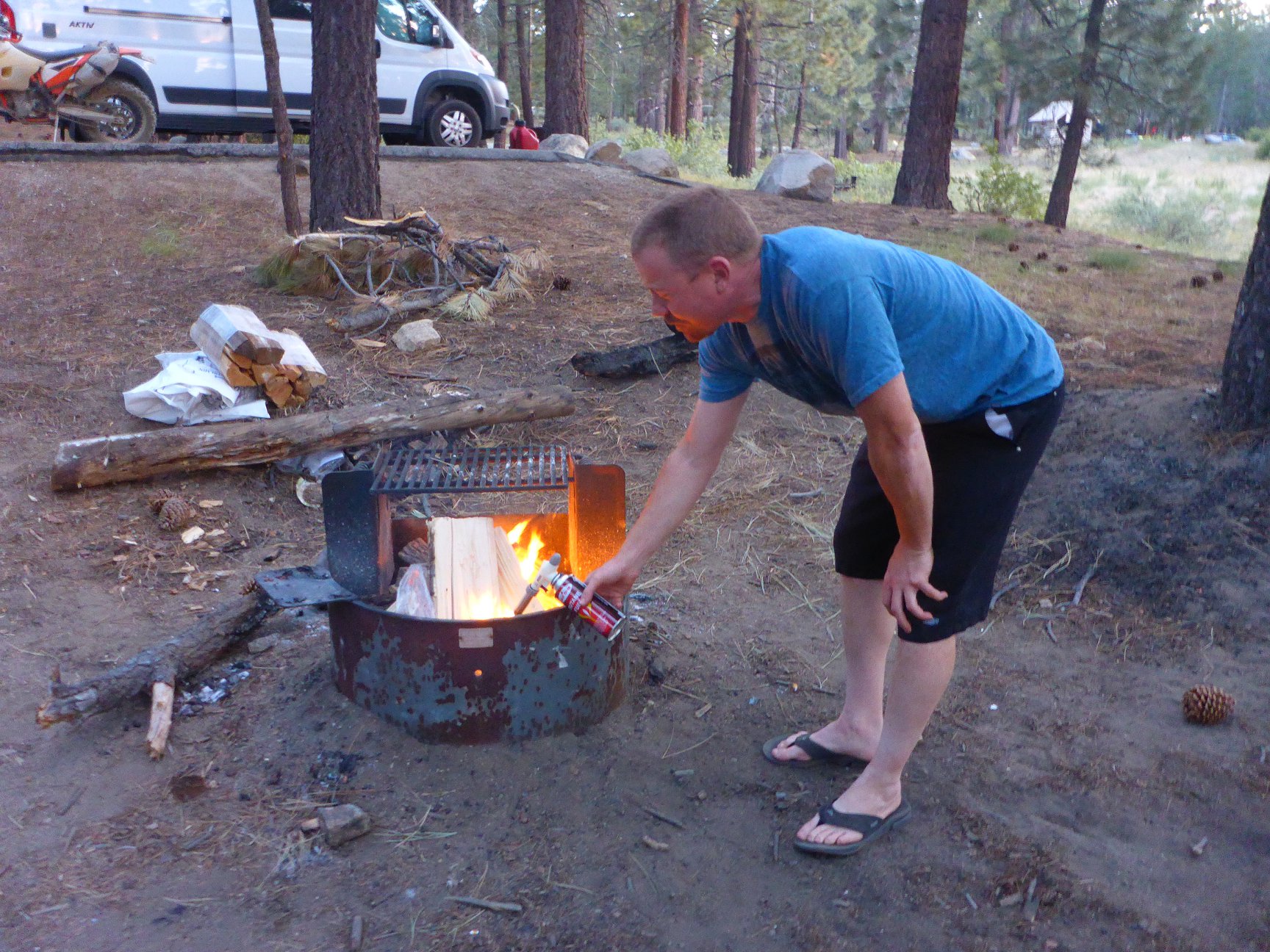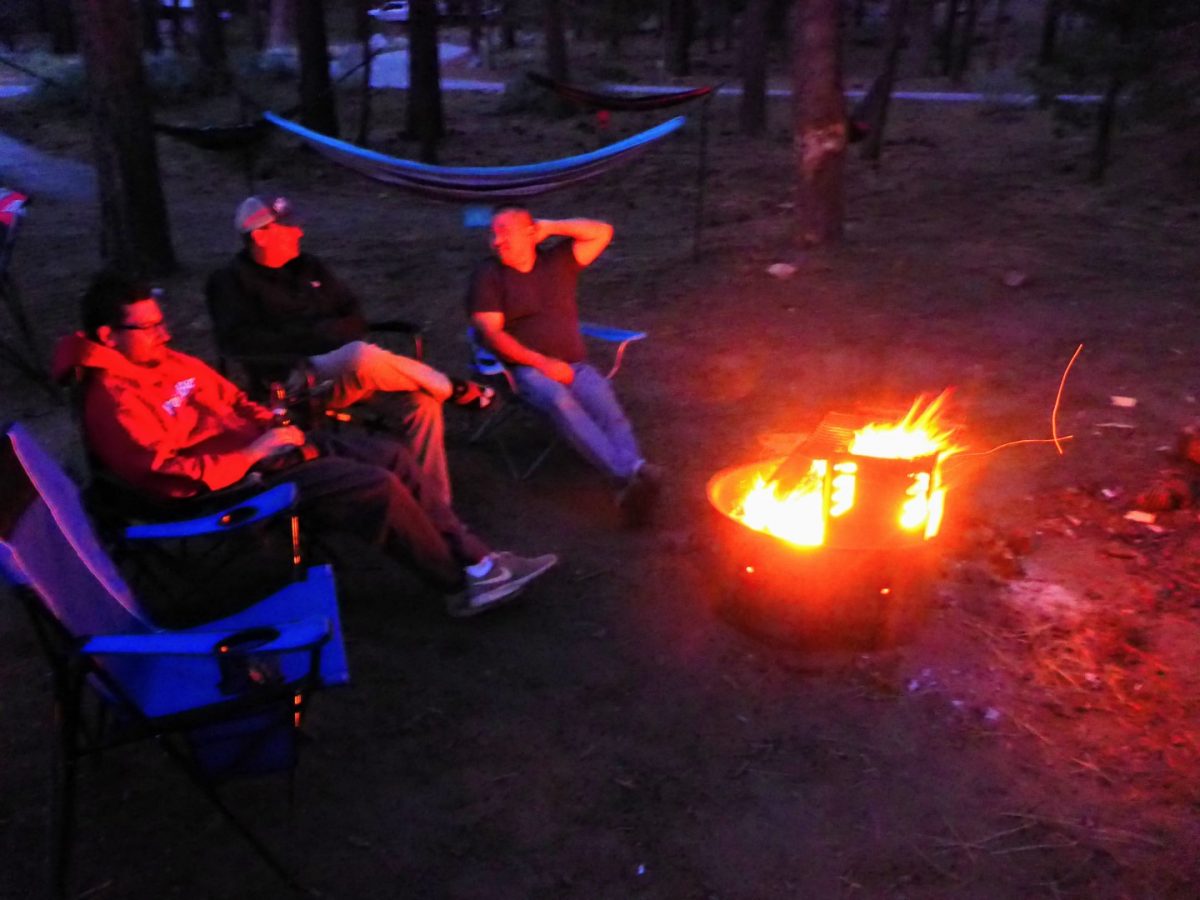 Day 3 GPS tracks: 43.2 miles
(To download these tracks as KML file- right click and save link as)
GoPro Video
Ride Wrap-up
We will definitely be back to Kennedy Meadows. The trails were a perfect mix of technical and flowy. This may have to be an annual trip for me and my riding buds. The only downfall to the riding conditions was the dust. The brown dirt was very fine in some areas and was like silt making it very dusty and hard to breathe when following. We stayed spaced out on our rides because of it. You'll want to bring a dust mask/  handkerchief to keep your face covered if the conditions get very dry. This place would be even better after a nice rain. I still can't get over how many miles of heavenly singletrack there was. This is the stuff I daydream about! I cannot wait to go back.
Camp Gear/ Products Tested Out and Used on This Trip
This is my go-to grill for just about every camping trip.
I cook eggs, bacon, steaks, burgers, dogs, chicken, etc on it.
Butane Gas Torch Attachment (Fire Starter)
When we are at the dunes, we just dump some gas on the wood and light it up.
That doesn't go over so well in campgrounds and isn't safe to do in the forest.
Since I always have a can of butane gas in the van for our stove, I bought this attachment that makes it super easy to start a fire in a very controlled way.
I bring my hammock with me everywhere.
It's so easy to toss in the van or truck and hang in camp. It's the perfect way to relax after a hard ride.
I picked these chairs up recently because I hate the cheap collapsing folding camp chairs.
These stay nice and taught and don't fold in on themselves when you sit in them.
Katchy Indoor Insect Trap
We recently started using this in our van and it works really well!
It traps those pesky bugs that make their way inside.
Comments
comments