Sunday morning I had the itch to go exploring and find some new singletrack. Shocking huh?
I started by testing out my trials and balance skills. The last time I rode down Pipeline Rd, I had the extreme urge to try and ride the top of the pipe from one end to the other. I know it's not difficult and I can do it, but it's a mental thing for some reason. I can picture myself losing traction with the front wheel and eating shit. lol So I chickened out and bailed half way across.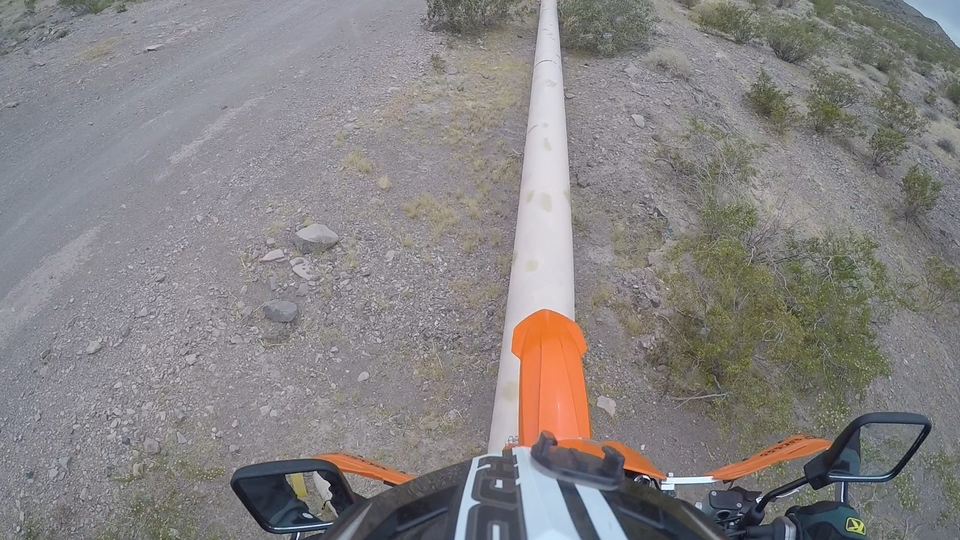 Then I went climbing and exploring the hills just south of Dutchman Pass. There is a small mountain range that has singletrack and goat trails all over it. It's rugged and very steep in some sections. Ya know, perfect for a solo ride.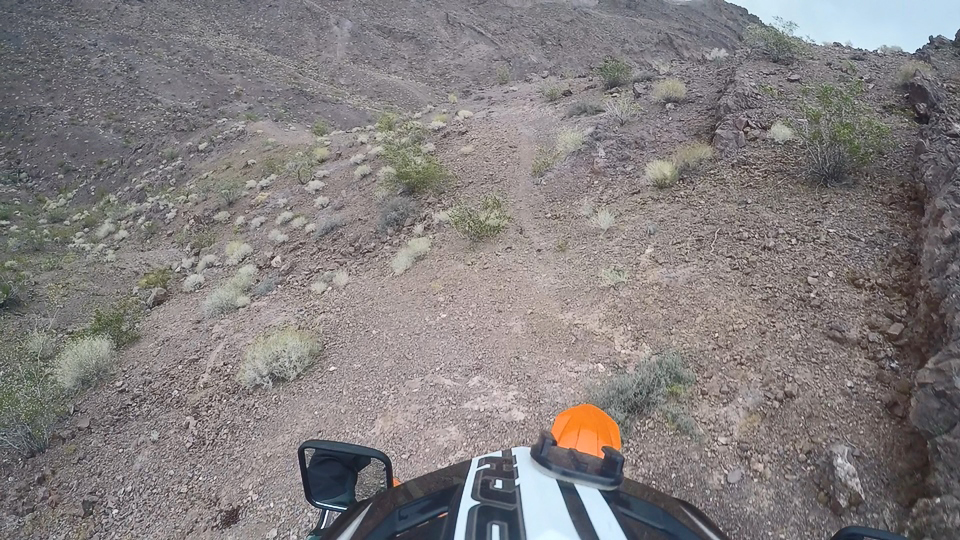 After I tried testing my abilities with nobody around to help me if I crashed, I decided to get the hell out of there. I dumped the bike on a steep hill climb because I couldn't tell where the trail was going. Luckily I managed to turn the bike around on some extremely loose rock and then ride it back down to the bottom. The camera never shows how steep hills are, but trust me it was a gnarly little ridge.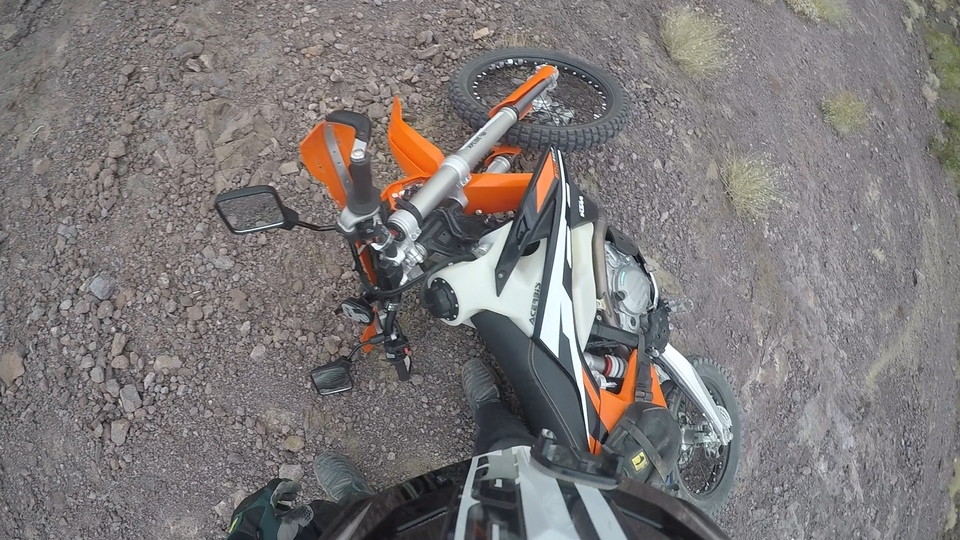 At this point I decided to take a break, drink some water and cool off before tackling any more obstacles. Although it was about 60° that morning, I was sweating in my riding jacket already.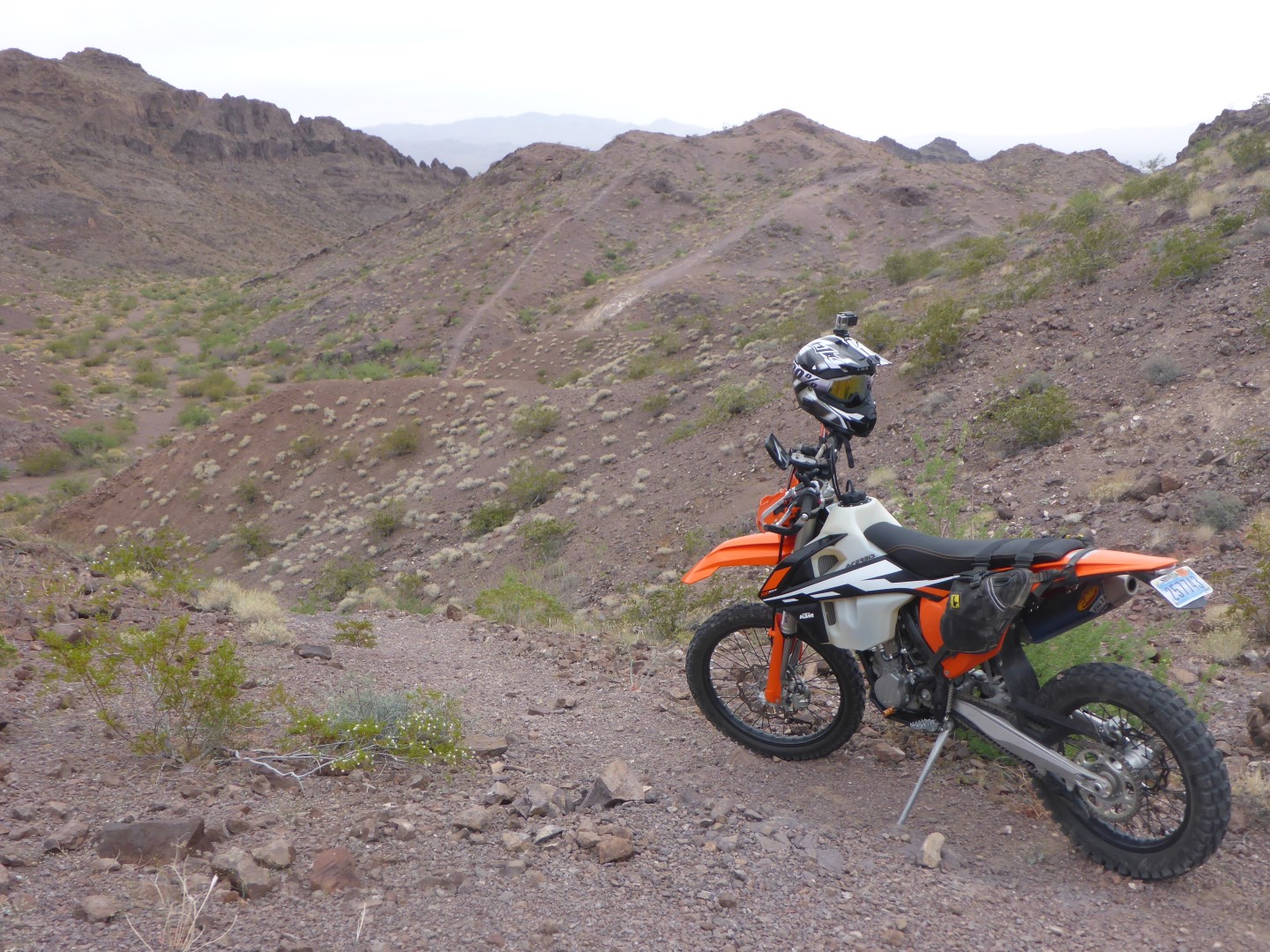 In all my years of living in this area, I don't recall ever going this deep into this canyon. It was pretty rugged with fun single track ridges and rocky washes. Perfect terrain for the 500! This is the stuff I bought this bike for.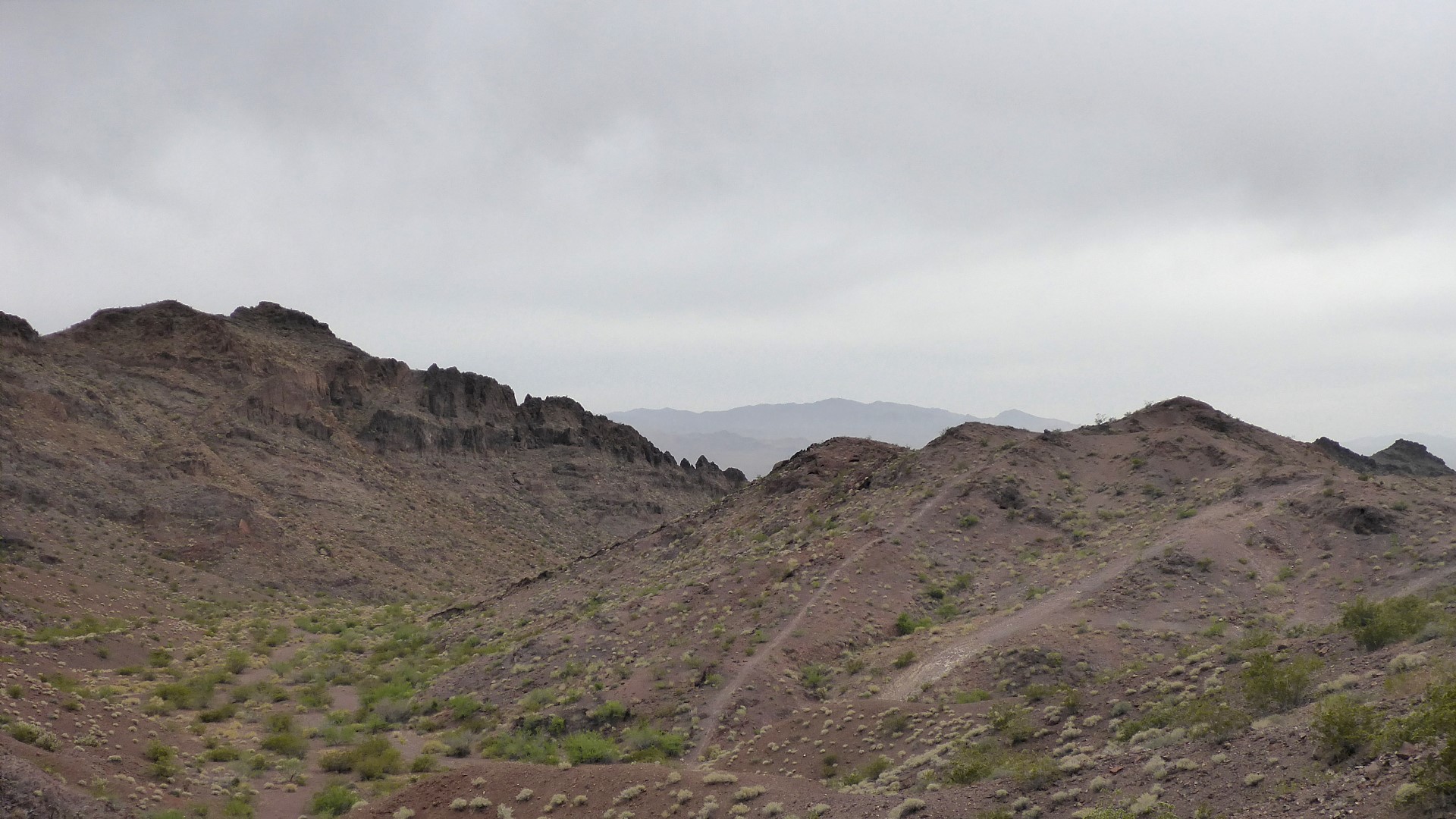 Finally after sweating in the hills, I made it out to Eldorado Valley. Just look at those beautiful solar fields. Makes me cringe every time.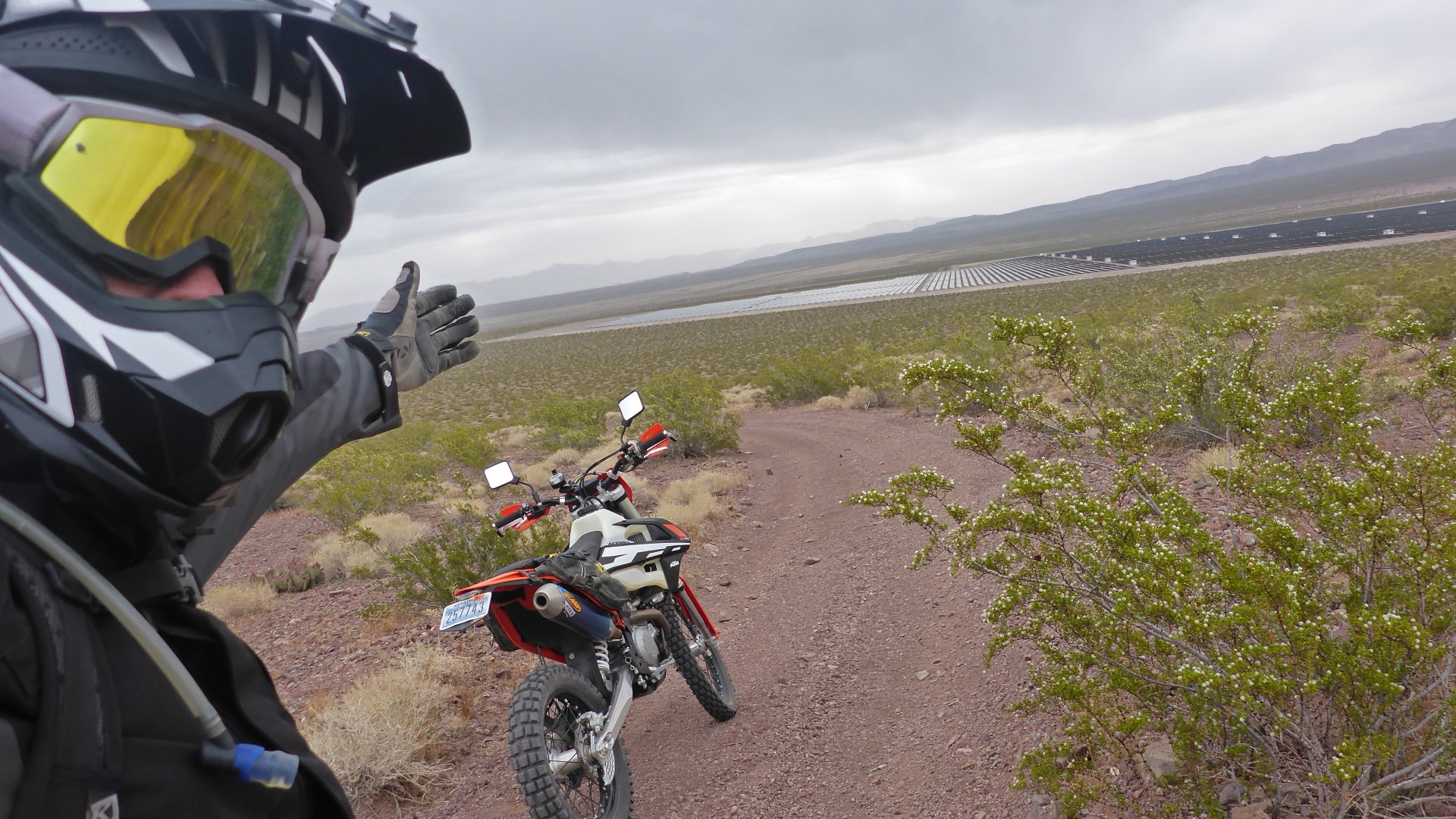 The weather was strange. The overcast skies and cool weather made it feel like it was November.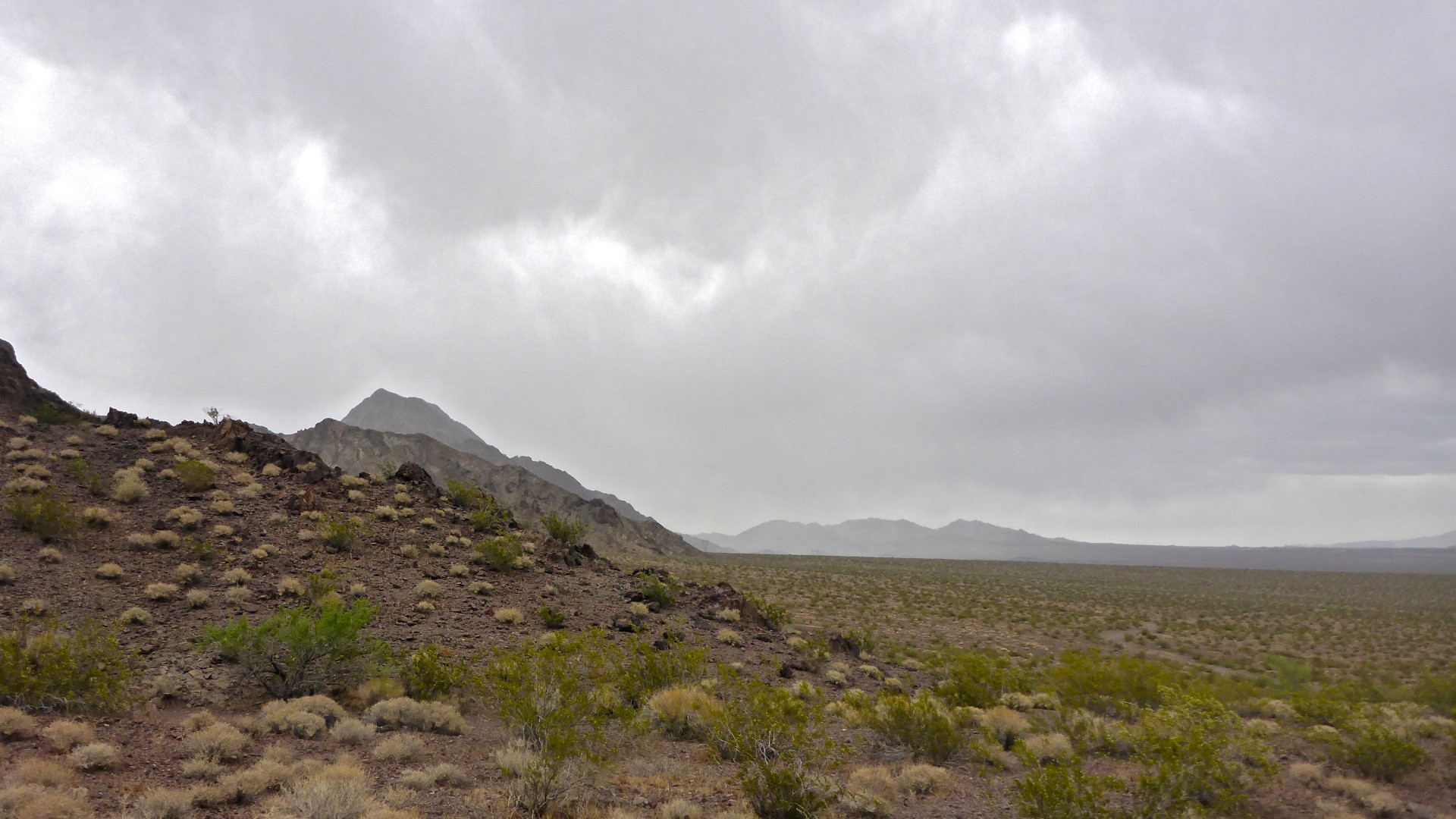 Undecided where I felt like riding to next, I explored the Eldorado side of the range that I just road out of. I found an old mine that was mostly filled in and an old spa that somebody felt would look better in our desert rather than at the dump.
Then I spotted a white-colored rock in one of the washes so I went exploring. Looks like it would be a great spot to see during a heavy rain.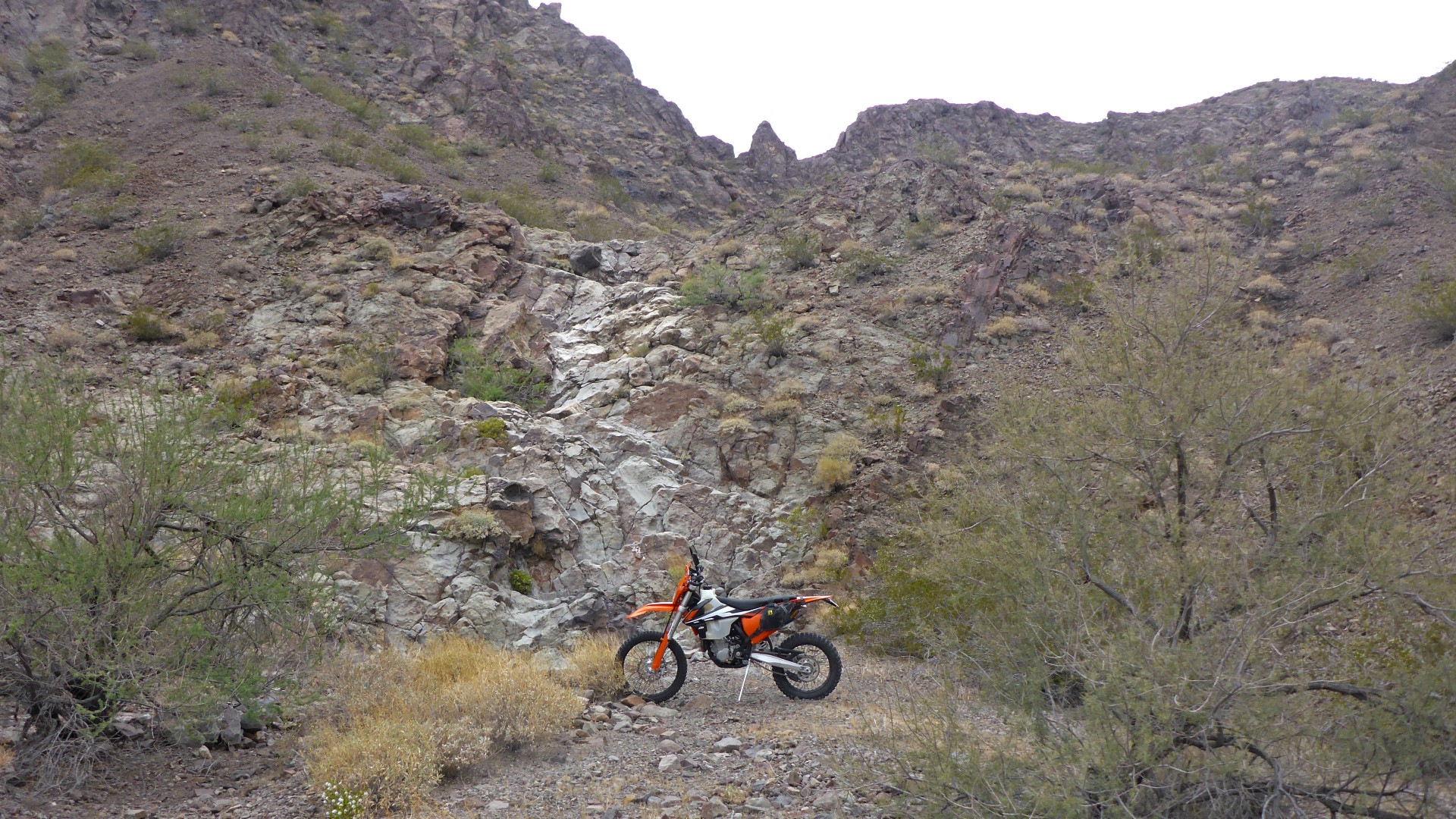 Up in one of the walls of the canyon was home to some critters.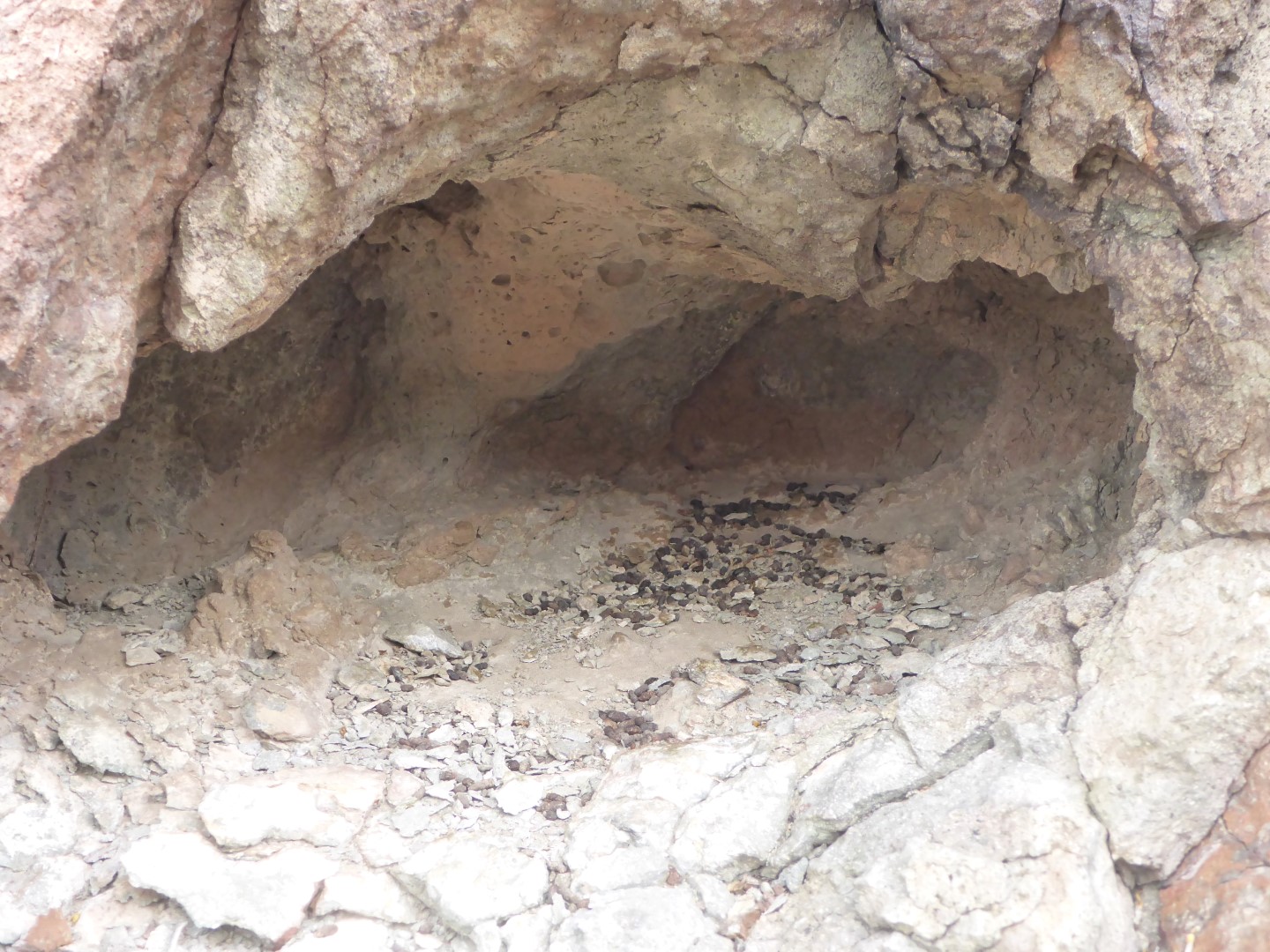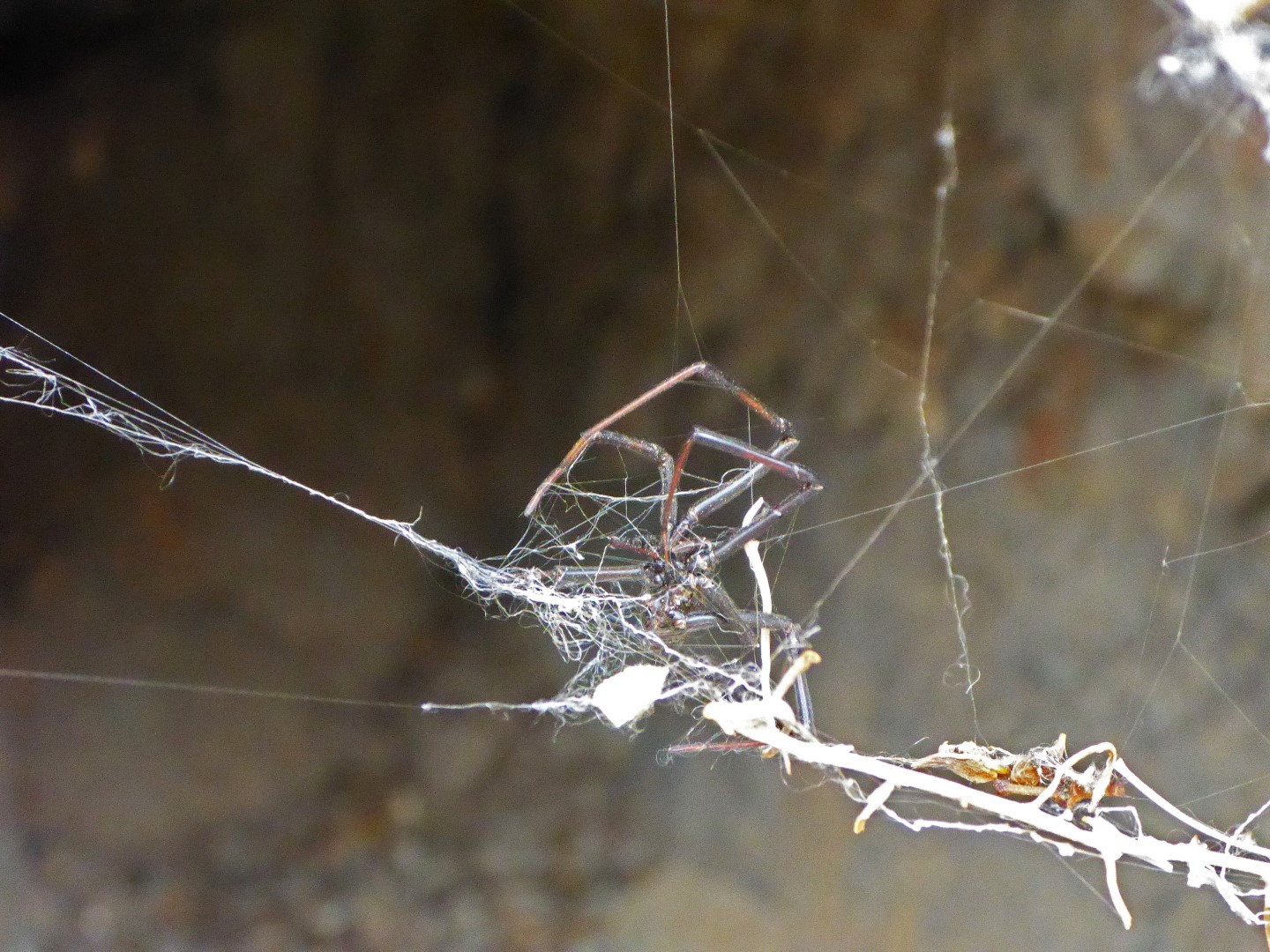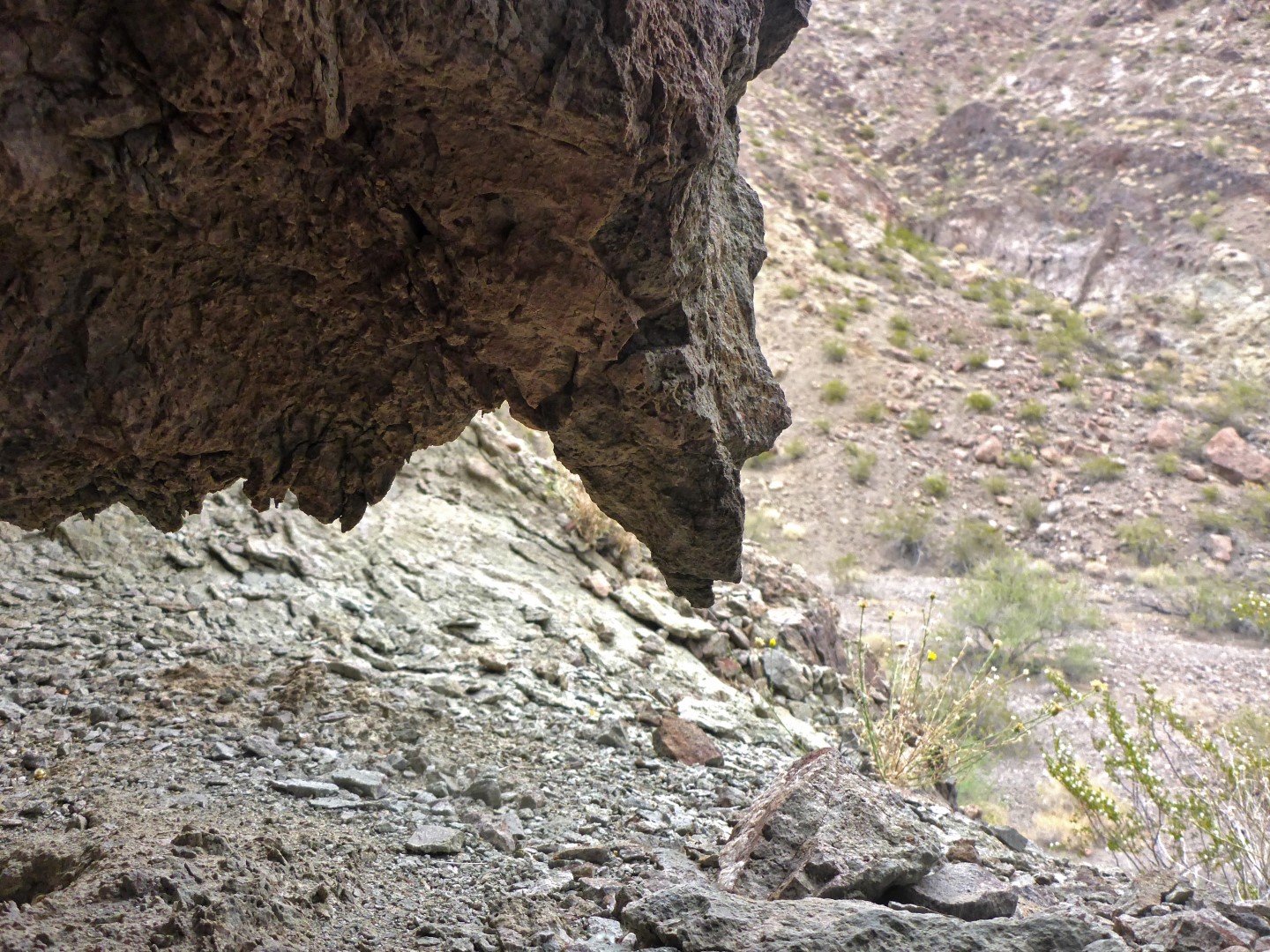 Another nearby wash was home to an old mineshaft marked by an old metal sign and a fence to protect people from falling in.
One last thing to explore in this mountain range before heading somewhere new. I spotted an arch shaped rock formation on one of the hill sides so I had to hike up and take a closer look at it.
OK, I had enough of Eldorado Valley. I was tempted to go to my normal spot next (Nelson), but I ride there all the time. I opted for Jean/ Roach, NV next. I took the "tortoise highway". It's a paved strip that allows traffic to safely get to the Boulder Solar Project without killing the tortoises.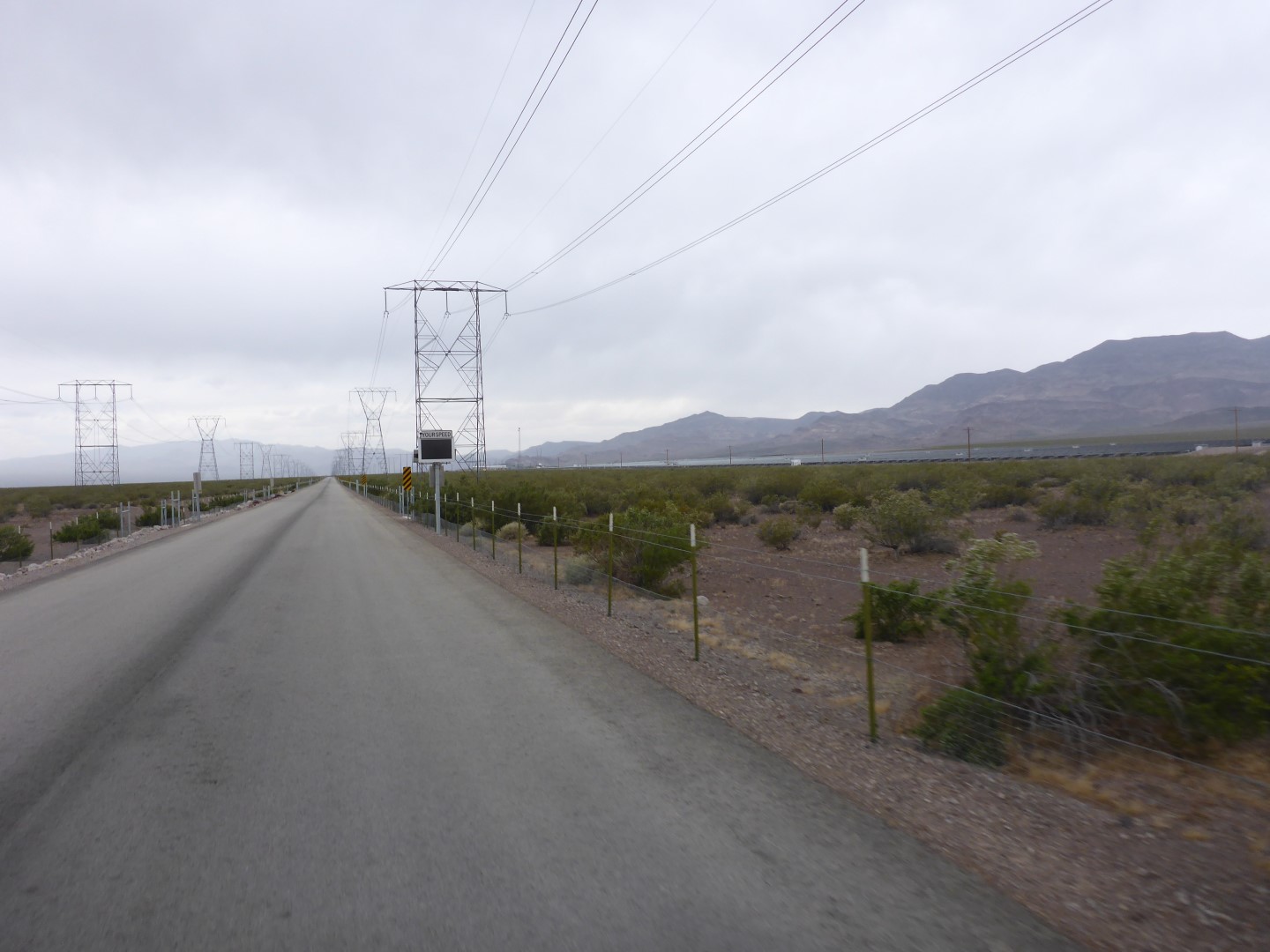 I headed for McCullough Pass. Along the way I passed three RZR side x sides. I was surprised to see them use the same hand signals back to gesture how many riders were were behind them. That is something I have only noticed motorcycle guys understand and actually use. Come to find out later, these were friends of mine and neither one of us recognized each other! ha!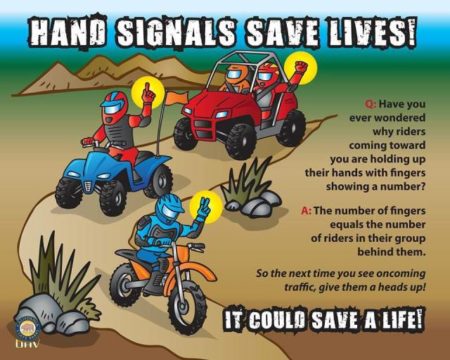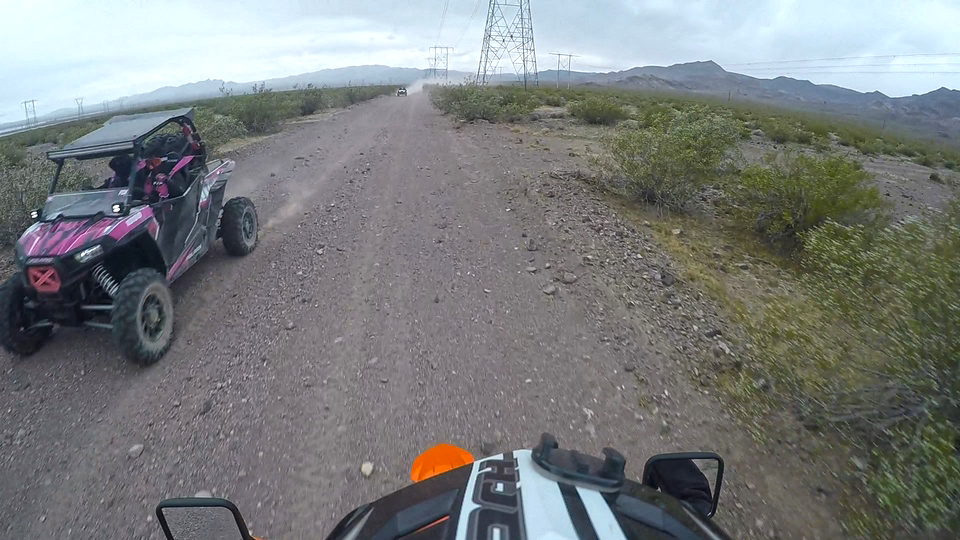 I headed over the rocky, wash boarded McCullough Pass to the Jean/ Roach side. My plan was to poke around the southeast side of the valley. There are trails all over the place out there that cut through the desert, but you have to keep a close eye out for them as they are easy to pass by without even realizing.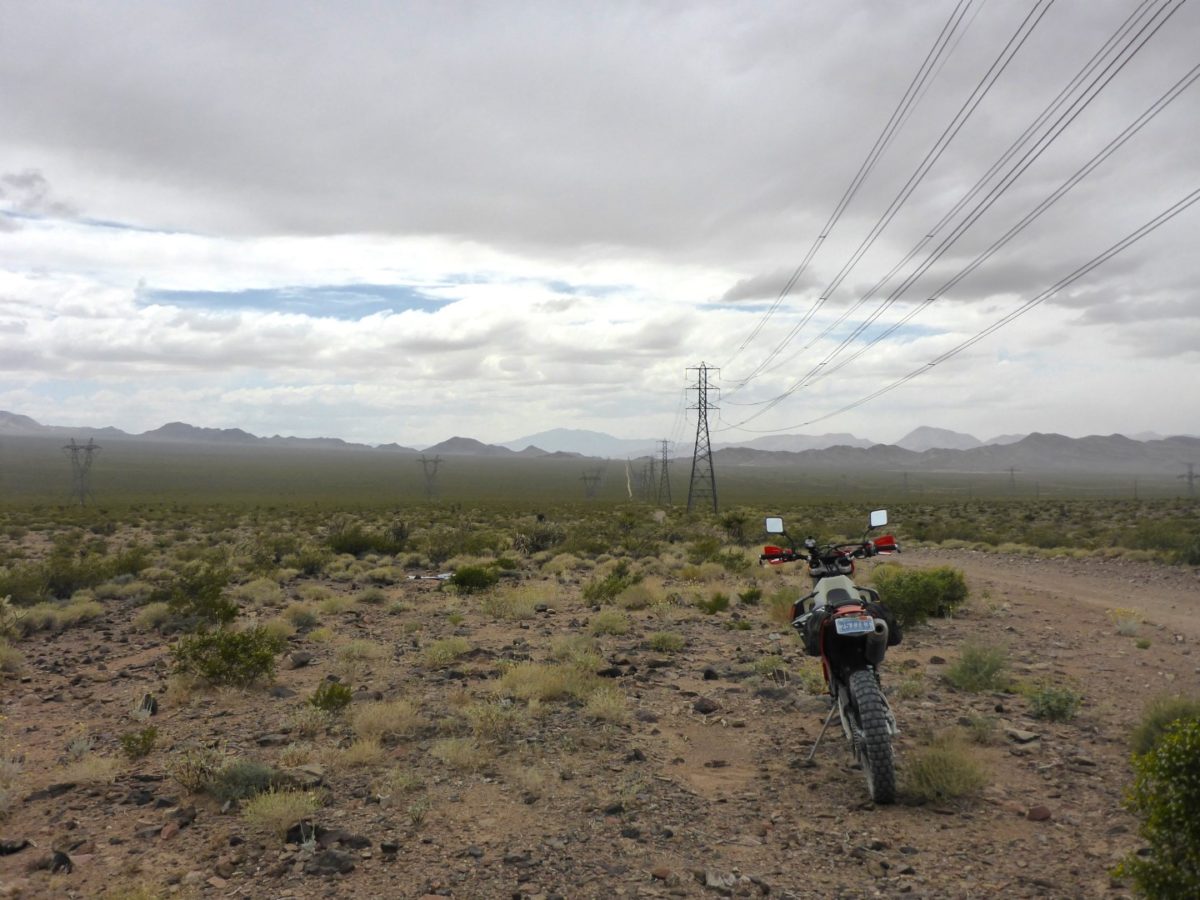 I headed down a dirt trail into the McCullough Range. I figured it had to end somewhere and I was right. It ended at a cable and post fence that designated the Wilderness area.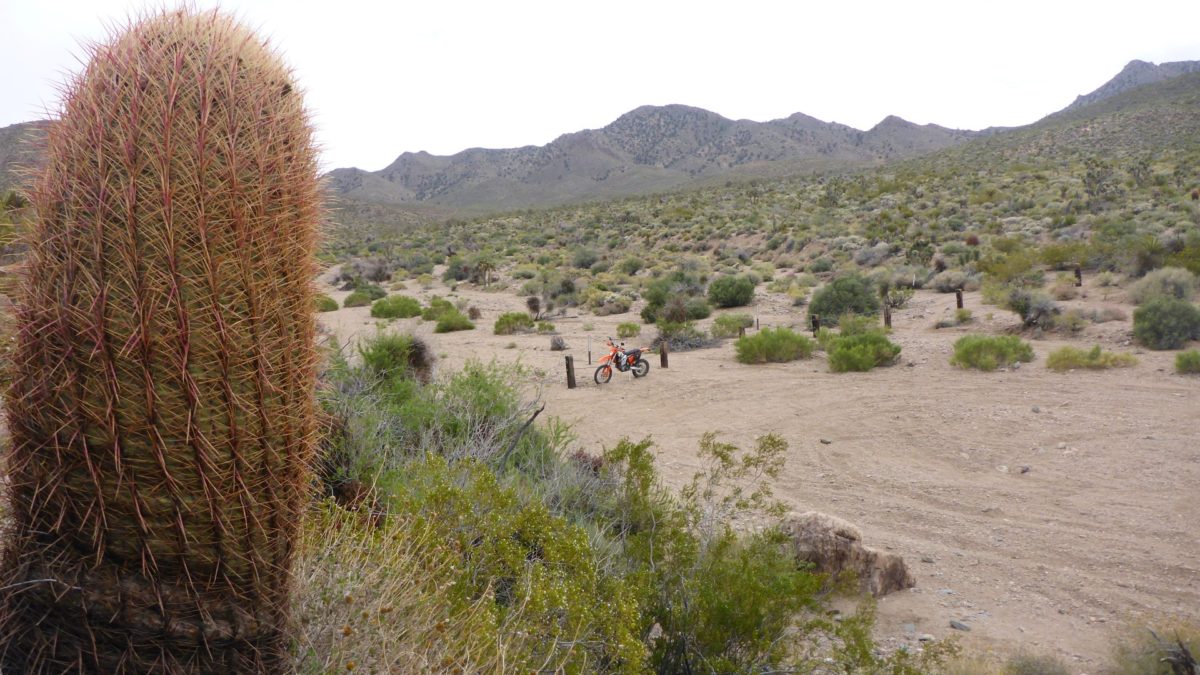 I could see why it was a protected "wilderness" area.
After turning back around on the trail and heading back, I noticed a little camp area off to the side. I could tell this was a highly used and frequented place for off-roaders. There was a picnic table, a huge fire ring and chopped firewood out there. After looking at the map, I found out McClanahan Spring is right up in the hills nearby. Hard to imagine any water naturally flows out of these hills that are covered in lava rock. Then upon a little more research I found out McClanahan Spring was named after a man, John McClanahan, who came to Sandy Valley, NV in the late 1800's. He opened a store and saloon in 1894 and became one of the town's main retailers in addition to running a blacksmith shop and a boarding house. He also become the town postmaster. It sounds like Sandy Valley had more going on back then compared to 2017! See how much history is in these old little towns? I love it.

Back to trail scouting! I found this little gem which followed the base of the mountain range for miles! Well, I thought that was a good thing until it turned into miles and miles of sandy whoops! Ugh. I was getting tired. I eventually ended up taking them nice and slow and waited for a double track or other trail to pop up.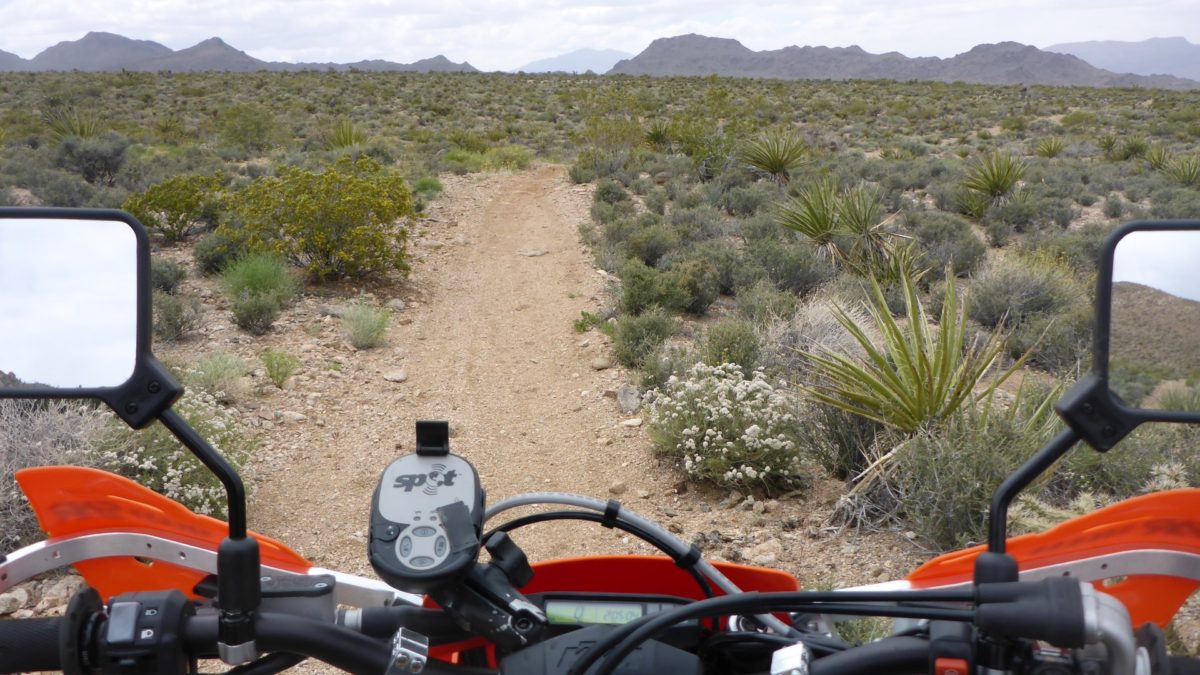 Then I spotted something. I was WAY out in the corner of the valley, far from any trail. Wait, is that a sign? And a pole with a solar panel on it? WTF?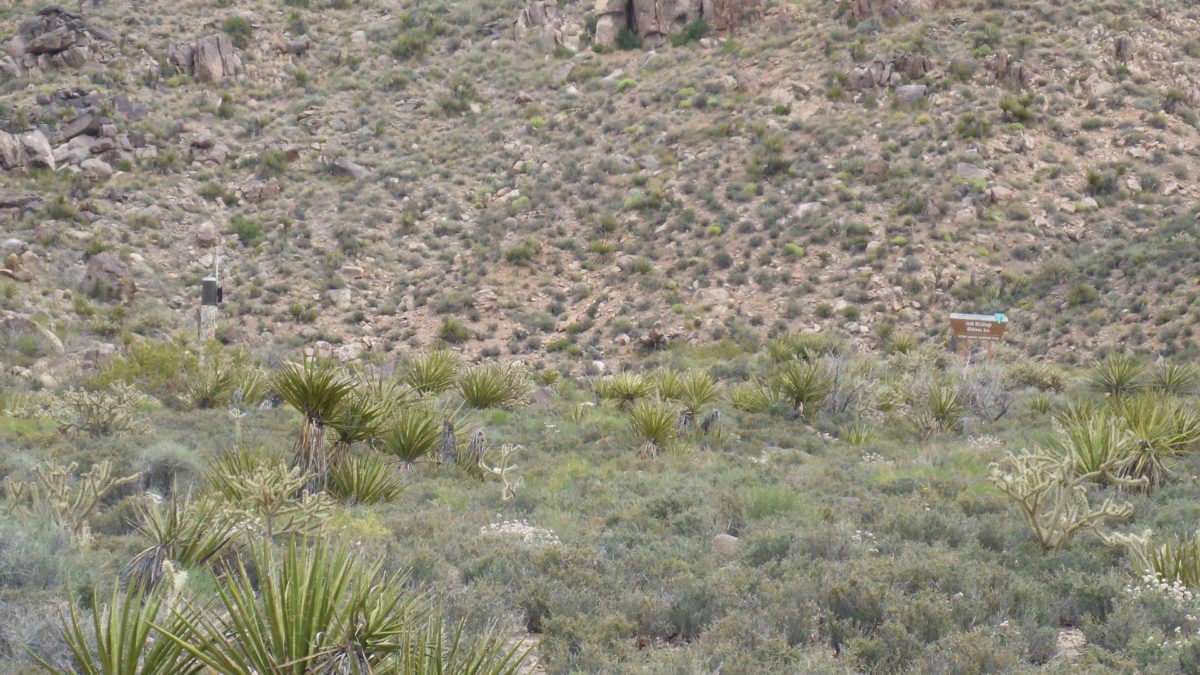 It sure was. The BLM surprises with the things they erect out in the middle of nowhere.
Not to point out the obvious, but this was an interesting looking barrel cactus.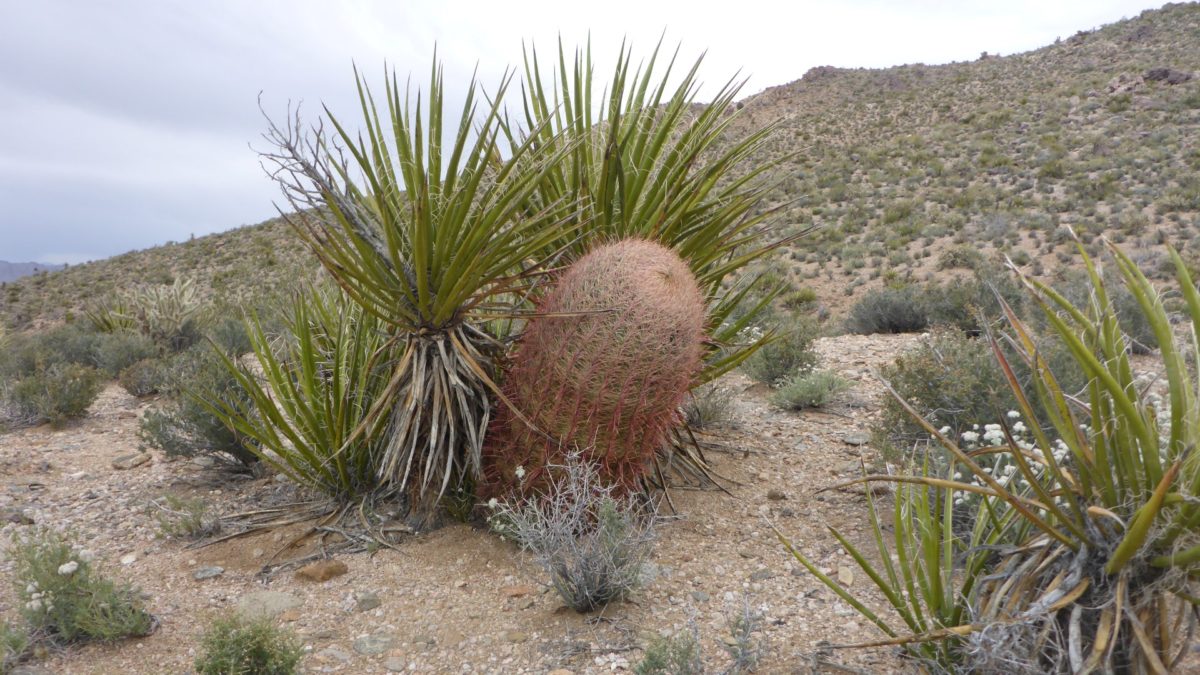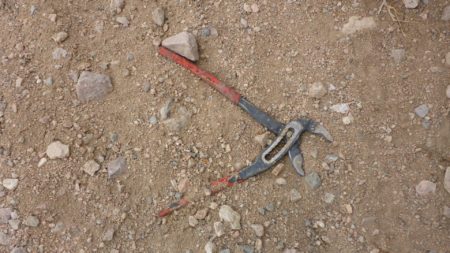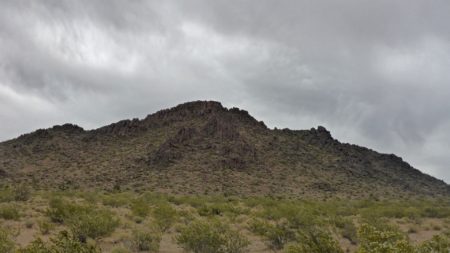 Finally I was out of the old race course whoops created by trophy trucks and back on the single track. Many of the roaming hills of the Roach area have some killer trails for 2 wheelers.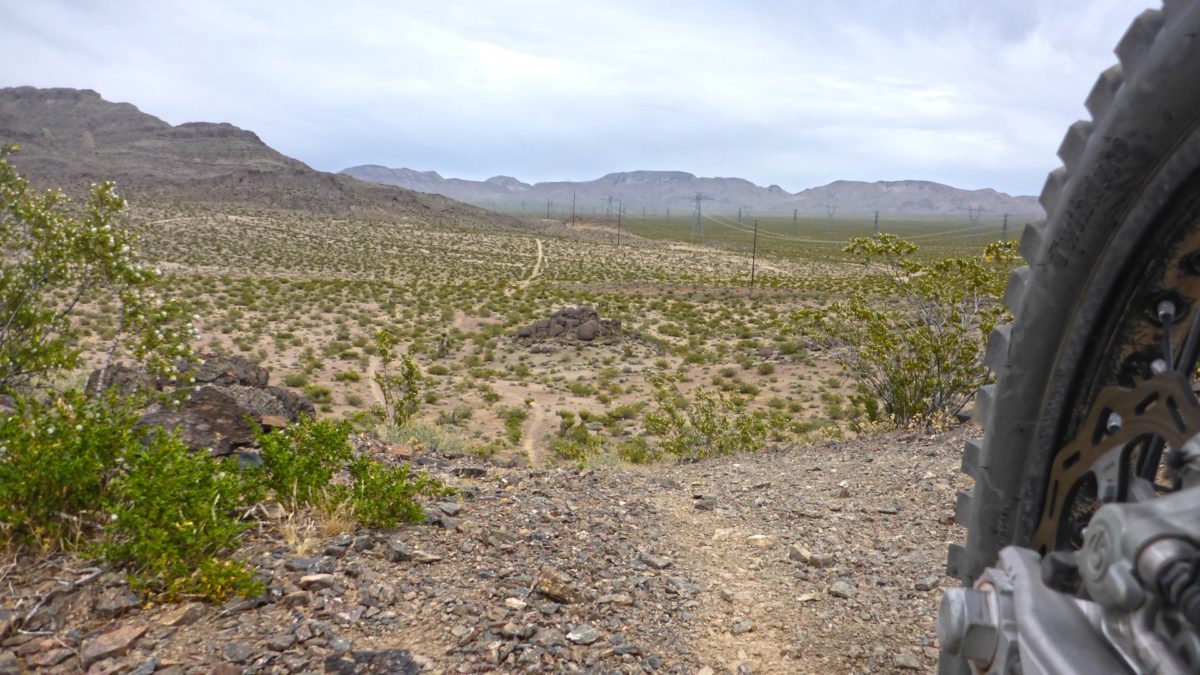 I had been riding for a good chunk of the day and I starting to feel it. This was the perfect spot to stop, drink some water, and have a snack while appreciating the view.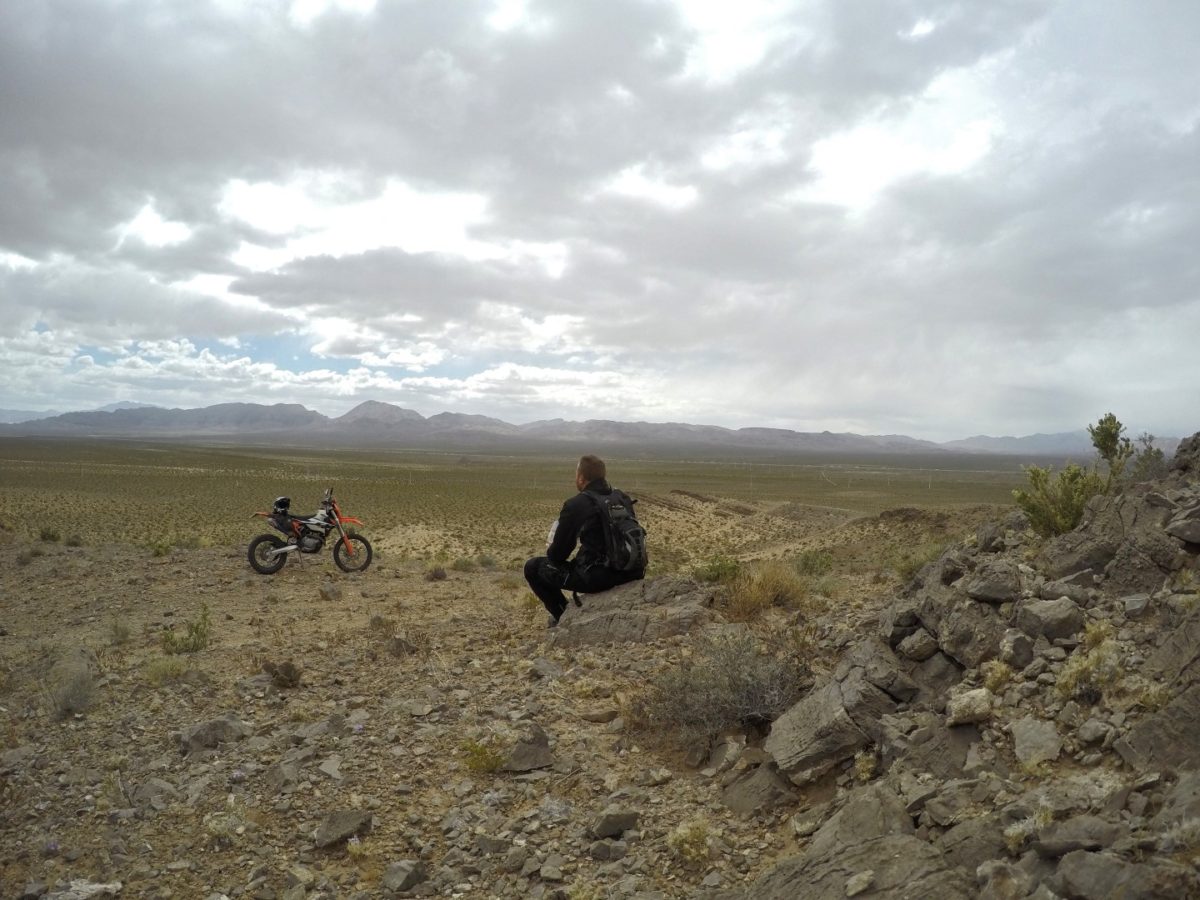 Miles and miles of traffic slowly crawled back into California. I have no idea how people do that.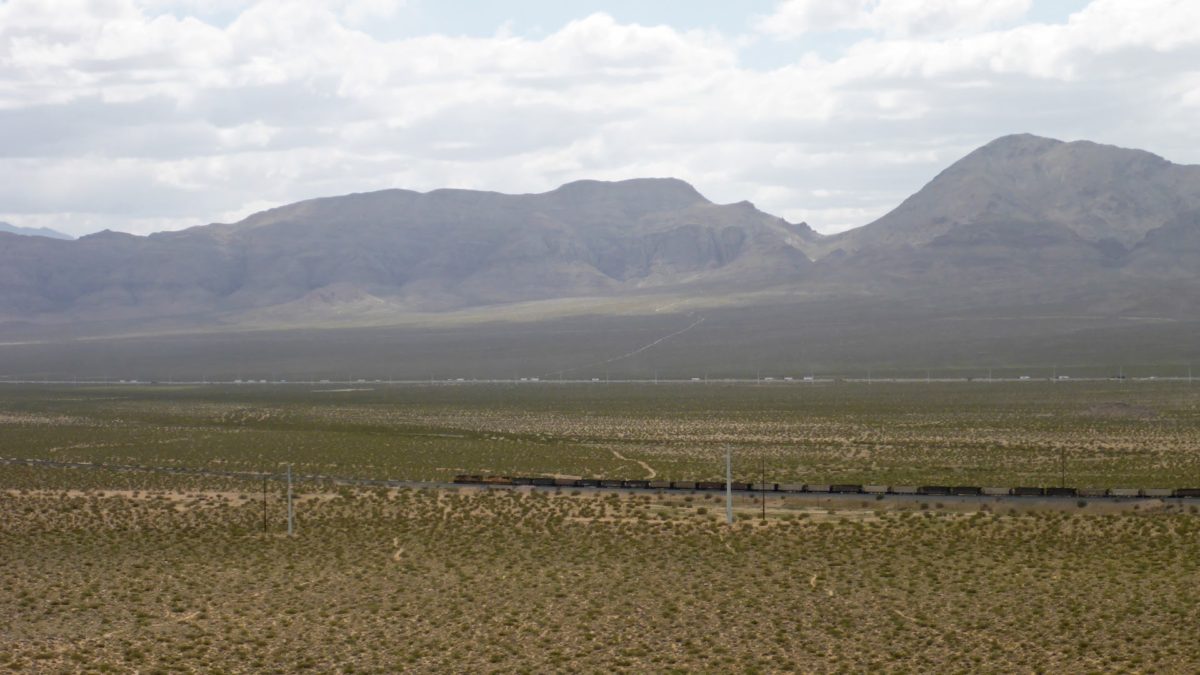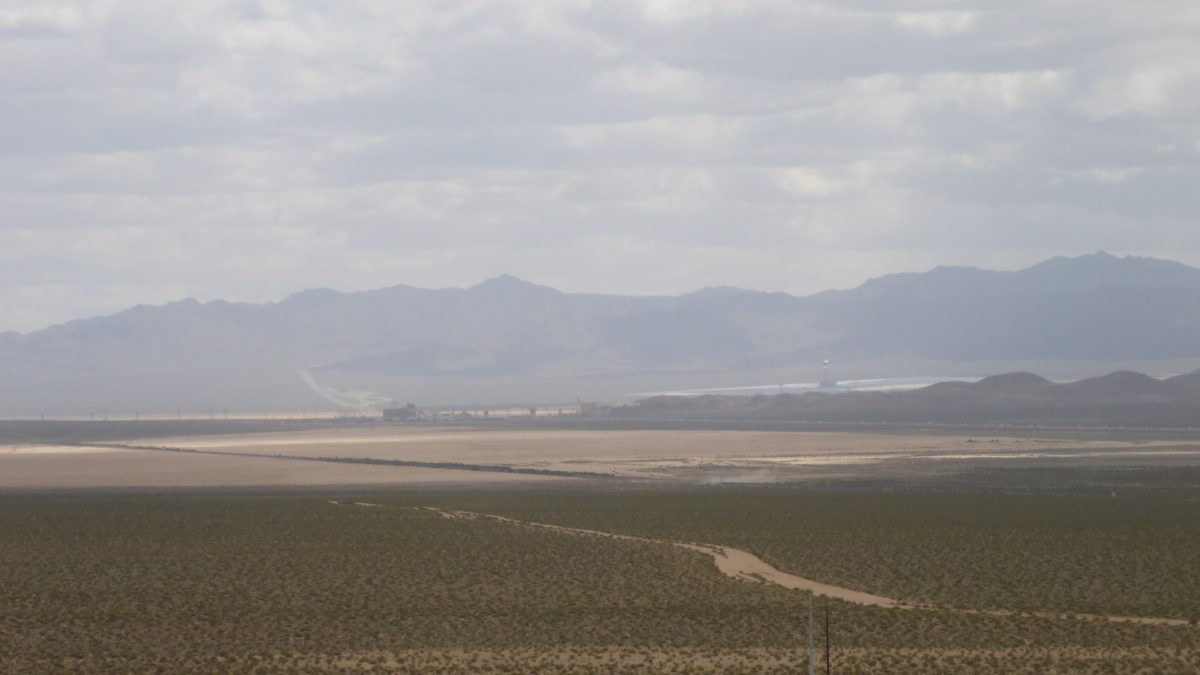 One last little section of trail and I was ready to hit the highway and get home in time to have dinner with Anna before she left for work.
I stopped along the railroad tracks to appreciate some graffiti art and to snap this photo. It's crazy to think how much paint was probably used to do this. They have some artistic skills though.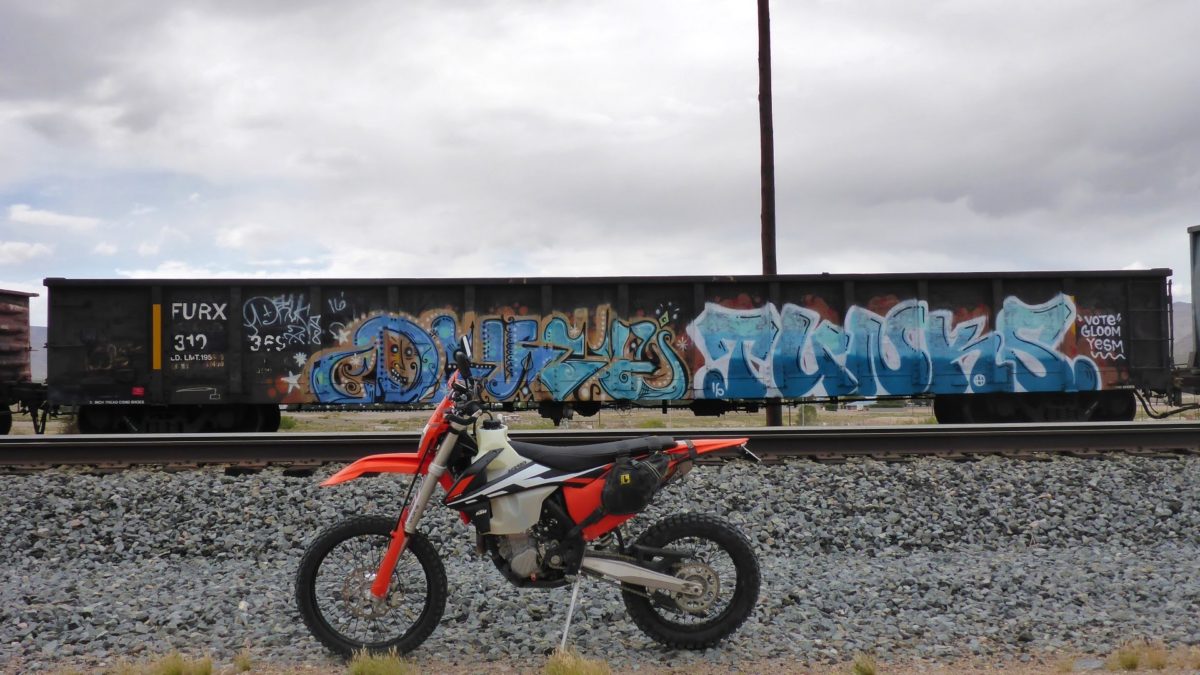 I stopped by the Jean airport for no reason other than to check out the planes.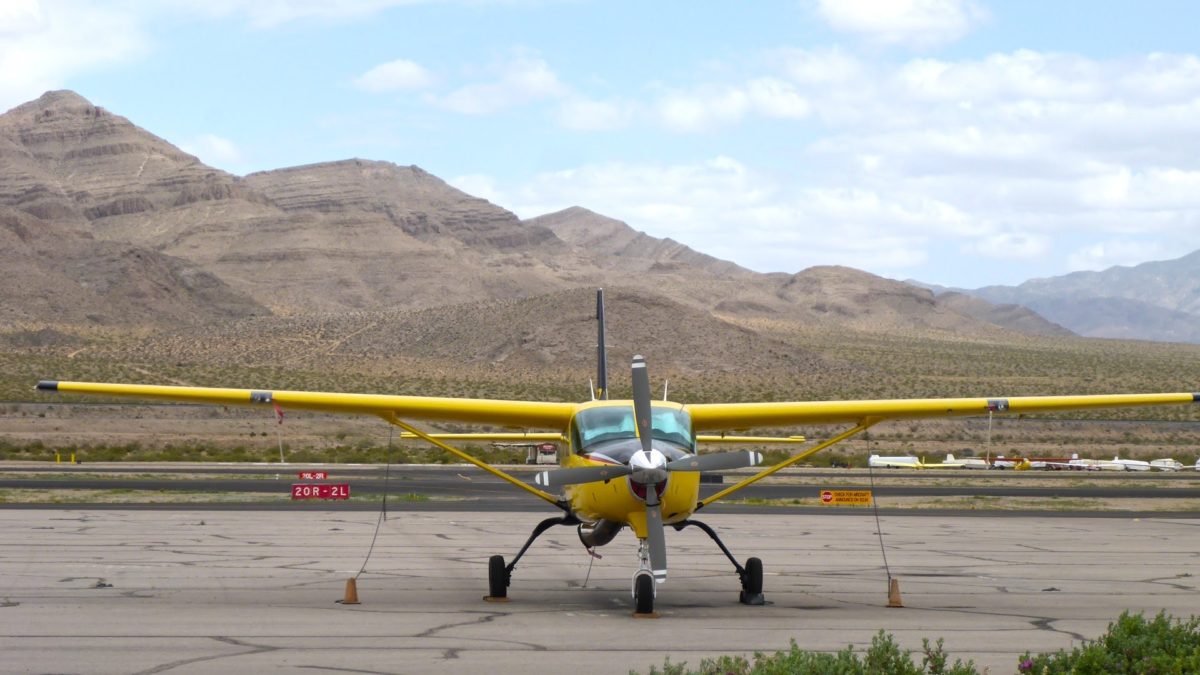 Our desert is definitely strange. These giant, 35 foot tall painted rocks are called the Seven Magic Mountains. According to the artist, "the location of the rocks is physically and symbolically mid-way between the natural and the artificial: the natural is expressed by the mountain ranges, desert, and Jean Dry Lake backdrop, and the artificial is expressed by the highway and the constant flow of traffic between Los Angeles and Las Vegas."
Hmm. I get that part, but……. ah whatever. Big colorful rocks. Cool.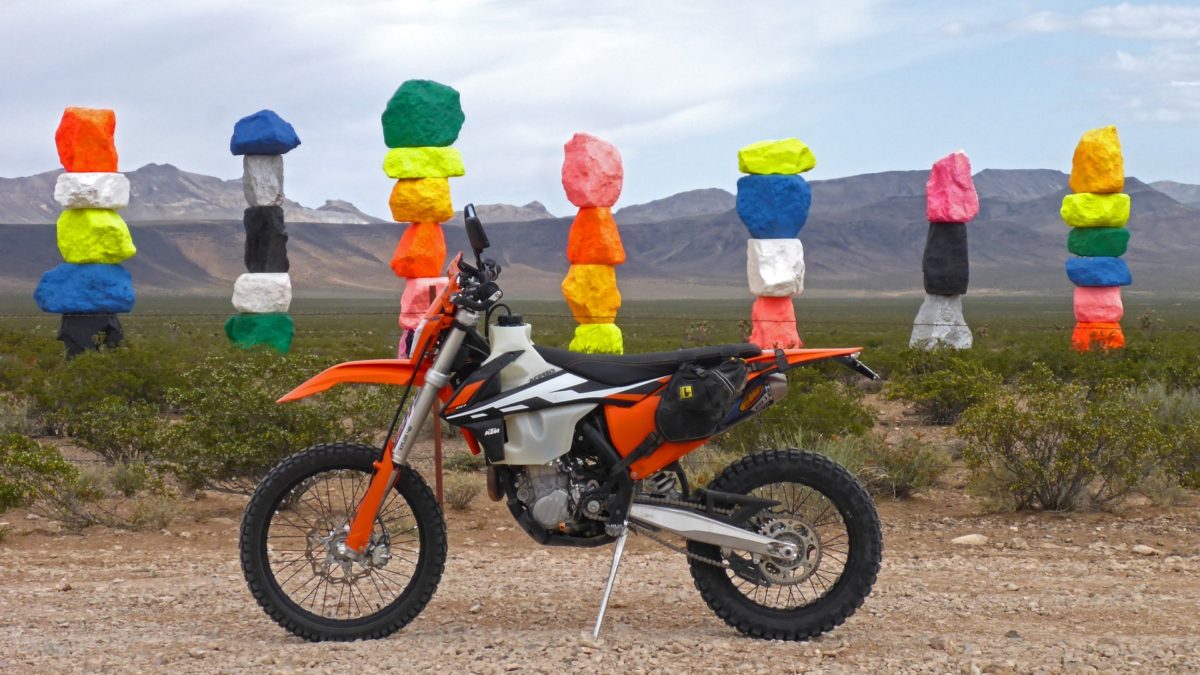 One last stop for some more sight seeing before heading home: people driving fast cars.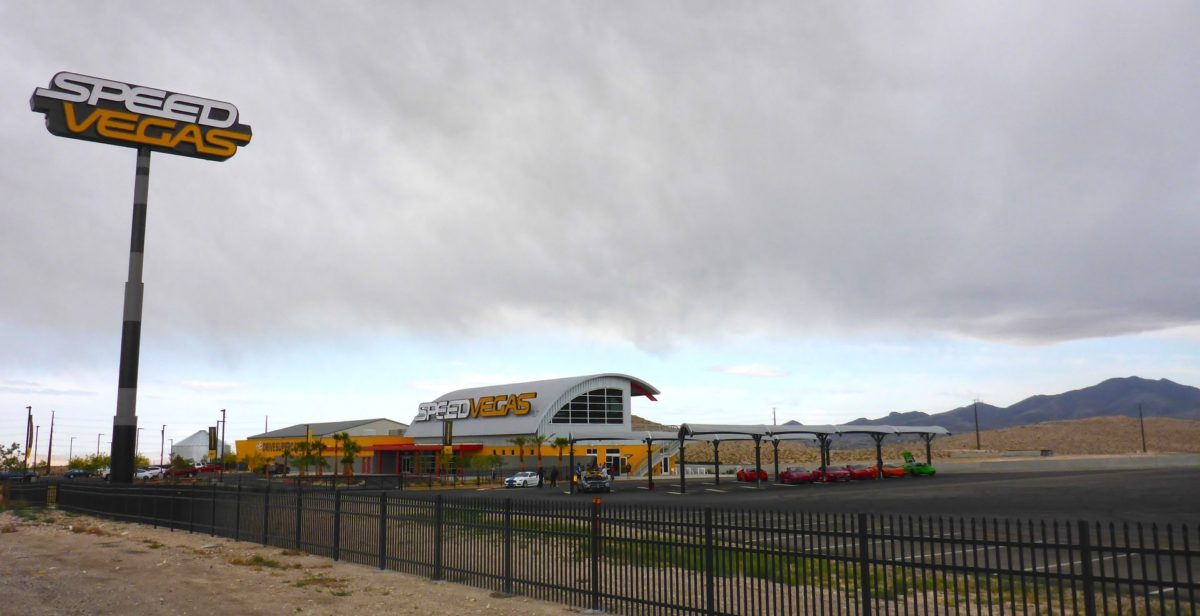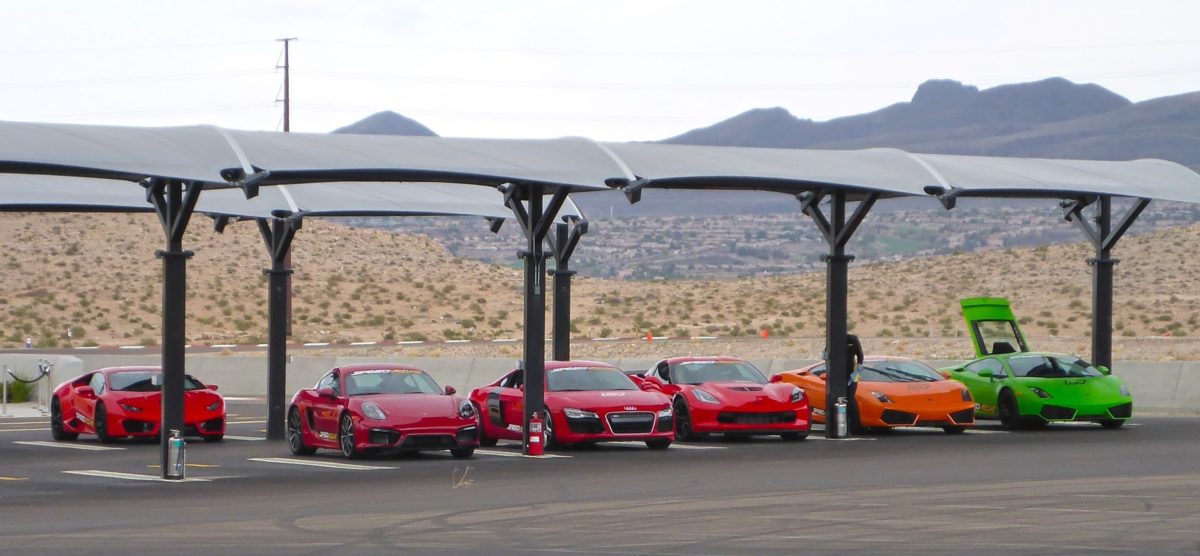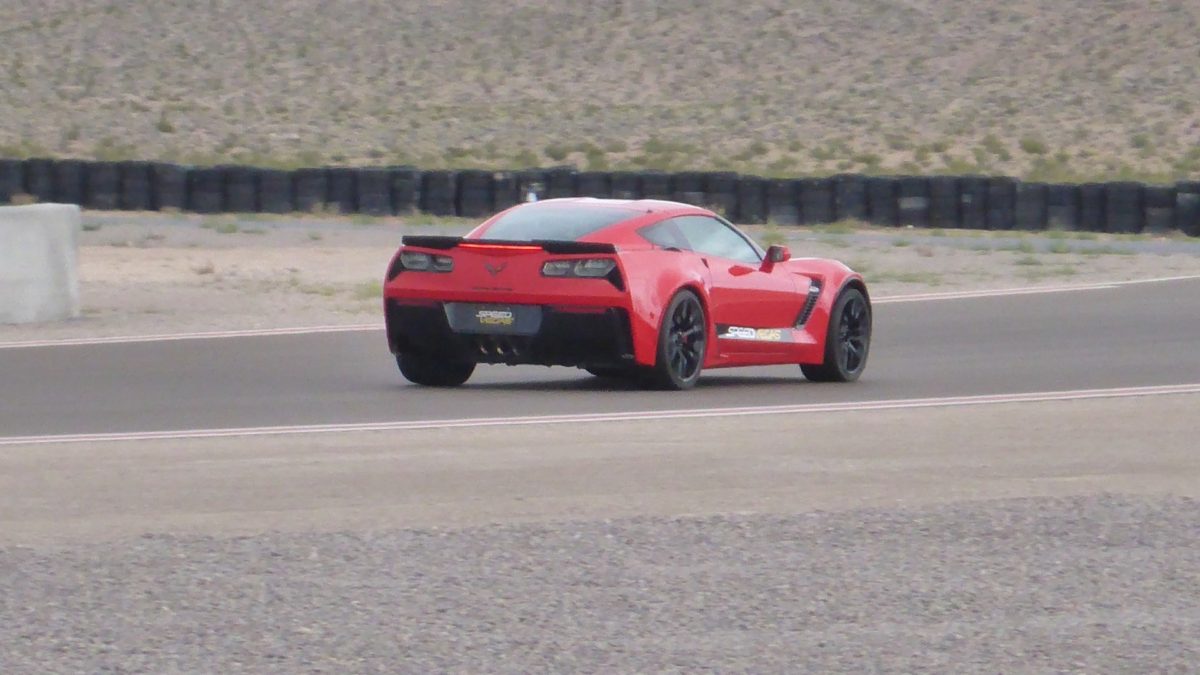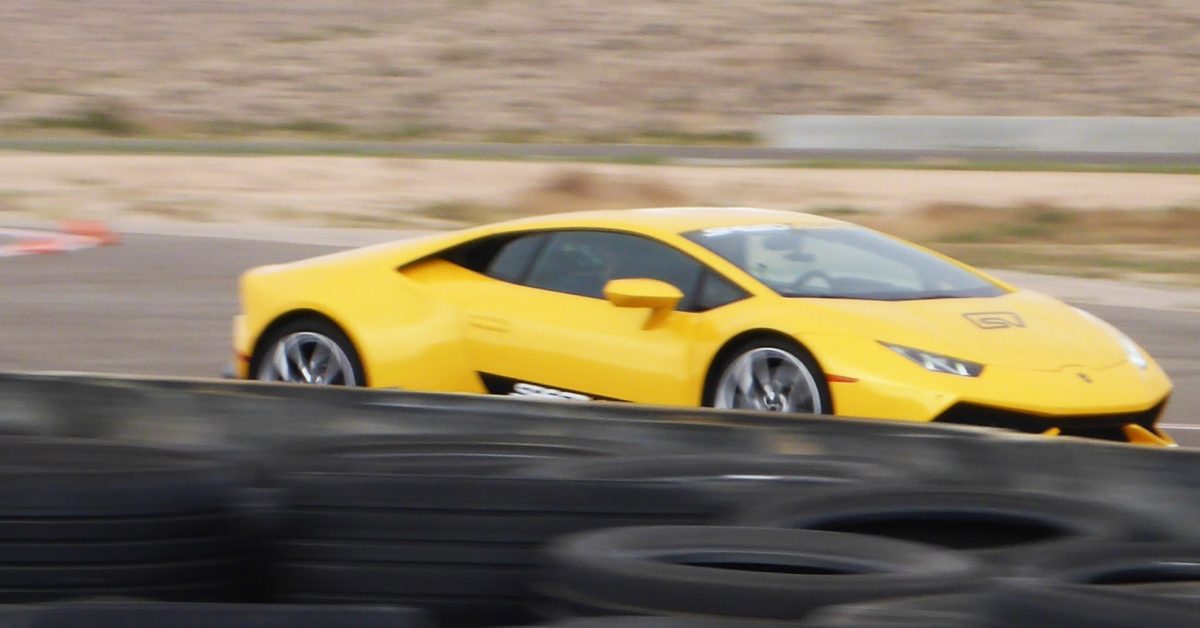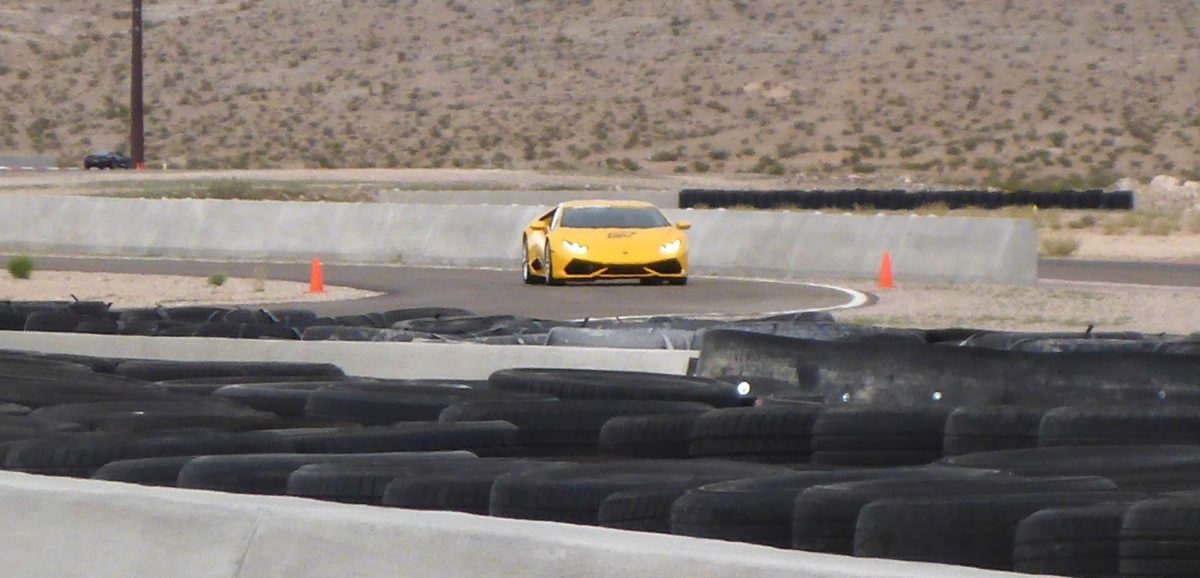 Overall I logged about 92 miles on the 500 EXC-F. It has me thinking I might be able to use this bike for many of the longer adventure / trail rides that I would normally ride my 690 on. I would never want to get rid of that bike, but I am wondering if, say, a new 1090 could replace it for those motocamping/ adventure trips. It's supposed to be very capable off-road. I always said I would just keep it and add a big bike, but this 500 has me very happy lately. Time will tell what I decide to do there. Until then, braaaaaaaaaaaaaaap!
Video
Here is some GoPro video capturing a little of the fun stuff.
Tracks
Sorry, no tracks this ride, but here is a map of my SPOT check ins which sort of gives you an idea of where I rode.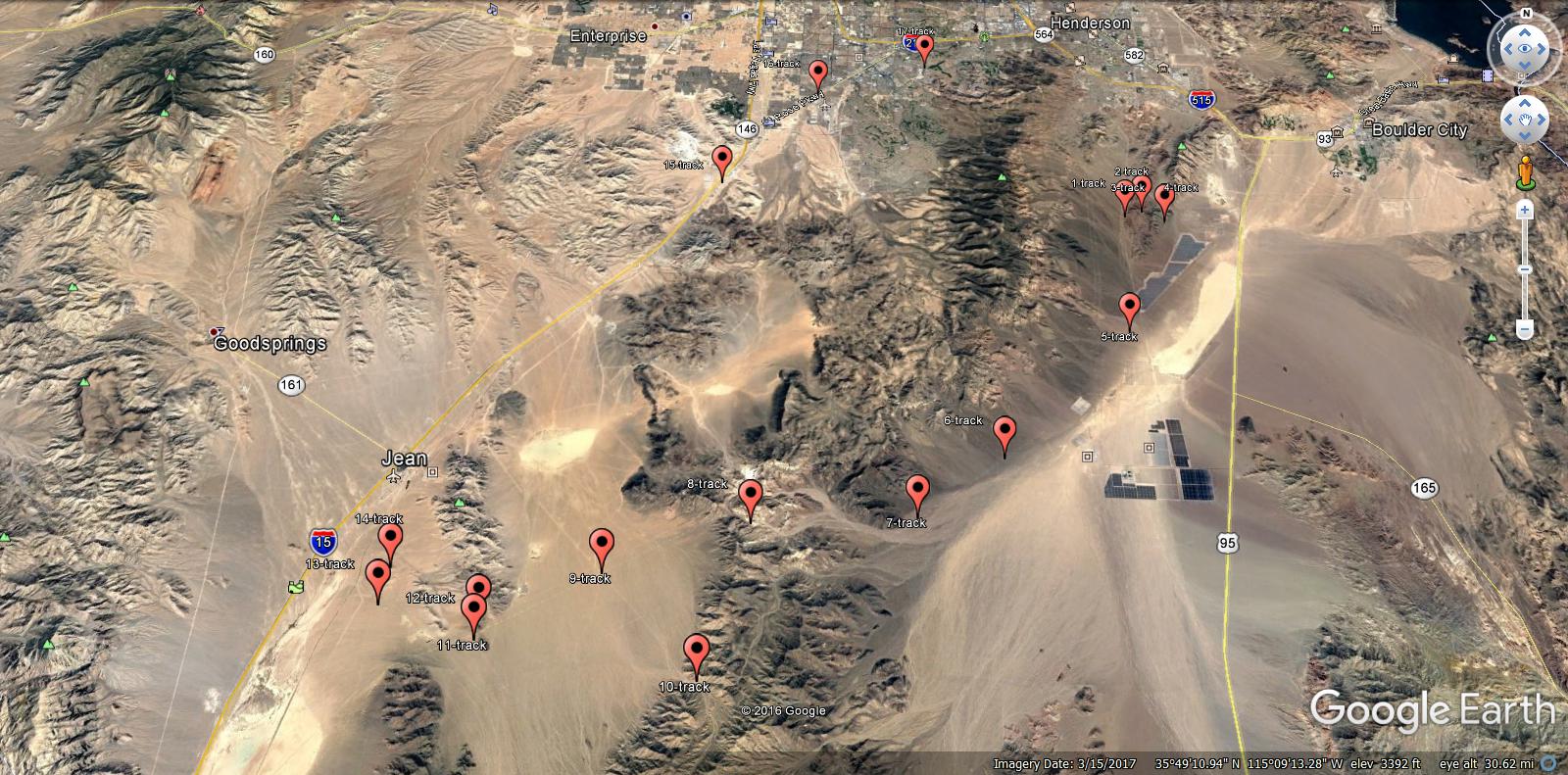 Comments
comments