Every summer my buddies and I try to get away for an epic, week-long adventure ride. Unfortunately, this was not one of those summers. Life, conflicting schedules, and van building got in the way. So we decided to make this summer's trip a much easier one and just head up to Utah. We decided on Duck Creek because it's an easy drive from Vegas and the high elevation makes it an enjoyable place to ride far away from the summer, desert heat.
Duck Creek Overview
Elevation: 8500 ft
Surrounding cities: Cedar City, Duck Creek Village, Panguitch, Brian Head
Trails: Mostly all double track/ forest service roads. Great for UTV, ATVs, and motorcycles
Nearby lakes: Aspen Mirror Lake, Panguitch Lake, Navajo Lake
Popular for: OHV, camping, hiking, fishing, hunting, biking
Getting There & Where to Camp for Free
Duck Creek is an easy 3½ hour drive north from Vegas on the I15. From Cedar City, Duck Creek Village is about 45 minutes west on the 14 highway. If you look at the map, you'll see forest roads everywhere just northeast of the village. Dispersed camping is allowed in many of these parts including Lava Flat and Unita Flat Dispersed Camping Area. Heading east on the 14, we turned left on Mammoth Road and drove about 5 minutes down the road and camped off of Forest Road 230. If you get there early on a non-holiday weekend, you pretty much have your pick of many awesome campsites that are surrounded by green meadows, pine trees, and aspens. Most sites already have a fire ring from previous campers and there are plenty of trees to hang a hammock. If you are looking for more amenities, Duck Creek Campground would probably be your best choice. We like getting out into nature where we have no neighbors, therefore, picked a forest road dispersed site.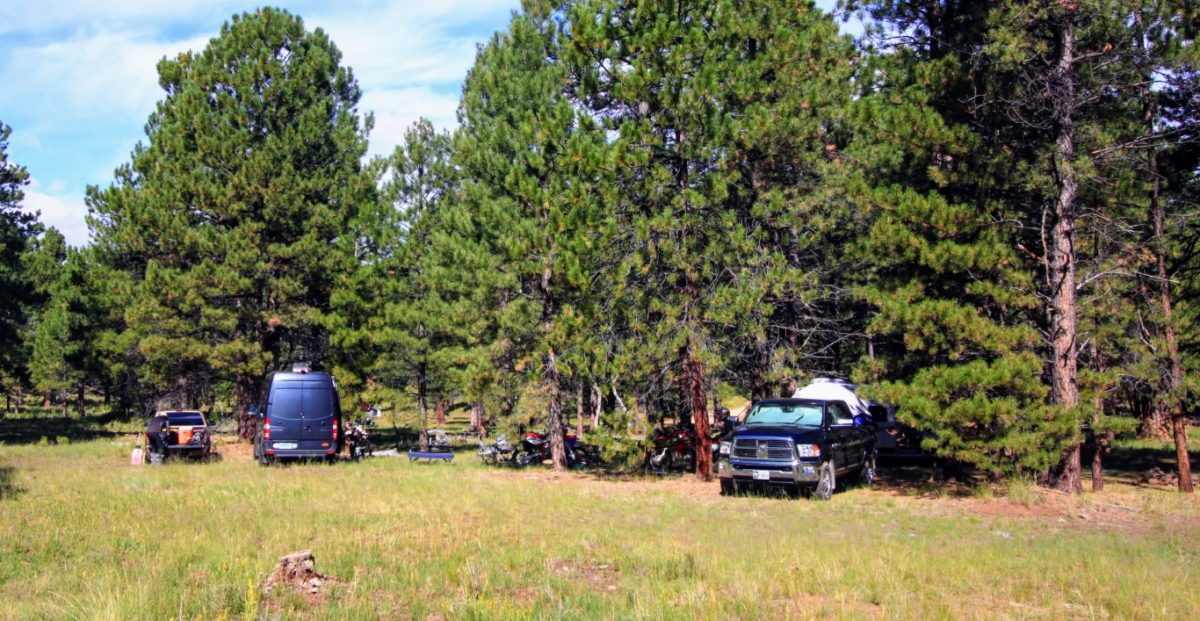 Get driving directions to this camp spot
Packing and Loading the Sprinter
This was my first moto/van trip with the KTM500 since finishing our Sprinter van. I was stoked to finally use the van for this purpose. Having a vehicle to haul my bike as well as function as my home for the weekend has been a dream for a while. I got a shakedown trip back in April at Goldpoint, but the van was far from finished then. Now that we have had a few good, long trips to make sure everything works and functions properly in the van, I was so ready to load up and go! Packing the Sprinter was super easy.
The L track on the walls functioned perfectly, just as designed. I hung all my riding gear on the passenger side wall where it was up and out of the way of the bike and off the floor.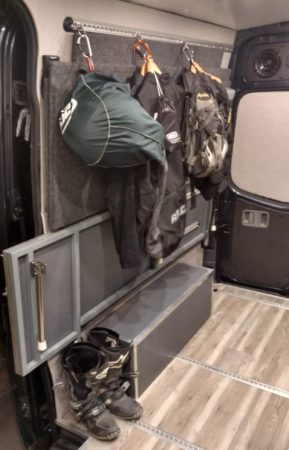 As for the bike, that was the easiest part. With our platform bed disassembled and stowed away on the wall mount, the lower bed/ couch folds up flat against the wall allowing me to roll the bike right in. I could actually fit two bikes inside when staggered, but this trip was just for my 500 EXC-F.
Ride Report
Friday
Steve had arrived Friday during the day and sent us coordinates to the camp. Brian, Mike and I got there later that night after dark. We chilled around the campfire for a few hours before calling it a night.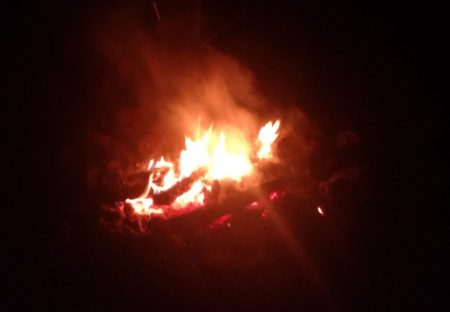 Saturday 
The weather was perfect that morning as the sun shined through the nearby aspen trees.
The day started off with some breakfast burritos and coffee. That GasOne stove works awesome! I'm really happy with it.
We started to gear up and slowly got ready for the day.
We hit the trails and wandered aimlessly for a while, heading somewhat north. The trail network here is full of many short, connecting double track trails and forest roads. We really had no plan or idea where we were going. After a bit of trail ADD, we decided to head to Mammoth Creek.
After checking out the creek, Brian and Steve scoped out the map while Mike supervised.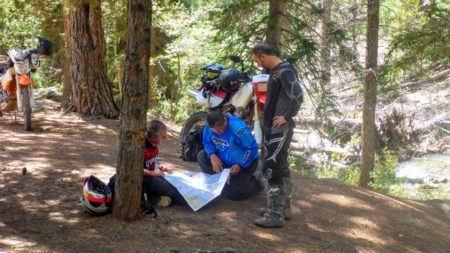 We left there and hit a few more trails. I was leading and found a cool trail that overlooked the lake. We checked it out and did a little exploring in the area, but it didn't go anywhere but to a dead end.
We headed to Panguitch for lunch at a local cafe. I got some fish & chips and a water (Utah 3.2 beer). I got a chuckle out of the Polygamy Porter on the menu. Utah is weird.
After lunch, we decided to take a different way back. It was a very indirect route that zig-zagged all over the place. I got some good practice navigating with my new Garmin 64ST. I used the "Find" feature to draw a line to our camp waypoint and I basically just took whatever trails connected and brought us in that general direction. It was pretty fun. In the meantime, we found some fun trails and a very interesting hill climb. I caught a funky rut and somehow managed to do a u-turn on the trail, Mike ran out of traction and Brian displayed an awesome dismount roll halfway through his climb.
We made it back to camp with plenty of daylight left to enjoy some hammock life and cold beverages.
We got a fire going, fired up the grill and made some burgers.
Sunday
We decided we had done enough riding and relaxed most of the morning before packing it up.
We weren't done with Utah quite yet though. The 65° weather was too good to leave, so we stopped at Aspen Mirror Lake to have a couple beers and kick back a bit more.
We watched the clouds cruise by. The temperatures went from perfect to cold, and back to perfect several times. The desert makes us total wimps when it comes to cold weather. Our bodies are too acclimated to 100°+ temps.
Aspen Mirror Lake near Duck Creek, Utah

Posted by Live Like Pete on Monday, August 27, 2018
Some GoPro Action
I didn't have my camera on for about 2/3 of the ride, but I managed to record some of the fun that was had that day. Those trails, although super easy, flow really well and are great for grabbing handfuls of throttle! Any day on two wheels is better than working.
Duck Creek OHV GPS Tracks
Download these tracks
GPX (Garmin compatible) [Right click and save link as…]
Heading home I couldn't be happier with the trip and this bike/ van setup. It's a dream come true.
Having this van makes these quick trips so much more convenient and easier to pull off.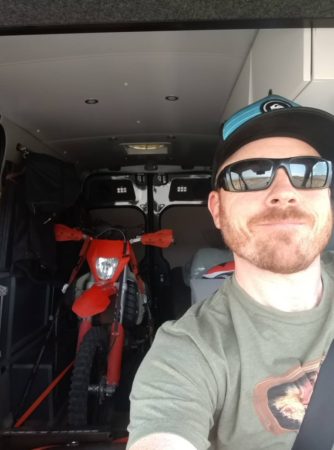 Thanks for following!
Please do me a favor and follow my Facebook and Instagram feed if you haven't already.
Comments
comments