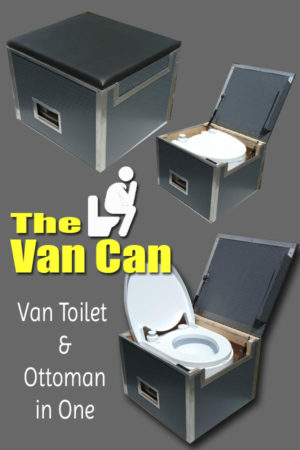 When building our van, we knew there would be no extra room for a built-in toilet, but we knew we would want one. Our toilet solution was sort of an afterthought, but the great thing about that is you are forced to get creative.
Having front swivel seats in our van made us realize we wanted a footrest, or ottoman, for lounging. This is when I came up with the idea to build a box that housed a portable toilet but would also double as an ottoman. The location for the toilet couldn't be better…right in the middle of the van! It's right there when you need it, but when it's not in use it is a functional piece of furniture. It would also function as either a seat to put shoes on or as a step to get up to our platform bed.
Choosing a toilet
There are a few different routes one can go when choosing a crapper for a van.
1. Composting Toilet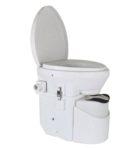 These are very popular with full-time van dwellers. They use no water and turn waste into compost. Most composting toilets use no water for flushing and are, therefore "dry toilets". Composting toilets are generally very expensive and take up more room.
2. Chemical Toilet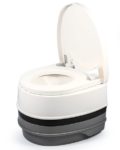 These toilets have a waste tank attached to the bottom and use a chemical additive. A small water tank is built in with usually a hand pump and a waste valve to flush.
3. The bucket and/or bleach bottle method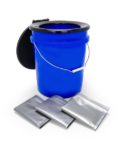 Some people like to keep it very simple. There are various products for pooping in a bag and some people choose to do their business out in mother nature. A bleach bottle or plastic container is a great option for going #1 and is easy to dispose of.
We were tempted to go with the #3 method, but we opted for a more civilized method of doing our business and bought a Campco 41535 portable toilet.  They make two sizes, a 2.6 gallon and a 5.3 gallon. We went with the smaller size because we needed it to be compact, but also because of the weight. When filled with water (and waste), these toilets can get heavy.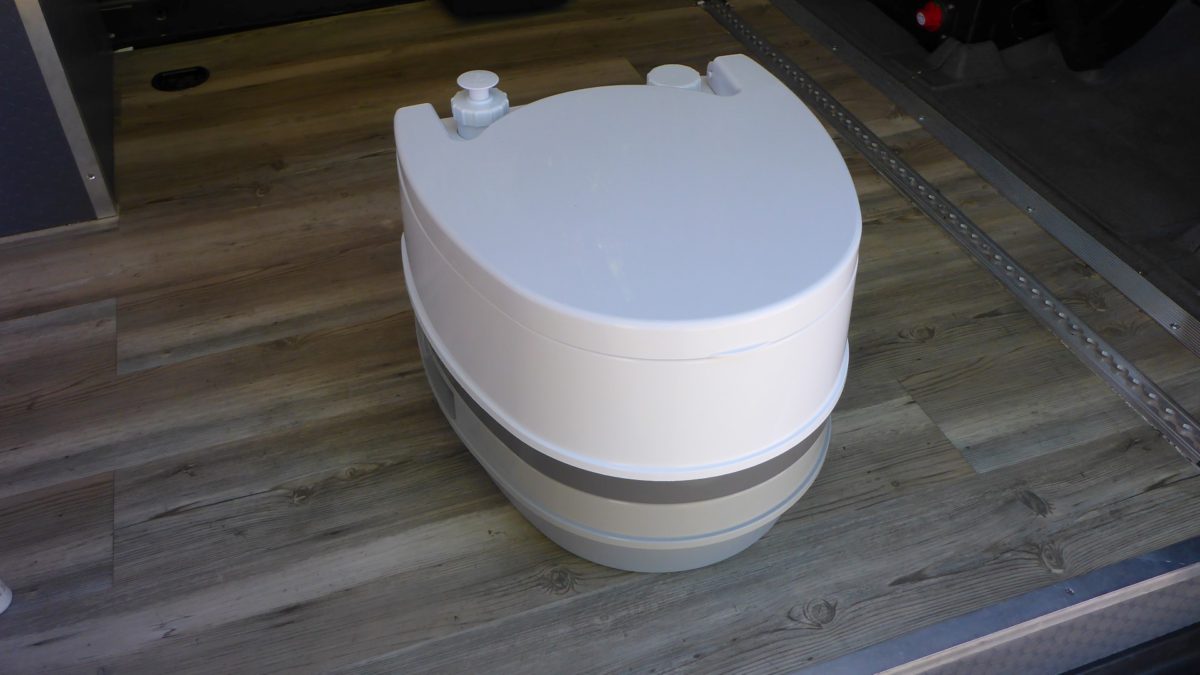 Building the Van Can Box
I began by building a box out of 1×3 wood to the dimensions of the toilet and covered it in lightweight 1/4″ plywood.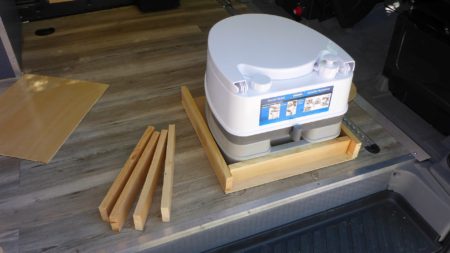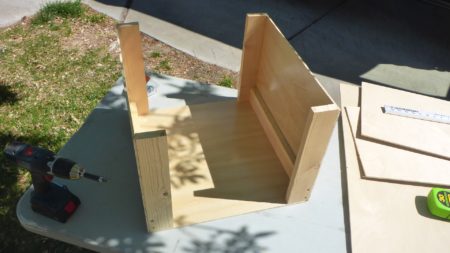 Using a piano style hinge and gas strut, the lid was made to open easily and stay up. I also made sure the front had a cutout to allow for our legs when sitting on it.

I created a cutout for the flusher valve in the side.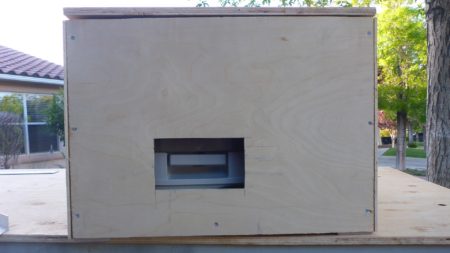 Making it Look Pretty: "Polishing This Turd Box"
Once the box was built, I covered it in rubber coin mat and finished the edges in aluminum angle sourced from Lowes.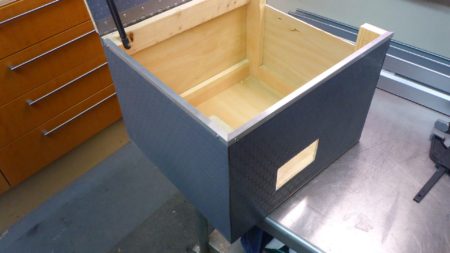 Using some extra low E foam insulation that we had laying around, I glued three layers together to make a cushioned lid and covered it in the same vinyl material we had used on our dinette/ bed cushions.
I trimmed out the rest of the box in aluminum, which was time-consuming, but worth every bit of it.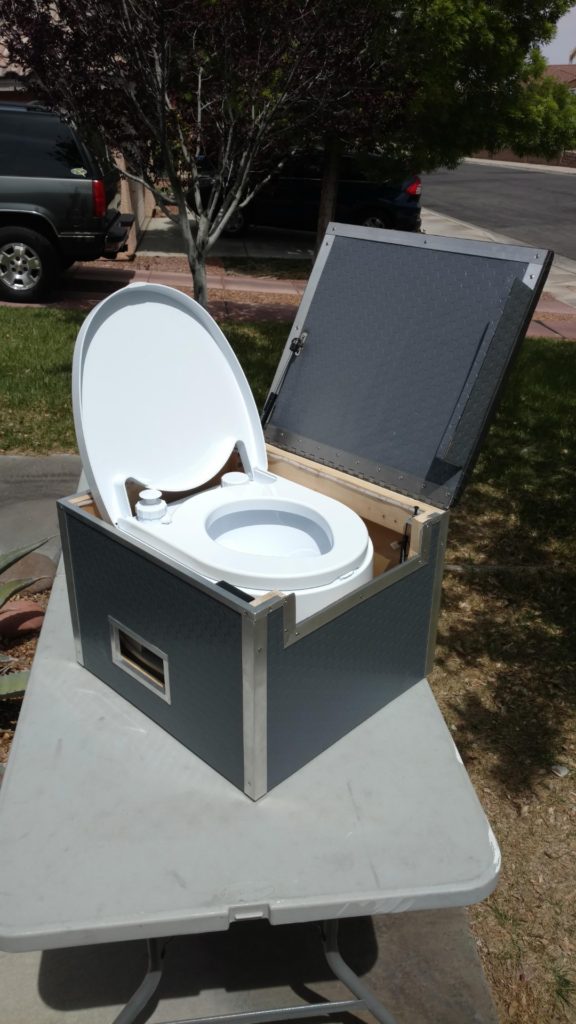 Pooping with a View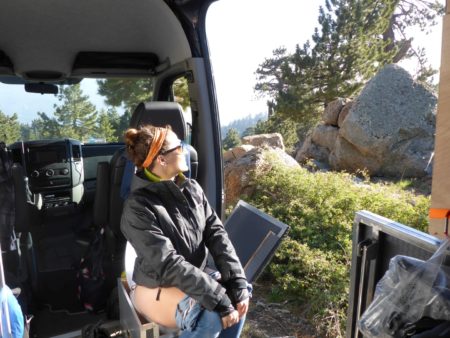 This potty doubles as an ottoman. Does that make it a "pottoman"?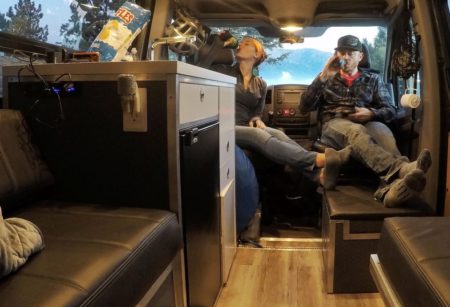 To bring it one step further we joked about having it light up like Marcellus Wallus' briefcase in Pulp Fiction. Like most stupid things we do, it turned out to be one of our best ideas yet. We never realized a nightlight would be so useful when going to the bathroom at night and is really nice not having to disturb the other person.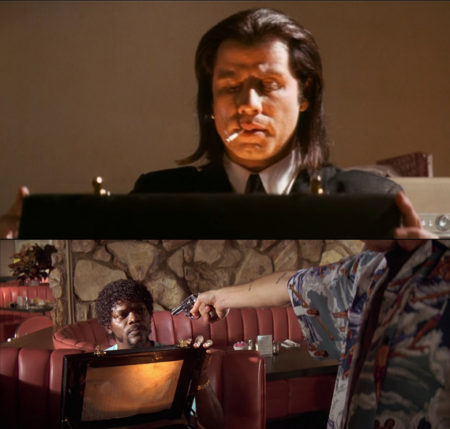 So I added a switch, 9V battery pack and orange LED lights to the inside of the box so it lights u when opened and turns off when closed.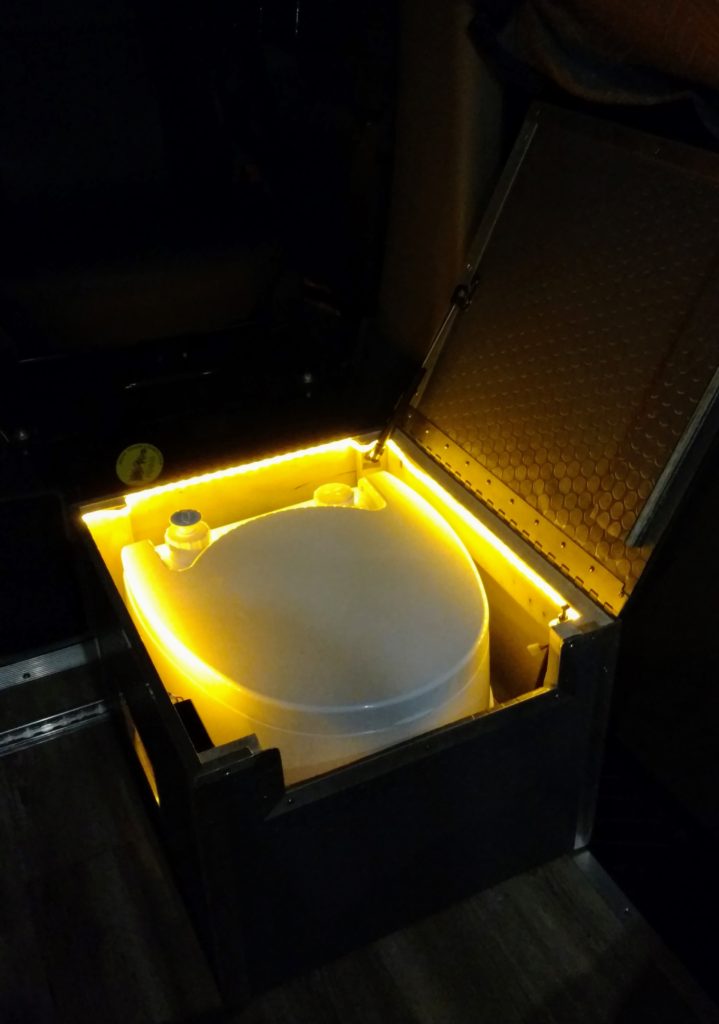 Parts List
1/4″ plywood sourced from Lowes
1×3″ pine
various aluminum angle sourced from Lowes
orange LED lights
Comments
comments