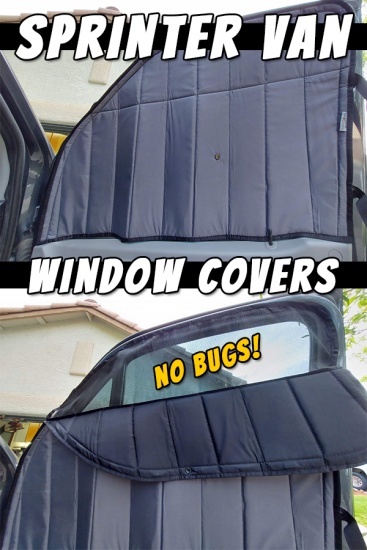 It can be overwhelming when searching for Sprinter van window covers. It seems everyone and their mother are making them now. We had a set from a company that worked great, but over time they seemed to shrink up for some reason and not fit quite right. That's when I tried out a set from Xplr Outfitters. We already had their indoor van shower enclosure and were super happy with the quality so it seemed like a no-brainer to give the window covers a try.
Front Cabin Door Window Covers
I was super stoked to see they offer a built-in screen option in the front window covers. We already have magnetic screens that are separate from our old window covers but they are just one more thing to have to store and set up. These are 2 in 1. The top portion of the cover folds down and snaps in place and the screens have magnets sewn in that are super strong and stay on the window frames. The window covers are available in many colors. We chose blackout on the outside and grey on the inside. They are insulated and also fold up nice and tight with the straps that are sewn right into the covers.
http://xplroutfitters.com/frontcabsides.html
Reflective and Insulated Windshield Cover
Our windshield cover was long overdue to be replaced. It was just a piece of EZ-cool foam. It was quite embarrassing. The reflective outside is something new that Xplr Outfitters is doing and it is a genius idea. Obviously, if you want a blackout option, they can make you that instead, but if you are like us and want to keep the cover in place to keep the van and dashboard cool, it is a super nice option to have. The cover features metal rods that prevent it from sagging. It fits perfectly and there are zero open gaps on the edges of the windshield. The cover has straps as well and comes with a storage bag.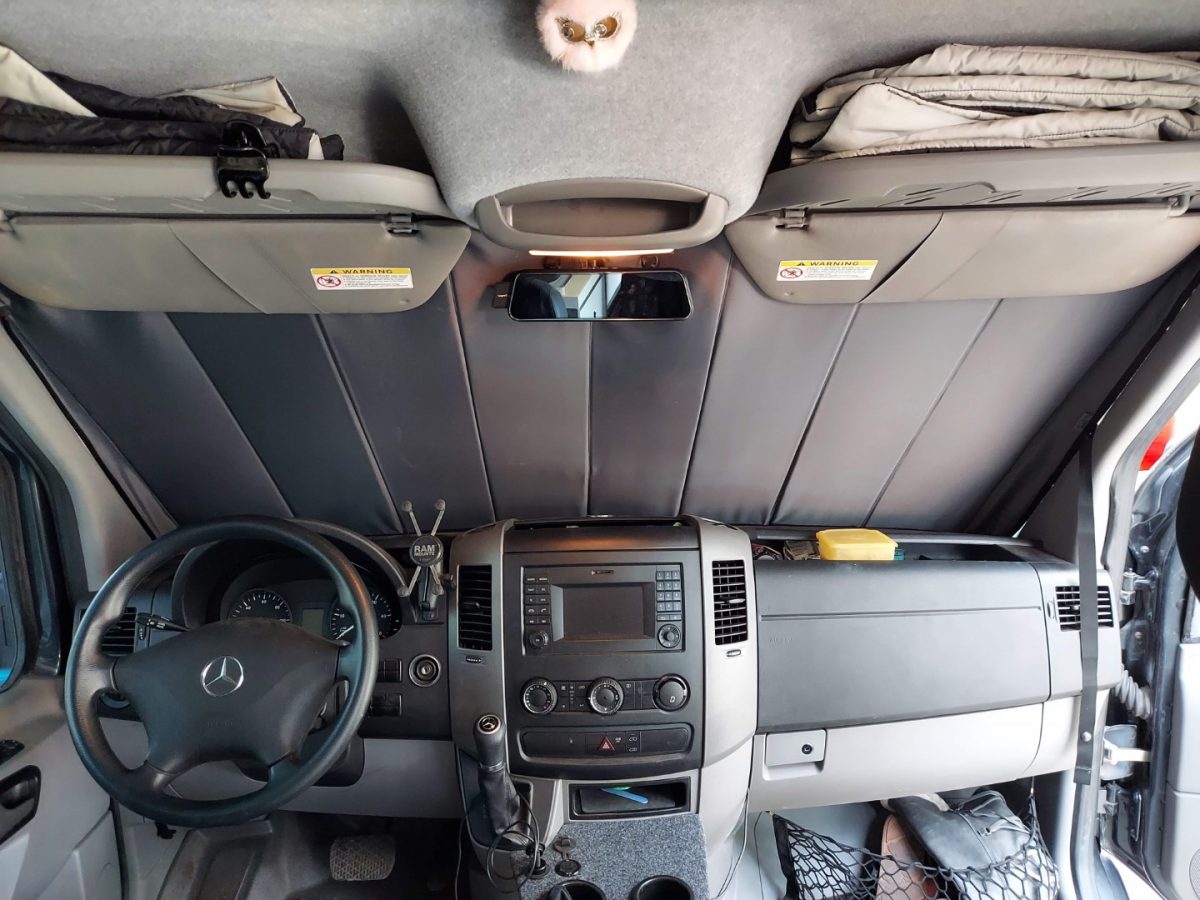 http://xplroutfitters.com/frontwindshield.html
Vent Fan Cover
Having a cover over the vent fan was something I never even would have thought about. Even though our fan has a smoked lid, there is still plenty of sunlight coming through in the morning. The nice thing about the cover is that it's pleated and can be folded back halfway so you can still get some airflow in the van. It stays attached using magnets. The cover comes with metal plates that simply stick to the inside of the fan bezel.
http://xplroutfitters.com/fanwindow.html
Video
Comments
comments