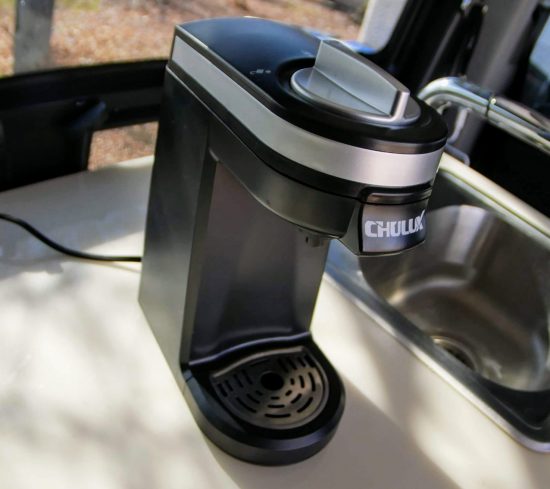 Coffee is an important part of my mornings. Many times when camping I don't mind using our JetBoil & French Press to brew up some great coffee. This method uses no power from our batteries and is usually produces the best coffee. The only drawbacks are the mess it makes when disposing of the grounds and the time/ counter space required to brew a single cup. When we just want to get up and hit the road, brewing a cup of coffee isn't really possible. I figured we would try out a small K cup style brewer and see how it goes. We bought two different models, the Chulux and the Keurig Mini, because we wanted one for our toyhauler as well. After using both we'd decide which one worked better for the van and keep it in there at all times. I'll cut right to the chase and say we chose the Chulux Single Serve Coffee Maker to use in our Sprinter Van and here is why.
Low Price & Great Reviews
I found the CHULUX Single Serve Coffee Maker on Amazon for about 35 bucks. The reviews were awesome and there were thousands of them. That's one thing to keep in mind when you see a 4.5 or 5-star review on Amazon. Make sure it's not just 3 or 4 of the seller's friends rating their product. Read the real-world reviews and weed out the people's complaints who are whiny and unrealistic about what a coffee maker should do.
Space-Saving Size
I like the small size of the Chulux brewer because it fits in our overhead galley cabinet. I just keep it plugged in up there and the cord is long enough for it to reach our counter when we do a quick brew.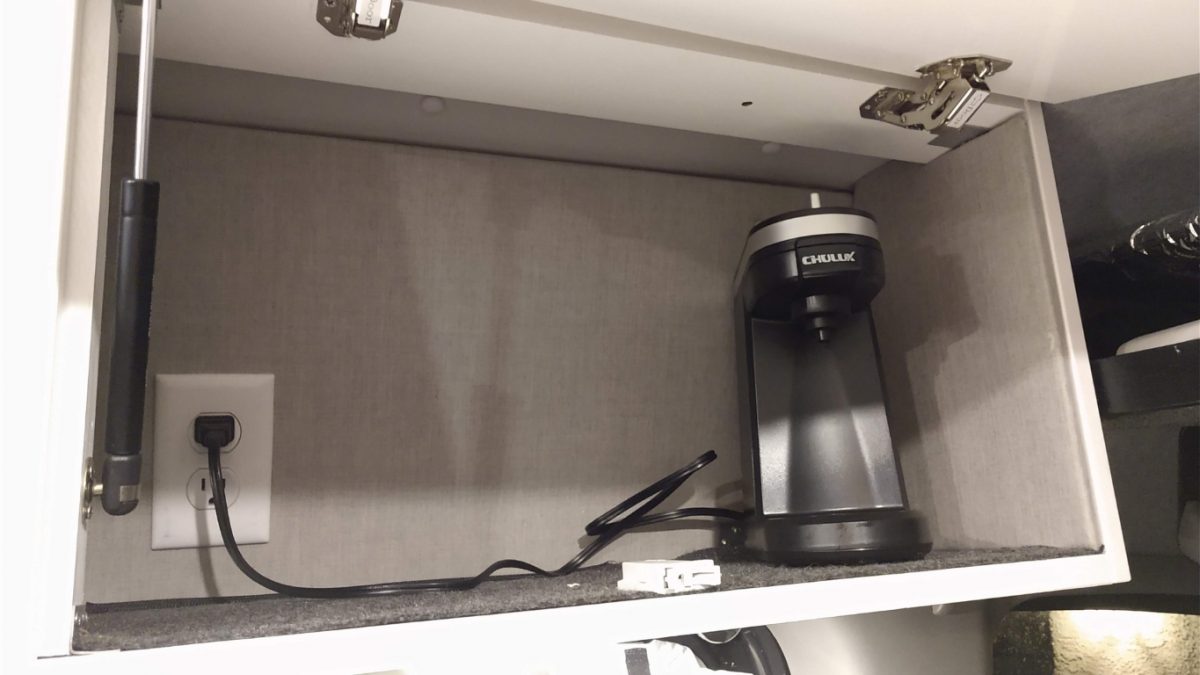 Low Power Consumption: 800 Watts
The fact that the Chulux coffee maker uses less power than most K cup style brewers caught my attention. Using my Kilawatt tester, I found that it only pulls about 800 watts. This makes it easier on our batteries especially when they are getting low. Although our inverter can run about 2000 watts, 800 is well below its capability.
3 Minute Brew Time
When running the original cleanse cycle of water through it, I timed the brew cycle. It was almost 3 minutes exactly for the total brew time. Now keep in mind, it does not pull 800 watts for the entire 3 minutes. The heating element only kicks on and off a few times throughout the brew cycle.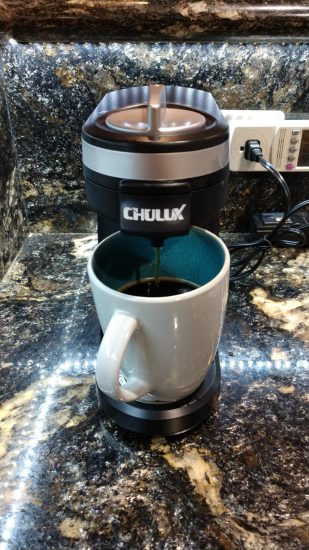 I did a test with our Victron battery monitor and brewing a cup of coffee only used 3 amp hours total. You can see the voltage drop when it was running the coffee maker and the amperage it pulled and then where the batteries stabilized after the brew cycle.
Less Mess & Less Waste: Uses Compostable K cups
We try to do our part any chance we get. Using the compostable K cups is much better for the environment and less wasteful than those plastic K cups. We tried out the SF Bay Coffee Variety Pack 80 Ct Compostable Coffee Pods and we're happy with the quality and taste of each coffee pod. Of course, you can always use the coffee grounds basket, but that would make more mess. It's nice to be able to just pull the pod out after a brew and toss it in the trash without having to rinse any grounds off and into our gray water tank.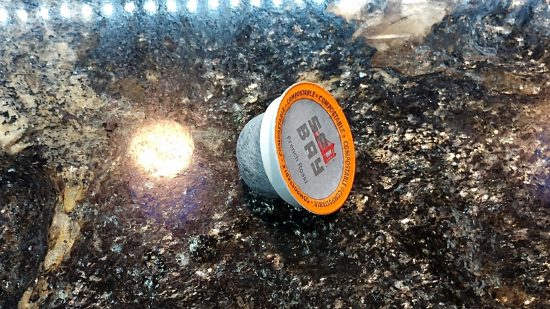 12oz Brew
I am used to brewing a 16 oz Yeti tumbler of coffee with the french press. Since this coffee maker is small in size, the 16oz cup does not fit. I tried out this Simple Modern 12oz Travel Mug and it fits perfectly in the brewer and in our console cupholders. I also found that 12oz of coffee is plenty in the morning. There's no need to be bouncing off the walls.
How Did it Compare to the Keurig Mini?
The Keurig has always been our choice of coffee brewer. When it came to the mini, I didn't like how "not mini" it was. Although it's skinny, it's very tall. Even though the Keurig only takes 2 minutes to brew a cup, it's very loud and obnoxious when it's doing its thing. The internal water pump is crazy loud when it comes on. The Chulux is nice and small, quiet and only takes a minute longer for less than half of the price too. When it comes to the van, the Chulux is the winner for sure. I love this little coffee brewer.
6 Month Update
Update! After many camping trips, the little Chulux coffee maker has been awesome, however, at elevations above 5000 feet it has been a little temperamental. The water heats and boils but does not dispense. It just keeps boiling until it steams half the water away. I believe it's because at high altitude, water boils at a lower temperature and never reaches the temperature required to activate the thermal switch to dispense. This is my theory at least. The quest for the perfect easy coffee continues. I think I will be buying an electric kettle and doing the pour-over method or looking into a high altitude K cups coffee maker if there is one. If you don't go to high elevations, this coffee maker is still very portable, simple and works great.
Product List
Comments
comments