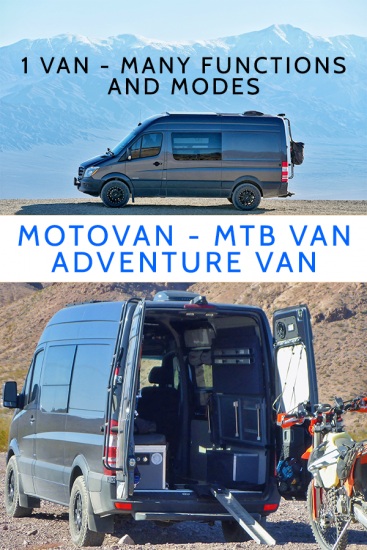 One of the biggest challenges when building out our Sprinter van was to make sure it could serve multiple functions for all the different activities we'd use it for. This meant it had to be very versatile and transform from 4 different modes: dinette mode, lower bed mode, open hauling mode, and platform bed mode. In this post, I'll explain each mode and a few of the additional features that make this van so functional for our lifestyle. Many times we use this van to travel and explore with no toys whatsoever, but the other half of the time we're loading dirtbikes, mountain bikes, or even kayaks and a SUP. I see many really cool van builds that have a very "homey" feel with spice racks, wardrobe closets, and bathrooms, but every time I see these builds I wonder where the heck they haul their toys or hang out. Our van had to serve many purposes so I take pride in the fact that it is very unique and I designed and built it 100% myself to suit our needs.
Dinette Mode
In dinette mode, we have a Lagun table mount at the back to allow for open space while having a rear table setup.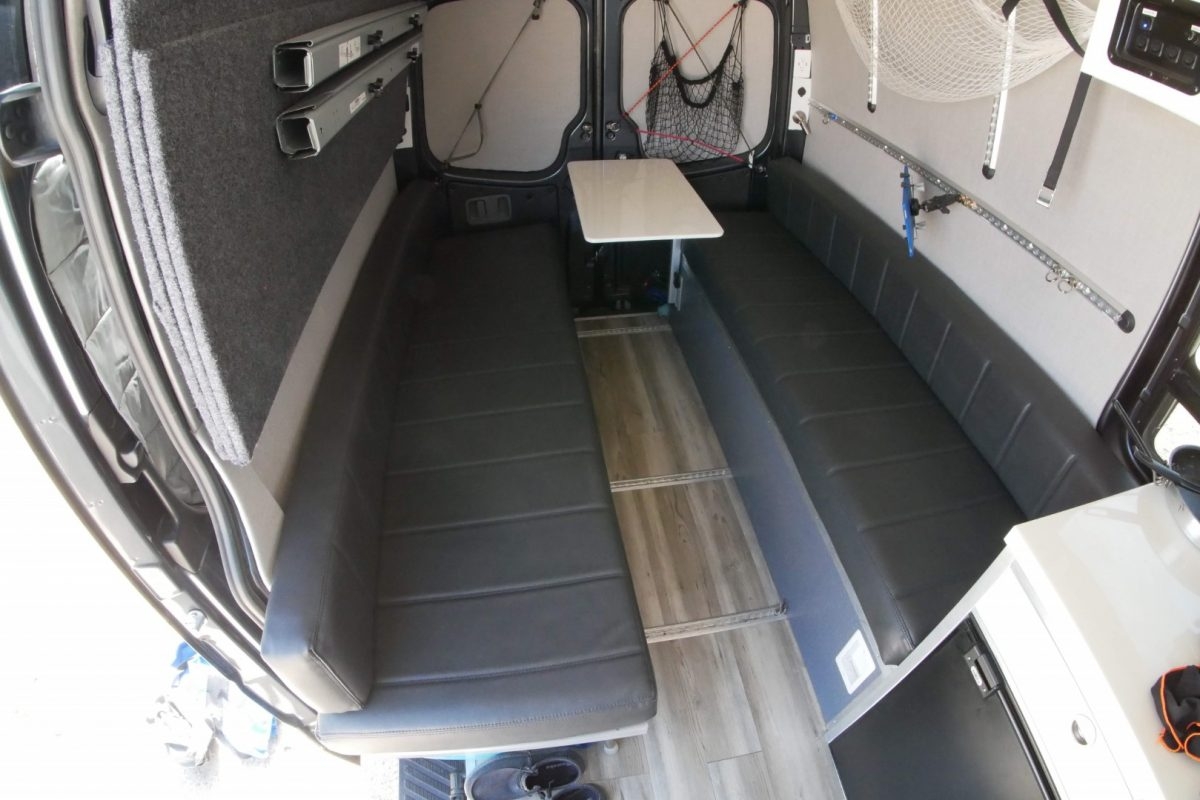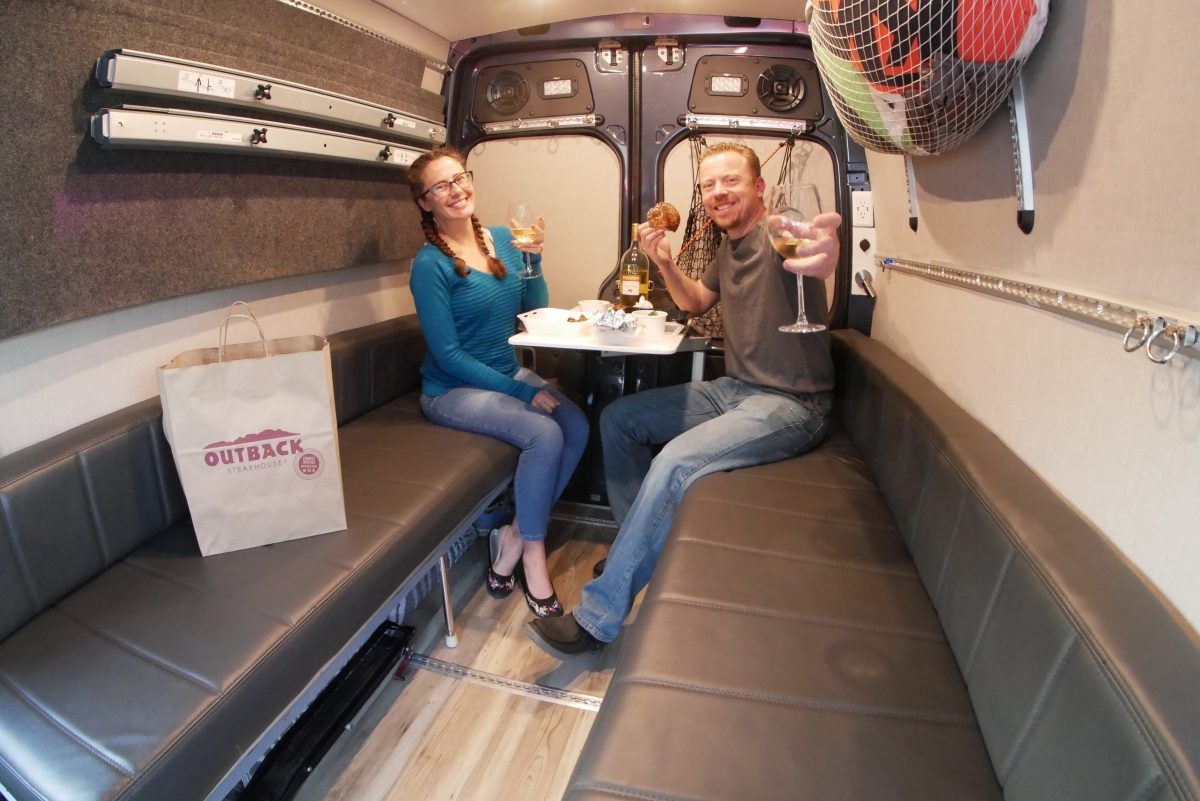 We also have a front table mount so we can sit and eat a little closer to the middle of the van which is nice because that is where the windows are.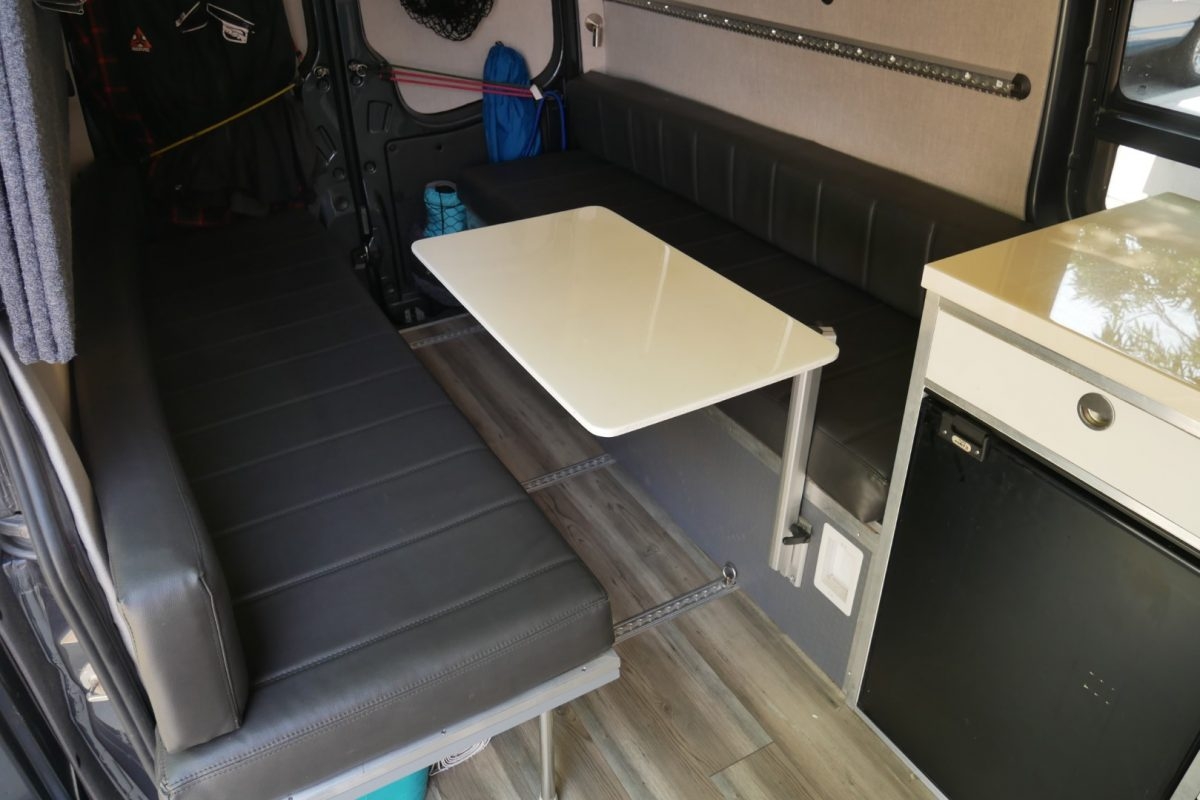 This setup proved to be extra useful when cooking larger meals where we needed more counter space. The table swivels and extends the kitchen workspace if needed.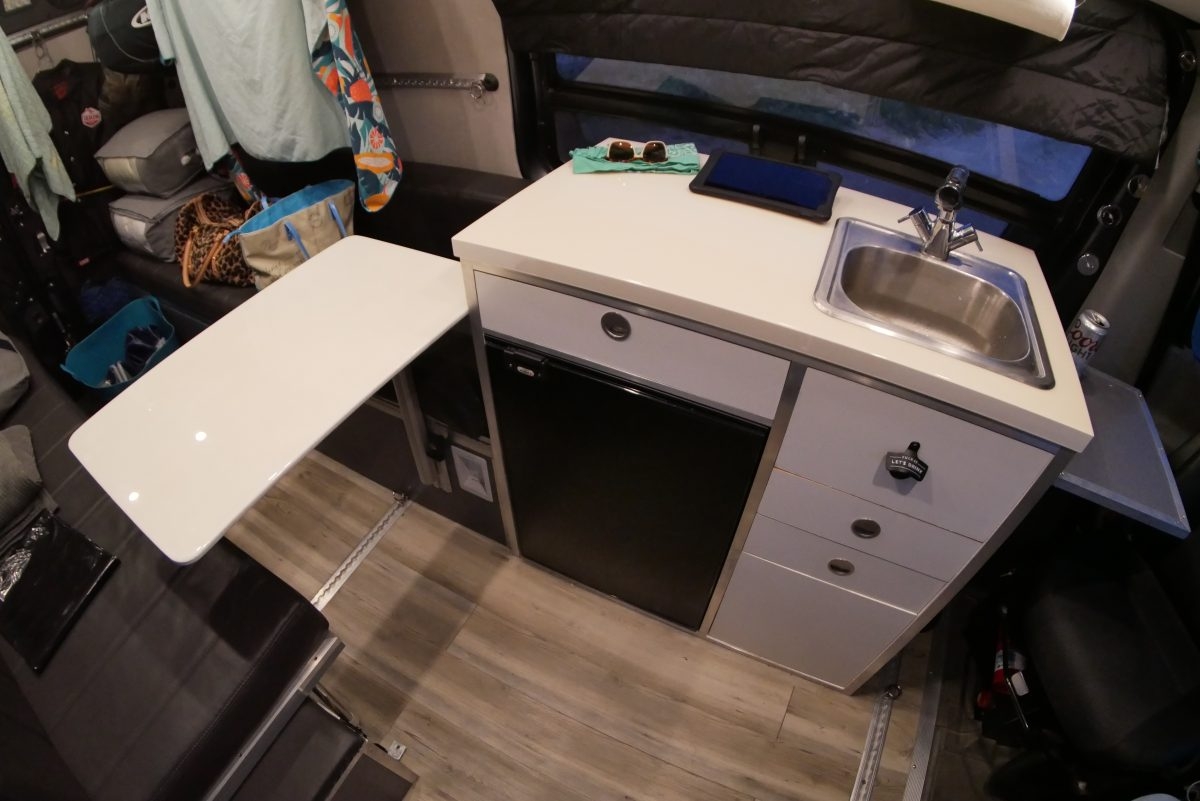 Lower Bed Mode
The dinette easily converts to a lower bed. All of the cushions fit nice and tight from wall to wall to form a comfortable mattress.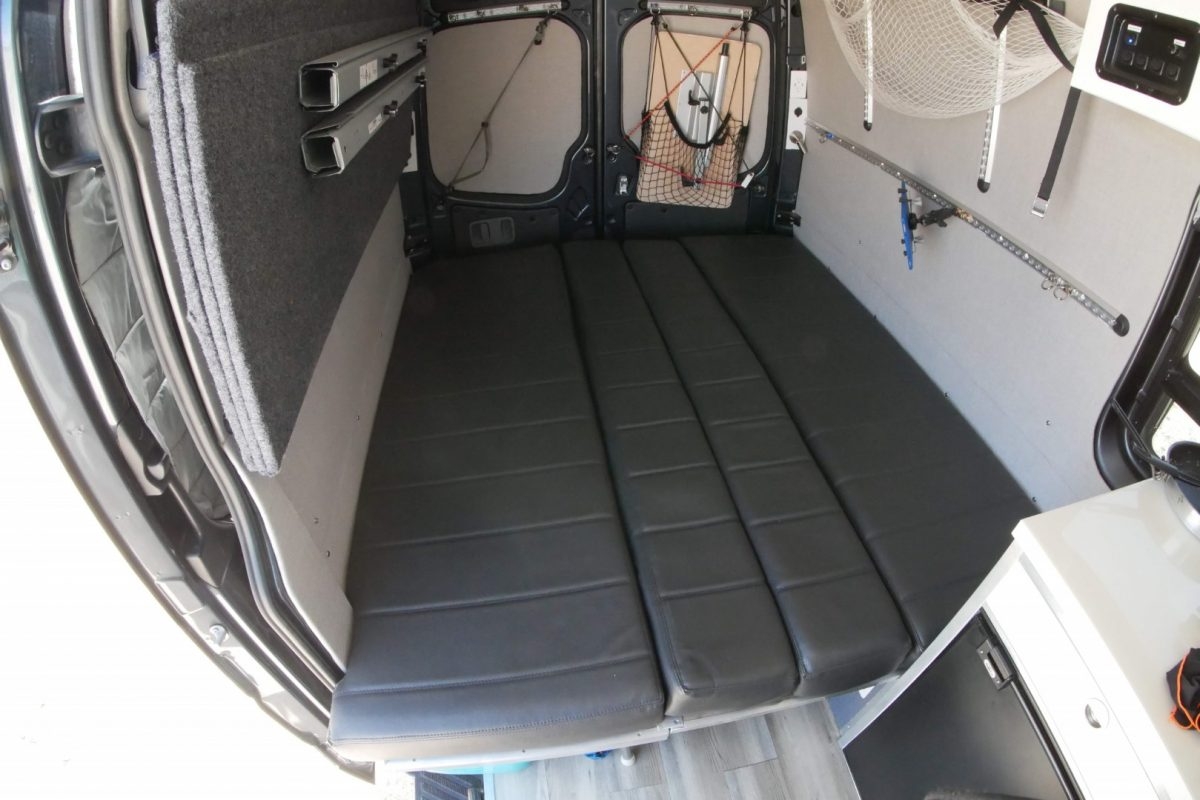 We throw down a couple of blankets and walla- full-size queen to king-ish sized bed!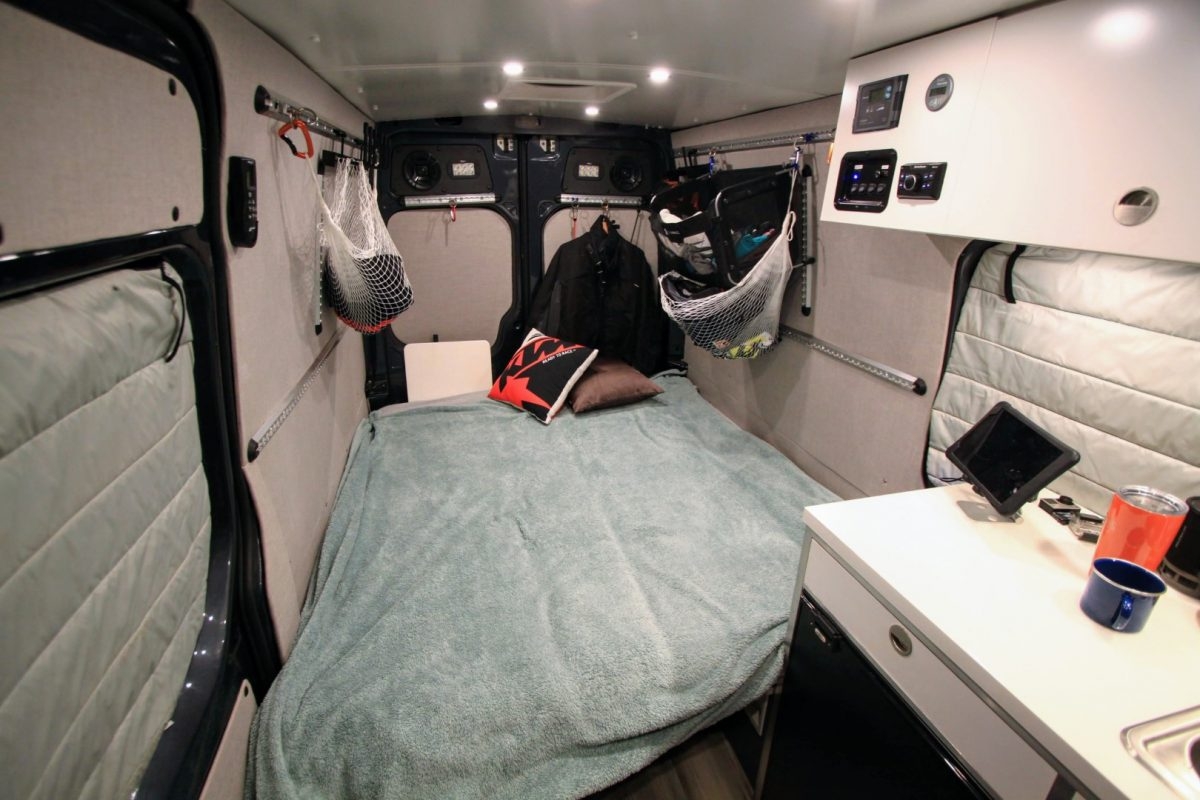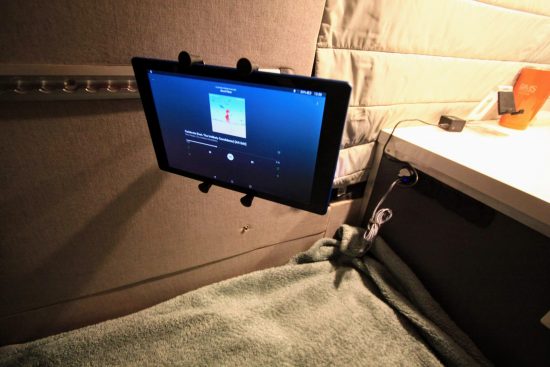 We use a Fire 10 tablet and a RAM mount attached to the L track for a TV.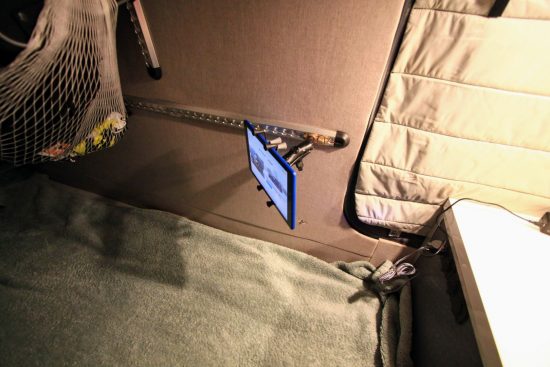 Open Cargo Mode
This brings me to the next mode of the van: open cargo or hauling mode. Everything folds up and out of the way to load motorcycles, lumber, kayaks…you name it.

Moto Van Mode- Hauling a Dirtbike
When I only bring one motorcycle on a trip, it loads super easy in the back and still allows plenty of room to access the fridge and load additional stuff like chairs and riding gear. I can even use the side bench/ couch as a bed and sleep with the bike inside the van if I have to. There are never any gas fuses because my bike is fuel injected, but I always open the windows and vent fan as well as use a CO2 detector.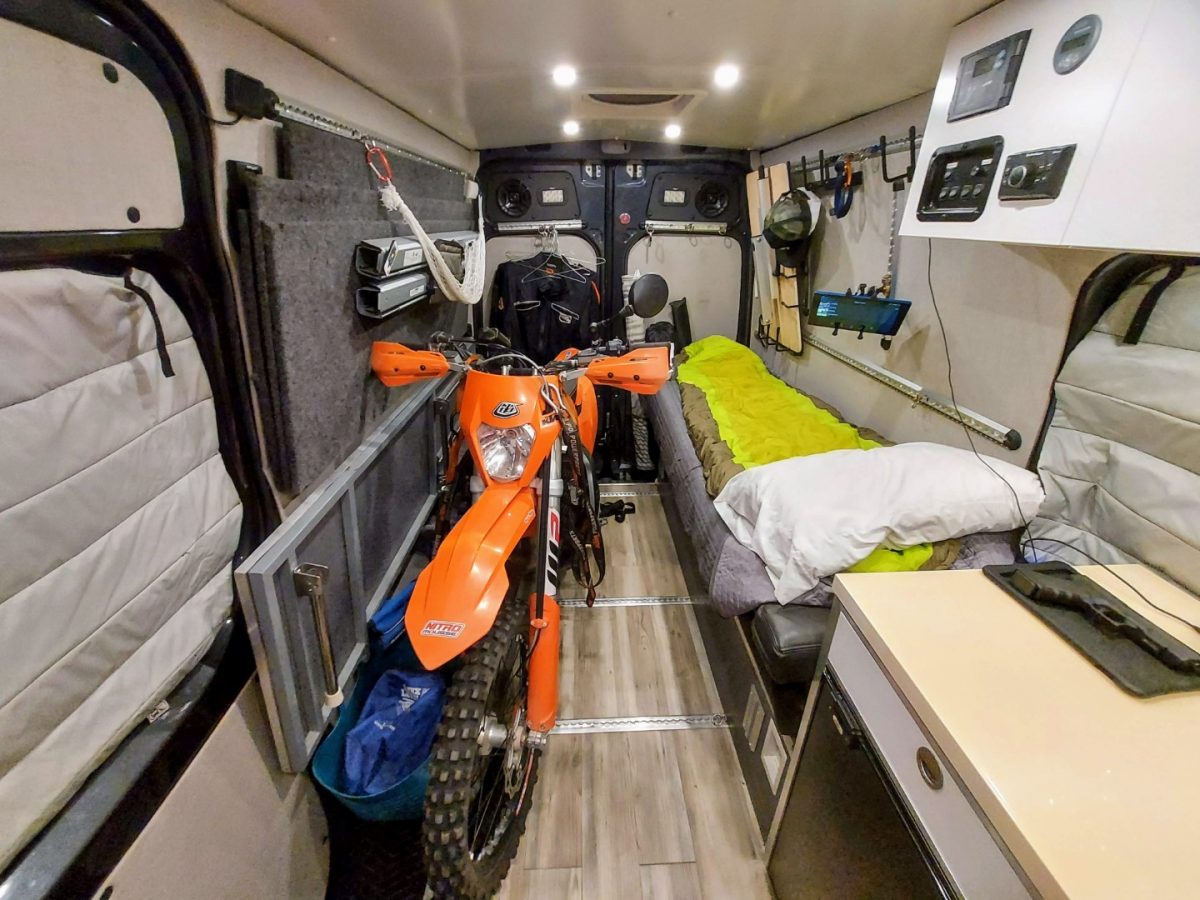 Moto Van Mode- Hauling 2 Dirtbikes
When the time comes to haul two dirtbikes, this van can do that too! I just slightly stagger them putting one right behind the passenger seat and the other one just to the side and behind it. I utilize the multiple L tracks in the floor to strap down the handlebars and then run one strap from the footpeg back to the L track in the floor to triangulate the anchors. This way I don't need to carry any motorcycle wheel chocks or mounting systems that people always seem to recommend to me. Less is more!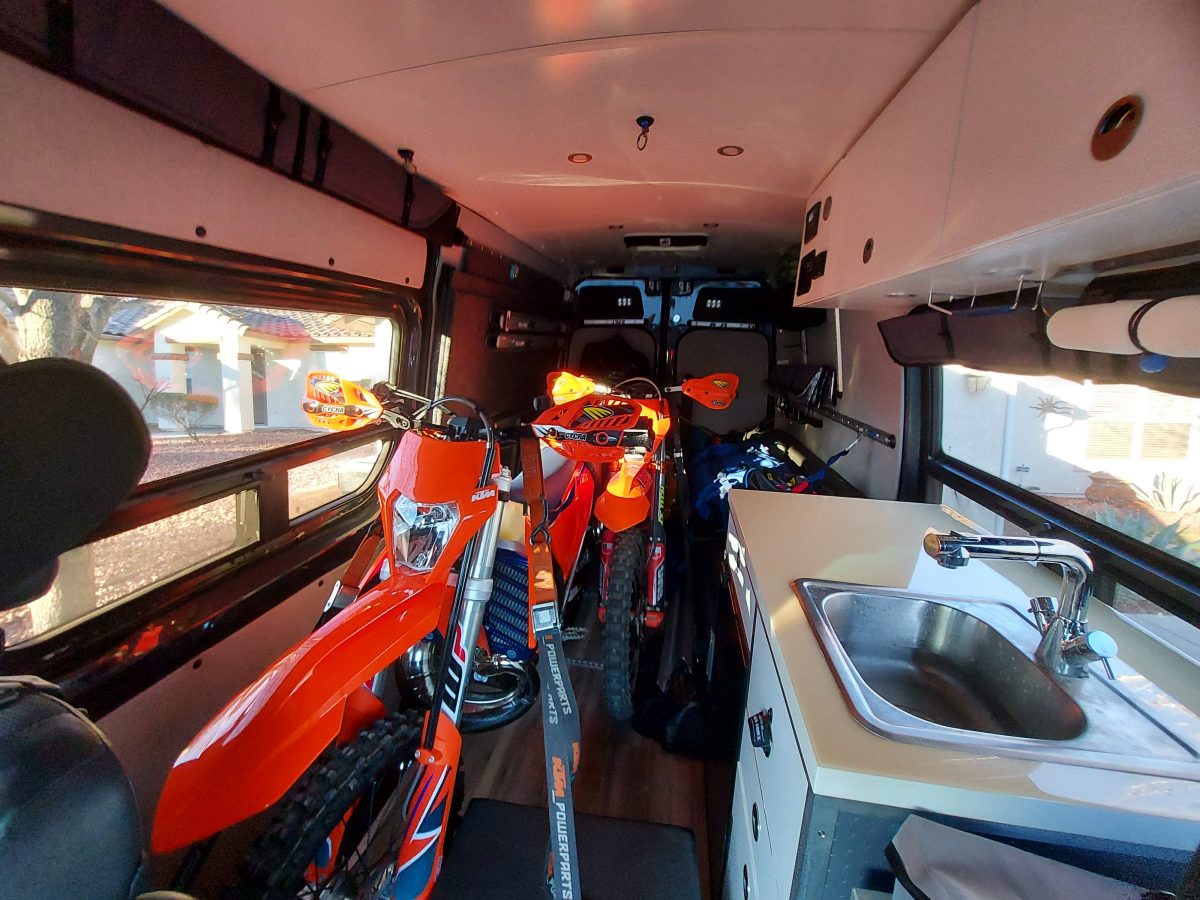 Even with two bikes loaded up, there is still plenty of room for gear and I can still open and access the refrigerator.
Platform Bed Mode: Traveling with Our Mountain Bikes
When we want to travel for extended periods of time (usually a week or more), we find that we like to have a platform bed. This doubles the size of the van and gives us a garage below. This way we can sleep with our mountain bikes and gear inside the van at night without having to rearrange things or unload.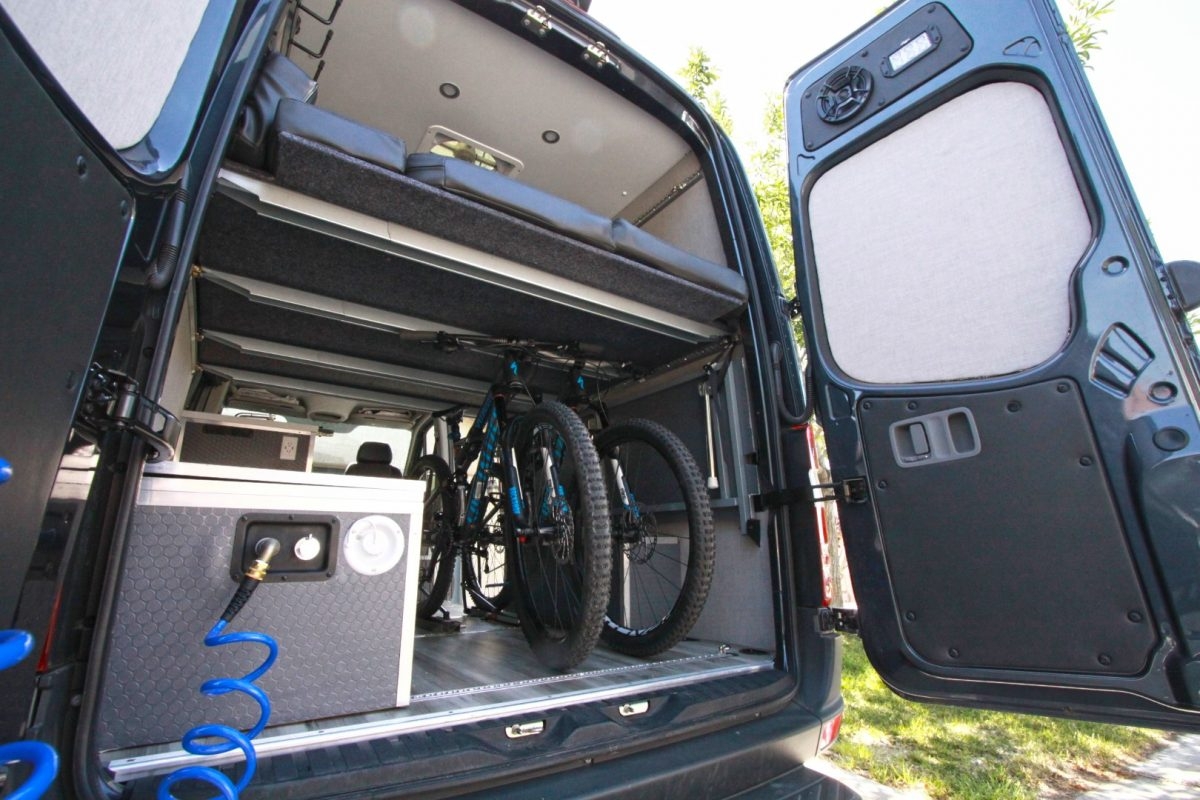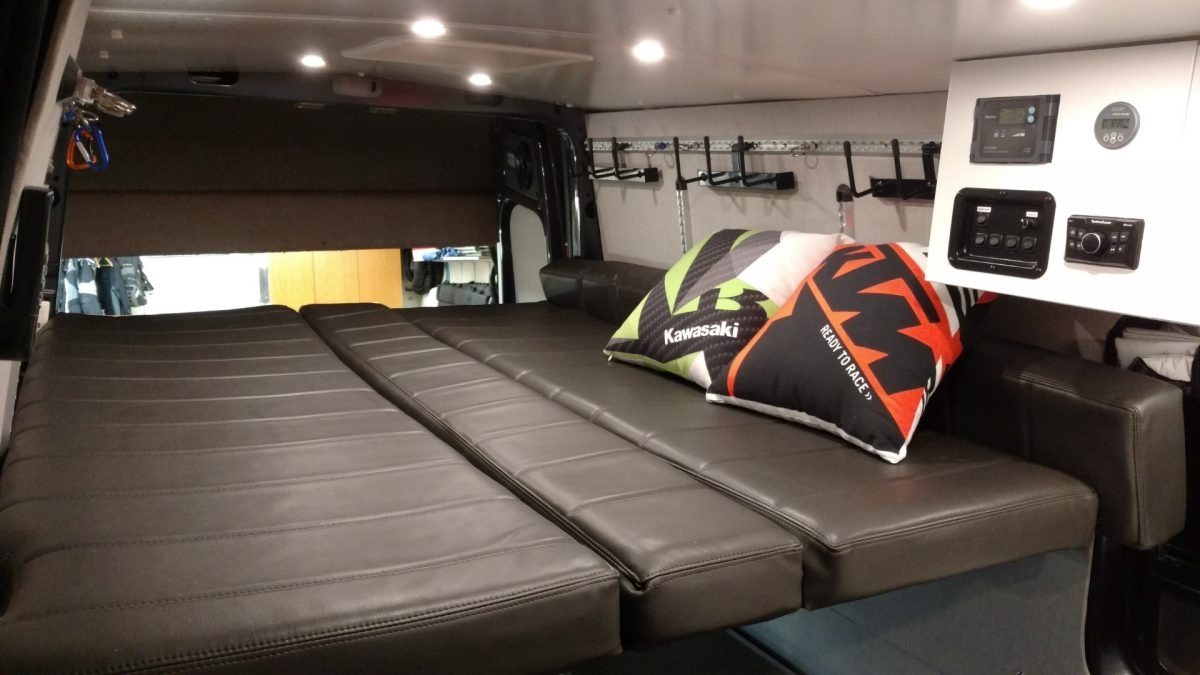 The nice thing about our platform bed is that it is modular. It is removable and stores nice and neat up on the wall when not in use. There are 3 panels and 4 Ikea Skorva beams that mount over some all-thread which quick-mount to the L track on the wall using thumbs crews. .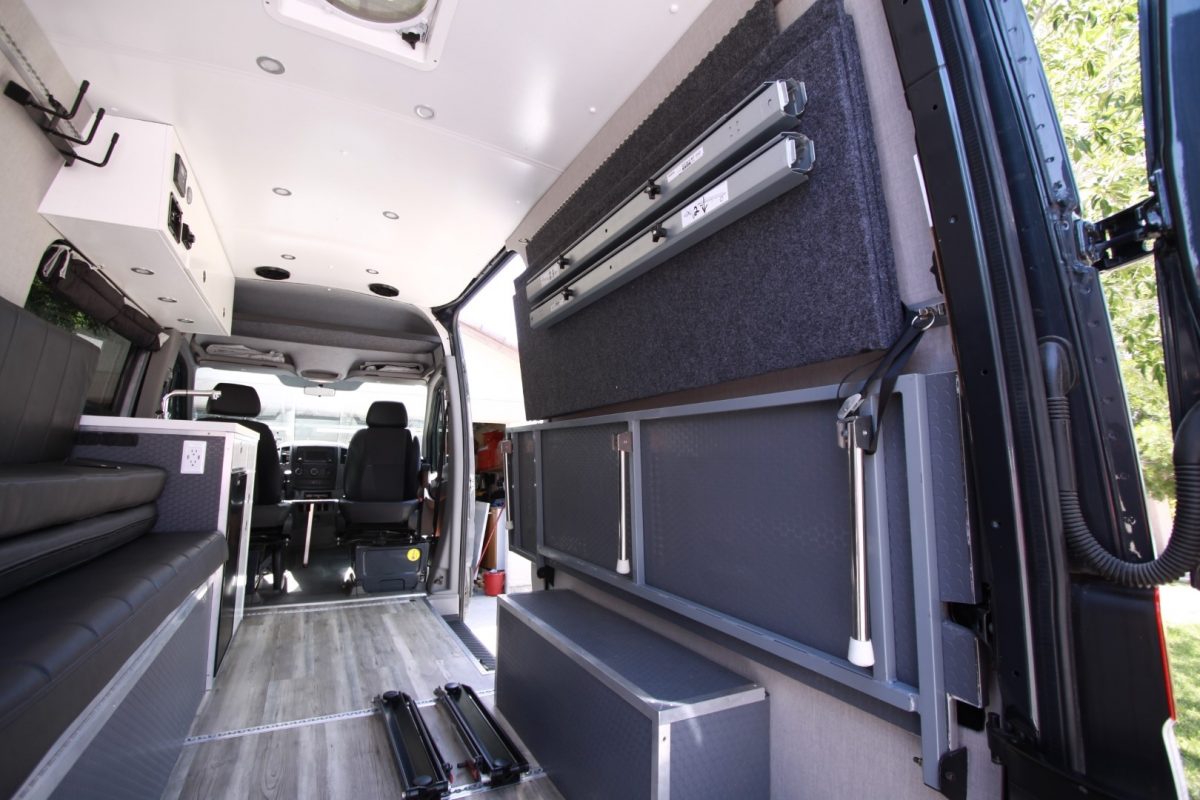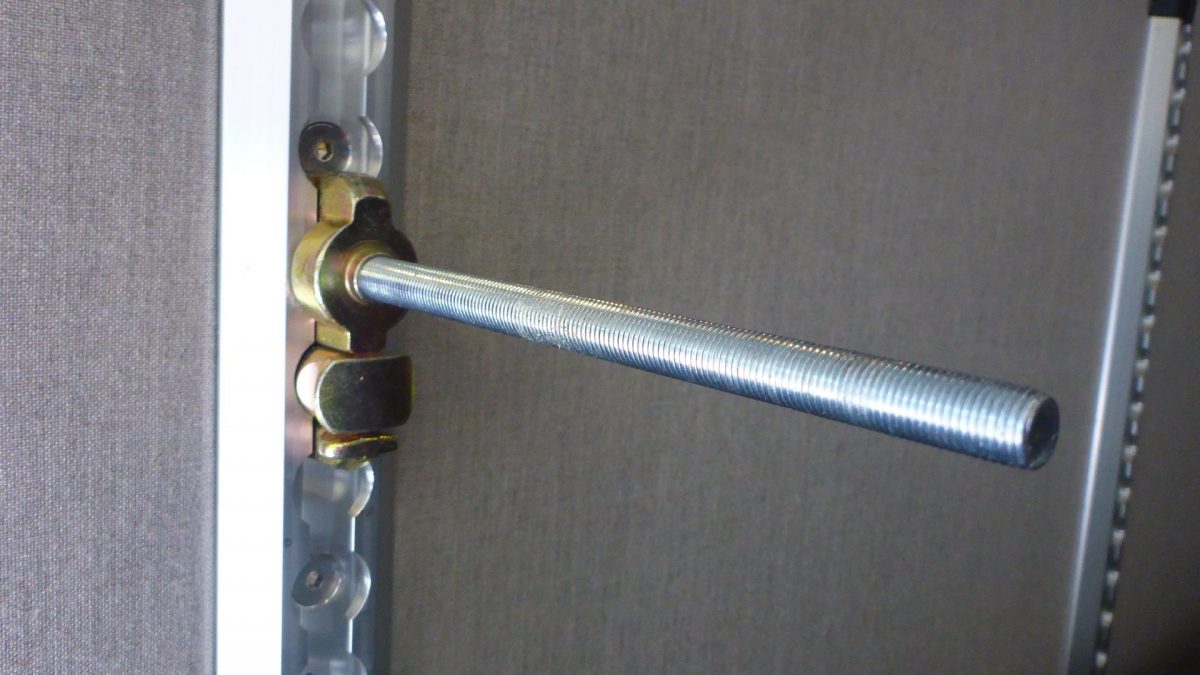 Kitchen
As for our kitchen, we have a very simple galley that has a sink with running water (hot and cold). It drains to a portable 5-gallon grey tank located in the lower cabinet. The refrigerator is a 12-volt Truckfridge TF130. For cooking, we like to keep things simple. We use a collapsible electric kettle to heat water for coffee in conjunction with a simple and collapsible pour-over filter. The kettle also works great for instant meals like cup noodles and Mountain House style meals.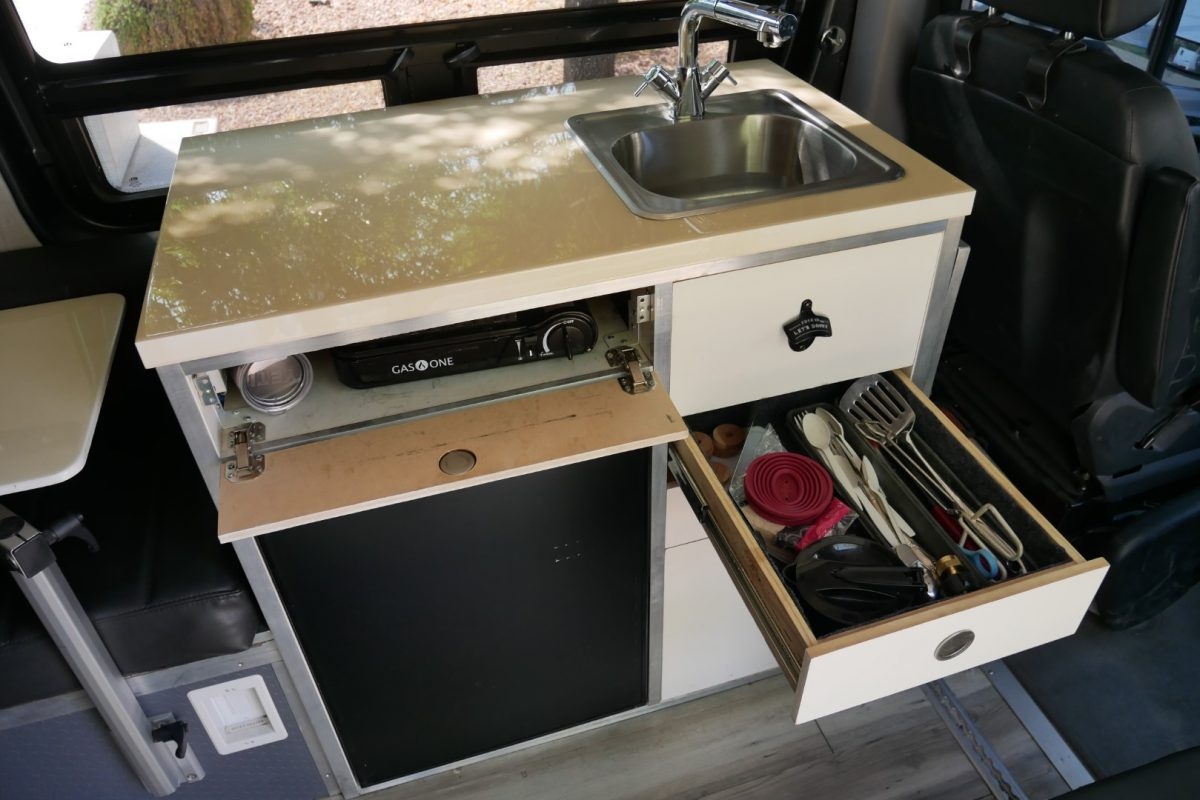 We use a portable butane Gas-One stove with a pan or portable stove-top griddle for cooking. Occasionally we'll bring our Blackstone and cook outside, but the little griddle on the stove has worked great for us!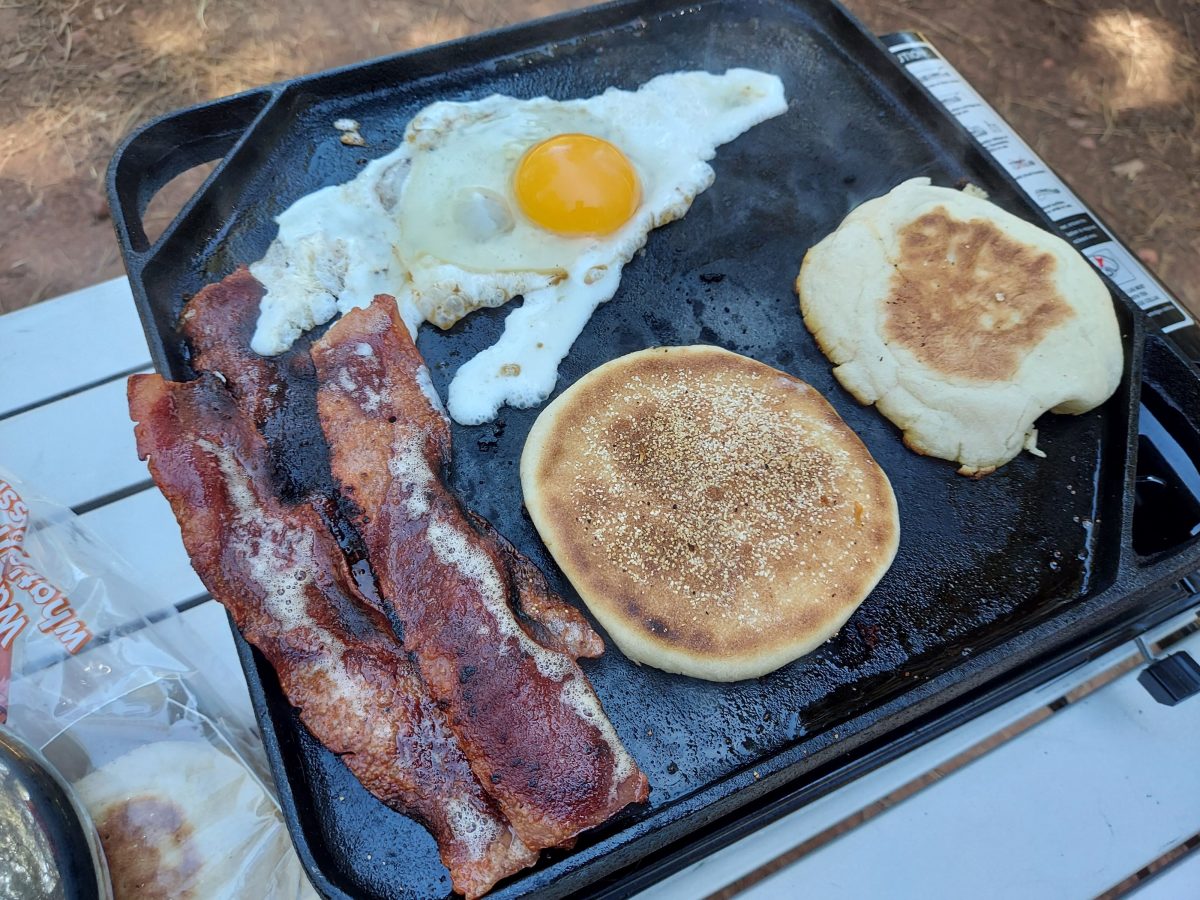 Shower
Even our shower is portable. People look at our van and have no idea how we take hot showers inside. In this post, I talk in detail about how I built it. It's pretty simple though and with just a few things to set up and takedown, it allows us to shower inside where it's warm and private. We wouldn't change a thing about it. Having a portable shower allows us to have more space in the van.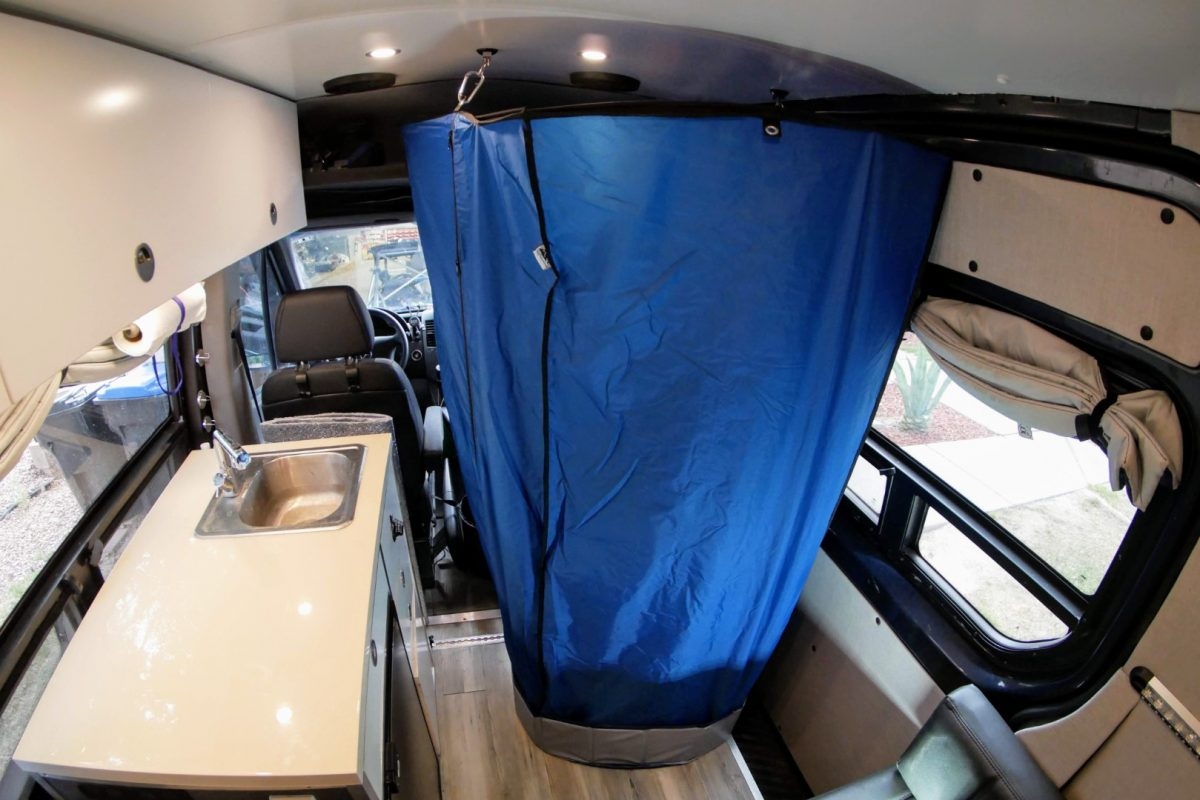 Outdoor Shower/ Hot Foot Soak/ Bike Wash Station
Even though our shower is inside, it's still nice to have the option of taking a shower outside like a hippie. When you don't have neighbors and the weather's nice, I totally get it! It's really nice. We mostly use the outdoor/ rear shower for hosing off bikes, taking a hot foot soak, or just spraying our heads off and cooling down after a hike or ride.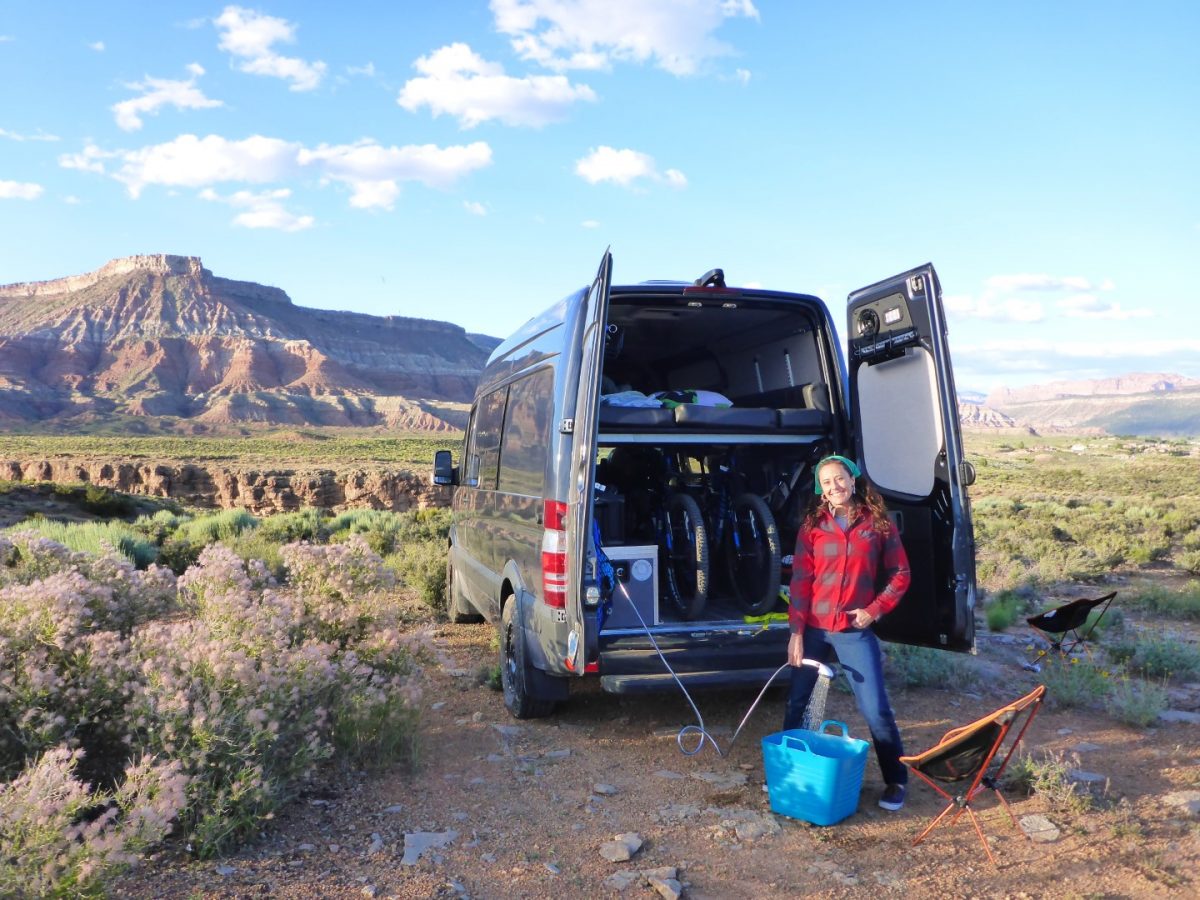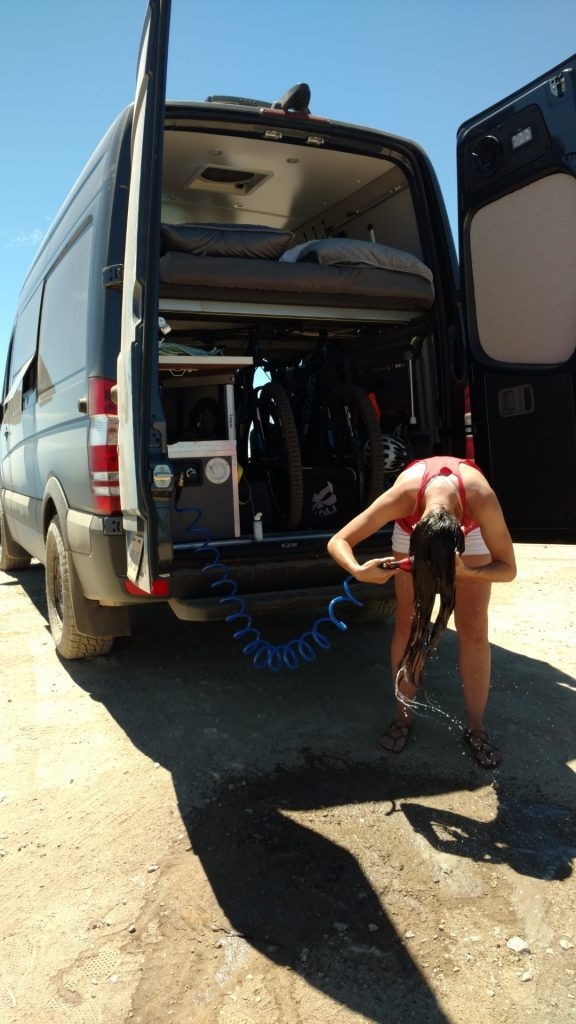 Toilet
Everything in our van has multiple uses including our toilet. It is also an ottoman and an extra place to sit. It's modular and can be removed or slid underneath the couch if it's in the way. It usually stays put right here though and isn't a problem.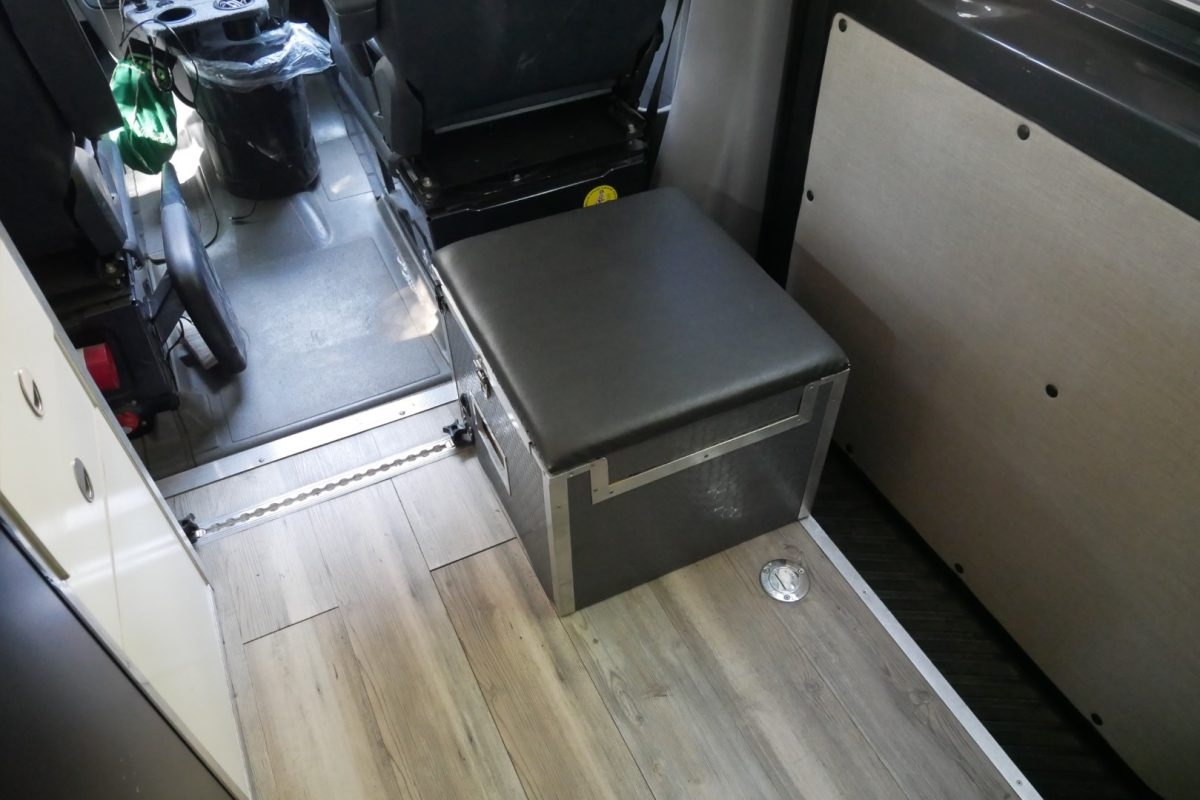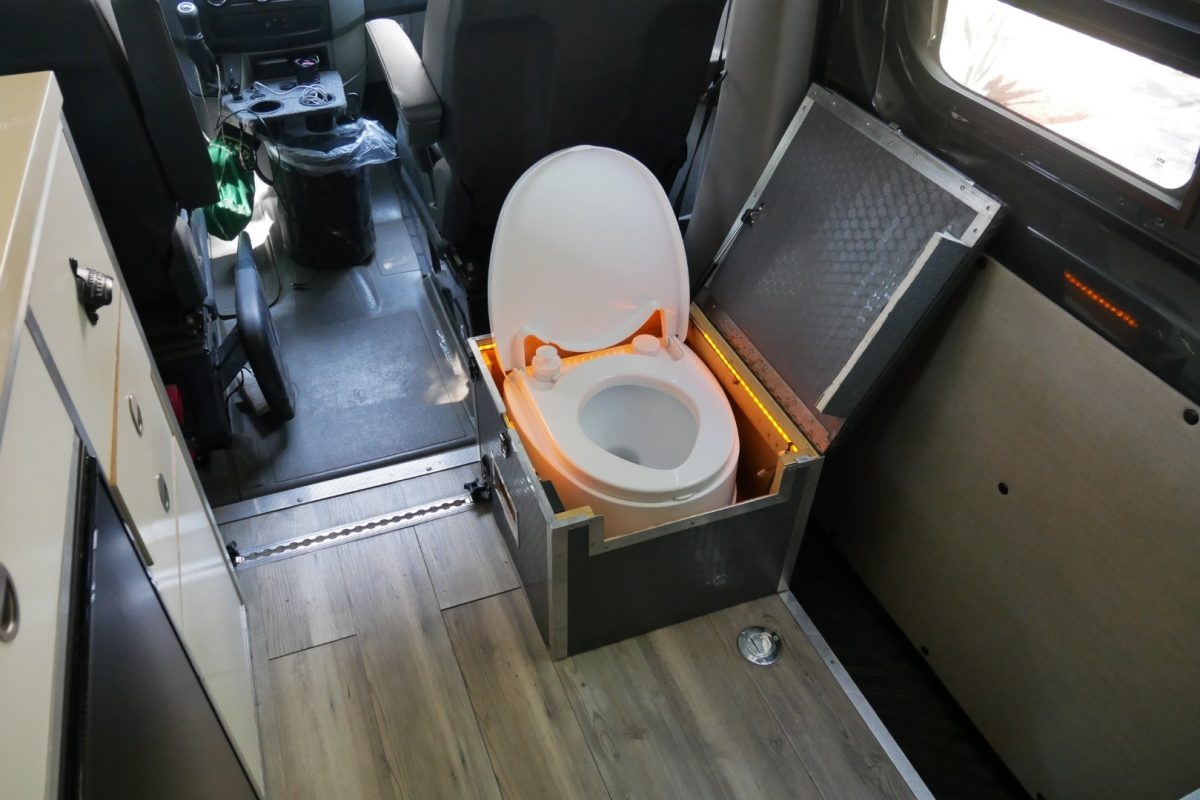 Full Van Tour Video
I put together a walkthrough video tour of our van on my YouTube channel. Please feel free to ask any questions you might have or comment and tell me that you think our van sucks or you love our ideas. Either way, I always love hearing from you guys.
Subscribe to my YouTube Channel
Build Links
Comments
comments