For years I've been itching to get up to the Green River area and ride. There is so much technical terrain, subway-shaped tubes of rock washes, and incredible views in every direction. When I saw there was a Green River Dirtbike Rally coming up I immediately signed up and made plans to head up. Instead of bringing the Sprinter moto van this trip, we decided my toy hauler ("the big dumb trailer") would be better to bring since we could all roll up in one vehicle.
San Rafael Swell
Thursday late afternoon we scored a spot along Temple Mtn Rd which is situated in the San Rafael Swell area. We couldn't ask for a better place.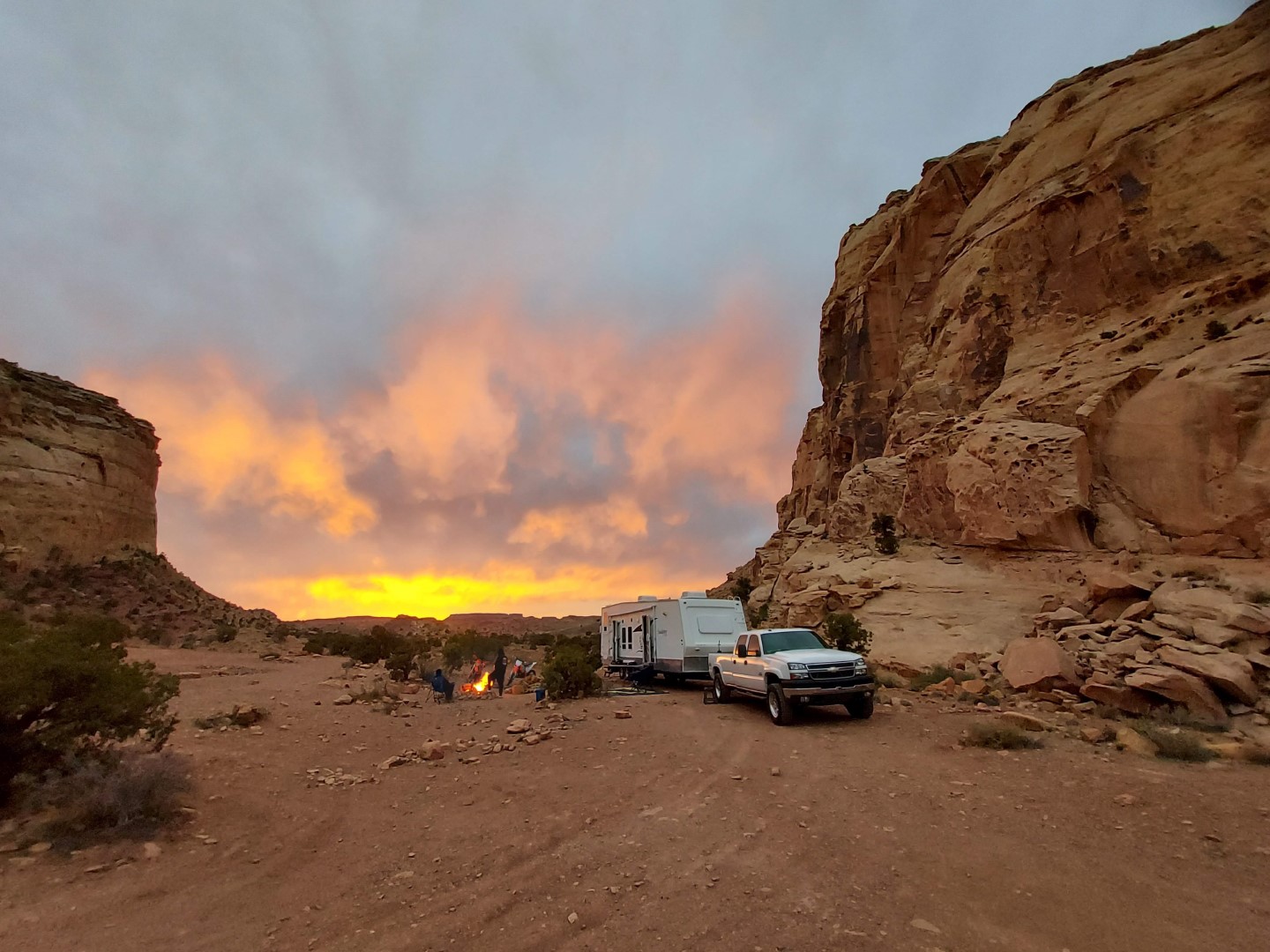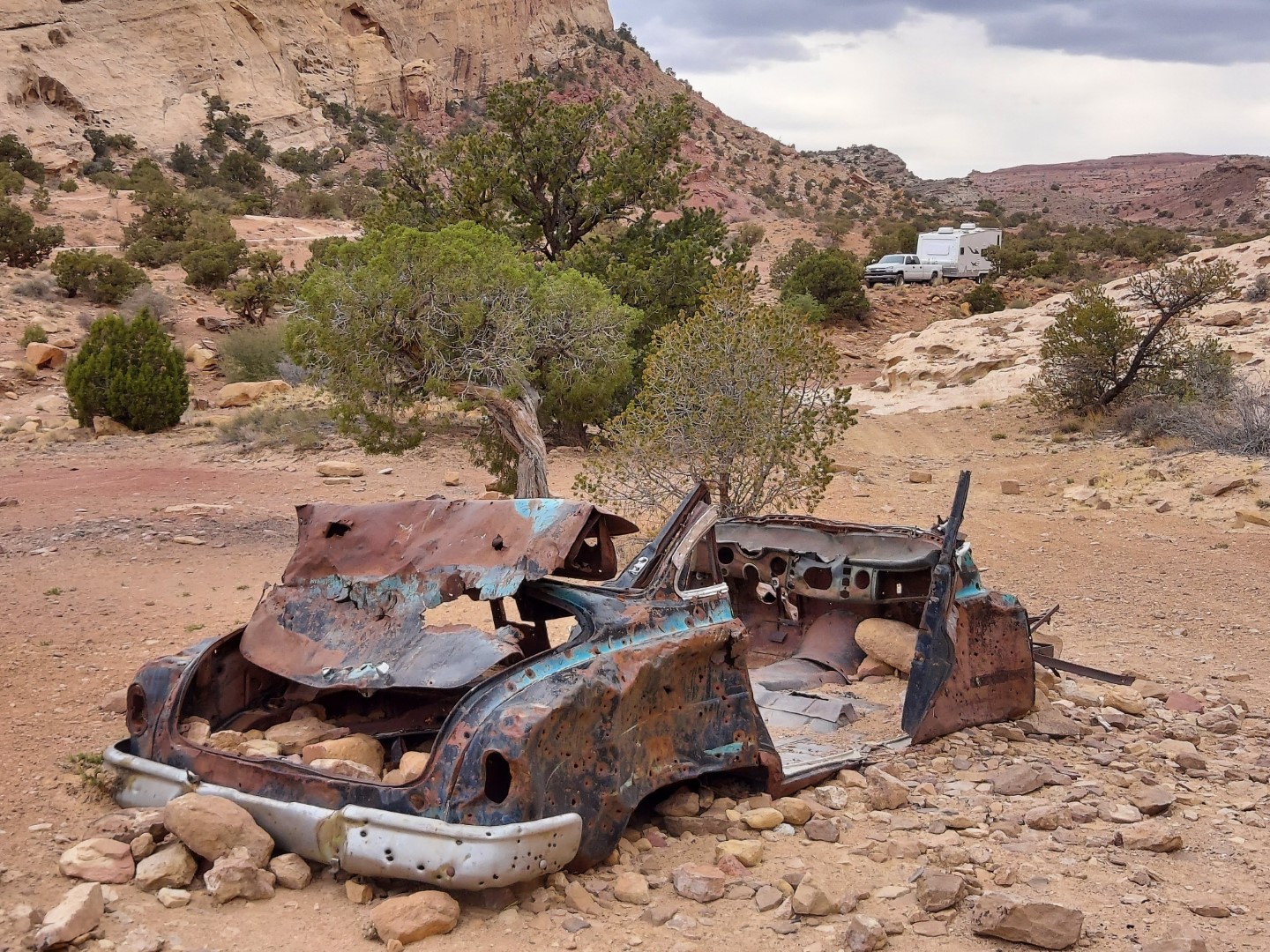 Even Steve, "Mr Honda", drank the orange Kool-Aid and is riding a new KTM now! I couldn't believe my eyes.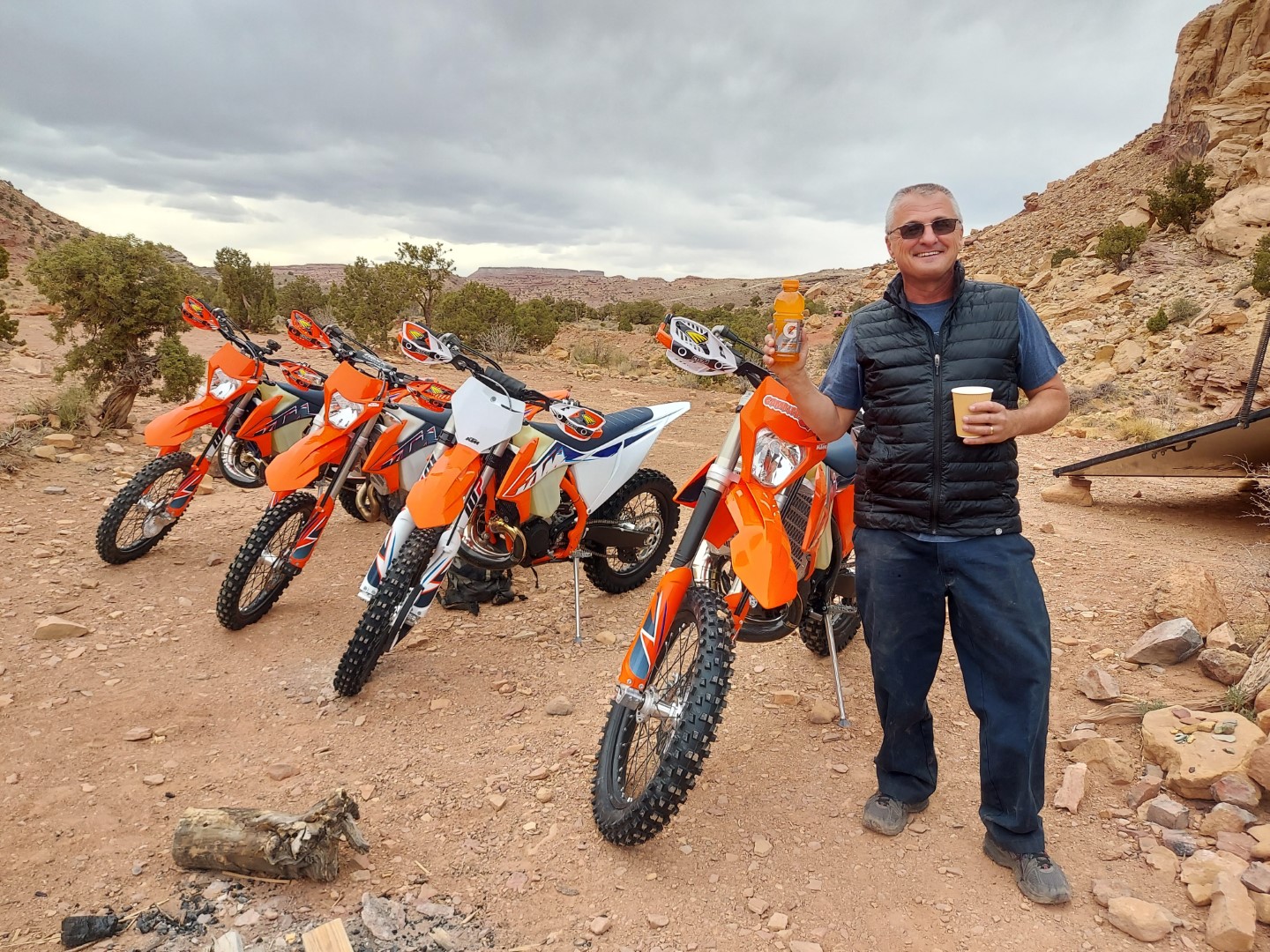 Waterfall Singletrack Trail
Friday morning we rode down to the Waterfall Trailhead in hopes of meeting the group and the guide from the rally, but there was nobody there. My guess is that they all met at the parking lot and made a last-minute decision to go in the opposite direction on the trail. So much for meeting other riders. Good thing the trail was marked and easily identified plus we had the GPS tracks. The views looked great and we were still excited to ride.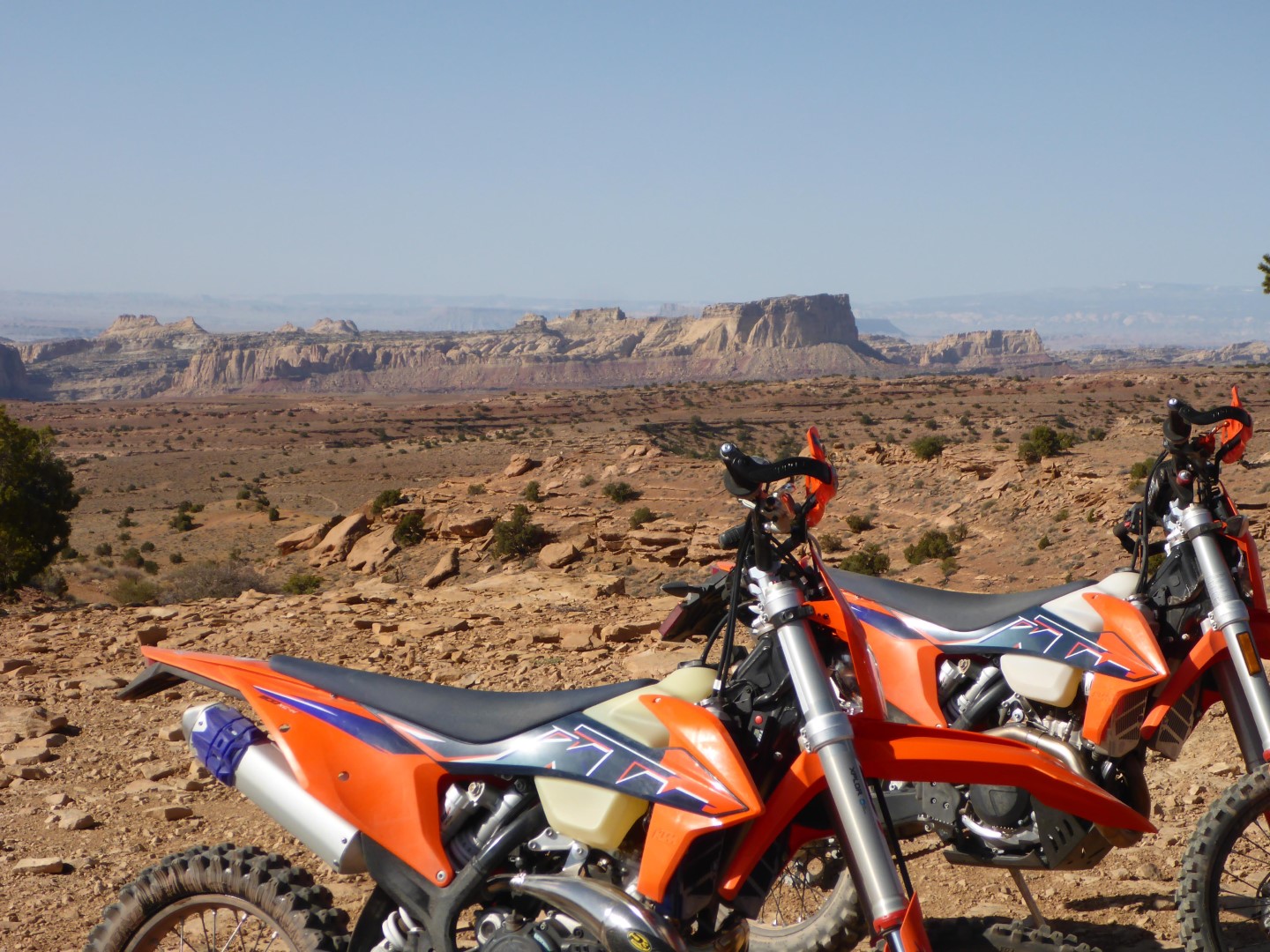 Michael dropped his new 300 and got right that out of the way. The Waterfall trail is considered "lower advanced" only because of a couple of steps and ledges along the way. Otherwise, I would consider this an intermediate trail. It was very easy but super scenic.
Natural Bridge
Towards the end of the Waterfall Trail, the singletrack meanders through a wash where we found the natural bridge.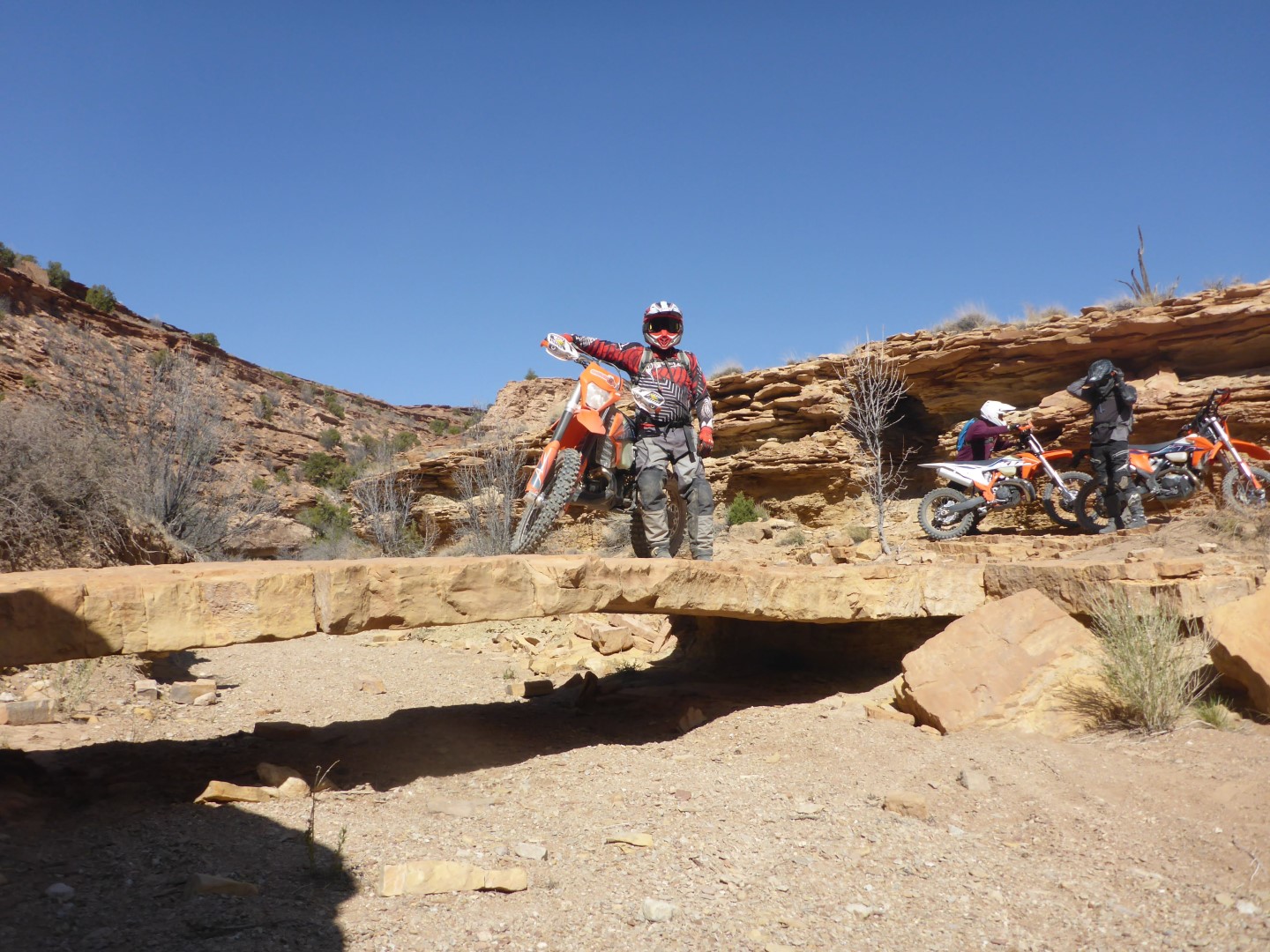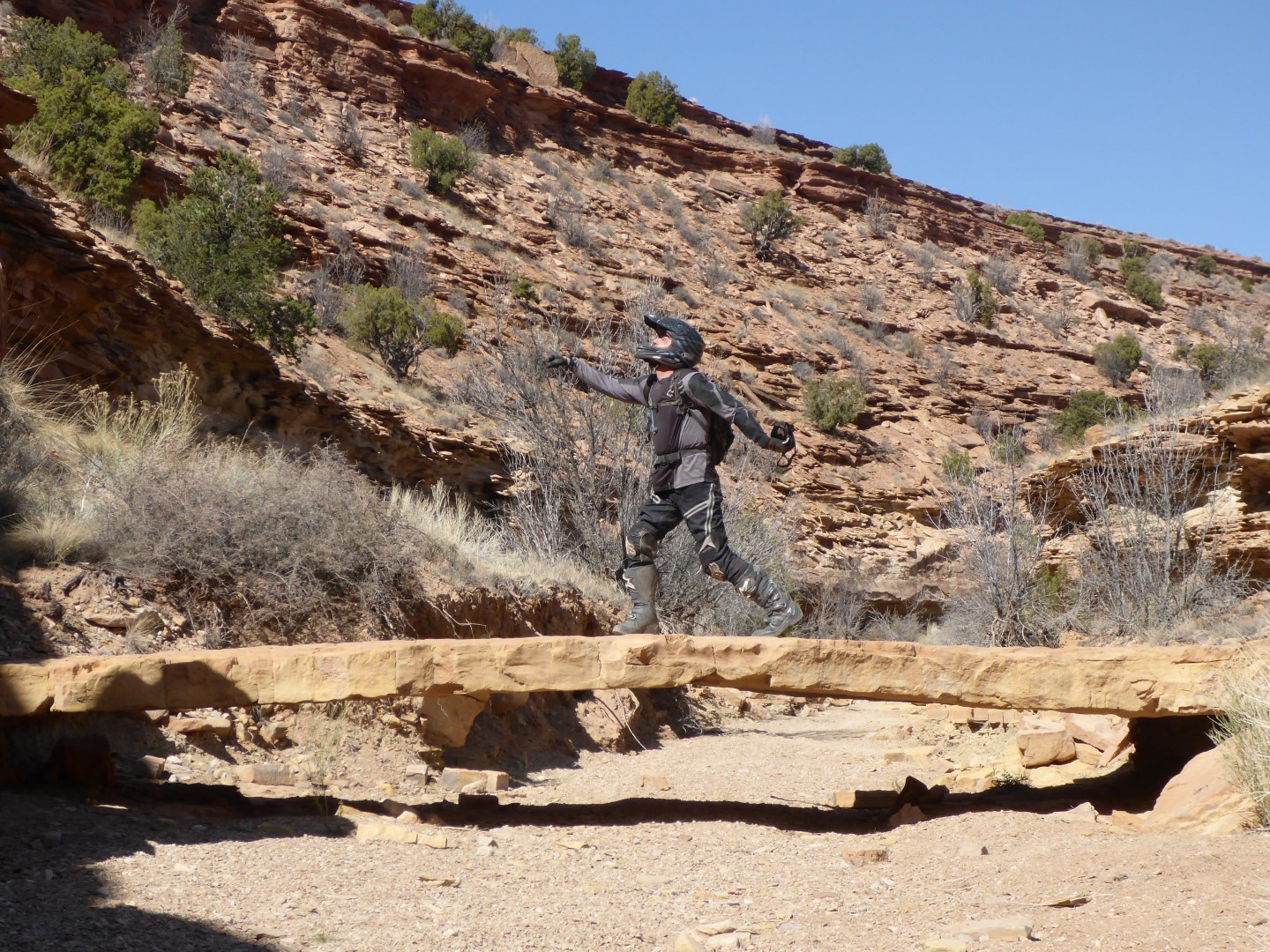 Color Trails/ Temple Mtn Trail System
Since the 12-mile Waterfall Trail took us only about an hour, we stopped back at the trail to fuel up and head to the color trails or more known as the Temple Mountain Trail system. The color trails are a network of trails that traverse some very rocky, technical terrain. There are square edge steps, ledges, and just very rugged terrain in general. The blue and green trails are intermediate but the orange and red trails are advanced.  Miles of Hell is considered an expert trail. We didn't hit that one this trip but we rode the orange and red trails. They were fantastic! 5MOH is on my list though.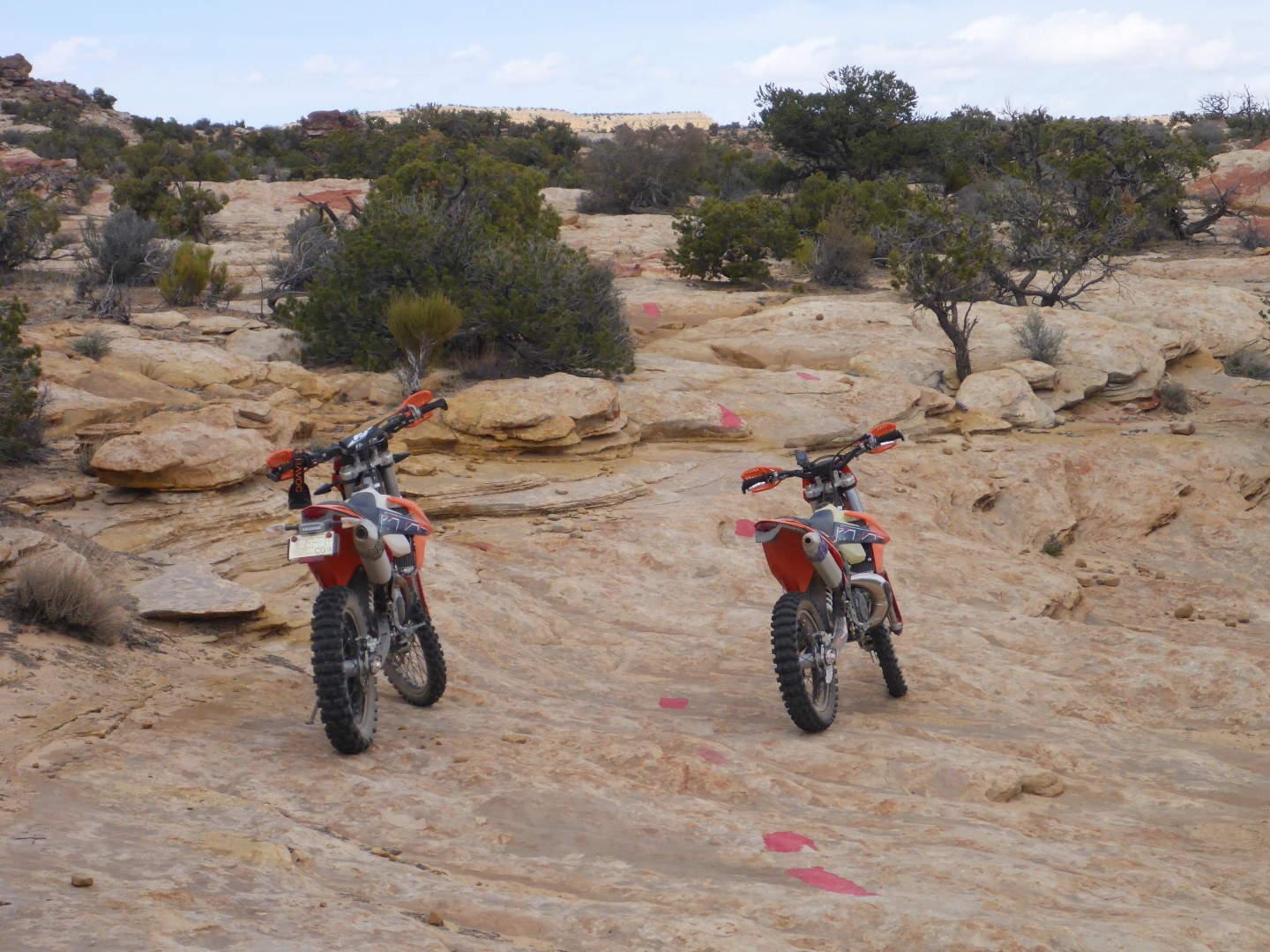 After the colored trails, we rode Temple Mountain Road back to camp. It was about 10-12 miles and the views along that road were great. I noticed how many epic camping opportunities that area has to offer and it's all free, dispersed camping too!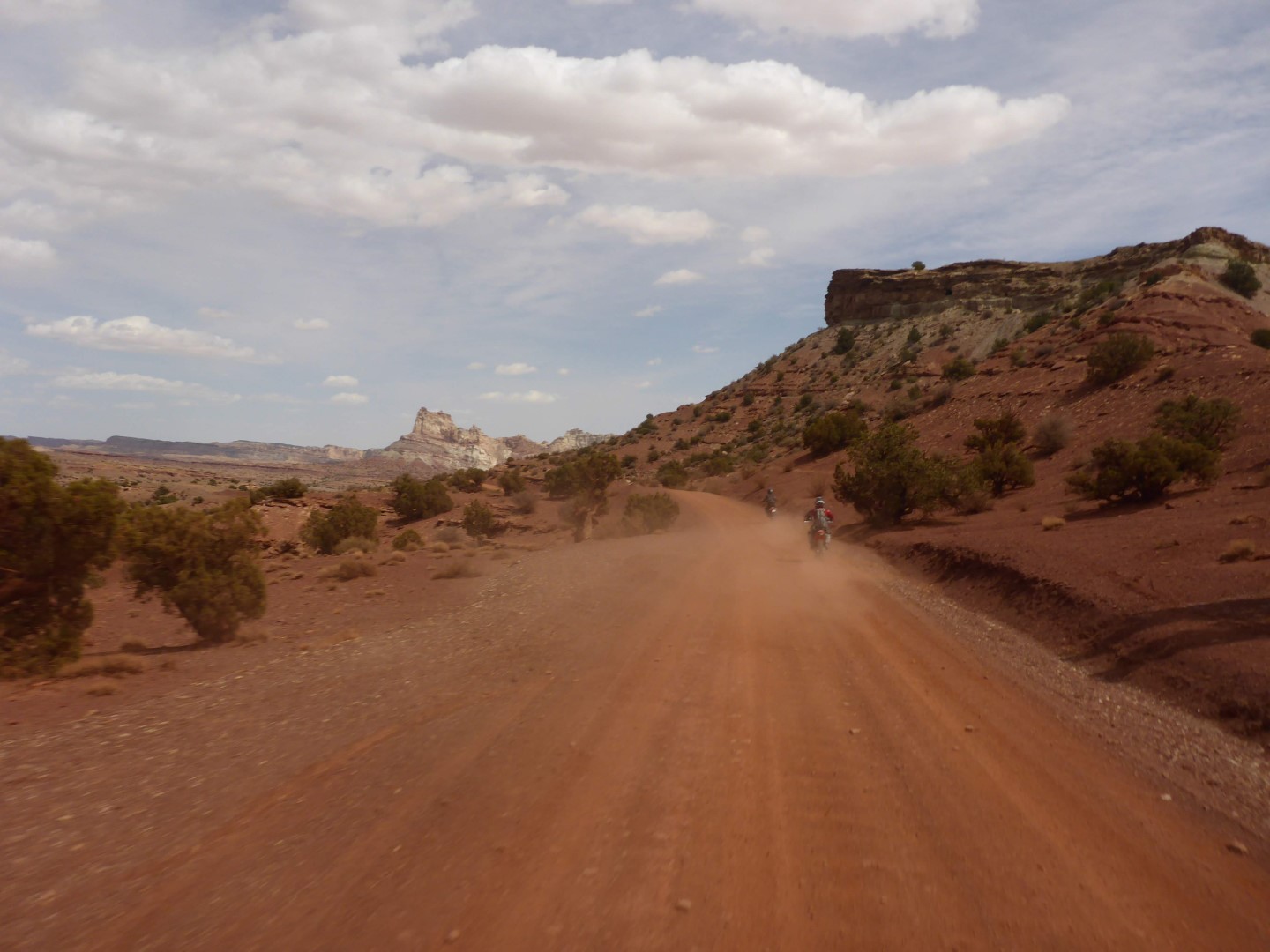 Once we were back at camp, a few colds beers were in order. We waited around for a couple of friends to arrive and join us who were also there for the rally. That night we made up some killer chicken tacos and had some good conversation around the fire about riding and epic places to visit and ride.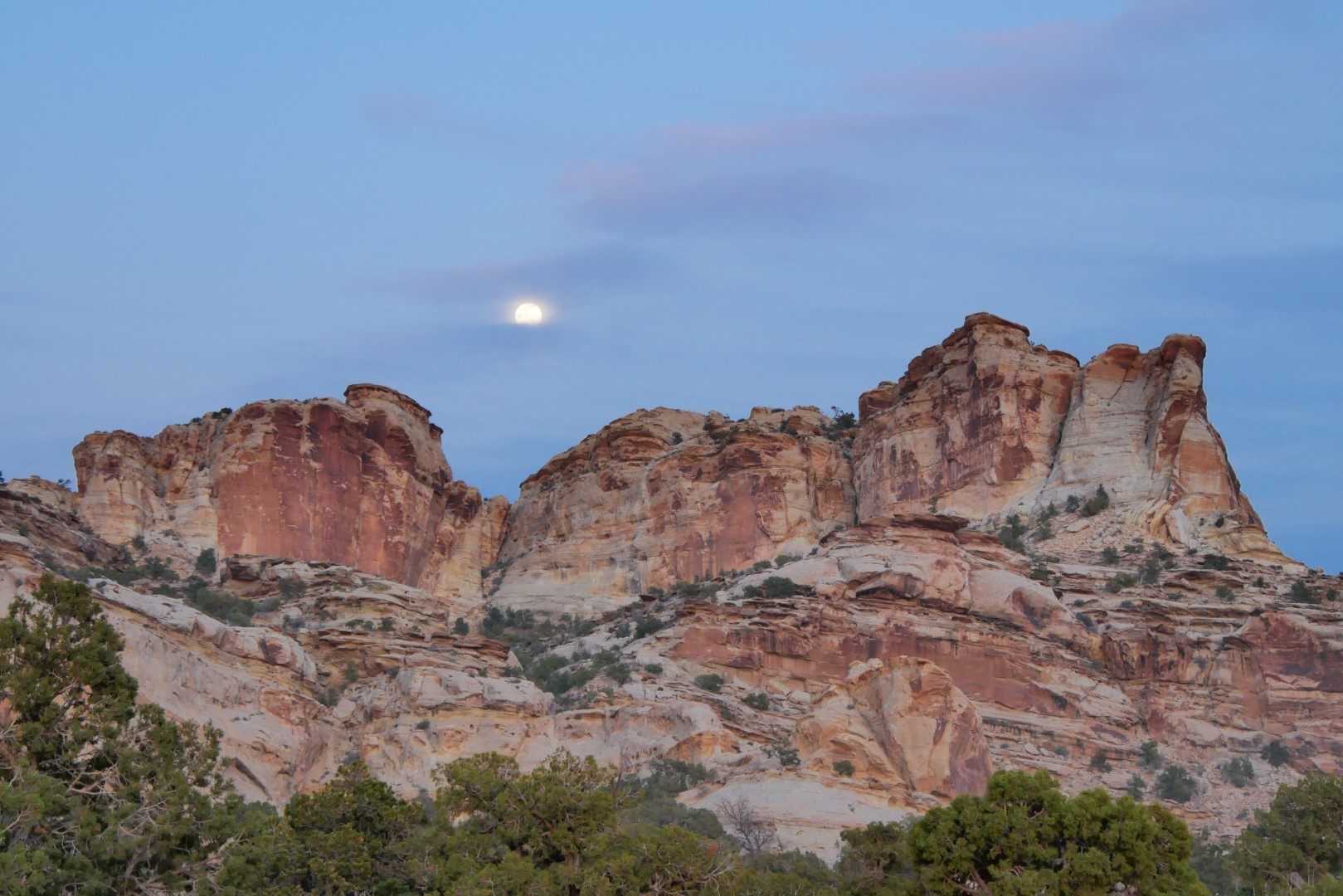 Friday night when it was time to go to bed, I knew something just wasn't right. I felt like I had to burp and then I quickly realized that was not a burp. I felt like the killer chicken tacos were doing just that. They were coming back up at quite a rapid speed. All night I would be throwing up and got little to no sleep. Whatever it was it also got Michael, but luckily nobody else. That was not fun at all!
An Attempt at Woodside/ Chimney Rock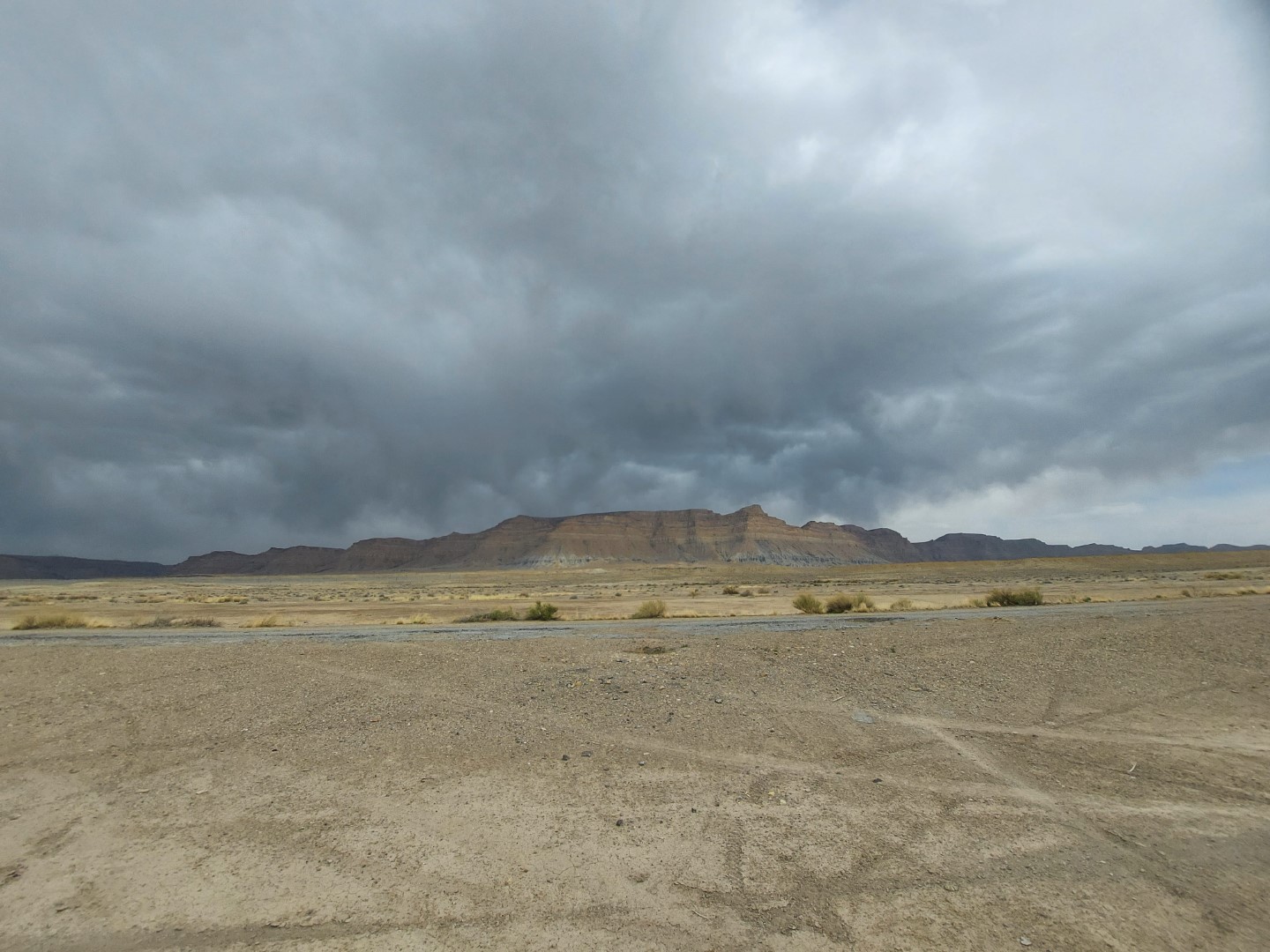 Saturday morning we packed it up to head to a new area, Woodside. That plan didn't go so well though. After driving down a 2 lane dirt road, we got .2 mile from the parking area and the steep dip in the road didn't allow me to get my big dumb trail through. The rear stabilizer jacks were dragging and the front axle tires were off the ground (see the video below). So I had to back it up into the desert in order to turn around and then park in an open to unload. I had some lunch and was still feeling really crappy so I laid down to take a nap while the rest of the guys headed out to ride Woodside/ Chiney Rock trails. After what was probably an hour or so, they came back to check in on me to see if I was feeling up to riding. I woke up from a deep sleep feeling very groggy and still pretty sick. They said the trails were epic. Damn it. Of course they were. At that time the ominous clouds overhead meant a nasty wind and rain storm were coming. We made the unfortunate decision to pack it up and head home instead of braving the storm in that barren wasteland. I really wanted to ride, but the dehydrated state I was in meant it just wasn't going to happen that day.
Video
Like My Content?

Show your support!

Join My Patreon

You can simply buy me a coffee or get full access to the "not-so-public" ride, trail, and trip information that I only share with my VIP patrons. Become a Patron

Follow Me on Thatch

Thatch is a place where I share my top recommendations for places I've visited or ridden (for free). Premium content is available as well. @livelikepete
Comments
comments