Having a warm shower available in our van has, without a doubt, been a game-changer! We use it quite often on our adventures and the investment has paid off. There's no better feeling than being able to shower and go to bed clean at the end of a sweaty day. The beauty of this setup is that it sets up in minutes, yet takes up very minimal spaces when stowed away. We've been using it for about two years now and have learned a few things along the way to fine-tune it and make it even better.
This Was Our Original Setup
Before I get into the changes we made, I'll quickly go over our setup and the little things that bugged us about it. For a shower pan, we use a collapsible pet pool with a drain hose plumbed into the bottom of it. It drains the shower water through a fitting that is installed in the slider step area and to the bottom of the van. We use biodegradable, earth-friendly soap therefore no grey tank is needed. It has worked out great and we have no regrets with this setup! Then we would use two shower curtains with magnets and clamps to form an enclosure. This worked well, however it took some fidgeting to get it just right and sometimes the gap between the two would allow a little water spray to get on the floor. It was time-consuming and we knew there had to be a better way. For our shower faucet, our Ambassador kitchen faucet/ shower head combo worked awesome as a showerhead, however with no shutoff valve it was a team effort to keep the proper water temperature for the other person and shut it off quickly to conserve water.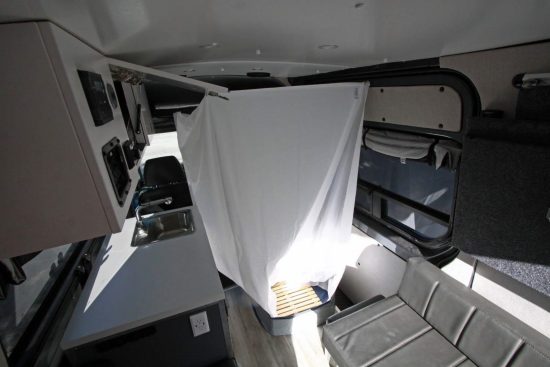 This is Our New Setup!
Indoor Shower version 2.0
For our shower drain and pan, we changed nothing about the collapsible pet pool and drain setup. (Actually, we did! See the UPDATE below.) We did have to replace the pet pool after about 18 months of use because a small crack started to form in one of the folds, therefore it started to seep. For $30 I wasn't upset about it though. I bought another one and it may end up proving to be a better product. We shall see. So far we love that it is super collapsible, stores small, and does the job well as a shower pan.
Shower Enclosure
The biggest improvement we made to our indoor shower, was the shower enclosure! I stumbled upon this awesome setup by Xplr Outfitters. It is a fully contained and storable shower curtain enclosure. It's exactly what we needed.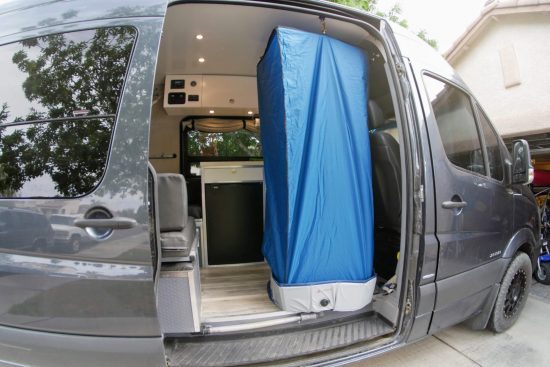 The quality is top-notch and Paul, the owner of Xplr Outfitters, has already thought of everything when it comes to this shower! The enclosure is made out of Ripstop material which wicks water easily and dries quickly. It comes in many different colors too.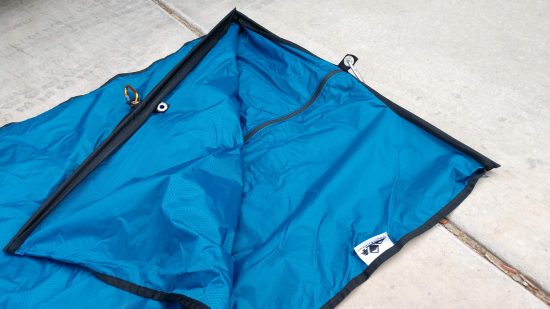 The shower has grommets on the top that allow you to hang it from the ceiling. We use carabiners along with L Track hooks so it's quick and easy to set up. The top stays square and rigid thanks to the small rods sewn into the trim.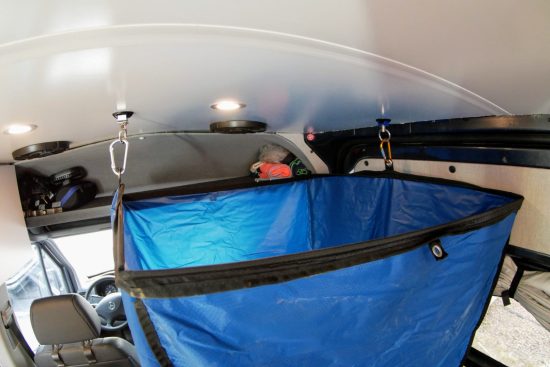 We opted for the larger 30″ size, but a smaller 22×22″ shower enclosure is available in case your van has less available space for setup.
After showering, we just shake it out outside or do a quick wipe-down with a towel. Then it rolls up nicely and stores in the included bag. After using this Xplr Outfitters shower enclosure on a few trips, we absolutely love it. It all sets up so quickly, works very well, and stores easily.
http://xplroutfitters.com/accessories.html
Shower Drain
We decided to take this portable shower pan setup one step further and get rid of the drain hose and fitting in the step area. After a recent trip, we thought it might be best to just have a drain in the floor that the shower pan slipped into. I originally had this idea but wanted to ensure our shower worked well before cutting another hole in the van.
Marking the location on the floor to drill.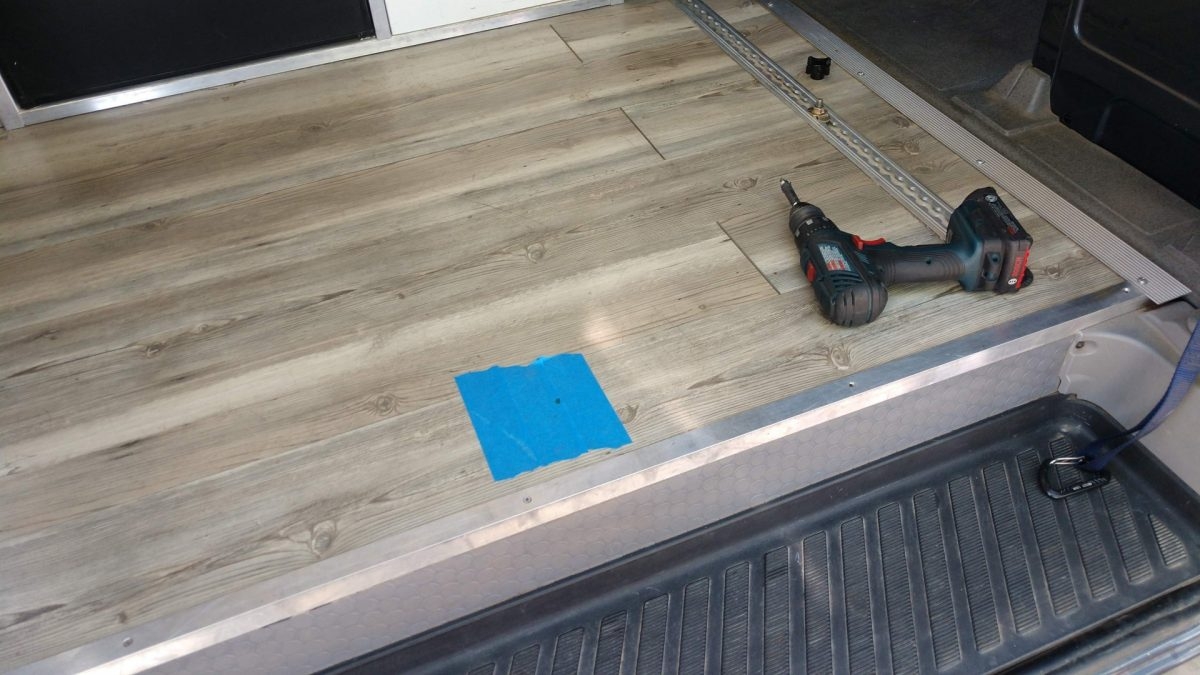 I used a 53mm carbide hole saw. It cut through all the layers like butter and was super clean.
For the drain, I used a marine deck/ hull filler. It sits super flush with the floor and the cap seals well when not in use.

I chose not to run the screws into the van's metal floor to limit the chance of rust. I used screws that only went into the plywood subfloor.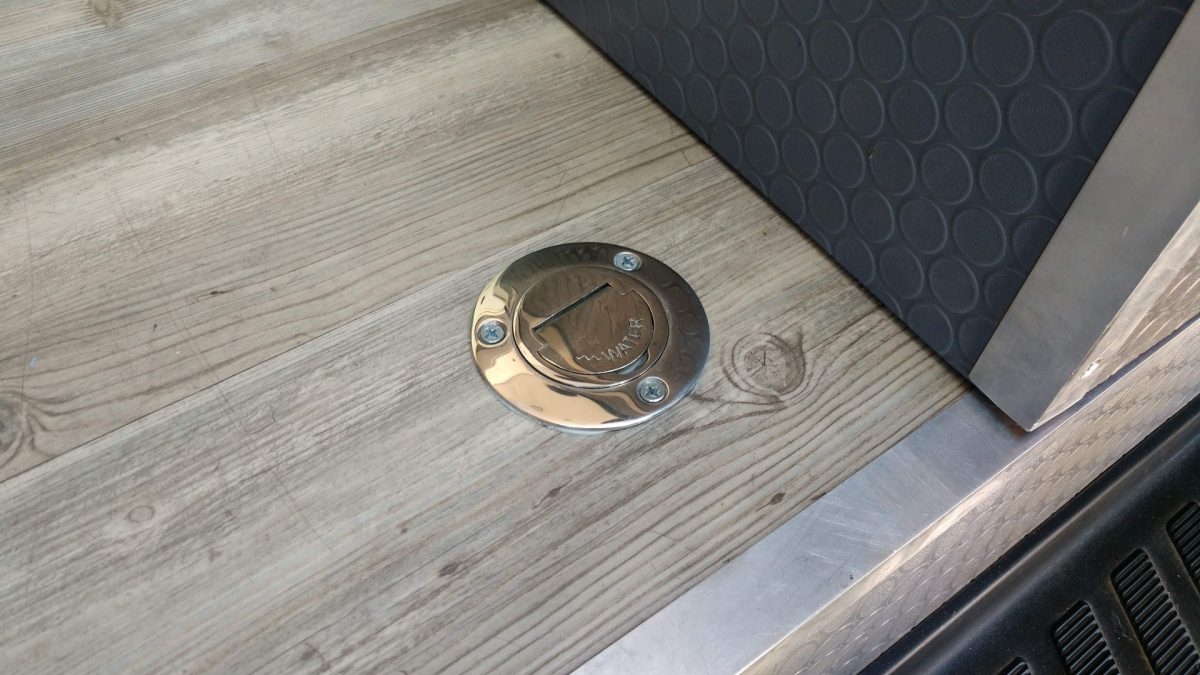 As for the shower pan, I added a new drain that slips into the floor drain. The part is a 1½" sink drain. The size was perfect. I used Sikaflex to glue the fitting watertight to the pan. I didn't want the vinyl pulling away from the fitting and leaking.
Now the shower pan sets up and stores even easier without any drain hose attached.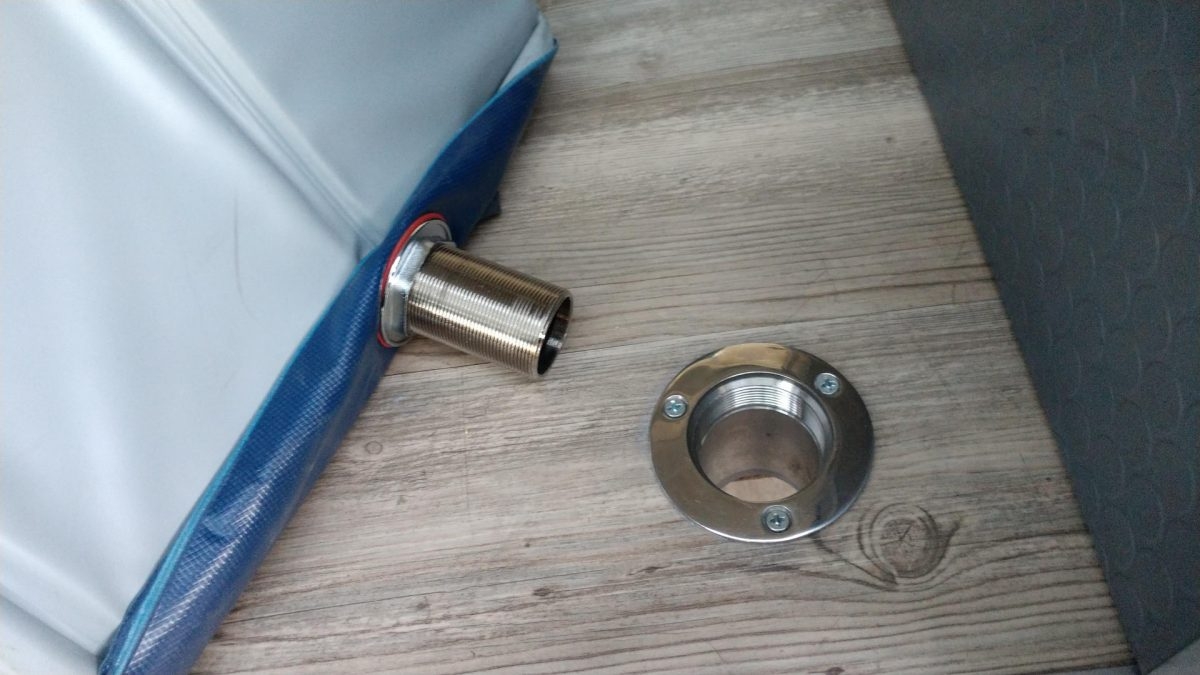 Showerhead with a Shutoff
The Ambassador Marine Faucet we installed is super nice and works very well, however, it was lacking one very important thing…a shutoff when in shower mode! It is super convenient how the kitchen faucet pulls out 6 feet and doubles as a showerhead, but as I mentioned earlier, the fact that we couldn't just turn it on and off without having to readjust the water temperature became a complicated two-person job. So I searched for a showerhead that had an incorporated shutoff valve built-in and had to figure out a way to make it work. Without any use of tools, we can unscrew the kitchen faucet head and screw on this Homelody showerhead with an on/off/pause switch!
This 1/2″ brass adapter installed on the showerhead allows the Ambassador sink faucet hose to attach.
When using the shower, we can set the faucet temperature how we want it but turn off the flow with the shutoff valve. Our magnetic hooks work well to hang it off to the side if we need both our hands to shower.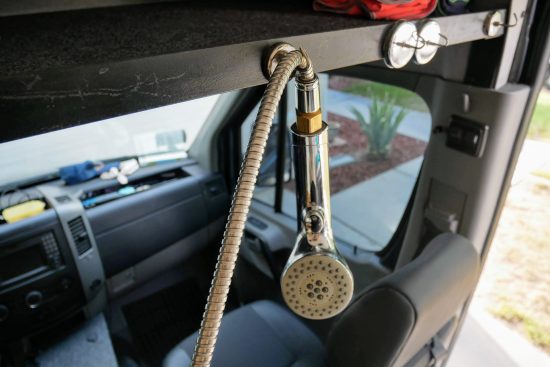 The showerhead also kinda fits into the sink too for temporary storage in between our showers.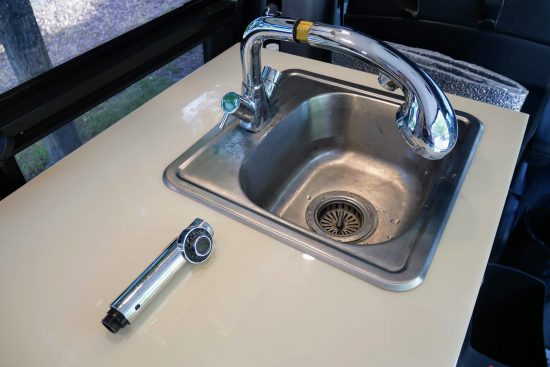 Hot Water in the Van
If you are wondering what we do for hot water, we use a Bosch electric water heater plumbed into our water system. Drawing 1450 watts, it runs off our 2500-watt inverter just fine. It takes approximately 10-15 minutes to heat the 4-gallon tank. In the beginning, I faced a few issues getting the electrical system to run it properly, but I quickly overcame them. The problem was that I was running 150 amp circuit breakers at my batteries as main system protection. They would heat up and trip after a few minutes because they could not carry the load. Even 250 amp breakers did the same so I switched to 200 amp ANL fuses instead. The fuses have not failed us, not even once. For batteries, we were originally running two 6-volt batteries under the hood, plus a Renogy 200 amp-hour 12V battery totaling 400 amp hours (200 useable). More on that in my electrical system post. After about 3 years, the Renogy battery failed therefore, we ditched all of those heavy AGB batteries and went with one 300aH LiFePO4 battery and it has performed amazingly. The water heater draws 130 amps on the battery system when heating and uses approximately 40 amp hours total of our battery capacity. After the tank fully heats up and clicks off automatically, we flip the power switch off so it doesn't kick back on. 4 gallons is plenty for the two of us to take two decent hot showers. They're quick but more luxurious than military-style showers. We have used this setup dozens of times over the past two years. It is solid, proven, and works very well! Although there are cheaper ways to heat water, having plumbed-in hot water on demand with no need to vent the water heater is priceless.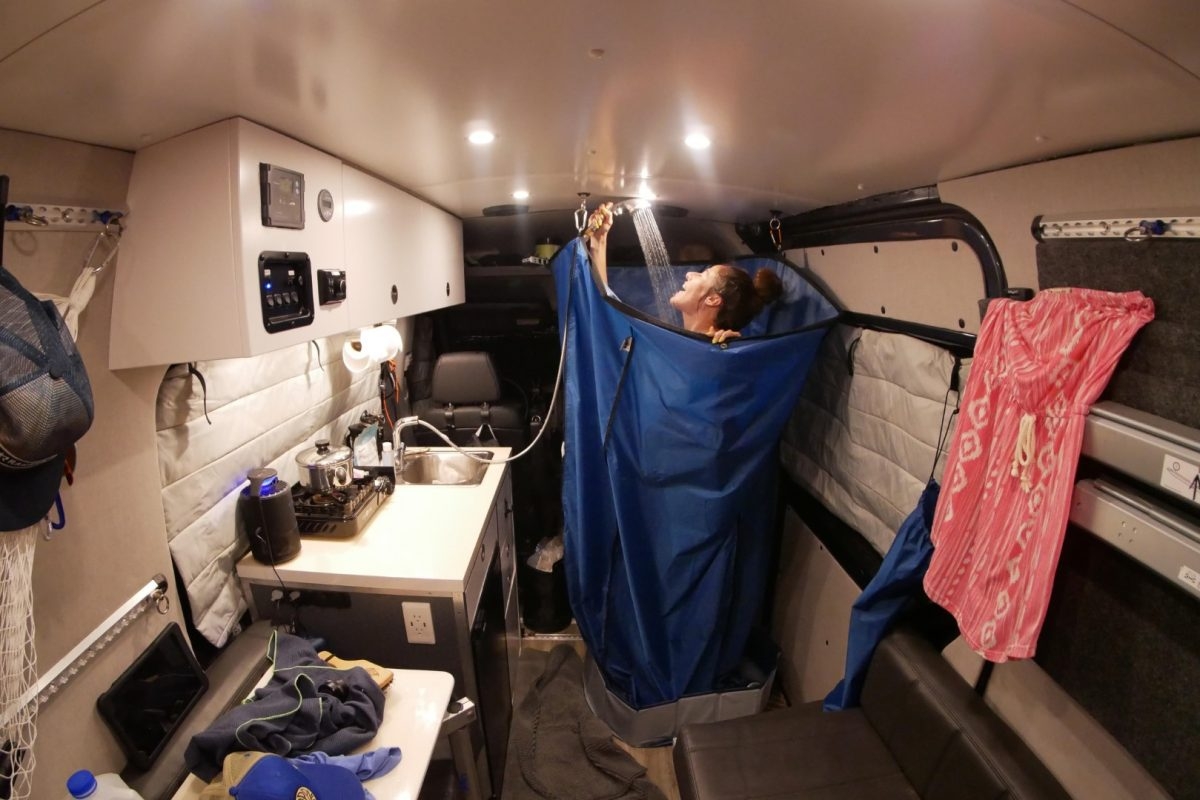 Indoor Van Shower Parts List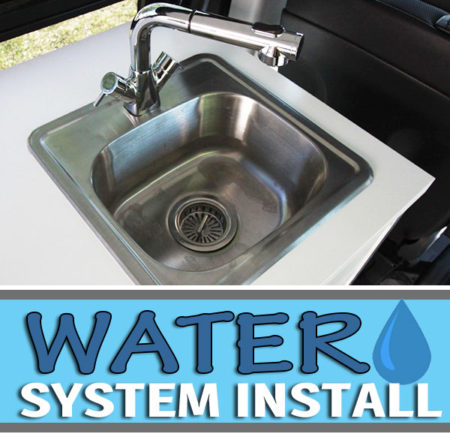 Like My Content?

Show your support!

Join My Patreon

You can simply buy me a coffee or get full access to the "not-so-public" ride, trail, and trip information that I only share with my VIP patrons. Become a Patron

Follow Me on Thatch

Thatch is a place where I share my top recommendations for places I've visited or ridden (for free). Premium content is available as well. @livelikepete
Comments
comments