Many people cringe at the fact that I often go riding by myself. Solo riding has been a normal thing for me for at least the past 20 years. Is it dangerous? Of course it is! Have I had accidents or crashes while riding alone? You betcha! I try not to let the risks scare me from going out and enjoying what I love to do. Riding motorcycles is one of the greatest joys of my life. If you are a competent rider and take a few extra precautions, solo adventure riding can be just as safe as going for a jog around the block.
1: Prep Your Bike
Never go on a ride without prepping your bike first. Make sure your maintenance is up to par and you do a full nut and bolt check before every ride. Check tire pressures and always carry a front AND rear spare tube plus patches, air pump, etc. Oh and gas…that's important too. Make sure you have plenty of range for where you plan to ride.
2: Tell Someone Your Plans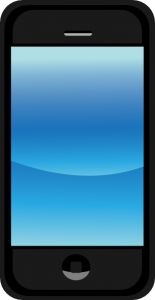 One of the most important things you can do is tell a friend or family member what you plan on doing. Choose someone who is familiar with your rides like a riding buddy. Give them a quick rundown of your day's plan. Tell them where you are going and about what time you expect to be home. Check in with a text message every 30 minutes or so to let them know everything is ok. If you go wandering into the desert, it could be hours or even days before someone pieces together where the heck you went.
3: Get a SPOT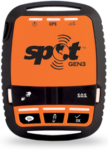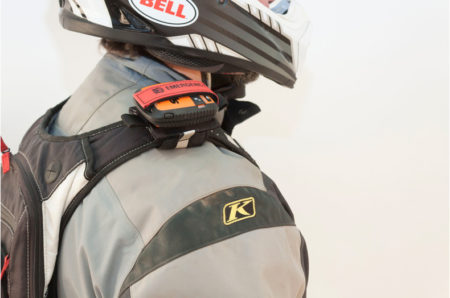 A SPOT or any other personal GPS tracker/ communicator is crucial to stay in contact where there is no cell reception. Even if there is a reception, having a reliable backup way to communicate for emergencies is important. Having a SPOT mounted on your handlebars or, even better, on yourself makes it easy to check in with the simple push of a button. I am seriously considering the shoulder mounted pouch for my SPOT. If Kurt Caselli would have had one, it may have saved his life in his fatal Baja 1000 crash. He is the reason this mount was developed.
4: Watch Those Speeds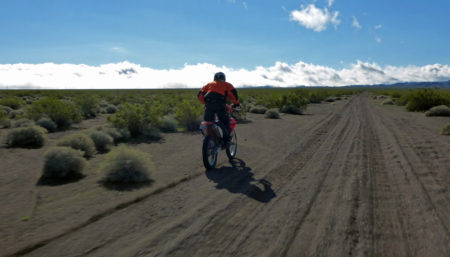 As much as I love to go fast, I have to constantly tell myself to knock it off. Speed kills, obviously. But seriously, keep your speeds limited to a mild pace and injuries will greatly be avoided or reduced. Don't go blasting down trails even if you know them like the back of your hand. Take it down a peg or two when riding alone and be conservative and smart.
5: Follow Your Gut and Know Your Limits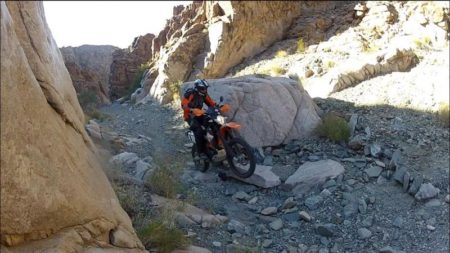 If you have been riding along a trail for quite some time and all of a sudden you realize there are no more tire tracks, there is usually a reason. If you get a funny feeling about it, turn around and go back with a friend to tackle the unknown. Whenever I think I found a killer singletrack leading to somewhere new, it usually ends in a deep canyon or the side of a steep mountain where it's nearly impossible to turn around. If you have any doubts, you should usually err with the side of caution.
6: Don't Get Lost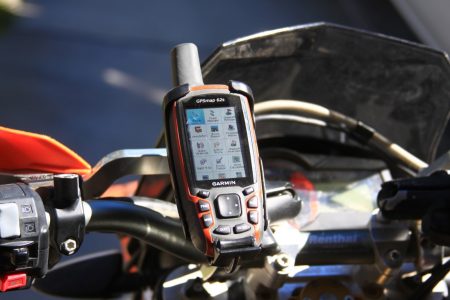 Get a GPS and know how to use it. Phone apps that use GPS when out of range work well too, but a rugged, dedicated GPS is always preferred. I use a Garmin GPSMAP 64st. I always have tracks and waypoints plugged into it. Oh and bring extra batteries just in case.
7: Be Prepared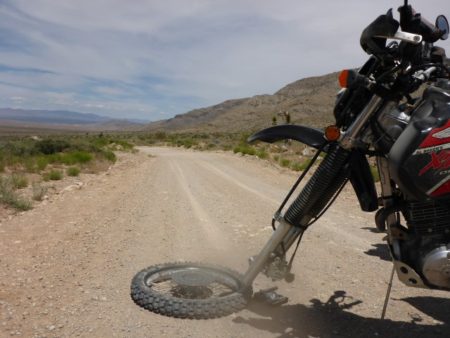 When riding alone, you have nobody to depend on but yourself. You better have it all! Make damn sure you have the proper tools to change a tube and fix whatever it is that can happen on the trail. Think about everything that has ever happened to you and your buddy's bikes. Make a list of all the breakdowns you can think of and put together a list of parts and tools based on that and then some. Bring enough water for a full day even if you plan on only going out for a few hours. A snack is also a good idea as well. Don't forget a first aid kit either. Have all necessary supplies in case you gash open your arm or leg. Practice ATGATT (all the gear all the time). Dress for the crash, not the ride.
Good snacks/ food to keep in your backpack
Don't Forget To Have Fun!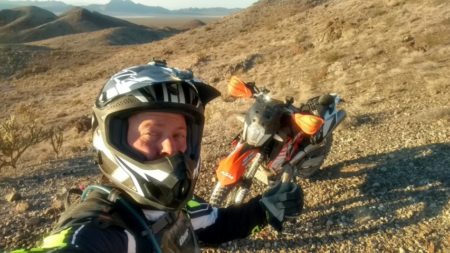 Solo riding doesn't have to be taboo and it doesn't have to be terrifying. Just take a few precautions and you will find that it is extremely gratifying and a lot more fun than you might think. Exploring places and finding things on your own makes it that much more of an adventure. Take pictures. Check stuff out. Go have fun. Don't let your flaky friends stop you from riding and exploring!
Comments
comments