For years I have have had a few "must-ride" places on my bucket list and those places are Moab, Utah and Telluride, Colorado. Each year comes and goes and I never make it up there. Well, this year I made it a priority. No more excuses. My buddy, Brice, just picked up a new to him bike (fully decked out 2011 KTM 990) and my 2012 KTM 690 has been sitting patiently in the garage for the next big adventure. I knew as soon as he got that bike it was on because he's been itching to do the same trip.
The plan: Quickly get the first scorching hot 500 miles out of the way and truck the bikes up to Utah from Las Vegas. We wanted all of our time off to enjoy the higher elevation. Then, for the next 5 days ride into Colorado with no plan whatsoever other than some tracks and POI's plugged into the Garmins. We would camp off the bikes and ride from town to town for meals and food.
Day 1: Moab, UT to Colorado
We arrived in Moab, unloaded the bikes and quickly got geared up for our adventure.
Leaving Moab…
Once in the mountains we saw a few cool old cabins…
The Aspens were awesome.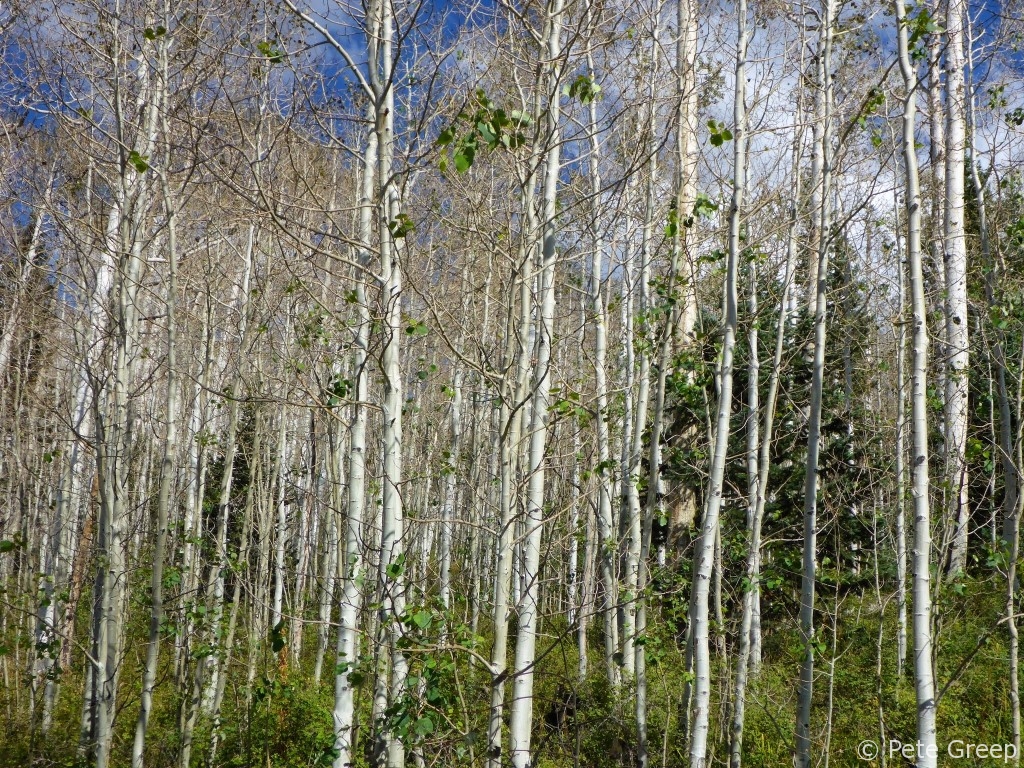 Aspen trees are all native to cold regions with cool summers, in the north of the Northern Hemisphere, extending south at high altitudes in the mountains. They are all medium-sized deciduous trees reaching 49–98 ft tall.
A couple times we came up on a gate in the trail. No big deal. Open it up and politely close it after you pass through. This is common where were from. However, one of them had 2 pad locks on it so we had to bush whack and find a new way around. (See the video later in this post.)

Then we hit some rush hour traffic.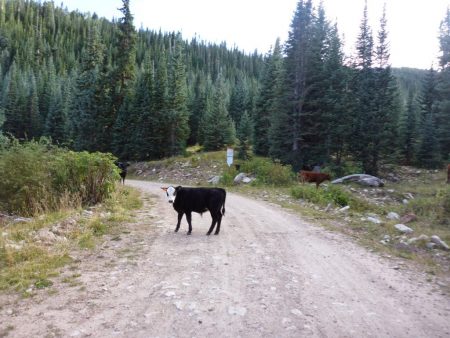 Brice coming up the road…

Bathroom break.
I spotted some singletrack leading to the bathroom.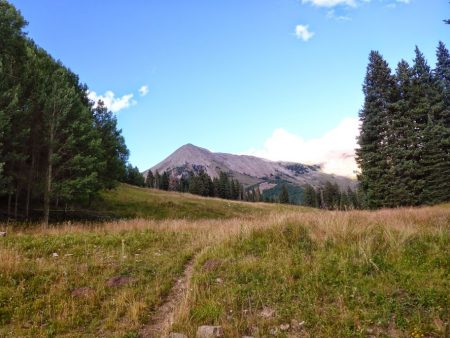 We proceeded through the mountains and along the way our tracks led us down an ATV trail. Bonus.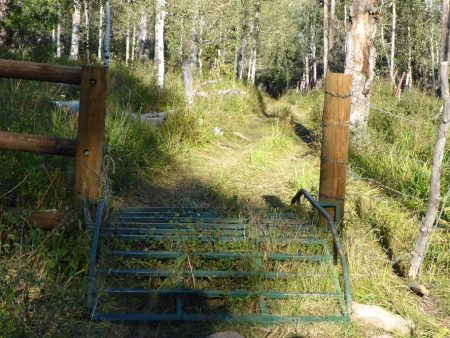 We headed east through the valley between Haystack Mtn and Mount Mellenthin. It was a little rutted in some places but no challenge for our big bikes.
Beer break.
Then we set off through another section of gorgeous mountain range. The trails were awesome, covered in slight overgrowth and used very little by others.
An old corral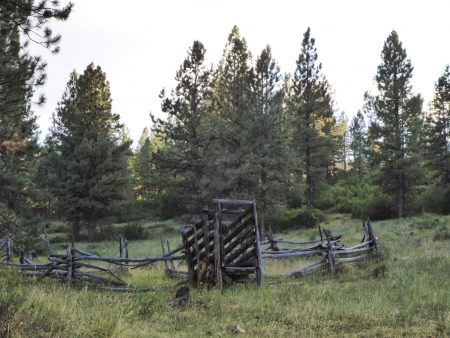 Then we covered a stretch of highway to get to Naturita quickly for food supplies.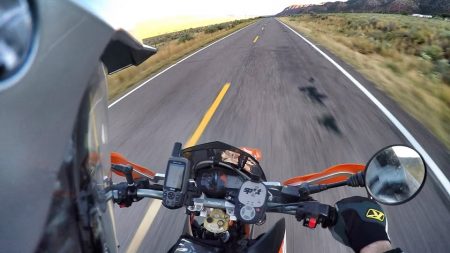 Along the way we were diverted to this bridge because the main bridge was under construction. It looked like this was more than a temporary situation.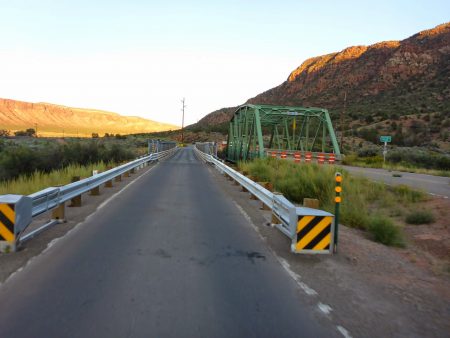 Just as the sun was going down, we made it into Naturita for food & necessities. There was a small market and walk in liquor store that had what we needed for the night.
You don't see these strange devices very often anymore.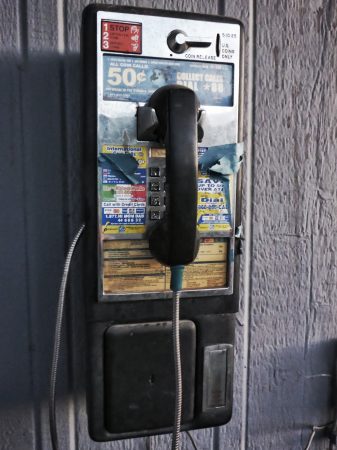 After grabbing some beef brats, chips/ salsa and water and beer, we were loaded up and ready to find our campsite for the night.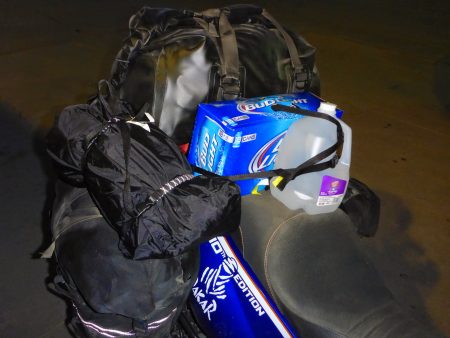 We didn't plan on it being so late when we would eventually find a camp spot, but that's how it goes when you don't really have a plan and are having fun.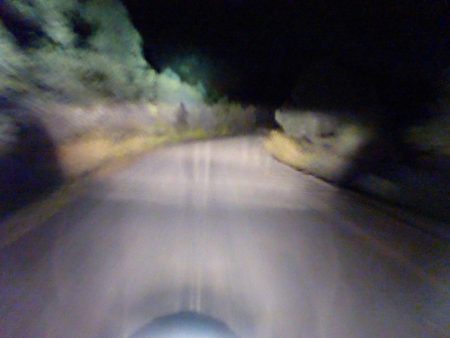 Camp for the Night: Miramonte Reservoir, CO
We ended up landing at Miramonte Reservoir. We wanted to go all the way south to Groundhog Lake, but it was getting cold pretty quickly and we were ready to get off the bikes. There was a small primitive campground with about 8 camp spots that had picnic tables close to the lake so we landed there and cooked dinner. We had no fire so the jet stove worked great to warm up our brats and act as a mini campfire.
Then this strange light was seen in the distance on the horizon. Oh! It's the moon. Niiiice.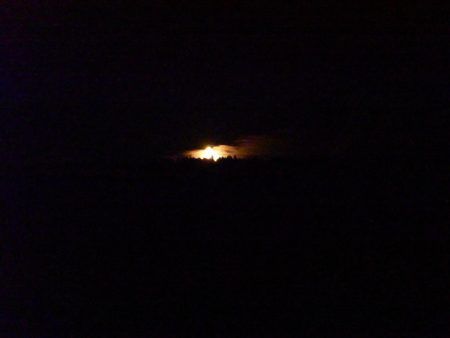 It didn't take us very long (about 3 beers and 2 sips of Crown) to get tired so we settled in for the night. As we went to sleep the Coyotes began howling and making their strange noises through the night. It didn't keep me up though. I passed out pretty quickly and slept great. It was a nice ~40°F overnight. Our camp was roughly 7500-8000 feet in elevation. It would be the lowest elevation we see all week. Thumbs up for that!
Comments
comments