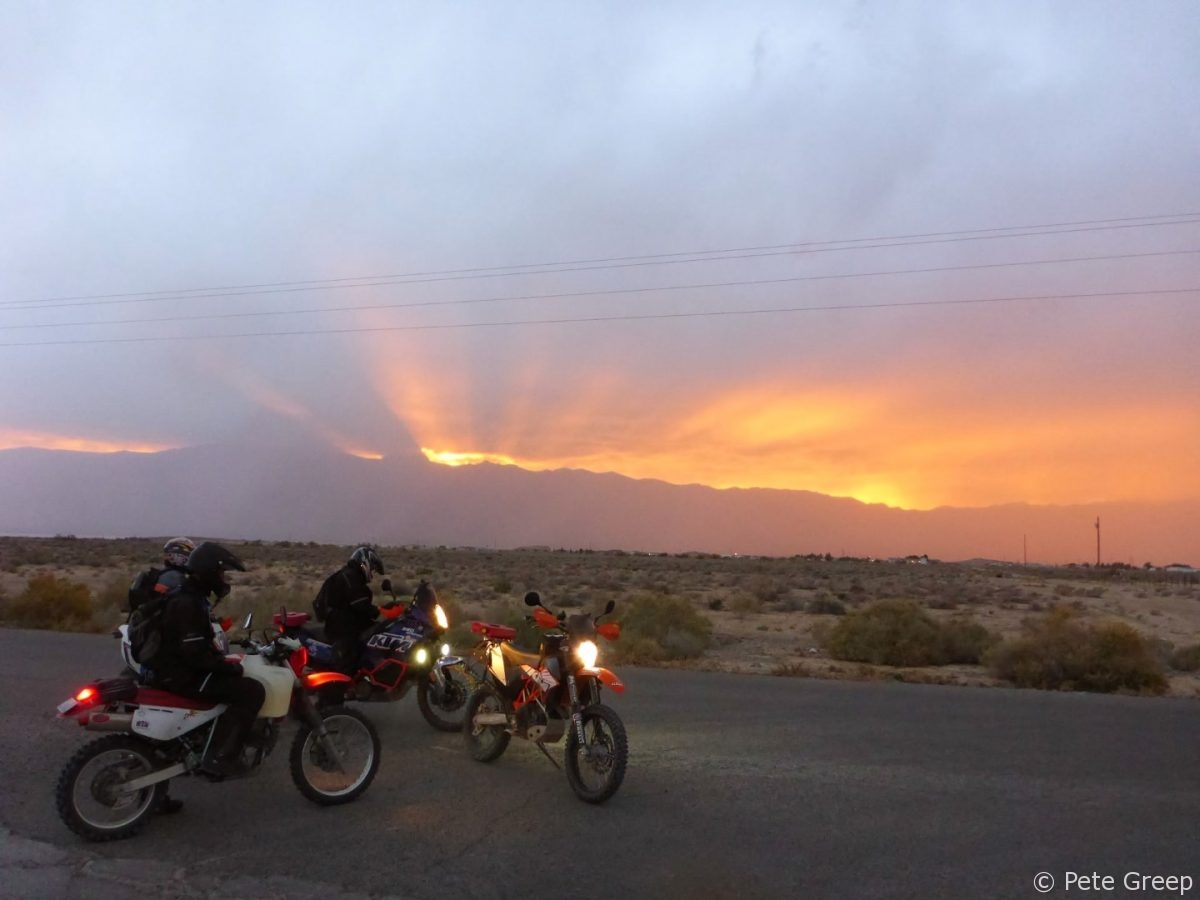 Ride to Pahrump, NV from Henderson via DIRT!.
Me (KTM 690), Mike B (XR650L), Mike M (KTM 690) and Brice (KTM 990)
We left Henderson about 10:30 AM via Pipeline road. I was skeptical whether we could do this ride and be back before dark, but I always like a challenge so we went for it.
Brice coming down pipeline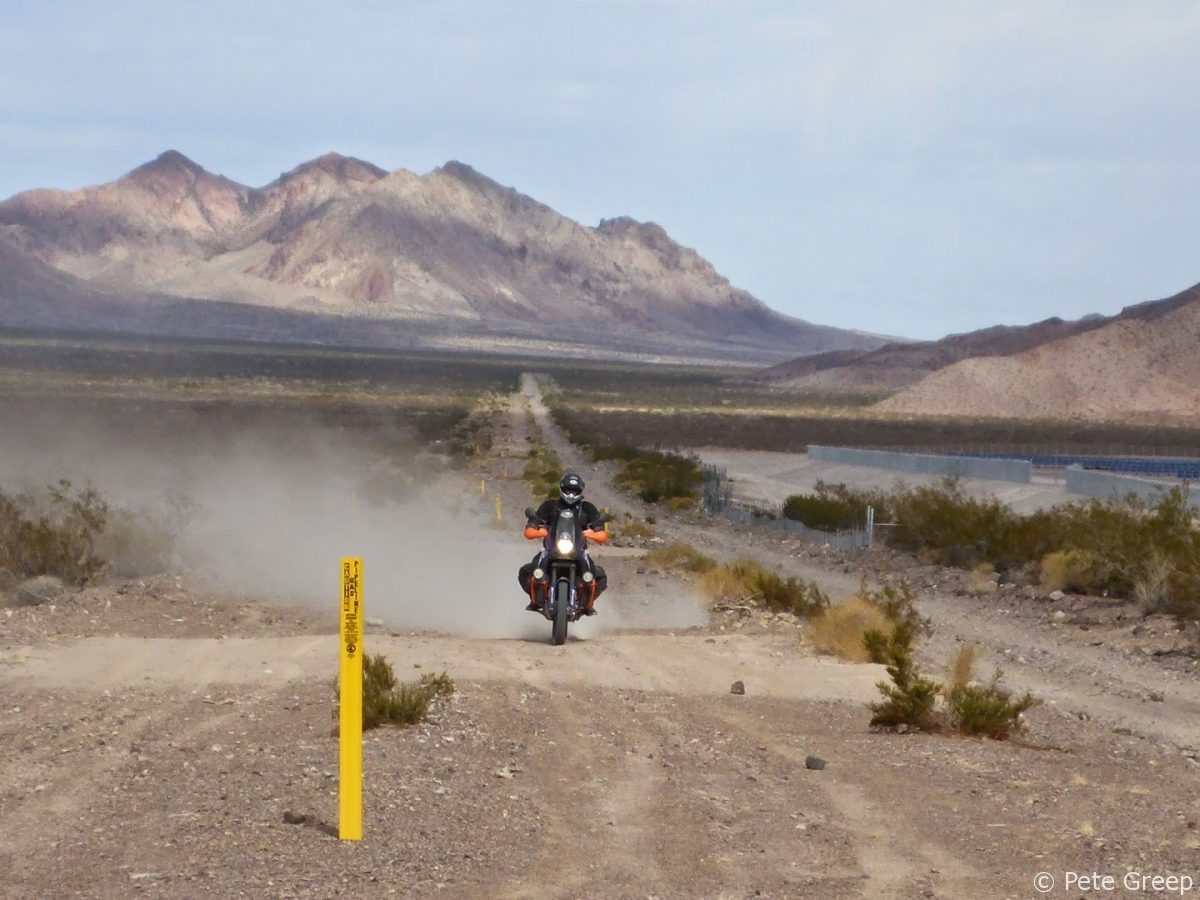 Mike M on his 690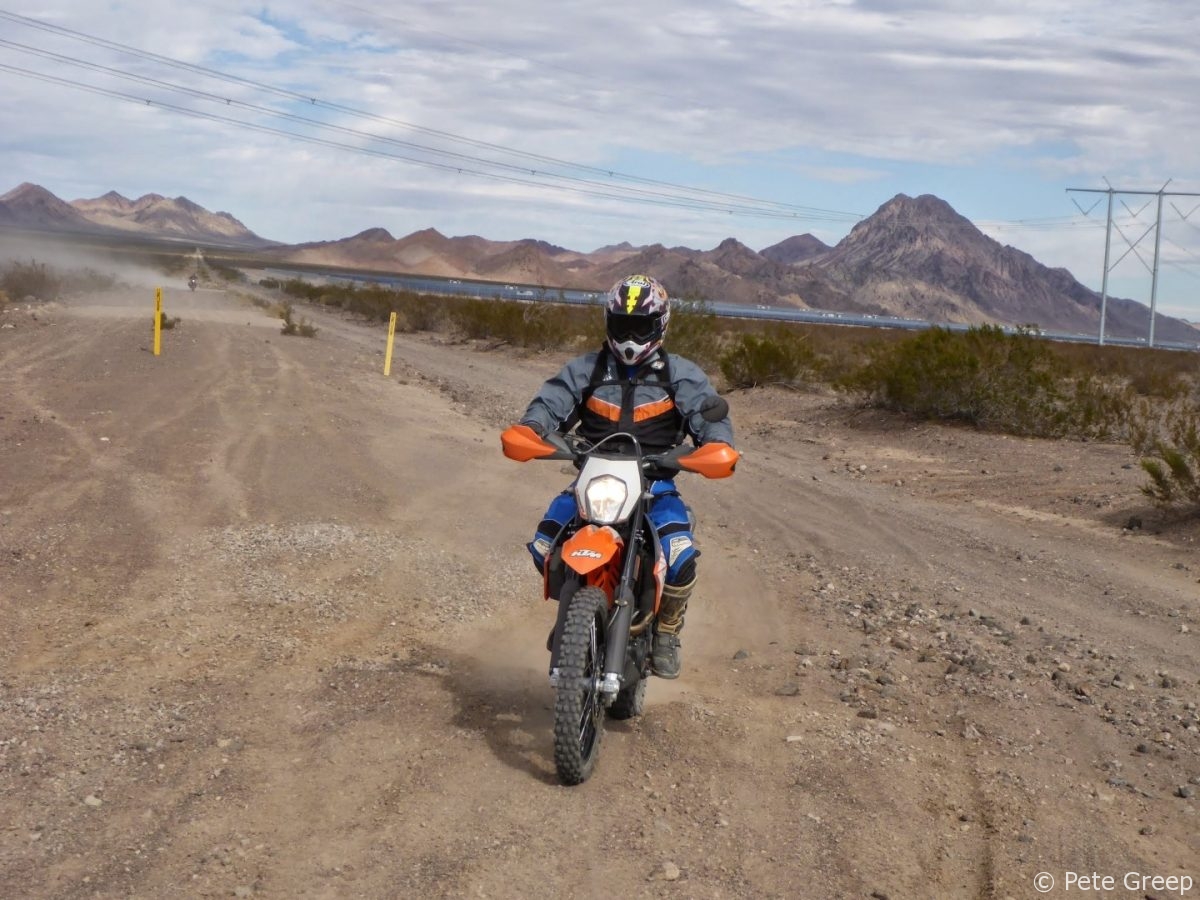 McCullough Pass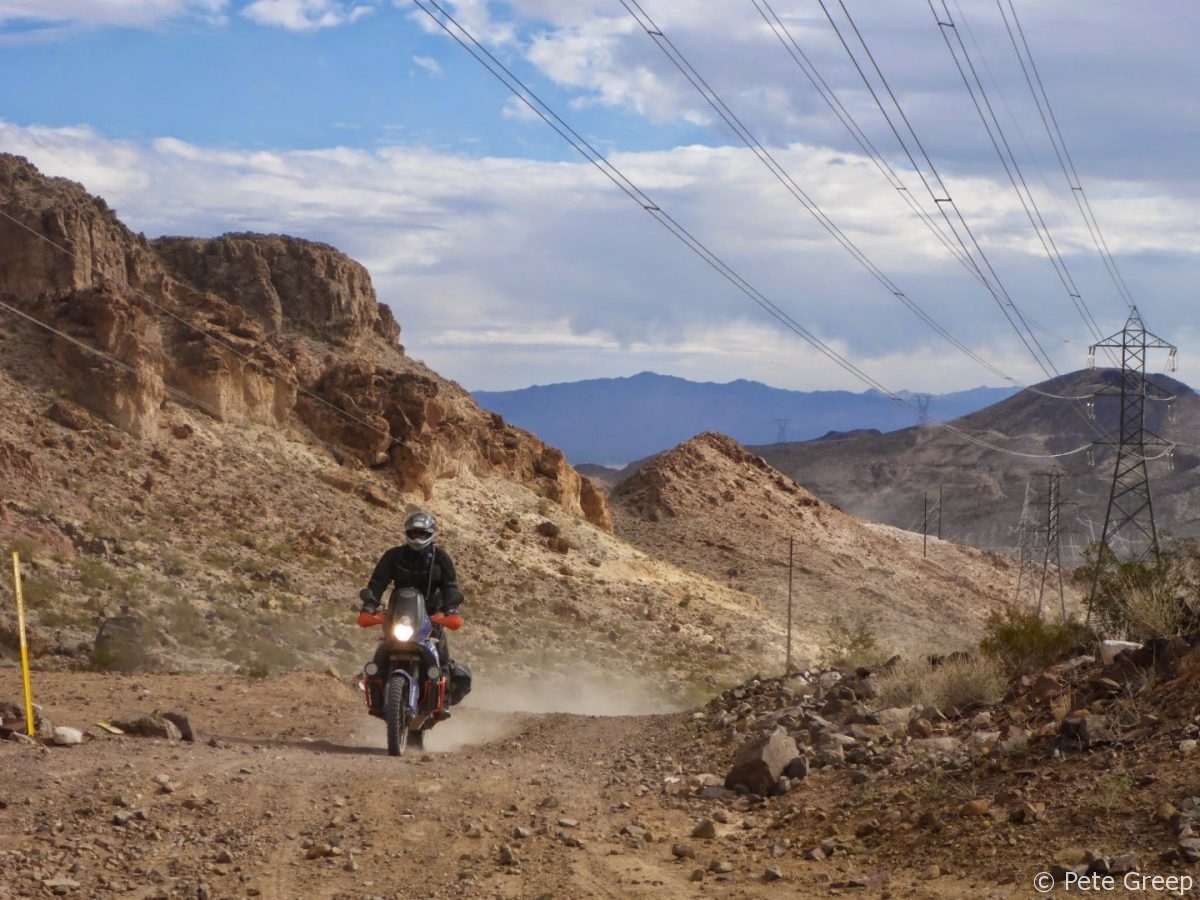 Quick break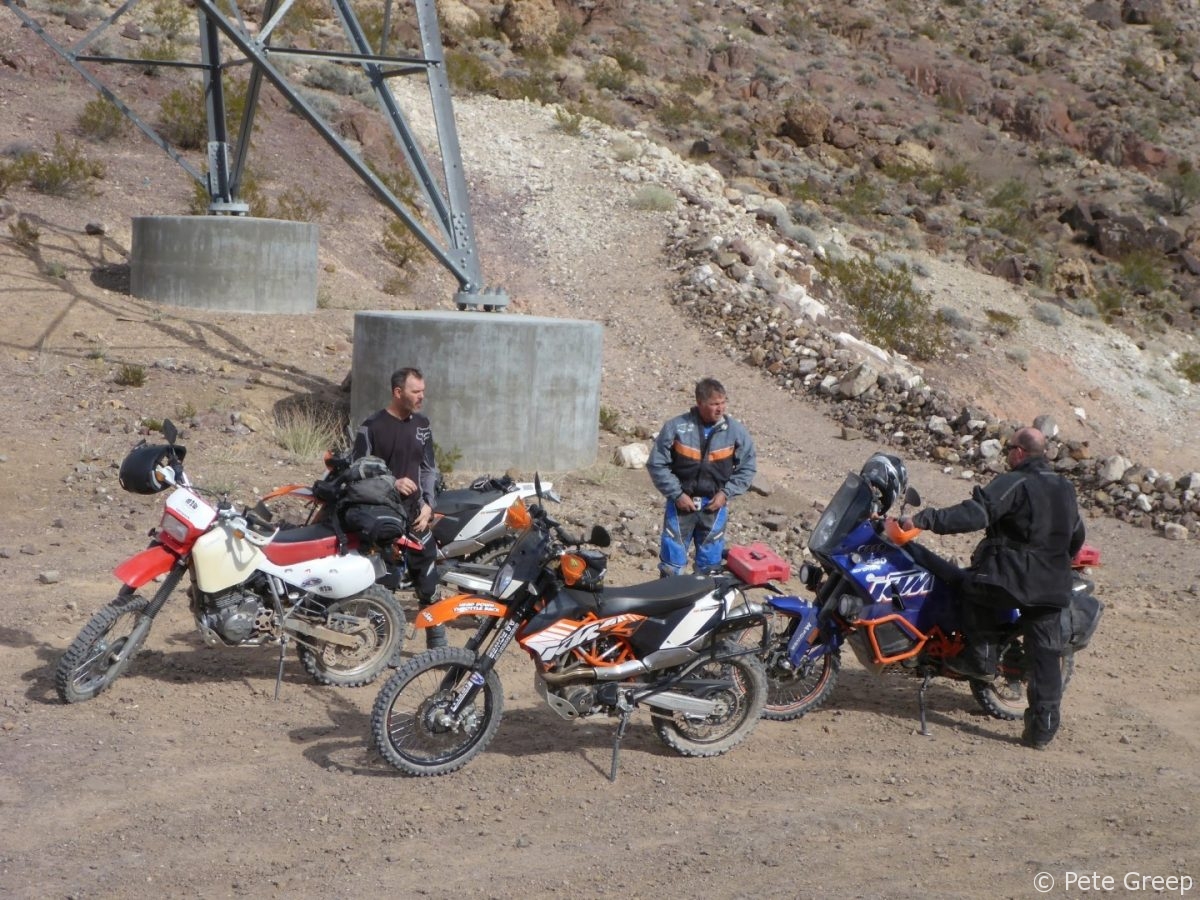 Brice lost a side bag. Luckily it wasn't too far back. I went back and recovered it and he got it mounted back up with no issues.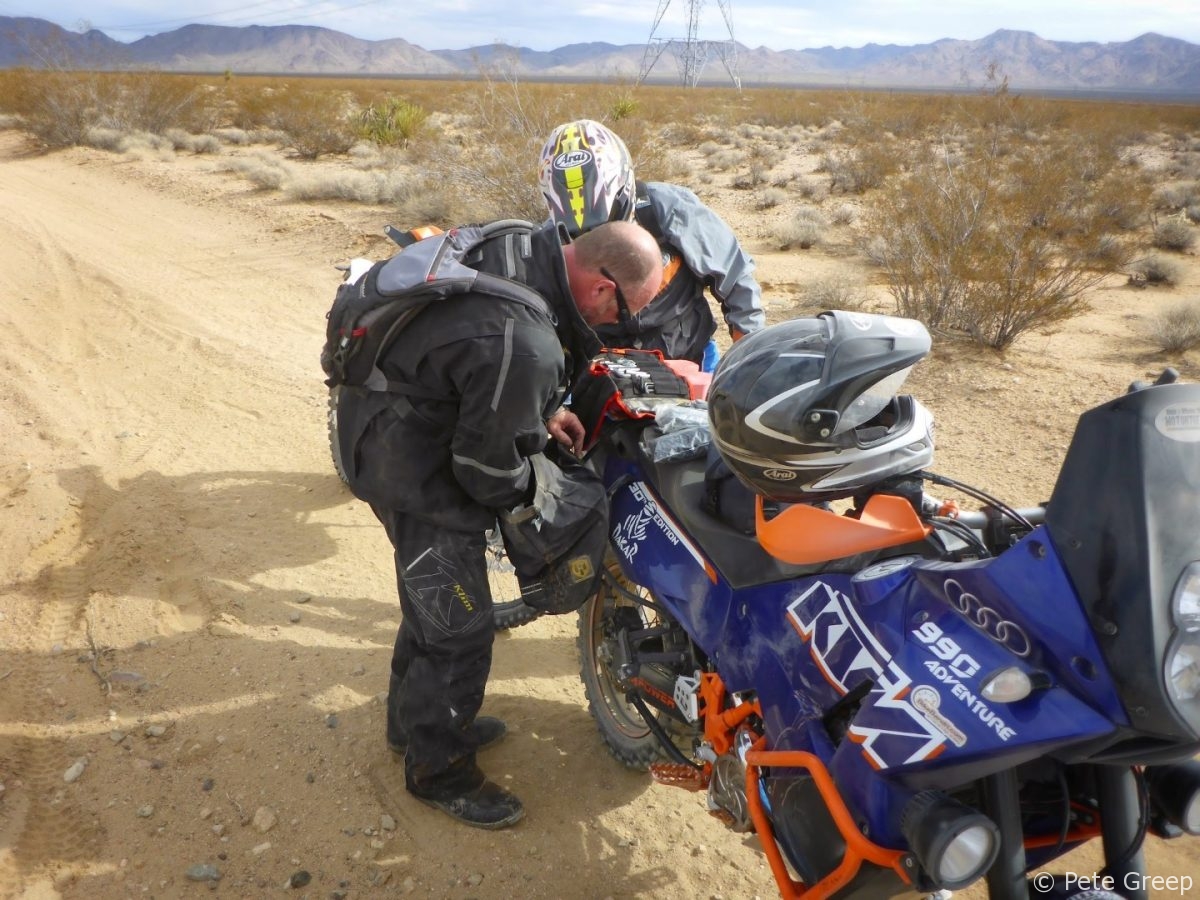 Heading into Primm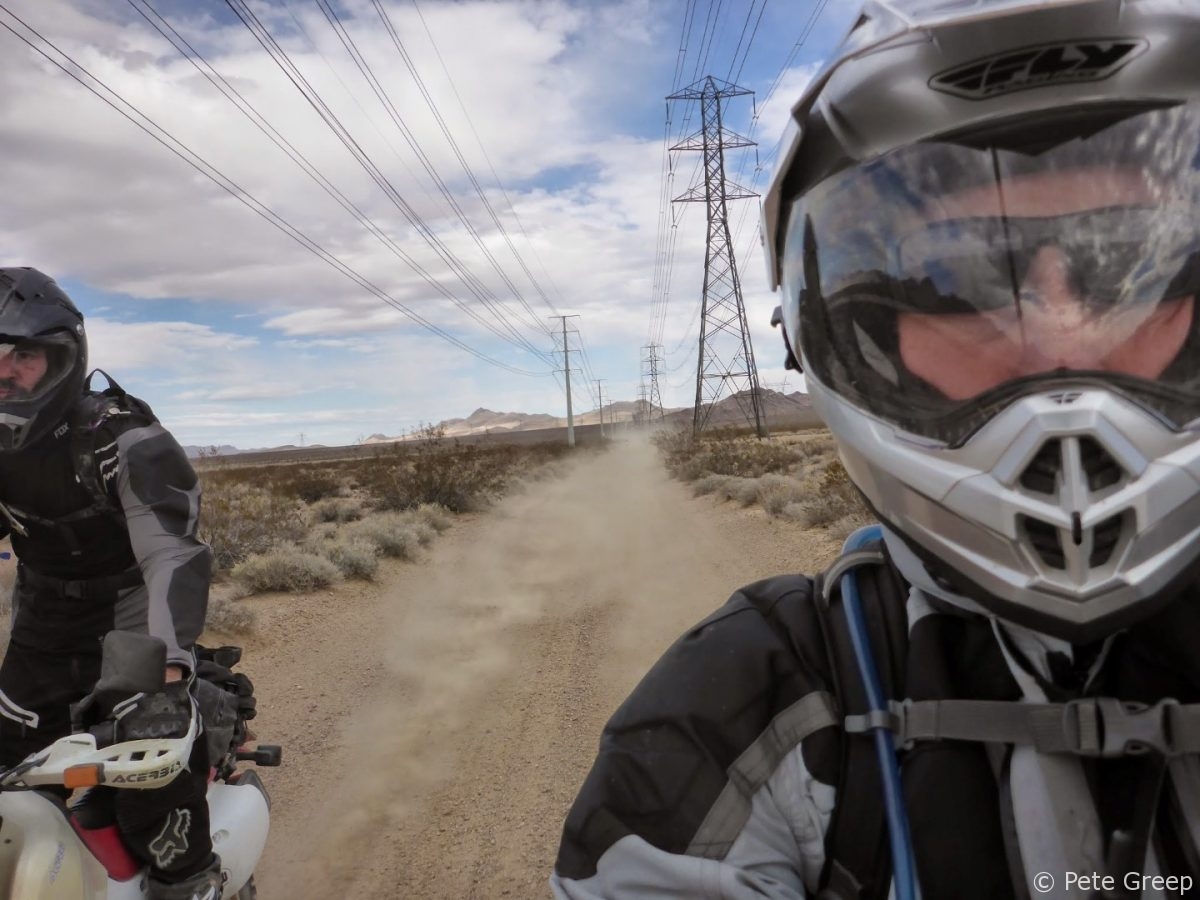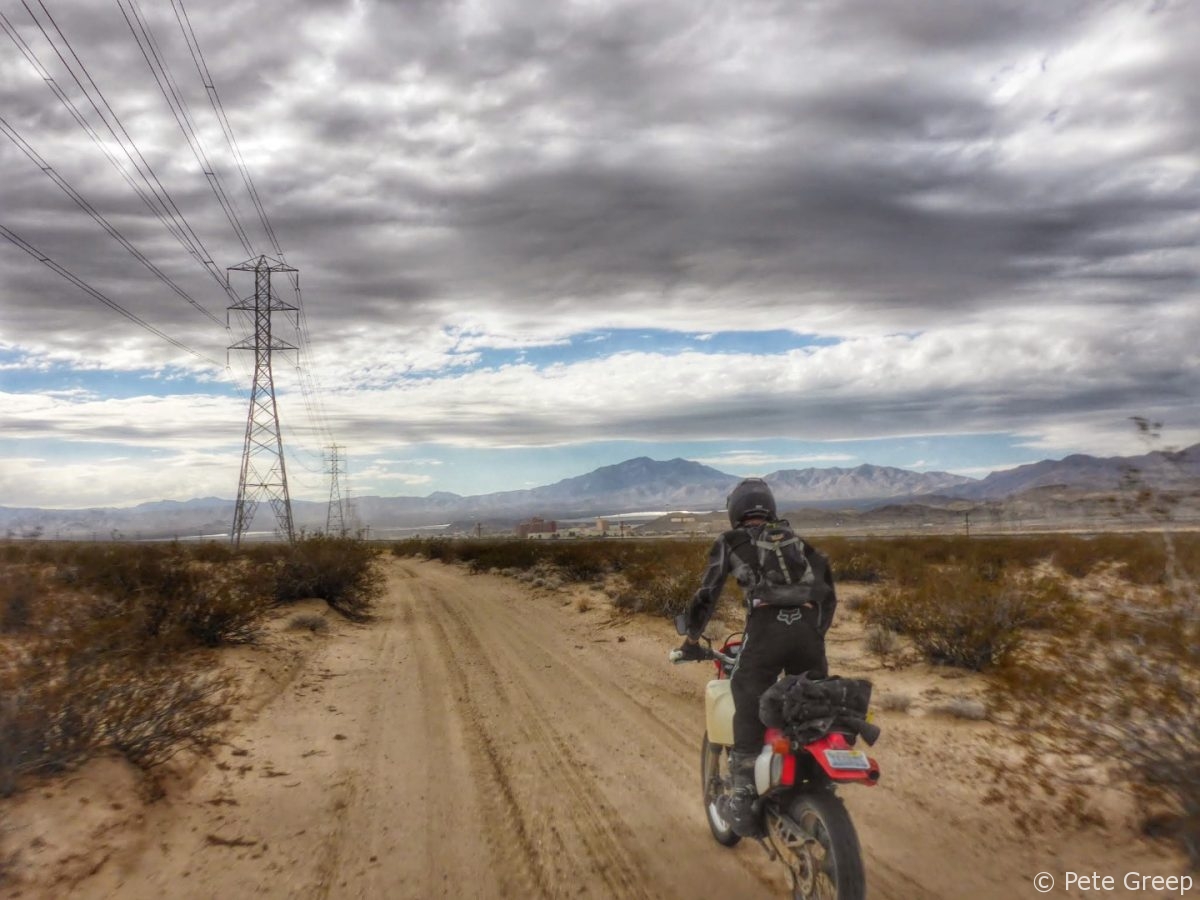 Mike B cheesin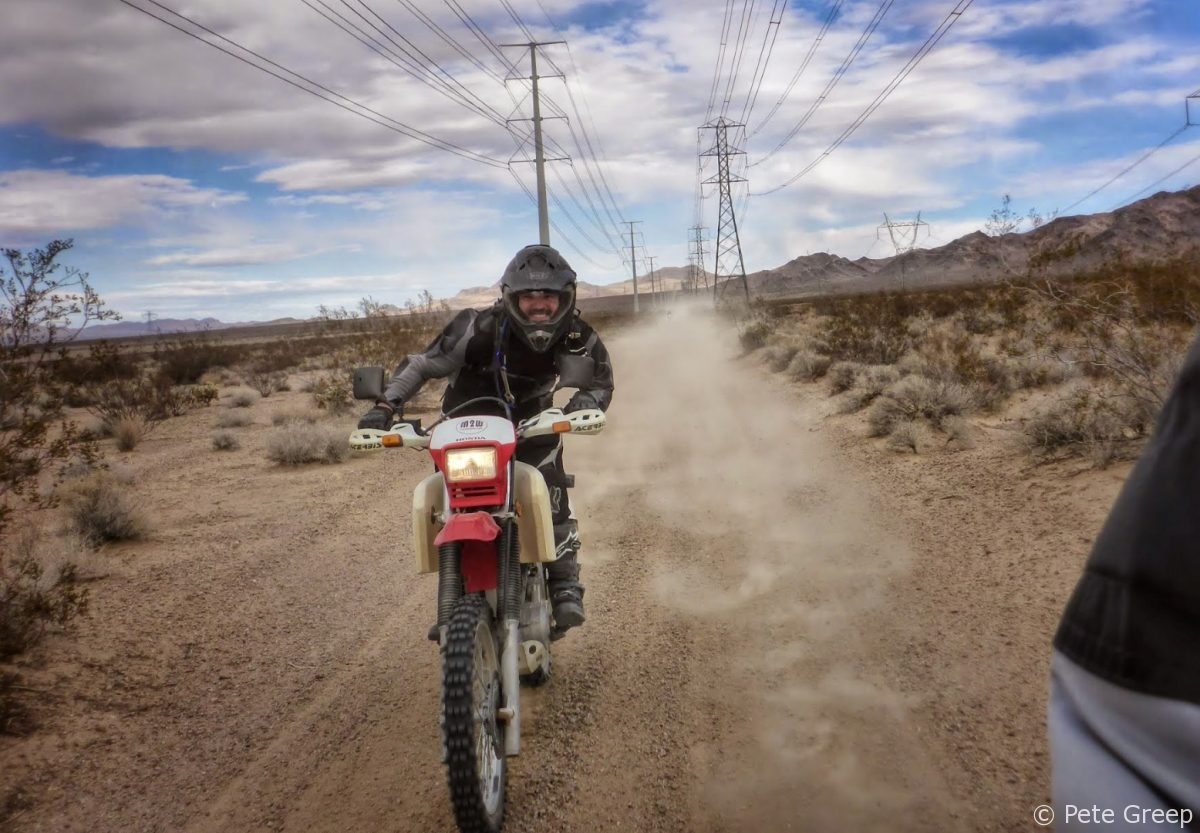 After topping off in Primm, we headed northwest towards Sandy Valley via Stateline "road". It was more of a rough double track with lots of rocks.
We stopped here for a beer break.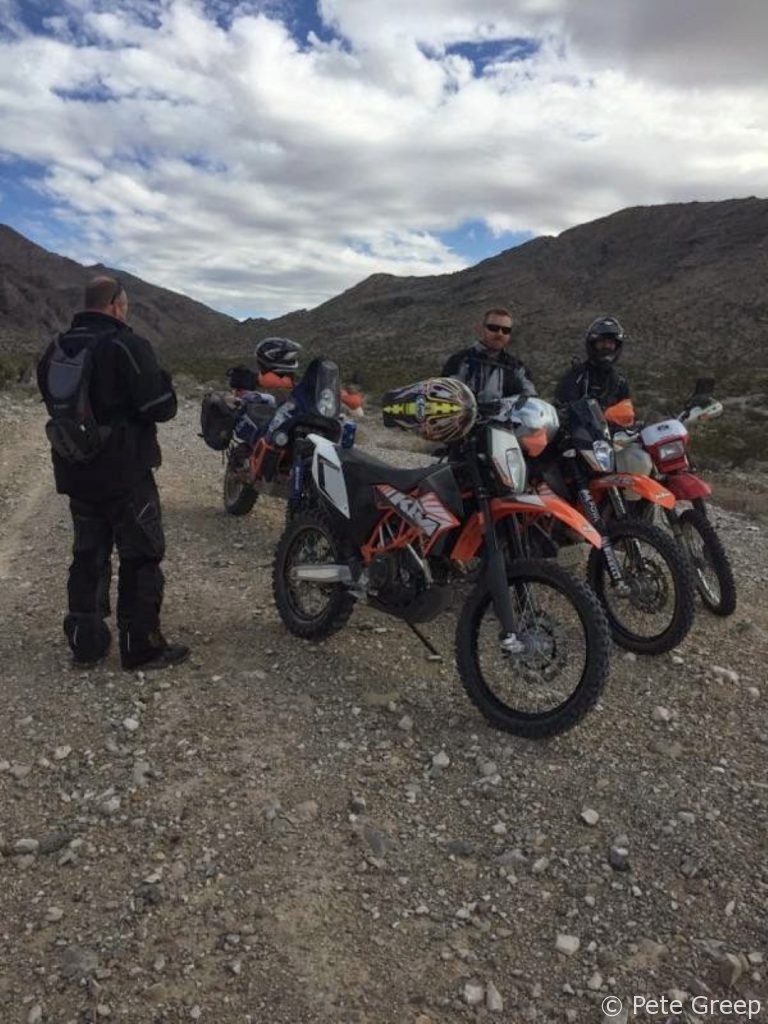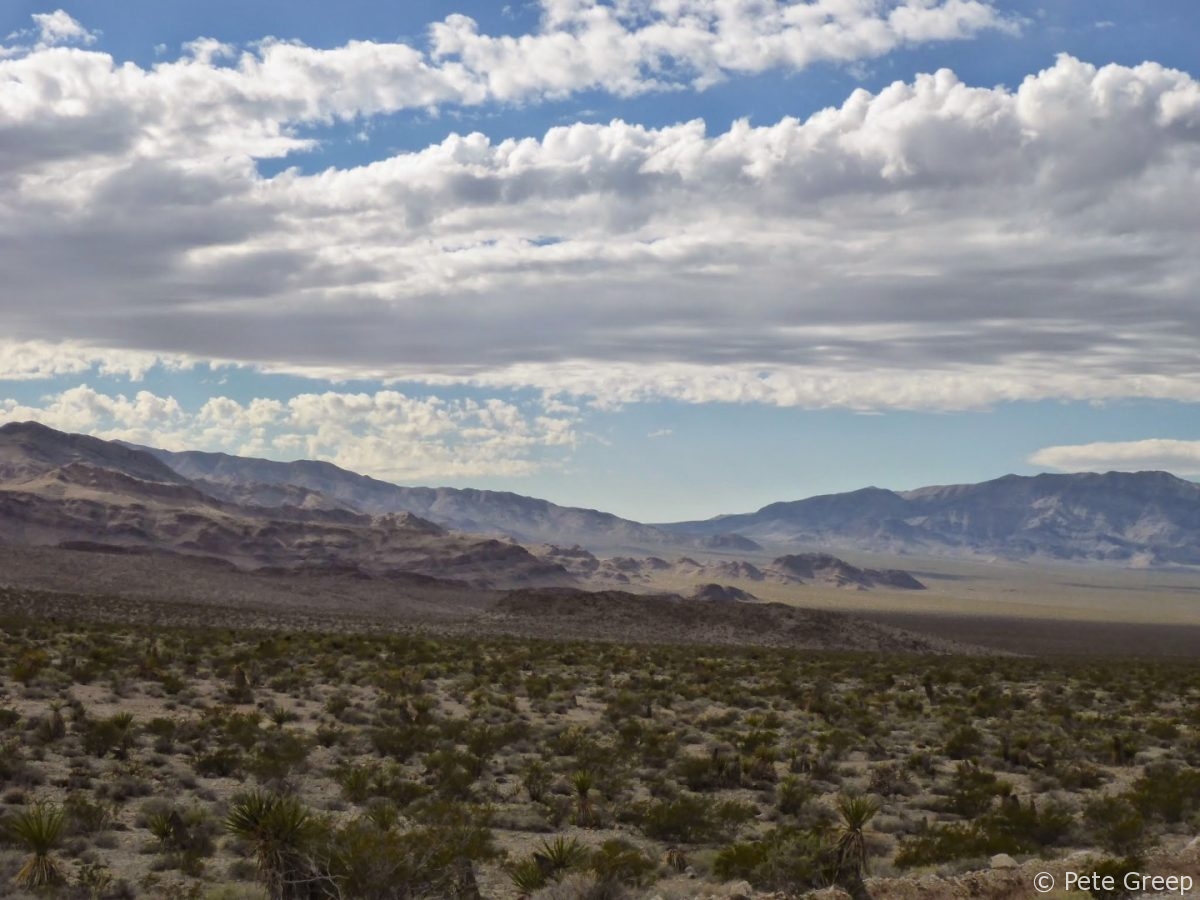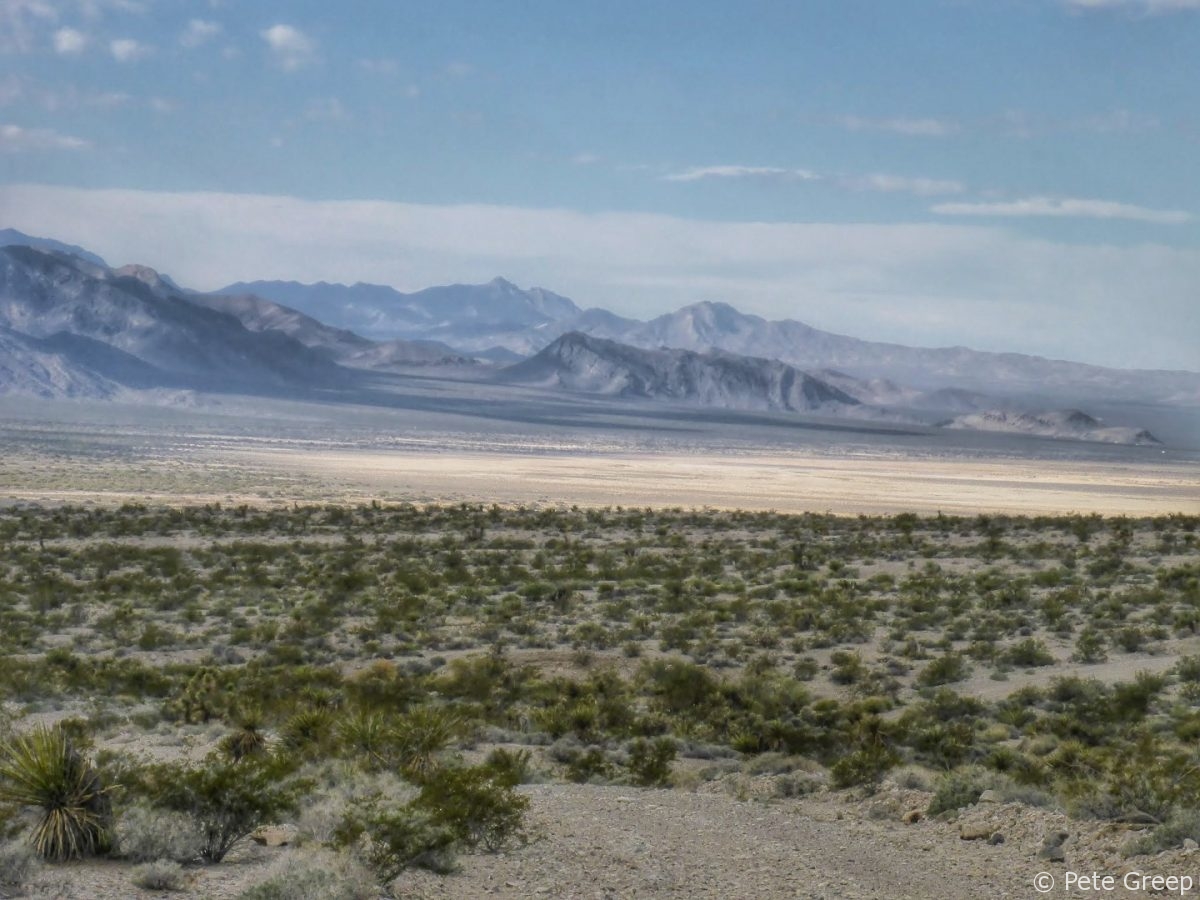 2 options at the fork. We went left.


Then, since all 4 of us are duners, our sand radar was going off big time when we approached this pile of fluffy heaven…

And of course…we rode it!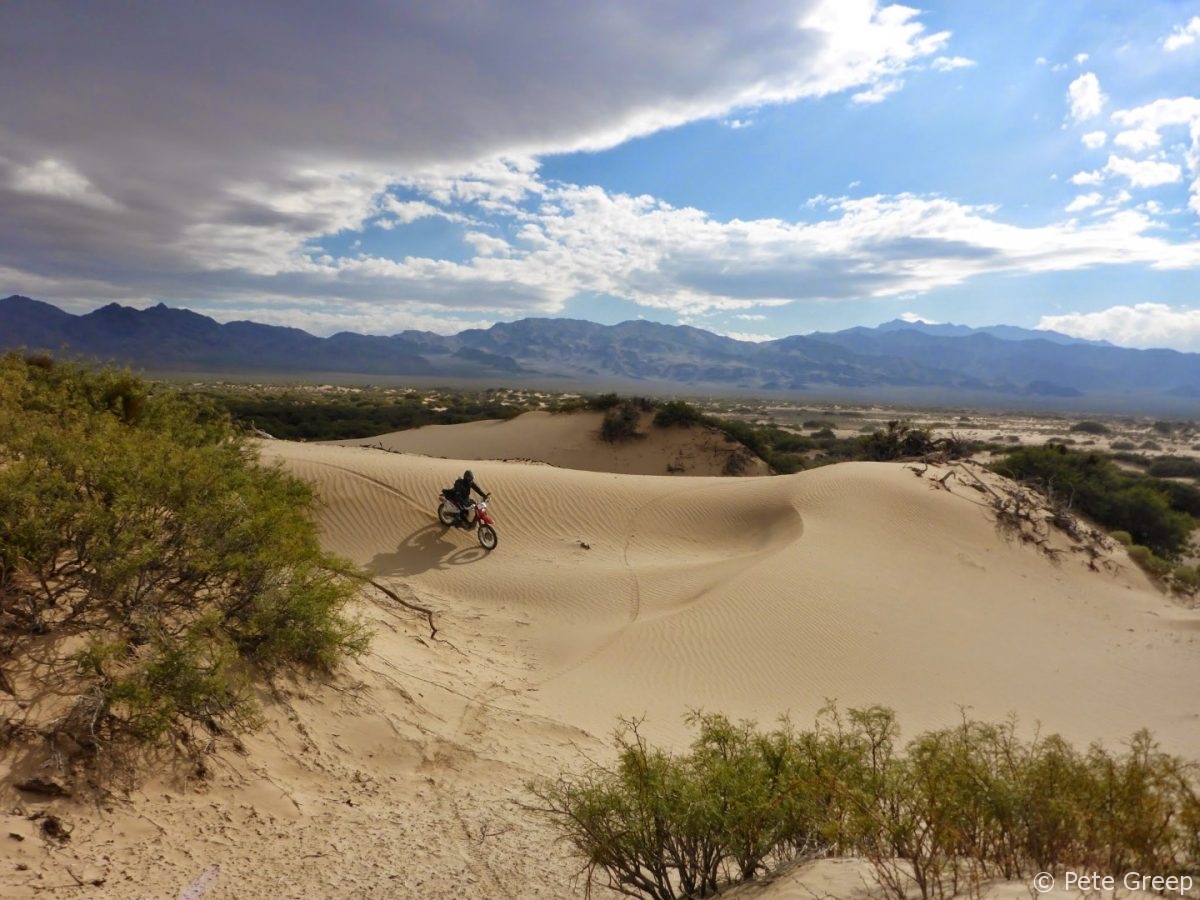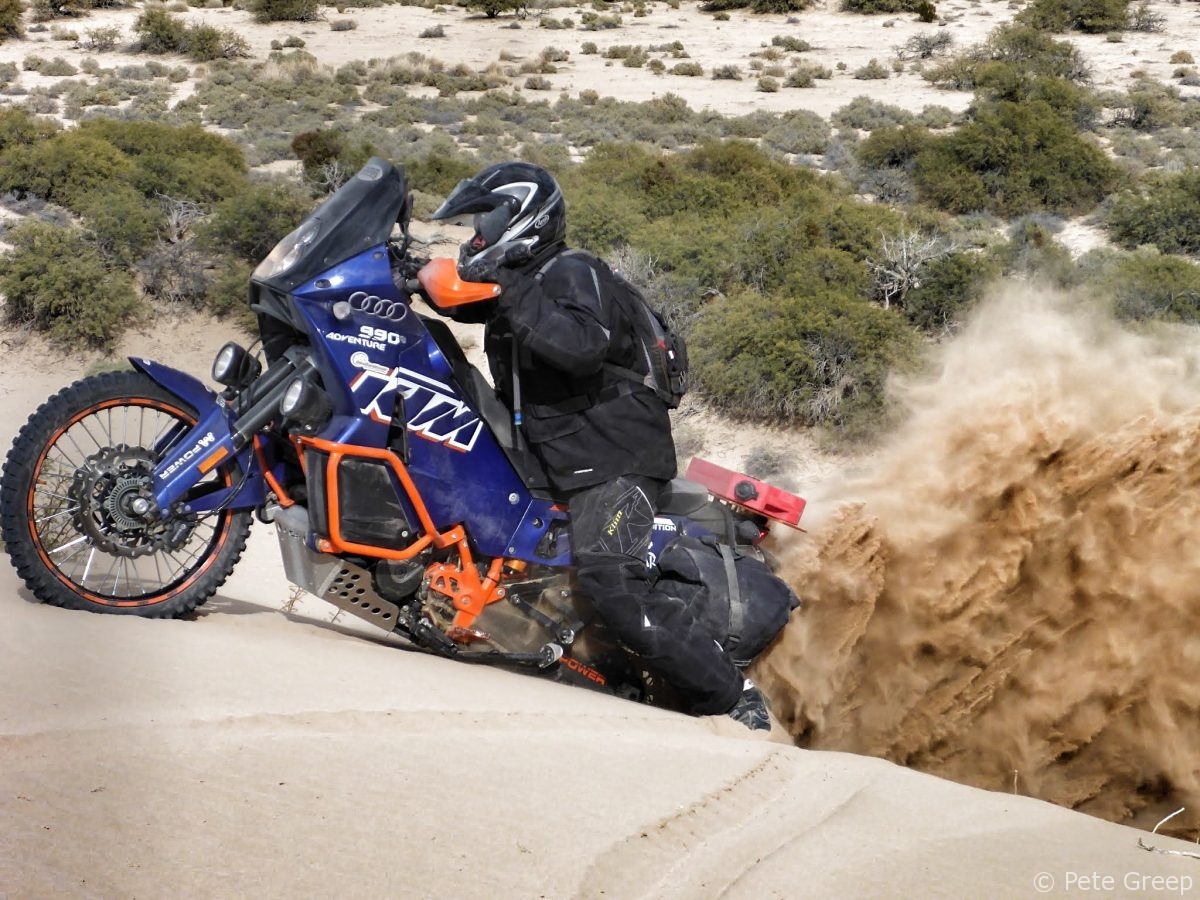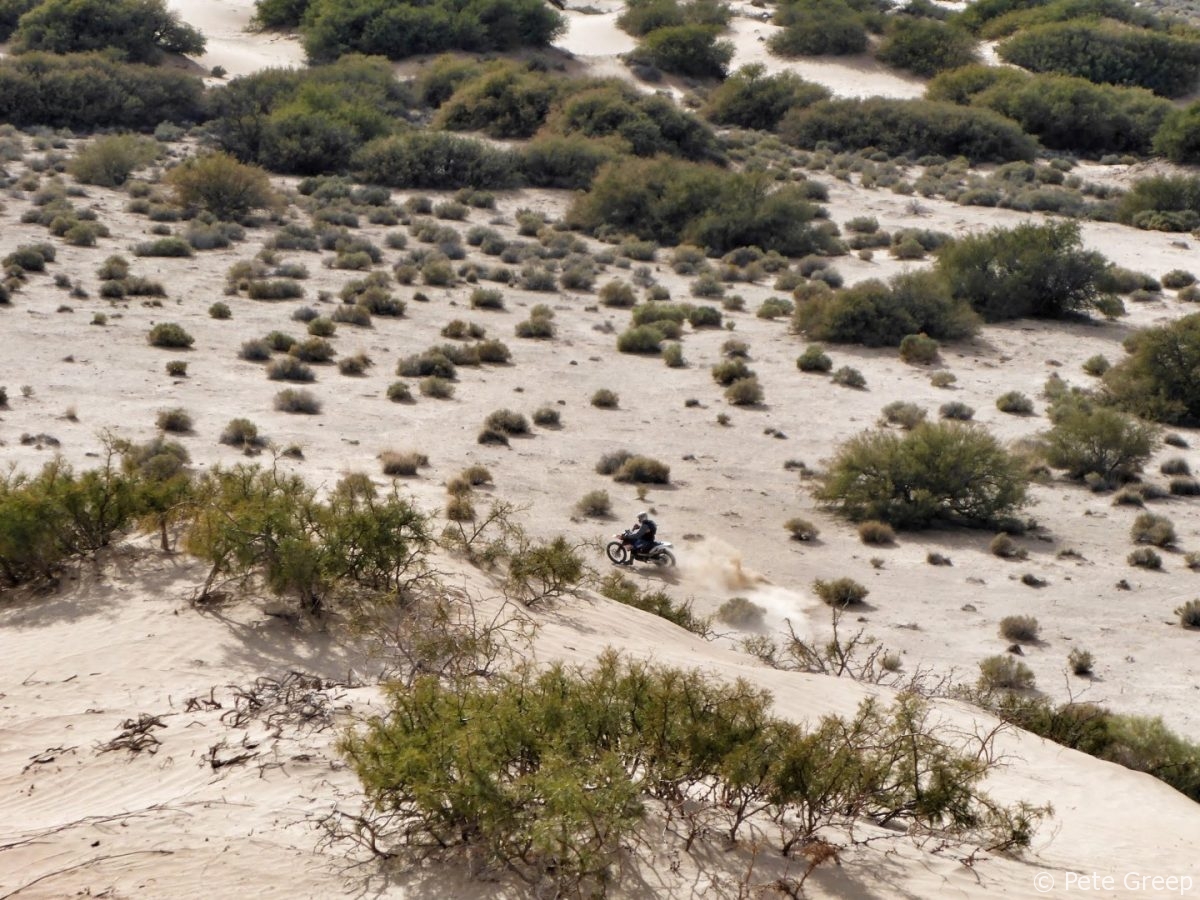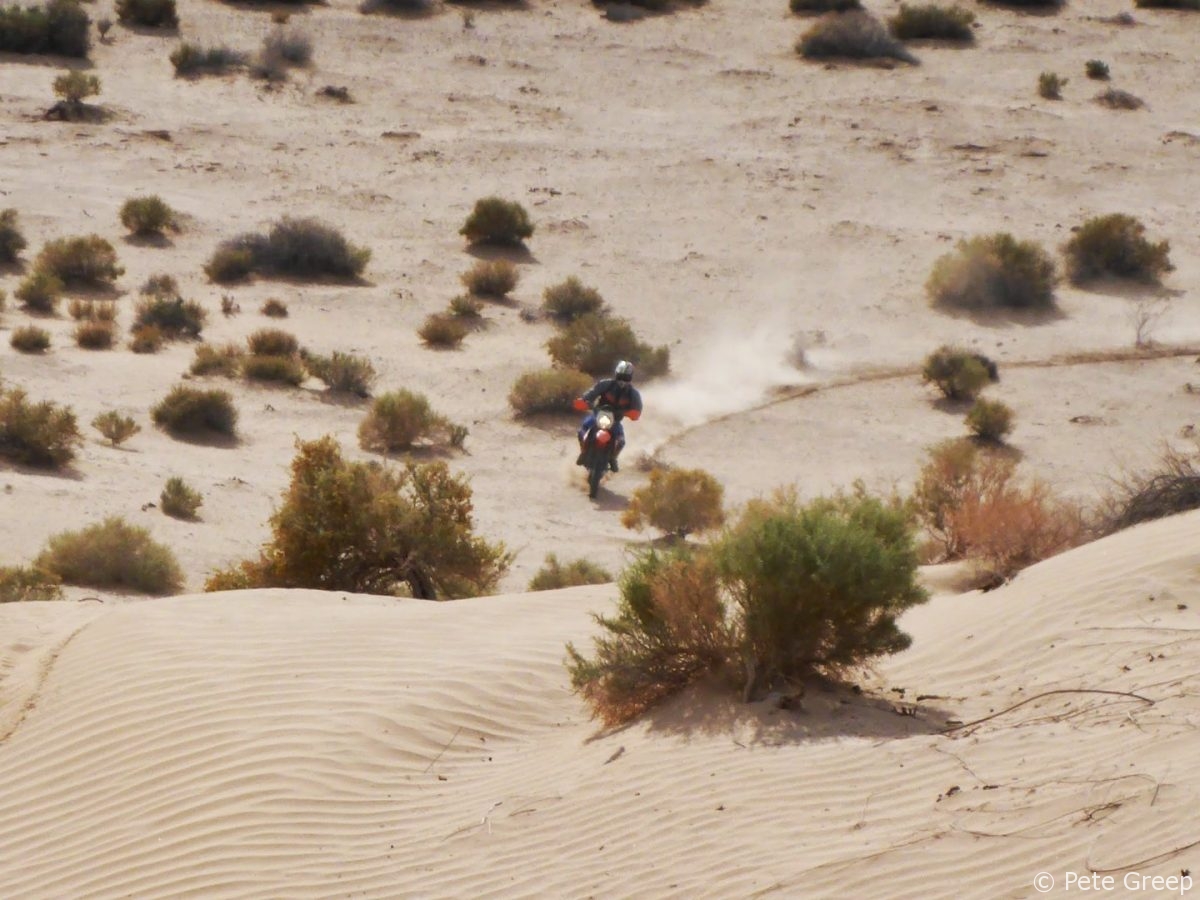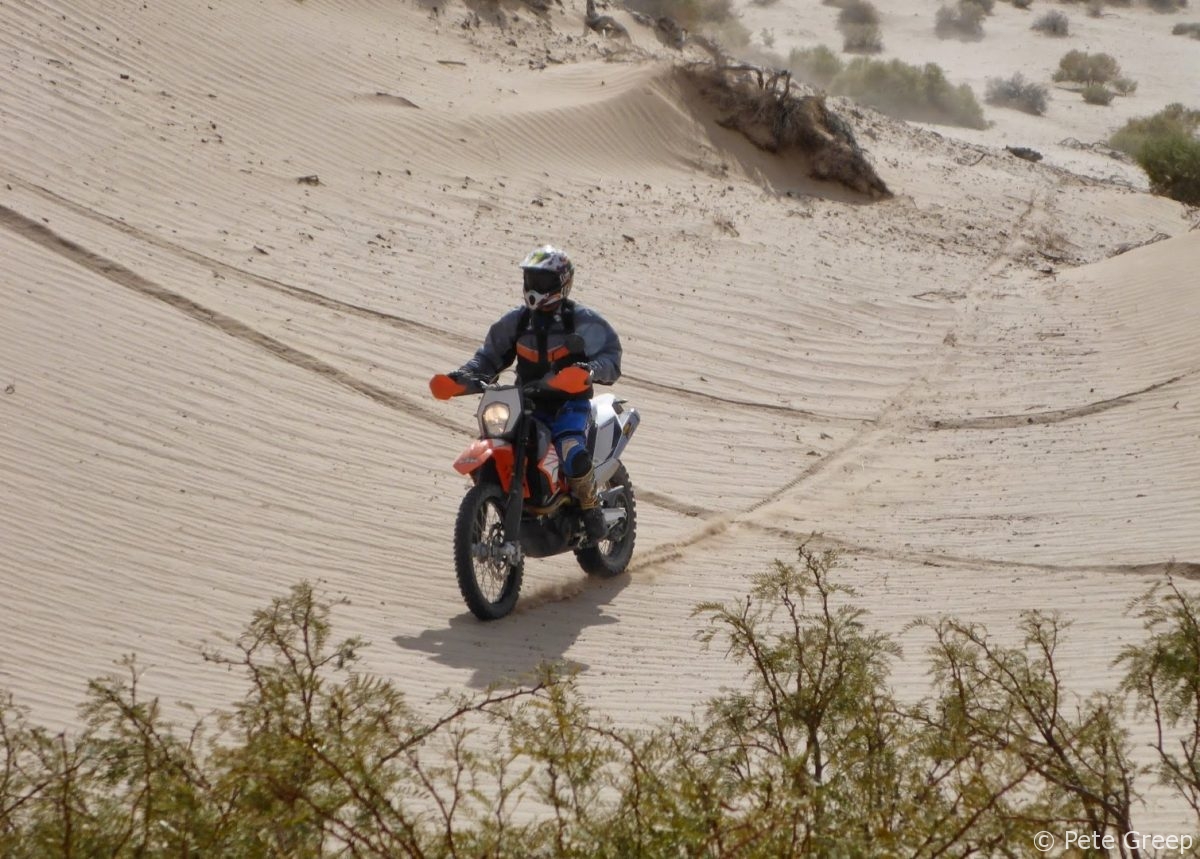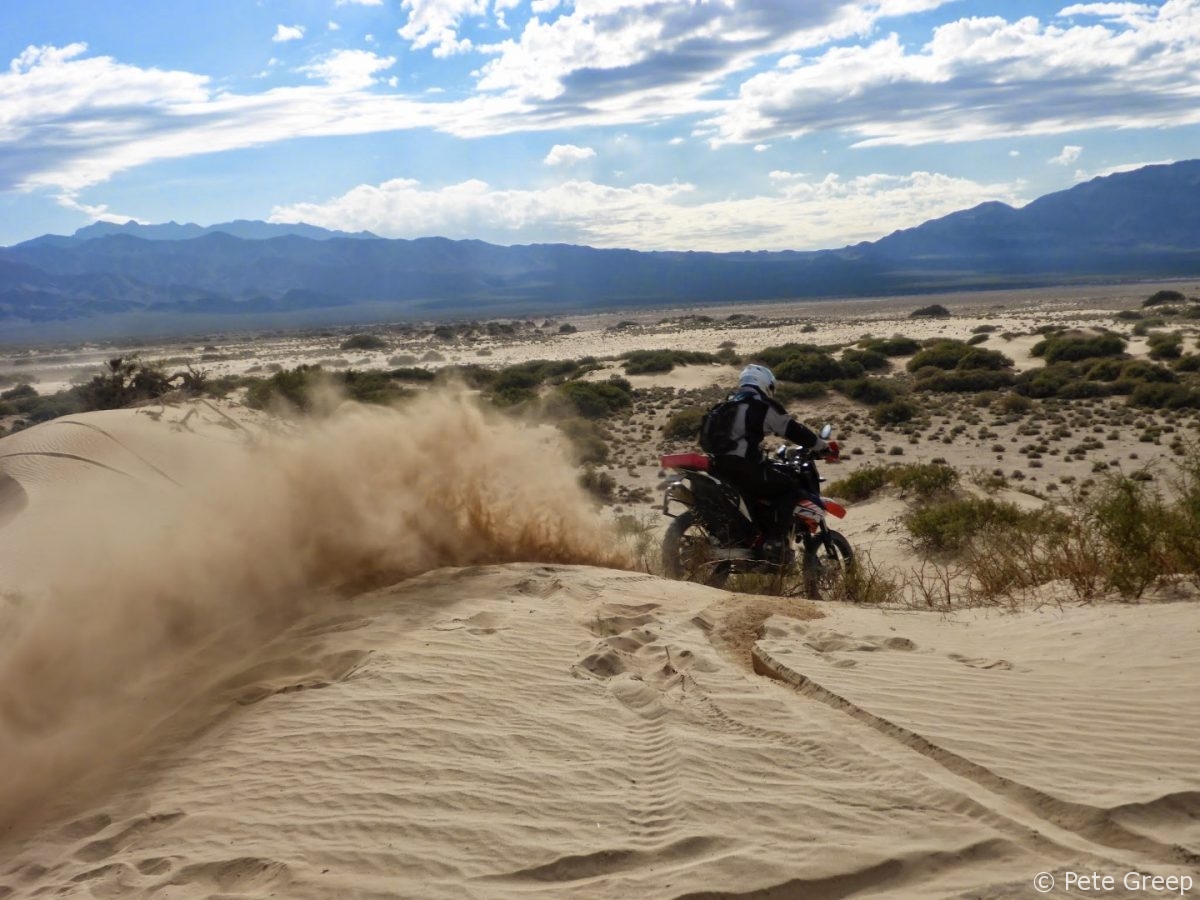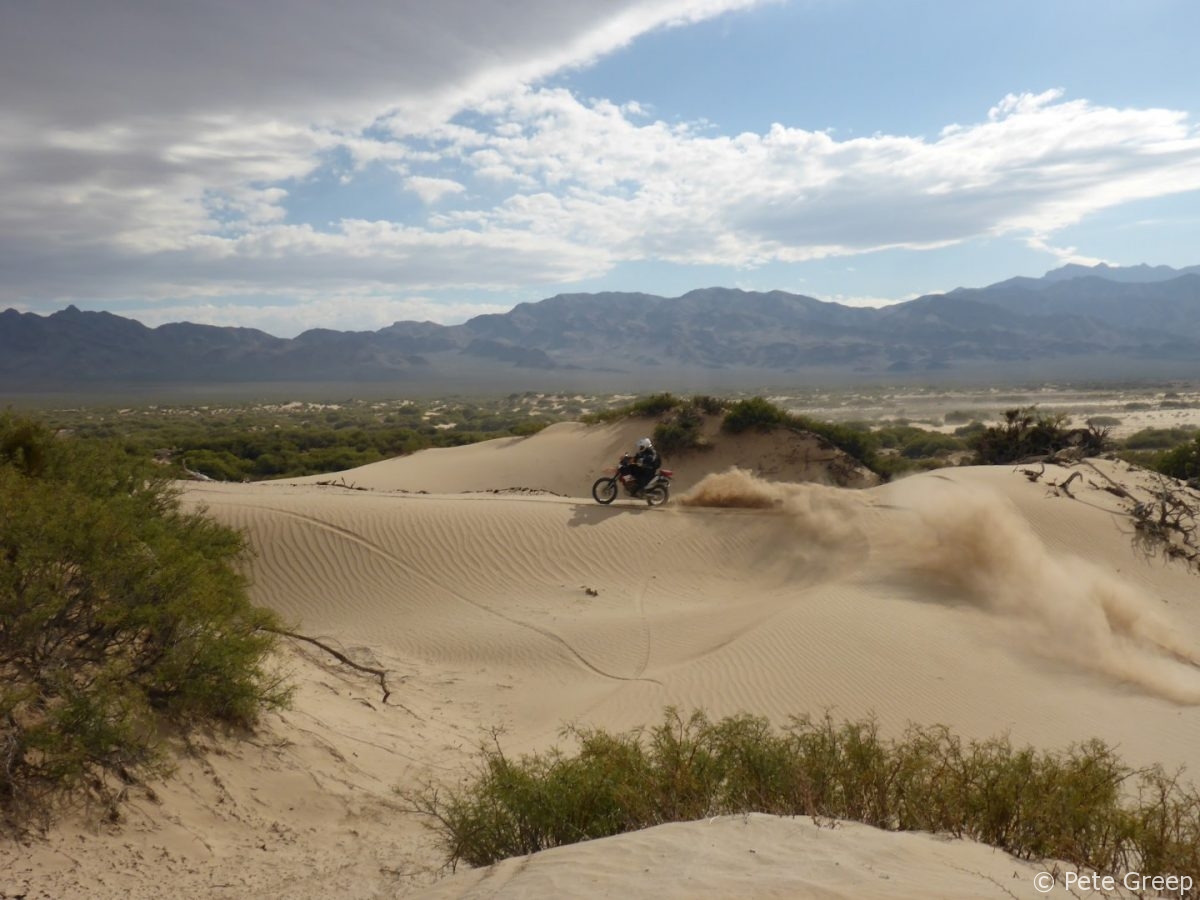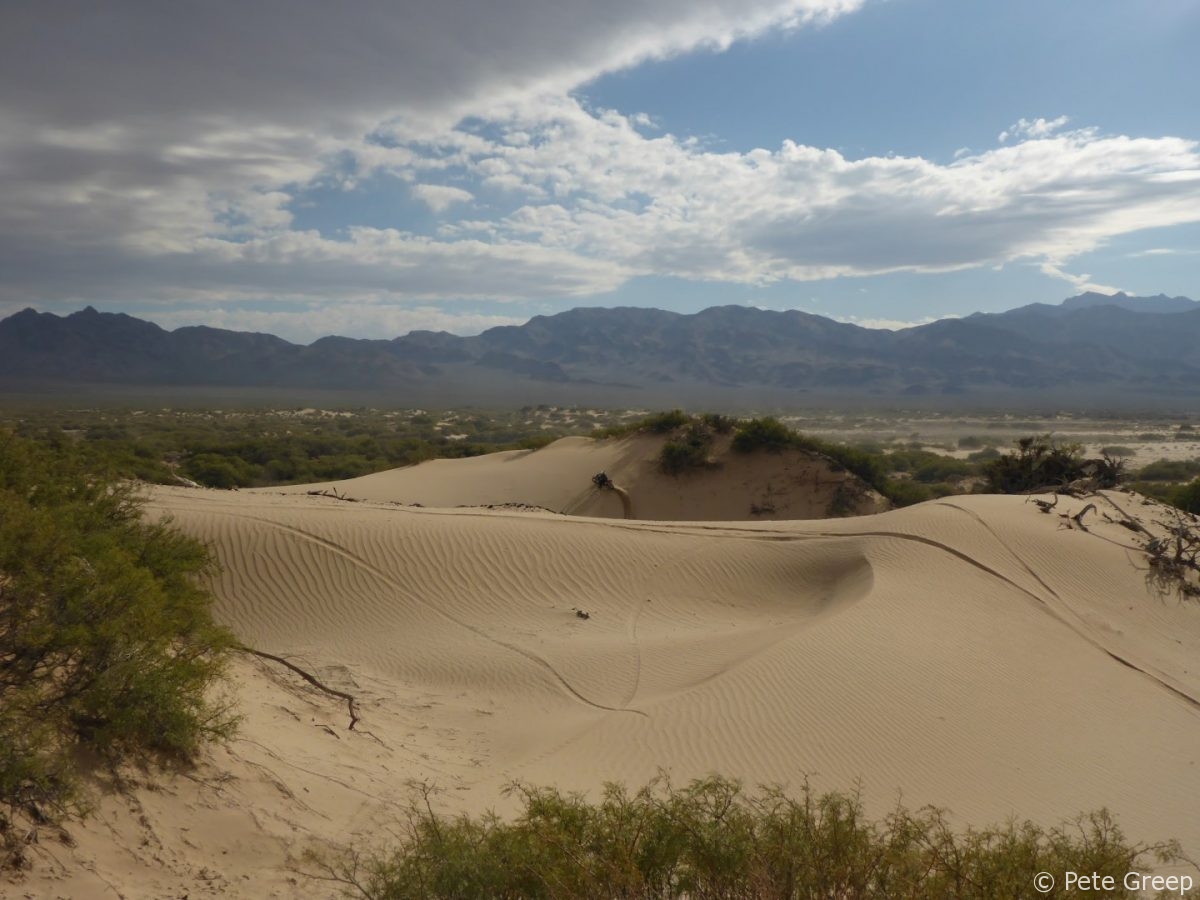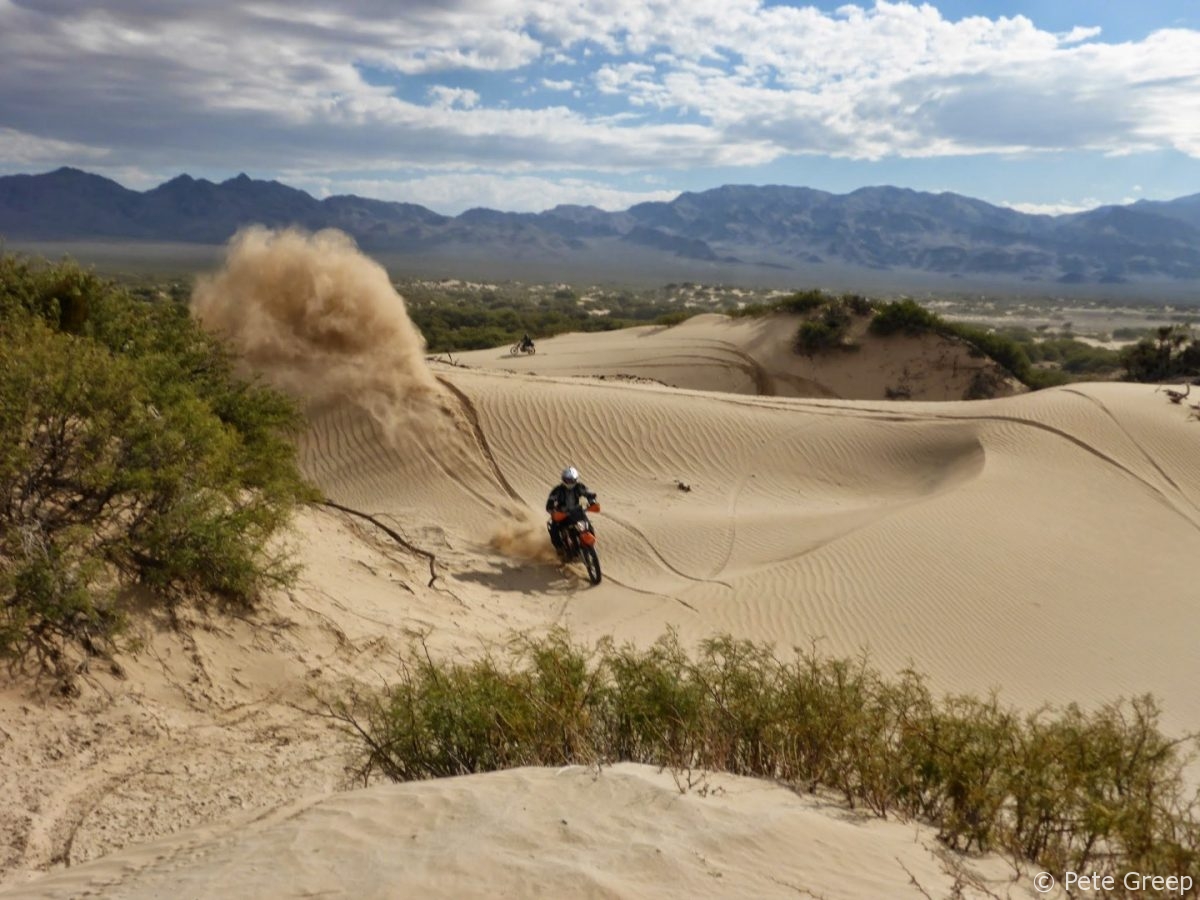 I got a little squirly and found a bush. I was having a blast though!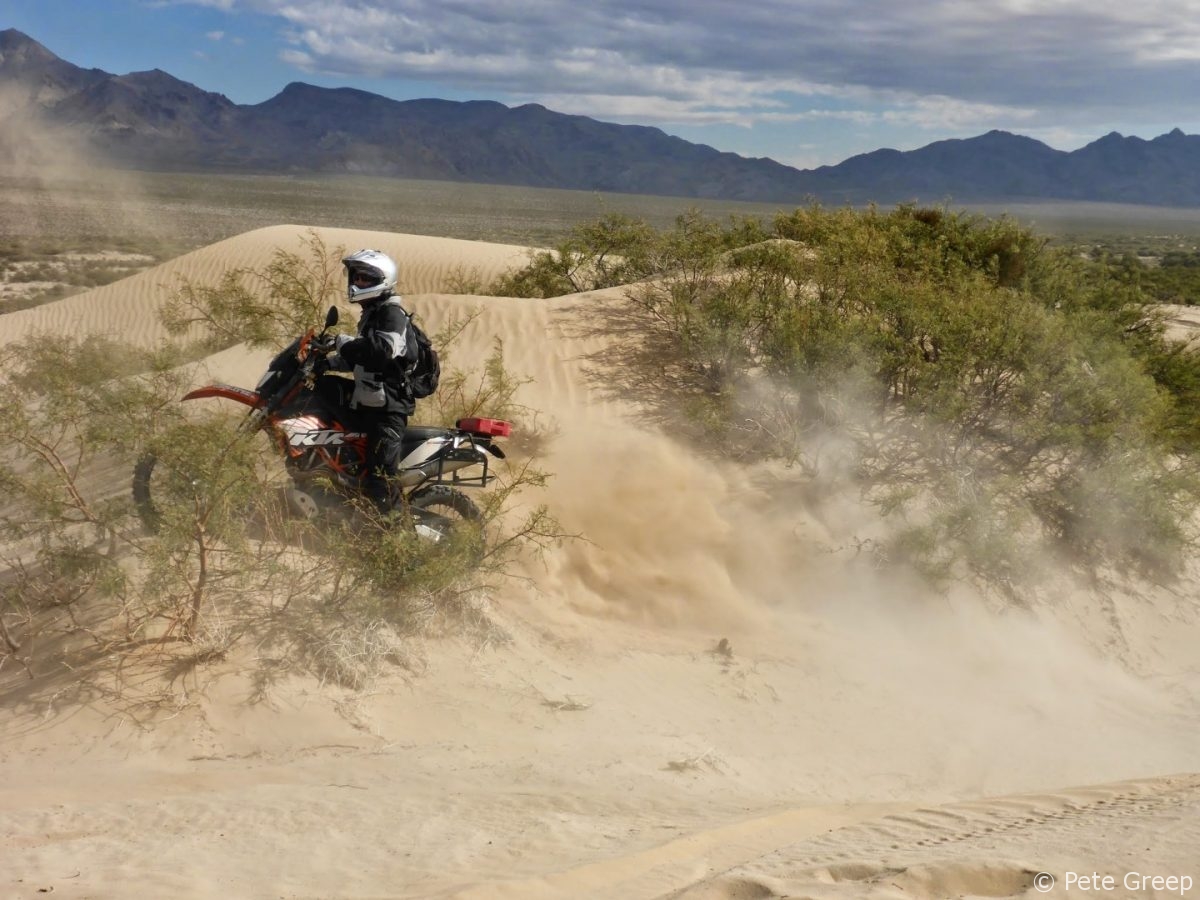 Braaaaap! So much fun.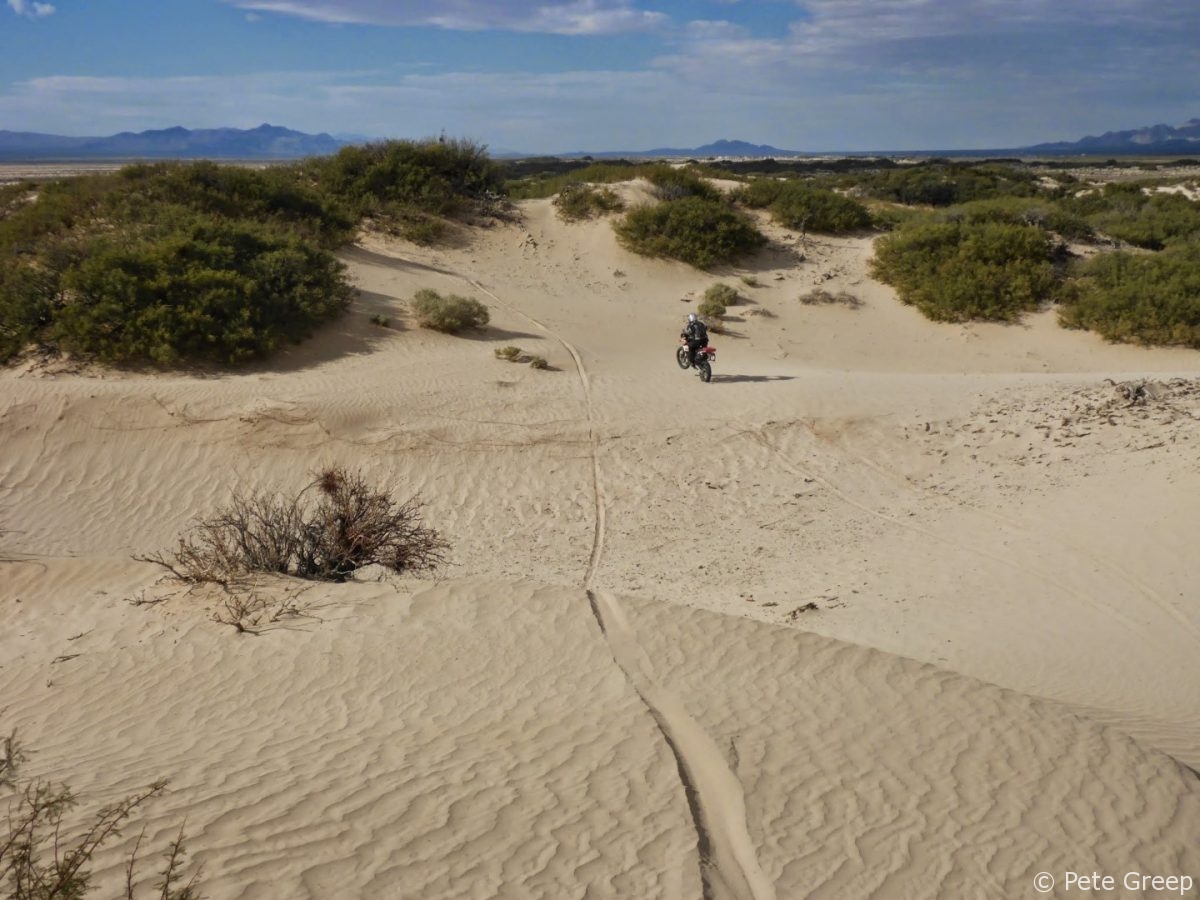 The 990 is not a dune machine. lol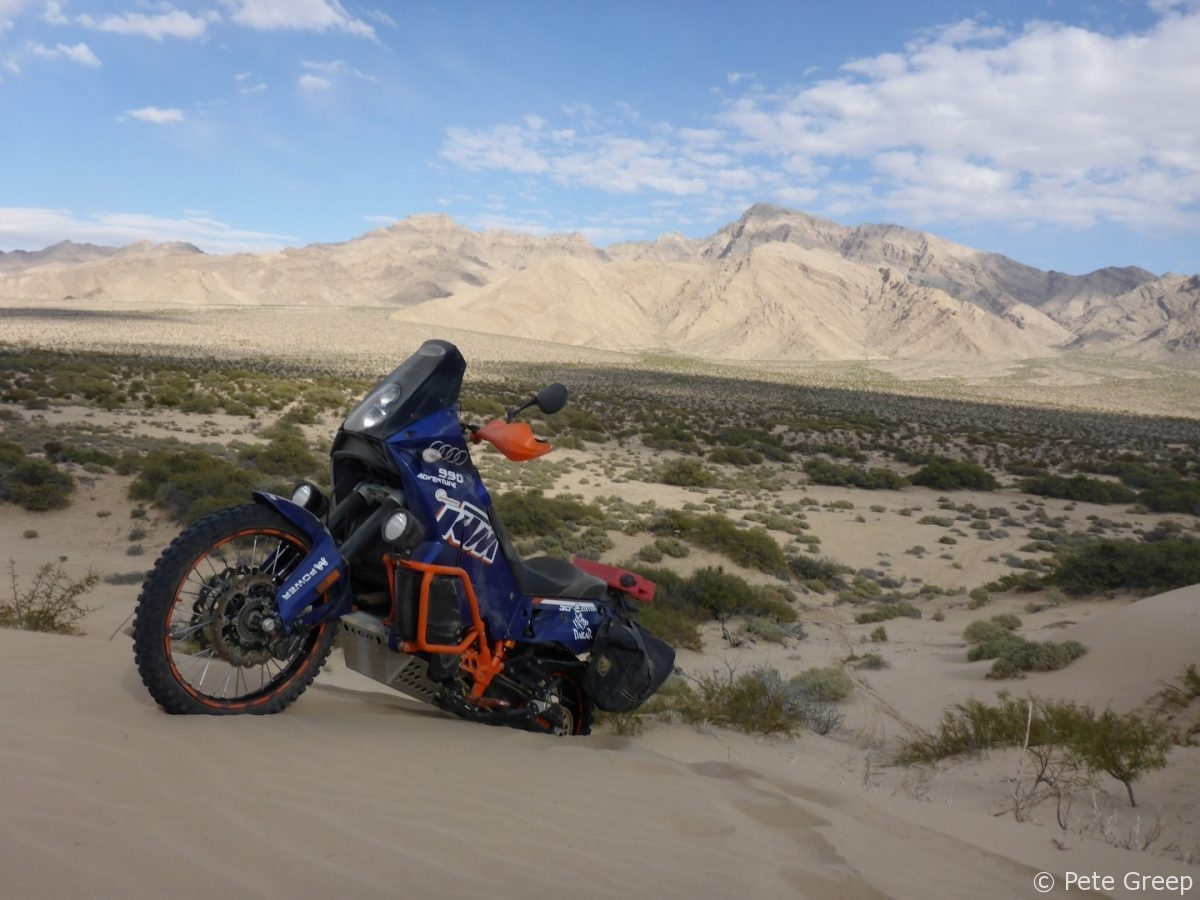 Brice managed well though.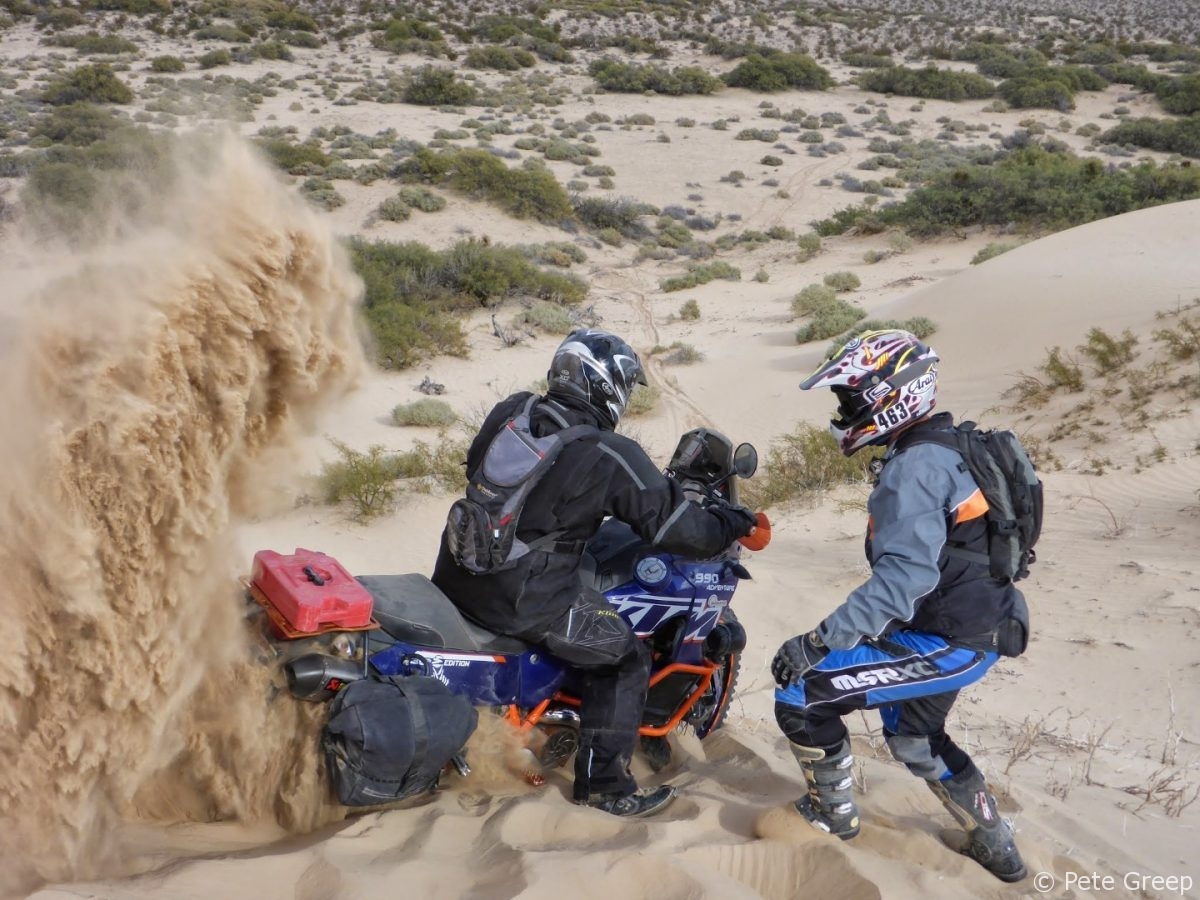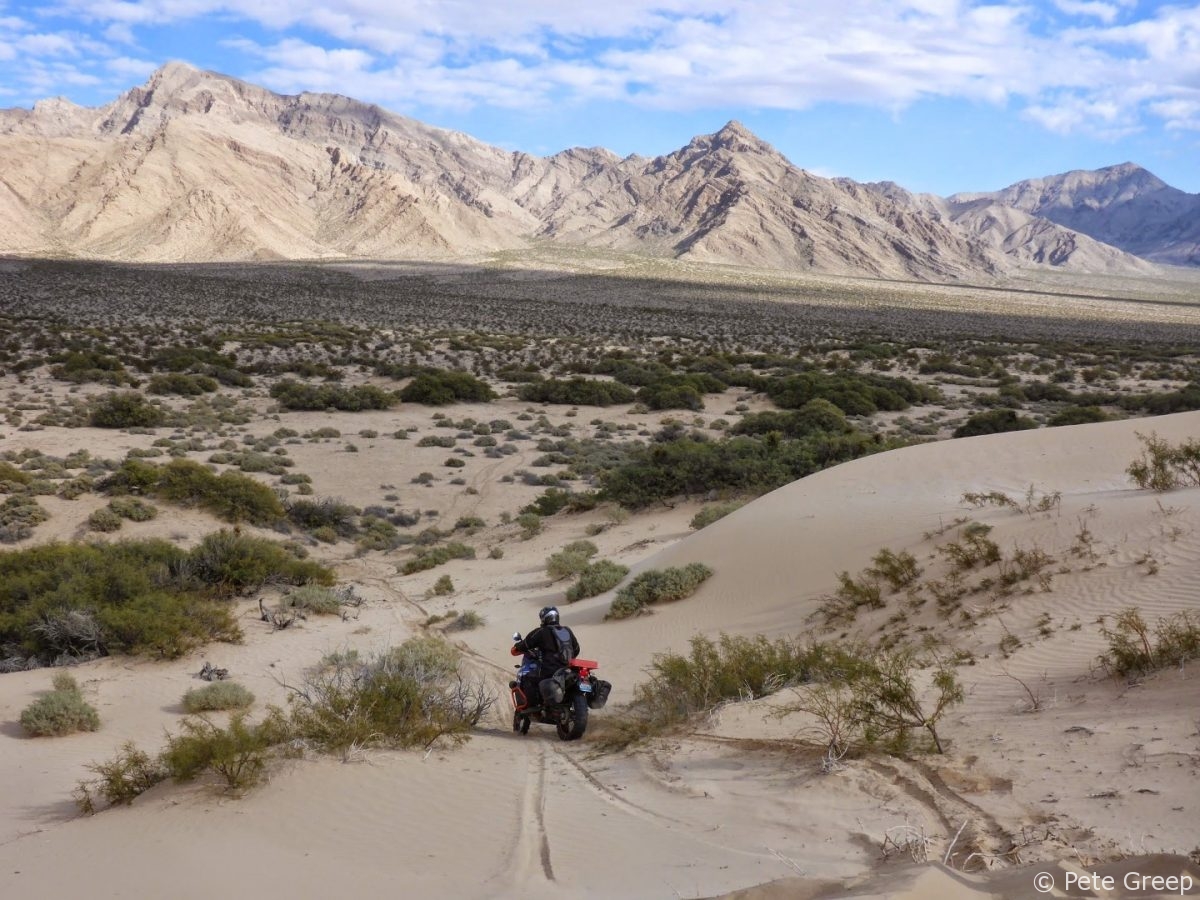 Dune posing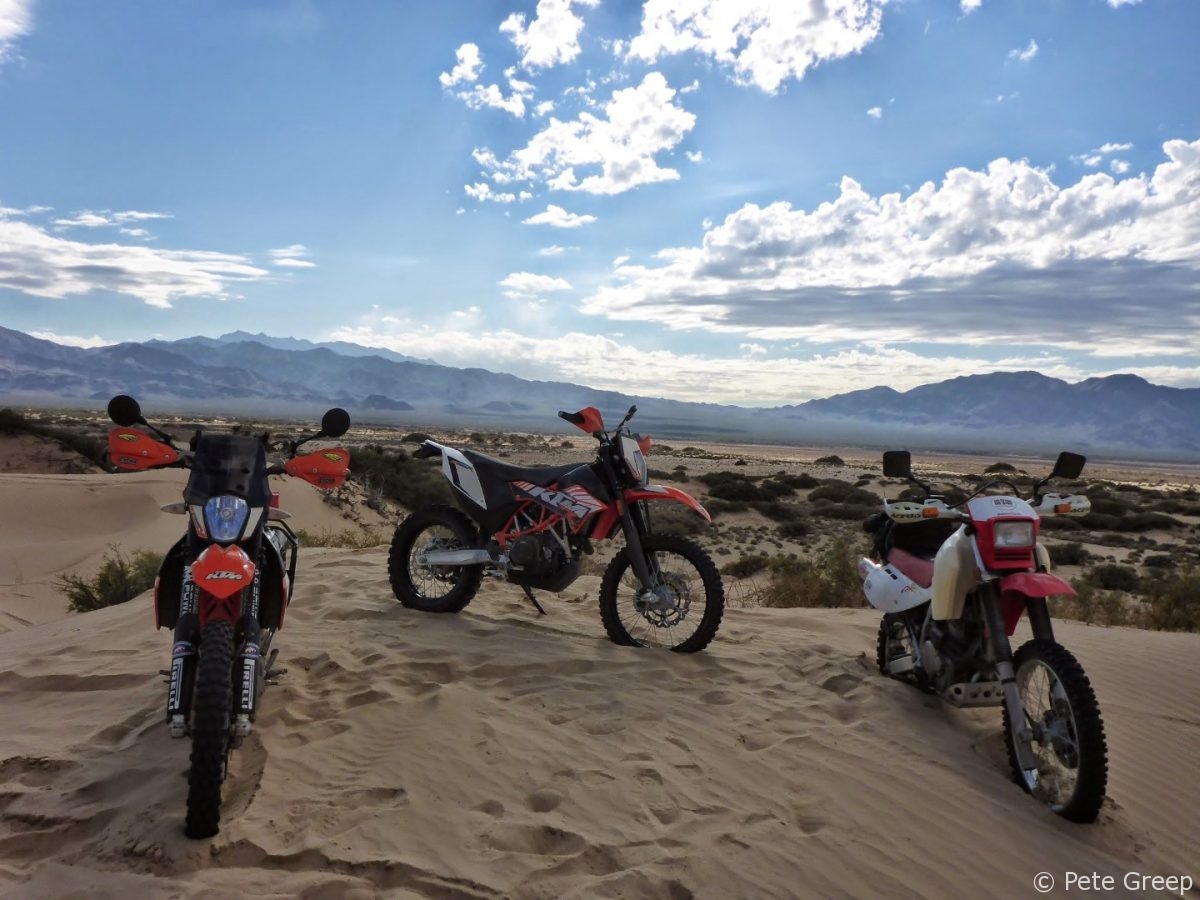 Then I got a pinch flat on my rear tire. That was a first. Mike M snapped a selfie while we changed my tube.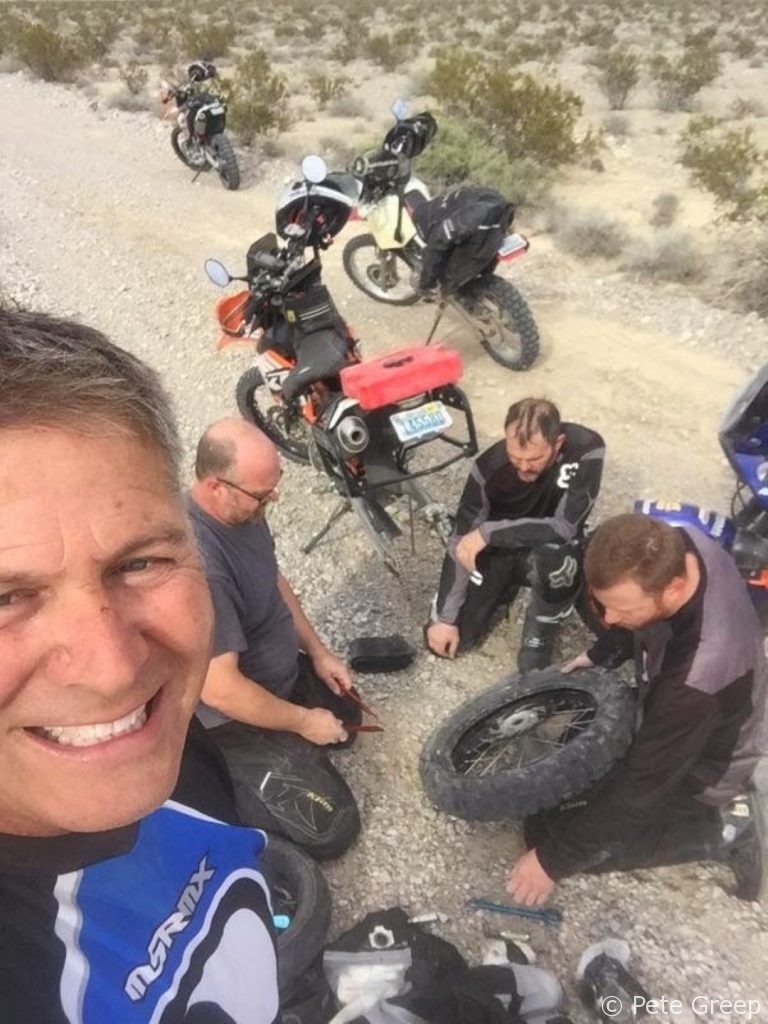 Then I made a total rookie move and pinched the new tube! Damn it. So I used Brice's spare tube. Oh and Brice and I both found out our Slime compressors BOTH failed sometime since our last ride. Nice. At least I had CO2 and Mike B had a bike pump. Although it took a little while, it got the job done and got it aired back up.
5 Ways to Make Changing Tubes Painless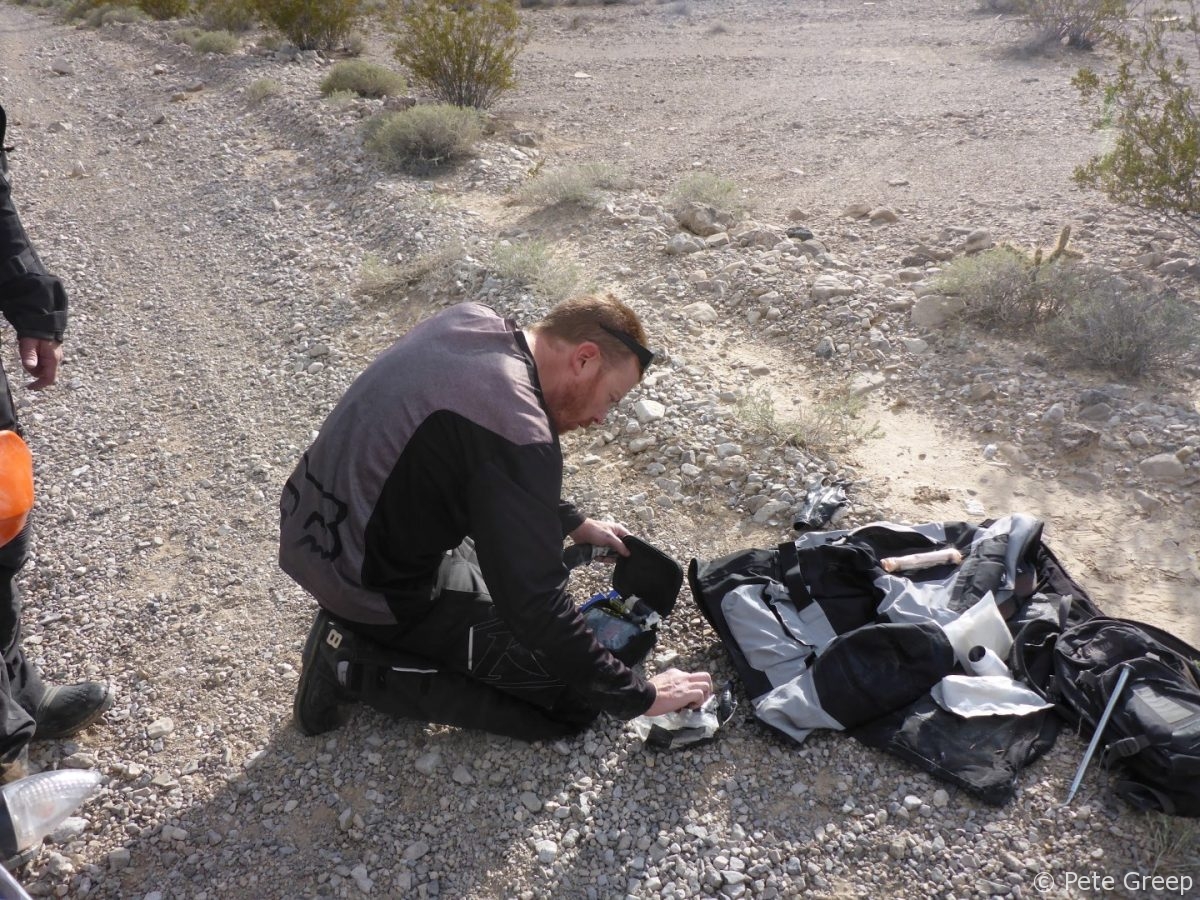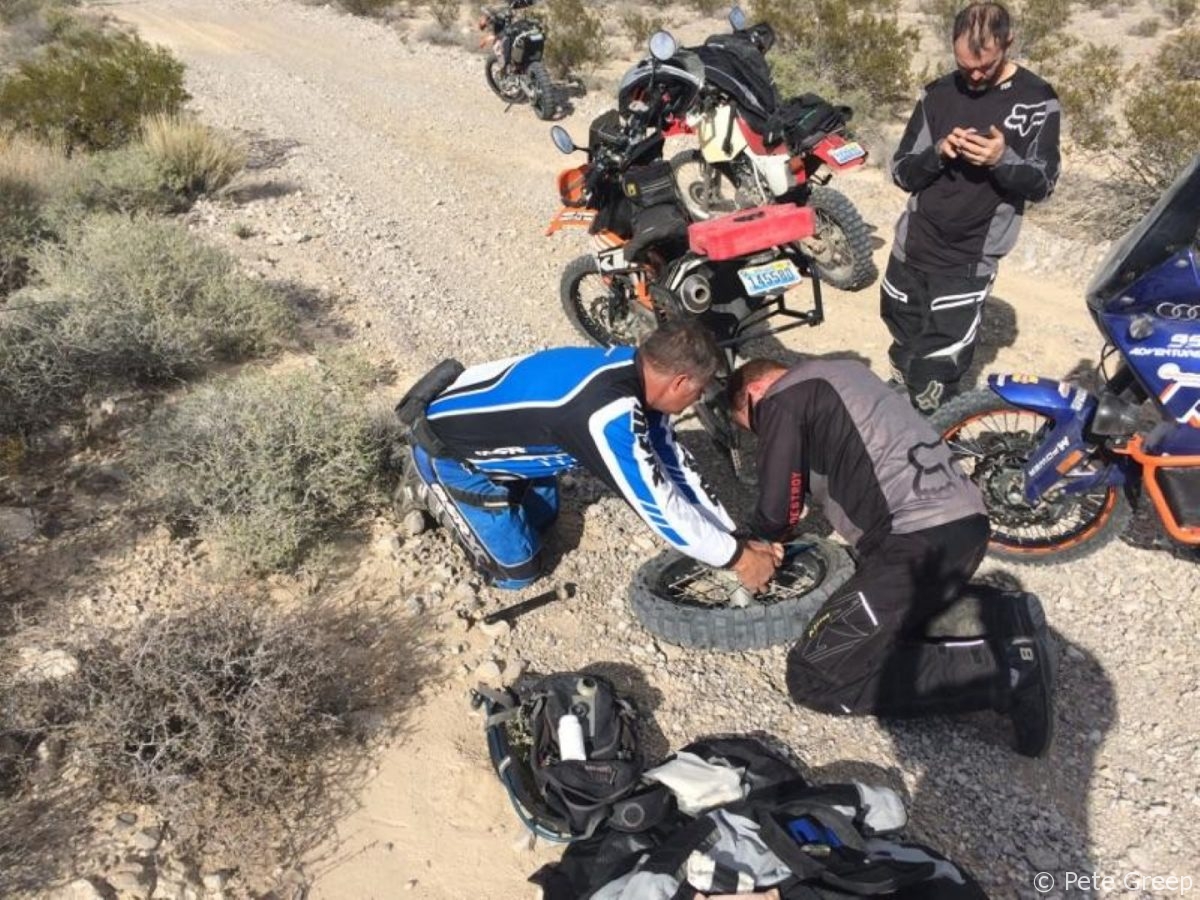 Leaving the sandy area of Sandy Valley.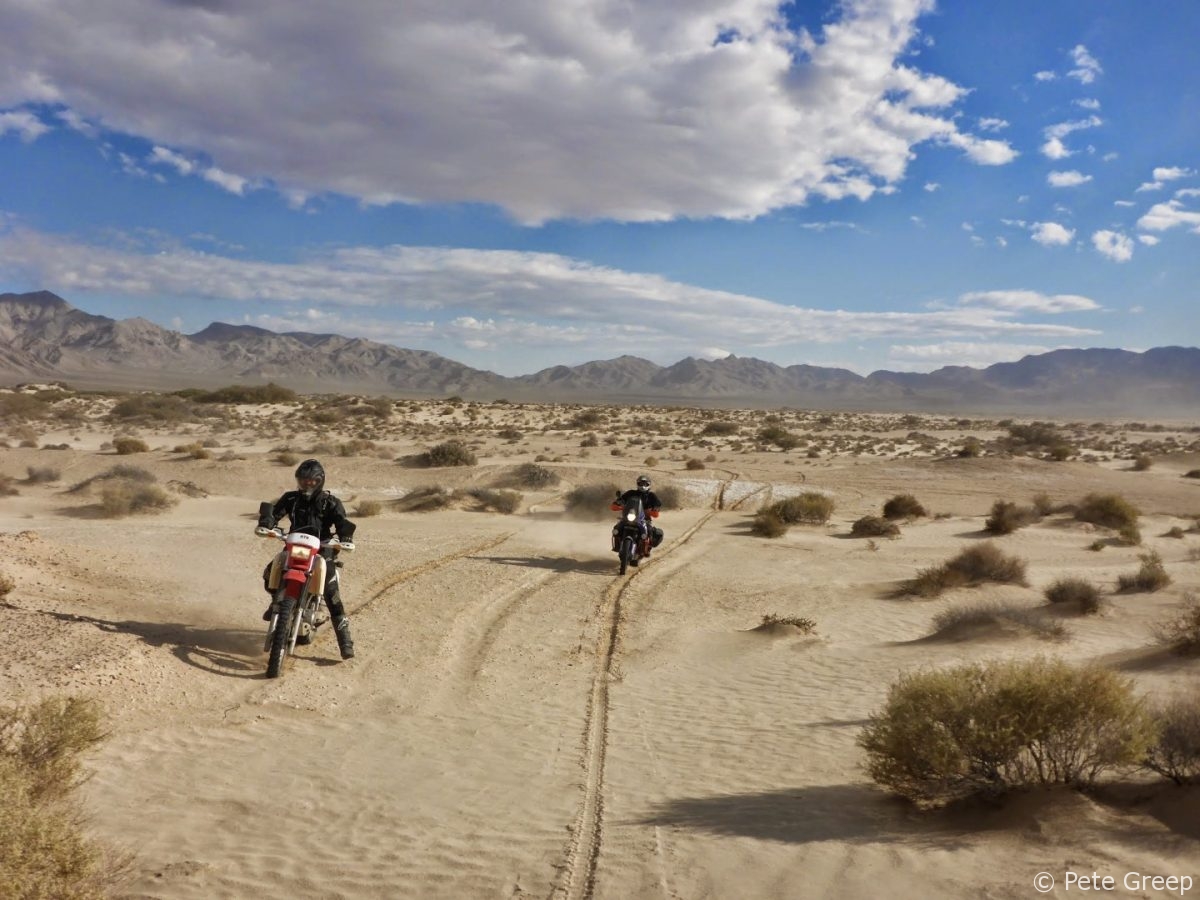 Mike M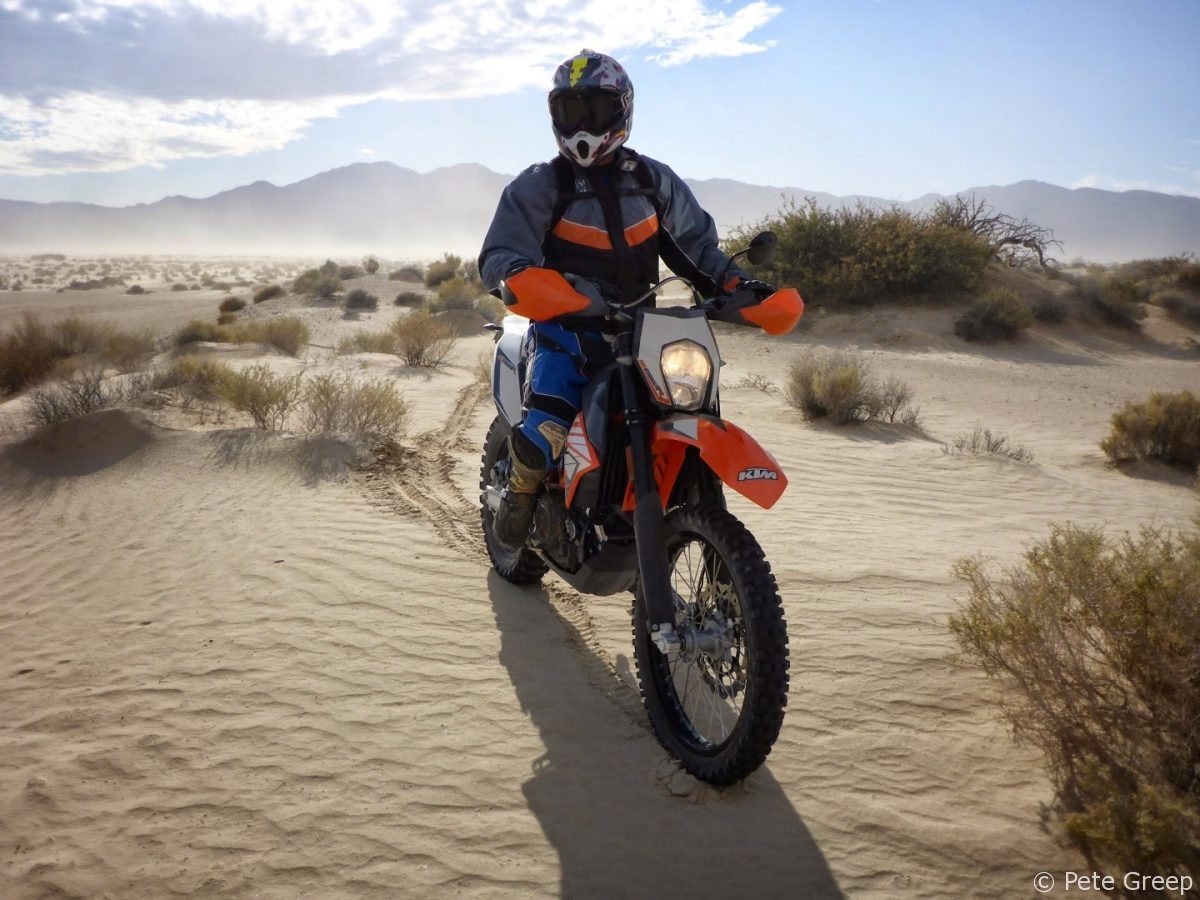 Then as we made our way through some trees and brush in the middle of nowhere, some guy and teenagers in a truck and car were blocking the road. They politely let us around. One guy had a wood or tree saw in his hand though. It was very strange.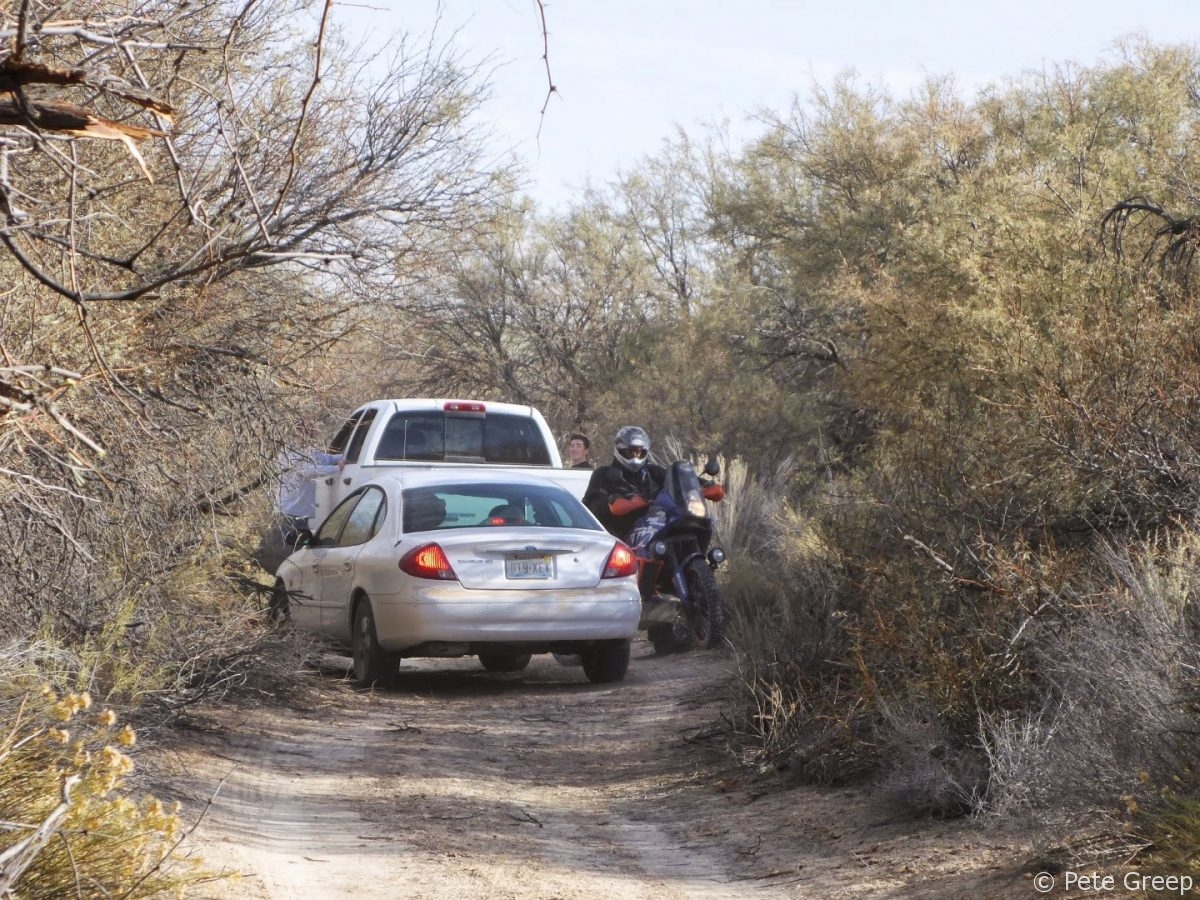 Mike B spotted this little guy on the trail.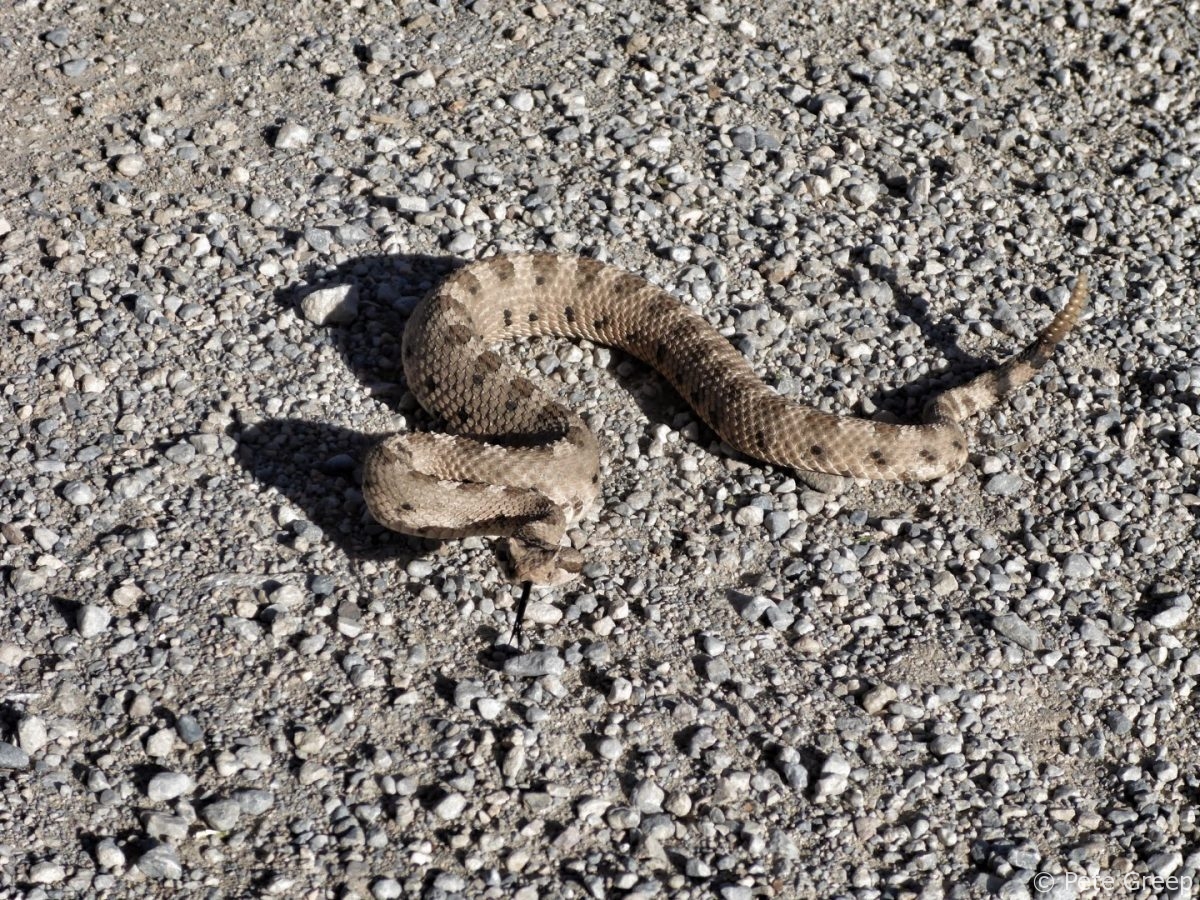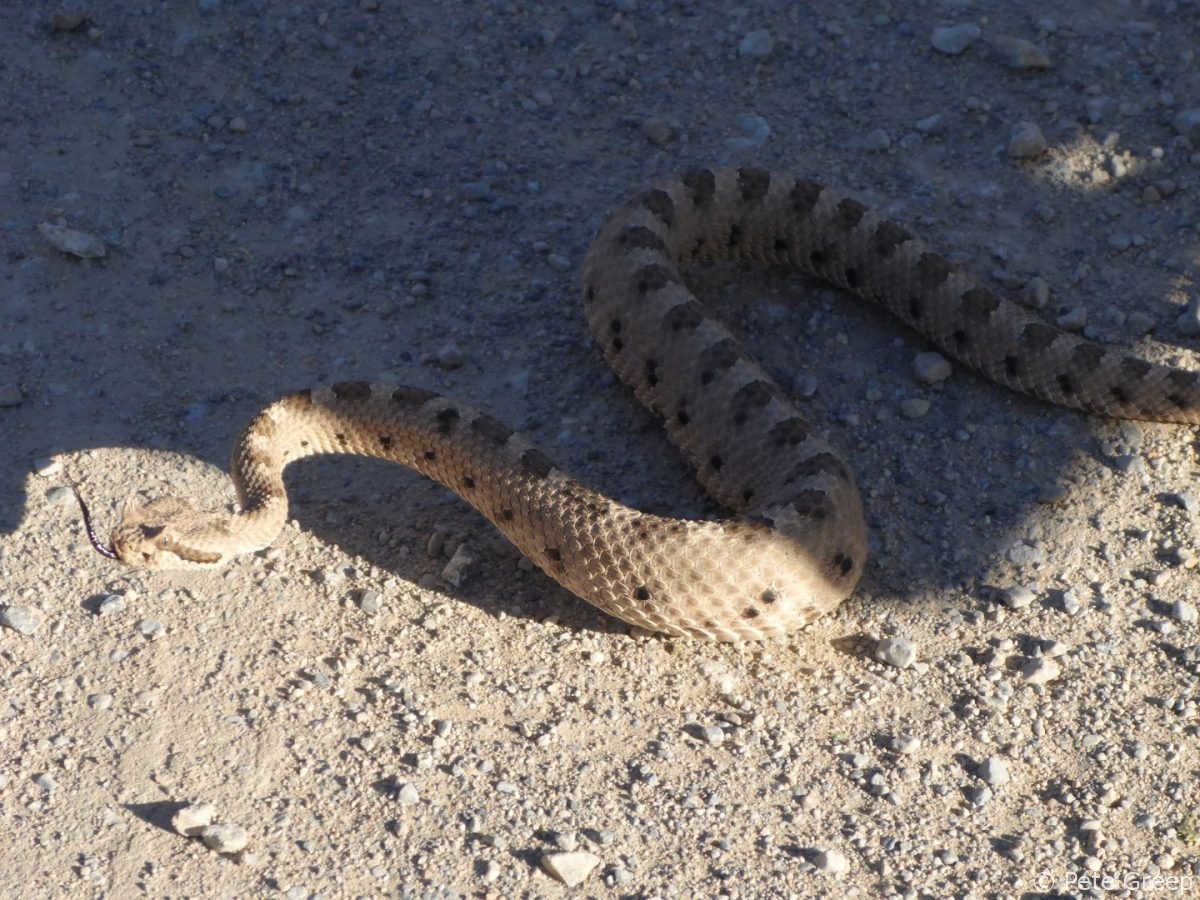 East of Sandy Valley (Mike M)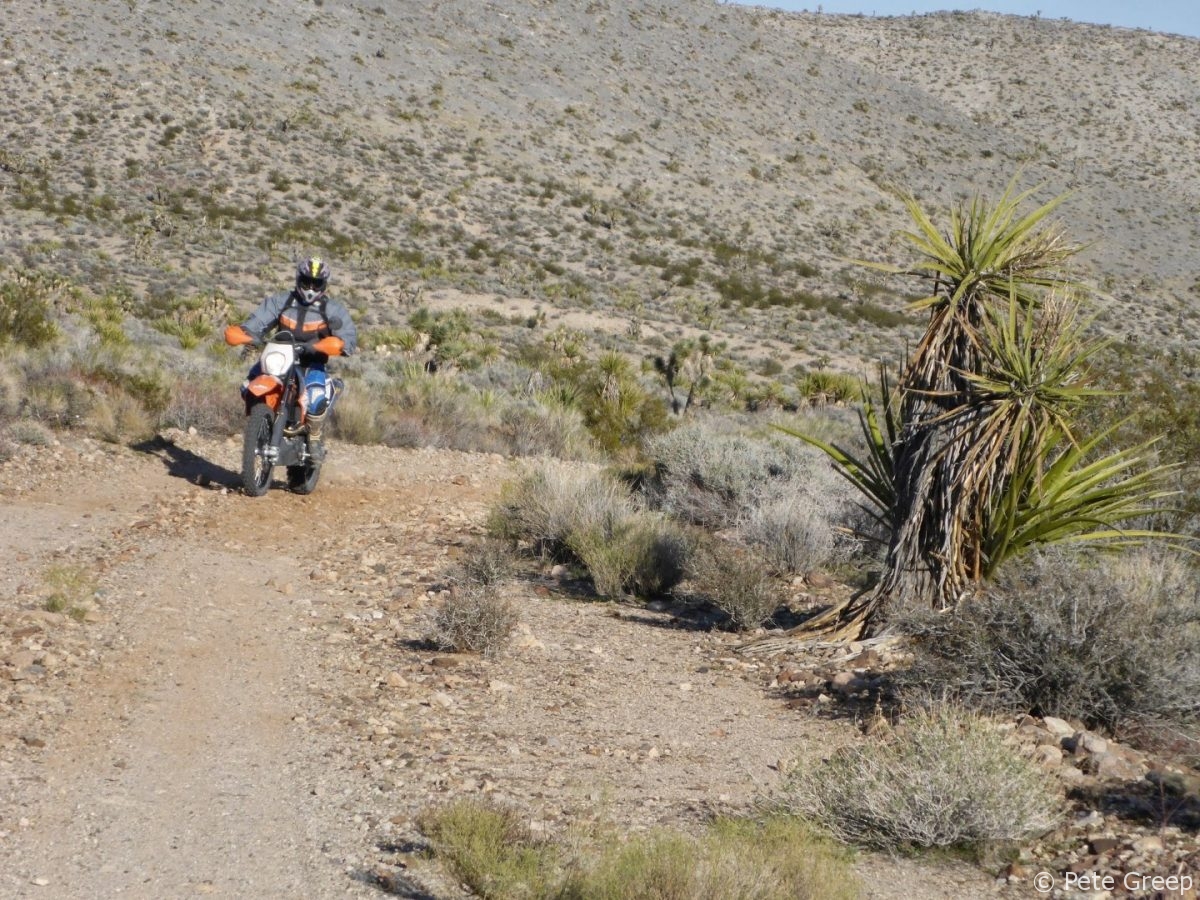 Brice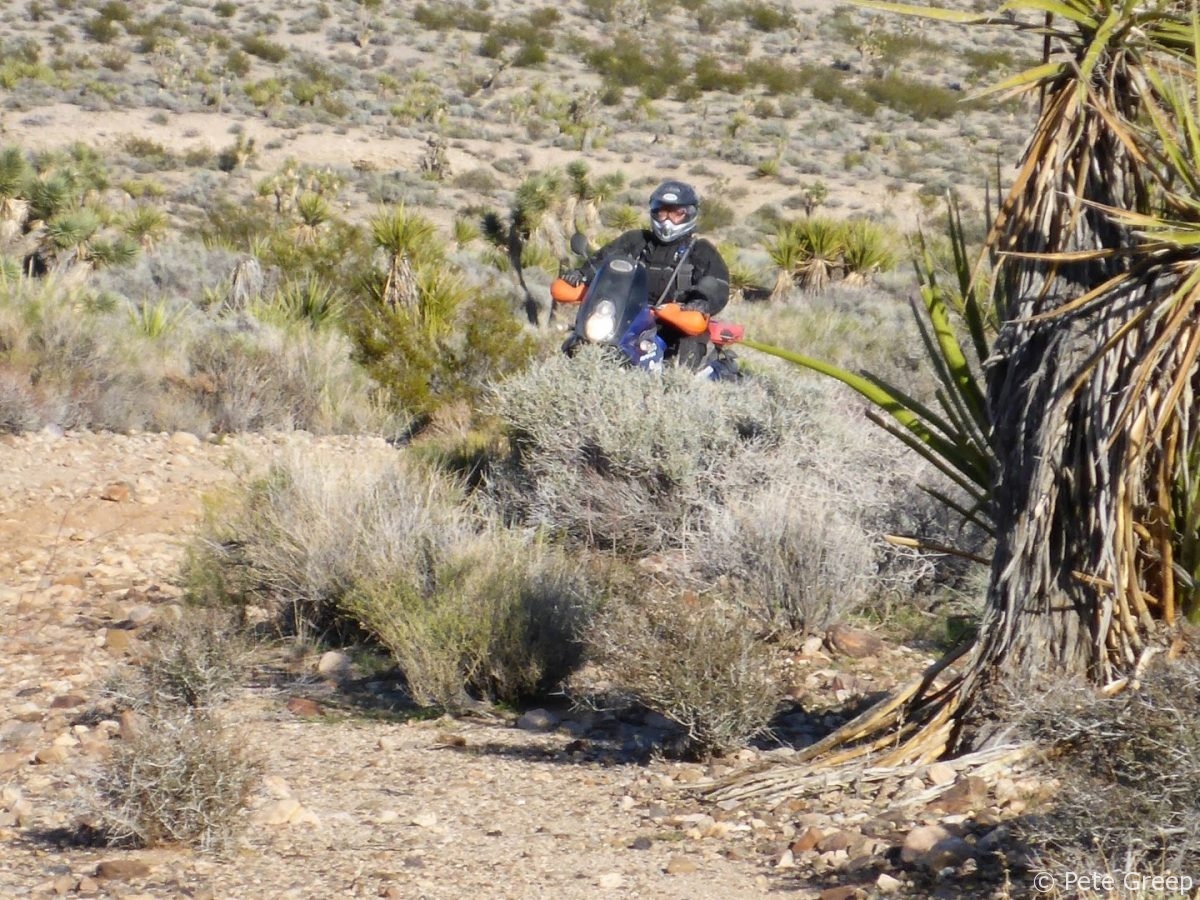 Horse Thief Camp and Springs
We hopped on to Excelsior Mine Rd and passed by Horse Thief Camp and Springs.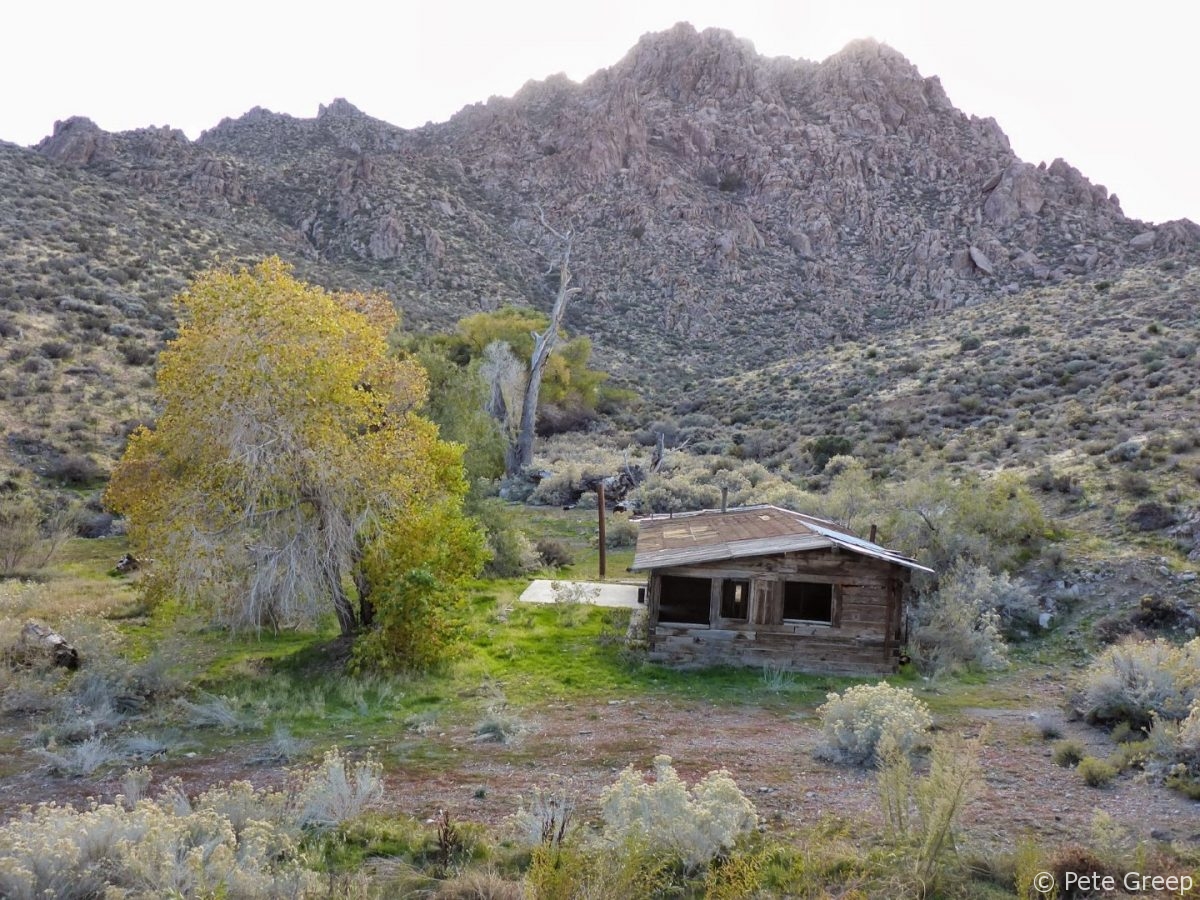 It started getting a little darker. We were behind schedule because of the repairs and duning that we did. The weather started to slowly change to not so awesome. We were too far to turn back now so we proceeded to Pahrump via Mesquite Valley Rd. We were booking along at some high speeds to make up for lost time.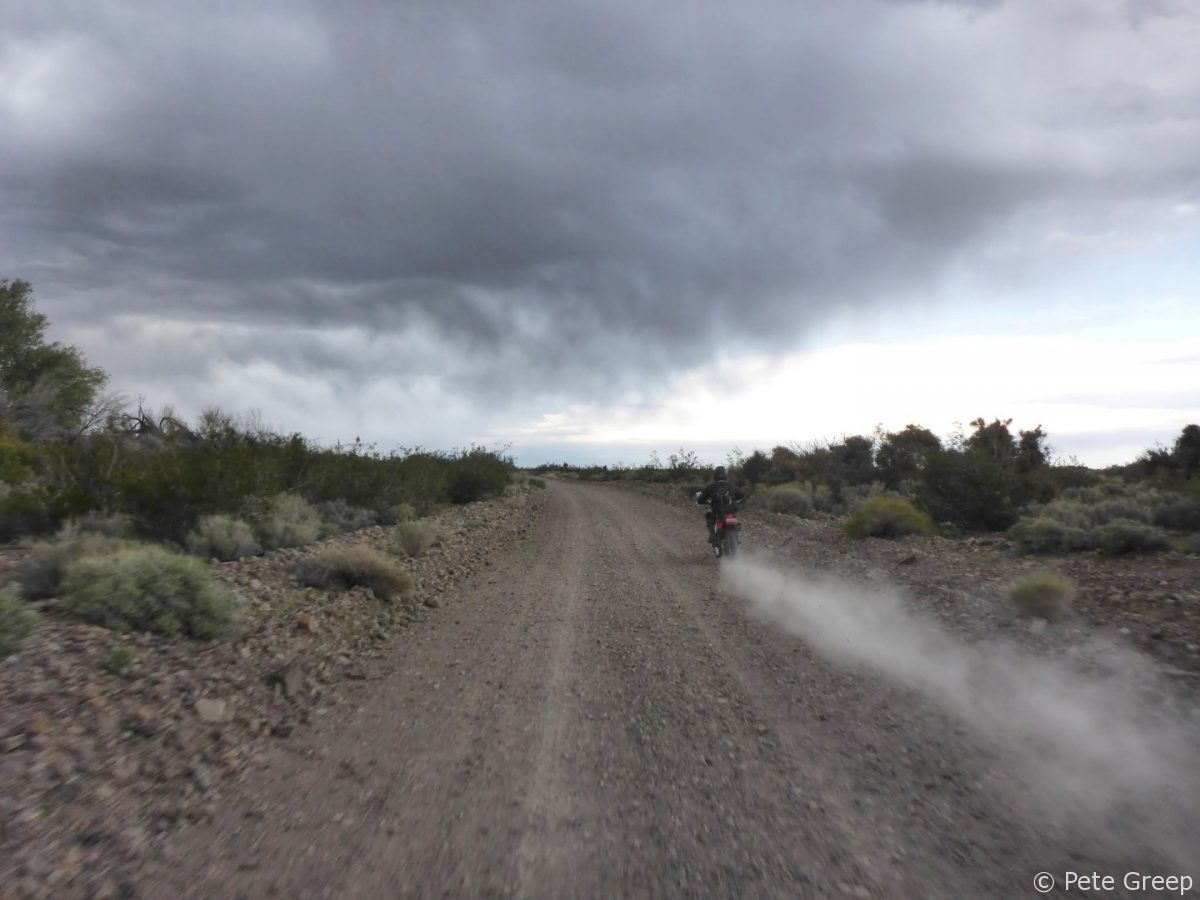 Brice pulling up the rear as we approached Old Spanish Trail Hwy.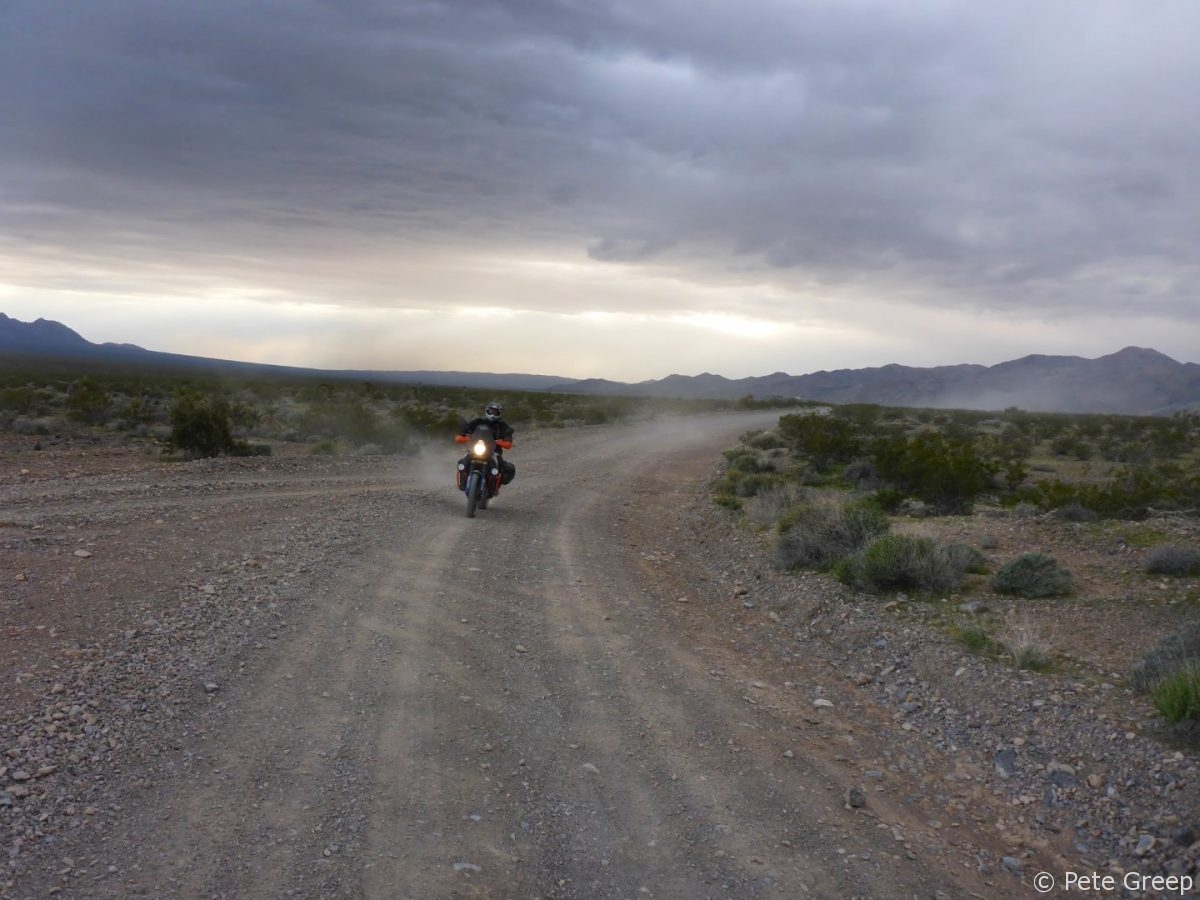 Looking back the direction we came from.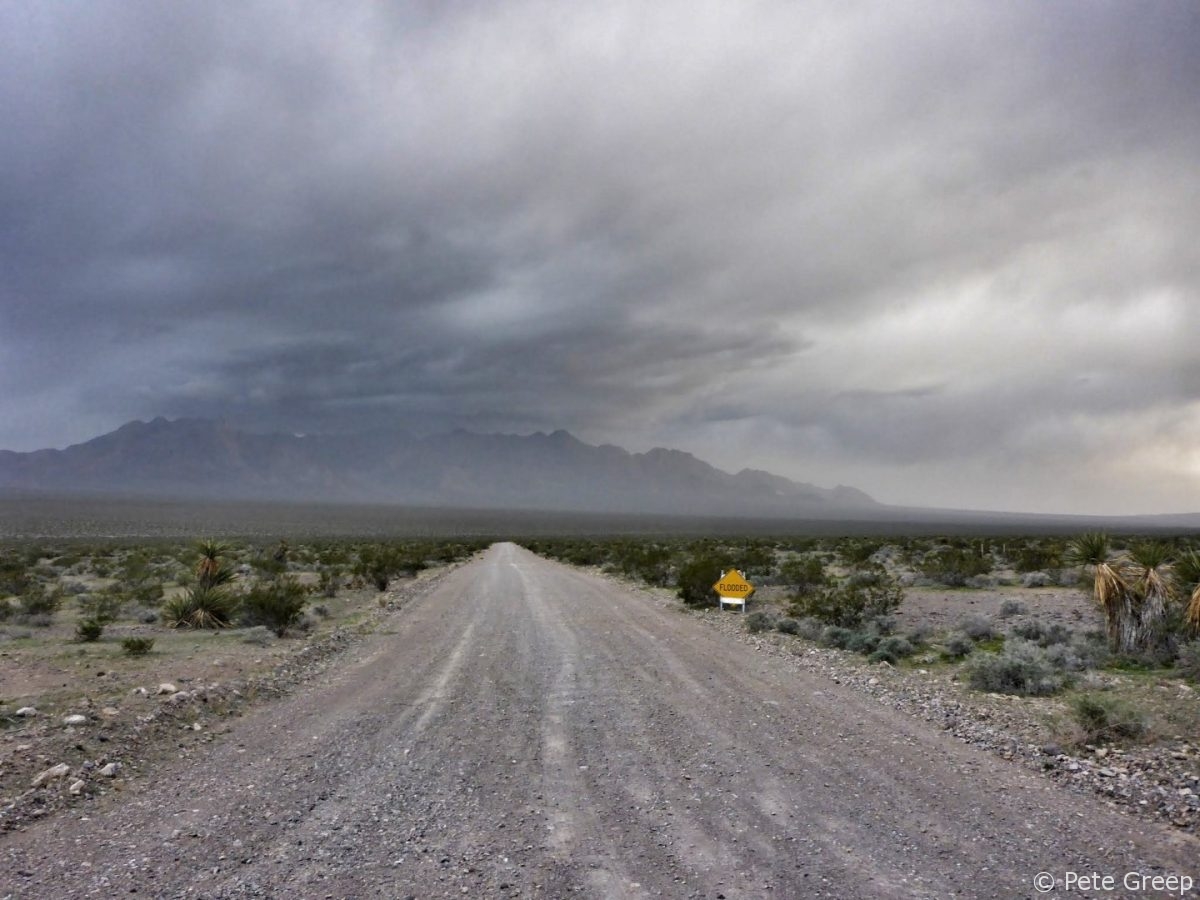 We decided to hop on the Old Spanish Trail Hwy to high-tail it to Pahrump.
But first…..I realized I had ANOTHER rear flat. Son of a…!!! I was completely out of rear tubes now. Brice busted out his patch kit and we found out his brand new, unopened rubber cement tubes were both dried up. At this point the weather was starting to really turn bad quickly. It was windy as hell, getting cold and what's that? Oh rain! Yes. Perfect. It started raining lightly.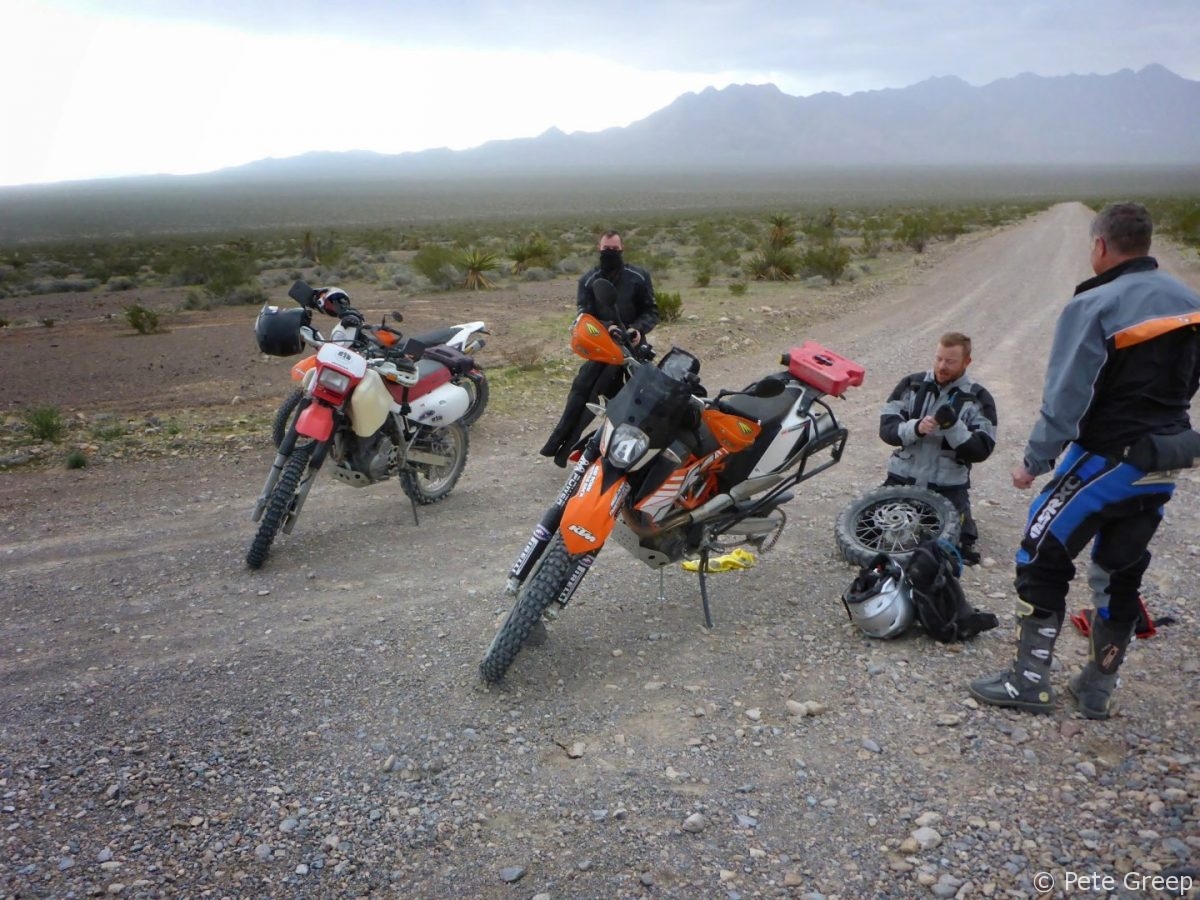 This time we pulled the rear tire completely off the rim to inspect it rather than just running our hand through it to check for thorns. Low and behold, the tire carcass had a split in it, probably from my first pinch flat. It had damaged the new tube and wore a hole in it. Now we had no rear tube and a messed up tire. We had to get creative. I decided to use my spare front 21″ tube in the rear.
In an attempt to protect the new tube, we tried duct tape on the tire.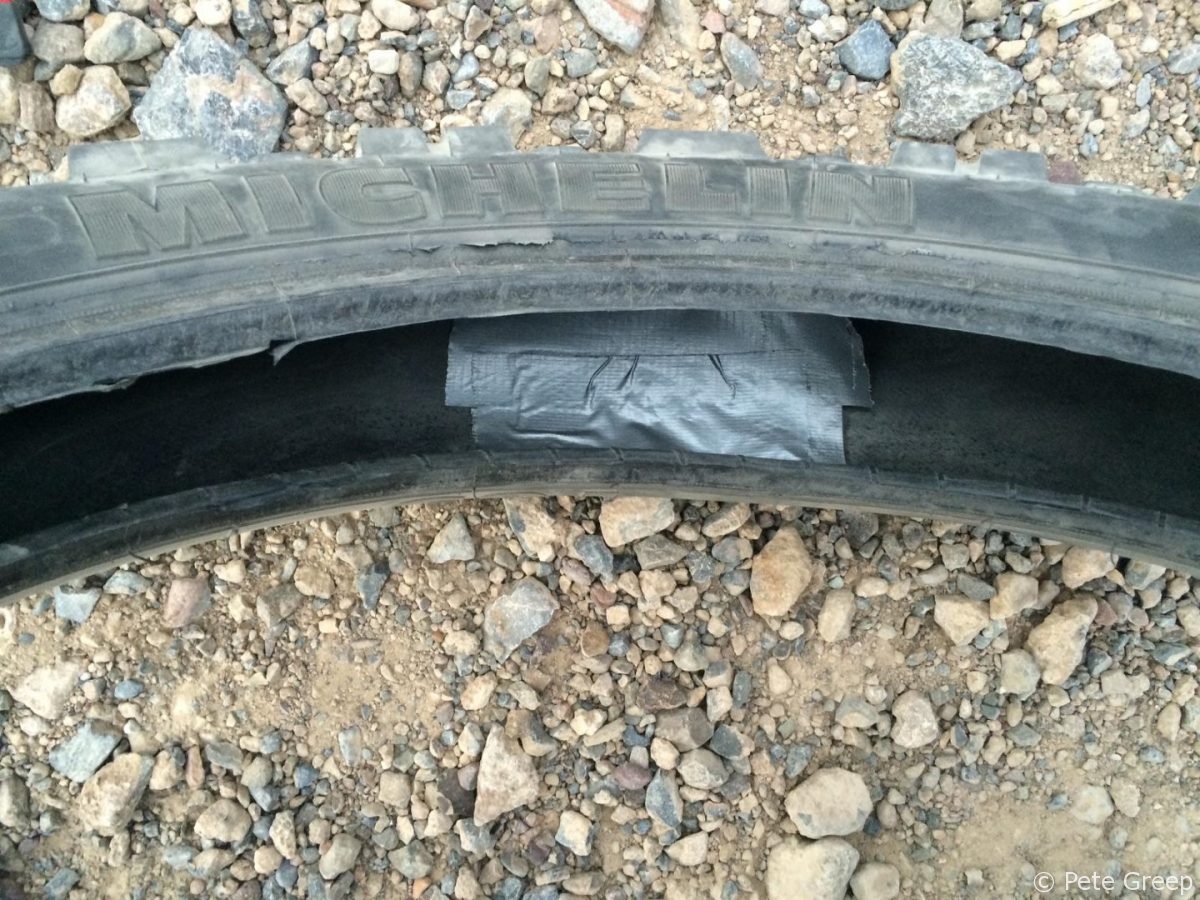 The duct tape didn't stick very well and I wasn't very confident about it. So I decided to cut one of the old rear tubes to make a protective wrap for the new tube.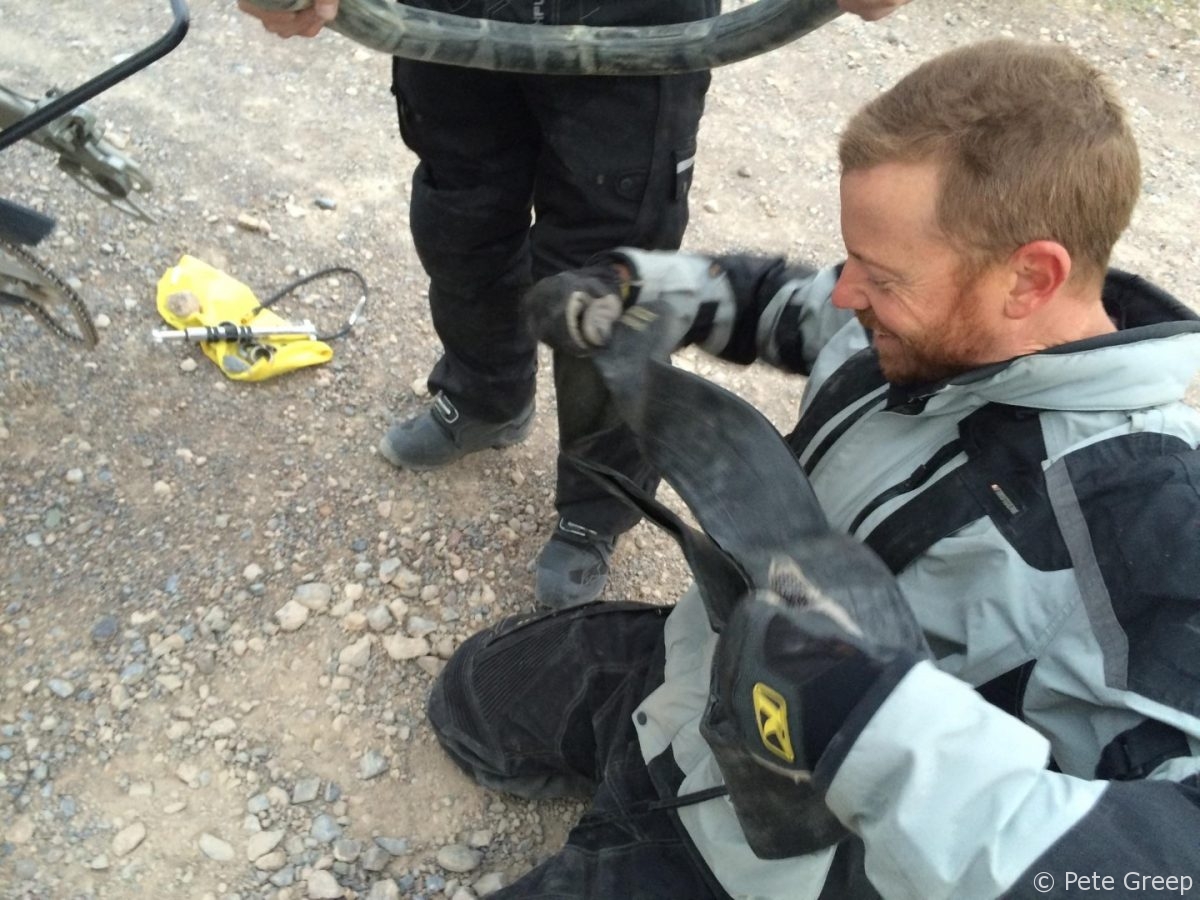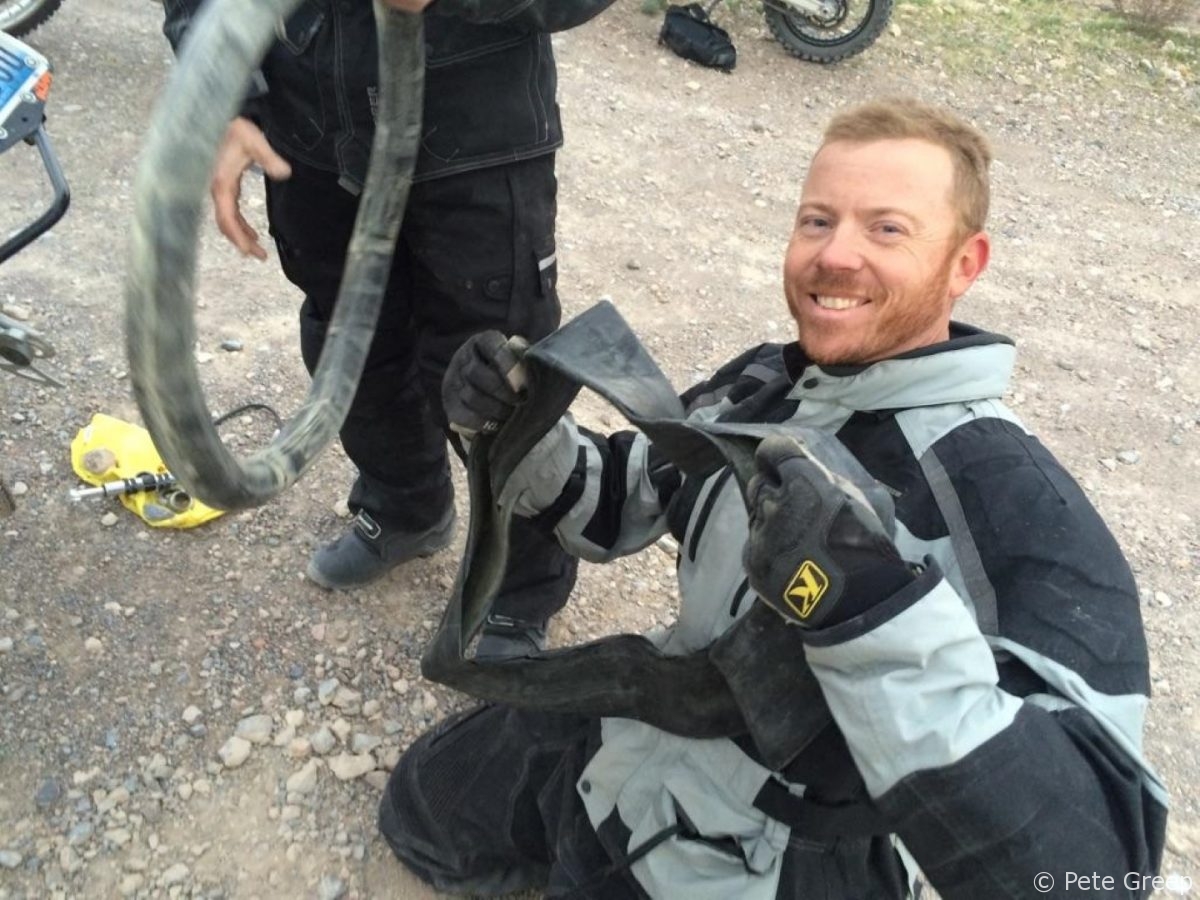 It was the strangest tire repair I've ever done, but we felt pretty good about it getting me home.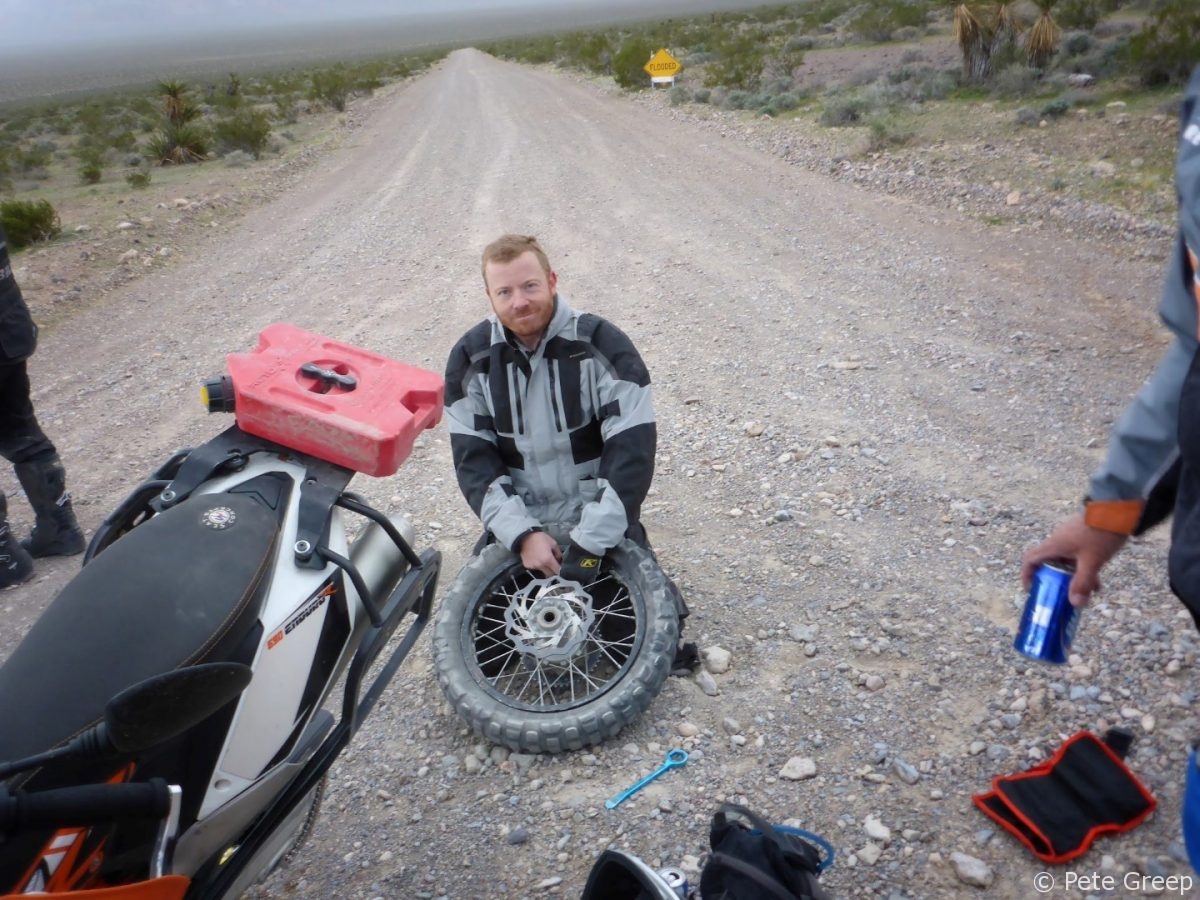 It's funny, we were right along the side of the stretch of road that we always take to go to Dumont Dunes. Just before we realized the flat tire we saw a buddy of ours go driving down the road in his truck and toyhauler. Had we known about the flat at that time we would have flagged him down but we didn't know. Oh well. We got this!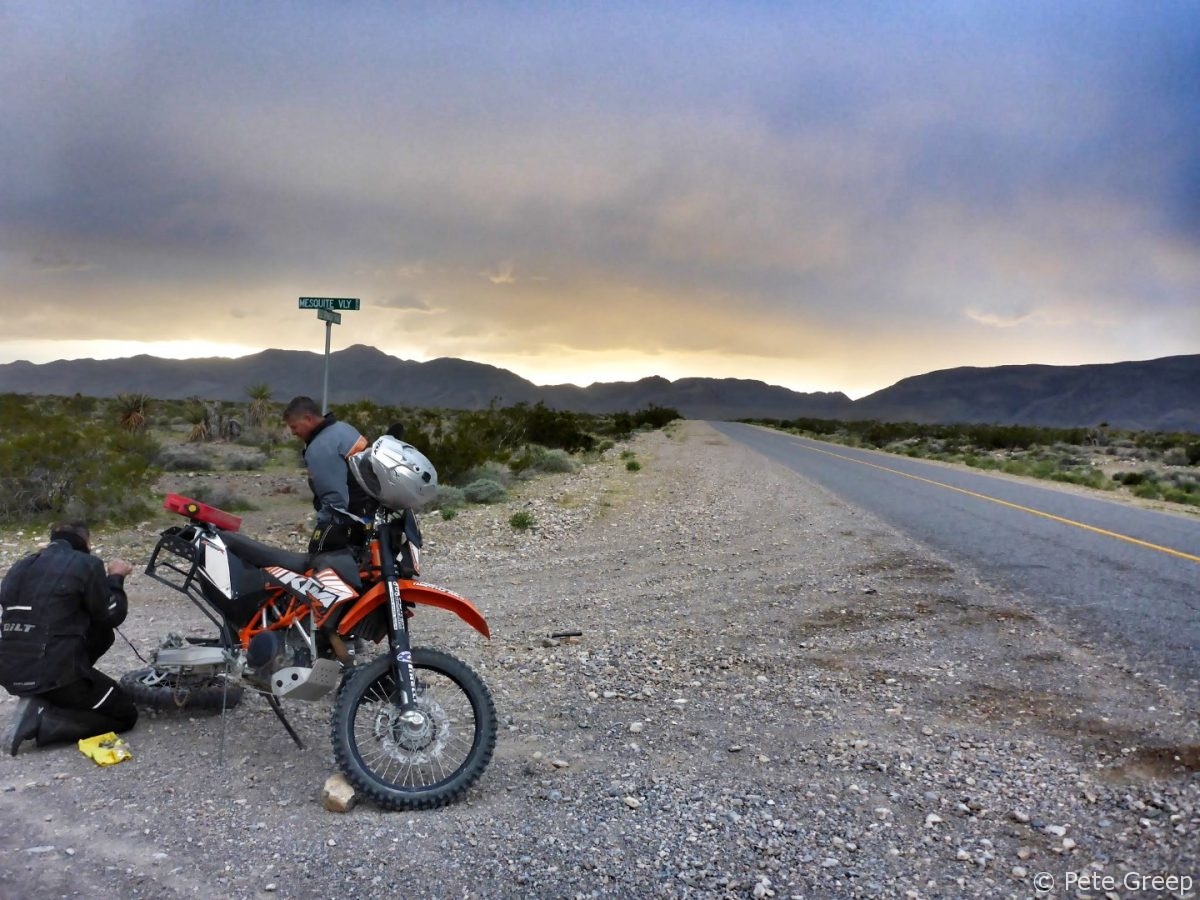 Success! We got it aired up and we took it easy on the highway. As we got closer to Pahrump we left the highway, jumped on a dirt road and crossed the dry lake bed.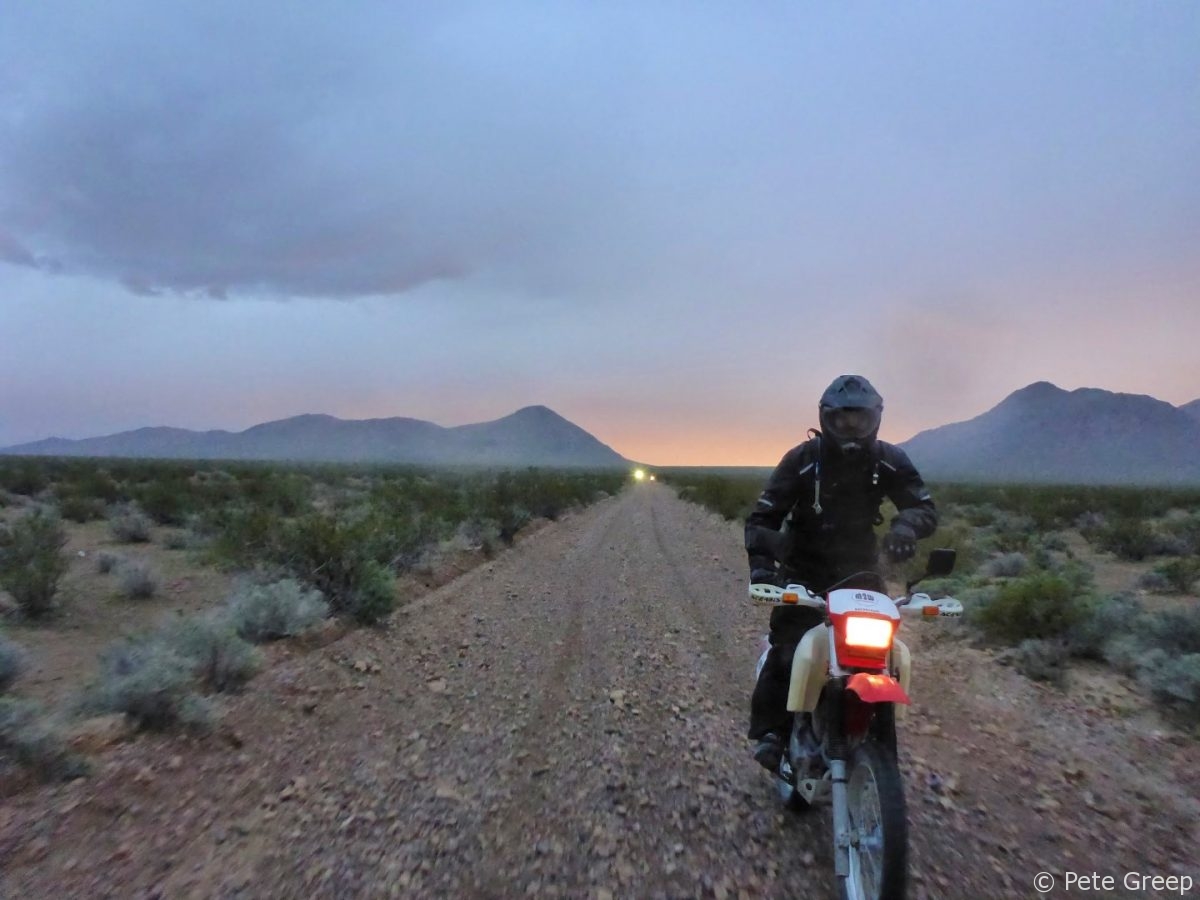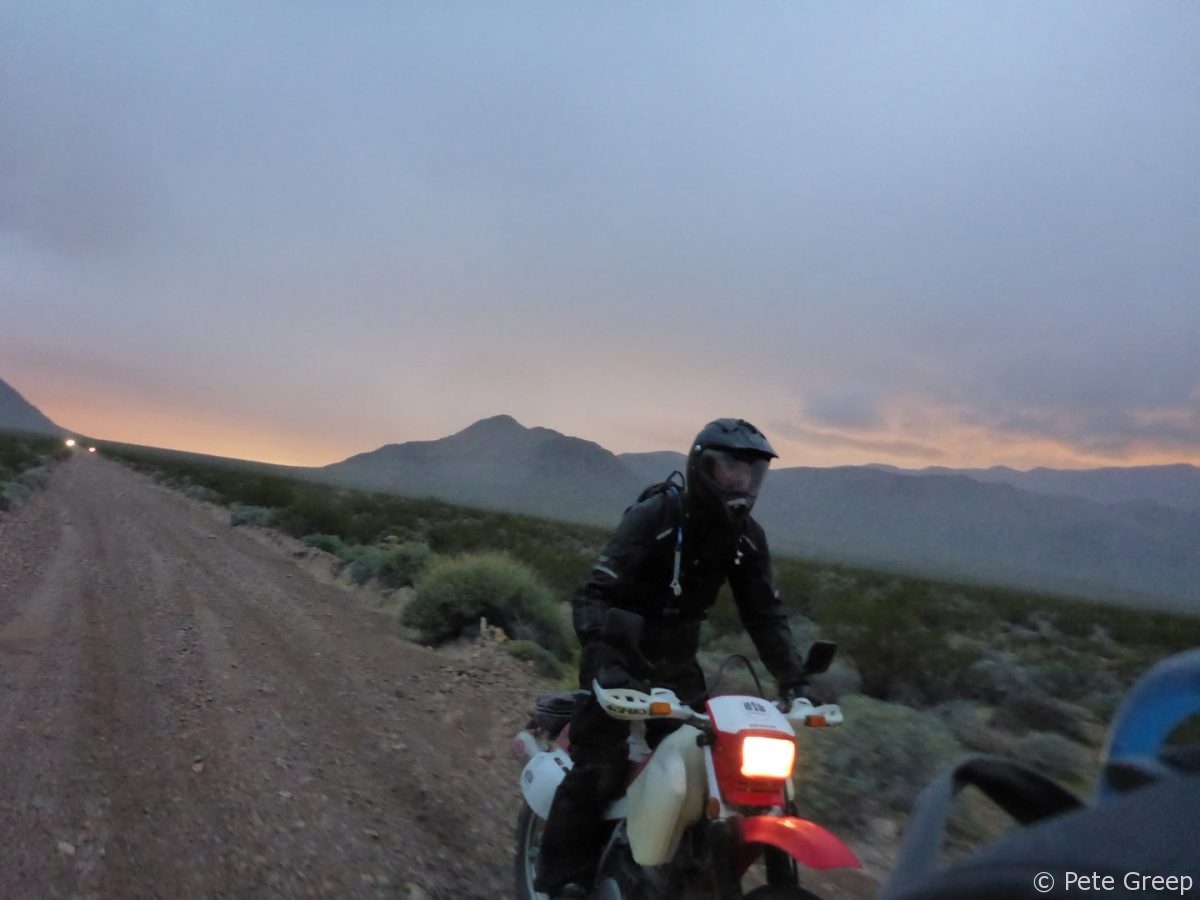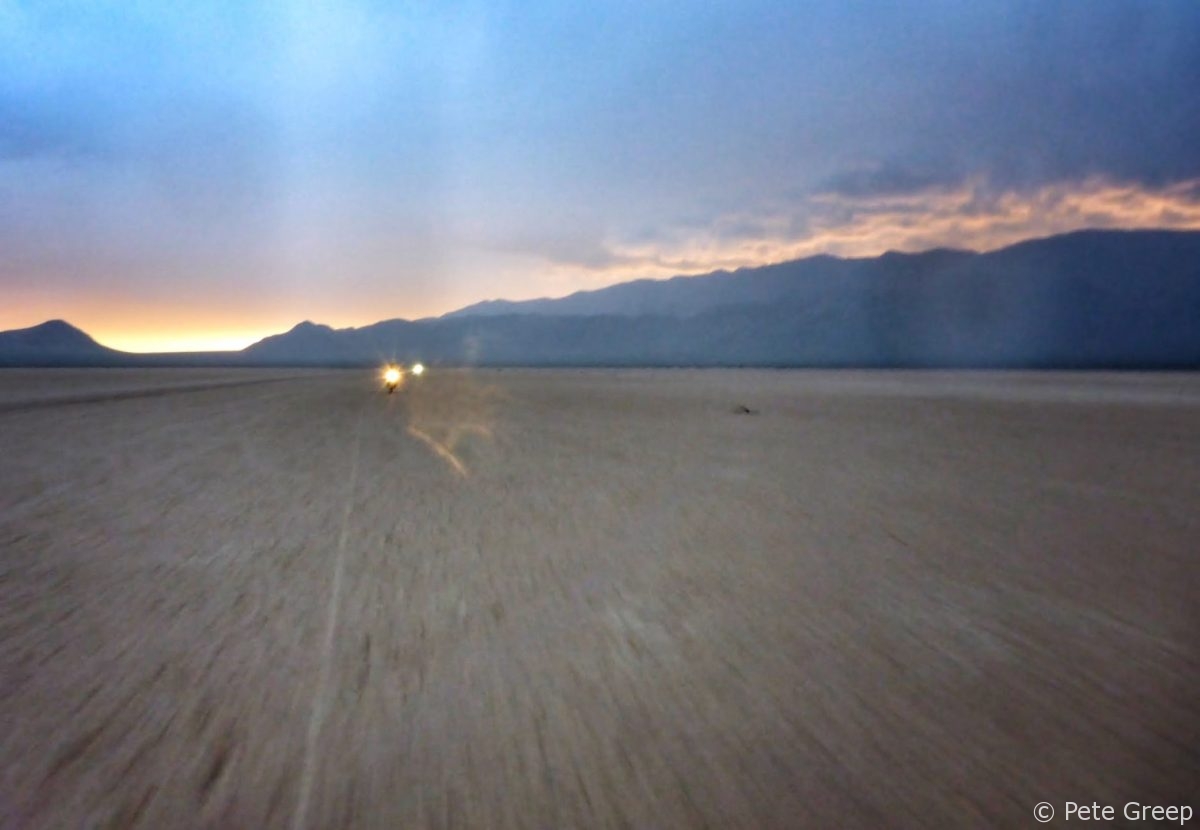 It was drizzling pretty steady at this point and the temps were dropping. The view looking towards Pahrump didn't look very warm or inviting.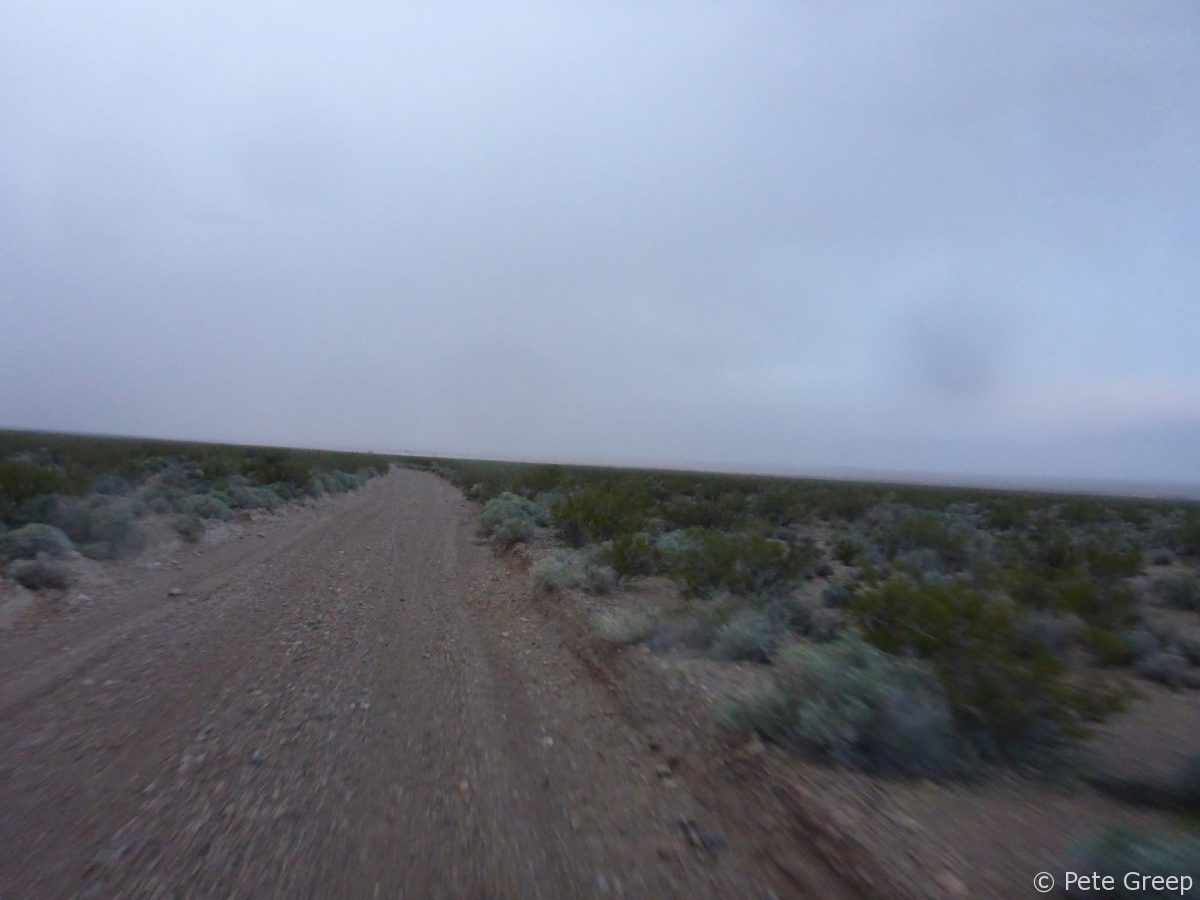 Just when I thought I saw the gas station sign, I realized it was a whore house instead. lol Damn whores and their blinky lights!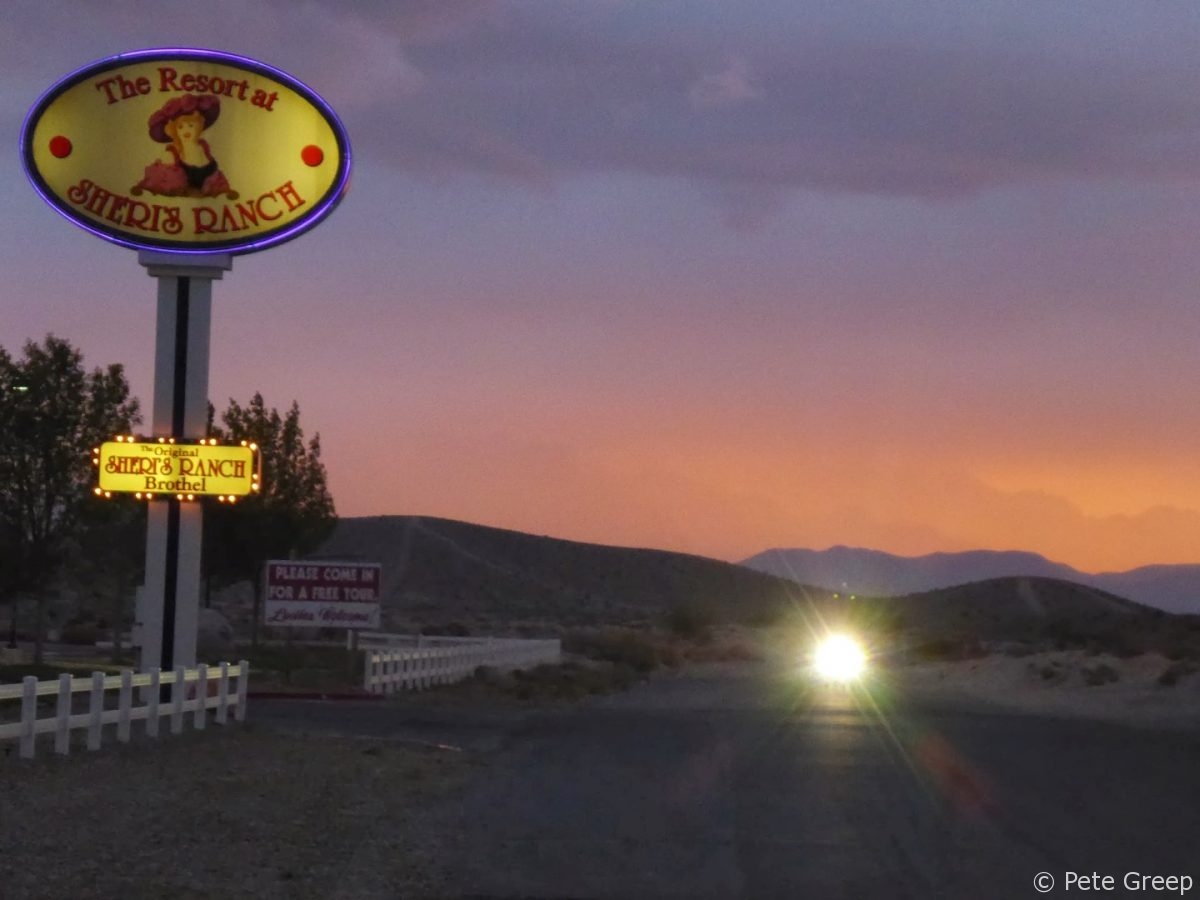 We stopped to regroup and had a laugh about it.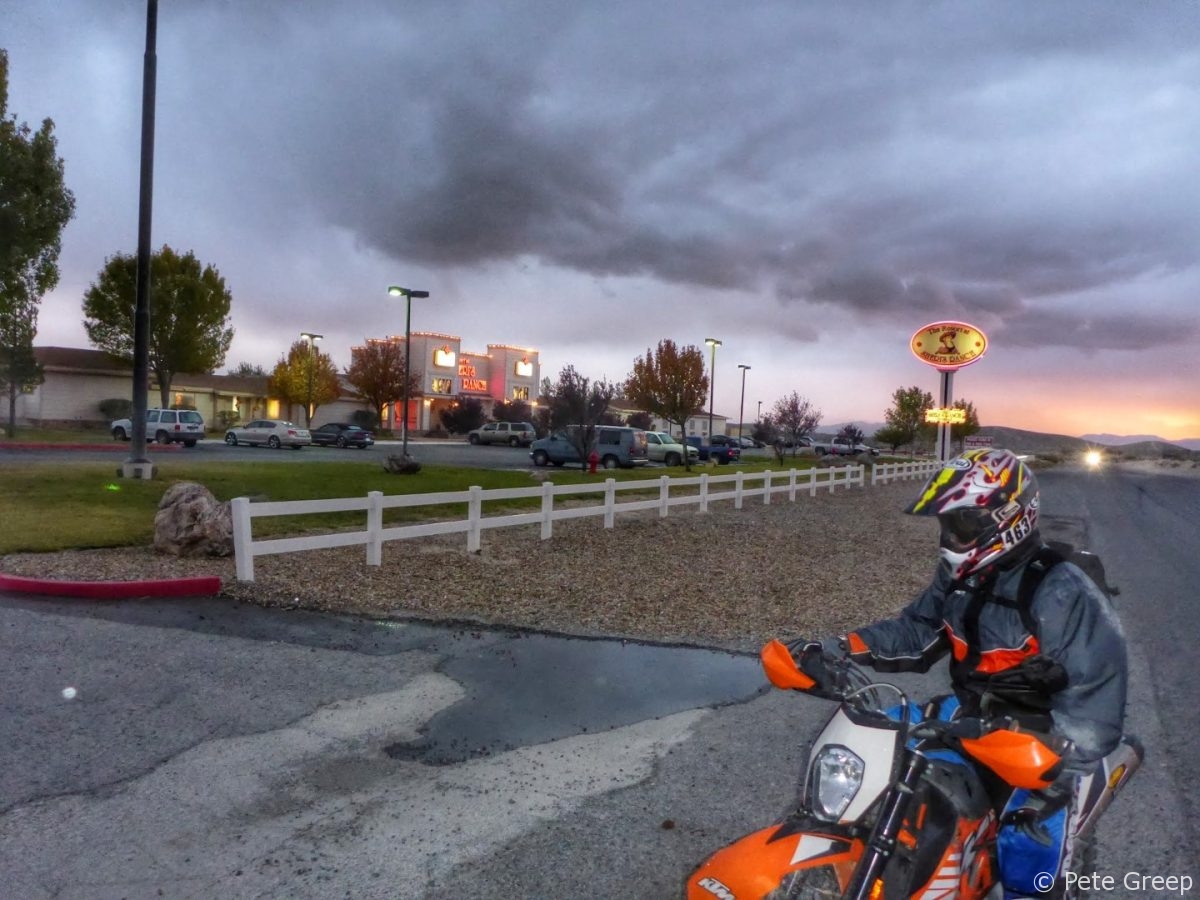 Although the weather was looking crappy, the sunset was epic!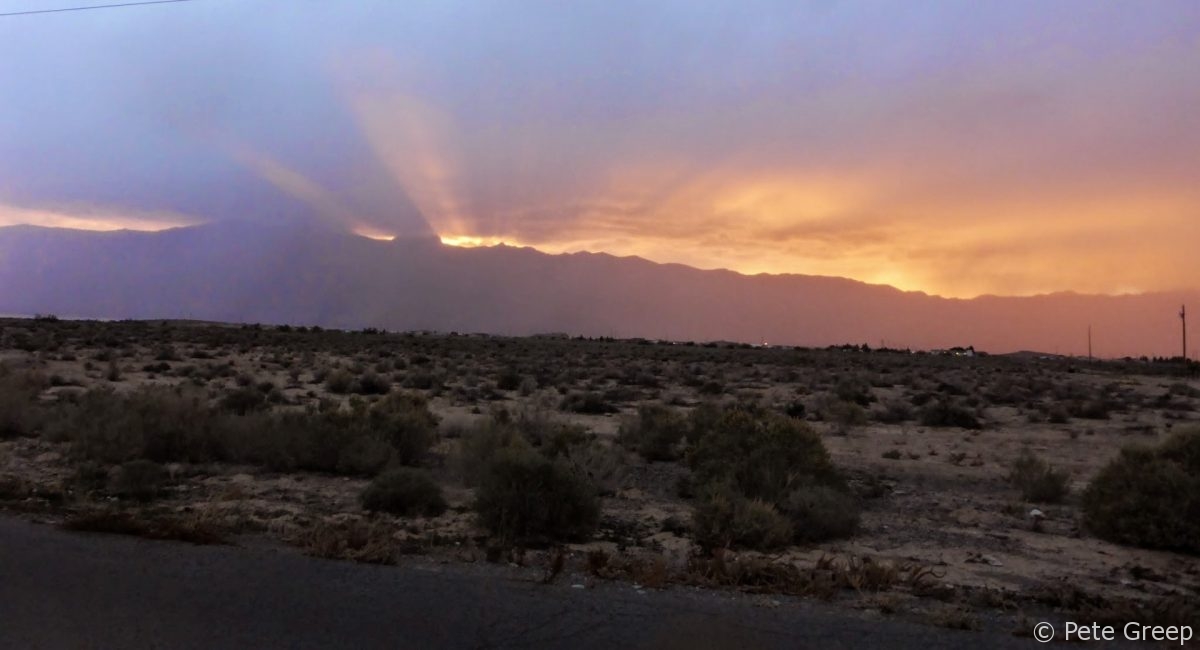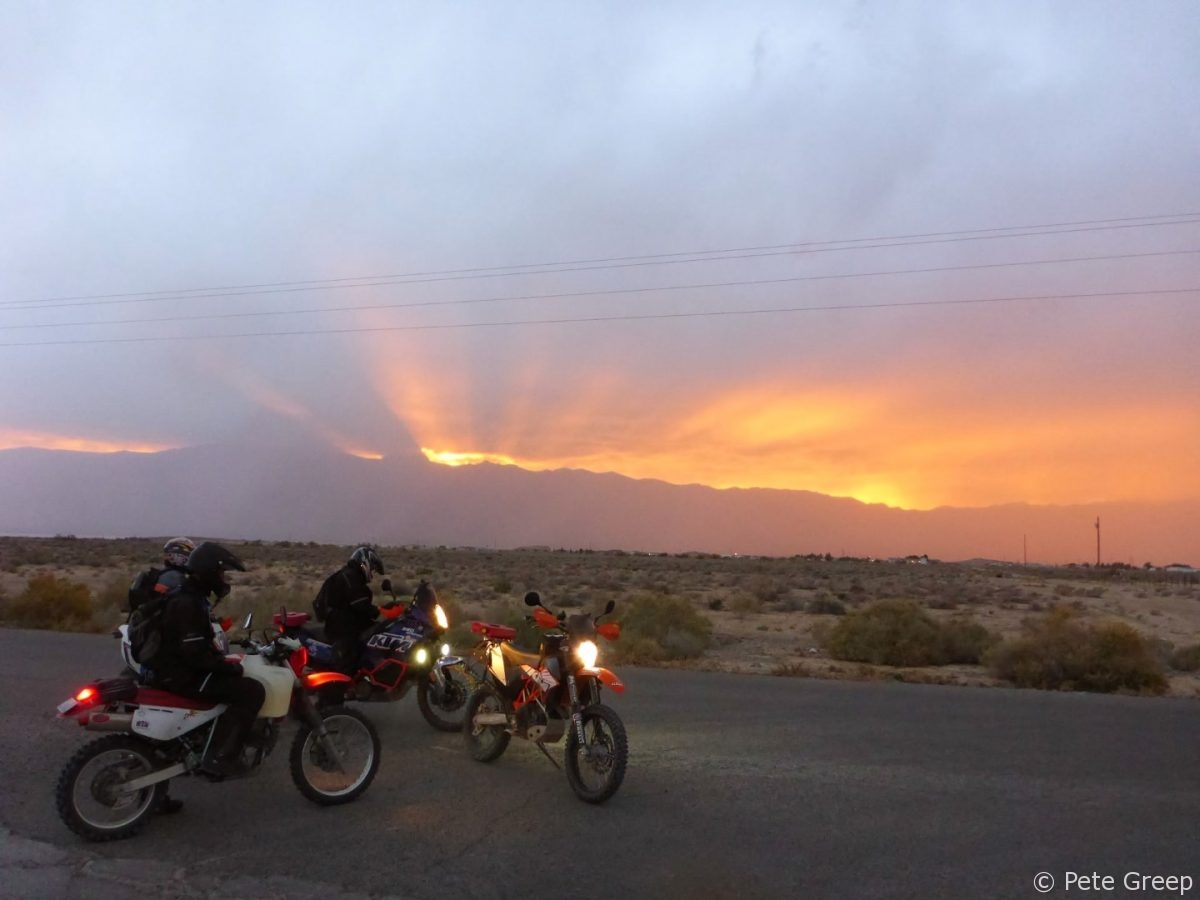 Even though it was several hours later then planned, we made it! Time to gas up and come up with a plan.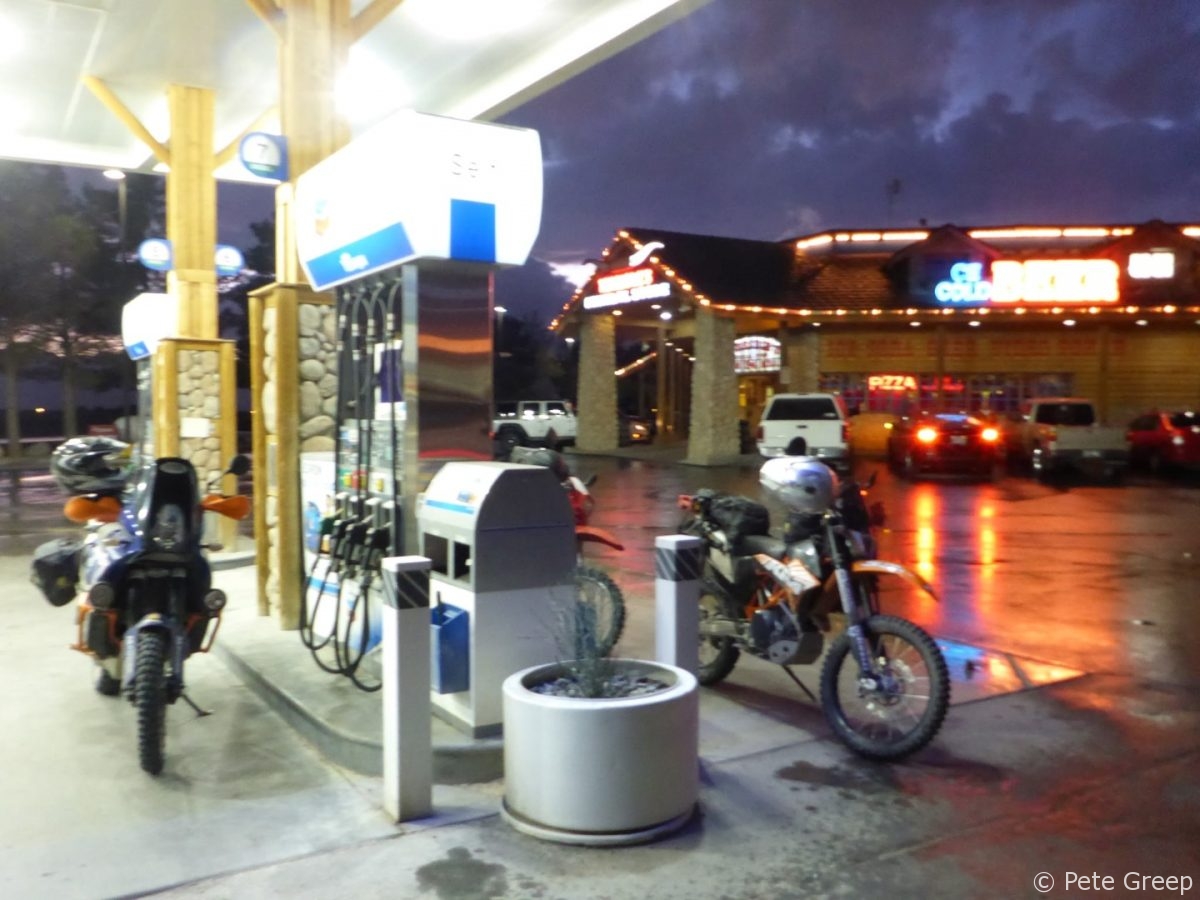 We were all pretty hungry but instead of wasting a ton of time grabbing a meal there, we decided to just go in and grab a snack then haul butt home on the highway. It was much too late for our planned dirt route up the back side of Mtn Springs so highway it was.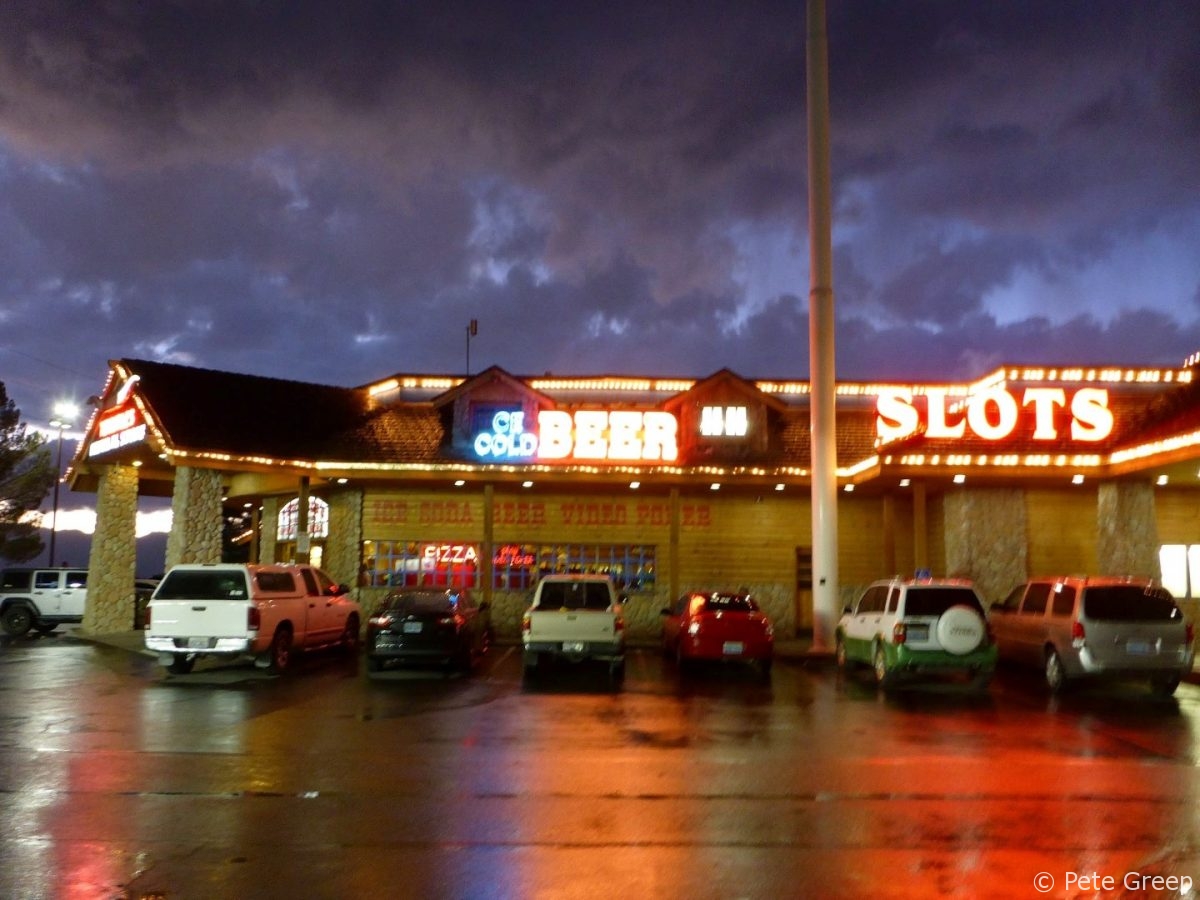 Blurry pic of us snacking. I must have been shivering.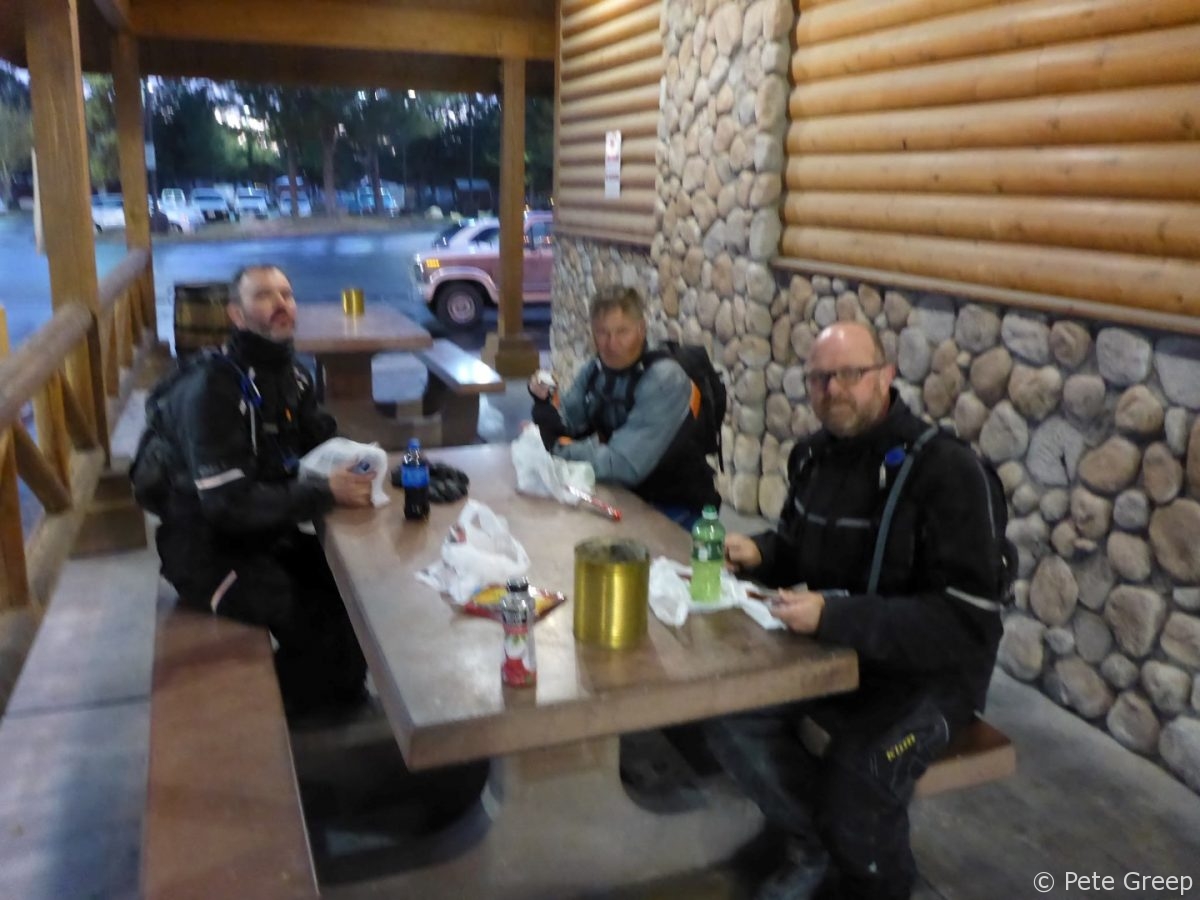 Oh and one more issue before hitting the highway…my rear Nomadic rack was finished off. We threw a strap around it and it stayed put.
After this, I spoke with Justin of Nomadic Racks and he took care of it for me. He informed me I was the first and only guy to break one of his KTM 690 racks. In a way I'm sort of proud of that. haha He has since changed the design a little and will be waiting to hear from me if I break it again. I guess I'm his R&D rider.  Great customer service in my book though!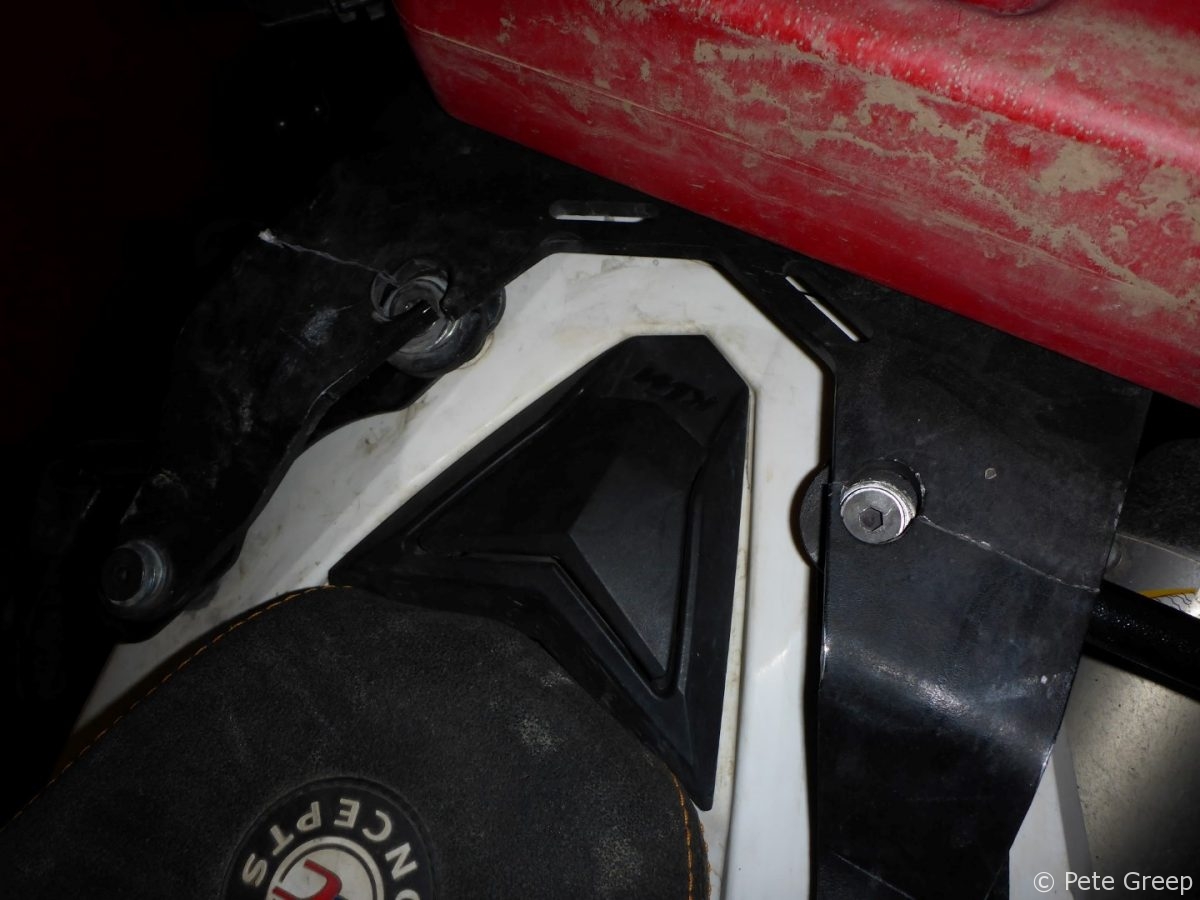 The ride back wasn't too bad, but it did get pretty cold at the top of the mountain. I think I even saw snow flurries. It took us about 50 minutes of highway at 70-75 mph to get to the west part of Vegas. I was praying that rear tube didn't decide to let go. That would have been ugly at highway speeds in the rain!
The tube held up though and the 4 of us stopped at the T-Bird for a good meal, hot coffee and cold beer.
Although the day didn't go as perfectly as planned, it was an adventure so I would say it was even better than perfect. We still made it to Pahrump via dirt and have even more reason to do it again so we can show some others and get our return dirt route in as well.
Happy to be home safe and it was a great day to share an adventure with some buddies on bikes! That hot shower felt amazing once home.
These are our tracks from the ride. It was roughly 200 miles door to door.
The green track is the actual tracks we made on our ride.
The red track was the proposed track with the dirt return route.
The blue track is the tracks that some other friends did the same day. I was hoping at some point we'd maybe see them on the trail, but of course that didn't work out.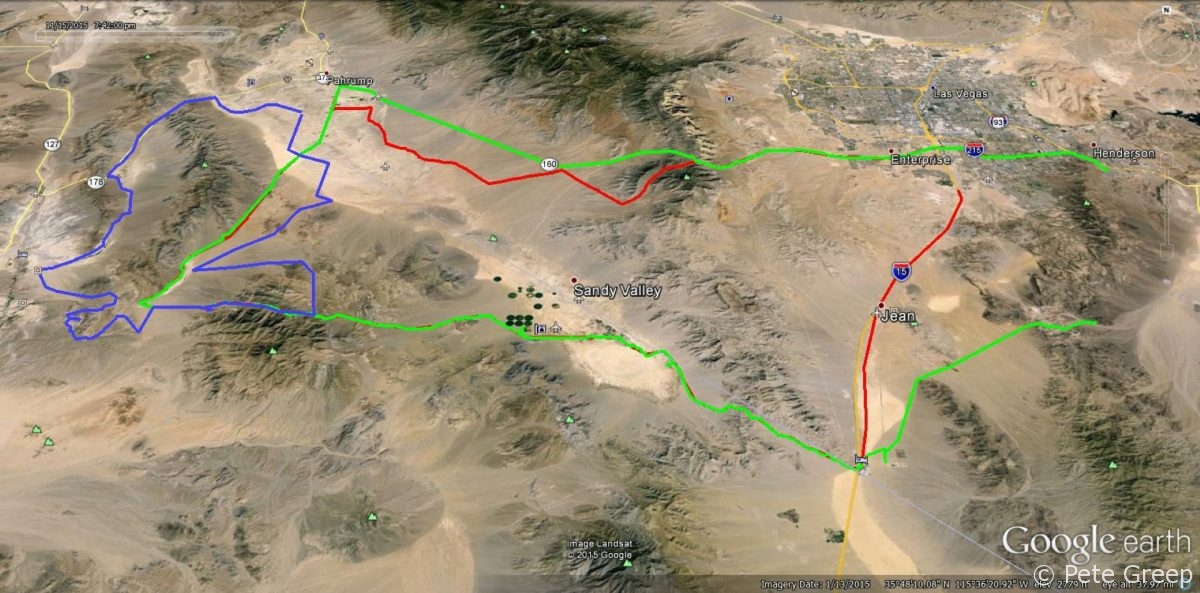 Comments
comments