Every year I host a group dune trip at Dumont Dunes through my website, dumontduneriders.com. The point of the trip is to get together with the other buggies and buggy guys of Dumont, camp together and run the dunes. We do it in the middle of December every year because the weather is usually nice and cool and the dunes are empty.
Like every year, I wanted to get out there early so Anna and I got out there Wednesday night. It was empty and chilly, but the 3/4 supermoon lit up Dumont!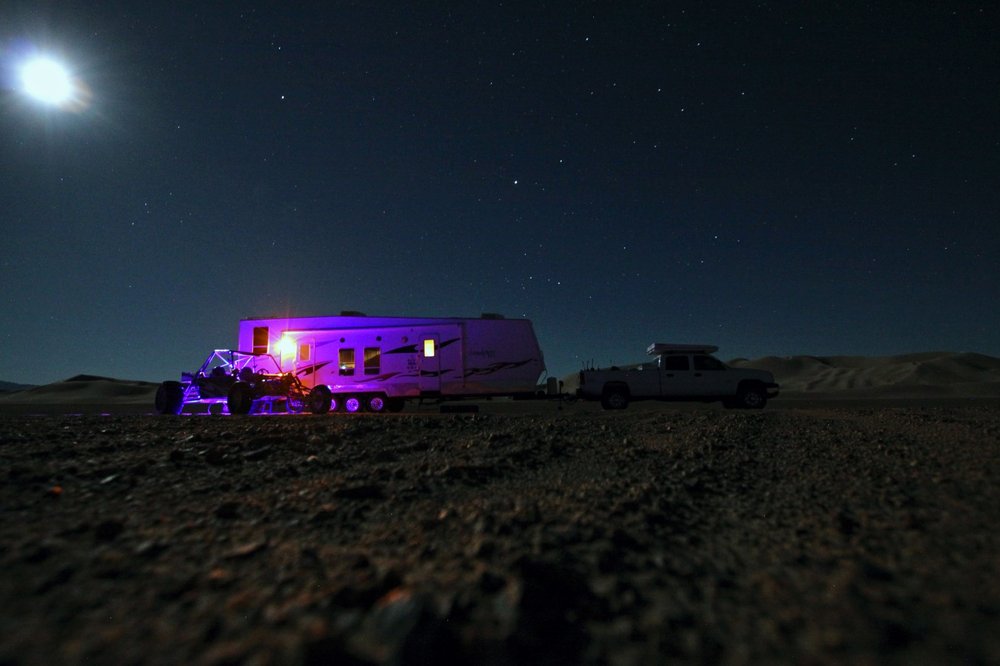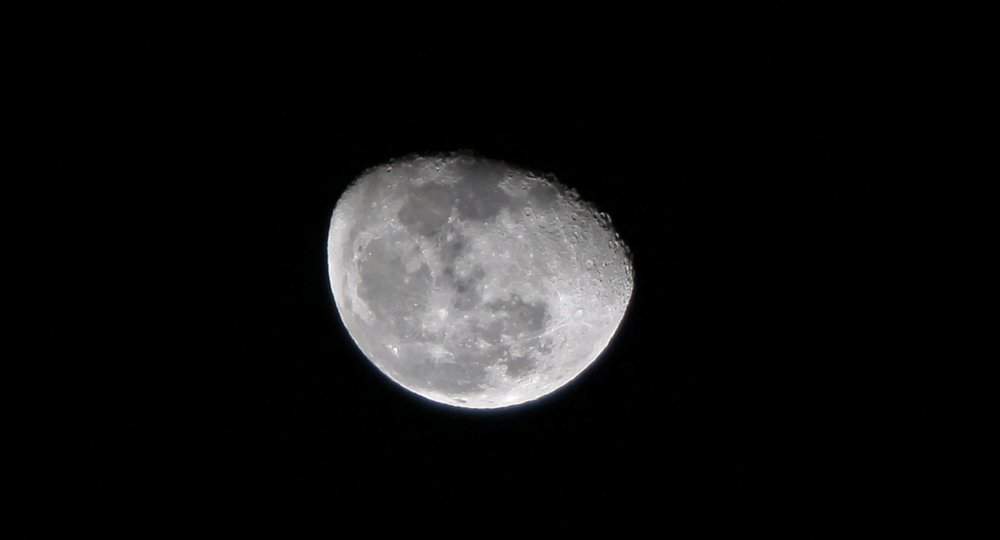 Thursday morning was quiet…VERY quiet. It was so nice.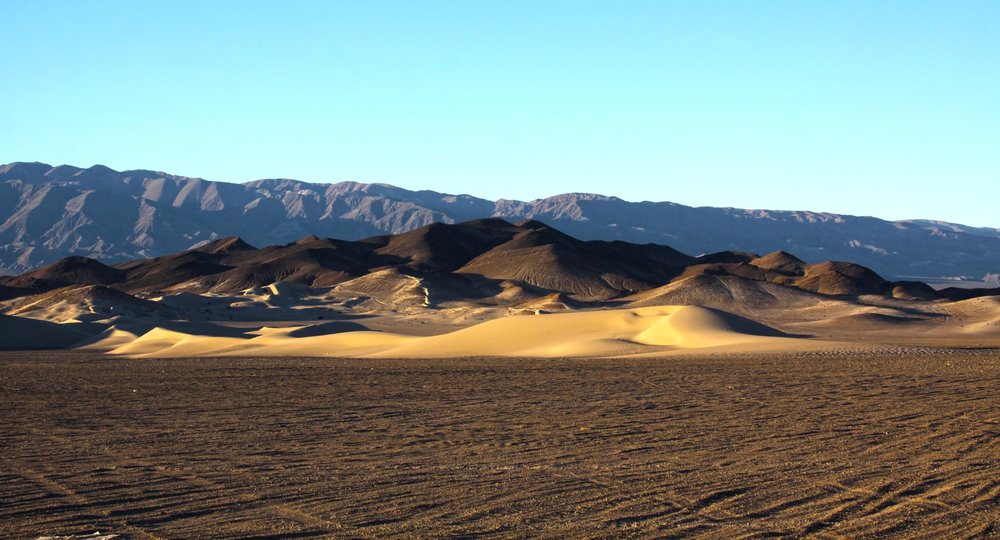 One of our DDR members, Dan, came all the way from the Reno area! He had a 9 hour drive. That is dedication.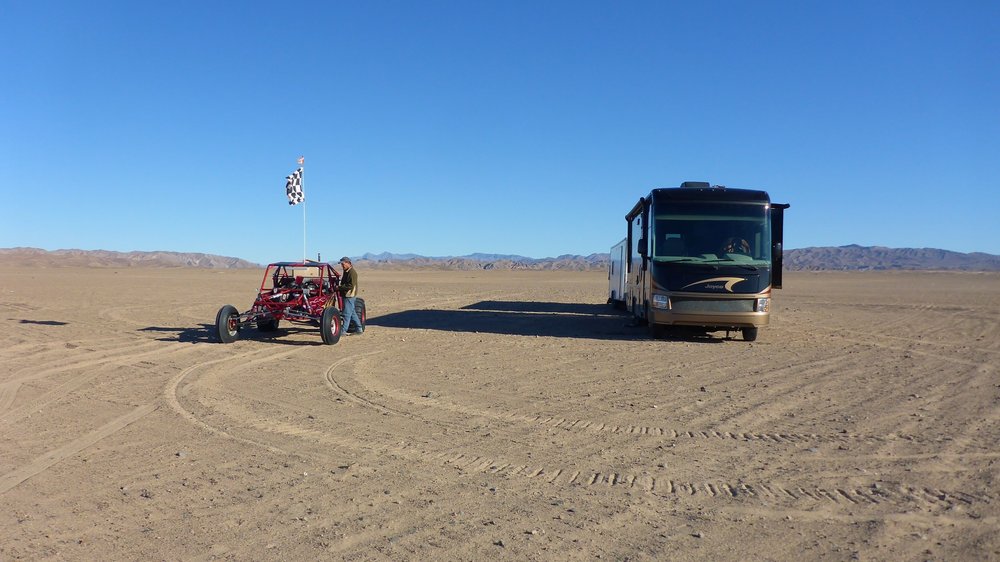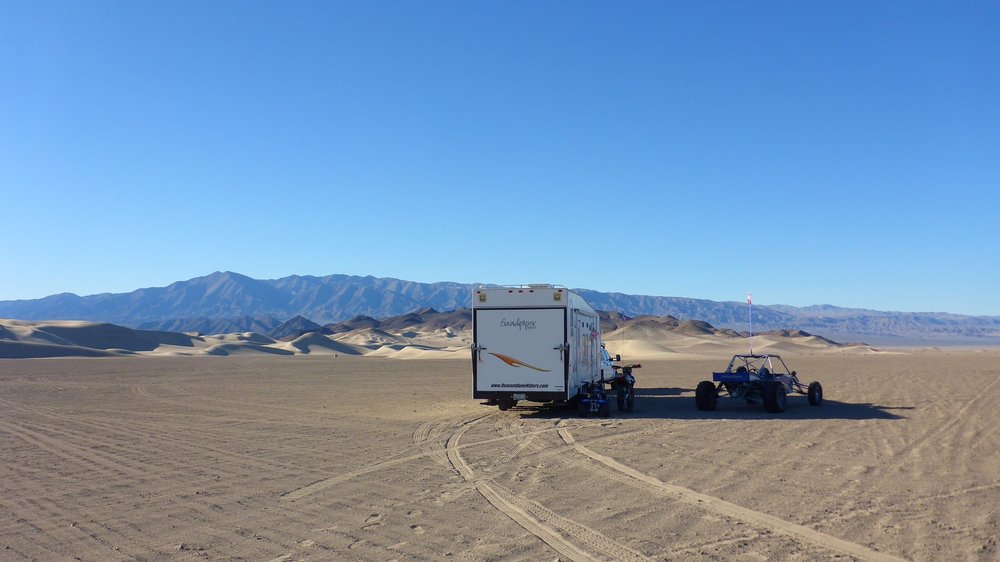 Dan and I both had radiator cap issues (small leak), so we messed with that for a bit.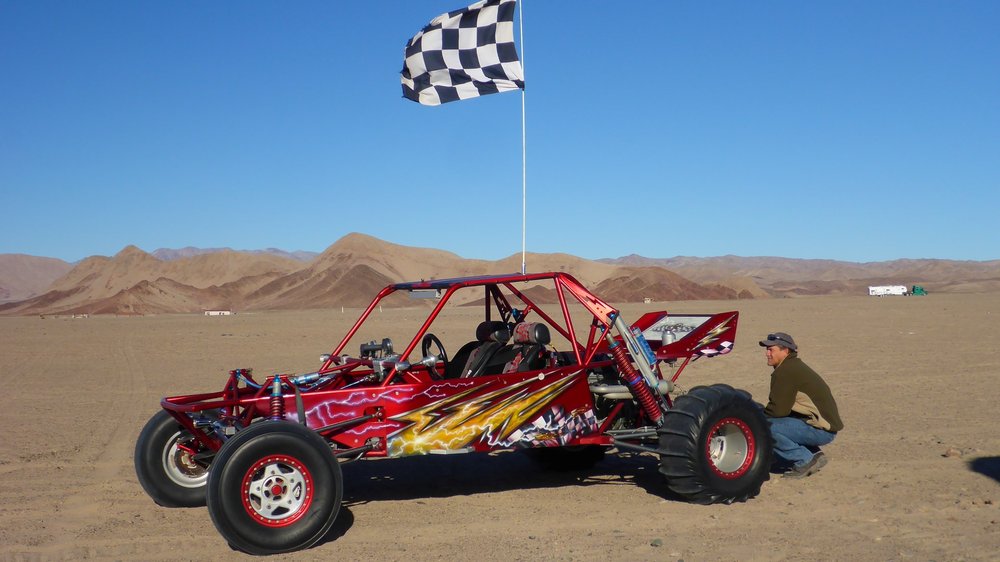 Then we went out to survey those smooth dunes. They were difficult to read, almost like summertime, but they were so awesome.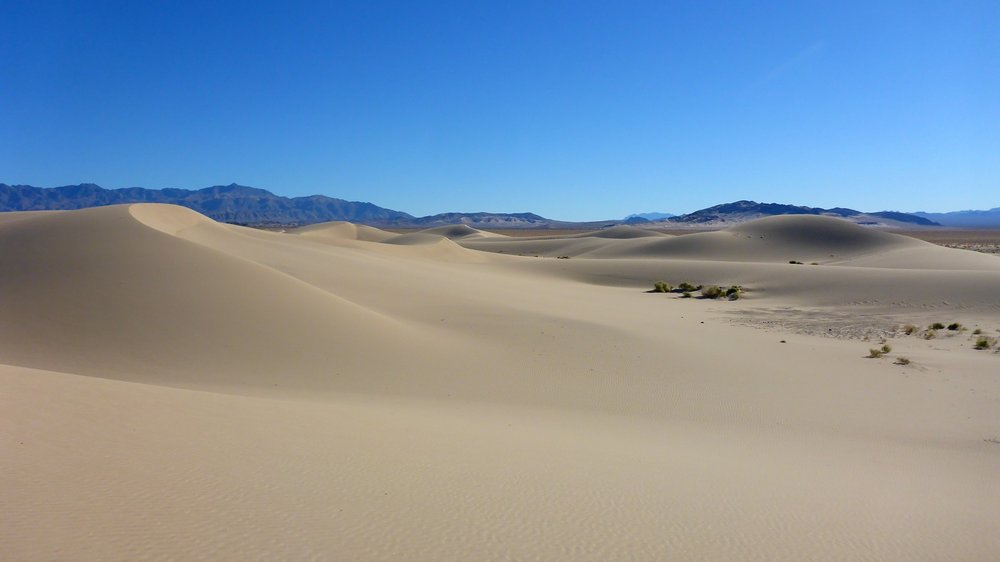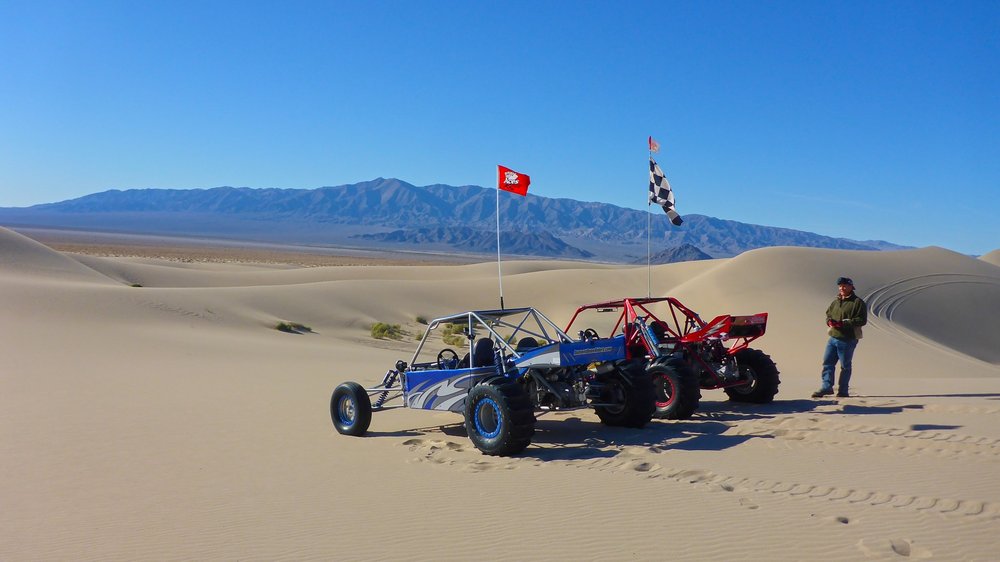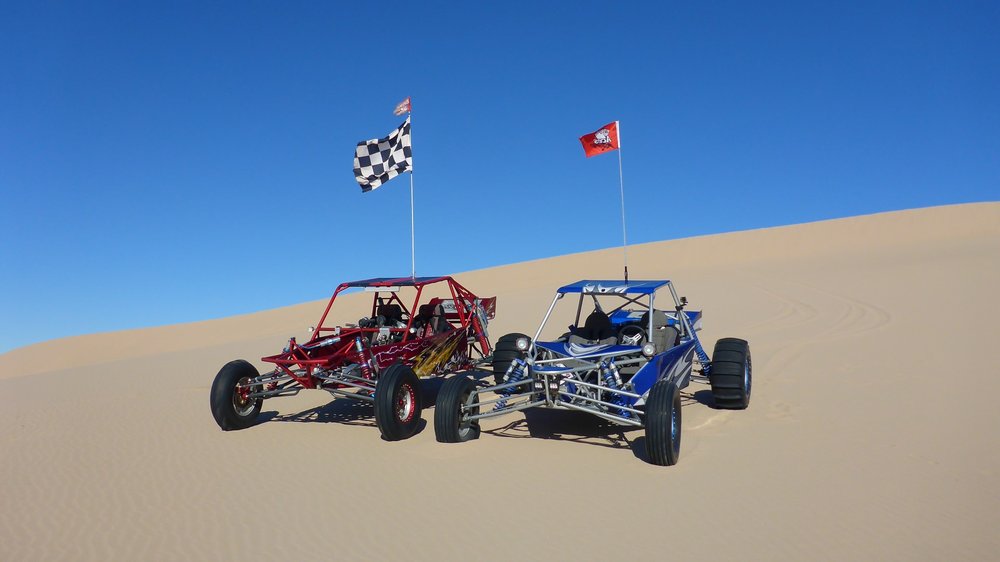 Although it was just 2 buggies, Buggy Roundup 5 had begun!
Back at camp, Anna enjoyed some sunshine in her hammock.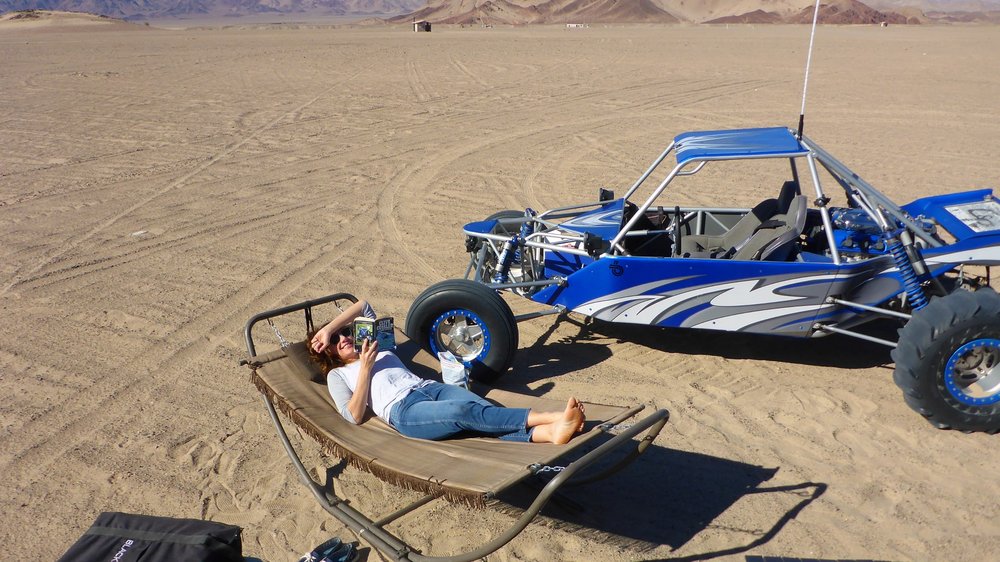 Did I mention we had the place all to ourselves? I took my 500 out for a cruise.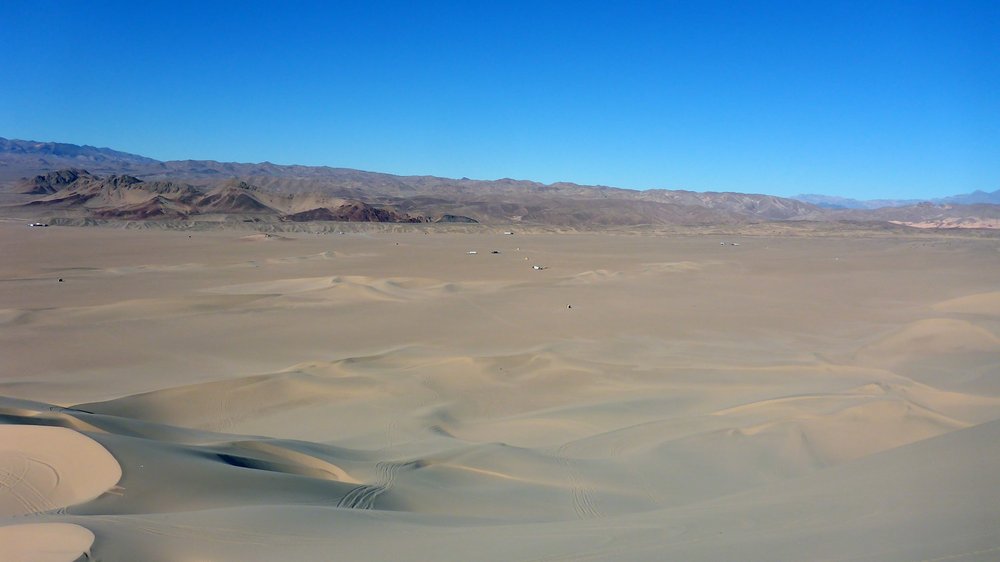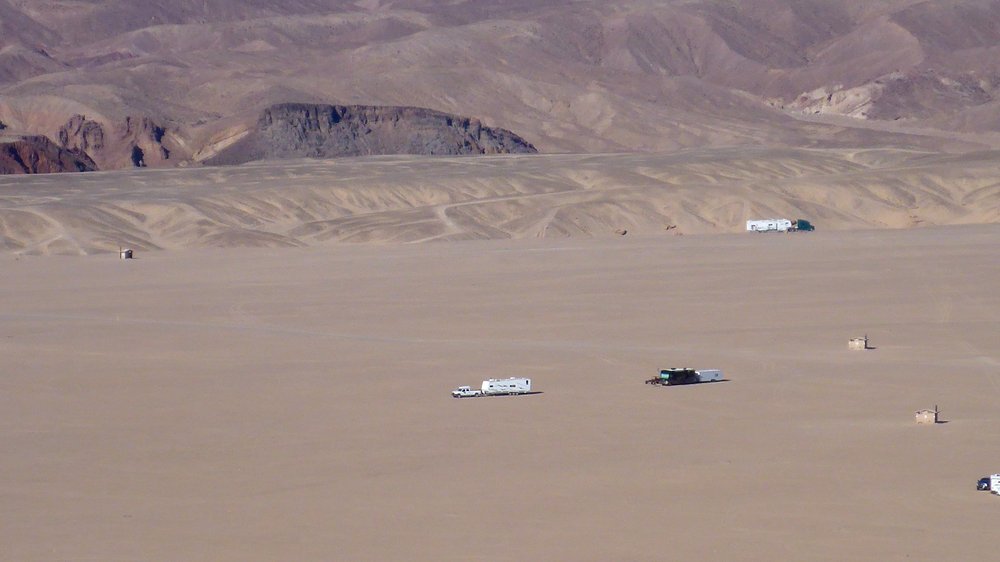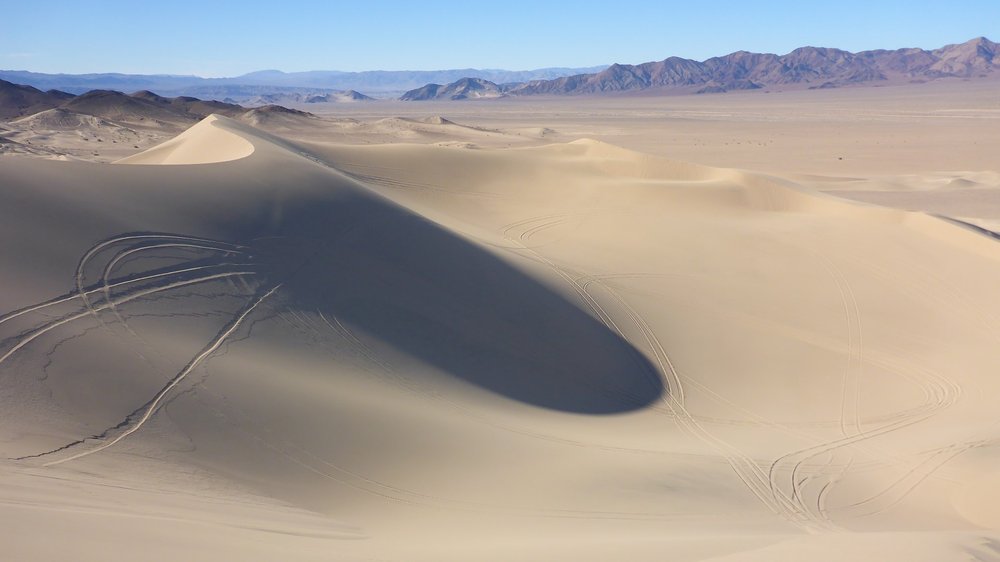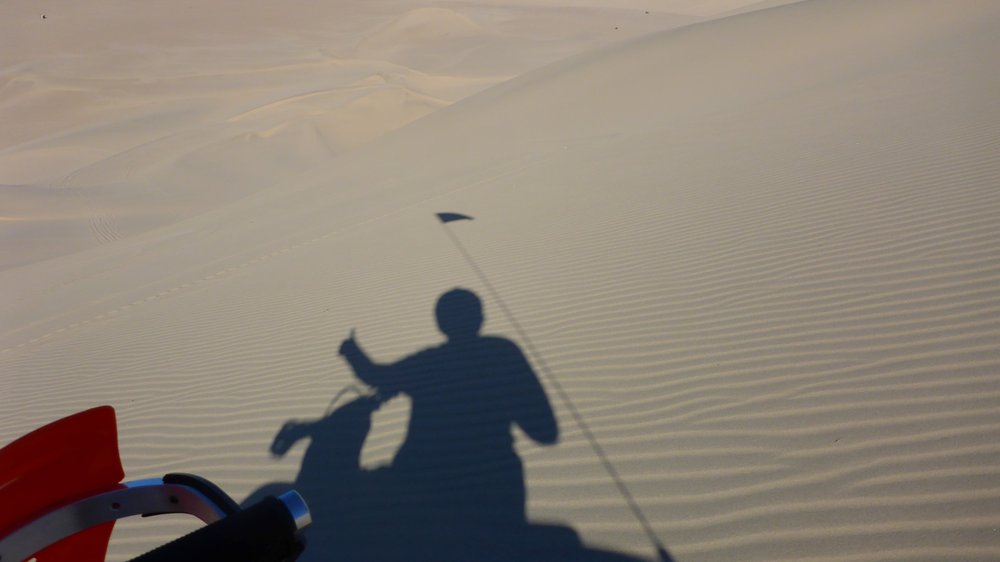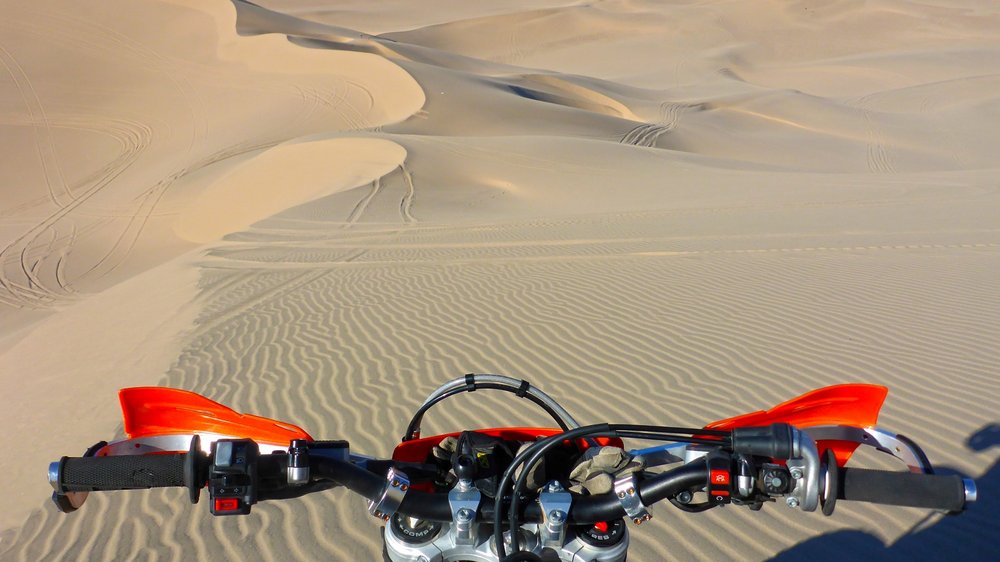 There was another group of buggies already out there camped behind the rock pile. One of the guys stopped by a couple times to chat. Nice guy and wicked car.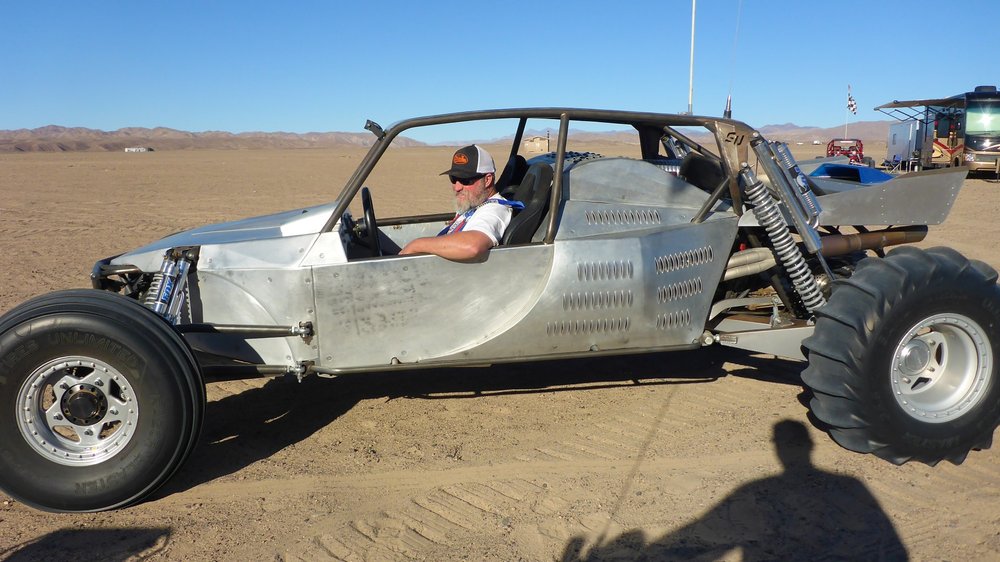 Later in the day when the sun got a bit lower, we headed back out to make some more tracks and enjoy the emptiness of the dunes. Our radiator caps were still dripping a little, but if that was the worst thing that happened all weekend we were ok with it!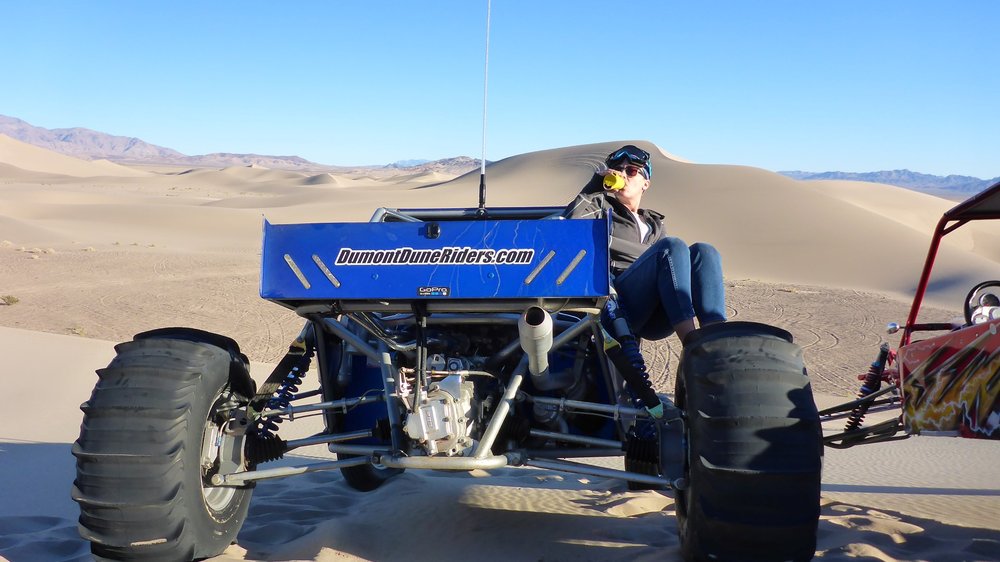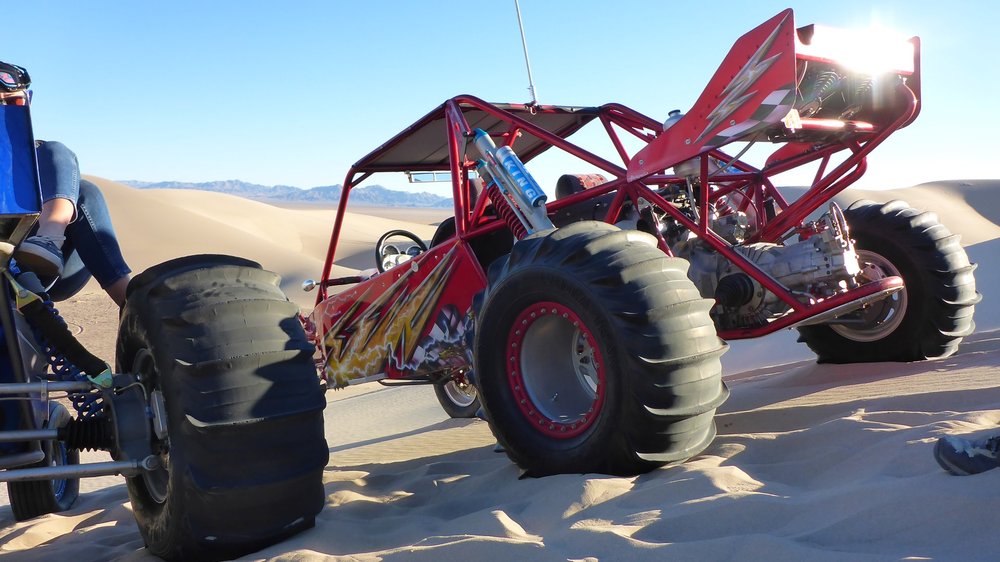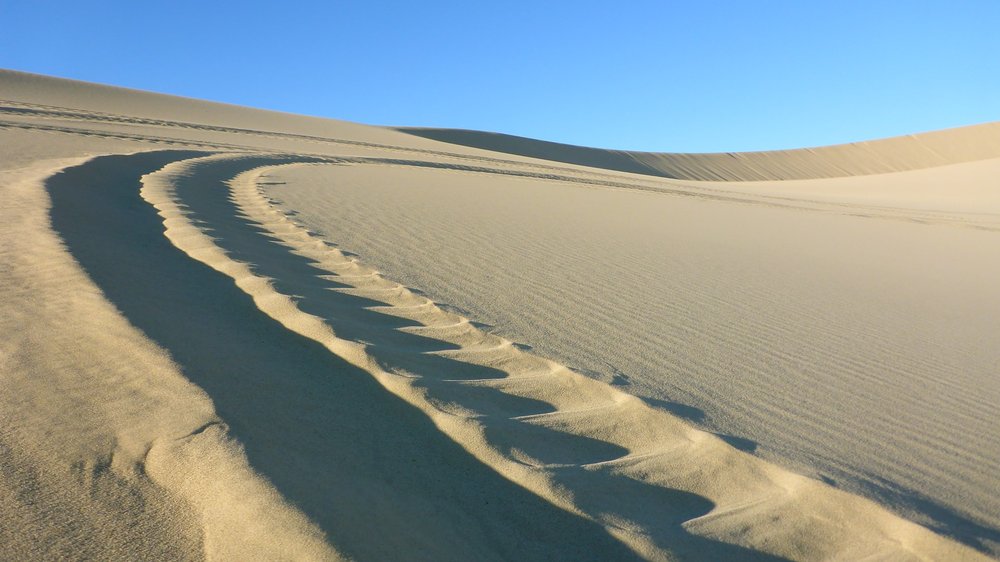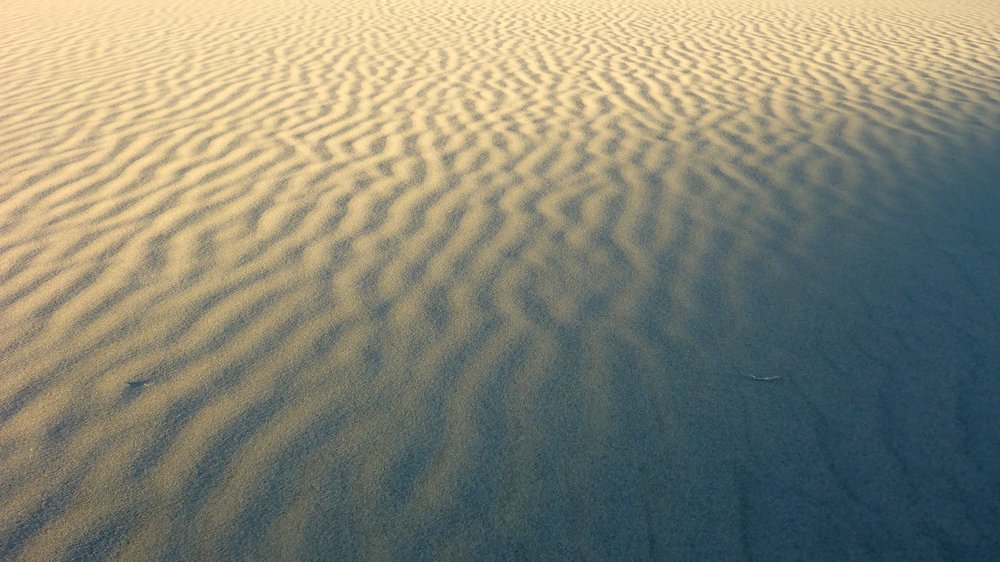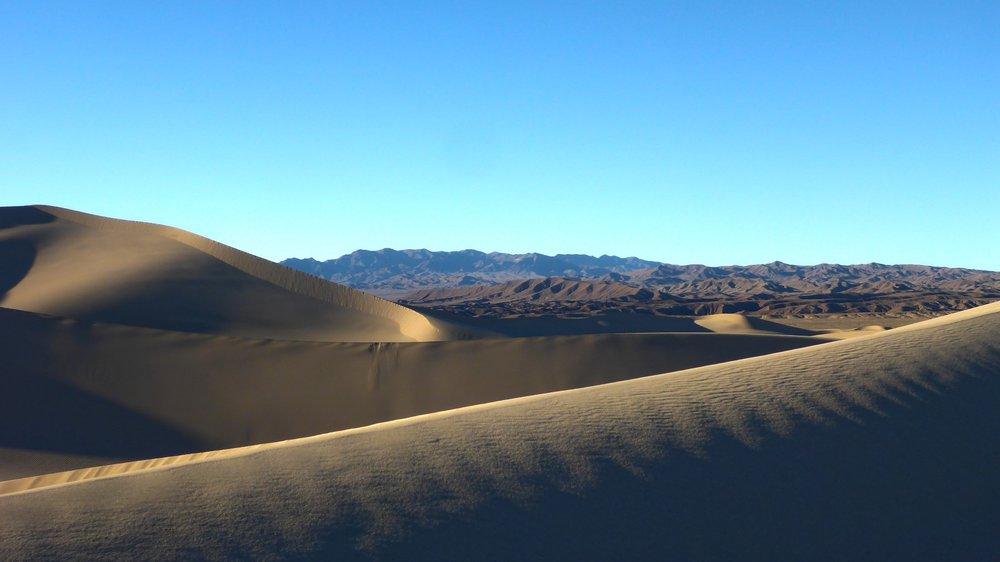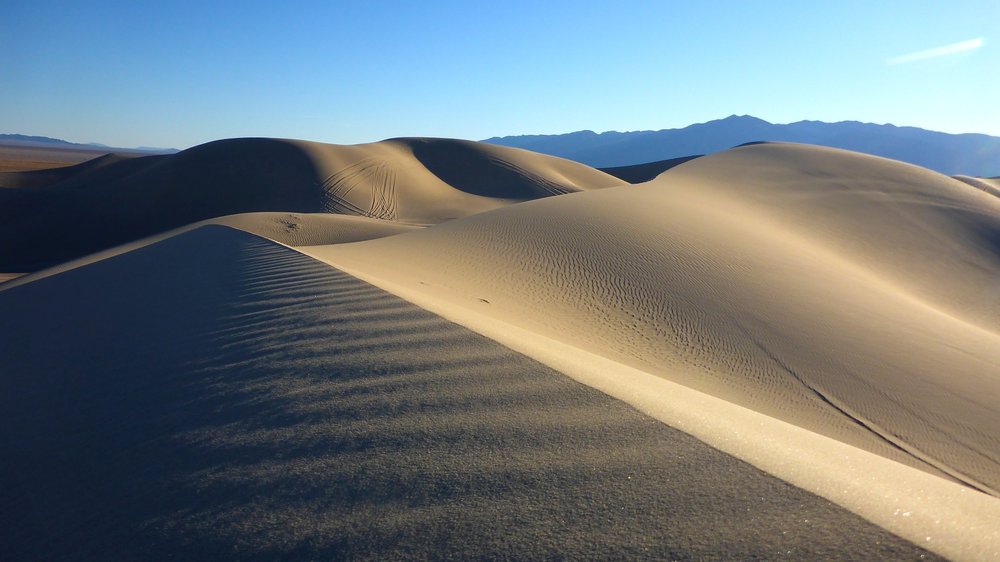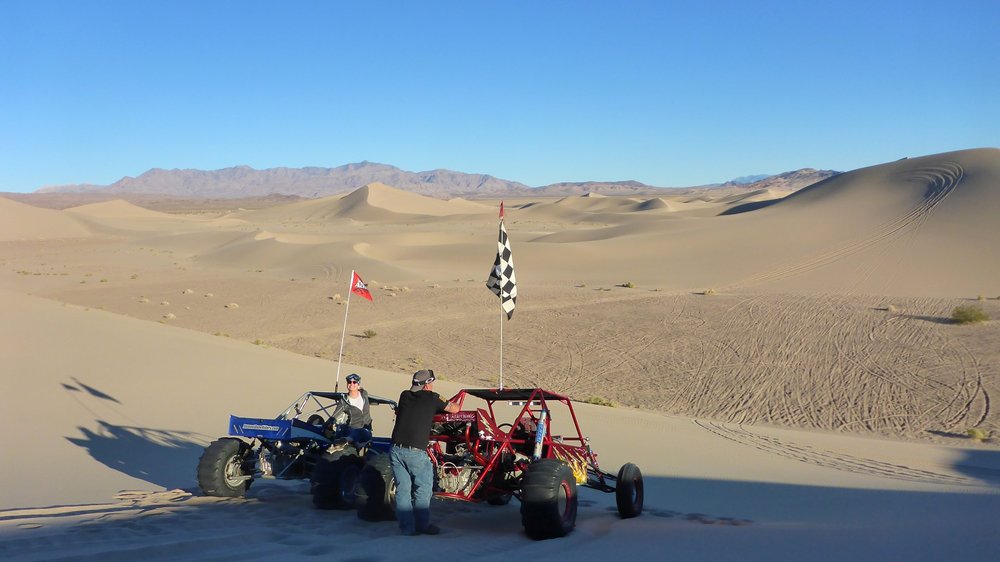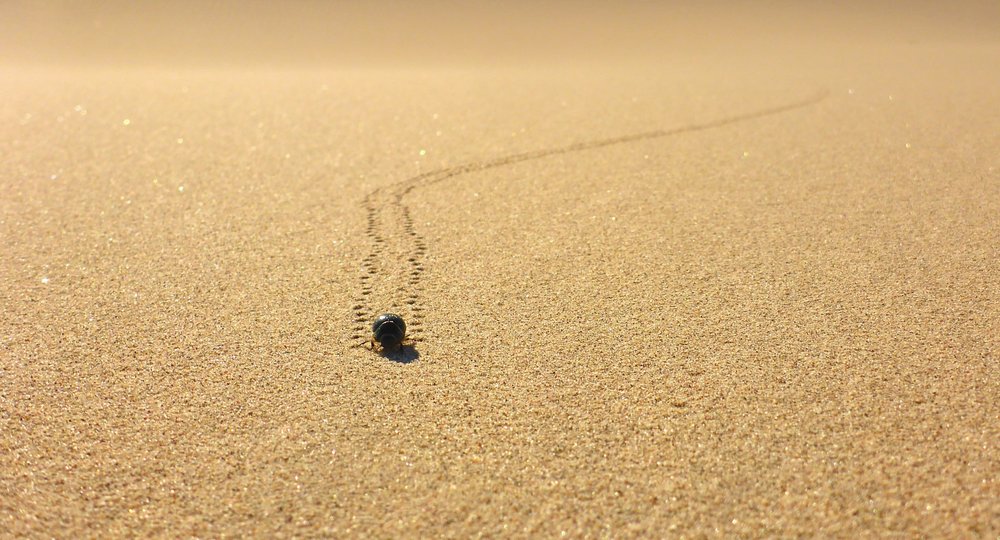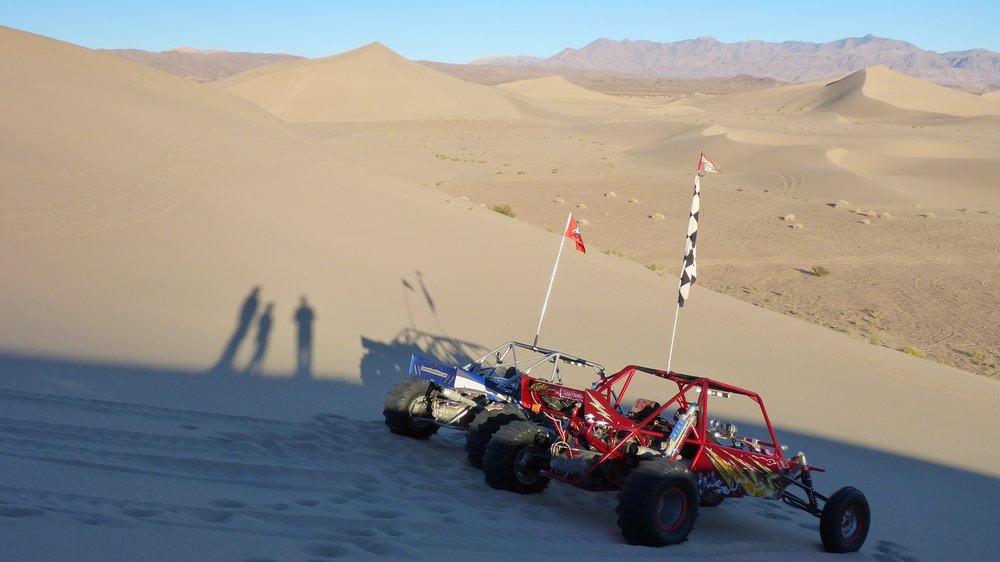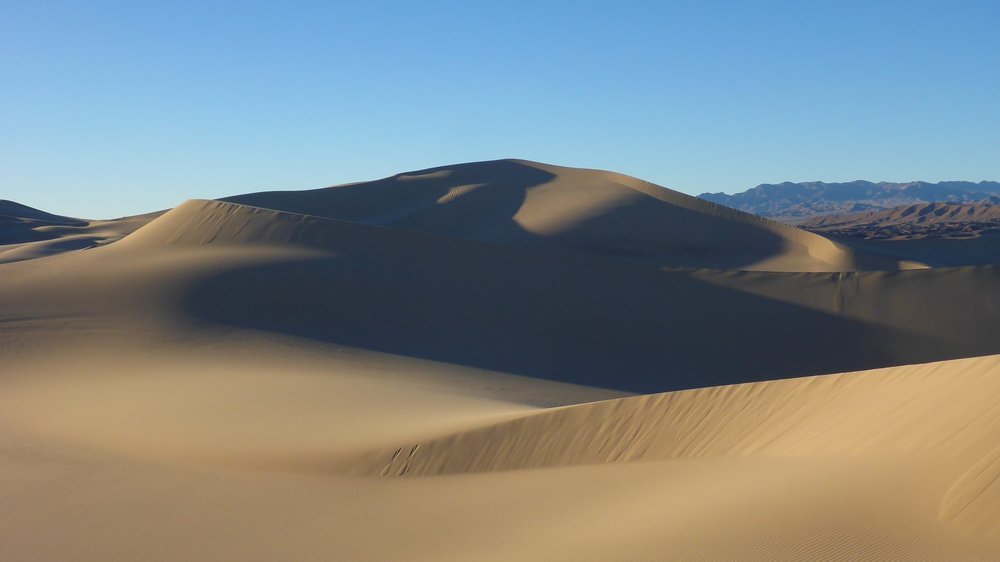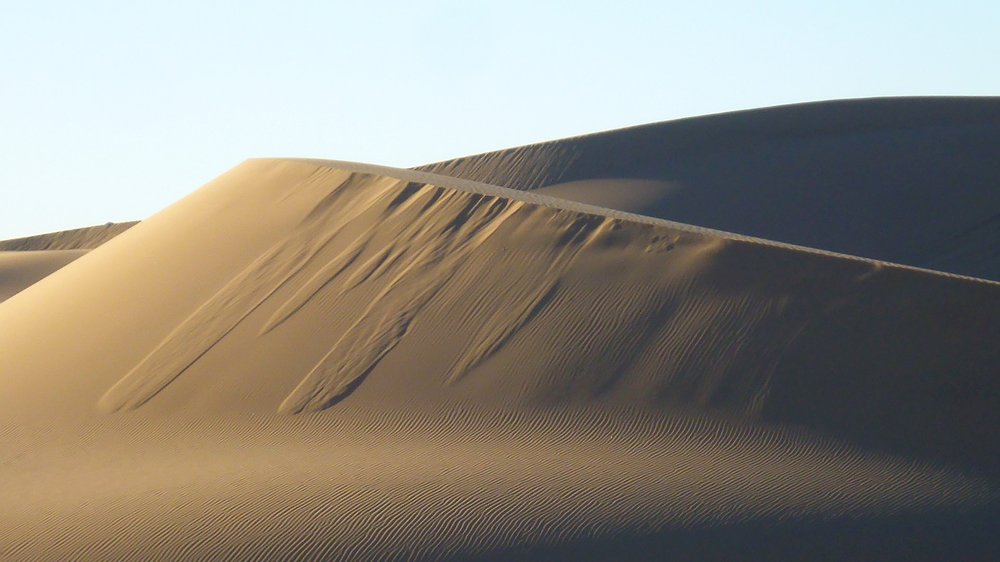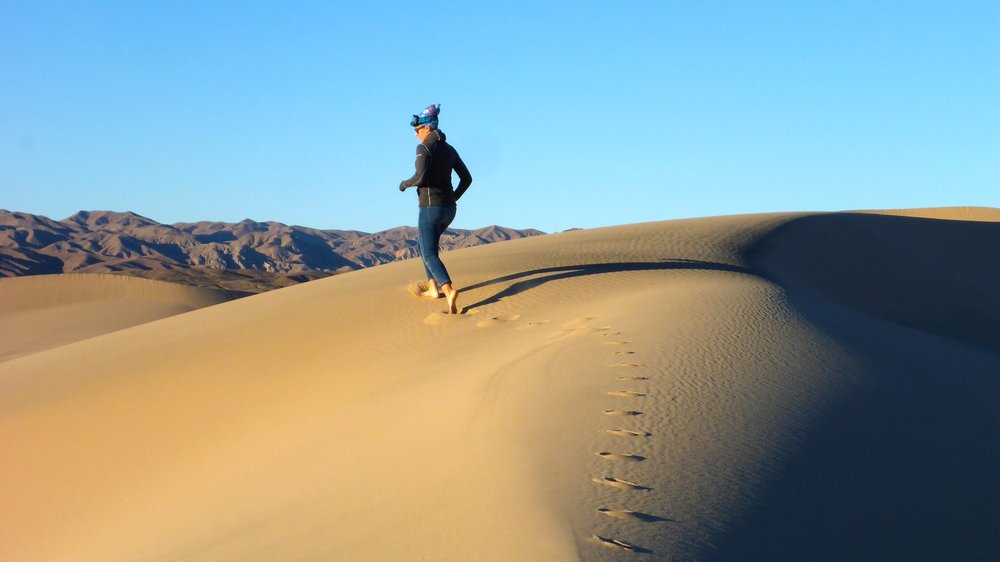 We finished off the day with a quick cruise over to the sunset hill. We were a little late to the show, but it was good enough.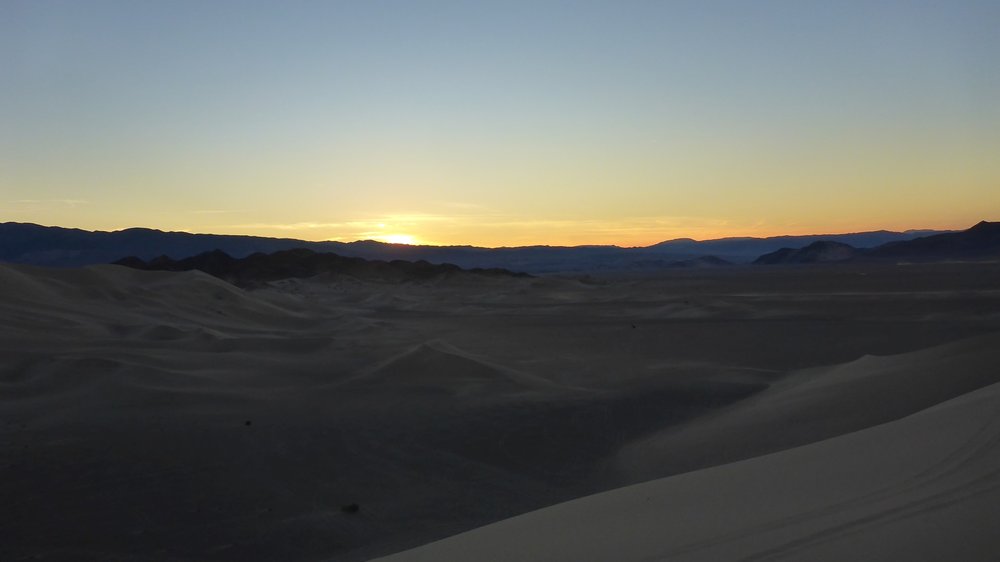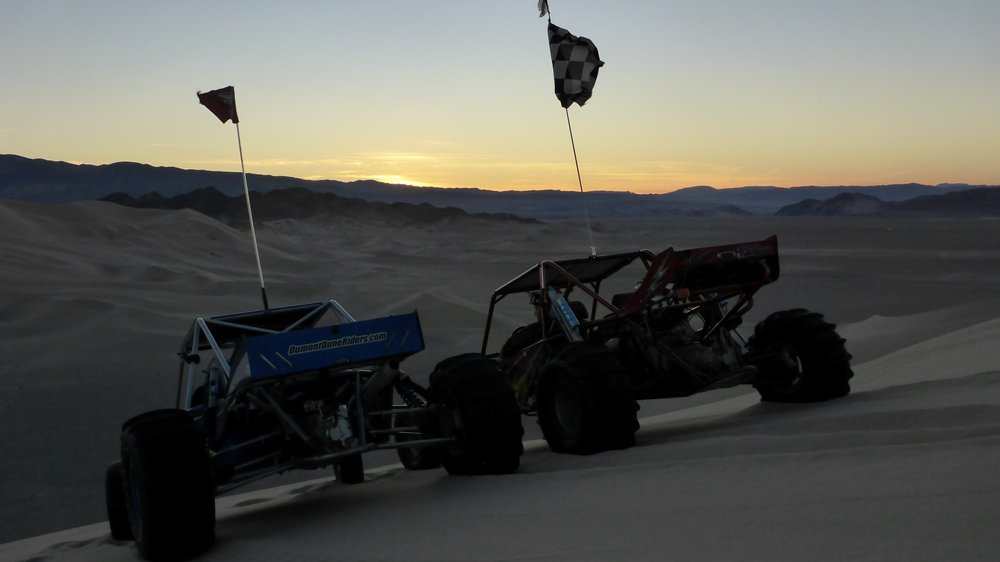 Friday morning camp had started to grow as everyone arrived and got ready for a morning dune run.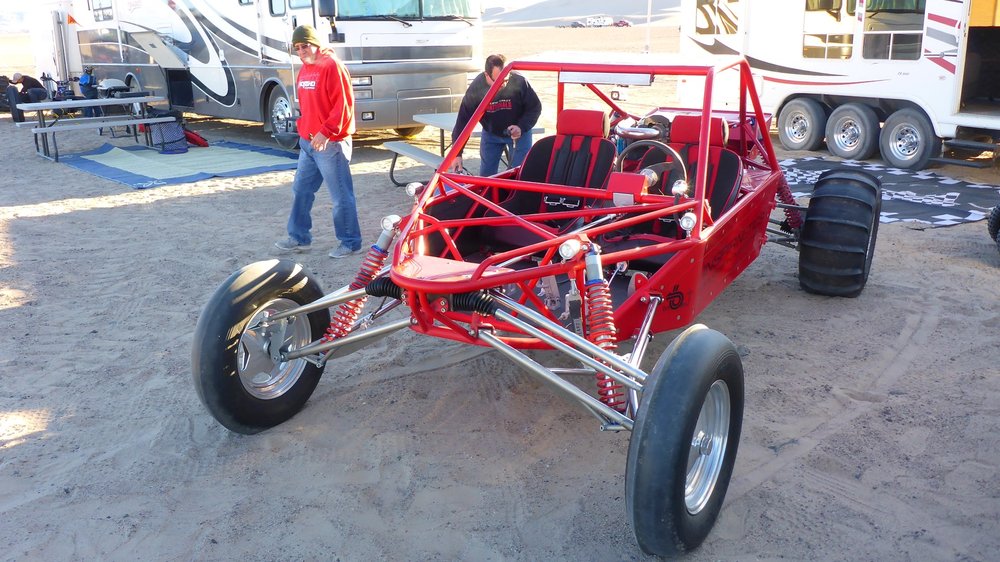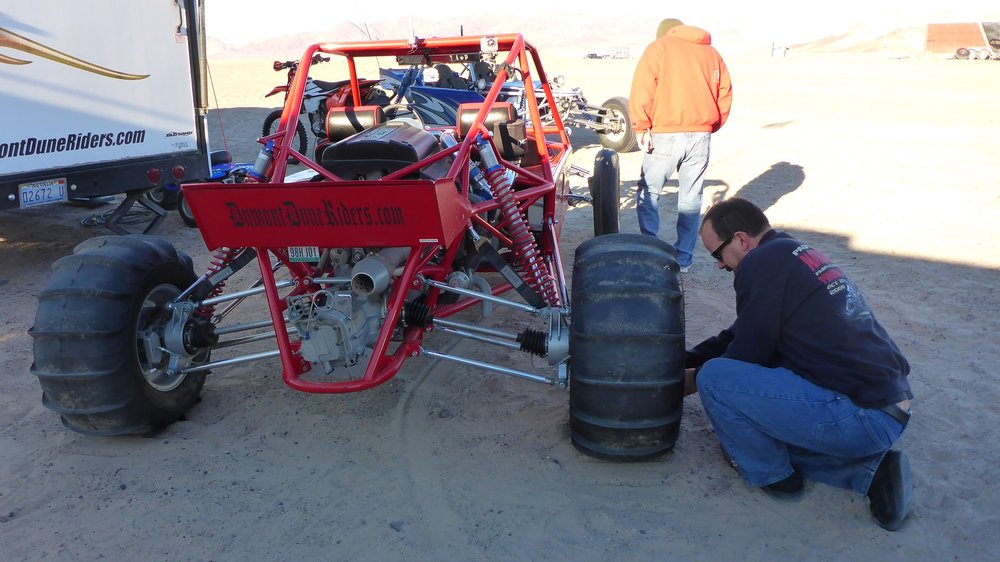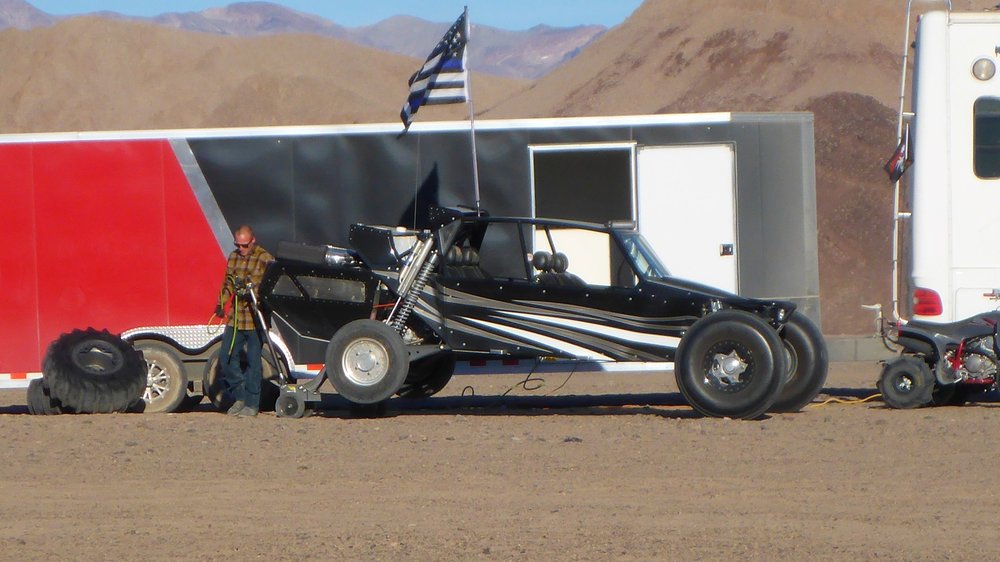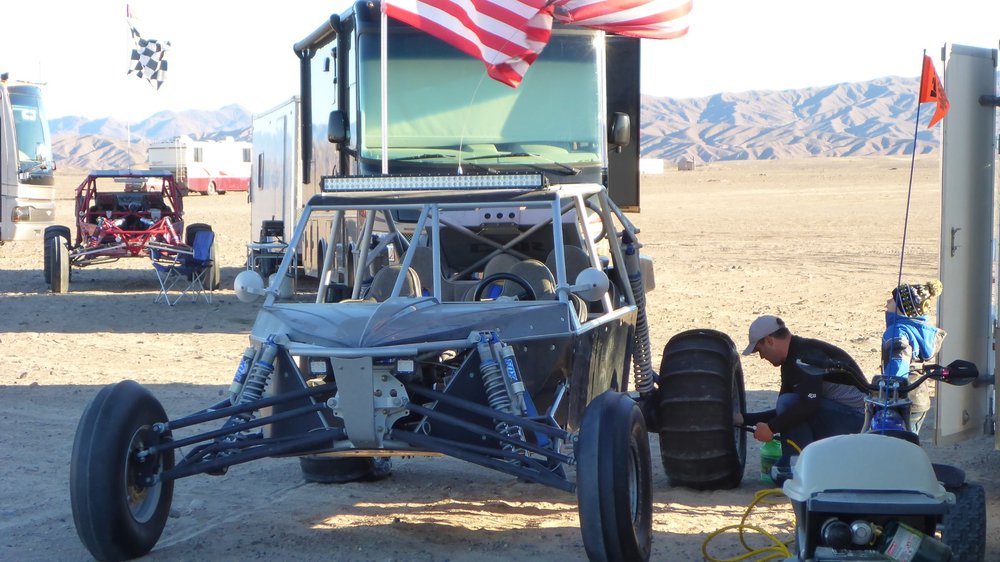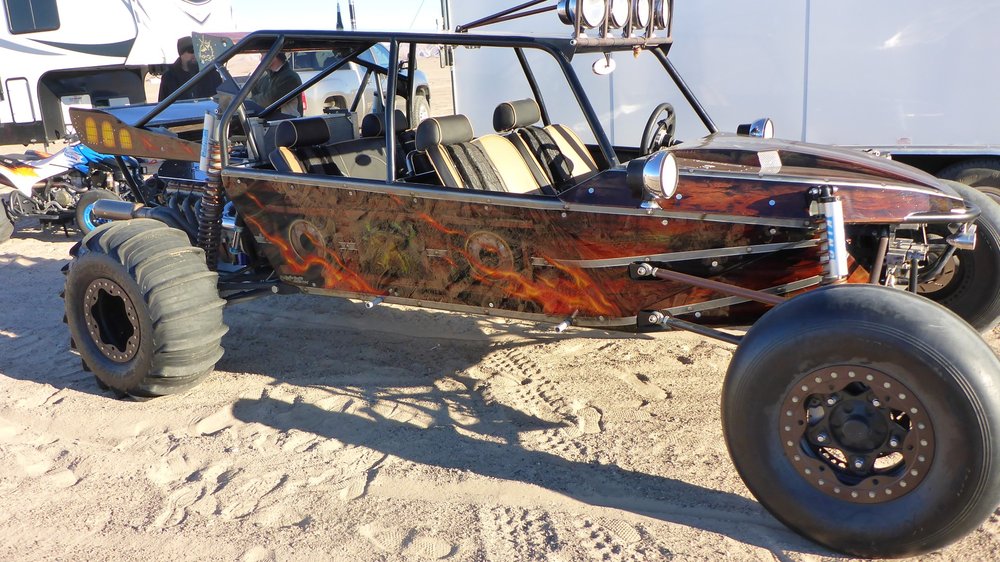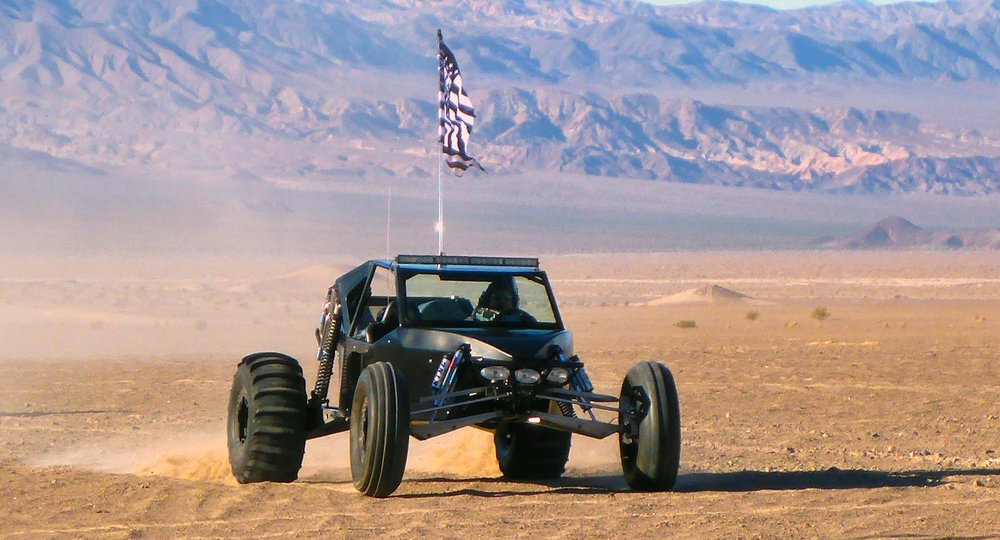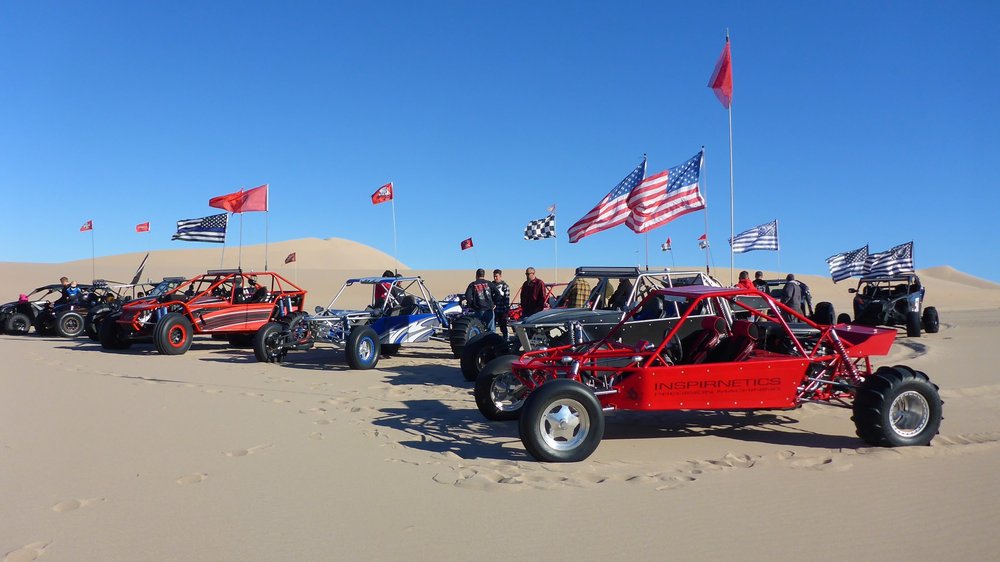 Friday afternoon camp grew larger as more cars arrived and we hung, BS'd, etc.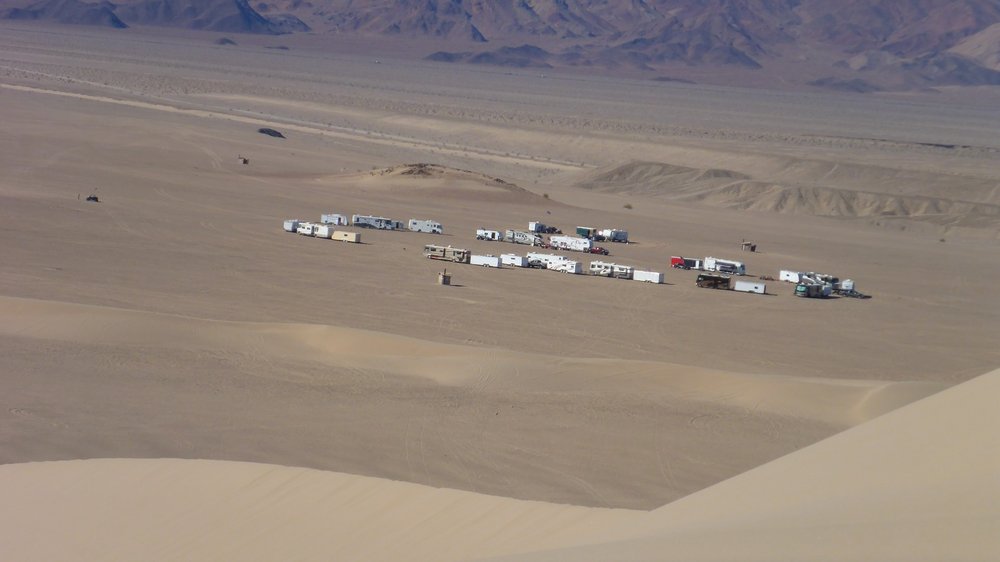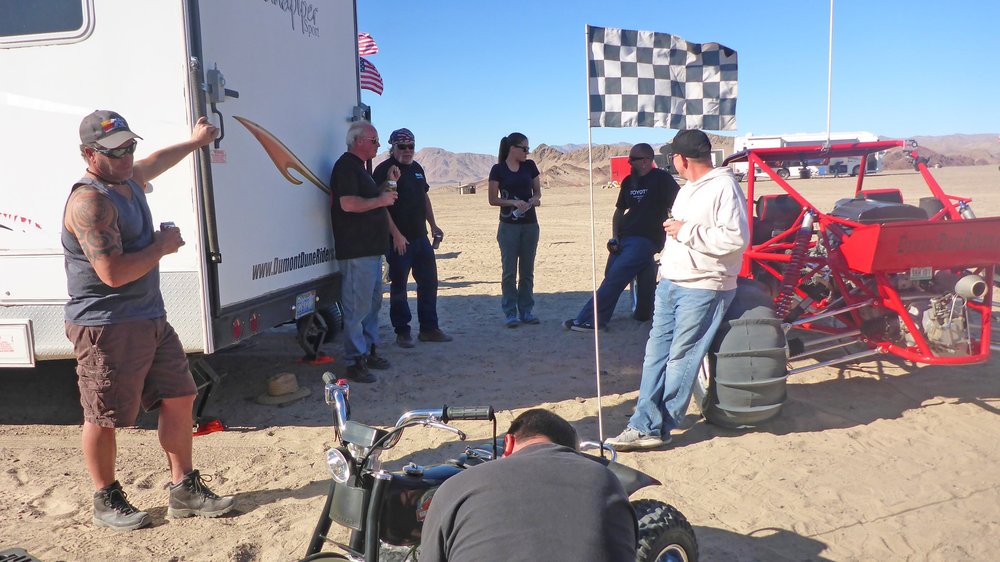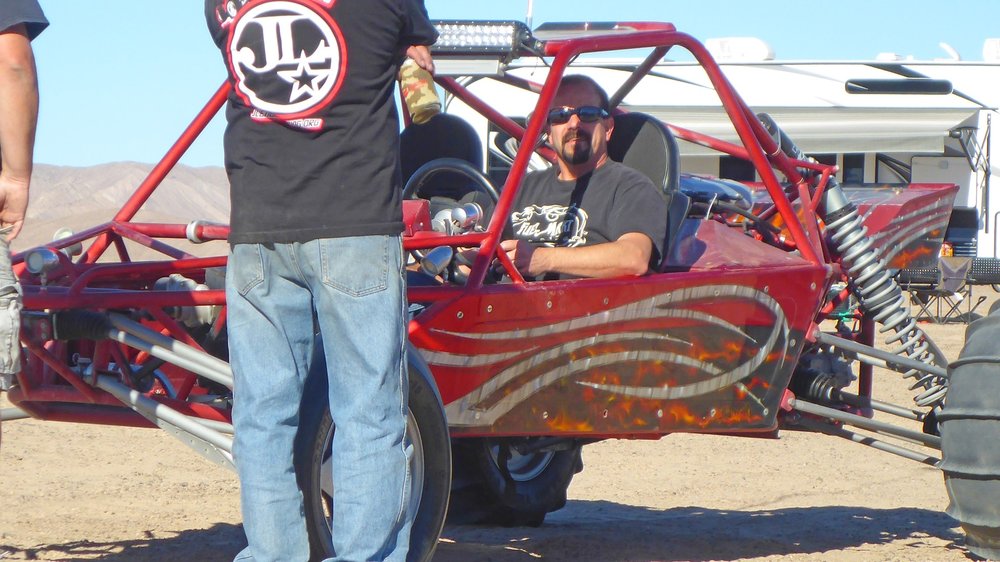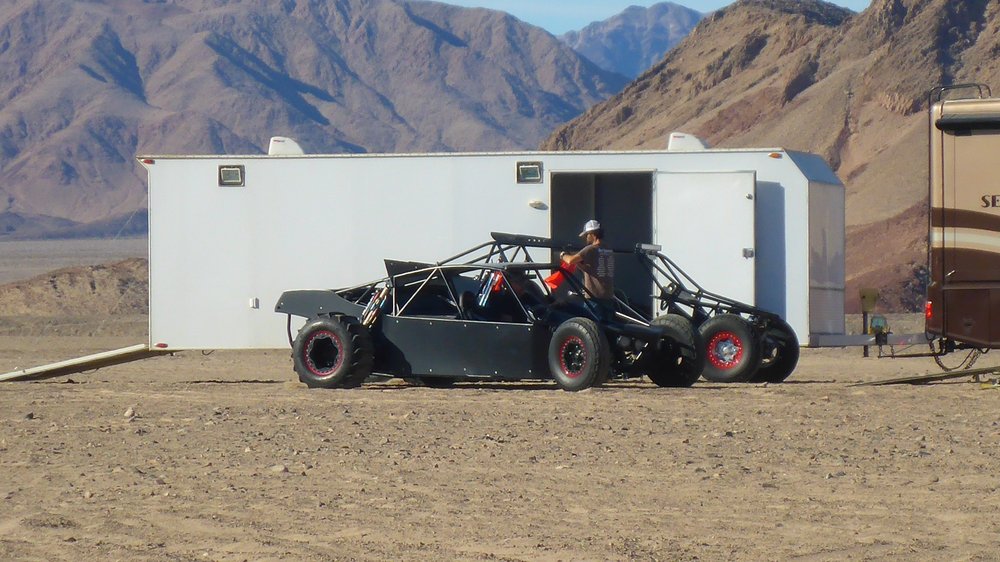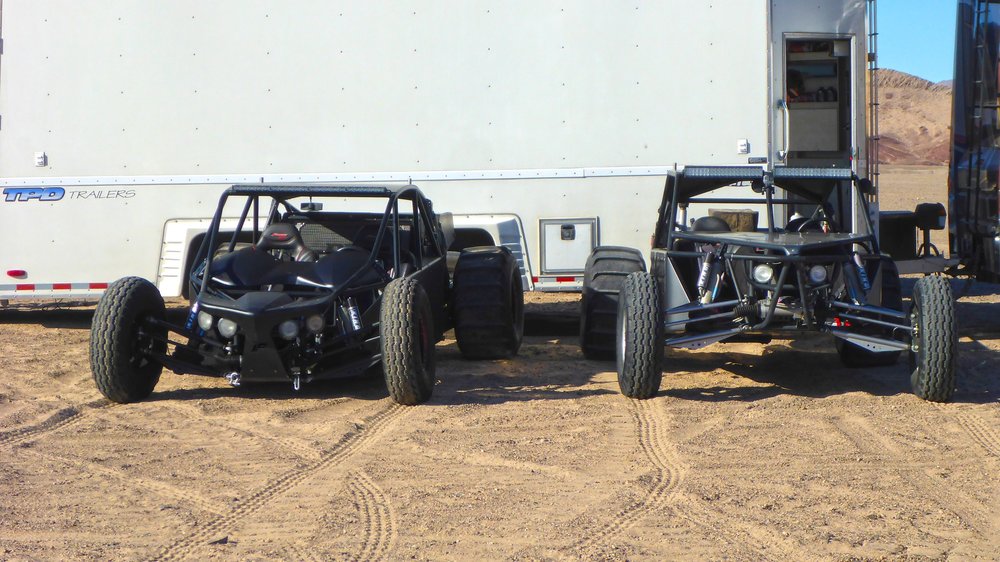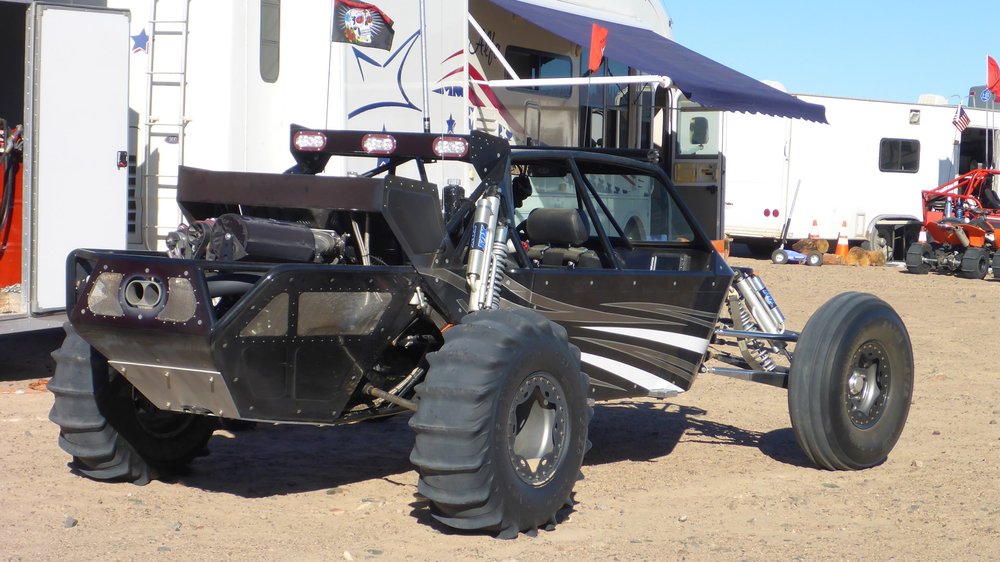 We headed out for a late day dune run.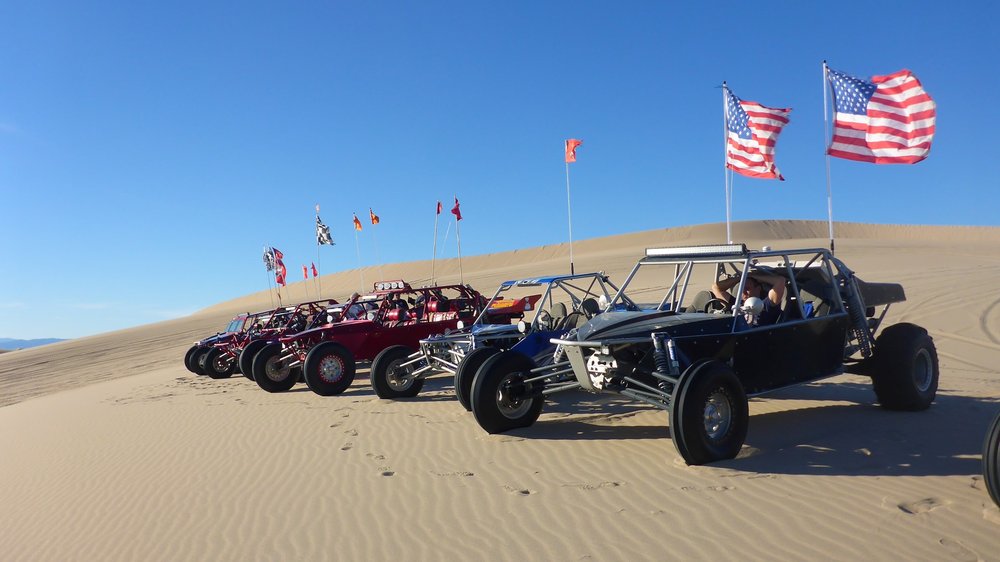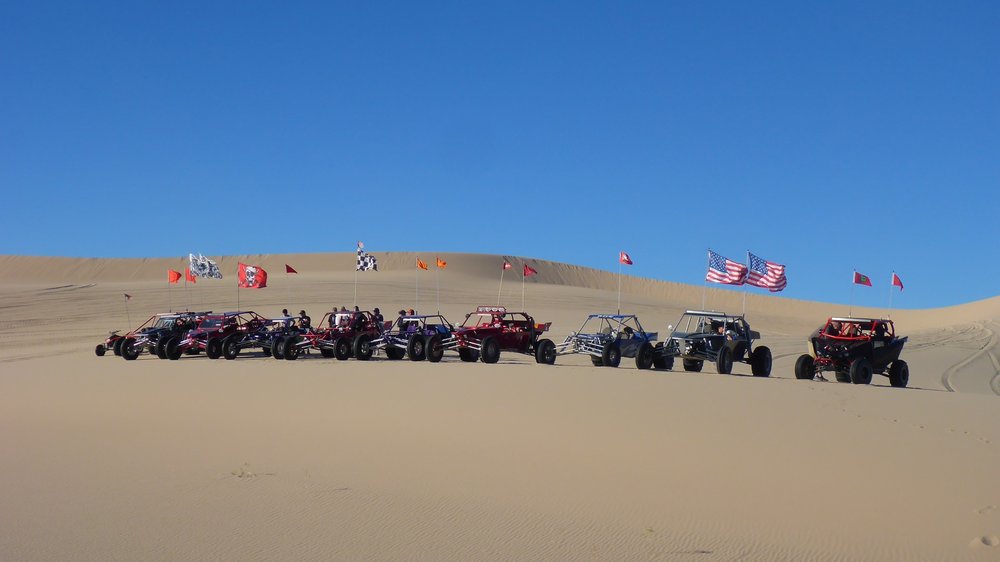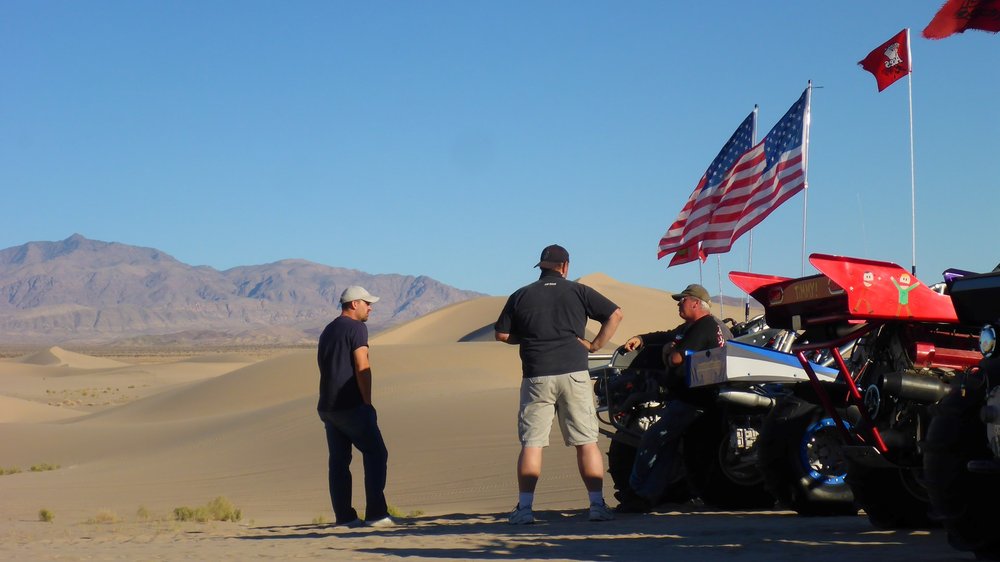 Tim's wheel/ lugnut acorn washers decided to fail and he destroyed a rim. Luckily he had dirt tires to put on so he could still run afterwards.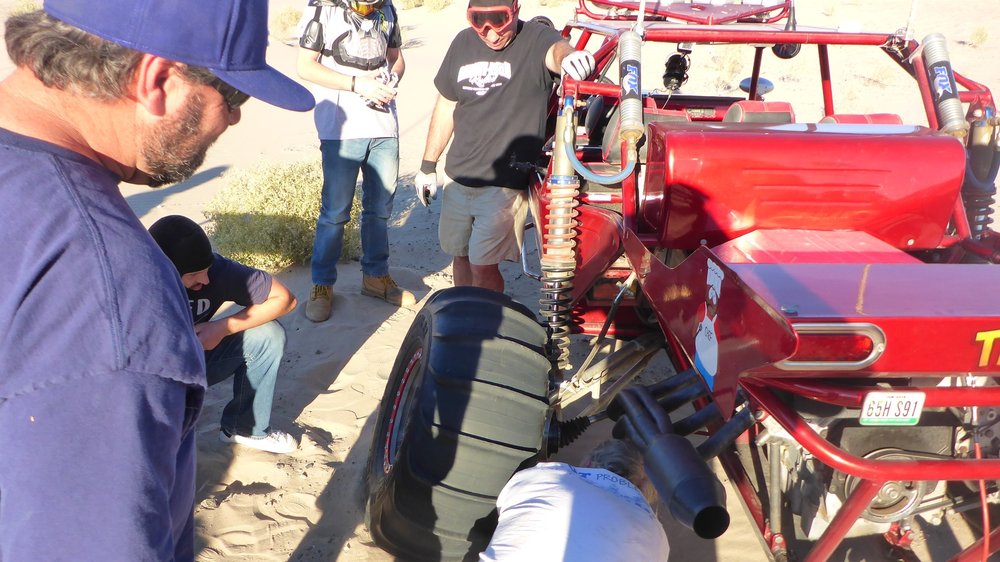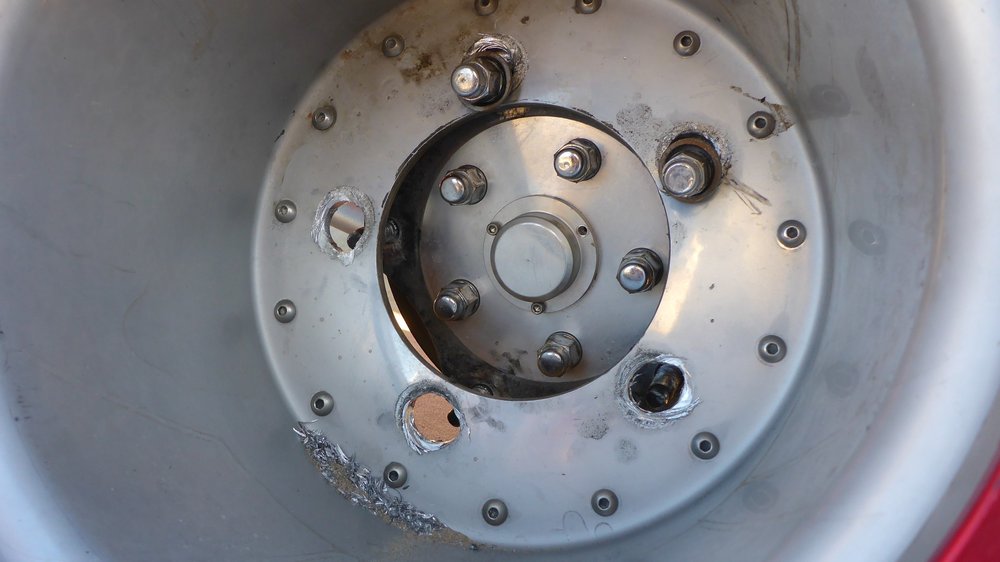 I took the 500 out for another spin.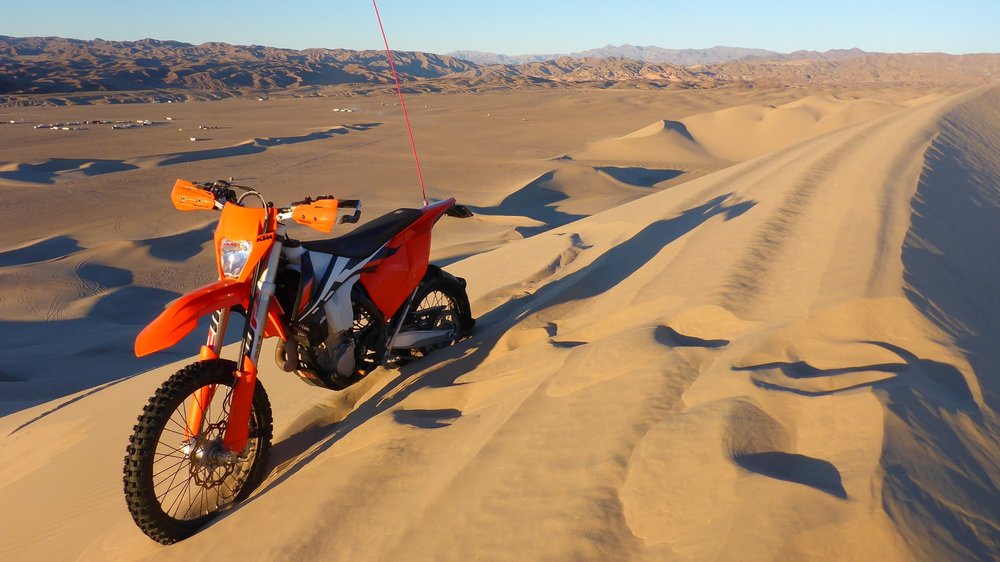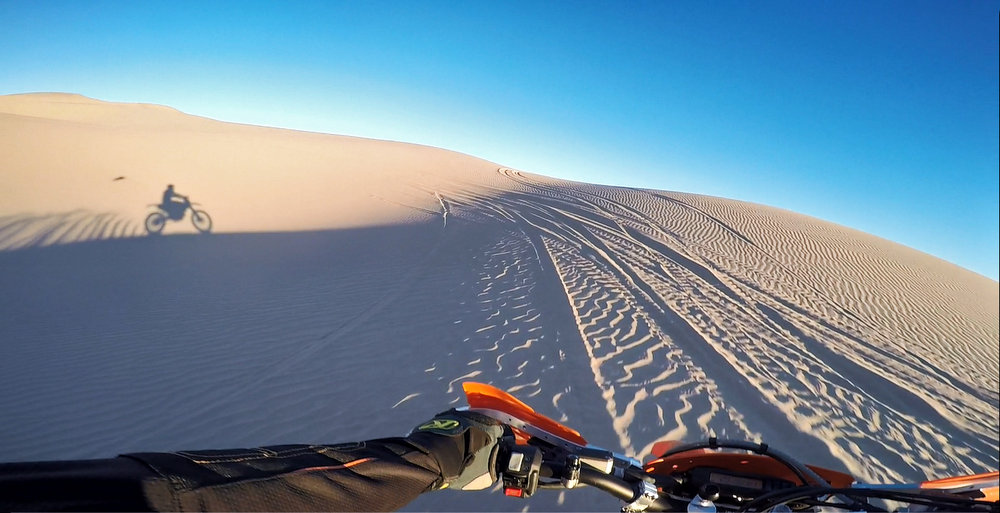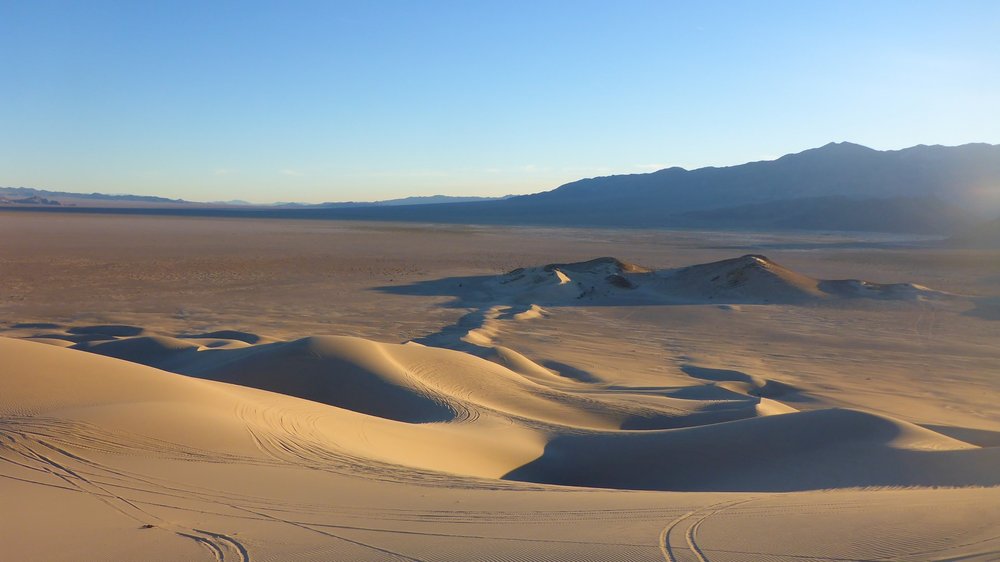 Sandy the elf, once again, made an appearance this year and came out to party.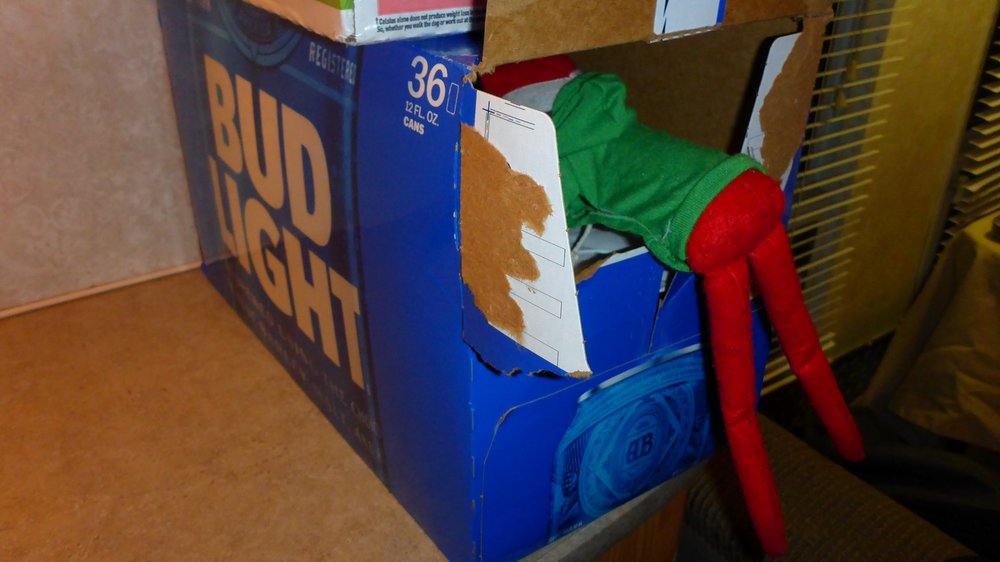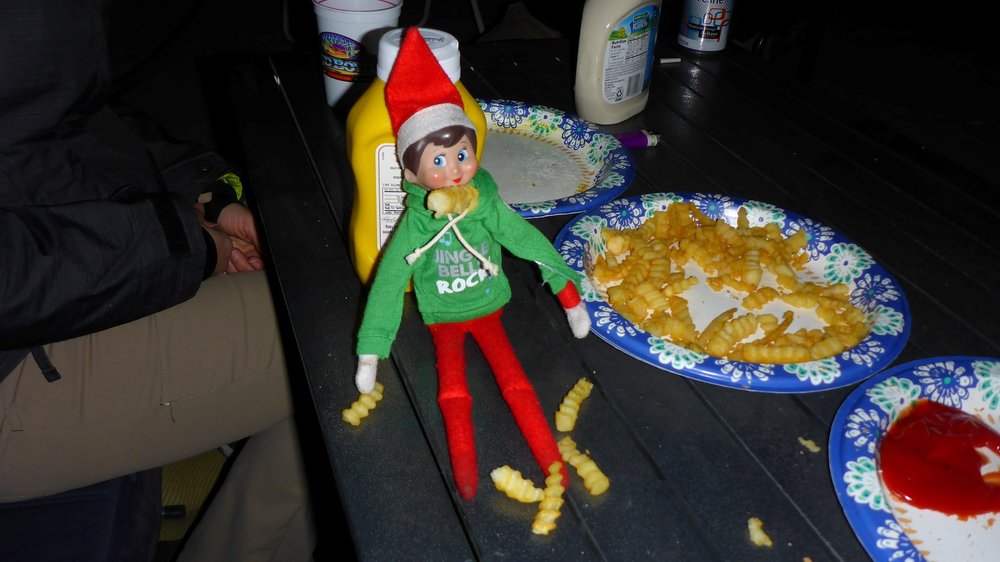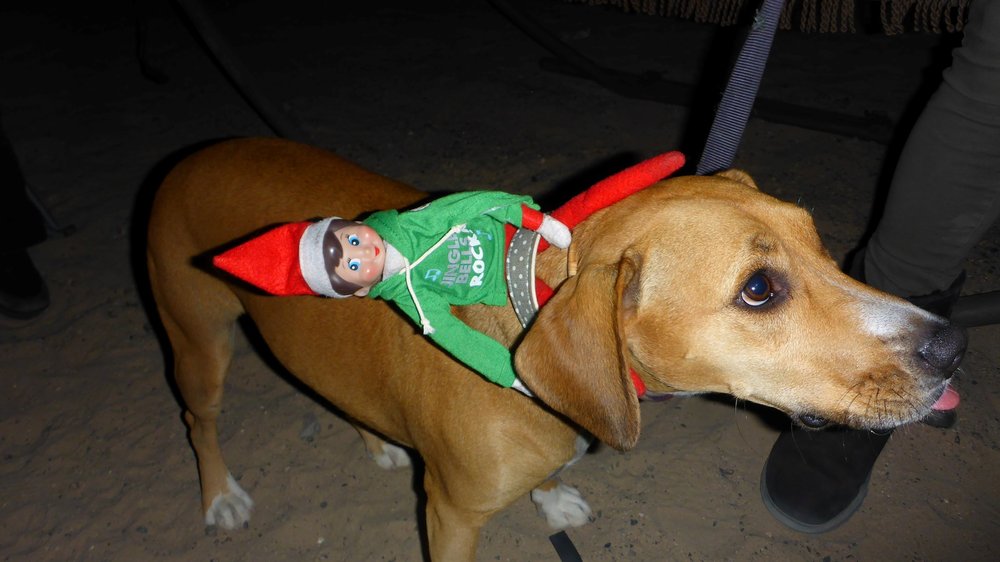 I turned in early Friday night after a few beers and socializing. I wanted to be charged up for Saturday.
Saturday morning we took a dune run to the North Pole.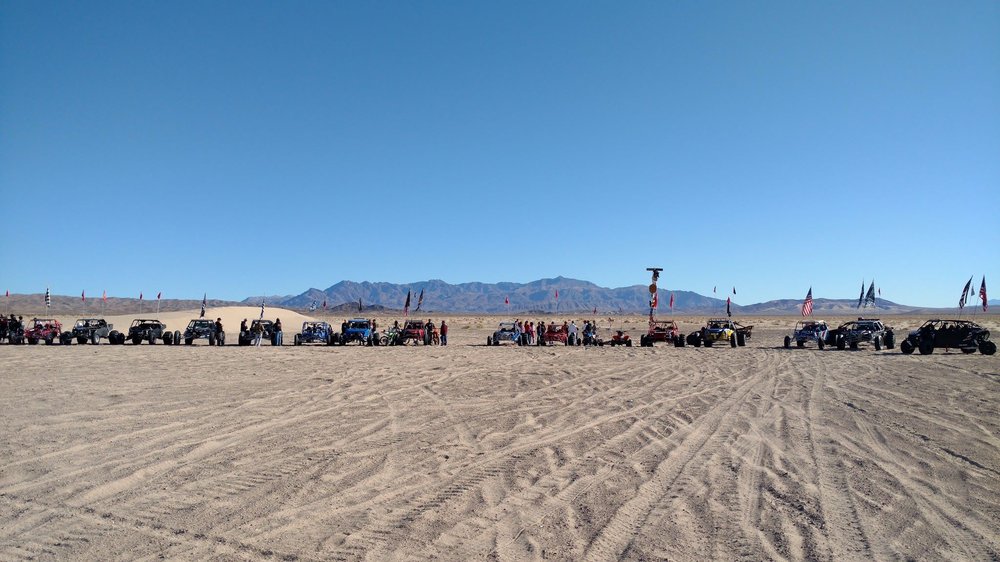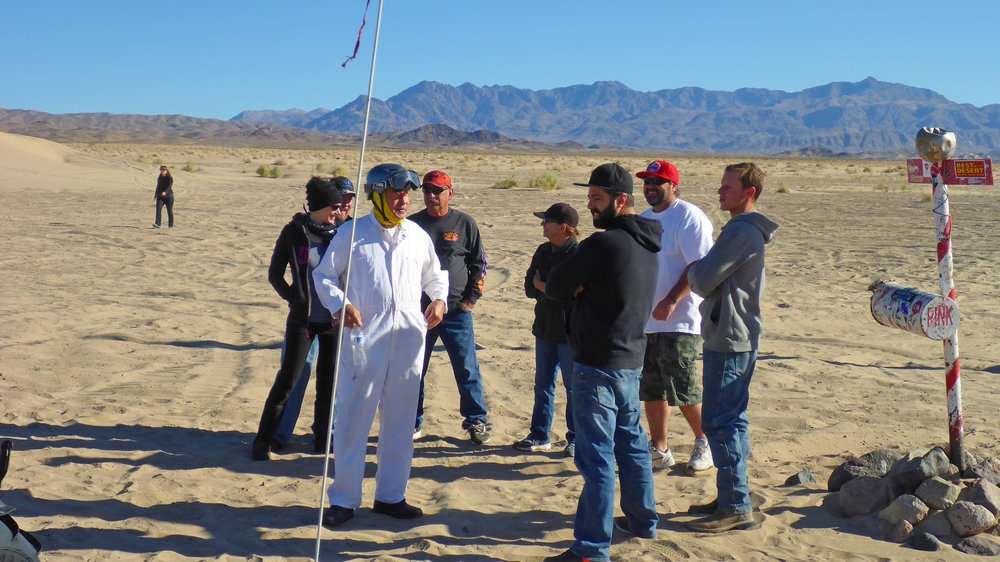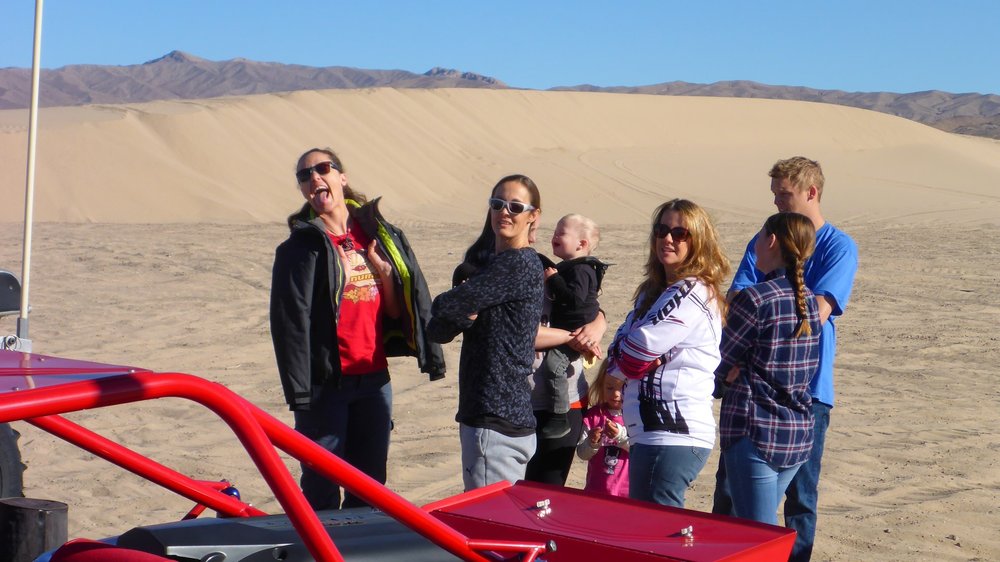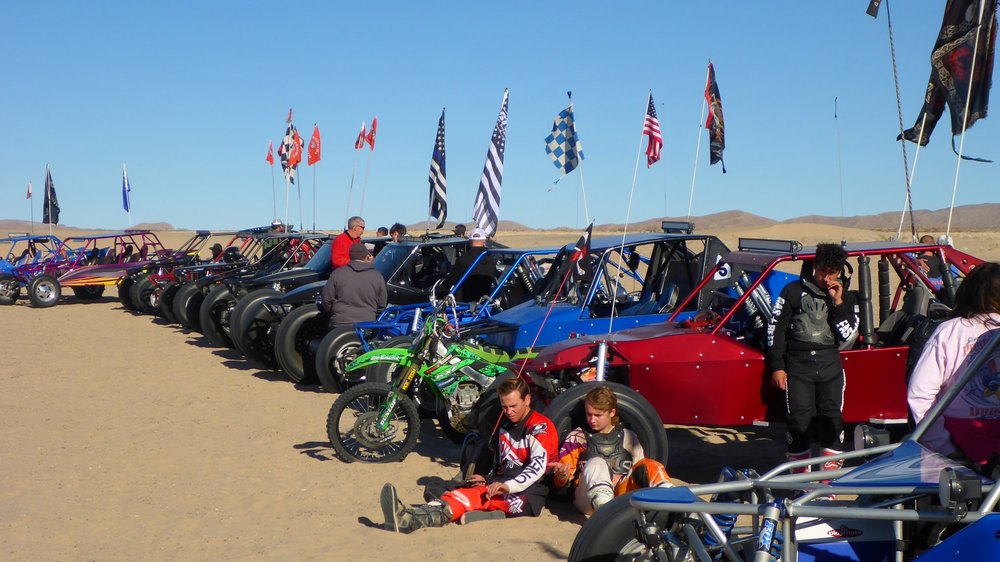 Lou tested out our hammock. Can you blame him?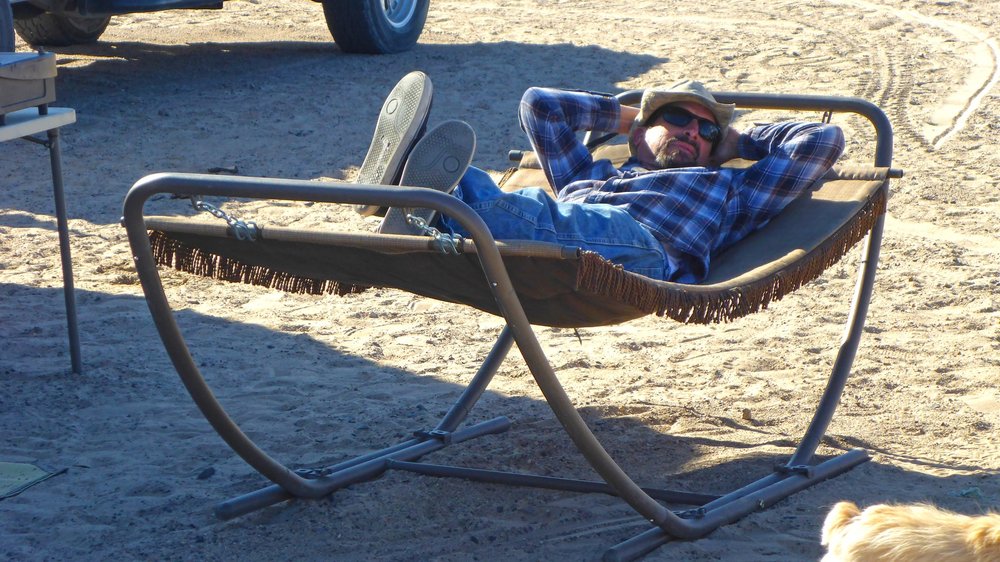 Just after lunch we brought out the scales and did a buggy weigh off.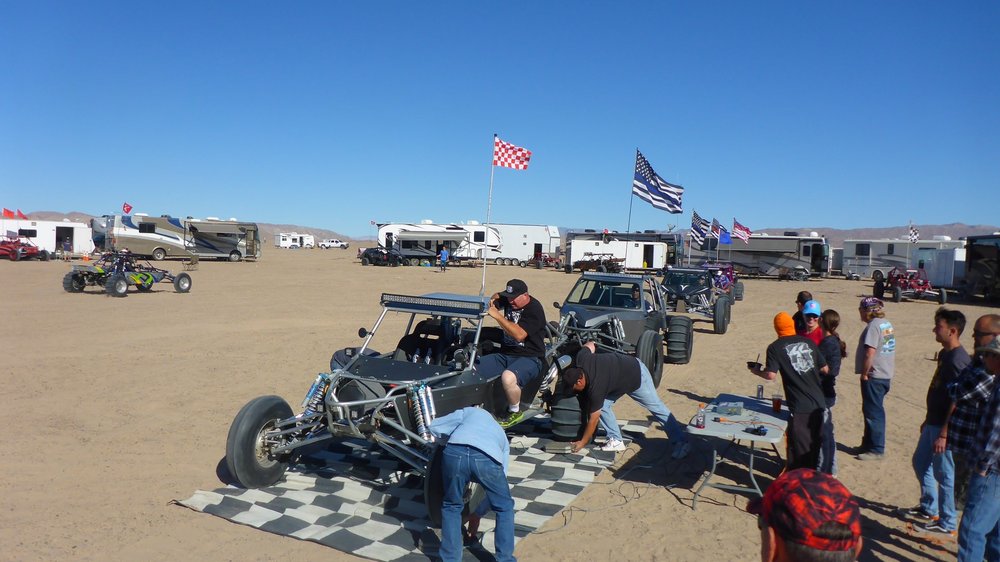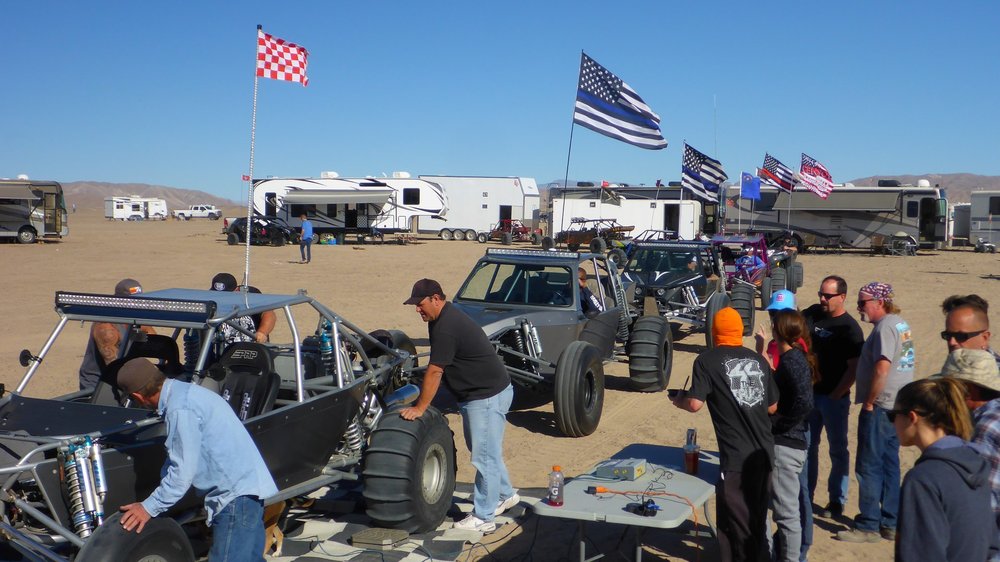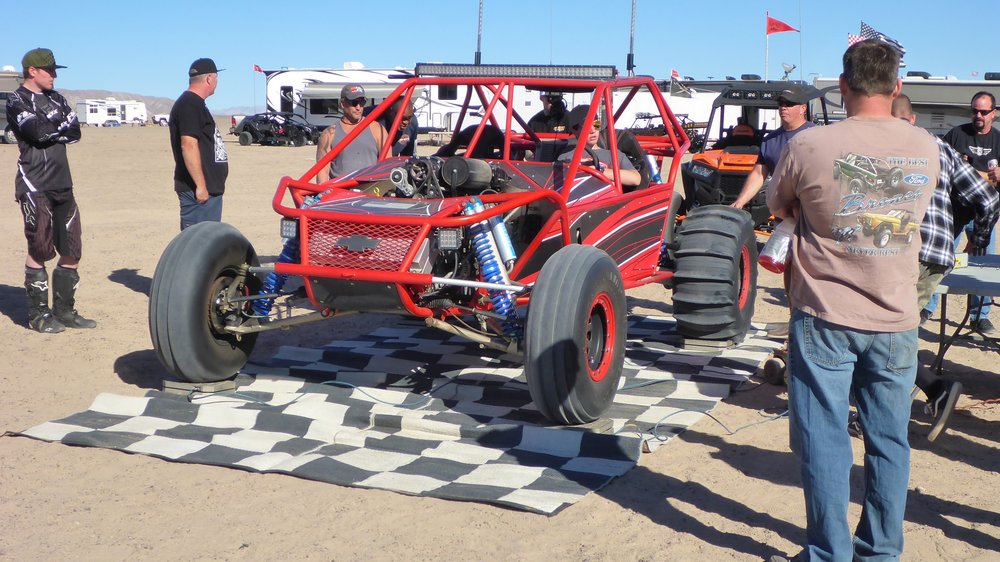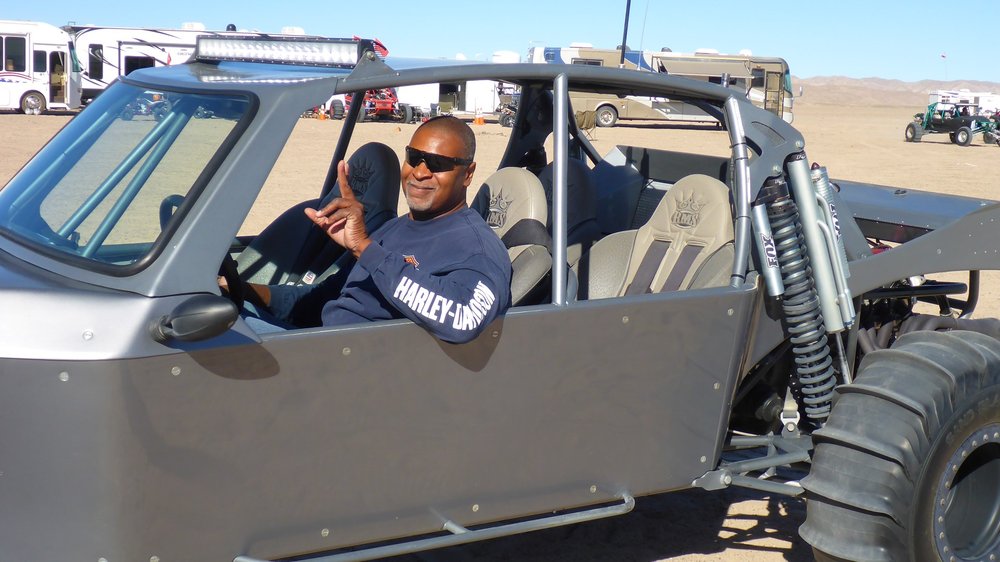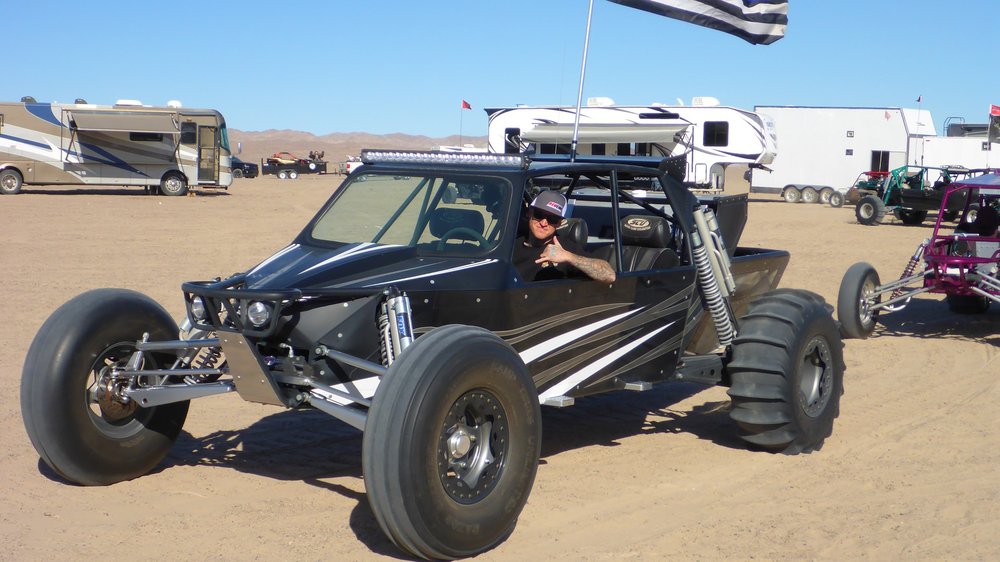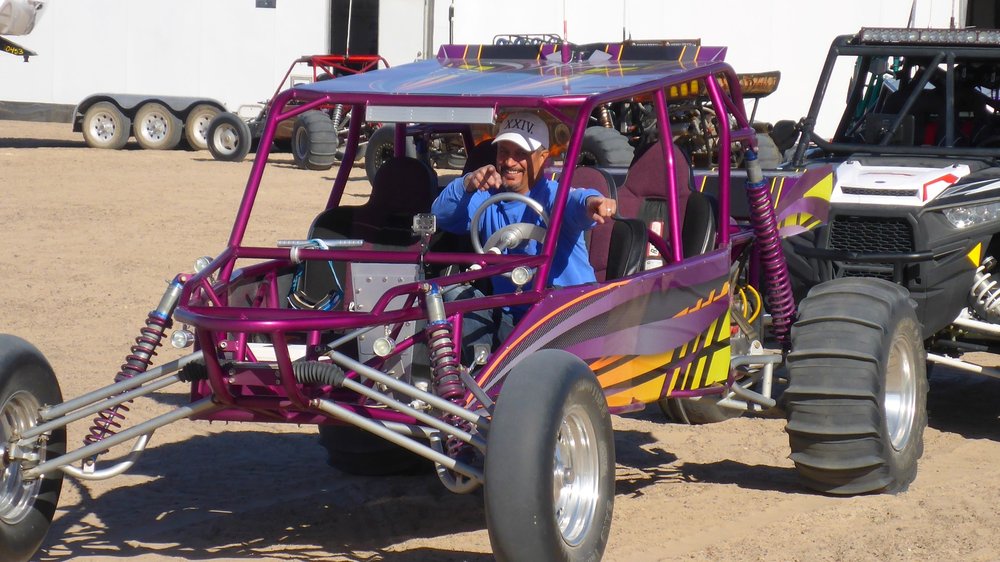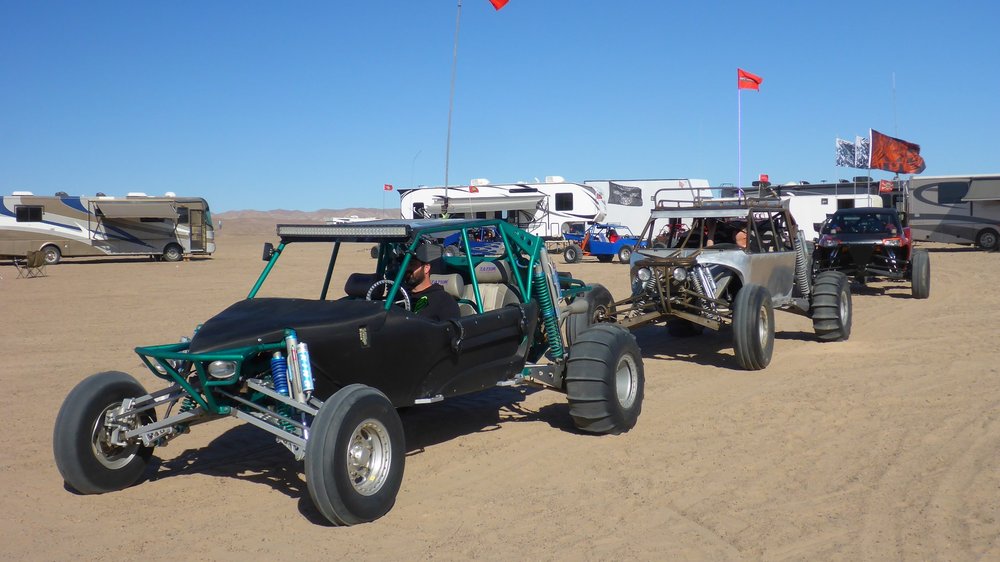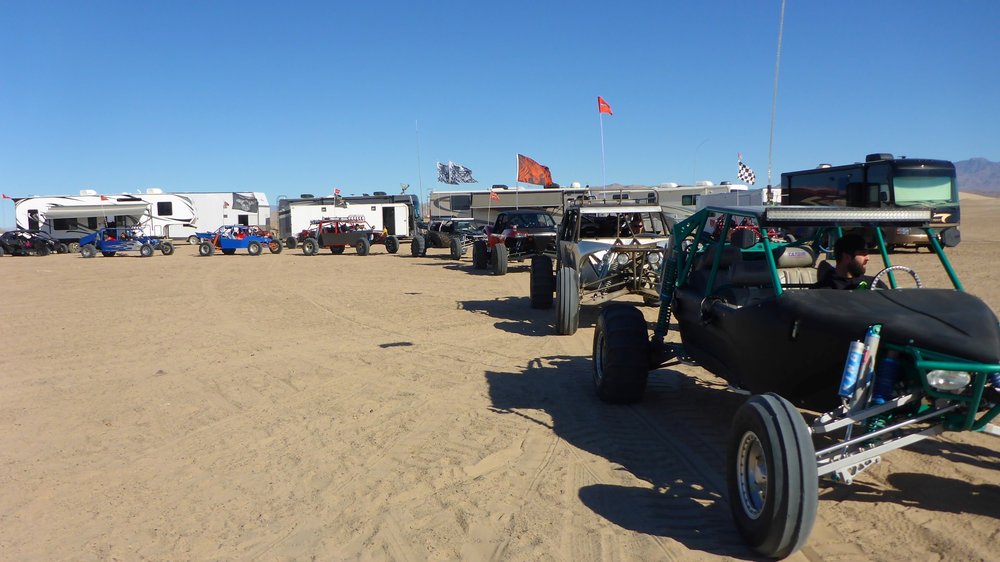 This was the coolest wheelchair I've ever seen. So of course we had to weigh it.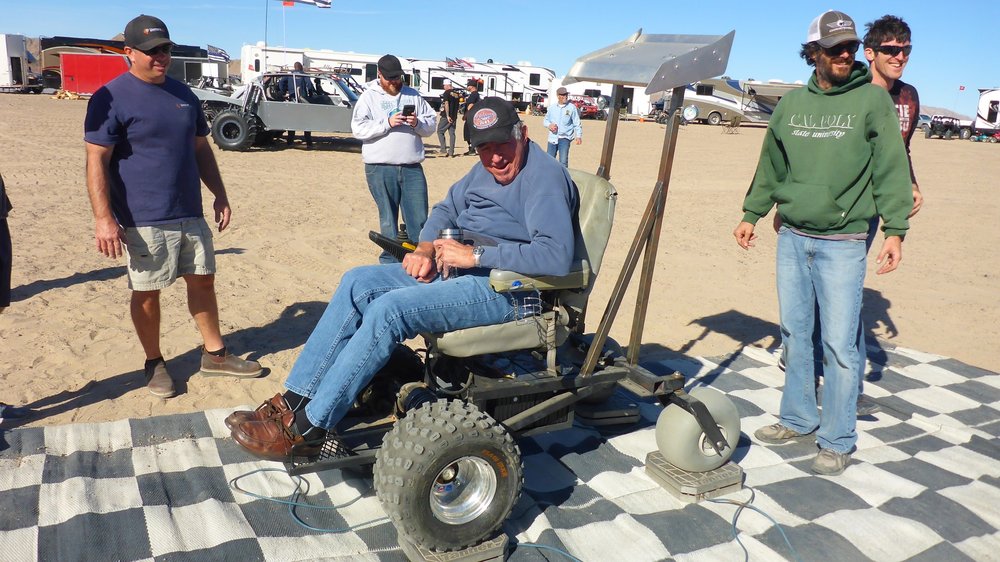 Sat afternoon we headed out for a group photo. Big thanks to Neal Rideout for getting the shot.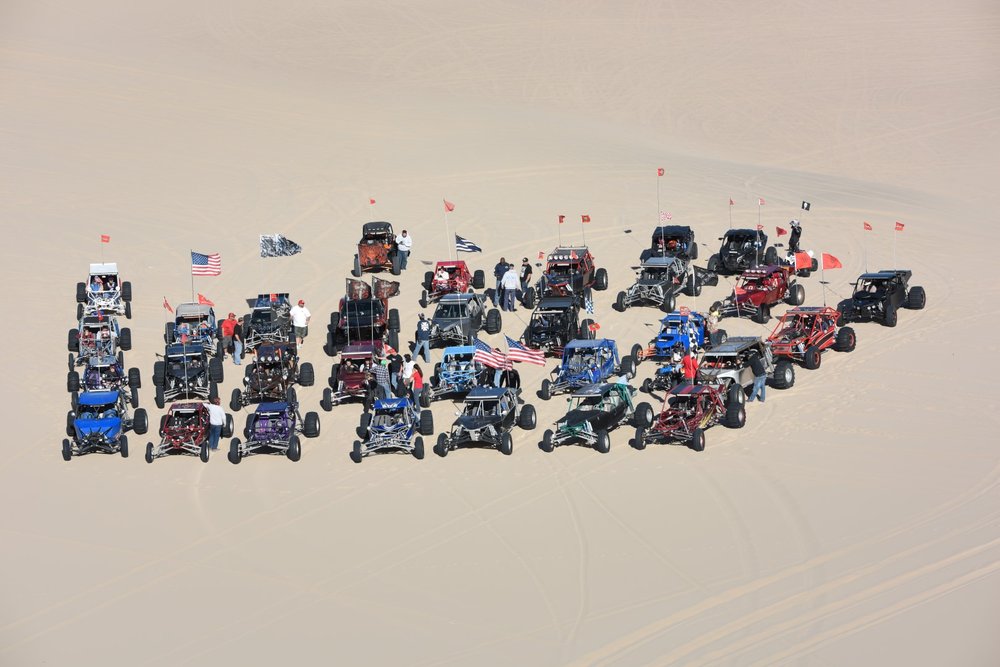 Then we went duning.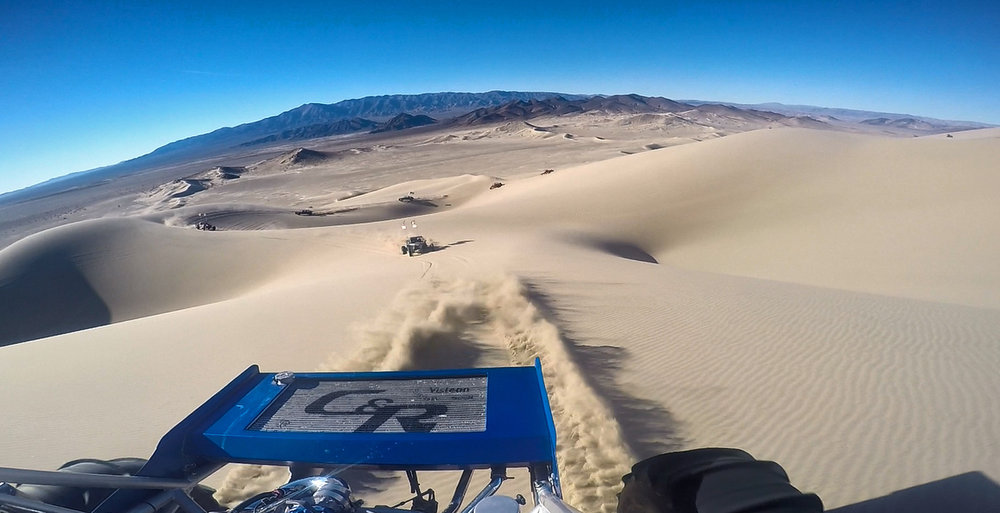 Neal captured this awesome shot!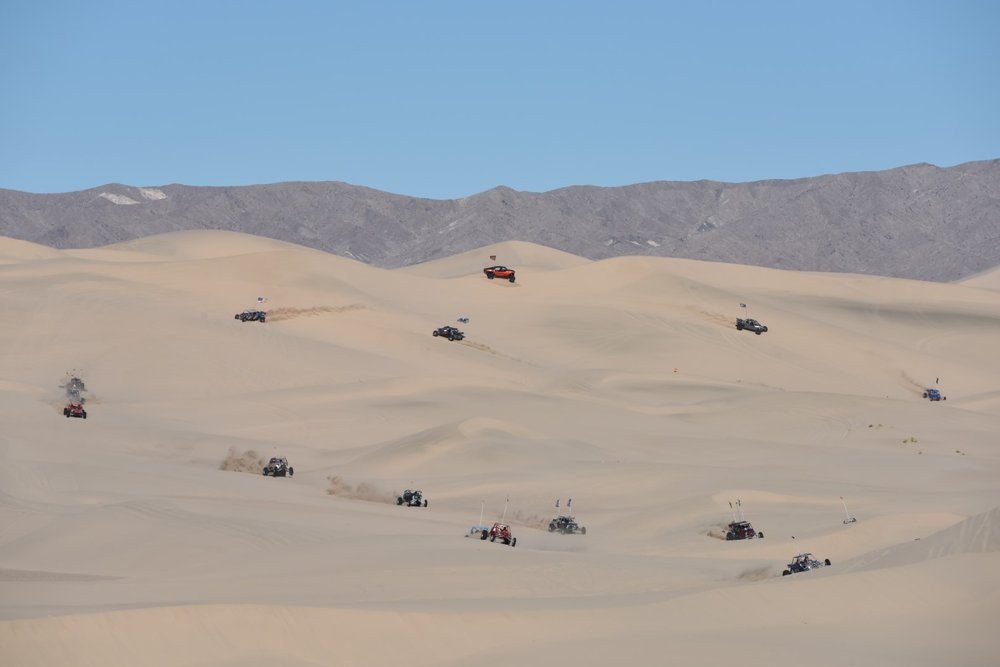 We stopped out near Talladega for a break.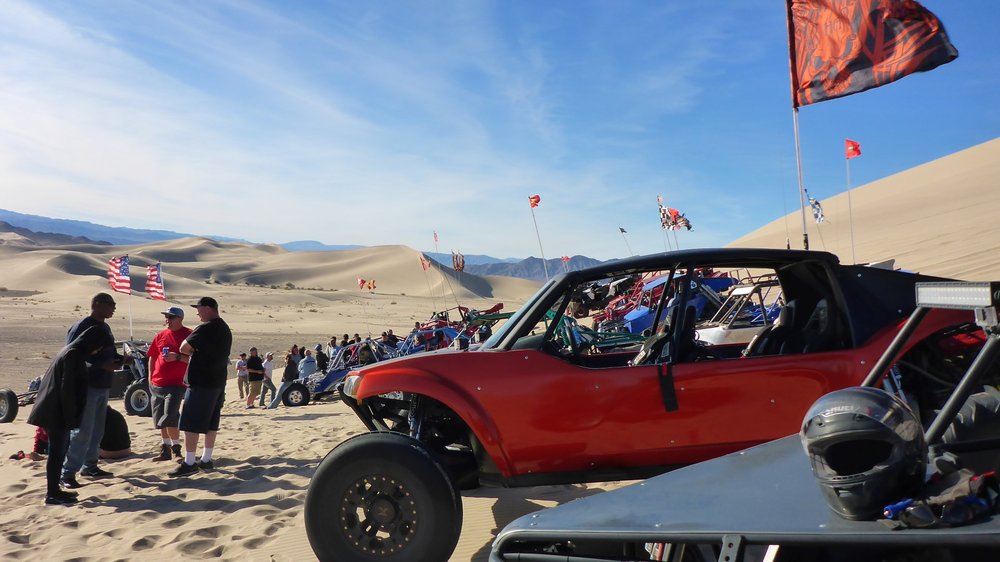 Then we headed over to "the jump" back behind comp area and a few guys went big, but nobody was feeling like getting crazy. A couple guys played around while Neal and I grabbed some shots.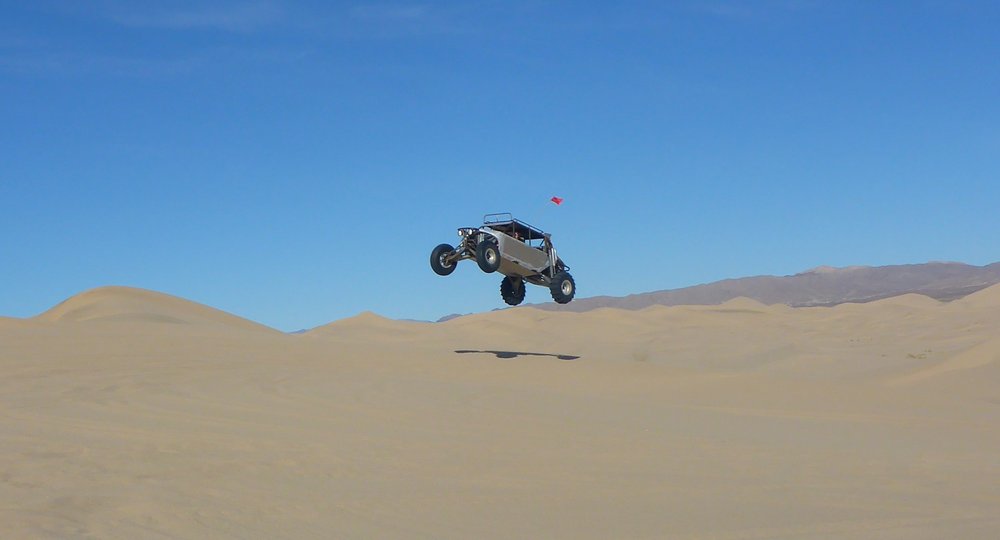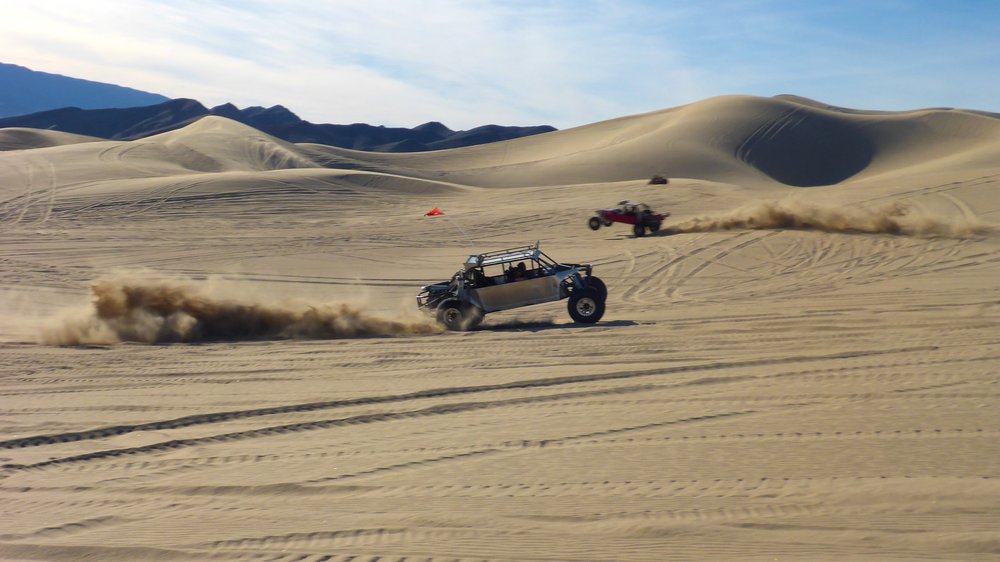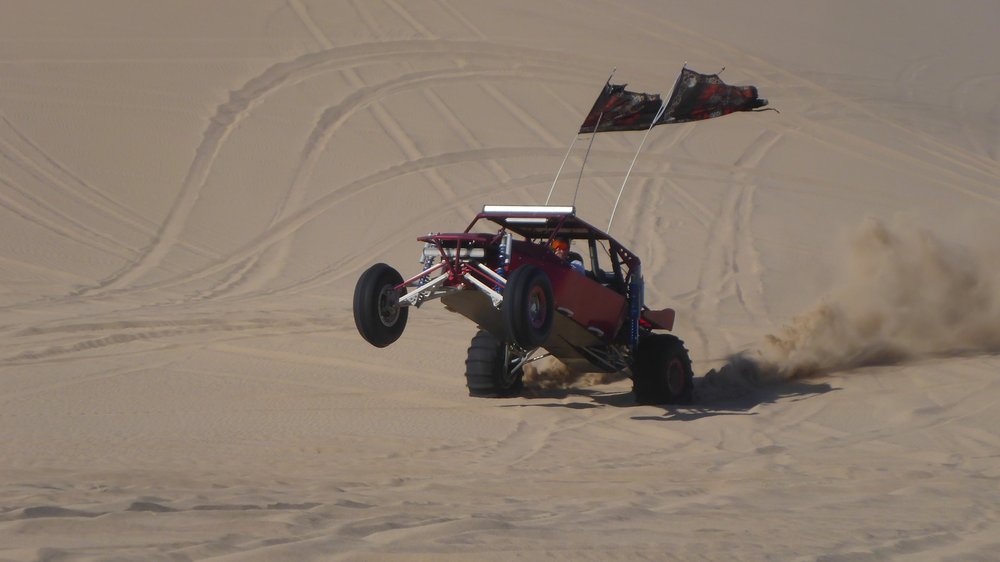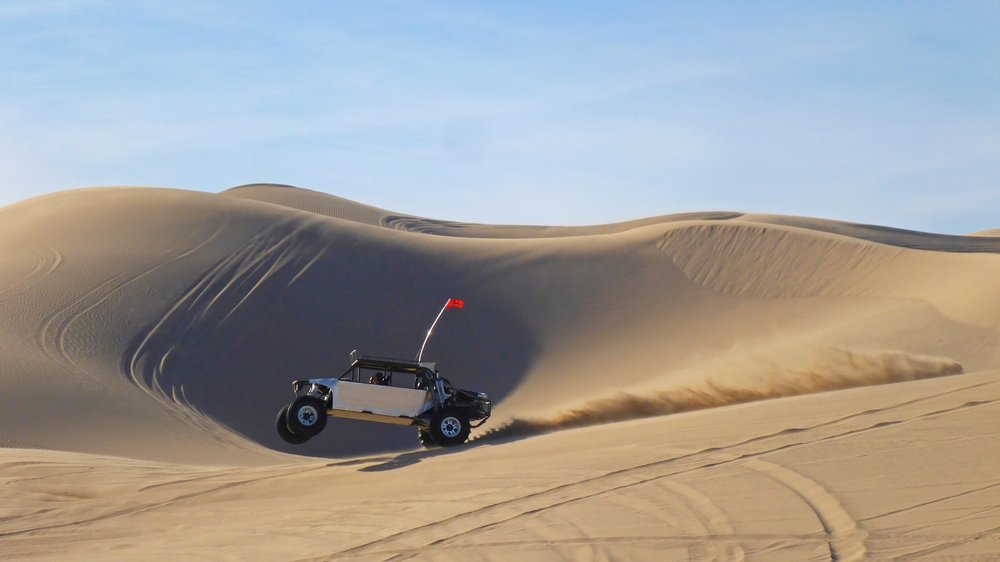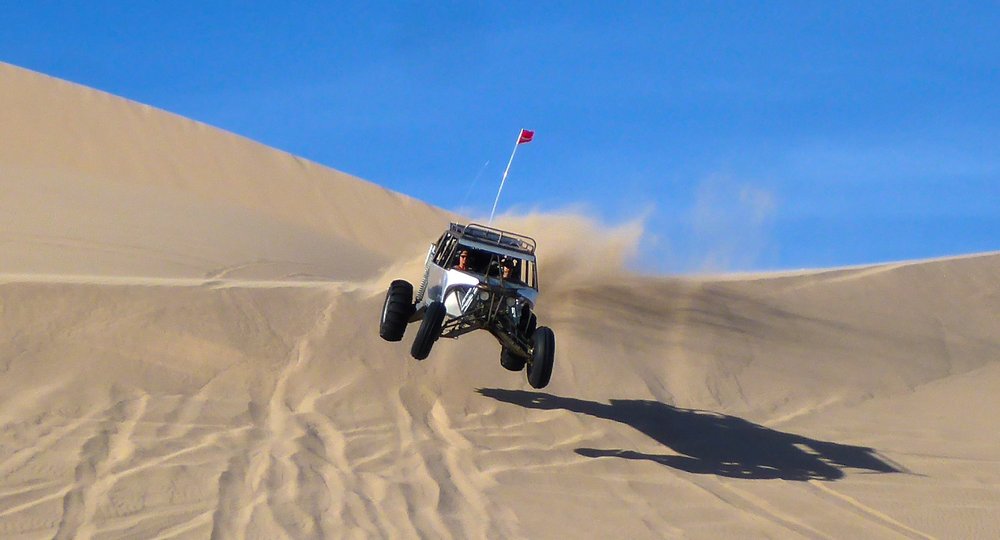 Later in the day we headed out for another run and stopped on the sunset hill.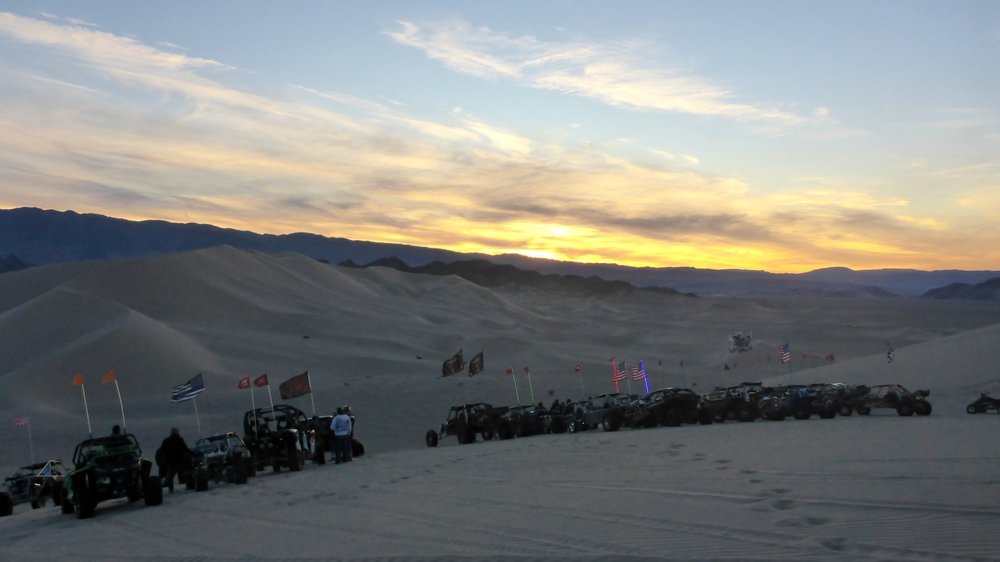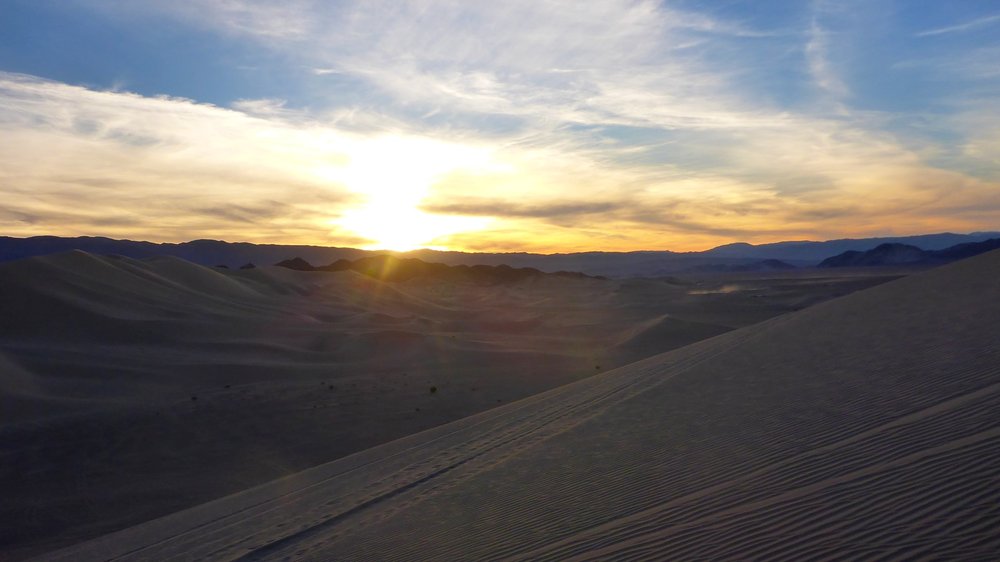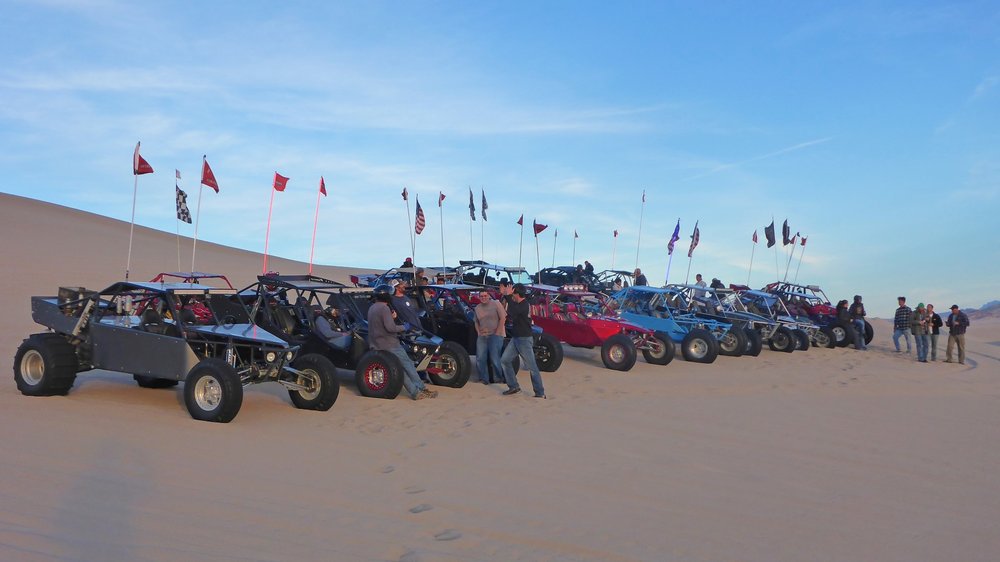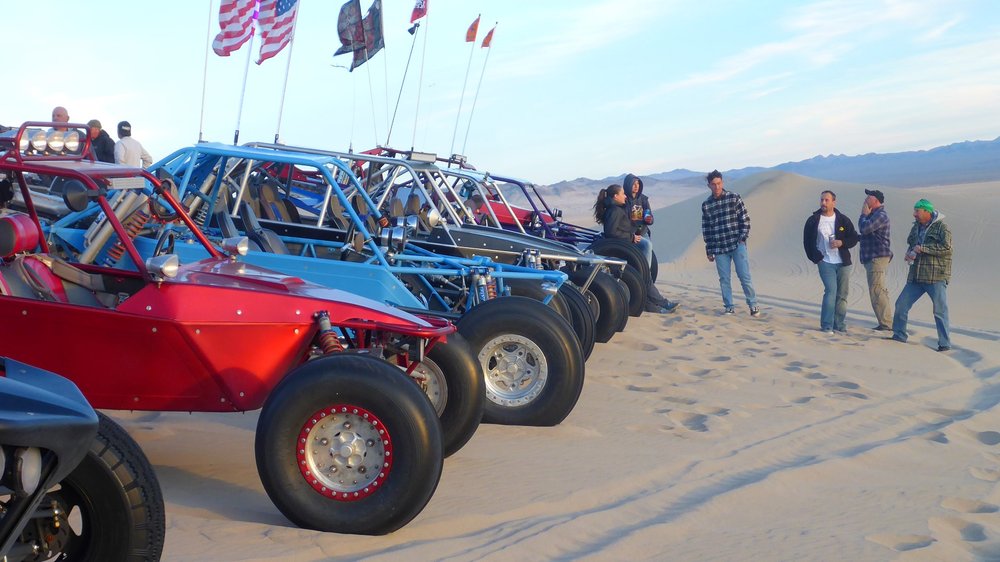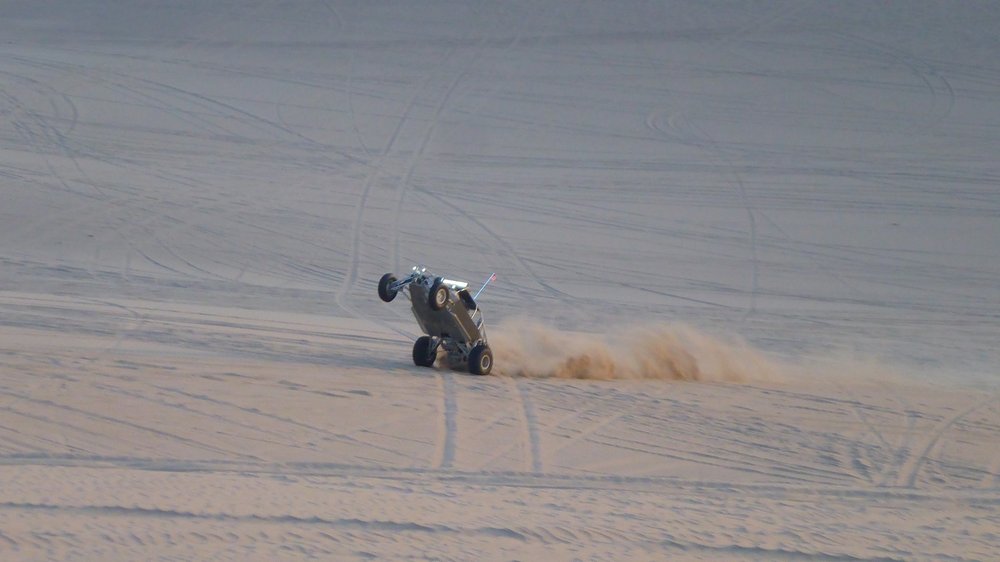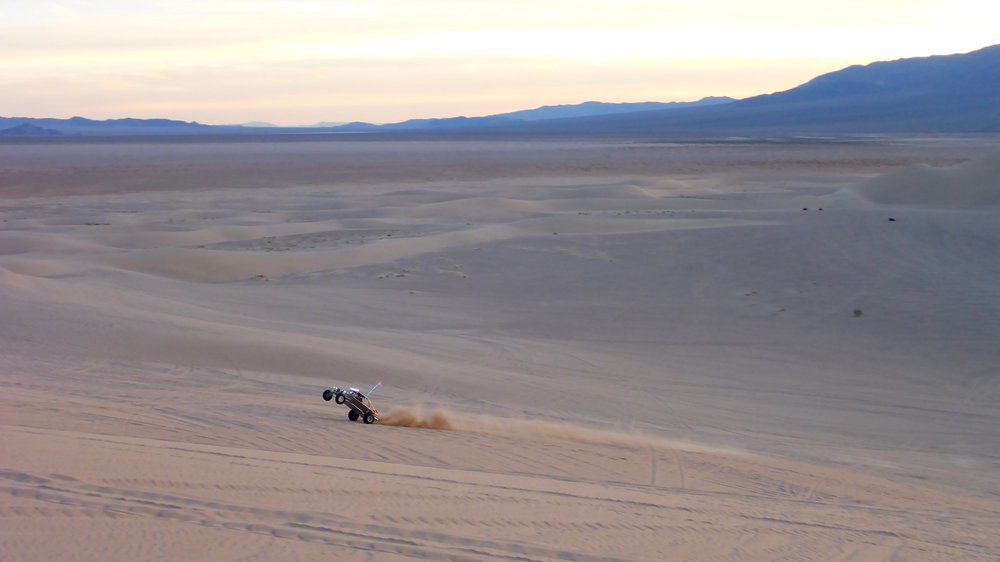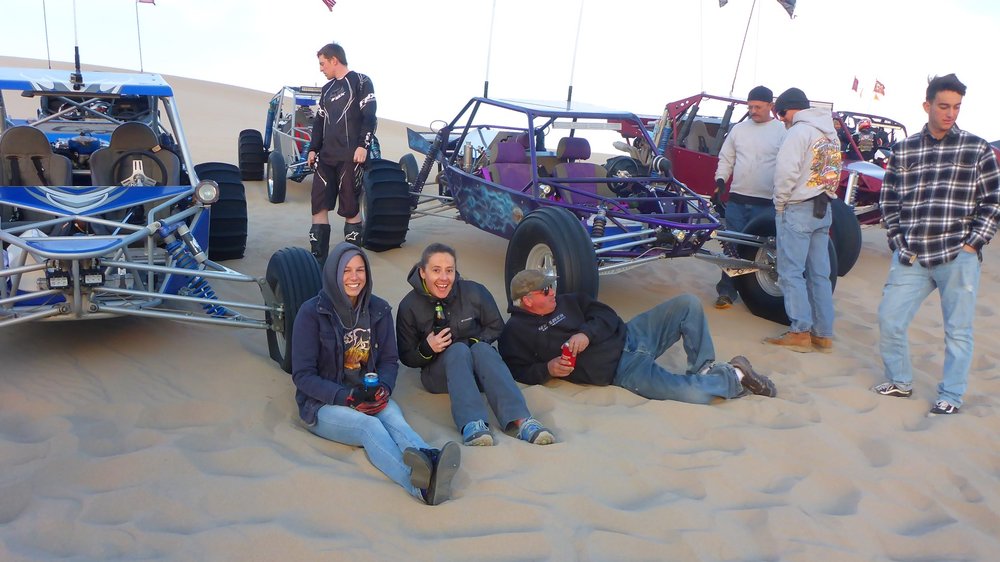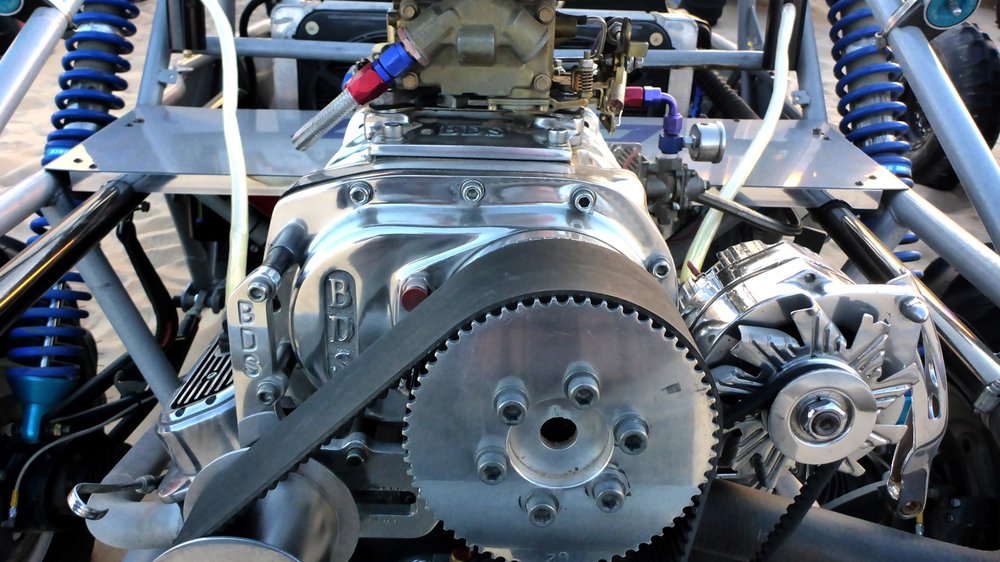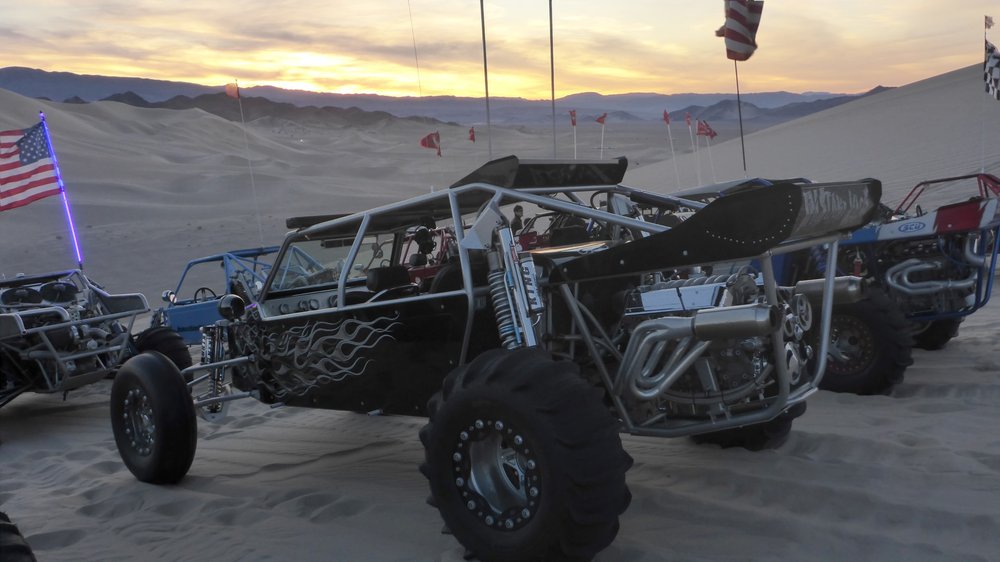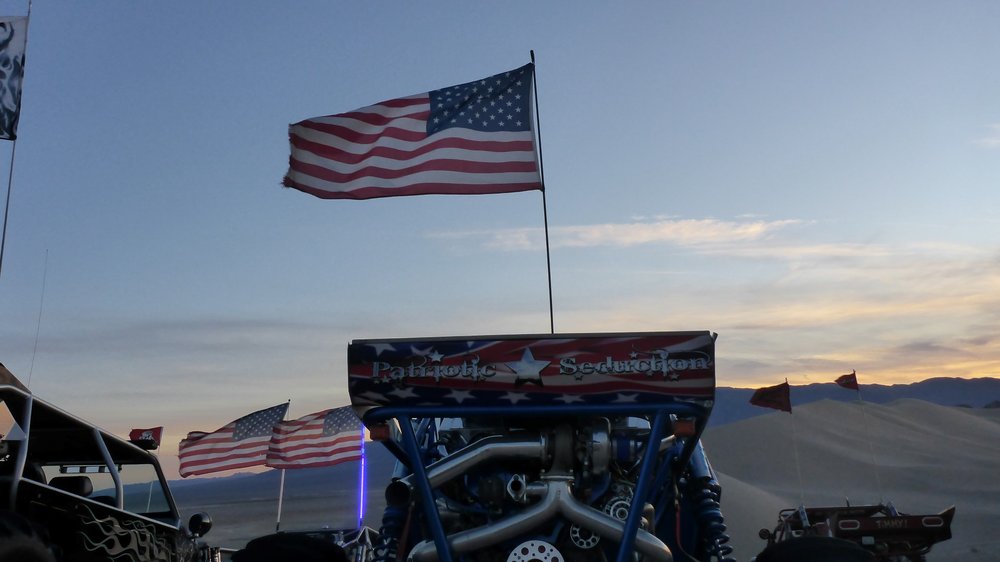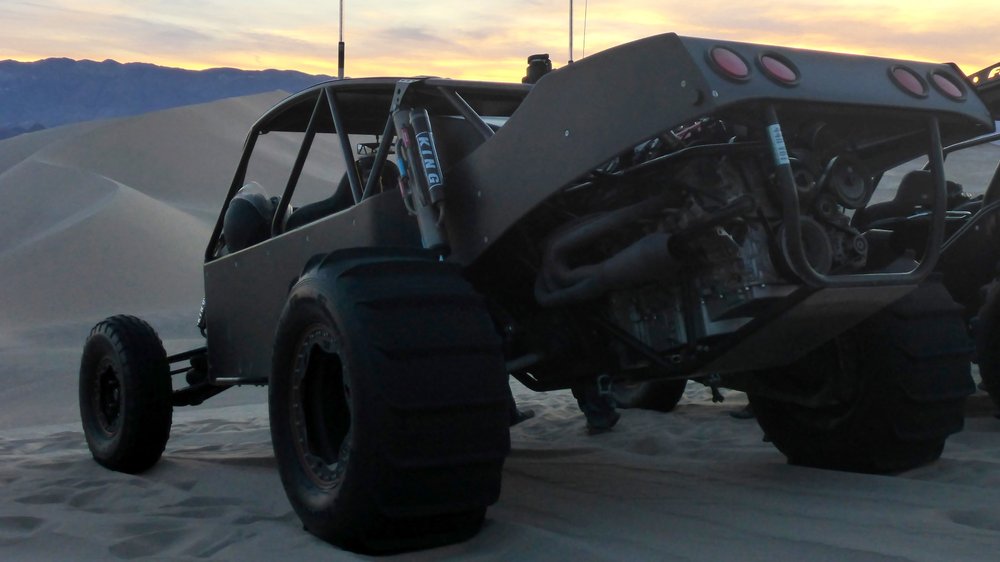 After the sun went down the grills got fired up and it was taco time! Big thanks to Carrie and Tim for cooking!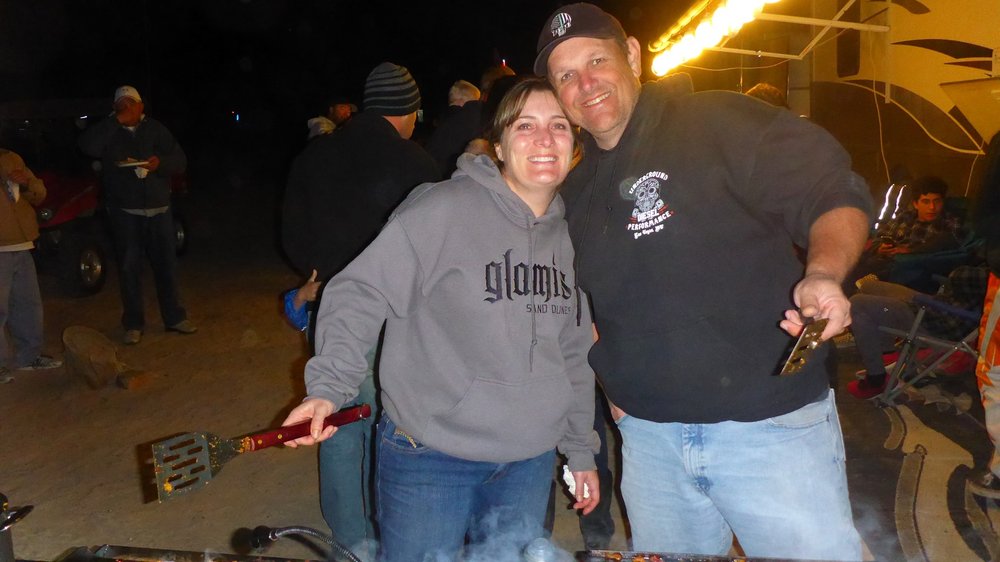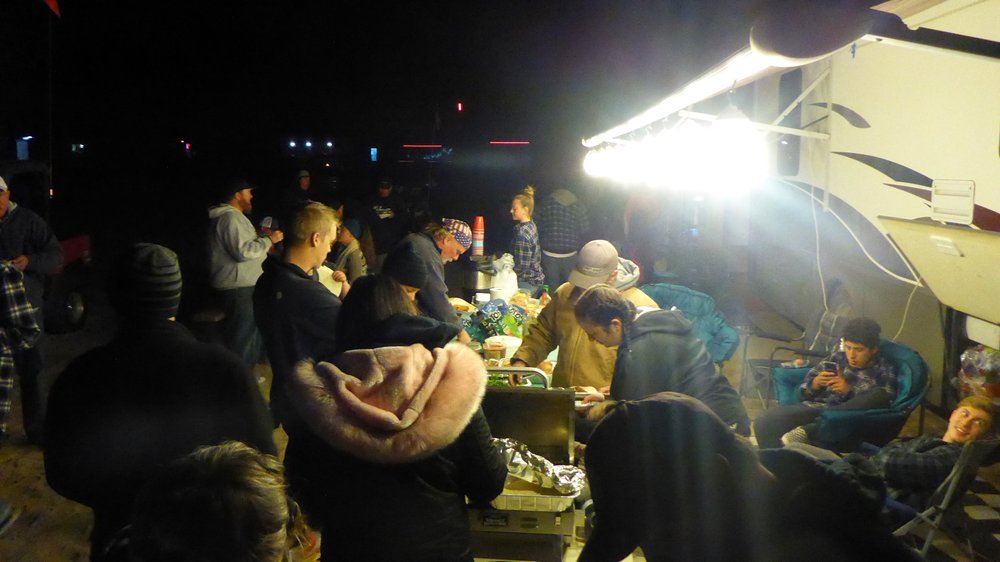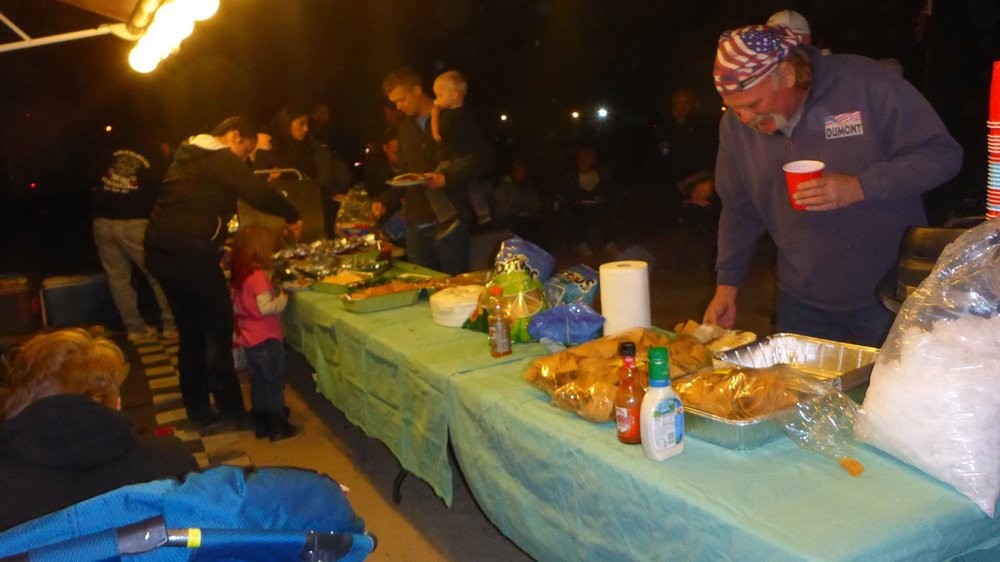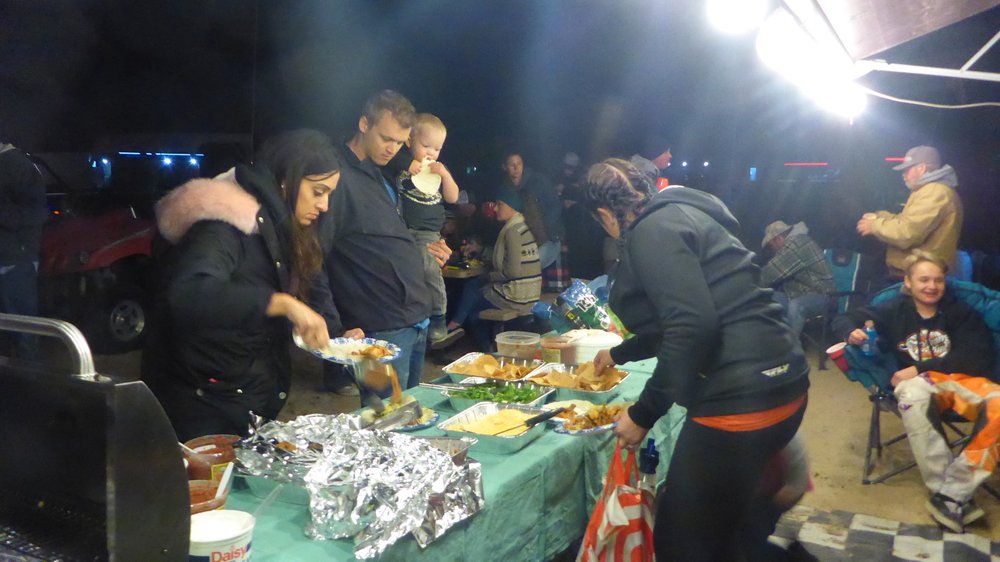 After dinner we had a nice hot fire thanks to Steve. He piled that wood on!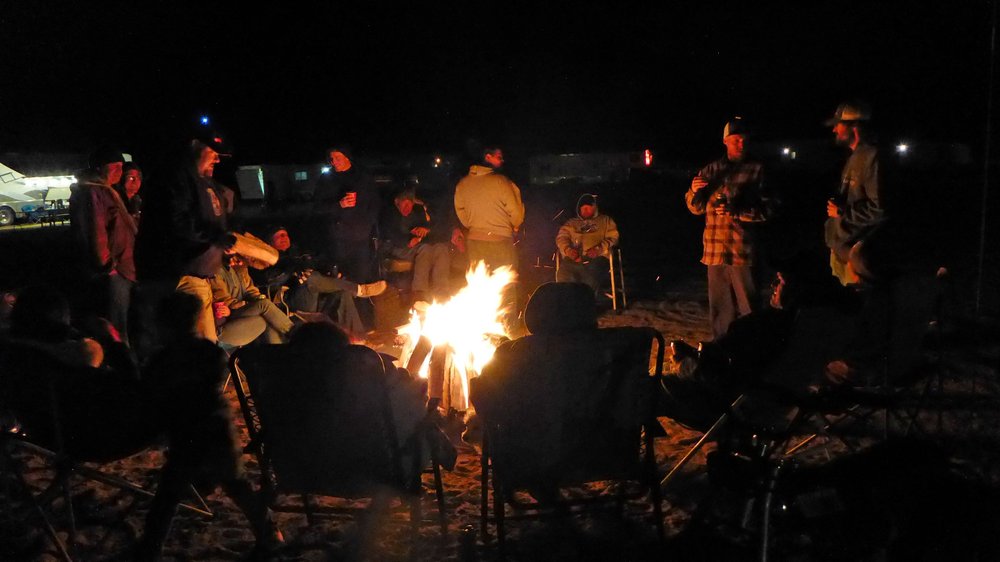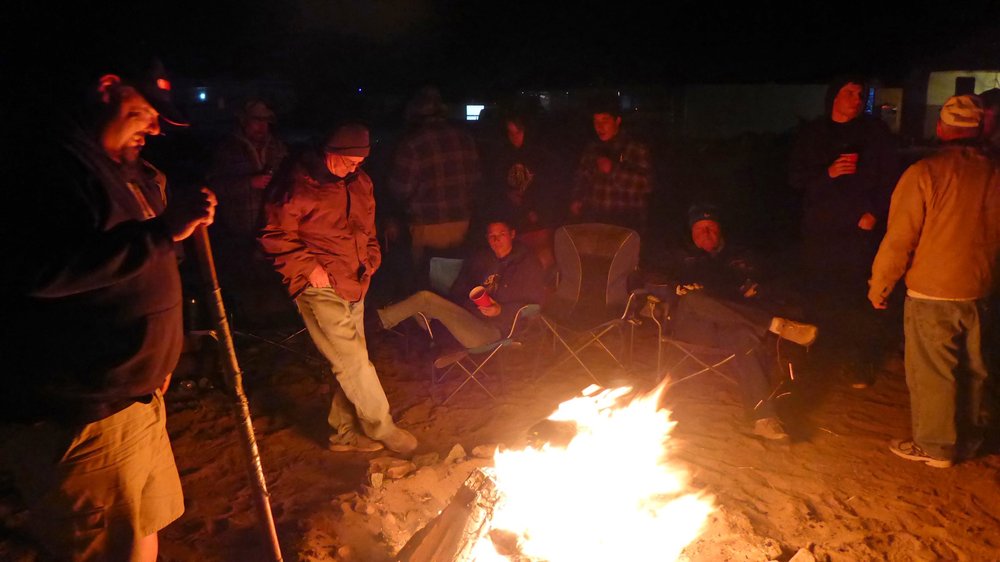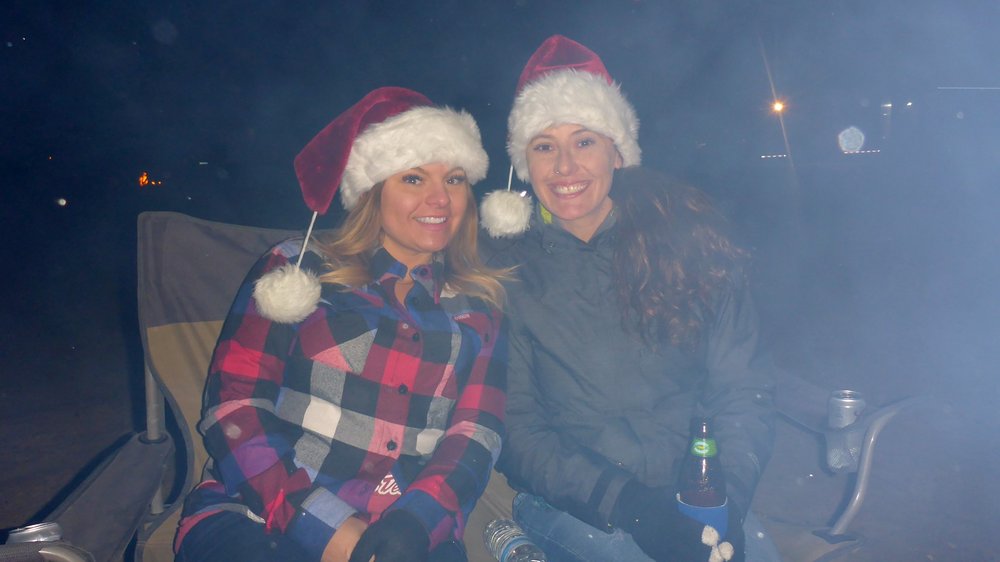 Great times with some great people!
Comments
comments