Day 4: Ouray- Black Bear Pass, Telluride- Moab
KOA Kampground, Ouray, CO
Rise and shine…and ride! We woke up to some gorgeous weather.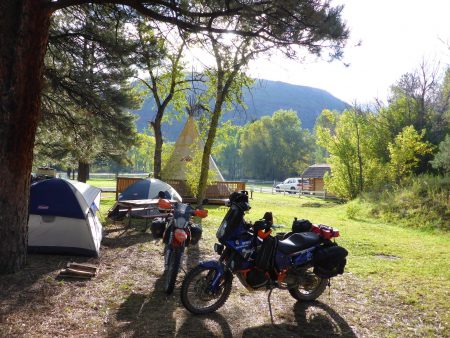 We walked over to the campground cafe and were greeted with some coffee and a friendly smile from this super sweet little lady.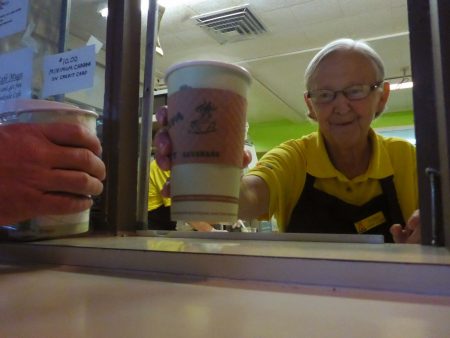 Ouray KOA…highly recommended.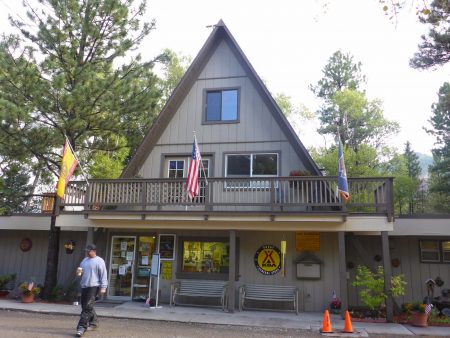 It was time to pack up. This became a morning routine for me, compression bag planking!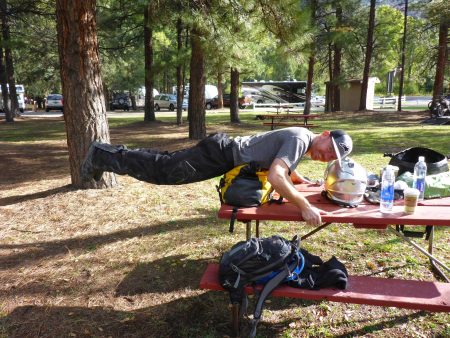 We hopped on the Million Dollar Hwy. Don't try to pull off to the side of the road because there isn't one.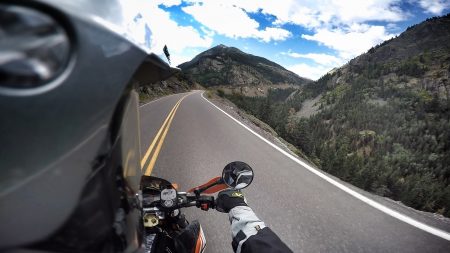 We rode through a couple tunnels along the way.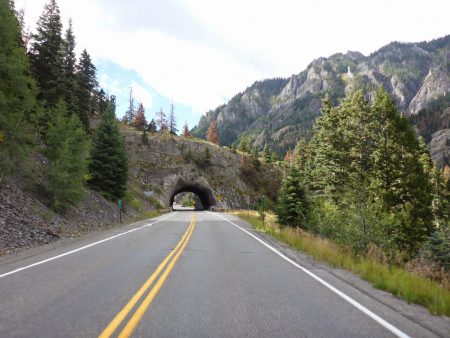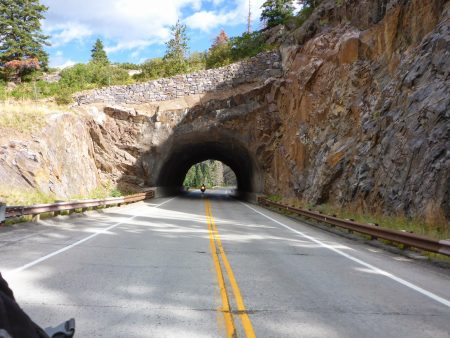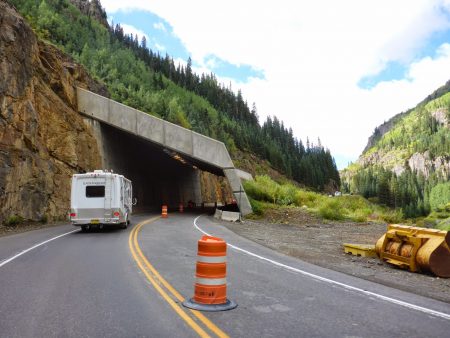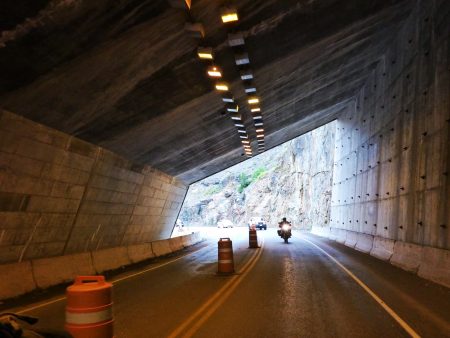 This place was like a damn travel brochure! Such gorgeous country.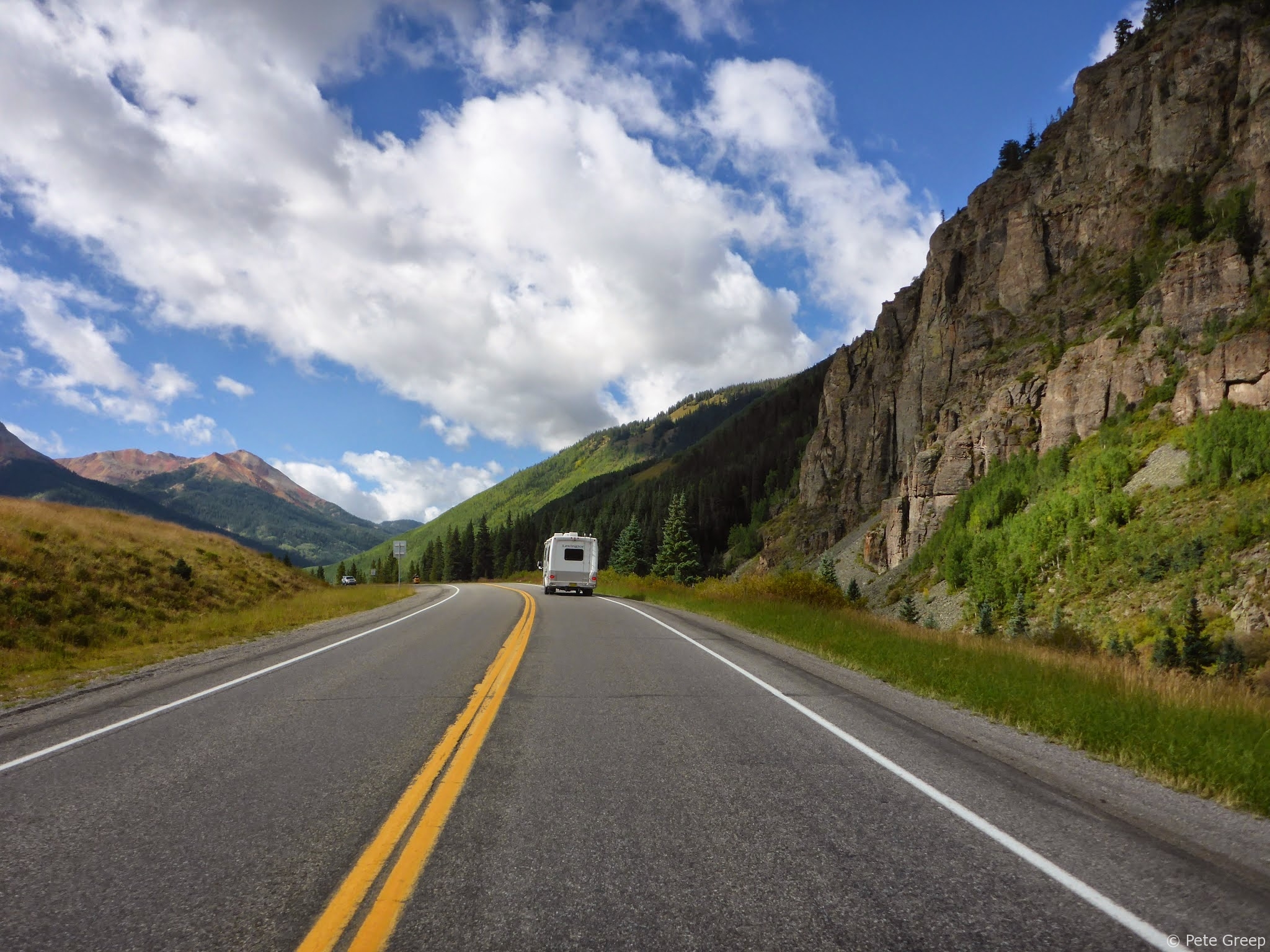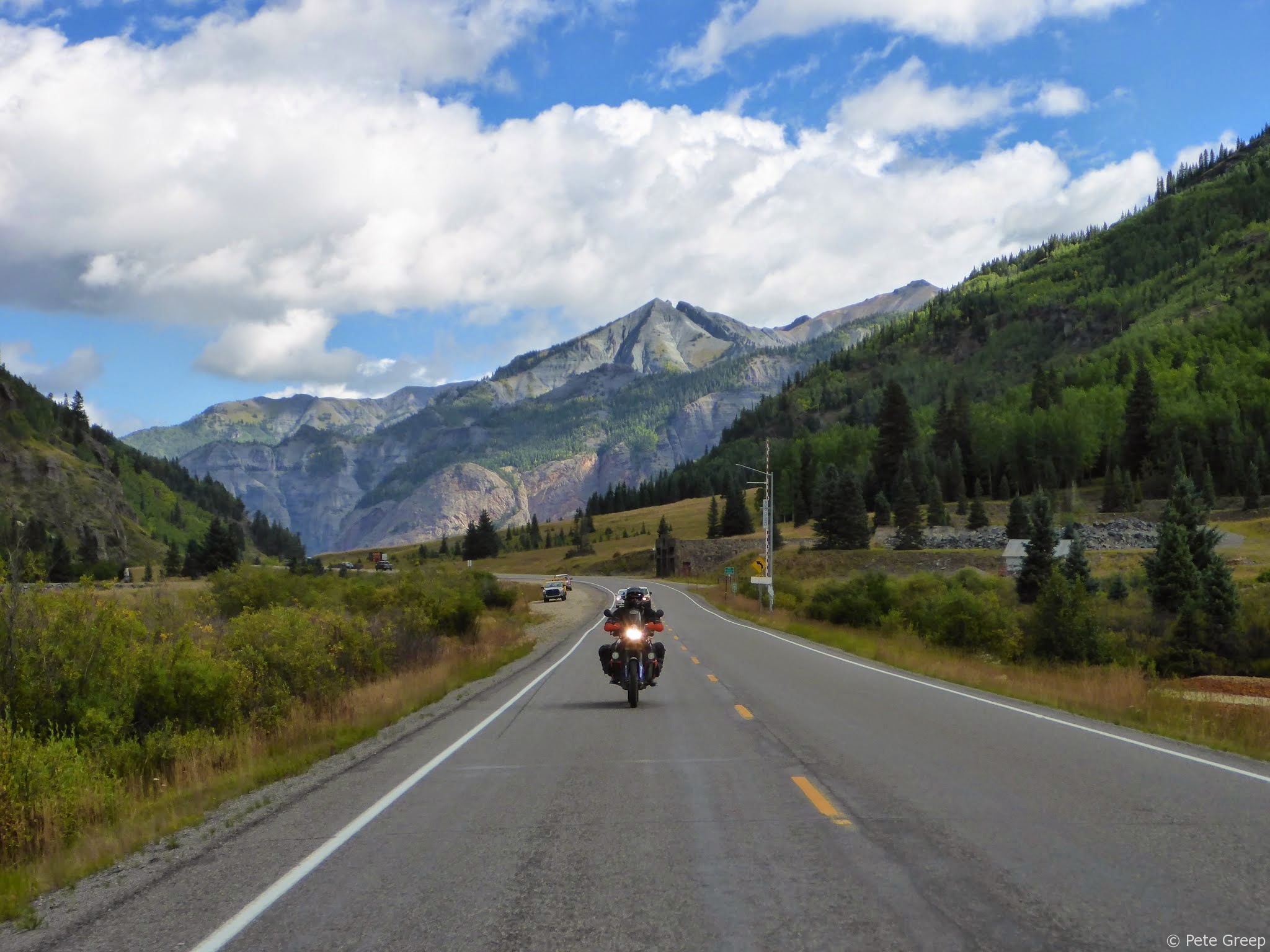 We pulled off to check out Black Bear Pass. I was super excited and looking forward to this and Bridal Veil Falls along the way.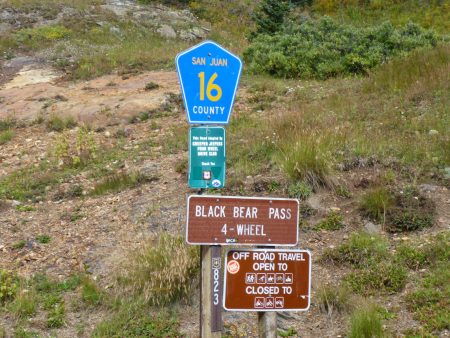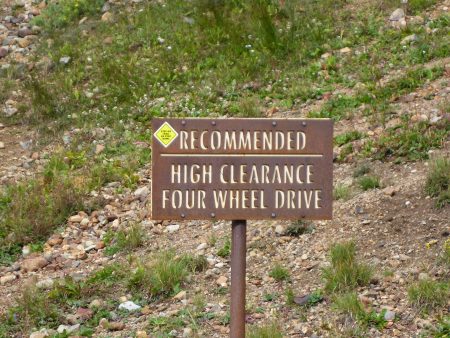 As soon as we get to the first big climb, we spotted some wheelers ahead so we waited for them to get a little farther before going up.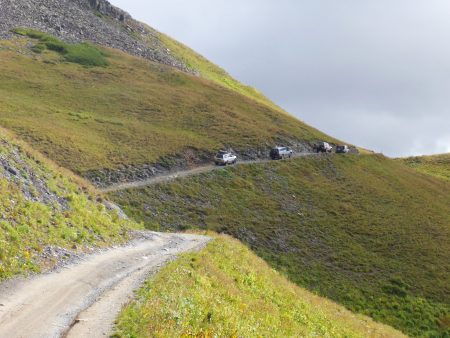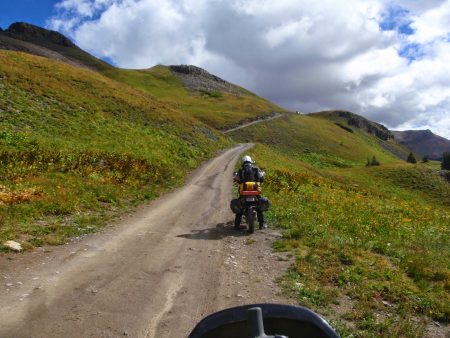 It wasn't such a bad place to sit an extra few minutes. We were ok with it.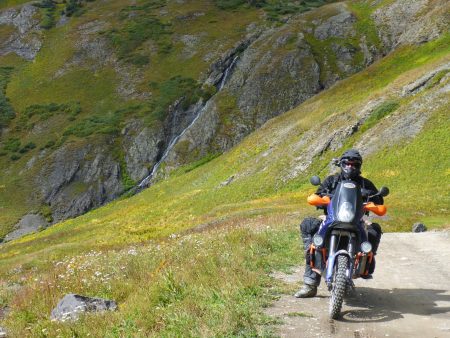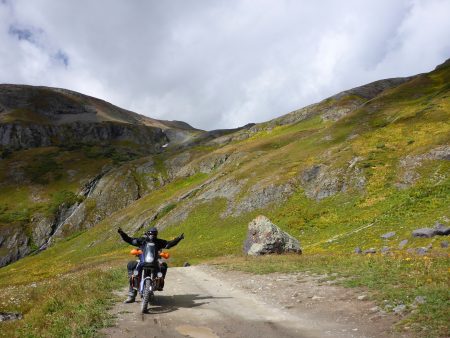 The other side of the pass was just as awesome.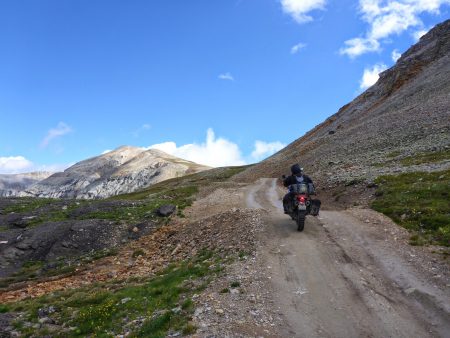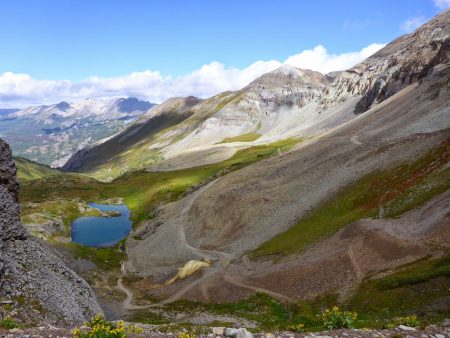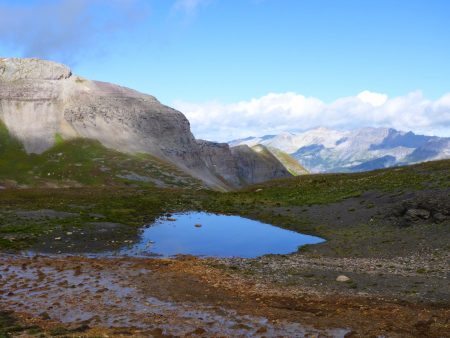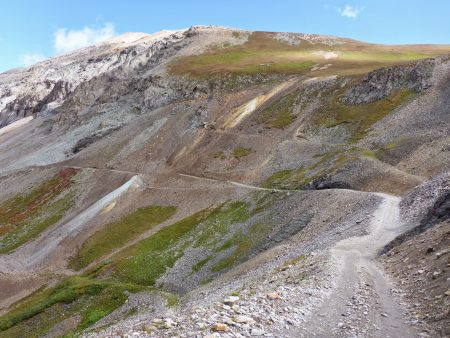 Plenty of color.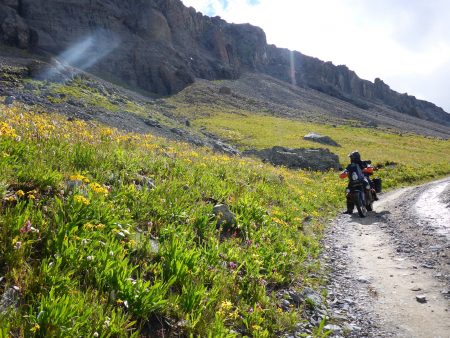 I spotted a bee and a fly sharing this flower.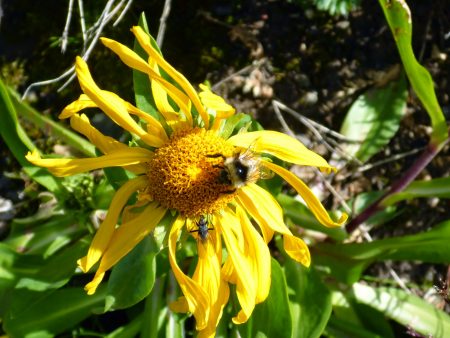 Looking down into Telluride. It almost didn't look real.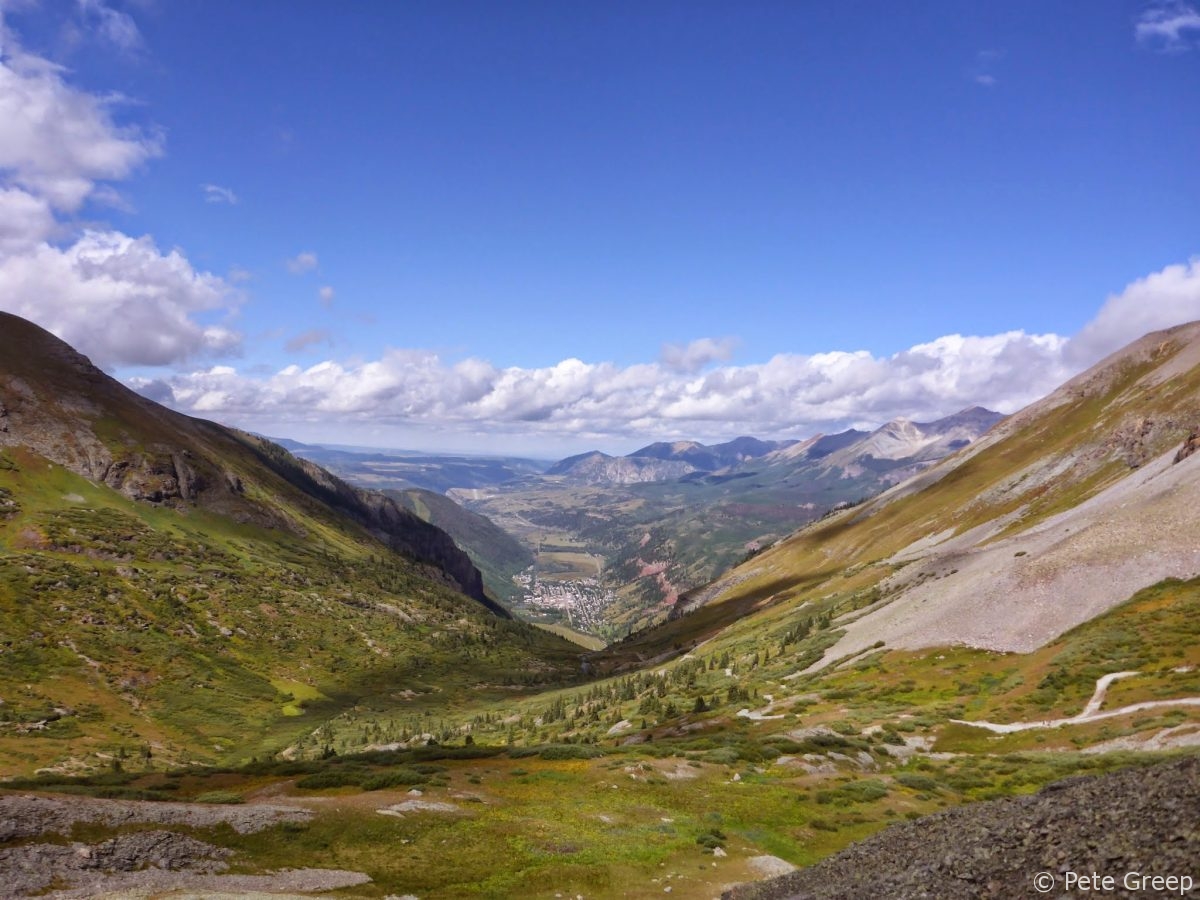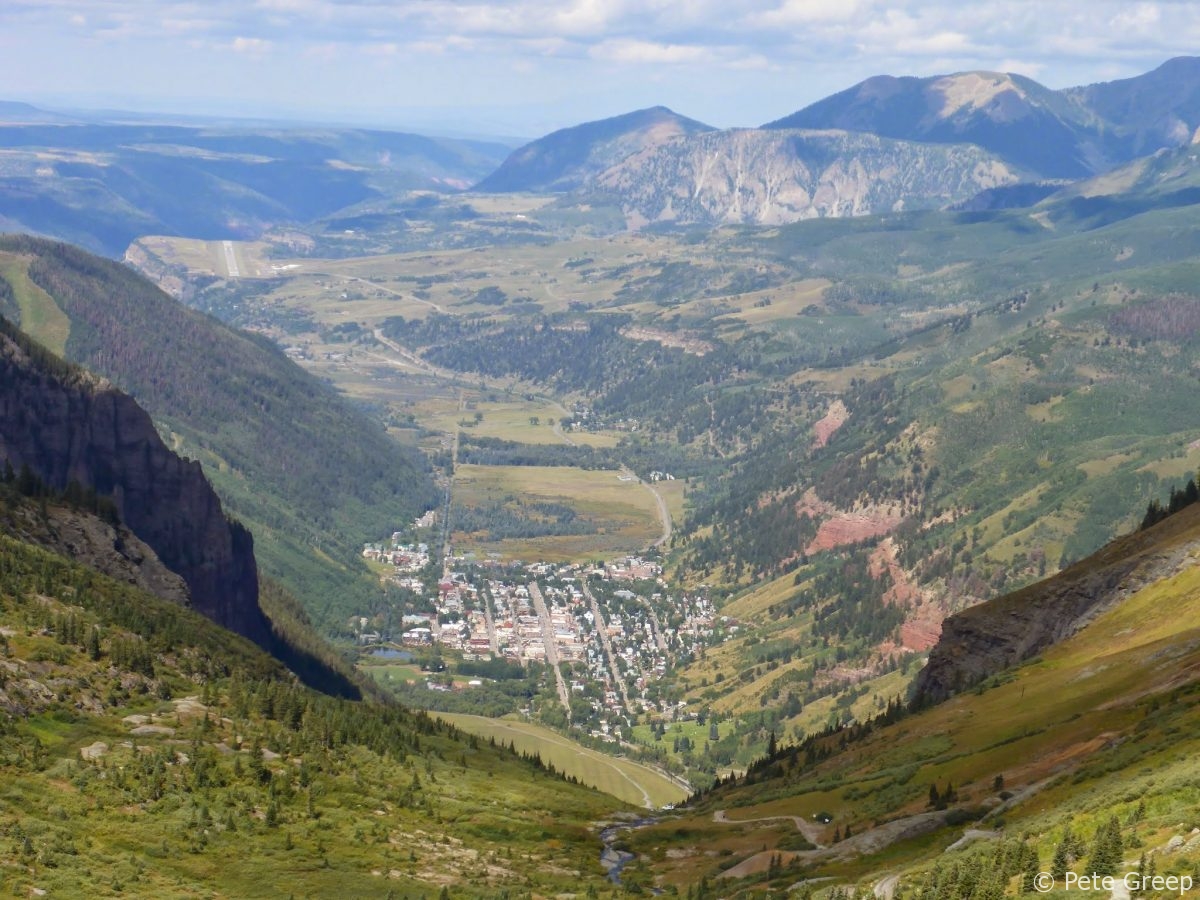 Then a few switchbacks before we got to The Steps, Brice's rear brake went out completely. It must have overheated coming down the mountain. Great! Perfect spot not to have brakes.
I rode down first. My 690 had no issues getting down the steps. Even with all the added weight and luggage, that bike always amazes me.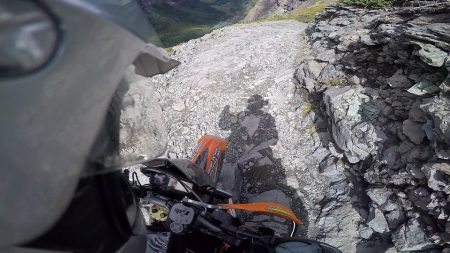 I got down around the corner and parked my bike. I couldn't hear Brice anymore on the Sena so I hiked up the road to see if he needed help.
Looking up and waiting for Brice. I see no Brice.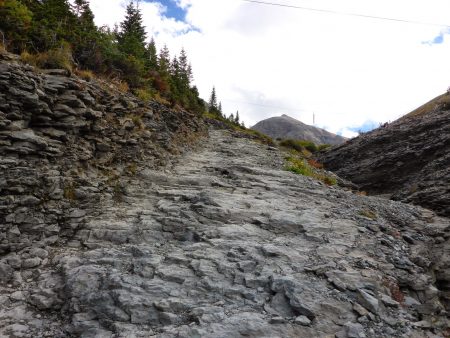 He made it down a good section of the rough stuff but still had quite a bit to go. He was already worked pretty good from muscling that 990 down the mountain with only a front brake. Not only that, but this was probably only his 2nd real offroad ride on that beast coming off an XR650. Quite a bit more bike! So at this point he was getting hot, stressed, and fatigued. Not a good time or place to test your skills. This was a pretty dangerous section with some rocky steps, an off camber trail leading to a pretty big drop off.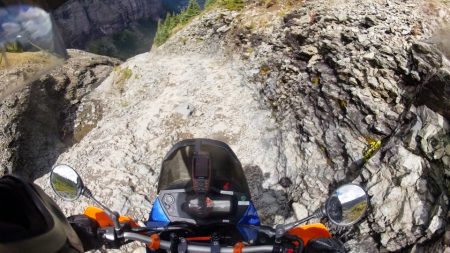 I decided I was confident enough to give it a go. I had ridden a 990 down a smooth section of pavement once, so I was more than qualified for the job. It was a handleful with no rear brake, but I managed to pull it off without killing myself or totaling Brice's baby.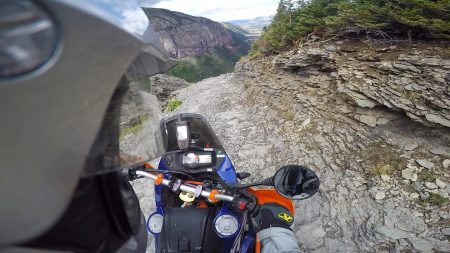 We could see Bridal Veil Falls from here.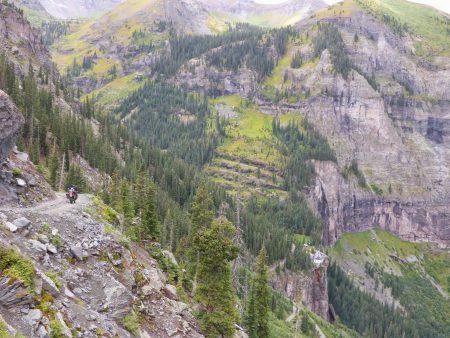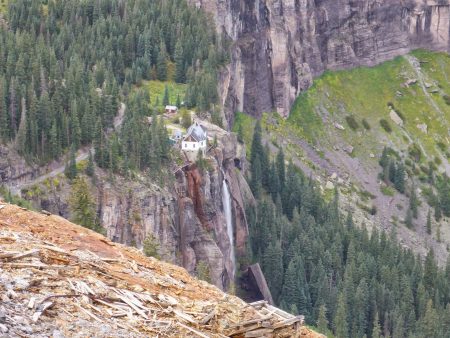 A couple switchbacks below, we parked the bikes to cool the brakes down and hiked up the top of Bridal Veil Falls where there is a powerplant/ house. The power generated from this place supplies Telluride with a portion of their power. Back in the day the plant was used to power a local mine.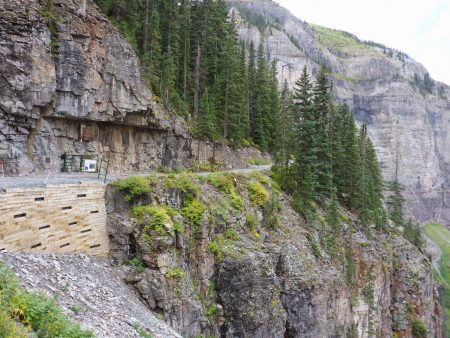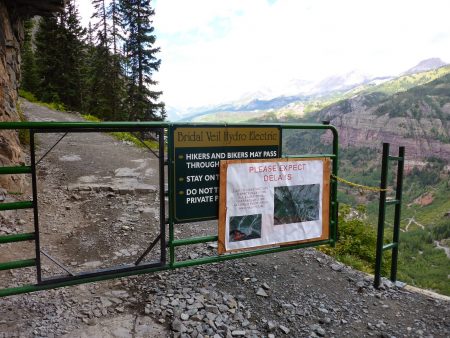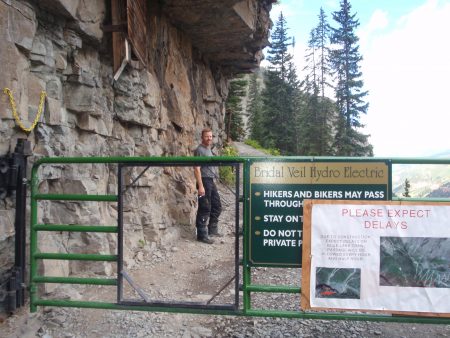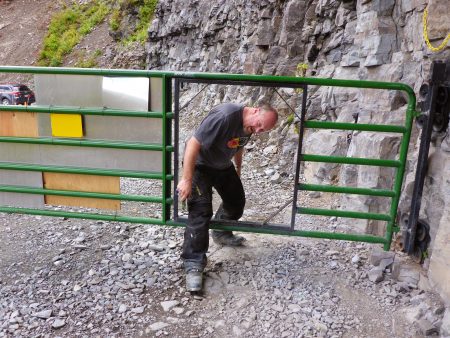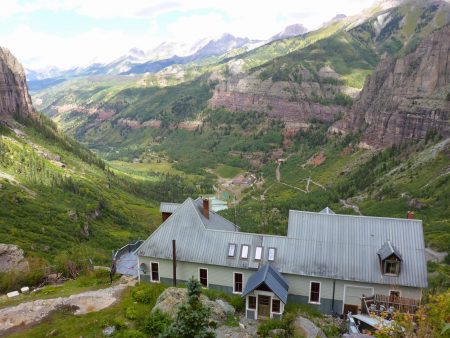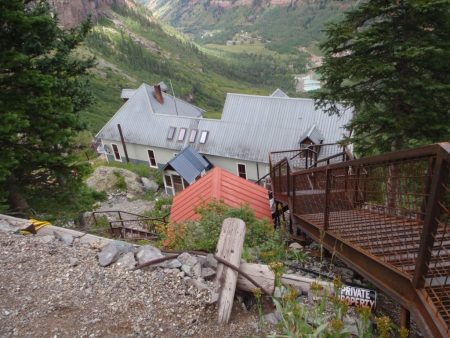 Back on the bikes we proceeded down the steep switchbacks to the falls. The sound of the waterfall was getting louder the closer we got.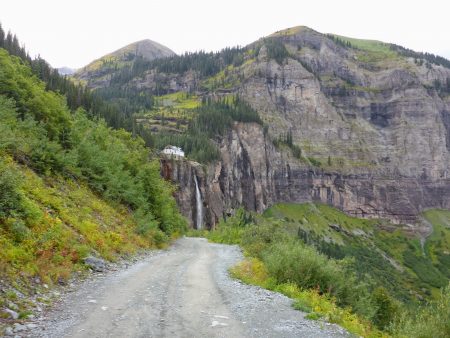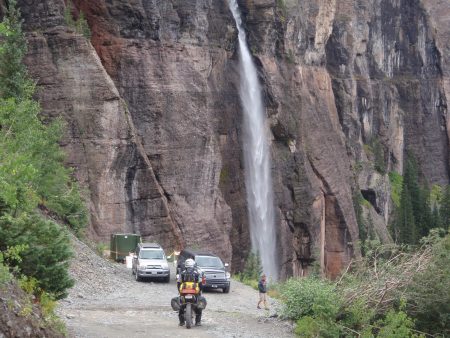 One more set of switchbacks and we were able to get right at the base of it and hike up to where it pooled.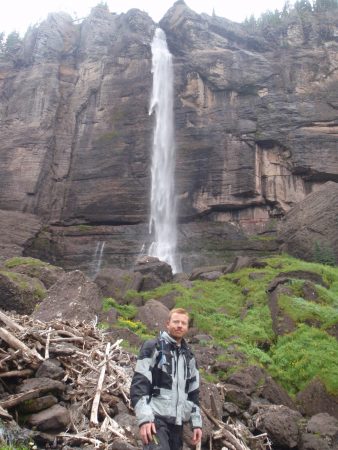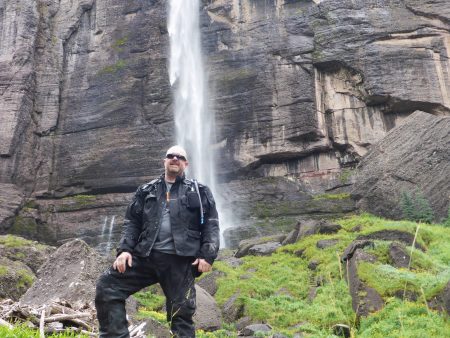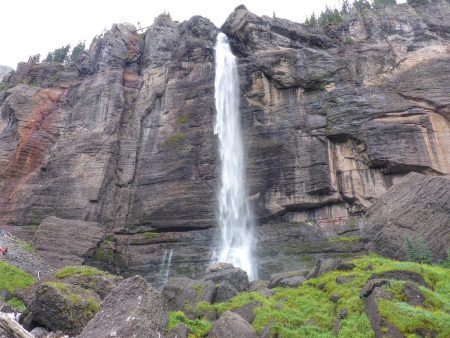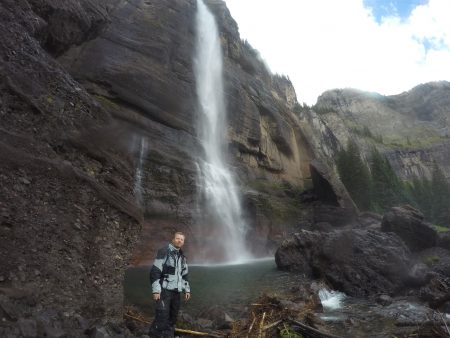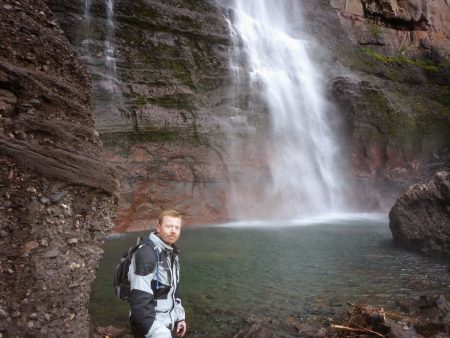 The trail leading down from the falls.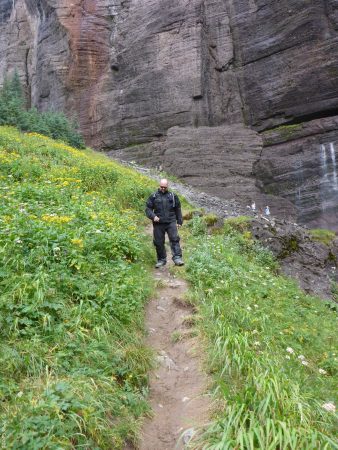 These guys needed their heads checked! Or better yet, they needed motorcycles.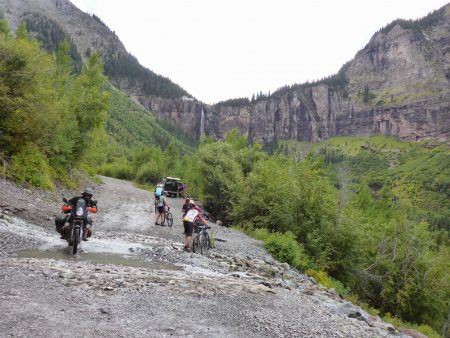 We flicked them some crap and they were good sports about it. We all got a laugh.

Turquoise pools at the bottom.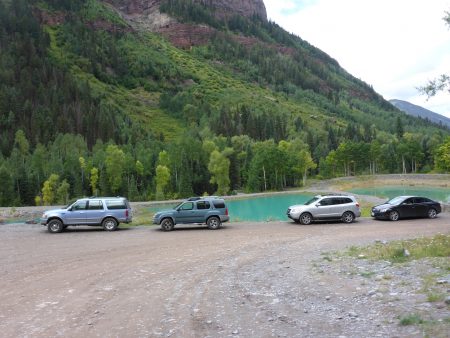 Leaving Black Bear Pass…
It was a little more commercialized than I expected.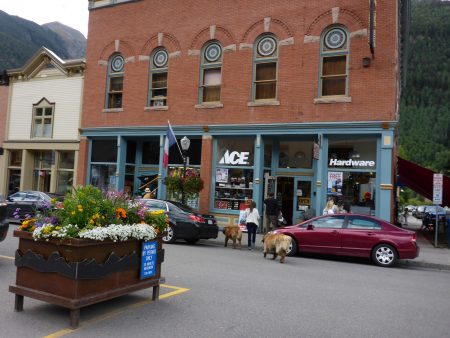 There was a film festival going on that weekend and the place was a zoo! Lots of Range Rovers and yoga pants. Yuppy yuppy central. There were buses of people being brought in and it was crowded everywhere. We didn't fit in here so we zipped right through town. We planned on riding back to Moab in time to find a place to camp before dark.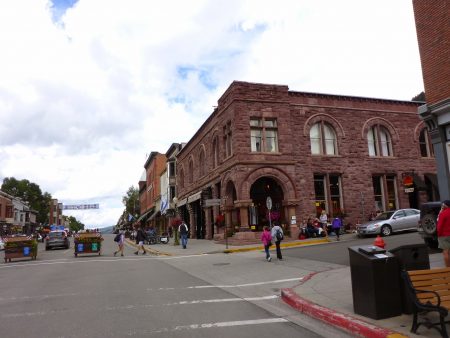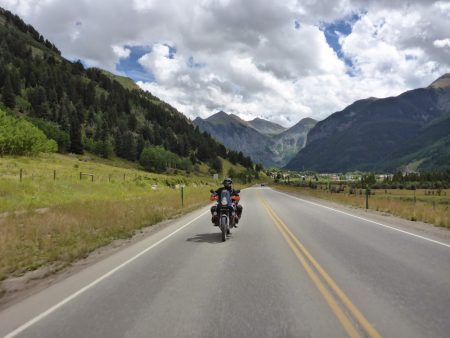 We stopped here for a snack and some water.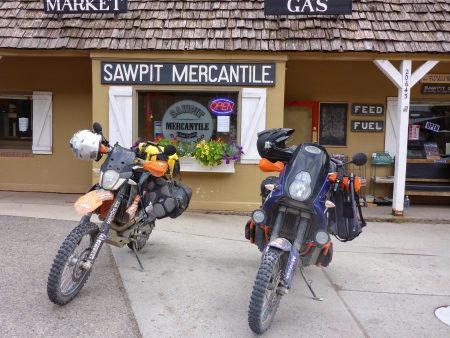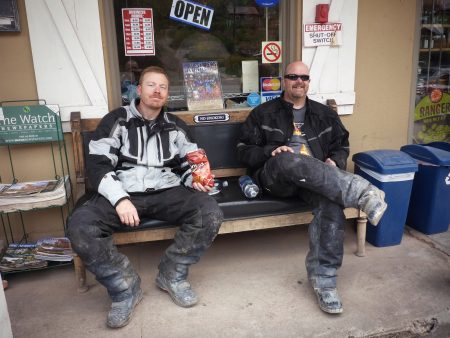 As we left that area, the scenery immediately changed to different color mountains.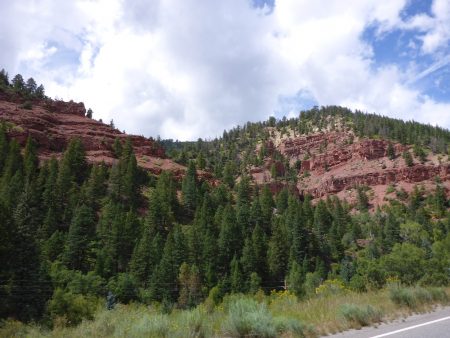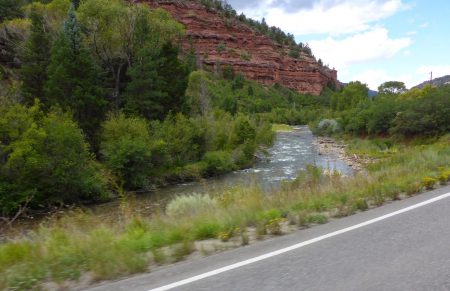 Then there were no mountains. Sh*t, did we end up in Kansas?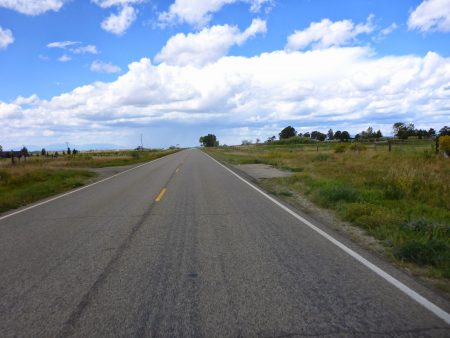 Long straight road = taking motorcycle selfies.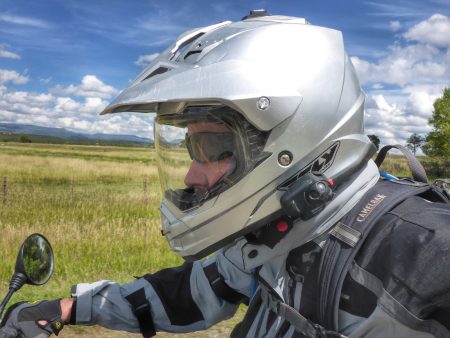 Imagine that. We're back on pavement so there must be rain! Luckily we avoided that storm off in the distance.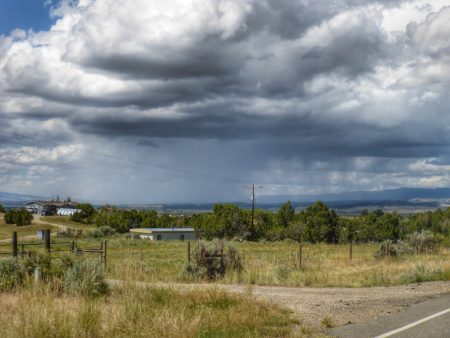 We pulled into Naturita for a quick fuel top off. It would be another 80 miles of slab back to Moab. I was getting excellent mileage, 57.5 and Brice's pig was getting around 44. Not bad!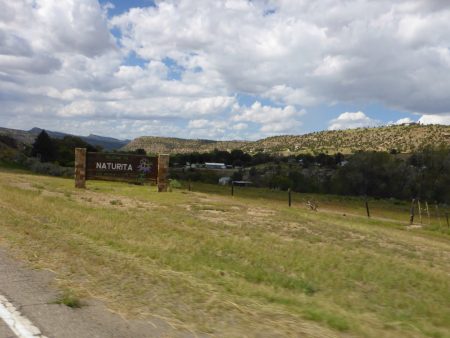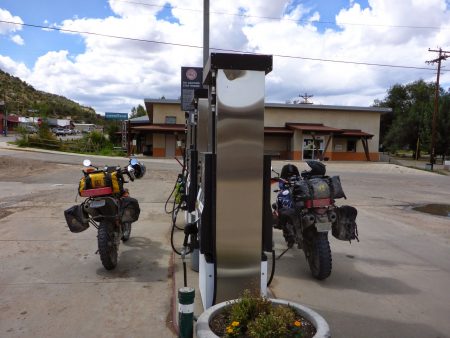 We wanted to stop at this cool looking saloon but they didn't open until 5.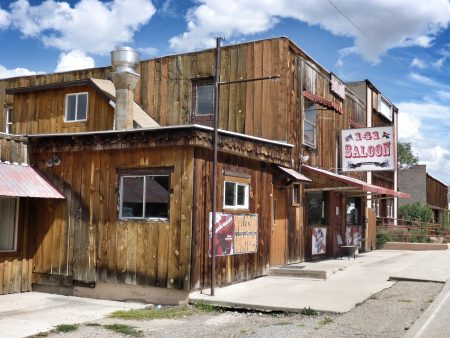 The worst part of covering alot of miles really quick…pavement.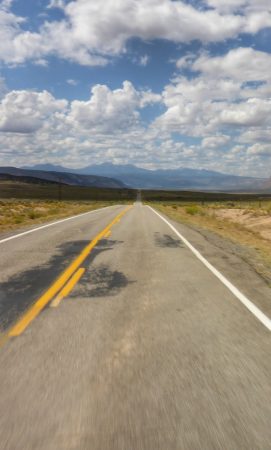 Nice overlook that we came up on.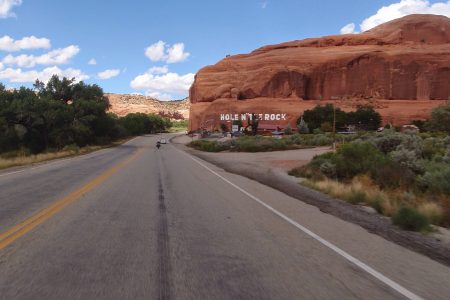 Upper Big Bend Campground, Moab, UT
We grabbed a nice meal in town and then set up camp along the Colorado river.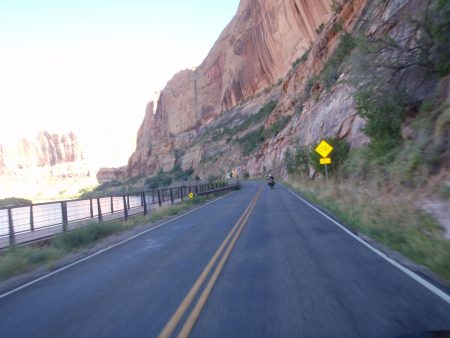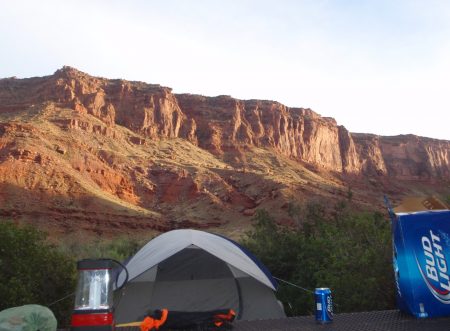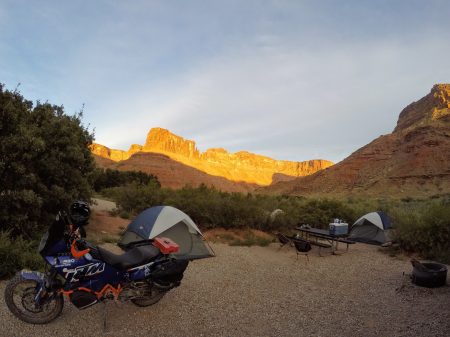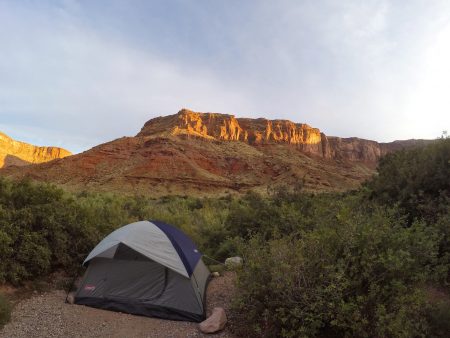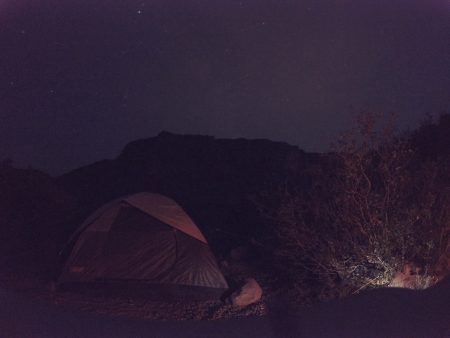 Comments
comments