Moab, Utah!
Just as the sun was coming up, we woke up. It was about 6:30 AM and we wanted to get a move on and squeeze in the White Rim Trail for the day.
Brice whipped up some coffee with the Jet Stove. Cliff bars and granola bars were sufficient fuel for a quick and easy breakfast.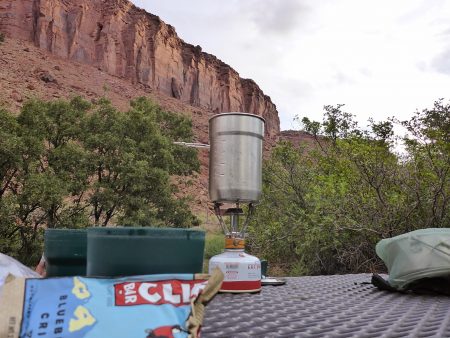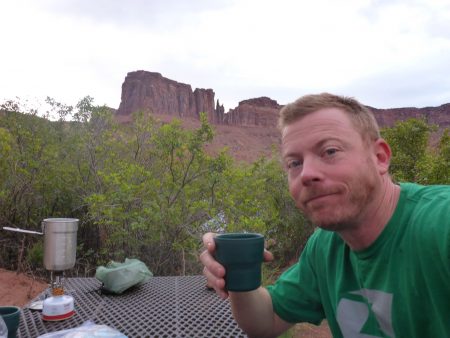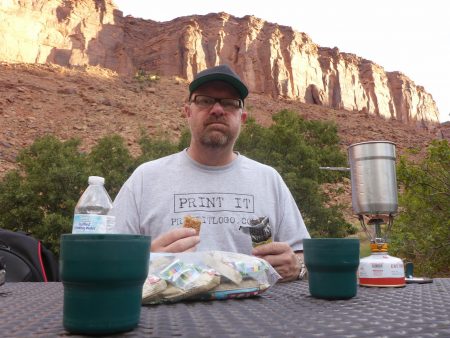 That morning I realized that my bike developed a nice valvetrain tap after the long ride from Colorado. I suspected a faulty rocker bearing or loose valve, but it wasn't super loud so we proceeded anyways.
It was a gorgeous morning. And then wouldn't ya know it, as soon as we got packed up, it began raining! REALLY? Can we have one day with no rain? haha
It wasn't that big of a deal except we decided to go light today because the forecast showed a sunny day of 90 degrees. We left the riding jackets behind and just wore our jerseys. We pulled off the road for shelter and to get fuel in Moab. It was pouring pretty good. A few other riders did the same.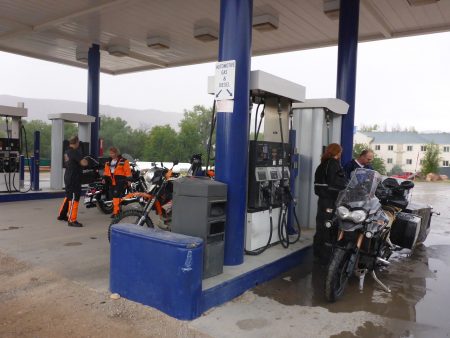 We chatted it up with a fellow adventure rider from Oregon. He was riding the west coast solo on his Triumph and crazy homemade trailer. Super nice guy. He decided one day he didn't want to work for anyone and started his own business. This allowed him to travel. He mentioned the other day he squeezed in a 1200 mile day.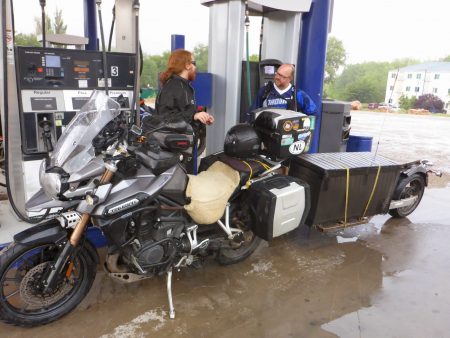 He used salvage motorcycle parts to build it. We never asked what was in the box. Who knows. Maybe a spare motorcycle?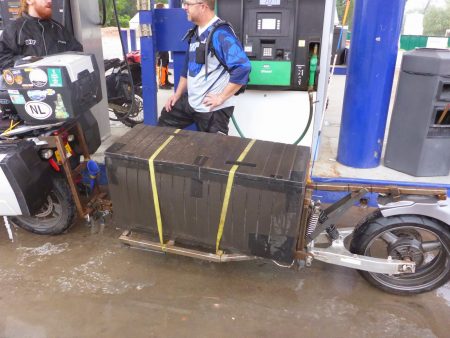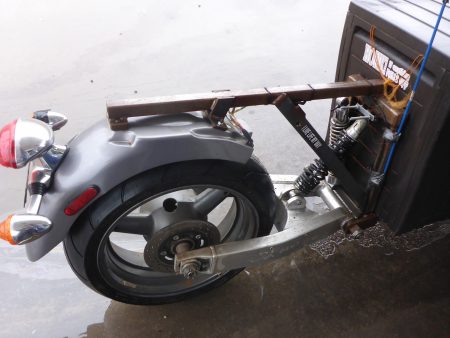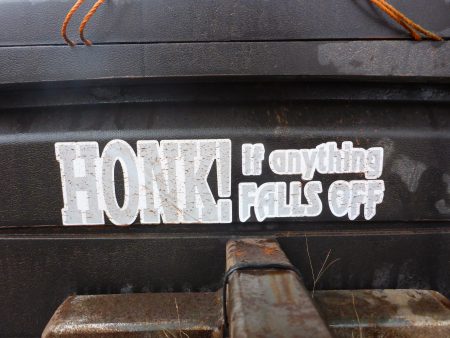 Canyonlands National Park
We decided to head towards Canyonlands National Park despite the ridiculous rain. After all it was 30 miles away and we were burning valuable daylight. Those raindrops felt like daggers with only a thin jersey on! Ouch.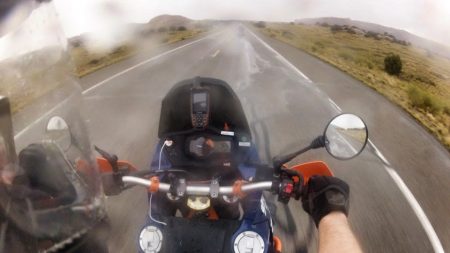 We were soaked. I started to get really cold about 20 miles in so we pulled over and sought shelter under an information booth. Brice remembered he had a poncho and a sweatshirt in his side bag still so he let me use the poncho and he used the sweatshirt. It helped tremendously.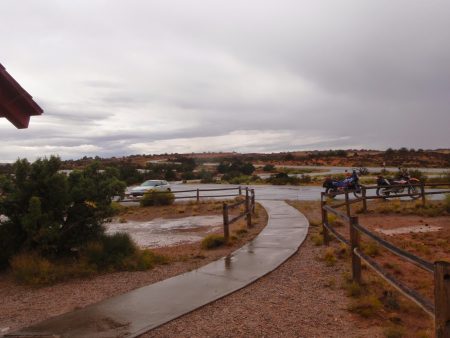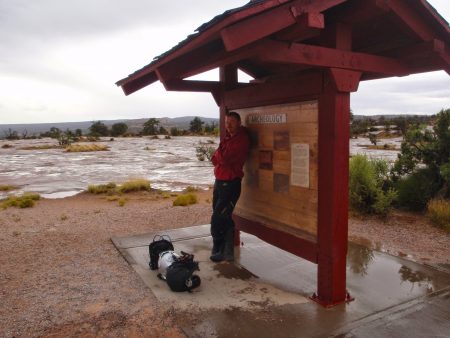 "Ok screw it. Let's do this." We waited long enough. It was still raining but not as bad so we continued on. At this point I was still up for the challenge, but had serious doubts that the weather would clear up and allow us to complete the whole White Rim Trail in a day.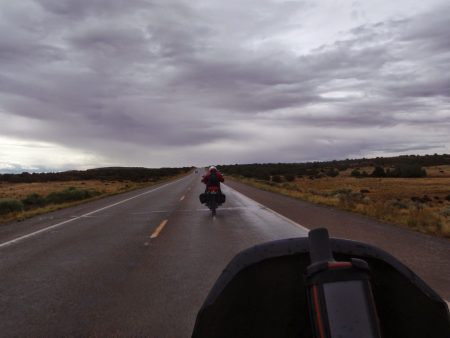 We dropped down Shafer Canyon Trail towards the White Rim. The landscape was awesome.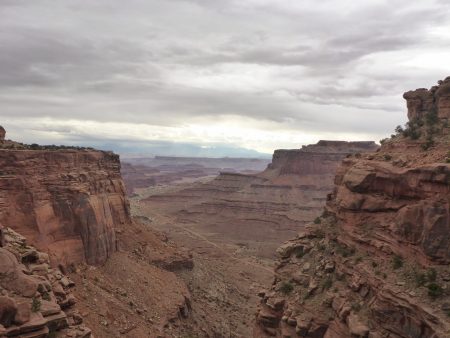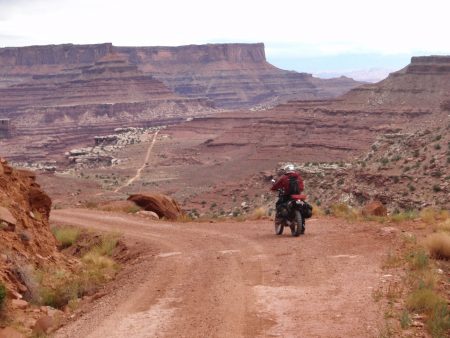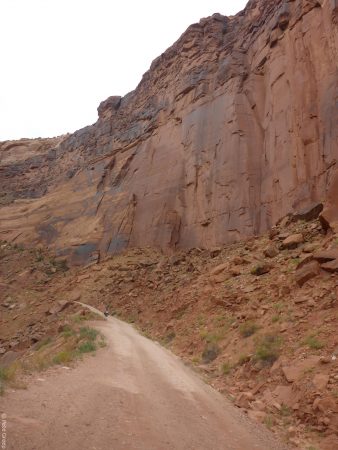 What's this? The rain stopped? It's getting a little brighter outside too. Time to ditch the poncho.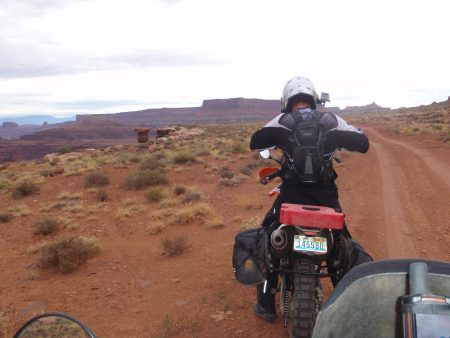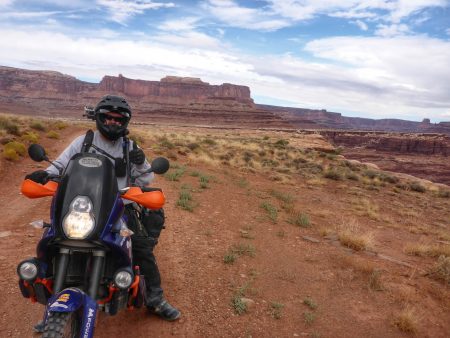 There were cool rock formations and great backdrops everywhere.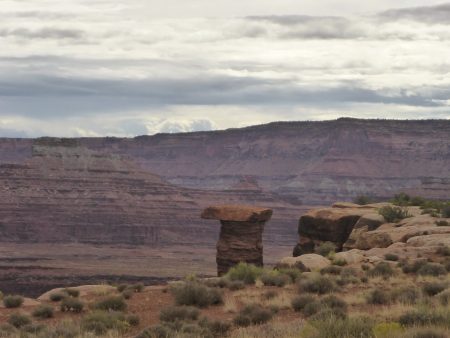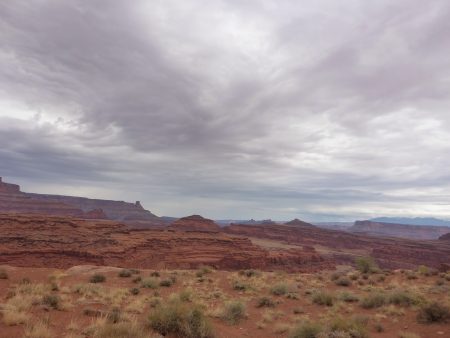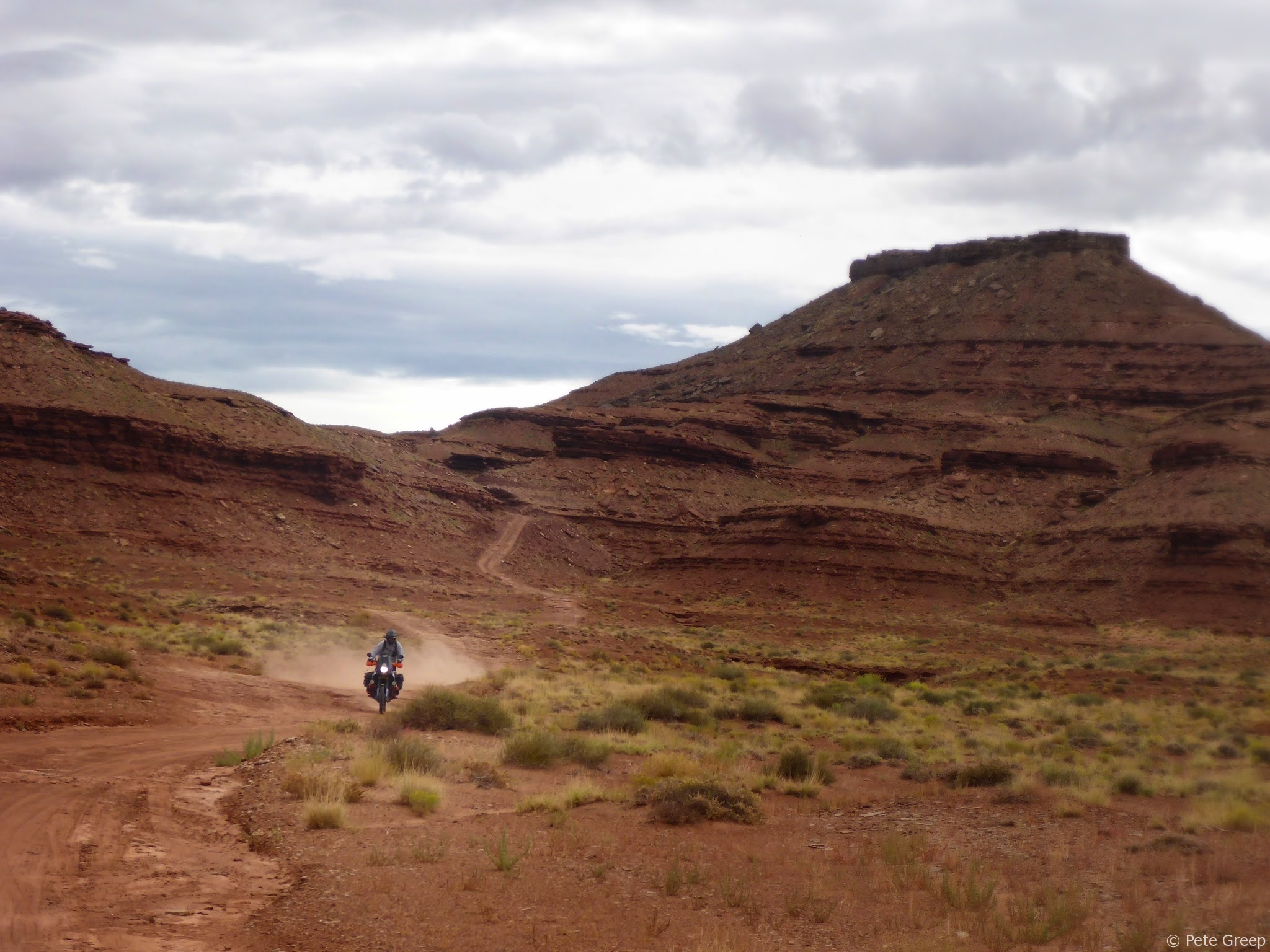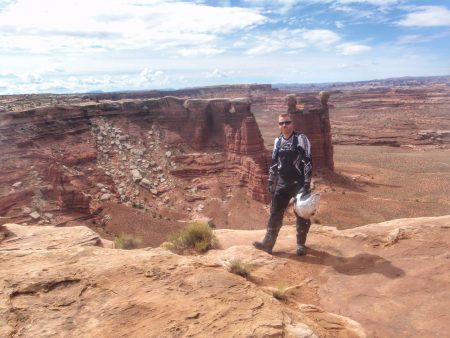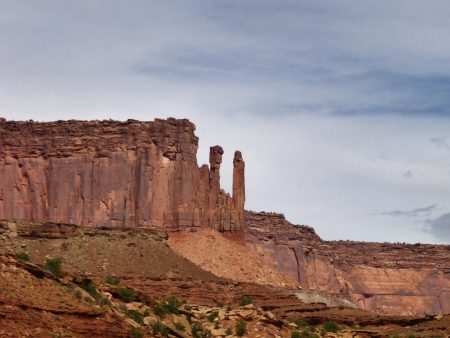 Rock porn?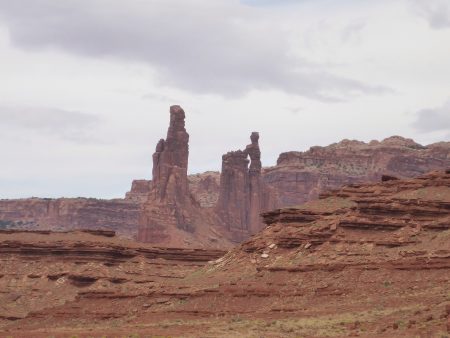 Rock wash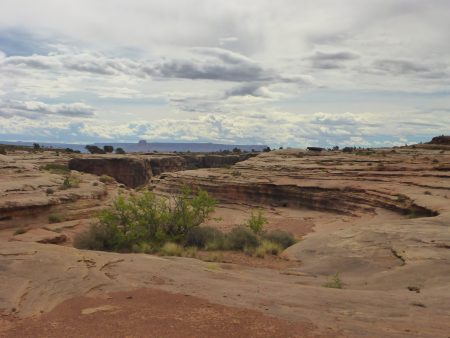 I love this shot of Brice with the white rim and a really cool background. I almost felt like we were in an old wild west film.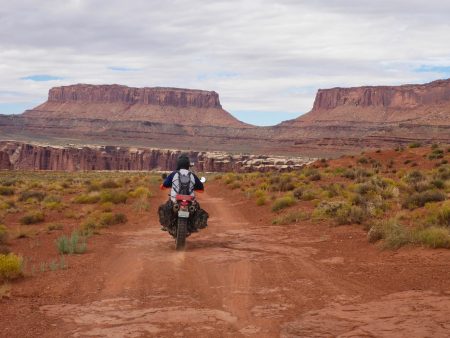 I felt the need to sit on the edge of the white rim.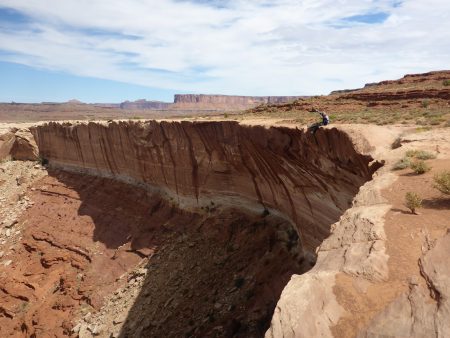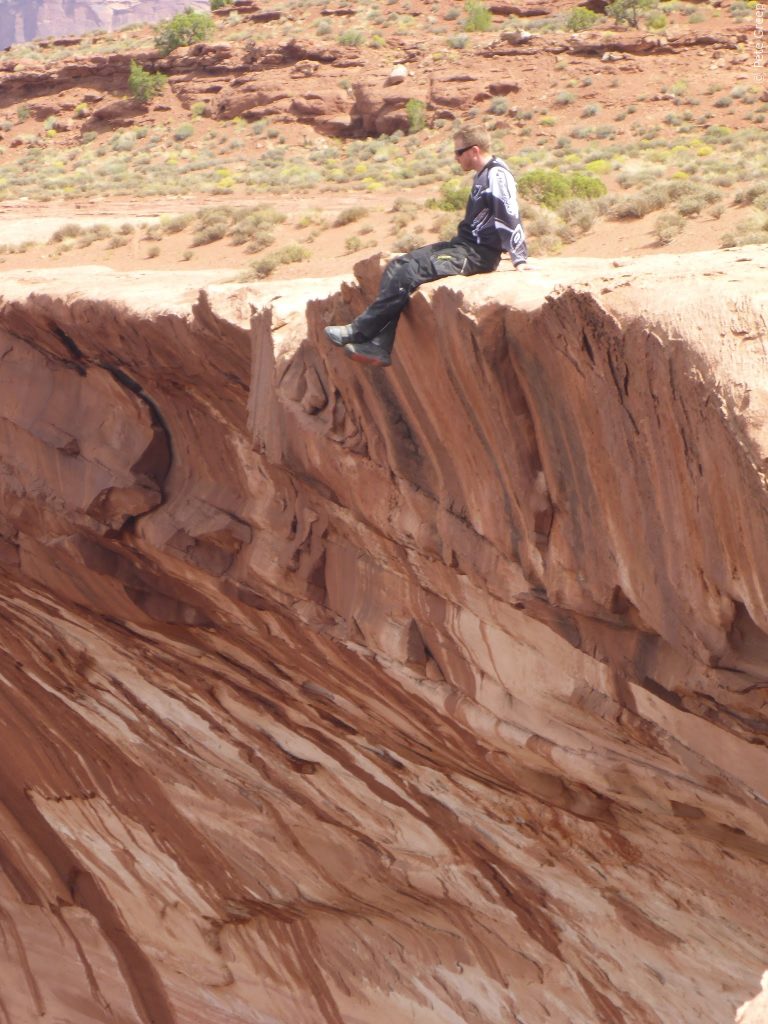 Brice was ok with the 5 foot rule.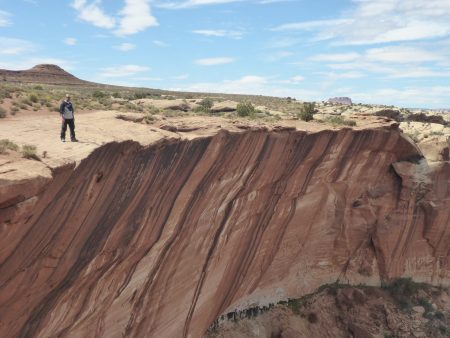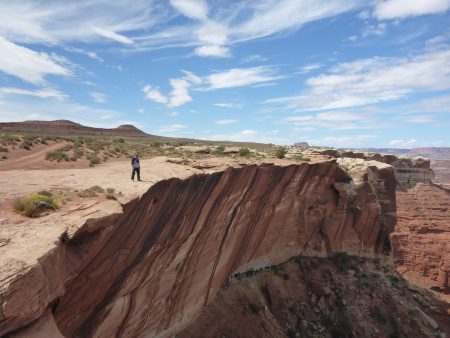 Onward! The sun is out and life is good!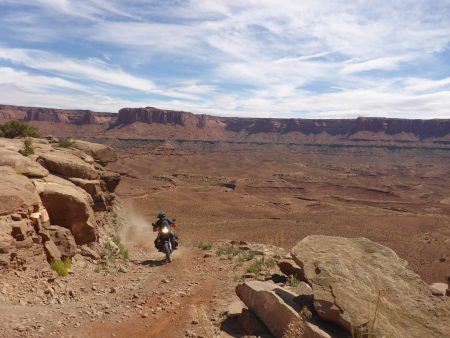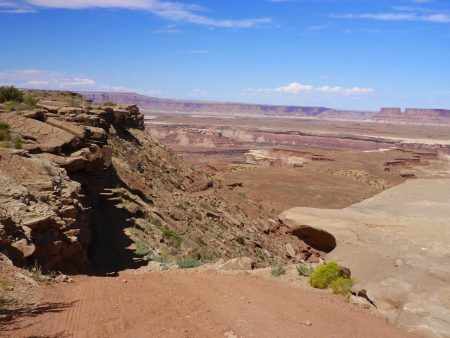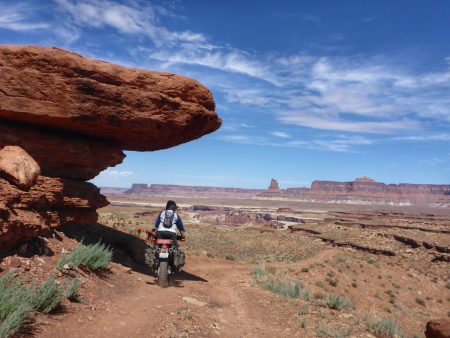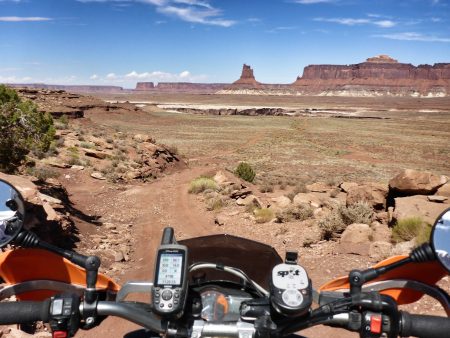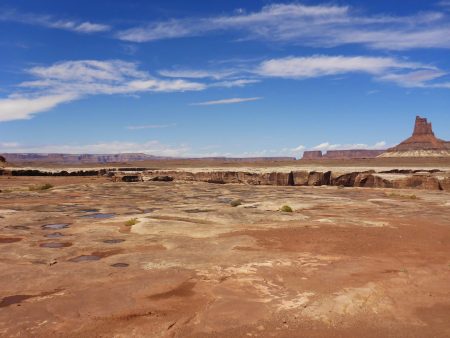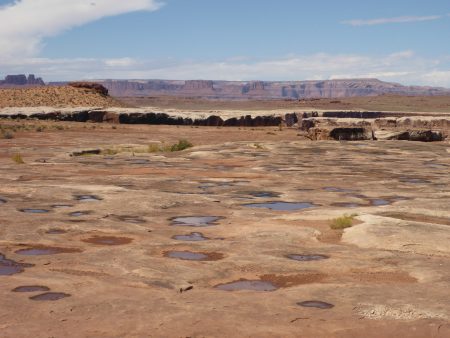 After the halfway point we picked the pace up a little bit. It wasn't quite as technical or rocky so many stretches were nice and fast which is what were used to being desert riders.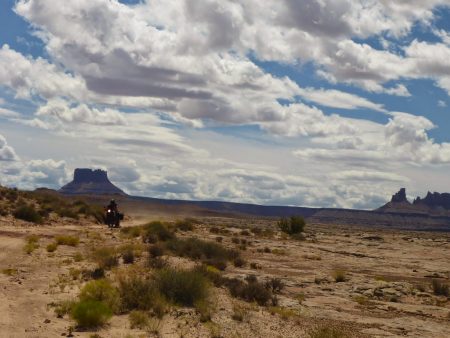 We might have picked the pace up a tad too much. Although our bikes' suspension could handle the occasional deep washouts, Brice's side bag couldn't (again). haha Luckily it didn't go too far. We desperately needed this bag. It was holding our beer.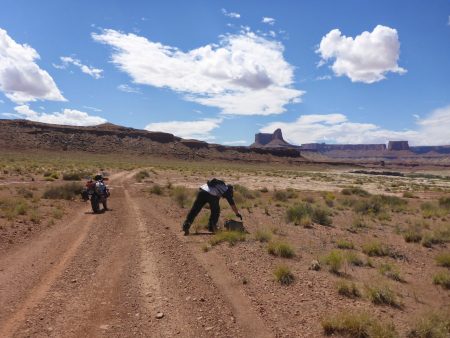 One section of the trail brought us right past the Green River.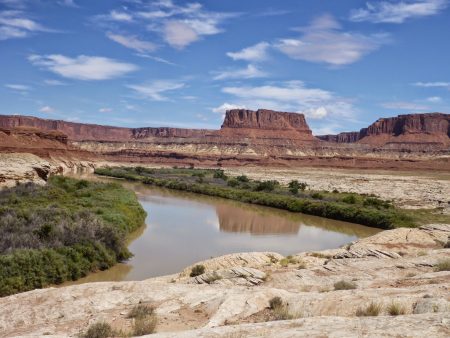 We were about 80 miles in and ready for a break. We came up on some big trees and boulders to stop and rest for a few. My bike still had the valvetrain noise from the day before but didn't seem to be getting any worse.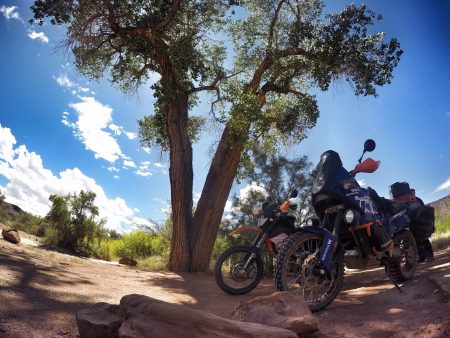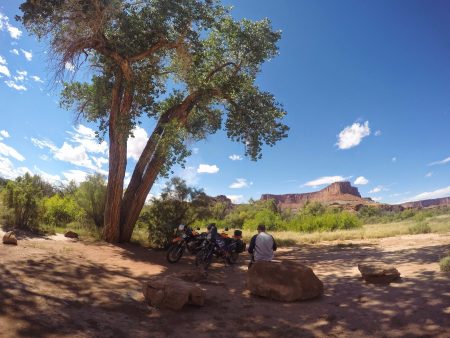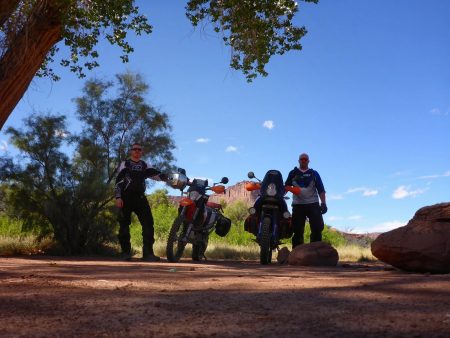 The beer didn't even get shook up that much when it took a side route. Still cold too!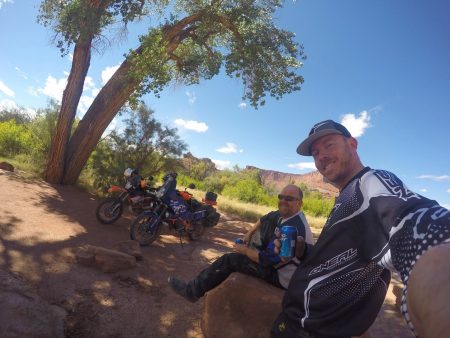 More views of the Green River.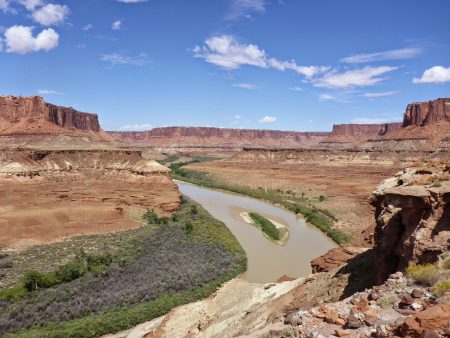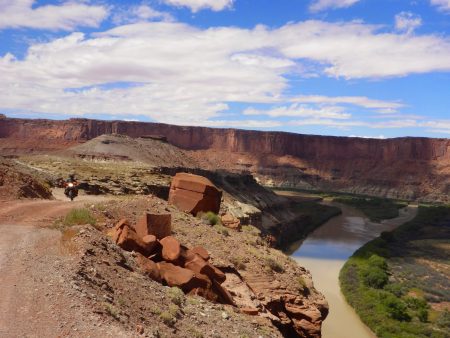 After climbing out of the canyon up a steep switchback road, we had one last final stretch of smooth, fast dirt road.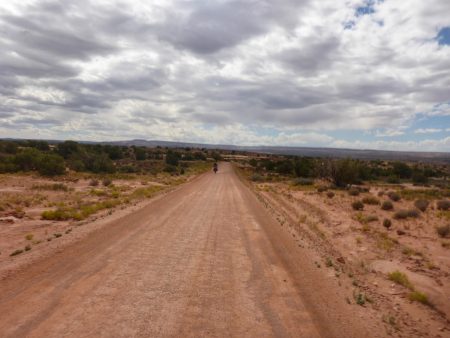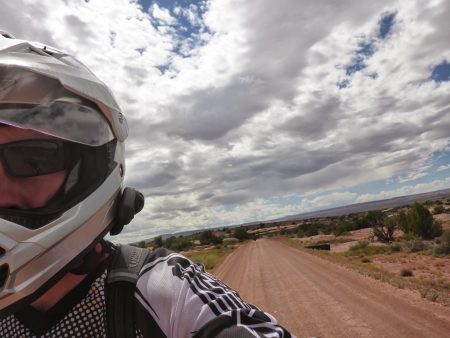 Complete White Rim Trail…check! Done in 5 hours.
We hadn't eaten anything all day other than our quick granola bar breakfast so Brice treated us to an awesome lunch…big cold draft beers, fried pickles with jalepeno ranch sauce, some awesome salads, ribs for me, & steak for Brice.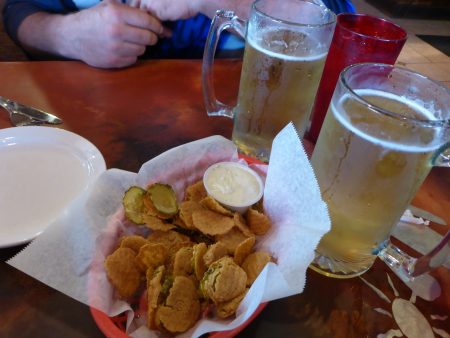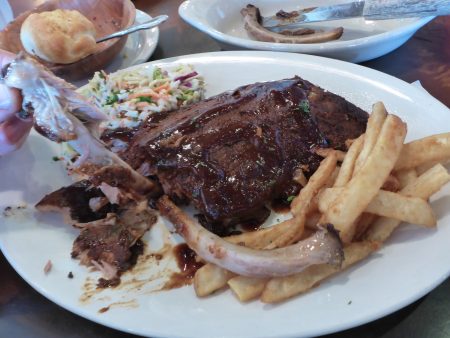 After lunch we checked into a hotel in Moab and then set off for even more adventure, Arches National Park, to be tourists. It had been a long day but weren't done yet! As we entered the park, my bike starting tapping pretty good. Hmm, good thing it was the end of our ride and the bikes were going on a trailer soon.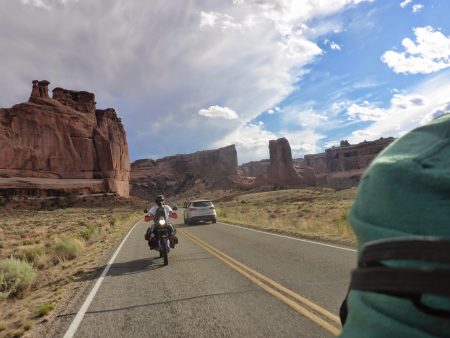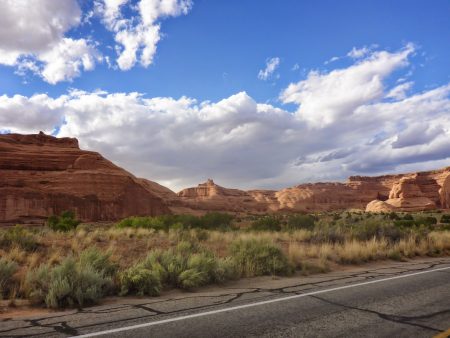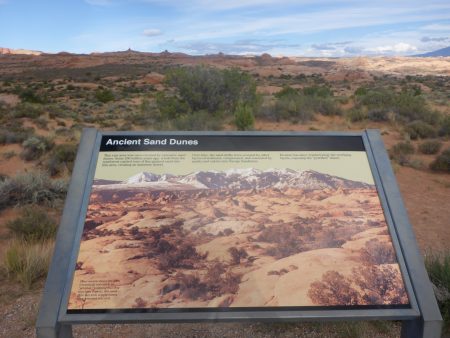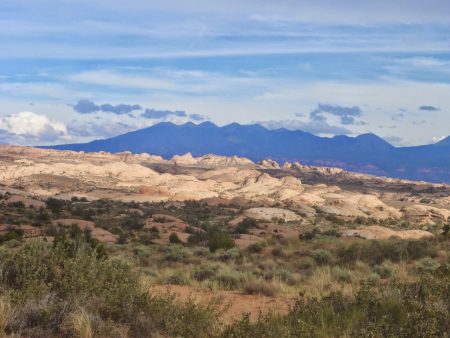 Delicate Arch. Pretty cool but there was no way were were hiking up there after our long day and giant lunch. Note the tiny people to the left. Puts it in perspective.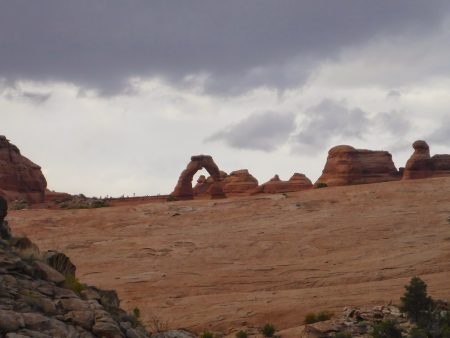 Getting a little deeper into the park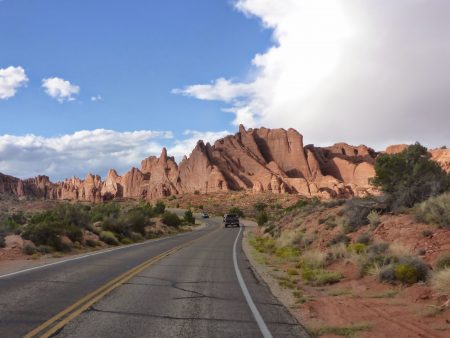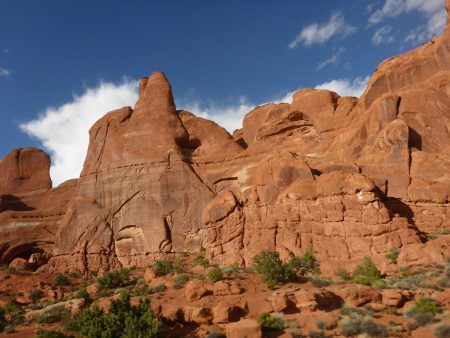 The passing storms produced a nice rainbow.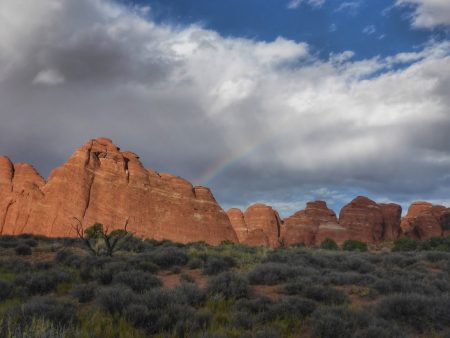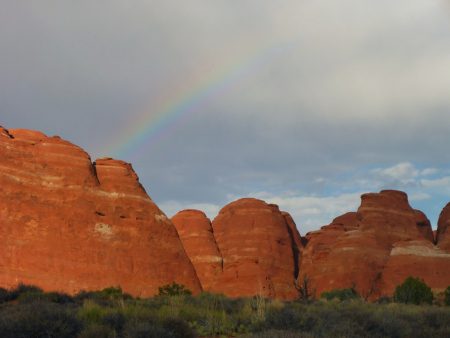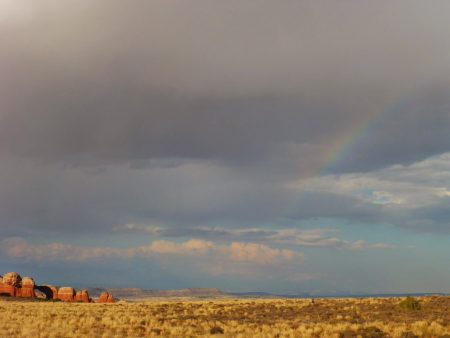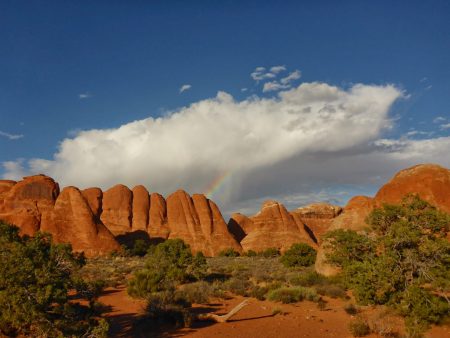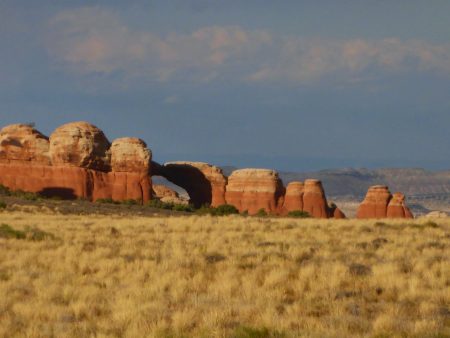 All of the arches were more of a hike than we wanted to do, but this one said .3 miles. Perfect. We can handle that. So we parked and walked up to the base of it. It was pretty big and cool to see in person.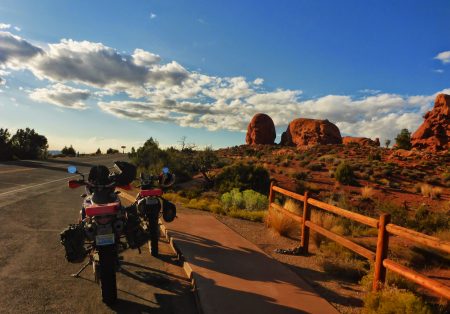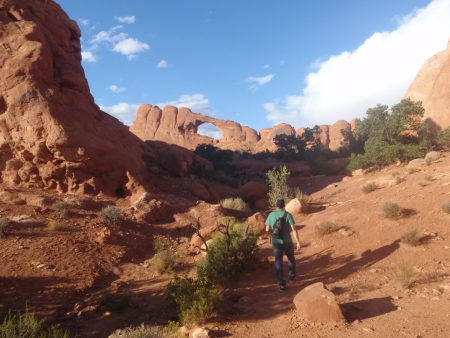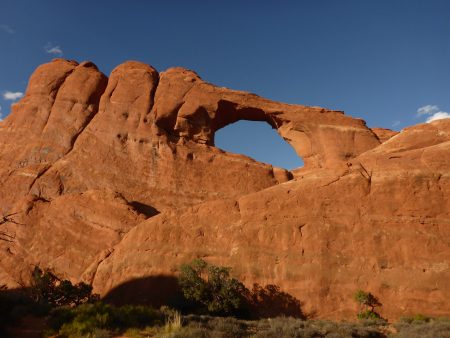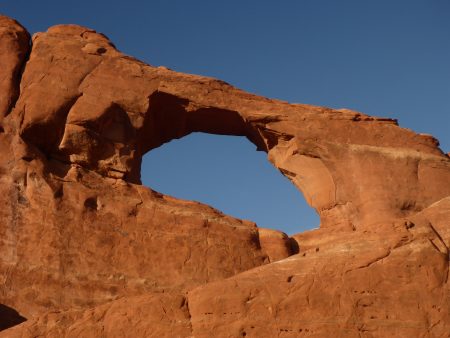 After Arches we loaded our bikes on the trailer, checked into our hotel and called it a night. A shower and good night's rest were in order.
Comments
comments