Explore behind Christmas Tree Pass towards Lake Mojave. I found what looks like a house on Google Earth so that was reason enough to go exploring and riding.
Mike B (XR650), Mike M (KTM 690), and myself (KTM 690)
Sunday morning we met up at the gas station. Mike B makes a few last minute adjustments to his XR650.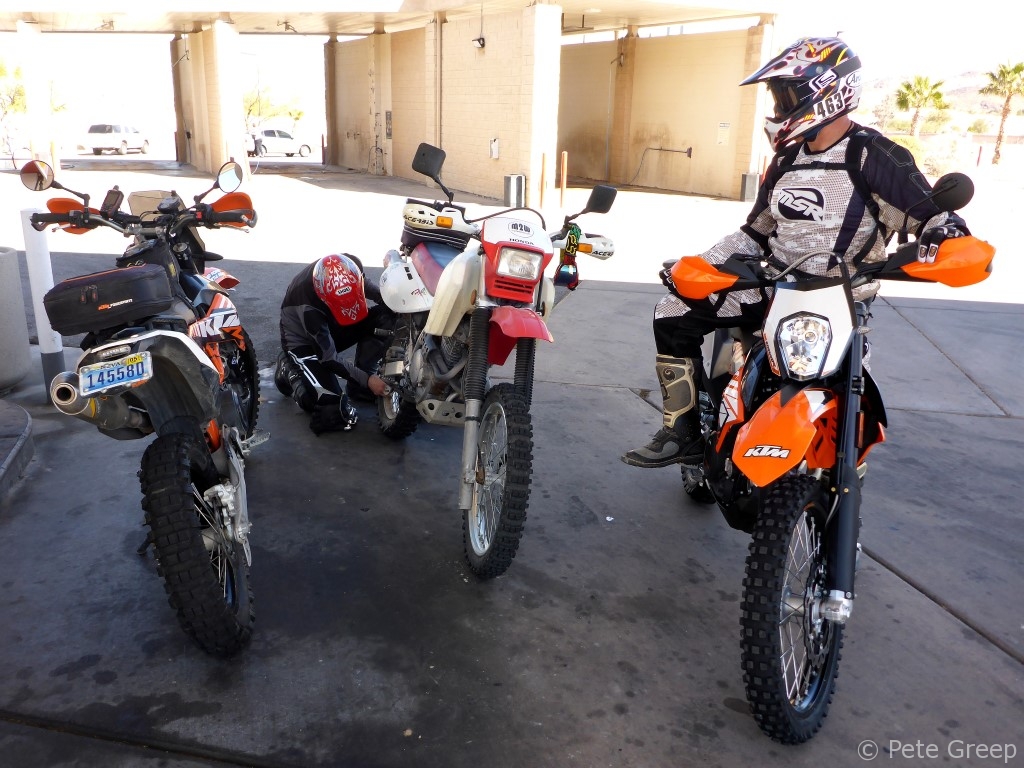 Not a mile later Mike M has an issue with his KTM690.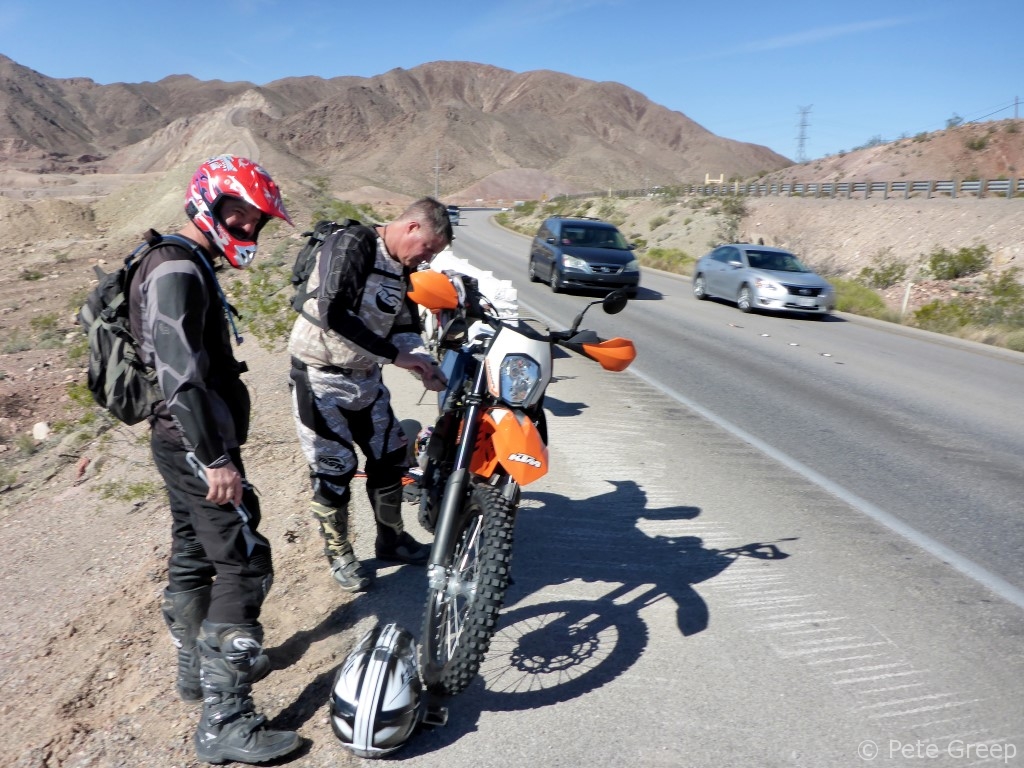 It flashed a code 37, ignition circuit DTC. He had just installed a steering dampener so we checked the wiring that was messed with. Nothing found. So we searched a little more and found a bad ground at the ignition coil. All fixed up! It started right up after cleaning some powdercoat off the frame at the connection.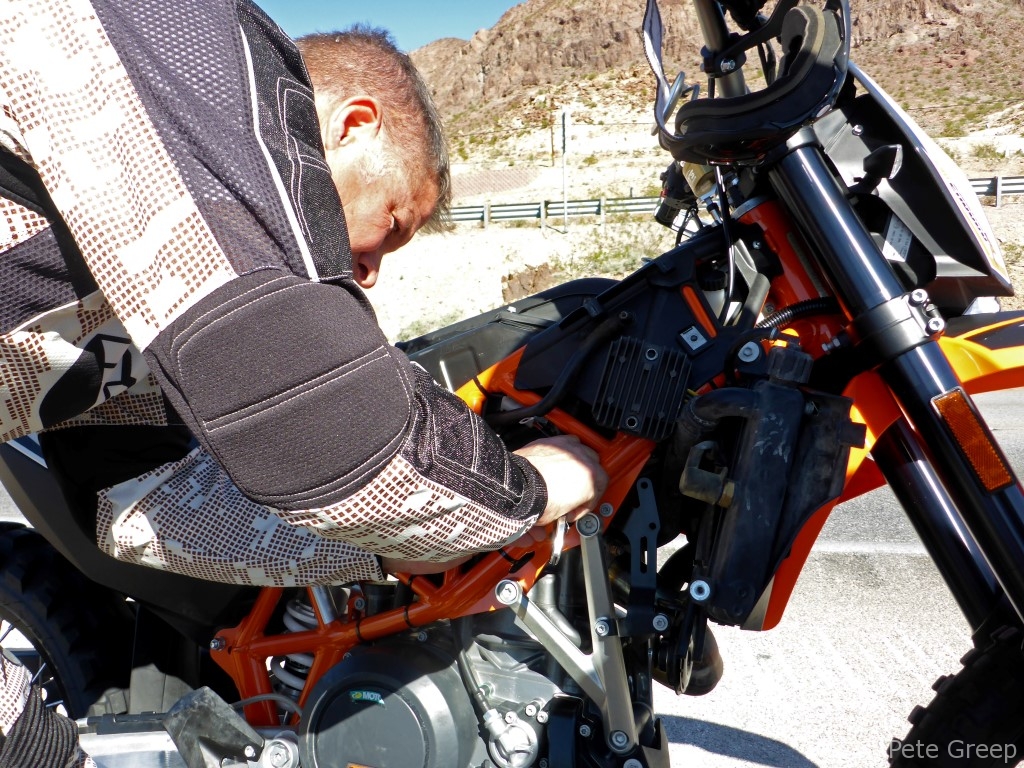 We jammed through Nelson hitting one of my favorite canyon trails.
Quick selfie with Mike B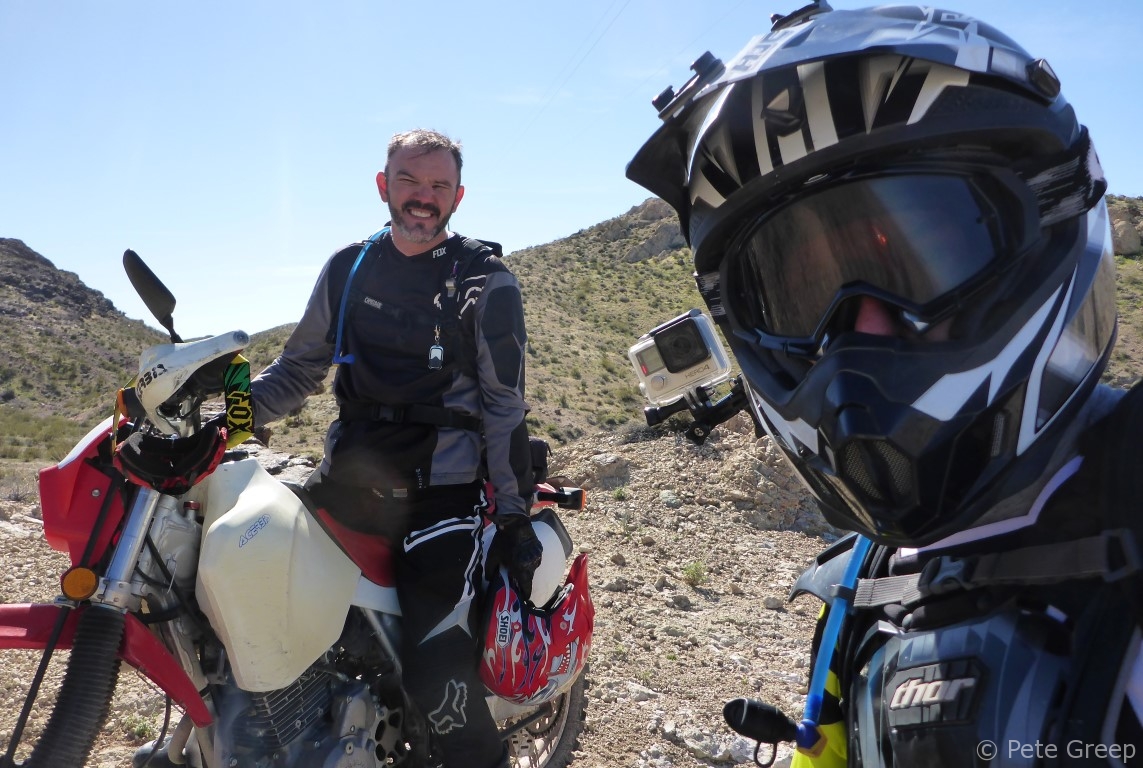 Mike M recovering after some arm pump. He said if we do any more riding like this he's going home to get his 450. lol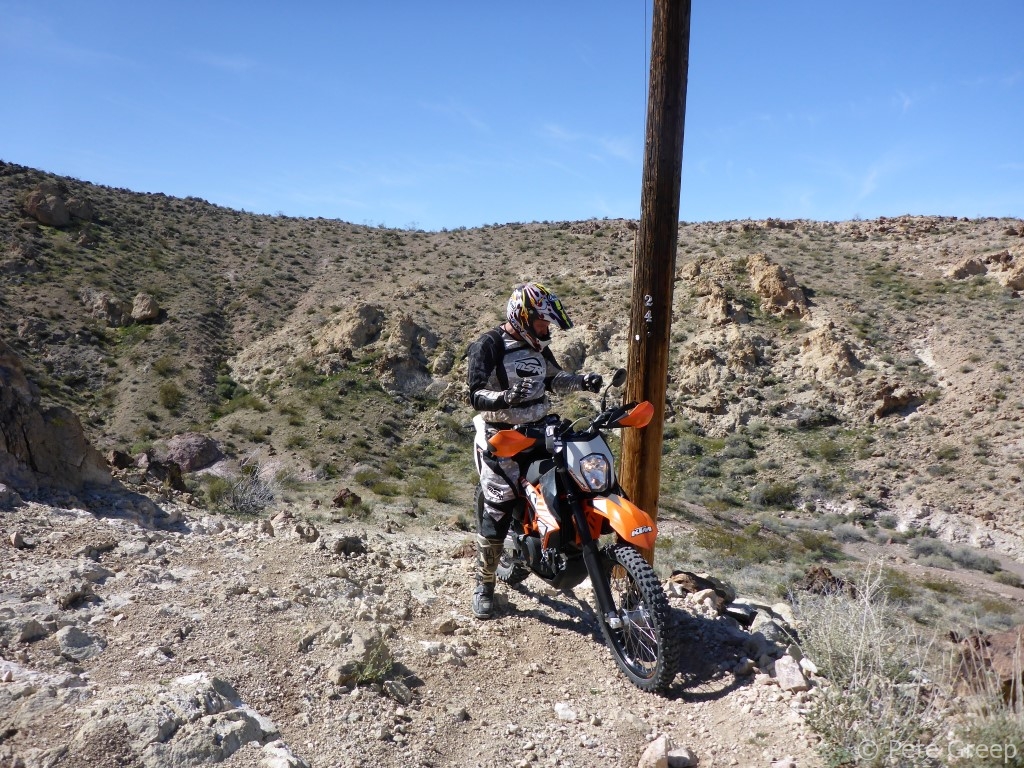 Mike coming up the wash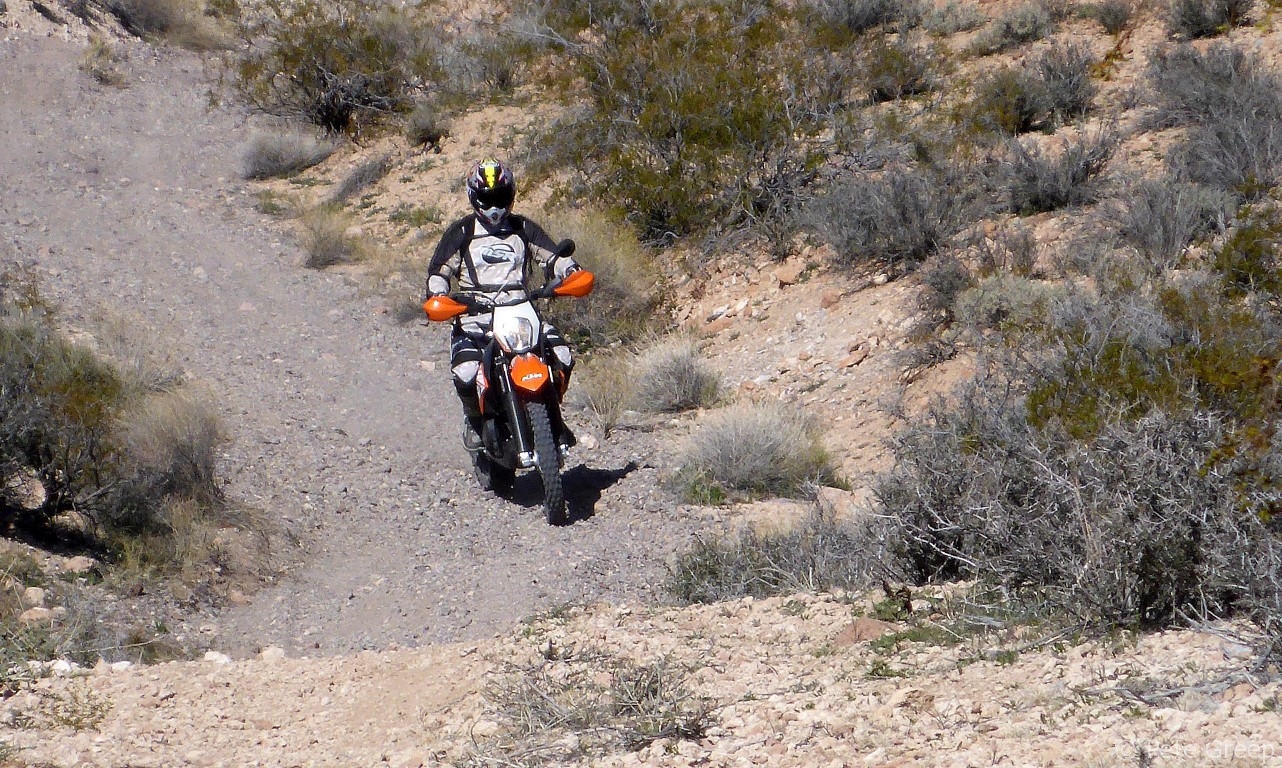 We "powerlined" it to Searchlight to save some time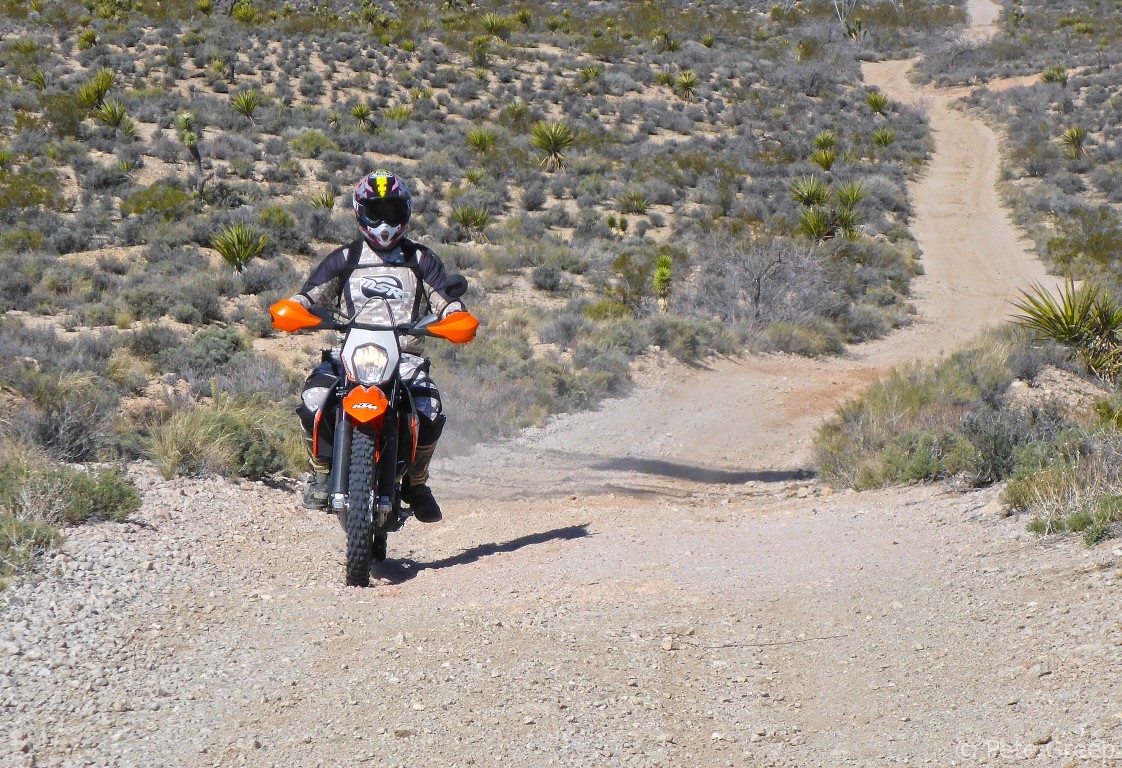 After we all grouped up, Mike B spotted something off the side of the powerline road.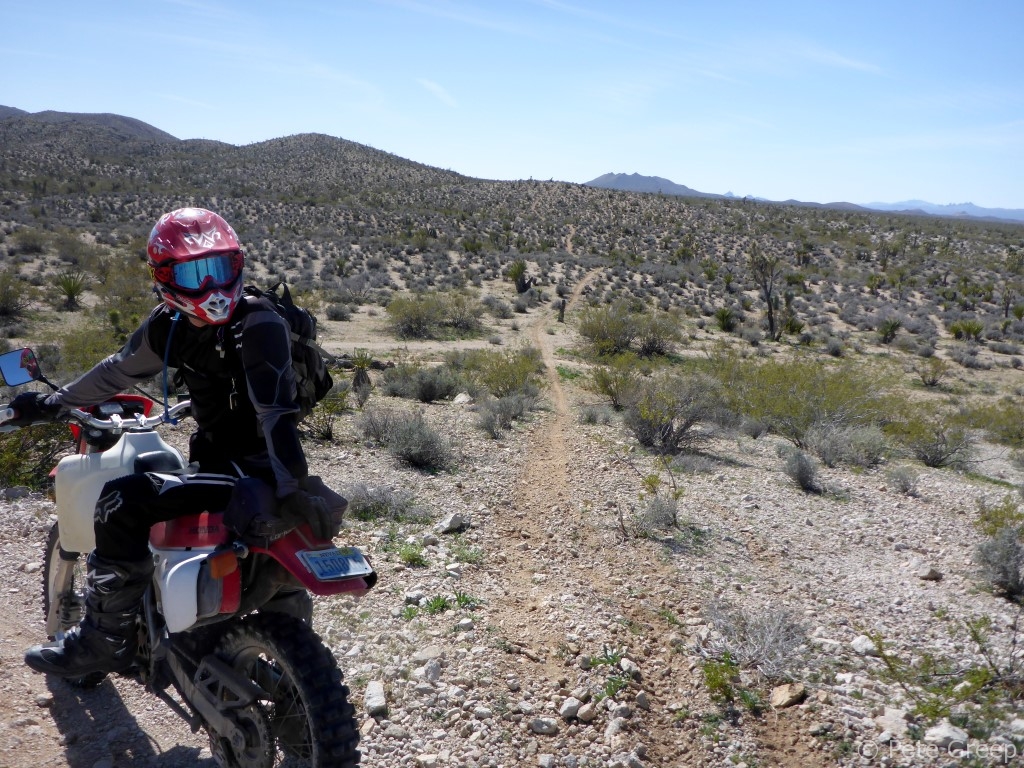 Look at that beautiful gem of some singletrack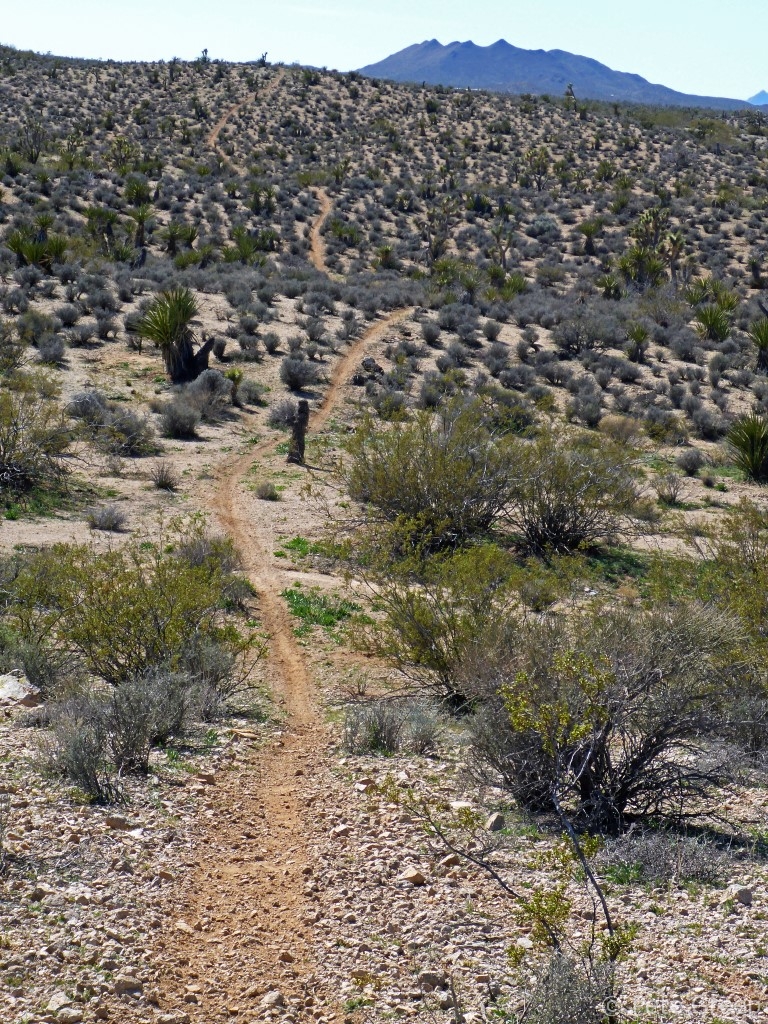 It was singletrack heaven. It winded between Joshua Trees and cactus, flowed up and down into ravines and was flat out awesome. This one is getting saved permanently to my GPS.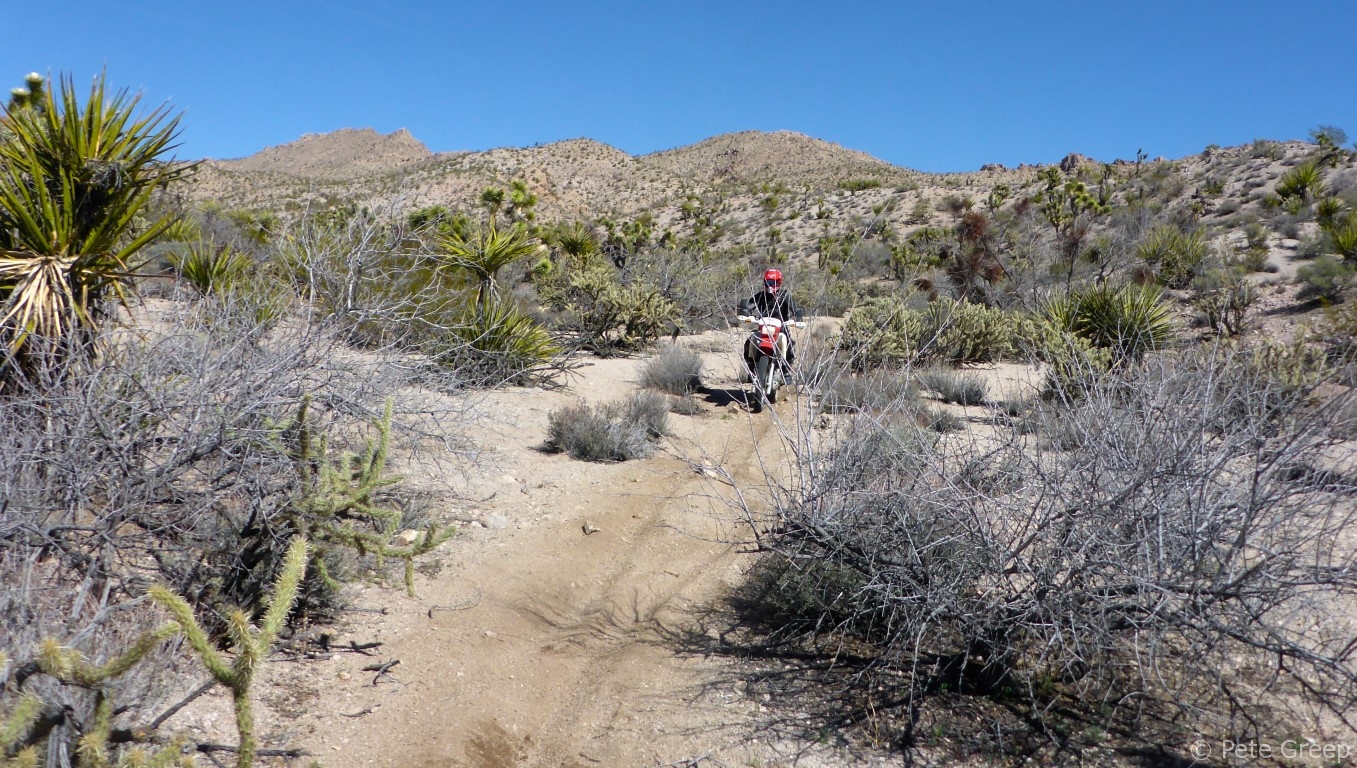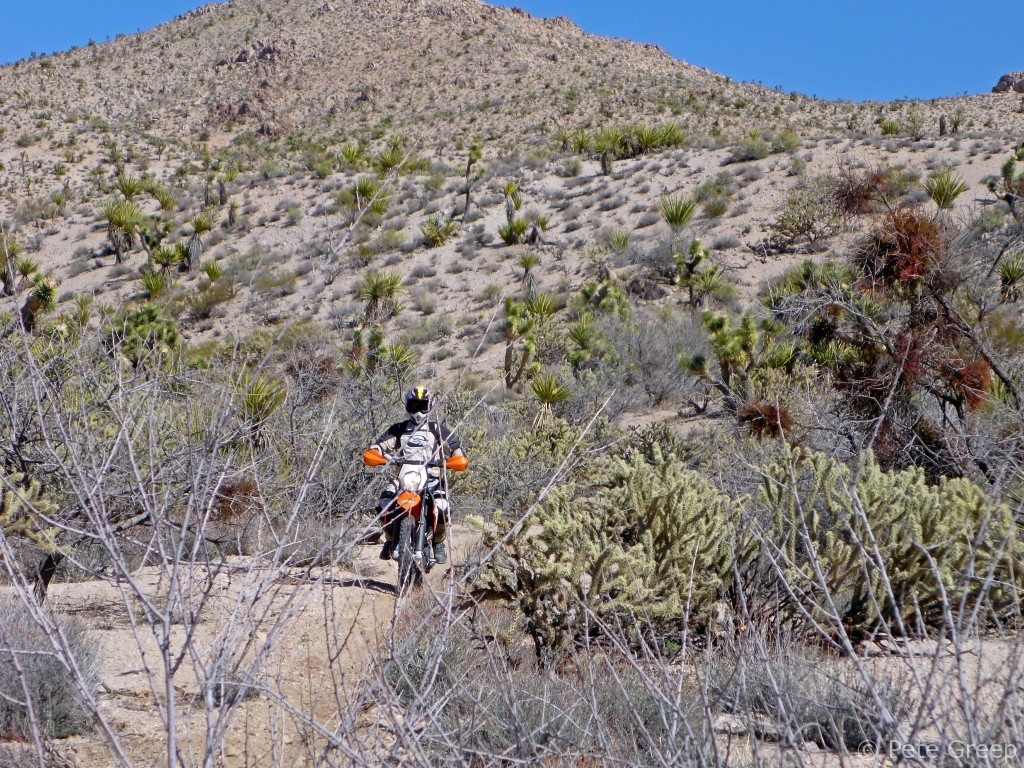 After crossing the highway (Cottonwood Cove Rd), we headed towards Lake Mojave
There were several roads down to coves along the lake. We opted for this one. It would bring us down to Nine Mile Coves.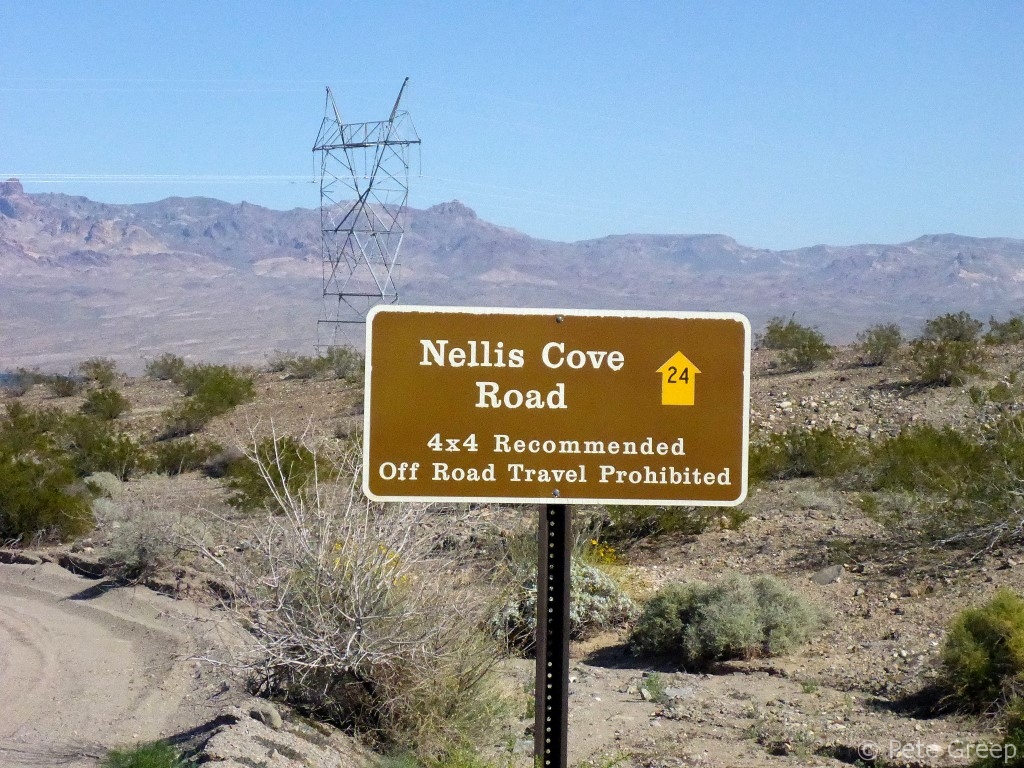 We chose wisely. It was gorgeous down there.

Mike B went exploring down the shore a little ways. He came back with nothing exciting to report.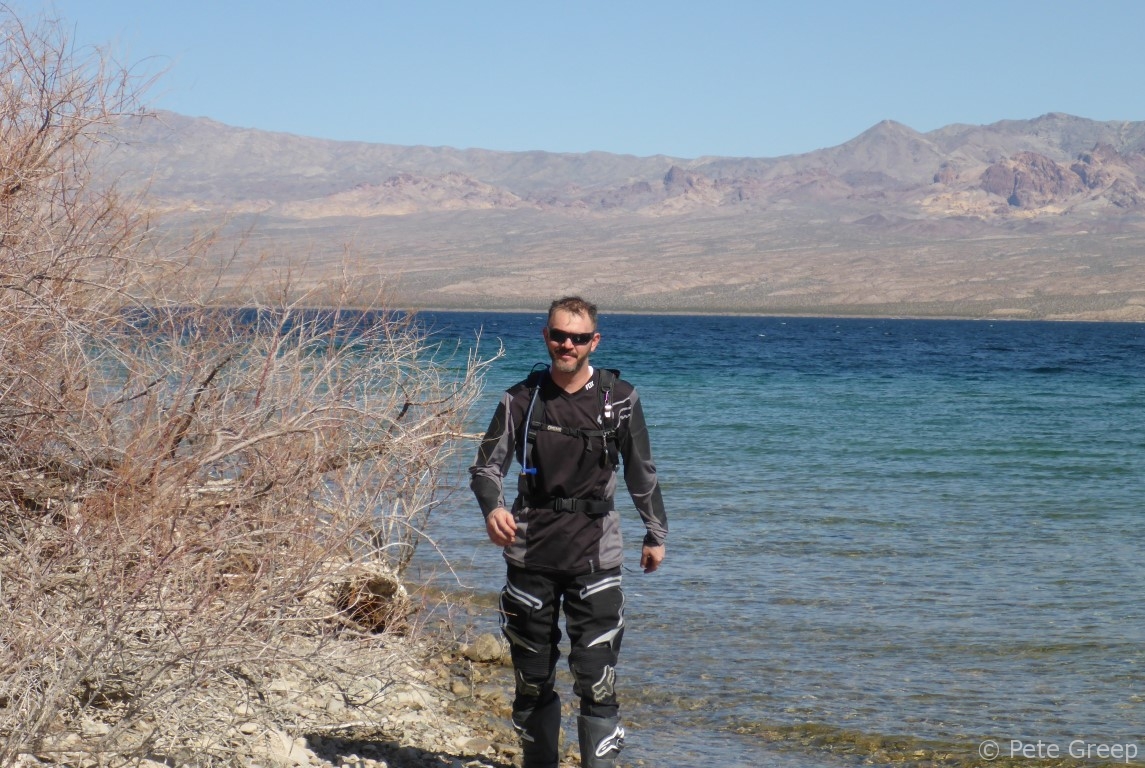 We headed back up the road and continued away from Lake Mojave towards Empire Wash & Roman Wash.
The colors were amazing. Everything was in super bloom.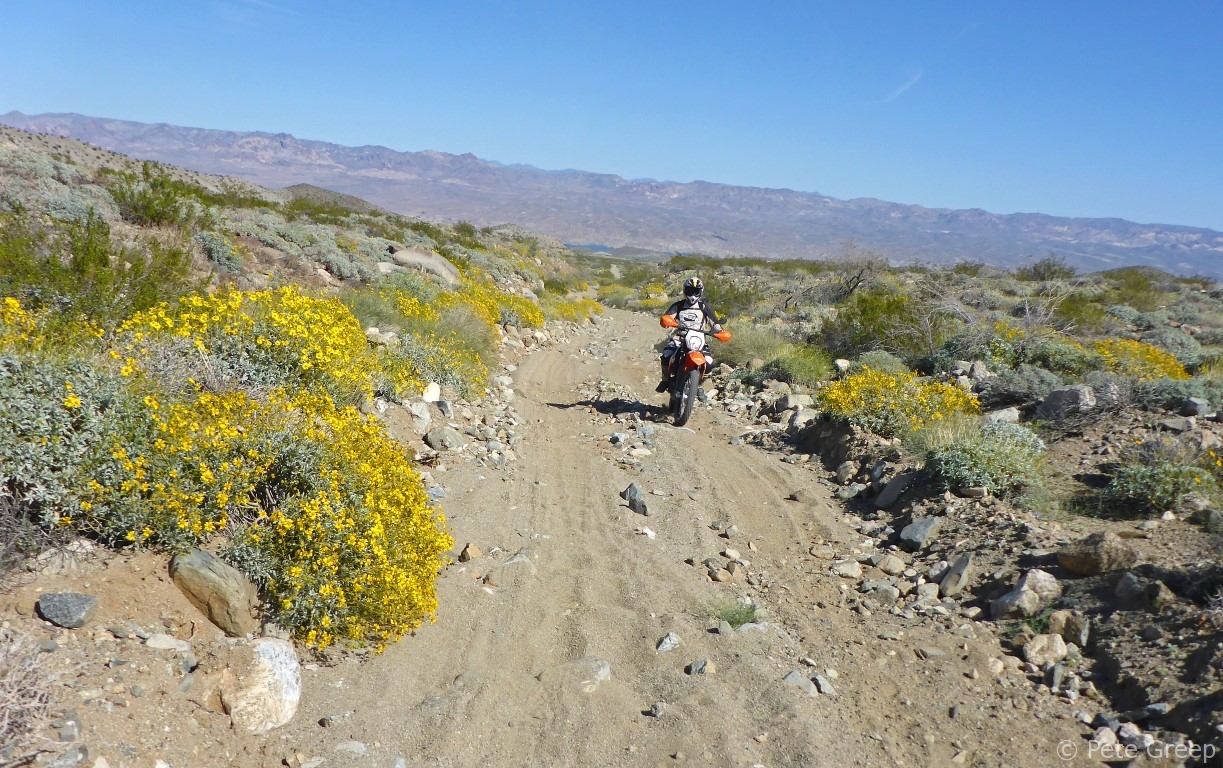 Mike M coming up the wash. There were some cool rock formations.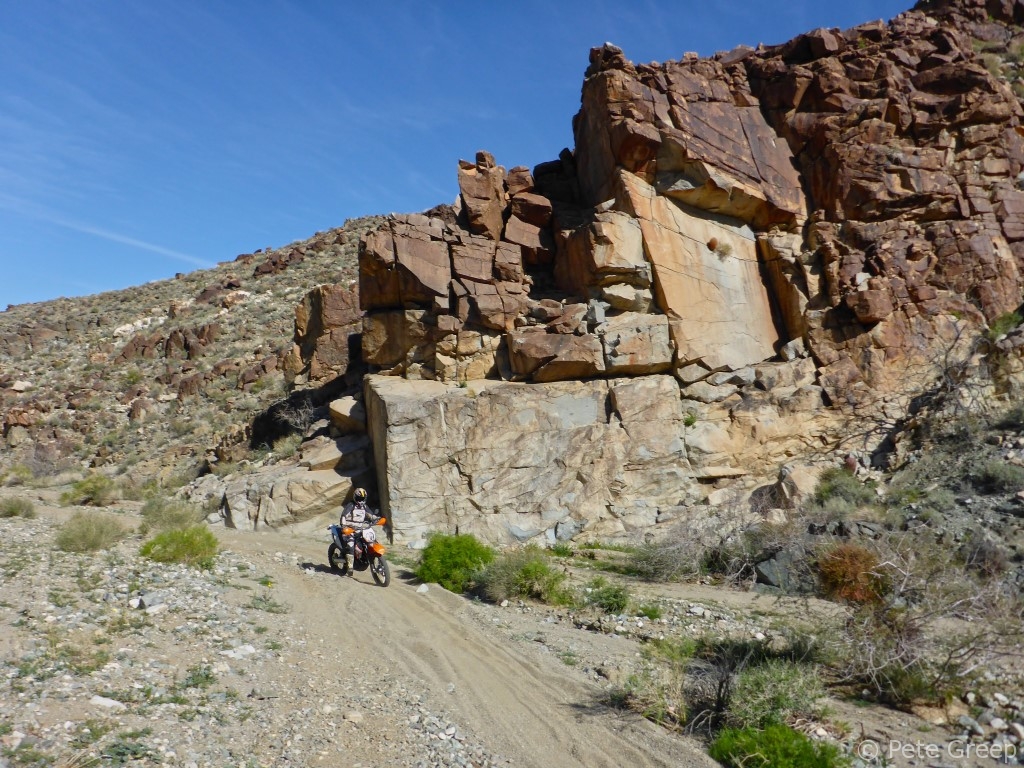 Along Roman Wash this dirt intrigued me so I took a pic. It was a dead end but looked interesting.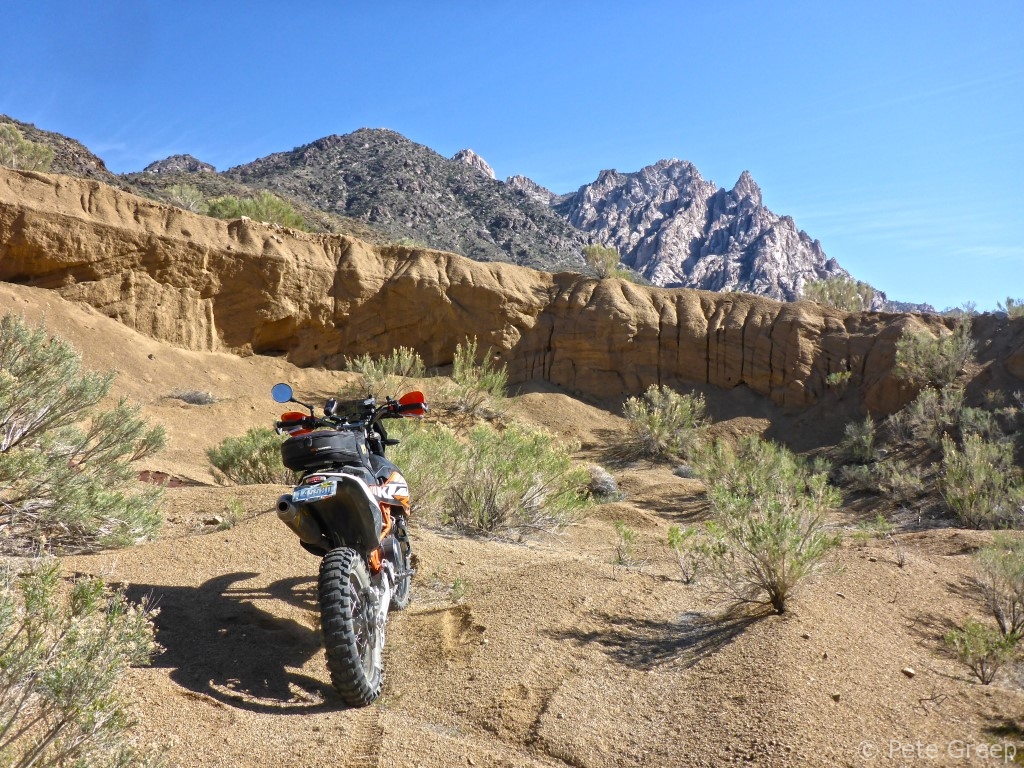 We arrived at our planned destination. It appears to be an old miner's property.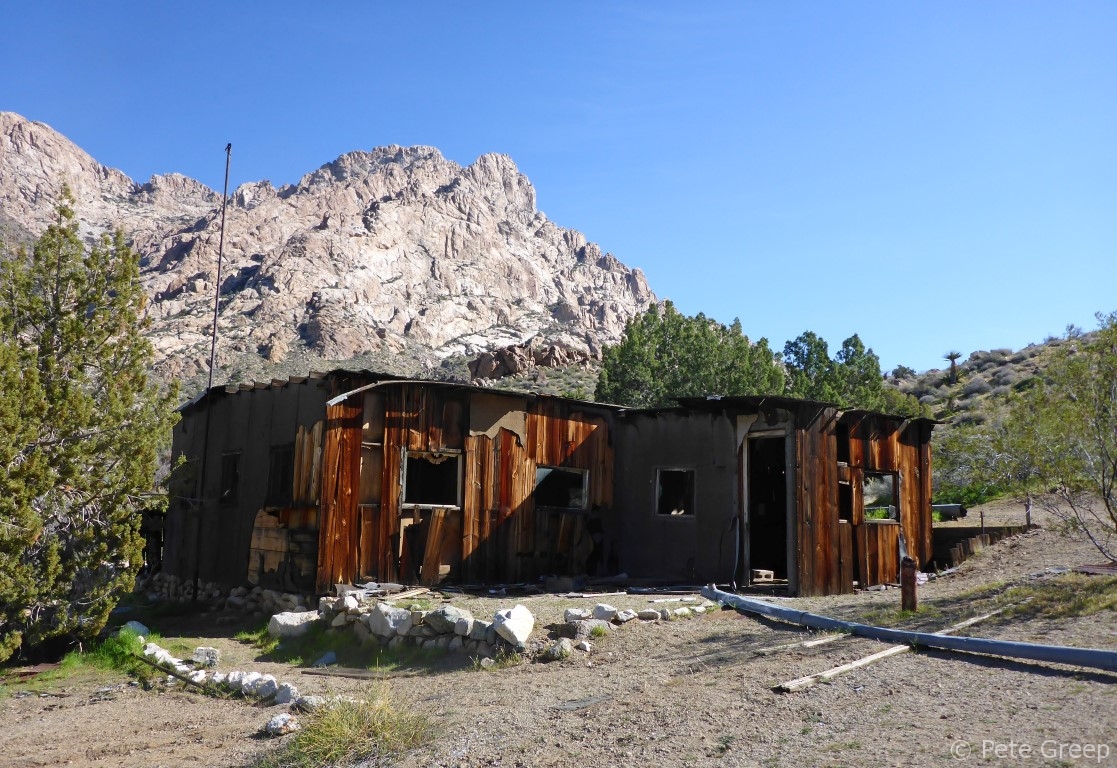 The chicken coop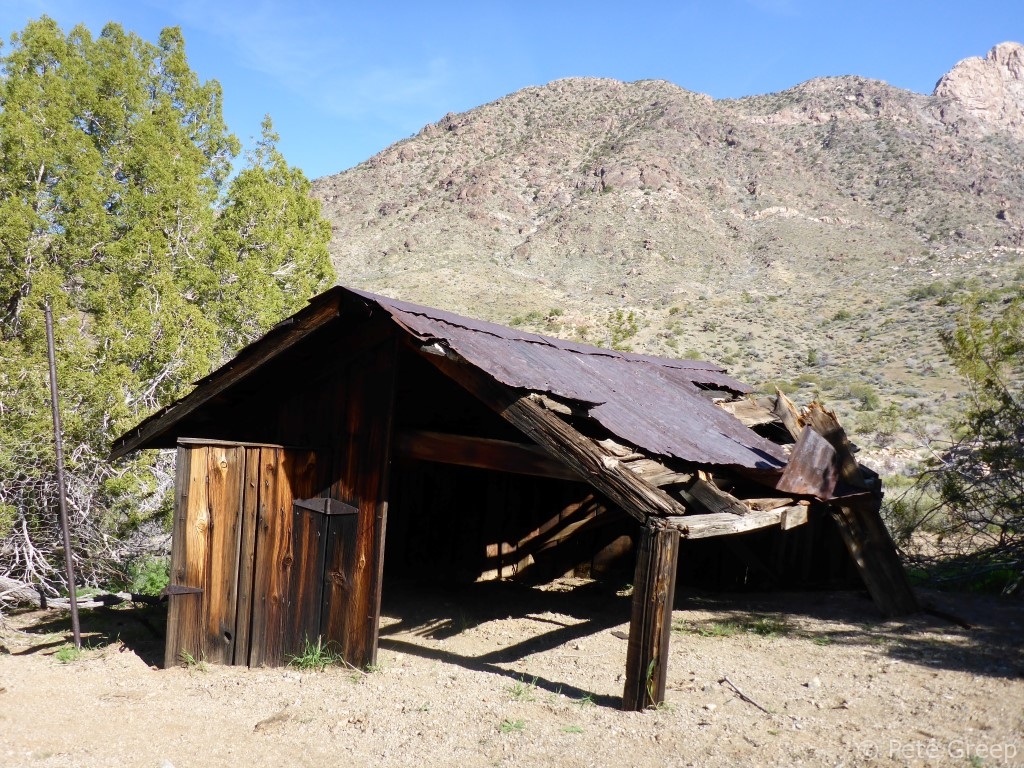 Water tank
Kitchen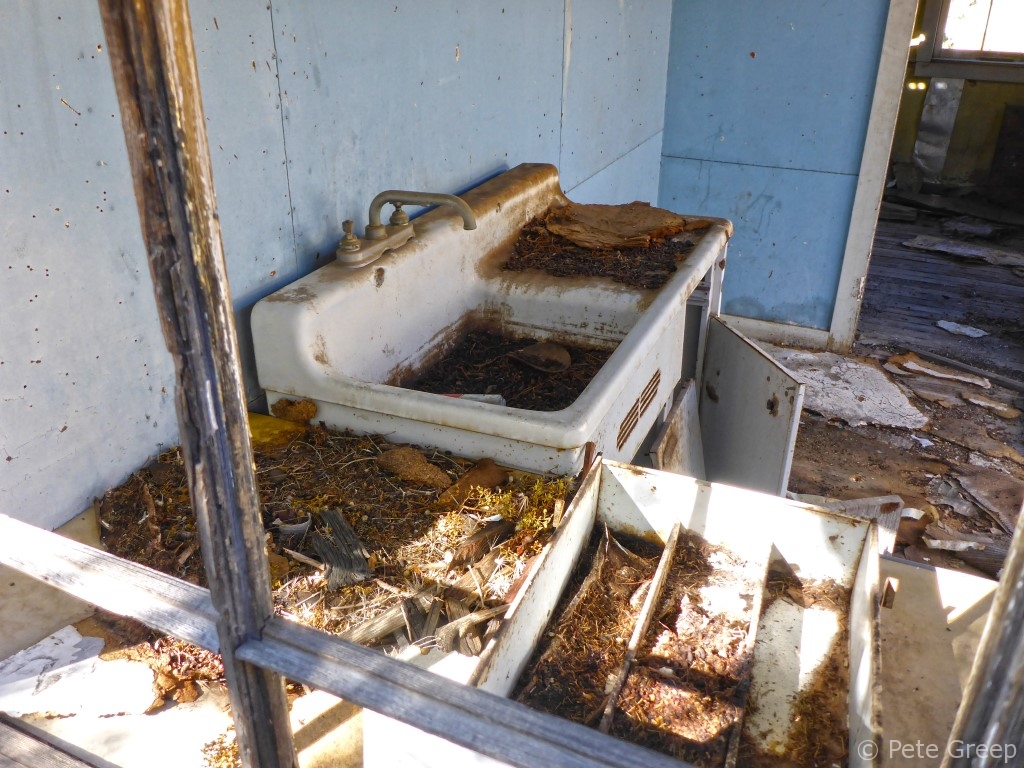 Entertainment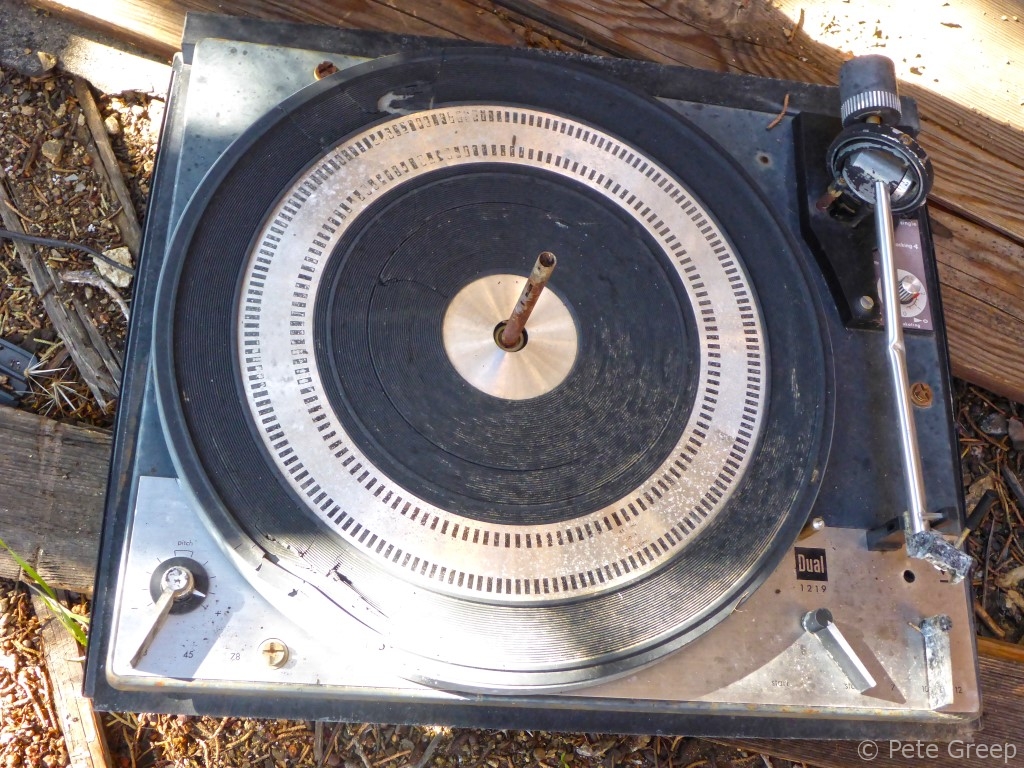 Rock climbing wall? Mike said there were some modern petroglyphs or graffiti up there. There was no hike in my plans today so I took his word for it.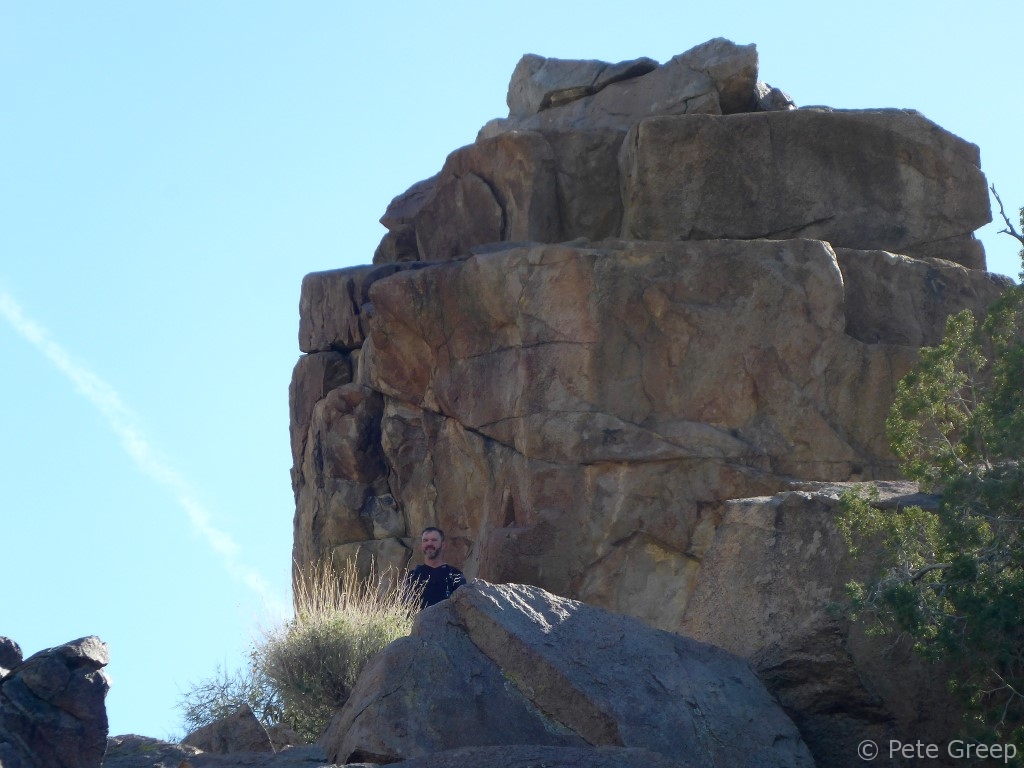 I saw Mike M taking a pic of me taking a pic, so I did the same to him.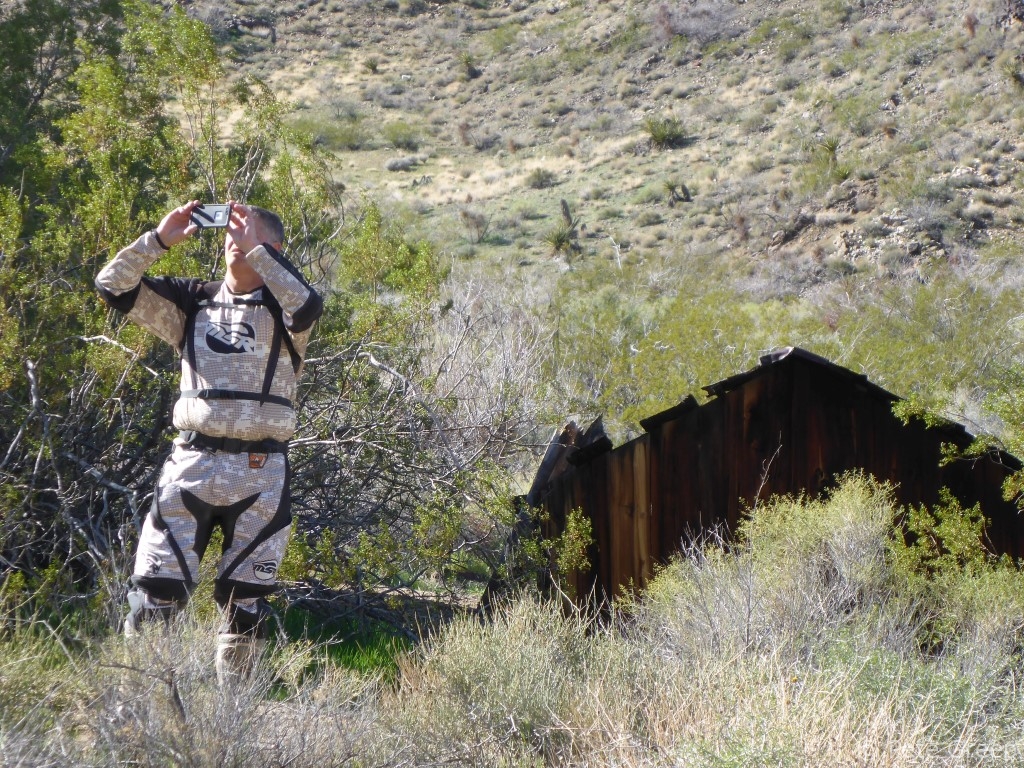 We did a little more singletrack exploring, dodging cactus and prickly bushes. I loved the dirt up there.
Crossing Mini Roman Rocky Gap. That's my official name for this rock section.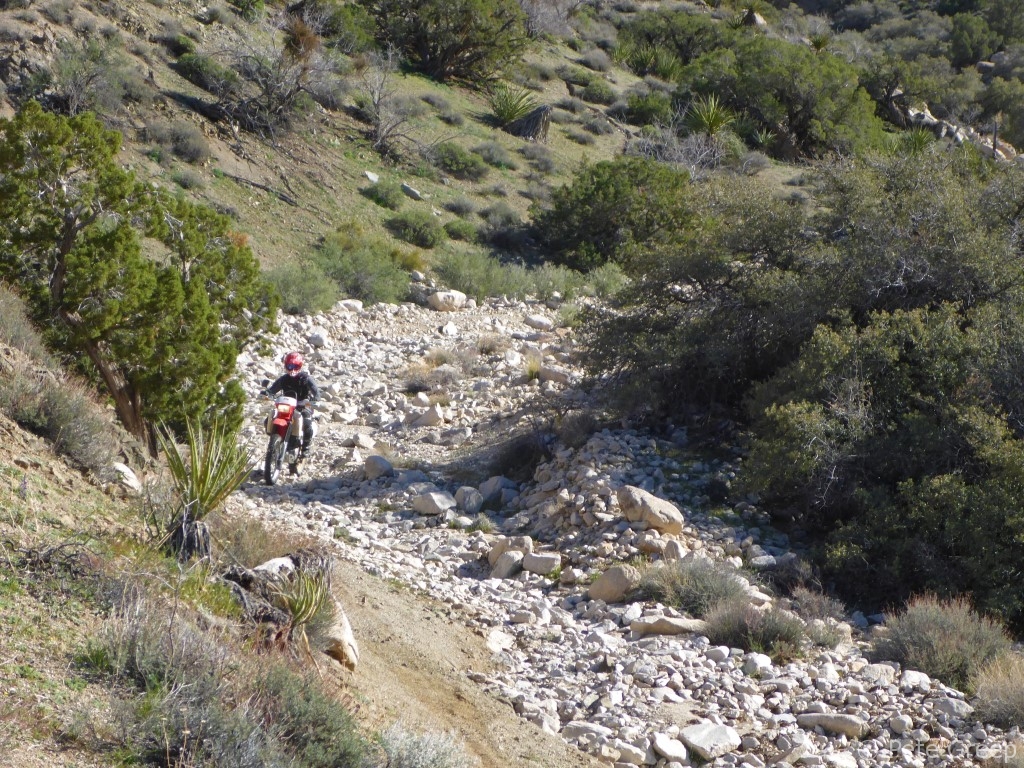 Mike M hit some loose rocks and took a nap.
Back up and at it.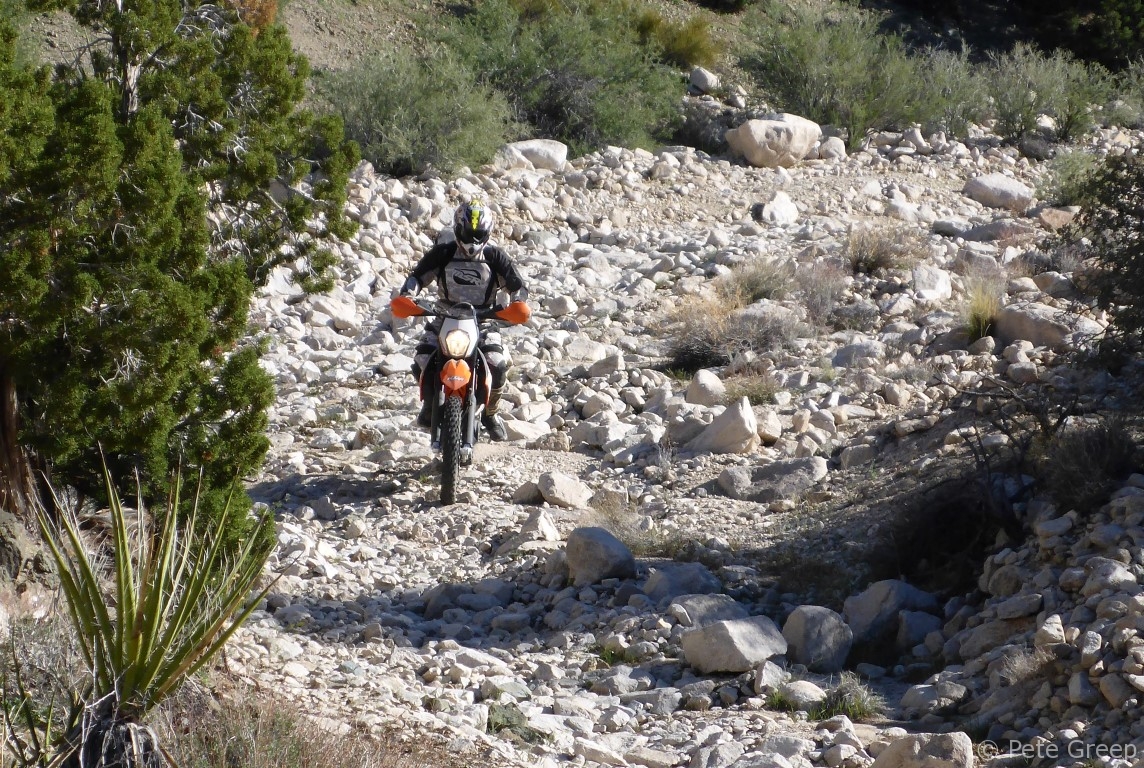 We crossed Loran Station and a ton of desert at a high rate of speed to get to Searchlight. Looking back at Christmas Tree Pass.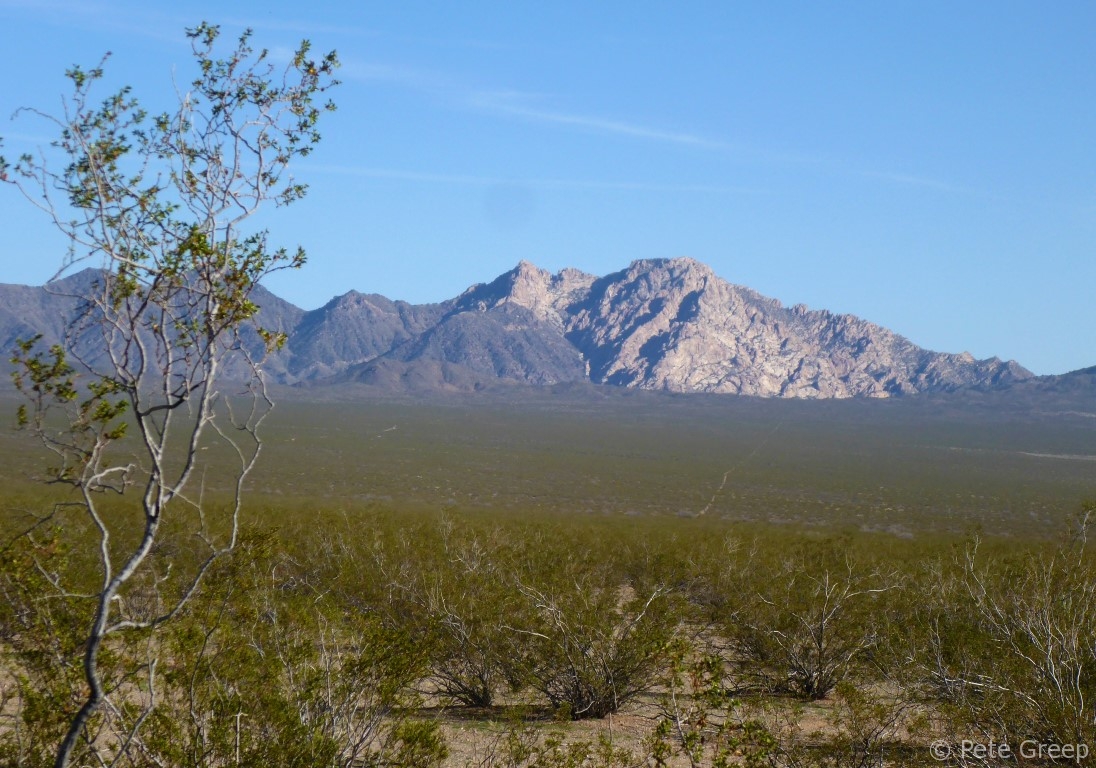 We pulled into this terrible place for lunch. It wasn't bad, but it didn't get any better since Terrible's took over.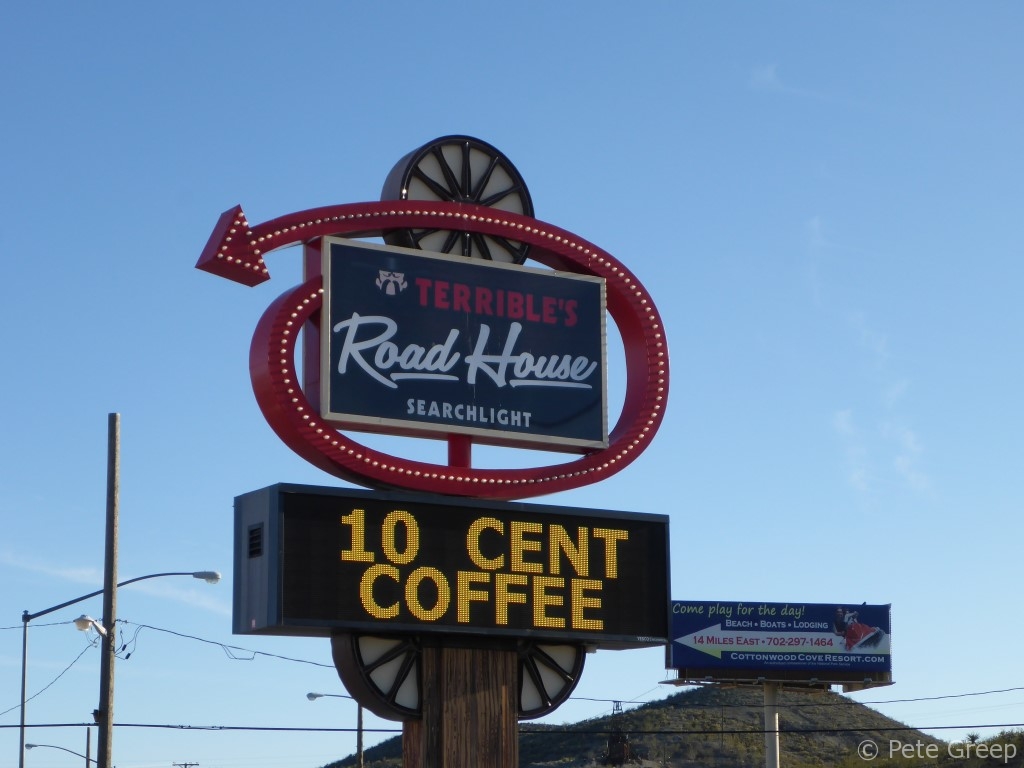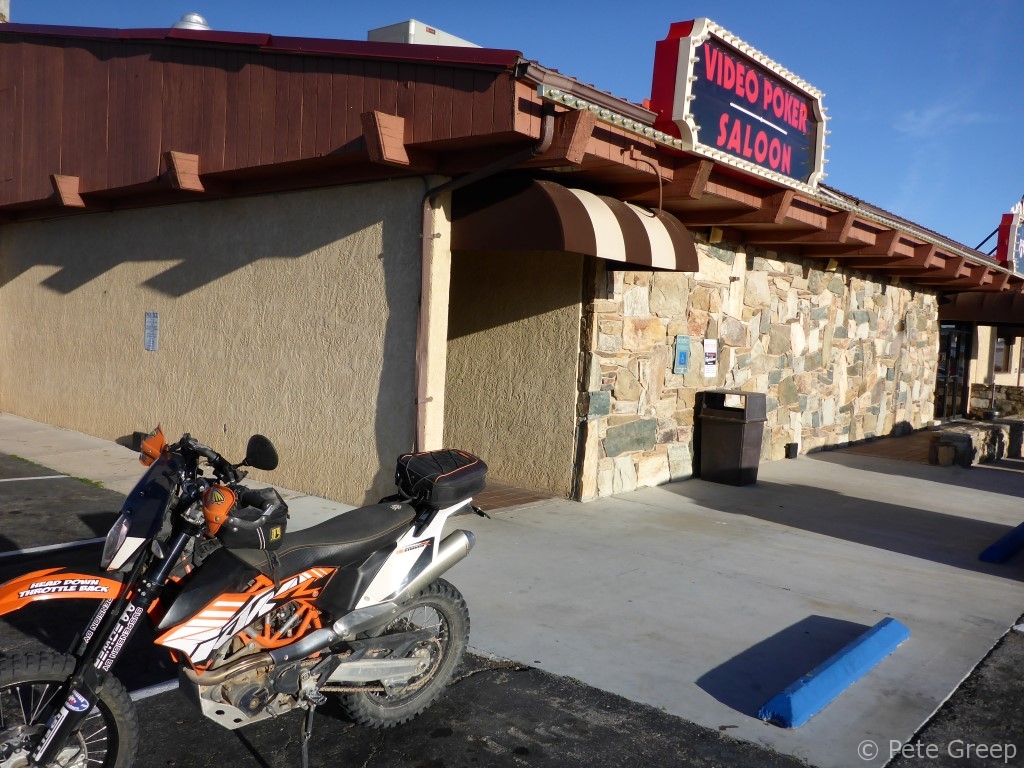 Working Off Lunch – More Epic Singletrack
After lunch we took the gas line road towards Nelson. Halfway there Mike B spotted another beautiful gem.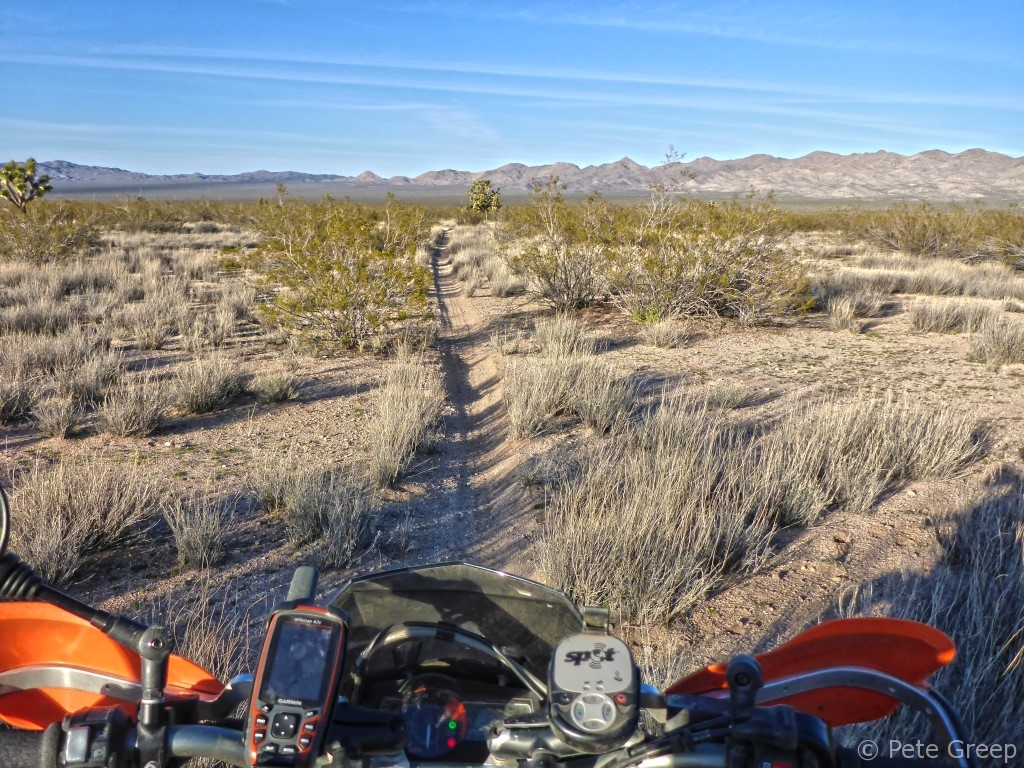 It was 11 miles of singletrack awesomeness.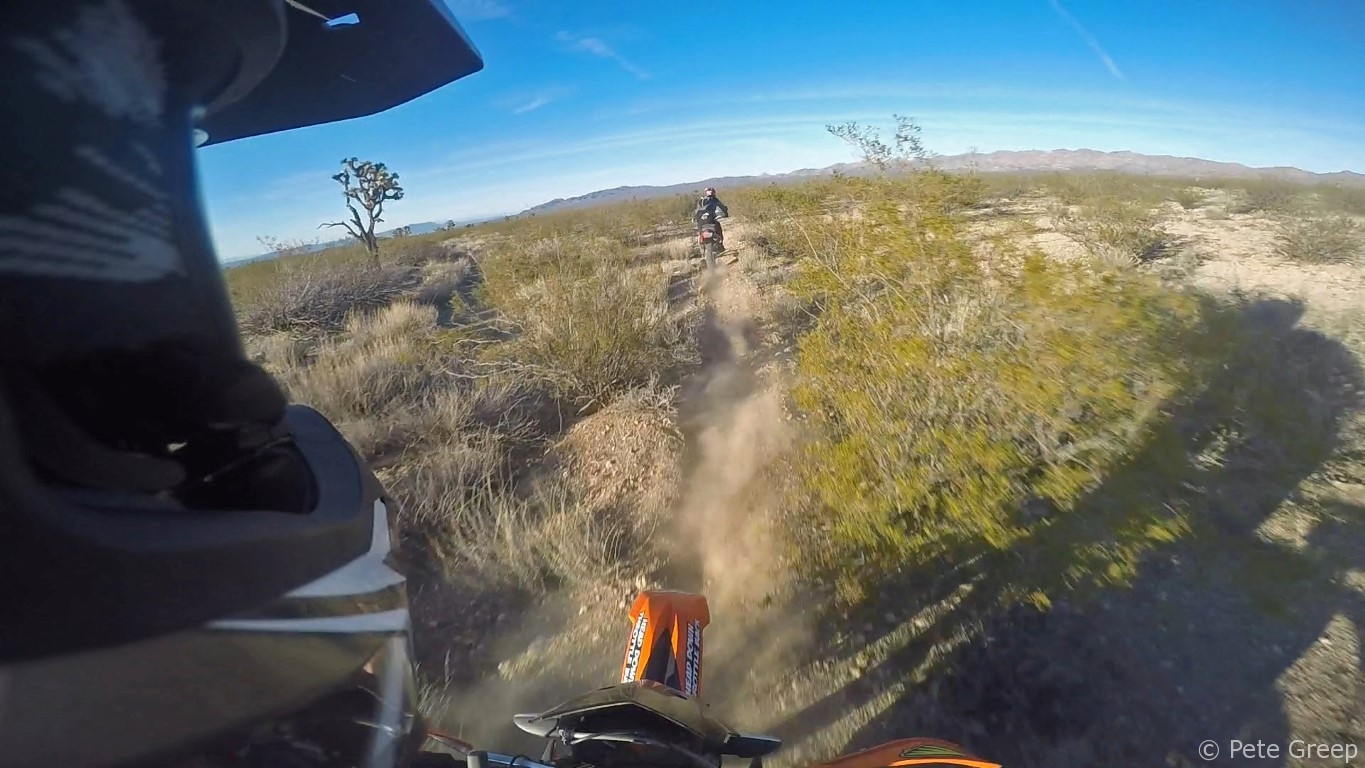 We stopped for a breather and waited for Mike M.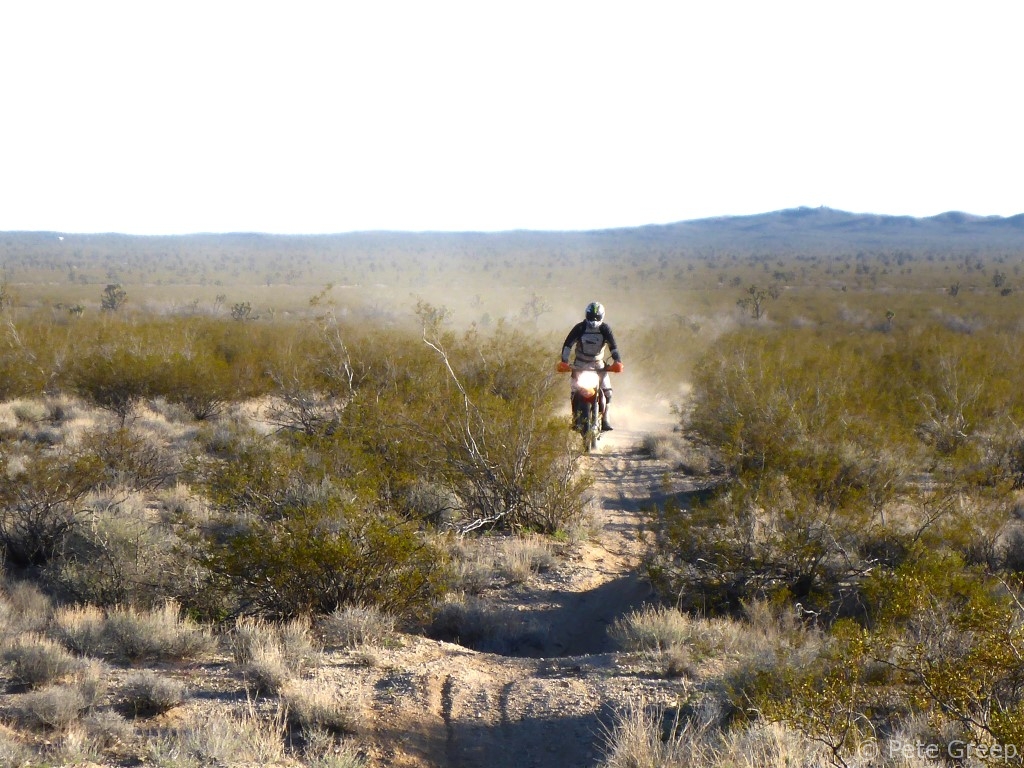 We found out why he was lagging a little. Flat front tire. Oh. That'll do it.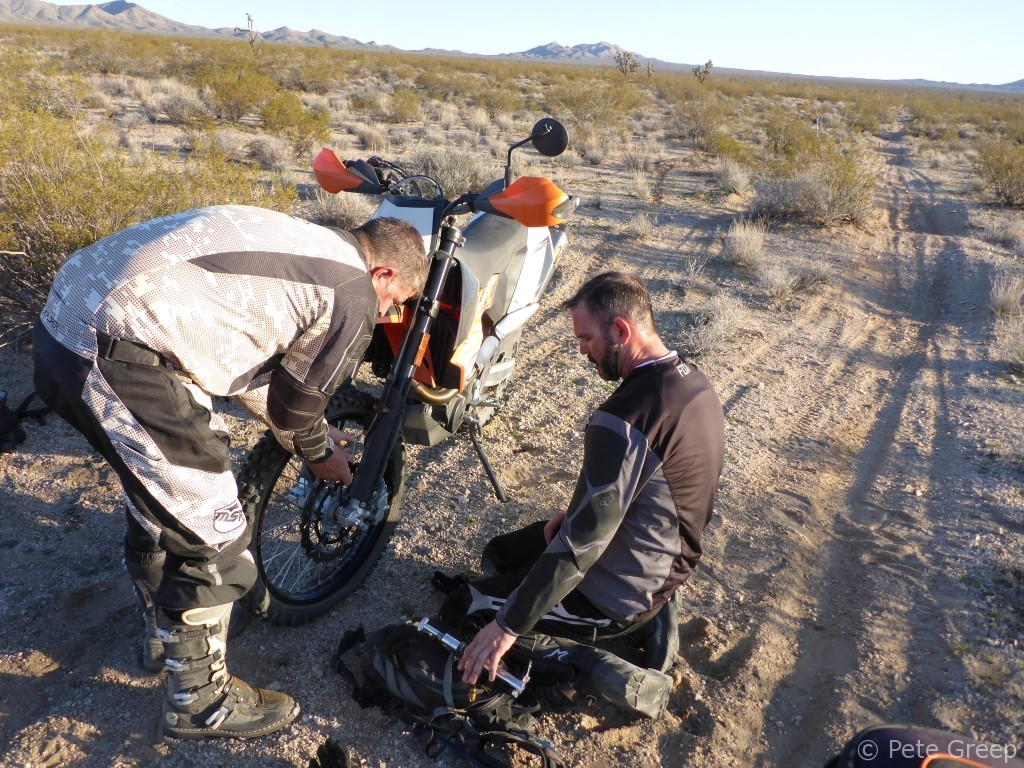 I helped Mike swap it out.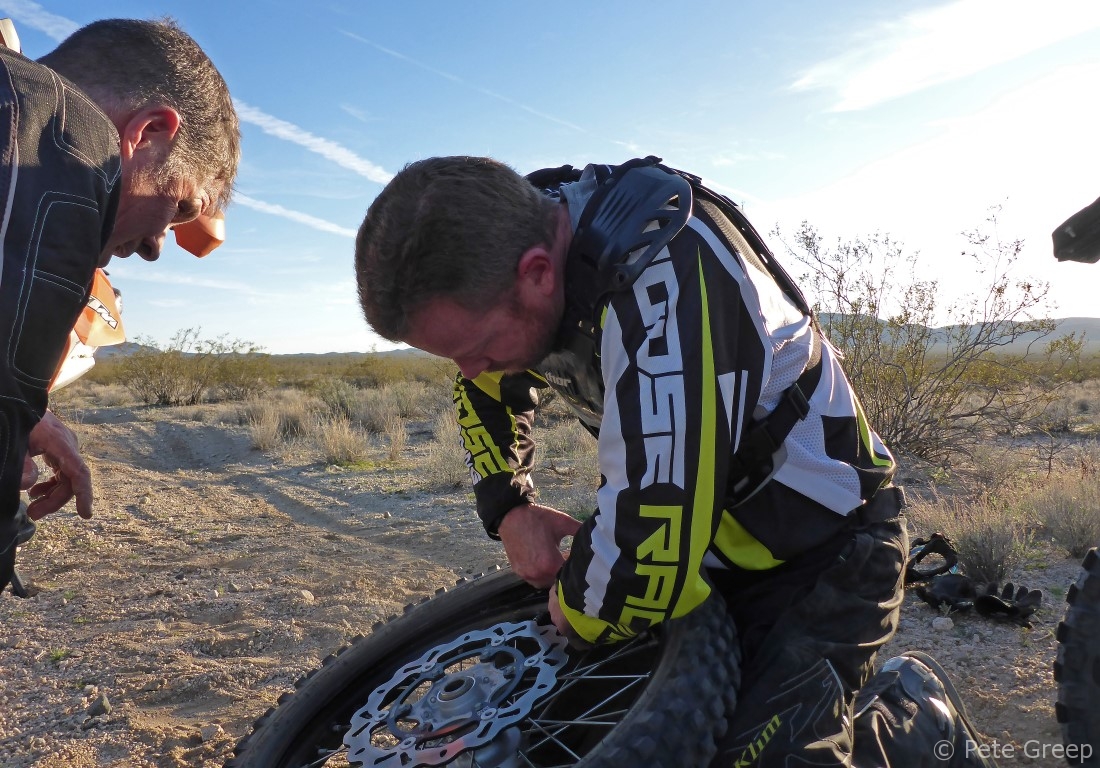 5 Ways to Make Changing Tubes Painless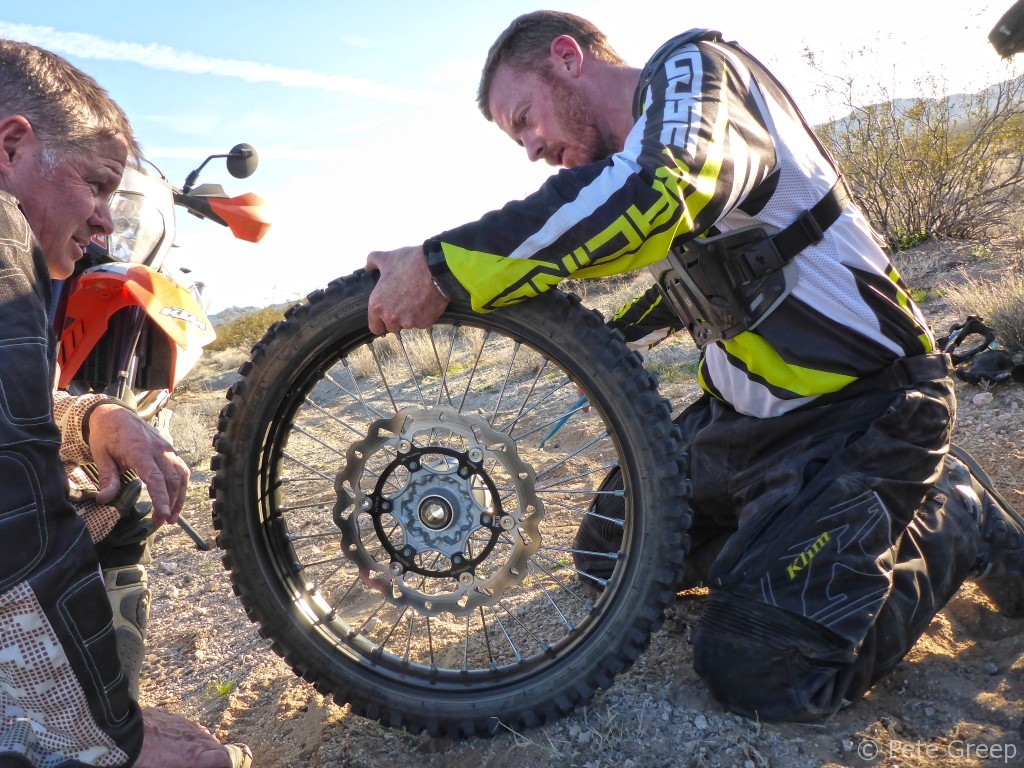 Mike B supervised and took selfies with my camera. lol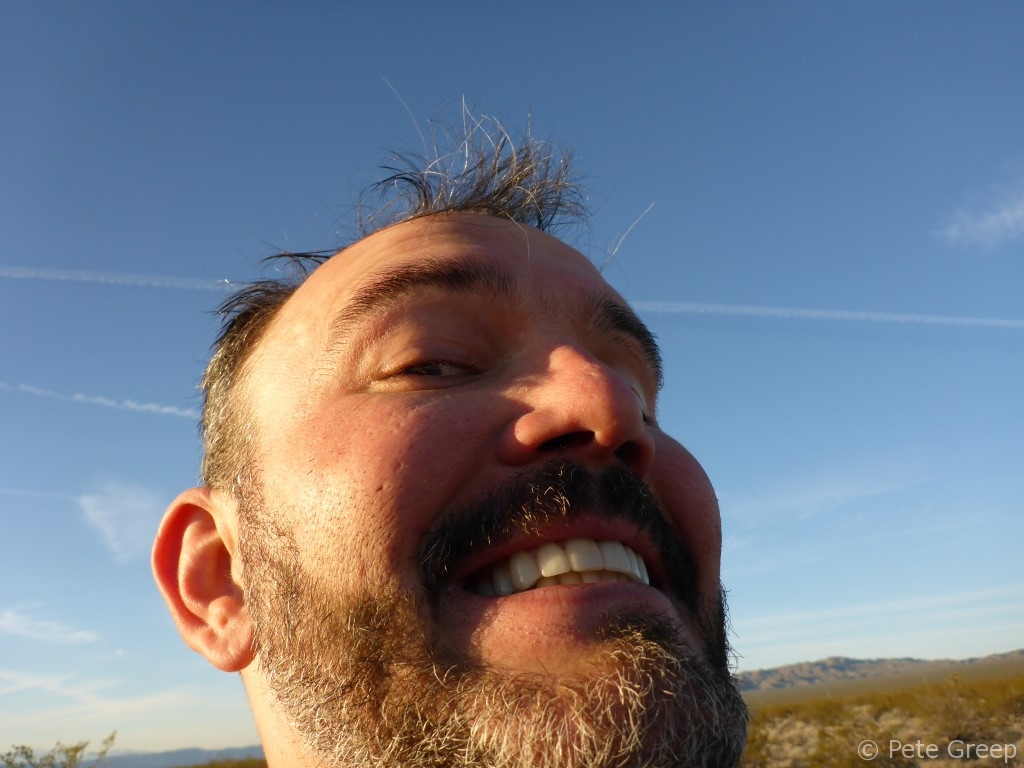 Couple quick nature shots before continuing on what would have been…have I mentioned 11+ miles of singletrack! wow!
Mike M watering some plants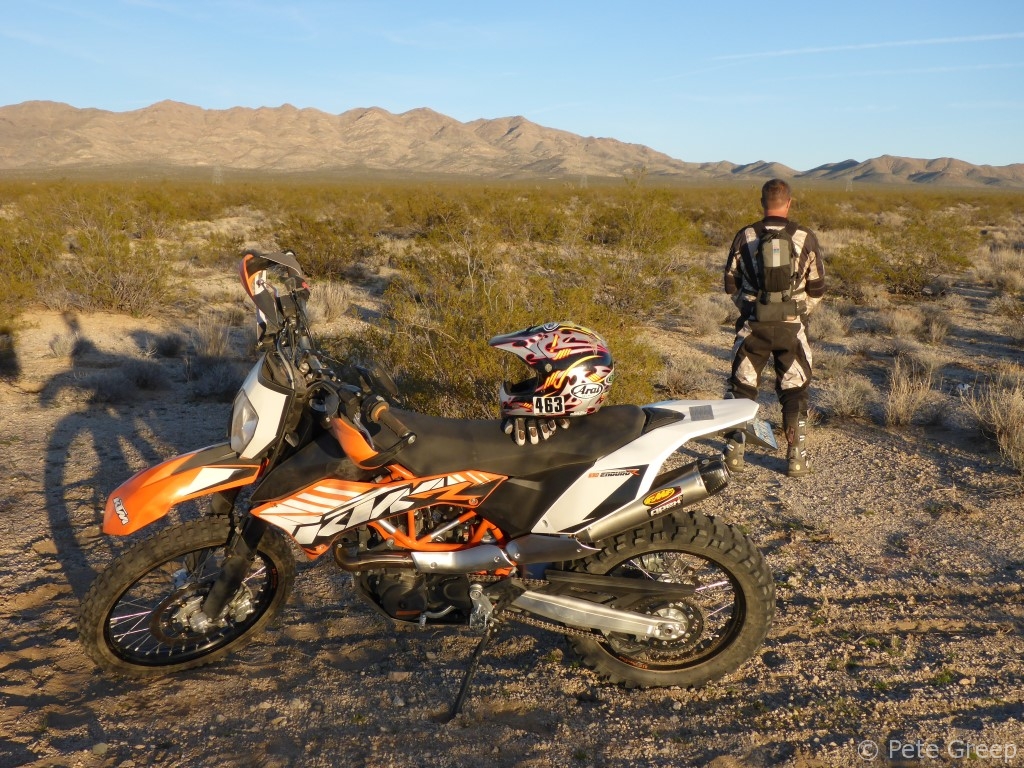 As we got towards Nelson, the moon started coming up.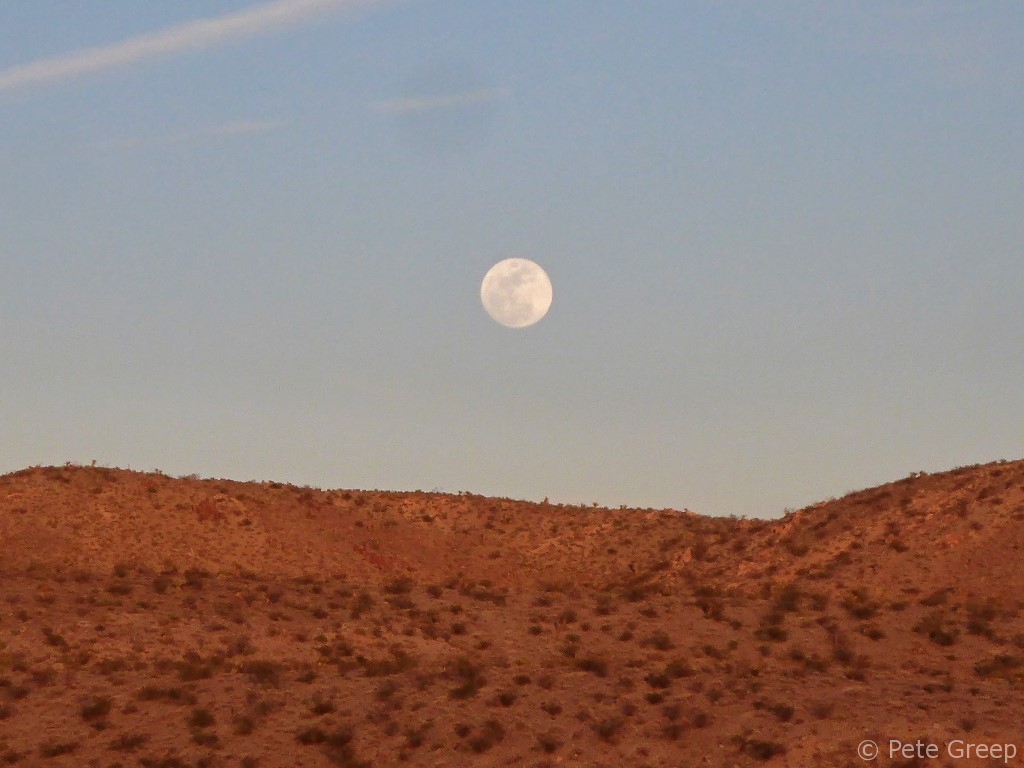 Not sure what this operation was about, but it looked hella suspect. lol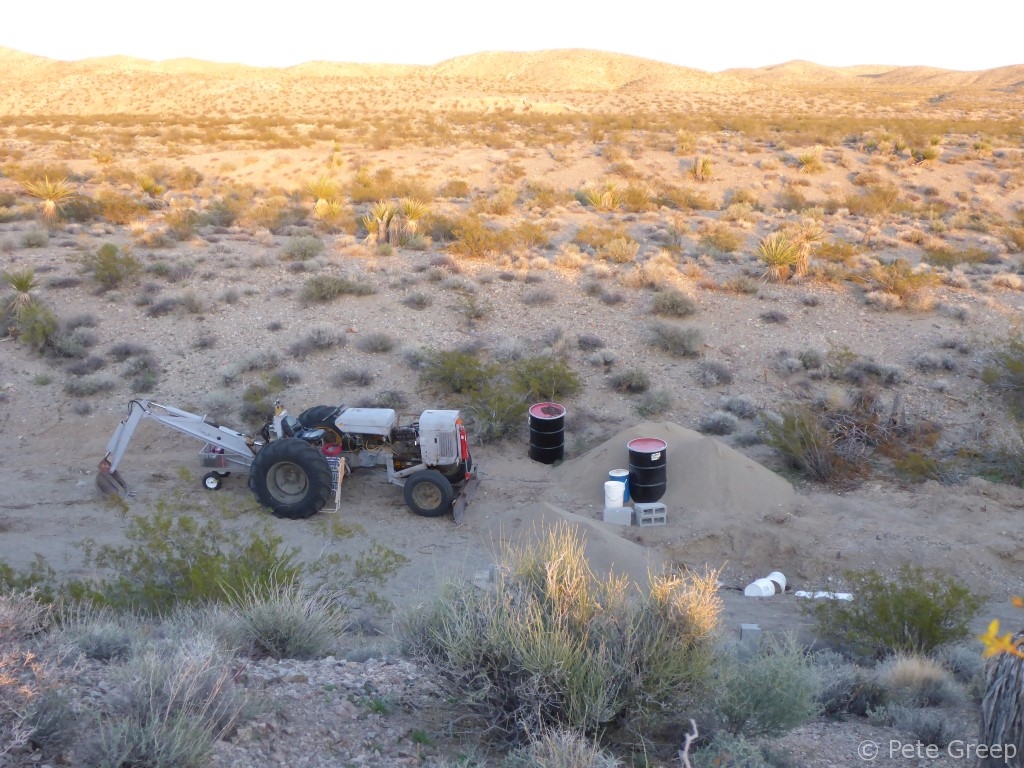 Riding through Nelson at the golden hour = badass!
Looking south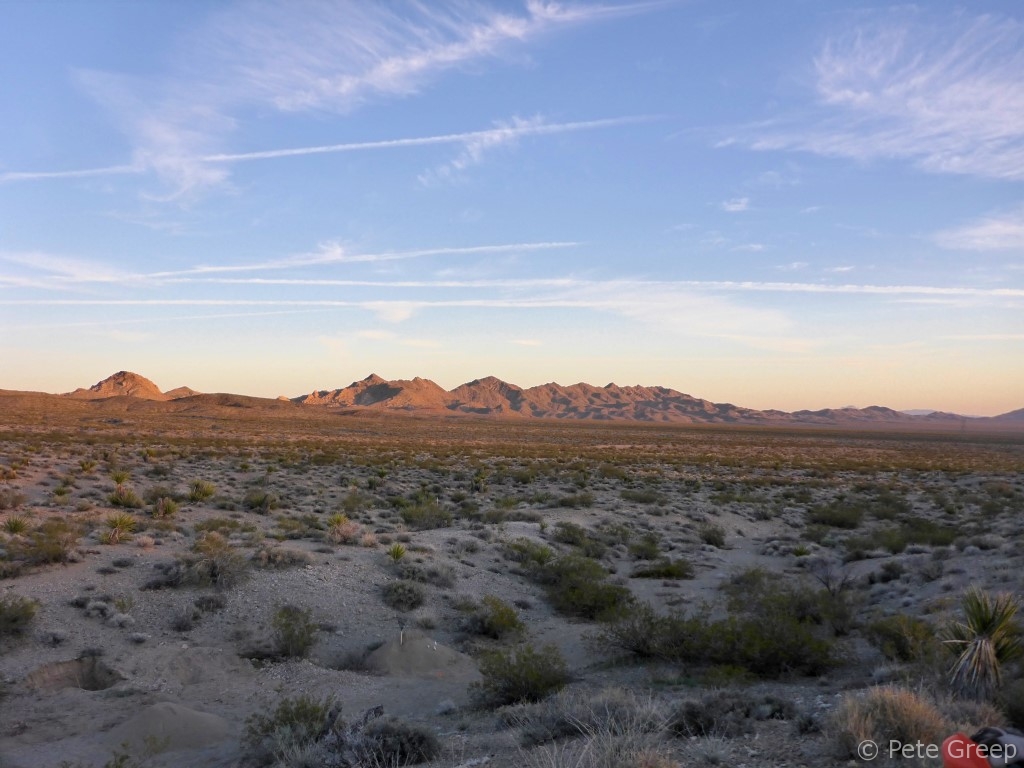 Priceless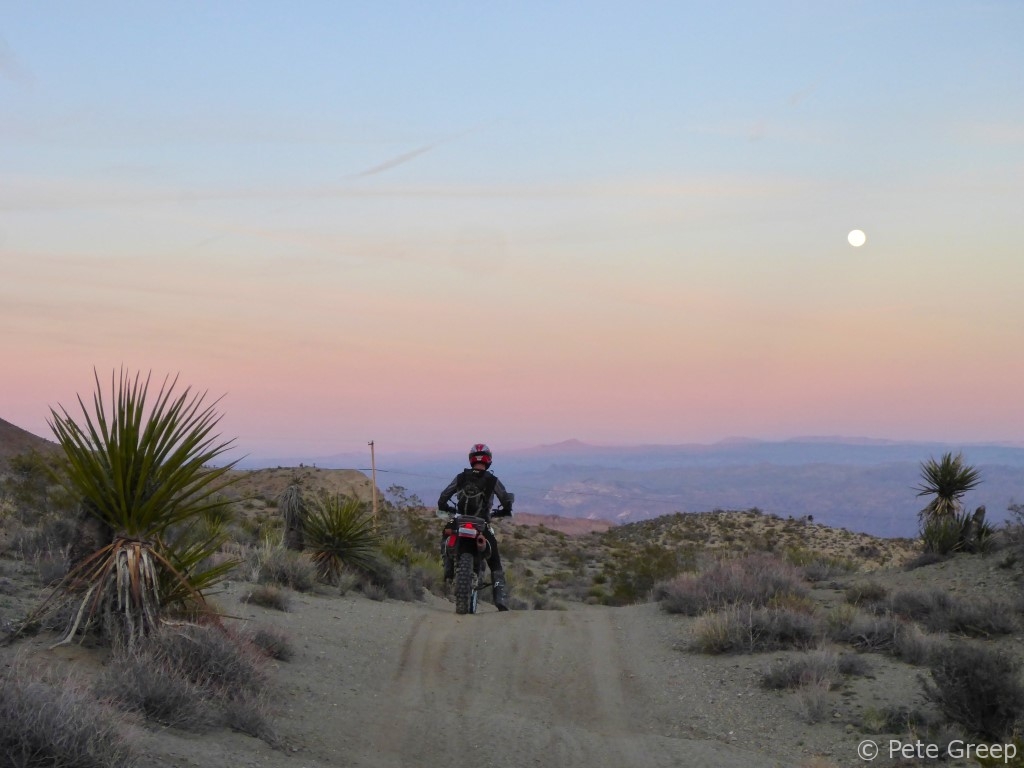 Blasting through Nelson we were racing the sun because we mostly all had tinted goggles. I didn't care. This sunset was worthy of stopping really quick for a shot or two.
We made it to the highway. We took the pavement home because we needed to get home asap.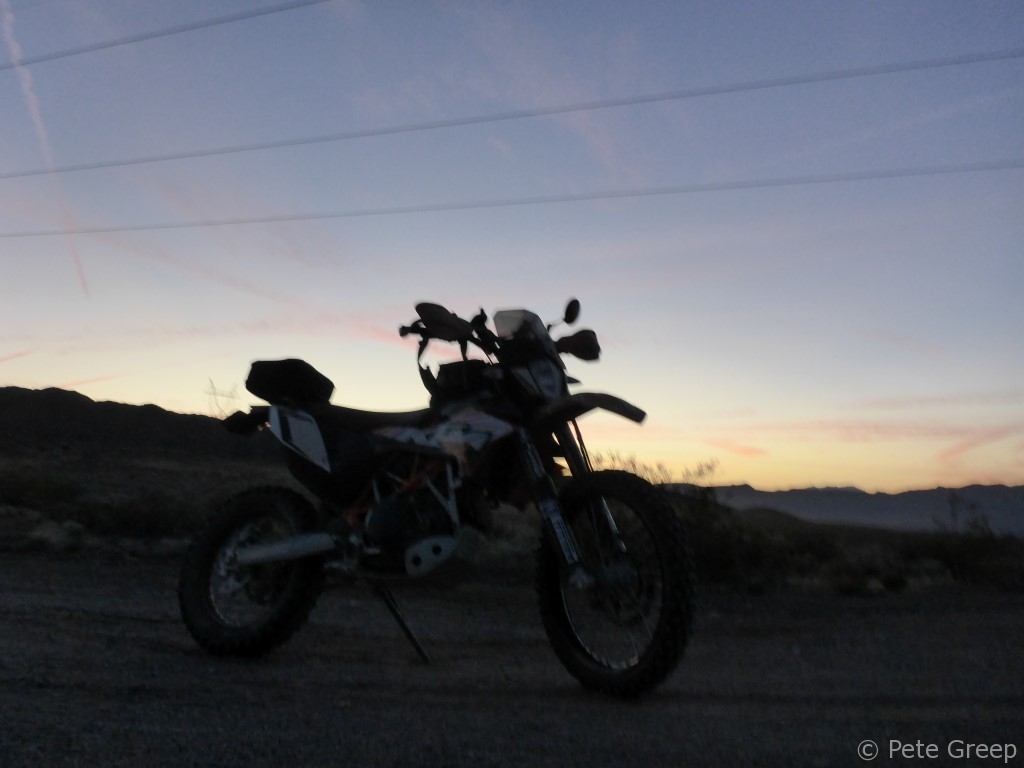 Some ride stats on my GPS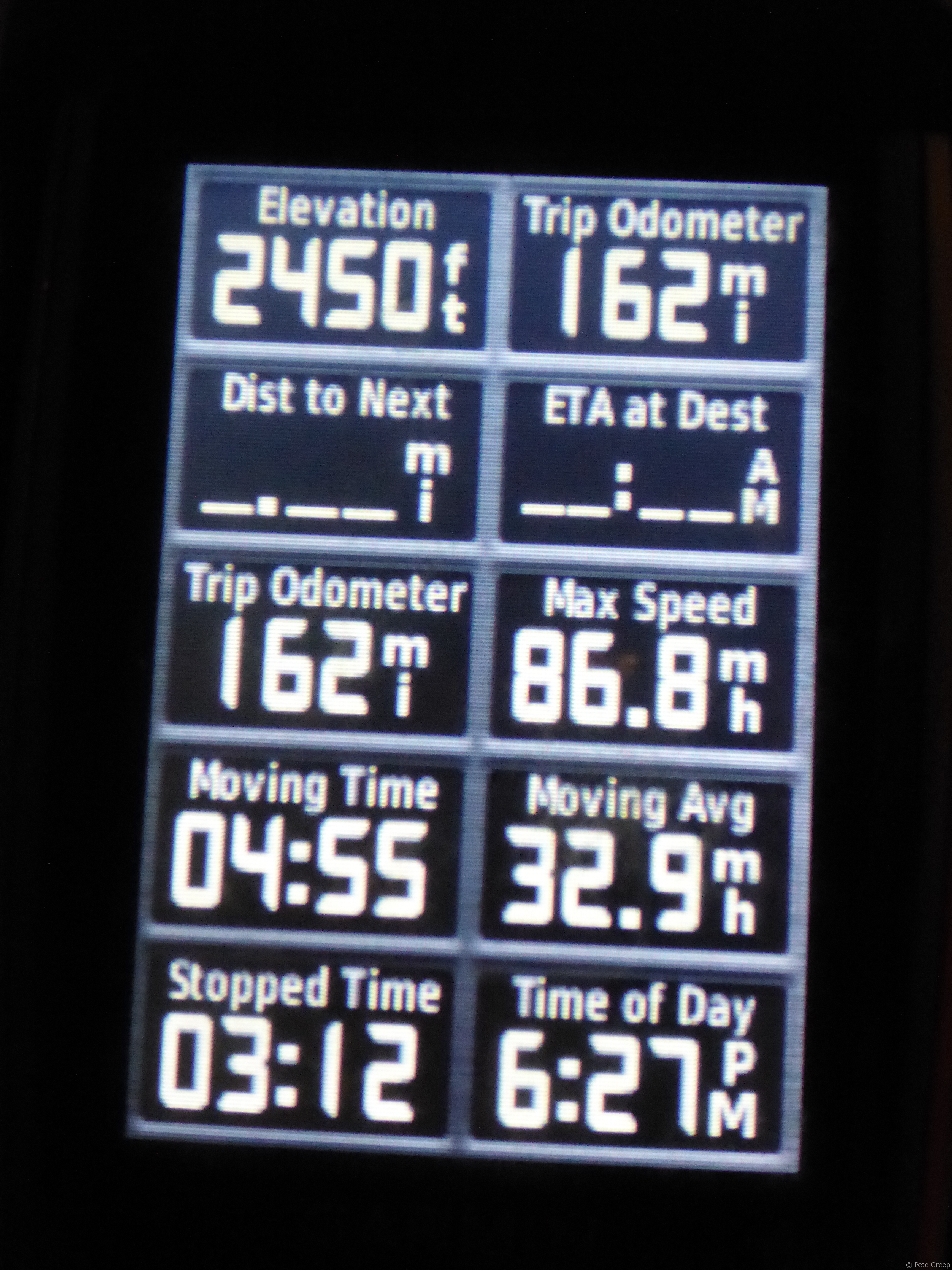 Comments
comments