Time for an adventure! Work always gets in the way of fun, therefore we have been in much need of a weekend getaway. Luckily just a few hours from Vegas there are perfect places like Williams, AZ to camp and explore. The elevation is surprisingly high at almost 7000 feet. It makes for some nice weather when the temperatures start rising in our desert. So we joined some friends for a weekend of camping and exploring.
We camped in the Kaibab National Forest near Williams, AZ. It is full of forest roads that offer plenty of dispersed camping. Just be sure to follow the Dispersed Camping Rules and respect the area.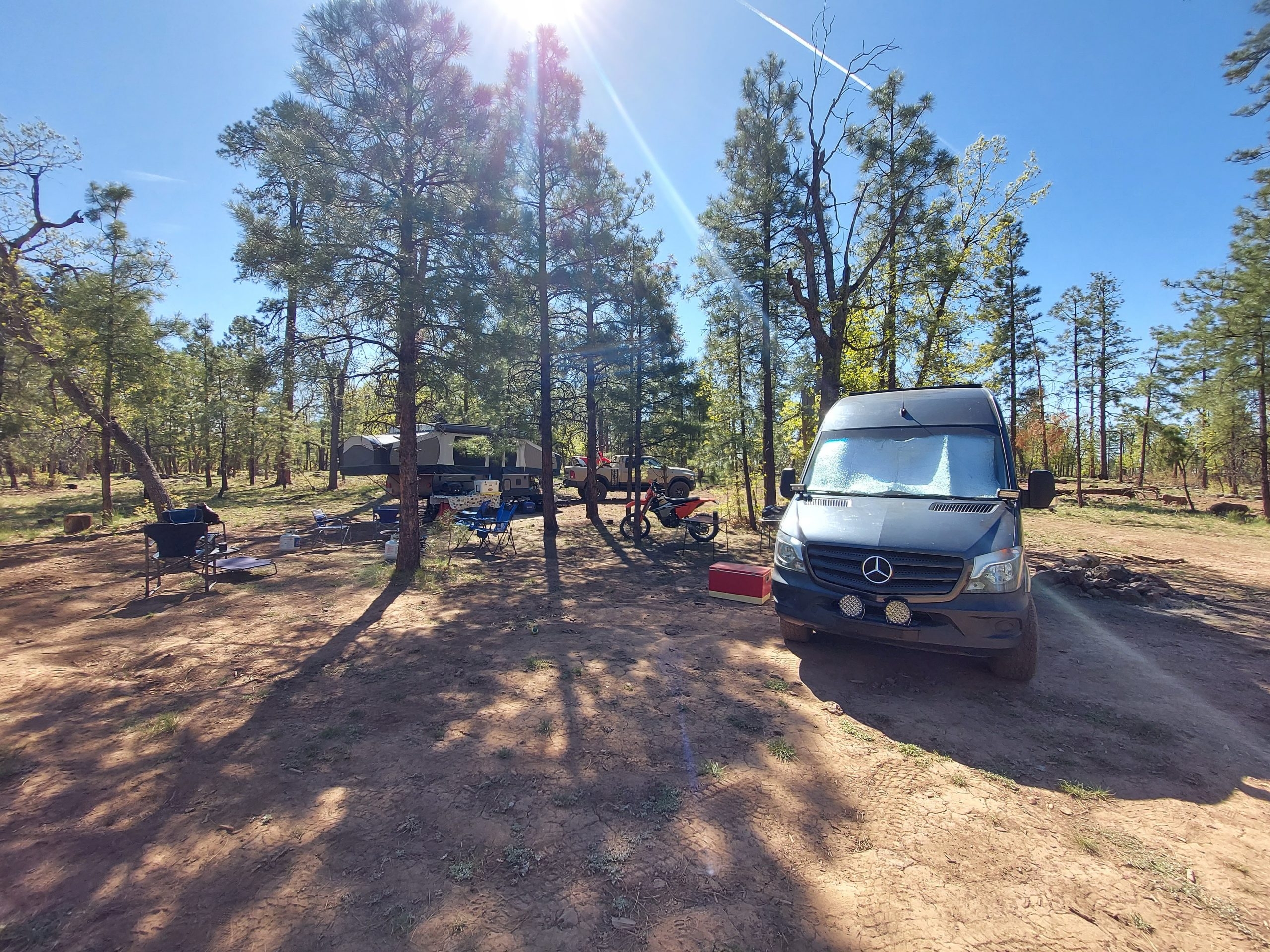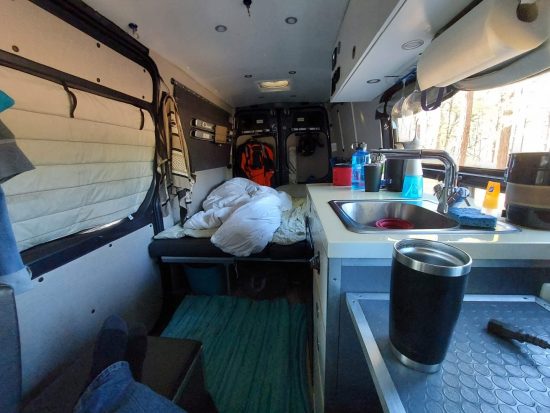 If you haven't checked out the van build yet,
I have a whole section of my blog documenting the project.


Searching for Obsidian
Saturday we set out to look for Obsidian. For those that don't know what that is, it's black volcanic glass or rock. The Indians would use Obsidian to make their arrowheads. This rock is all over the area of Obsidian Tank which is considered a lake. It looks more like a puddle though.
Our friend was showing us the colorful veins when the volcanic glass is cracked open.
Lava River Caves
This mile-long lava tube cave was formed roughly 700,000 years ago by molten rock that erupted from a volcanic vent in nearby Hart Prairie. The top, sides, and bottom of the flow cooled and solidified first, after which the insides of the lava river continued to flow emptying out the present cave.
-U.S. Forest Service, Coconino National Forest
From the Williams area, we took about a 45-55 minute drive towards Flagstaff to check out the Lava River Caves. The start of the cave doesn't look like much. It's mostly a bunch of rocks with a small crevice you crawl into. It looks small in the photo but you barely have to duck.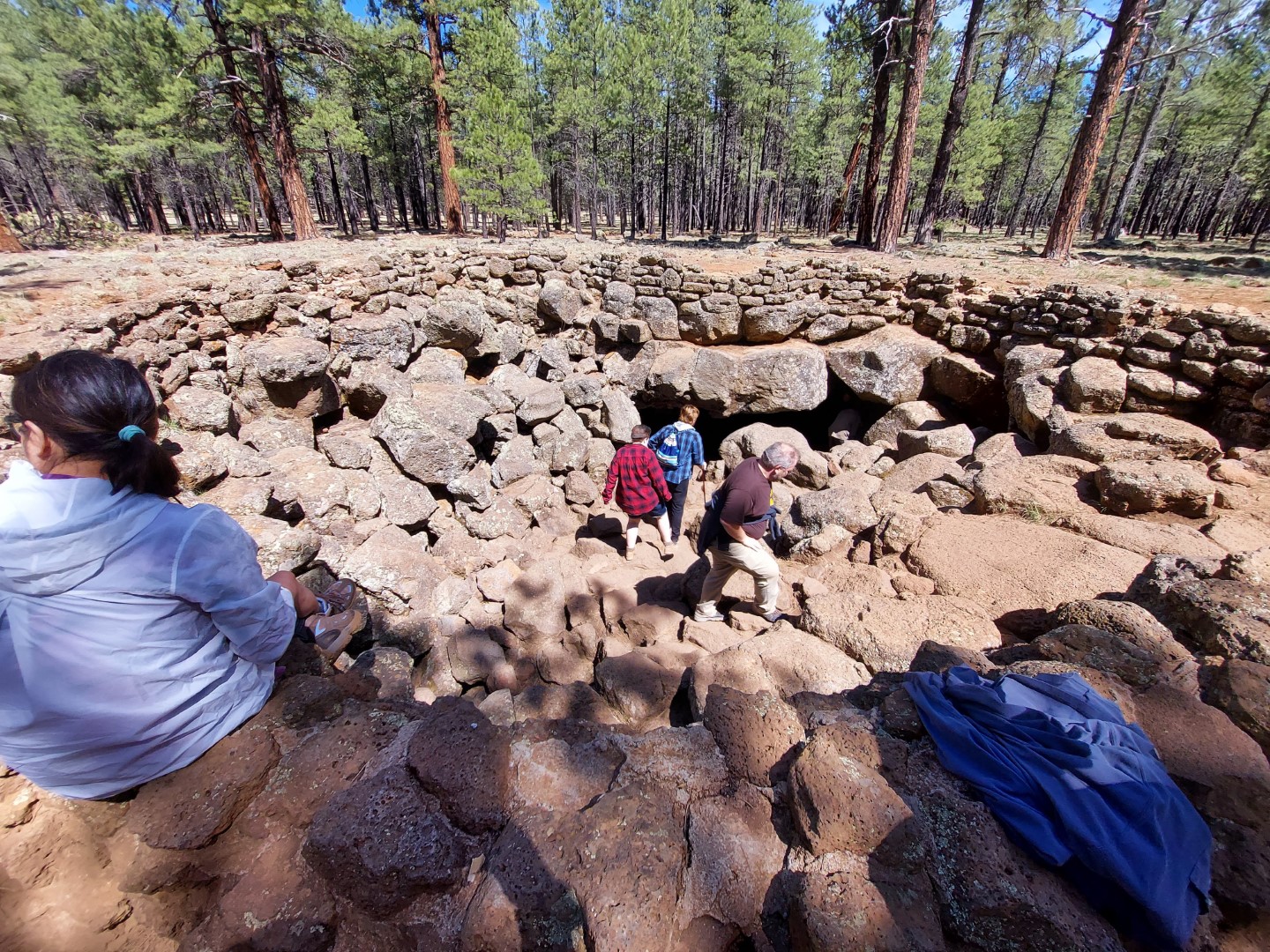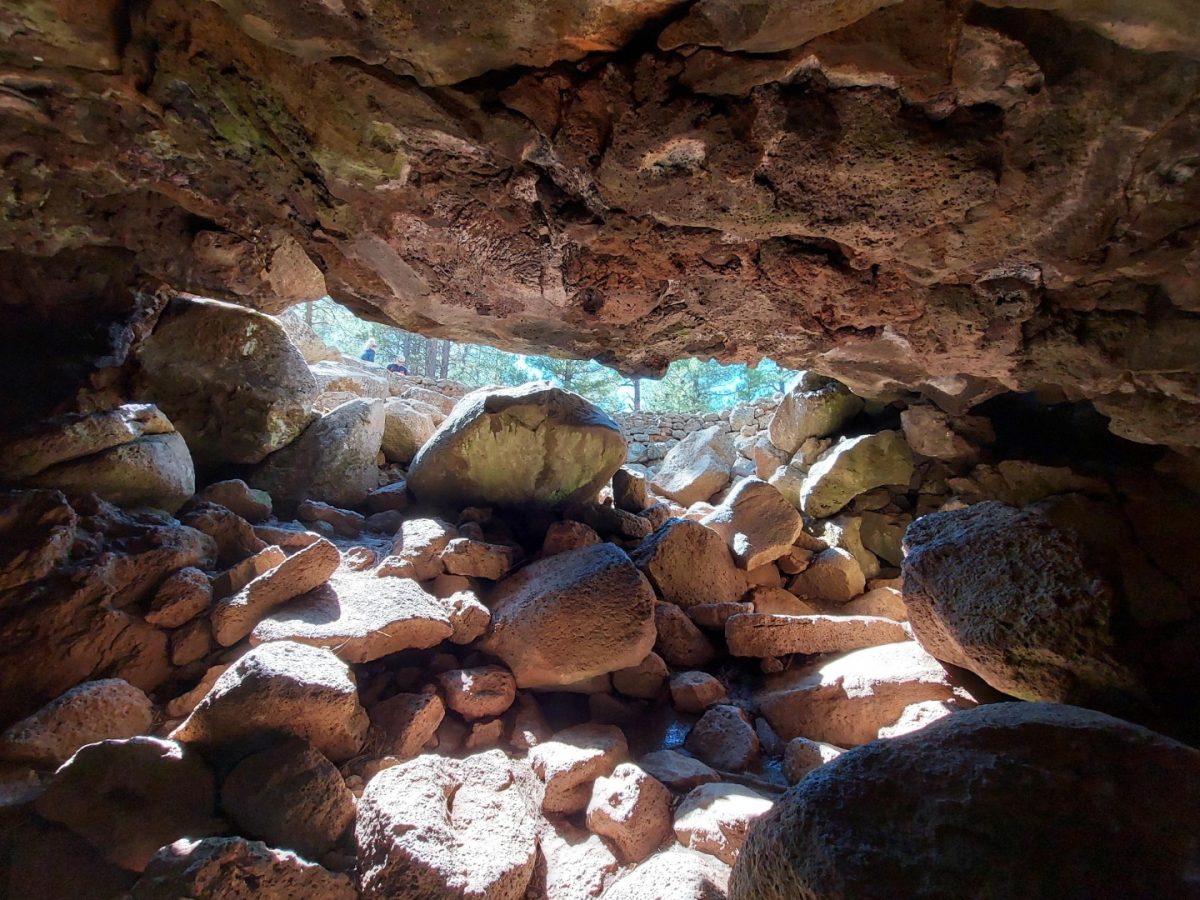 At the entrance to the cave, the first thing you'll notice is the very cold air. The caves get down into the 30's even in the summertime. Evidence of these temperatures is seen on the walls as chunks of ice form from seeping groundwater.
Much of the first part of the caves require some crouching, therefore it's probably not the best adventure for the claustrophobic type.
Not too far in, the cave really opens up with plenty of headroom.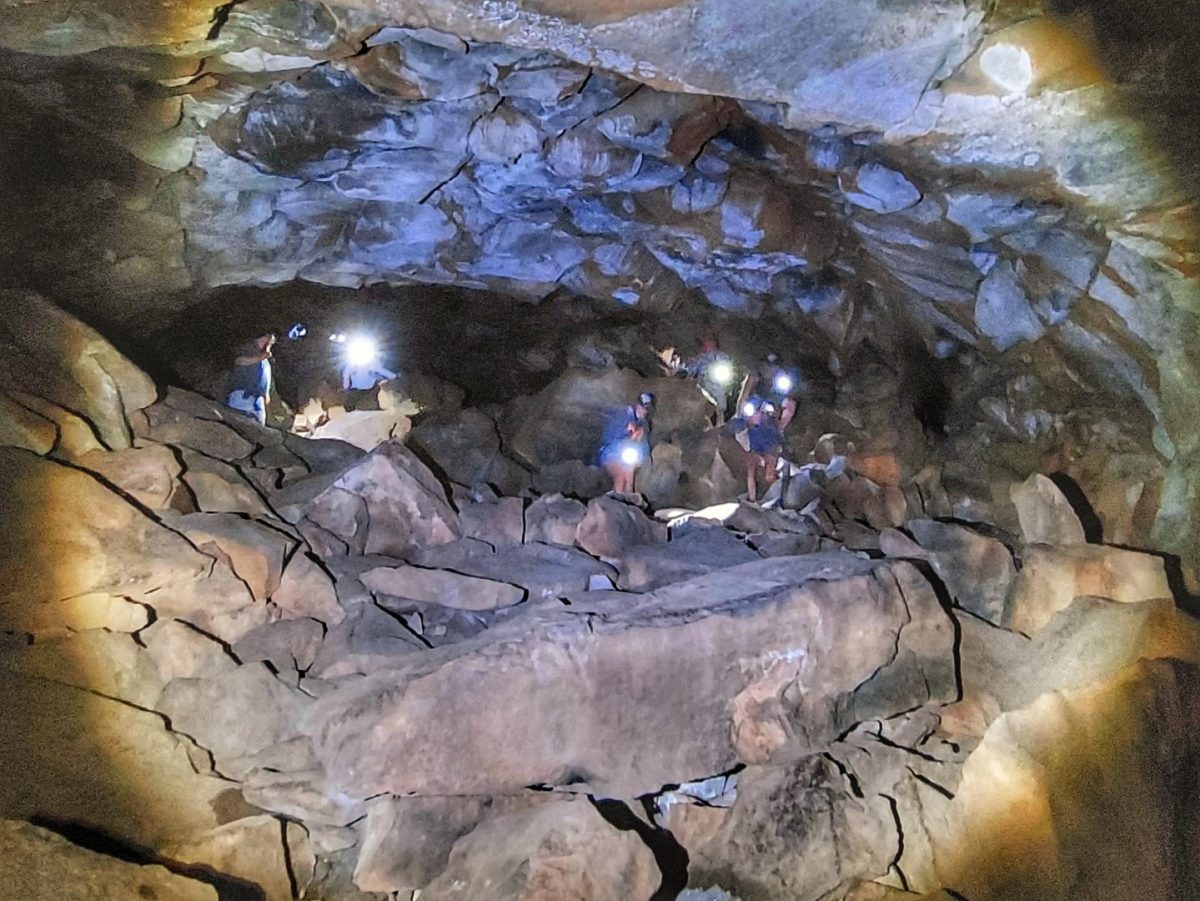 The arched walls of the cave are really cool. It almost looks as though it was created by a machine. Mother nature is rad.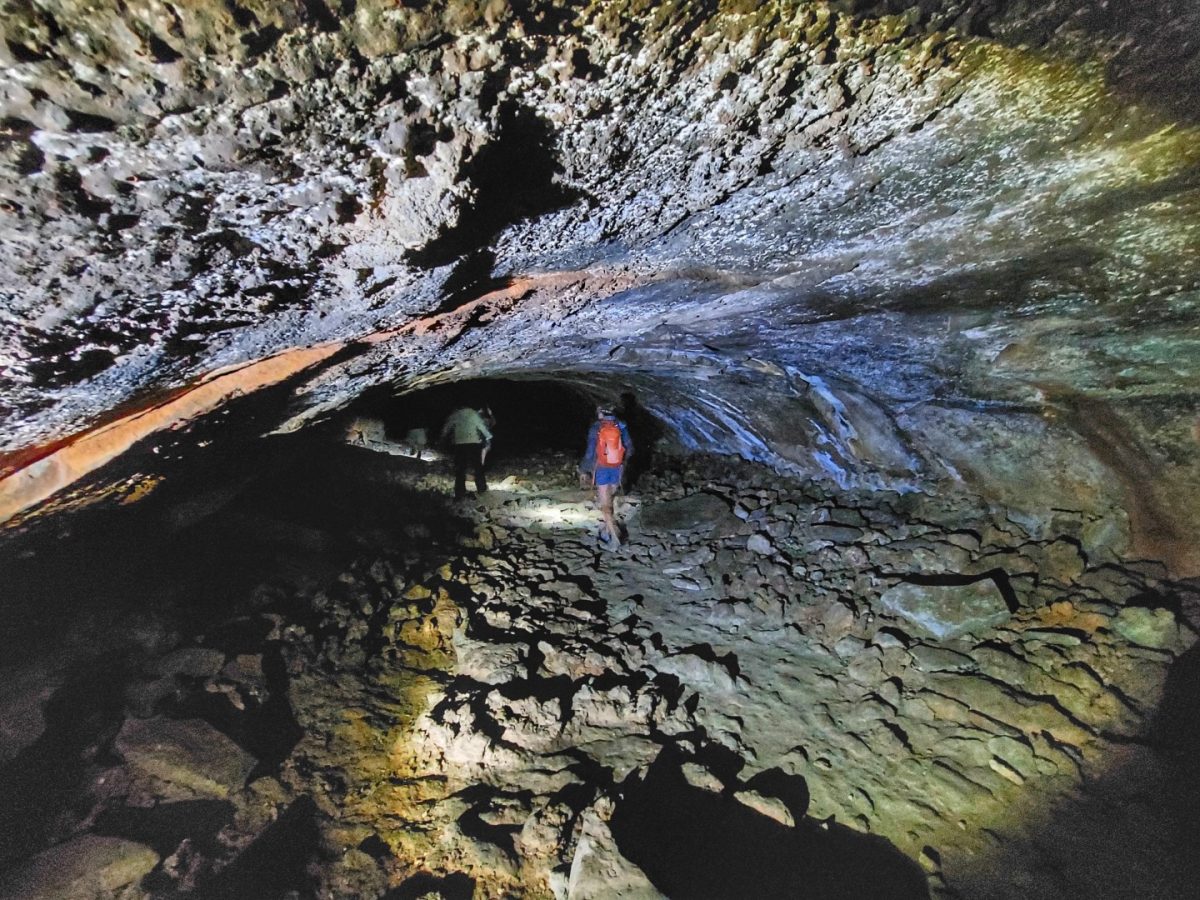 Here is some video I took from the caves. It goes back almost a mile! It splits before the end offering two options. We took the one to the left.
Tips for Hiking the Lava River Caves
Wear some decent shoes. The rocks require quite a bit of scrambling.
Turn your hat around backward if you are wearing one. The bill blocks your view when crouching down and you'll hit your head on the ceiling. Ask me how I know.  😆
Bring some good flashlights with an adjustable beam. Do not rely on your phone flashlight. It gets pitch black in the cave and you don't want to be stuck in there without light. It would be impossible to get out.
A headlamp is a really good idea in addition to a handheld flashlight.
Don't go alone. Safety is always a priority.
Downtown Williams, AZ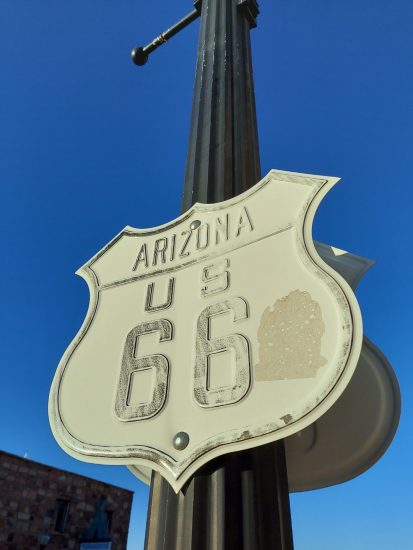 After all that hiking we were hungry! We popped into downtown Williams for a cold brew and some late lunch. There are some really cool places all along Route 66 in the middle of town. Cafes, Mexican restaurants, breweries, pizza places, bars; you name it, they have it! We chose Historic Brewing Company and man I am glad we did. We ordered what would be some of the best chicken wings and pizza I have ever had. We will be back for sure!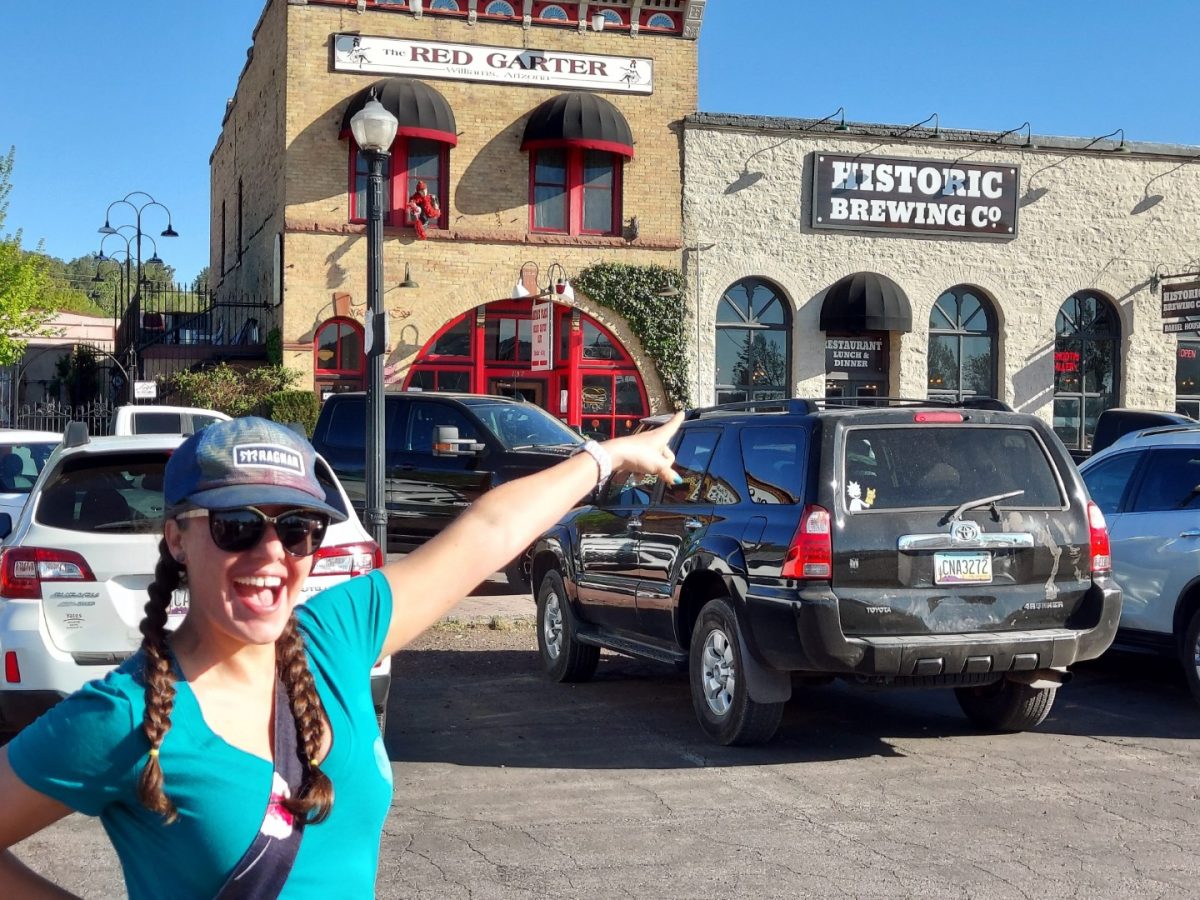 A couple of shots of Apple Crown sounded good so we stopped in at a cool, old bar called the Canyon Club. This place had a classic atmosphere with dollar bills on the walls, a Touch Tunes jukebox that allowed you could pick music from your phone app, and just about any drink you could think of.
Back at camp, we had a nice, chill evening around the propane fires. We always have ours in the van because there are always seems to be fire restrictions. Since it is propane and has a means of turning it on and off with a controlled valve, it falls under the exemptions like stoves and lanterns.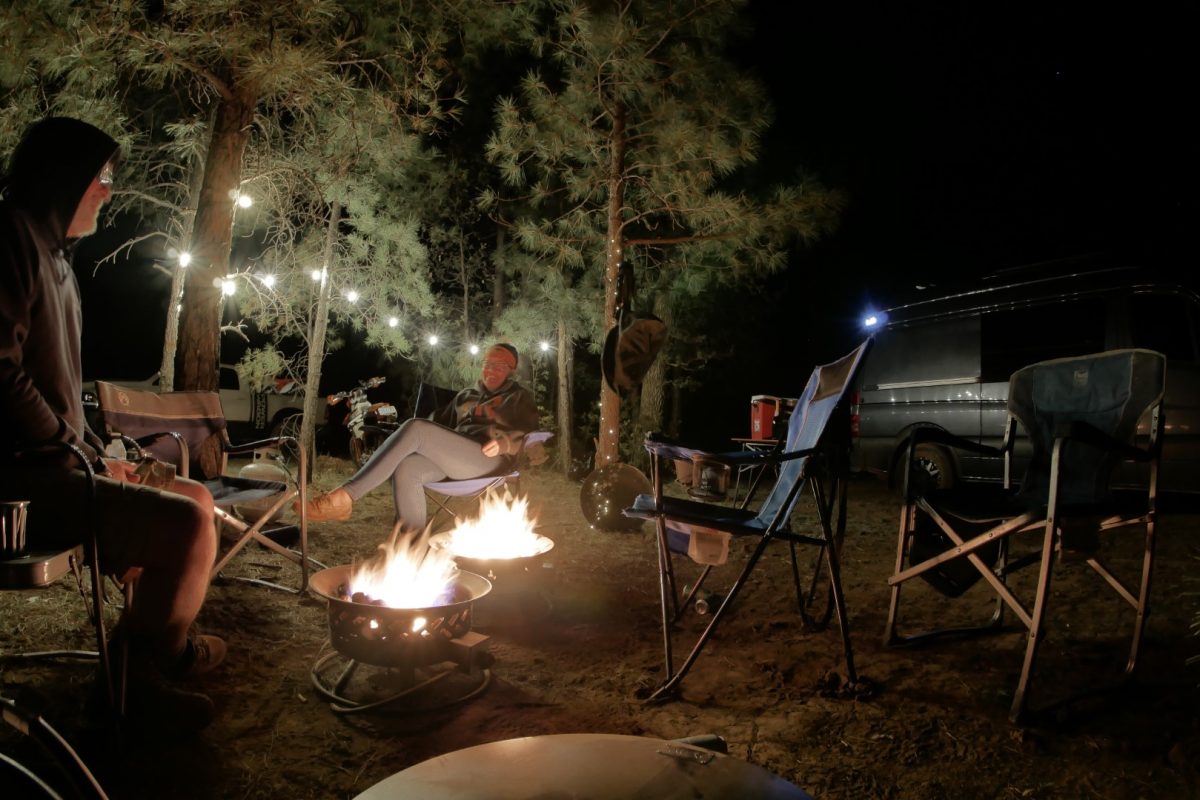 I whipped up some turkey bacon and an egg/cheese/ onion concoction on the Blackstone griddle in the morning. The griddle is great for breakfast and all sorts of other meals. They make one with a cover now, but it doesn't fit into the fancy bag. I just use a lid from a pot if I feel I need more heat or want the food covered while cooking.
Dogtown Lake
As everyone was slowly packing up, I had to take the 500 out for a spin. I needed some fresh wind in the face after those beers and whiskey. I rode down the forest road to Dogtown Lake. It's a decent-sized lake that looks perfect for small boats, stand-up paddleboards, or kayaks. They have a launch ramp, a day-use area, and a small campground. When I pulled up, I had just realized I clicked over 3000 miles on the KTM. This has been an amazing bike.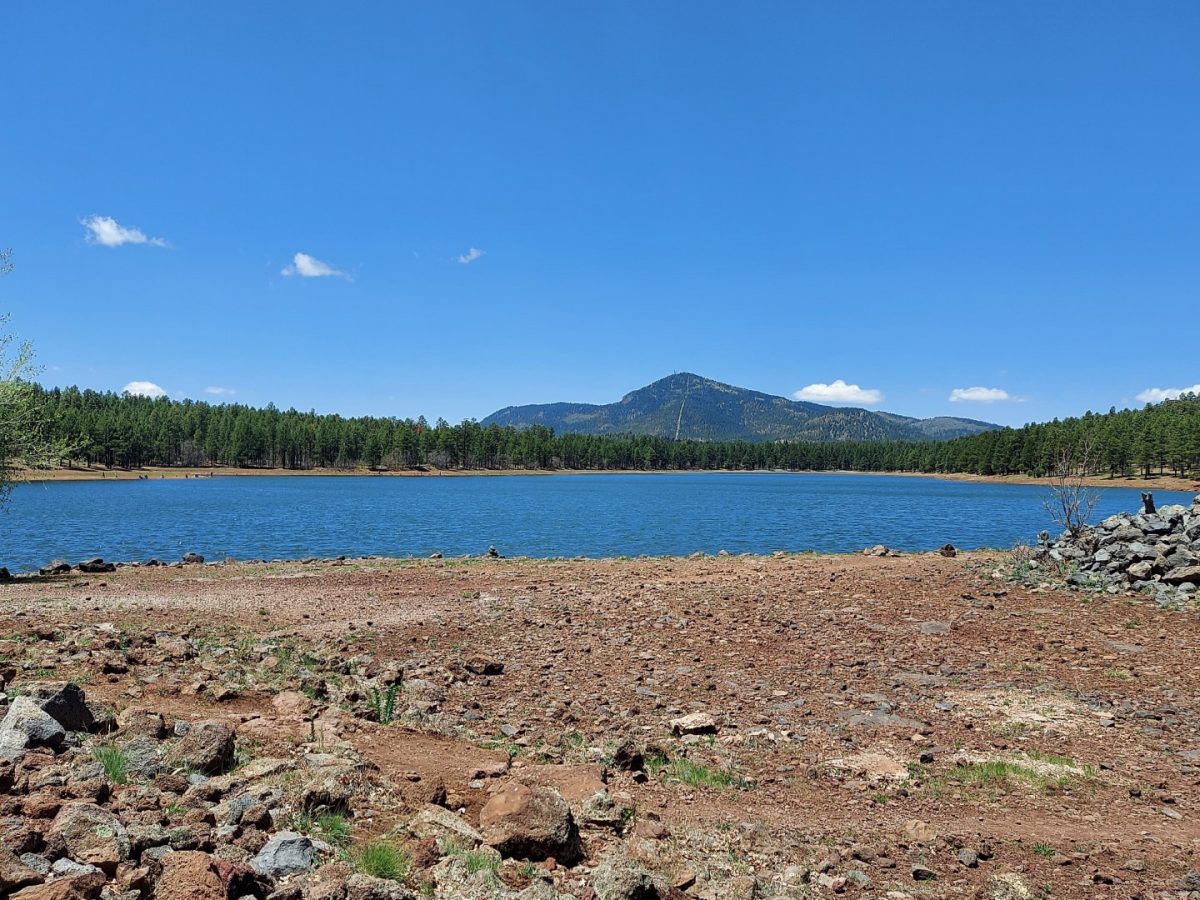 Cataract Lake Picnic Area
Before heading back to Vegas, Anna and I stopped at Cataract Lake to make some lunch and relax for just a little bit longer. We had some salad premade and grilled up some steak on our Gas One stove. It turned out amazing.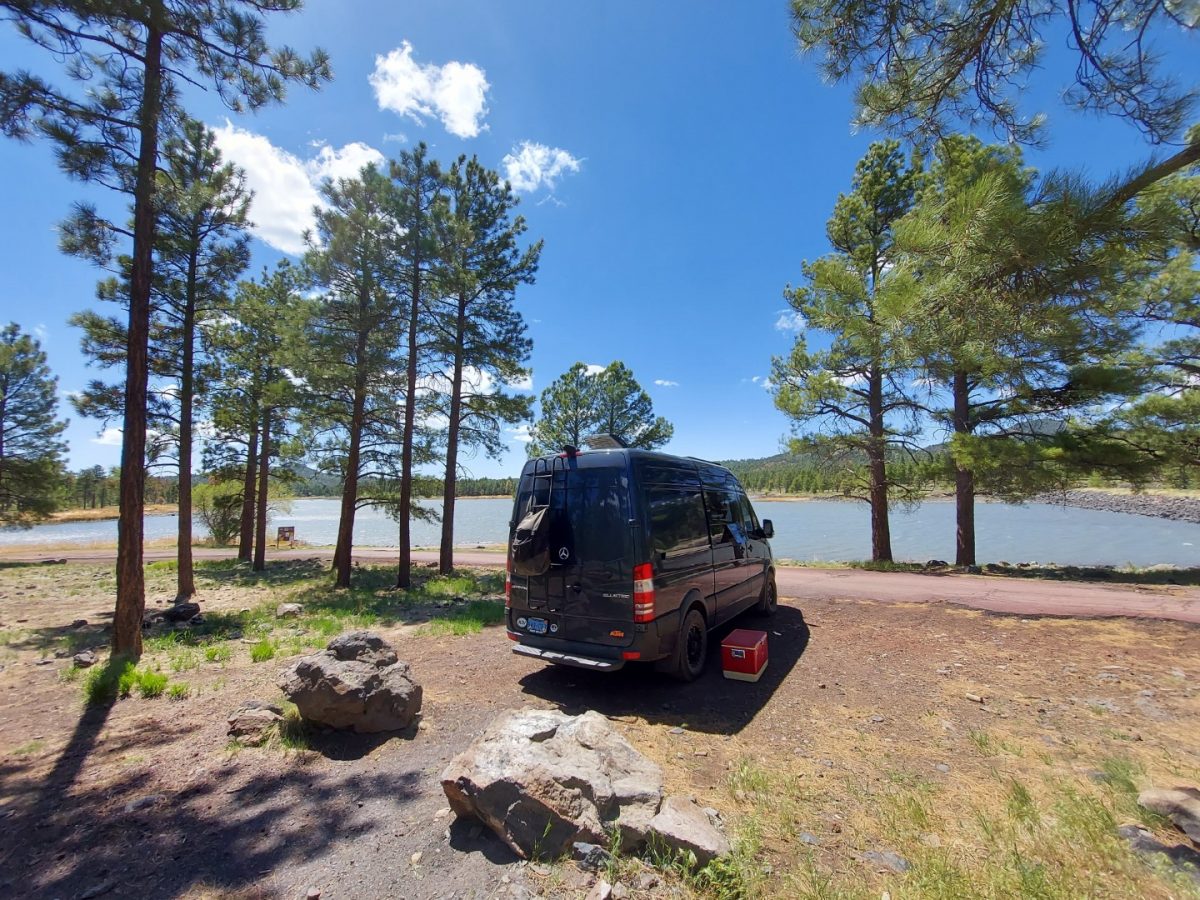 Camping/ Exploring Gear We Use & Love
These are just some of the pieces of camping gear we used on our trip. If you make any purchases through my Amazon Affiliate links, it helps me continue to share adventures like this at no additional cost to you. Thanks for the support and I hope our adventures inspire you to do the same!
Comments
comments