Approximately an hour south of Las Vegas, you'll find Nipton, California. Founded in 1905 after the discovery of gold and the completion of the railroad, Nipton became a small town that served as a cattle-loading station for nearby ranches. The town and depot also supplied several mines in the area, becoming a social center for the thinly populated area. Fast forward over a hundred years later and Nipton is still a very small town with a population of only 15-20 residents. Some interesting things have been in the works though. After a big company recently purchased the town, a normally empty piece of the desert has been being transformed into a huge outdoor art gallery and cannabis-friendly, oasis resort.

In January while on a separate Mojave desert adventure, Anna and I spotted some new landmarks out in the desert as we were headed west on highway 164. As we pulled in Nipton, the first thing we noticed were these old cars painted with vibrant colors and designs. These were new to us.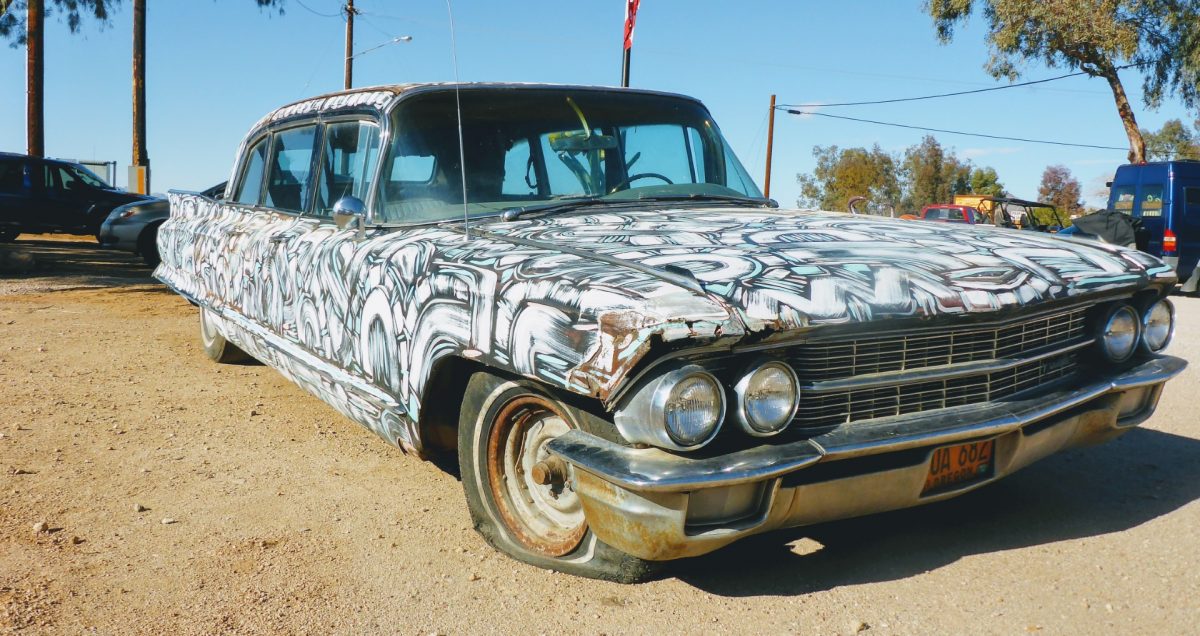 Nipton, now known as Magical Nipton, got a new sign for the Trading Post (store). A huge, colorful octopus also greets you as you pull into town. Octavius, by Peter Hazel, was jus recently on display at Burning Man.
In the front of the store parking lot, Daffodil (also by Hazel) is the first thing you see when pulling in.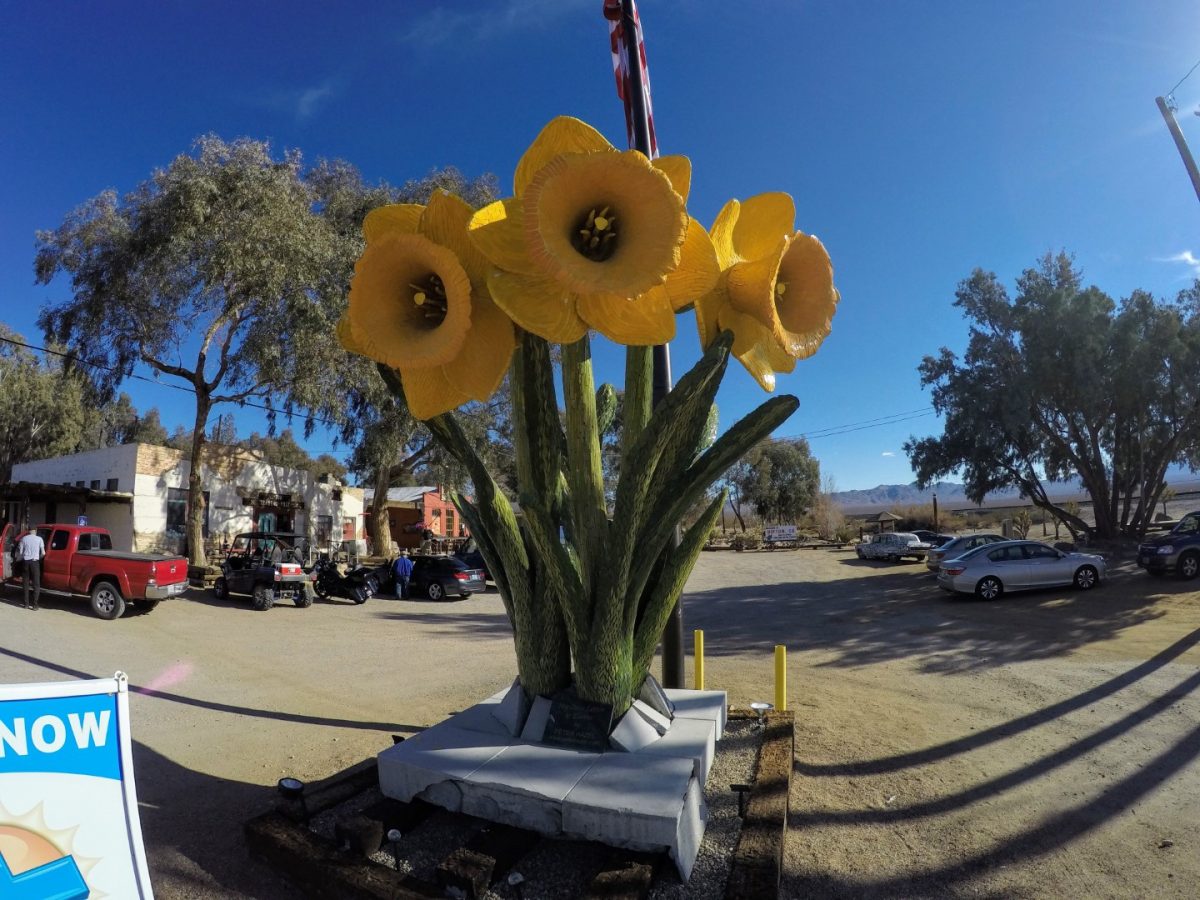 The Trading Post still has snacks and drinks, etc, but there seems to be more jewelry and art now.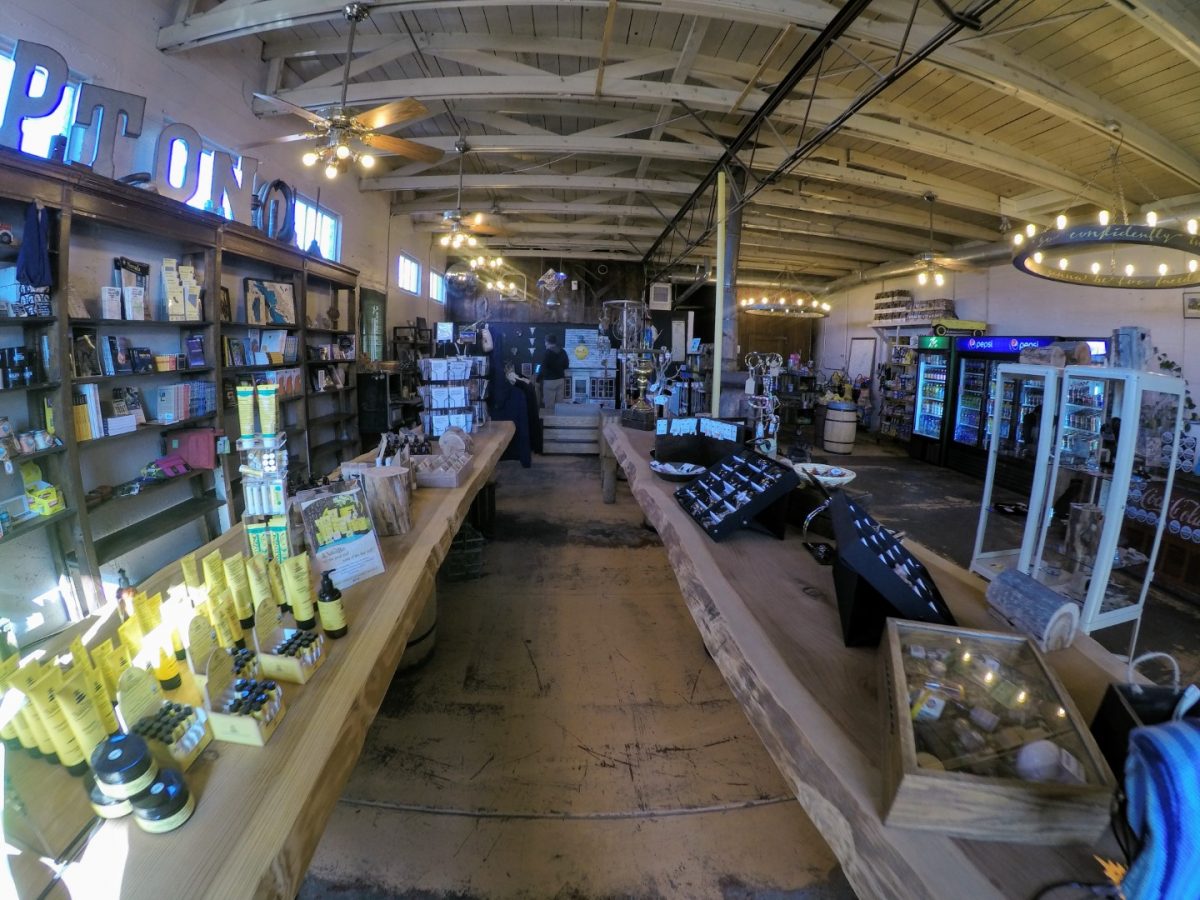 Next door you'll still find the cafe and historic Nipton Hotel California, offering five bedrooms with two shared restrooms.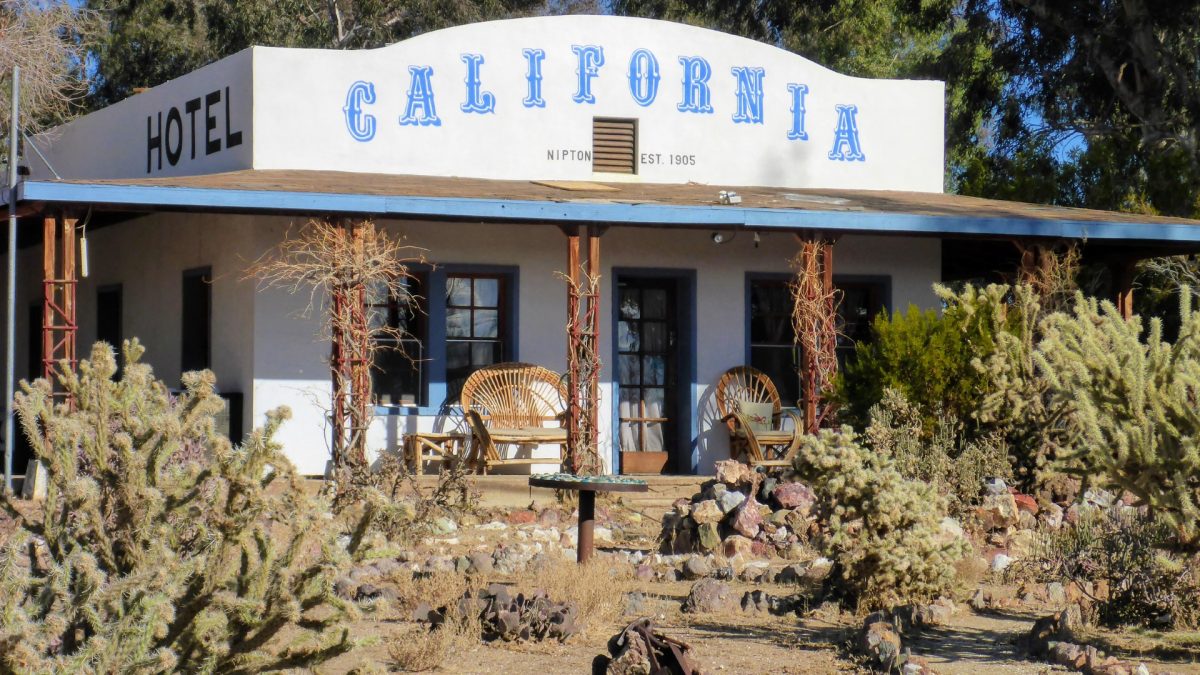 We wanted to get an up-close look at the art pieces but noticed signs saying, "guests only beyond this point". We asked the friendly gentleman at the Trading Post if we could walk in and check it all out. He said absolutely and gave us some day passes to enter free of charge. As we walked to the rear of the hotel, the first area we came upon looked like some RV spots. An old Airstream trailer was set up under some tall trees. We thought this would be a great place to come camp in our Sprinter van.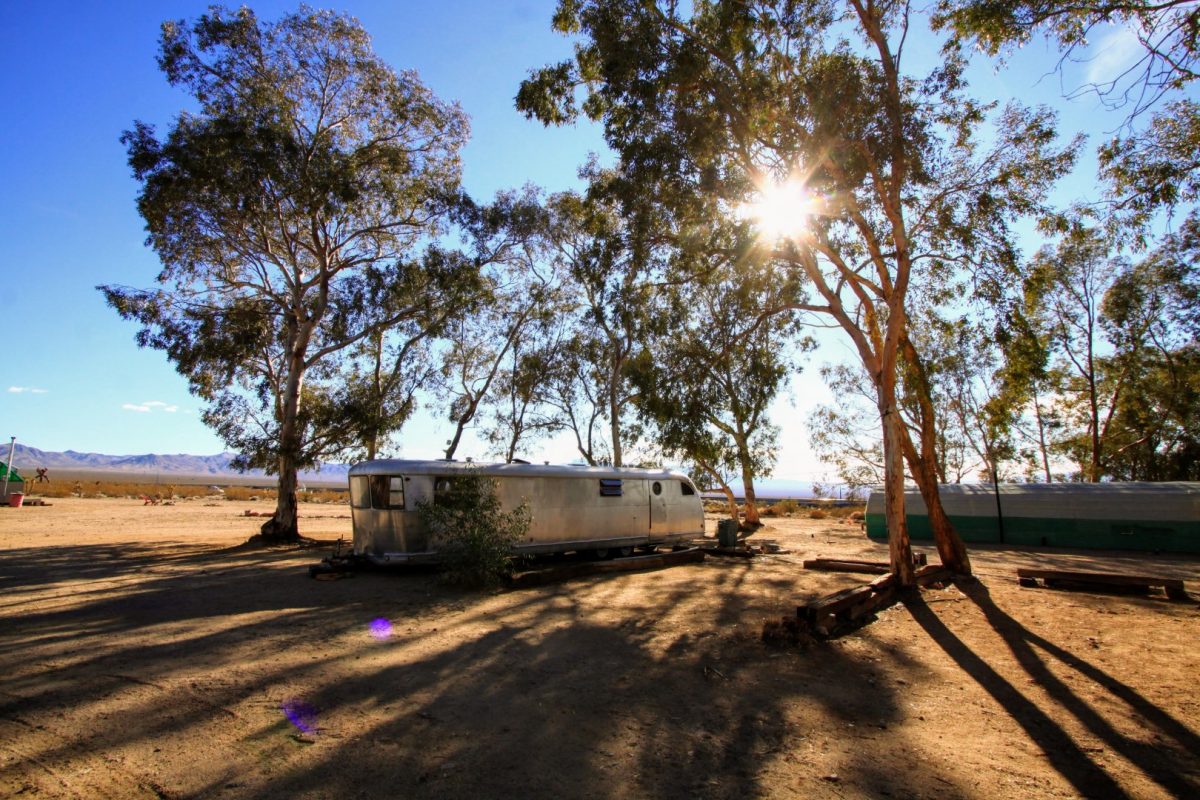 Farther out into the desert were some tipis, cabins and the art pieces that we first noticed when we were driving down the highway.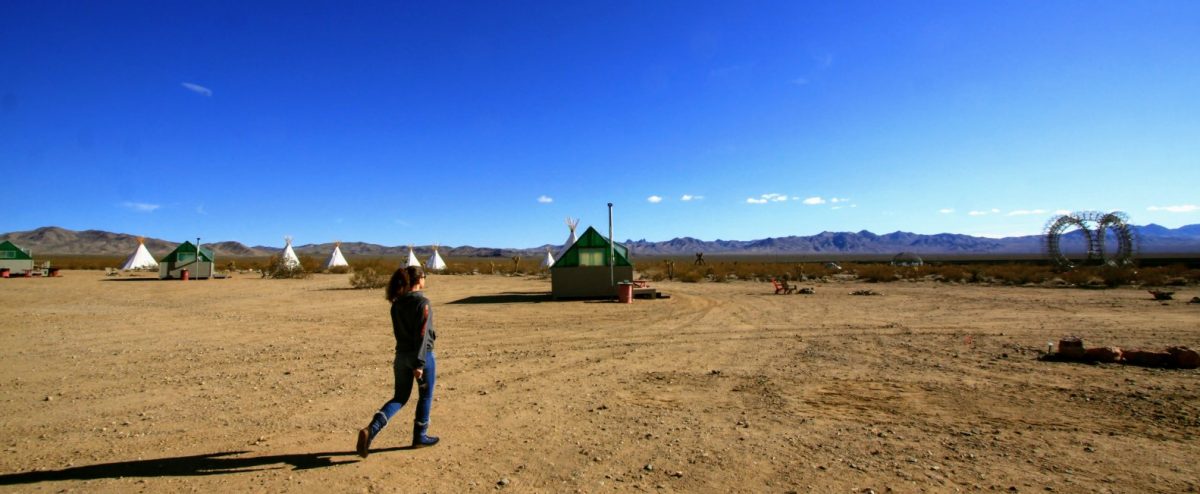 This piece is what originally drew us in. It is a huge display of shopping carts welded together. Originally exhibited at Burning Man, "Perpetual Consumption" by Clayton Blake and "challenges and distorts the viewer's preconceptions of structures and space." It is awesome!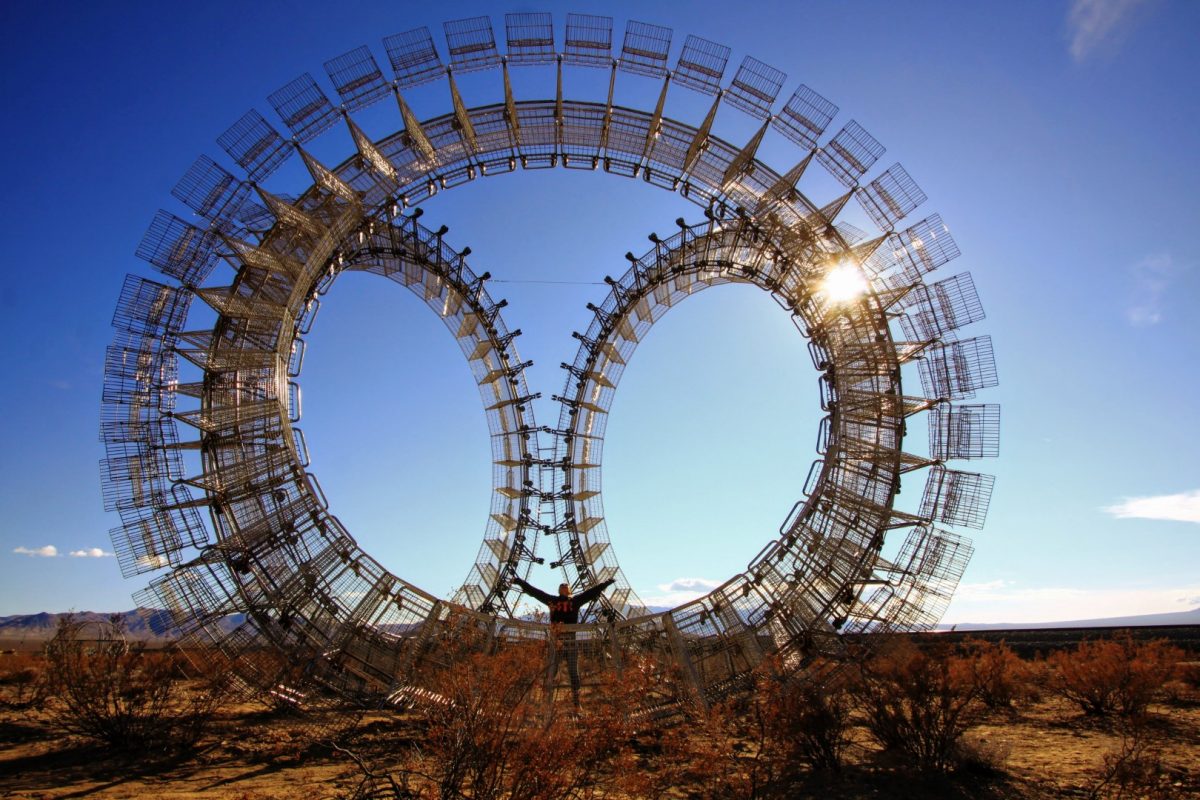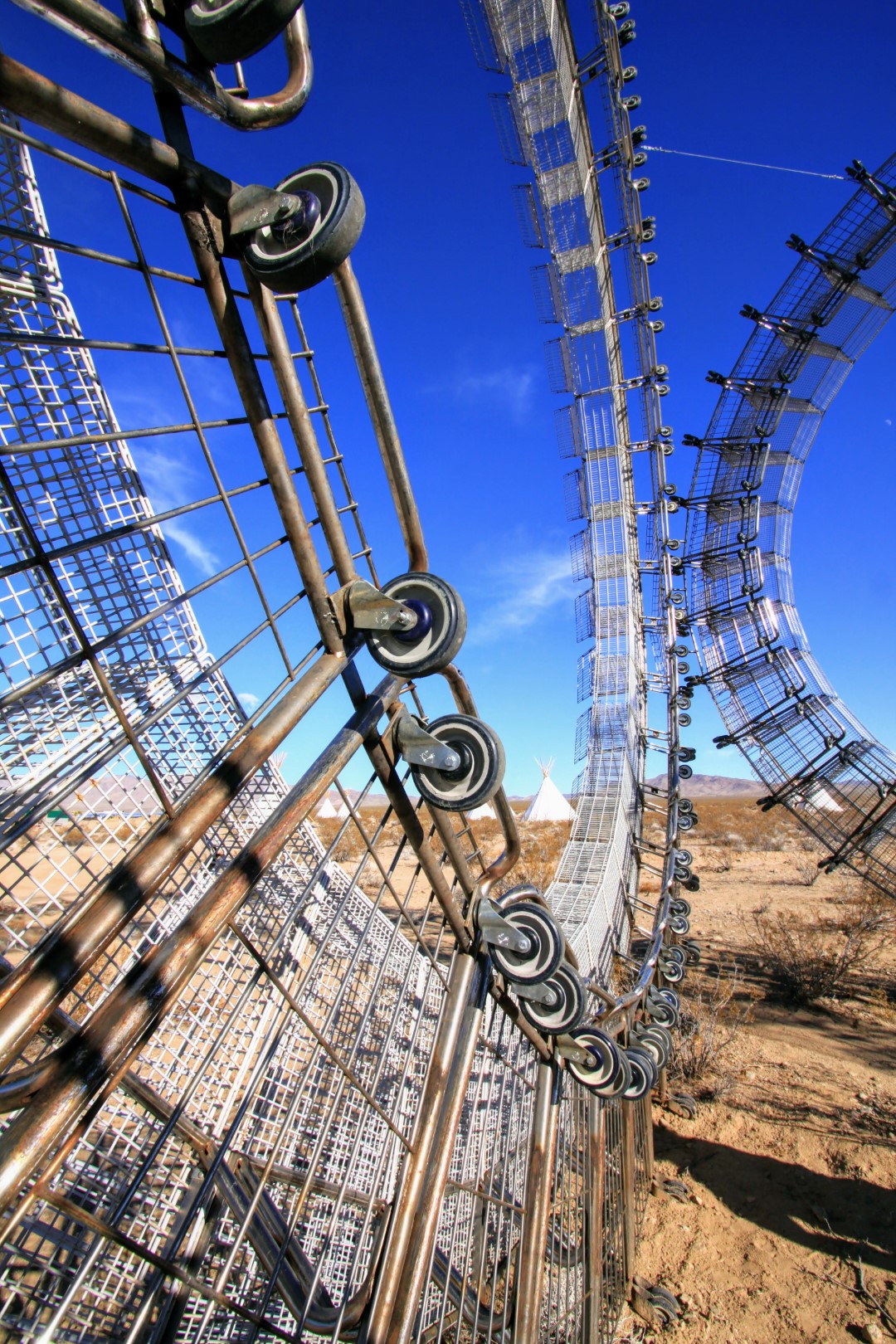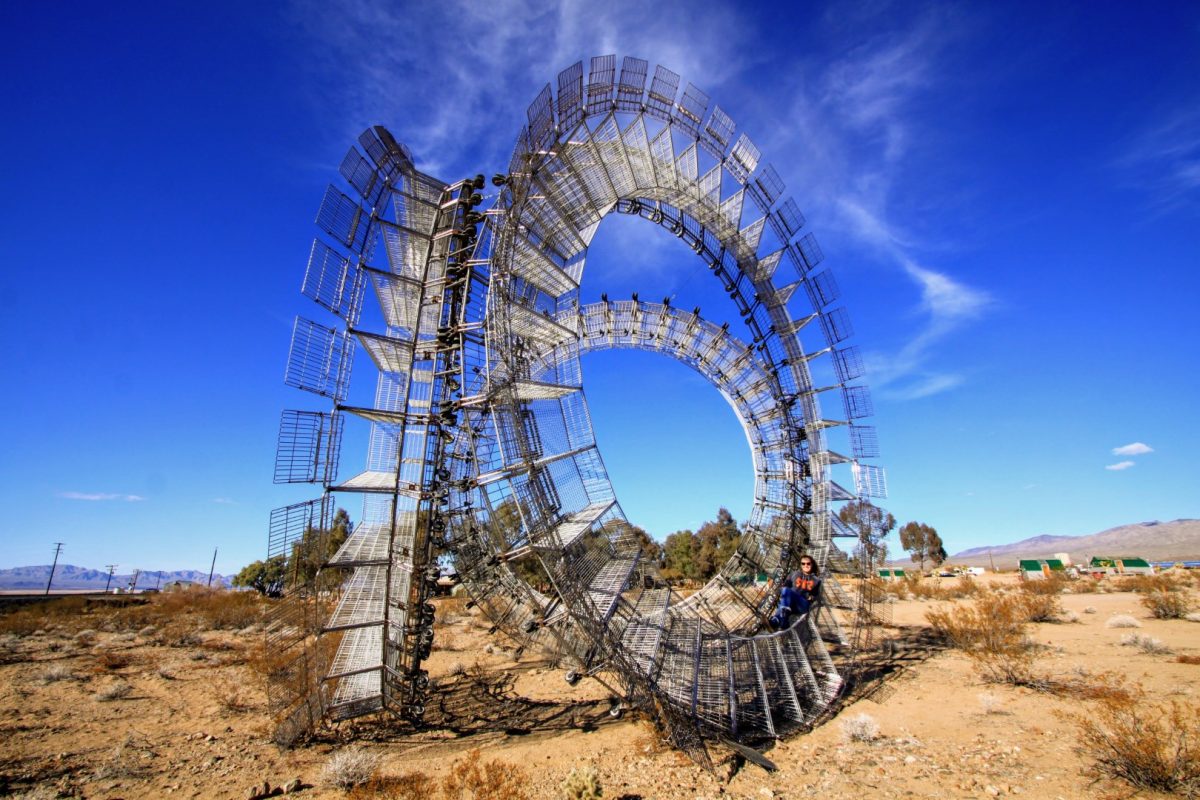 Just down the dirt path is another magical structure called "Bloom", by Peter Nazel. It wasn't quite finished and we look forward to seeing it all done. It will be a 40-foot tall jellyfish covered in hand-made recycled glass. The colorful hand-blown glass is amazing.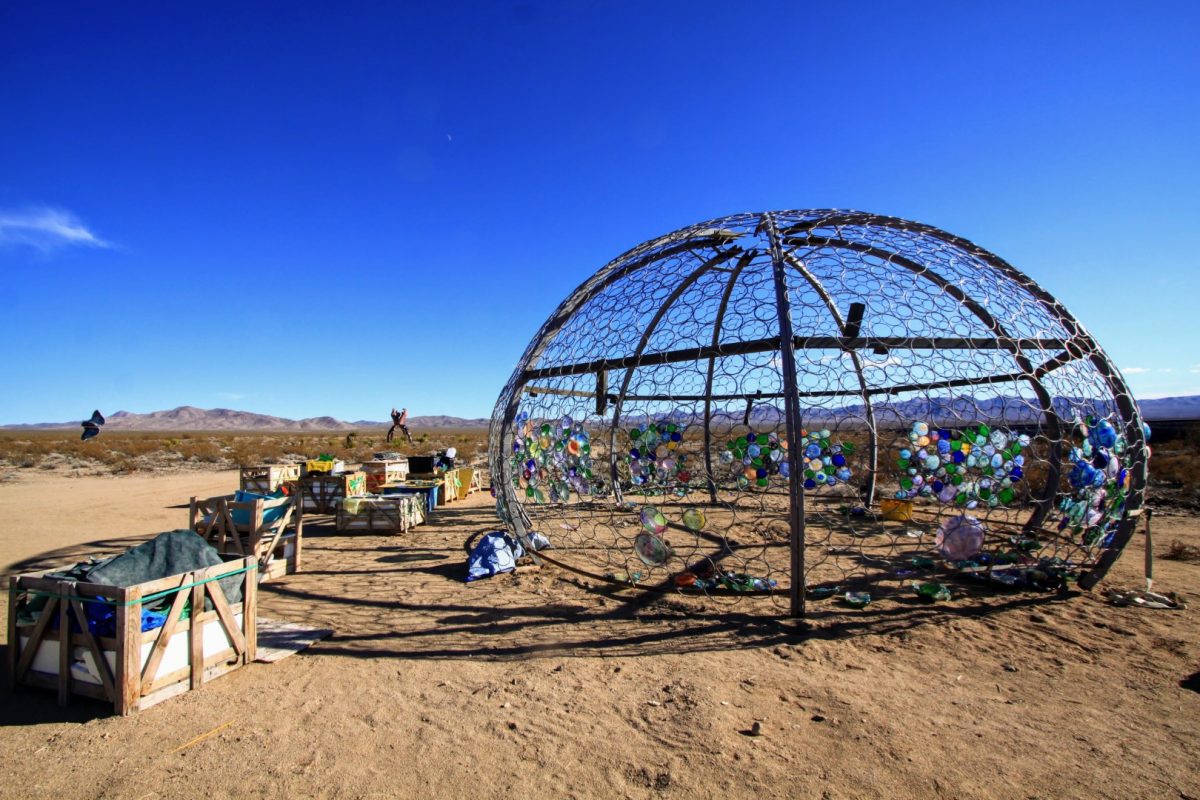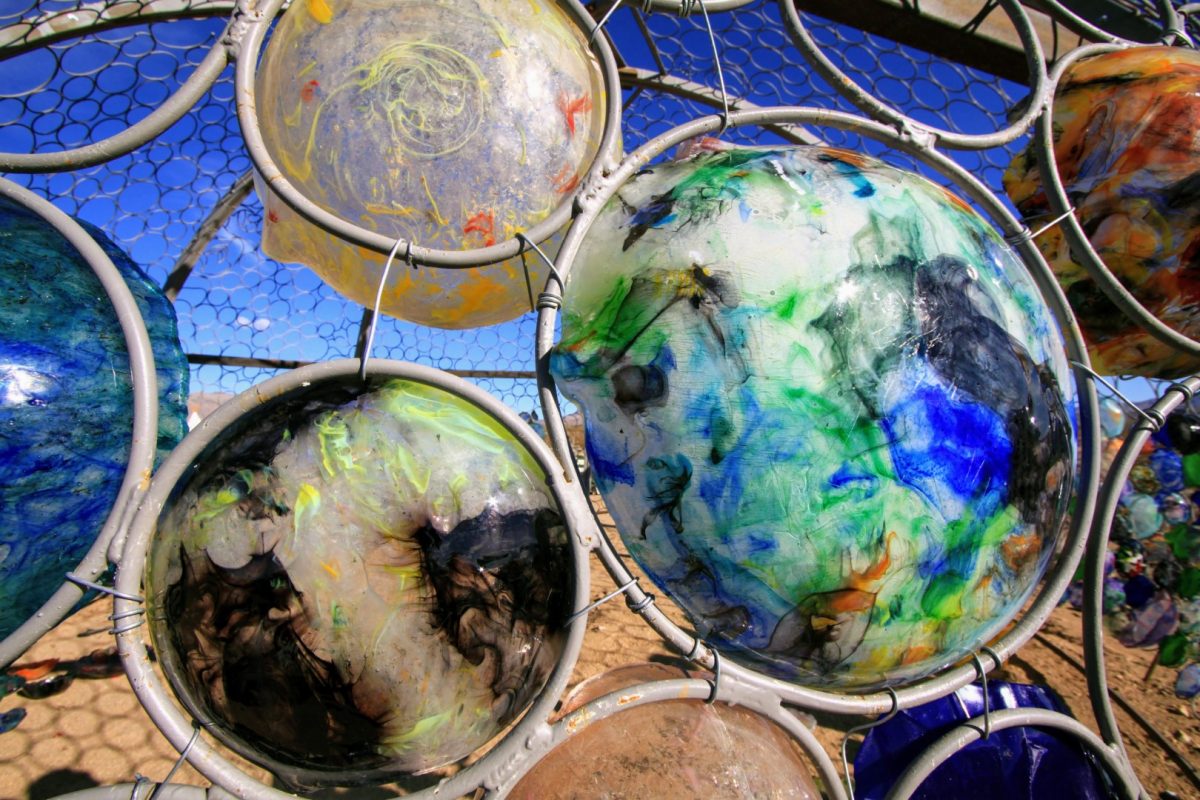 If you closely, you can see some glass pieces are old Jagermeister bottles melted down and fused together.
Other interesting art pieces, such as this little "Spacebug", sits near the tipis. (Artist unknown)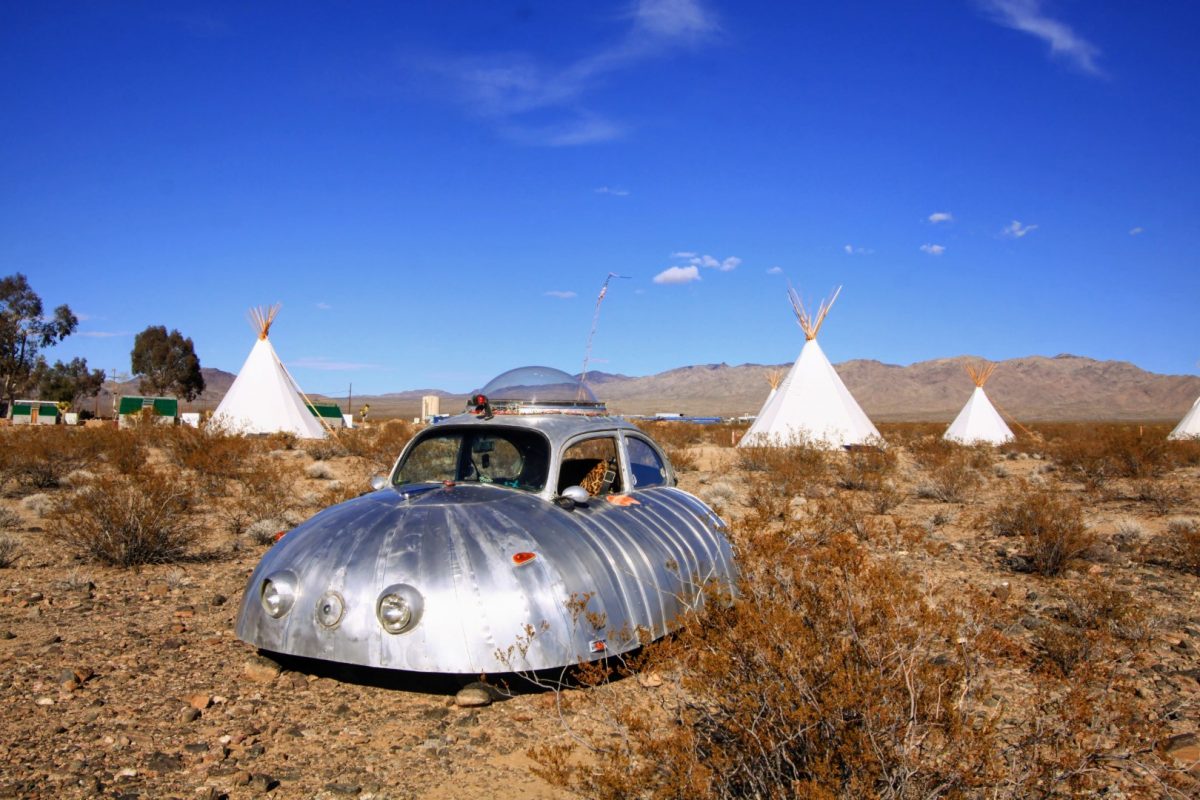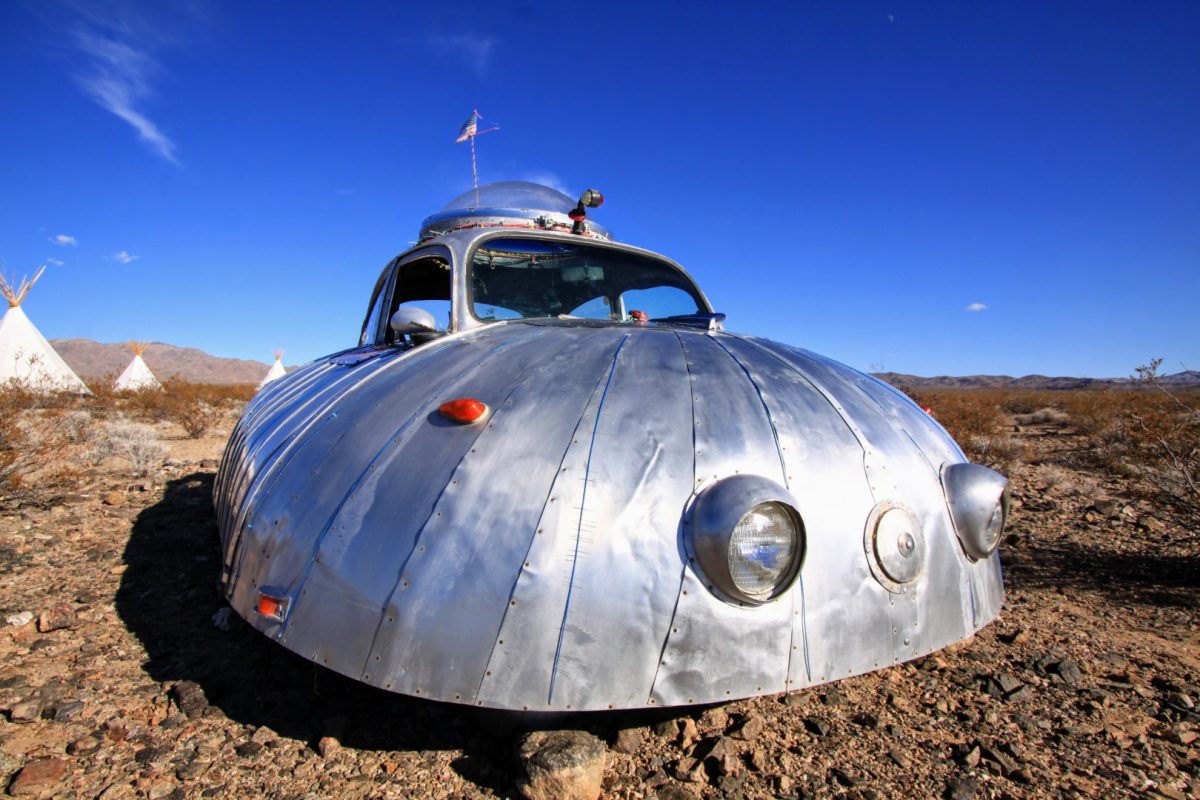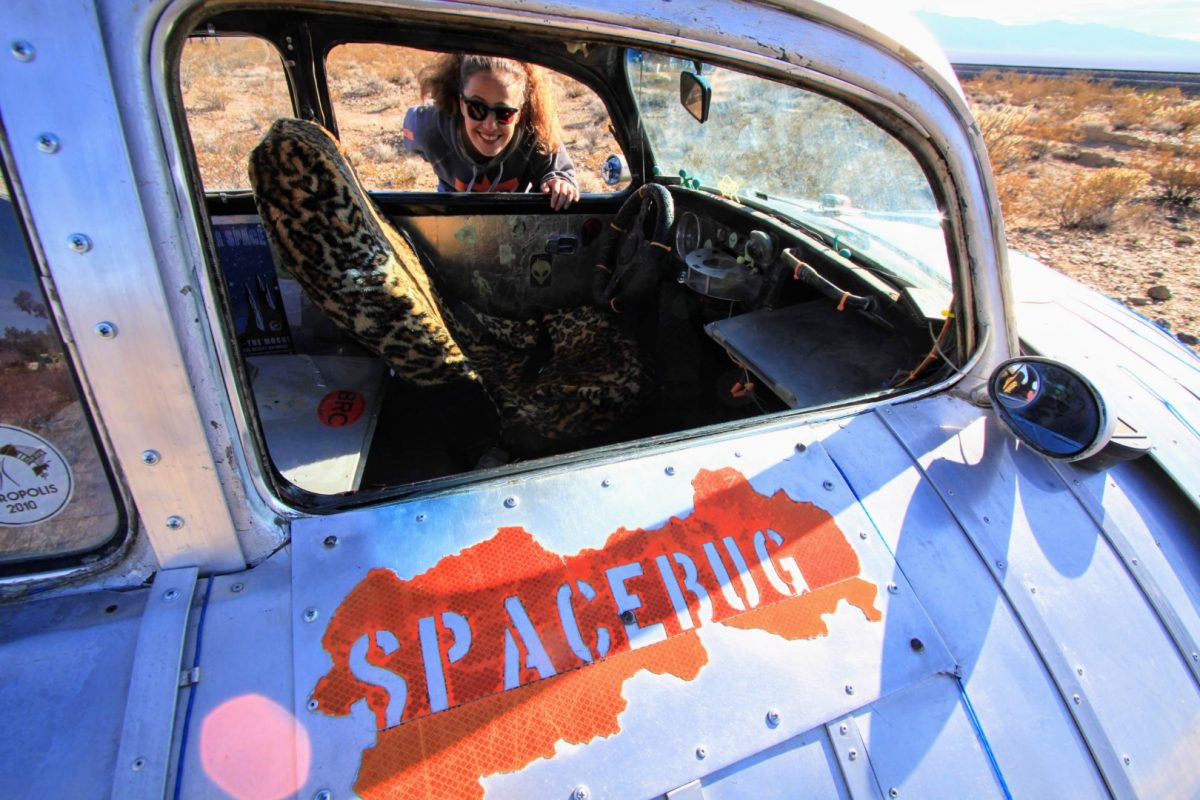 Next up, "Transcendent Souls", by Nicole Ashton Martin, was also at Burning Man 2018. The two massive hands that hold a heart has a functional bench swing underneath it.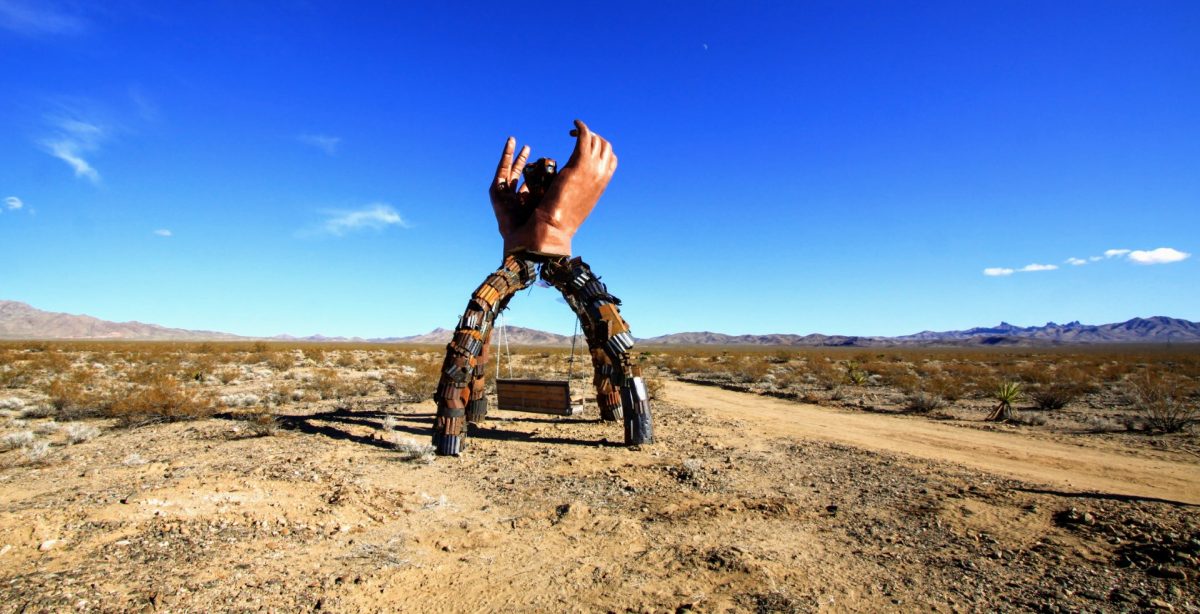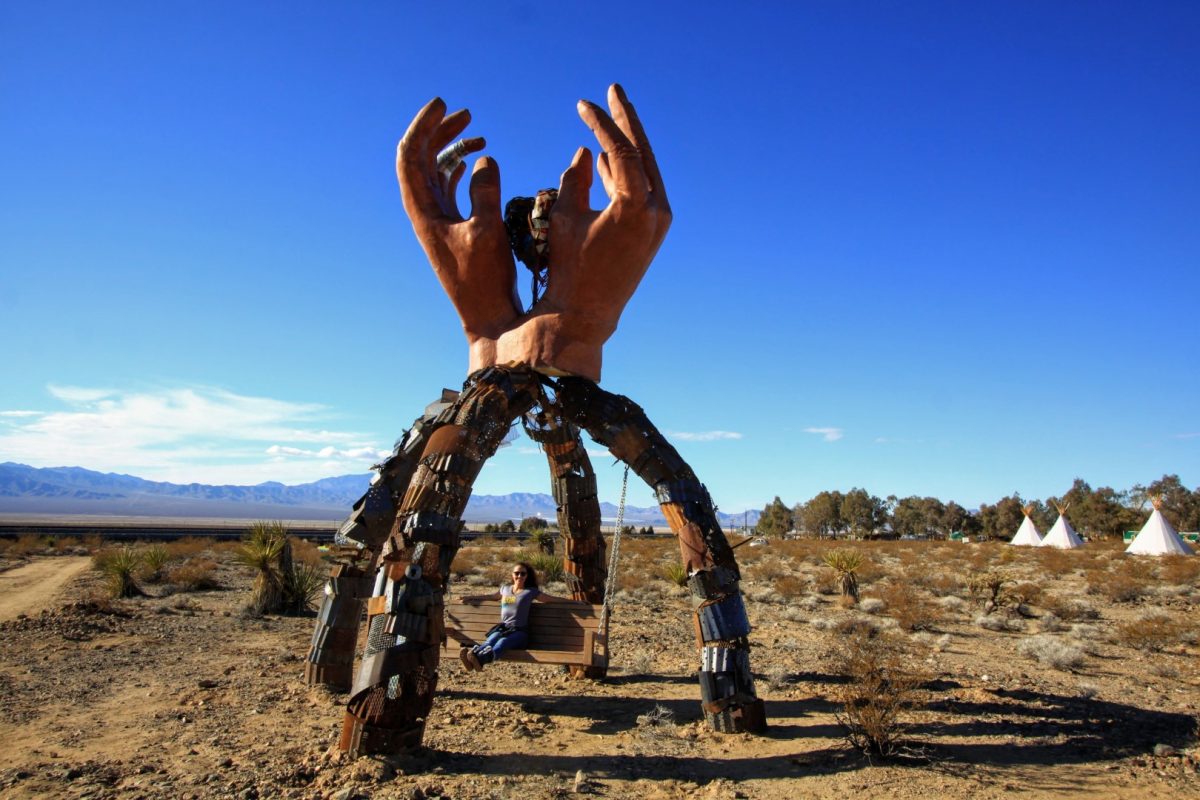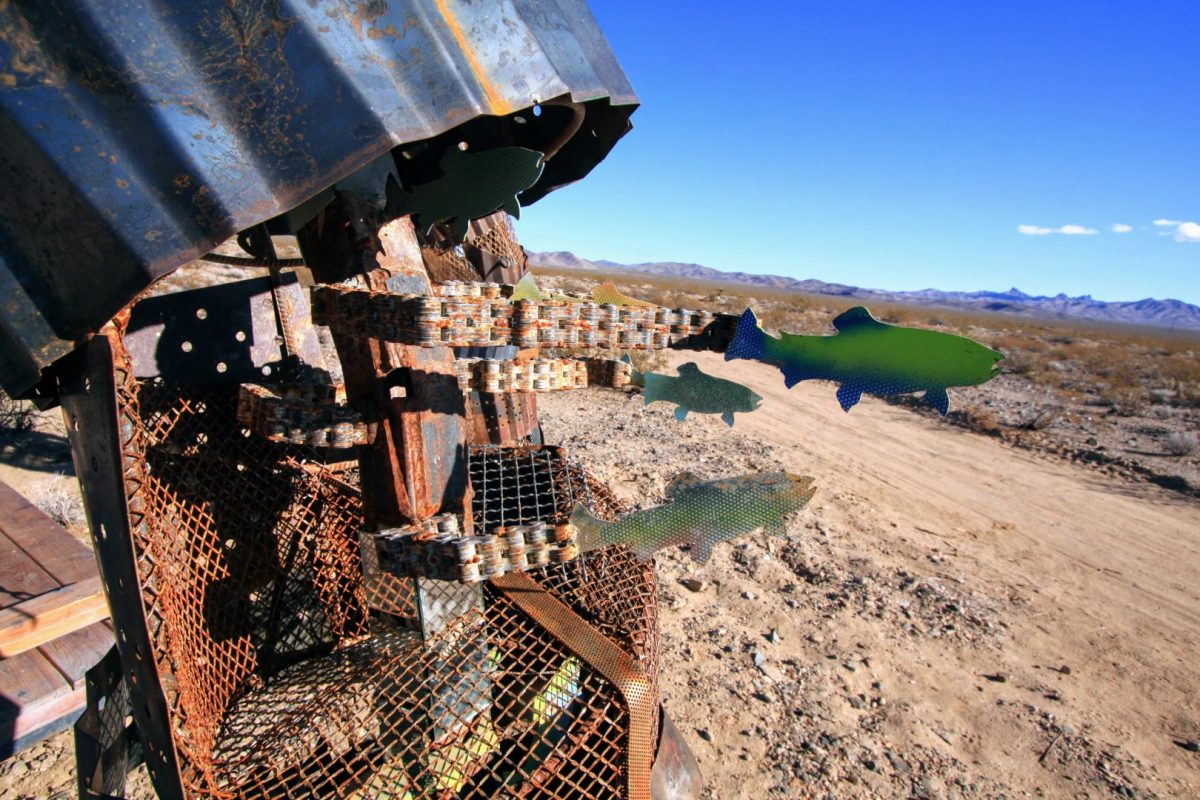 As we walked around, we found a random relic sitting on the berm of the property. An old highchair, missing a leg, sat there in the dirt. It looked very old and pretty creepy.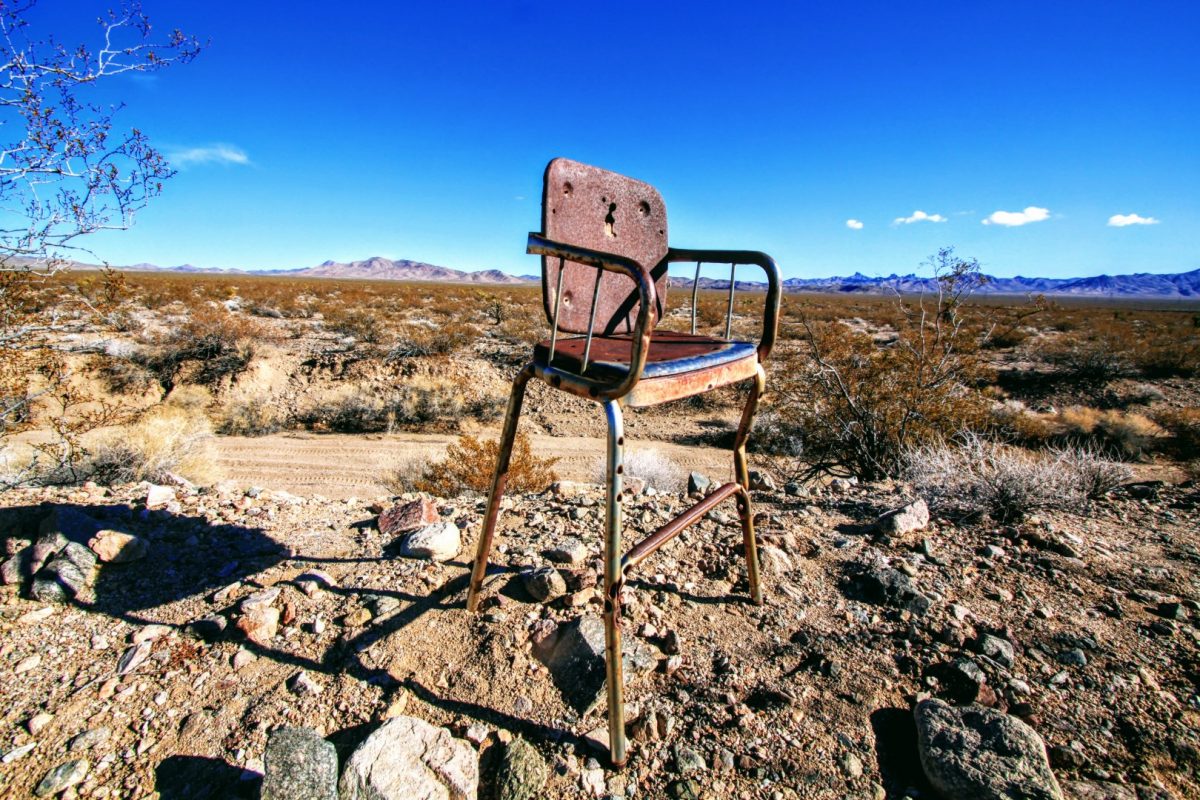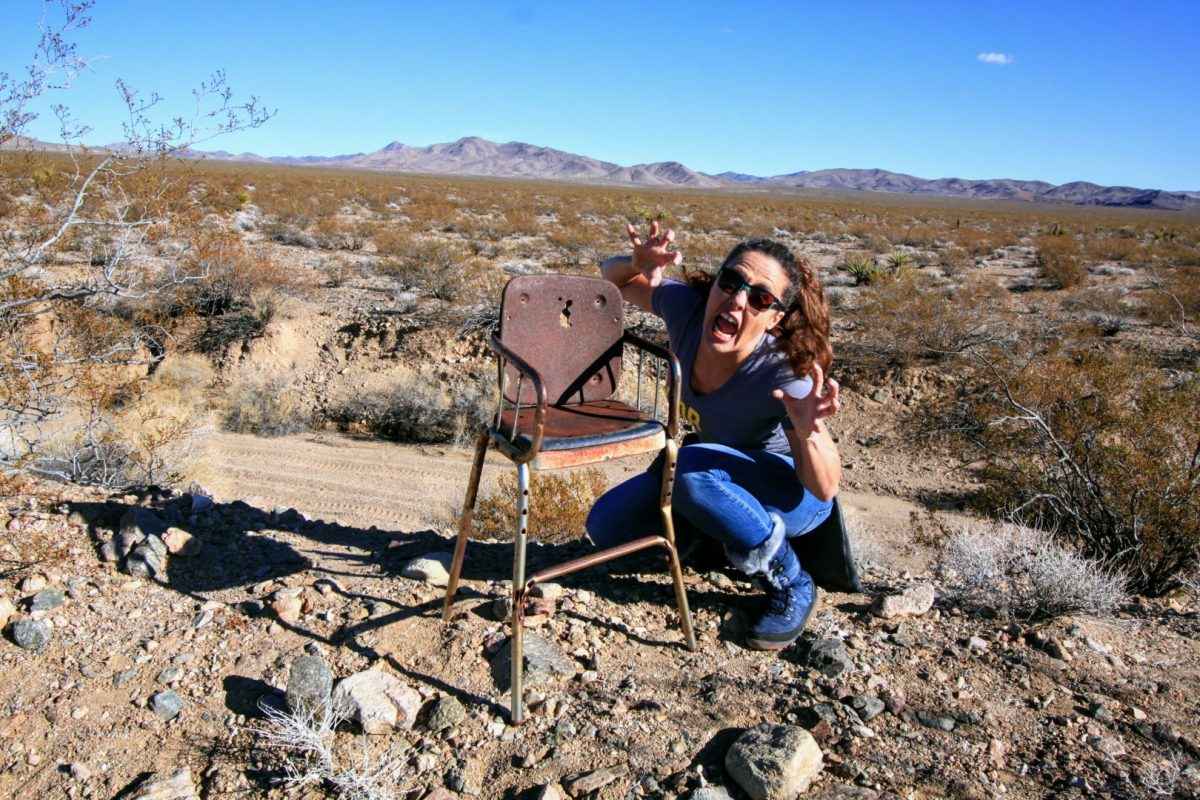 "Fly By", a 1800lb Manta Ray by Peter Hazel, is made of fused glass and steel and even lights up at night with colorful LEDs. We definitely need to come back and see this!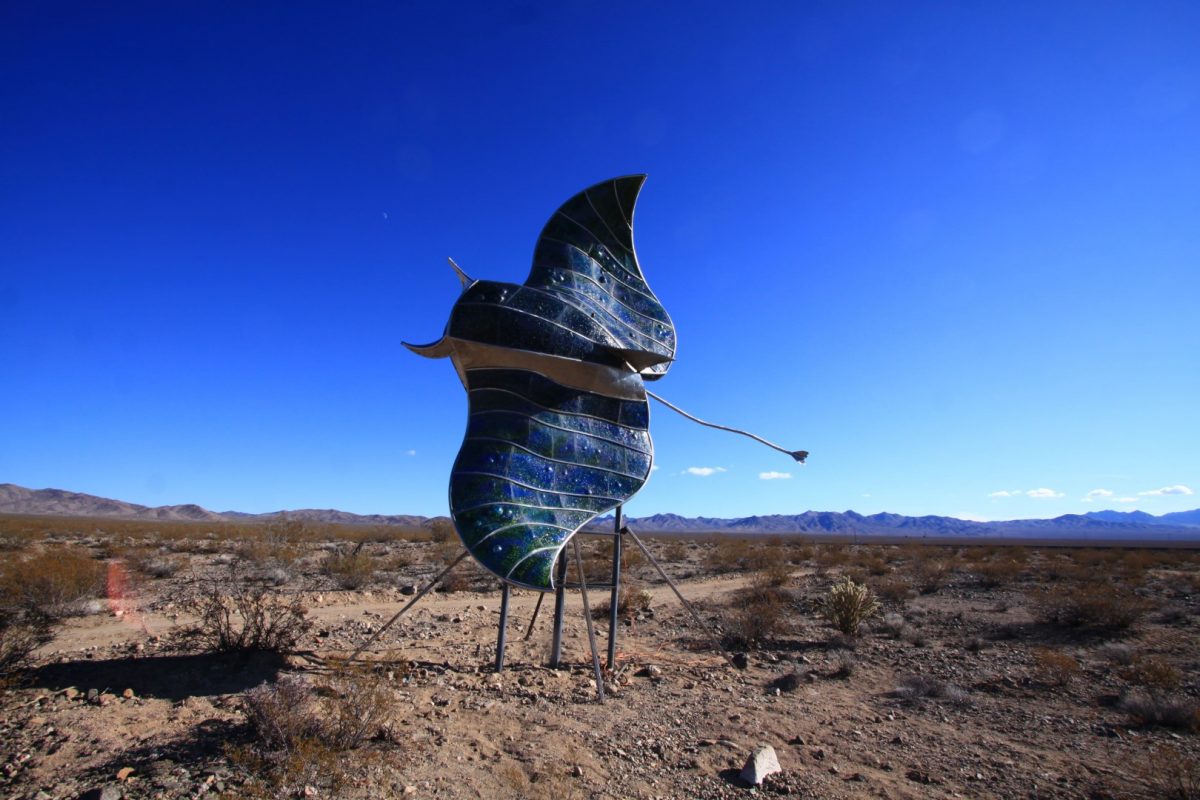 After seeing all of these really interesting pieces of art on display, we were already making plans to come back and spend a night or weekend out here. We'd like to look into the options of camping with our van out here, but the tipis and cabins really caught our attention.
Their ten different "Magical Tipis" can accommodate a couple or a whole family. We didn't go in because we were asked not to, but photos of the inside can be found on their website.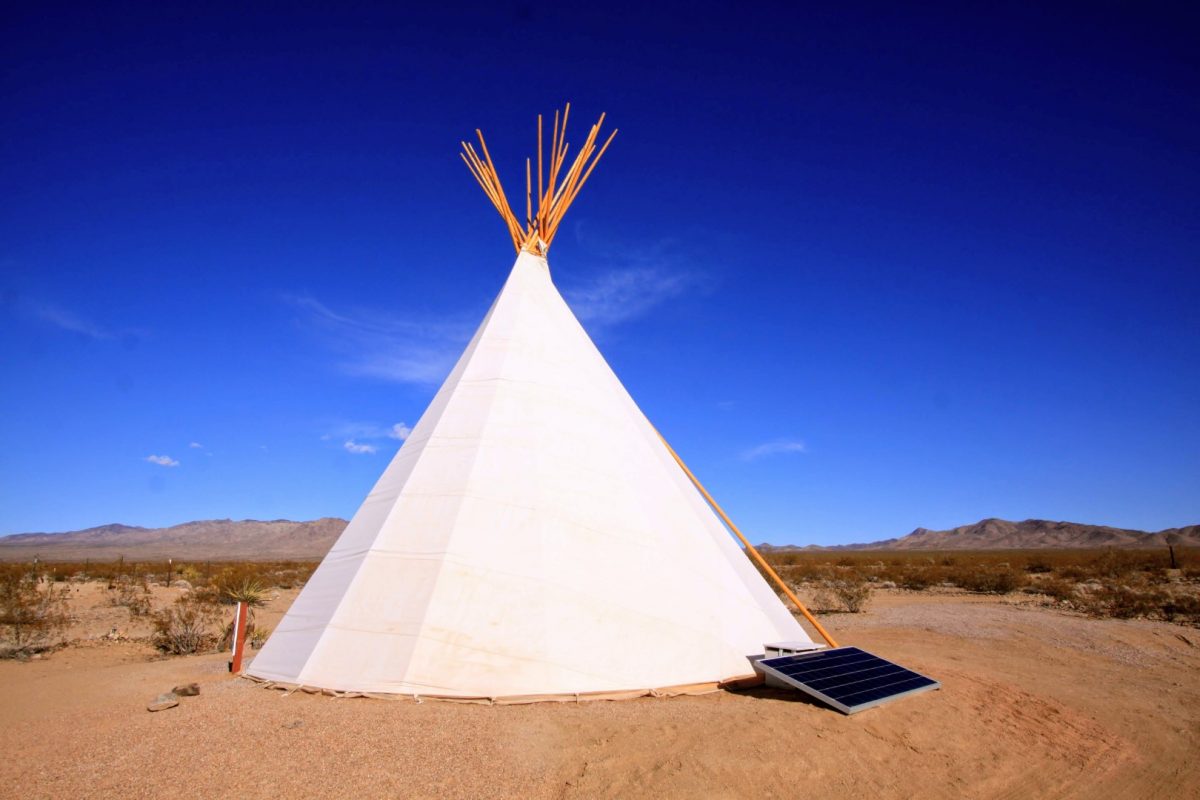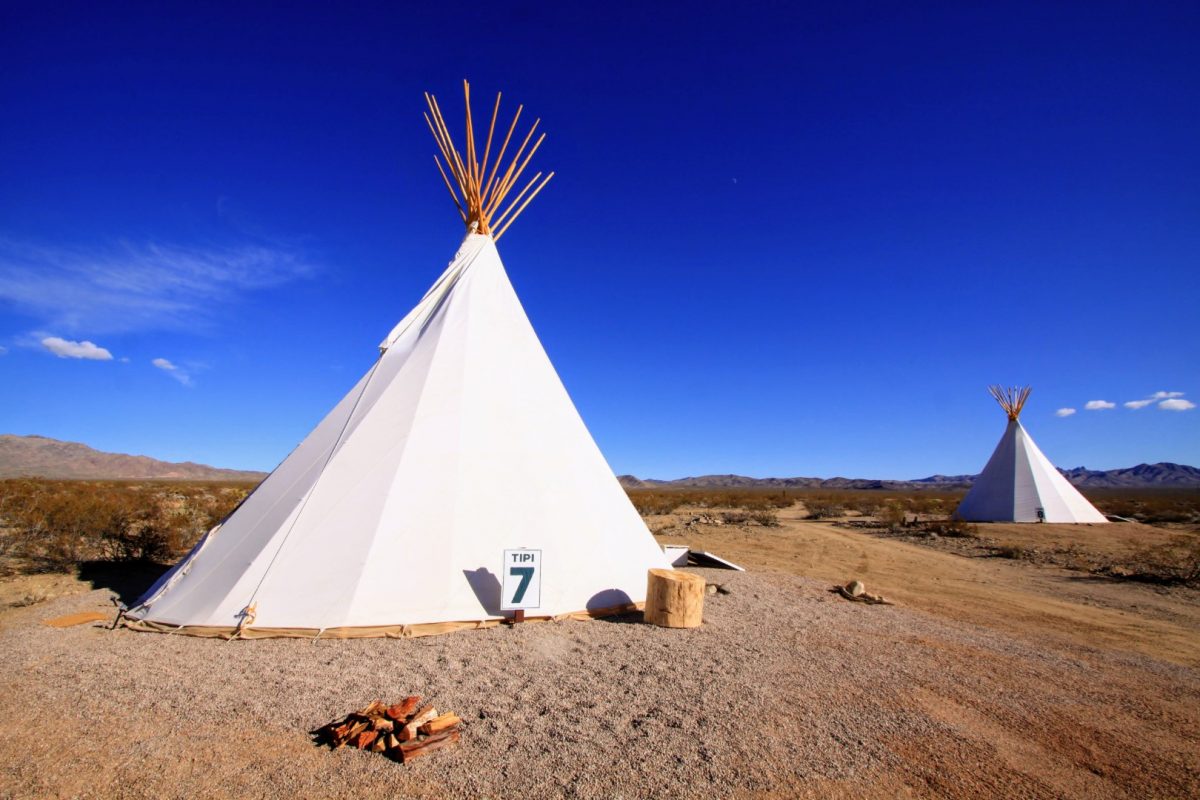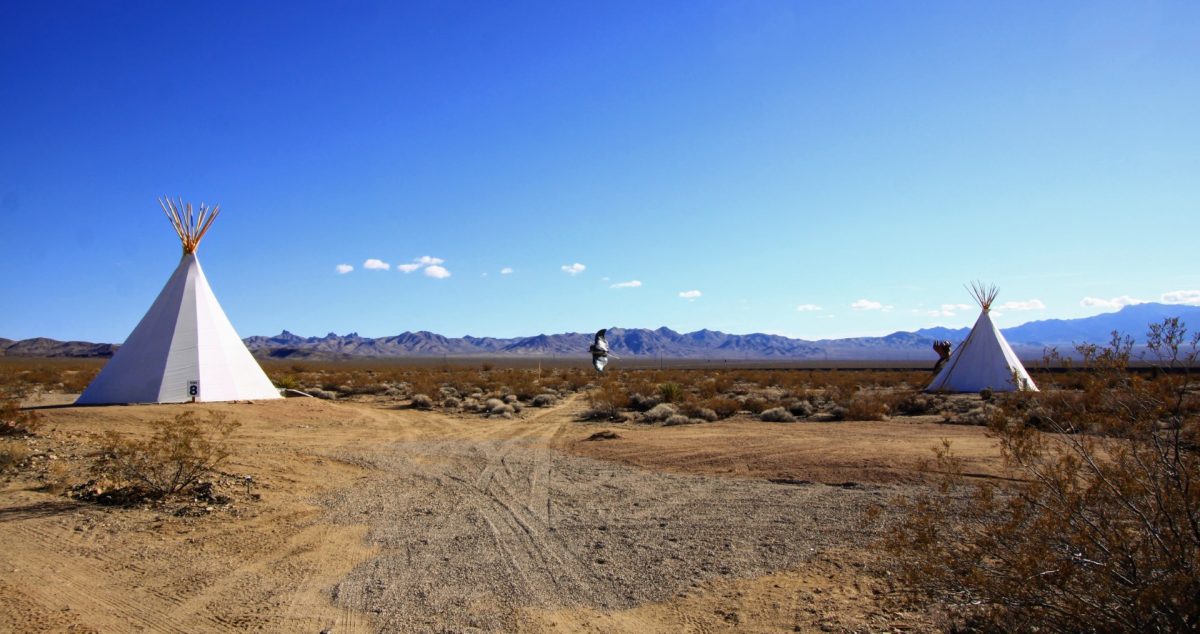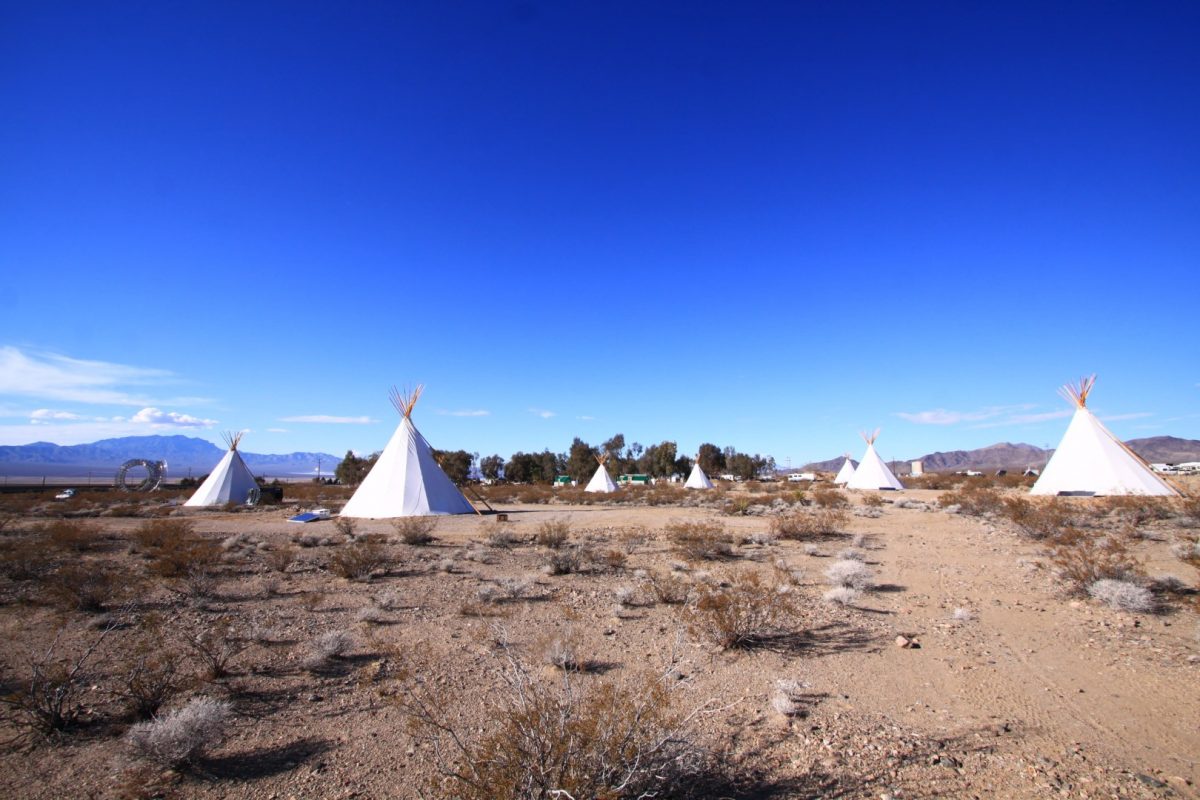 Their "Eco-Cabins" feature beds, a wood-burning stove, outdoor shower, and their own firepit.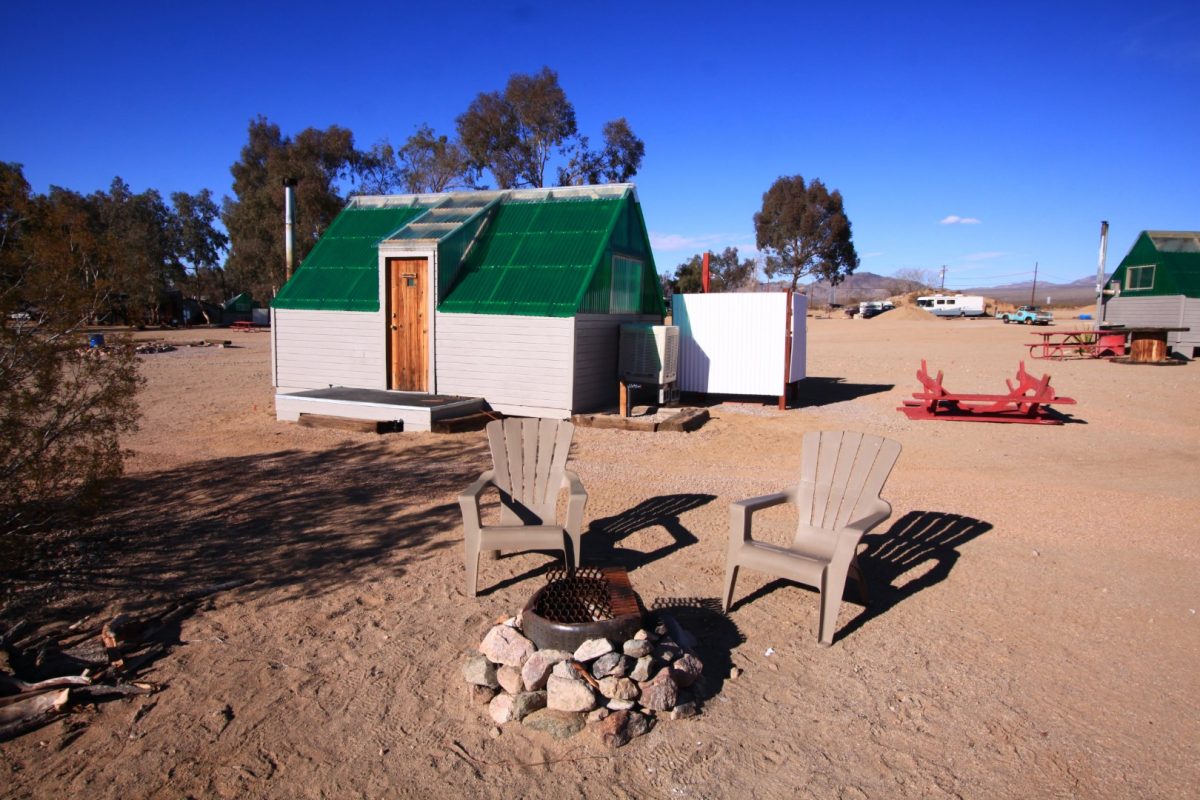 There is also a communal fire pit as well as restrooms, which I was very impressed with. They are clean and have everything you need including private shower stalls.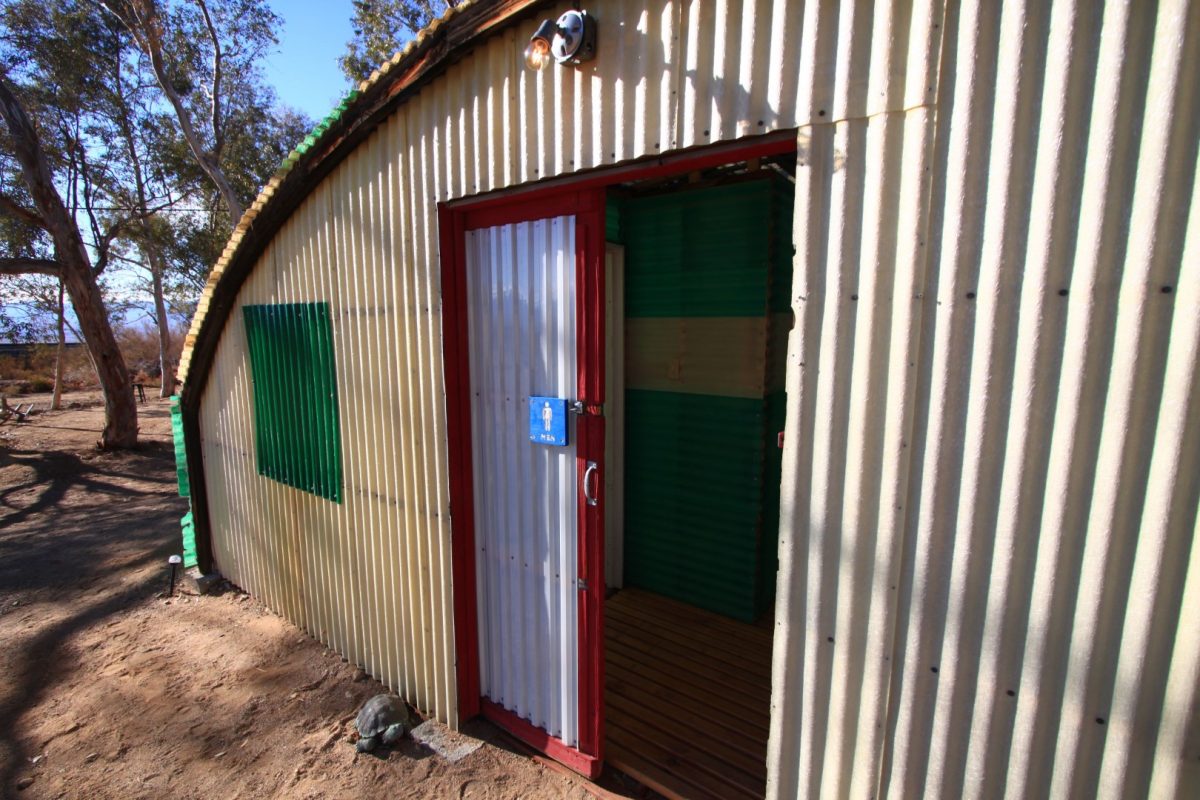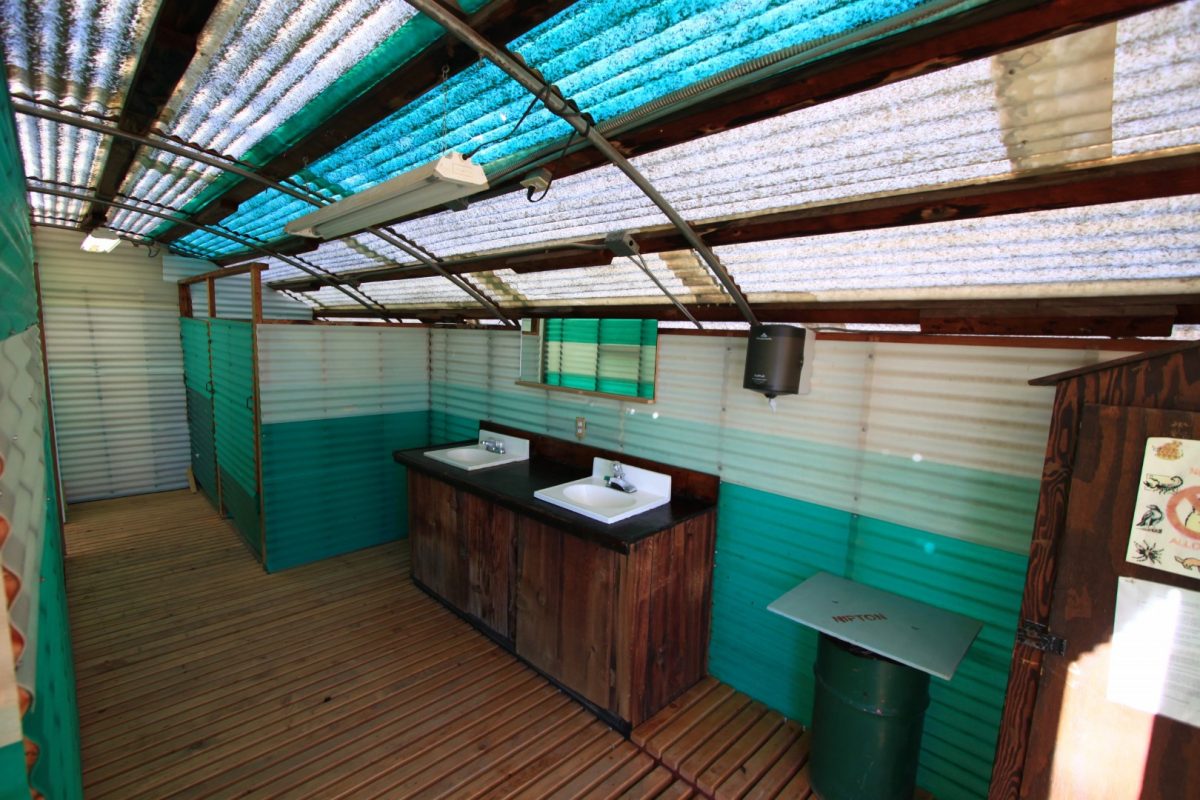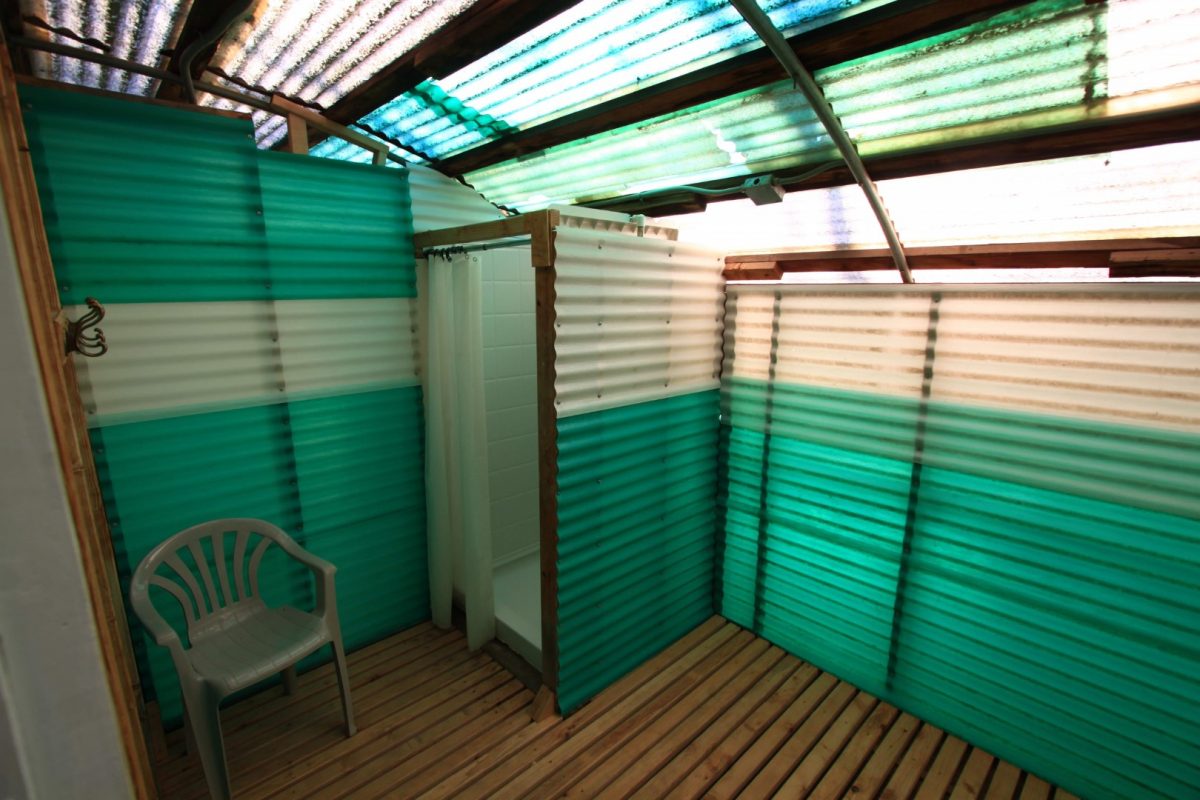 So as you can see, Nipton is growing into something really cool. It used to only be a place to stop for Lottery tickets and grab a snack, but it is becoming more of a destination. I could see spending the weekend out there with friends for a simple get-away or maybe even a quickie moto-camping destination!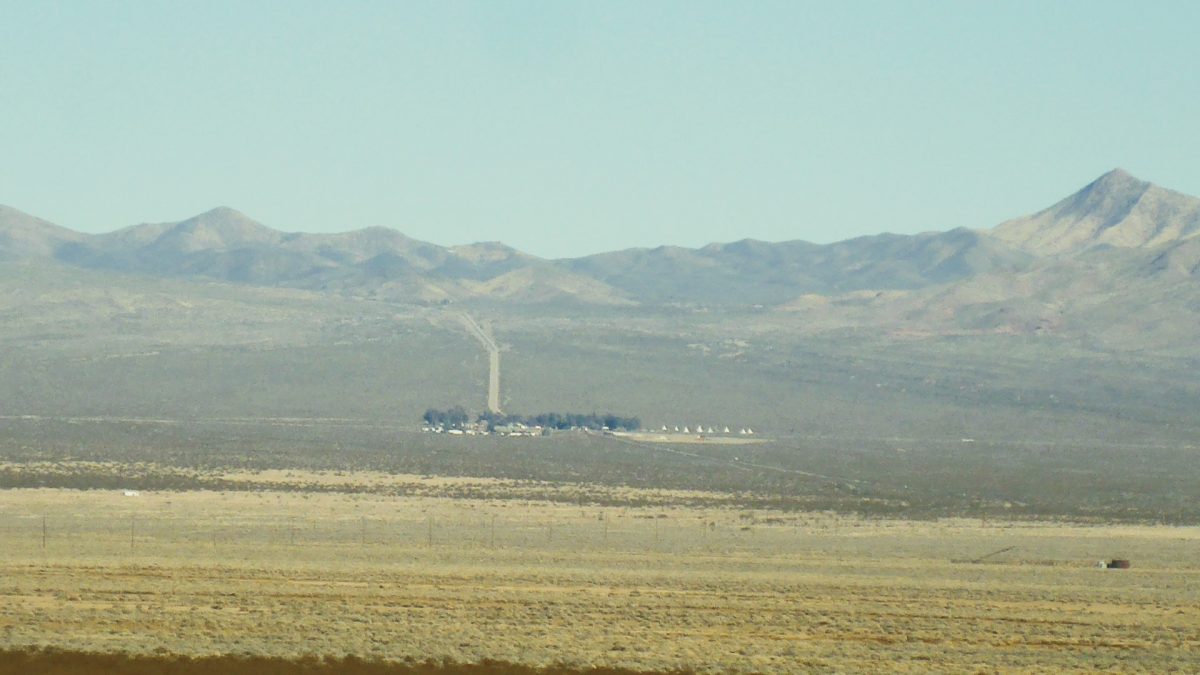 Additional Links
Magical Nipton art exhibits on display at Burning Man: https://journal.burningman.org/2017/07/burning-man-arts/brc-art/peter-hazel-an-artists-life-in-full-bloom/
Nipton Gets Sold Again! https://www.8newsnow.com/news/tiny-town-of-nipton-ca-has-been-sold-again/
Like My Content?

Show your support!

Join My Patreon

You can simply buy me a coffee or get full access to the "not-so-public" ride, trail, and trip information that I only share with my VIP patrons. Become a Patron

Follow Me on Thatch

Thatch is a place where I share my top recommendations for places I've visited or ridden (for free). Premium content is available as well. @livelikepete
Comments
comments