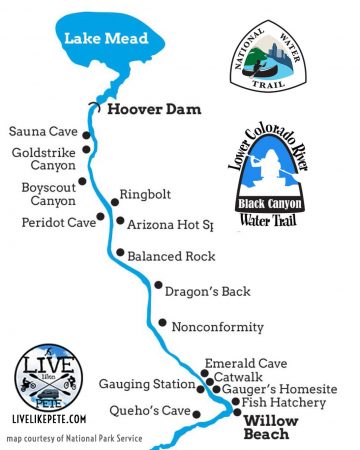 One of the best gems in the Las Vegas area lies just below the Hoover Dam. The Black Canyon Water Trail is a 12-mile, winding stretch of the Colorado River that is full of hot springs, waterfalls, beaches, and caves. If you go through a paddlecraft outfitter, you can obtain a permit from the National Park Service and have them bring you down to launch from the base of the dam. From there you can kayak down the river exploring some of the best parts of Lake Mead National Park.
I have been itching to kayak the Black Canyon for a while now. Before it got any hotter, I booked a day trip for Me, Anna and 7 other friends. Our group met up our kayak rental company, Boulder City River Riders, at the Hoover Dam Lodge and loaded all our gear into the van. With our trip being on the first day of June, it is usually already really hot out, but we have been very lucky with some nice temperatures. The high was only calling for 93 degrees that day.
Launching from the Dam
(river mile 64)
Boulder City River Riders then drove us down to the base of the dam through security and to the launch site. At this point, you have 20 minutes to get ready and be on the water. We got our kayaks loaded with our day's essentials and were eager to get paddling.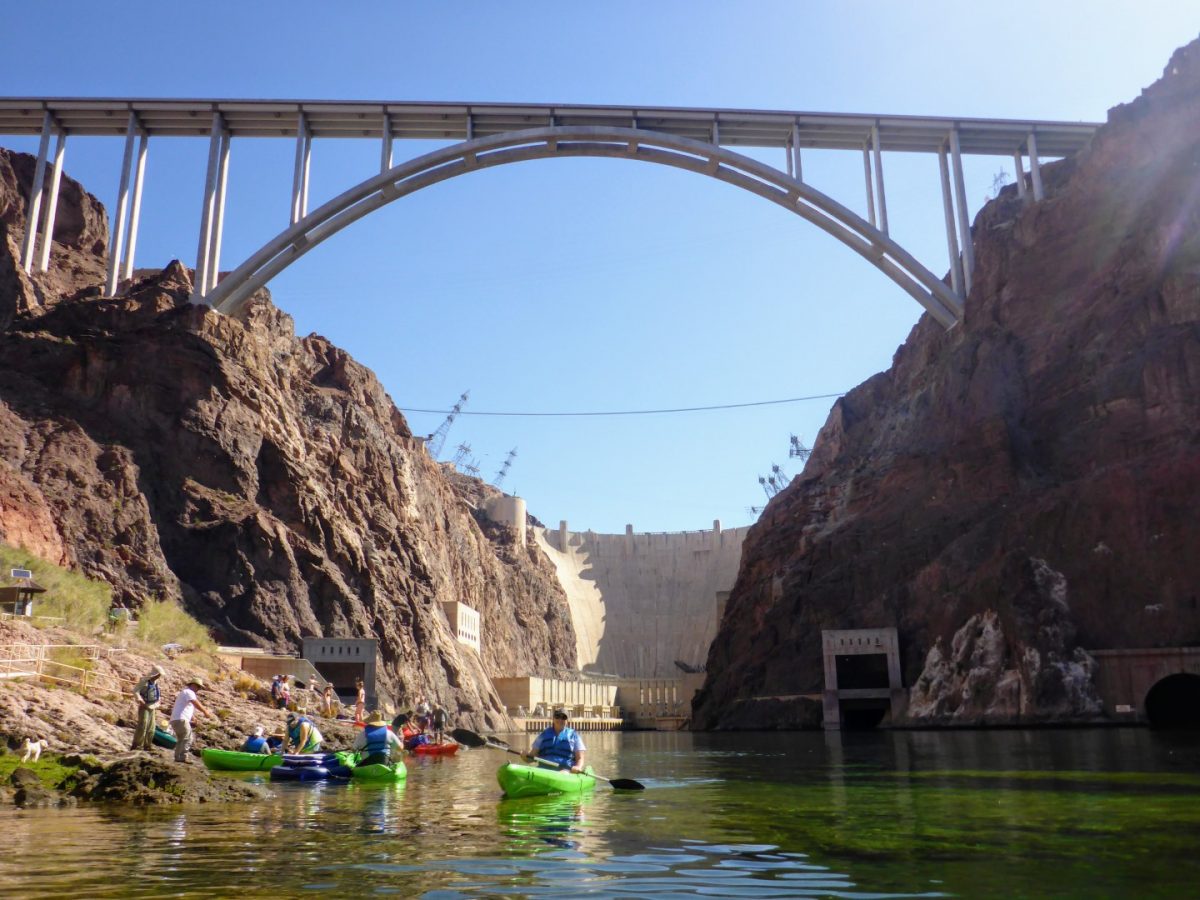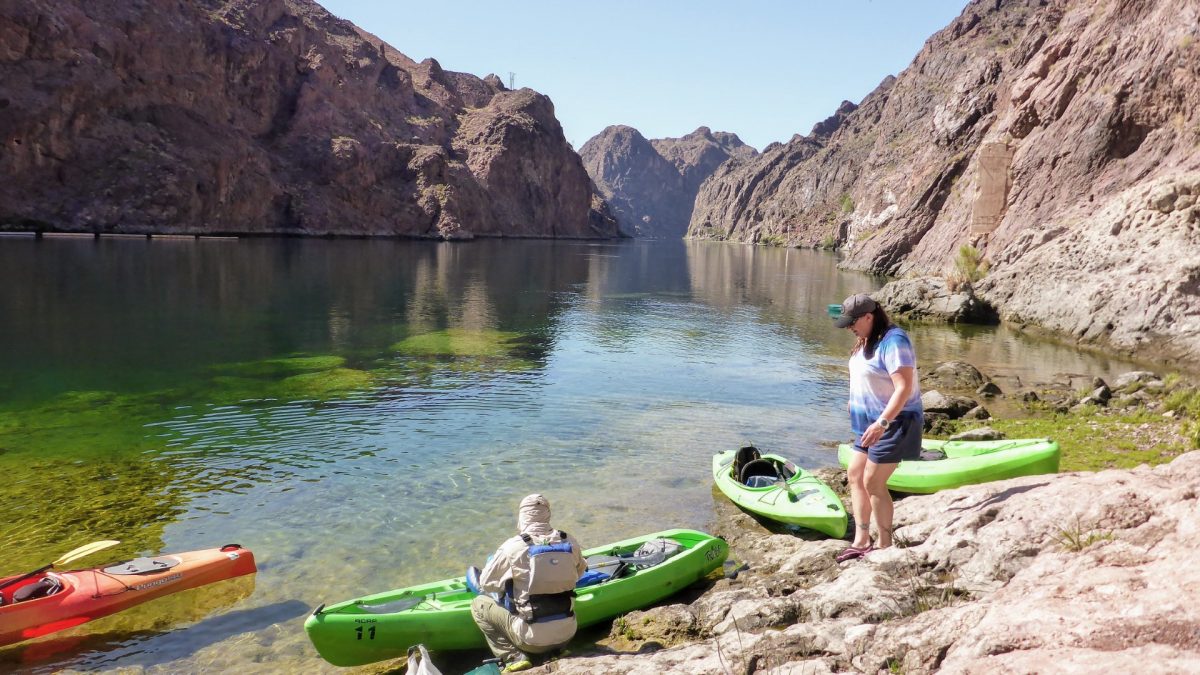 Our guide, my buddy Chris, gave everyone a quick rundown on kayaking basics like paddling technique and safety. Lifejackets must be worn by everyone at all times. It's the law. Easy enough though. We were all ready and set off down the mighty Colorado!
Catwalk
(river mile

63.5)
As we began paddling Chris pointed out the old catwalk up on the right side of the canyon wall.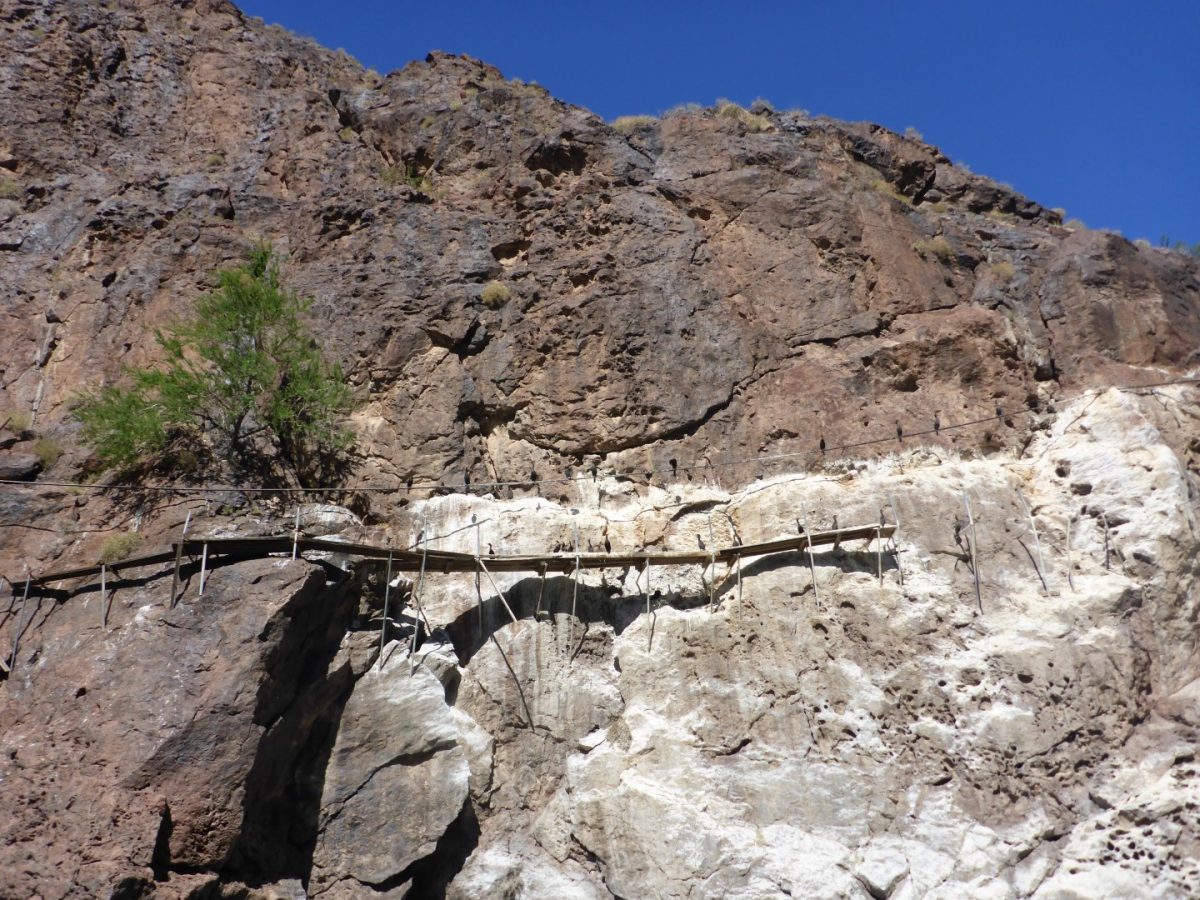 Sauna Cave
(river mile 63)
Although we were all excited to get paddling, less than a mile from the dam is the must-see Sauna Cave. Hoover dam workers drilled this tunnel but stopped the project when they hit 122° water. Park your kayak and take the easy hike up to the cave. Go inside, keep your head low, and carefully (but quickly) walk back about 150 feet through the sweltering, knee-deep rain cave. Bring a waterproof flashlight and go all the way in to touch the wall. Or…do like we did and go at it blindly! I guess I cheated and used my camera's flash and LED light at times taking photos. It is like a sauna in there, hence the name. Hot, steamy water oozes from the walls making it extremely hot with 100% humidity. It's about 140 degrees inside! You have to do it though! When you get back to the mouth of the cave, the hot spring water feels almost cold compared to the water deep in the cave.
Gold Strike Canyon
(river mile 62.75)
Another 1/4 mile down the river is Gold Strike Canyon. This is a popular hike from above, but coming from the river, it's much closer to see. Always park your boat high enough onshore due to the fluctuating water levels of the river, then take a little walk up the canyon to the hot springs. This is where you really want your water shoes. The main pool is nice and hot, but the back pool is almost so hot you can't stand in it. The water temperature was almost 130 degrees. After you've had a hot soak, run back into that frigid river water for a nice shock to your system! It feels great.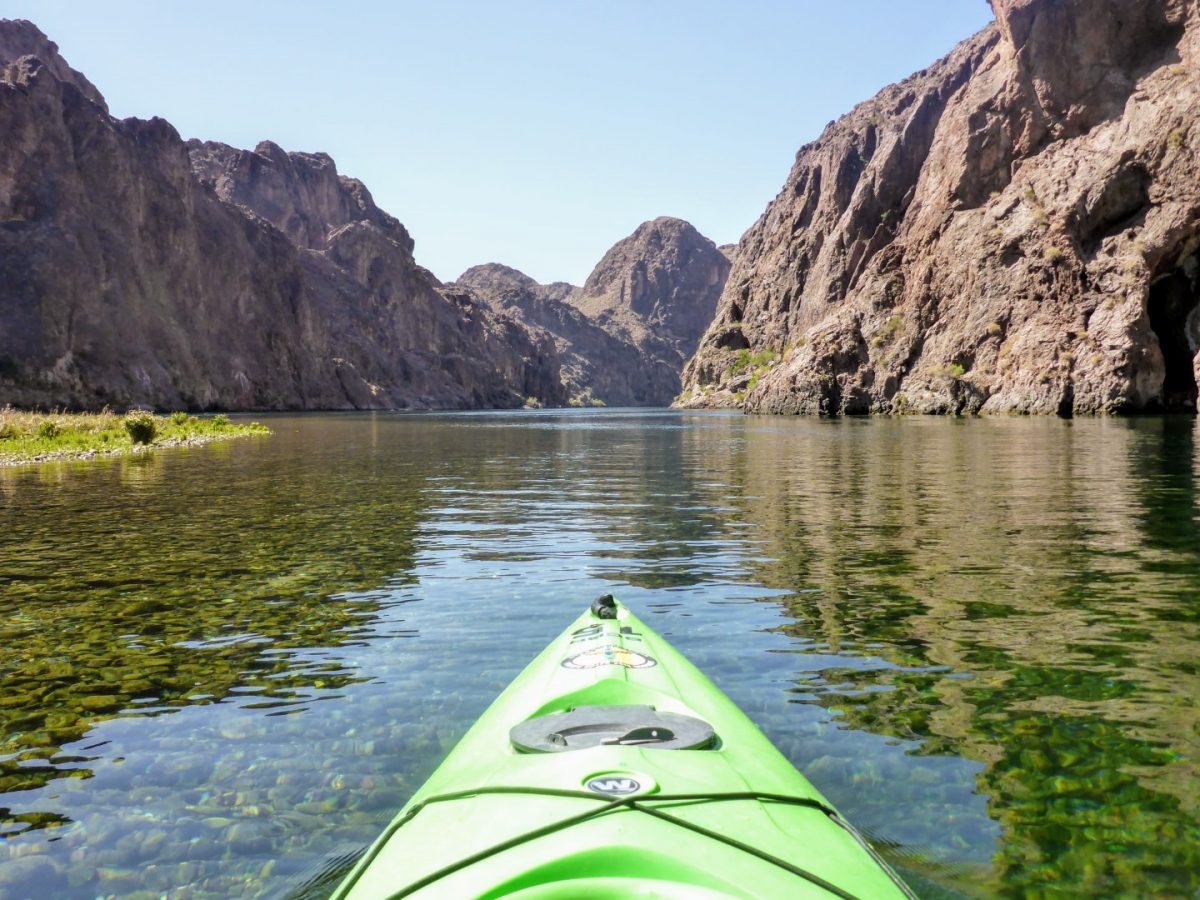 Lone Palm Springs
(river mile 62.5)
After a short paddle from Goldstrike Canyon, there's a waterfall on the left to let you know you are coming up to Lone Palm Canyon and Springs. Hike up the hill through lush and pokey, palm trees and down into the canyon where you'll find a pool that overflows into the river creating the waterfall. It was here where we found several little Relict Leopard Frogs. These little guys were thought to be extinct at one point in time, but surviving populations of them can be found at Lone Palm. They are considered endangered so be very careful when walking and crawling around the water pools.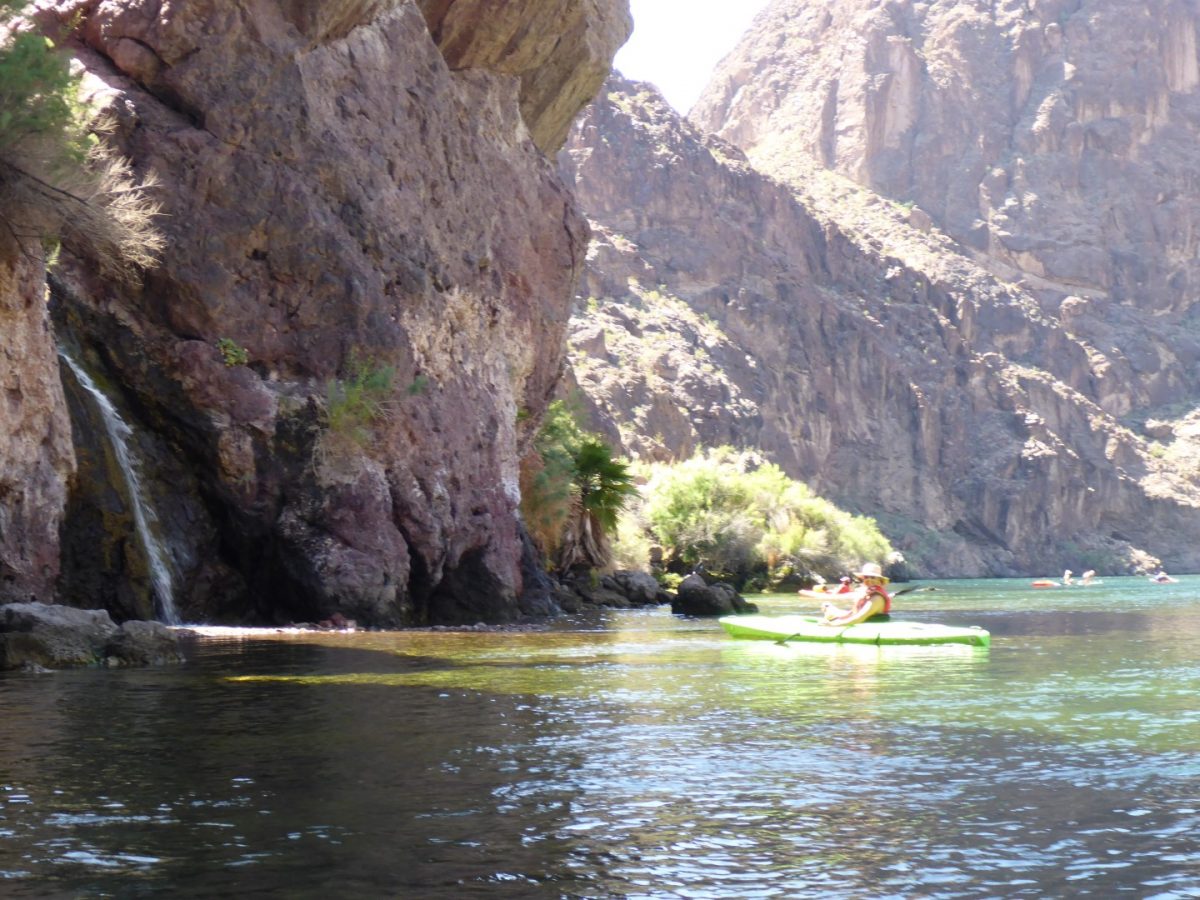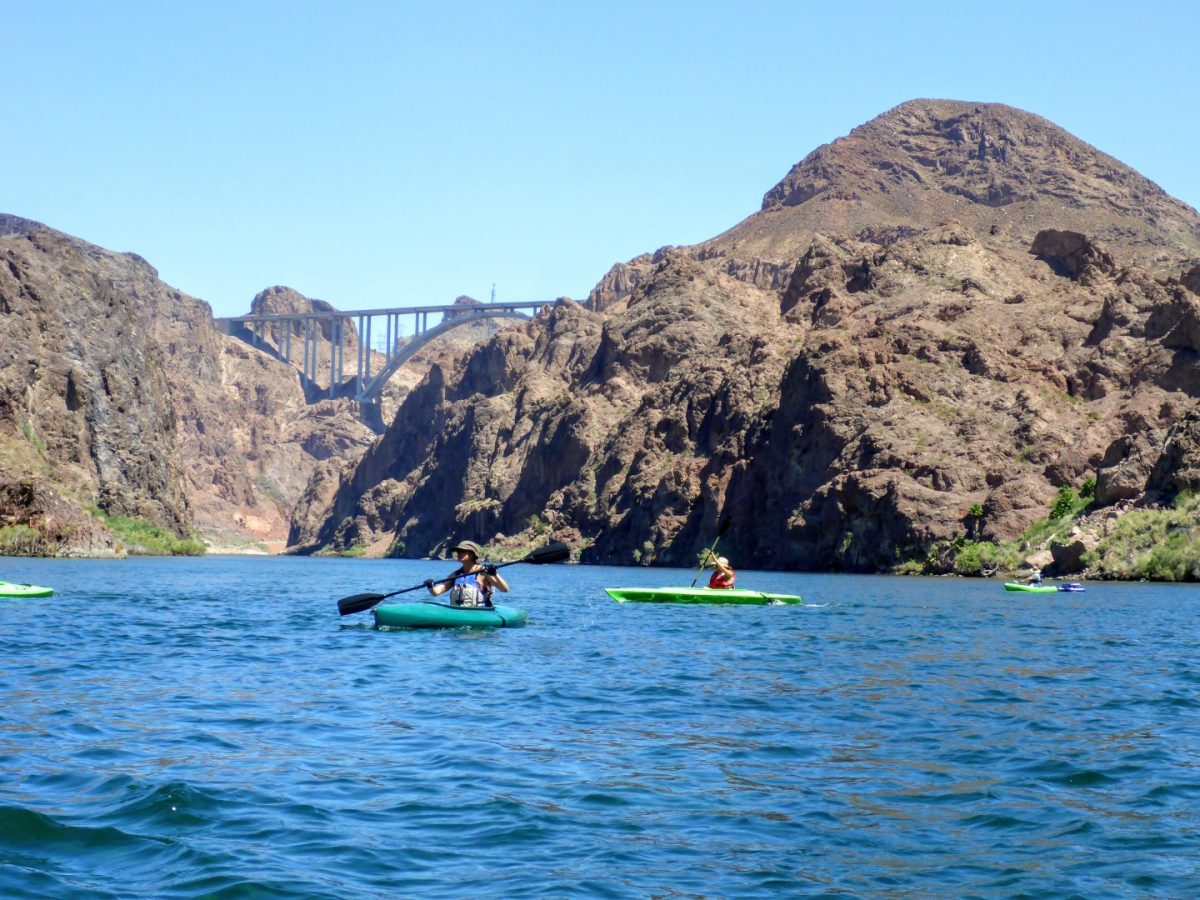 Boy Scout Canyon
(river mile 61.75)
A little over a mile farther down the water trail on the Nevada side is one of my favorite hikes we did, Boy Scout Canyon. There a large sandy beach at the entrance to the canyon. Climb up several slot canyons using the ropes being very careful not to slip on the algae or get any of that water in your nose.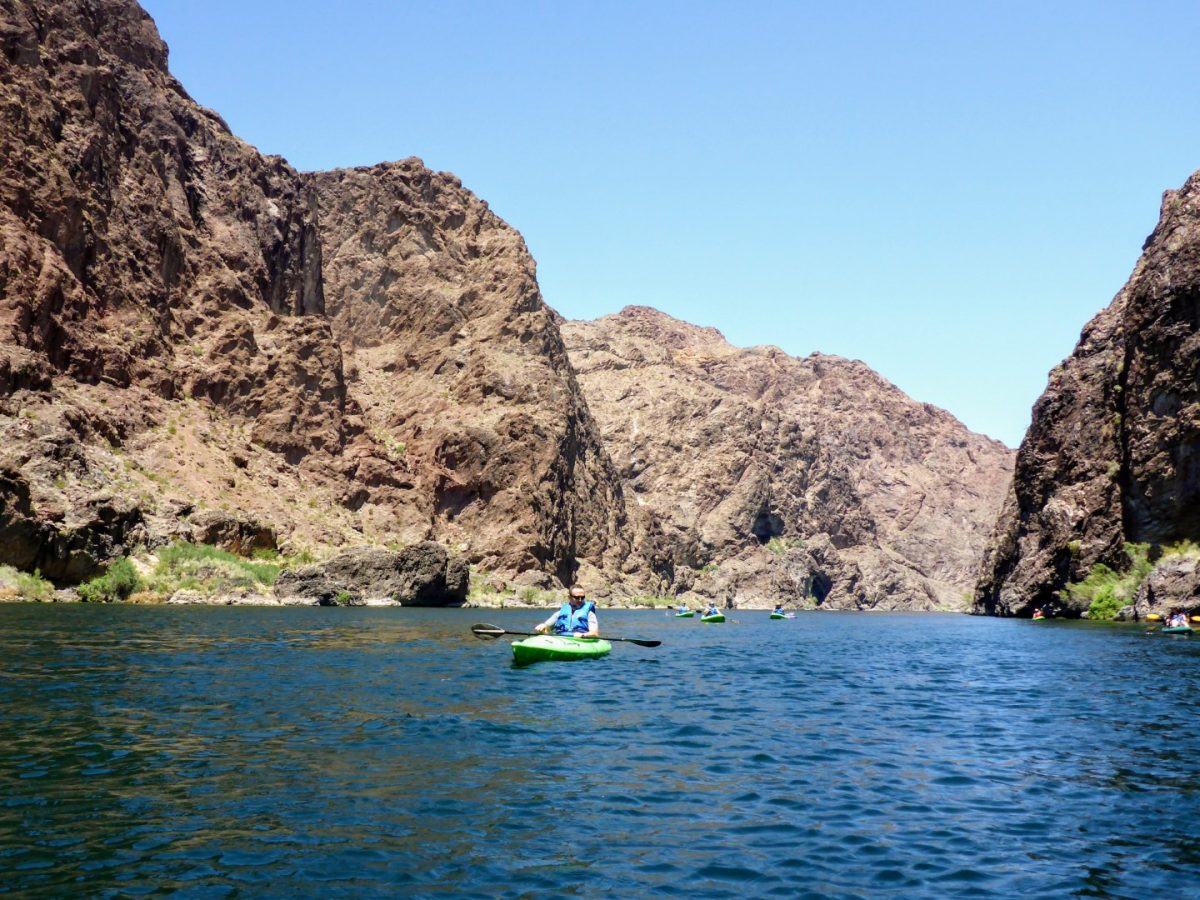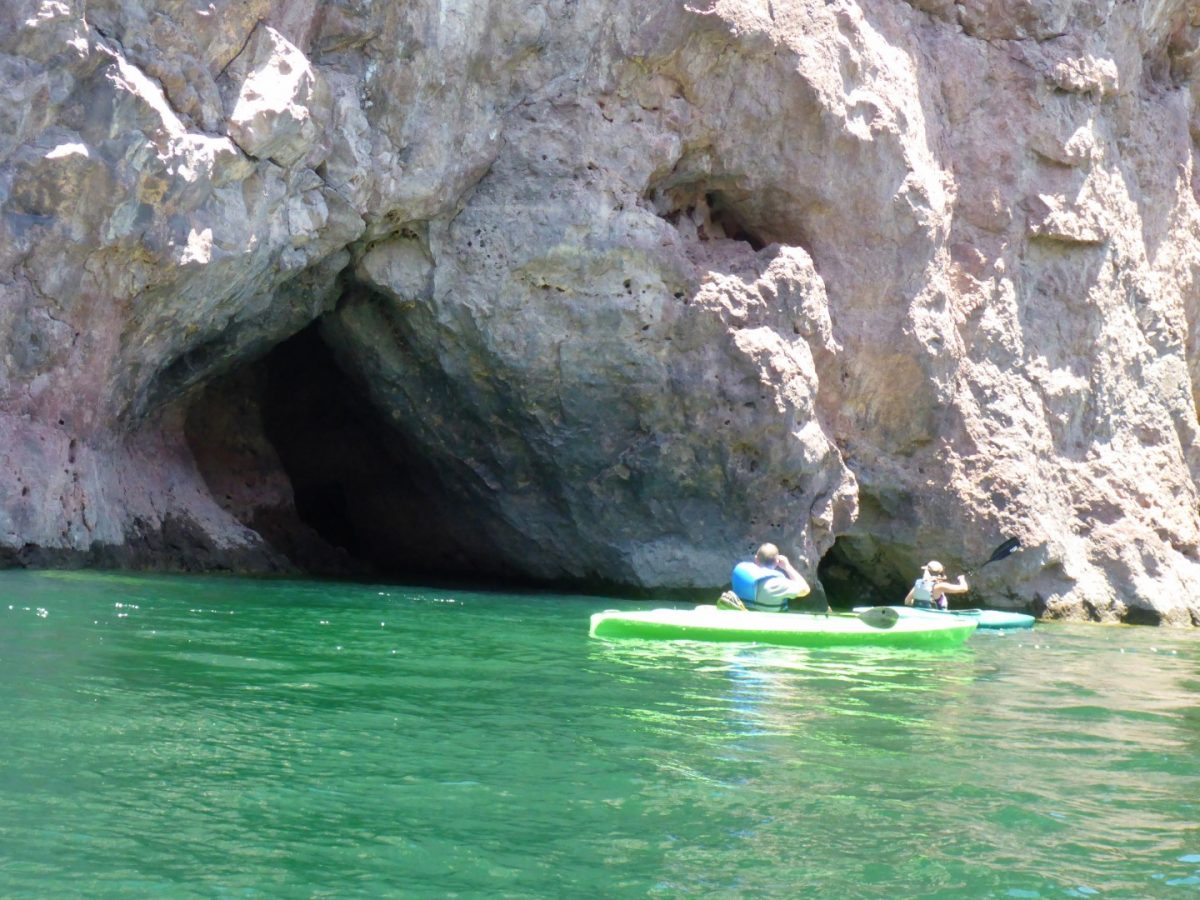 Arizona Hot Springs
(river mile 59.75)
Another very popular spot is the AZ Hot Springs. There is a large sandy beach this stop has some nearby pit toilet bathrooms.
This is the lunch stop. We sat under a shady tree, refueled our bodies, then headed up the slot canyon. There's a large steel ladder that helps you get up the waterfall to the hot spring pools. Some of the upper pools are very hot! Lower pools are comfortable to sit in though.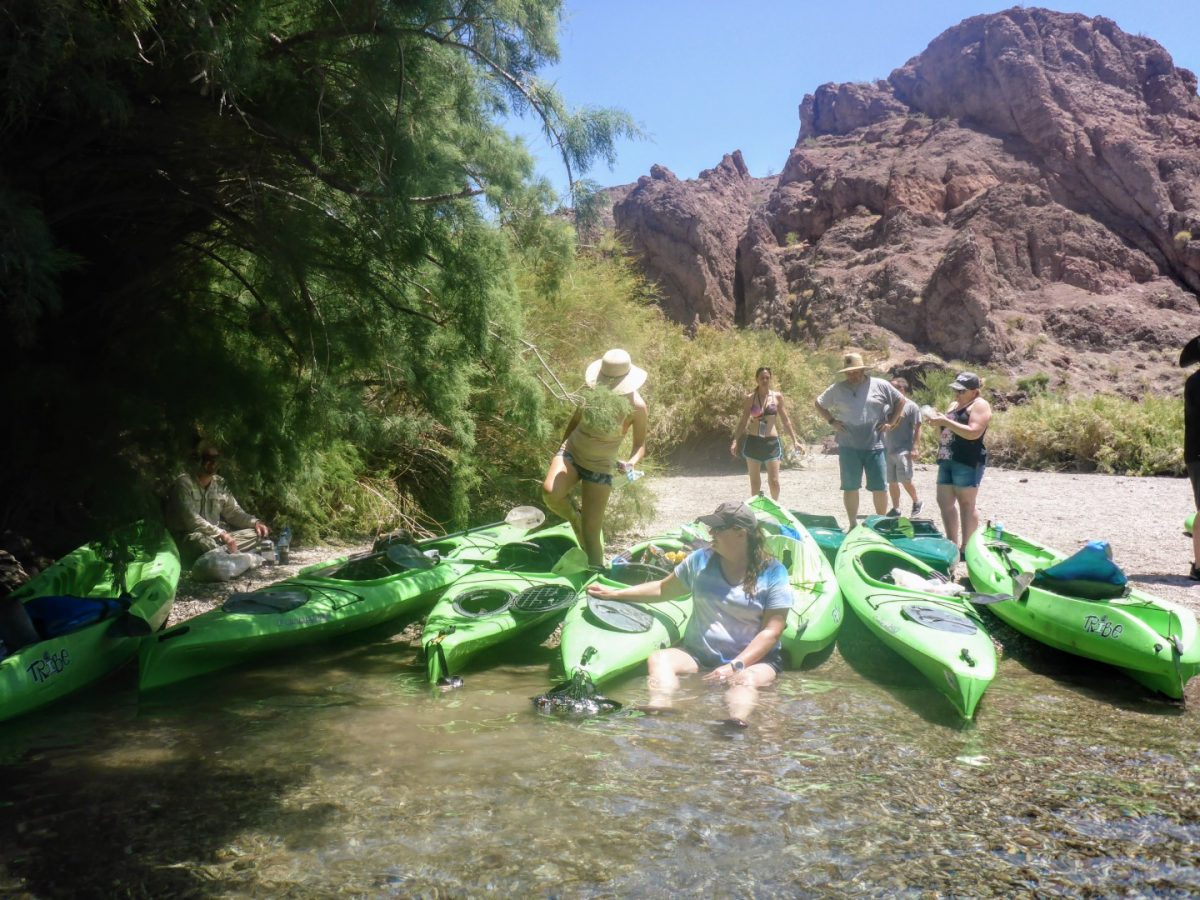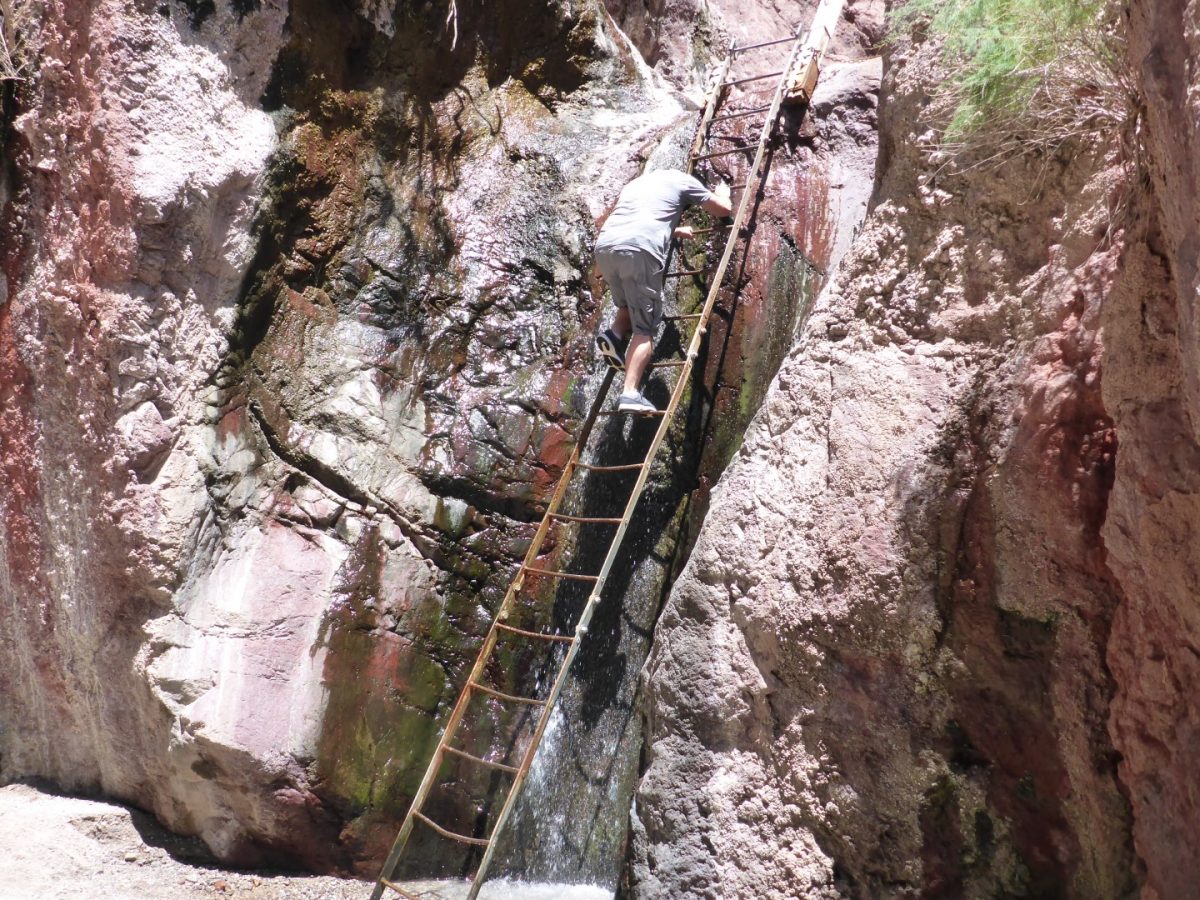 Time to Paddle, Paddle, Paddle
Although there are more stops and things to see along the Black Canyon Water Trail, Willow Beach (the pickup spot) is another 8 miles down the river from Arizona Hot Springs. The farther you get away from the dam, the wider the canyon gets and the current doesn't help you much because of the headwind in the canyon. Most of our group did not anticipate this stretch of the river being so long. So we paddled and paddled our way down the river. It took hours of paddling. My giant hat that had helped me all day was now turning me into a sail at times. I would stop to take breaks pondering why I voluntarily chose this tedious chore. lol Four or five miles of paddling was enough for me, but that's not what this canyon was. So ya know what I did? I kept paddling. haha! You have to be prepared for a long day of paddling if you want to kayak the whole thing.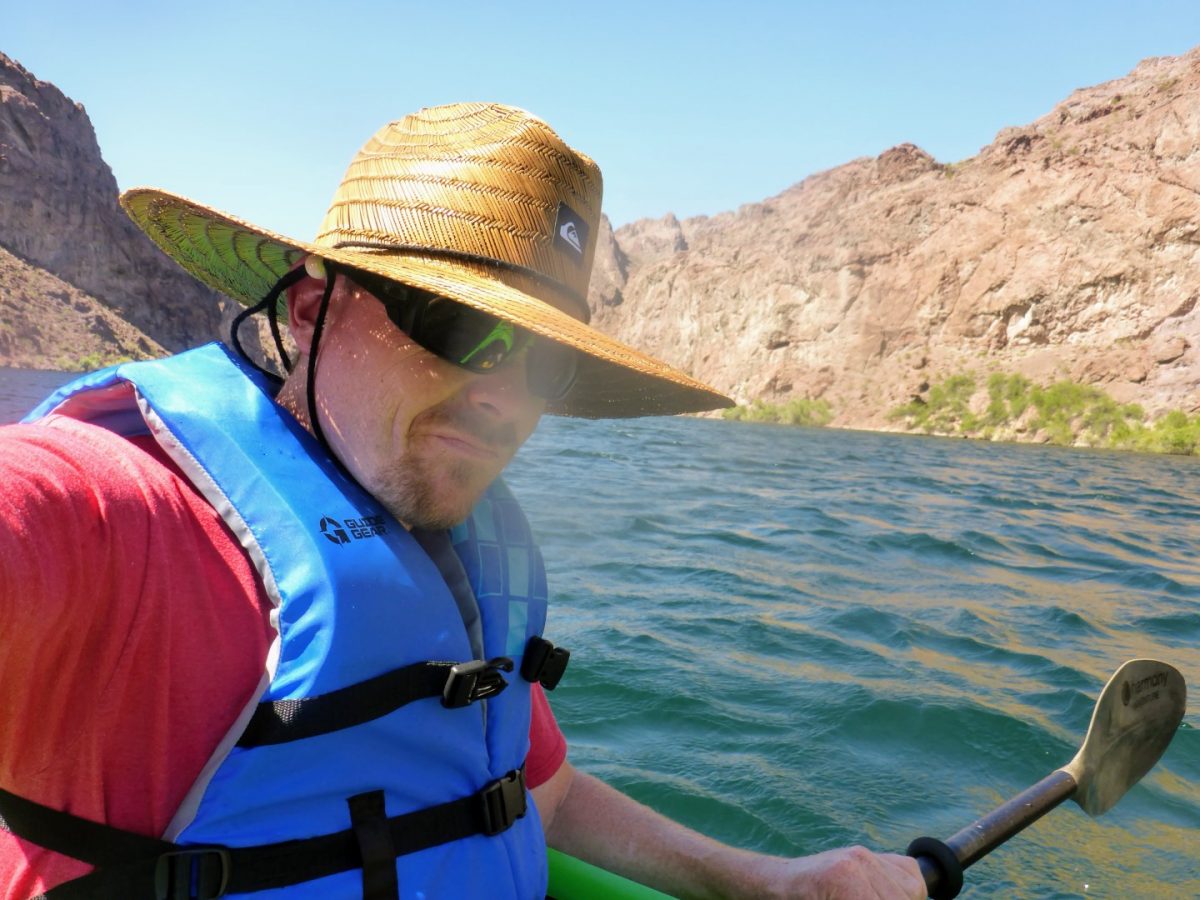 The water along this river is very clear. Some of the rock outcroppings are visible about 50 feet down.
Crane's Nest
(river mile 56)
We were all pretty tired and over it when we came upon Crane's Nest Wash/ Canyon. We spotted a small beach where we all decided it would be a good spot to stop and reevaluate our life choices. Just kidding. It wasn't that bad, but we were tired of sitting and floating in Tupperware. We took a beer break and got back at it so we didn't waste much more time.
Sticking to the side of the river helps at times if there is a headwind, which there was.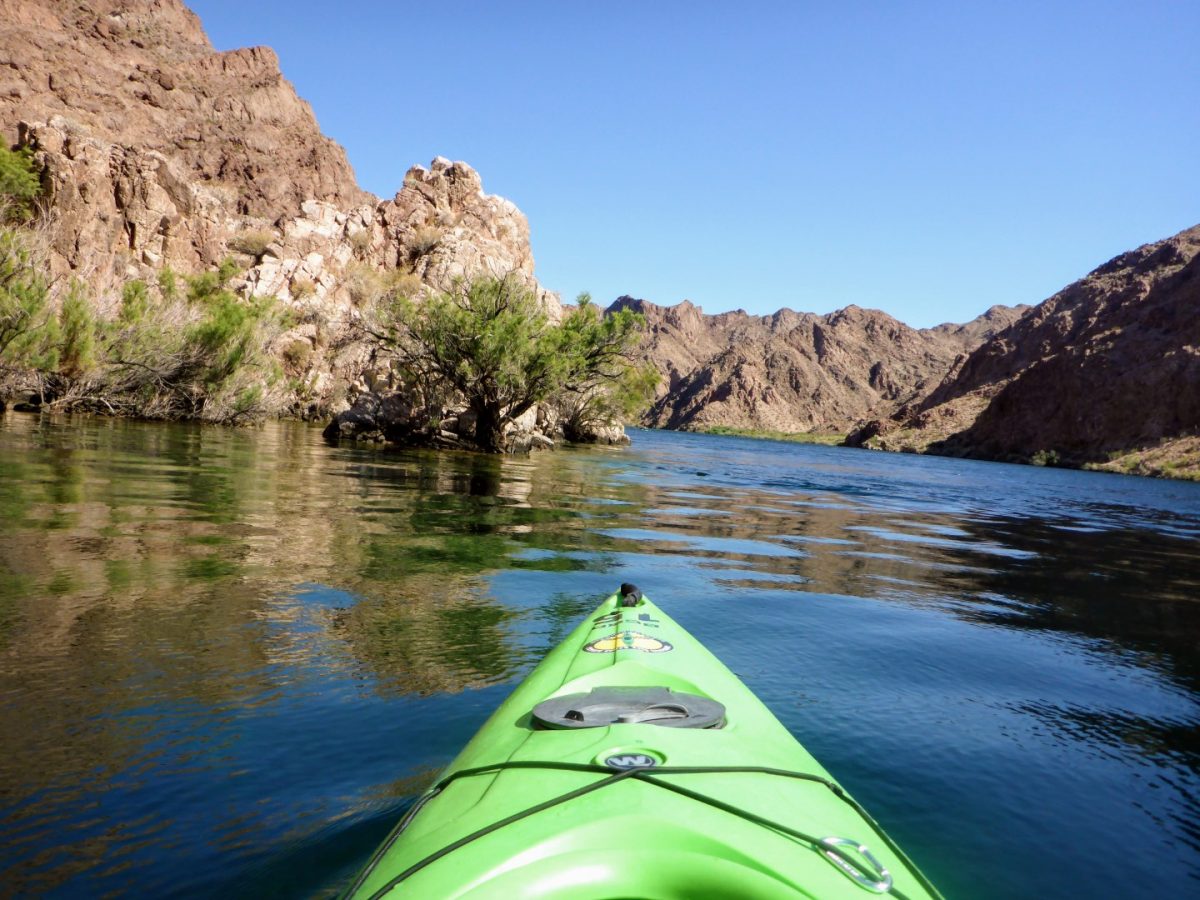 Gauging Station
(river mile 54.25)
An old gauging station is still on the right side of the canyon wall on the Nevada side. This was used prior to the construction of the dam to monitor water levels, flow rate and silt content of the river. The cable car was used to provide access from the gauger's house on the other side of the Colorado River.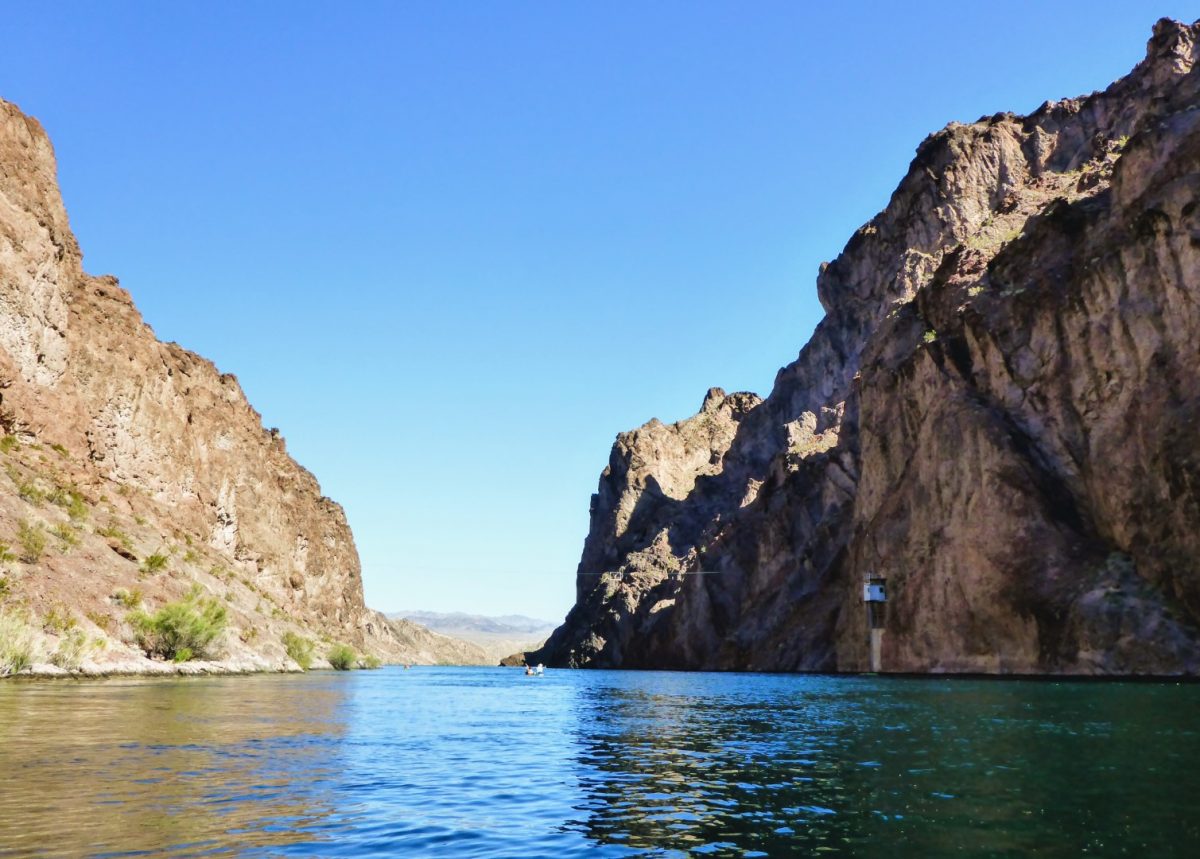 Emerald Cave
(river mile 54)
The famous Emerald Cave is on the Arizona side of the river. It doesn't look like much from the outside, but inside is where the magic happens once you turn your kayak around. Paddle inside and take in the vibrant, emerald colors created by the sun's rays. It's quite spectacular to see. This cave is accessible by kayak or boat from Willow Beach. It's about 1 hour away if you are paddling.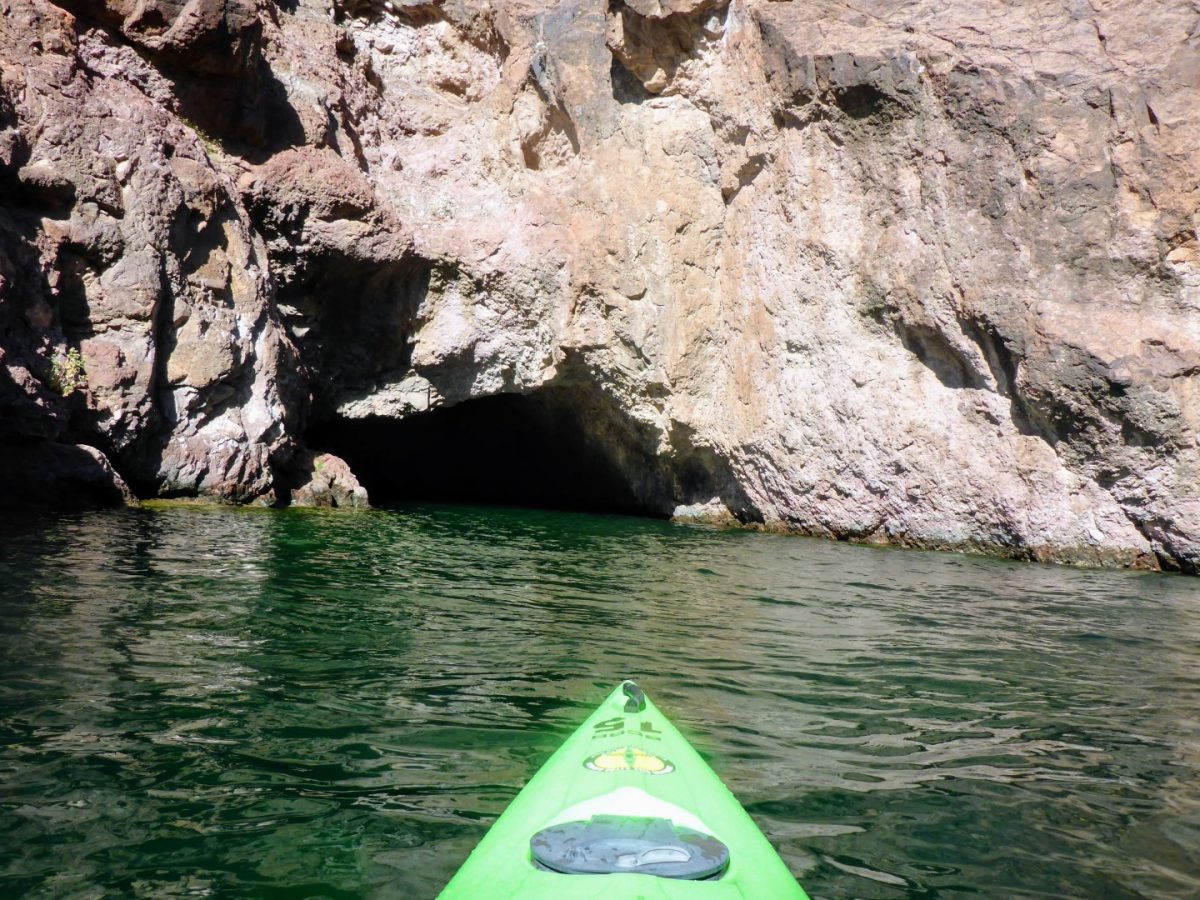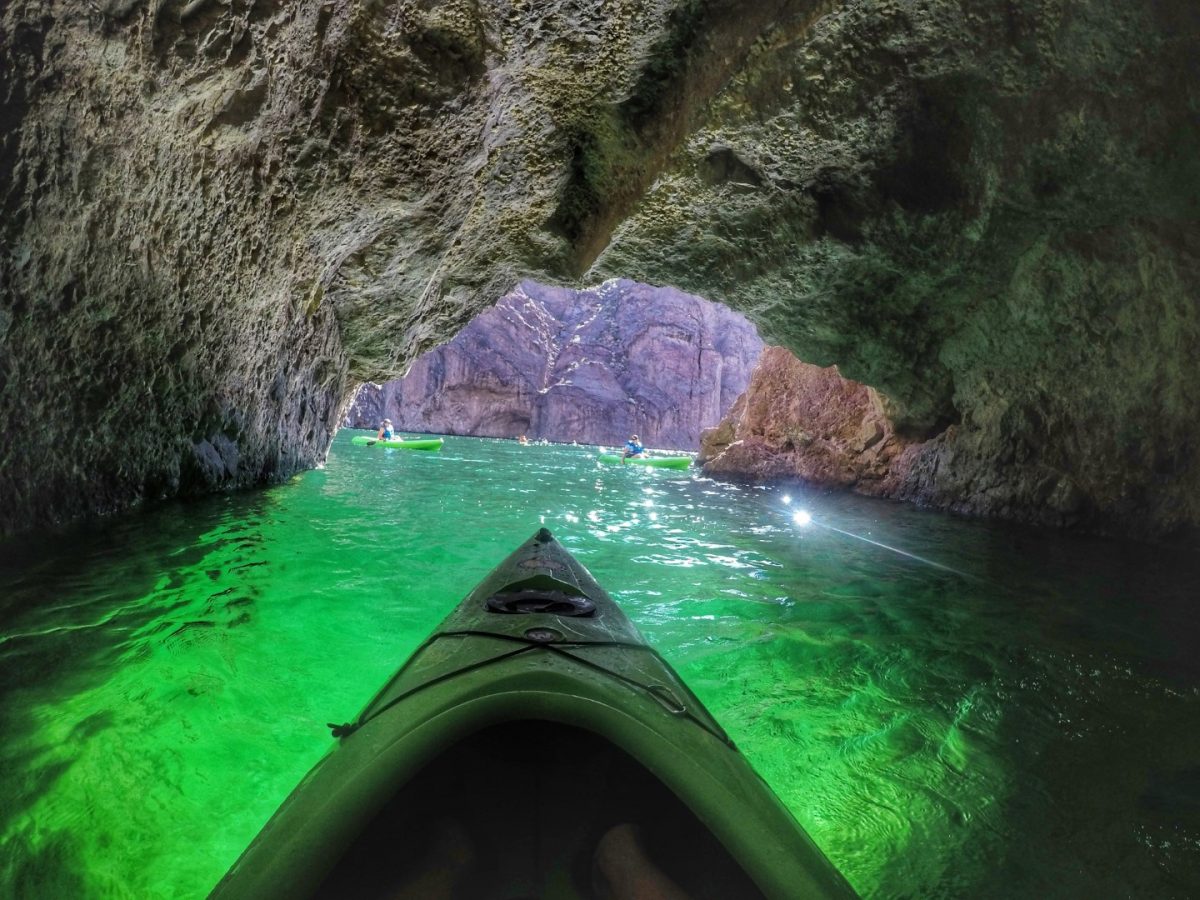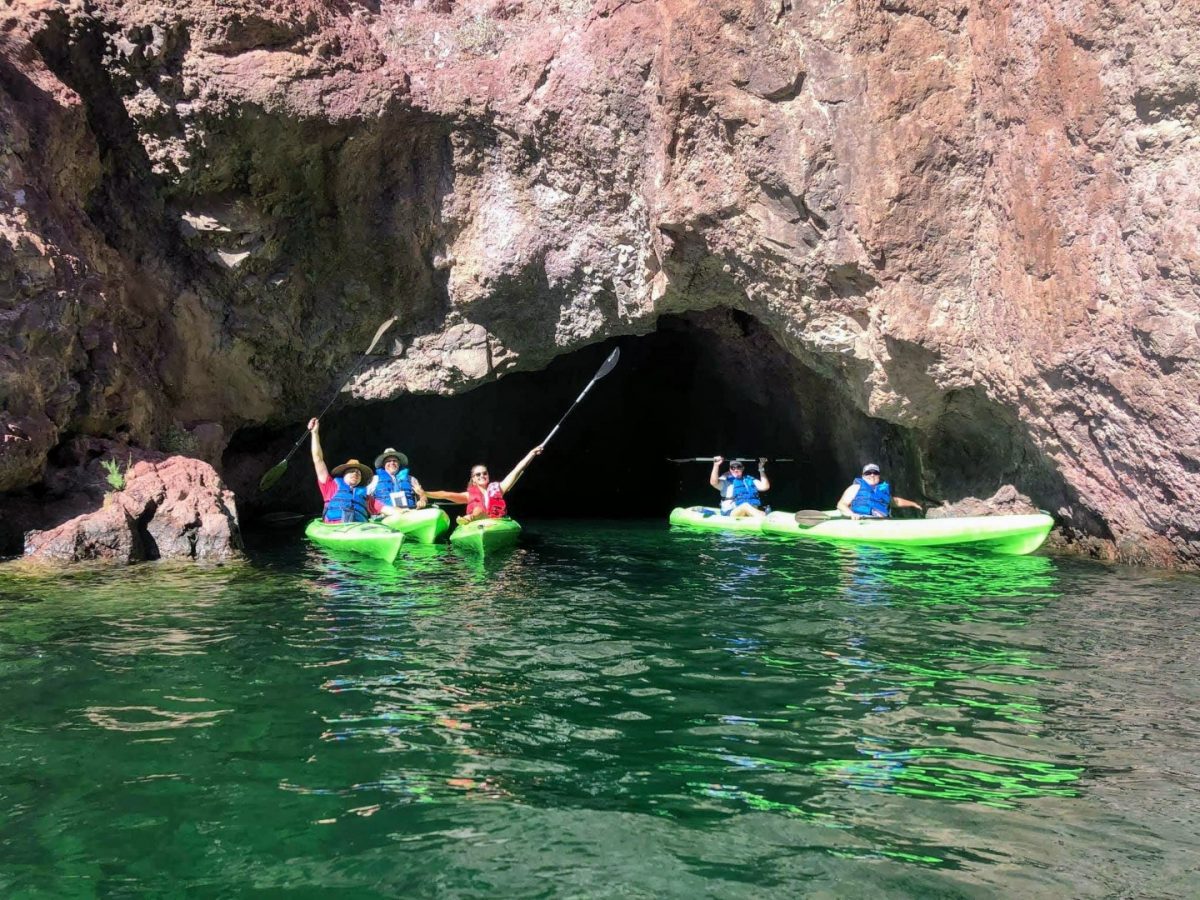 The Final Stretch
As we left Emerald Cave, every turn we expected to see Willow Beach. It's an hour away though. I'm not gonna lie. We were over it! lol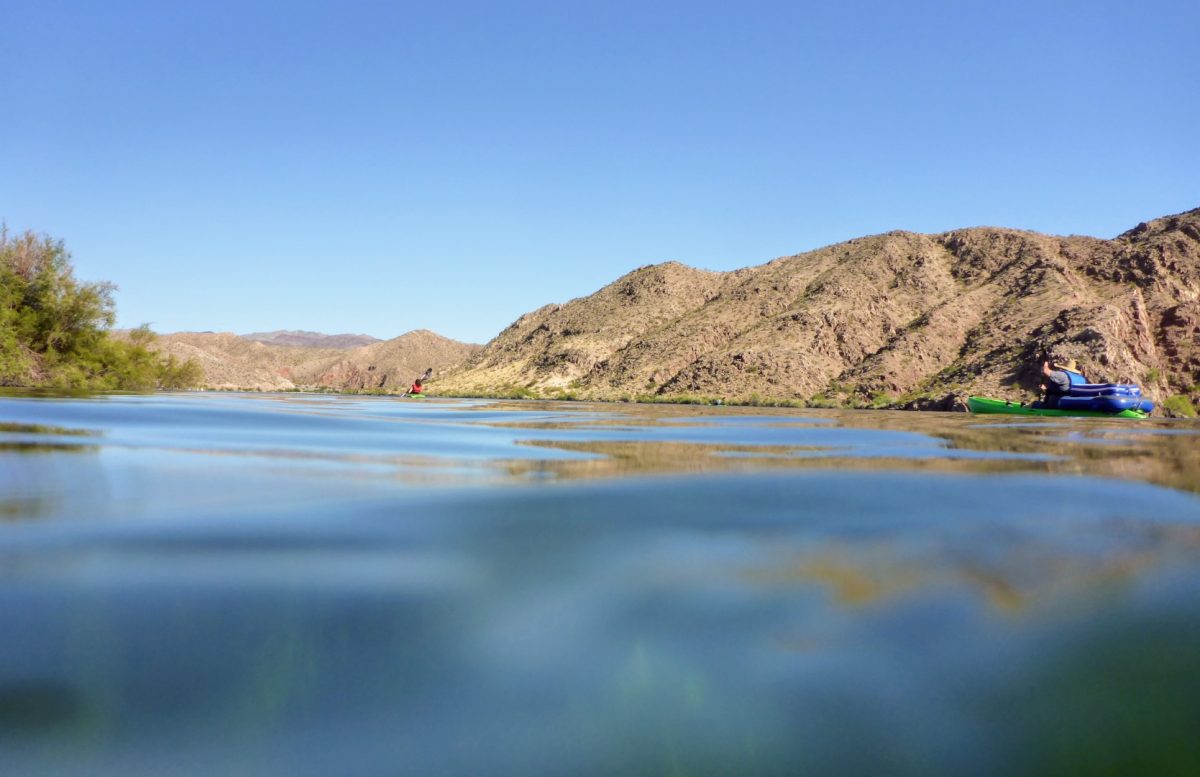 Willow Beach
(river mile 52.5)
The marina at Willow Beach is the main take out spot for kayak tours. Some of our group arrived ahead of us around 4:30 PM, but we took a little more time stopping at some places, therefore we got in a little after 5:00 PM. It was a long day and we were spent. Our driver, David, from Boulder City River Riders was waiting near the fish hatchery and came down to pick us up and drive us back to our vehicles.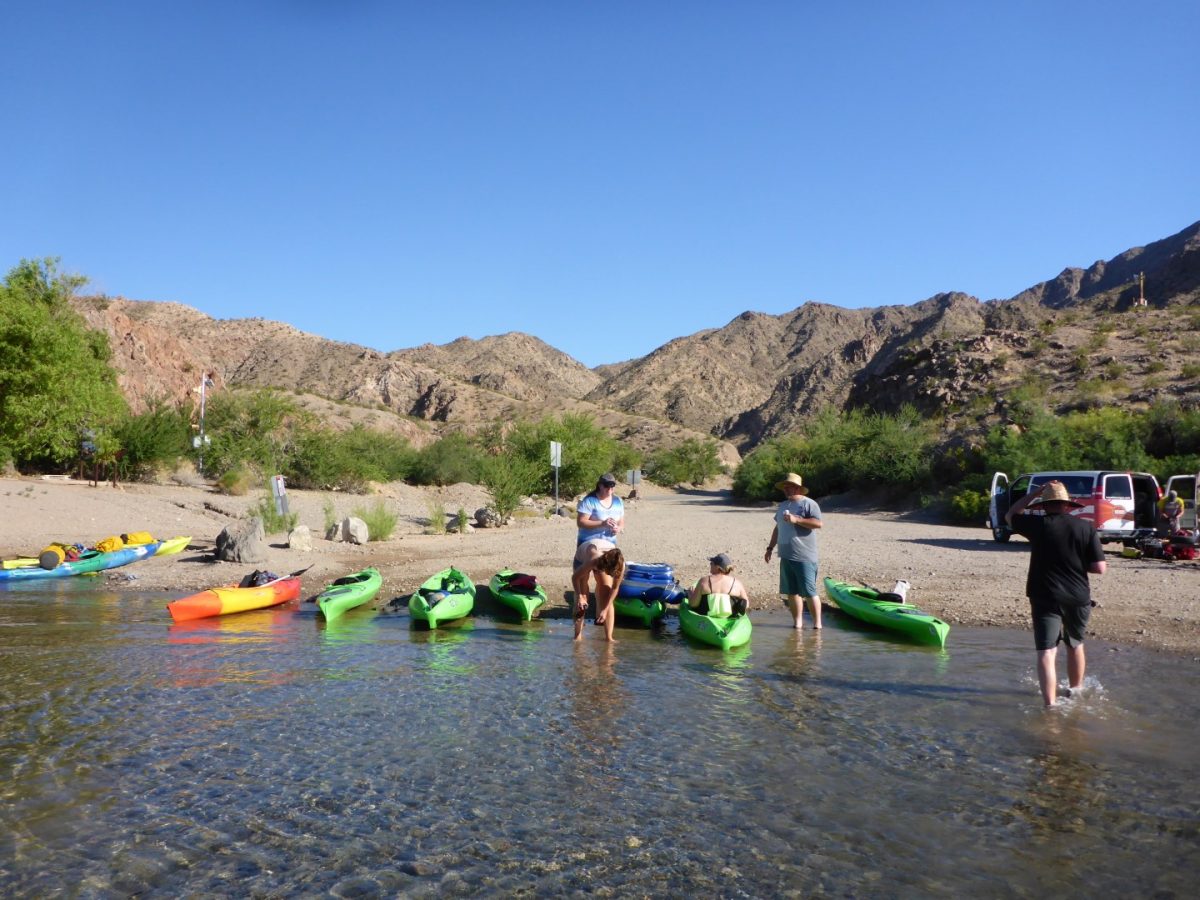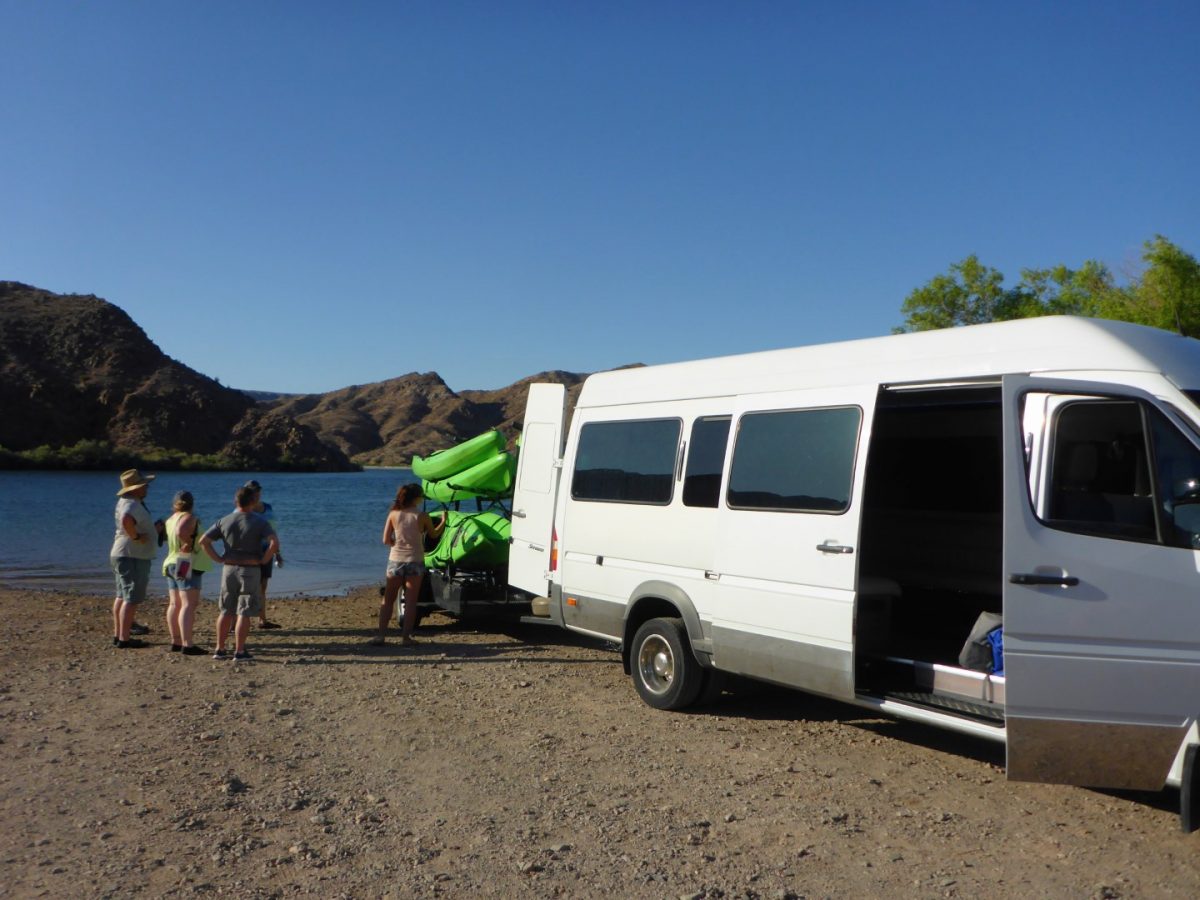 Although it was a much longer day than I originally anticipated, I am so glad we had this adventure. It was a great day on the water exploring so many fantastic spots along the Colorado River! I highly recommend doing it at least once.
Video
Things to Bring on a Black Canyon Kayaking Day Trip
Dry bag: a dry bag is good for storing things that can't get wet like snacks and a towel
Water: I brought a Camelbak with a large 3-liter bladder.
Large brim hat: Having a big hat offers plenty of protection from the sun and keeps you cool.
carabineers: These are great for clipping everything to either your kayak or your life vest. If your boat flips over, your stuff won't sink to the bottom of the river.
straps, nets, or line: These worked great for us to carry some beers and let them hang in the water to stay cold.
snacks: I packed a cliff bar, Goldfish crackers, some Doritos, and Triscuits.
lunch: I picked up a flavored tuna pack with crackers. It was plenty of food along with the snacks all day.
sunblock: Definitely do not forget sunblock. You are in the sun for 8-9 hours
water shoes: These are perfect for hiking and everything you will get into throughout the day. Don't bother bringing regular shoes.
small towel: A small, compact microfiber towel is always nice to have for drying off or emergencies.
first aid kit with super glue: Bring the basics like bandaids, ibuprofen, etc plus super glue for cuts!
waterproof phone pouch: Although there is no phone service in the canyon, 911 is still available for emergencies and let's face it, nobody can ever be without their phone. These phone pouches are great too because they come with a lanyard.
sunglasses: It gets bright out there. Don't leave them in your car.
waterproof camera: I always bring my little waterproof adventure camera on trips. I used a carabineer to clip it to my life jacket for easy access.
Tips for Kayaking Black Canyon
Take long, smooth paddle strokes.
A sit-in kayak offers more storage and is slightly more efficient/ faster than a sit-on kayak. Sit-on kayaks are easier to climb back on to if you flip, but that isn't very common to happen.
Tie your kayaks up high on the shore. The water levels rise quickly at times.
Towable coolers are cool, but they are anchors
Adjust your foot pegs so they are comfortable. They make paddling easier and allow you to use your core.
If you truly want to see everything or spend more time taking in Black Canyon, consider camping and spreading the trip over to two days.
Best months to go: May/June or Sept/Oct but watch the forecast.
It's great to be on your own, but having a guide will make your day go much smoother and keep you on schedule.
More Black Canyon Water Trail Information
https://www.nps.gov/lake/planyourvisit/black-canyon-water-trail.htm
Comments
comments