After seven long and tiring months of slaving away on our Sprinter van build, it was finally time to give it a full and proper test. Anna and I celebrated my birthday at a Dirty Heads concert then headed out the next day for another week-long BAV. That stands for Birthday Adventure Vacation. All I wanted to do was hit some cooler weather and enjoy some mountains and waves and use our van.
We left the scorching heat of the desert as the sun was going down. There wasn't much of a plan other than to head north to cooler temperatures, Mammoth Lakes! We'd start there and just wing it for the next week to follow.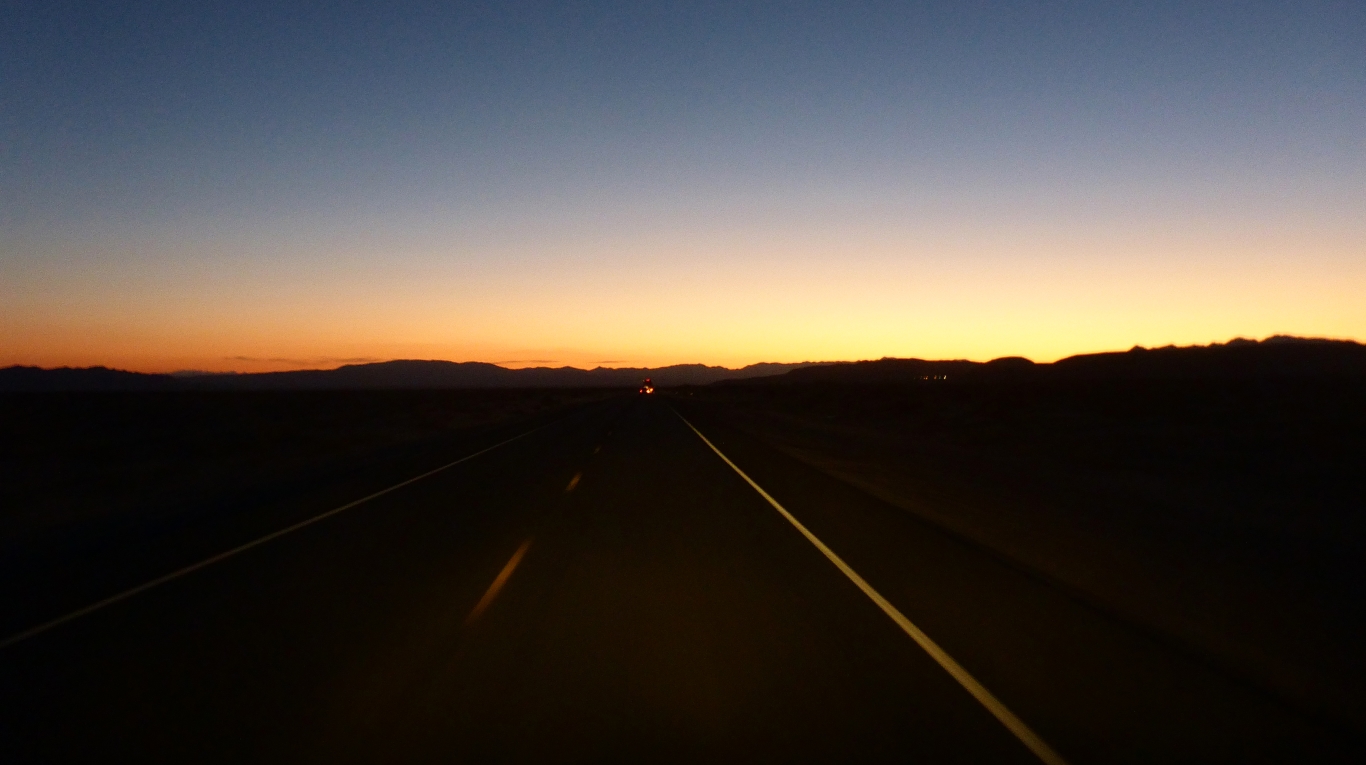 We arrived in Mammoth and headed straight towards the Sawmill Cutoff. This is a great place to camp without any fees or neighbors. Just a few miles down the road there are several pullouts and fire roads that are open to dispersed camping. Although I was already familiar with this area, I pulled it up on the iOverlander app. If you aren't familiar with it, download it! It's free and it has a great database of places to camp (usually for free). It is fairly new and is user-driven, but so far it is a great resource. I try to contribute whenever possible.
Mammoth Lakes
We landed a great camp spot with absolutely nothing to bother us. We slept like babies that night and woke up to some great views of the Sierras.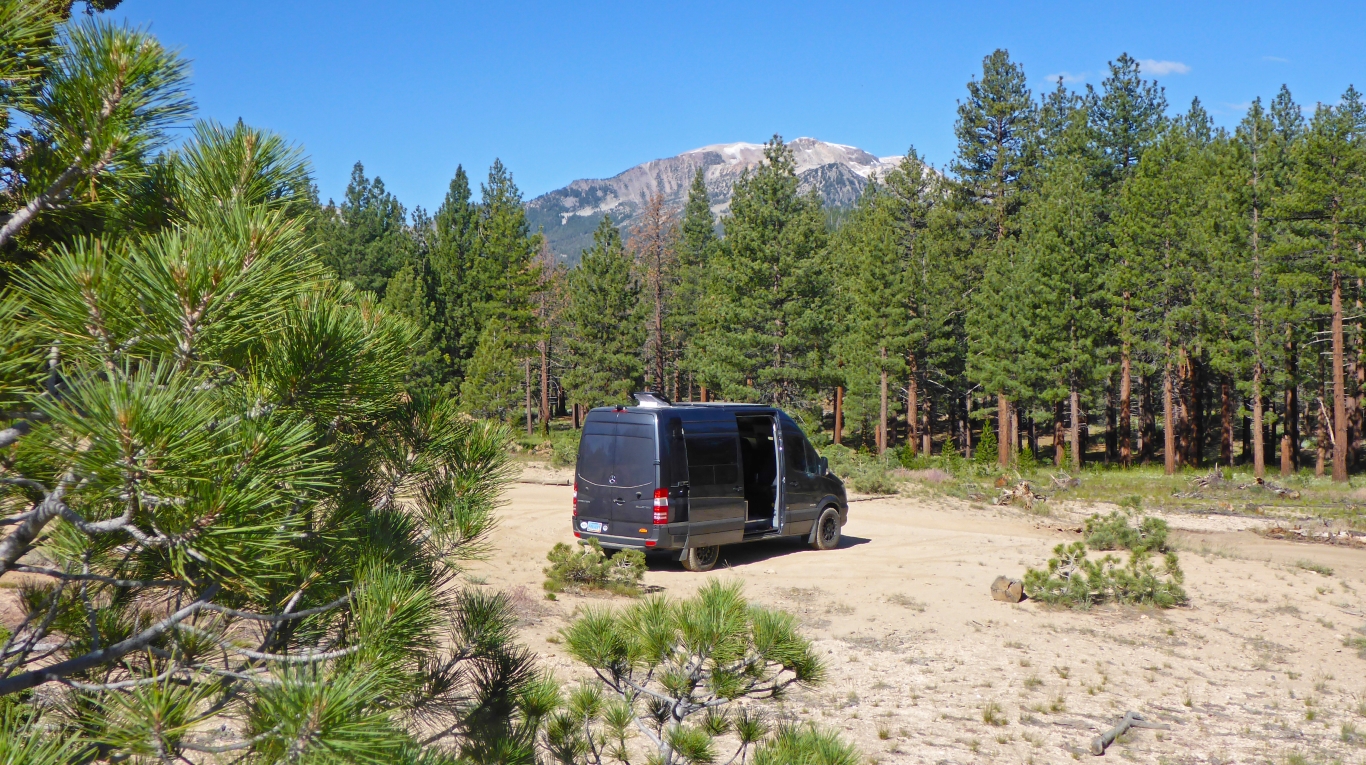 Although our van has a couple configurations, we had the platform bed set up for this trip because we were hauling our mountain bikes. It is so far the most useful setup making use of all the space the van has to offer. 
We took a different dirt road out of where we camped so we could stretch the van's offroad legs a bit. I just love wheeling this thing and finding out what it can do. At first, I wasn't expecting much and would giggle whenever I attempted the slightest hill or rugged terrain, but then I was pleasantly surprised and happy with how it did. The Sprinter, even 2WD, has some great ground clearance and it actually flexes slightly more than I thought it would. It rarely ever "tripods". We never hit anything remotely difficult, but the ride quality was great off the pavement.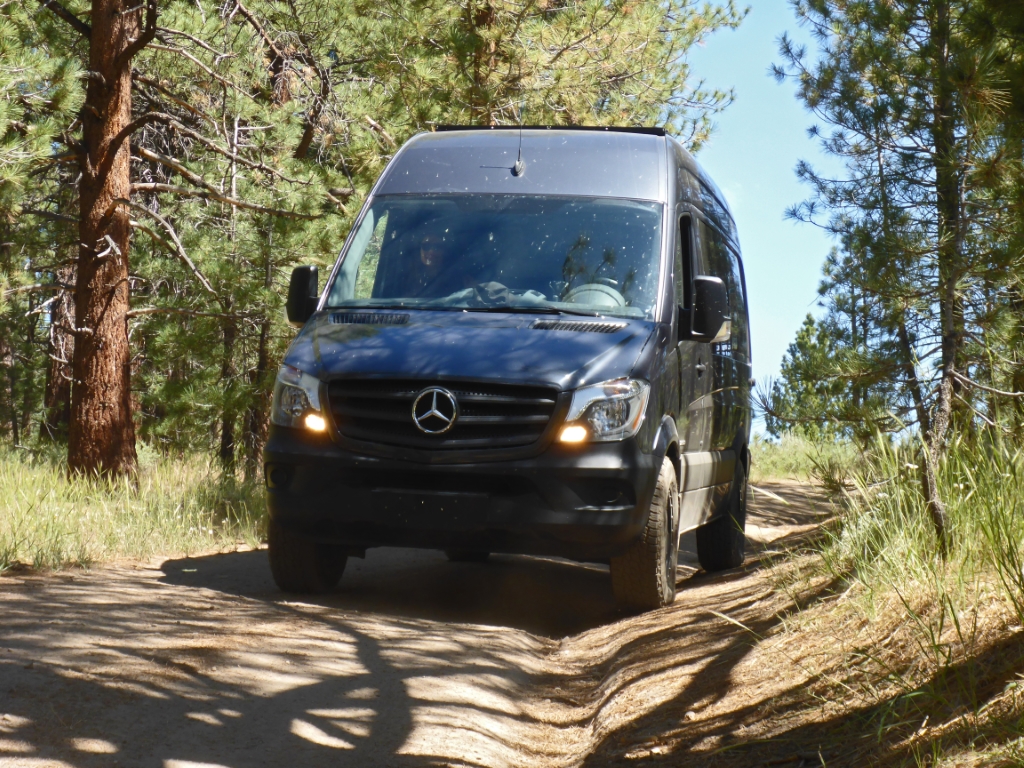 After we got back on the asphalt, I wanted to show Anna the gorgeous clear lakes of Mammoth. So we drove up to Twin Lakes and Lake Mary to take in the sites. Looking across Twin Lakes at the waterfall is always a great view.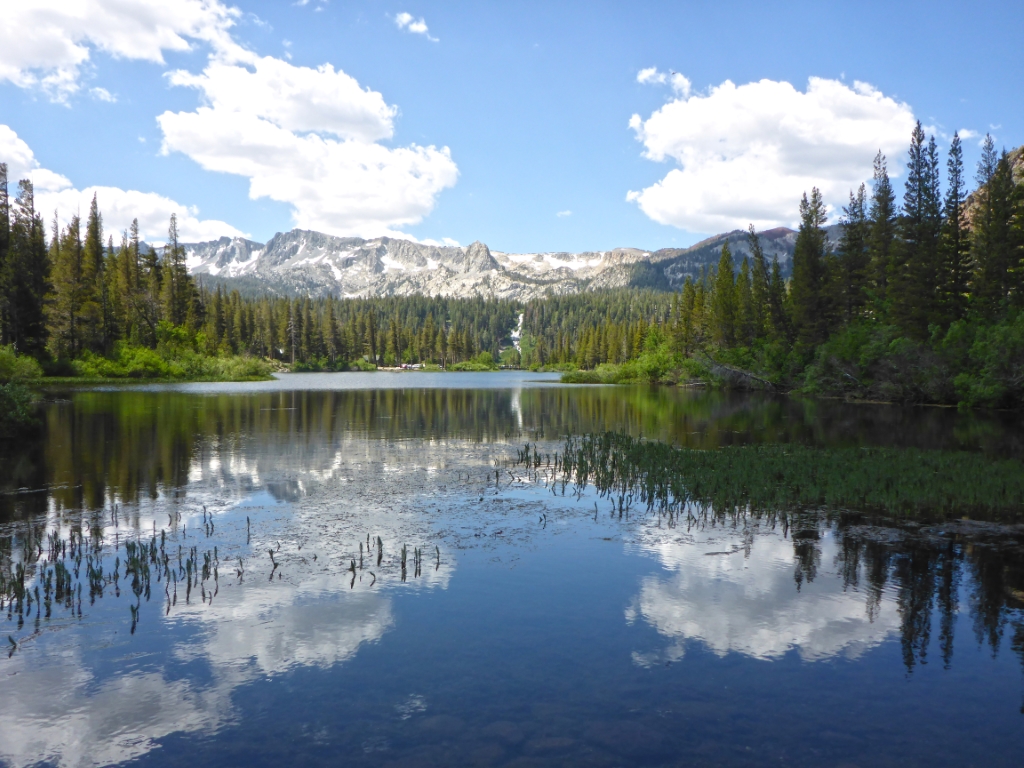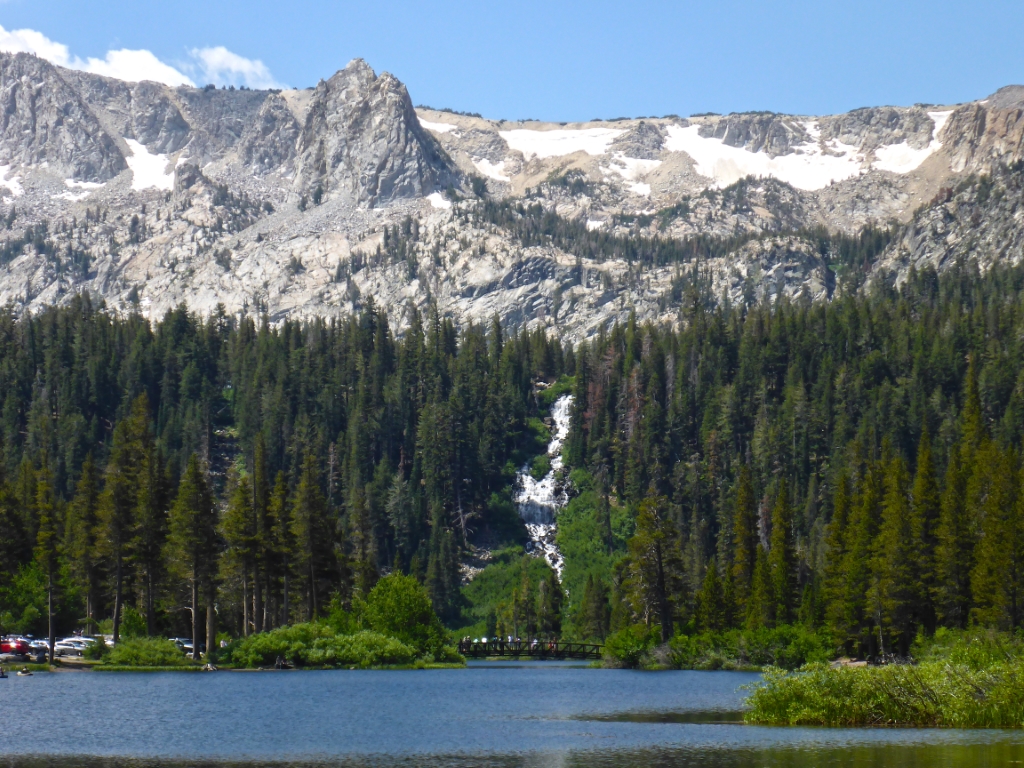 The cool weather was a nice break from 100+ degrees in Vegas.
As we were leaving Lake Mary, we spotted a momma bear trying to bust into a trash can at the bathrooms. She wasn't successful so she left with her cubs.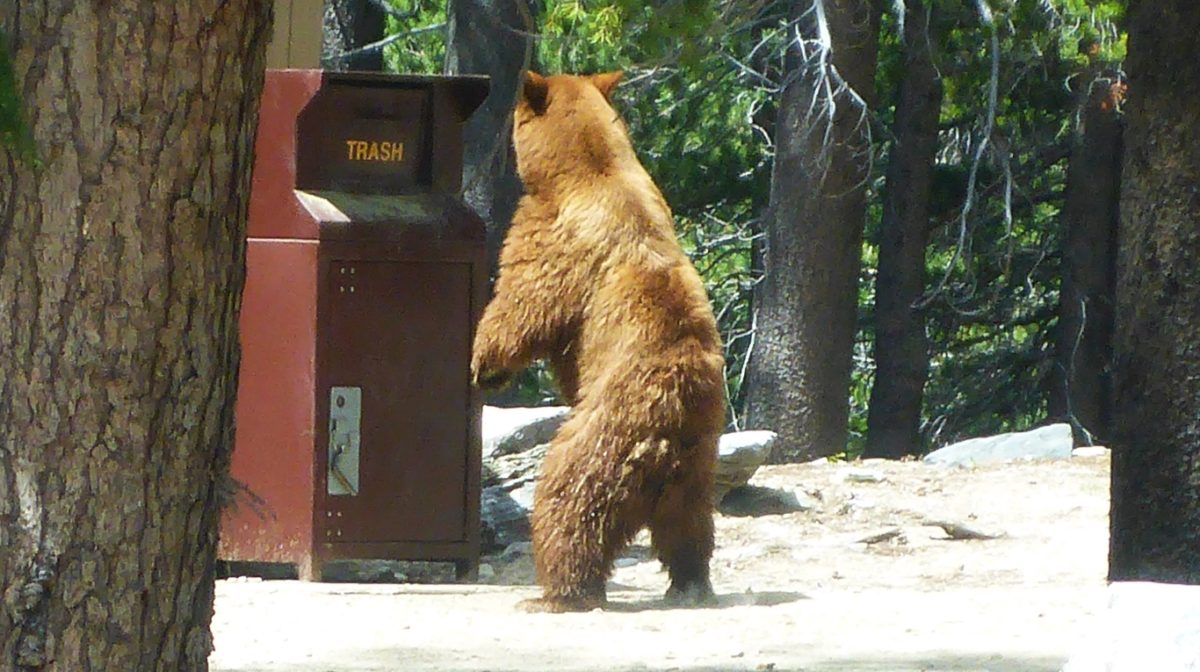 On our way up to Horseshoe Lake, we stopped at the Twin Falls Overlook and waterfall.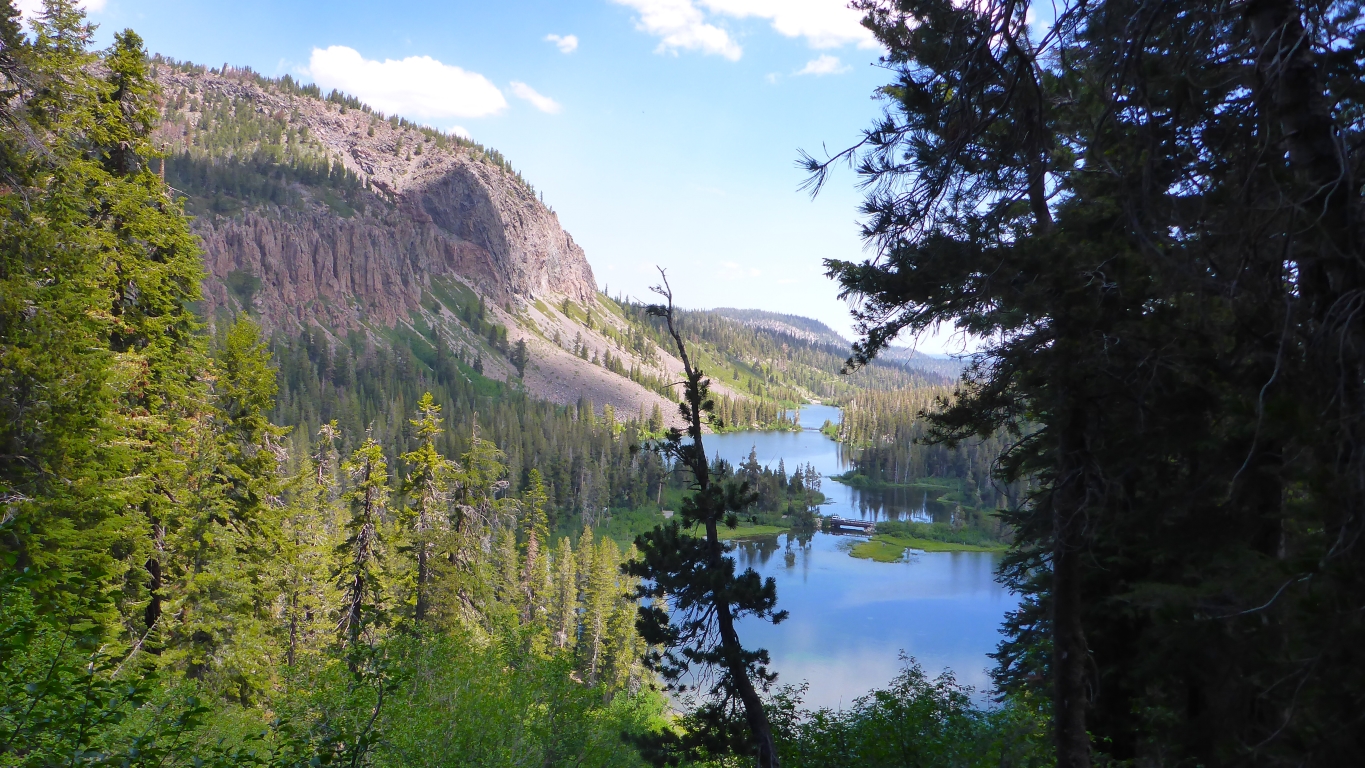 After we got our Mammoth Lakes fix, we stocked up on some important beverages before the next stop.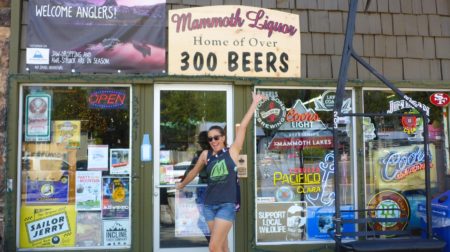 Before leaving Mammoth, we pulled up to an overlook where we could see the forest fires that were currently being watched by the forest service.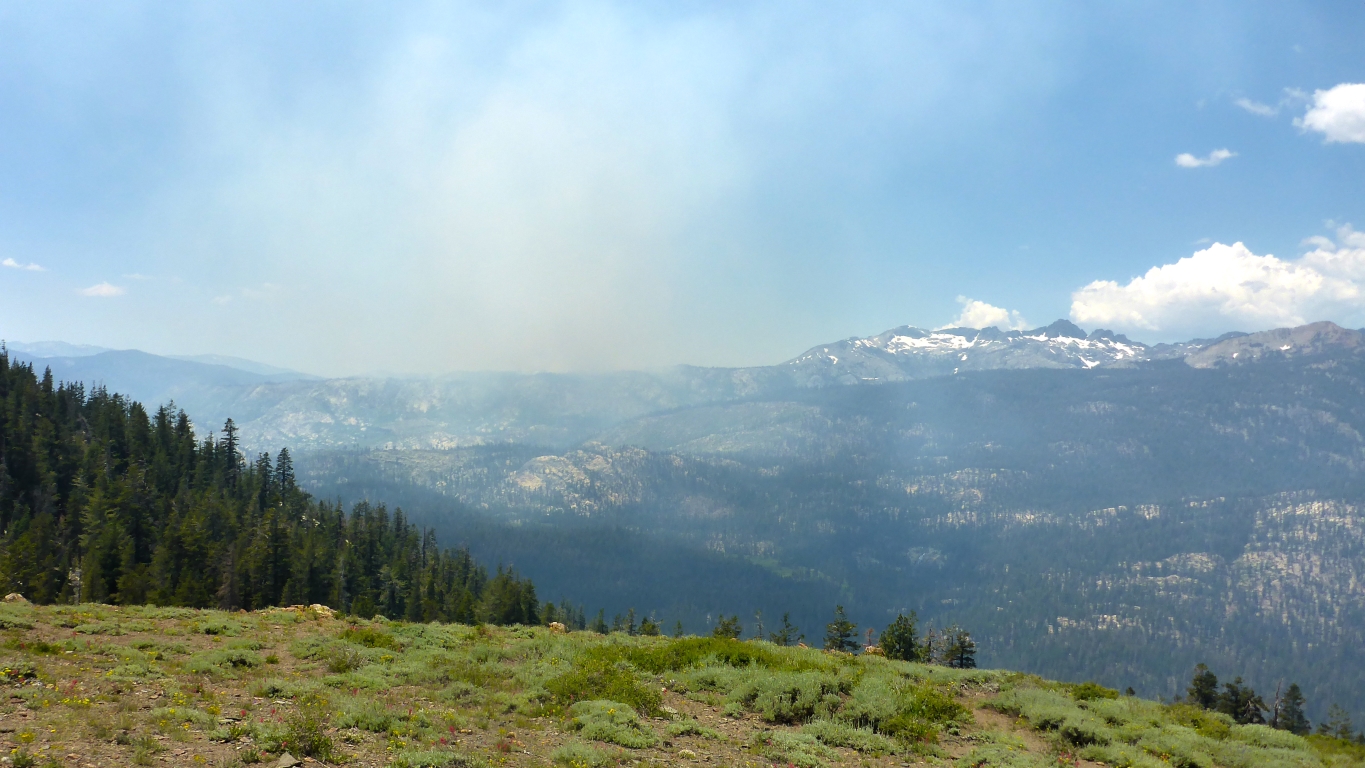 Those mountains are so cool.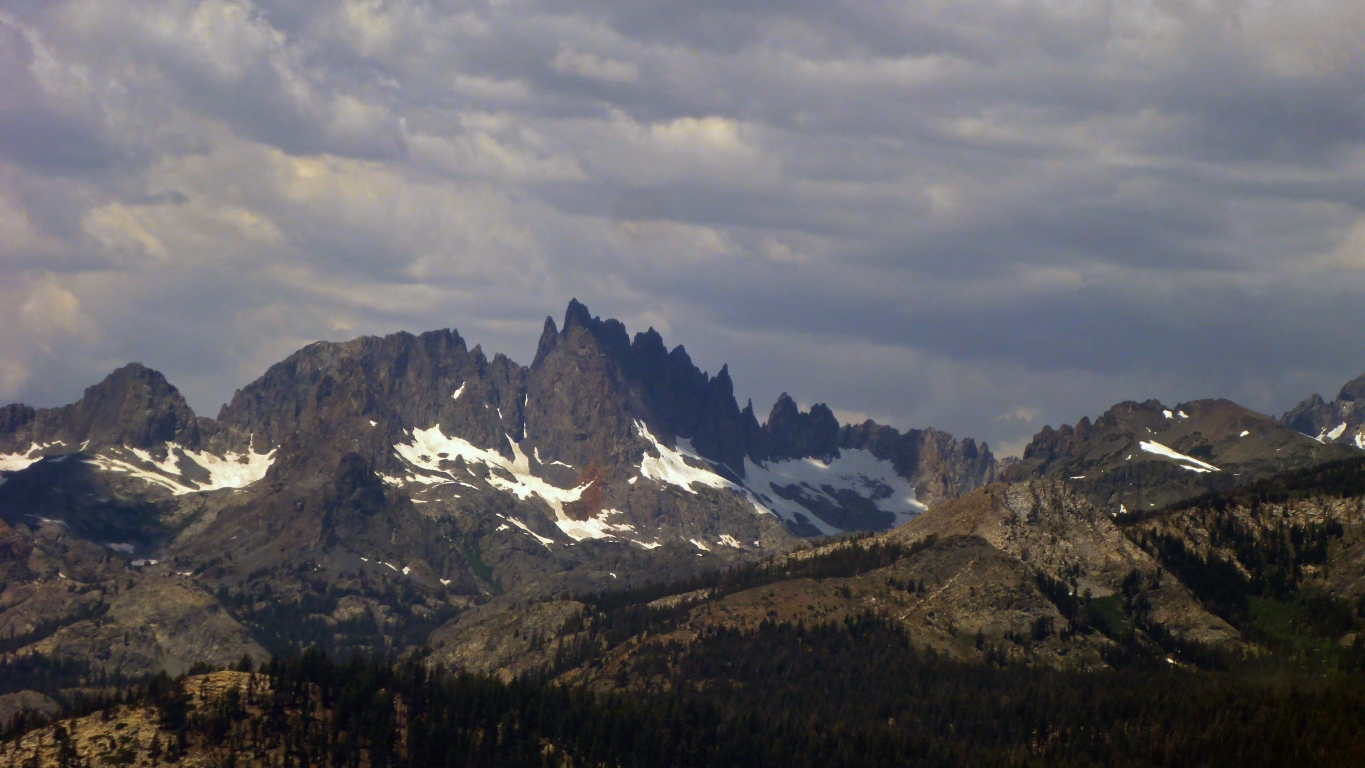 June Lake
This one of my favorite places near Mammoth: June Lake! We drove past the lake and turned around after we spotted a sign for boat rentals. We weren't in any mood to fish, but we could definitely take in the lake over a few cold ones on a little boat! We stopped in and talked to Pedro at Big Rock Resort about renting a small boat.
We grabbed our beers, hats, and sunblock and cruised around June Lake on our little aluminum boat. It wasn't fast but it sure was fun!
When we first got on the lake, we noticed an eagle circling above us. I felt like he was welcoming us to his home. After a while of cruising around the water, we parked on the north shore and saw our friend again up in a tree. How often do you see a damn eagle right? So cool.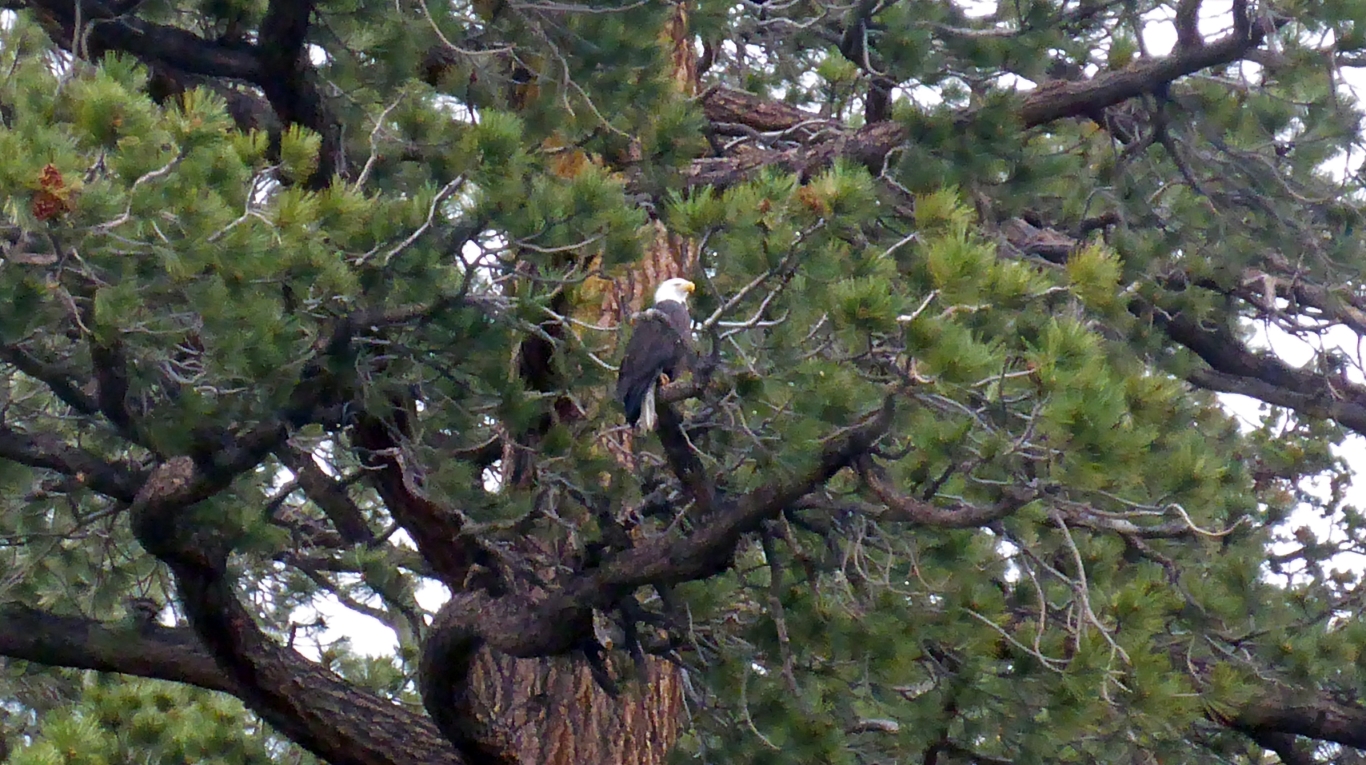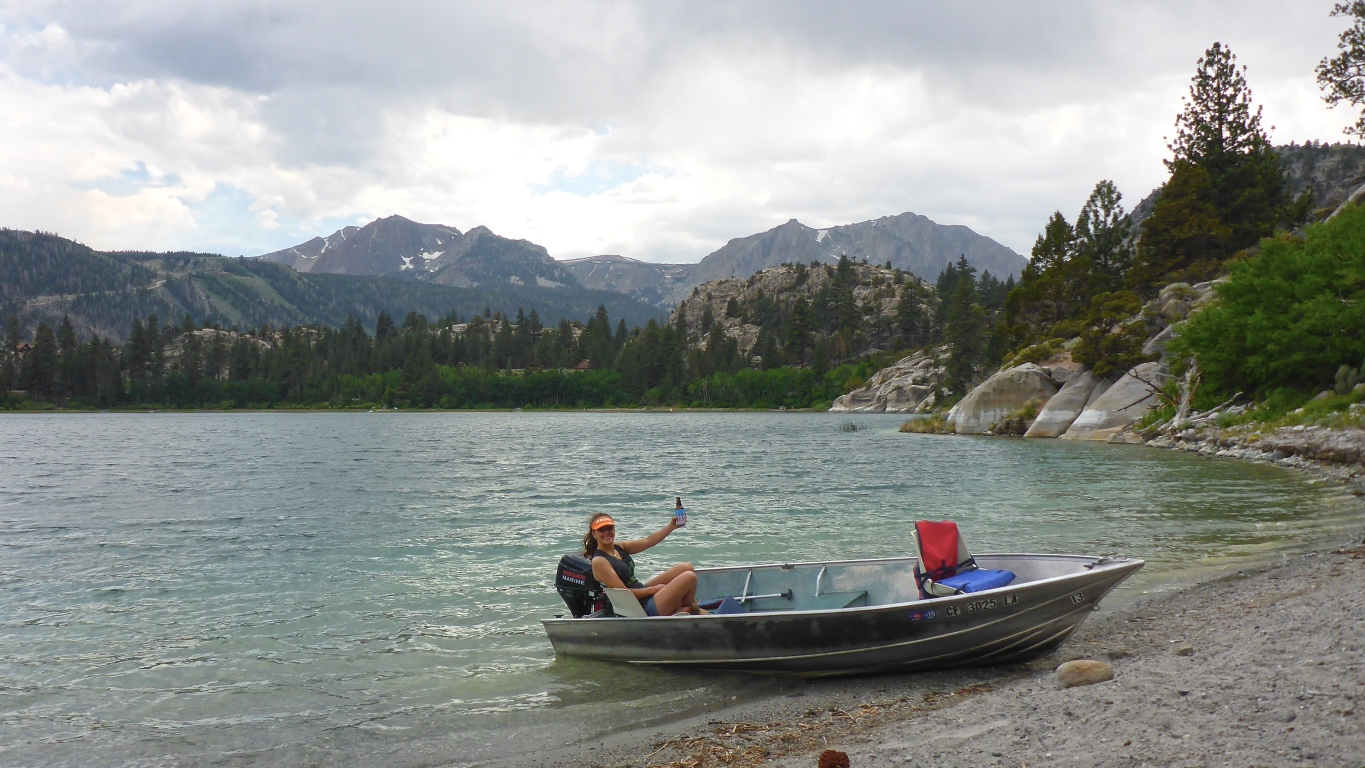 There are two ways to enjoy a lake.
Yosemite
While passing through the area, it's almost impossible to resist the urge to pop into Yosemite. We didn't drive all the way into Yosemite Valley, but we did take in Ellery Lake, Tioga Lake, Tuolumne Meadows and Lembert Dome.
Mono Lake
After a few unsuccessful attempts at finding a nice remote campsite just outside Yosemite, we landed at Mono Lake. We first pulled down a rarely used trail to the edge of the water. It was very buggy and there was a car parked nearby. Out of respect for them and to avoid a buggy situation, we proceeded farther down the lake.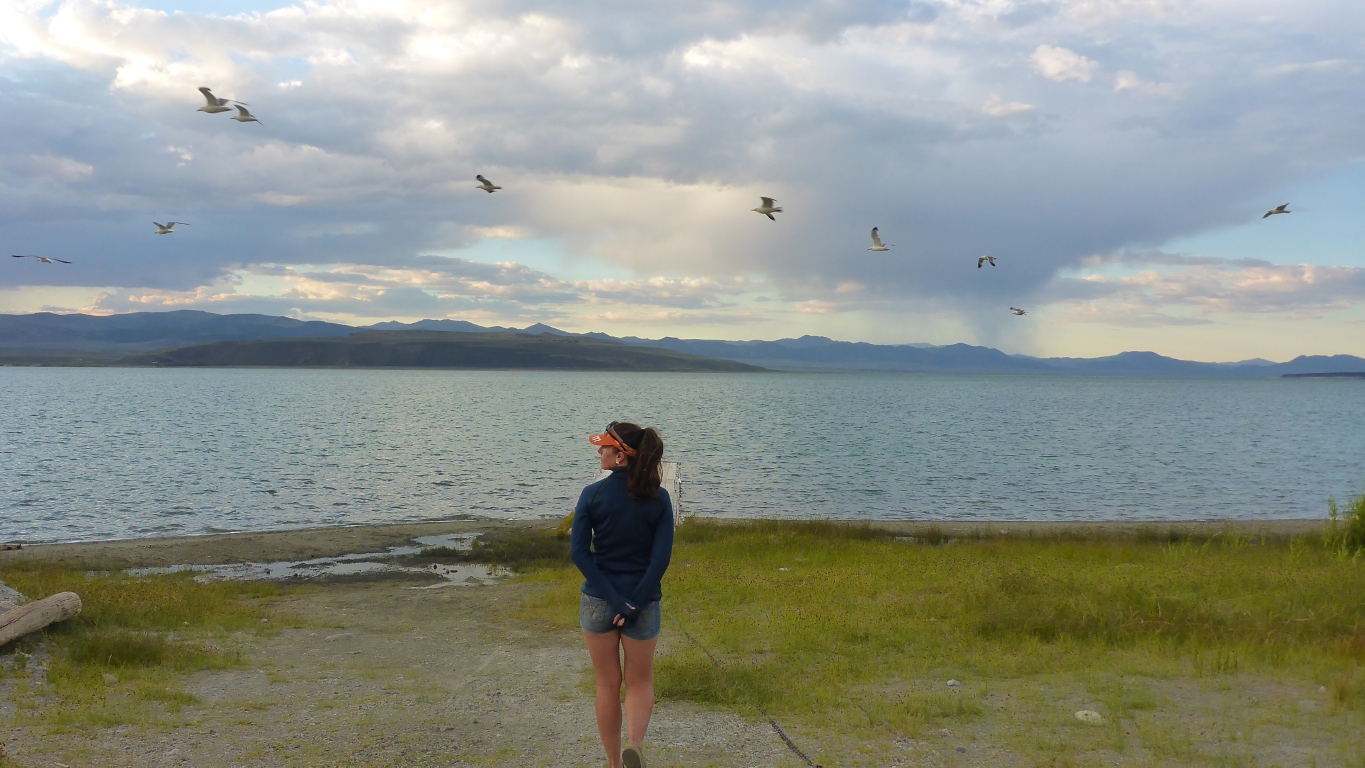 Finding better campsites sometimes requires a little more effort. We came upon this creek crossing and I was a little hesitant at first because I don't really know what this van can and can't do, but what fun would it be to turn around?
Again with the giggling, I thought it was hilarious to do this stuff in a van, but then the feeling of adventure set in and I felt like we were doing more than just driving down a road to the lake.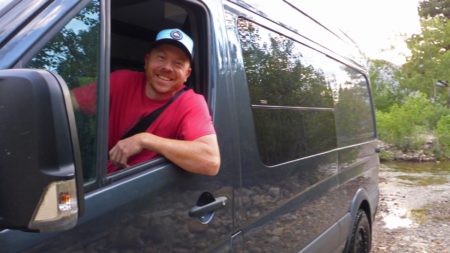 We found a nice, little pullout along the southeast edge of the lake. It was still slightly buggy there with some annoying gnats, but we would be indoors for the rest of the night. Besides, it was getting dark and we were ready to call it a day so we ended out search right there. Our view of the tufas and the colorful sky made up for the bugs.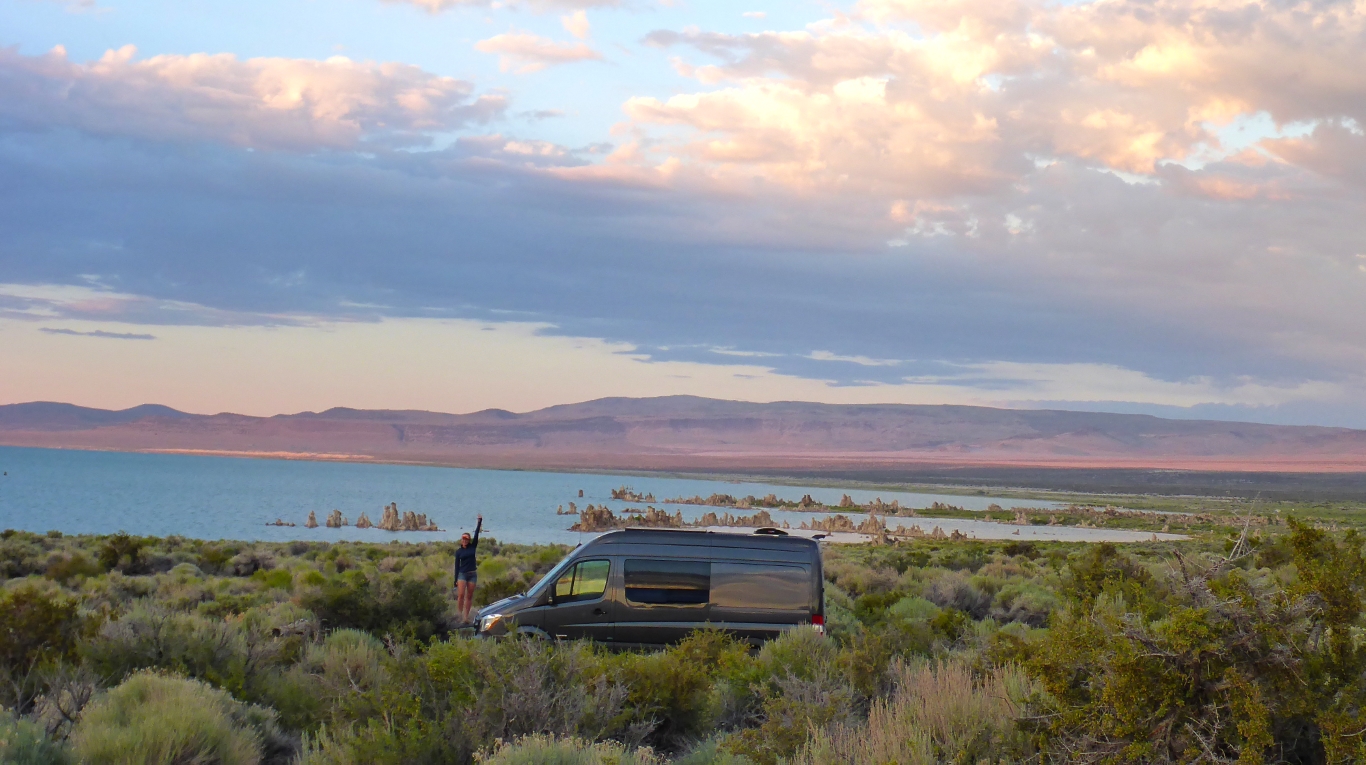 Lake Tahoe
The next day we continued north to Lake Tahoe. Being 4th of July week, I was concerned about how crowded it would be. I had never been there and told myself not to let crowds of people get to me and make me never go back. We stopped in at Nevada Beach. It was still early and already the crowds were forming on the beaches.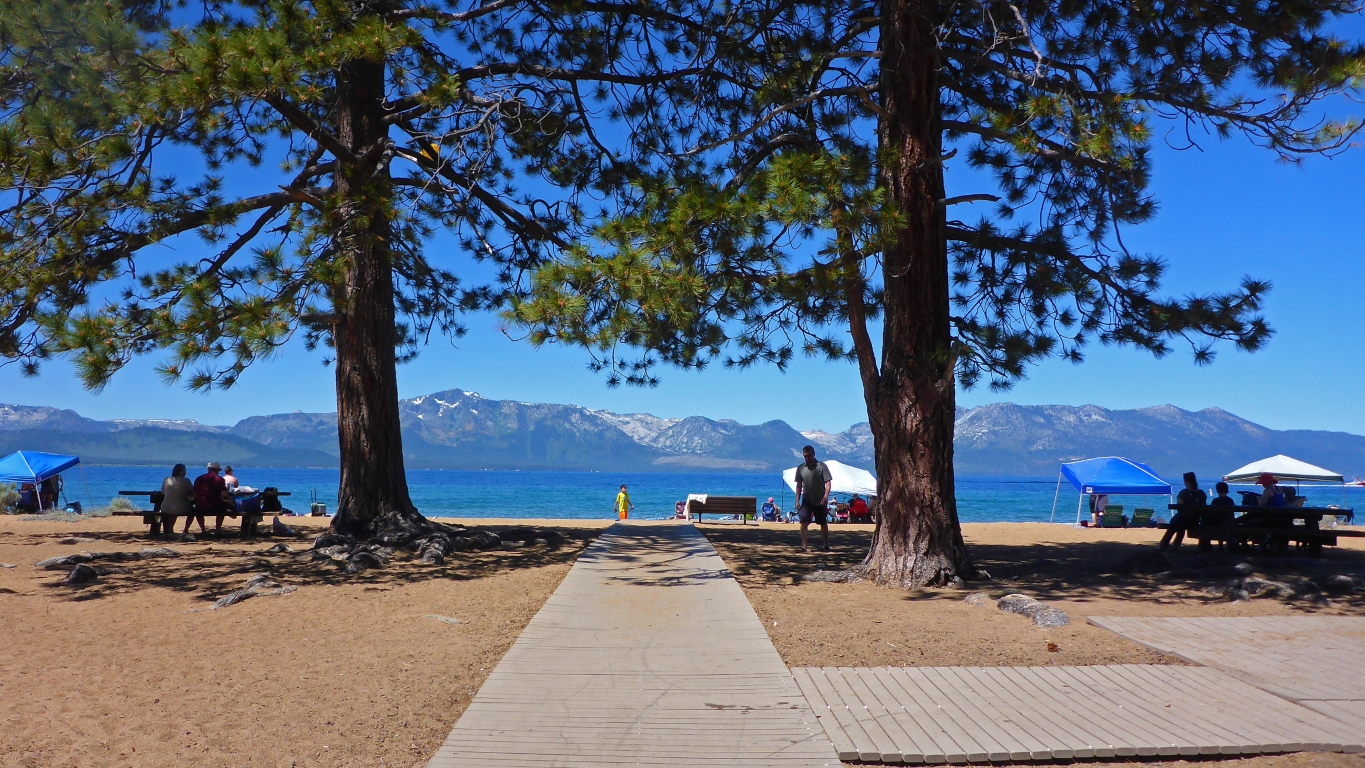 It's true what they say. Tahoe is BLUE.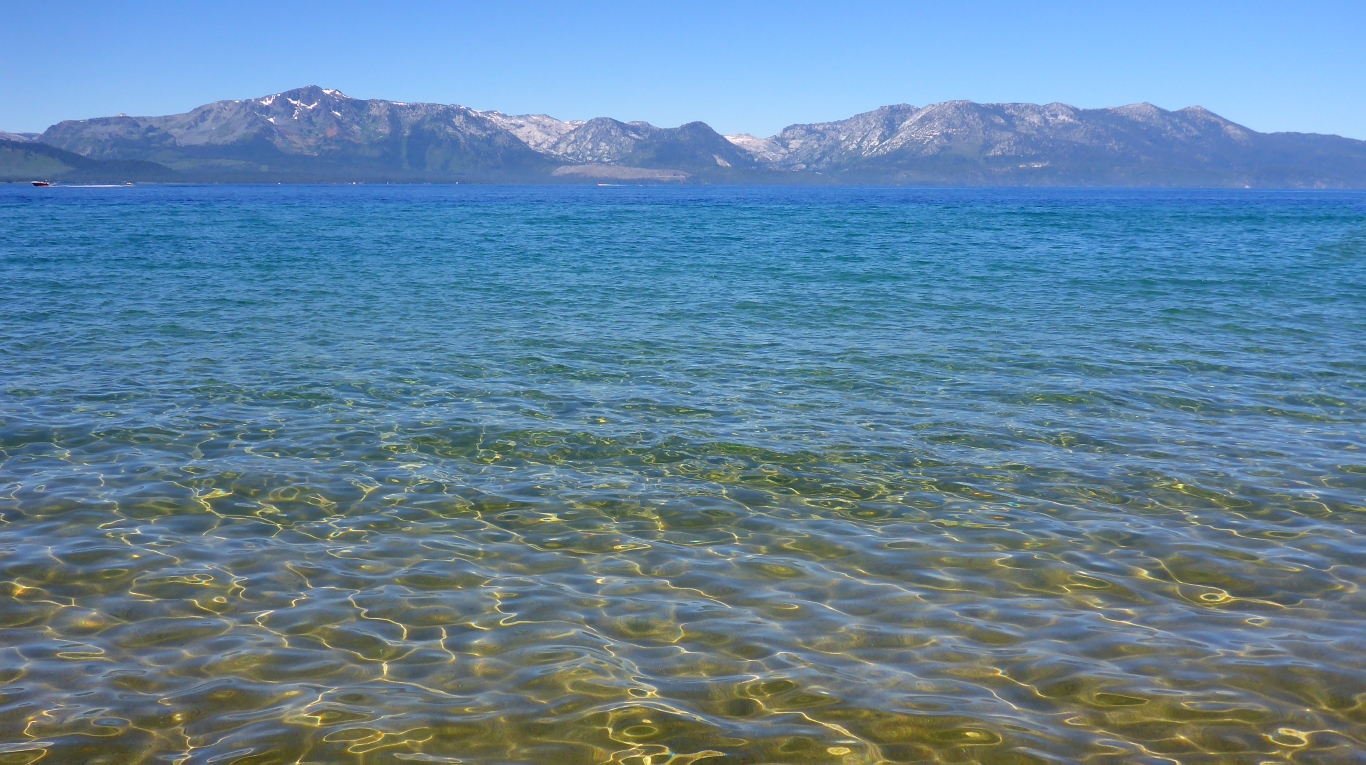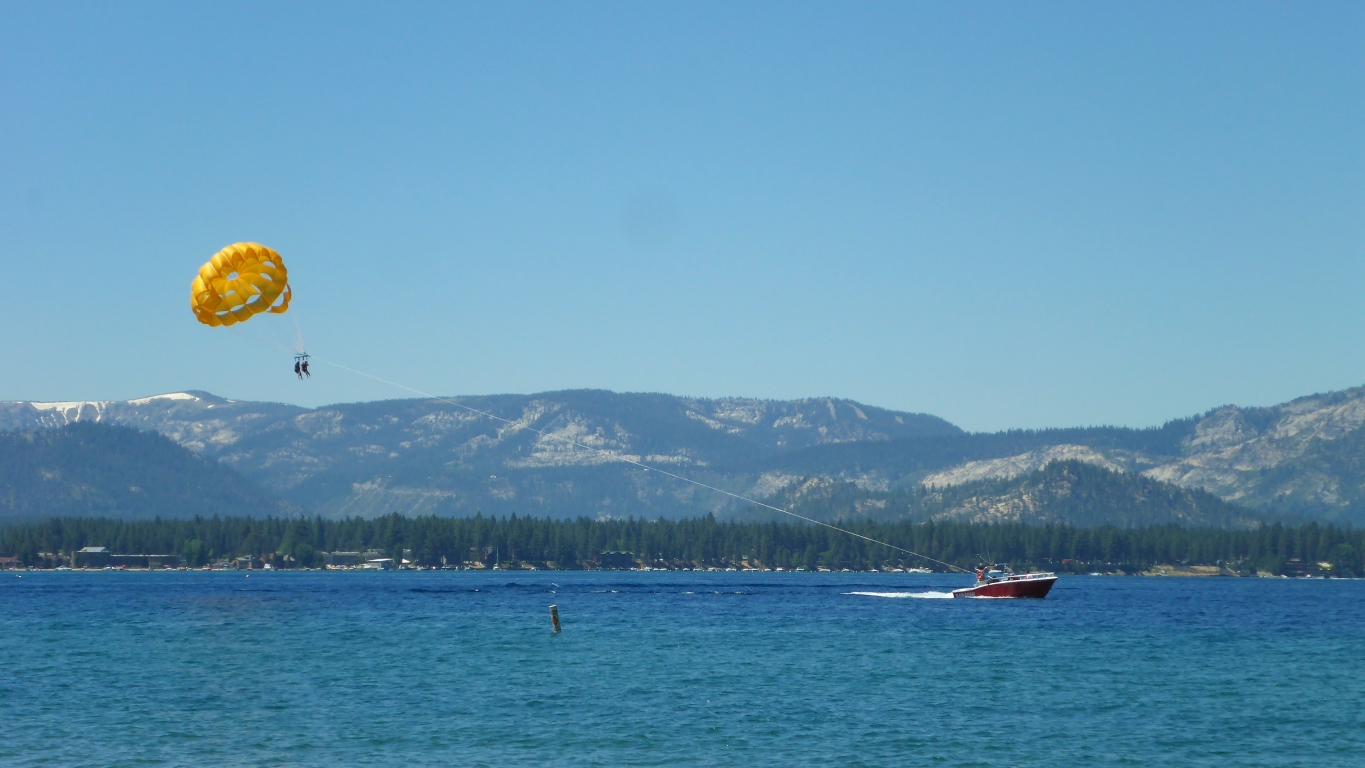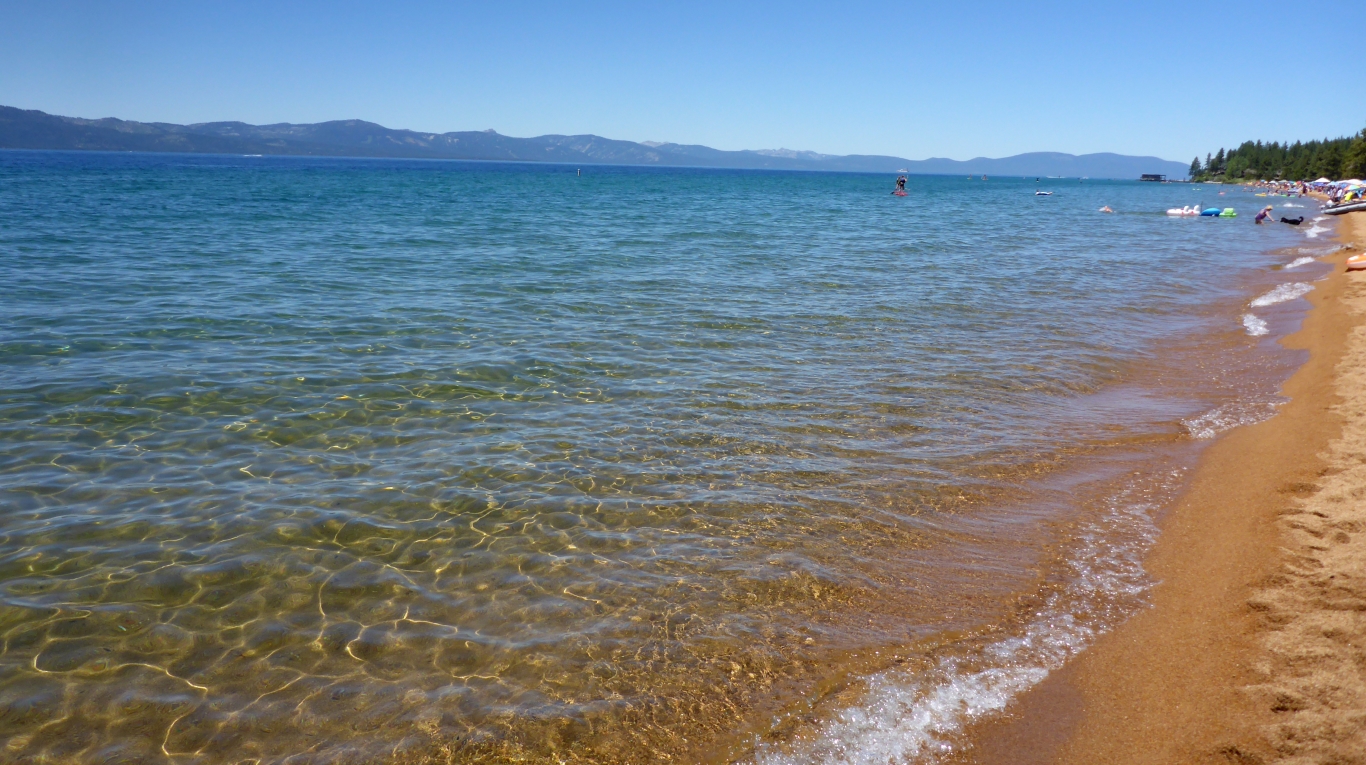 Anna started feeling like she was coming down with a fever (probably fighting a kidney infection). She was exhausted and took a van nap in the parking lot while I walked around for a while. The inflatable tubes, umbrellas, and coolers were multiplying by the minute.
"Anna wake up. We gotta get outta here!"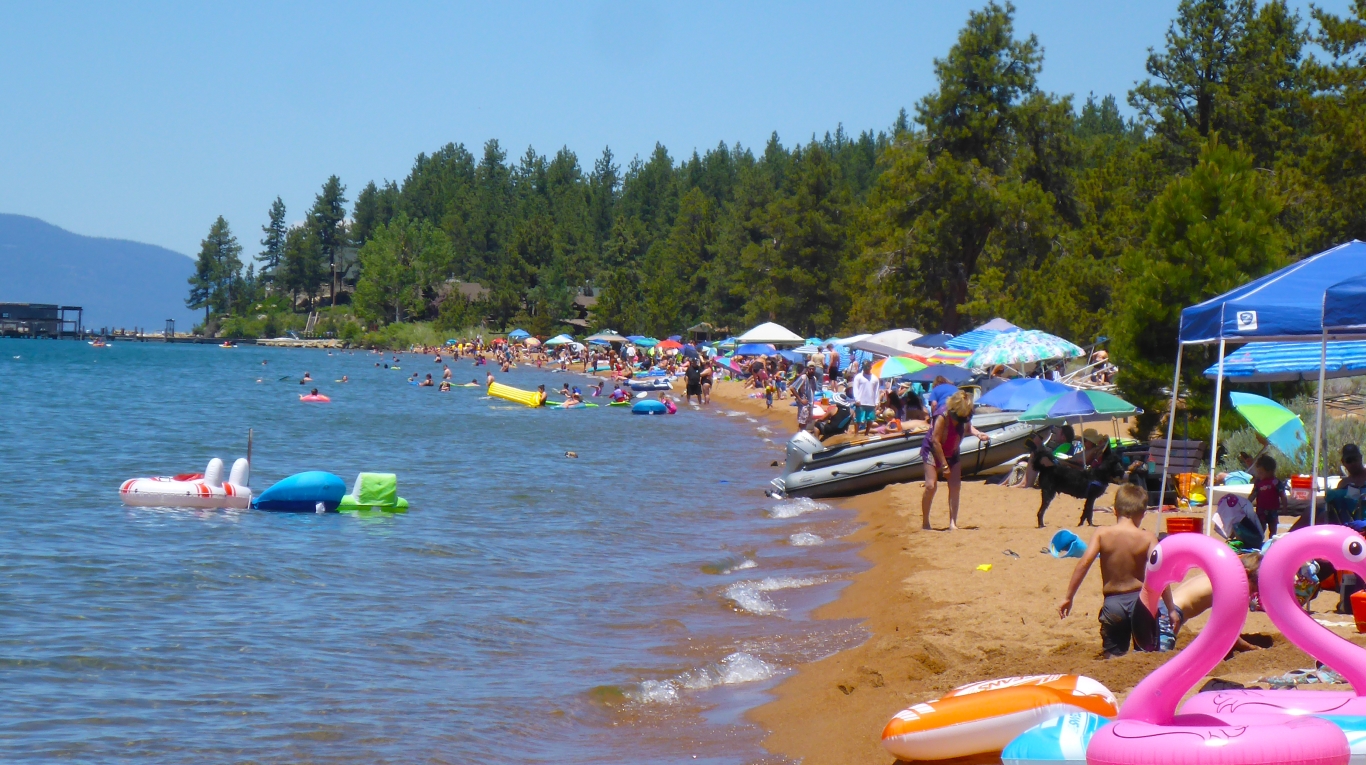 Virginia City
Ugh. After leaving that mess, we drove up the coast and into Virginia City. Still slightly touristy because of the holiday, the history of the old mining town was cool to take in.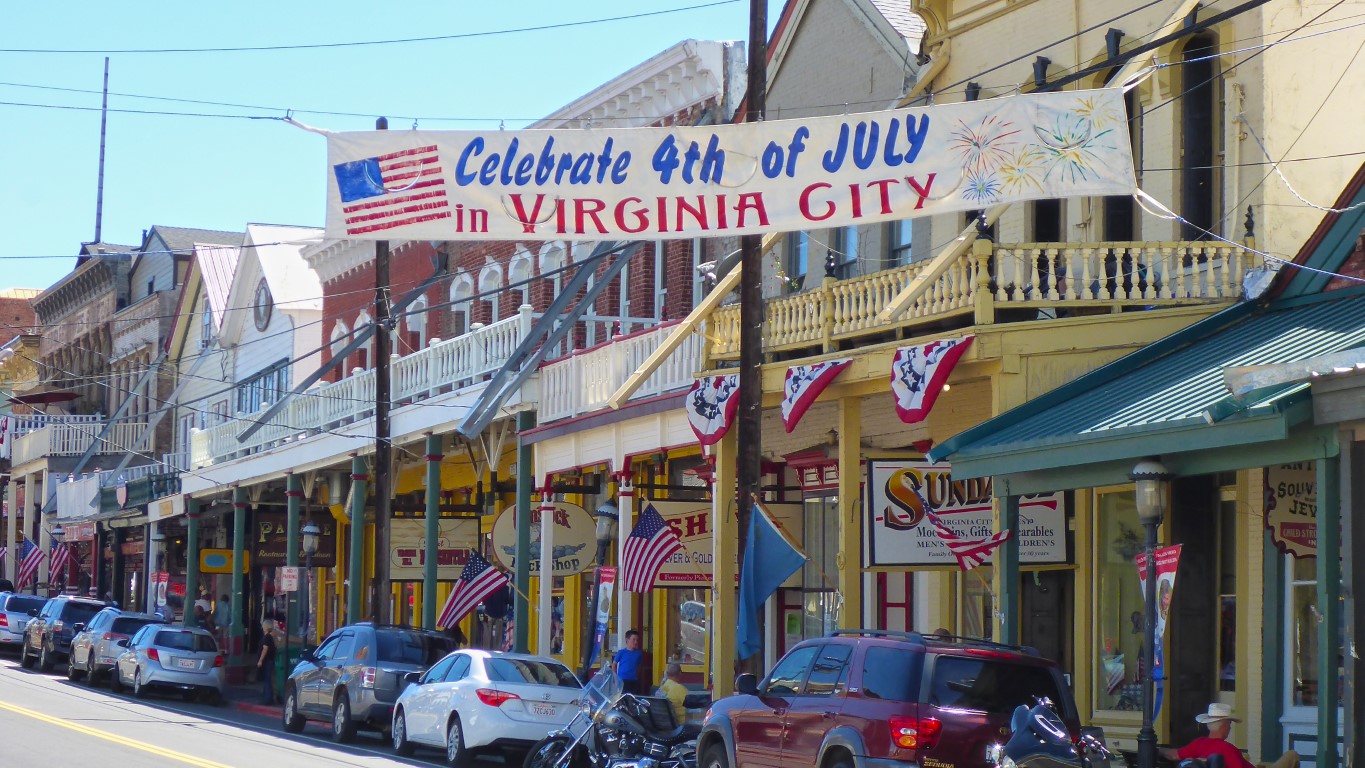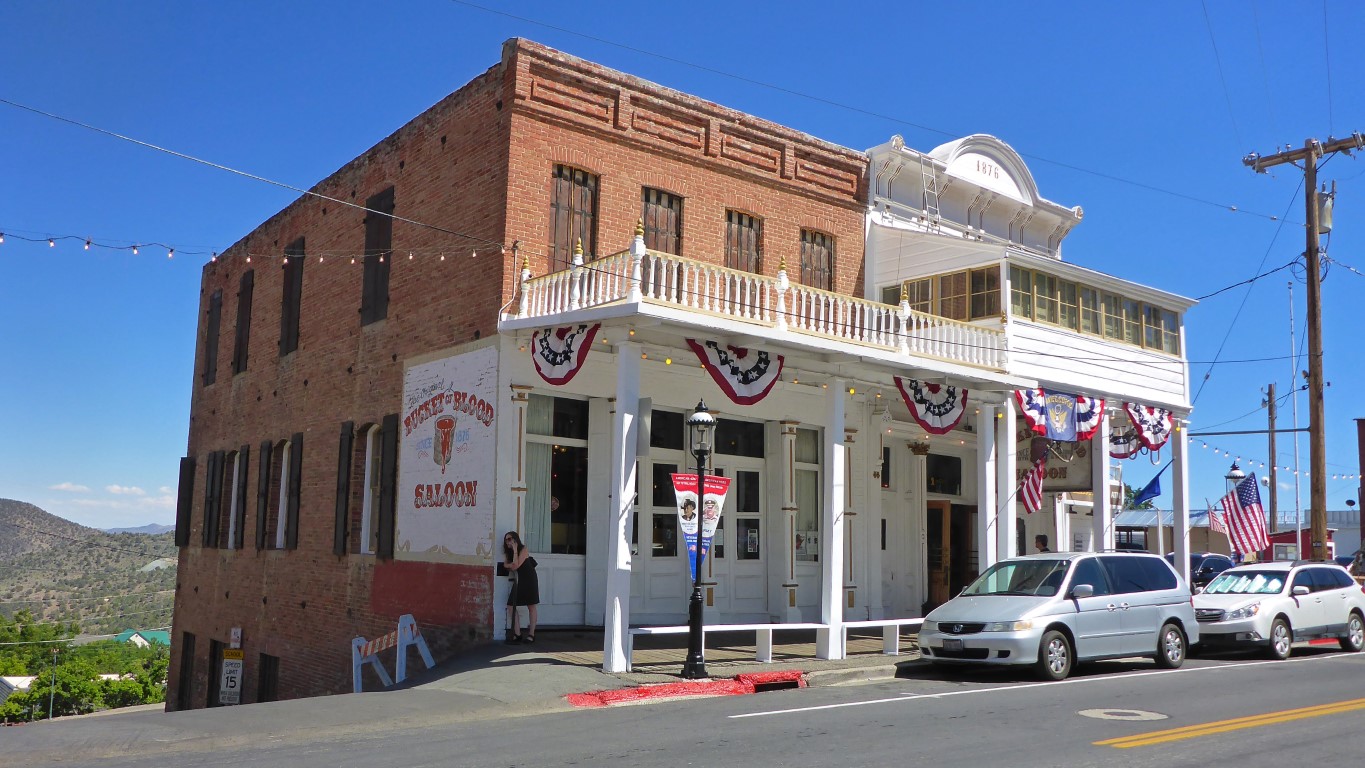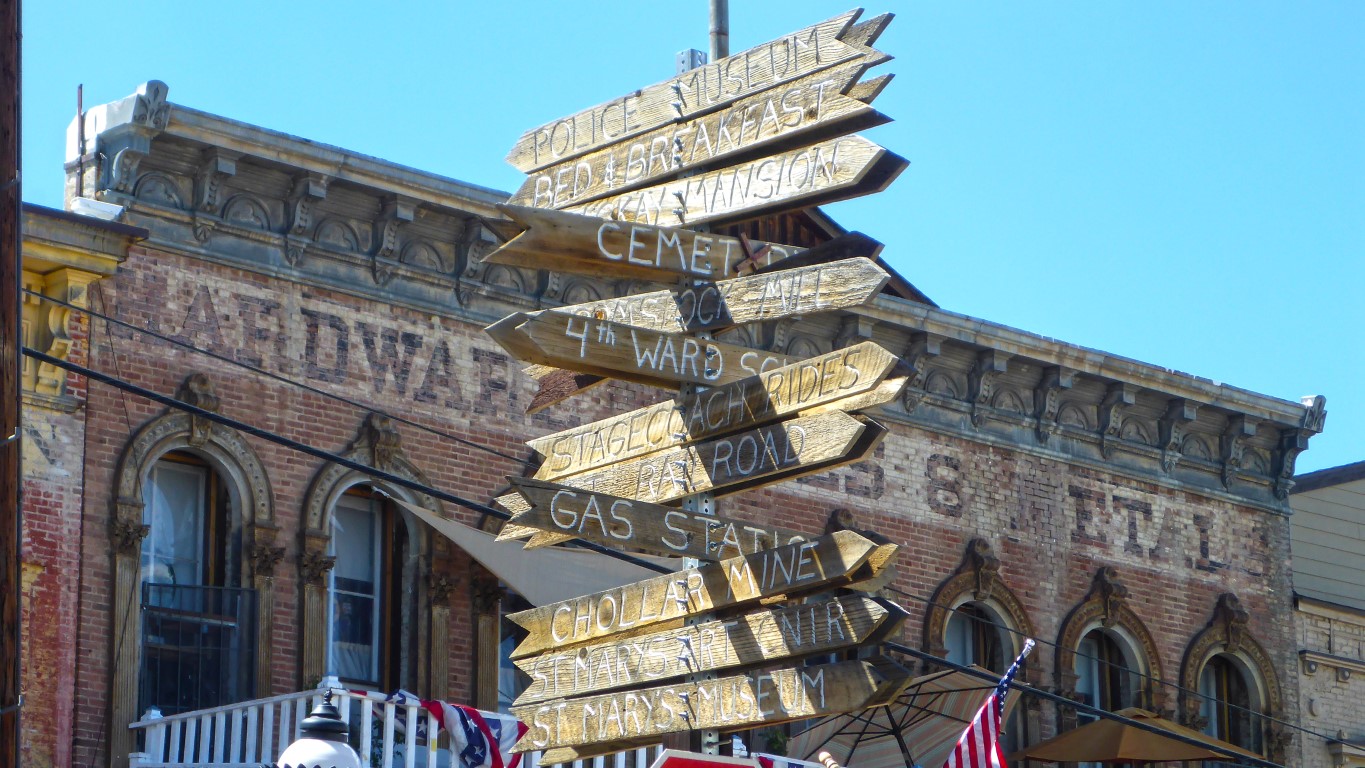 The old west feeling is still very prevalent in this little town of just 855 people.
After Virginia City, we headed back into Tahoe on the west side through Tahoe City. Anna was running a fever and still not feeling well. We kept her cooled down with lots of air conditioning and I pulled into the first campground that had spaces available. We managed to get a decent spot in the group camp area. I set up the hammock and Anna immediately fell asleep in it. She napped off her exhaustion and felt a little better.
The next morning Anna was 100% again. We drove around Tahoe some more and stopped at Emerald Bay top take in the view and waterfalls.
It was lunchtime and we were craving some pizza. We stopped in at Grand Central Pizza & Pasta. The owner ( I think) was a really nice guy and even recommended a local mountain bike trail. It was perfect for a ride after pizza and beer.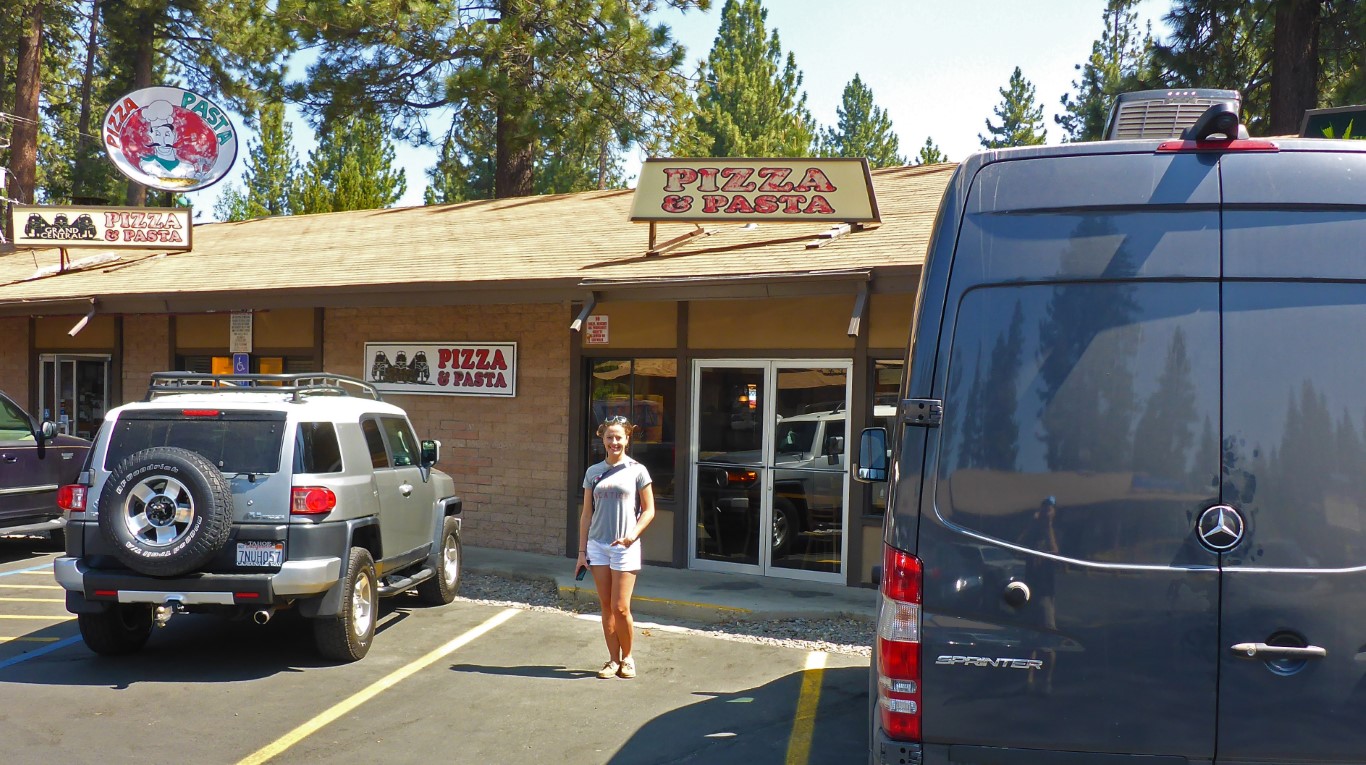 The ride was an easy powerline road with some nice singletrack that snaked up to a nice overlook. We wanted to do the famous Flume or Tahoe Raim trail, but it just wasn't in the cards for this trip. We wanted to take it easy and just hit some quickie local stuff.
We weren't done with Tahoe just yet. We cruised back up the east side of the lake and ended up in North Tahoe.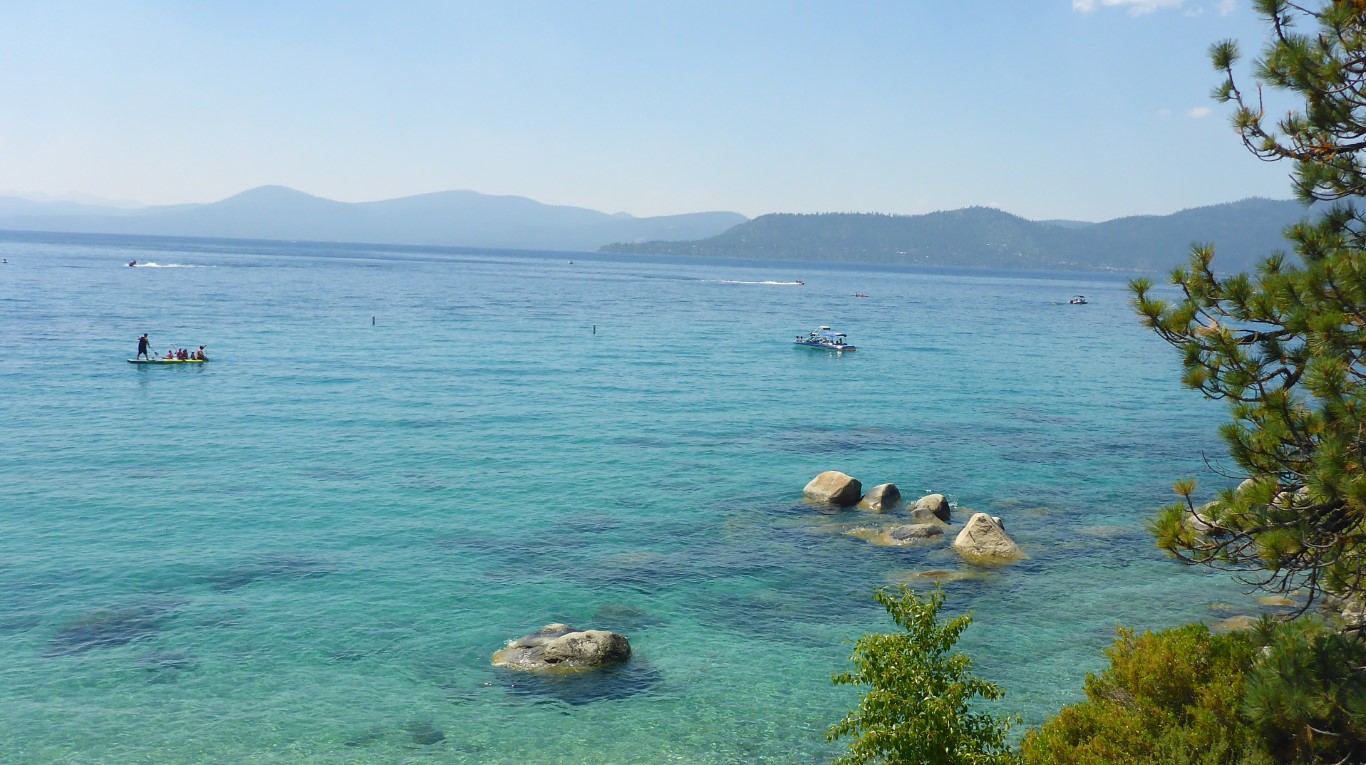 Travel Tip
In congested towns, park a couple blocks away and ride your bikes into town. It is much less stressful and you can get to many more places.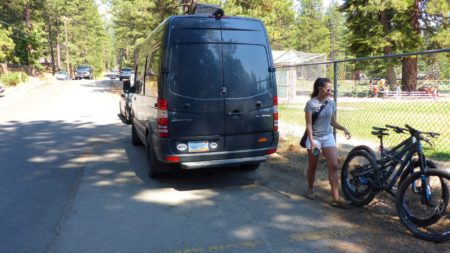 After passing on a couple of crowded beaches, we found a more quiet spot to ride down to and enjoy the lake.
Donner Pass
We finally left Tahoe and headed north through Truckee and checked out Donner Lake and Donner Pass.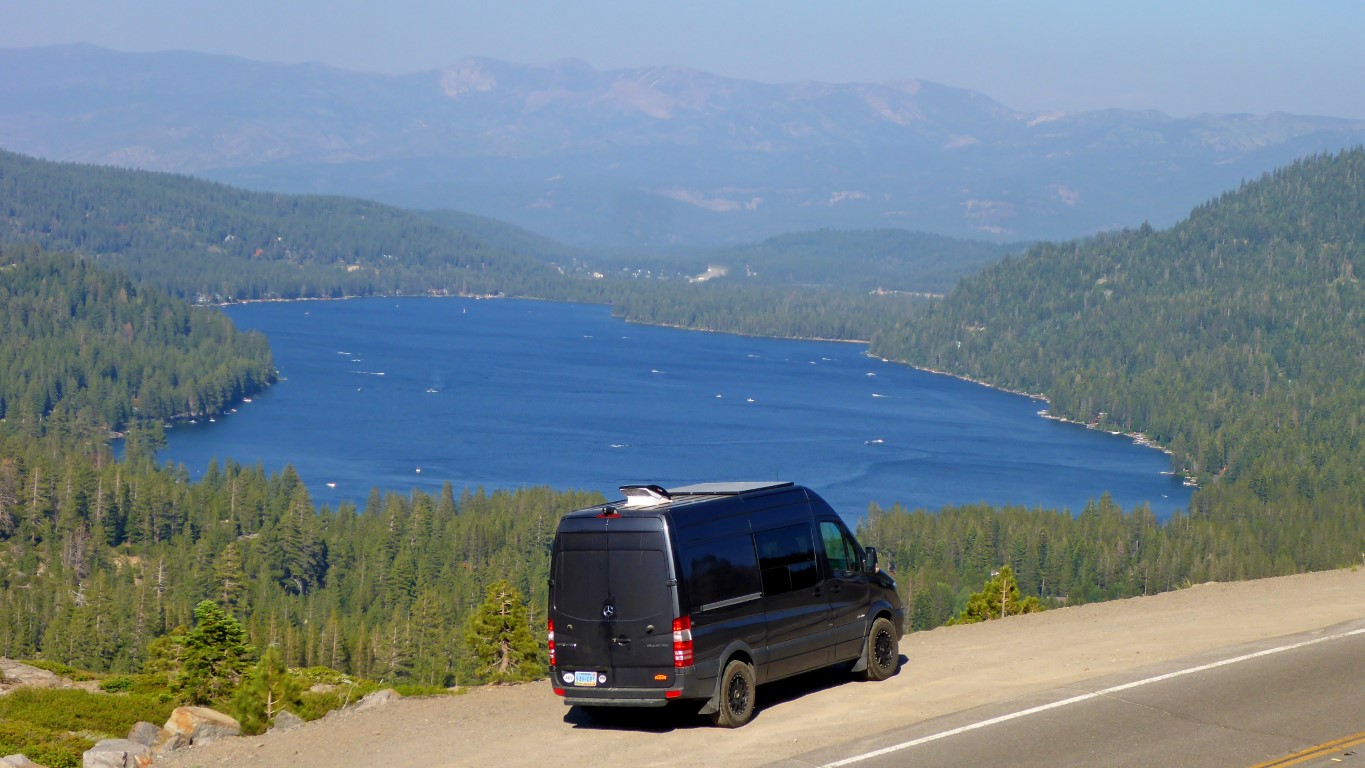 Our goal was to find a remote spot for the night away from the crowds. We headed west on the 80 and then took scenic mountain highway 20. The highway was lined with tall. dense forest.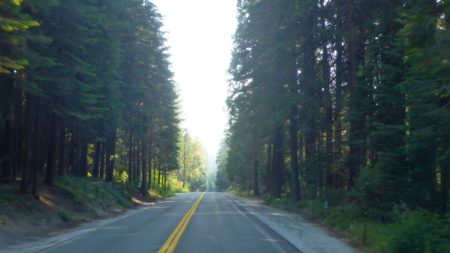 We found a dirt road which was part of a rather large network of roads on Google Maps. It showed that it snaked down to an old mining town, Omega. We drove down this road for maybe a 1/4 mile or so. The trail was narrow and had overgrowth from the trees making it smaller and smaller. We were going downhill so I was getting a little nervous that we wouldn't be able to back up if it got worse. After a bit of pinstriping to the van from the tree branches, I decided to go down the road on foot to check it out. Sure enough, there was no way we were driving any further unless we had a chainsaw. Looking back at the van I was thinking how the hell we'd back out of this situation.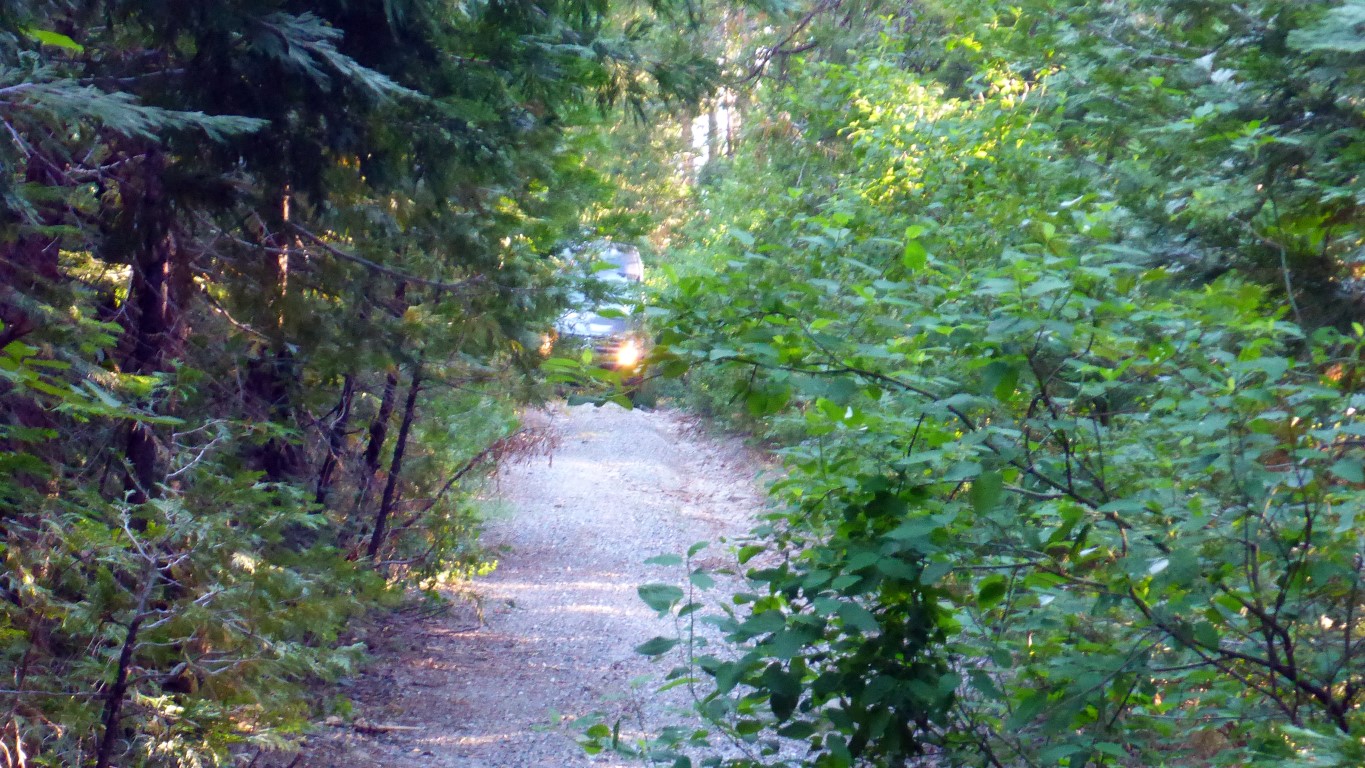 Without any back windows, I had to rely on just my mirrors to back up. Nice and steady, we crawled in reverse all the way back up the road. Those Nitto tires were so worth their money at that moment. I had to straighten out a couple times after backing a little too far into the brush, but we finally came to a spot in the trail where I could turn the van around. Phew! We did it.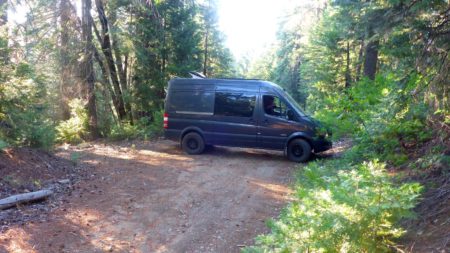 Back on the highway, we saw an intriguing overlook so we pulled off to check it out. Just a short walk from the parking lot was a little walking path that snaked up to an overlook structure that hung out over a cliff. The view was amazing. It was at that very quiet and peaceful moment when Anna and I heard a horrible crashing sound which could only be one thing. It sounded like a truck rolling down the mountain or something. It gave me goosebumps. I knew something horrible had just happened. It was probably less than 1/4 mile down the highway.

We continued down the highway and just around a slight bend in the road was a woman alerting traffic to slow down and stop. It was exactly what we thought it was. A Honda Civic, which looked like a can opener peeled open the driver's side, sat on the side of the road going to the other way. The driver, a man roughly 50 years old with glasses, was sitting on the right side with the passenger door open holding his knee. We rolled by and I asked if everyone was ok. A truck driver, accompanying the man, said: "yeah, just a bit scratched up here but I'm not sure about the truck down the road".
Traffic was just starting to back up. There were about 5-6 vehicles stopped. As we approached the other vehicle, I could tell it was bad. This truck had rolled several times down the highway. This is what we heard at that overlook. As it turns out, the local news reported that the man in the Honda was reaching for cigarettes and veered into the path of this truck, clipping it and causing it to roll. At least one person died in the truck (the female passenger) and the second was in serious condition. I believe they were an older couple from Grass Valley. It was a very horrible sight to see and unfortunate for those affected.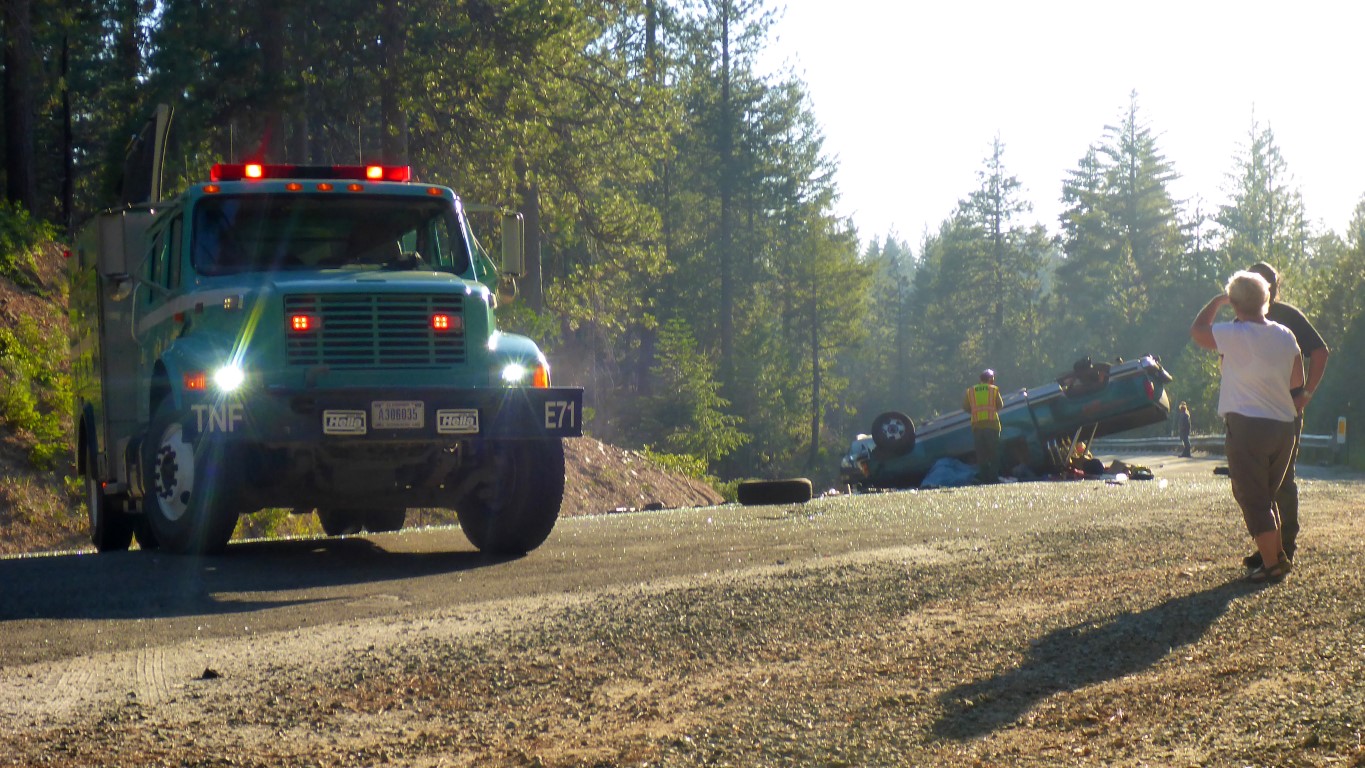 The highway was shut down so we decided to turn around and explore the area some more for a dirt road. Not too far back was a little road called Chalk Bluff Rd. We drove down this for about 3-4 miles looking for a decent campsite. It had a strange feel to it, but maybe it was because of the fatal accident we had just encountered. We continued down the road and came upon a couple large, white dogs in a clearing on the right. They were barking loudly at us and one of them chased us down the road. We didn't see anyone around which was very strange. I tried to shrug it off and not think about it too much, but Anna would not let it go. She was concerned that someone might have dumped the dogs or maybe they were from that accident and got scared and ran. We didn't find any place to camp so we decided to turn around. We agreed that if the dogs were still there, we'd stop and check them for tags. Sure enough, there they were. It's like they were waiting for us. Luckily they didn't attack Anna when she when to check on them. They turned out to be very friendly. They both had tags with a phone number. I called, got a voicemail and left a long detailed message. The number called me right back. Turns out an older guy lived just 100 yards into the forest and we were almost in his "driveway"! He had just let them out and the gate was open. He didn't know they wandered away. Thankful we called him, he drove down to us and picked them up. He showed up with their mom and introduced us. What a weird day this has become.
After the dog situation was over with, we finally found a great spot just up the road to pull off, shower and go to bed. The next morning was a brand new day and we were excited to head west to the California coast.
The scenery changed as we got past Sacramento.
Tennessee Valley Beach
We stopped to explore the Tennessee Valley Beach. After Anna washed her hair in the kitchen sink, we took a 2-mile walk down to the ocean.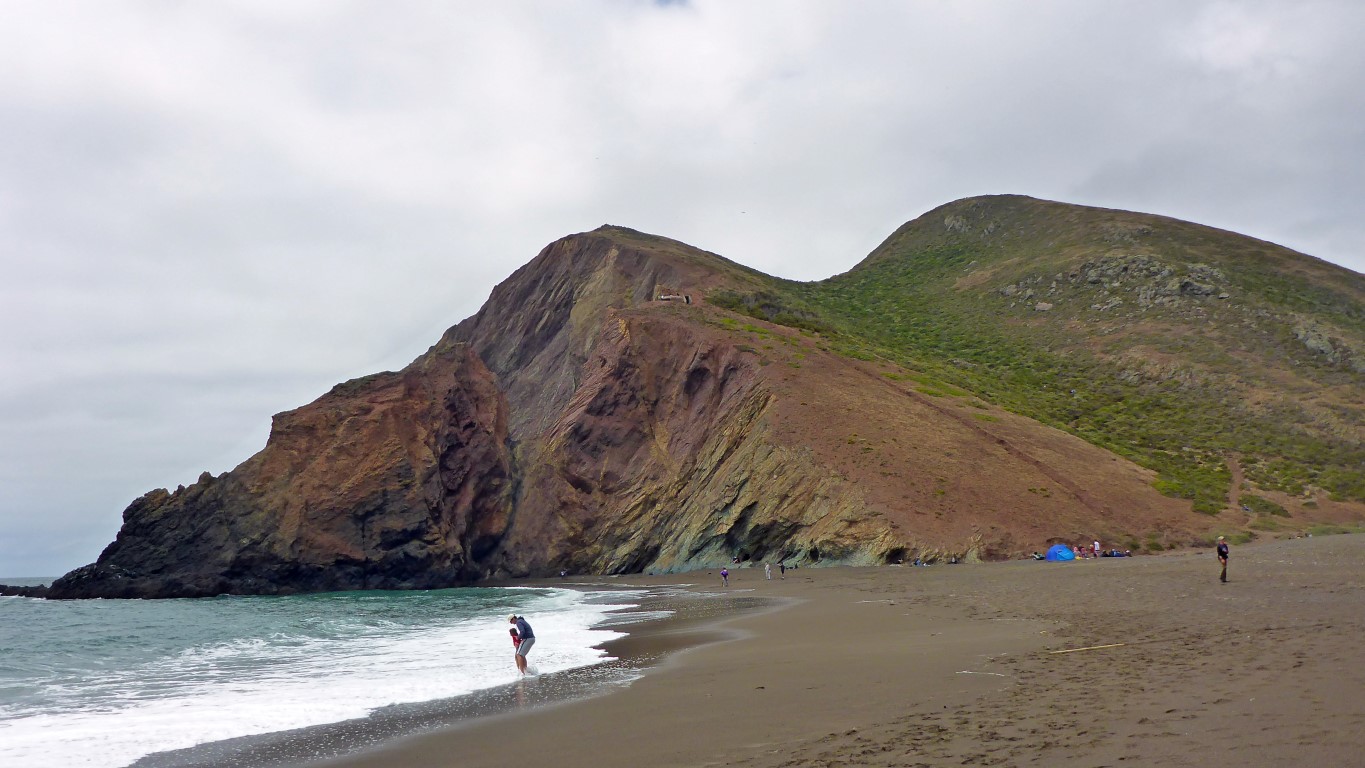 San Francisco
San Fran! We made it!
We landed at Chrissy Field. It was the 4th of July, therefore, a handful of RV's, vans and people were there BBQ'ing and celebrating the holiday. This looked like a prime spot to crash for the night. Although there were signs everywhere for no overnight parking/ camping, it didn't look like many had any intentions of leaving. I think we would be able to get away with it.
We rode our bikes down to the Golden Gate Bridge. We couldn't believe how cool the weather was. It felt great!
As it got darker, we moved the van up closer to the water so we could have a prime spot for watching the fireworks.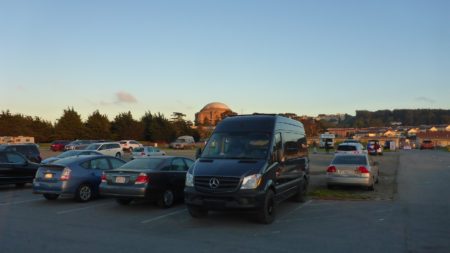 The view did not disappoint.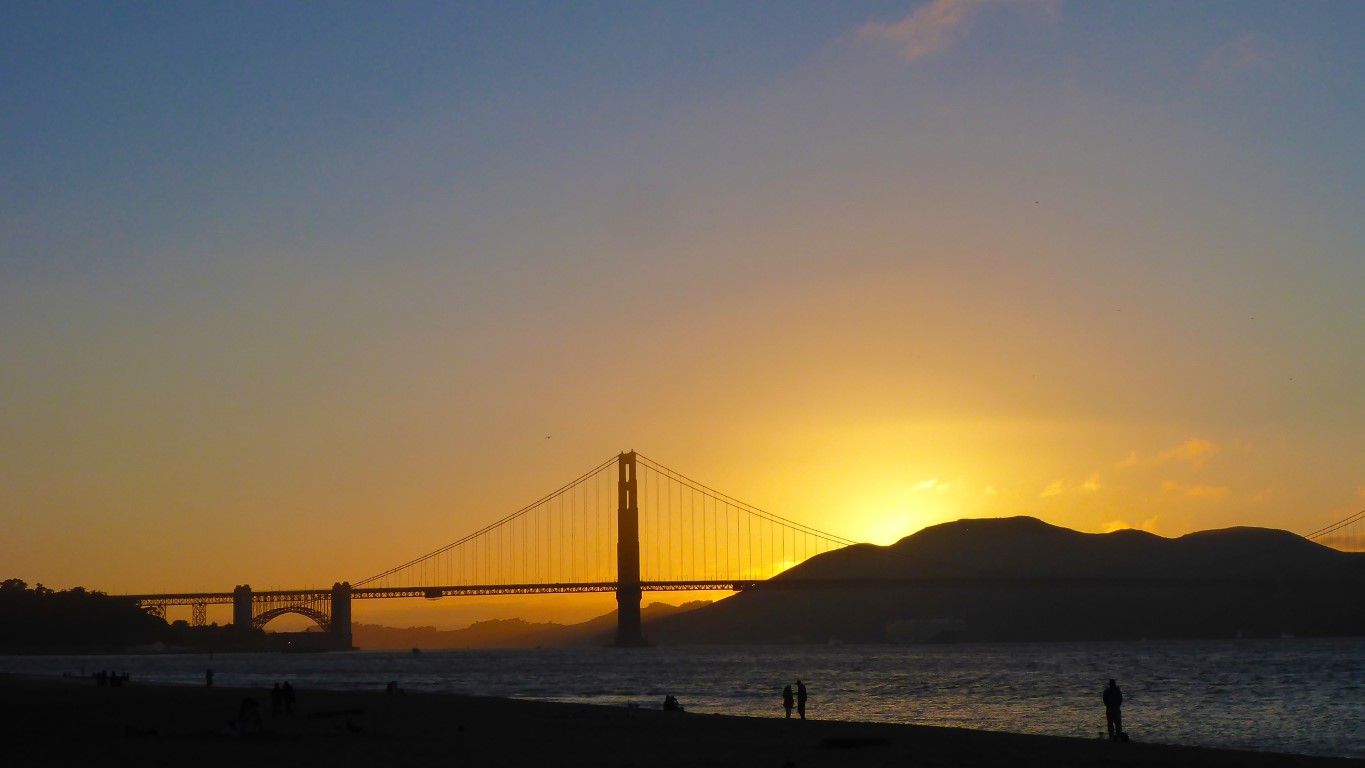 I'd have to say this was one of the best 4th of Julys to date. There we were…sitting on the roof of our Sprinter van overlooking the San Francisco Bay with Alcatraz smack dab in front of us, a great view of the Golden Gate bridge to the left, and fireworks over Pier 39 to the right. We had been waiting to pop this bottle of champagne until the time felt right. So that night we cracked it open, celebrated the completion of the van and the freedom it brings us to do the shit we love.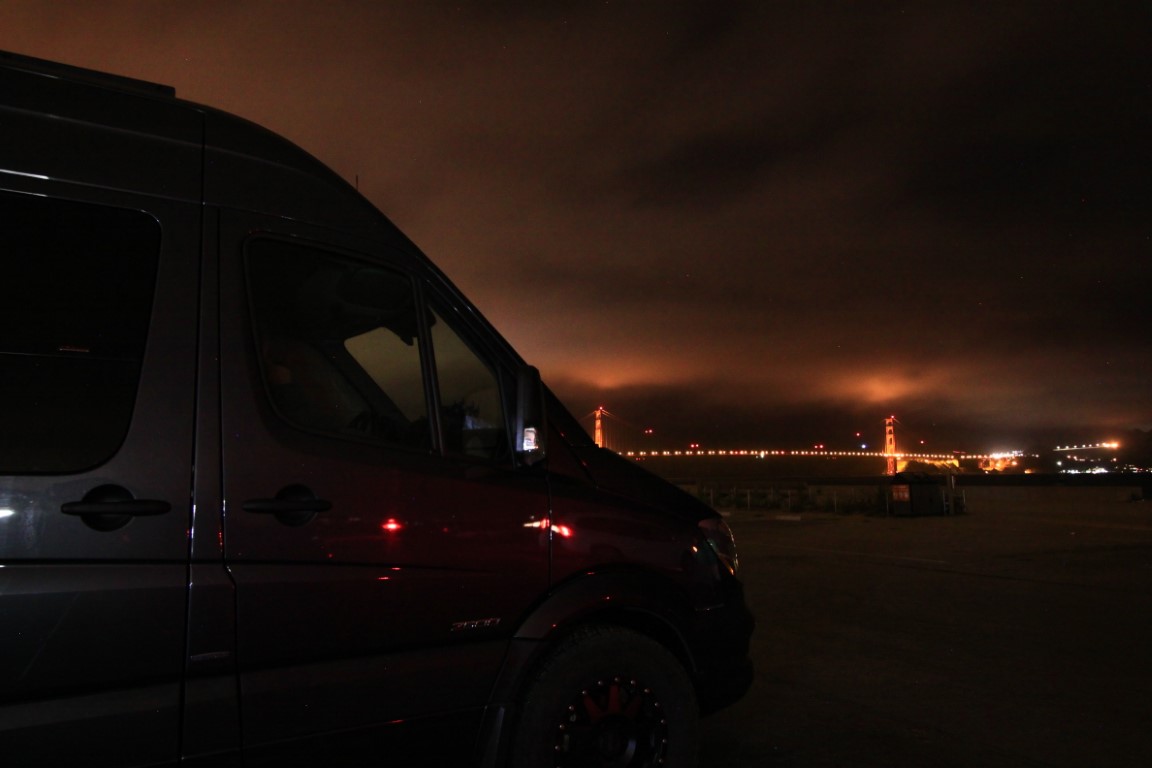 We closed up the van and turned in for the night. The next morning we woke up with one of the best views we've had so far.
Half Moon Bay
It was time to take in some of the best parts of the California coast. We drove to Half Moon Bay.
This ended up being our favorite spot along the Pacific coast during the whole trip. The beaches were pristine, not too crowded, and just absolutely gorgeous.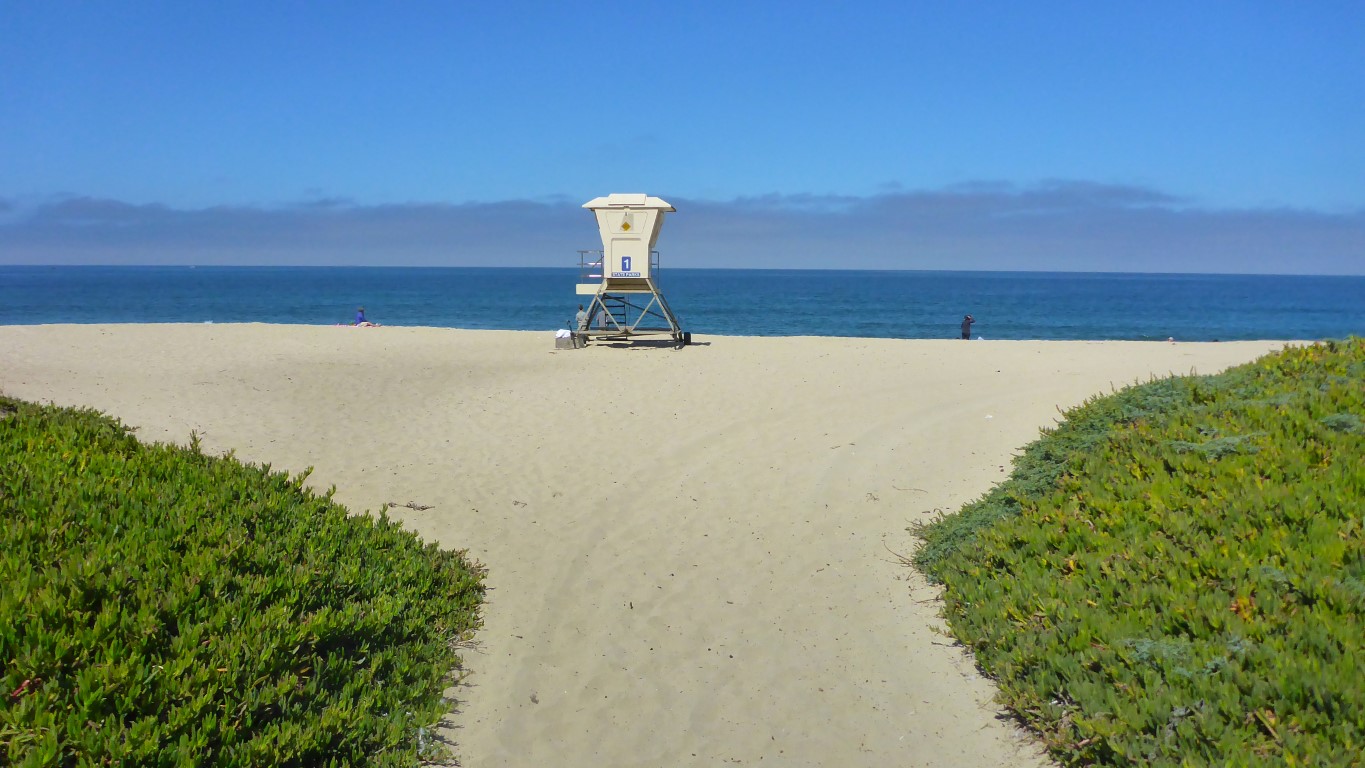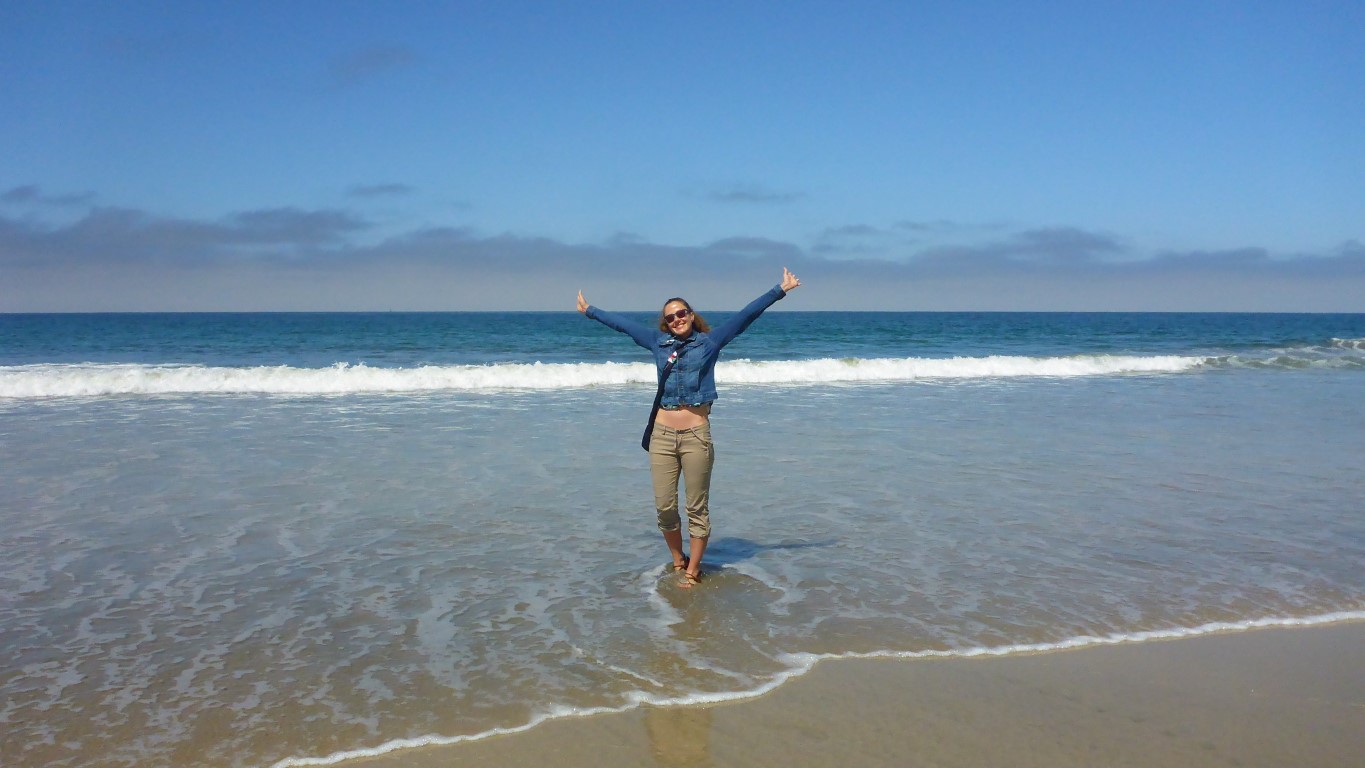 Here we got a ton of compliments on our van since it was sort of on display the whole time. We opened all the doors and enjoyed that the cool ocean breeze and admired the view.
We took a bike ride to lunch and explored the town a bit. This place had a great vibe and those trails along the beach cliffs were rad!
Santa Cruz
As much as we wanted to stay there, all the campground sites were taken and the parking lot was now full. There was a bunch more coastline to explore anyways so we headed south into Santa Cruz.
Driving down the 1, we spotted a huge group of kitesurfers and windsurfers.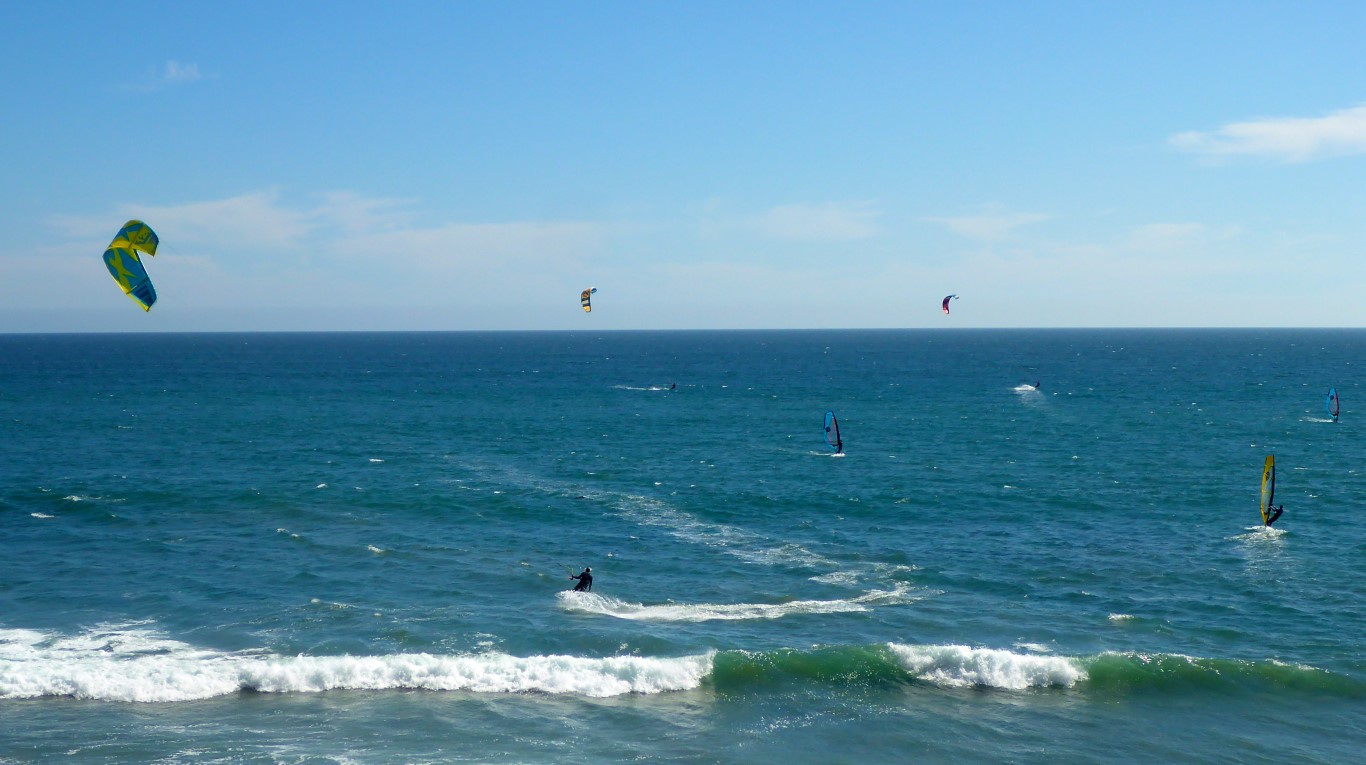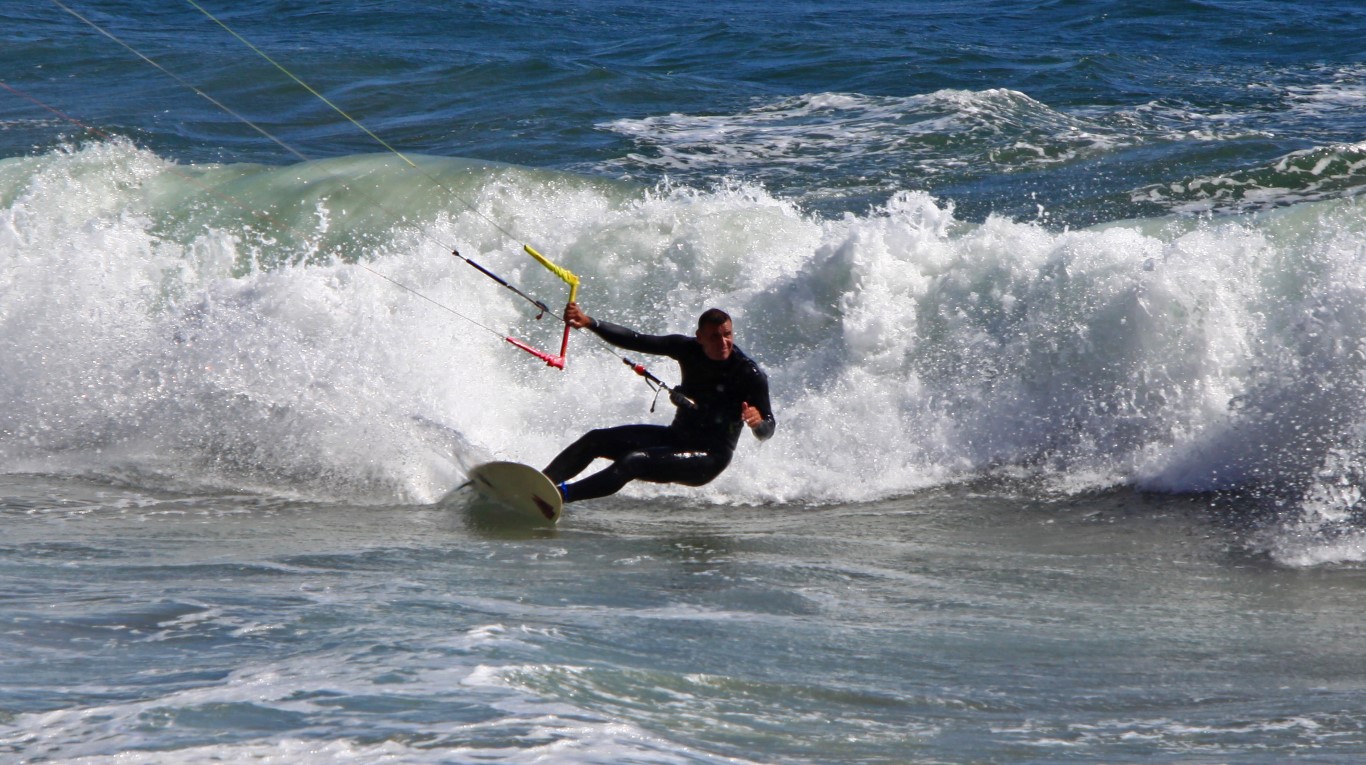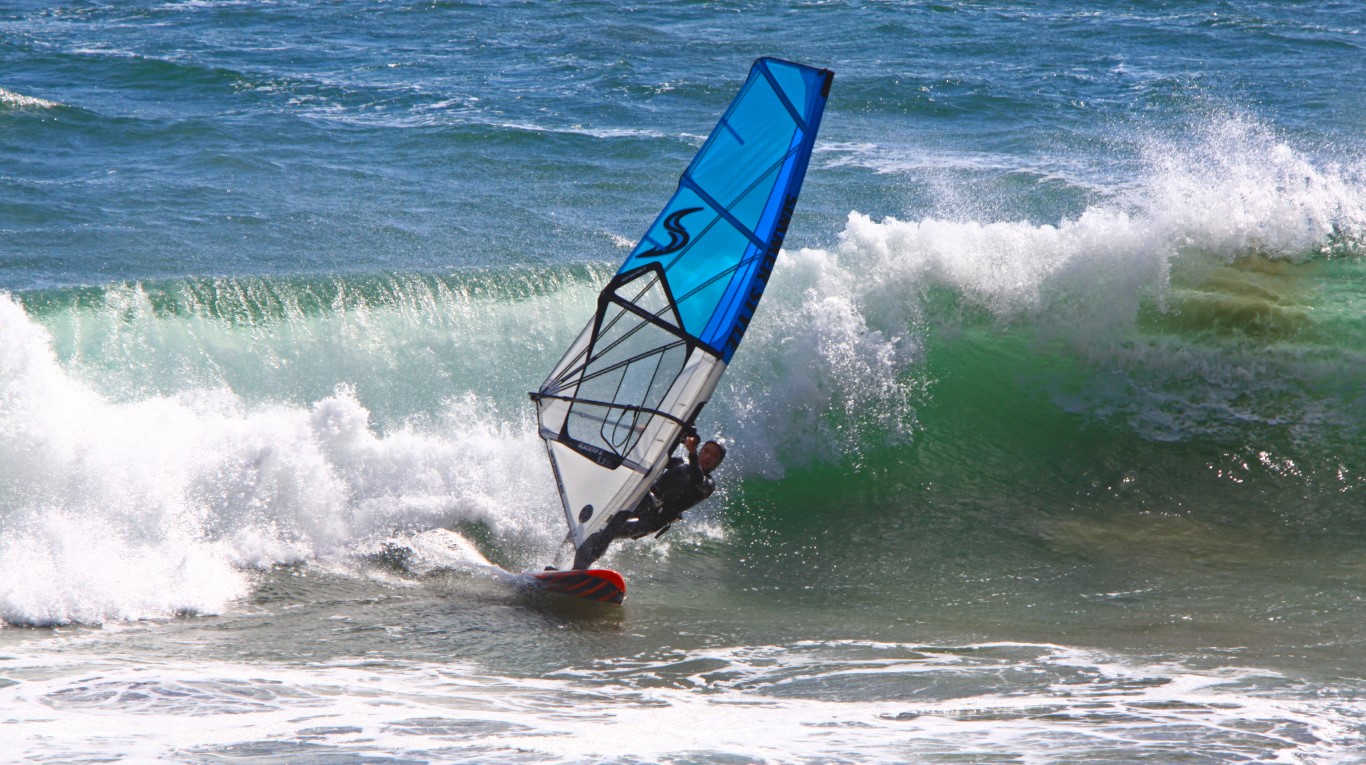 Santa Cruz had some nice parts, but nothing really grabbed us and drew us in to stay.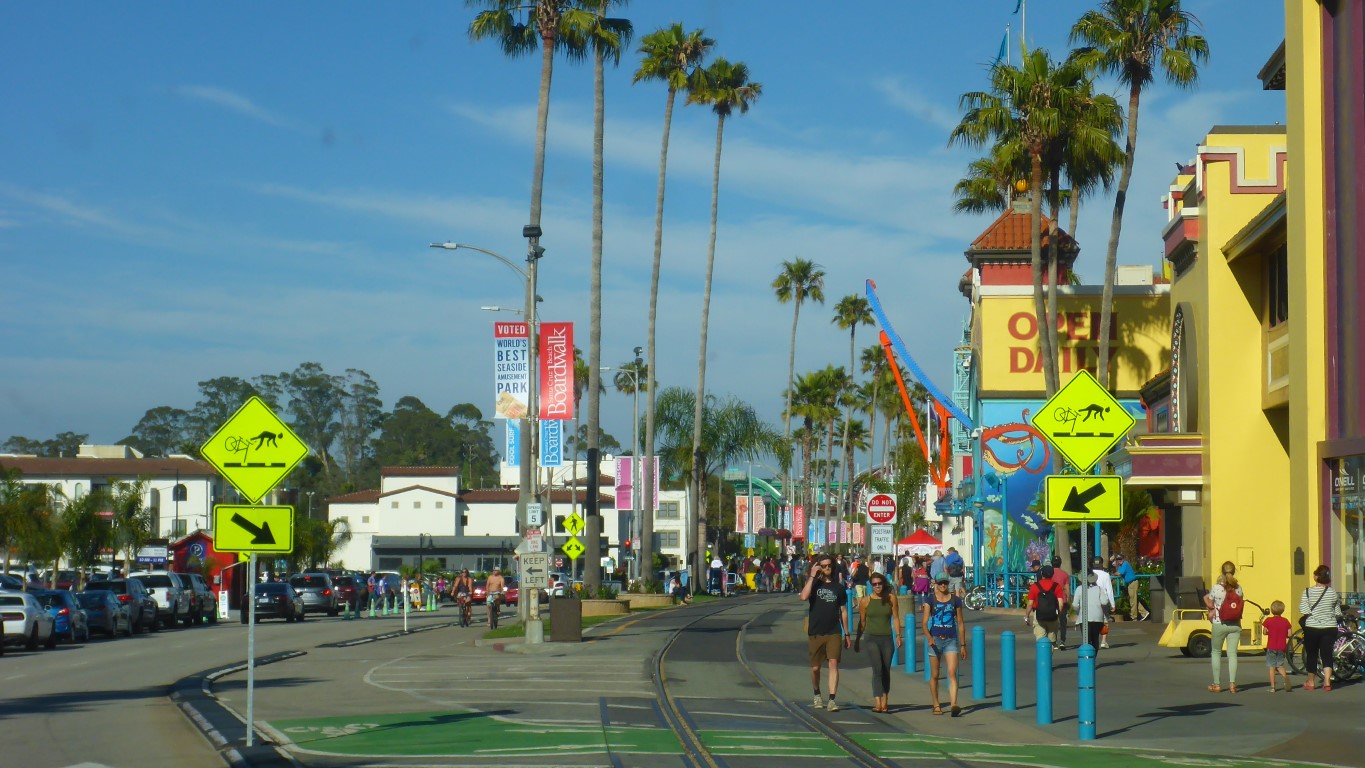 Carmel-By-The-Sea
We arrived in Carmel just as the sun was going down. It was a picture-perfect California sunset.
We walked around downtown Carmel-By-The-Sea. Unsure where we could stay, we talked about trying to overnight park and stealth camp in a local public parking lot. That is exactly what we did and nobody bothered us. The key to stealth camping is being discreet and quiet. It worked! We successfully camped out in the middle of this multi-million dollar neighborhood.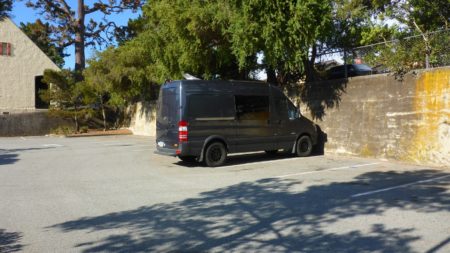 Big Sur
Next up: Big Sur! Photos speak for themselves in this stretch of iconic California coast.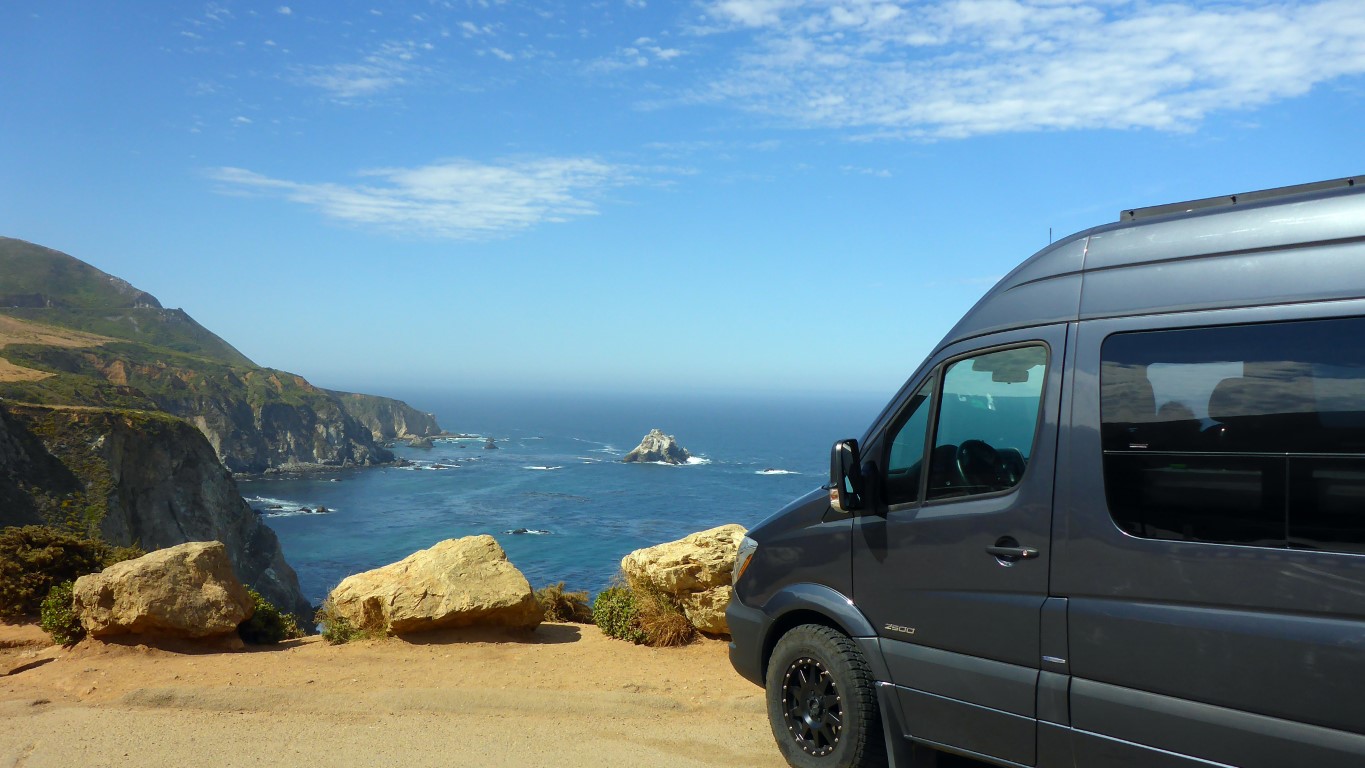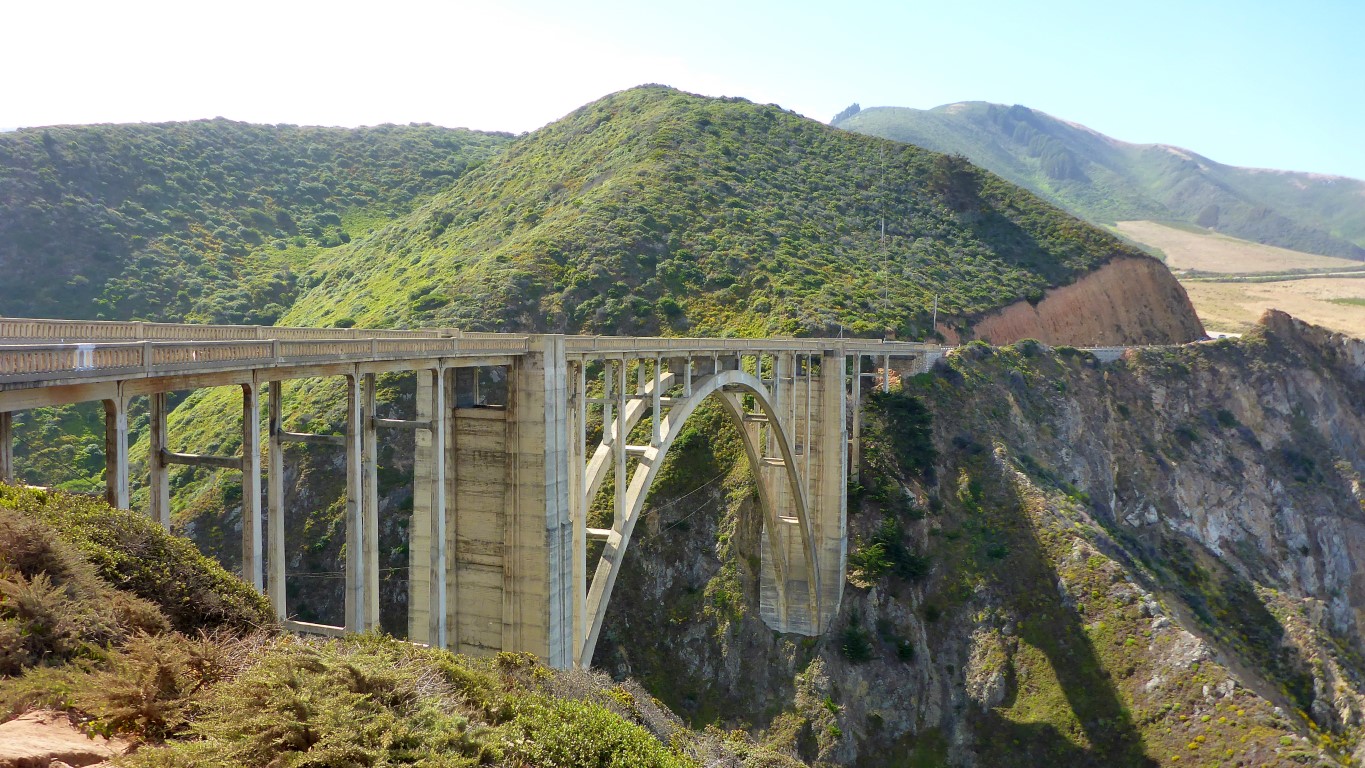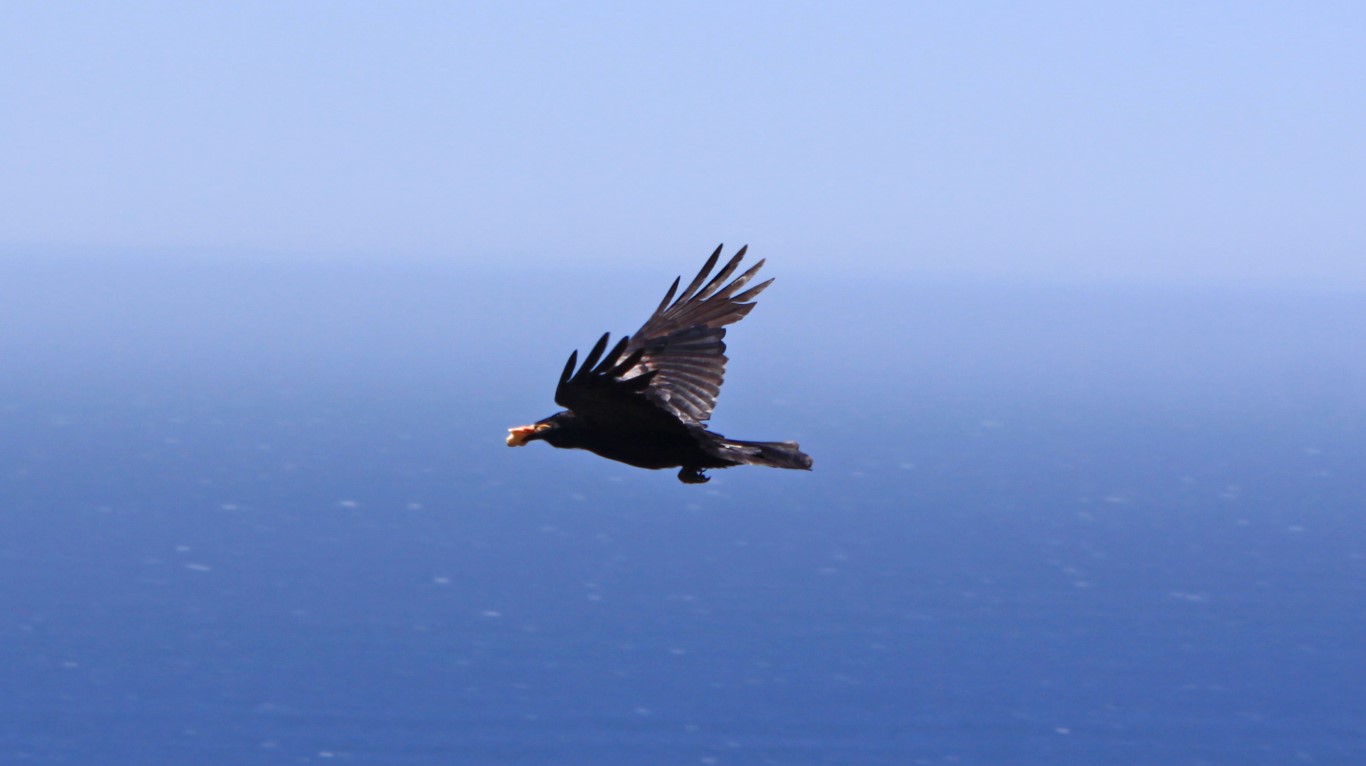 Prewett Ridge in a 2WD Sprinter Van!
We headed south until we couldn't go any farther due to the construction and road closure caused by a mudslide. We headed up a very long an windy Nacimiento-Fergusson Rd to find Prewett Ridge. It took us about an hour to get all the way up there. It was a little rugged in some areas and only wide enough for one vehicle, but the van did great and we made it!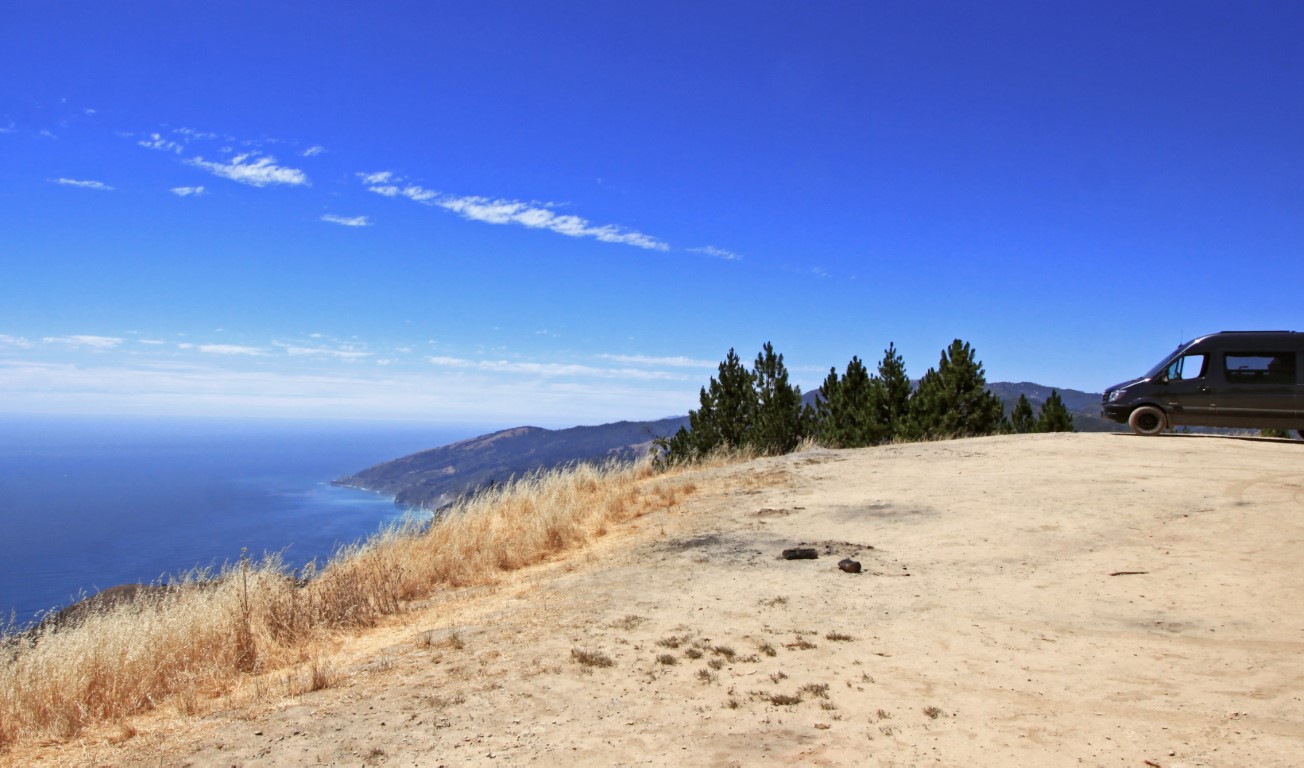 With an elevation of 3200 feet, we expected cool temperatures, however, it was very warm. It was about 95 degrees up there and there were so many flies! I really wanted to camp here, but it just wasn't comfortable. It was an amazing view though. Maybe some other time we'll revisit this spot because it would be a really cool place to wake up to or watch a sunset over the ocean.
This was one of the more challenging spots to get up. On the way down it was a piece of cake, but going up it required a little extra attention to tire placement because of some offset potholes in the dirt.
Rather than going all the way back down the mountain, then up to Monterey, the faster way back to the 101 was via Nacimiento-Fergusson Rd. It took us out into the middle of nowhere, a place that was used as Army training grounds.
Morro Bay
Our next stop was Morro Bay. We pulled into Morro Rock and scoped it out for camping. This town was very chill and seemed to be a little more laid back about beach camping. Although there is a city ordinance against sleeping in vehicles on city streets or parking lots, many RVs and campers seemed to be getting away with it. We walked around for a little bit on the beach and fed some chipmunks.
We pulled up in a beach parking lot that was a little more out of the way as the sun was going down. We cracked open some beers and called it home for the night.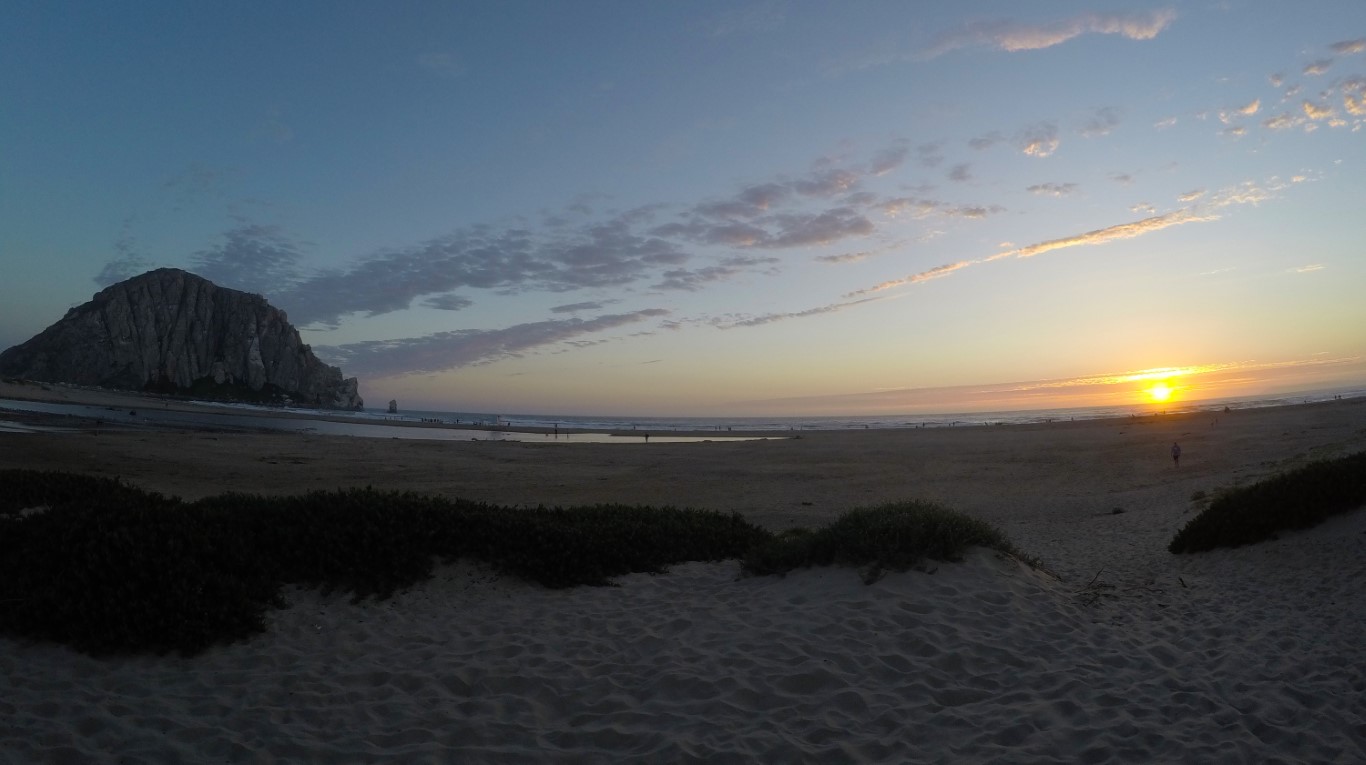 We both got a great night's rest and woke up with another incredible view.
We rode into town for a coffee and then around Morro Rock.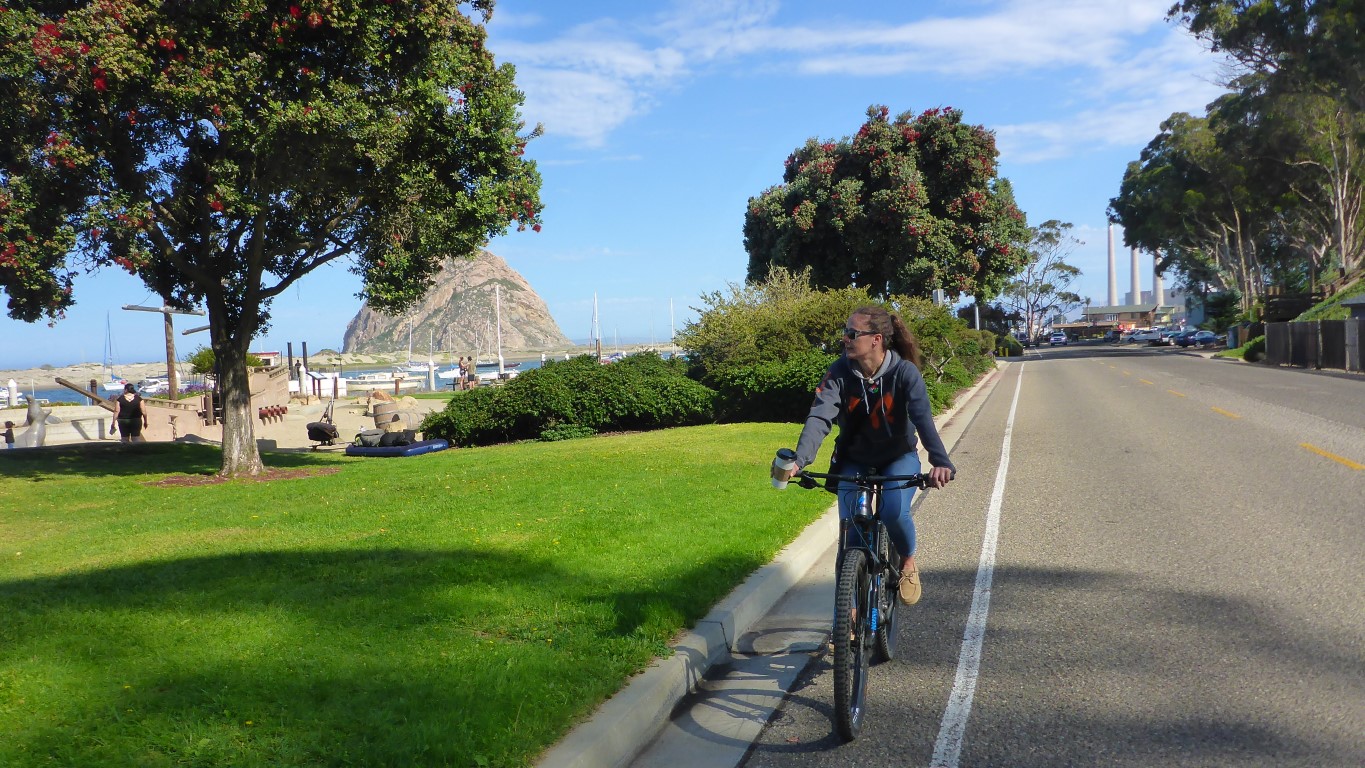 Morro Bay is a place that we will return to.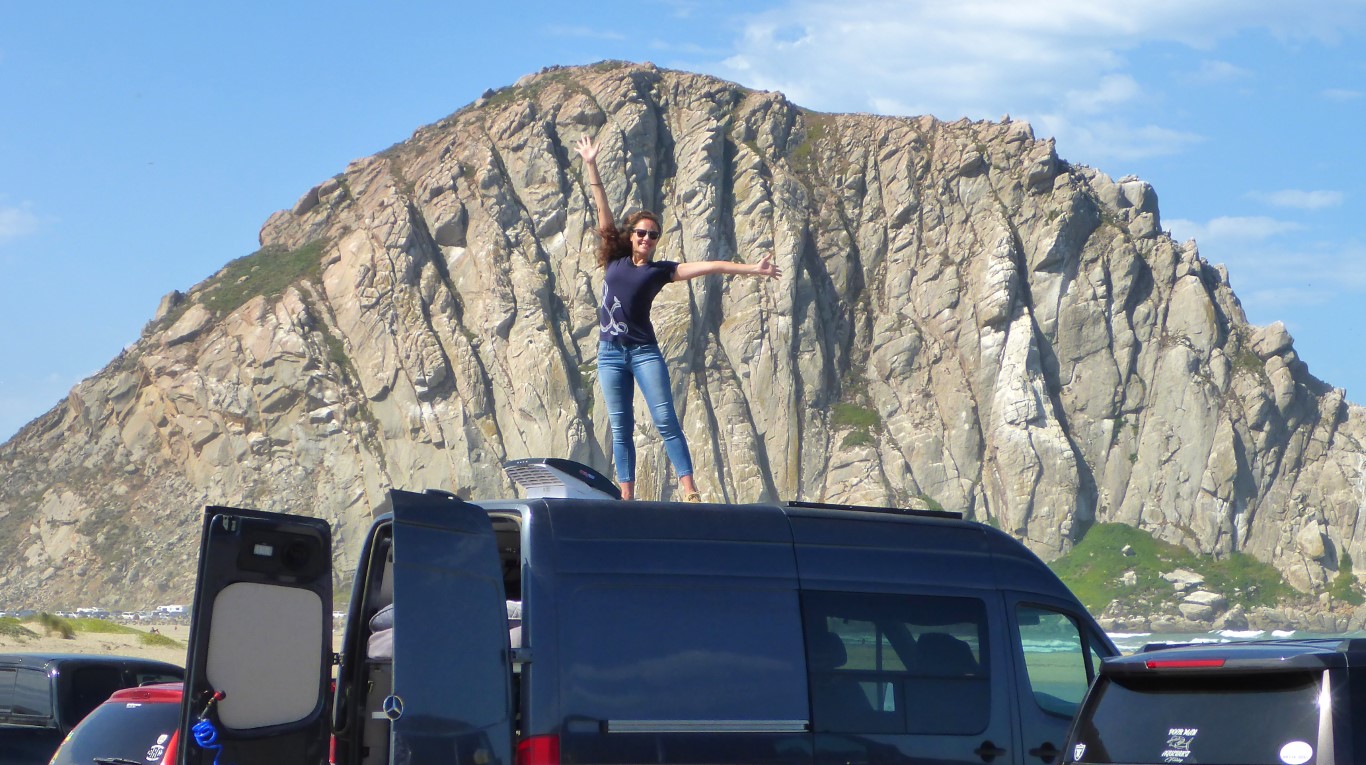 Pismo
Next up we fought the holiday traffic in order to see Pismo. Being the sand dune OHV peope that we are, we couldn't drive by without at least checking it out.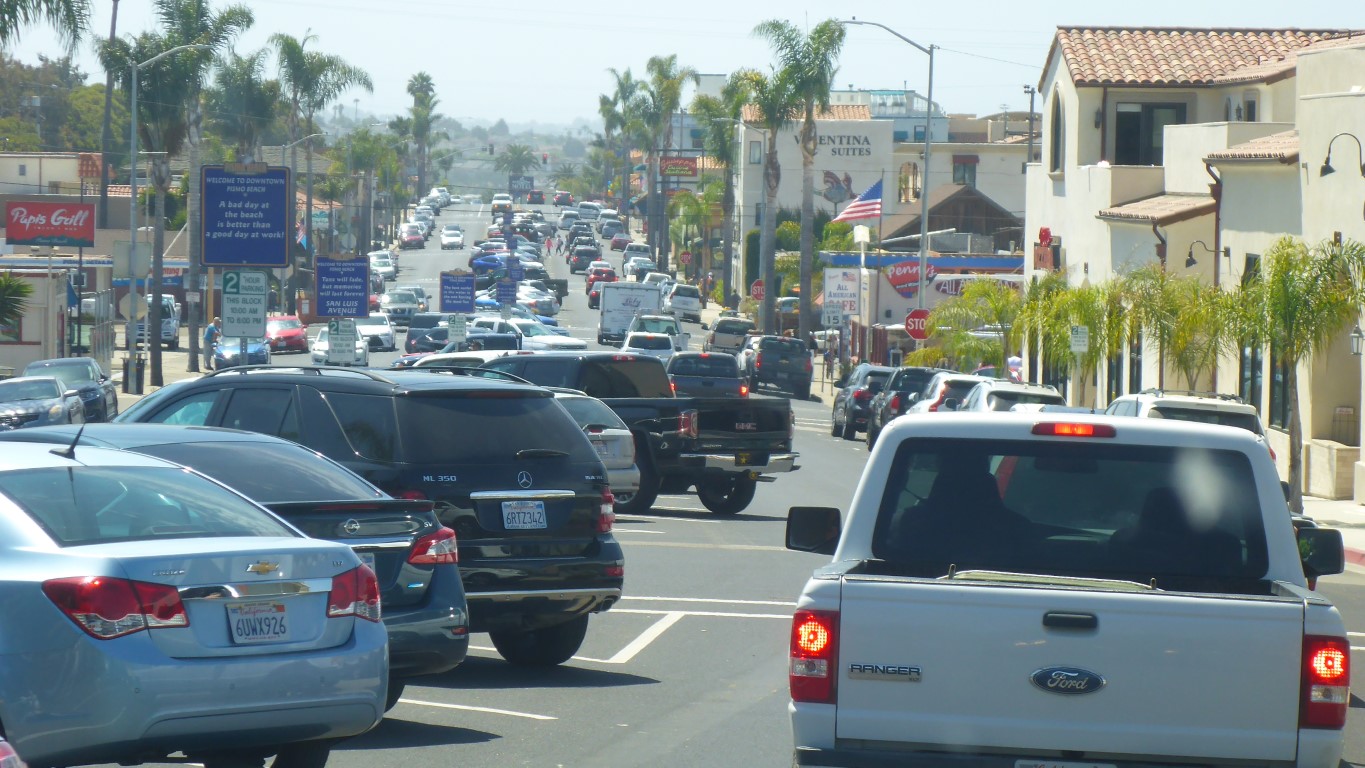 We parked in a nearby neighborhood and walked in rather than dealing with the entrance, fees, and traffic jams. We weren't impressed, but I know there is more to see and camping on the beach would be pretty cool. Not sure we'll ever be back for that though. The more we travel and explore, the more we like to be away from the crowds.
Ventura
It was beach time. We stopped in Ventura, set out our chairs and enjoyed some of the Pacific for a few hours.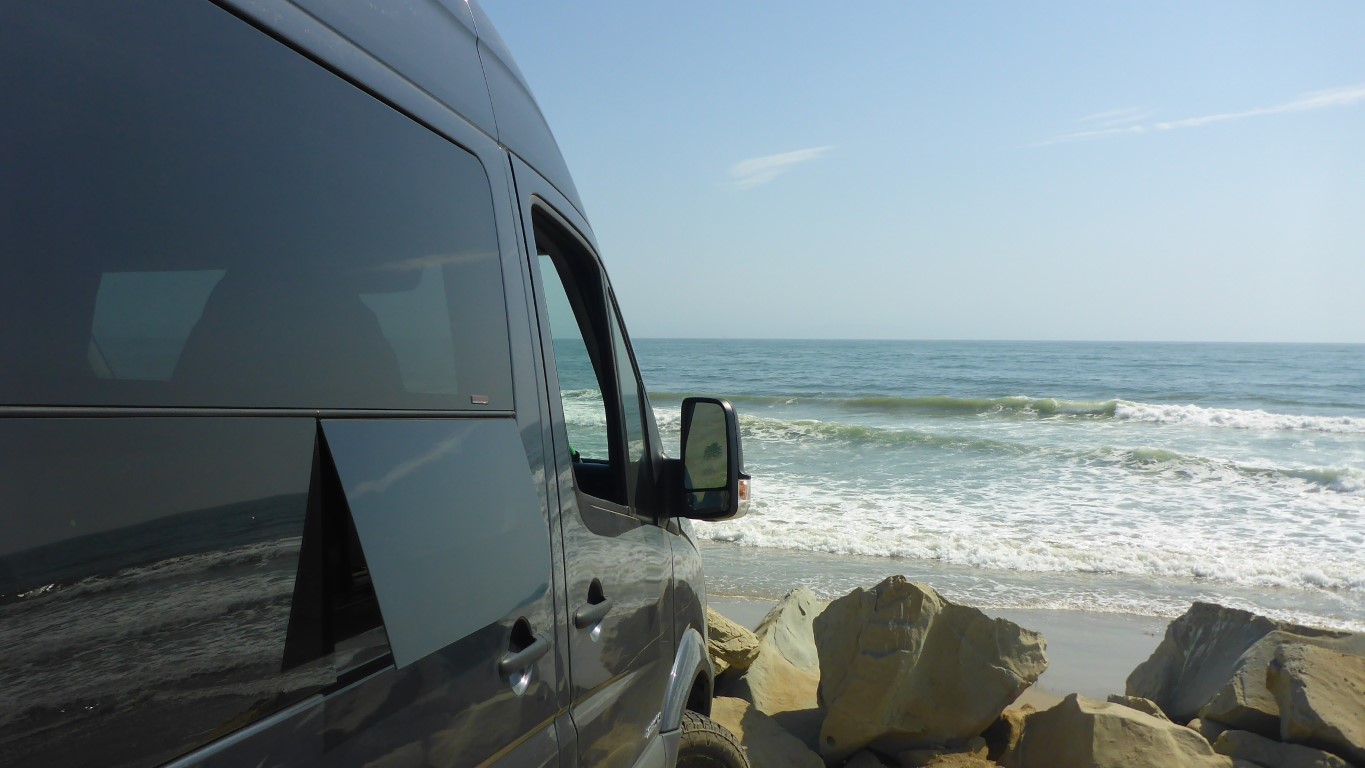 Huntington Beach
Our next stop would be our last, Huntington Beach. We arrived too late to get into any of the beach parking lots. HB is nearly impossible to find a place to camp or park for the night unless you are ok with a parking lot. We ended up parking our van in front of our friend Rob's house that night since we were meeting up to go out on his boat the next morning anyway. We cruised the waterways of Huntington Harbour in his electric Duffy boat and even popped out into the ocean for a bit. It was the perfect way to cap off our trip.
9 days and 2500 miles later, we were headed back home feeling relaxed and refreshed because we were technically "home" the whole time! The van worked perfect and it was a great feeling knowing nothing had to be changed or repaired when we got home.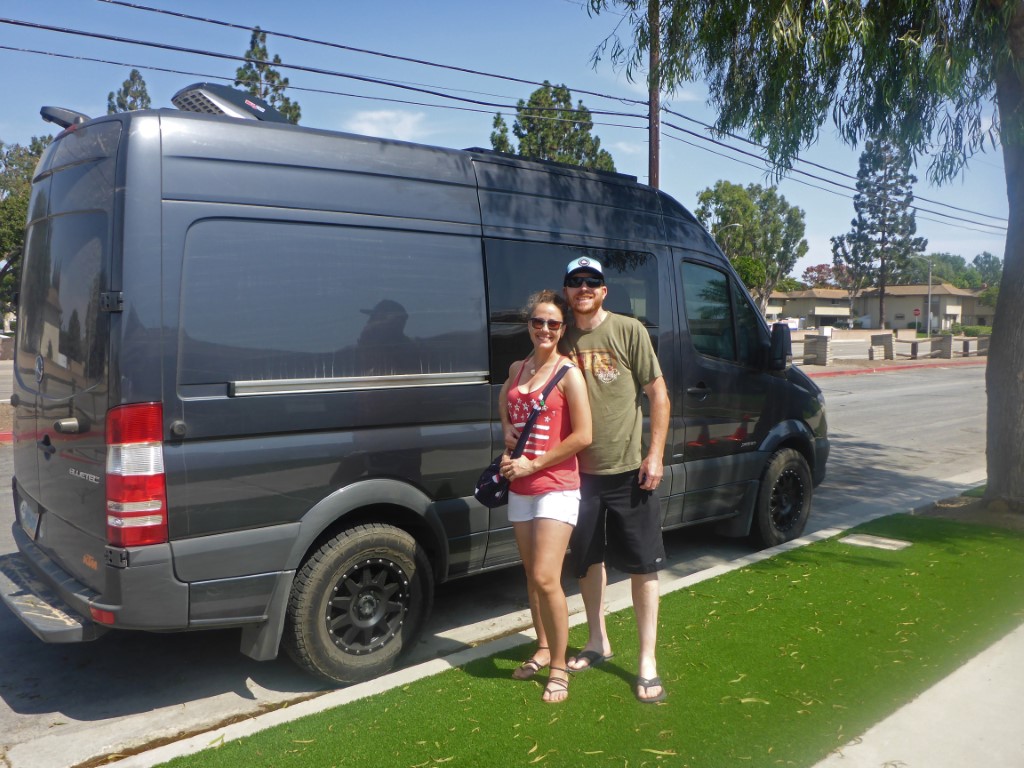 Comments
comments