When it came to choosing how we wanted to do the floor in our van, we wanted it to look nice yet have a durable surface with plenty of tie down options to haul dirtbikes and mountain bikes.
Like most cargo Sprinters, our van came with the factory (gray painted) wood floor and the previous owner installed a sheet of plywood and E track. It provided great tie-down options but was obviously not going to cut it for our build.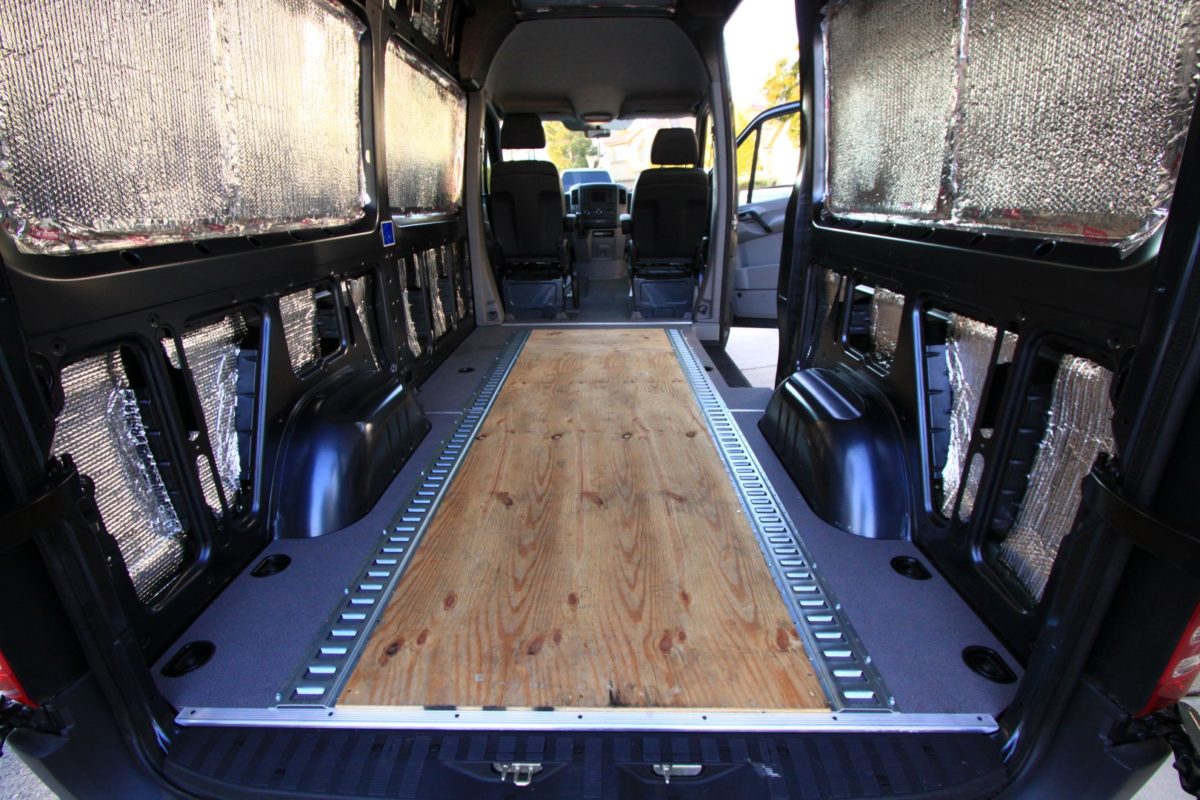 We pulled it all up and set aside the factory wood floor since this would be reused as our subfloor. We cleaned and prepped, then sealed all the holes in the metal floor with Sikaflex 221.
Sikaflex 221 works great to seal and bond just about every type of material.
It stays flexible and doesn't harden.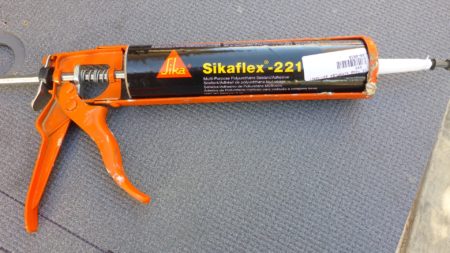 After all the holes were sealed, 80 mil thickness Fat Mat was laid down on the floor and wheel wells to quiet things down. The 100sq ft kit on Amazon came with a roller, a knife, and two 2×50 ft rolls. A little more than one of the rolls was plenty for the flooring and wheelhouses. I ordered extra to do some of the walls and doors.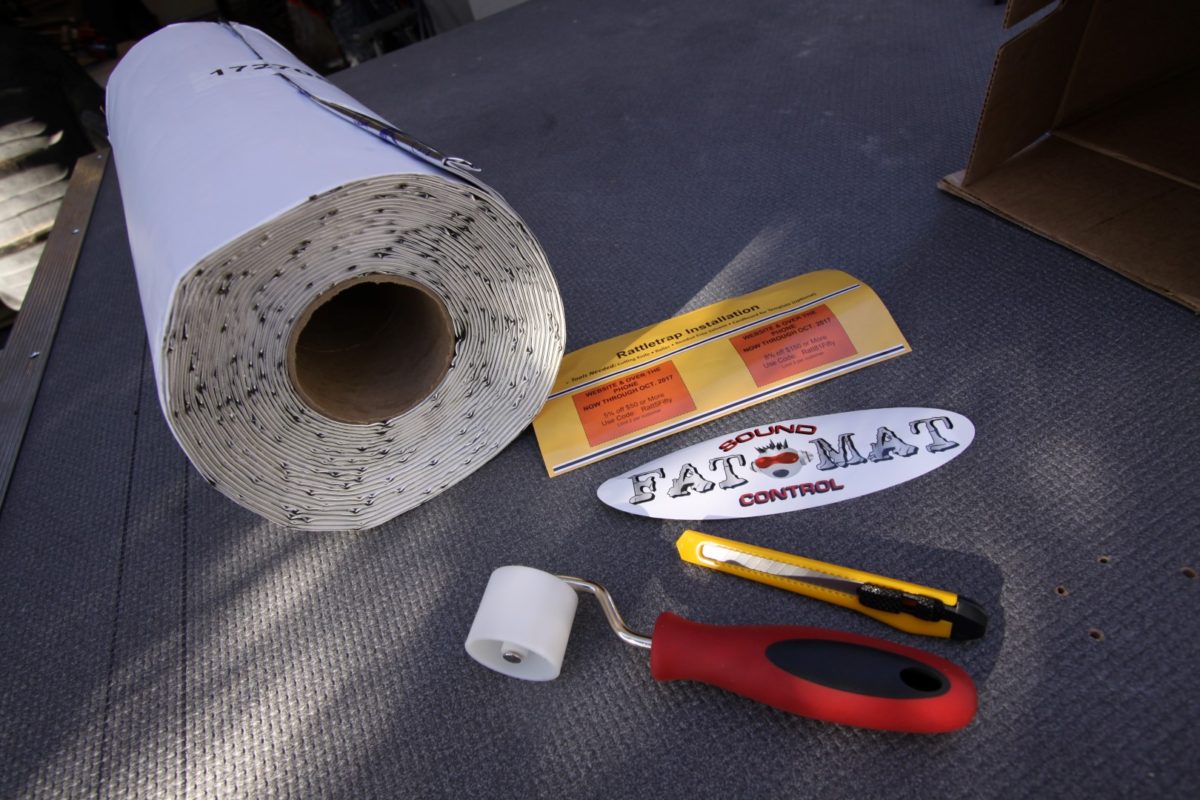 A layer of closed-cell foam with a radiant barrier was then installed on top of the FatMat sound deadening material. This foam layer of insulation acts as thermal barrier. We chose this material rather than Reflectix because it seemed more durable to be used under a floor. I didn't want to worry about the bubbles popping.
It was now time to work on installing L track to secure our bikes. L track (logistic track) is a high-grade aluminum track used to secure heavy loads. It has been used to mount seats in airplanes for years. There are three different styles of L track: standard surface mount, angled surface mount, and recessed mount. We didn't want to be tripping over the track so we went with the recessed mount. It was a bit more work to do, but it would also work well with securing our vinyl plank flooring.

Most L track comes with prill drilled holes about every 4 inches. Just to make sure our bolt holes aligned properly with the ribs in the floor, I bought recessed L track from Cargo Equipment Corp with any holes in it and drilled my own. It was a very tedious process, but I felt it was required.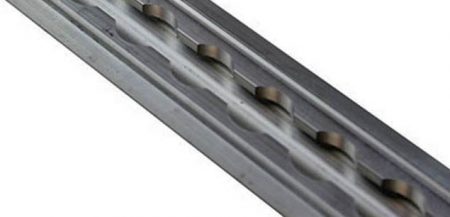 Now that the underside of the floor was complete, slits were cut in the factory wood floor to accommodate the recessed L track. In order to reduce the space between the track and the raised ribs in the floor, I cut out the foam insulation where it mounted to the floor.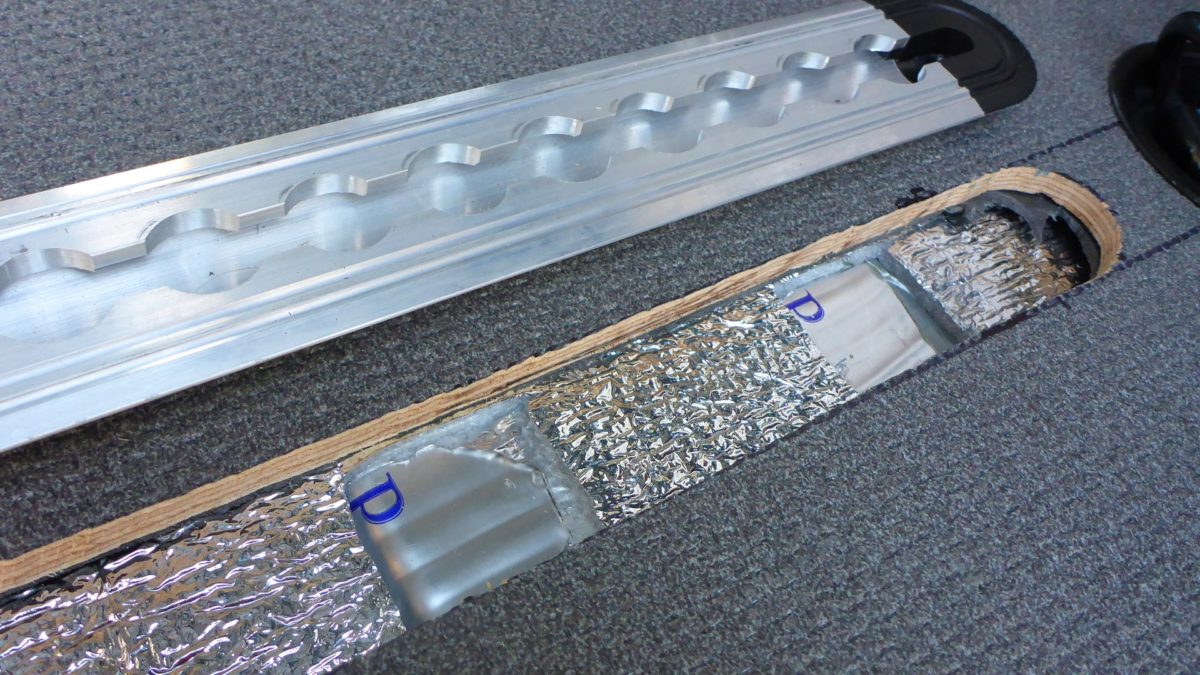 Once the L tracks were set into place, M6 stainless rivnuts were installed in the floor. Each L track utilizes about 7-8 mounting points (rivnuts and bolts) spaced about 6 inches apart. Washers were added in places like the factory D rings and l track mounting mounts so they would not clamp down too hard on the flooring.
UPDATE NOTE: Nylon washers will be a better alternative in this case due to the differences in metal. Over time, corrosion or rust may form with steel washers.
The floor was now ready for the top layer: faux wood LVP (luxury vinyl plank). Despite what we've heard from others about LVP being a bad idea, we decided to go with it anyways. Some concerns were the planks would separate in extreme temperatures causing gaps. We did not want a rubber or cheap-looking vinyl rolled floor though so we went with a "high end" Tranquility LVP flooring from Lumber Liquidators. We glued the flooring down with 3M 90 to hold it from shifting on the factory wood floor but also left an expansion gap at the ends where it meets the L track.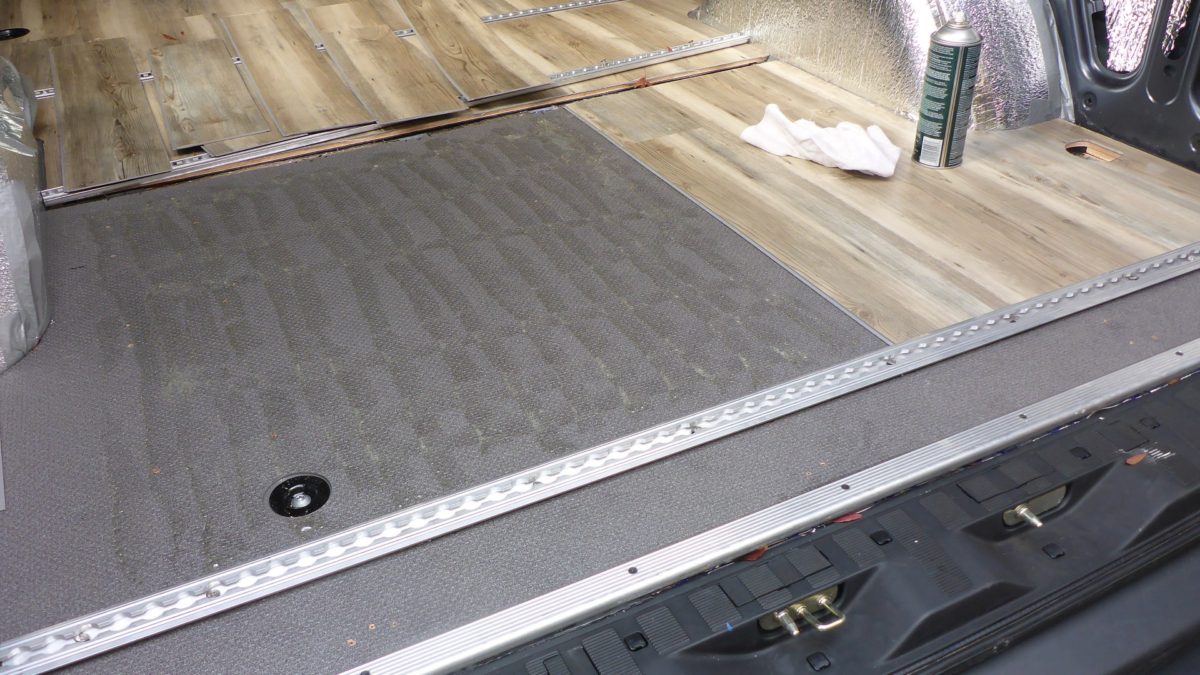 After two solid days, the floor was in and done! Precise cuts were not bothered with around the wheel houses since boxes would be covering those. Oh and I re-taped those wheelhouses with foil tape. We ran out and the duct tape obviously didn't work out so well.
It feels great to sit back and see the floor completed just how we had pictured it.
For the finishing touches, I added an aluminum strip under the rear factory threshold strip so you can't see the under-layers of material. (no pic)
Rubber coin grip flooring was glued to the slider step area and finished off with aluminum edging.
Parts and Tools Used
Comments
comments