You only turn 40 once in your lifetime. For my birthday, all I wanted was some adventure and cooler temperatures. Bring on the BAV! (Birthday Adventure Vacation) We left the scorching 115° heat of Las Vegas and headed north. Our "plan" was to eventually hit Yellowstone, but that would only be one of the destinations of our travels. We left the giant toyhauler RV at home and purchased a RoofNest pop up roof tent for this trip. The only problem was they were sold out and we would have to pick ours up in Denver on the way when the next shipment was soon to arrive. There was a chance the shipment, coming from overseas, could be delayed but we decided to take that chance. We packed our ground tent and air mattress as a backup and went for it. It already felt like an adventure and we hadn't even left the house yet. Many people need a reservation and specific plan for their vacation. Not us. We like that there are unknowns when we set off to have some fun. That's what makes it an adventure.
Day 1, Vegas to Moab
Loaded up with only the essentials, we headed north into Utah. Driving north out of Vegas, we could see the large cloud of smoke from the Brianhead fires.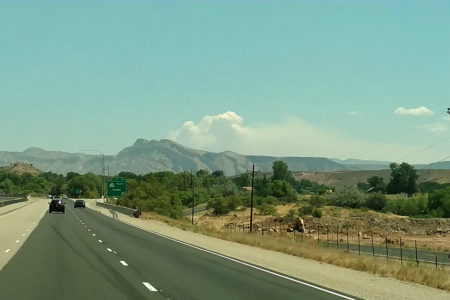 We stopped at a scenic rest area along the I-70. The truck was already fitted with our Thule roof rack and ready for the RoofNest.
Mountain Biking Canyonlands National Park
To break up the long drive to Denver, we stopped in Moab, UT to do some mountain biking and spend the night. We checked in to our motel, The Virginian, and set off to find some easy trails to ride. It was in the 90's so we weren't looking for anything too difficult. Luckily the MTB Project app was very useful for finding the trail we were after. We decided to ride one of their featured rides, Deadhorse Point Tour, which was at a slightly higher elevation in Canyonlands National Park. We parked at the Deadhorse Point visitor center parking lot and rode part of the Intrepid Trail System. It features a really fun and flowy singletrack that offers some killer views of the canyon. This green trail runs along the edge of the steep canyon walls, at a safe distance of course, through rocks and bushes. The terrain is awesome and fairly easy even for beginners. It isn't required, it counter-clockwise is the recommended direction.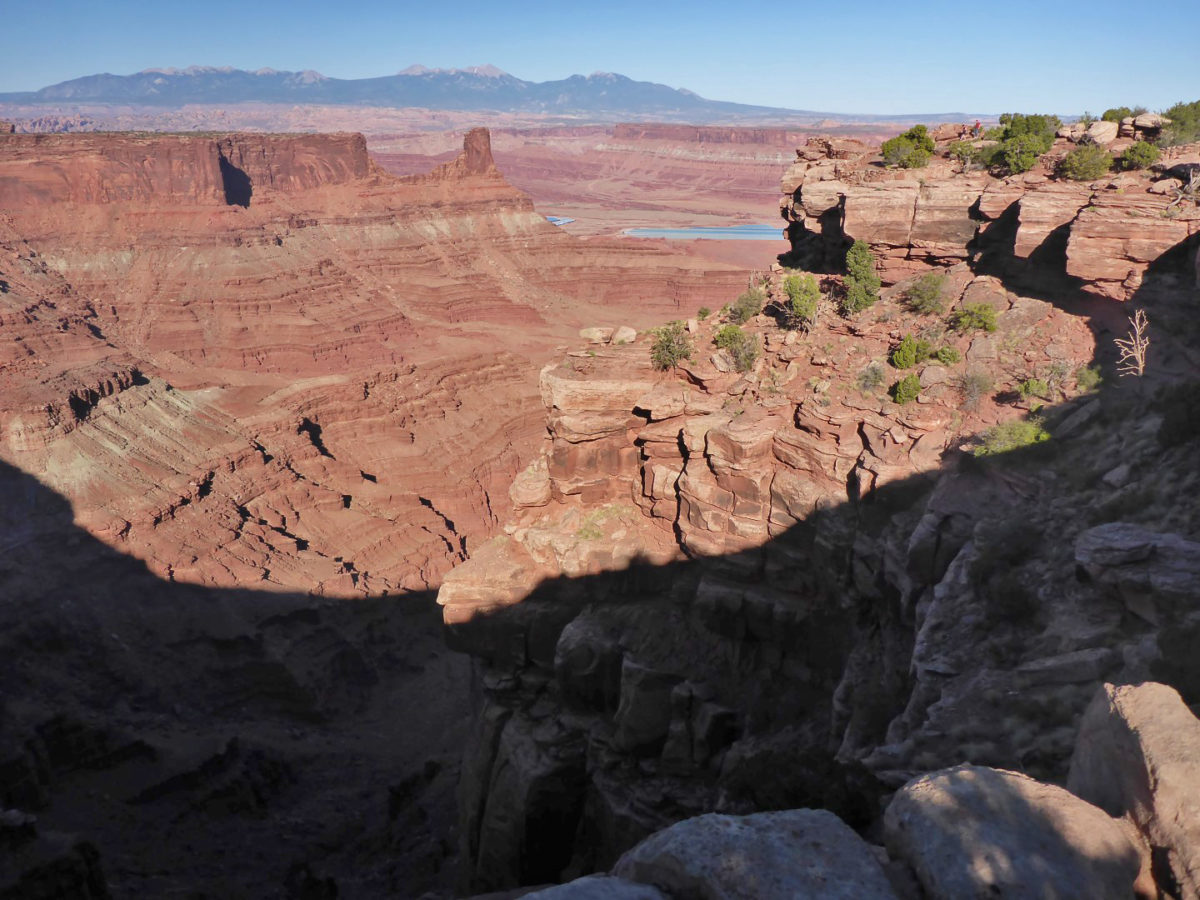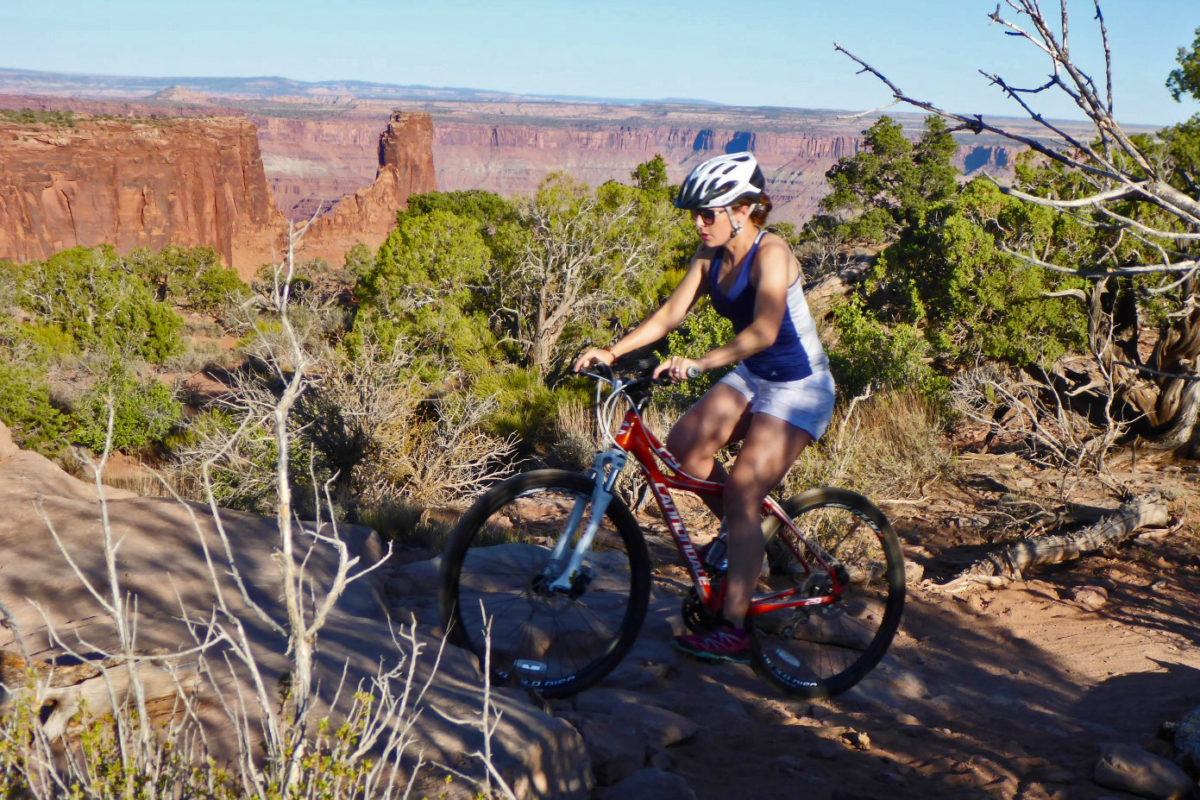 Along the trail, there are several scenic overlooks. They prefer you walk to them so the park service supplies bike racks for you to park your bike and then walk down to the edge.
The trails are mostly hard pack, well designated, and feature some of Utahs finest views and terrain.
There are trail signs at most major intersections where the trails branch off to longer sections. They even have signs that tell you which way is more fun.
After winding our way through god knows how many options of trails (sorry, my Strava failed miserably for some reason), the sun went down and we made our way back to the truck. I estimate we rode about 10 miles total.
After a good ride, we were ready for some grub. We stopped in at Pasta Jay's for some suds and some pizza. It was one of the only places still open after 10PM. They actually had Anna's favorite beer on tap too, Evolution Amber!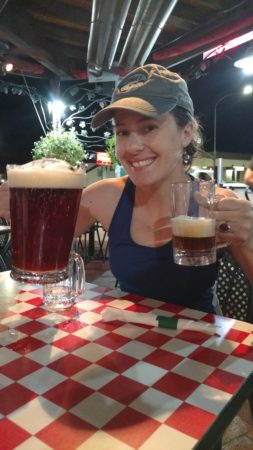 Review of The Virginian Motel in Moab, UT
5 STARS!
Thumbs up! Just what we were looking for.
Like I mentioned before, we stayed at the Virginian Motel. It was one of the cheapest priced places in Moab and the reviews were good so we gave it a shot. We didn't need anything fancy. It just needed to be clean. We were extremely and pleasantly surprised with this place.  They actually cater to folks like us that mountain bike and do outdoor adventures. There is a bike wash & tool station right in the parking lot. They even have towels available for cleaning off your equipment. The rooms were basic, yet extremely clean and didn't have that old nasty feeling. If you are ever in Moab and need a cheap, but awesome, place to crash and shower during your adventures, give the Virginian a shot. I think we only paid about $140/ night. Almost every other place was $200+.
That's a wrap on Day 1 of the BAV (Birthday Adventure Vacation)!
Up next, Arches National Park and Denver. (click on page 2 below)
Comments
comments