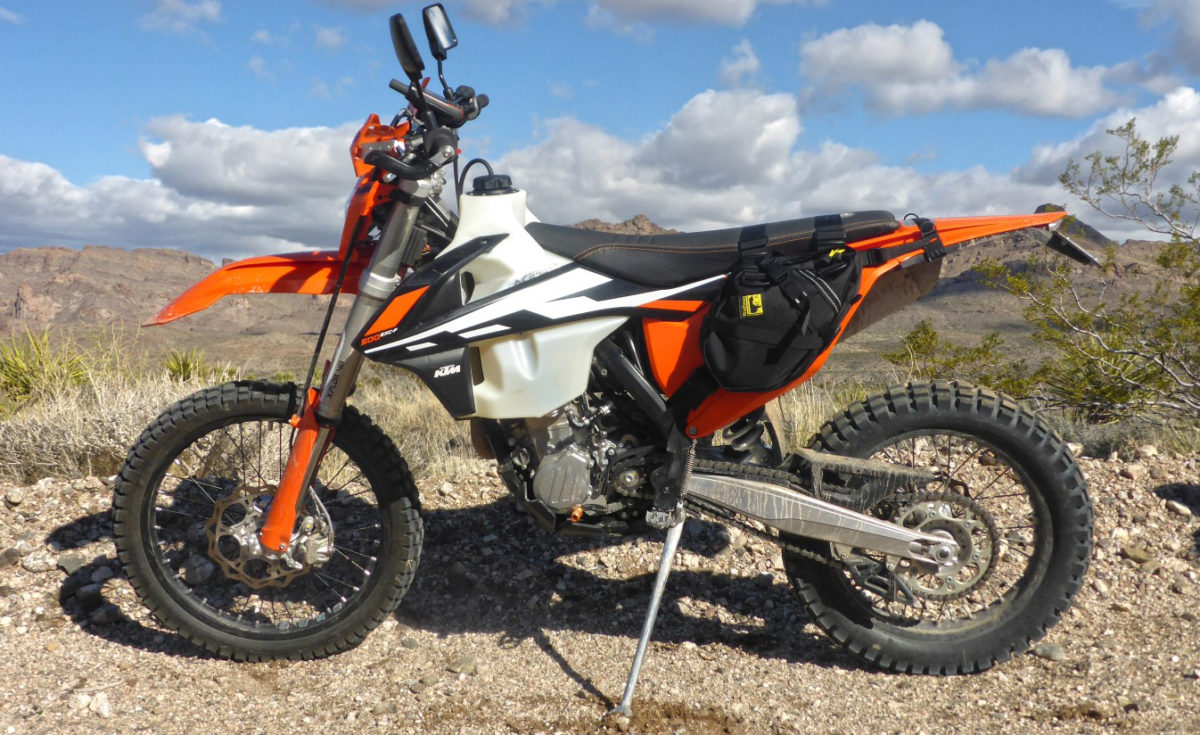 No motorcycle is ever ready to go from the factory, therefore everyone sets their bike up to fit their needs. There are always going to be things to make it more comfortable, perform better and be protected from the off-road elements. After picking up my 2017 KTM 500 EXC, I only got about 1 or two rides on it before the mods began. My buddy Greg at Head Down Throttle Back set me up with a pile of parts to get this project going.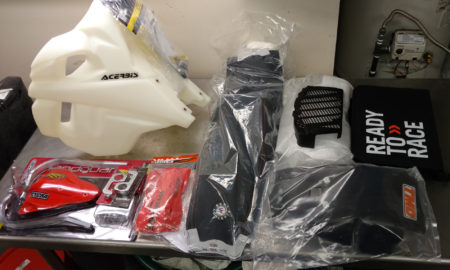 Tidy LED Taillight with Integrated Turn Signals
First things first. That super dorky factory taillight had to go. I cleaned up the back of the bike and installed a much lighter and smaller LED taillight/ turn-signal assembly. The turn signals are integrated into the sides of the taillight and flash orange. The bottom of the light even has a license plate light. I have one of these on my 690 and I love it. It makes for much less bulk on the back of the bike. It's a factory plug and play unit with KTM connectors so the install is a breeze. I purchased mine off eBay member pw_garfield. He has these available for multiple bikes.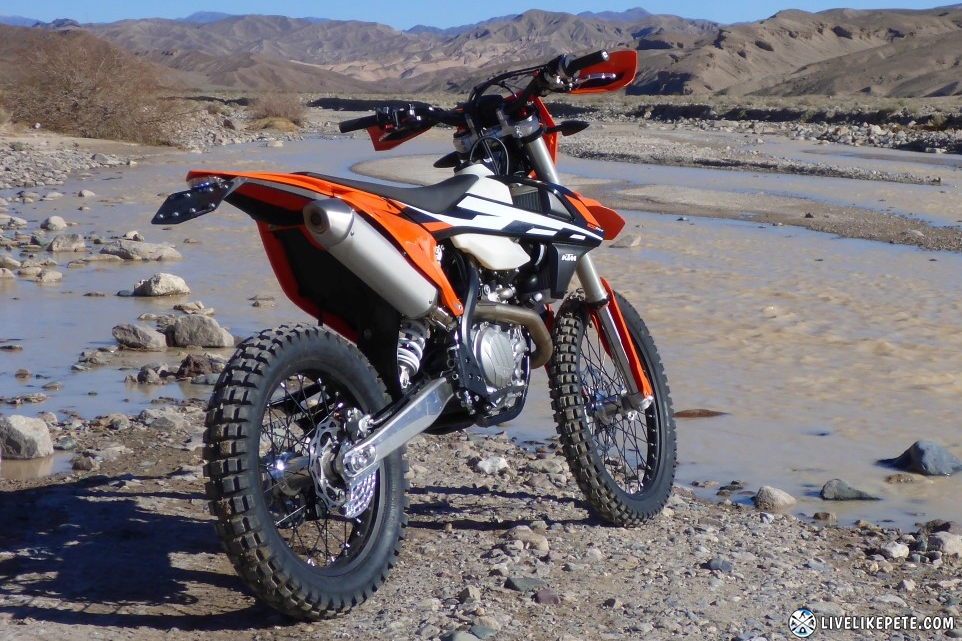 Ha! This thing is a joke right?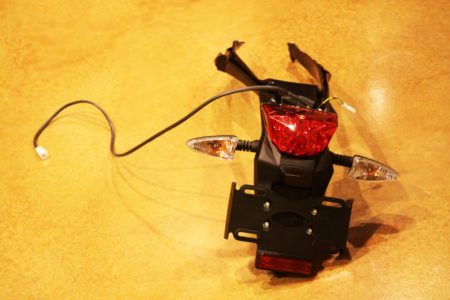 Ditching the Reflectors
Dirtbikes don't have reflectors. They came off and on went the WP Suspension XPLOR 48 fork protection decals.
TM Designworks Skid Plate
KTM doesn't even bother putting a skid plate on this bike from the factory. It's probably because it's the first thing to get tossed in the trash and upgraded. I chose to go with the plastic TM DesignWorks skidplate for a couple reasons.
less noise and vibration than aluminum
glides over logs and rocks easier
lightweight yet extremely strong
it is molded to the bike to provide better sidecase protection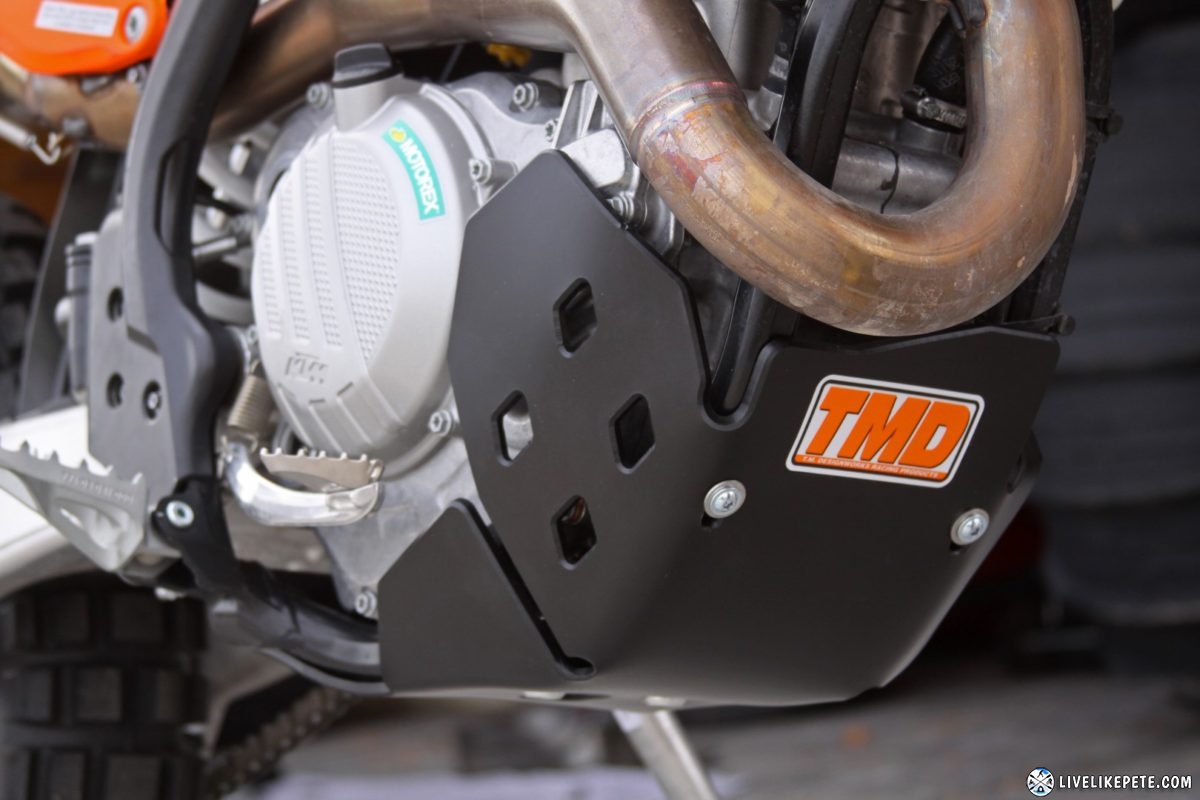 Cyra Handguards and Sicass Deflectors w/ LED Turn Signals
Every bike needs handguards. They help protect the rider's hands as well as the bars and levers when the bike goes down. I went with Cycra ProBend handguards and chose SICASS deflectors with the integrated LED turn signals. This allowed me to ditch the front factory turn signals that stuck out from the side of the headlamp mask. I want to keep this bike as trim as possible. Basically it is my barely legal bike. It's not going to see much street so I don't need all that bulky stuff sticking out on the trail.
Acerbis 4.1 Gallon Fuel Tank
The stock tank is only about 2.2 gallons which means rides are limited to about 100 miles. I upgraded to the Acerbis 4.1 gallon tank. IMS makes a 4.5 gal tank, however I was told by my buddy Greg at Head Down Throttle Back that he had to send back a handful of tanks due to poor craftsmanship and leaks. This Acerbis fit like a glove. It hugs the bike nicely and puts the weight as close to the motor as possible. My only gripe about it is the way the side panels attach to the radiator shroud. They give you 4 o-rings to use as straps to keep the side panels secured. Seems sort of like an afterthought, but so far it works just fine and hasn't bother me too much.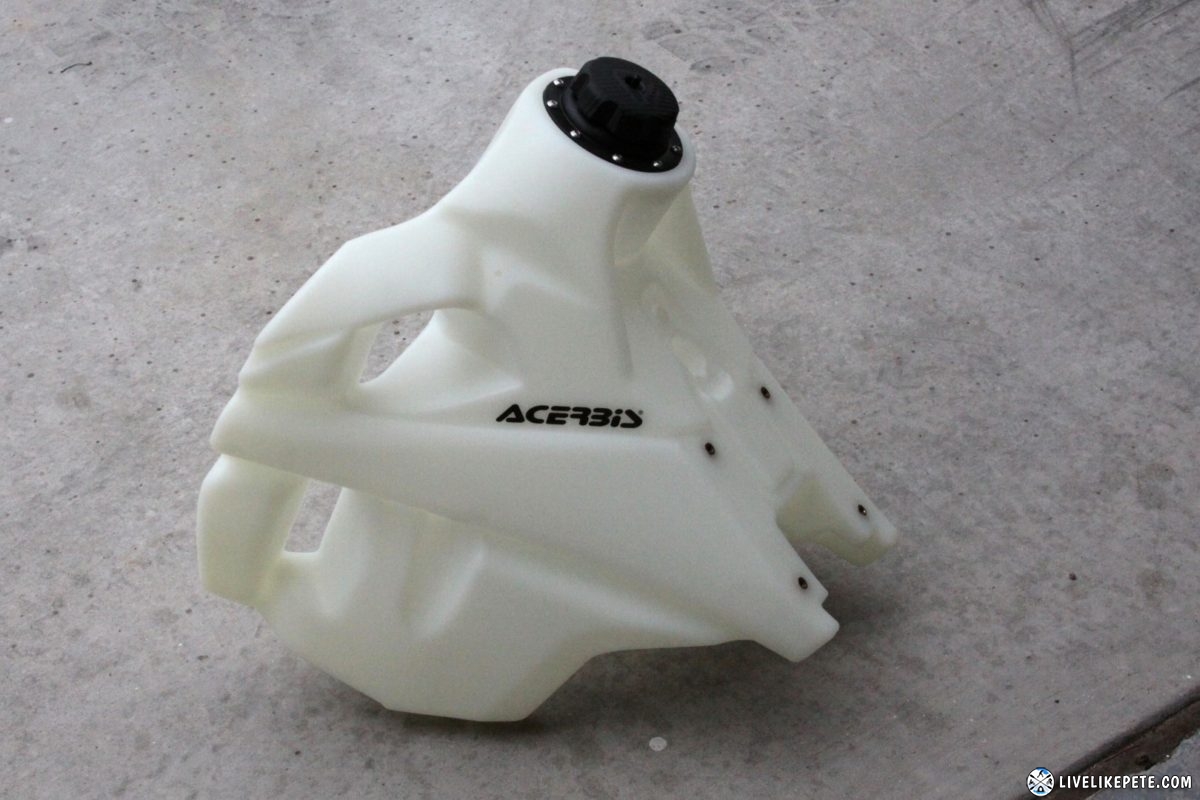 Installation was a breeze. Although the instructions were extremely vague, it wasn't difficult to figure out. The fuel pump gets transferred to the new tank and there are new fittings to use. I had to reuse the seals from the old fittings, but that wasn't an issue.
Here are some more photos during the day to show the fitment better.
Bulletproof Designs Radiator Guards
Although adding the larger tank serves as added radiator protection, I wanted as much as possible. There are a couple other brands out there, but the quality and fitment of the Bulletproof Designs Radiator Guards are amazing. They were very easy to install and felt like they were a factory piece.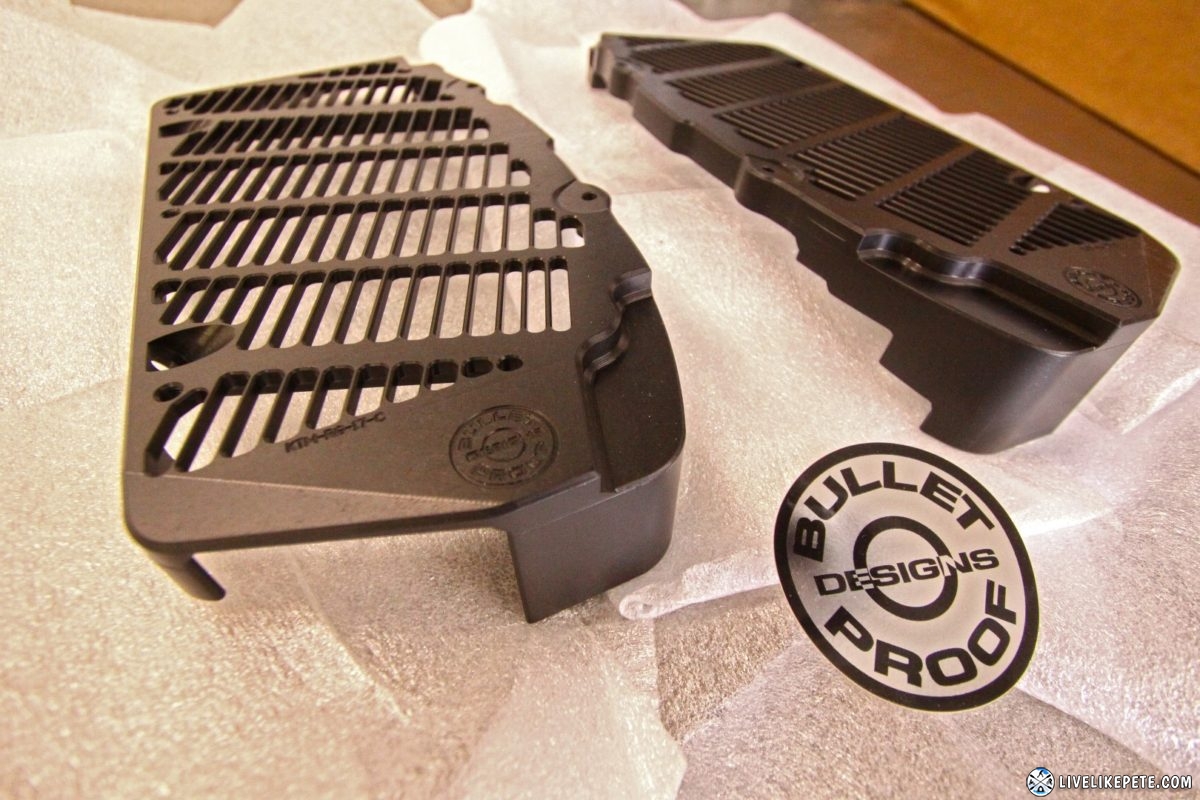 Since the guards were designed to work with the factory tank, the Acerbis tank was a little snug. So I clearanced a small piece from the middle section of the radiator guards.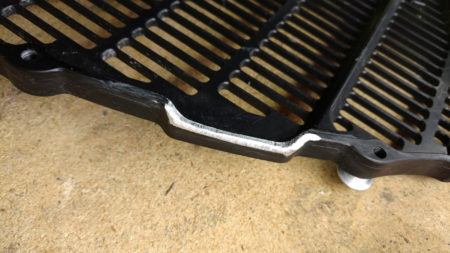 Seat Concepts
Although the factory seat feels nice when you push your thumb into the cushion, I found myself doing the side saddle shift from buttcheek to buttcheek on a rather short ride back from Nelson. It was only about 10-15 miles of pavement and my bum was already sore. I knew the bike would be getting a better seat when I bought it. Seat Concepts is the only seat I will run. The quality is top notch and the seat shape is much wider than stock for those long rides. They make a low, standard and tall height seat kit. I bought the Standard foam and cover kit and had it installed by an upholstery shop to my factory seat pan. It only cost me $30 labor.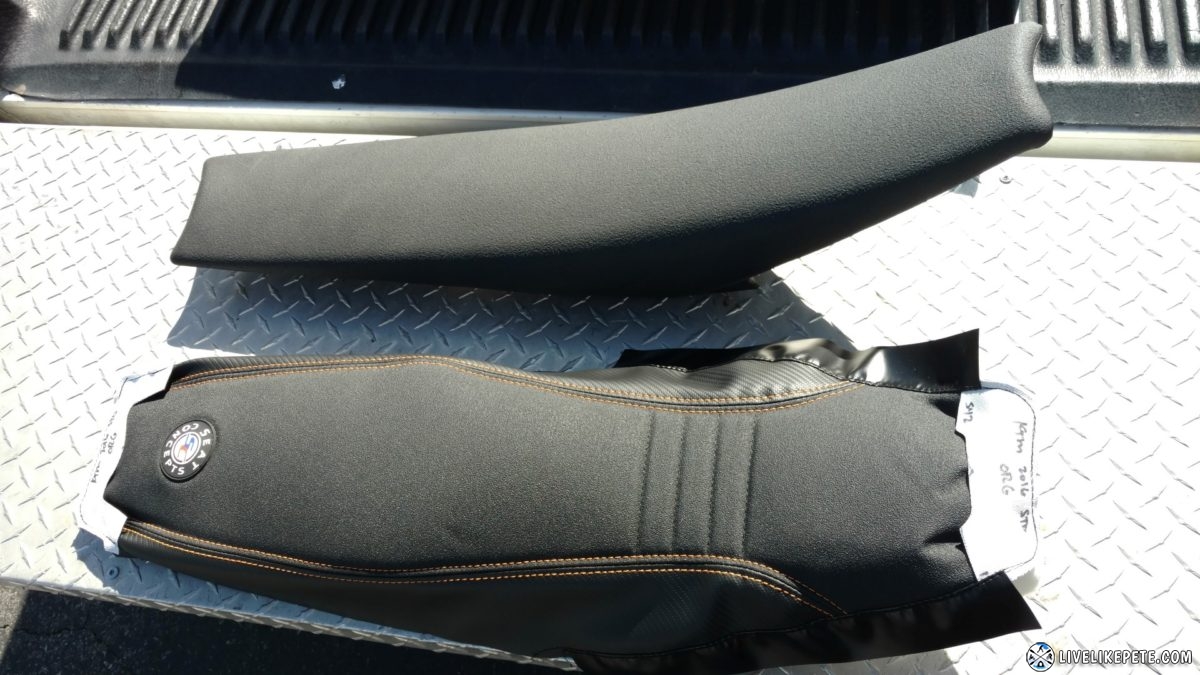 Hammerhead Shifter
While out on my first ride at Nelson, I dumped the bike on a hill and the shifter tip bent backwards. I found out how cheap the material was as it broke away. I upgraded to a Hammerhead shifter after that. It looks much better too in black and anodized orange.
Enduro Engineering Rear Disc Guard
Gotta protect that rear brake rotor. Enduro Engineering makes a very nice and strong rear disc guard for under $100.
Wolfman Daytripper Bags
Although I don't plan on loading this bike up with camping gear and doing multi-day rides, I do plan to do long day rides and that means I'll need to carry spare tubes and tools. The best alternative that I found to carry that stuff without hindering my ability to ride aggressively is the Wolfman Day Tripper bags. They have plenty of space to spare and don't get in the way.
Pipe and Remap
I added the FMF Factory 4.1 anodized titanium silencer with titanium end cap. The blue anodized color looks awesome on the bike and although the carbon cap would have been cool to have, I heard of some guys breaking theirs so I went with full titanium. After quite the fiasco of trying to get my bike remapped at Carter Powersports here in town (Las Vegas), I ended up bringing the bike back up to Utah and had Rocky Mountain reflash my ECU for me. They had me in and out in about 30 minutes and had no issues flashing the Euro map into my bike. The remap is a must anytime you make the bike to breathe better. More airflow means more fuel is needed.
Uncorked and Retuned for More!
I went a step further after the Euro map and removed the reed cage, desmogged and had Blais Racing remap my ECU for the FMF and uncorked intake. I wanted to make sure it wasn't running lean. Afterwards, it ran like a KTM should! It was a huge upgrade and increase in power and throttle response. So if you already have the Euro map installed, which unlocks the ECU for future programming, I would highly recommend the remap from Blais. If you haven't had the Euro map installed, I have heard that KTM no longer allows dealers to reflash the Euro map and it is no longer available! In this case, you would need to buy a Vortex ECU to get the same results. I have heard great things about it though! It just costs a bit more cash. For a more detailed about this upgrade check out my blog post, '17 KTM 500 EXC-F Build Up.
2017 KTM 500 EXC-F Product Links
Here's a list of links to the products I purchased for my build.
Tidy Taillight: http://www.ebay.com/itm/KTM-2017-500-450-350-250-EXC-Six-Days-LED-Taillight-with-Integrated-Turn-signals-/192104089376?hash=item2cba4bc720:g:o6cAAOSw44BYE28z&vxp=mtr
TM Designworks Skid Plate: http://tmdesignworks.com/index.php?main_page=product_info&cPath=325_327_354&products_id=1218
Acerbis 4.1 Gal Tank: http://shops.hookit.com/acerbis/ViewProduct/SXF250350450XC-F25035045016-17EXC-F350450500174galFuelTank/4419.aspx
Sicass LED Turn Signal Hand Guards: http://sicassracing.com/store/products/turn_signals/led/sicass_ktm_orange_turn_signal_hand_guard_deflectors?cPath=46_52
Seat Concepts: http://www.seatconcepts.com/store/products#!/KTM-2016-SX-XCF-2017-SX-XCW-EXC/p/56974343/category=15050042
Cycra Probend Handguards: https://www.rockymountainatvmc.com/p/962/51366/Cycra-Probend-Alloy-Bar-Pack-Handguards
Cycra Handguard Clamps: https://www.rockymountainatvmc.com/p/962/20317/Cycra-Handguard-U-Clamps
Hammerhead Shifter: https://www.rockymountainatvmc.com/p/3116/40580/Hammerhead-Forged-Shift-Lever-with-Knurled-Tip?v=13127
Wolfman Day Tripper Bags: https://www.rockymountainatvmc.com/p/1033/69728/Wolfman-Day-Tripper-Saddle-Bags-V1.7?term=wolfman+day+tripper+saddle+bags
FMF 4.1 RCT Anodized Titanium Silencer with Titanium End Cap: https://www.rockymountainatvmc.com/p/902/56380/FMF-Factory-4.1-RCT-Anodized-Titanium-Silencer-with-Titanium-End-Cap?v=13127
Blais Racing ECU remap and desmog blockoff kit:
https://www.blaisracingservices.com/2012-2017-ktm-husqvarna-custom-ecu-mapping.html
https://blaisracingservices.com/2017-ktm-450/500-exc/-2017-husqvarna-fe450/501-s-block-off/-delete-kit-breather-hose-relocation.html
Up Next
Scotts Dampener: I still plan to add a steering dampener, which is a must in the desert.
Tires: Once the factory TKC80 tires are burned off, I'll upgrade the tubes to HD tubes and install a Pirelli Scorpion Rally up front and something a little more aggressive on the rear like a Moto Z Tractionator.
Mirrors: Although I was originally planning on running small, convex mirrors on my bars to stay legal, this bike rarely sees pavement. Even when it does, it's for short stretches so I have just taken them off completely.
Got Questions?
No problem. Leave a comment below or drop me a line.
Comments
comments