Why Did I Choose Skydio 2?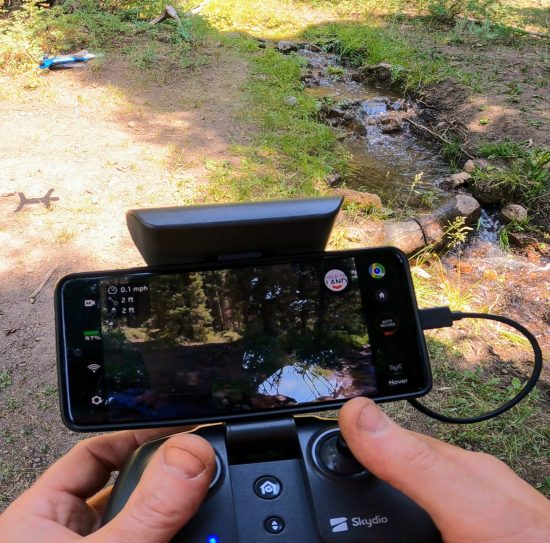 I have always wanted a drone to stunning capture aerial views of me riding my dirtbike, exploring in our Sprinter van, or just getting a bird's eye view of some awesome landscapes while on adventures. The only problem was I didn't have someone to fly it for me! Although many of the drones on the market today have some sort of "follow-me" mode, they still aren't foolproof and can crash into things. Not only that, if I'm busy riding a motorcycle or mountain bike I'm not going to be able to control it very well. With the Skydio 2, they have developed a fully autonomous drone for active outdoor people like myself. Its specialty is tracking you and capturing the action all while maintaining full crash avoidance thanks to its six 200-degree cameras which create a live 3D map of its surroundings. It automatically goes around objects that are in its way and gives you super-smooth, 4K cinematic-quality footage of whatever it is you're doing. That's not all though. There are times I want to be able to fly it around manually to get a specific style of shot. The good news is I still can! Even in full manual mode, it will avoid crashing into anything you might accidentally fly near or into. This is some great insurance and was exactly what I needed!
Skydio 2 Quick Specs
Here are some of the specs that just about any drone pilot will want to know when buying a new drone.
Camera: 4K60 HDR
Speed: 36 mph
Range: Up to 2.17 miles with the controller, ~.93 miles with the beacon, and 656 feet with the phone app but range depends on GPS & wi-fi signal.
Range in tracking mode: 66ft with the phone app, 130ft with beacon
Battery: ~23 minutes
Autonomy: Includes six 200 degree color cameras to create a 3D map of its surroundings that includes trees, people, buildings, and more.
3 Ways to Fly
Phone App
Subscribe to my YouTube channel
Beacon
Controller
Final Thoughts: Pros and Cons
The good: For anyone who is looking for a drone that tracks you, I believe there is no better option for the money than the Skydio 2. I found it very easy to control and fly no matter which controller I was using. Obviously, there is much more control and you can make it do exactly what you want when using the actual controller, but with the built-in skills and tracking modes, you can capture some awesome video with just the phone app or beacon. But don't let that keep you from buying the controller. It's really fun to fly and don't forget it still has obstacle avoidance when flying manually! I found it to be fast enough, have plenty of range, and the battery life always met my expectations. The photo and video quality are top-notch thanks to its impressive Sony camera.
The bad: As smart as it is, you CAN still crash it. I did. You just have to be a little careful where you fly it. It can see just about everything, but things like thin branches and wires or cables are things it will fly right into. Just be aware of these things when in tracking mode and if you are near them, use fixed tracking mode and not motion tracking. This way it won't fly around and make abrupt maneuvers that may put it in a crash situation.
Skydio 2 Coupon Code
Save $ when you use coupon code LIVELIKEPETE at checkout!
https://skydio.pxf.io/livelikepete
Comments
comments