Recently I was contacted by Jordan, a rider traveling from British Columbia, Canada looking for information on places to ride and people to link up with. It turns out that through his searches for a good ride spot in Nevada, he came upon Nelson Hills, my favorite place to ride and also my backyard. I had to show him around so my buddy Mike and I formed a plan to meet up for a Sunday ride.
I left my house on my KTM 500EXC to meet Jordan and Mike out at Nelson. Jordan was camped out there in his self-built home on wheels. His enclosed trailer has everything he needs to camp and haul his toys. While we waited for Mike to arrive I checked out his build. After building out our Sprinter van, I could appreciate every detail. I was impressed. His rig allows him to be fully self-sufficient.
Mike arrived and we got ready to hit some trails. I was on my 500EXC, Mike was on his XR650l and Jordan was on his street legal KTM 300XC.
We meandered through Nelson, riding the ridges and negotiating some rocky hill climbs heading towards our common place to take a break and enjoy the view, "the Nelson Ball". Once we got up there, Jordan noticed his turn signal must have fallen victim to the whoops and G-outs that we were pounding through. Not to worry though, a little Gorilla tape fixed her right up.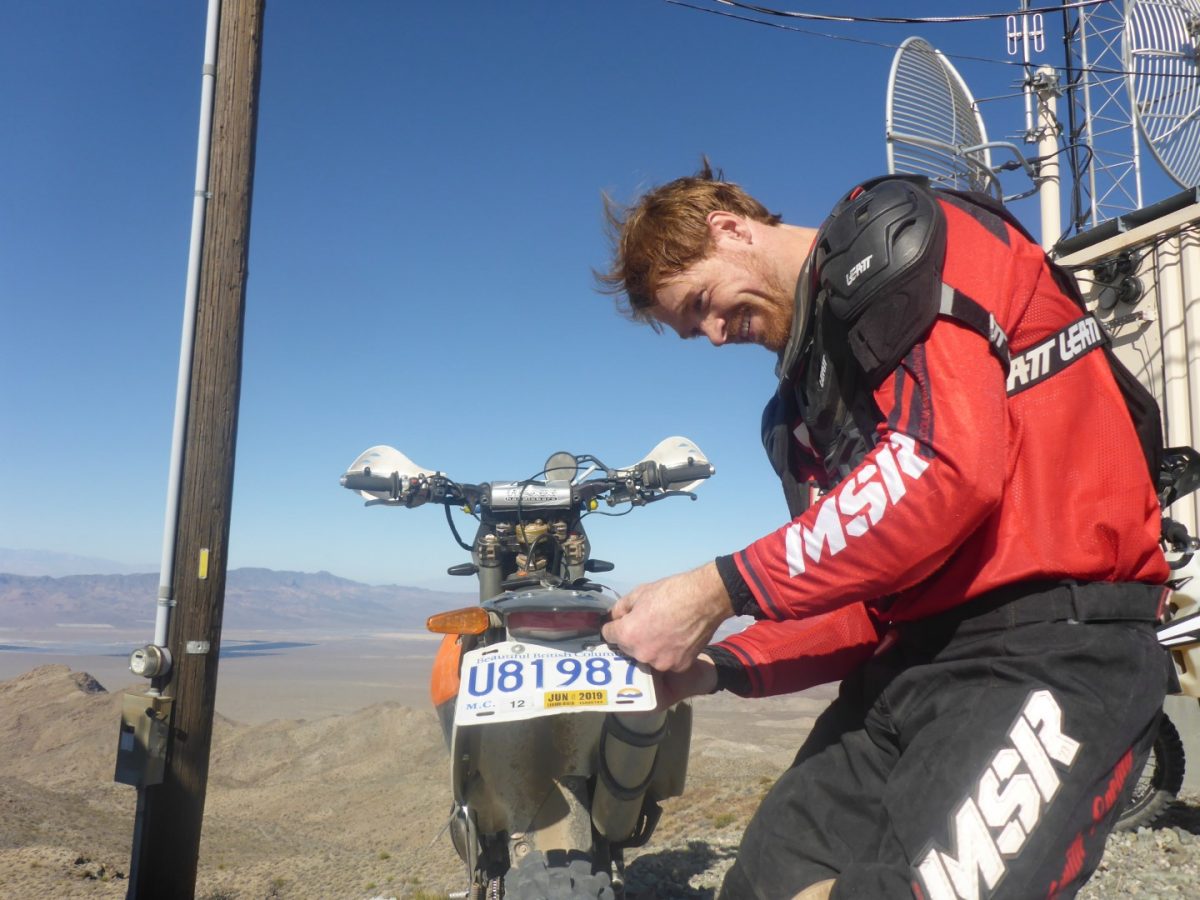 The next stop was Knob Hill. We took our usual route down the side of the mountain. It's a steep descent with plenty of loose shale rock and pokey Yuccas to keep you on your toes. There are obviously no pics from this since my one-handed riding abilities don't work on this trail. After riding down the singletrack ridges and washes, we popped out at the powerline road to Knob Hill.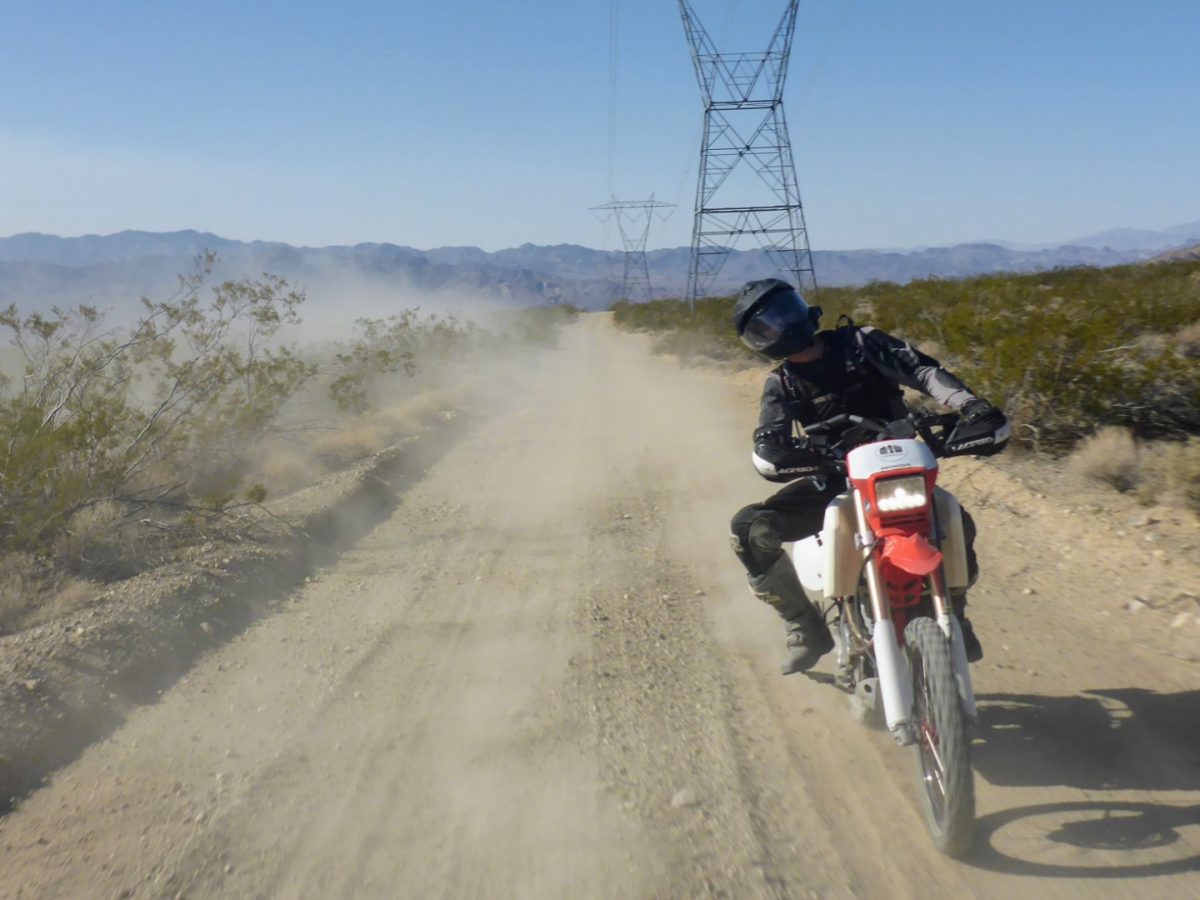 Jordan apparently never has to replace front tire since it's never on the ground. That boy can wheelie!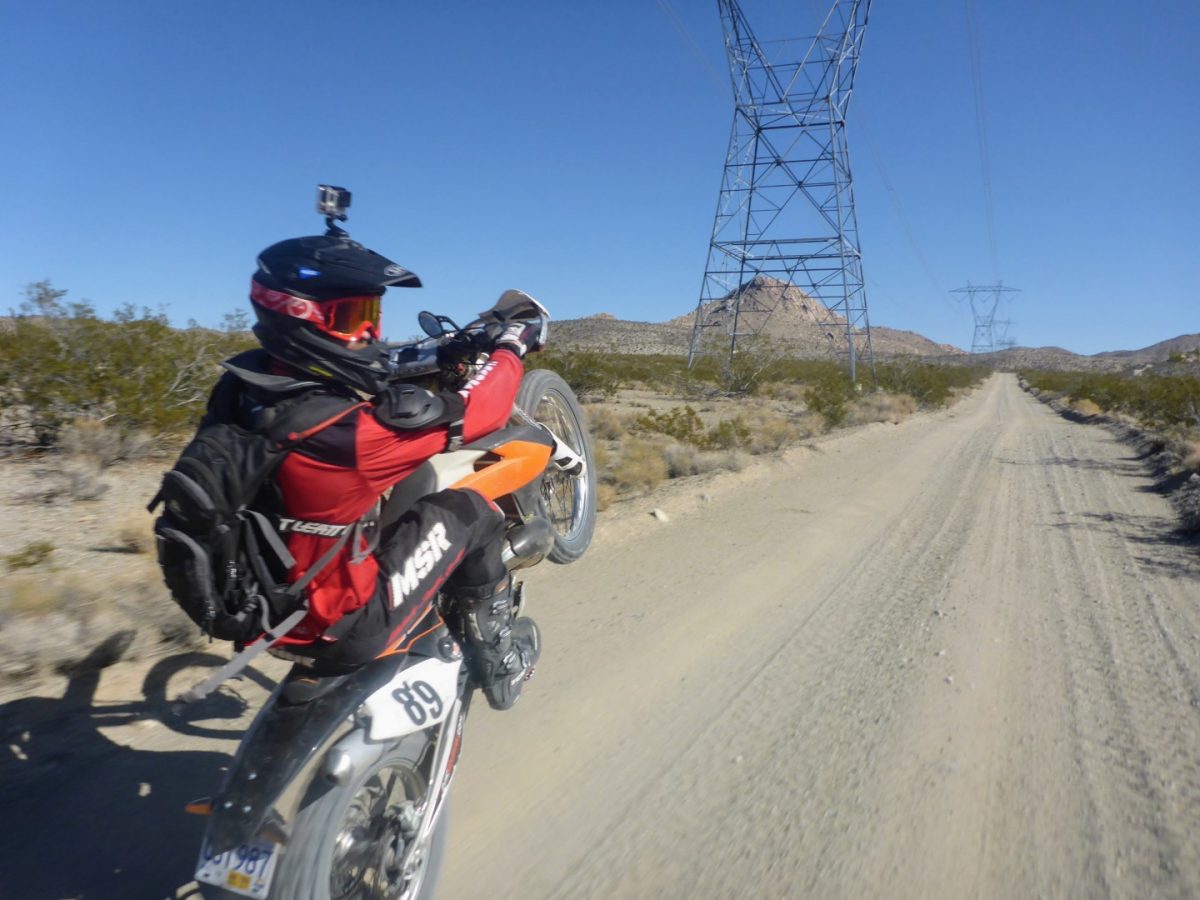 As we pulled up to Knob Hill I could hear Jordan say "holy crap!" Knob Hill is a really cool place to check out if you've never been there.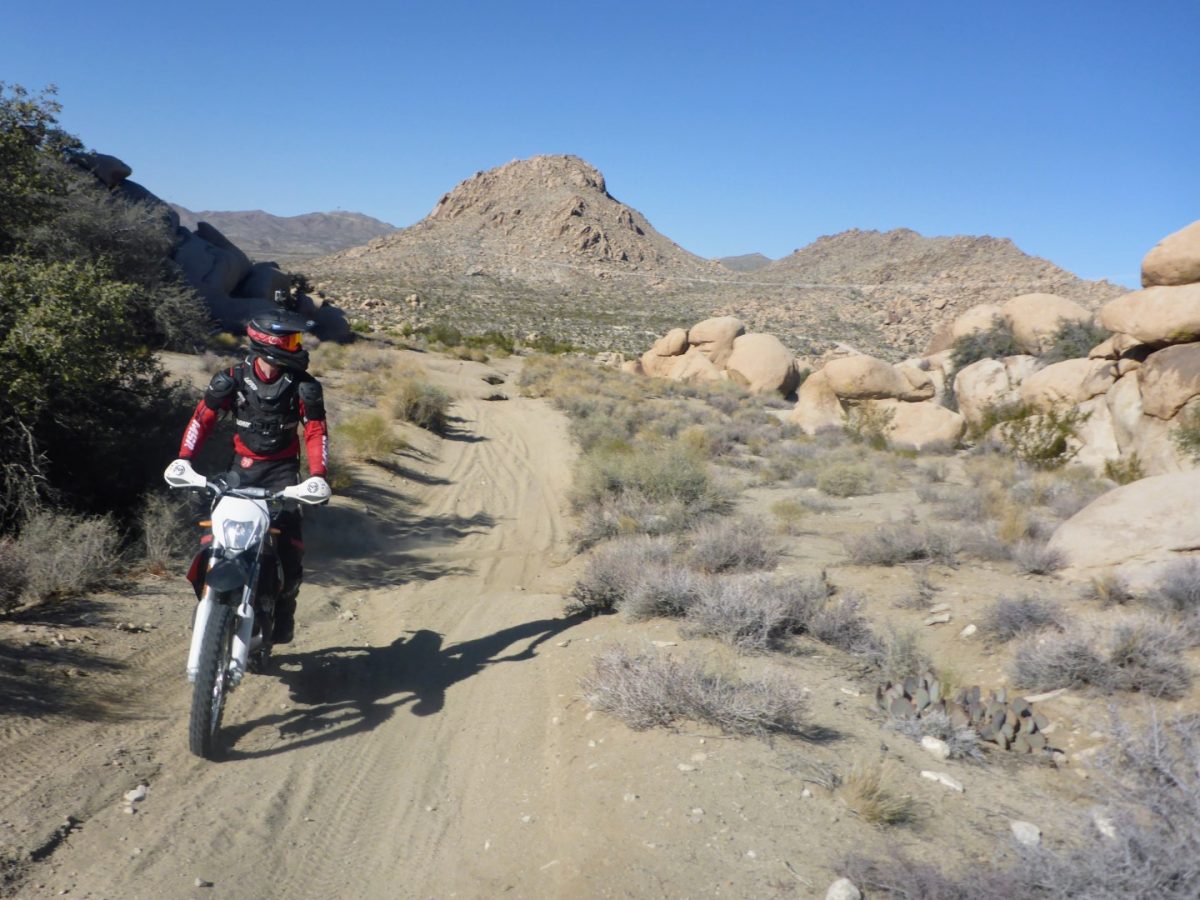 The rock at Knob Hill is very unique. It is like sandpaper but looks like granite. I would call it sandstone, but after researching what kind of rock it is I found out it is quartz monzonite. Quartz monzonite is a coarse grain granitic rock that is primarily composed of quartz, plagioclase feldspar, and orthoclase feldspar. Granite actually contains more than 20% quartz where as quartz monzonite is only 5–20% quartz. You learn something new every day!
Regardless of what those big ass boulders are made out of, Jordan had to climb them!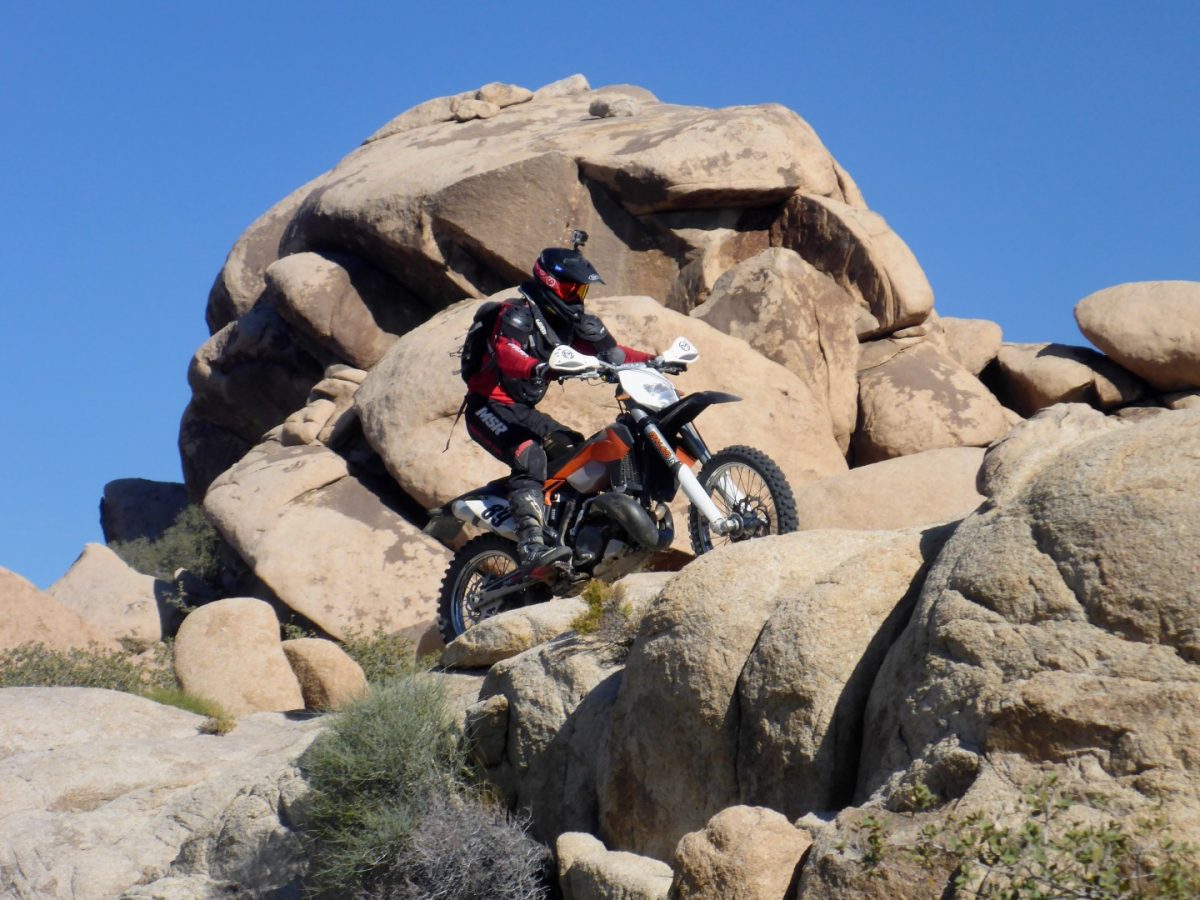 We played around on the trails and rocks for a bit then headed south to Searchlight.
There goes that front tire again! LOL This was my view most of the day.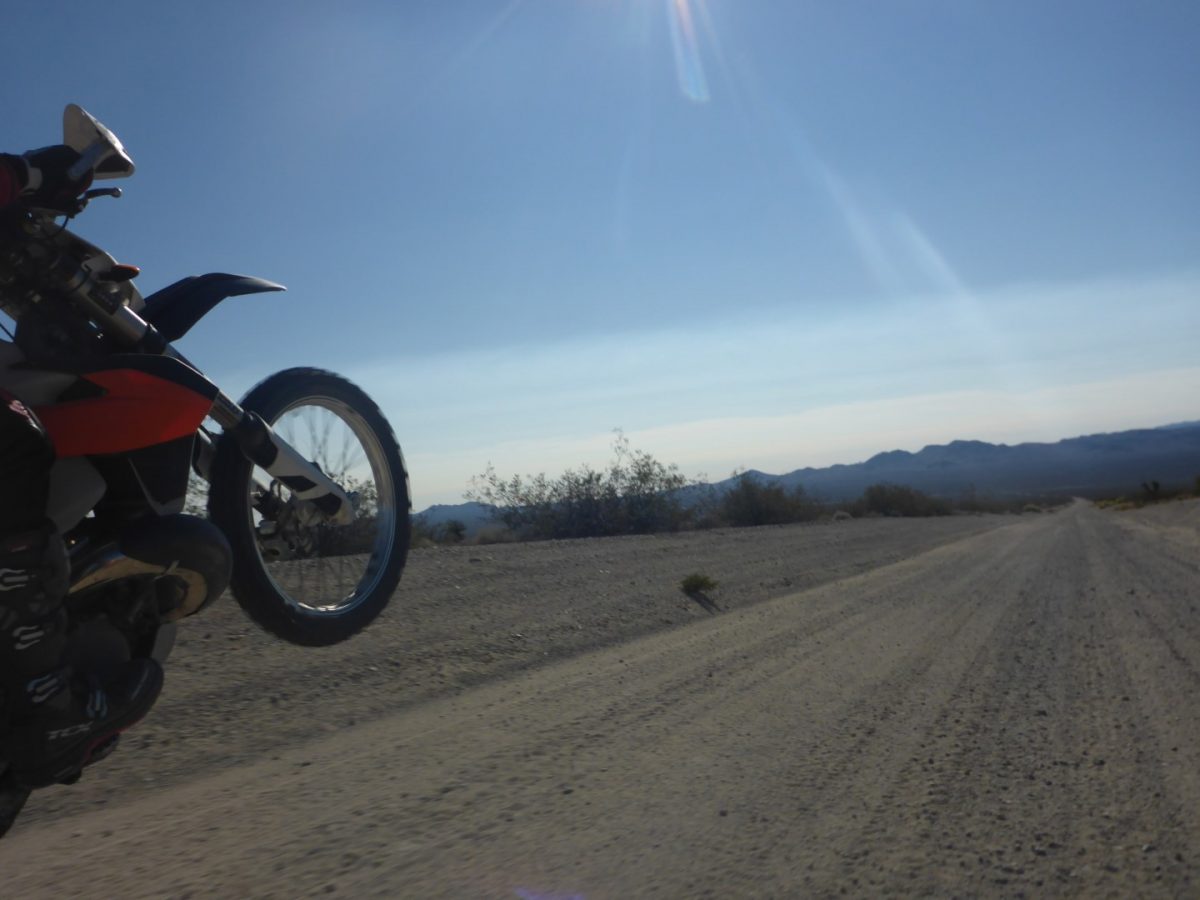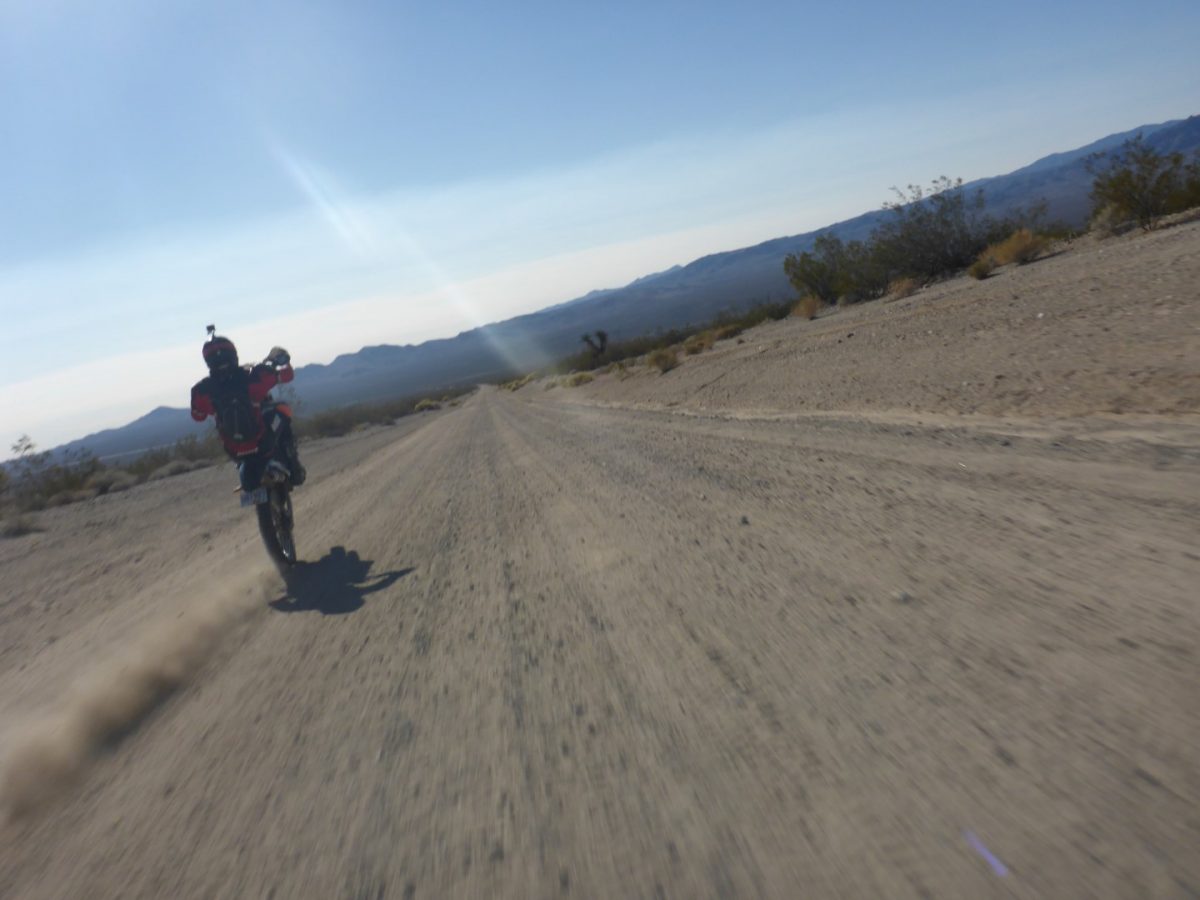 We went ripping down the powerline road at usual desert cruising speeds…74 mph to be exact.  😀 A quick detour through the barbed wire forest was in order. It's a super narrow, winding trail that is full of cactus, Joshua Trees and whatever else the desert feels like stabbing you with. You have to be on your toes riding through there, but it is super fun! We all made it out unscathed at Cottonwood Rd.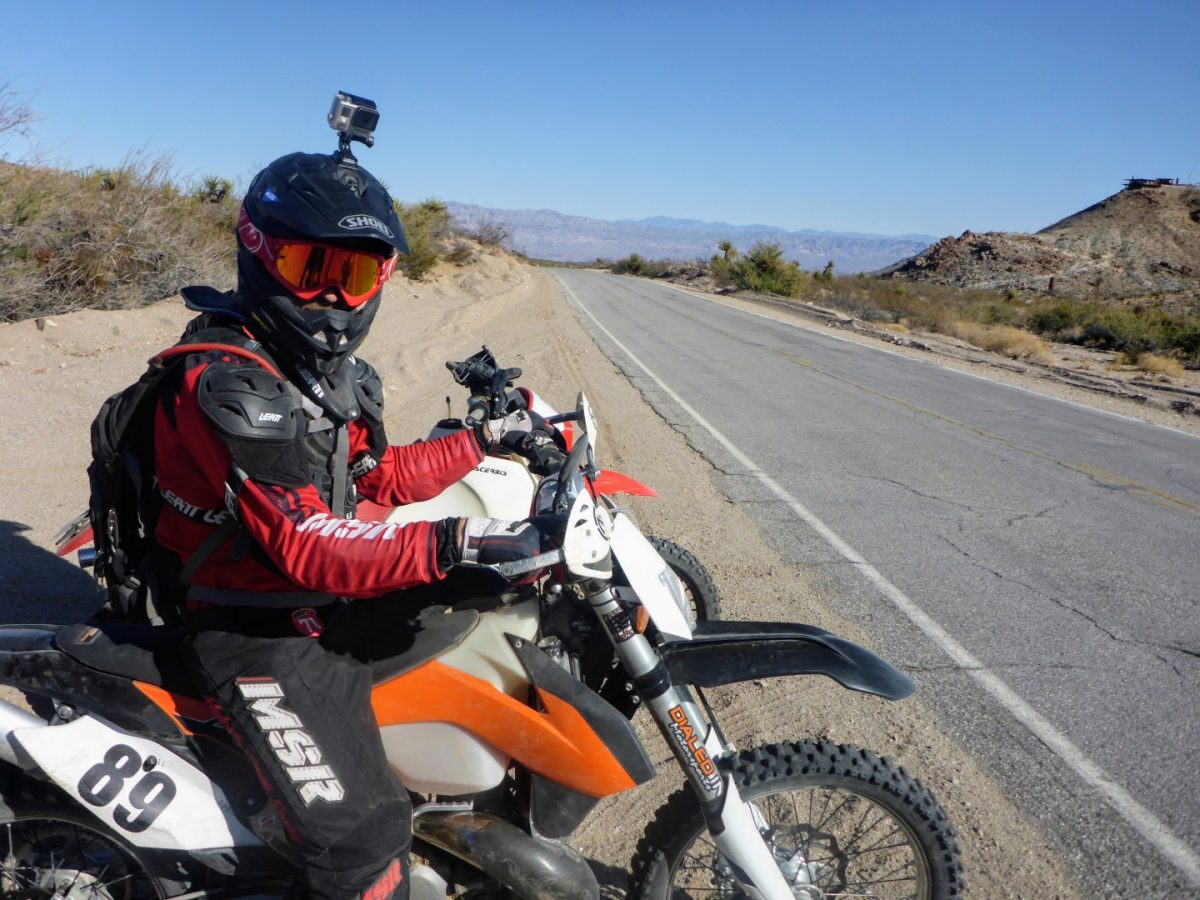 We pulled into Searchlight at Terrible's Casino to find that the old, ghetto cafe got a nice makeover! It is now a Denny's. Searchlight is getting fancy these days!
The food was great and wasn't on the table for very long which is why there are no food pics. We stopped off at Chevron to top off our fuel. Jordan's 300 was getting pretty good mileage (considering), but it was good that he brought some 2 stroke oil so he could top off and not worry about range.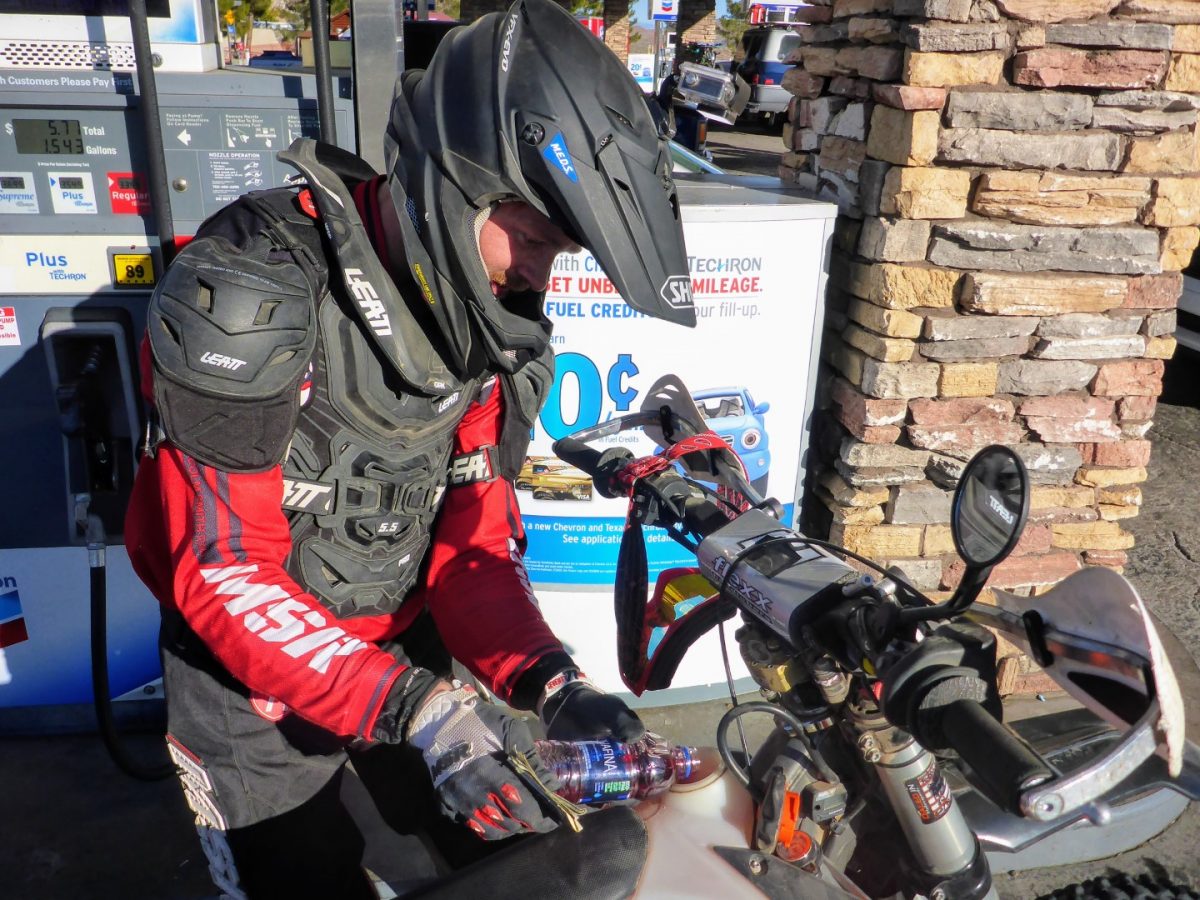 Cruising along Grandpa's Rd at a good pace wasn't entertaining enough for Jordan, so he did ½ mile-long wheelies at 60 miles per hour over brush and washouts. 😯 This guy's a crackup.
We made our way back through Nelson, taking a slightly different route back to Jordan's truck. There was no shortage of singletrack or ridges though. I really love riding here, especially late in the day when the sun is getting low.
As we were cruising through this wash, a coyote had just run across the trail. I wish the camera would have caught him in time.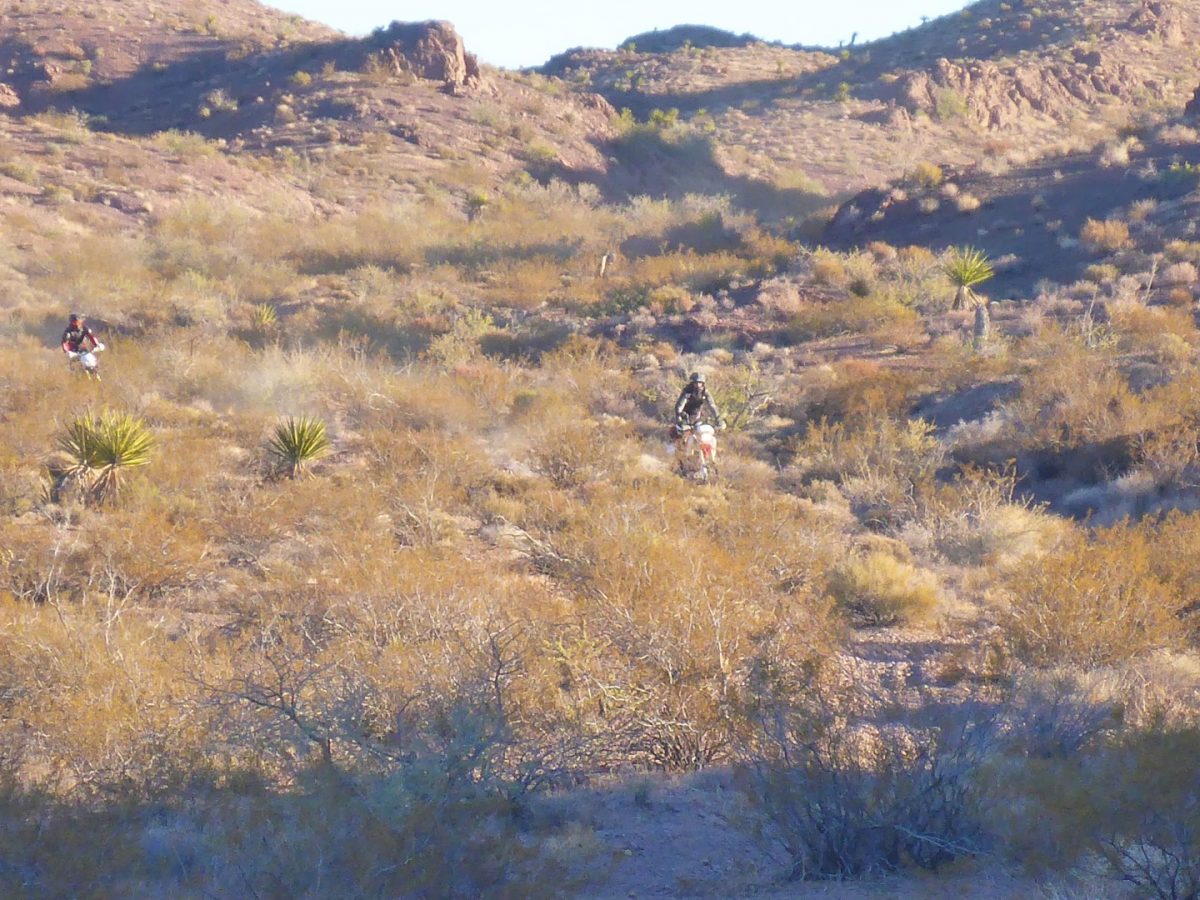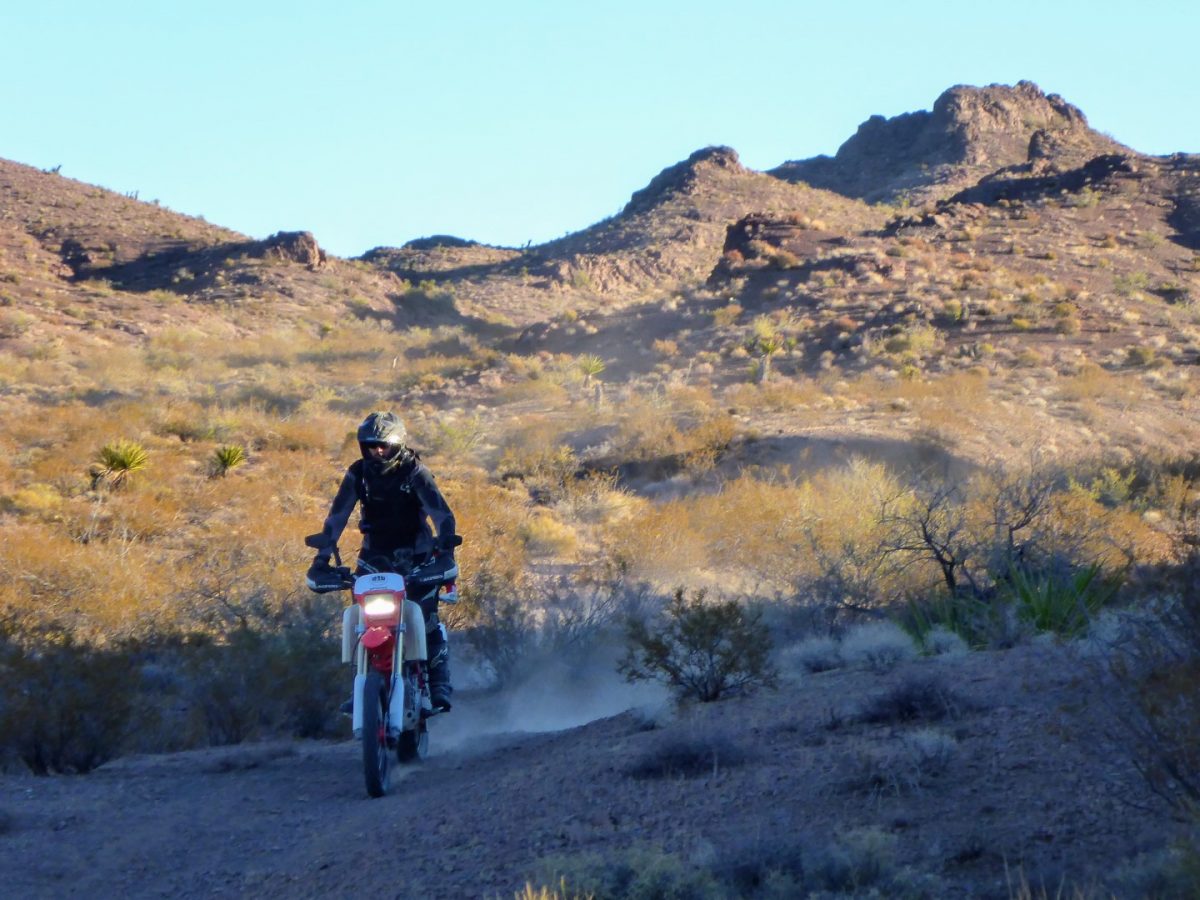 We got back with about an hour of daylight left before the sun went down. It was a great day to be on two wheels!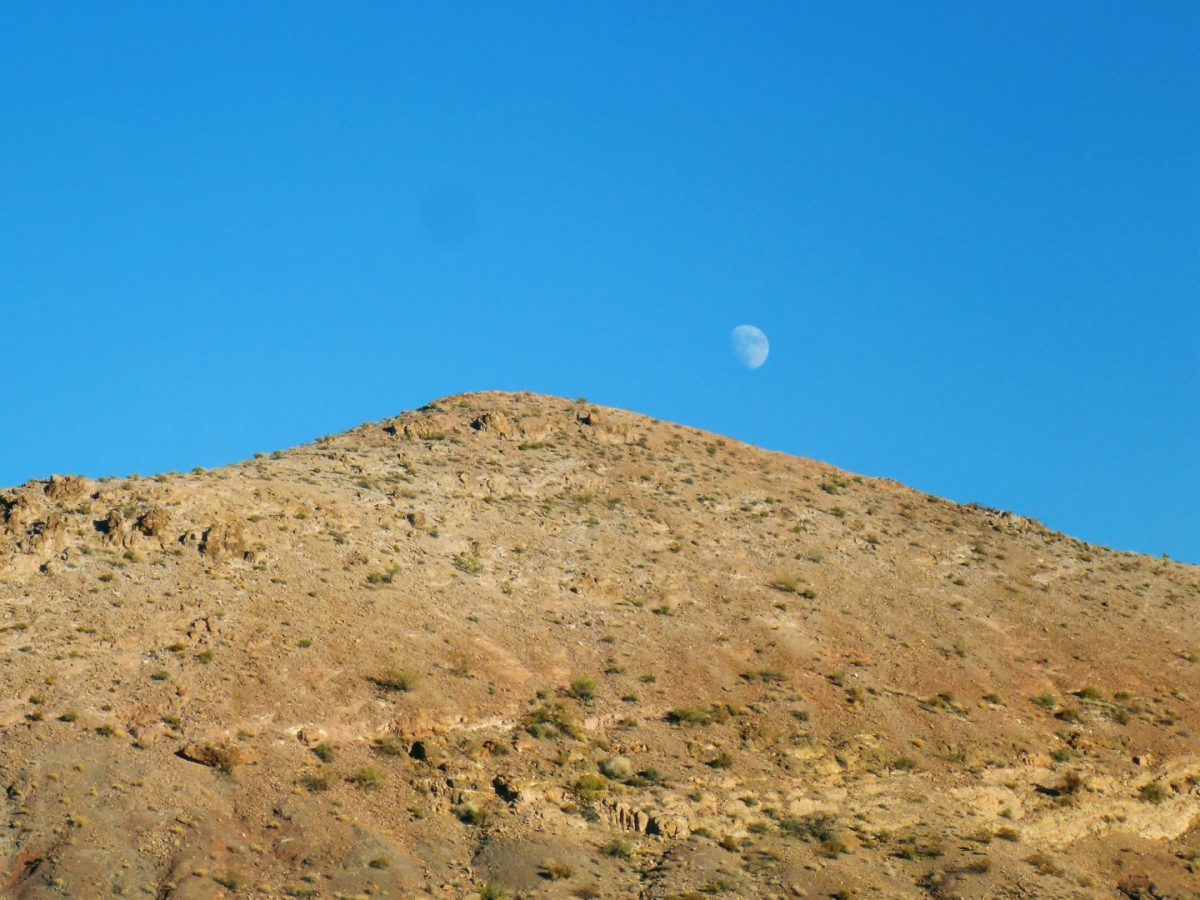 I now have a friend up north and look forward to visiting his neck of the woods and checking out what kind of trails Canada has to offer, aye!
GPS Tracks From This Ride
Download these tracks
Nelson-Searchlight 11-18 [Right click and save link as…]
Thanks for following!
Please do me a favor and follow my Facebook and Instagram feed if you haven't already.
Comments
comments