Day 4 – Bear Valley/ Fir Creek to Mountain Home, ID
Sunday morning was chilly. I really didn't want to get out of my sleeping bag, but I really had to pee!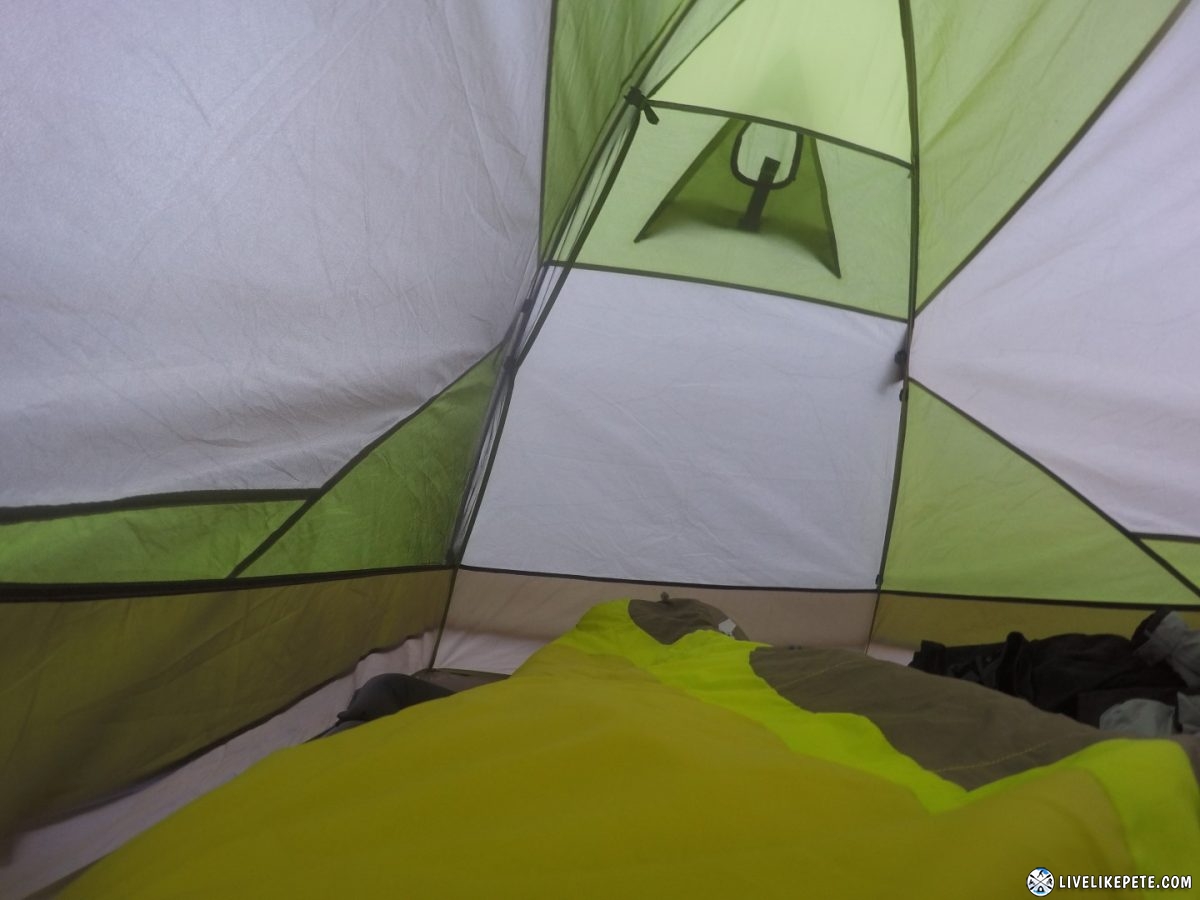 After releasing the night's whiskey, I quickly made a fire to warm up. Brian was still dead asleep as well as Steve in his toasty hammock.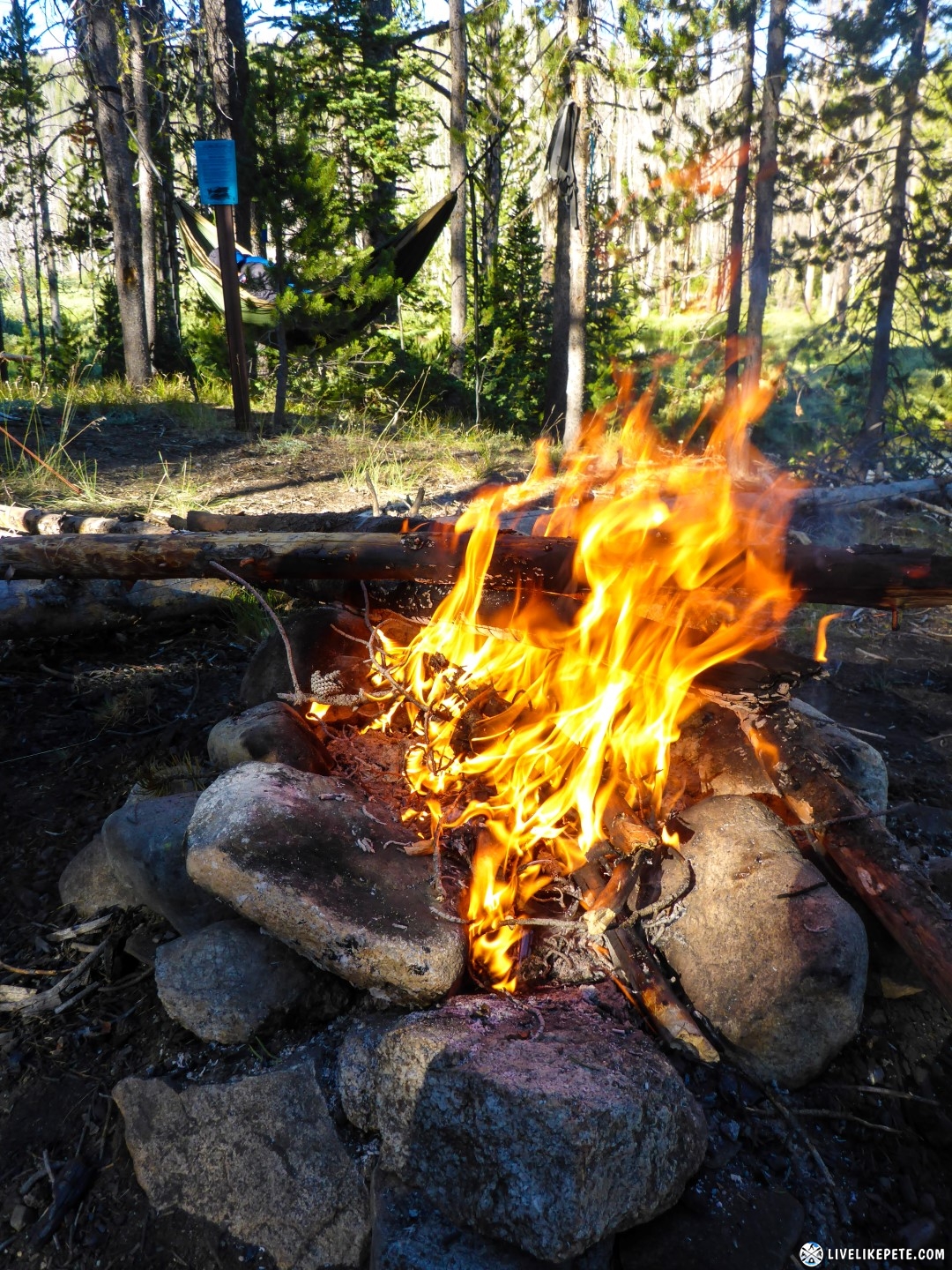 It was cold and the fire wasn't enough, so I put on every piece of clothing I brought other than my riding pants. Brian woke up to me standing around the fire like an eskimo.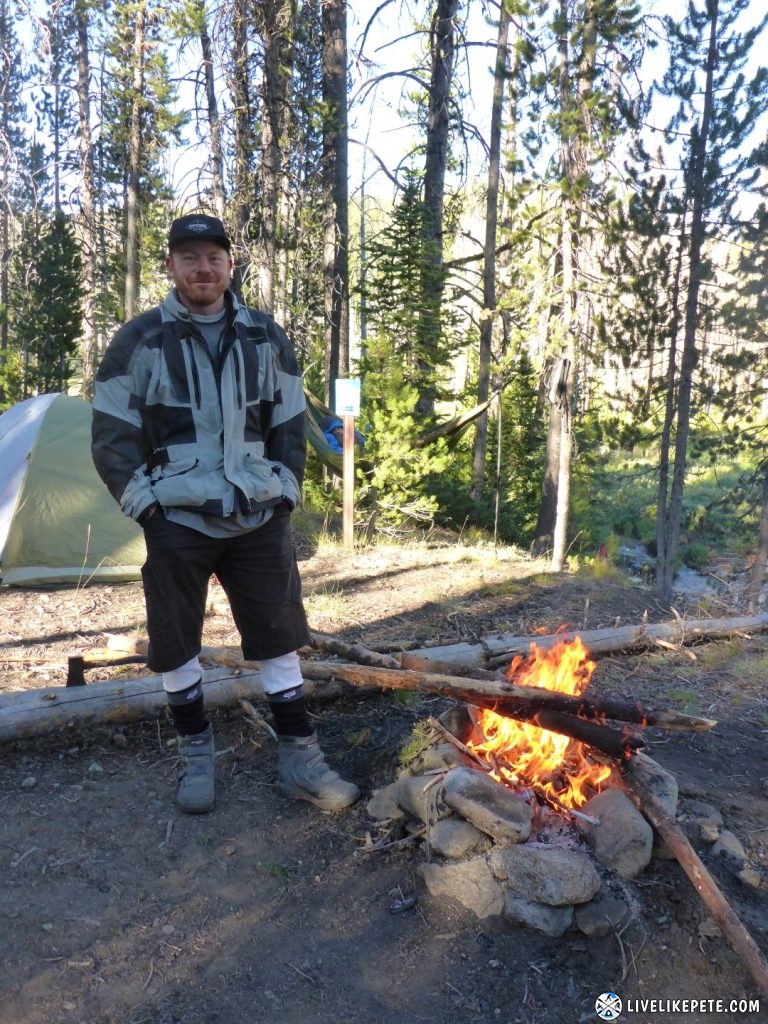 It worked. I was warm. I took that ridiculous outfit off and walked down to the little waterfall with my coffee.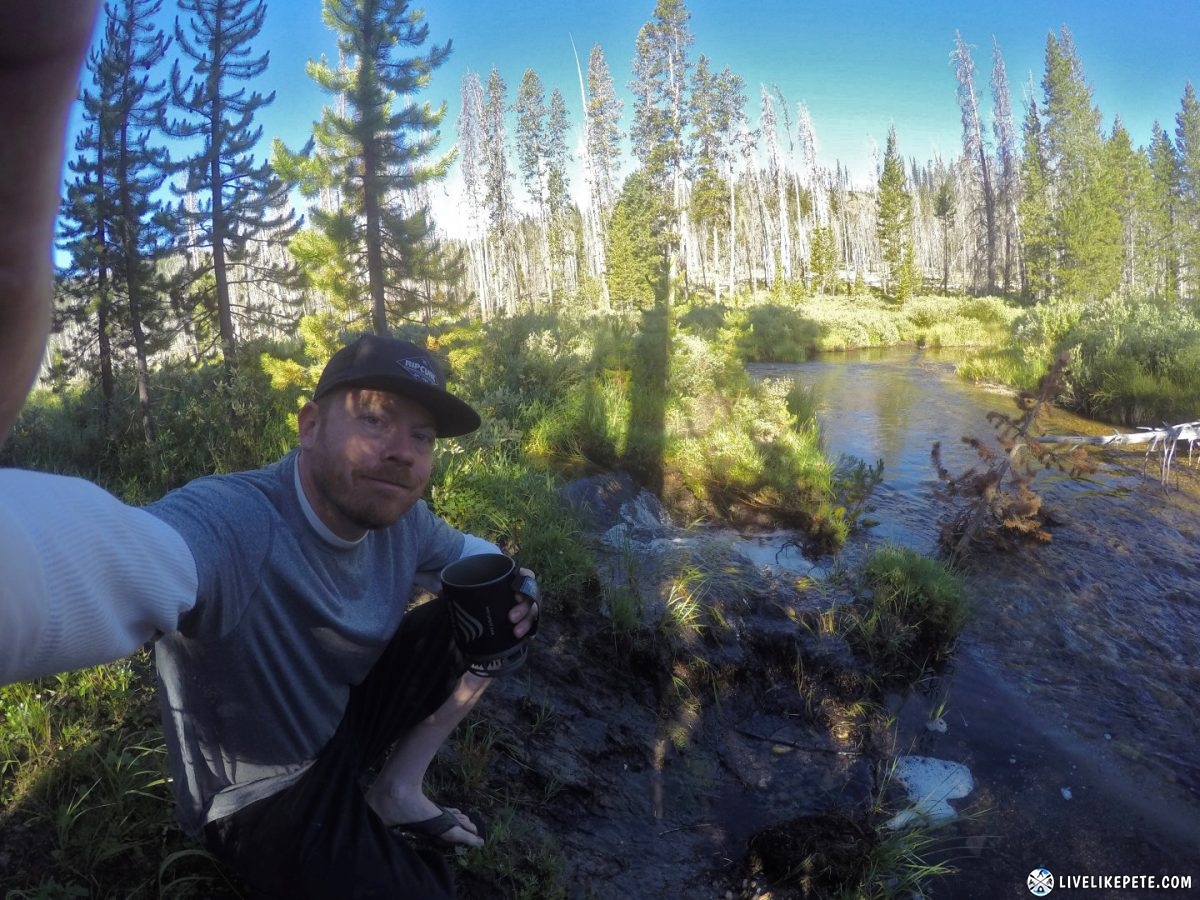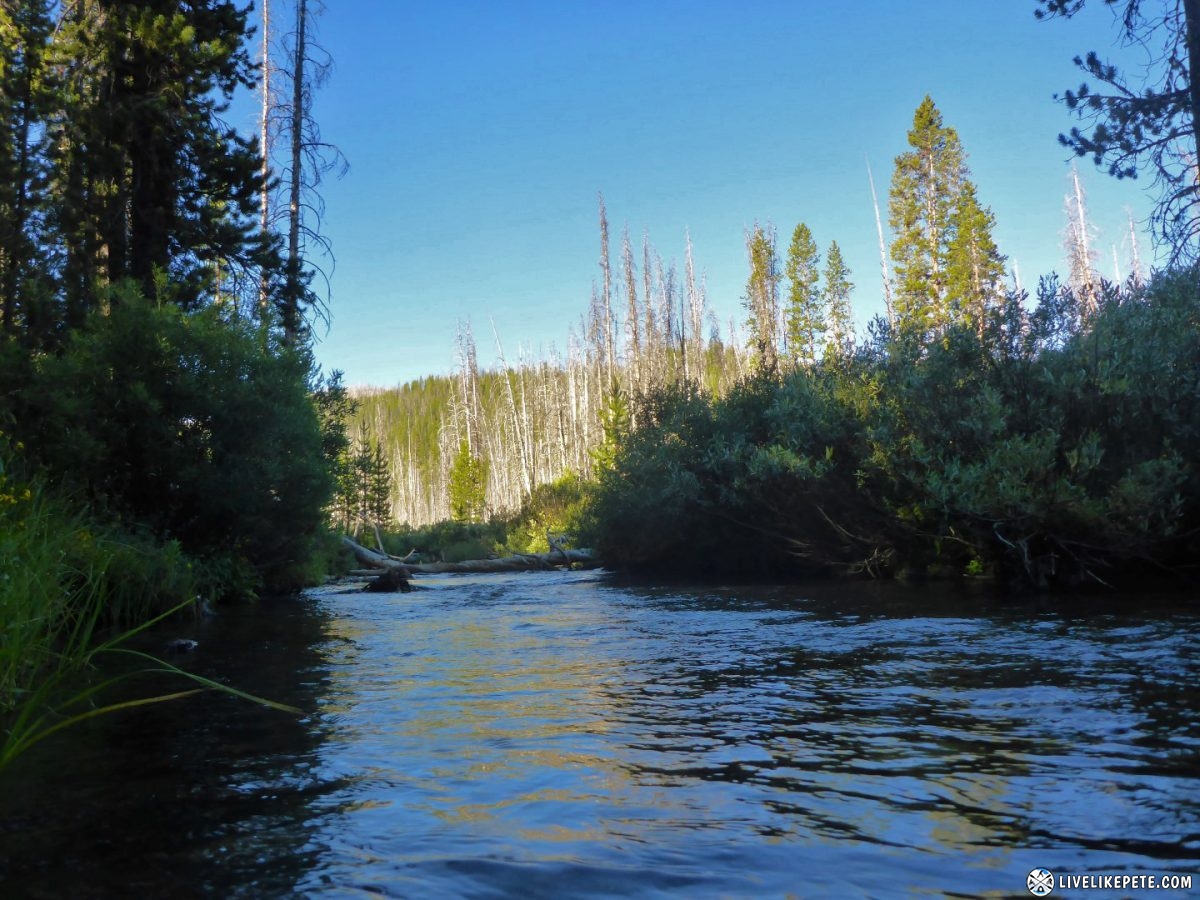 Steve wasn't moving from his cozy hammock.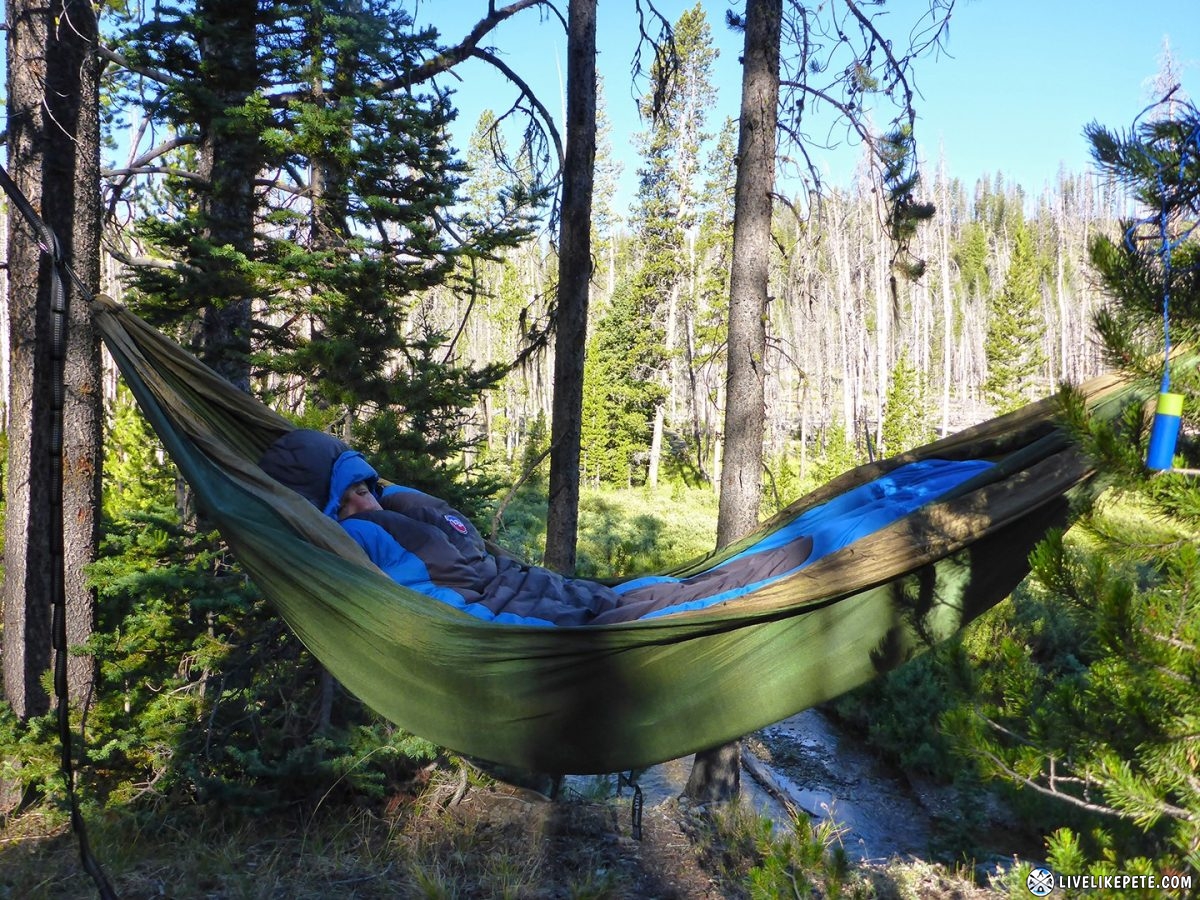 The 3 of us had some of Steve's tasty oatmeal.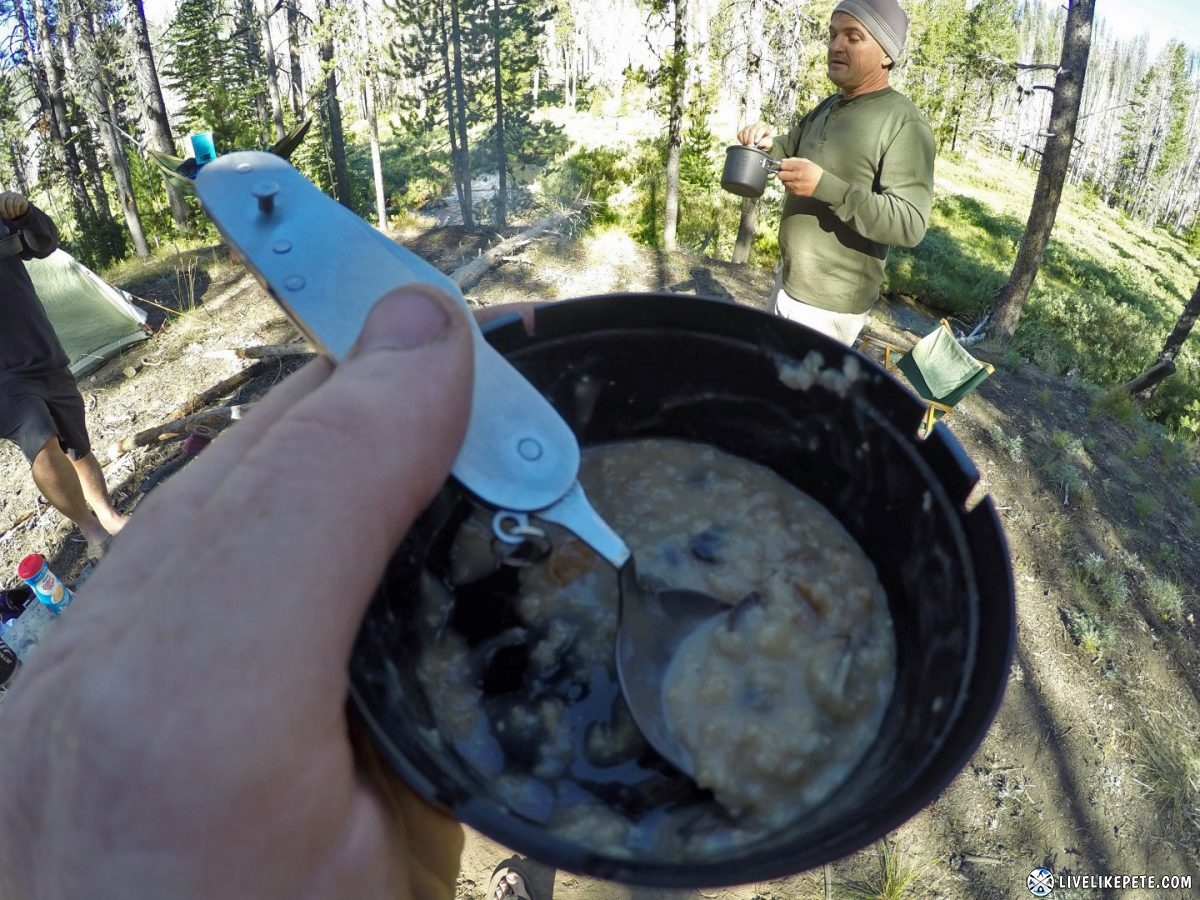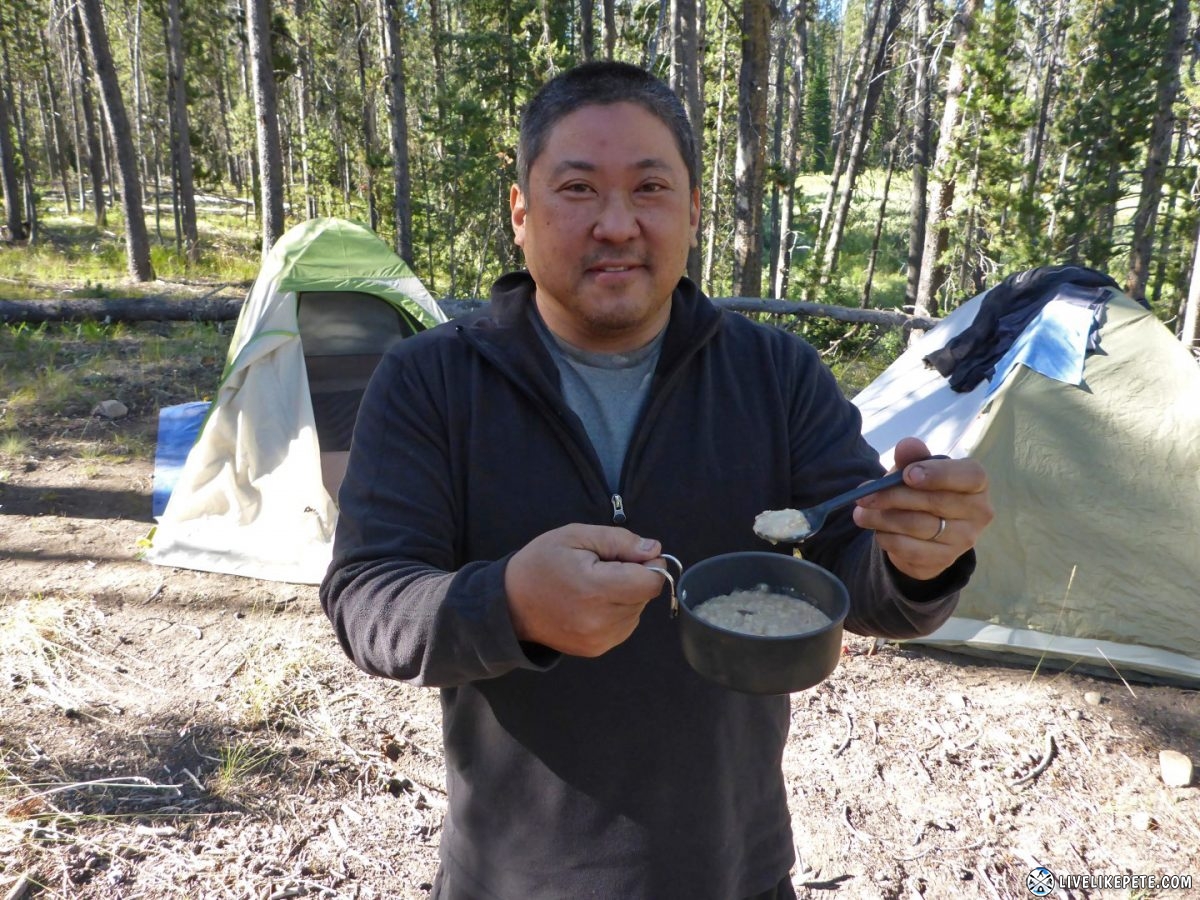 Then it was time for the morning planking to get the air out of my duffel.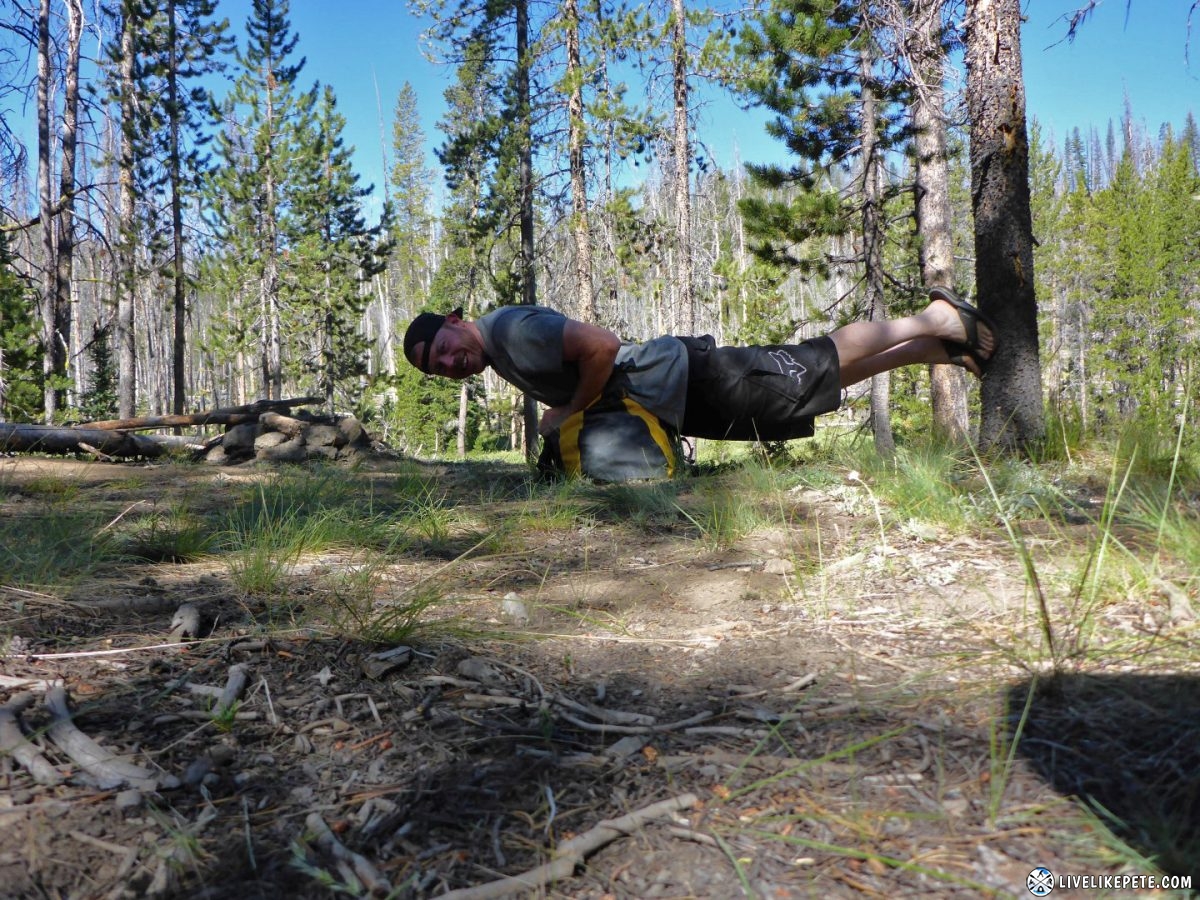 As we were packing up we laughed every time a trailer or toyhauler passed by our camp on the nearby road. We joked, "don't ever buy a trailer from Idaho!". We found that Idahoans don't give a damn about towing their trailer at 50 mph down very rough roads for 30+ miles. The sound was crazy as each one approached. They all sounded like their axles were going to fall off! It was hilarious.
Steve was so excited to ride he almost jumped on his bike without putting his boots on. "Um, Steve? Your boots?" hahaha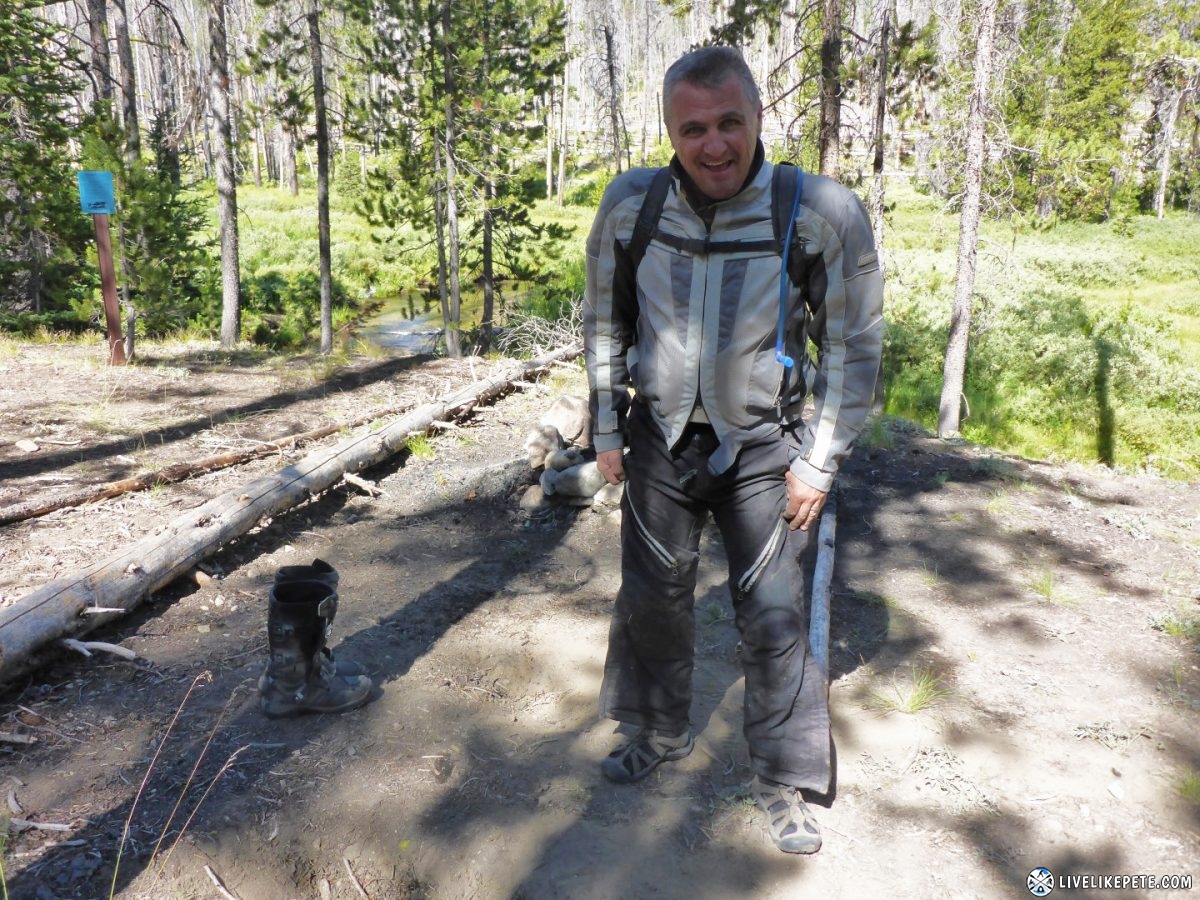 We stopped for lunch in Lowman at the Sourdough Lodge. Friendly people and good food!
32 ounces of dairy after a night of drinking whiskey and tequila. What could possibly go wrong?
I wish we were able to experience the Kirkham Hot Springs, but it was full of people.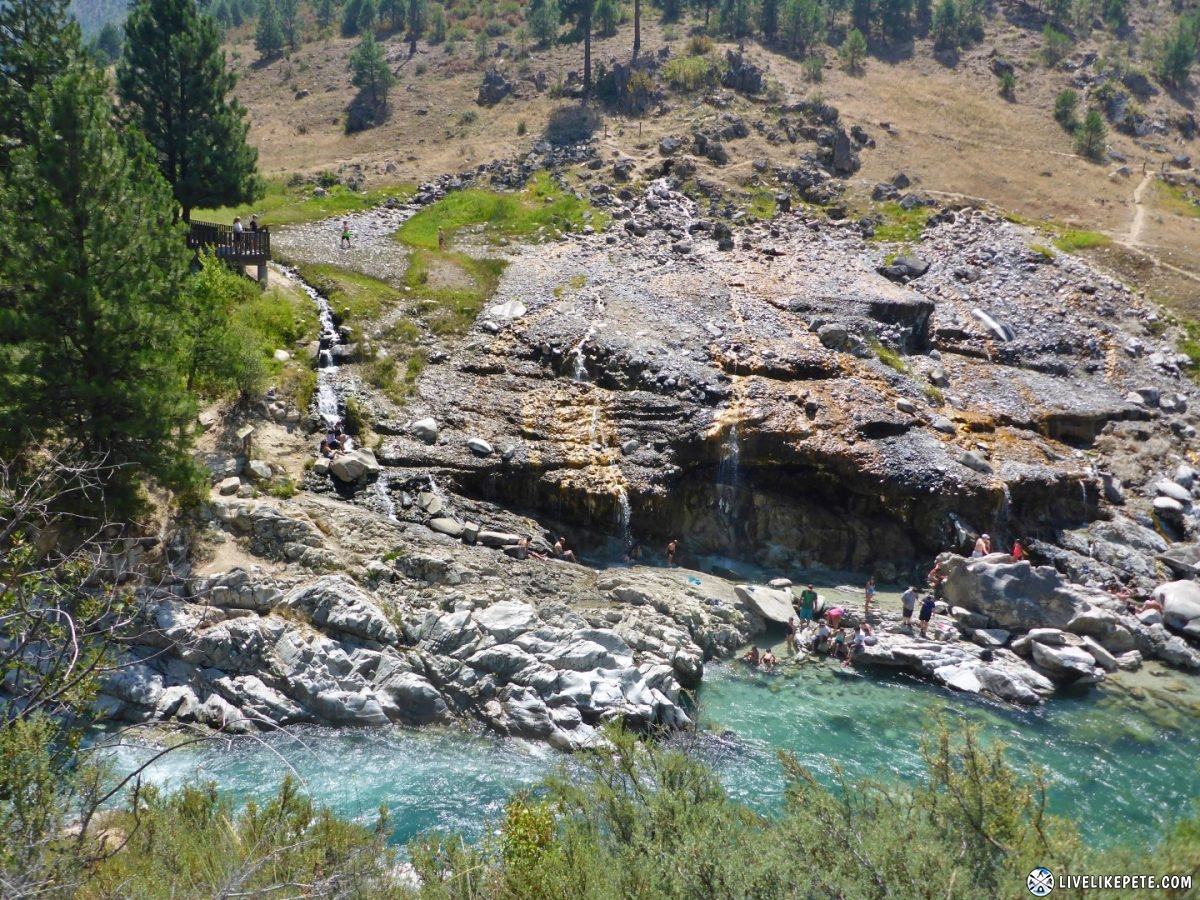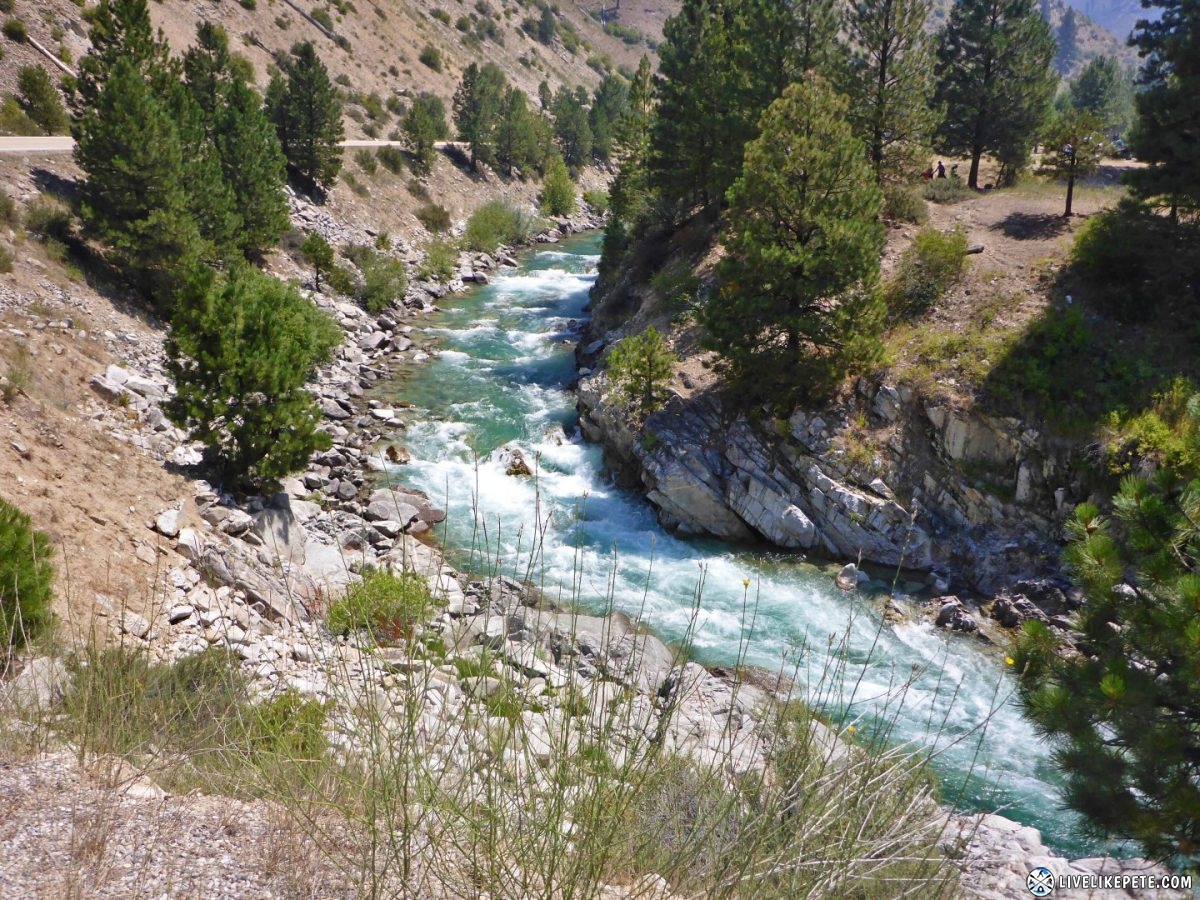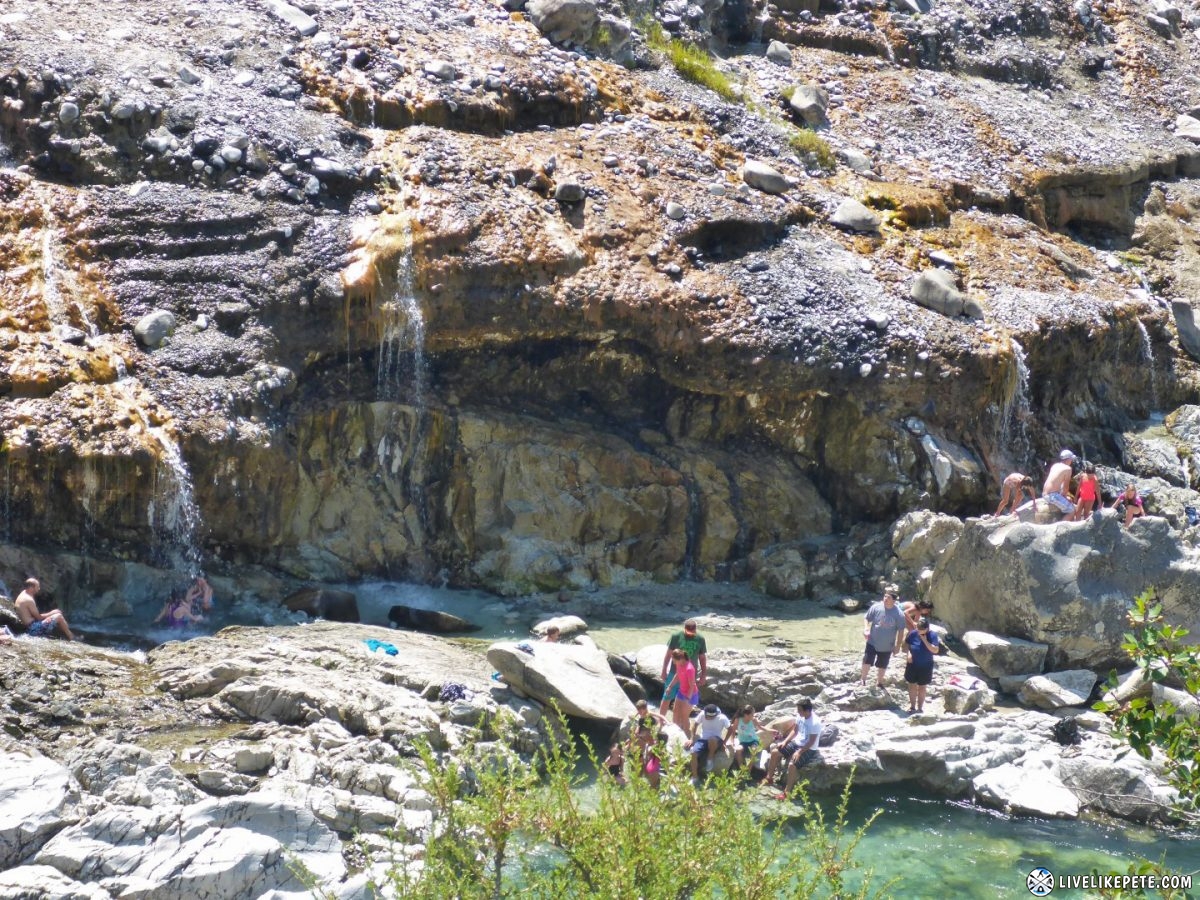 Minutes later it was milkshake evacuation time! Oh god! We found the closest campground to use the facilities. Steve had the same situation. I know, TMI, but we had a good laugh about it. Brian had the biggest laugh though. He chose wisely to forego the shake at lunch!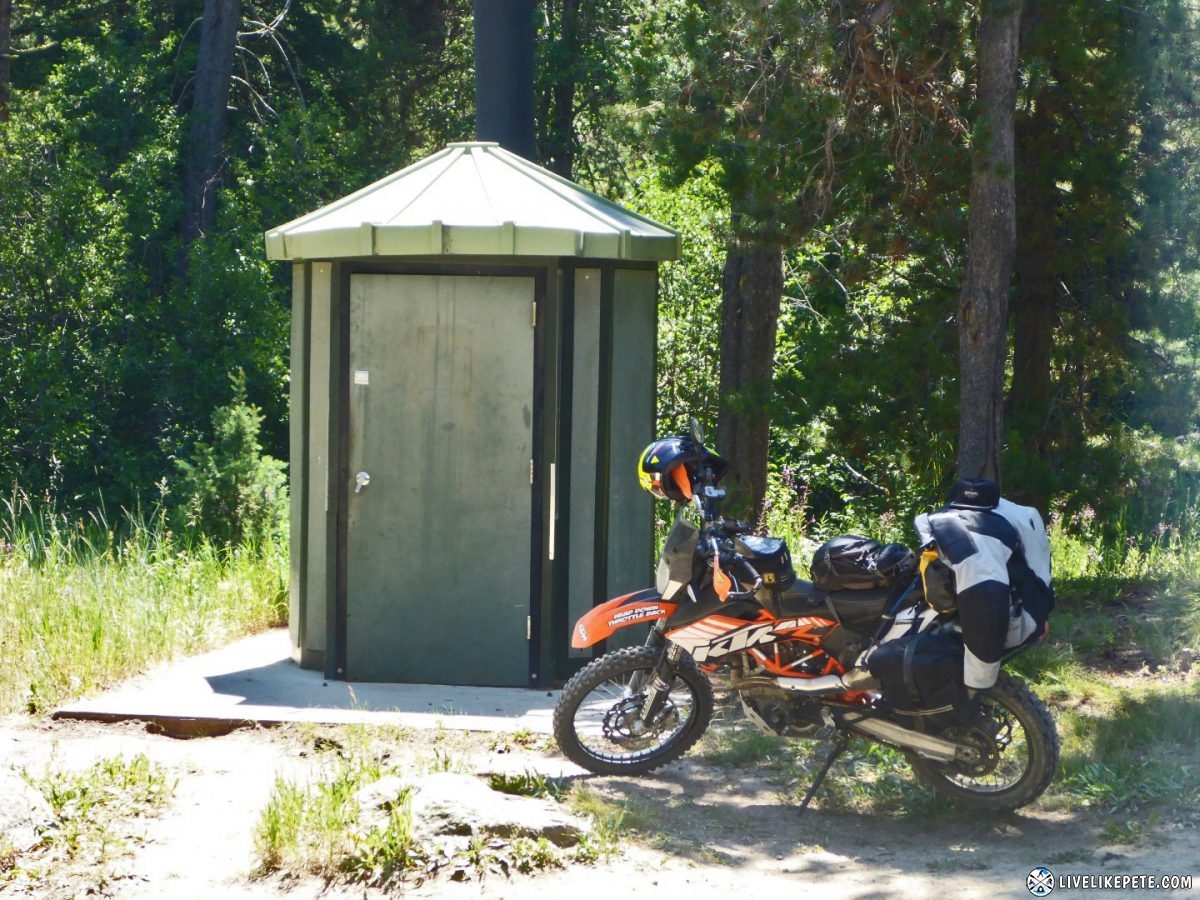 After using the facilities at Emma Campground, we worked on our southern route through dirt.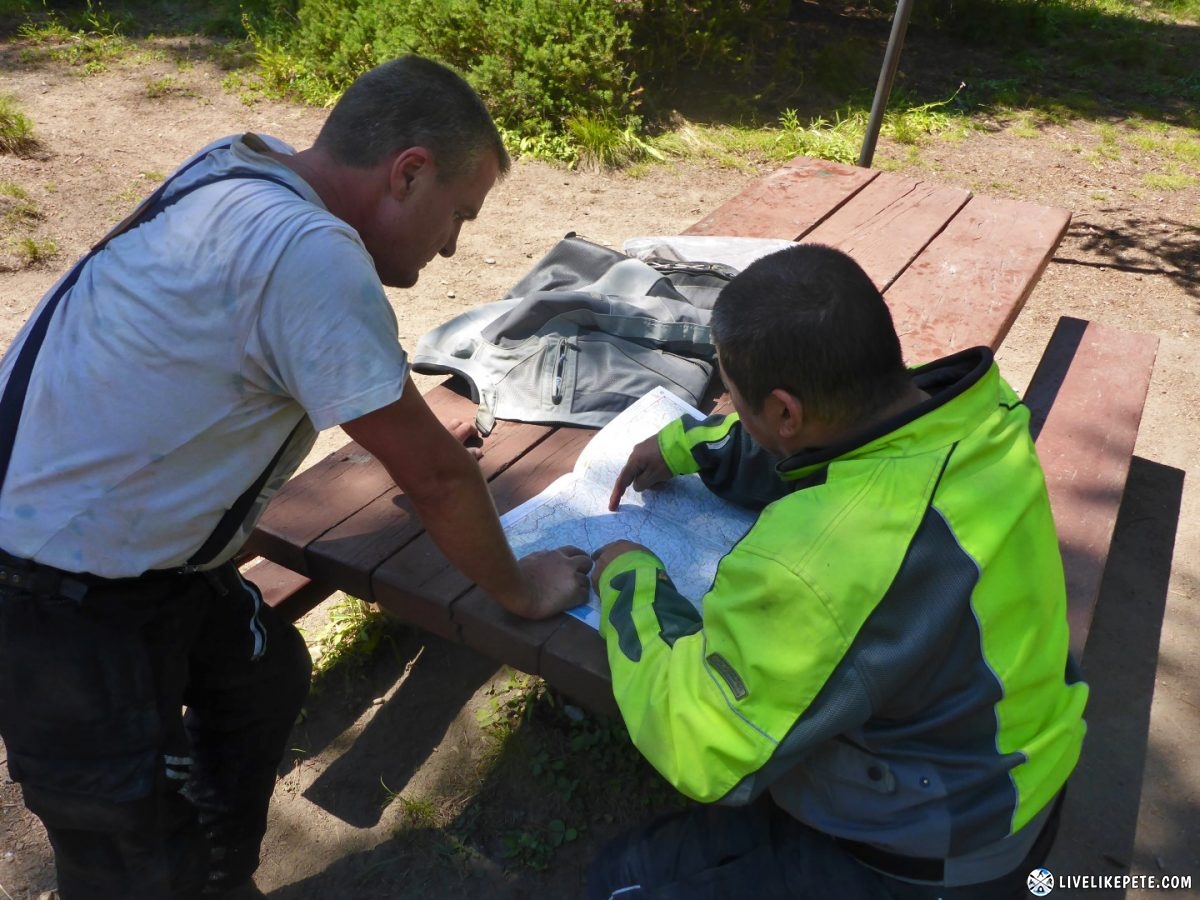 Brian decided 328A looked interesting. Hey Brian, where are you going? Is this actually a trail???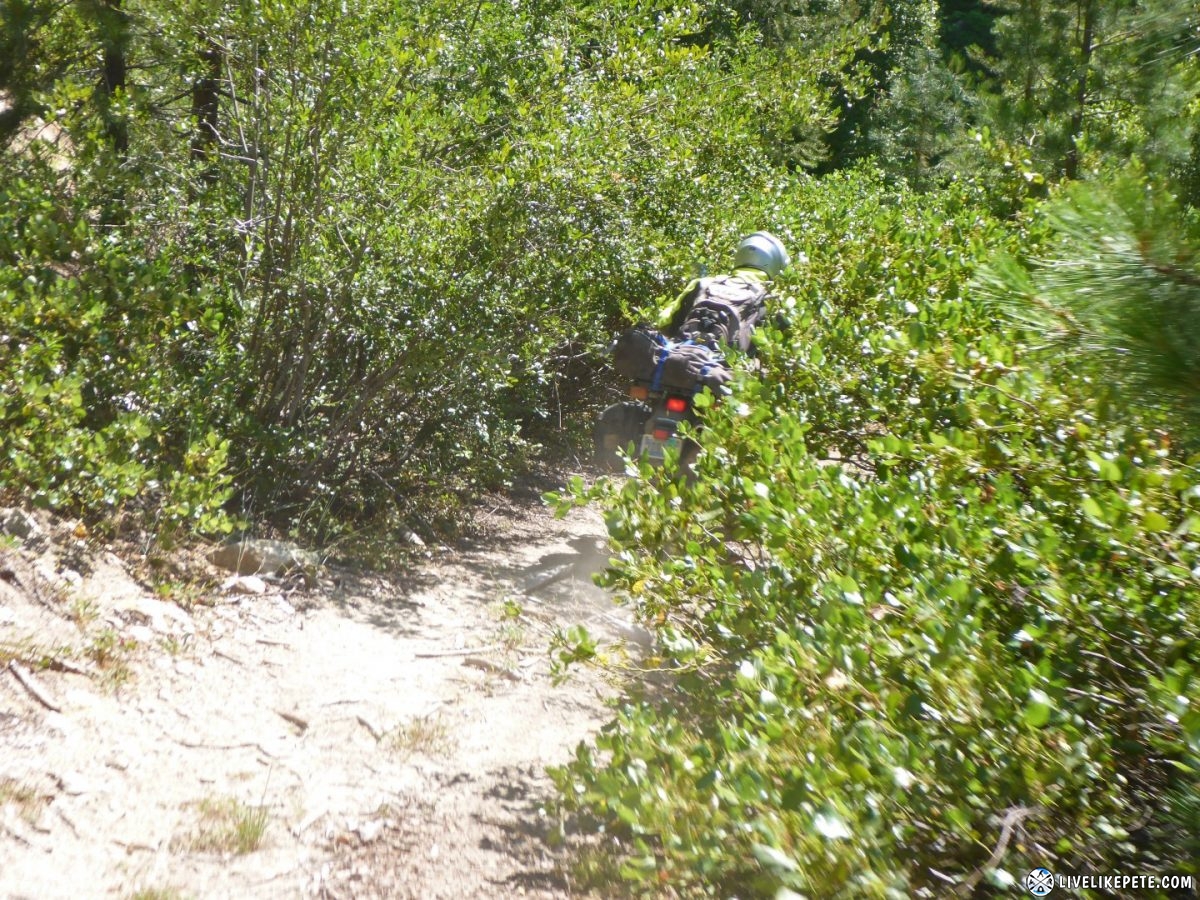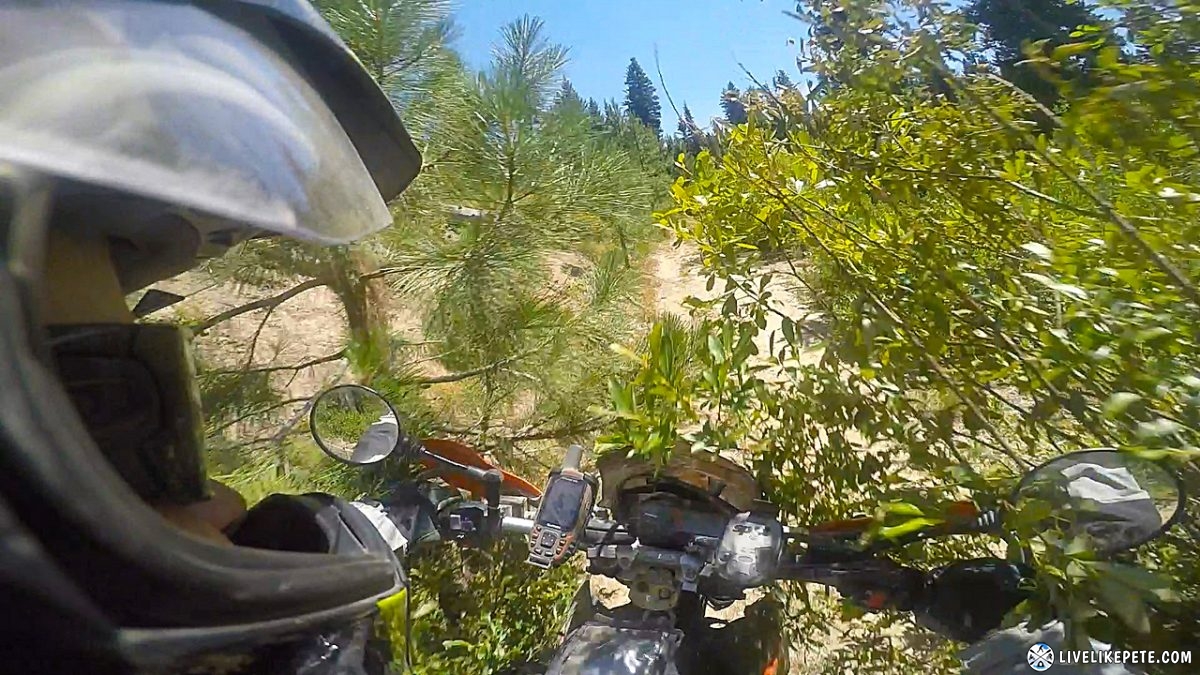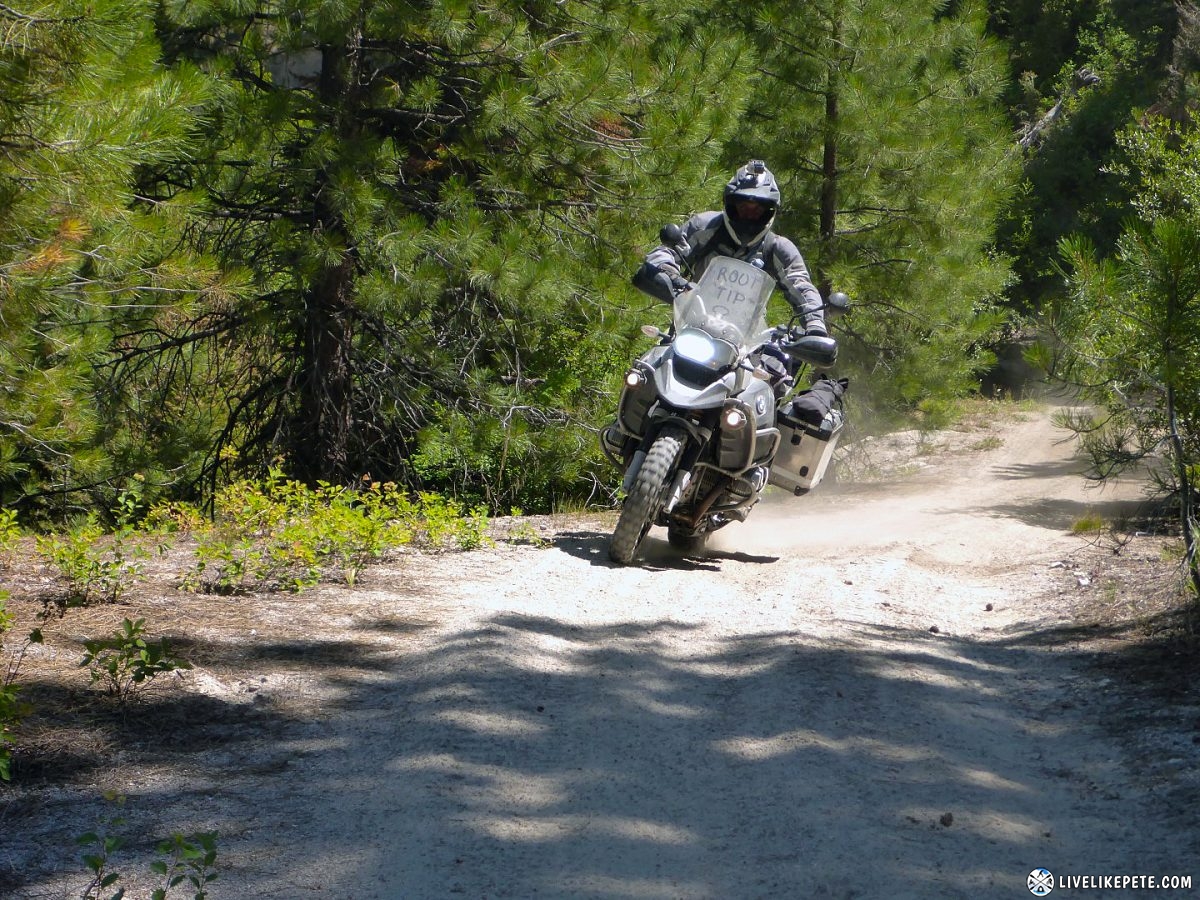 That fire was still going strong on Sunday.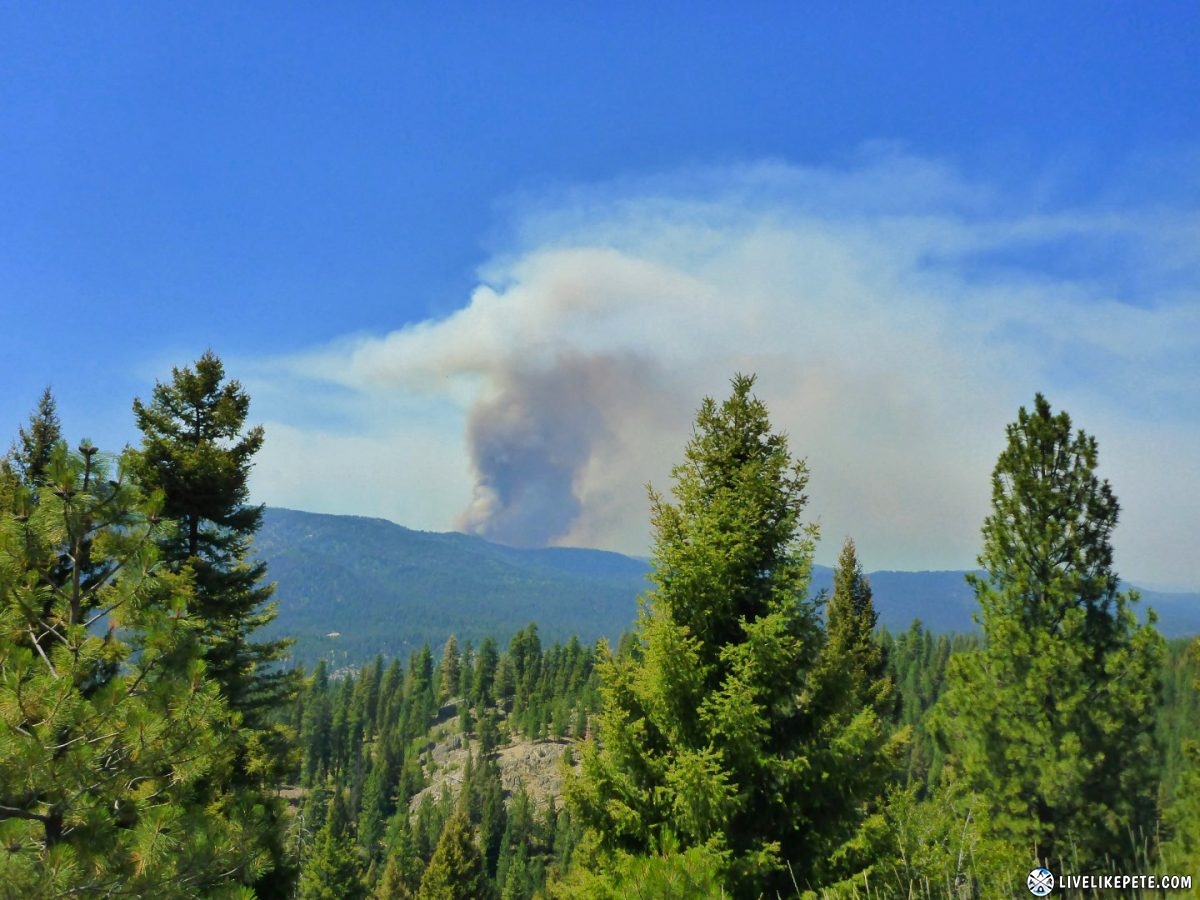 Finally, the end of 328A! We rode 18+ miles to go 4 miles south. Our track ended up looking like a Ramen noodle! I was burning up in my heavy, waterproof jacket. I needed a mesh jacket for this ride!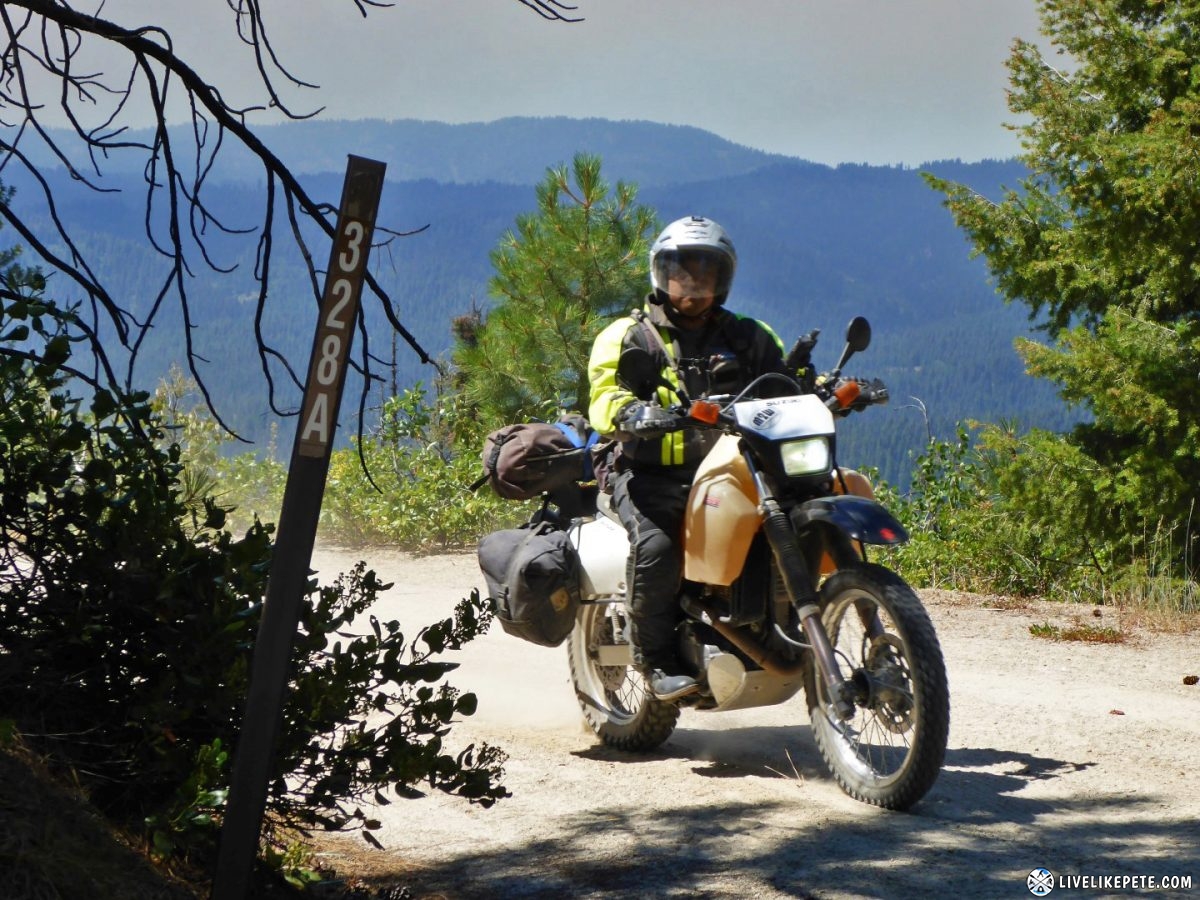 Then Steve picked an even more challenging trail, 328G! I'm guessing the further down the alphabet you get, the worse the trail is!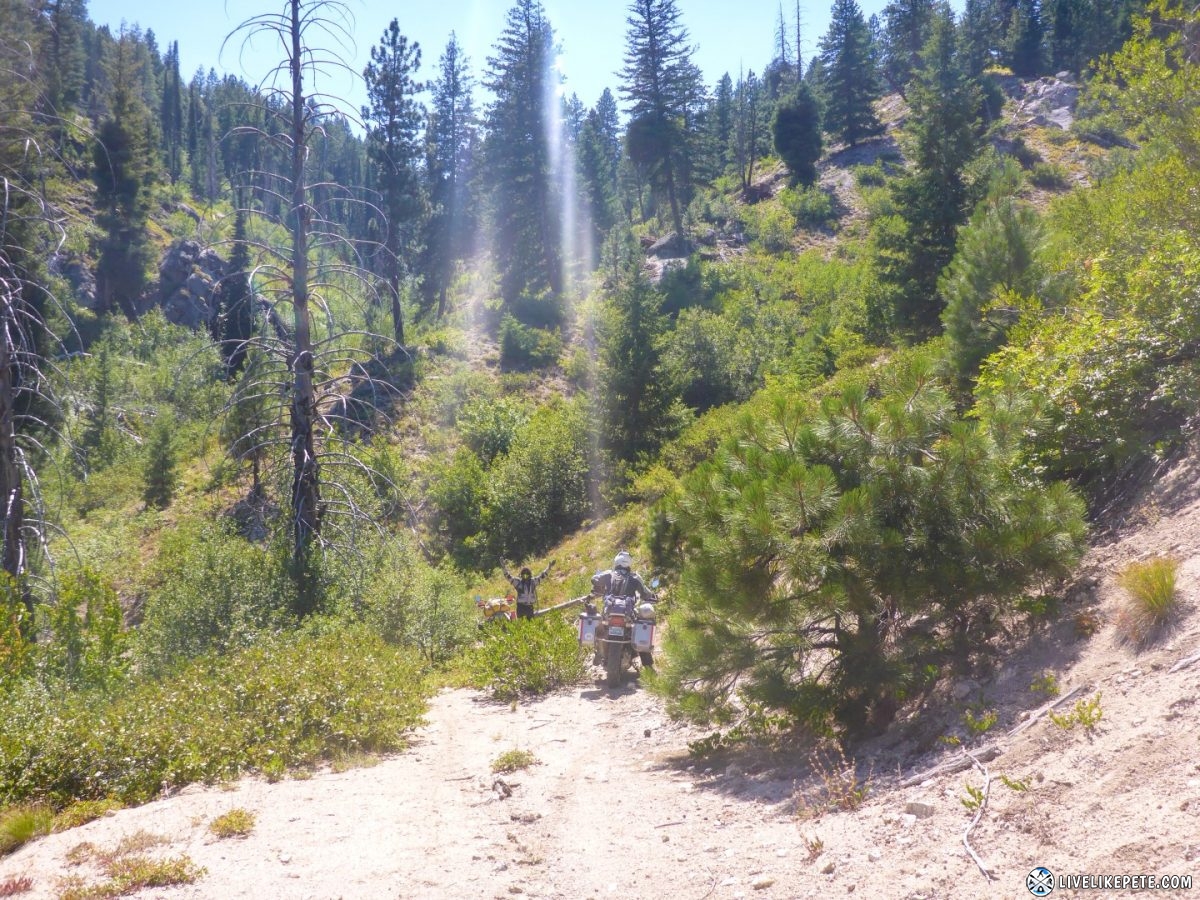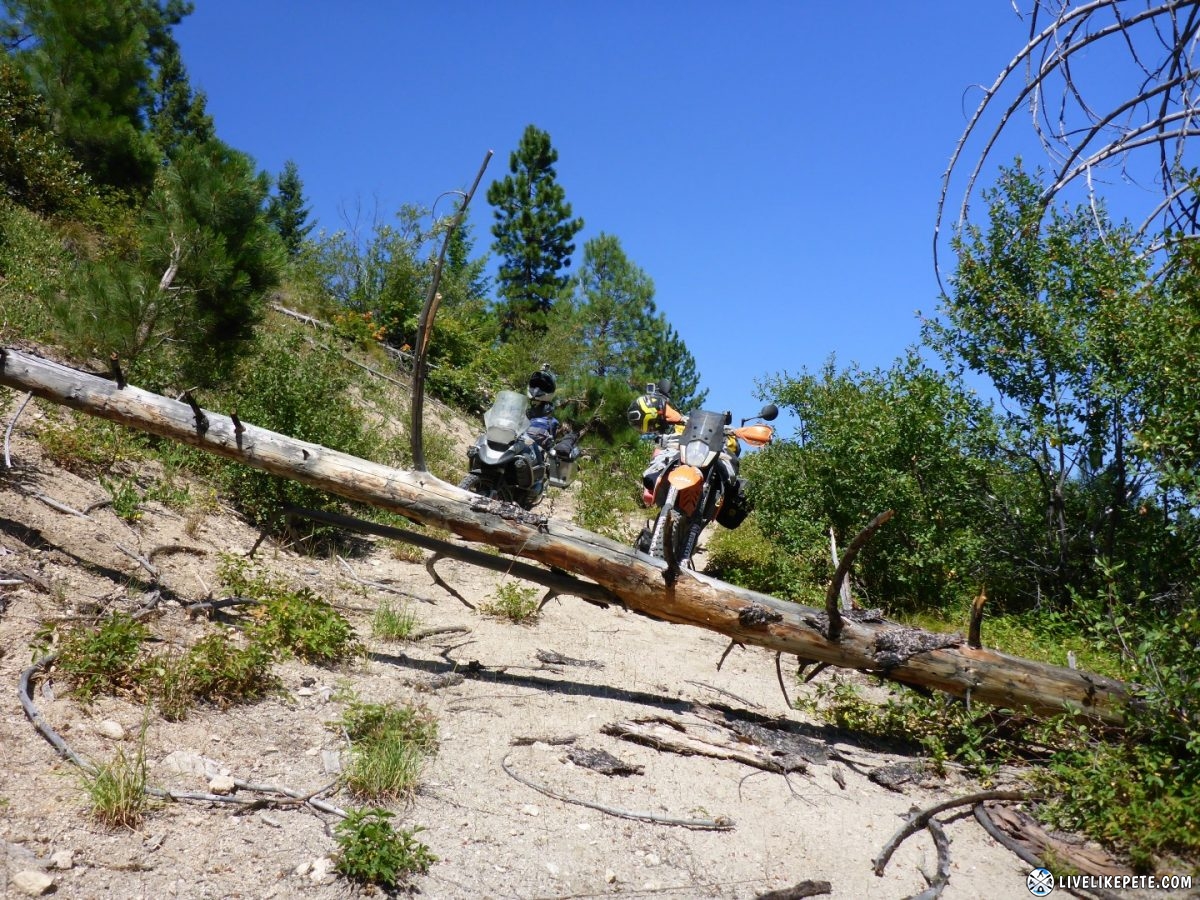 We were going to use Steve's hatchet to get around the downed tree, but I decided it might be a good idea to take a walk down a little further first. Good thing we did!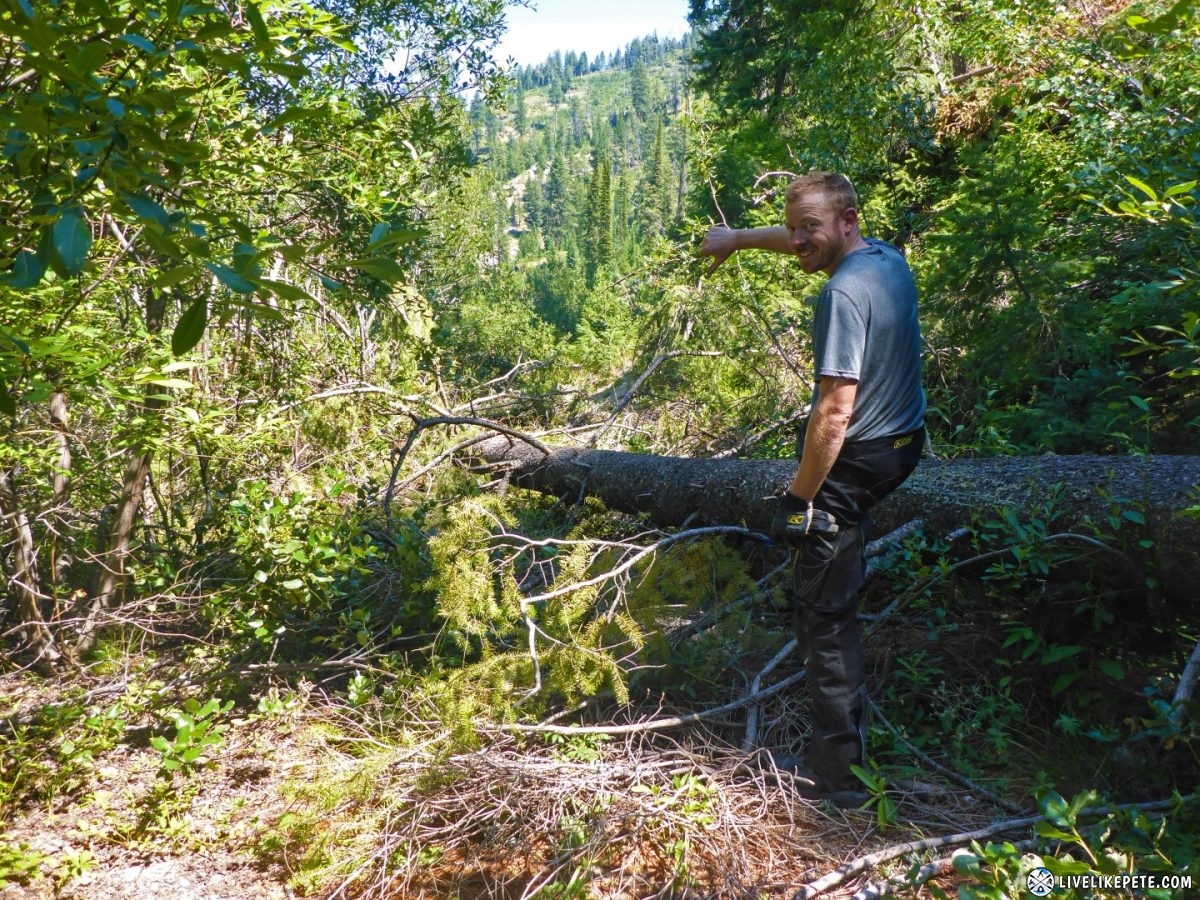 We unloaded Steve's panniers so we could get Oprah turned around on the fairly steep trail. He joked that we were his sherpas.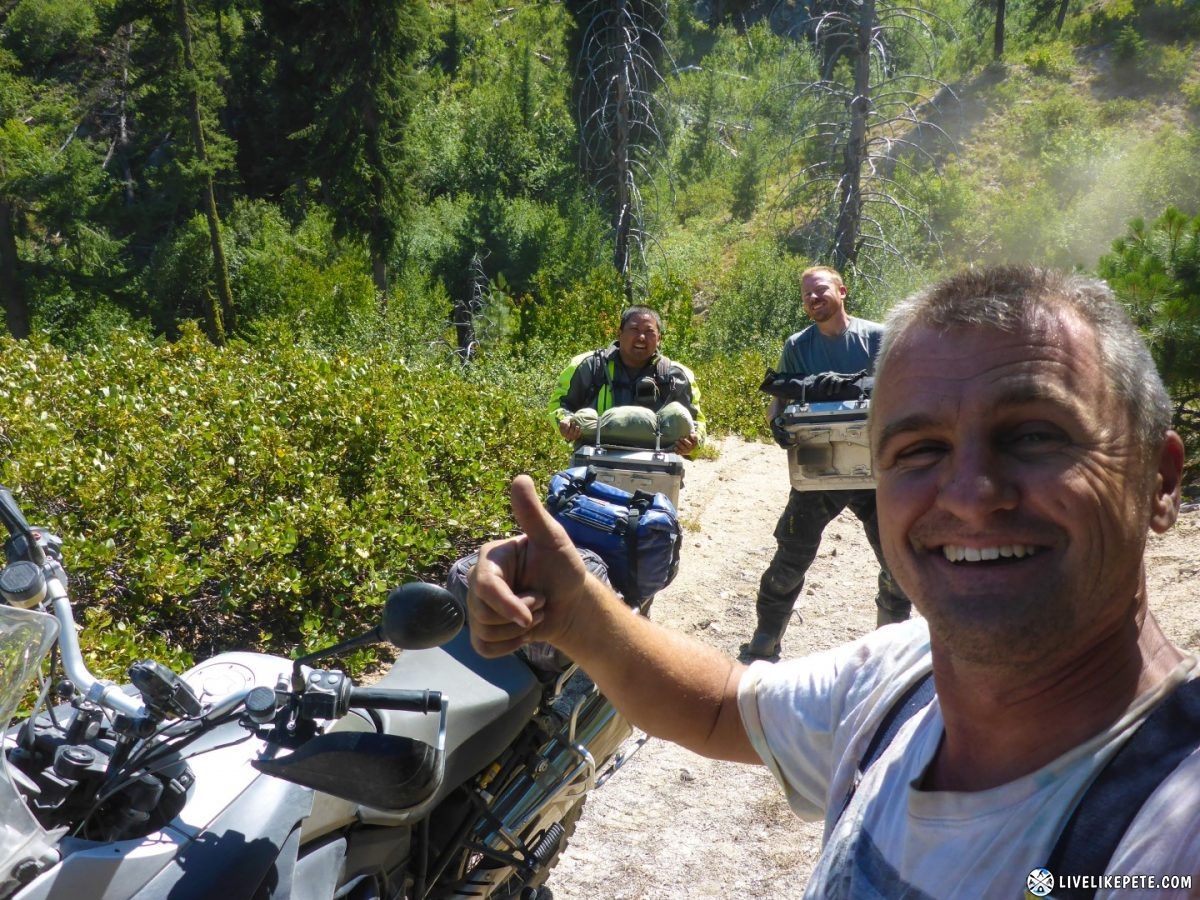 This map shows our crazy way of getting 4 miles southeast.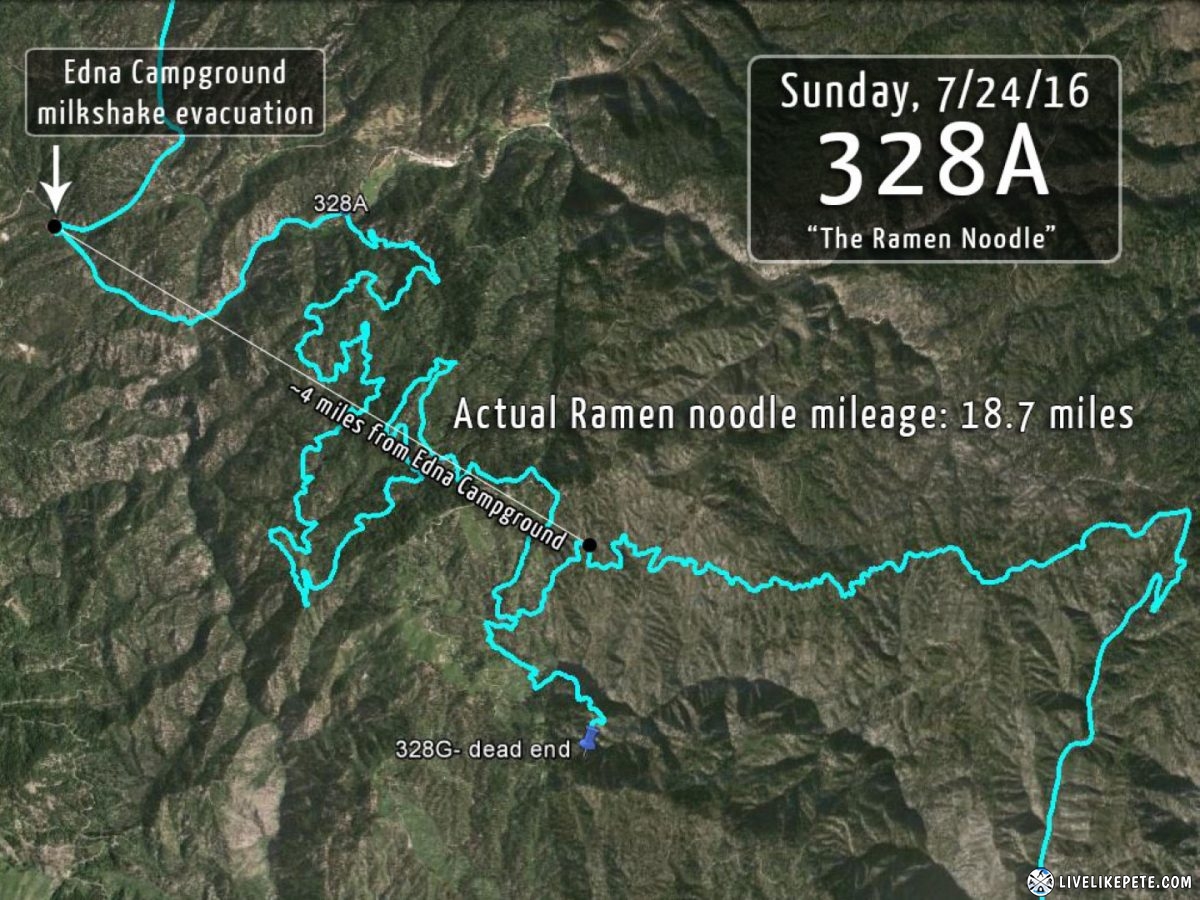 Finally after miles of switchback forest roads, we arrived back at the BDR, a faster paced dirt road.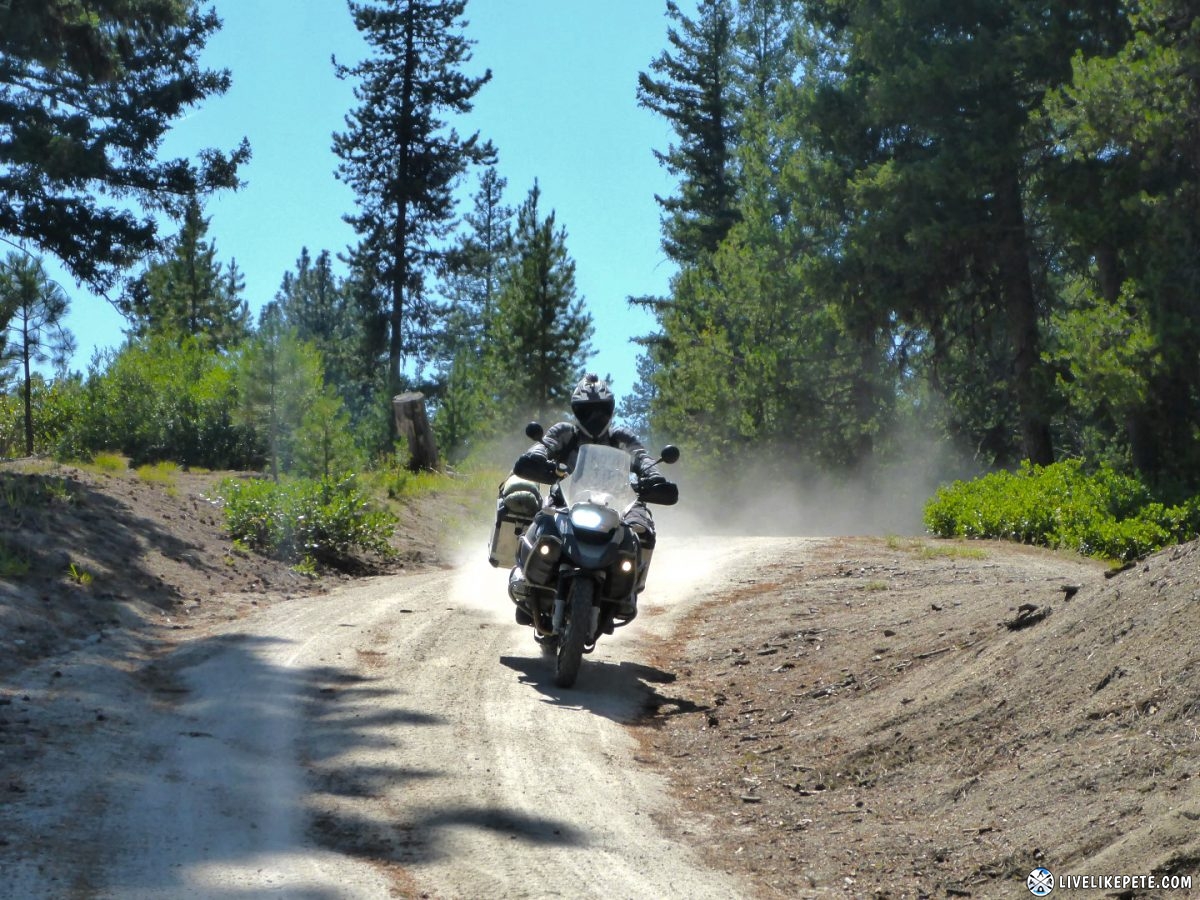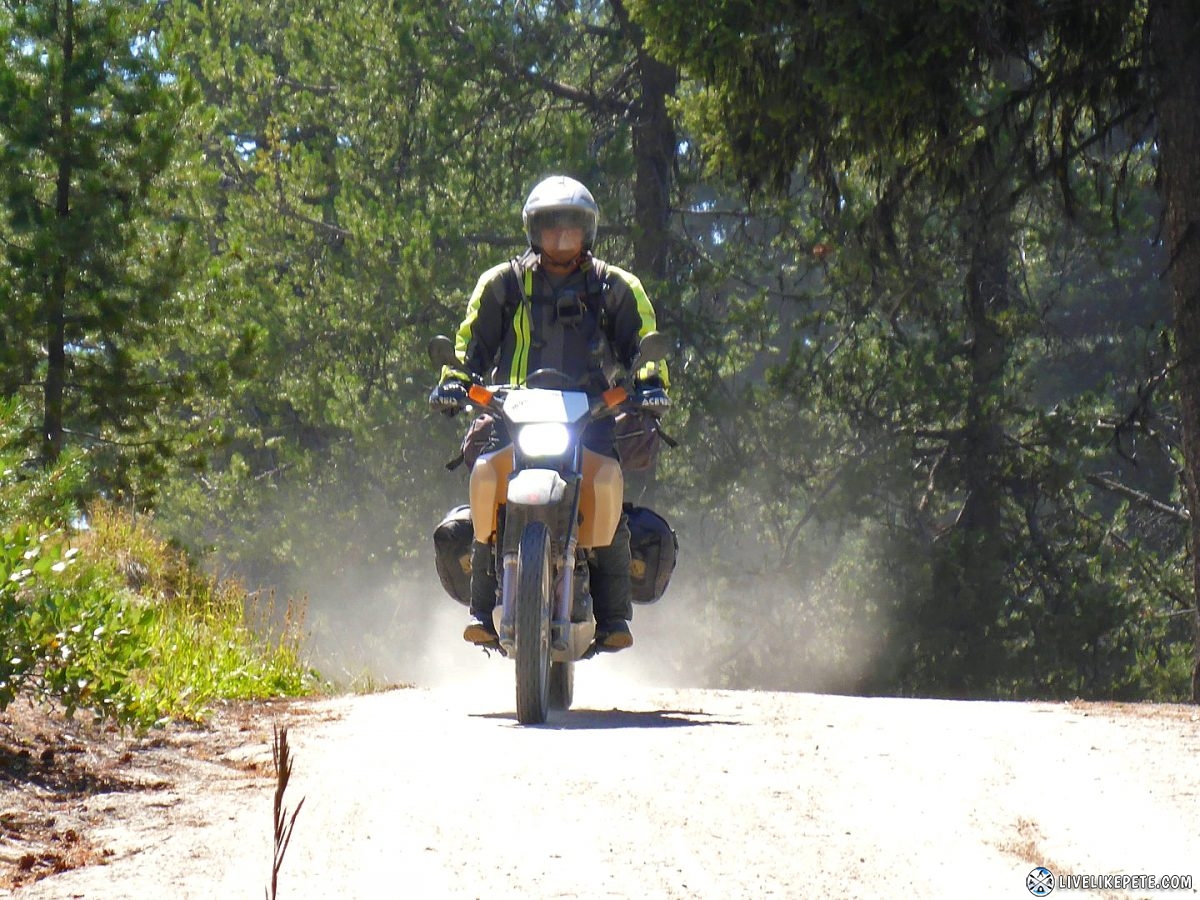 Just as we pulled up to the intersection, a couple from Redding, CA pulled up and we chatted about our adventures. We both agreed the Idaho people drive like crazy on these backcountry roads and you have to be on your toes. Their adventure consisted of a ride through Oregon, then the IDBDR all the way up to Glacier. How awesome?
Continuing further south we were getting pretty warm, especially after those tight switchback trails. When we saw this square pool in the North Fork Boise River, we all said, "Happening!"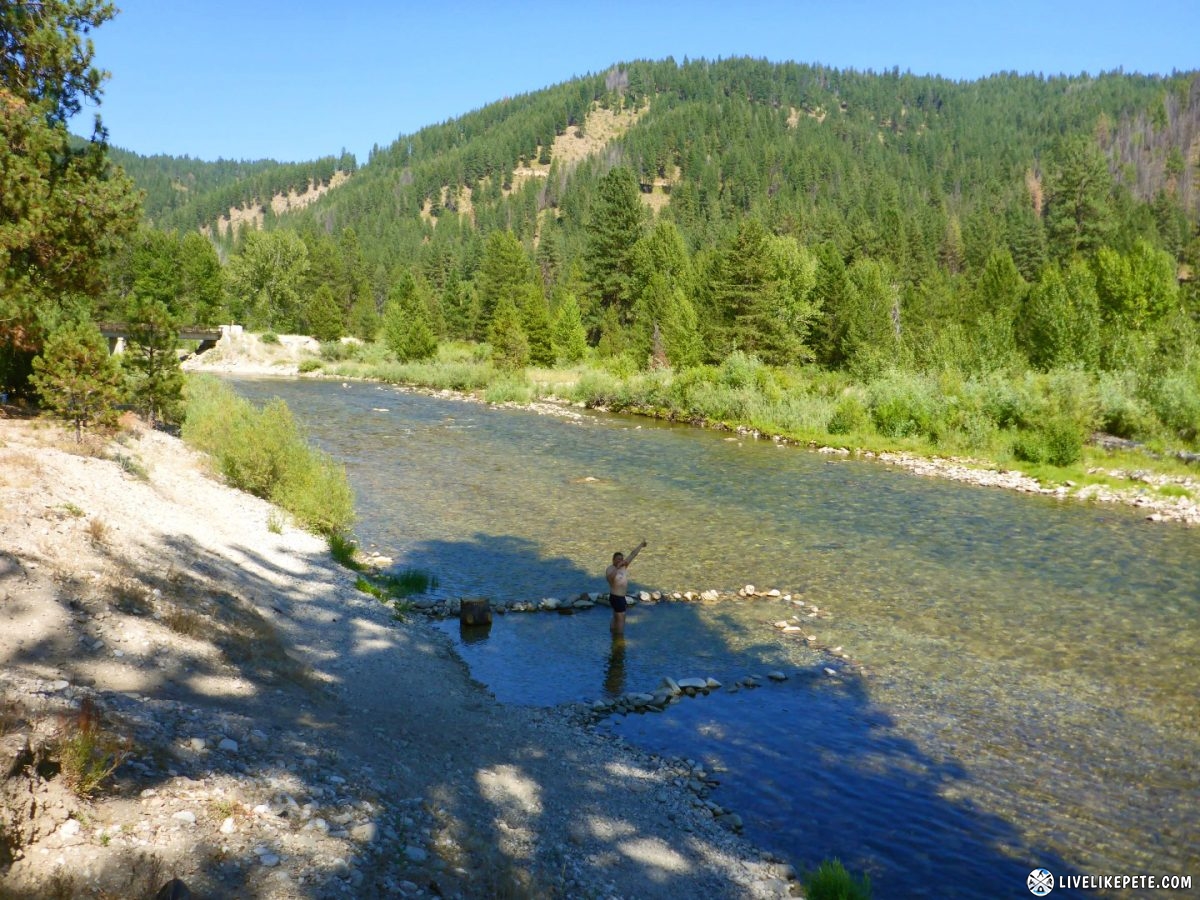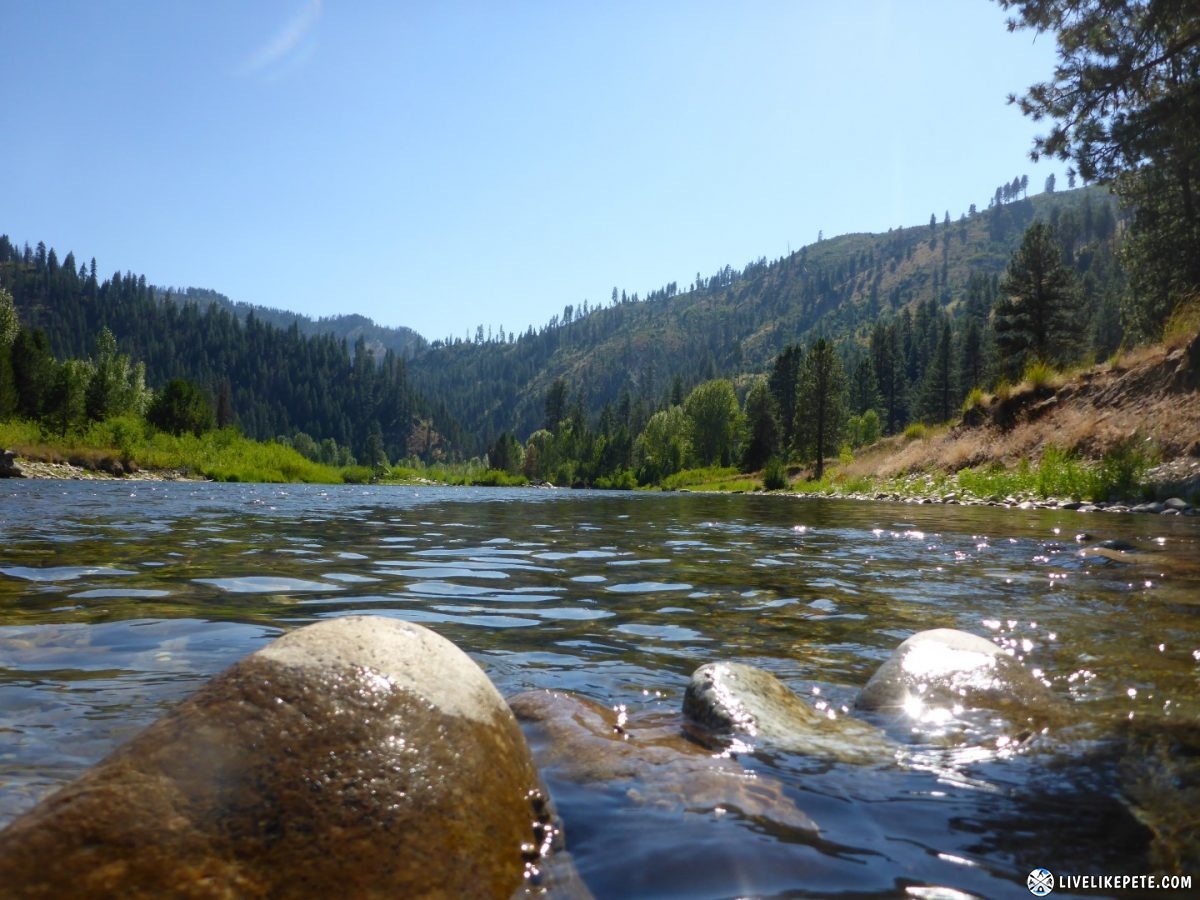 Steve had great form getting into the water.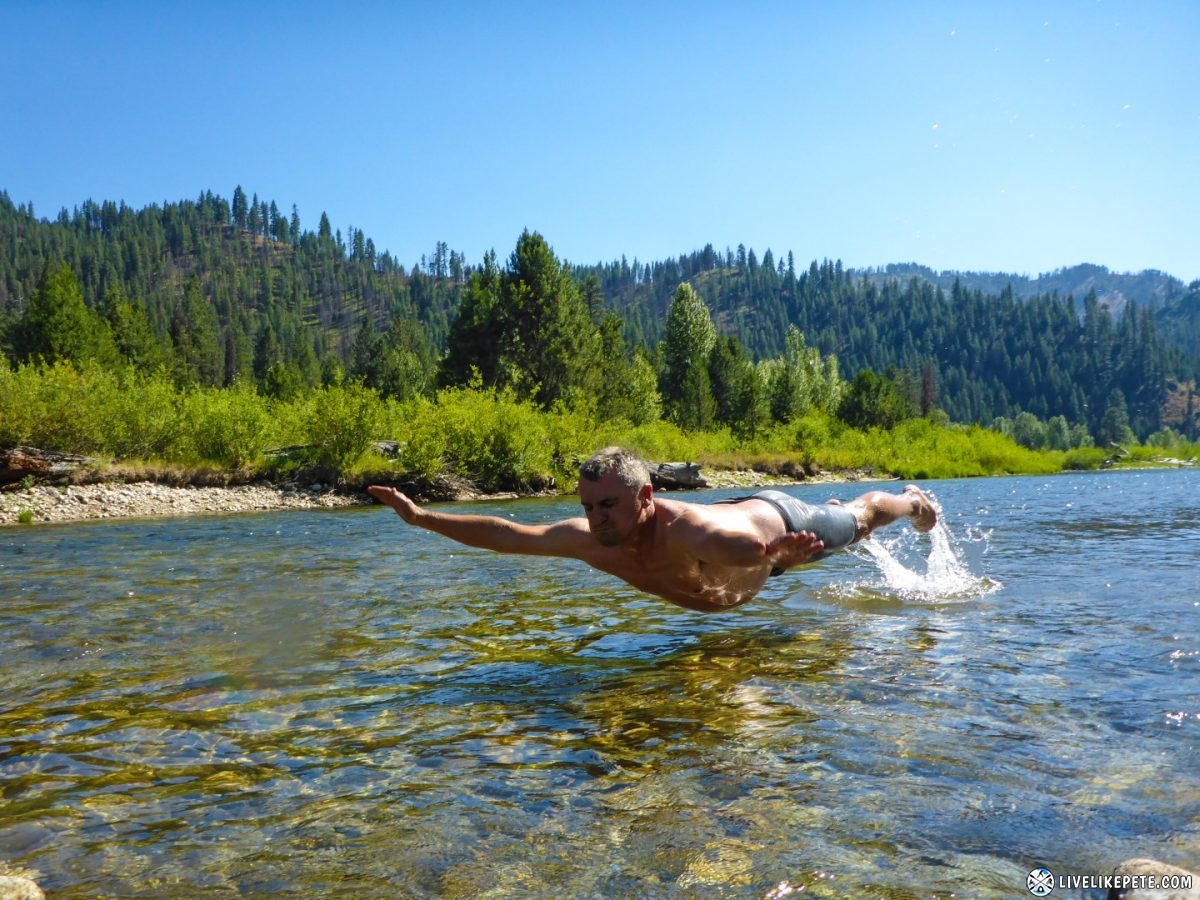 Brian & Steve were like a couple little kids, joyfully laughing with soap in their eyes. LOL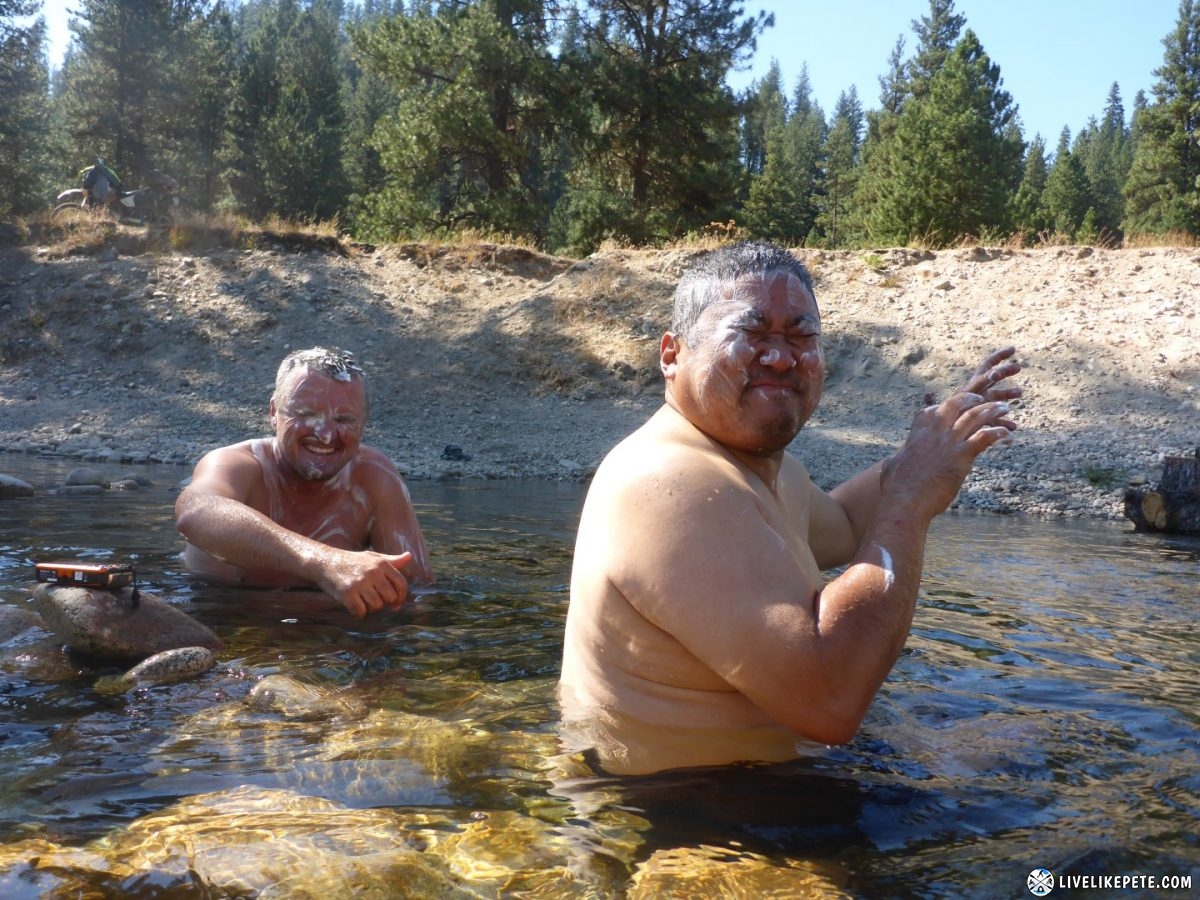 The water was cold, but felt great. That initial dunk into the water was difficult.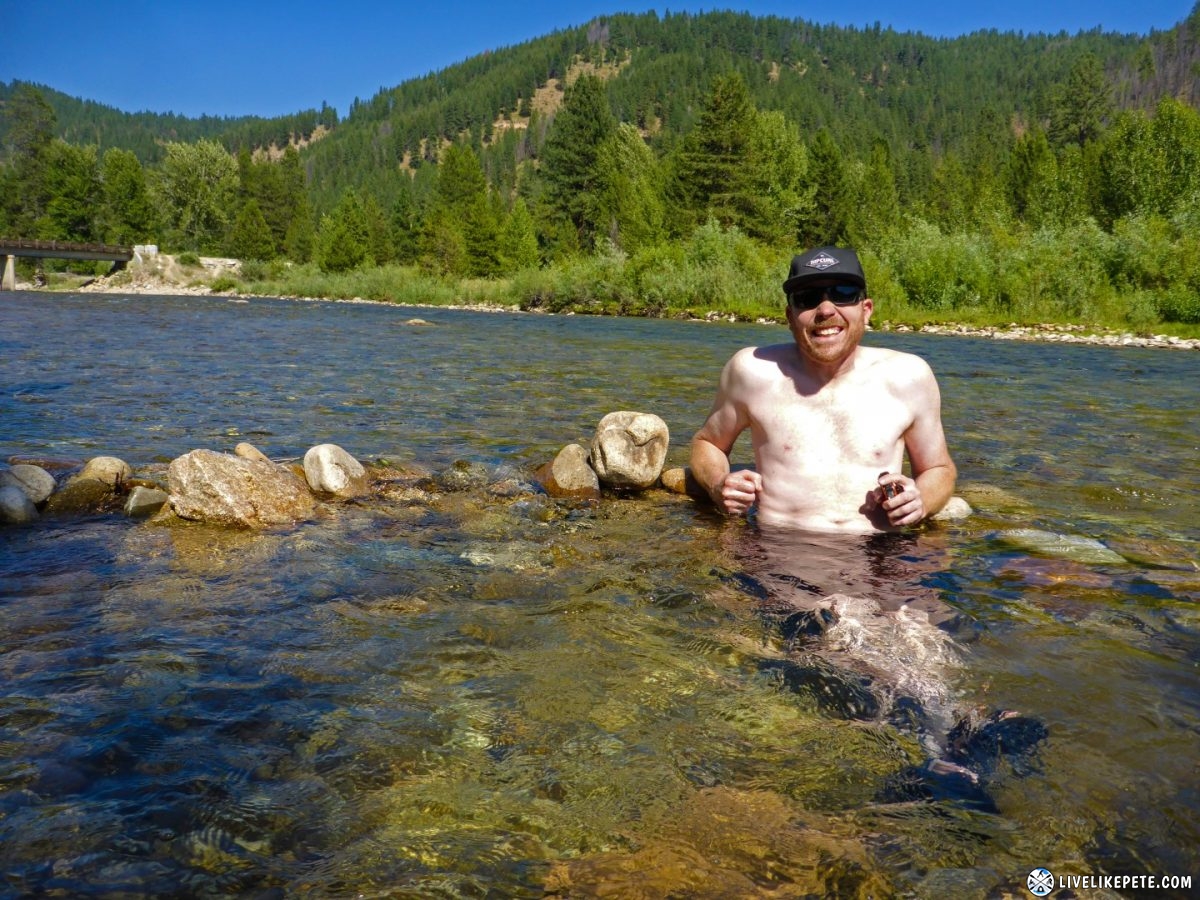 Seeing all these rivers along the trail, I've been wanting to do this the whole trip.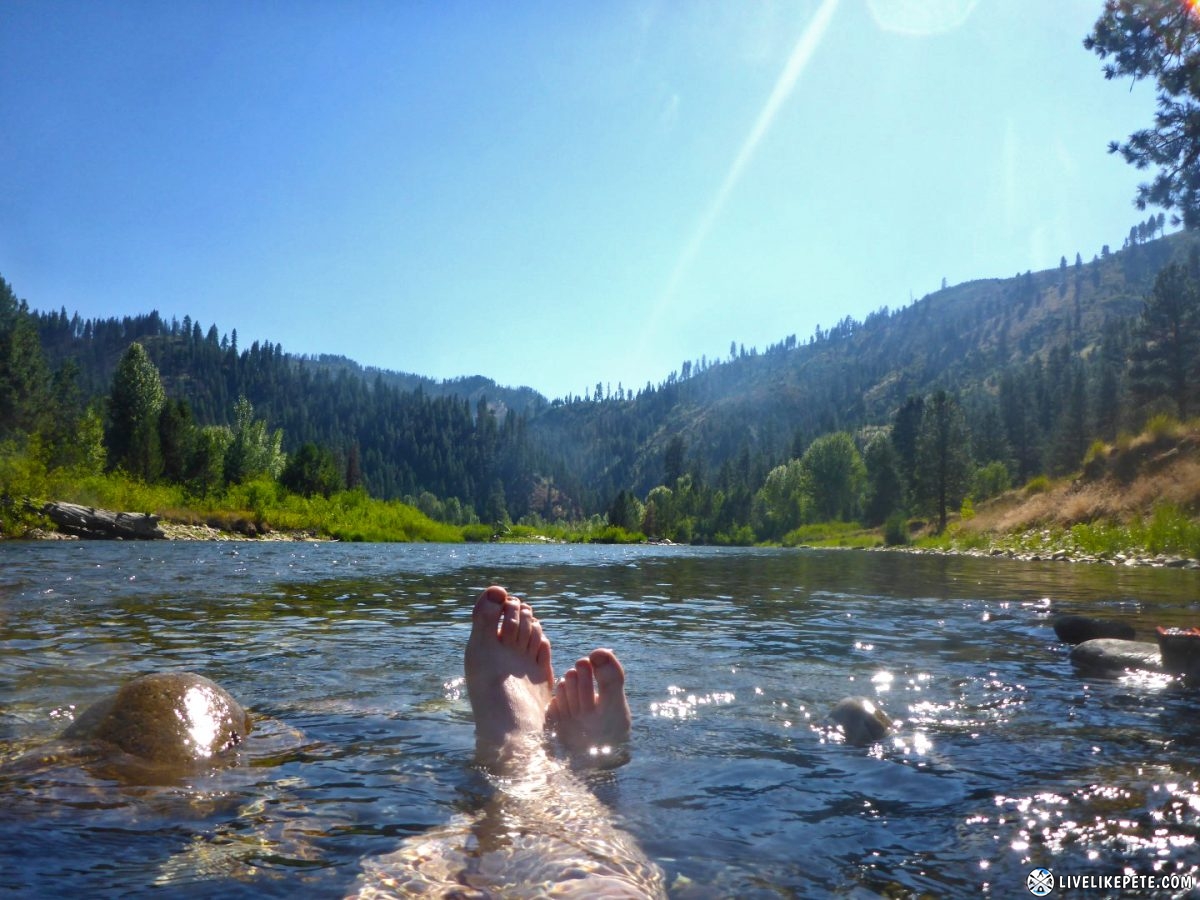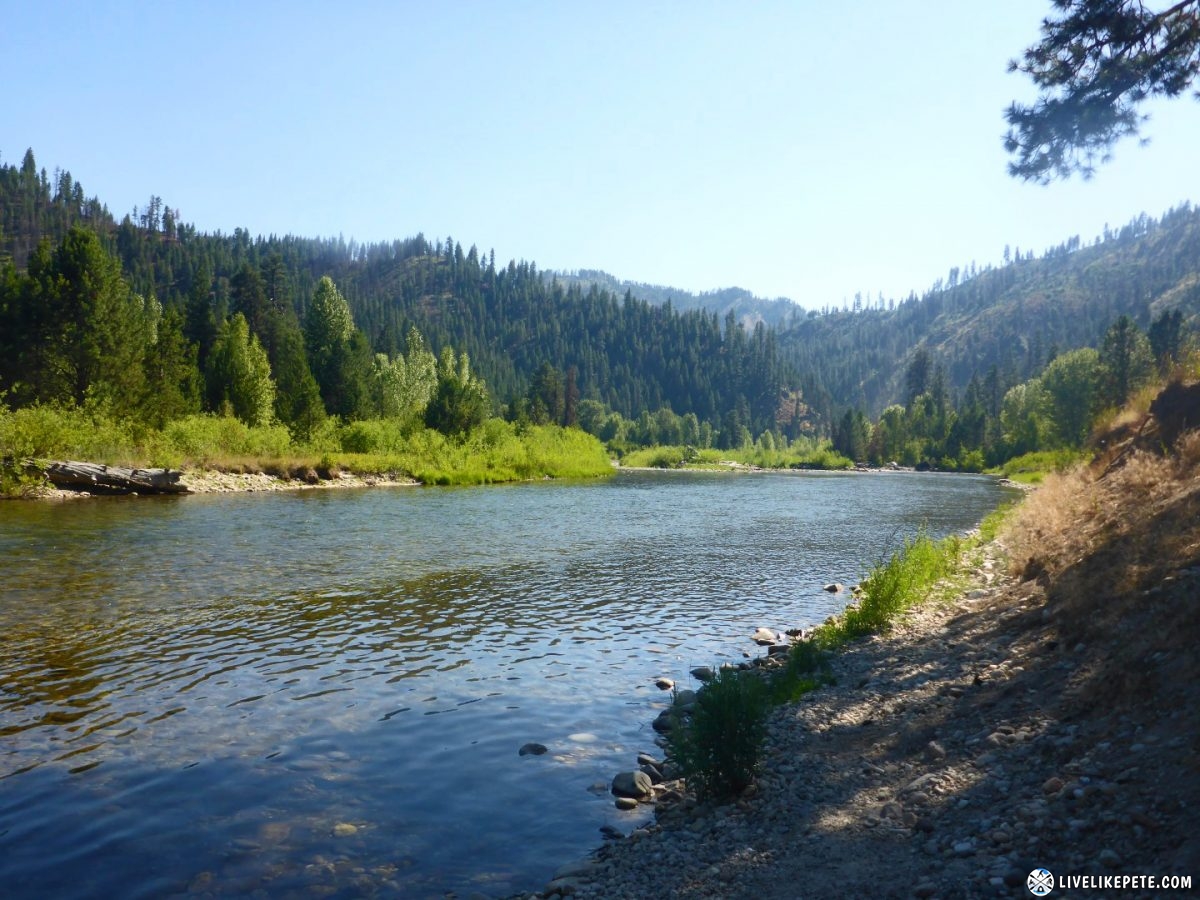 I had to look at the GPS to see what this river was. It was the North Fork Boise River. Waypoint marked! This was an awesome place to take a dip.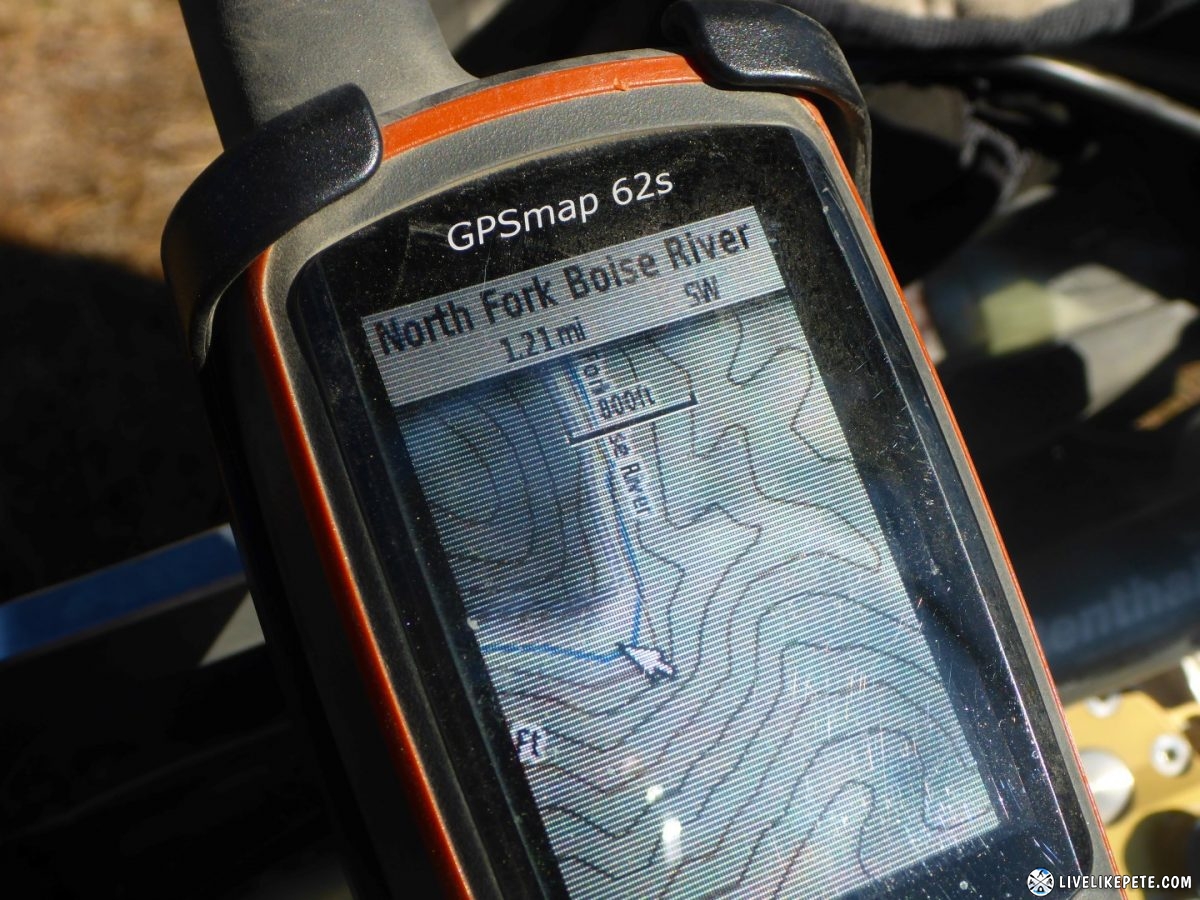 We headed west all the way to the HWY 21. I guess we passed our possible dirt route south but none of us ever saw it. It's probably for the better that we didn't take it. It would have been super late pulling into town had we taken that route. So we headed into Boise via pavement.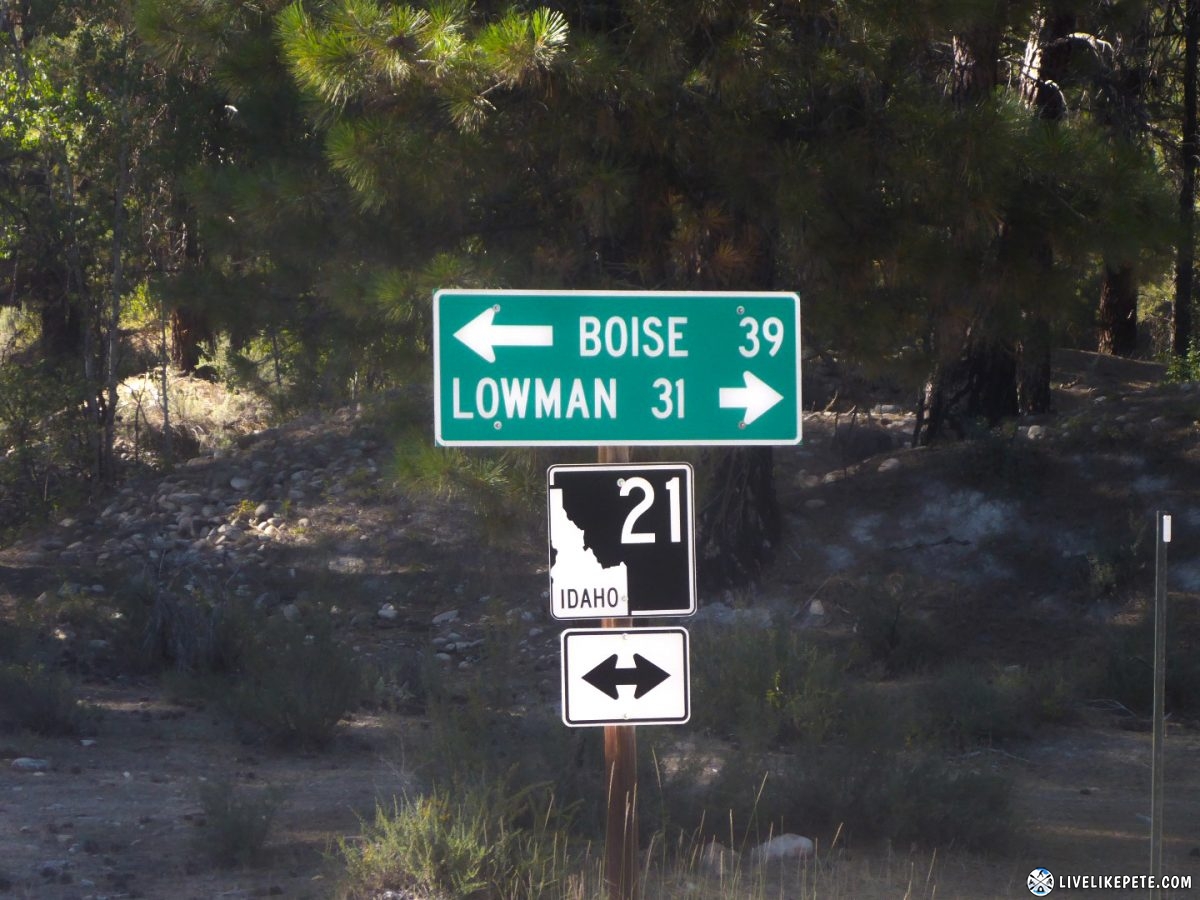 We rode past the Boise River along the way.
We arrived at The TK Bar in Boise to grab a bite to eat and a cold beer. Turns out they were only a bar so no food. We only had a cold one and had a cheers to our great adventure.
We noticed a guy literally laying in the gutter when we got there. Steve checked on him to make sure he was alive and ok. He gave a grunt and a nod so we left him alone. We asked the bartender dude if he was aware of the guy and knew what that was all about. He said, "I do! Let me tell you the story behind that". Ok, this sounds interesting already. He went on to say he was drunk and riding passenger in his car who was being driven by his drunk brother. The brother drove over the center median and caused a head on crash totalling his car. He was arrested for DUI and the car was towed away. At this point he gathered a few of his things and took a nap on the concrete to sleep off his drunkeness…in the sun. Oh and he recently lost his job and was waiting for his former boss to come pick him up. Okaaayyyy. Strange!
The bartender's body language while he was telling the story was entertaining in itself. Funny dude.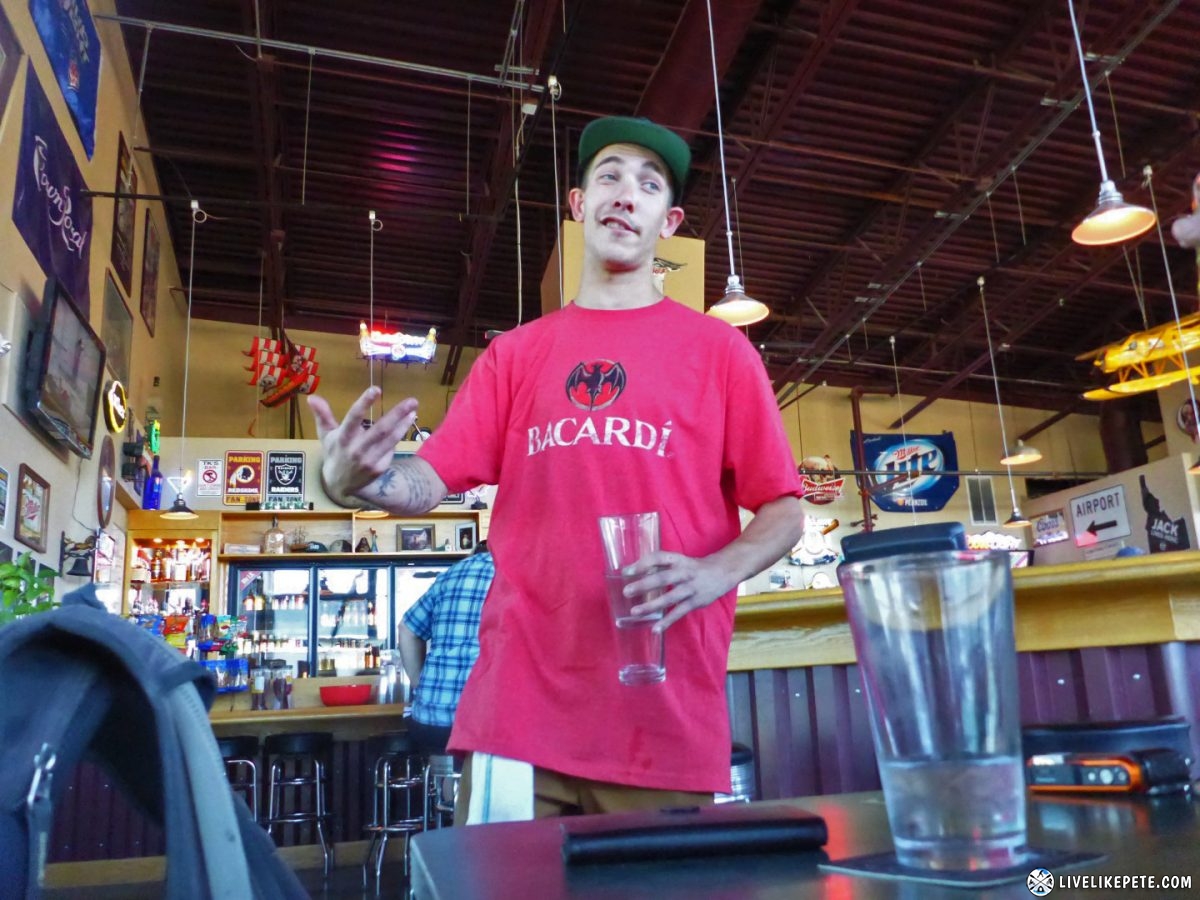 After we sat there for while and cooled off with some waters, we hopped on HWY 84 towards Mountain Home and took advantage of the 80 mph speed limit.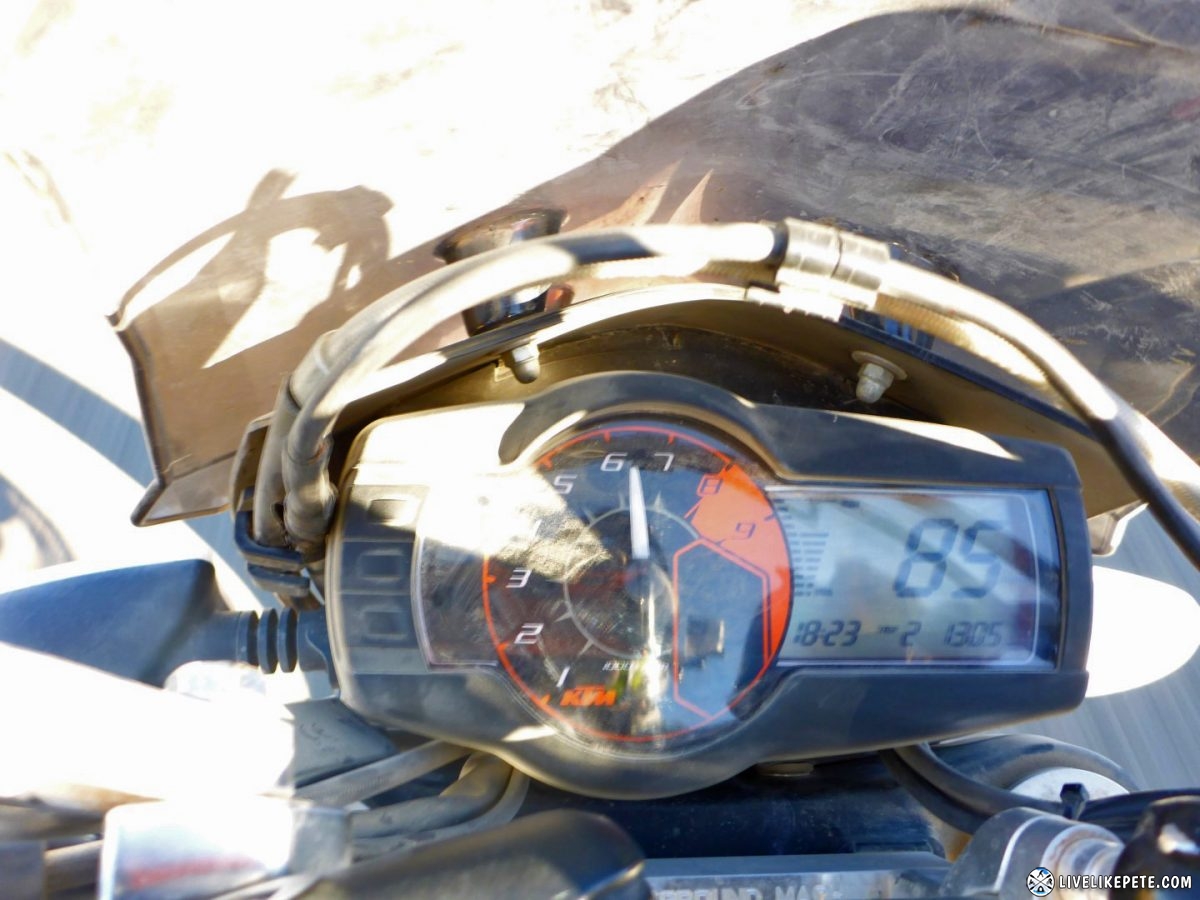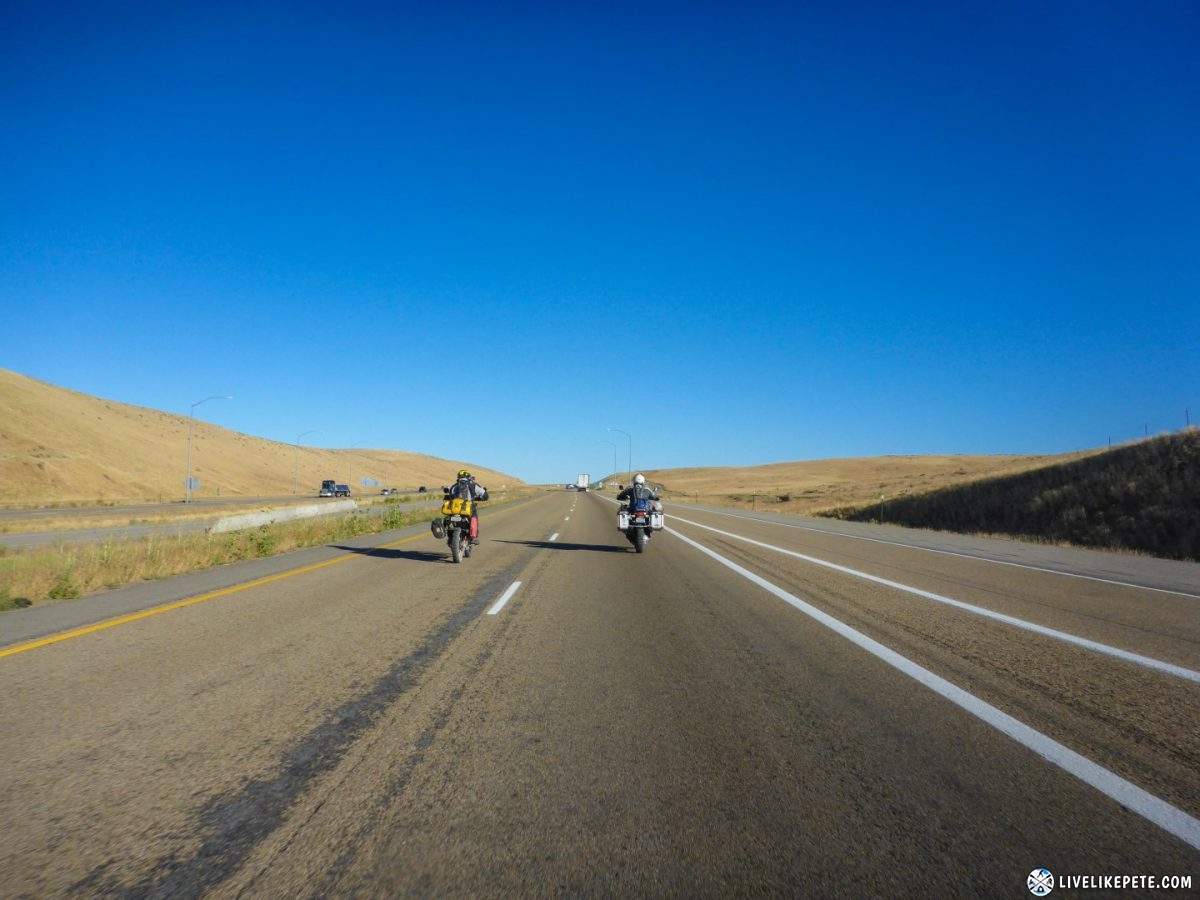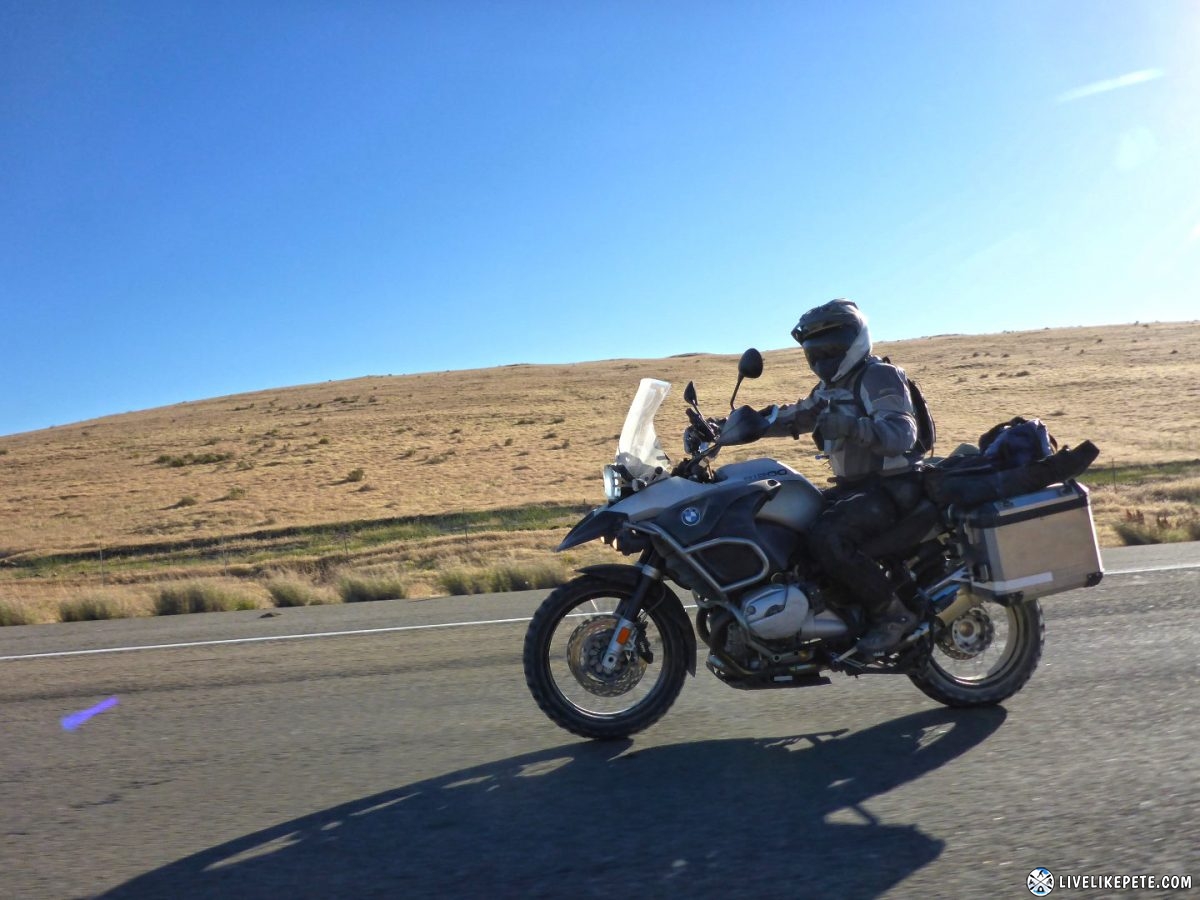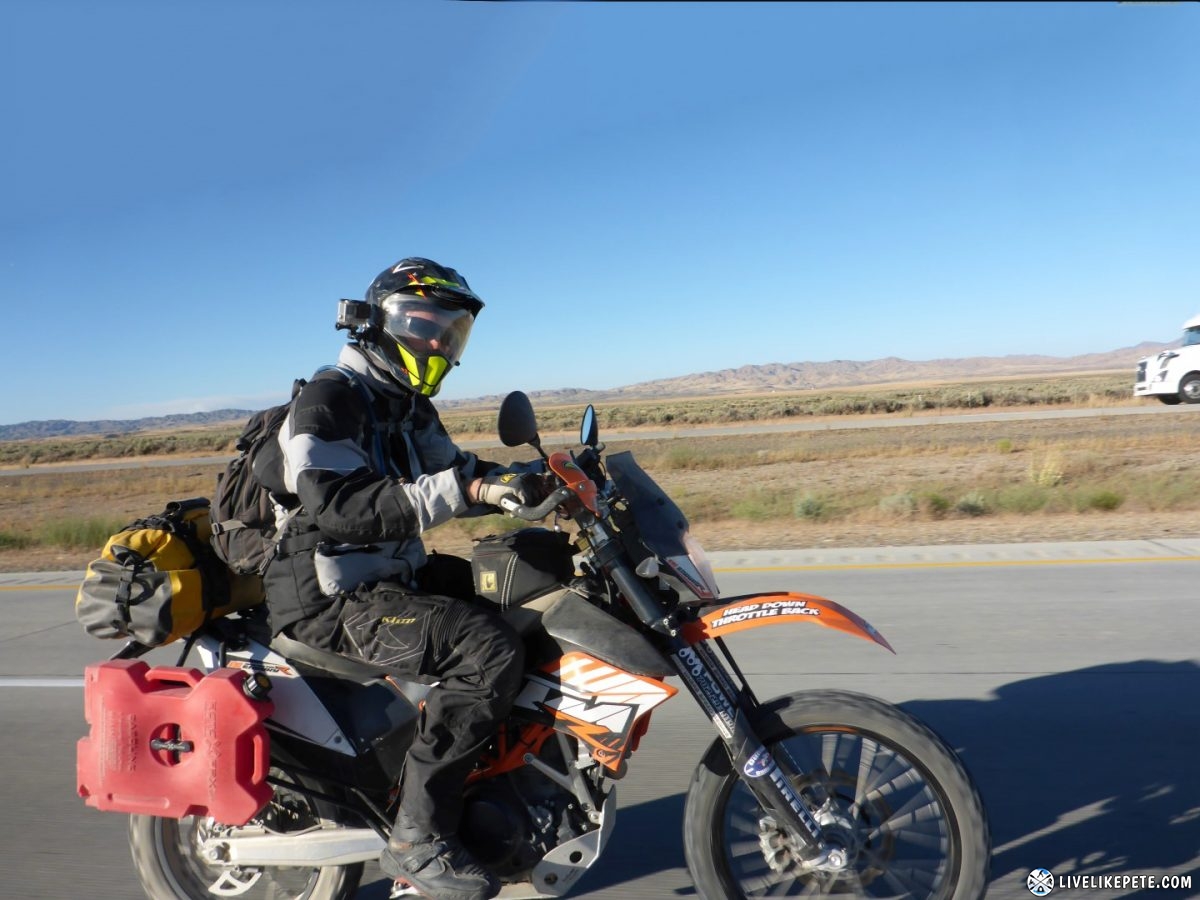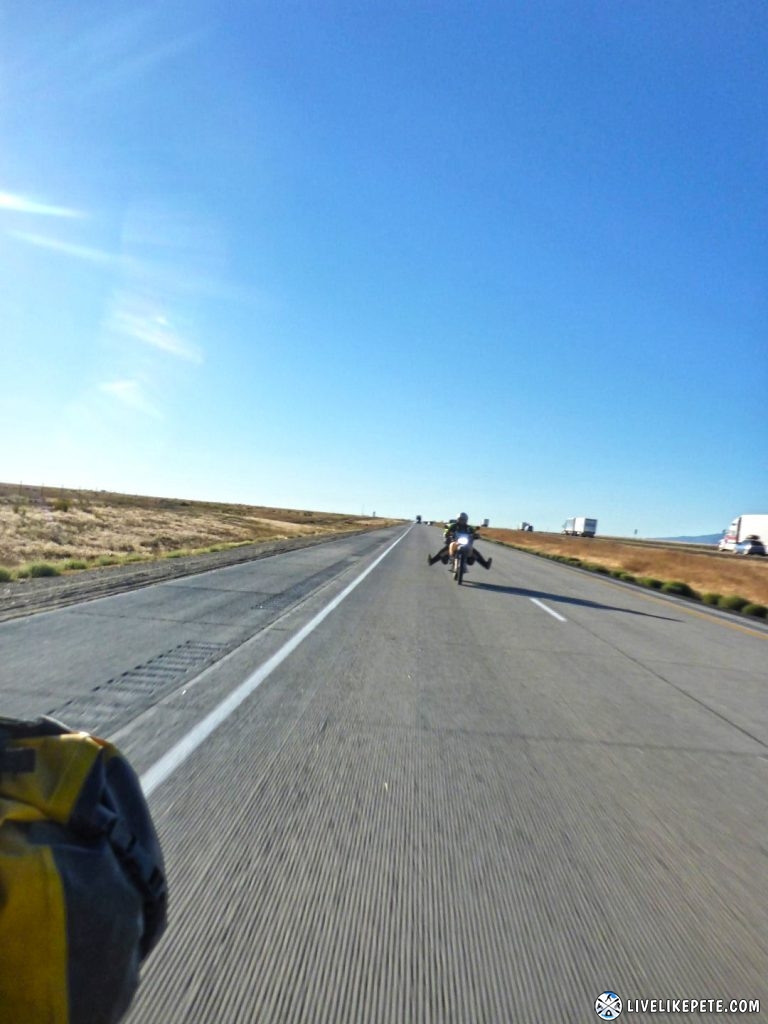 Once in Mountain Home, it was time for some pizza!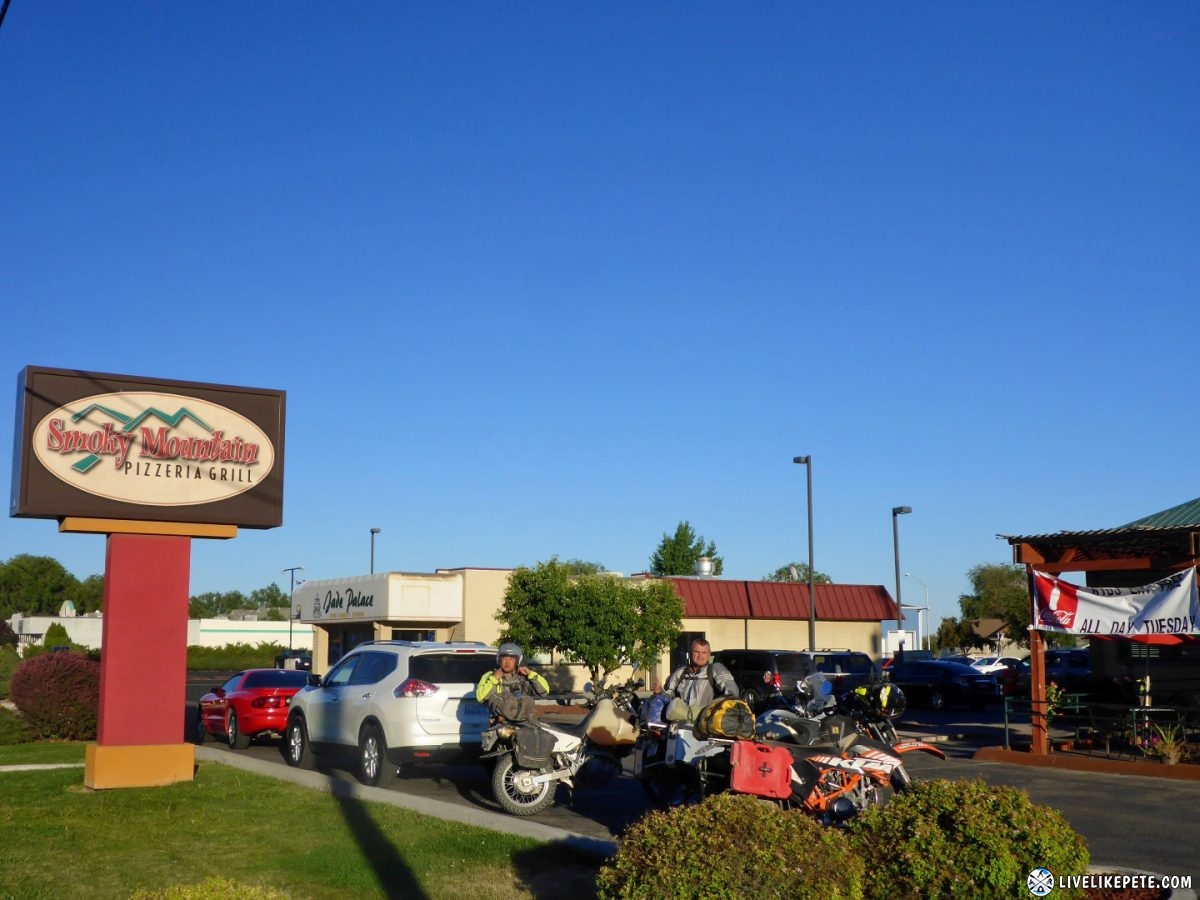 There were 4 chairs at the bar. Hey, we're missing our 4th guy, Brice! So we took a couple photos for him. We wish he could have joined us on this epic adventure.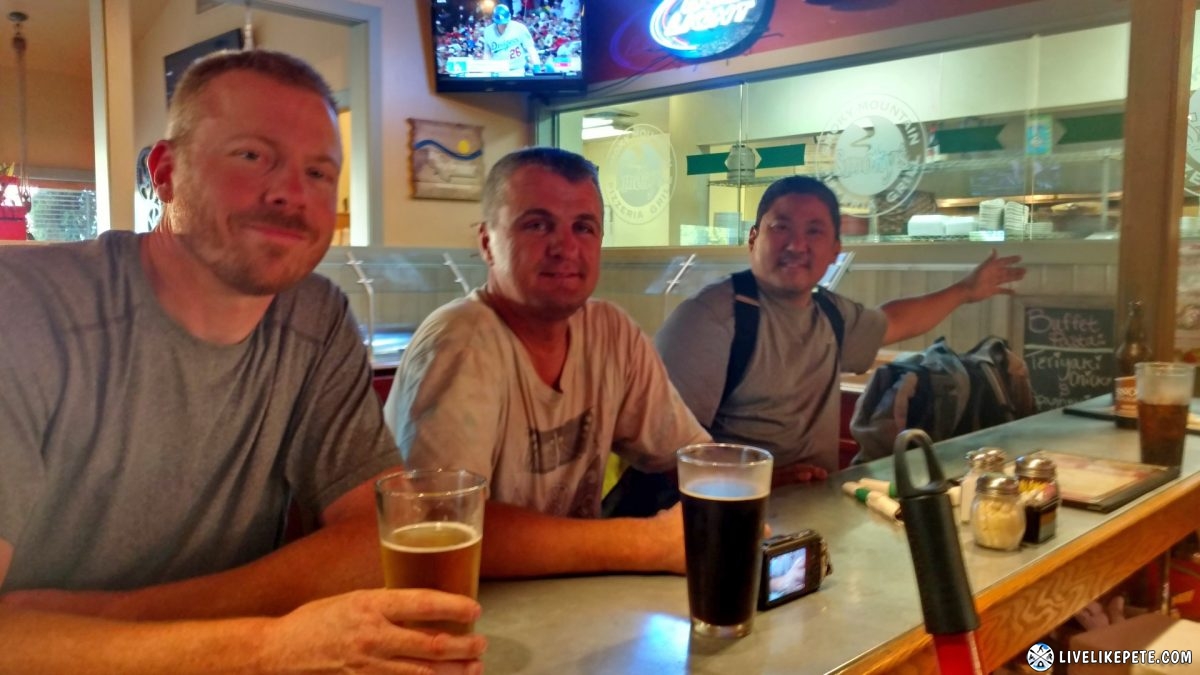 The bartender took his spot and we had a laugh over it.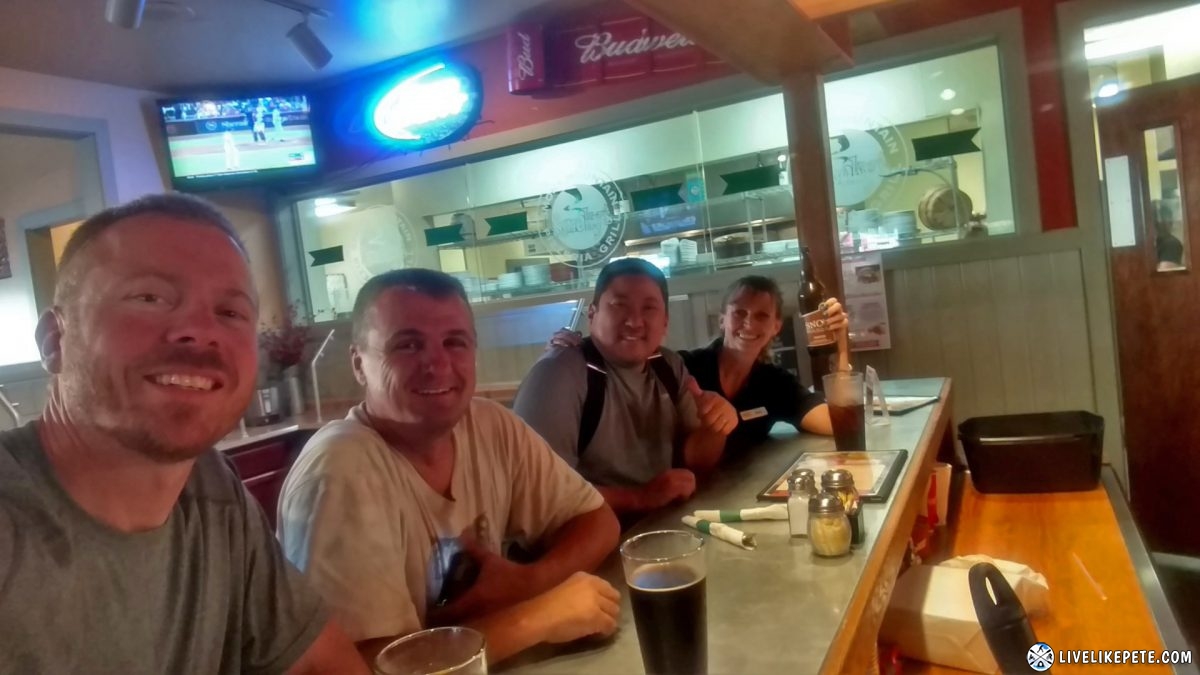 After dinner, Steve and I traded bikes and rode back to our hotel for the night. Now I want a GS and he wants a 690 to add to our garage.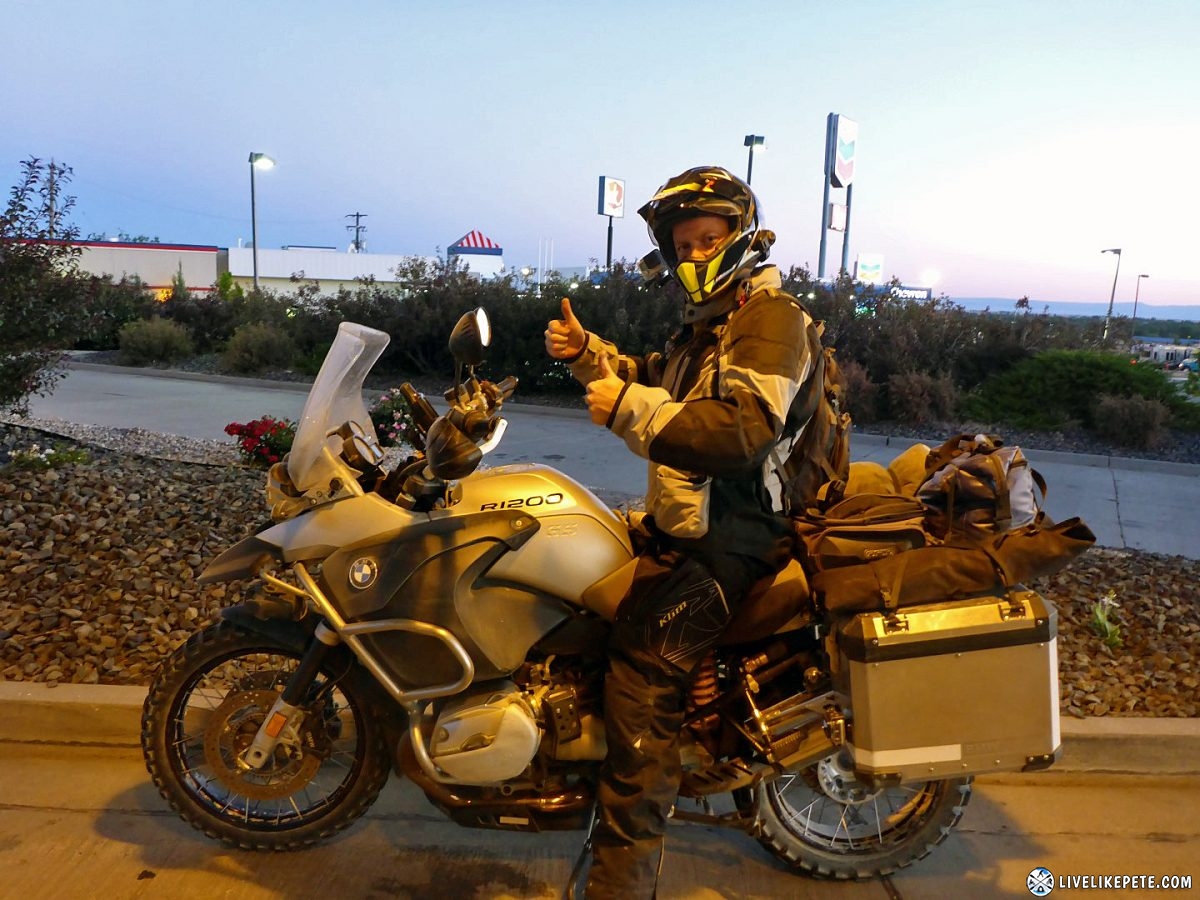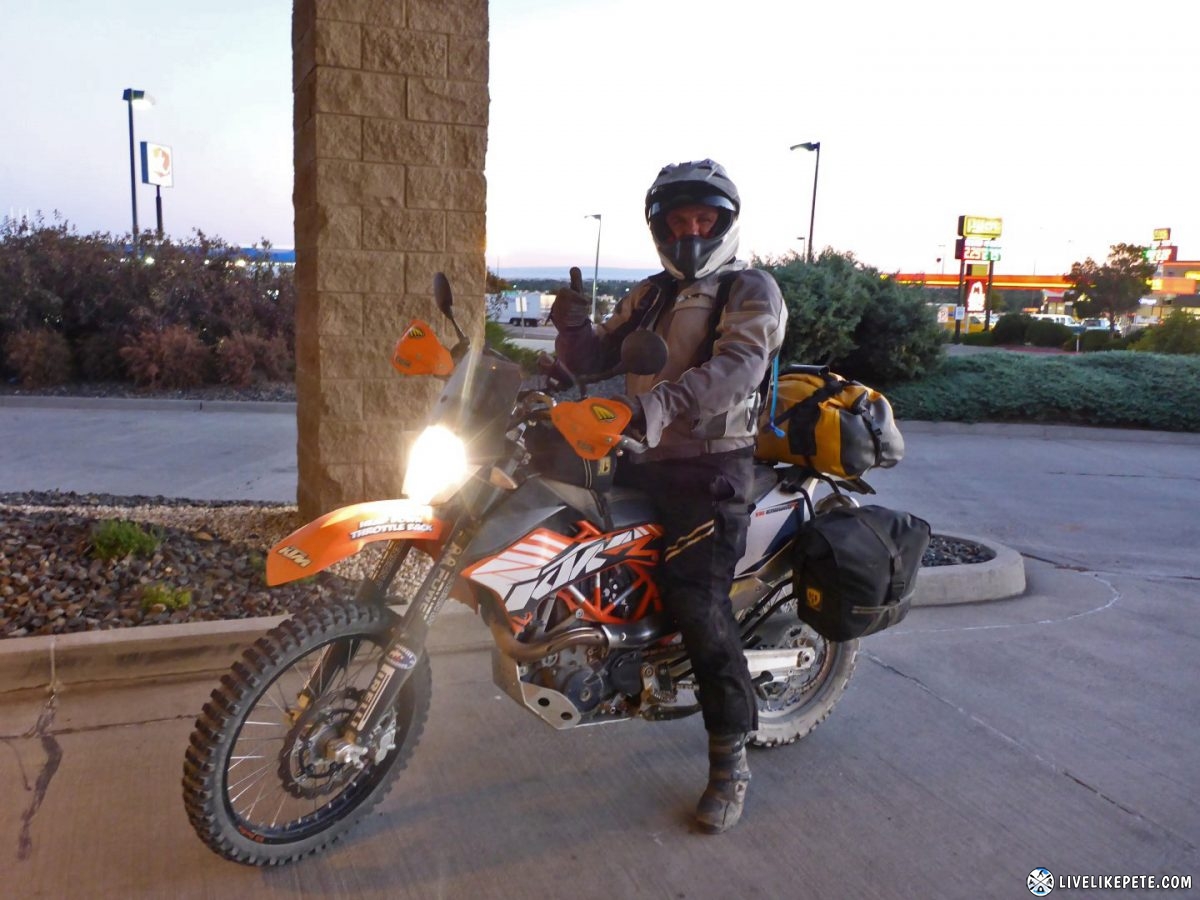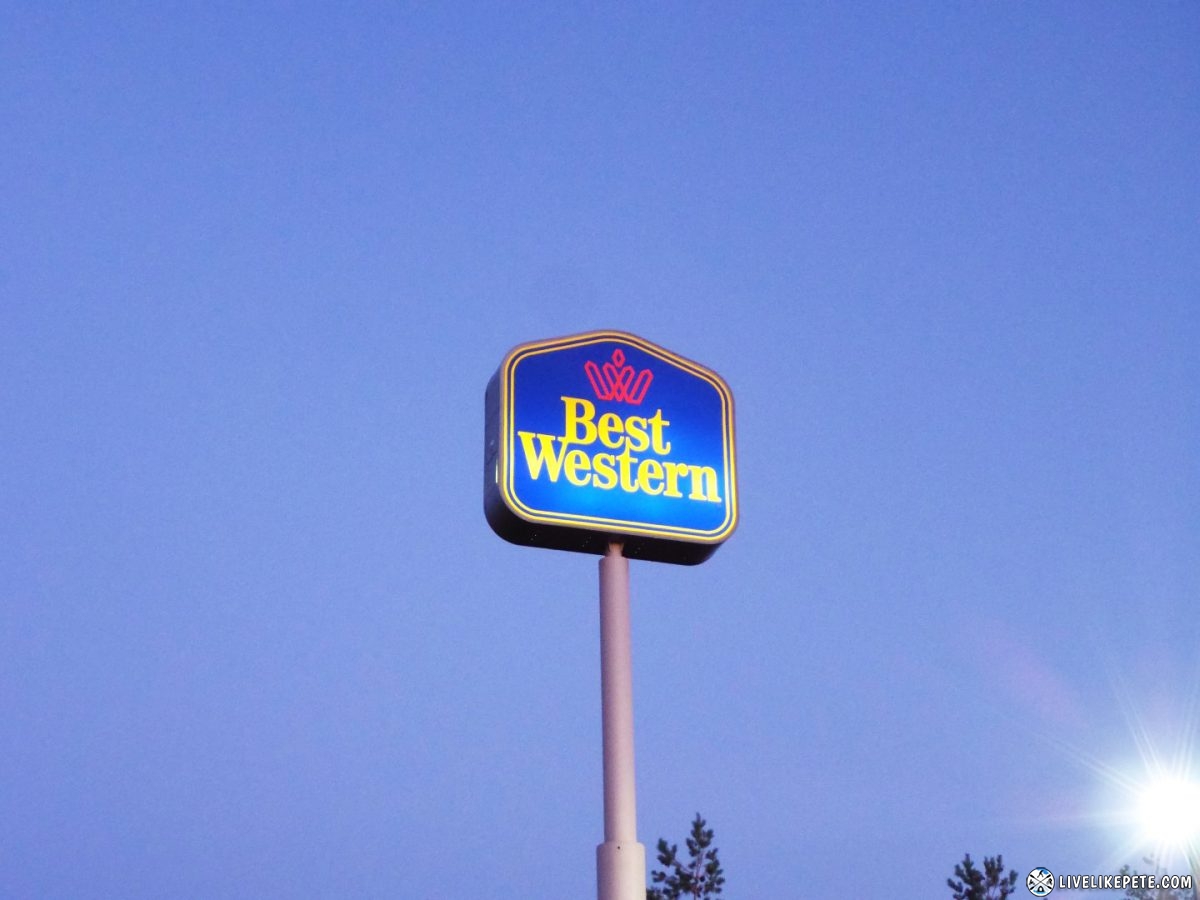 We loaded up and called it a night before the long drive home the next day.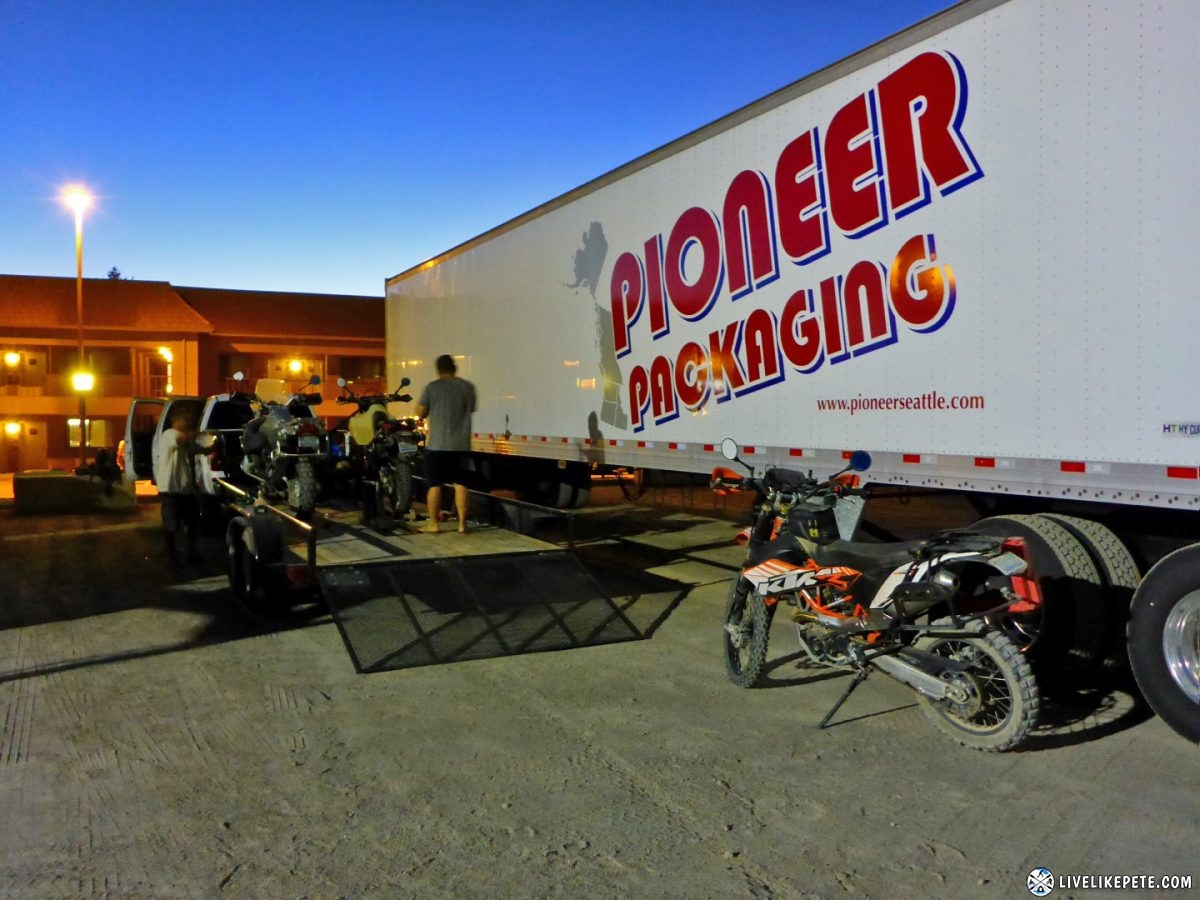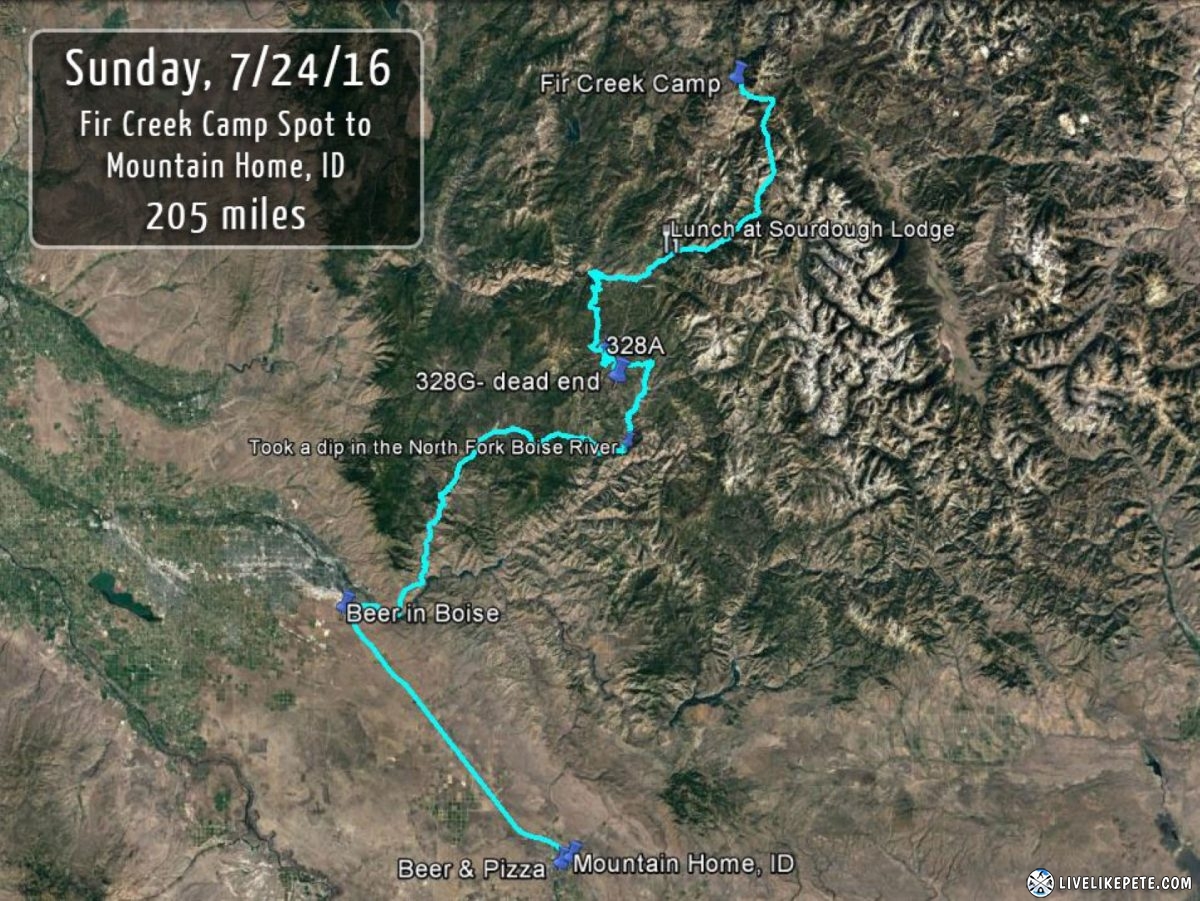 Interactive Map and GPX file download of Day 4
Download this track
Right-click HERE and [save link as] to your computer.
This will save the GPX file rather than a text file.
Comments
comments