Day 2: Deadwood Reservoir to Salmon River
Friday morning I felt amazing after a good night's rest and waking up to this…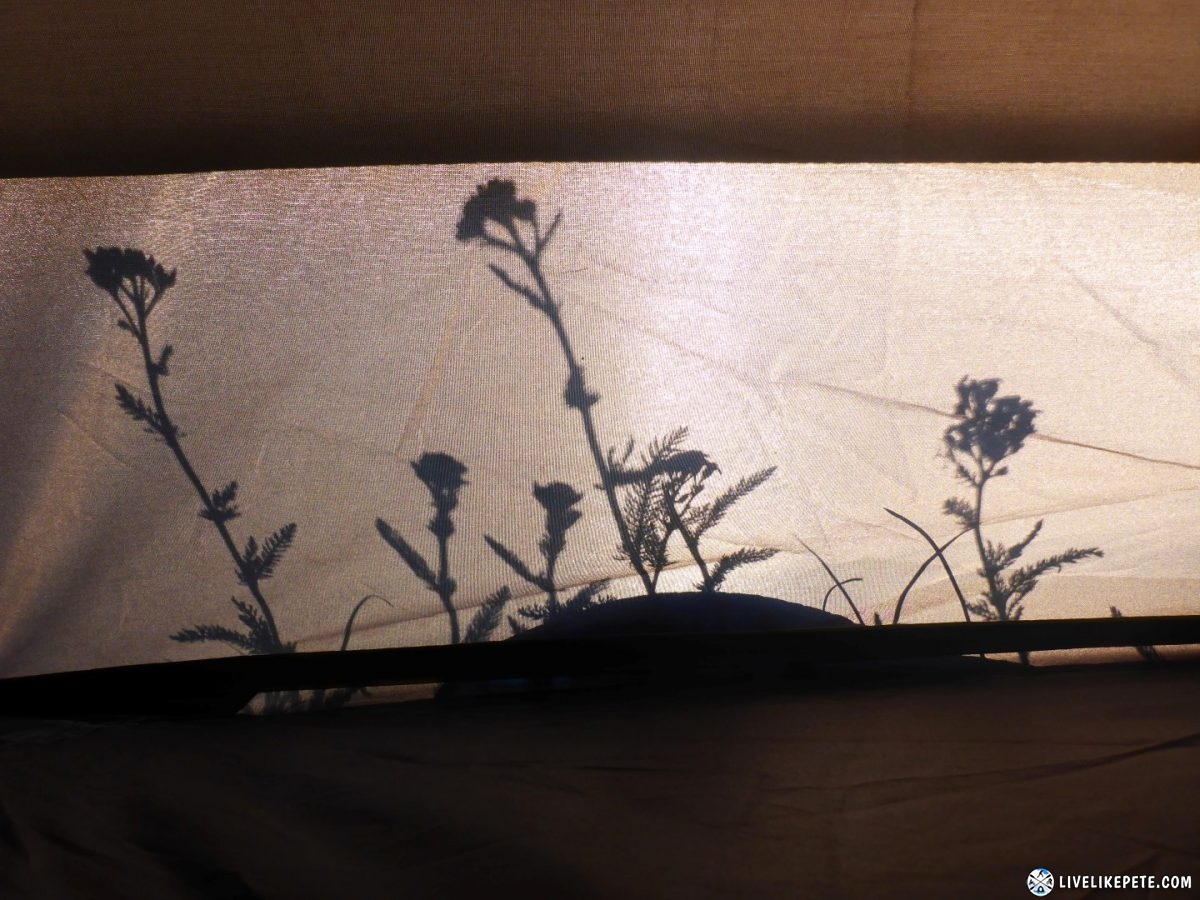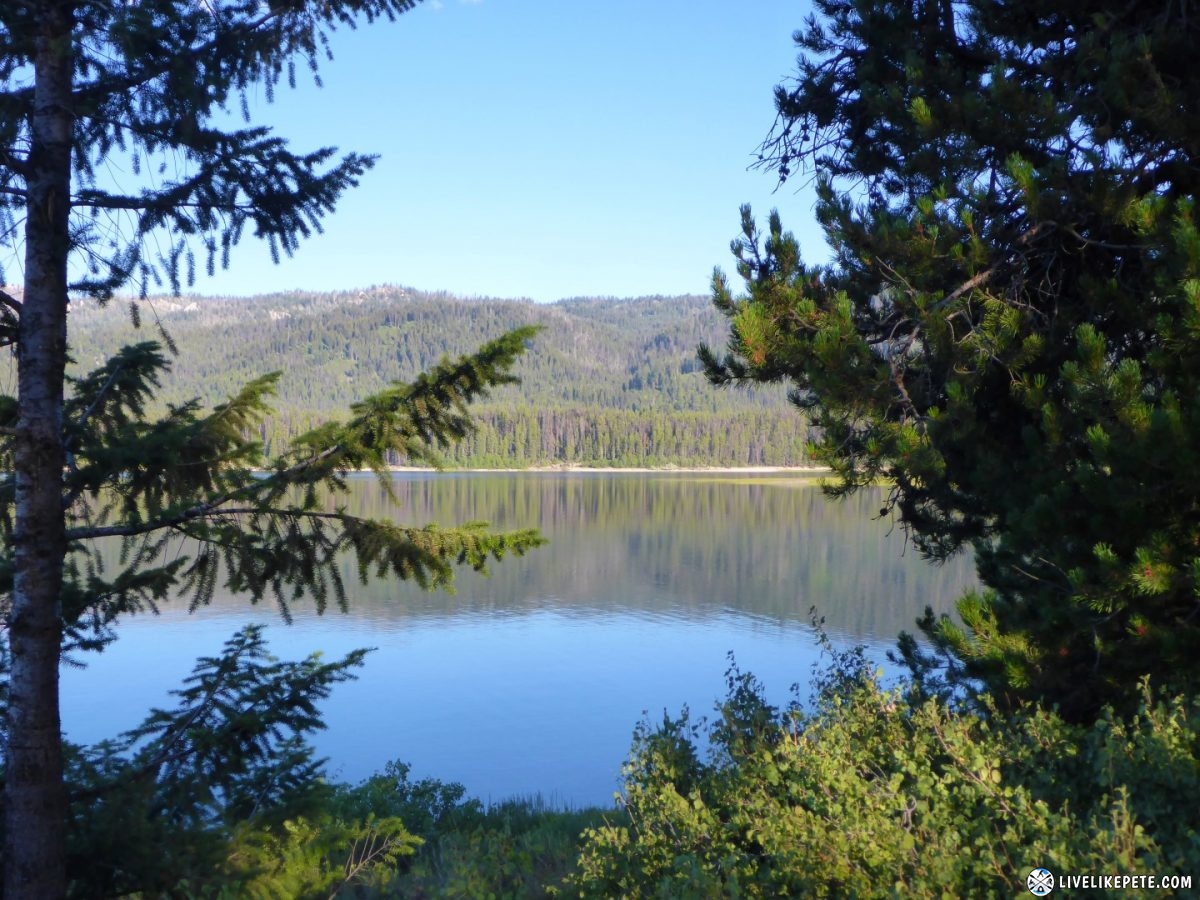 I made some coffee and warmed up next to the fire with some breakfast.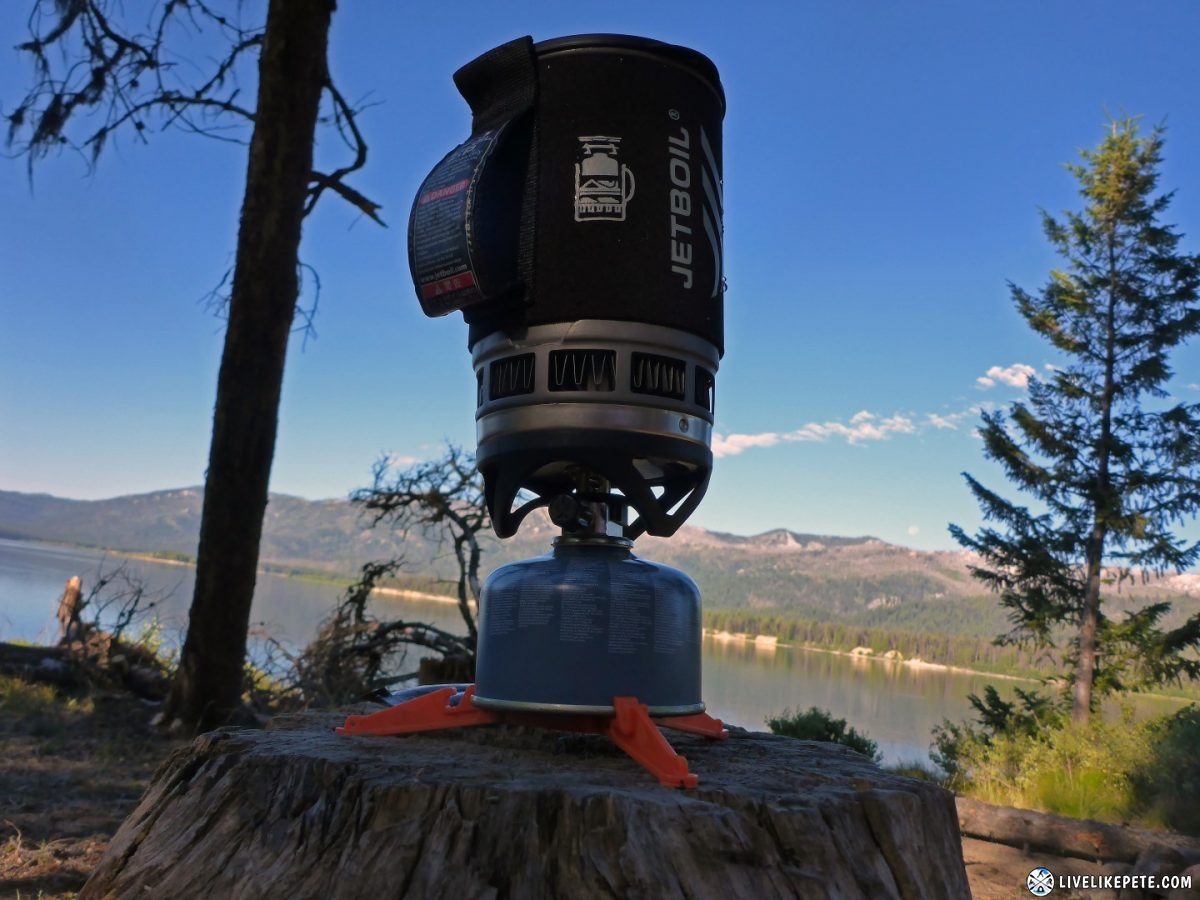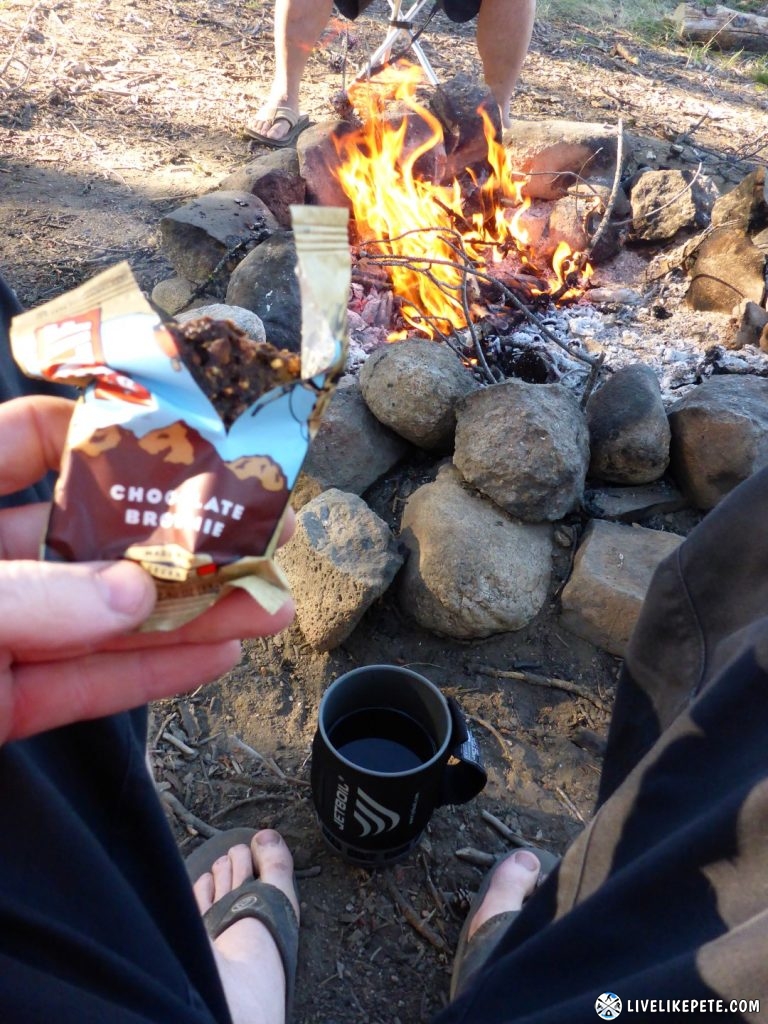 Steve made up his fancy oatmeal. I'm going to have to step up my breakfast game!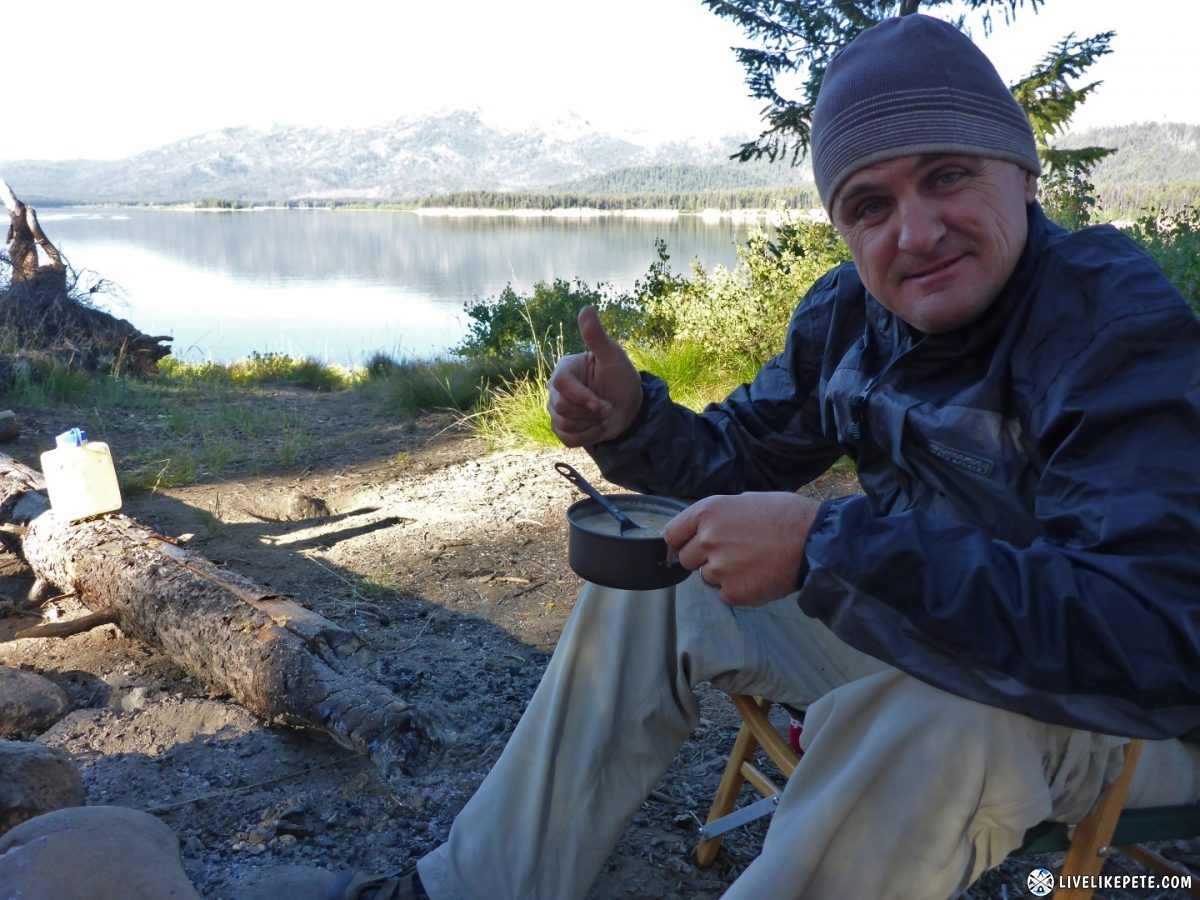 I took a little walk down to the water with my coffee.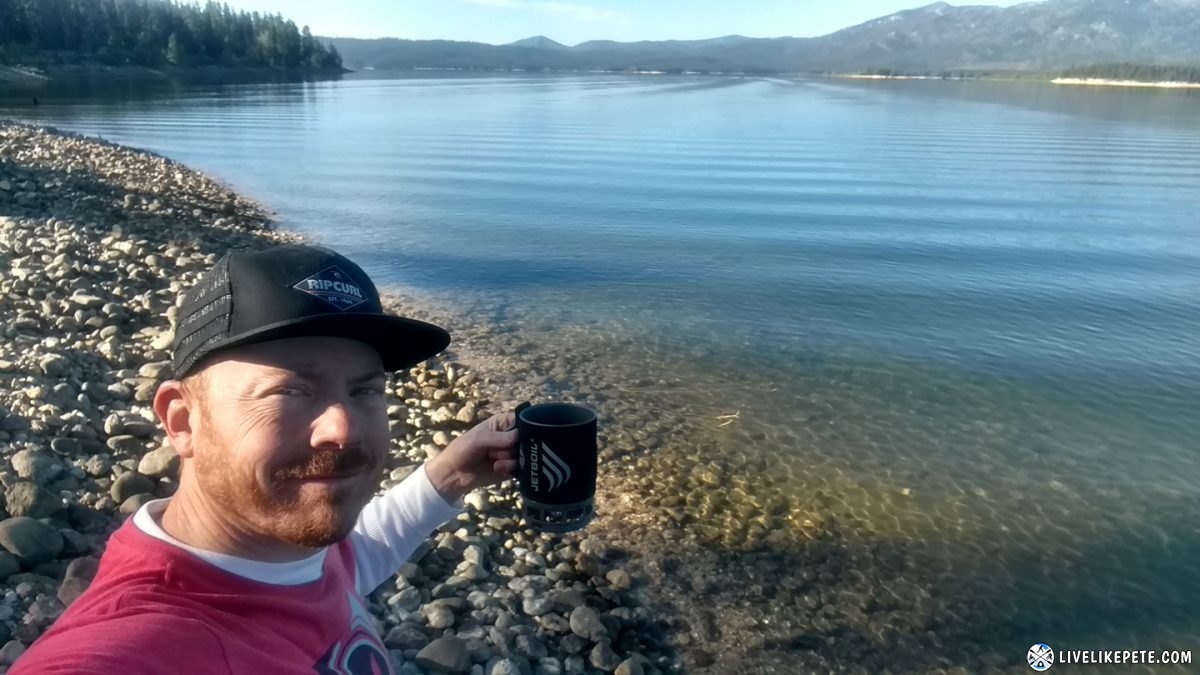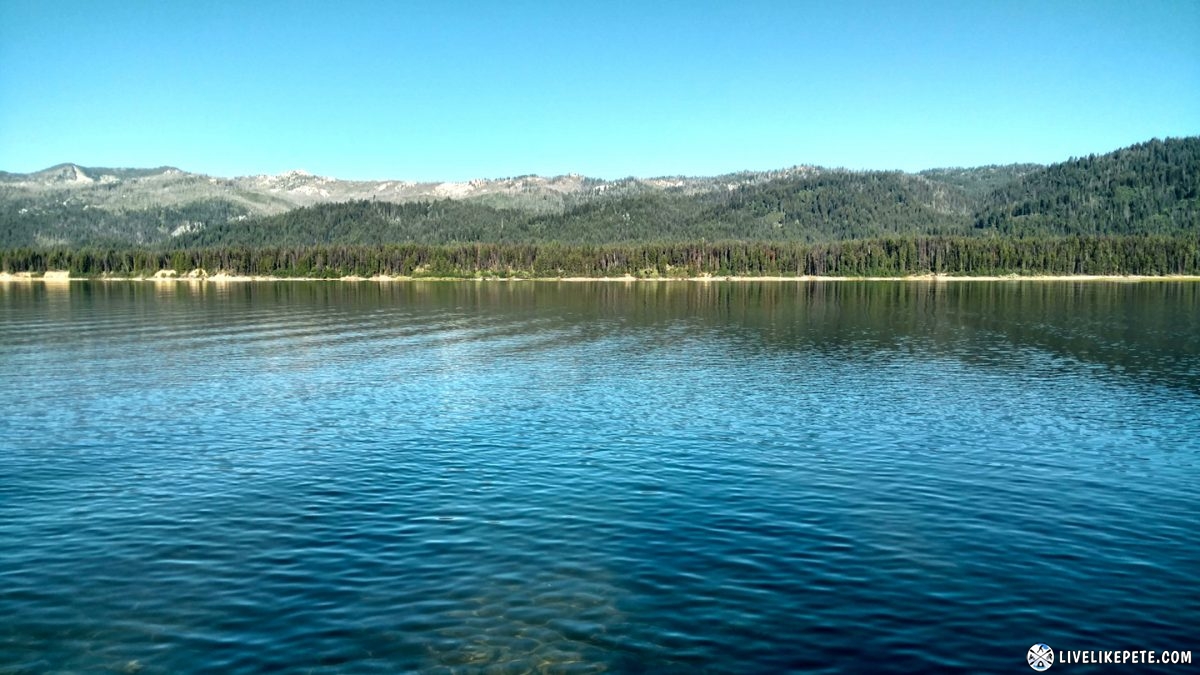 Time for my morning planking ritual to purge the duffel bag air.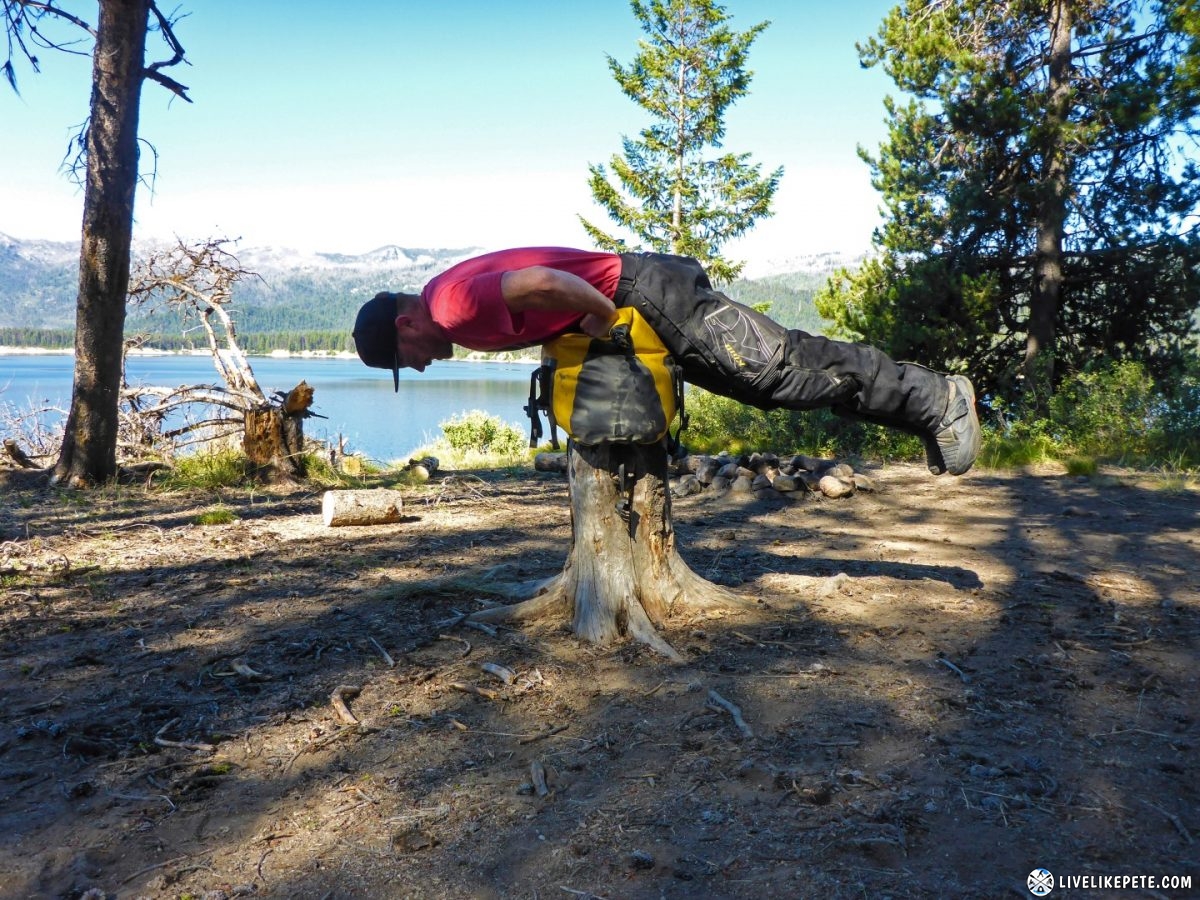 We packed up camp and were ready for the day!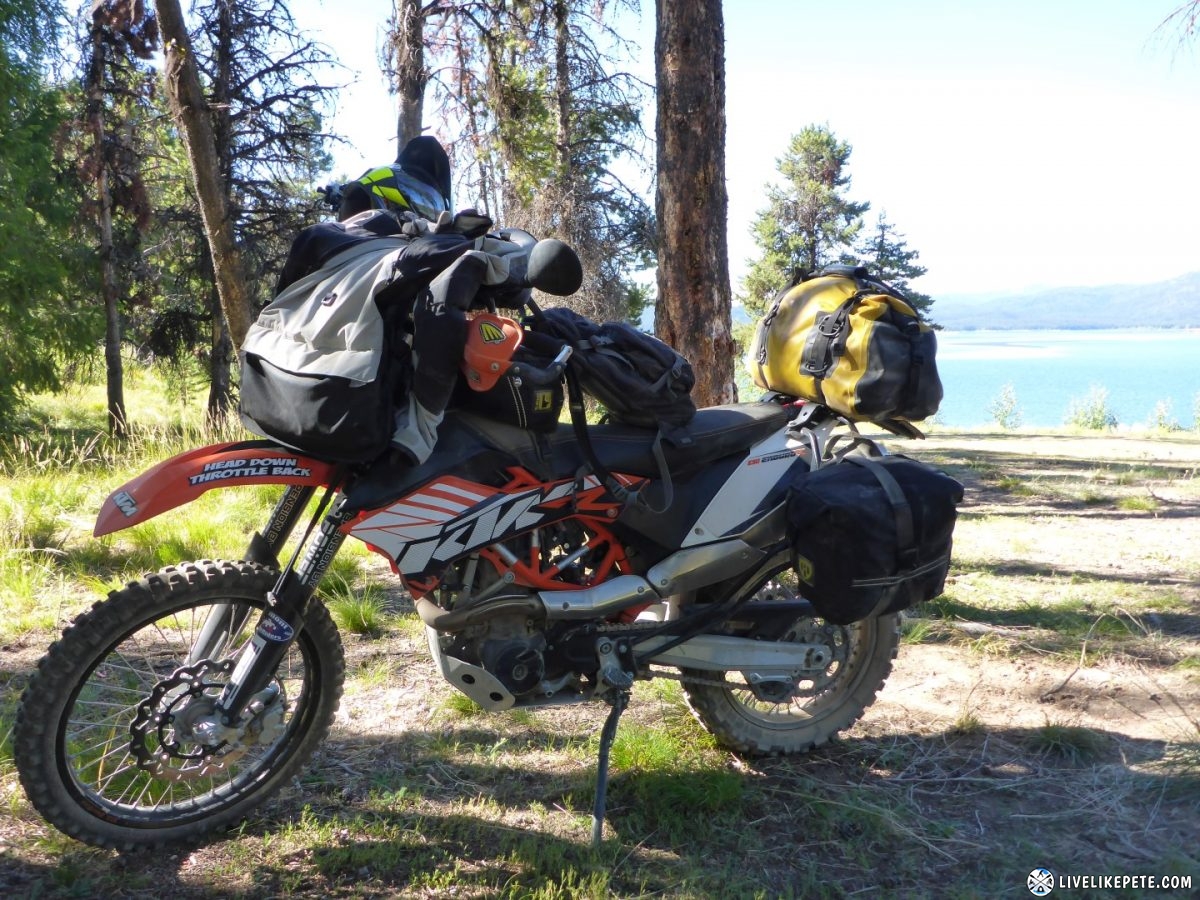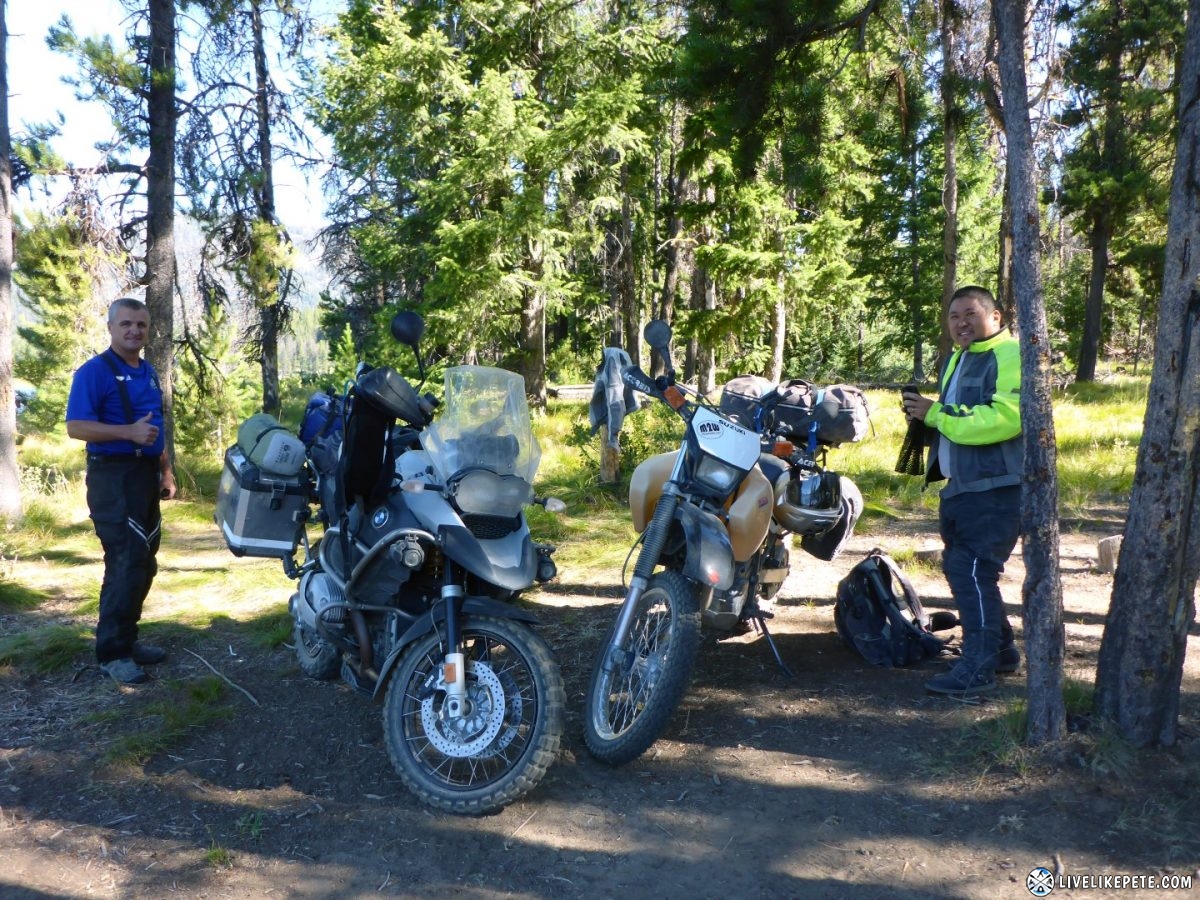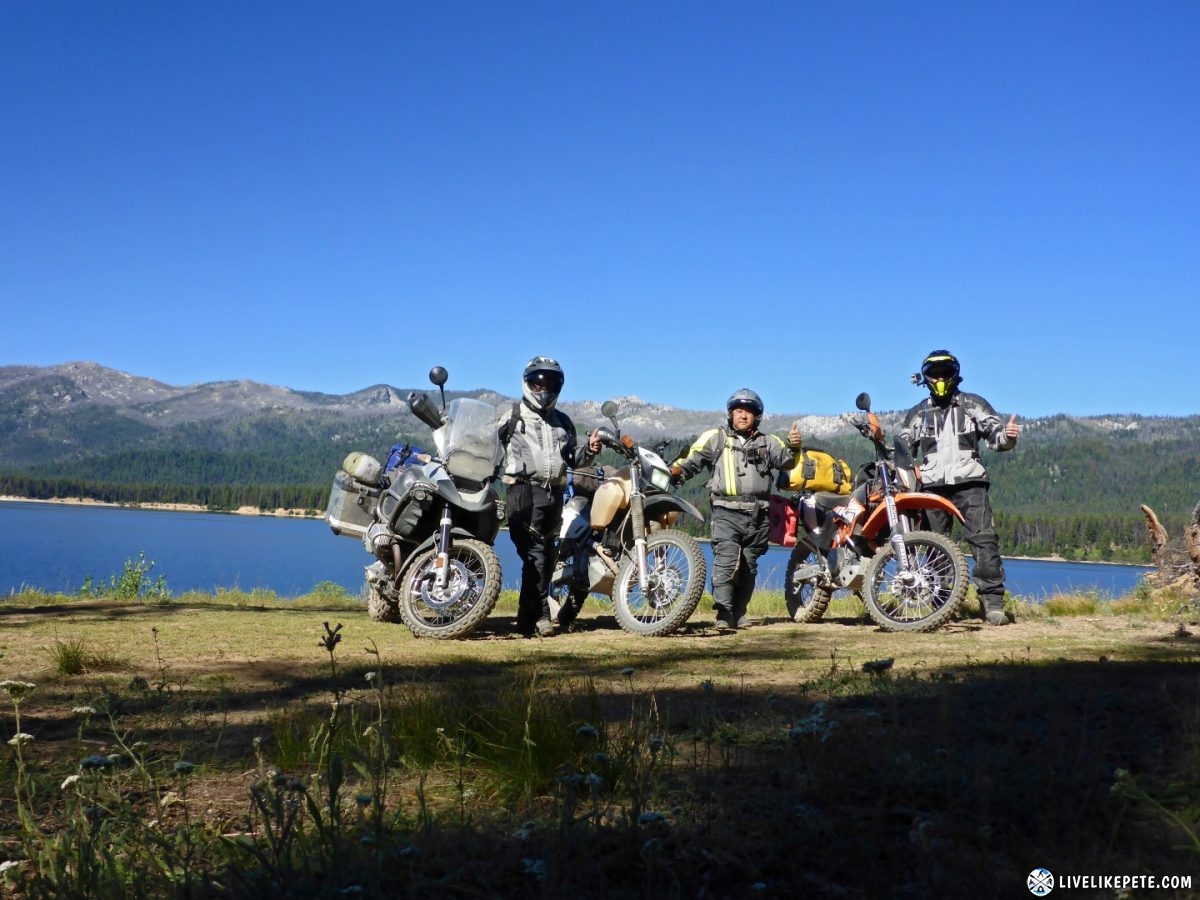 We stopped at a horseshoe-shaped creek along the road, just north of Deadwood.

Easy dirt roads were next. The cool, morning air felt great.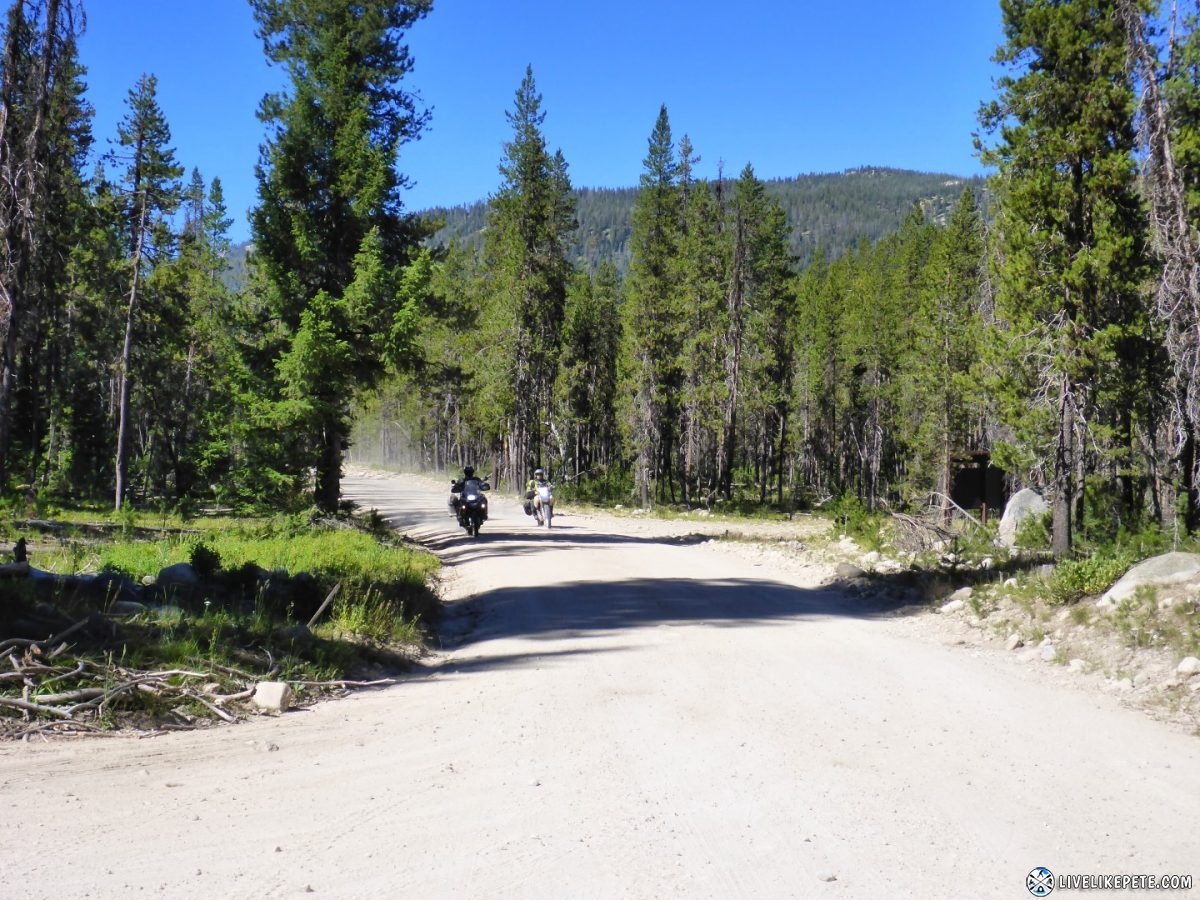 No shortage of green up here!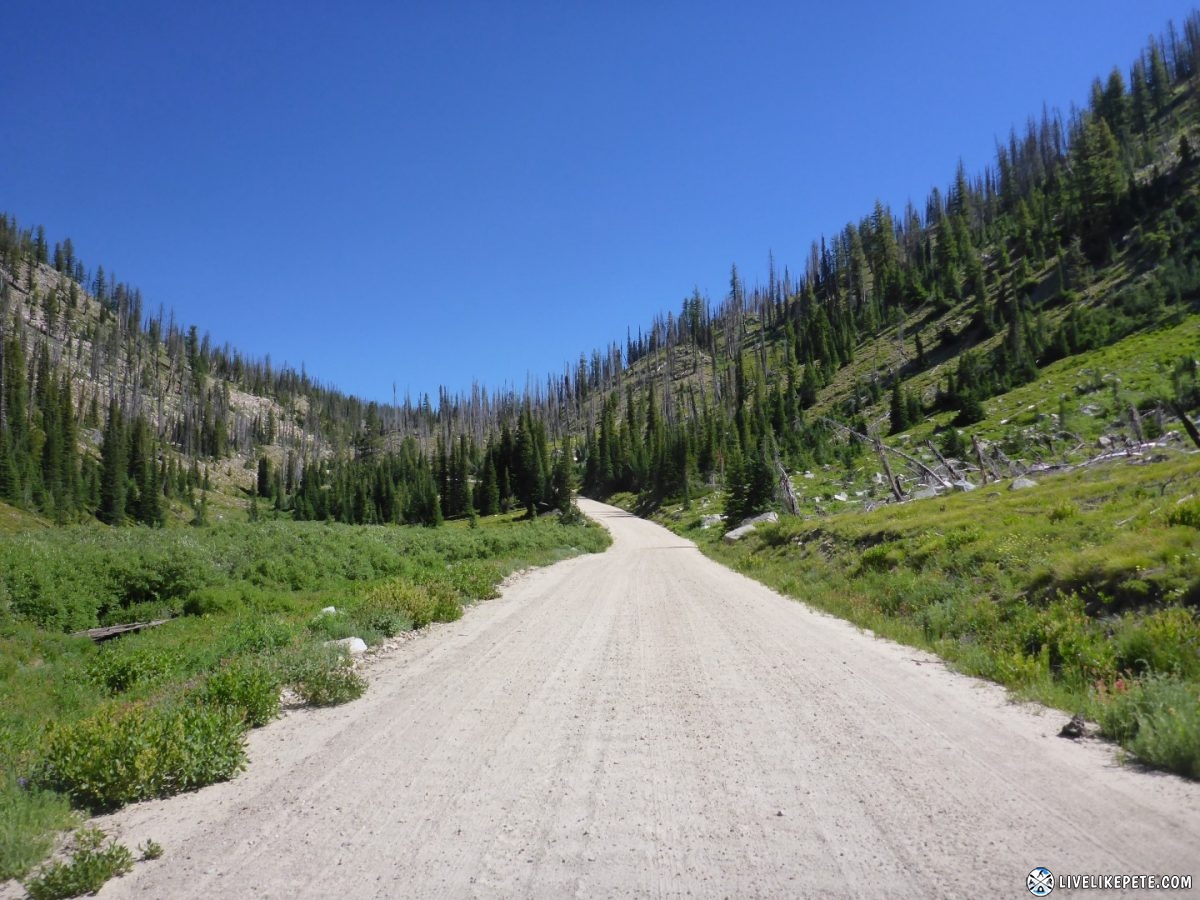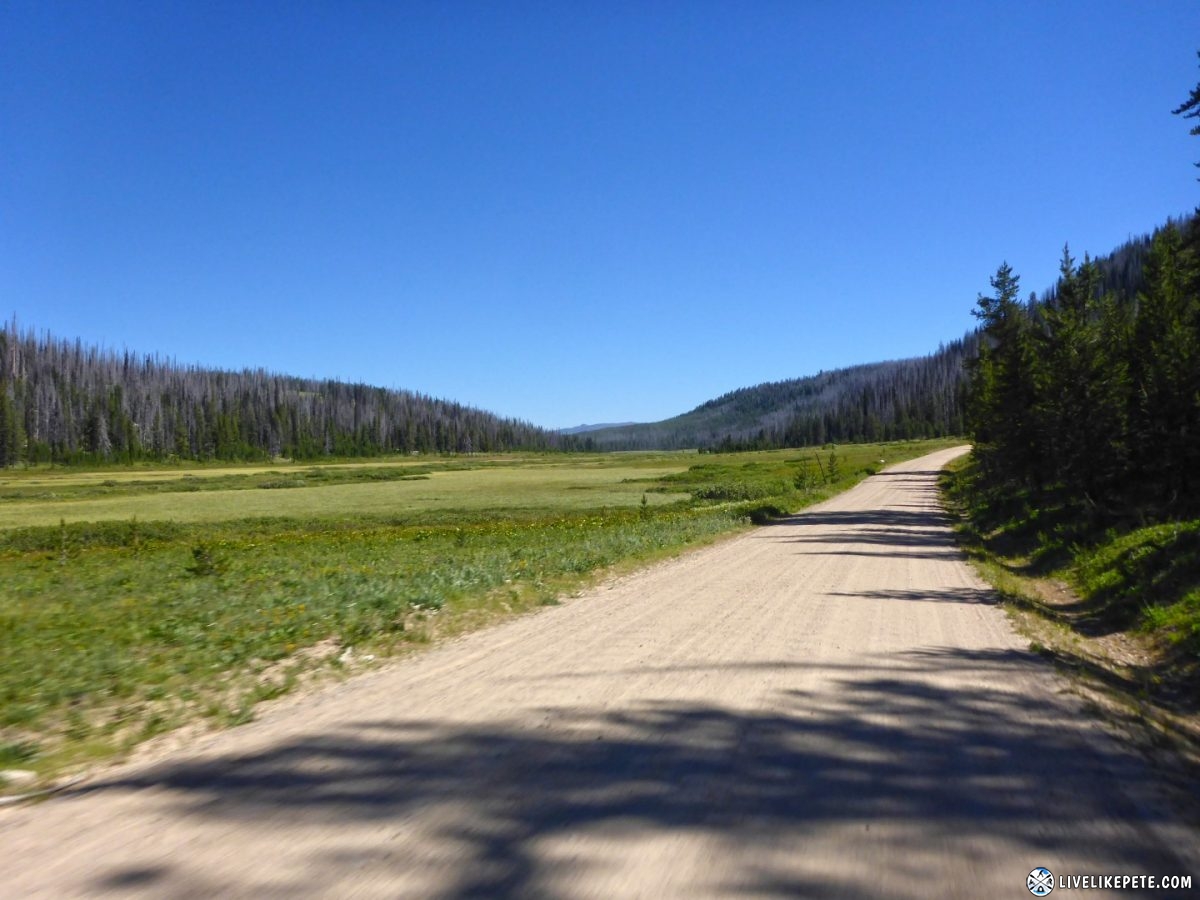 These were some of the many creeks that ran next to the roads.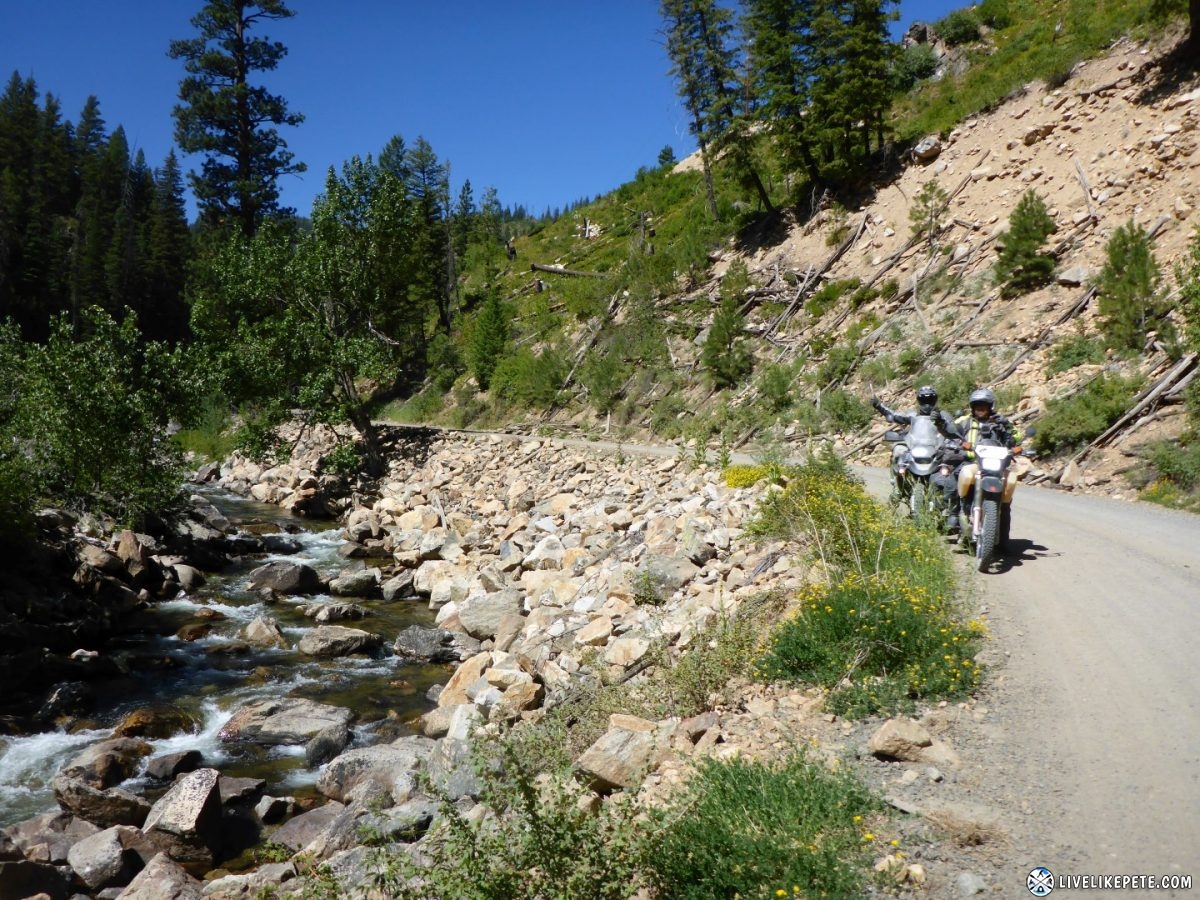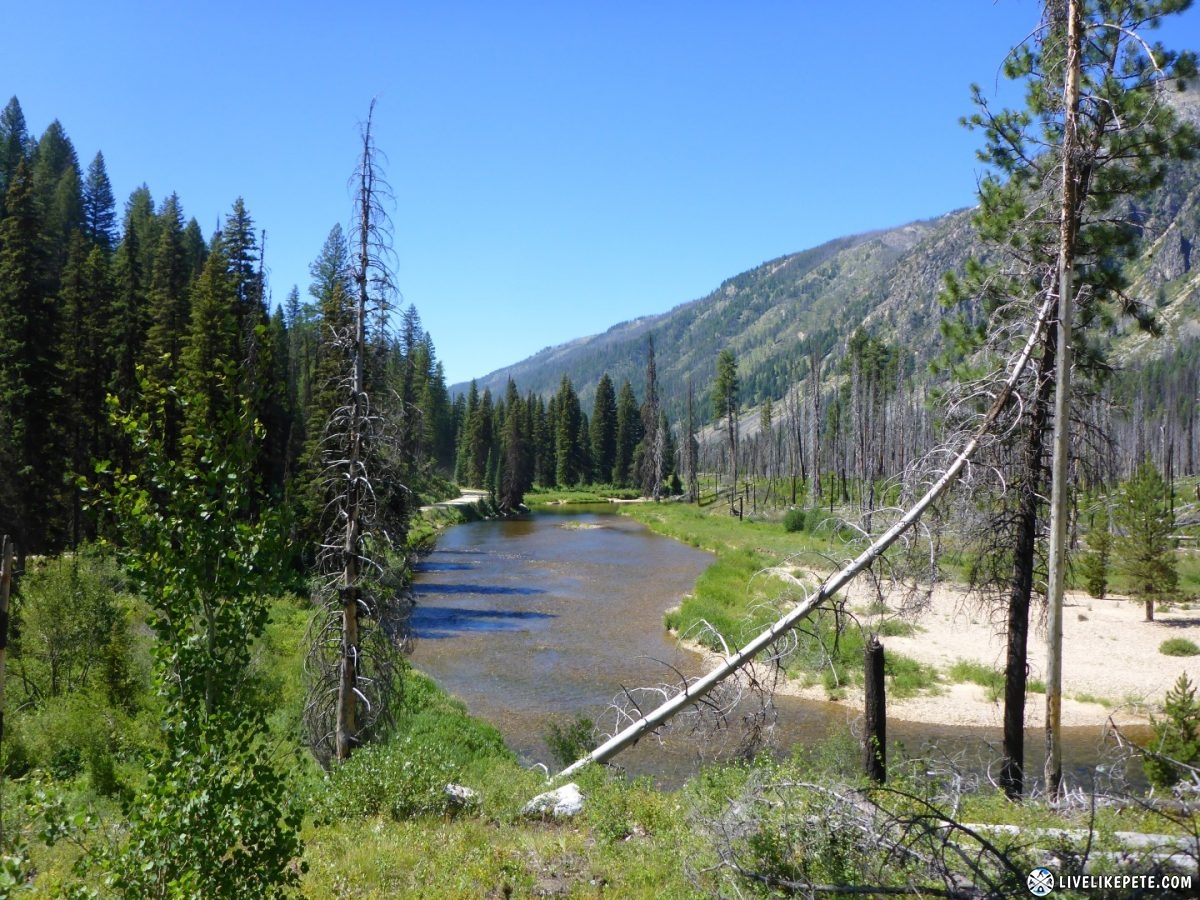 Brian saluted with the usual thumbs up to life on two wheels.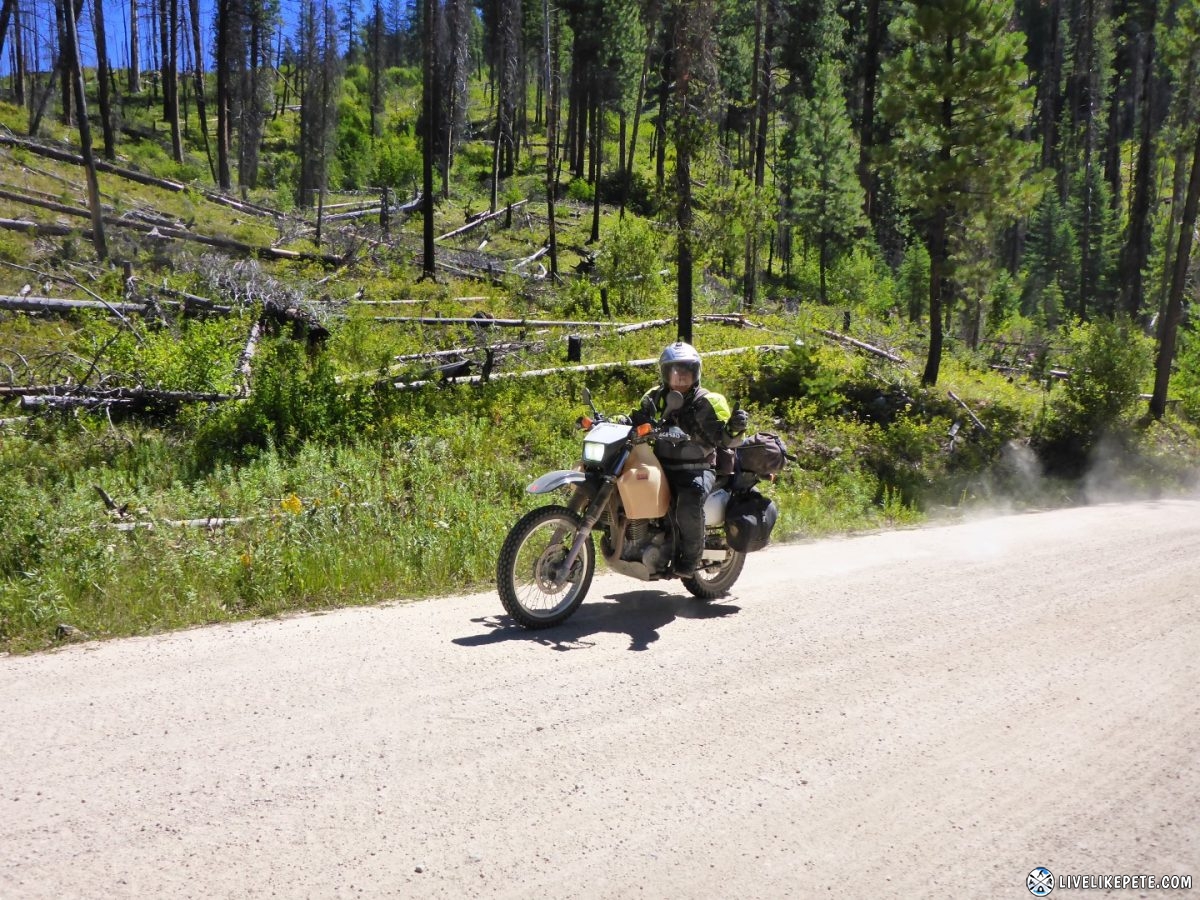 We made our way towards Yellow Pine.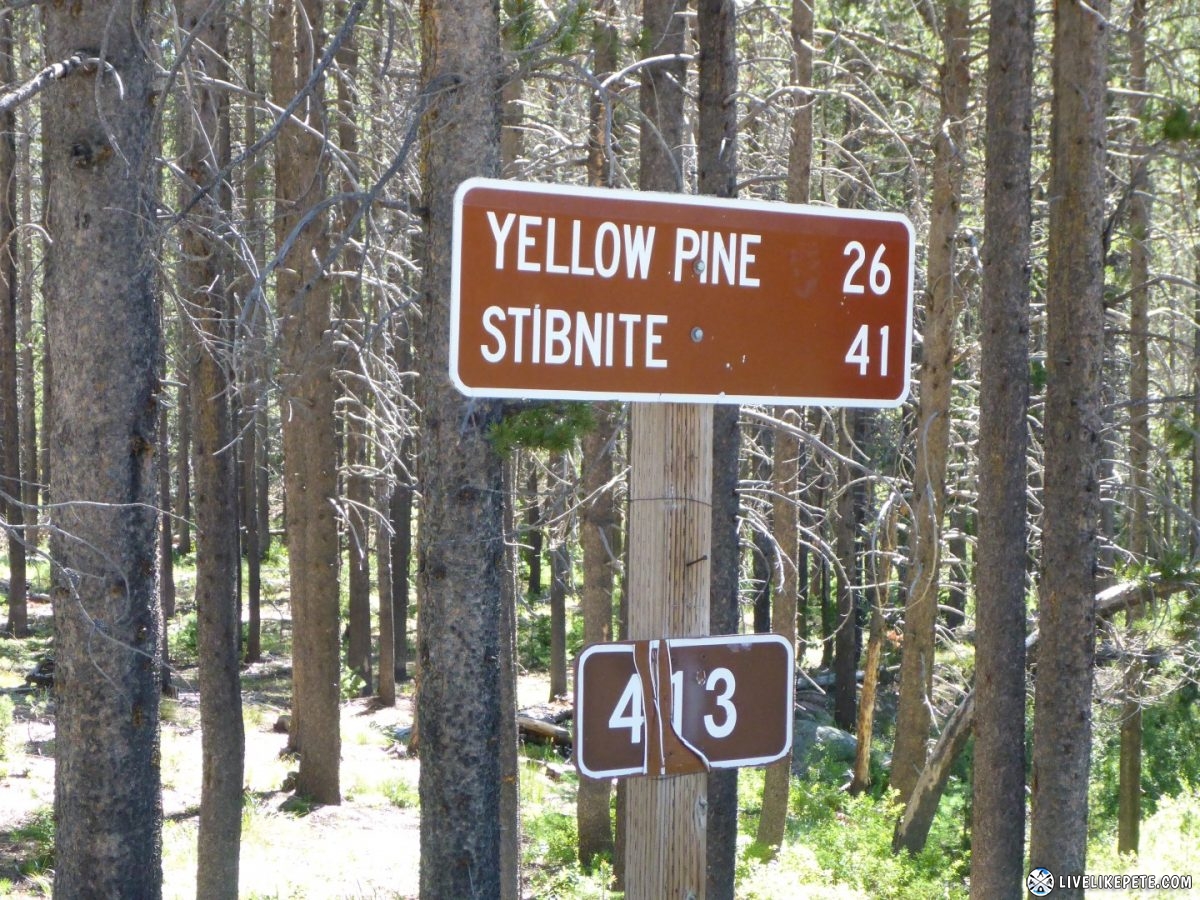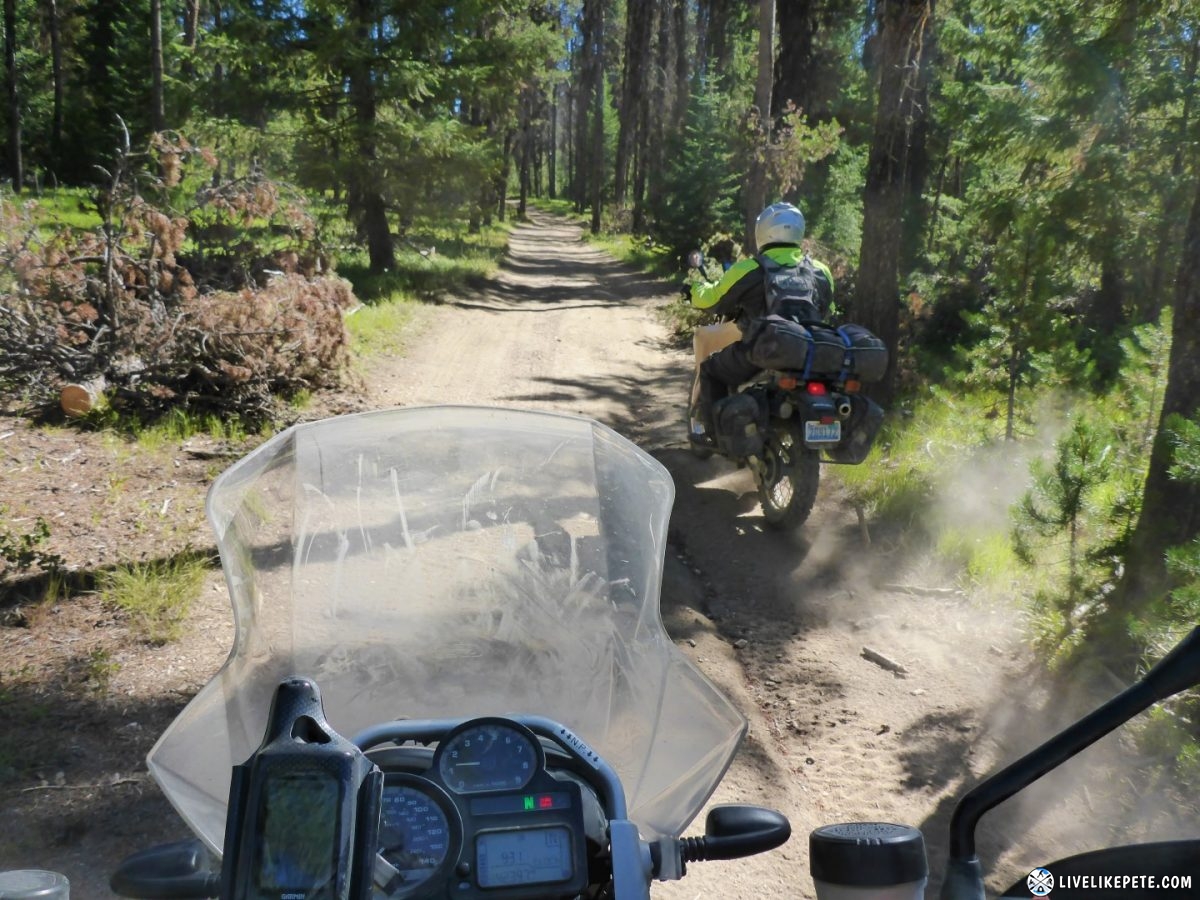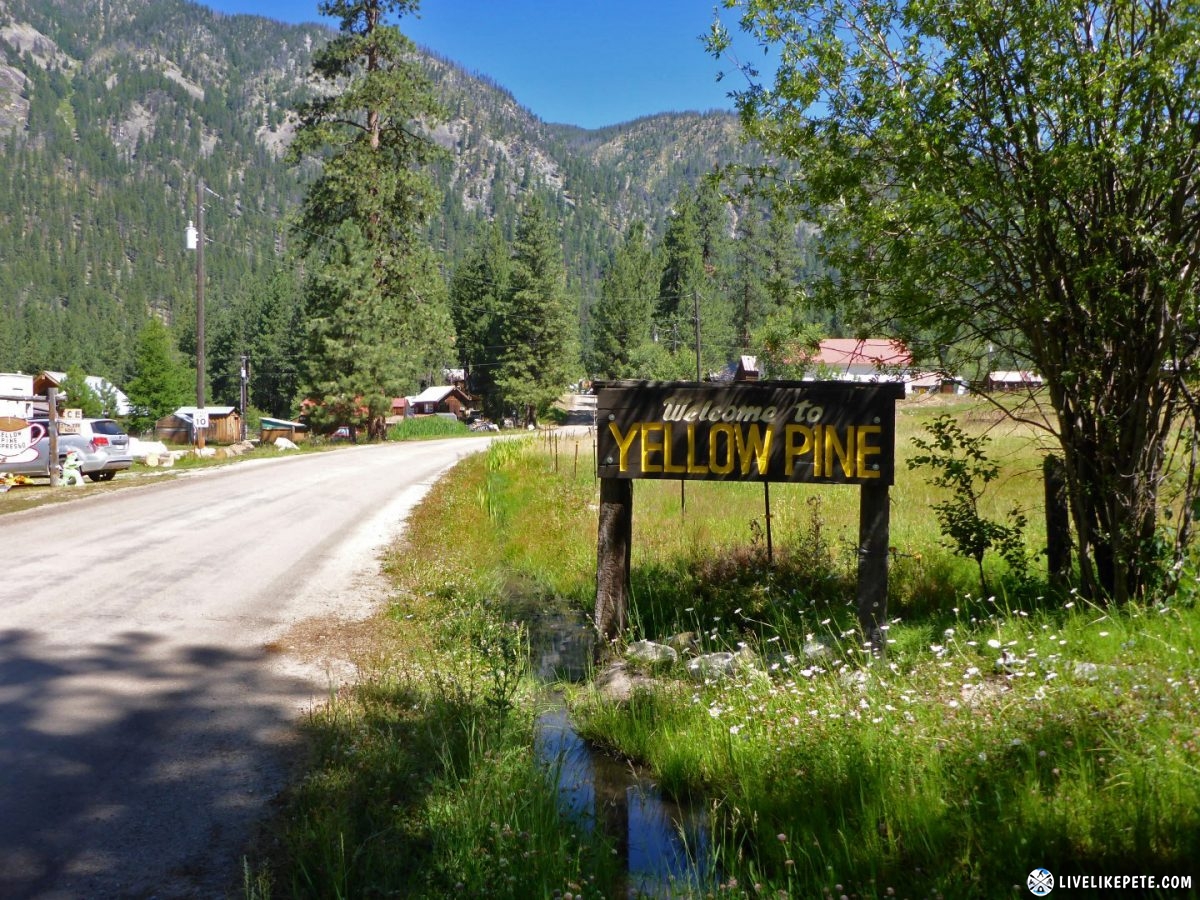 Pulling into Yellow Pine, the first thing I noticed was this "golf course" and an interesting picnic table nearby an old building.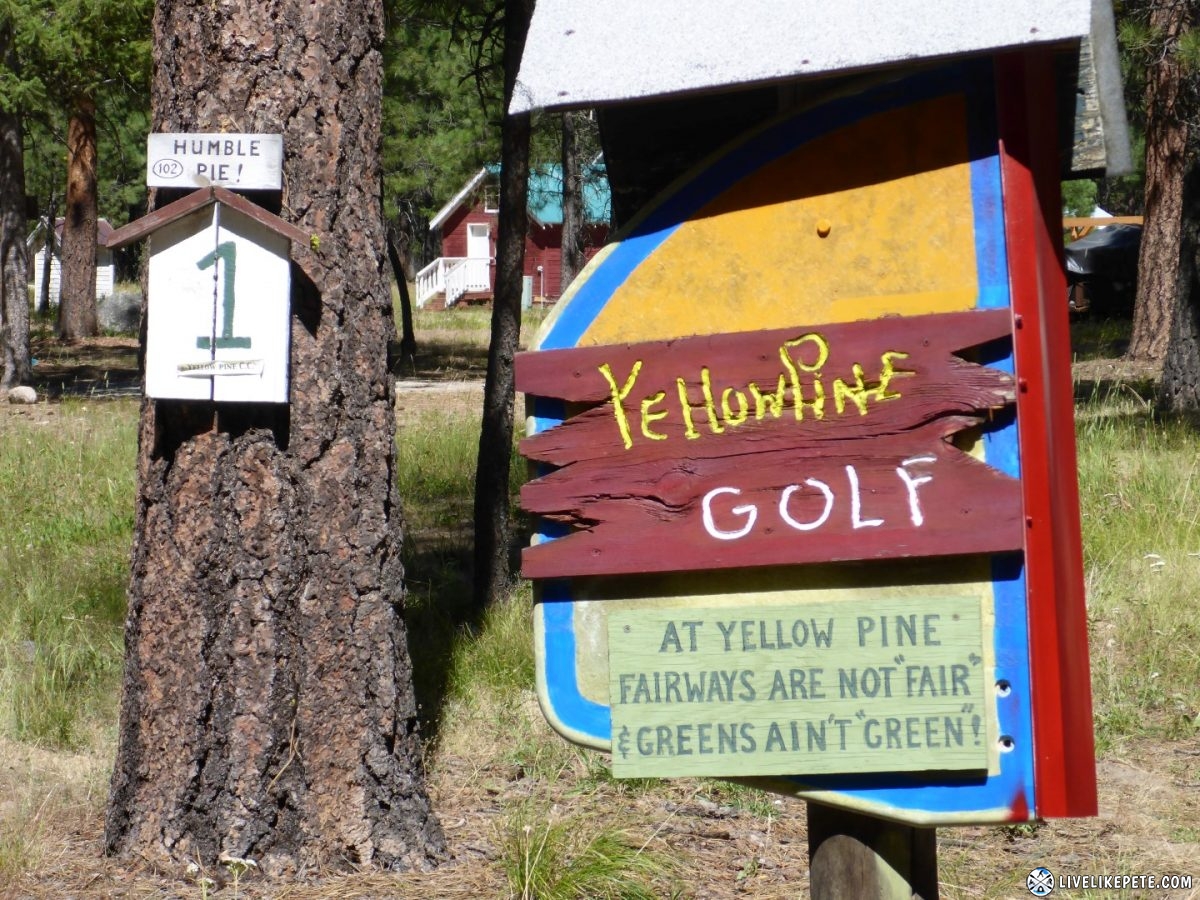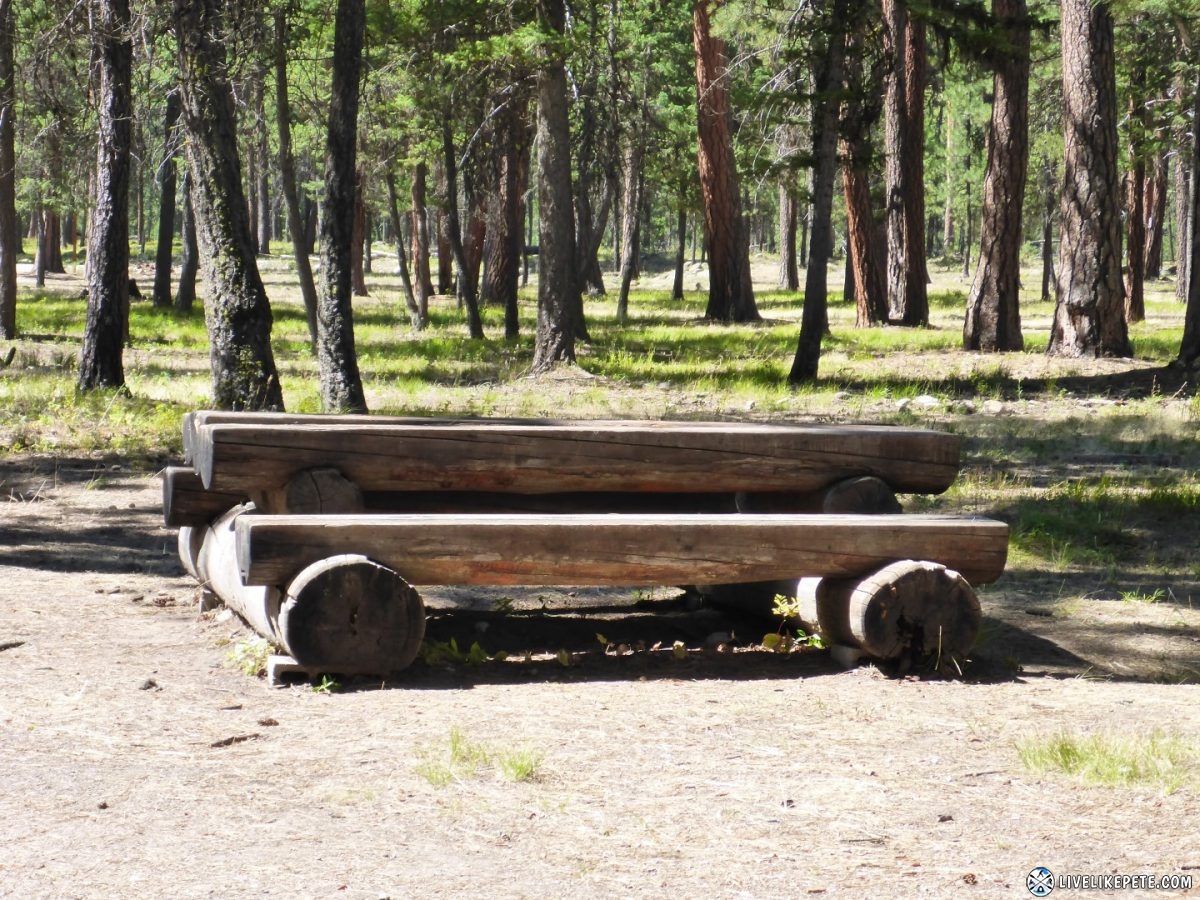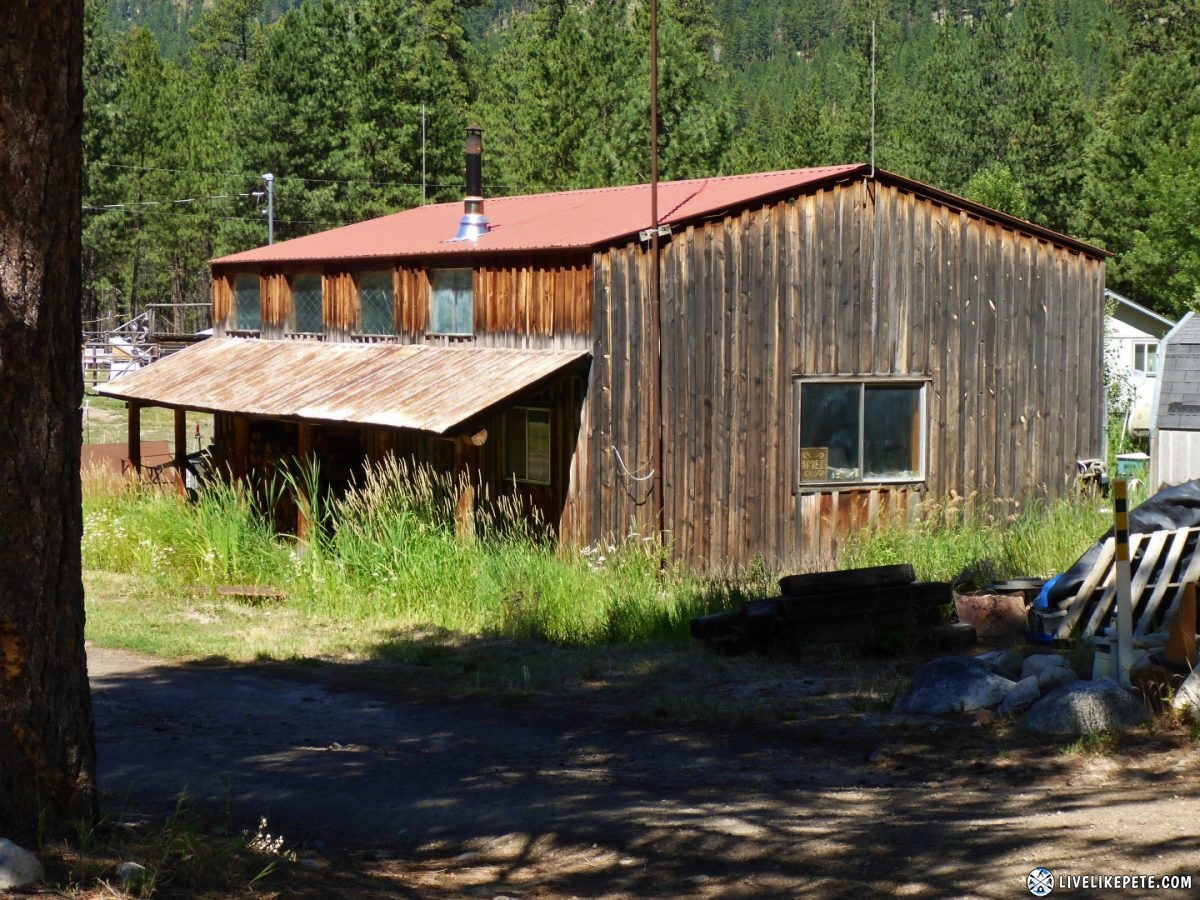 We had a few options for lunch. They all looked awesome. Decisions decisions.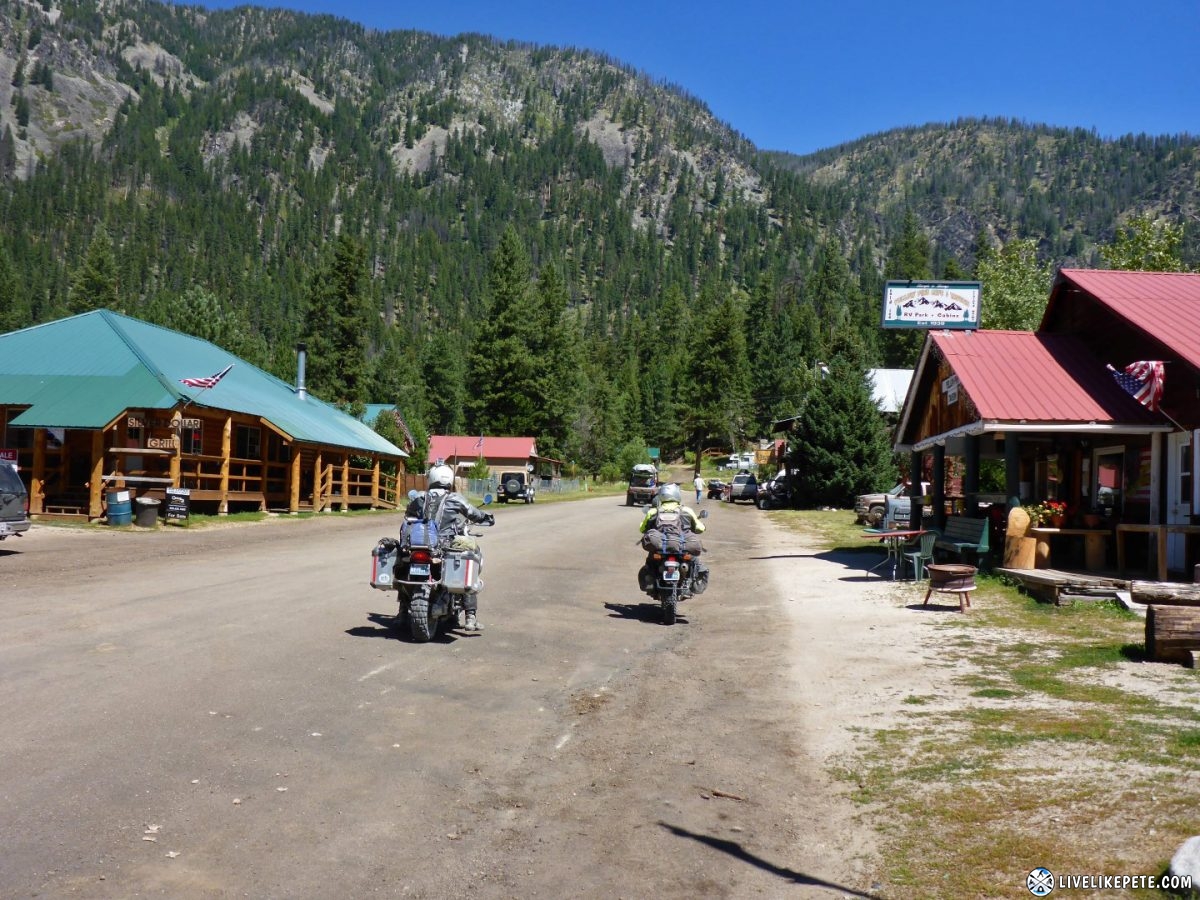 We chose The Corner. There were other riders and ATV'ers there so we figured it was the best place.
We started off with some Spud-Chos. They're basically potato nachos: waffle fries, chicken, black beans, cheese, candied bacon, corn and BBQ sauce. They were amazing. Then we went with some big salads and some tasty honey-sriracha wings. They were so good.
We sat on the front porch. The cool, clean air felt too good to pass up.
The town bearded lady dog just chilled out on her bed out front. She's got the life.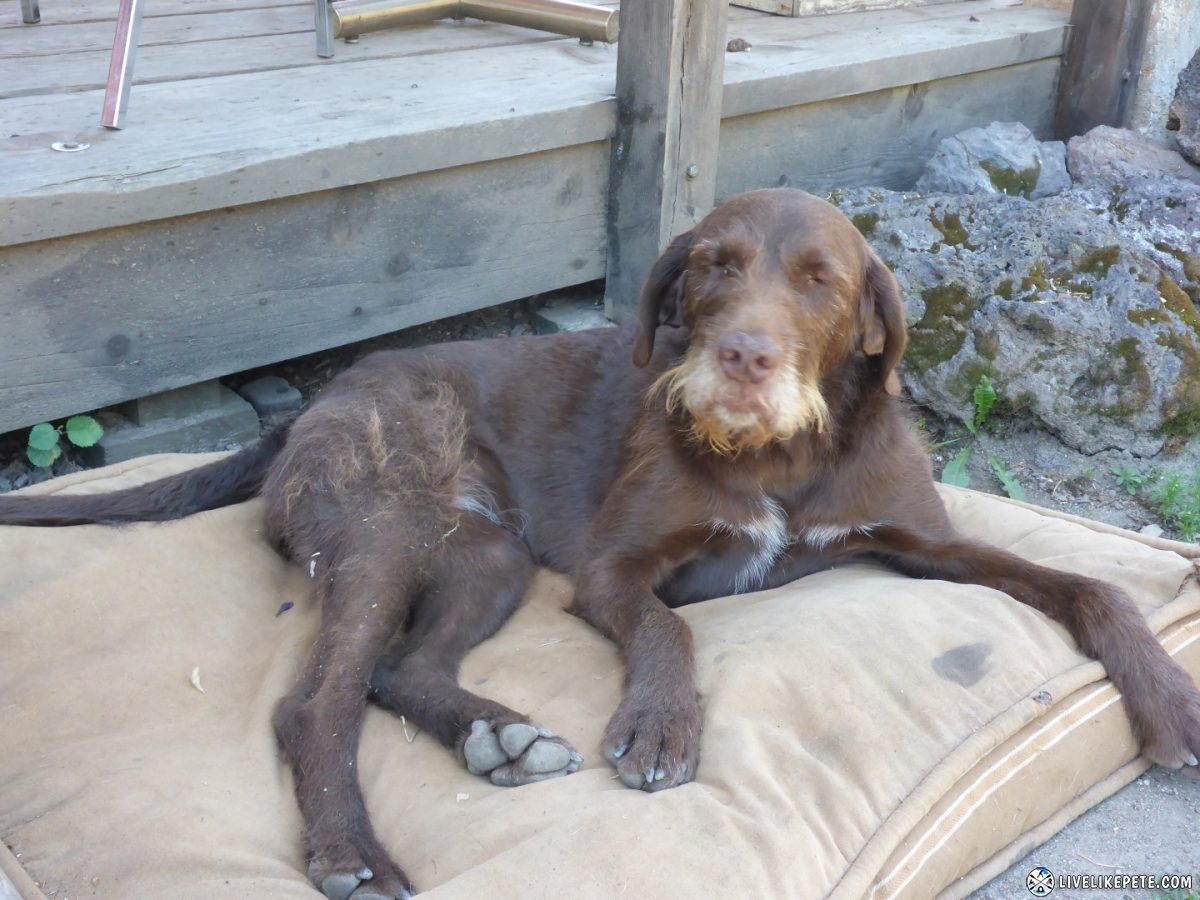 Just as we we're getting up to leave, the Virginia crew from Trinity Lookout pulled up. They sat at the table we were at and Warren, the guy on the right, helped himself to the rest of the wings we left behind. Dude's a character! We were all laughing from that, including his buddies.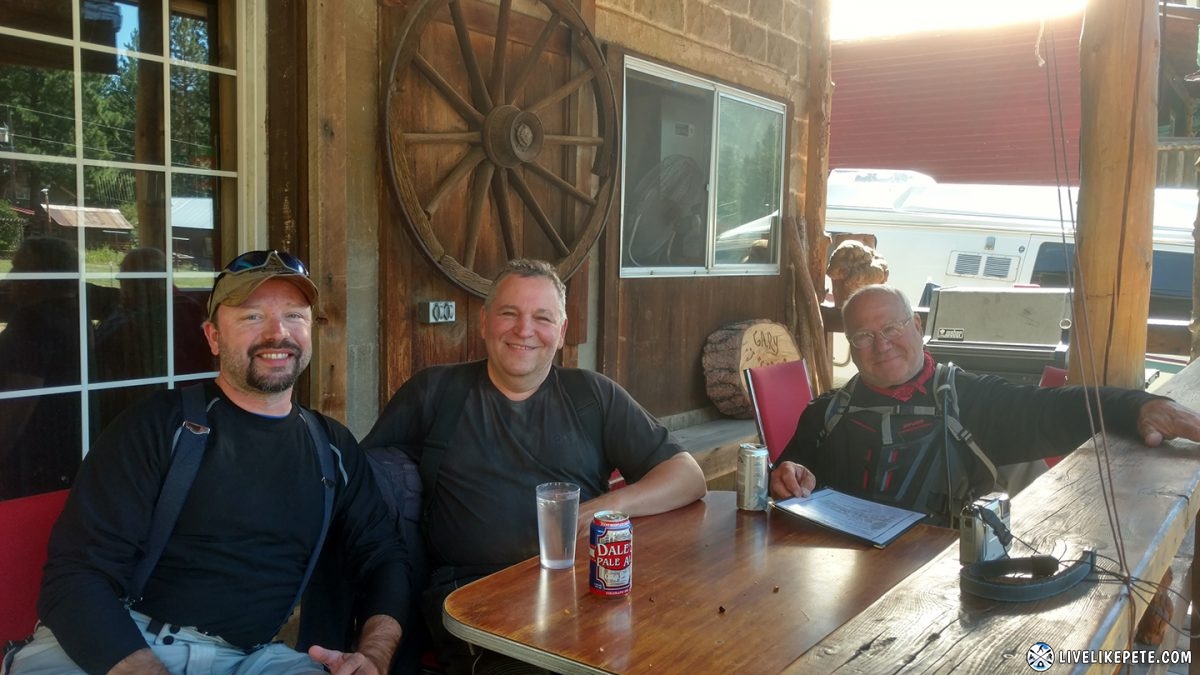 Then we stocked up on water, whiskey, and fuel since this was one of the last places to get them before we found camp for the night. Water, whiskey and fuel…is there anything else in life one could need?
We decided to take a little side route at Big Creek.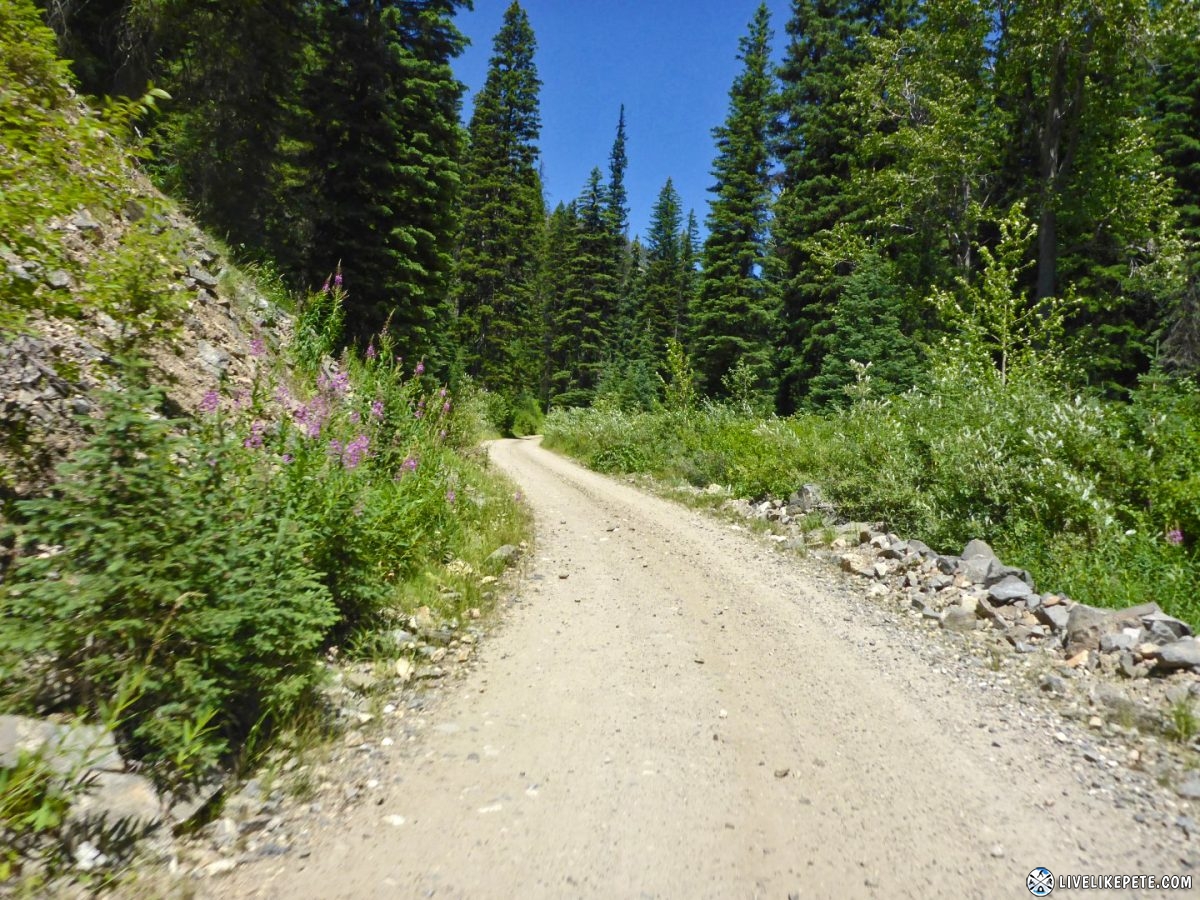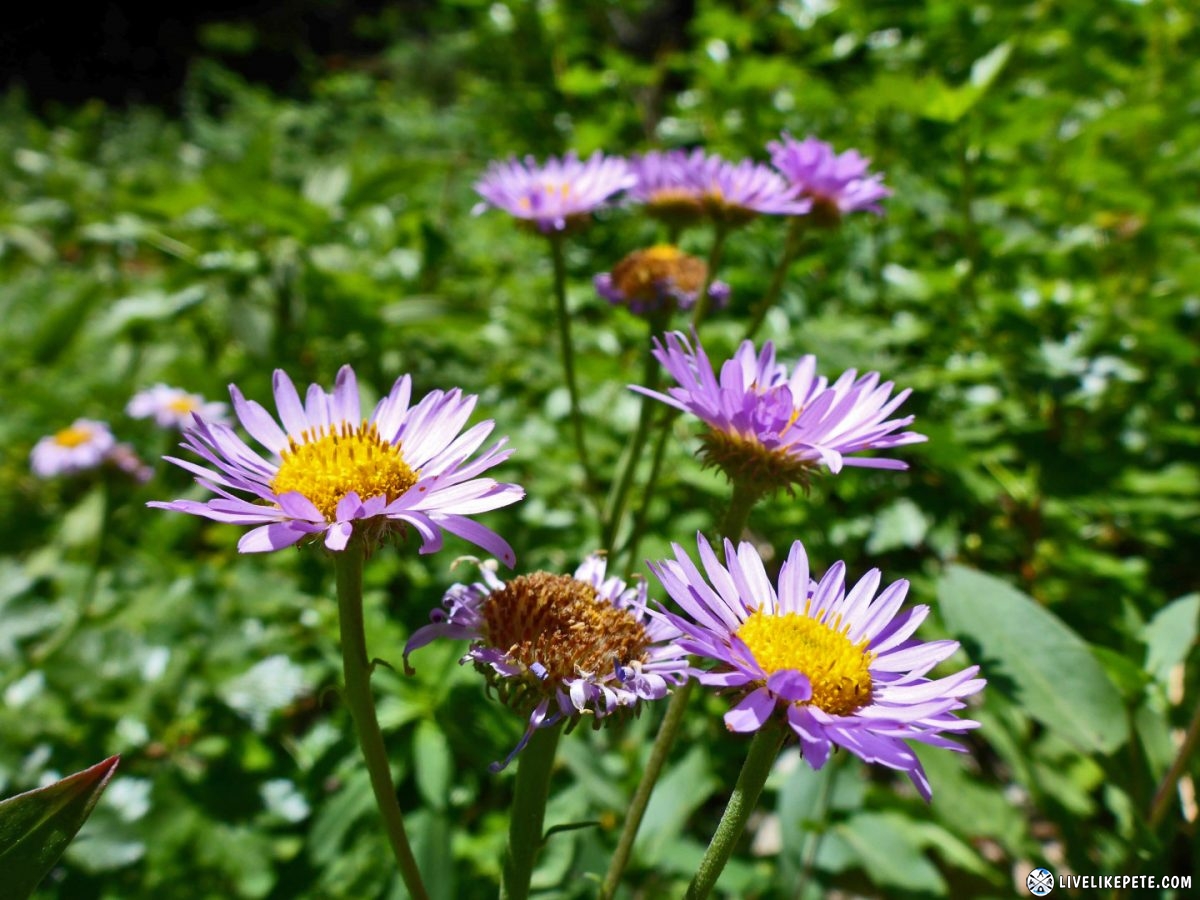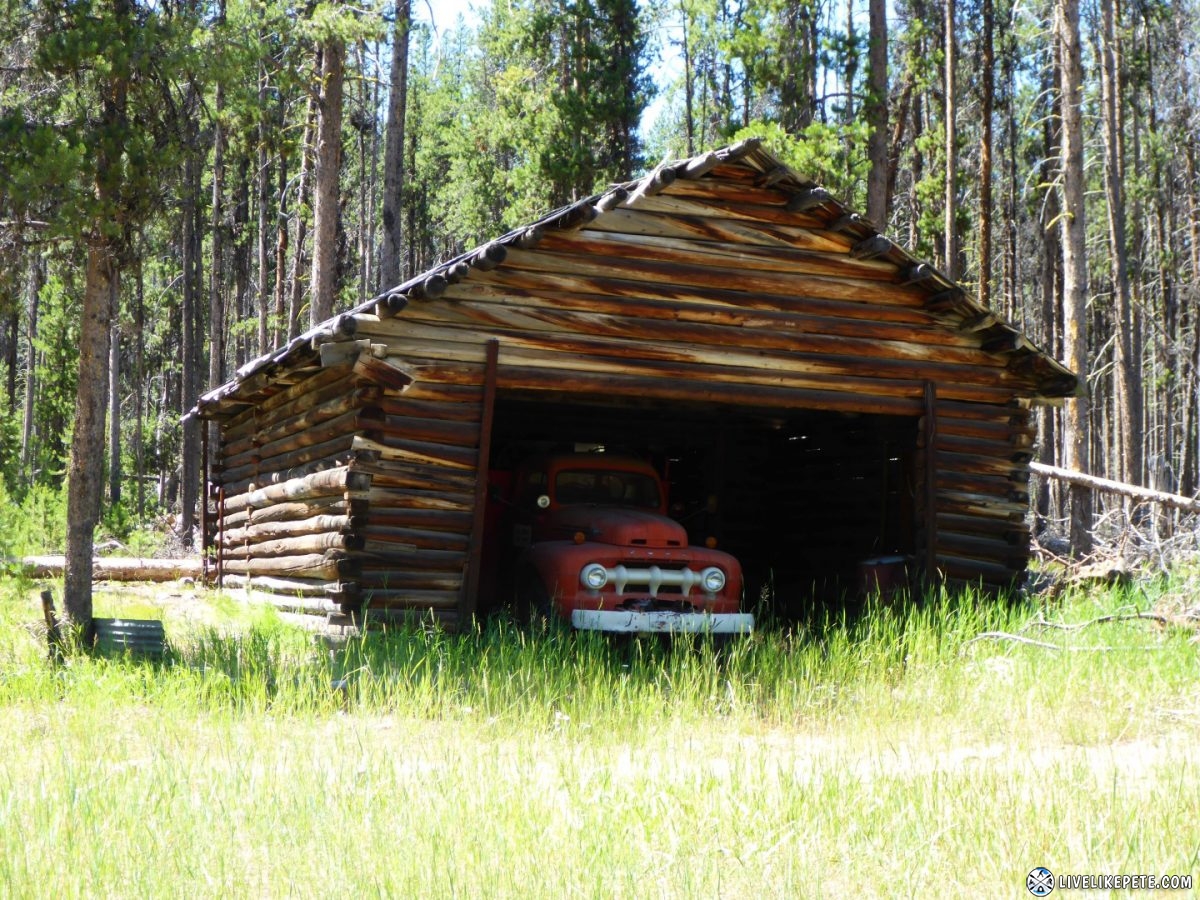 Big Creek airport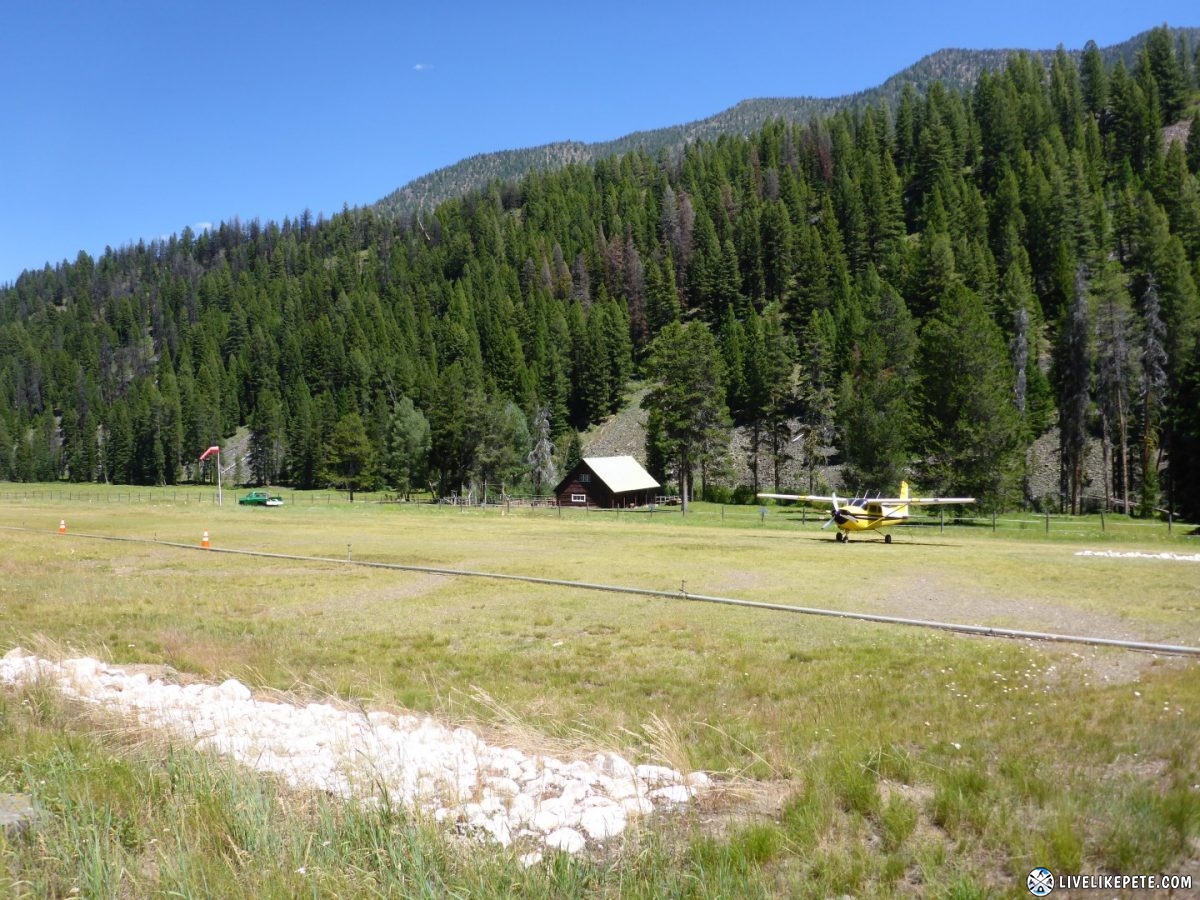 We hopped on this ATV trail thanks to a GPS file provided by Cannonshot, an inmate on ADVRider.com. This would end up being one of our favorite sections of the entire trip! When there was water at the beginning of the trail, I knew right away this was going to be good stuff.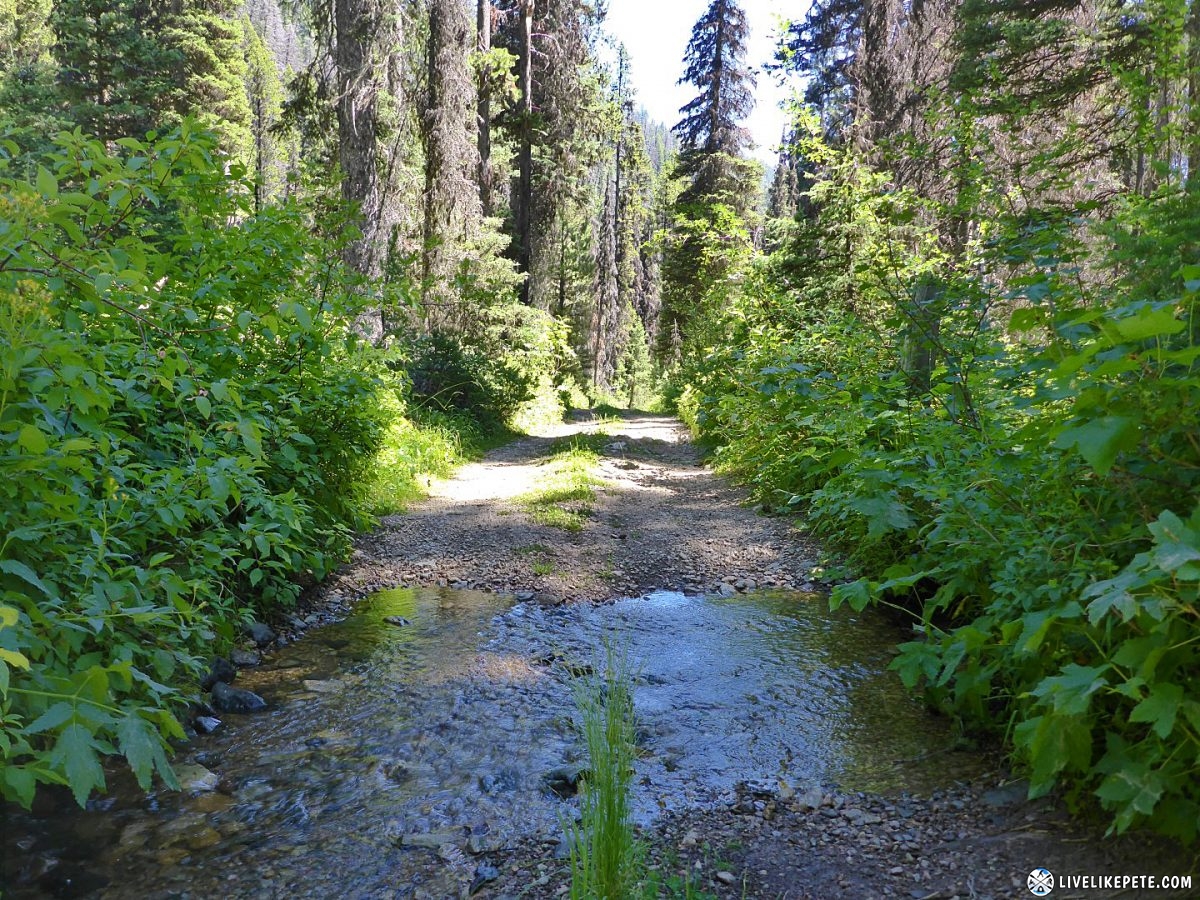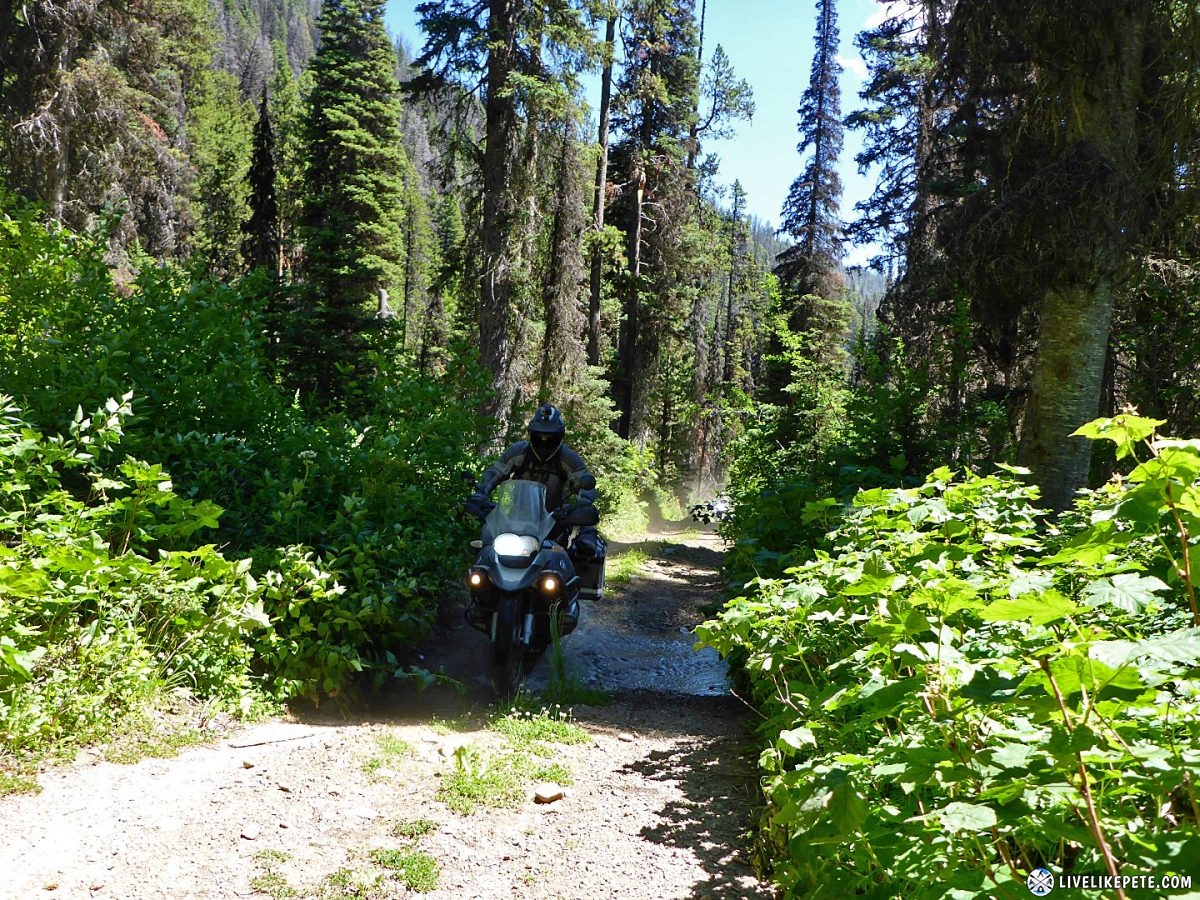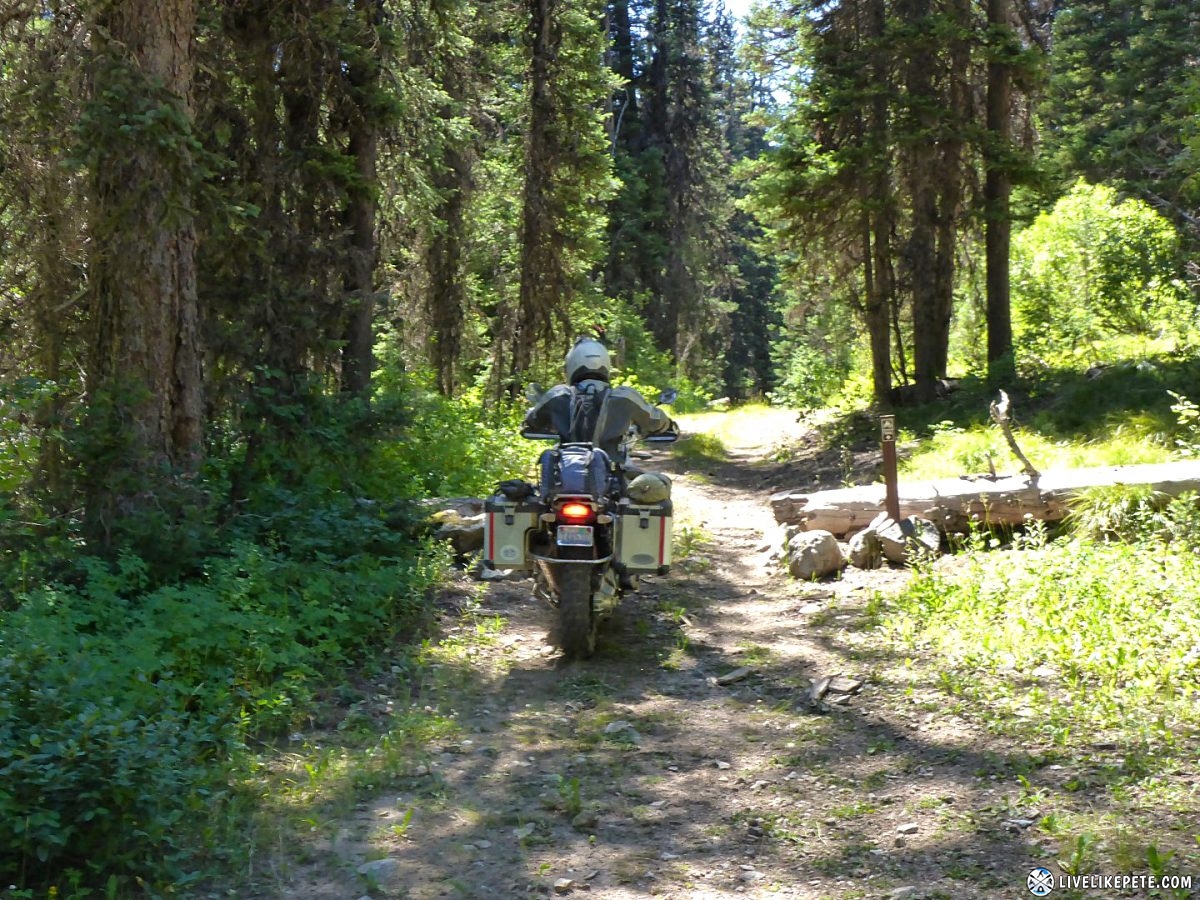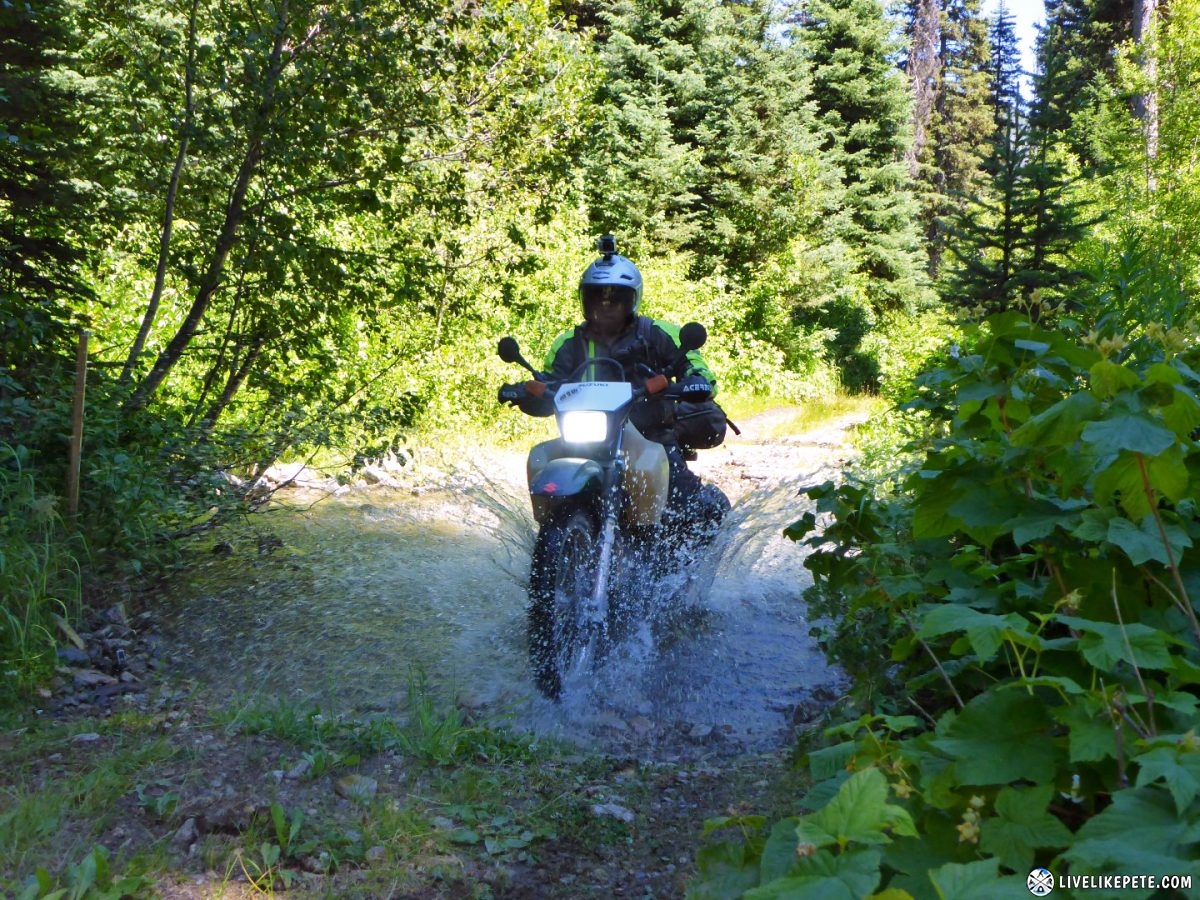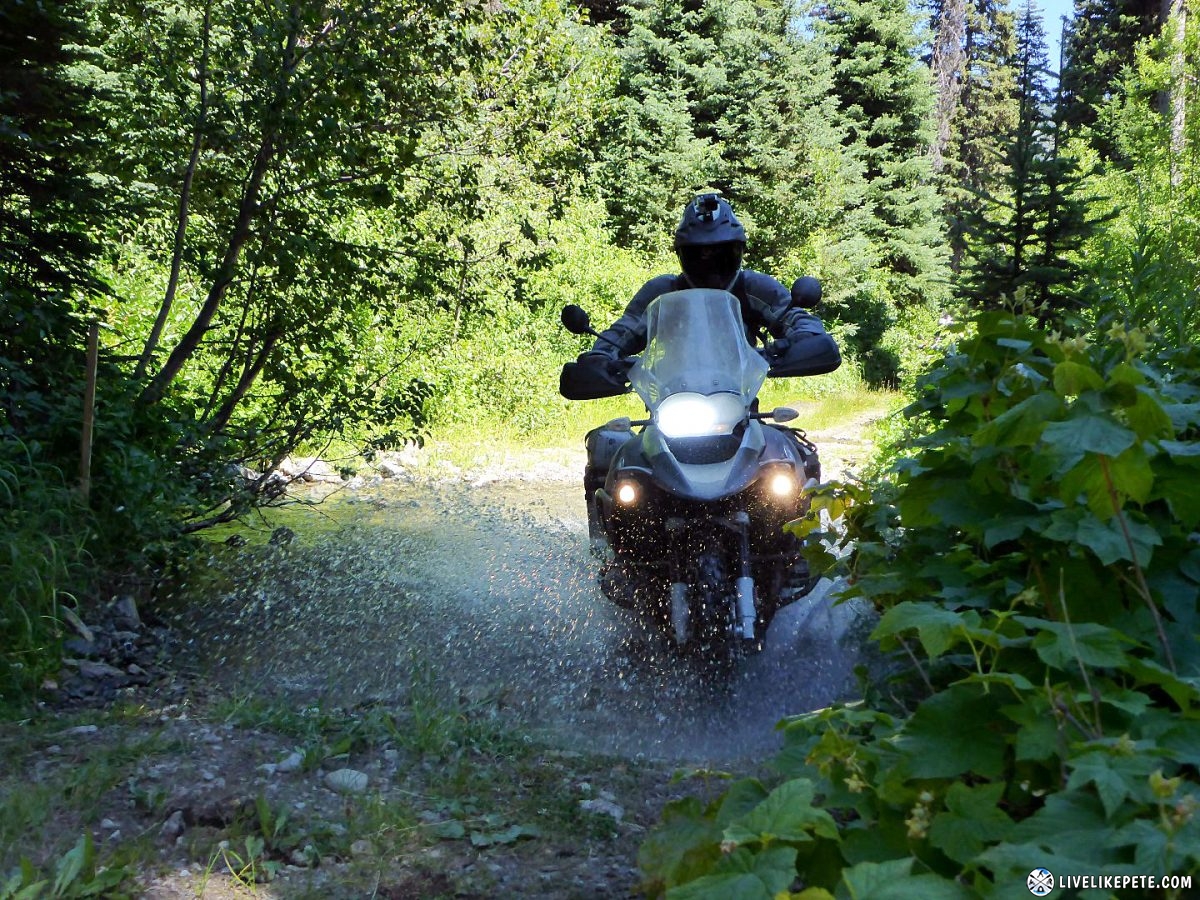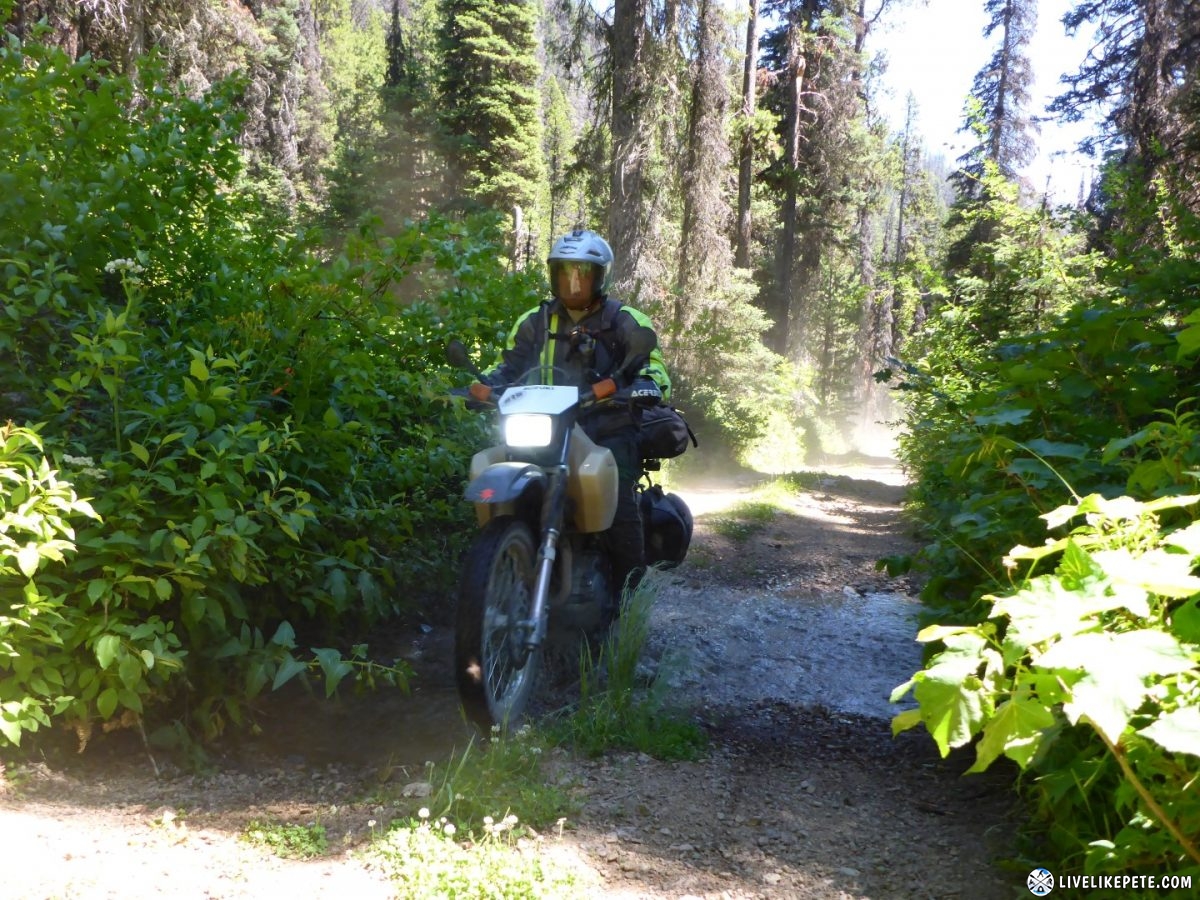 The trail consisted of tight, two-track with overgrowth and plenty of those awesome water crossings.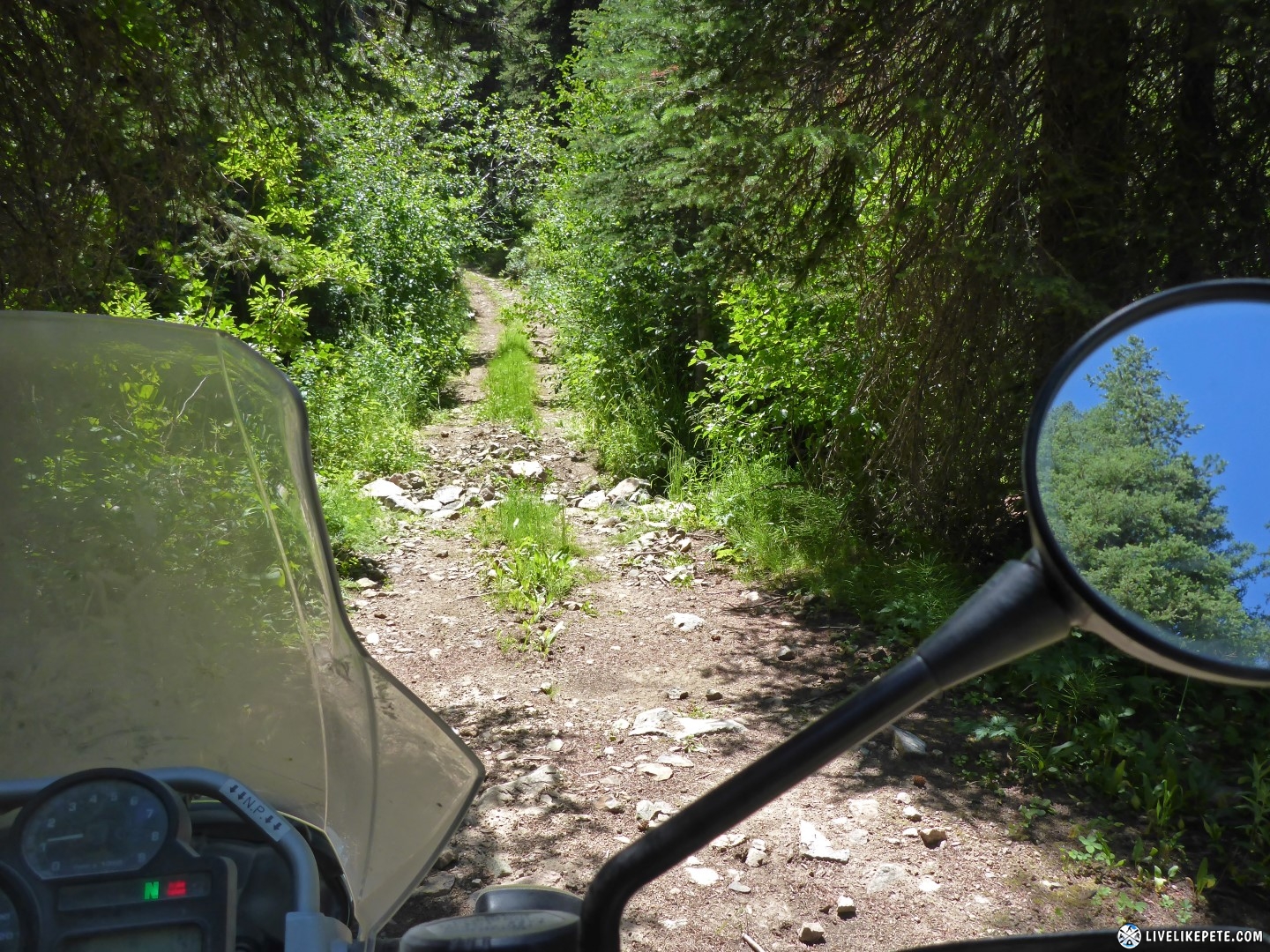 Steve made his way down across the larger creek crossing.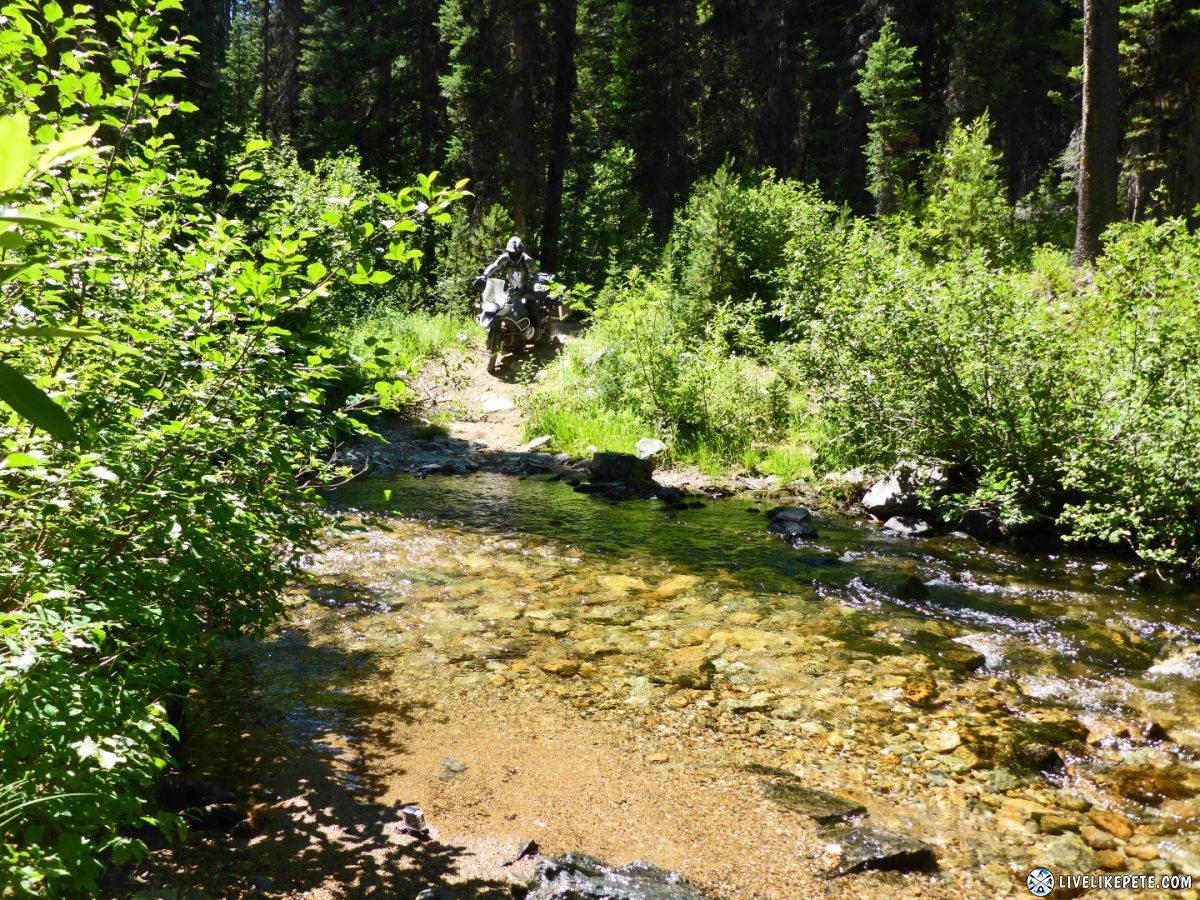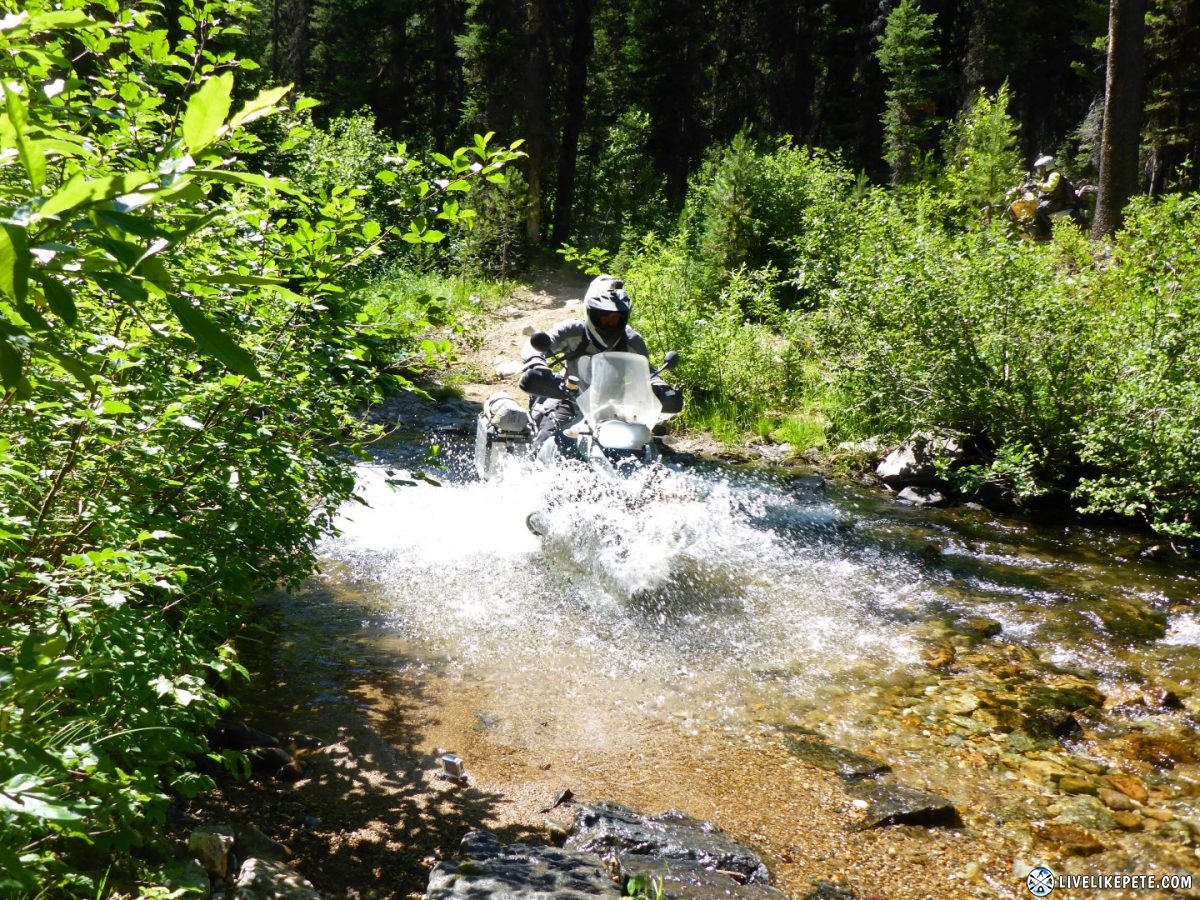 Then Brian followed.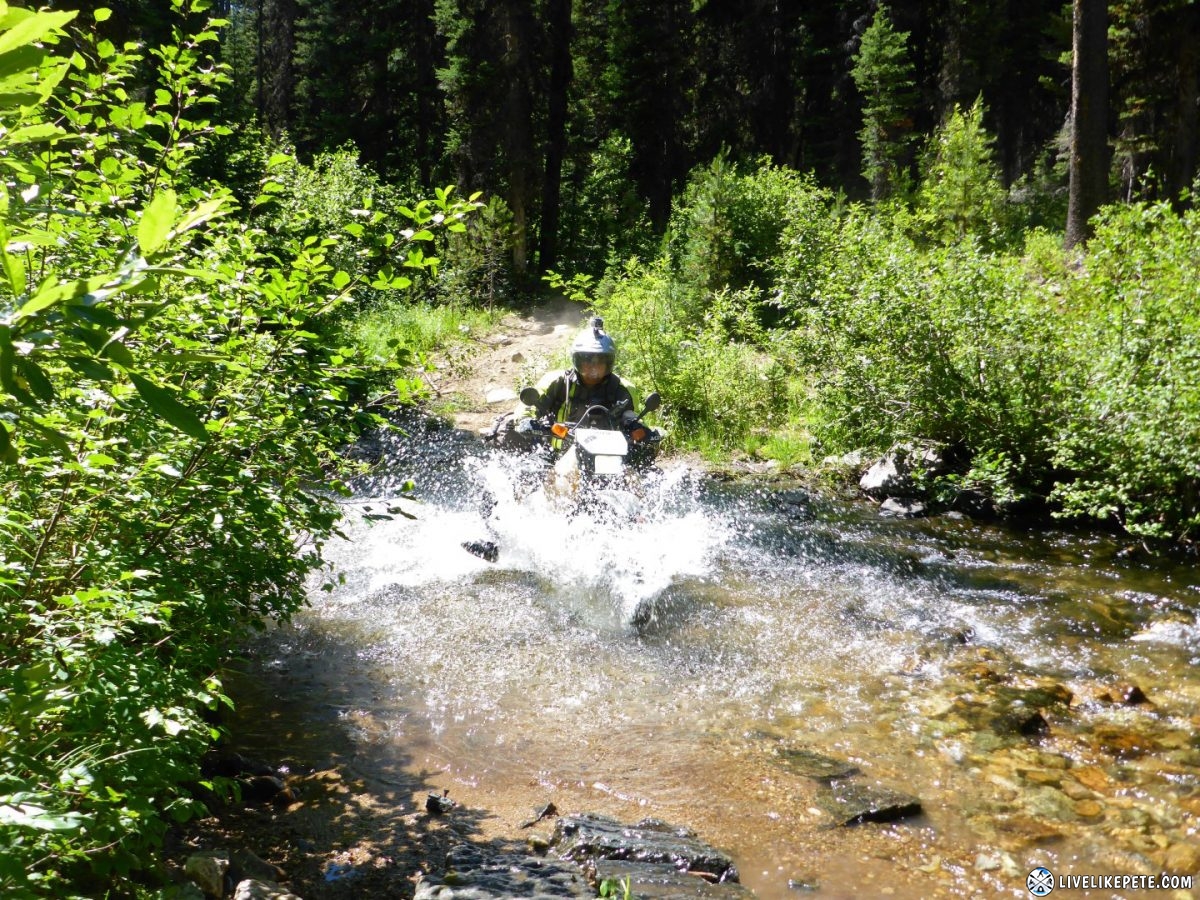 I went back so the guys could grab a photo of me crossing the creek. Just as I made my way back across, my front tire washed out on some super slippery rocks and I almost ran over Steve. I managed to save it though and kept it upright. Steve sought safety in the bushes.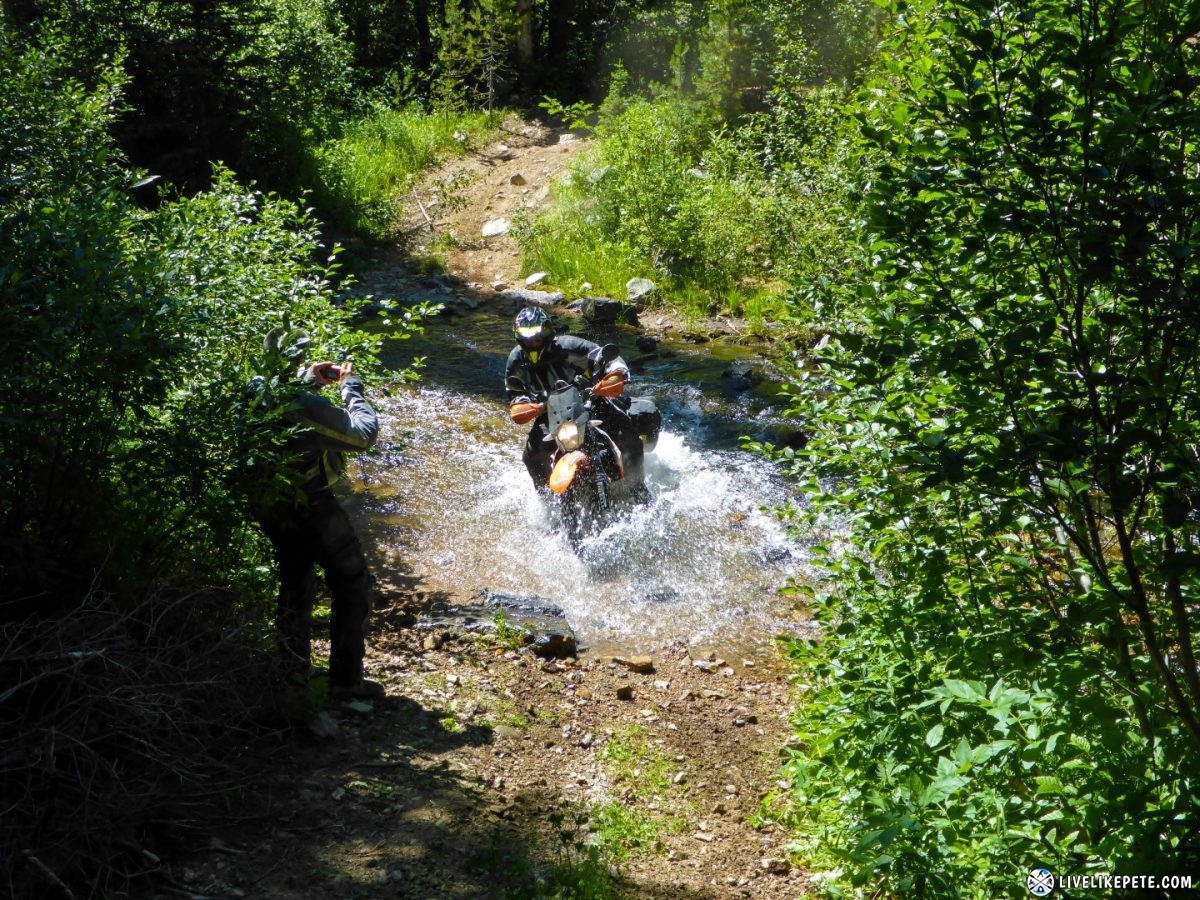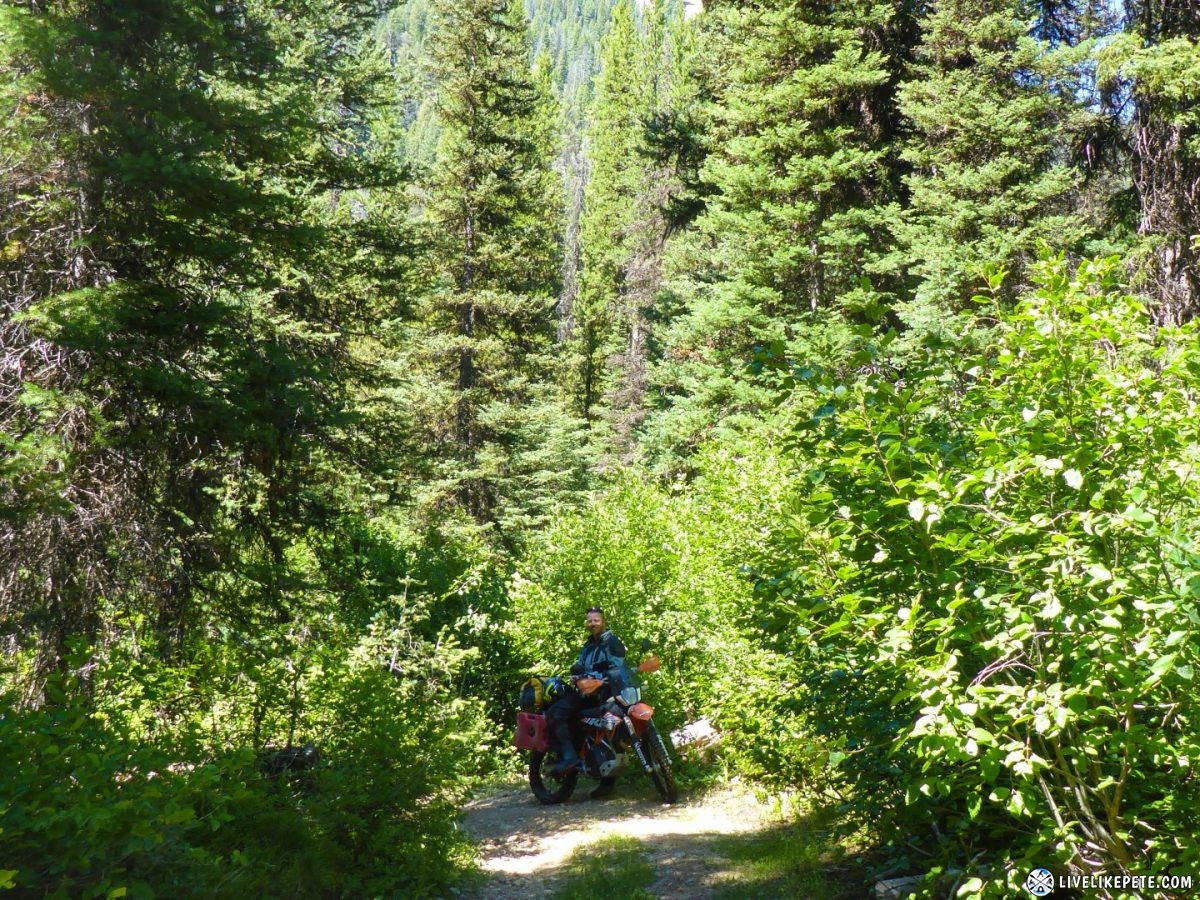 Steve managed Oprah very well through the tight trails and brush. I though for sure he'd rip a pannier off in some spots!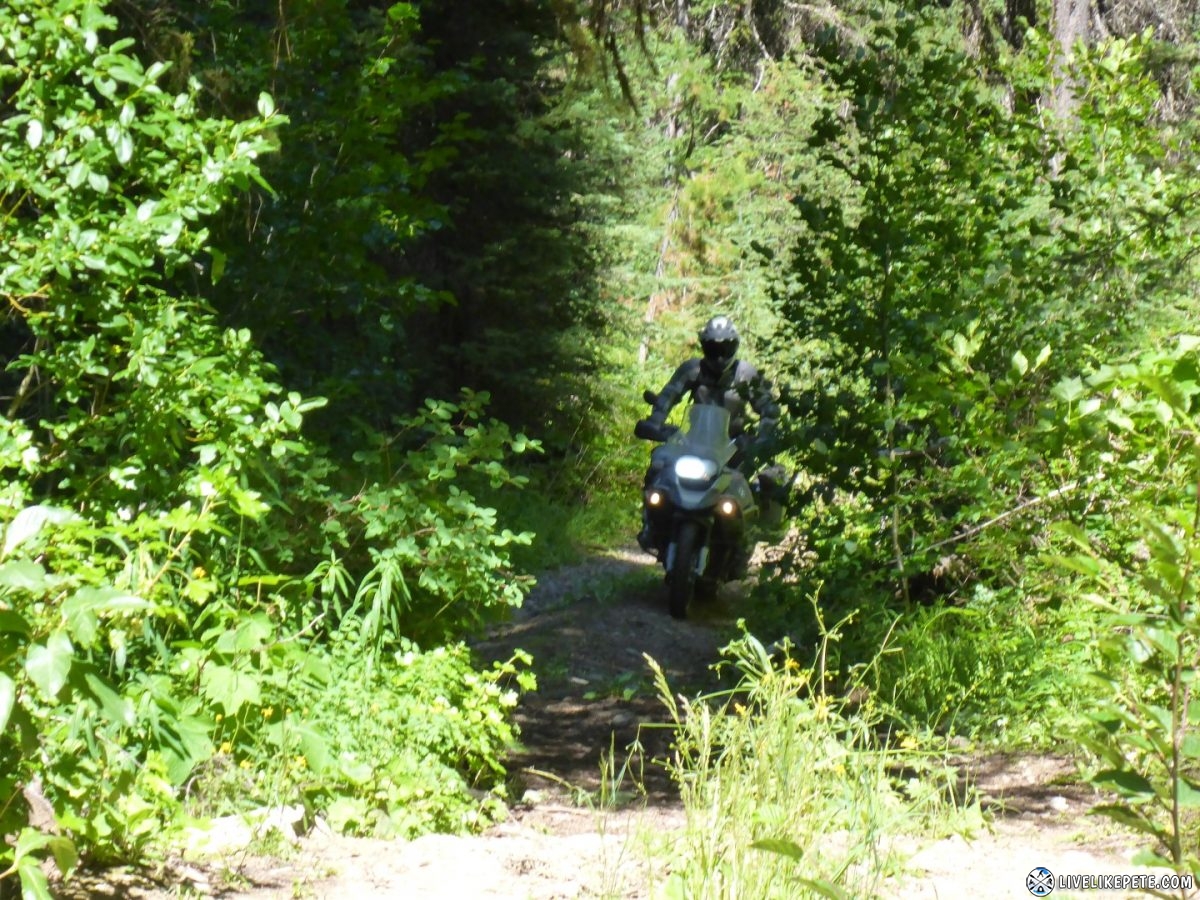 Yes! More water!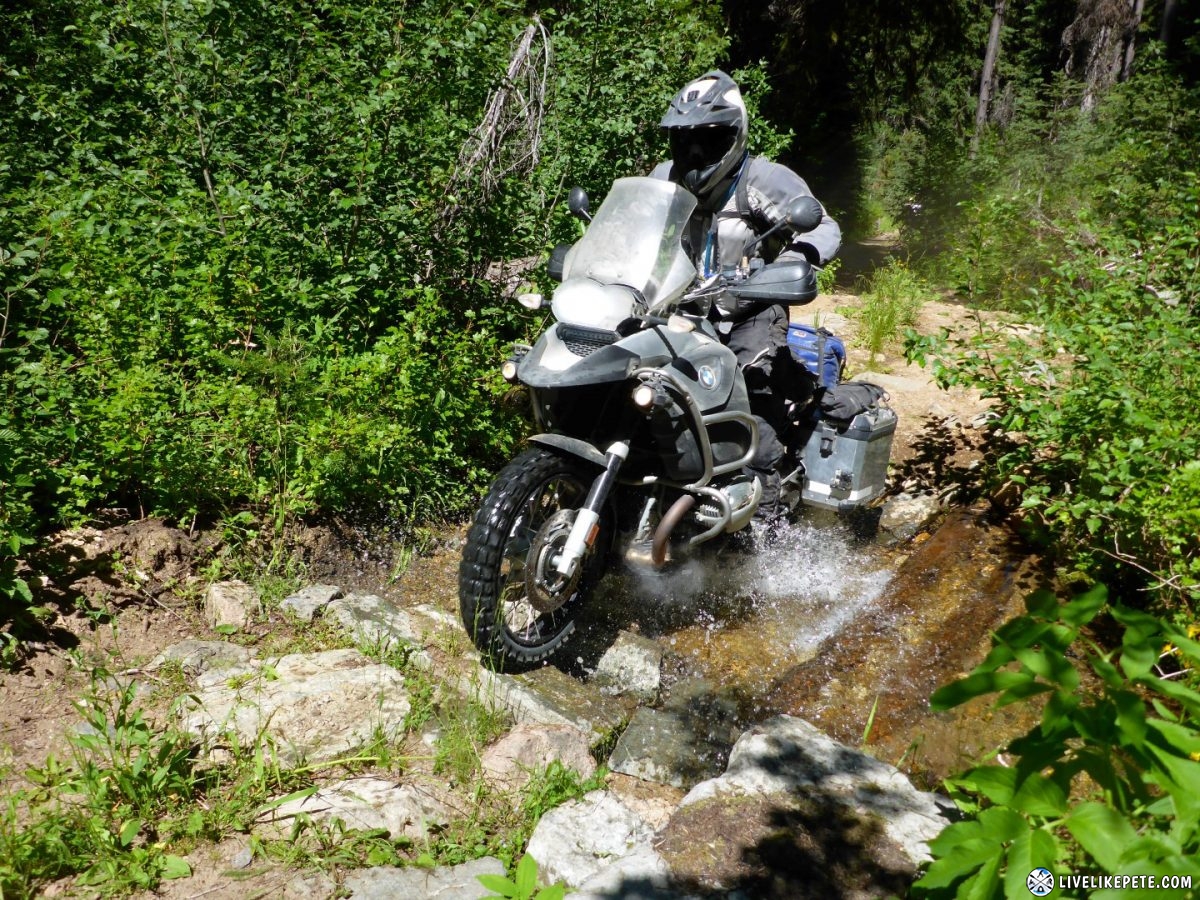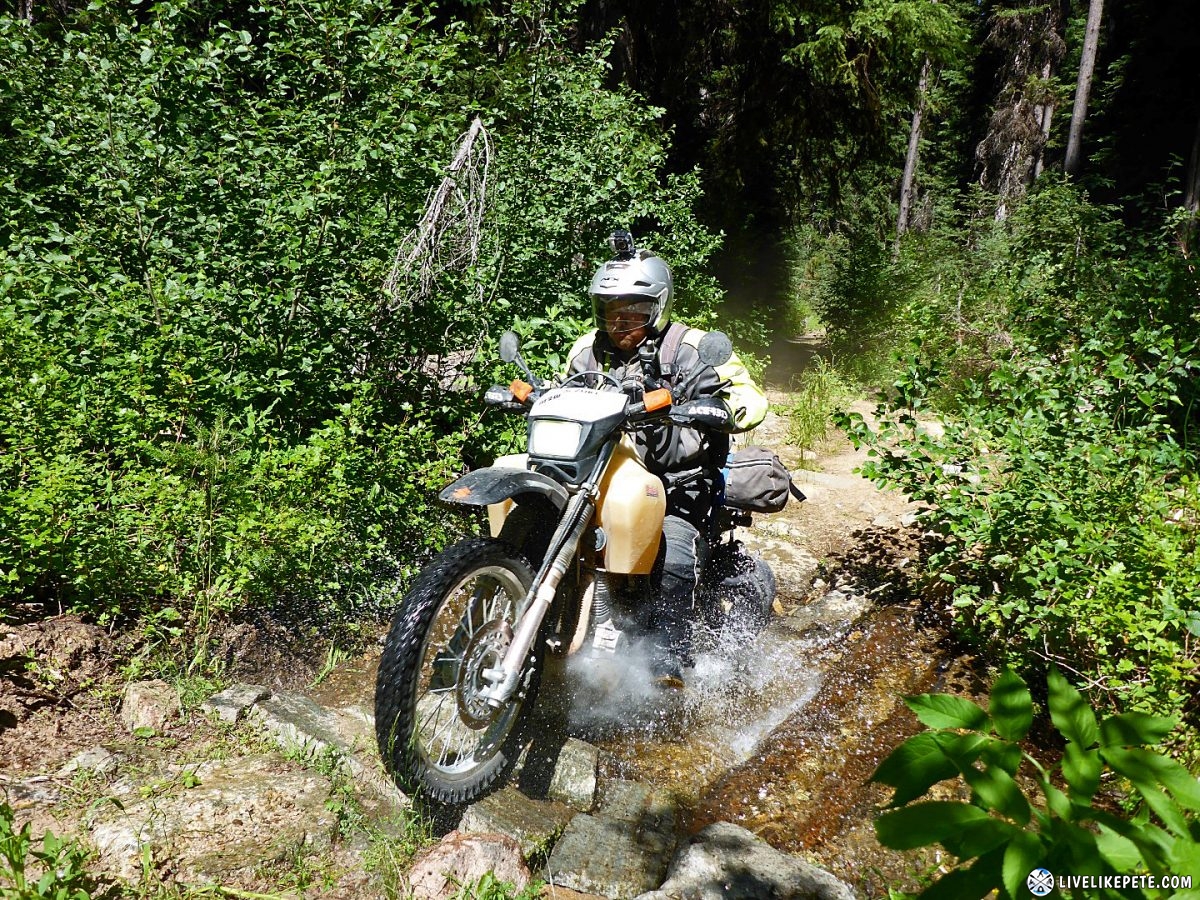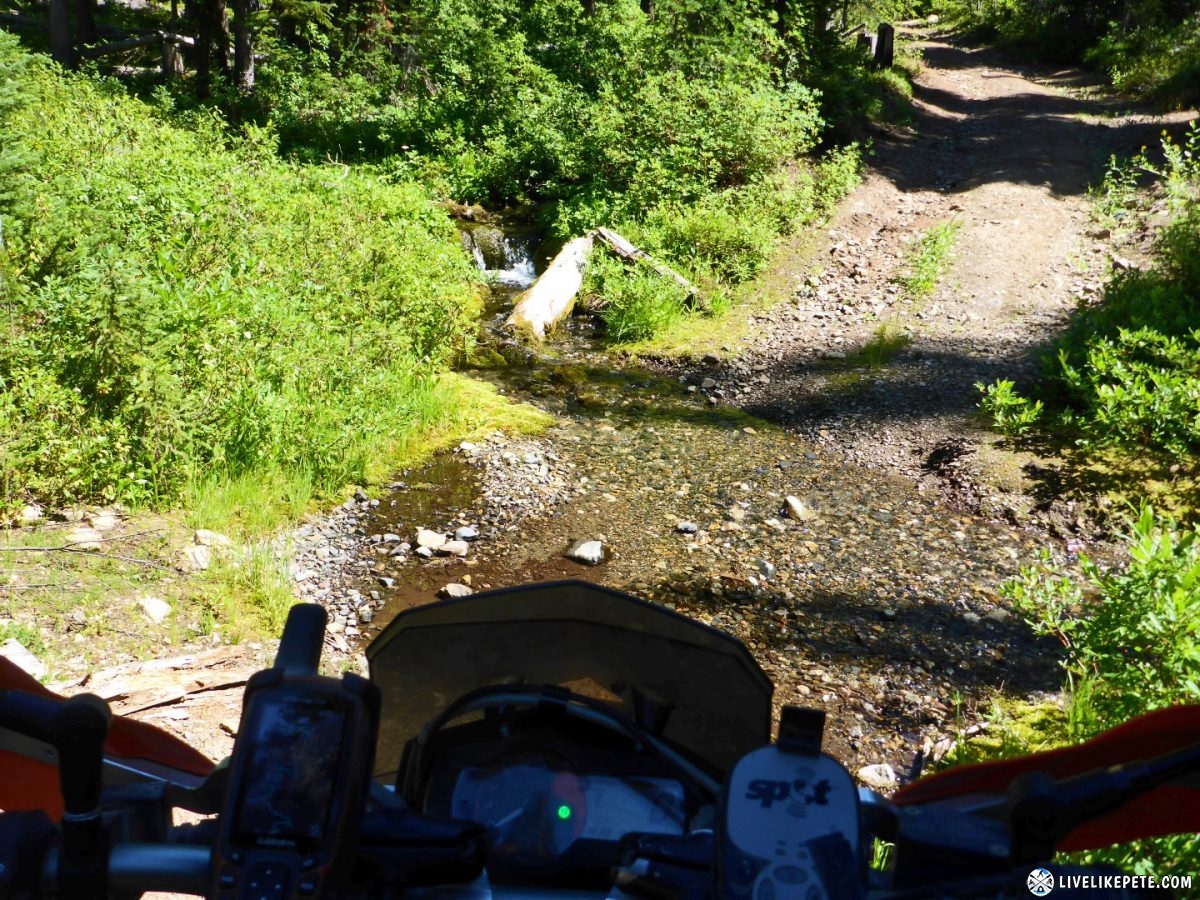 We took five so we could cool off.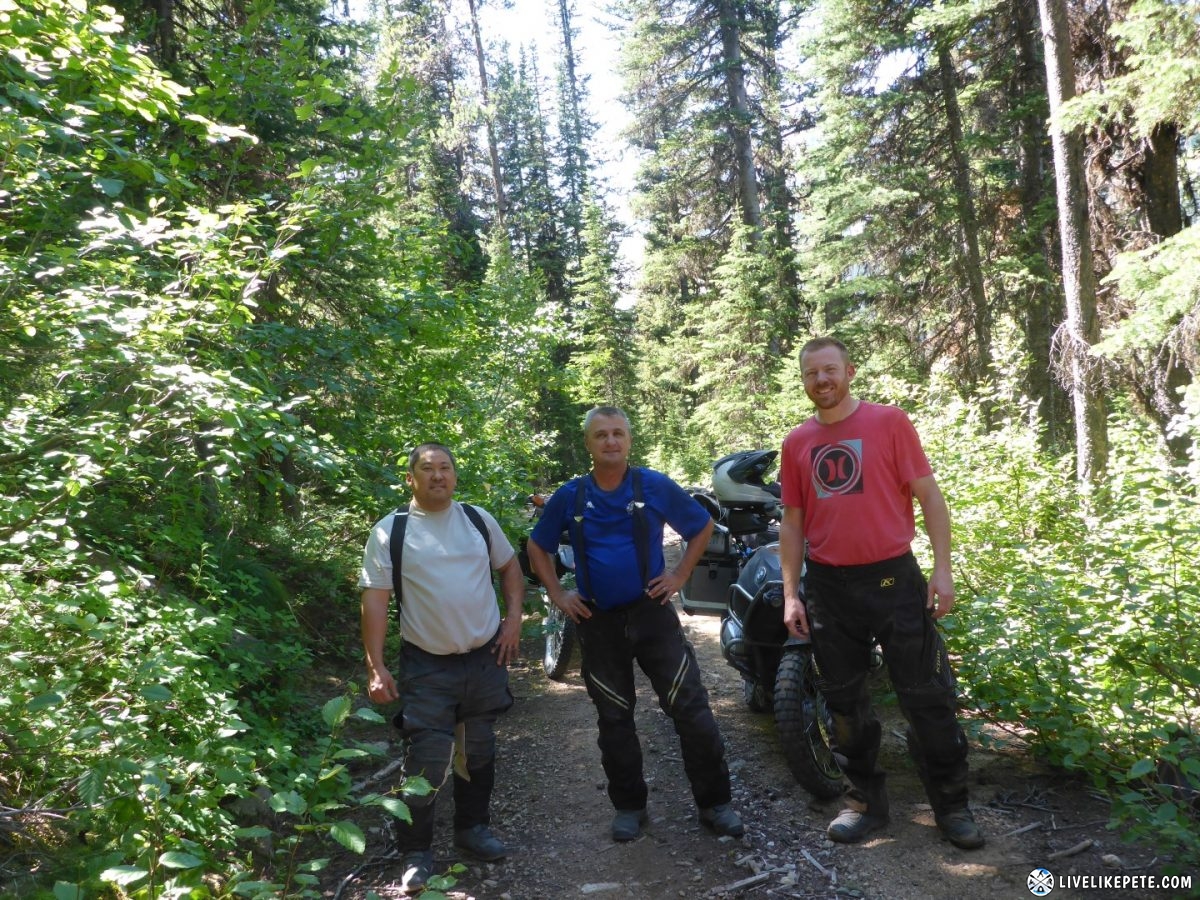 Elk Summit, elevation 8670′
The ATV trail was over and we were back out on the fast, smooth roads. We all agreed the entire trip could have been like that trail. It was pretty epic. Then at Elk Summit, we came across what looked like Erzburg, Austria. Had I not had a bike full of luggage I was ready to see if I could at least make it to the first section of trees. Those rocks were larger than bowling balls.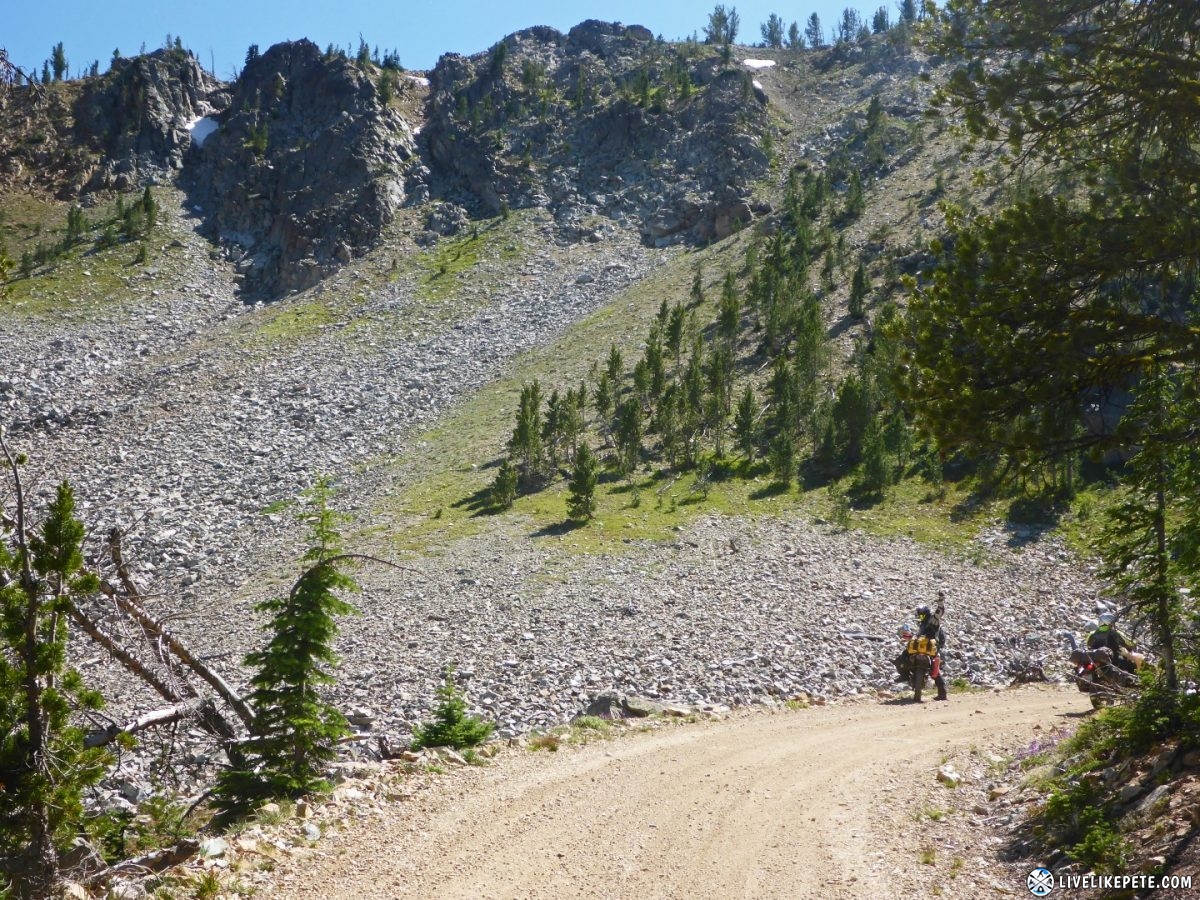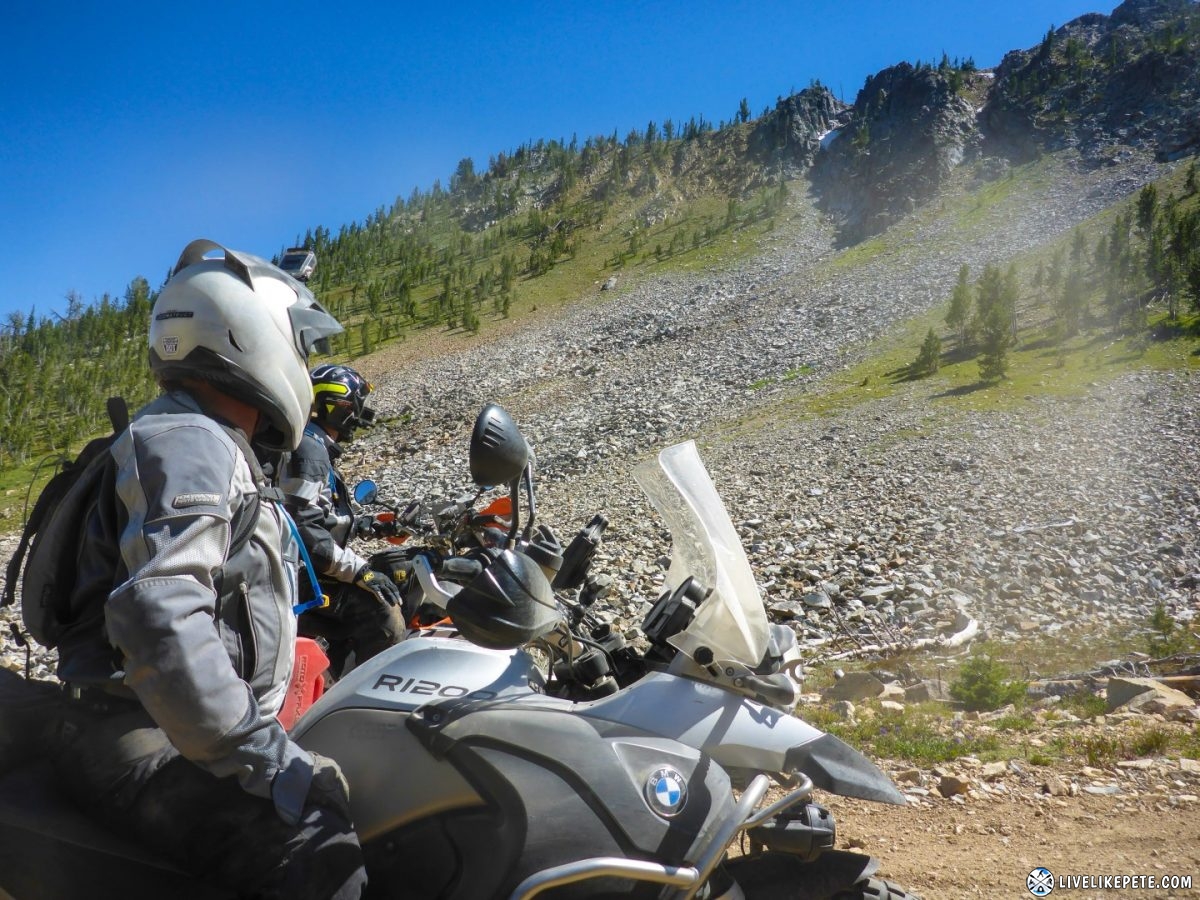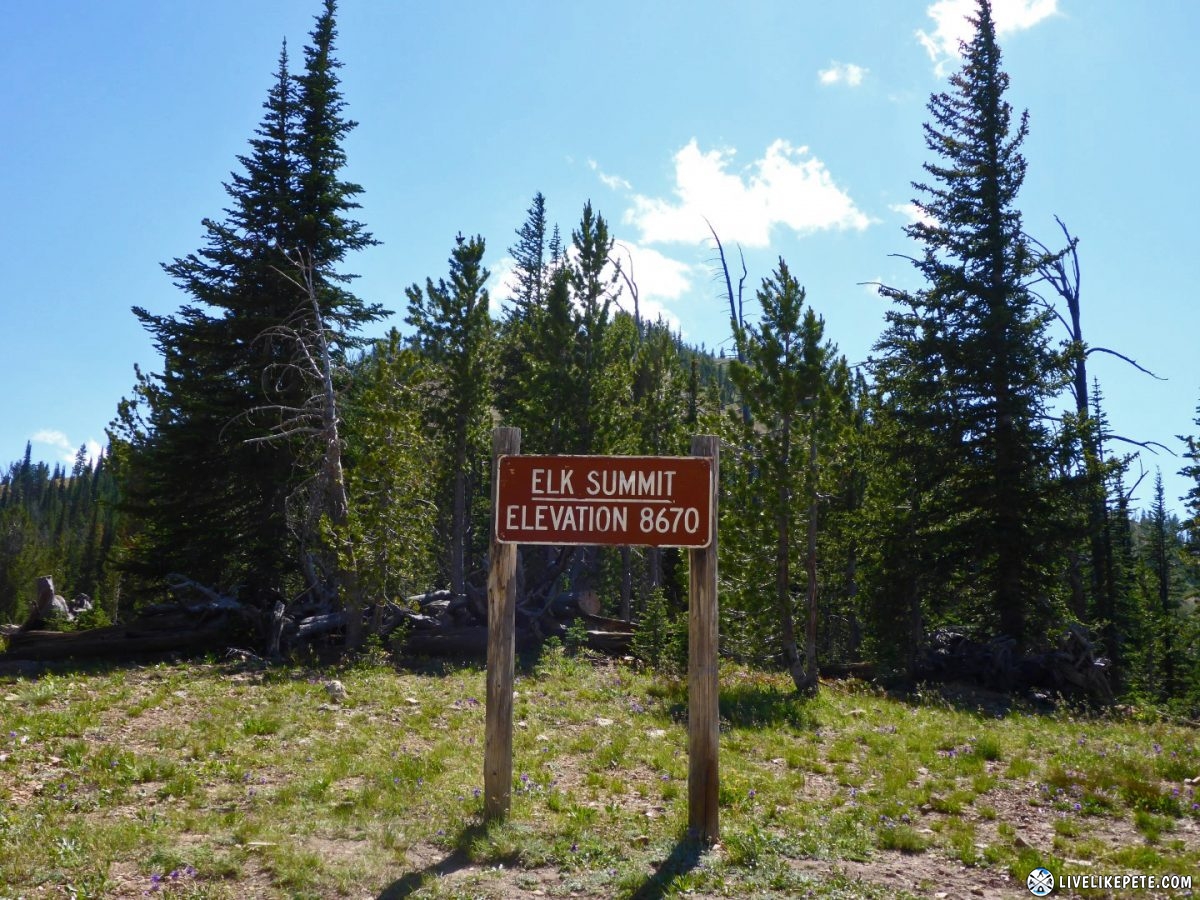 We stopped at this cool looking tree to check out the awesome view.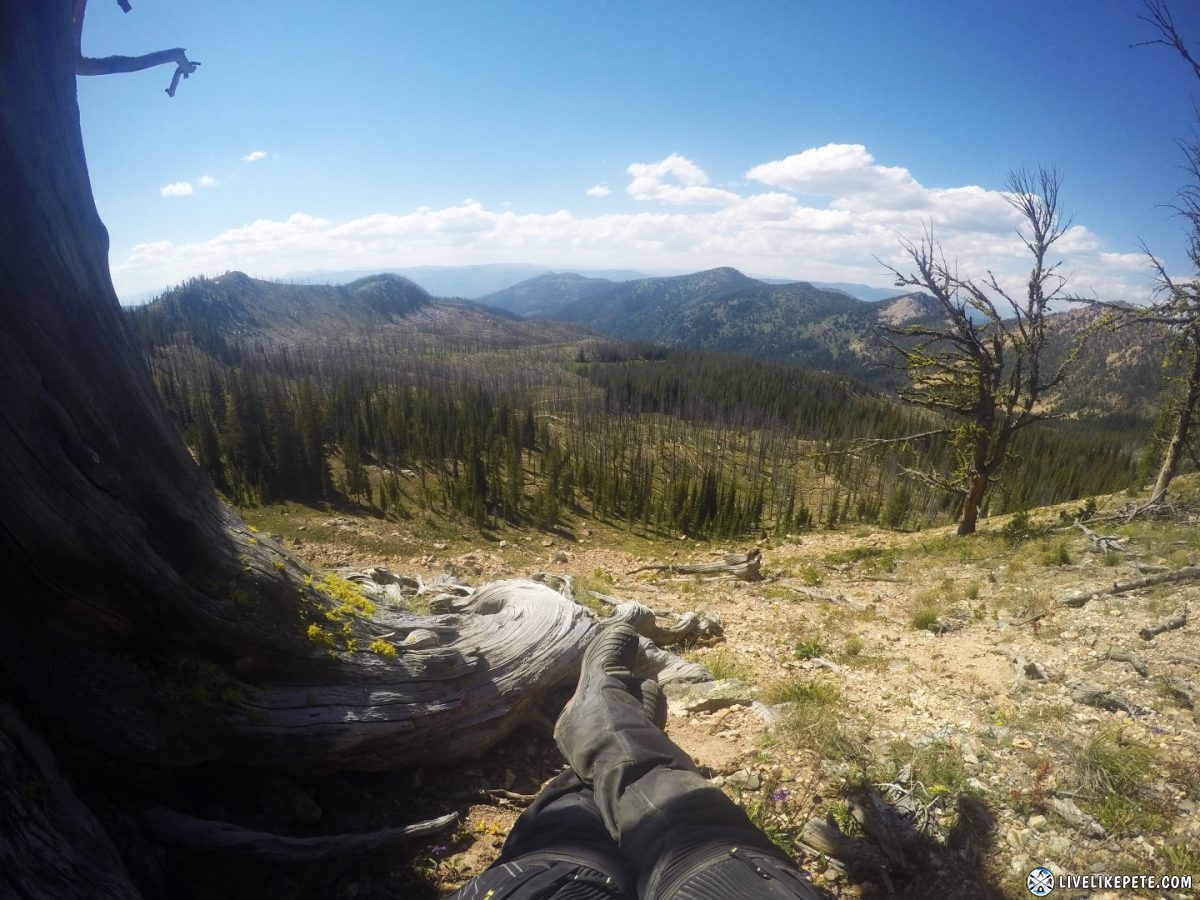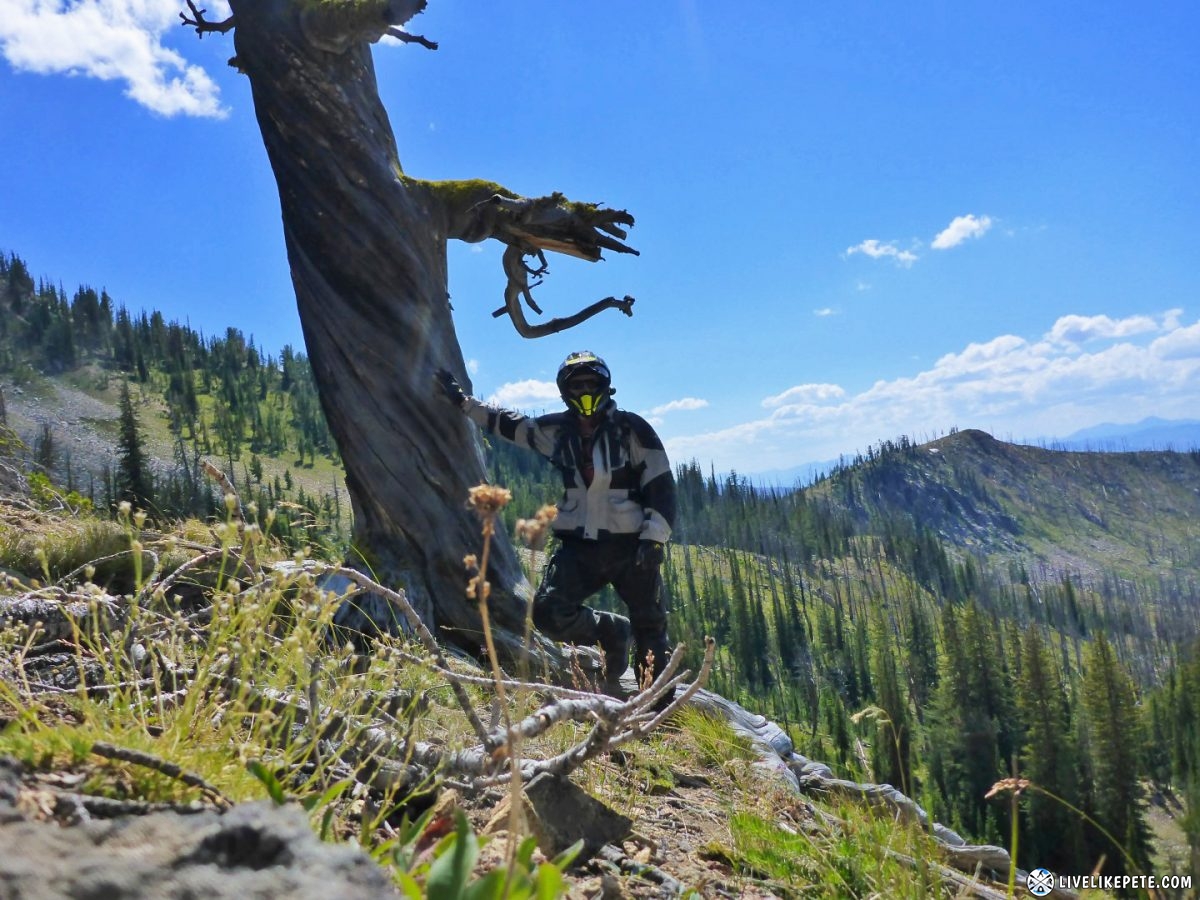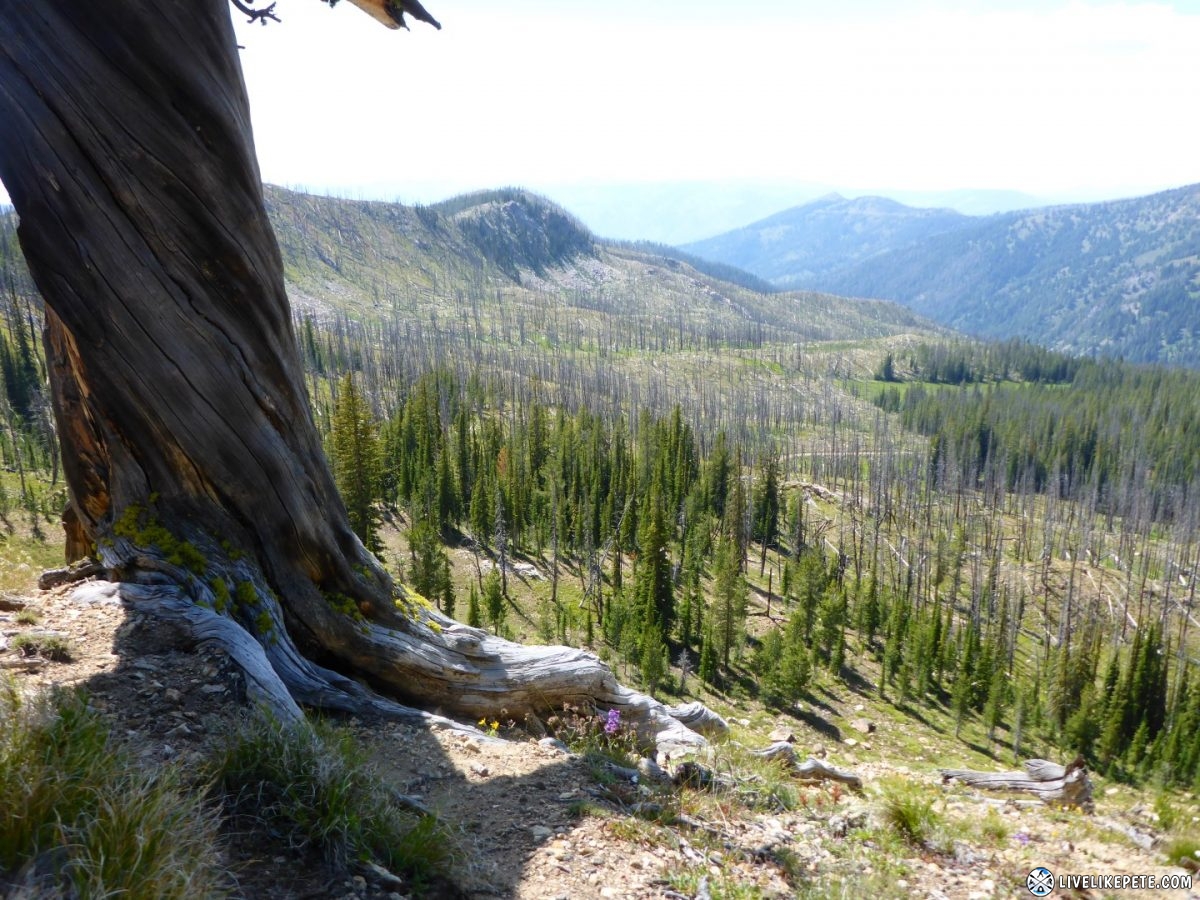 All I saw was "SINGLETRACK" and got excited. Then I realized they were referring to the road. Oh. Boo.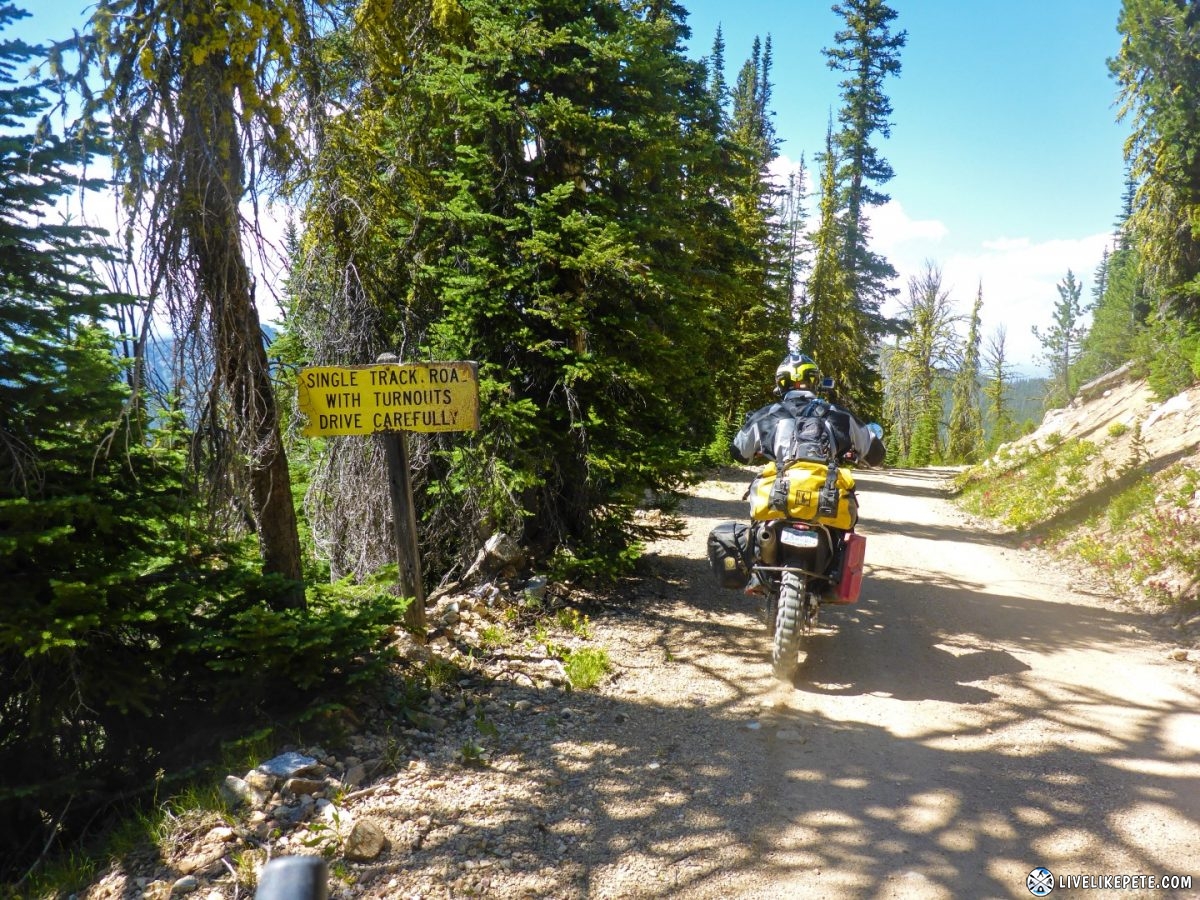 Steve joked that they had nice landscapers up here.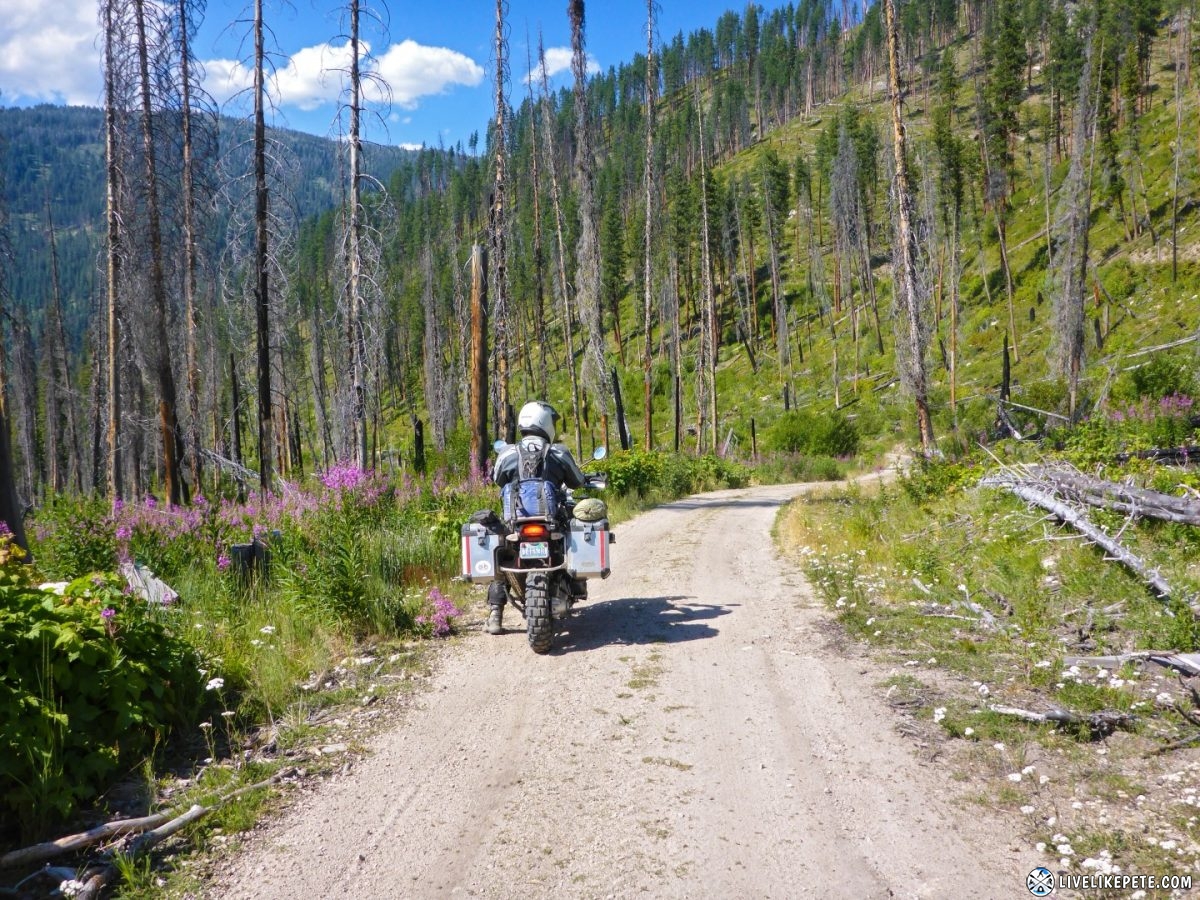 From there it was super scenic leading to Elk Creek. Gotta stop to smell the flowers remember?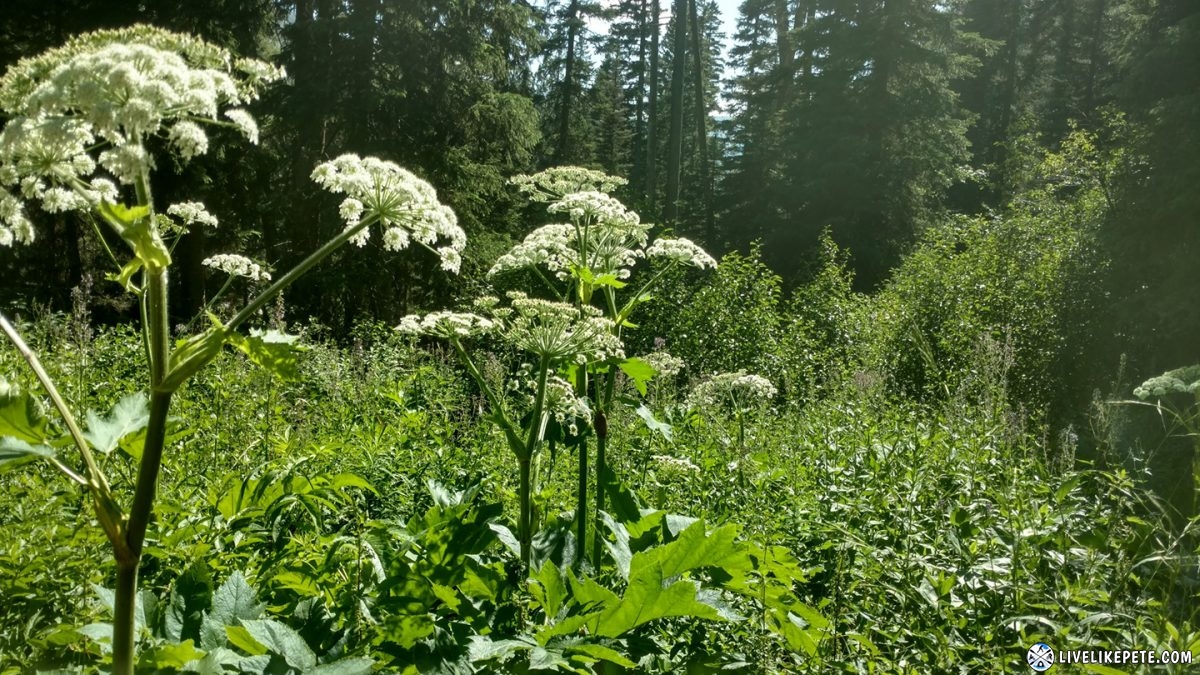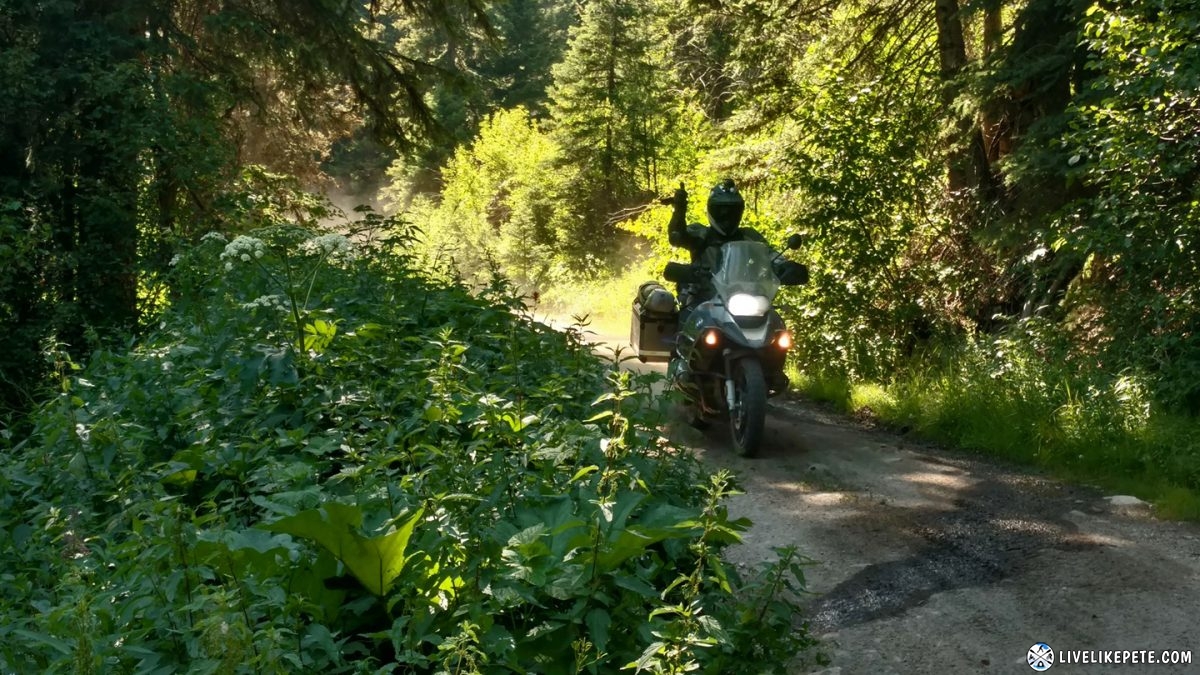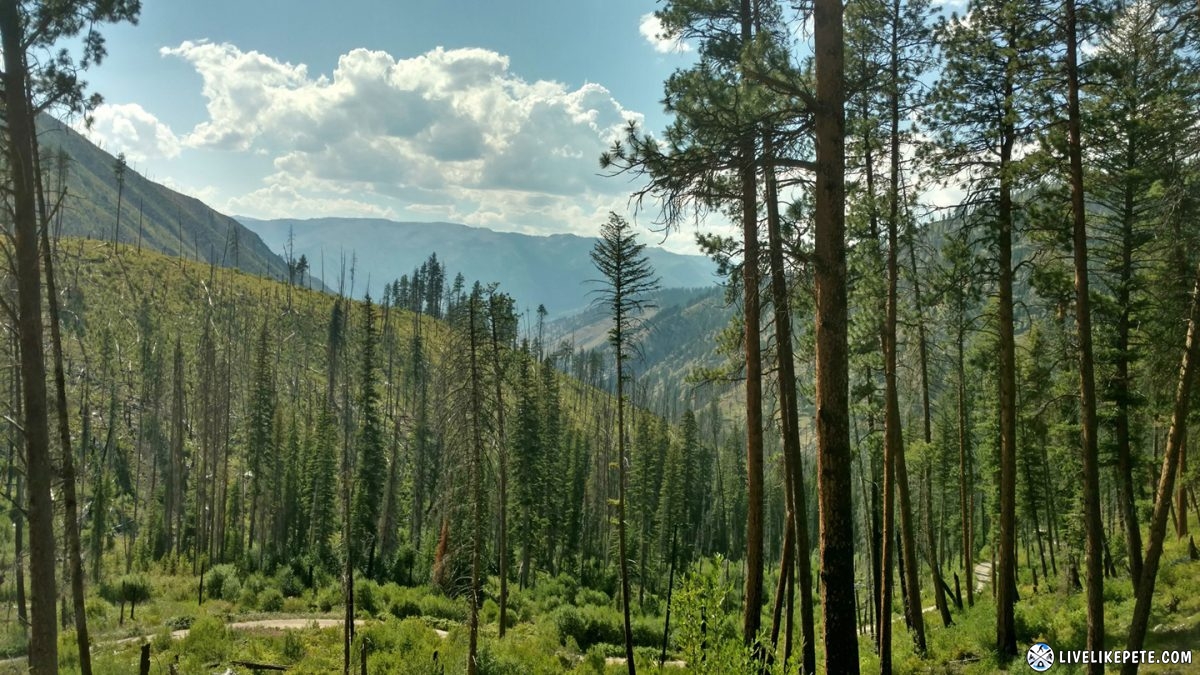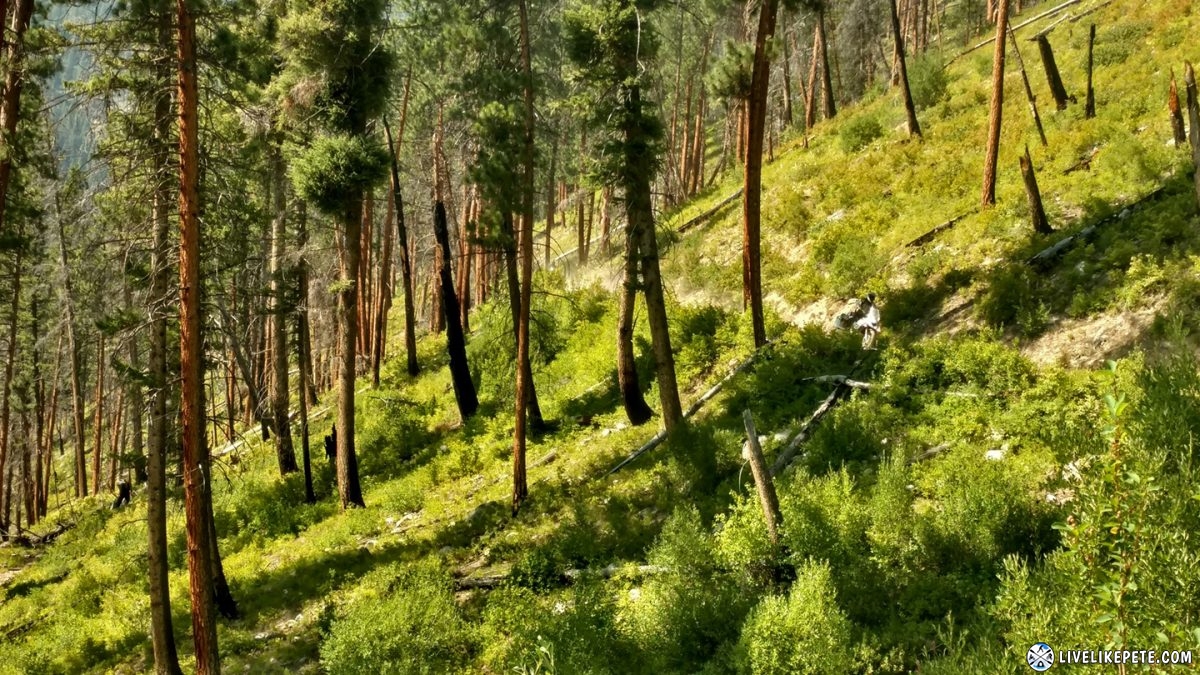 There were some cool little waterfalls at Elk Creek.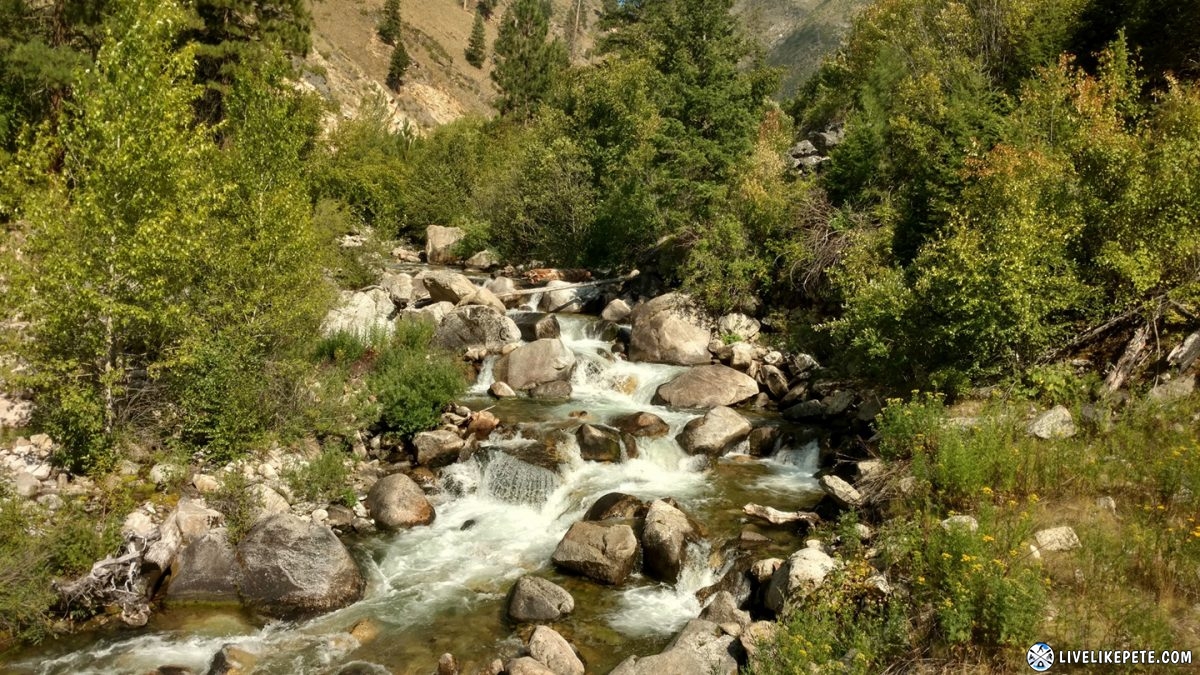 Gotta watch where you're going in these parts. When I crossed this bridge I wasn't paying much attention because I was taking a picture. All I could see was the wood planks and I veered towards the middle. I about crapped my pants thinking it was open in the middle. Phew! Time to put the camera down.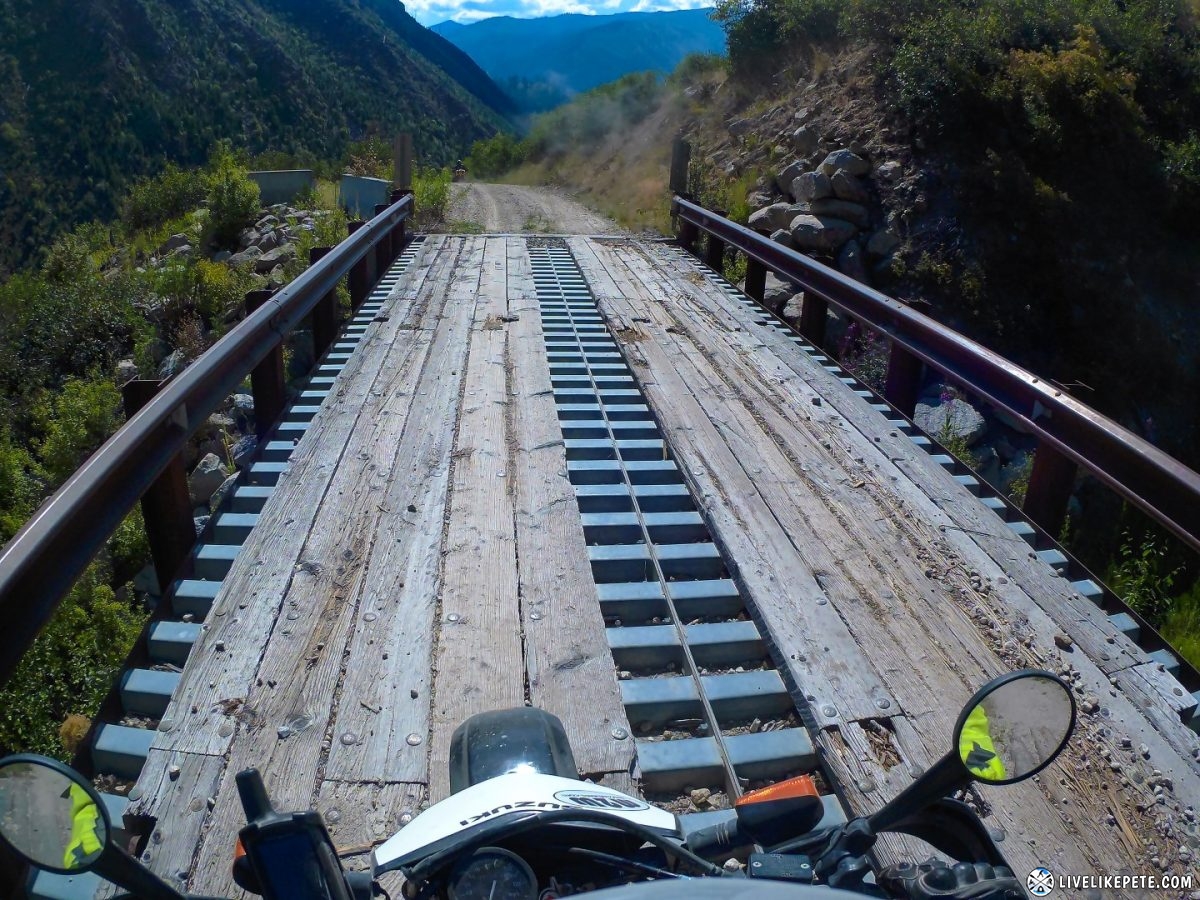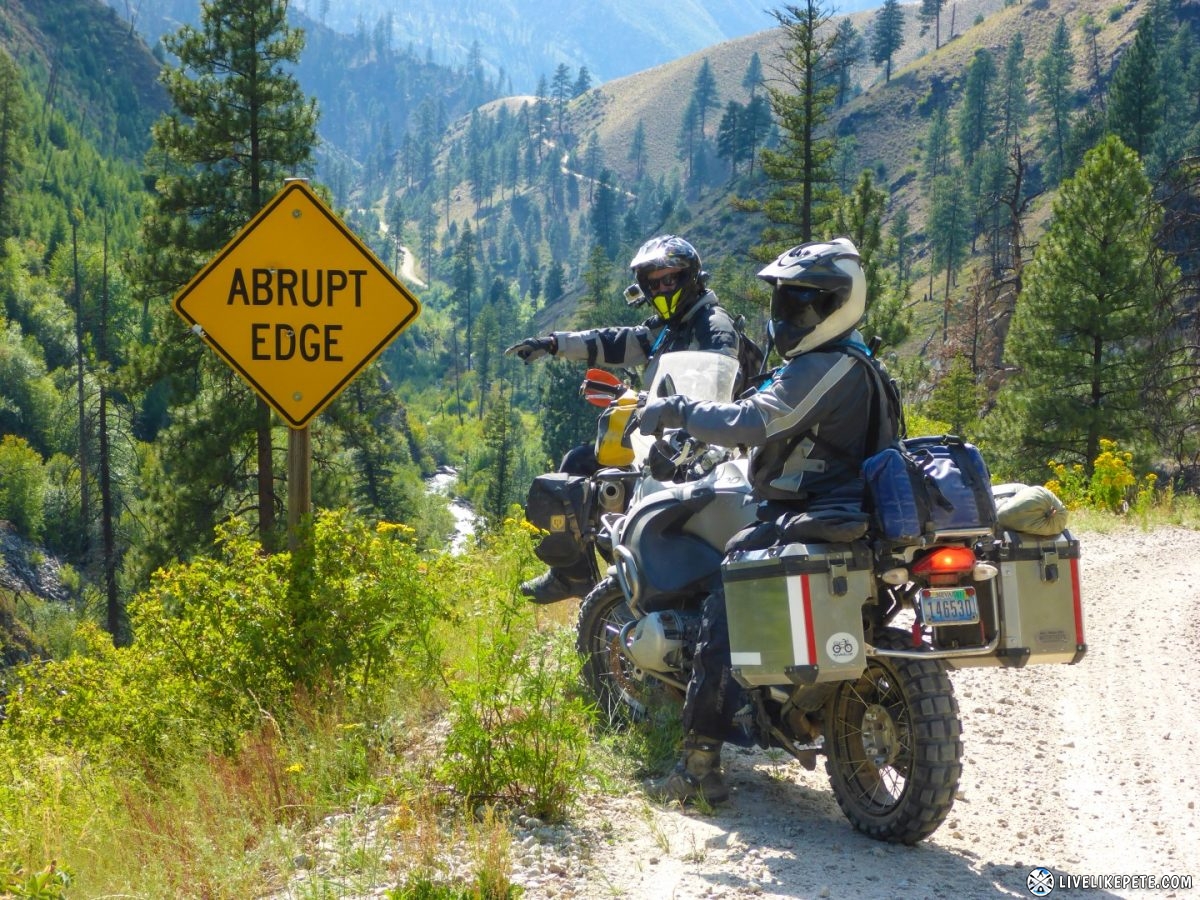 We crossed over the South Fork Salmon River via a single lane bridge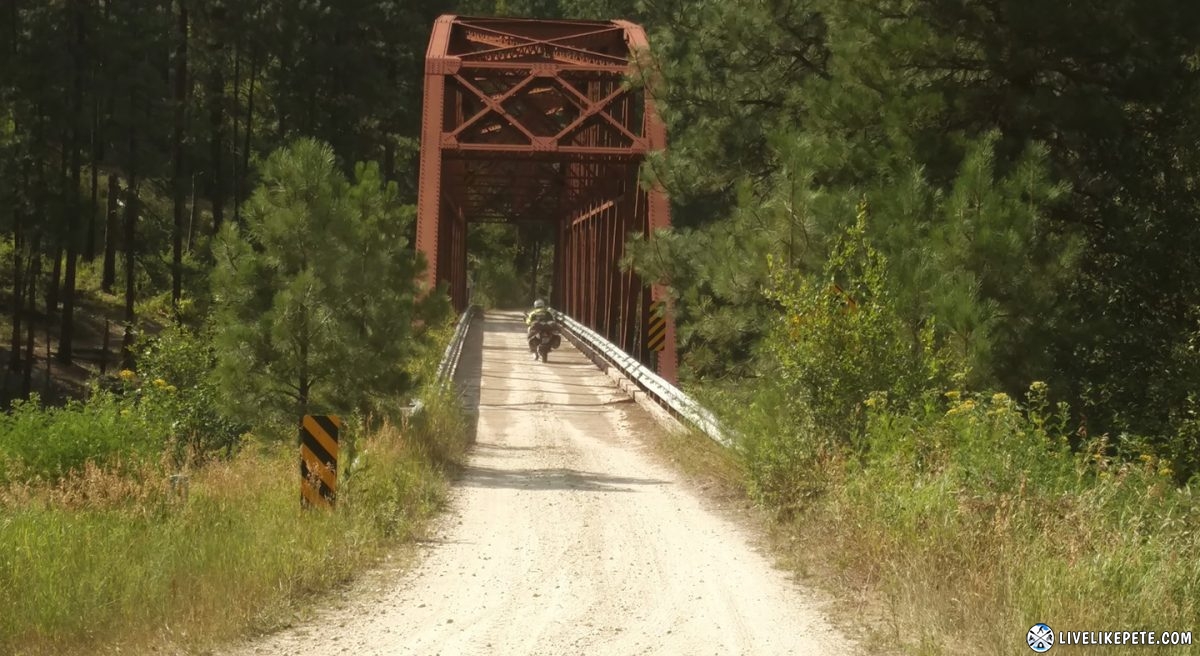 Warren Summit, elevation 6990′
We passed over Warren Summit where we decided to take 5. I laid down in some tall grass to relax. Those miles and miles of switchback roads get taxing on the brain after a while.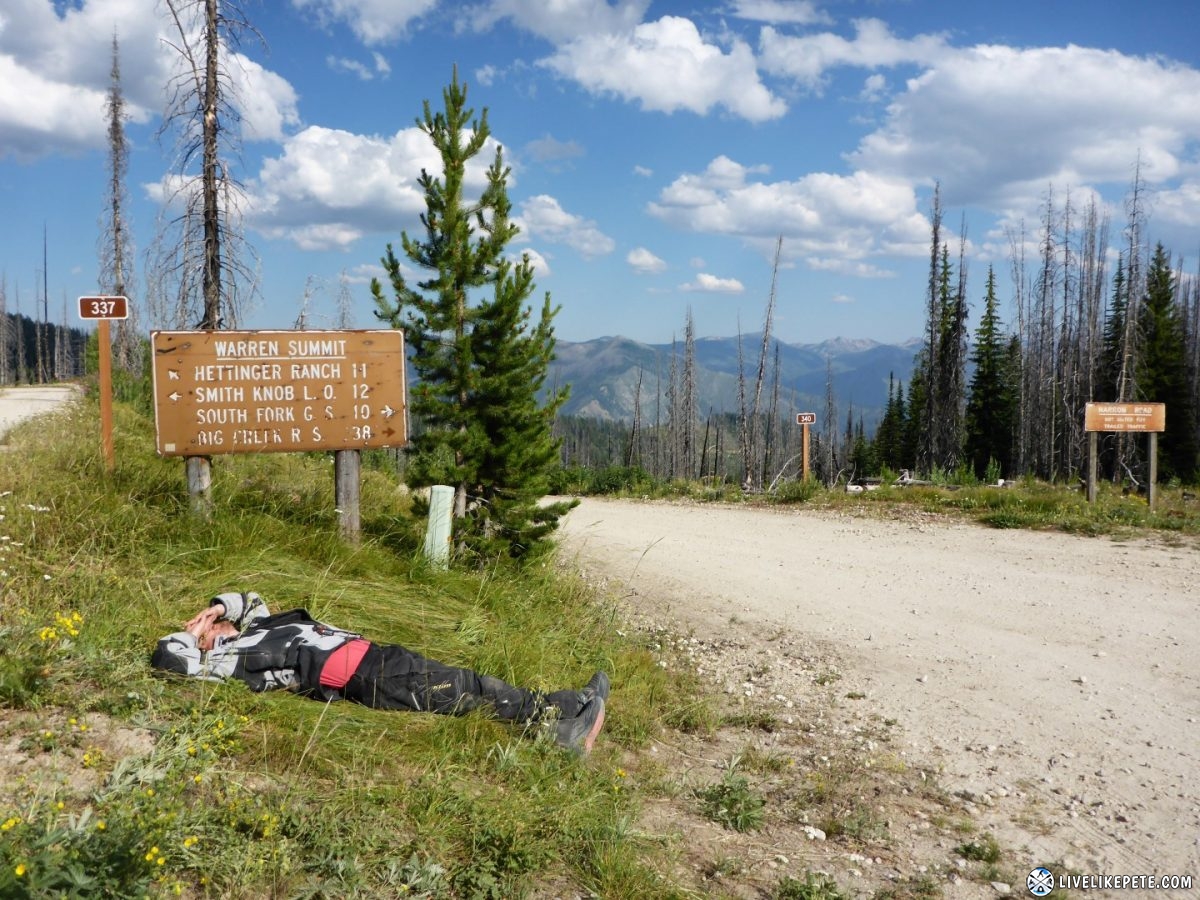 We passed through Warren, which reminded us alot of the old mining town, Goldpoint, NV that we are used to riding around.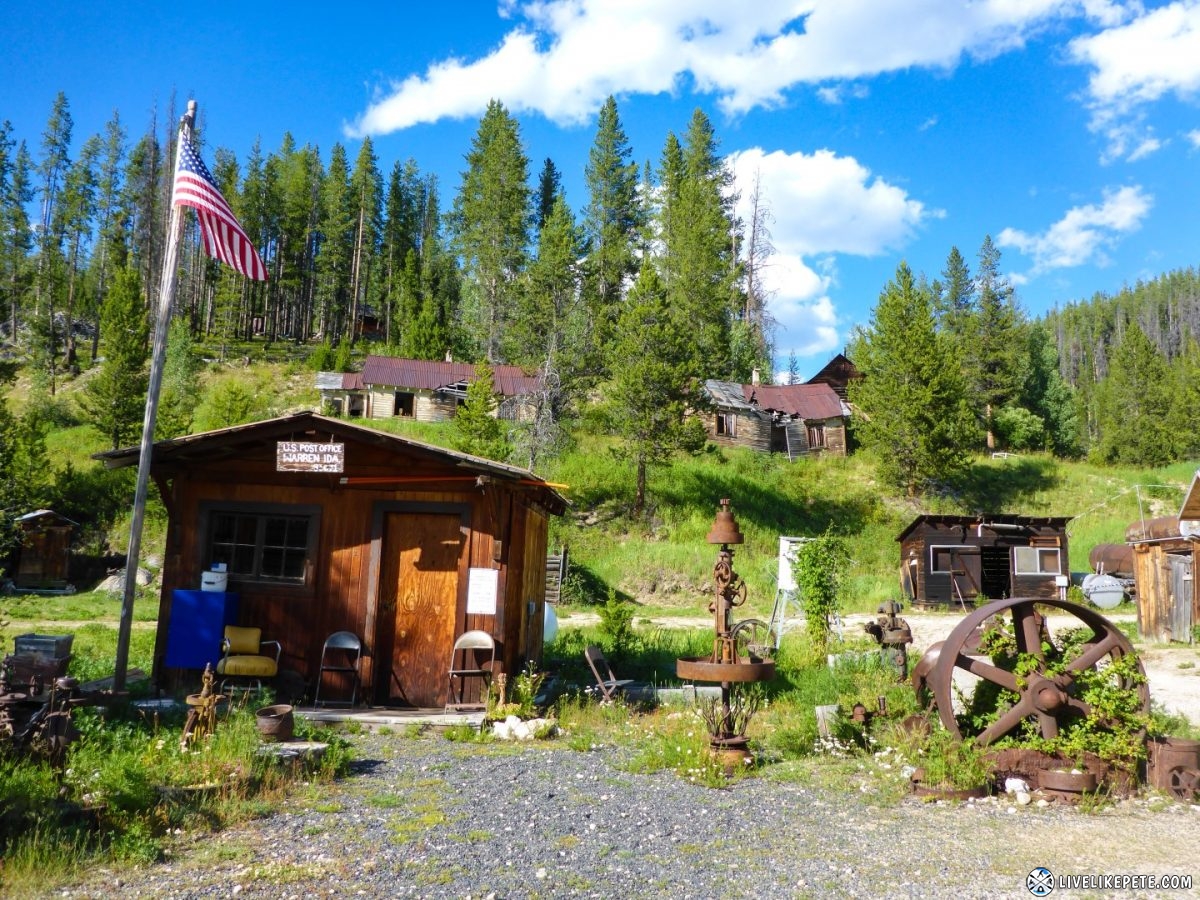 Just before Burgdorf the road was lined with huge trees.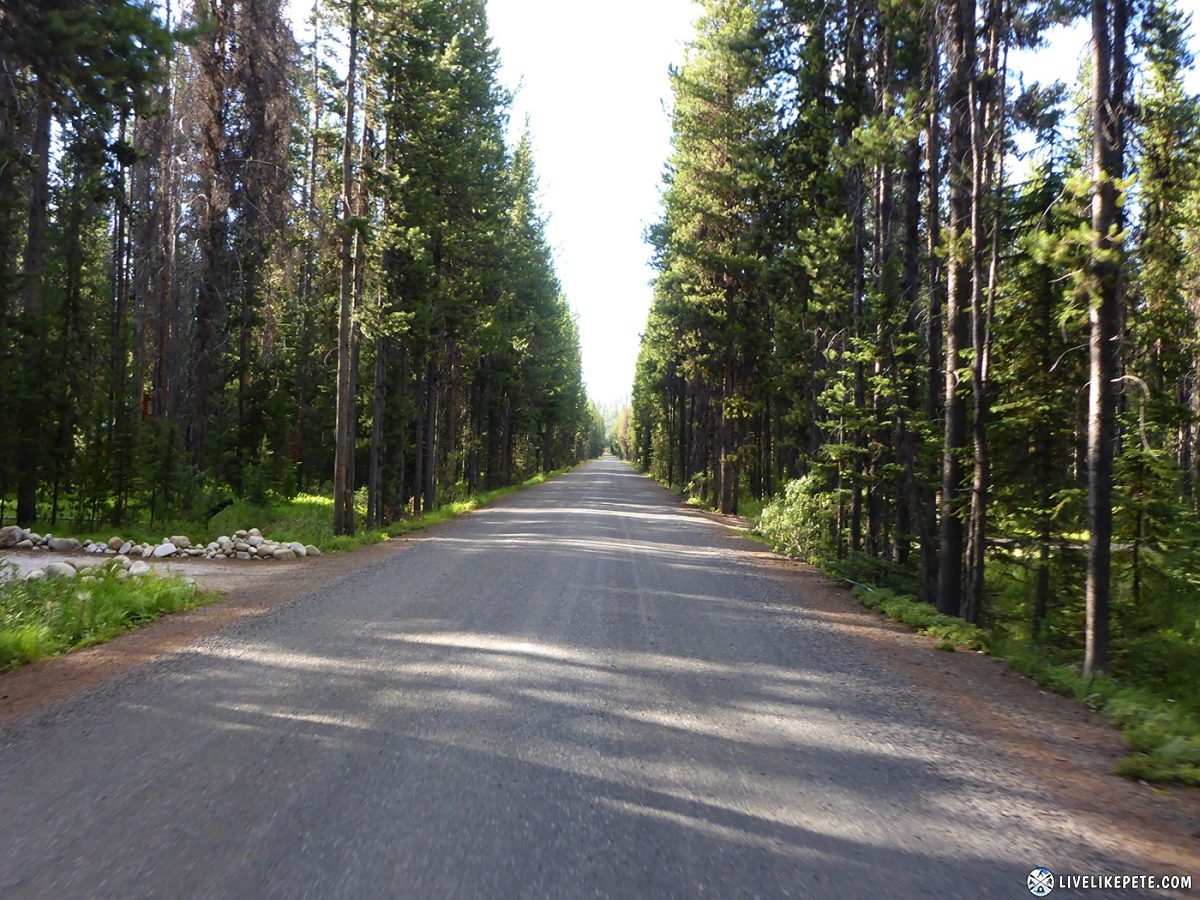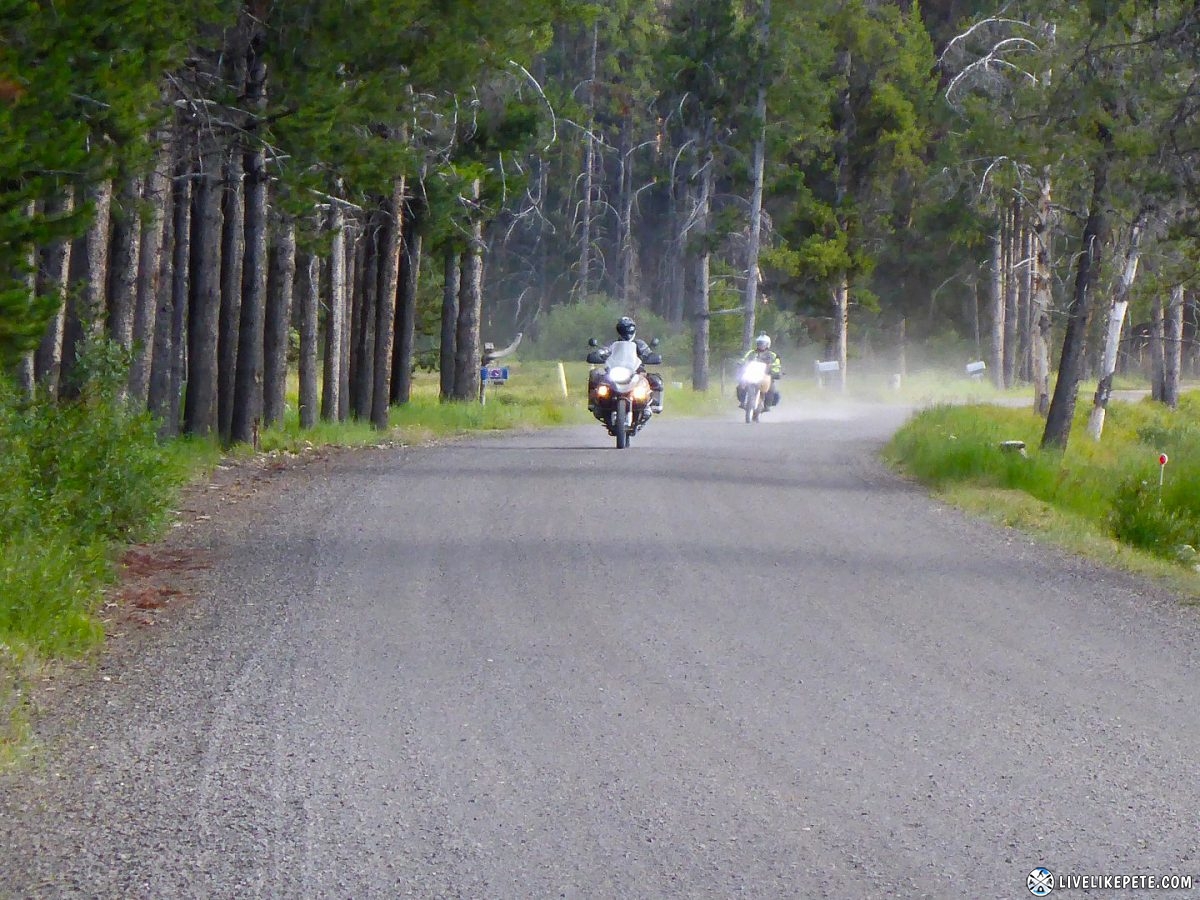 There was this big green meadow in Burgdorf.

A quick stop in Burgdorf was in order to check out the hot springs resort. Burgdorf is a rustic, little town with natural mineral hot springs. It was founded by Chinese miners and settled by a German immigrant, Fred C. Burgdorf back in the late 1860's. In the winter, the town gets enough snow to only be traveled to and from by snowmobile. Freerider, Ronnie Renner, and his crew filmed their snowbike videos in this little town.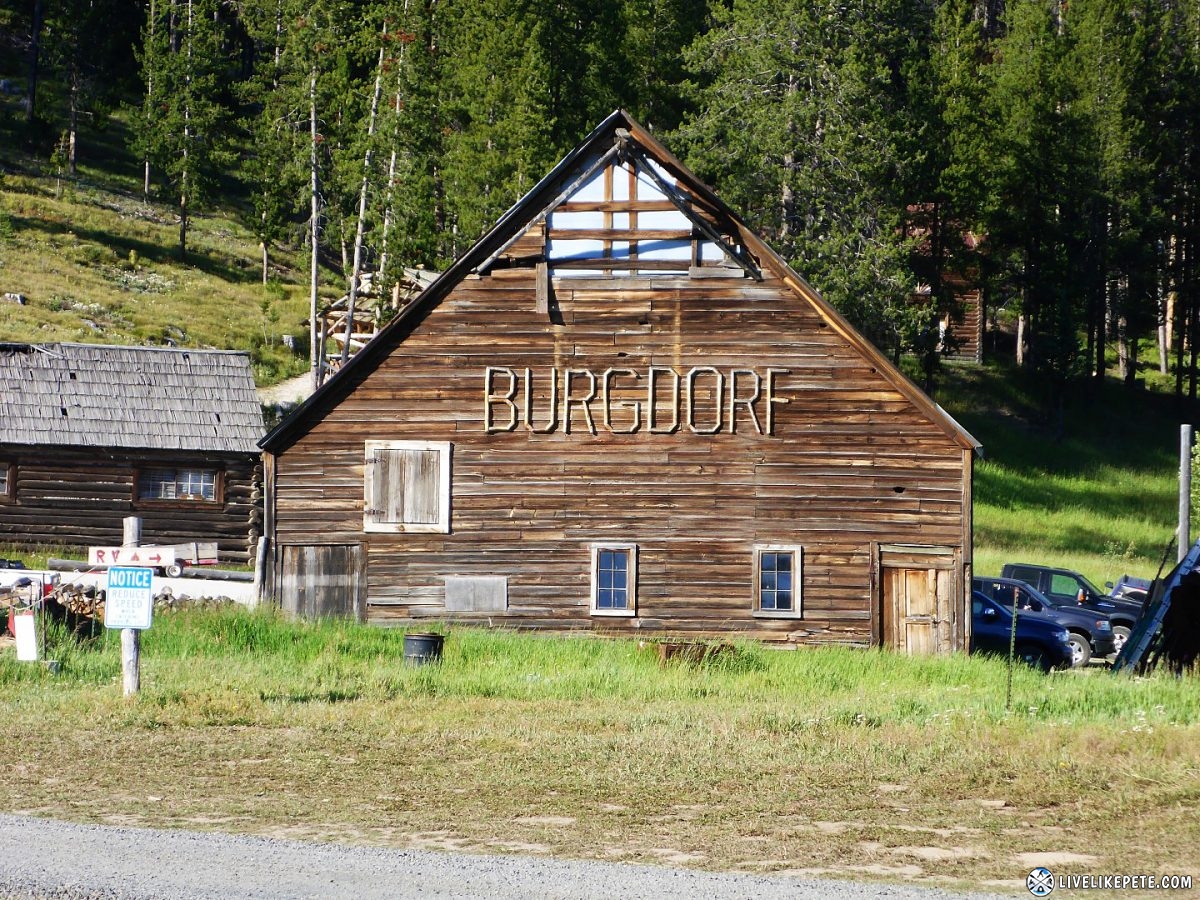 The resort has a nice, big hot springs pool.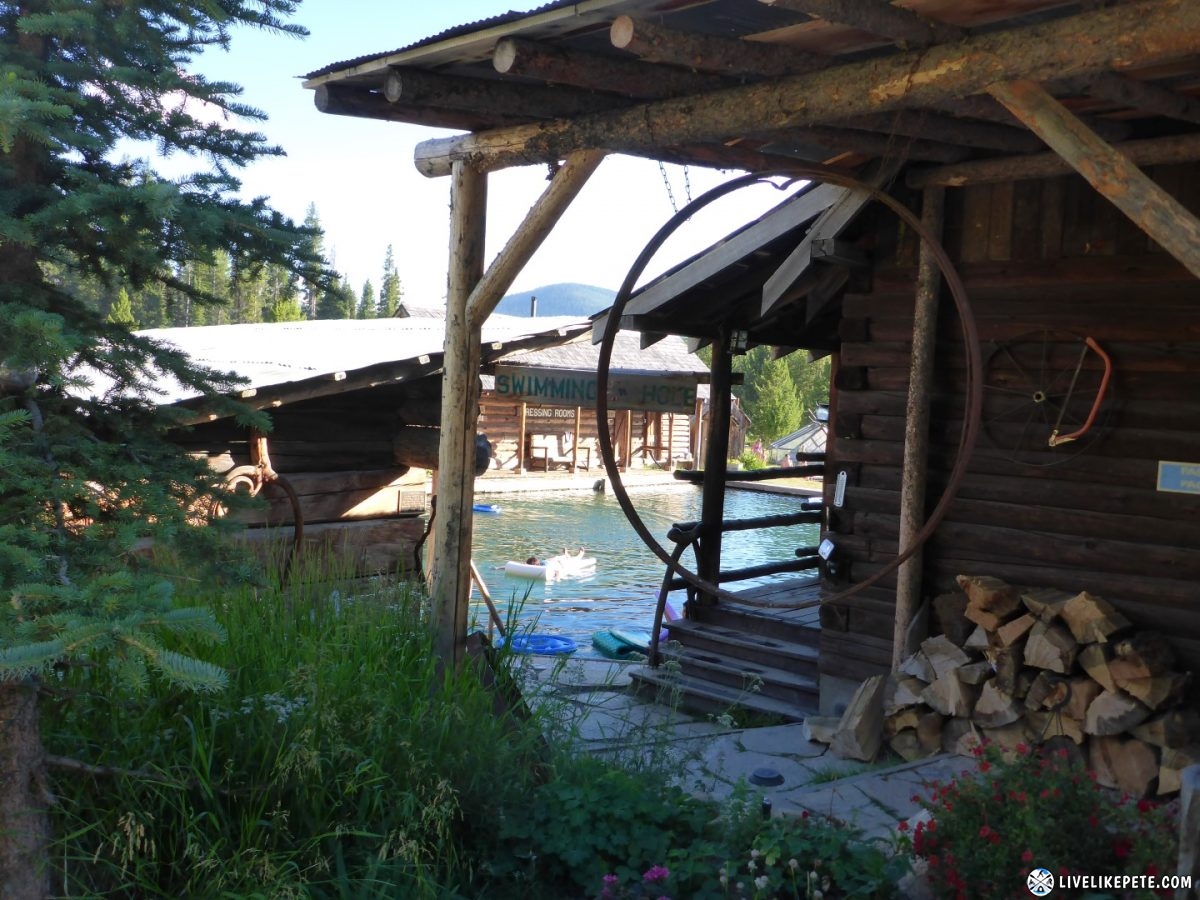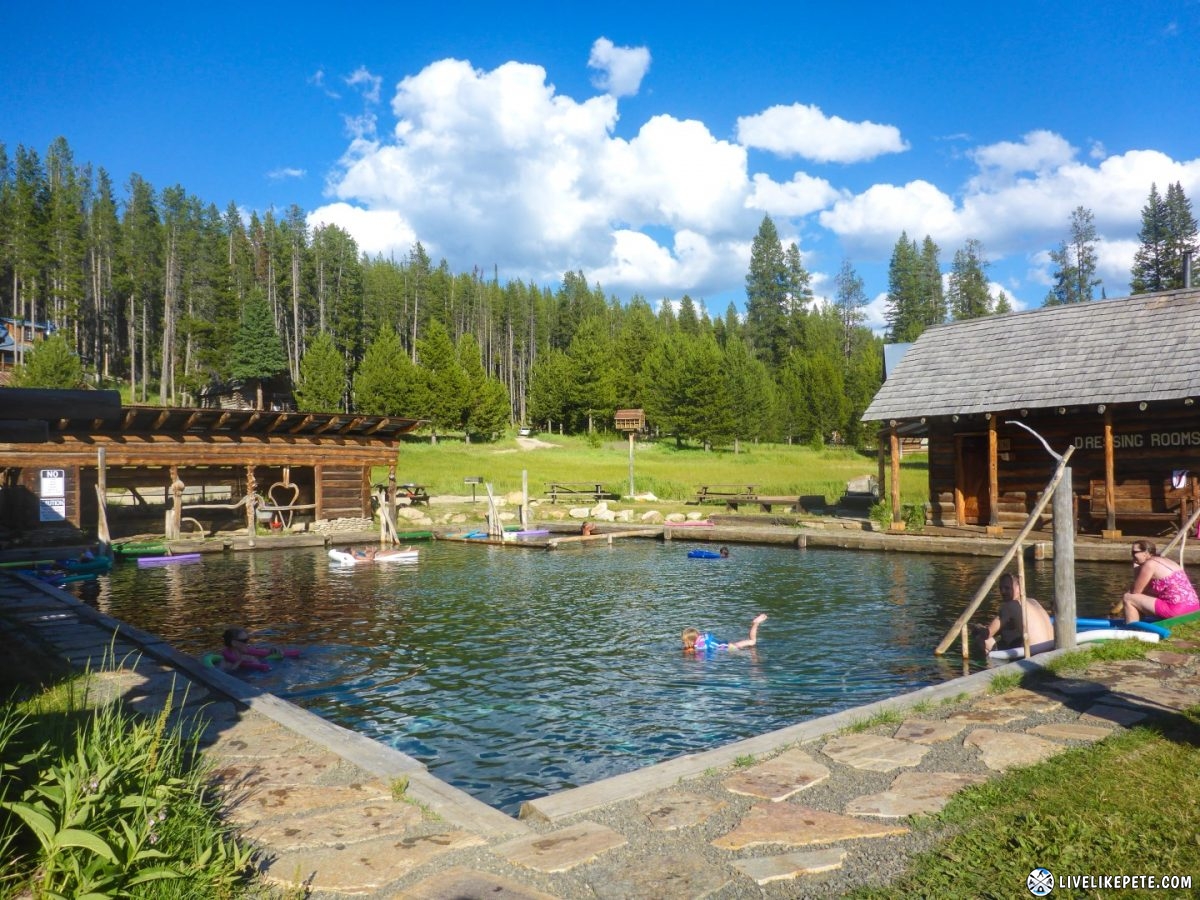 The small town is full of character and history.
Just outside of Burgdorf is a very popular part of the IDBDR for adventure riders, the old bus. We stopped to check it out and take some photos.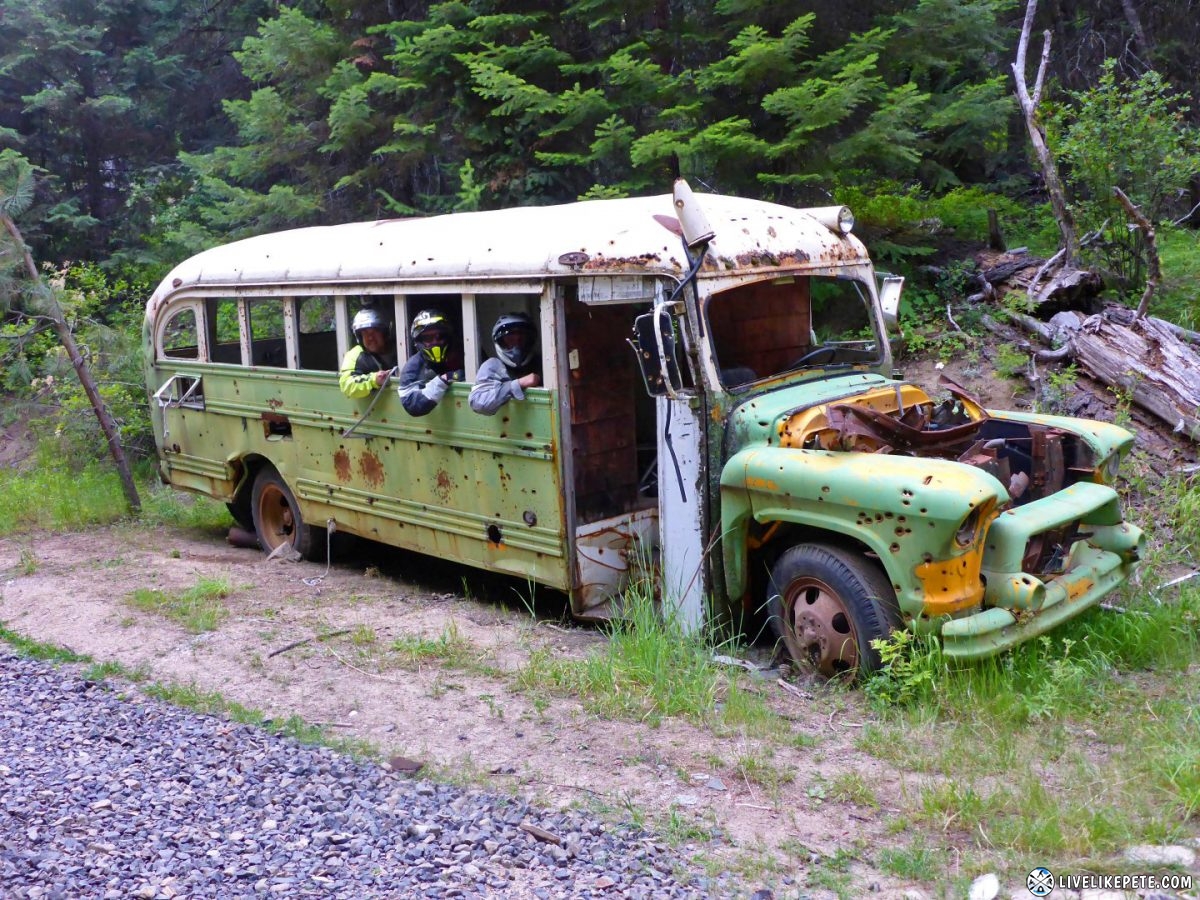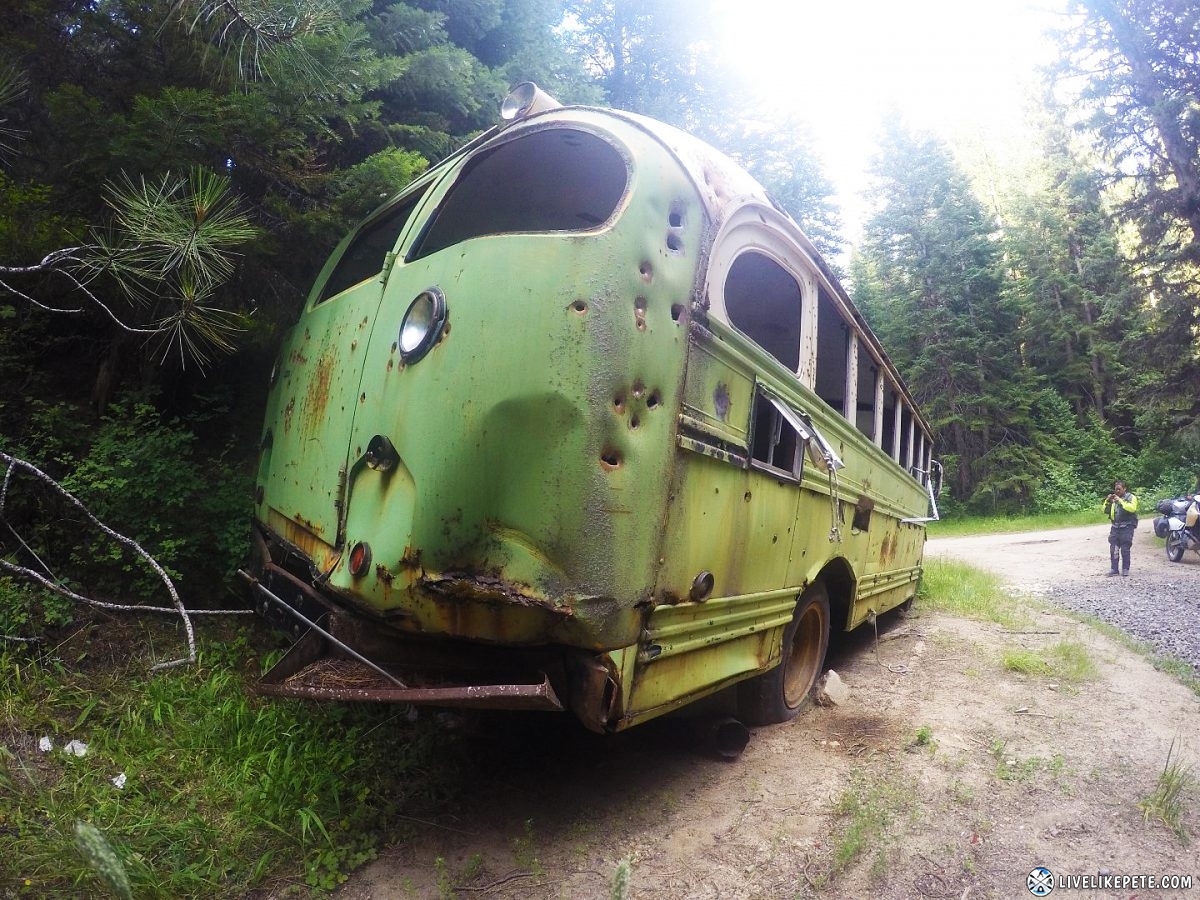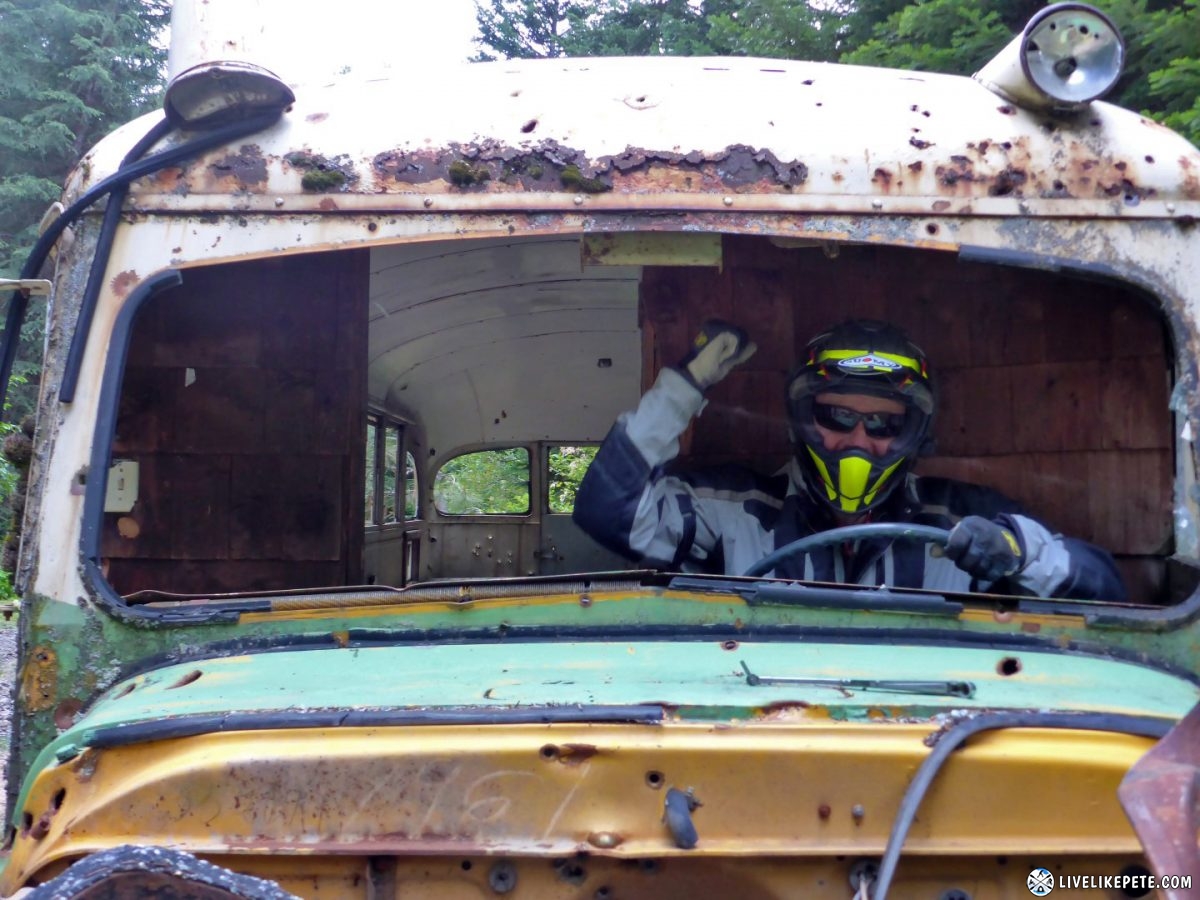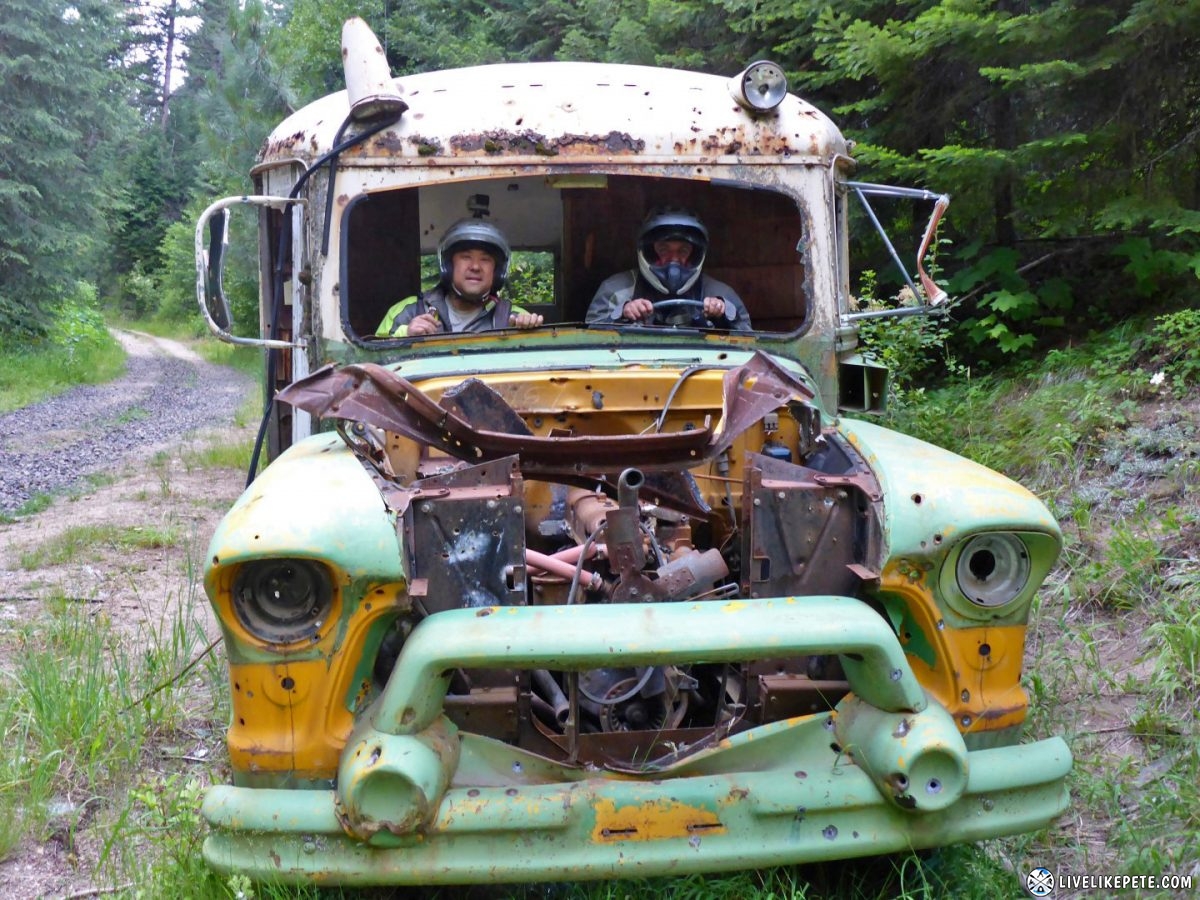 Then we went down a very LONG set of switchbacks. It dropped us from 4600 ft to 2000 ft in a matter of just a few miles.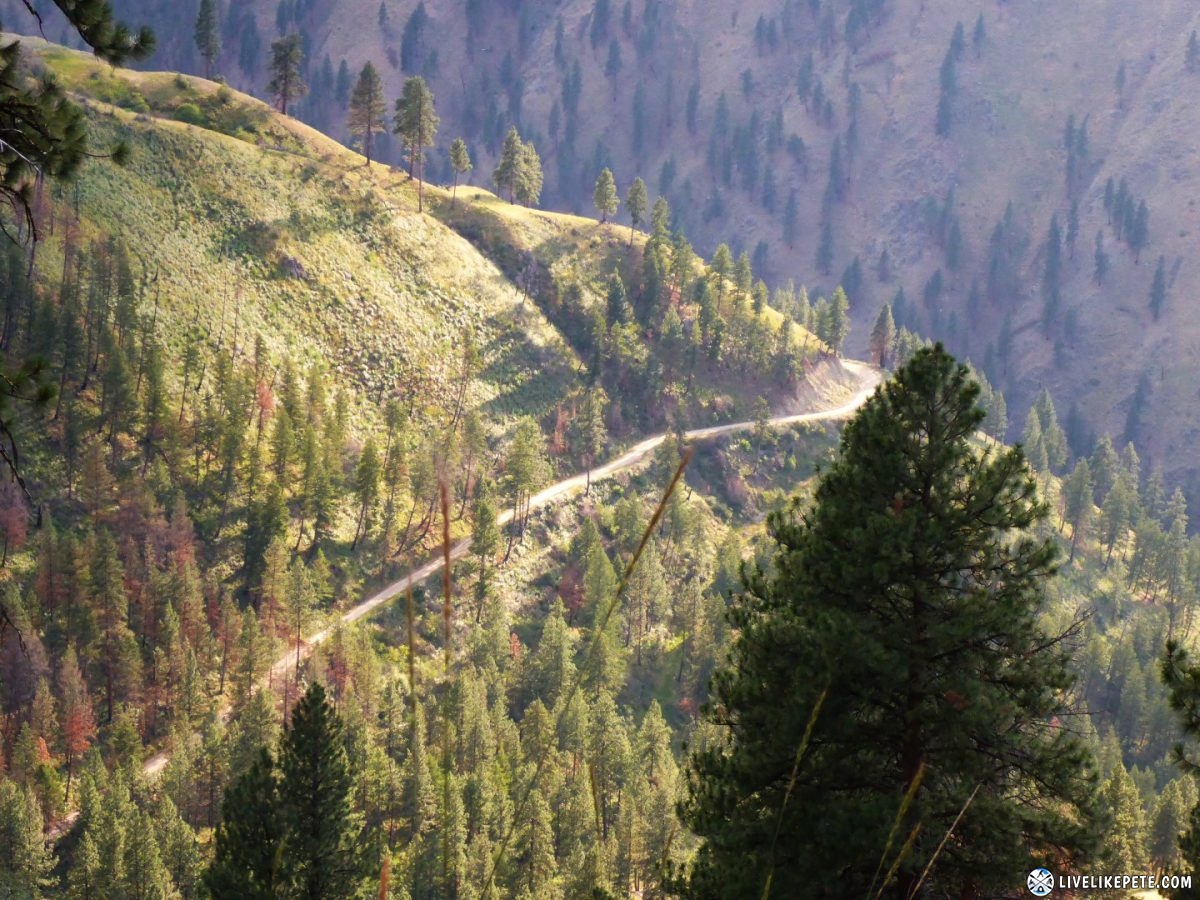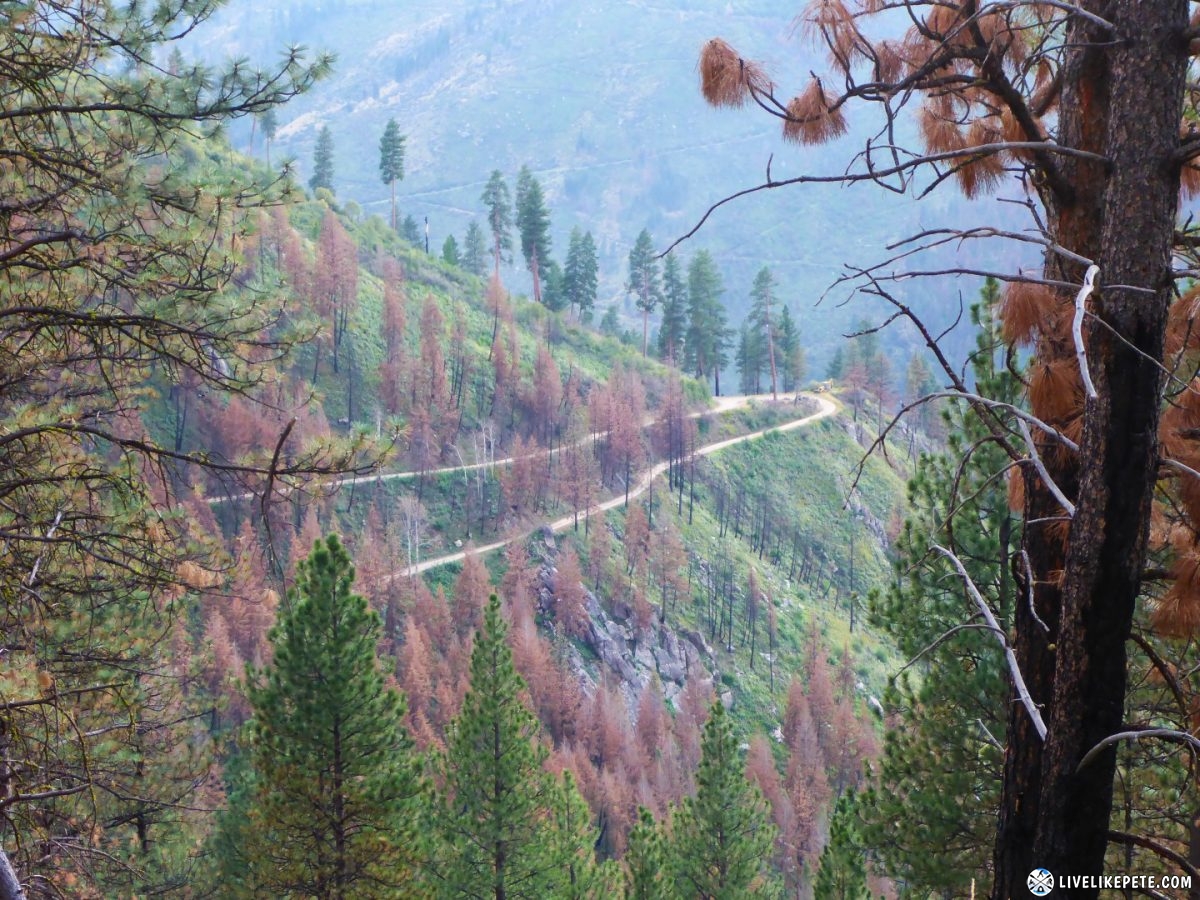 One guy must not have been paying attention and went right off the side. The worst part was it was his buddies truck! Thankfully everyone was ok and the tow truck driver let us pass by.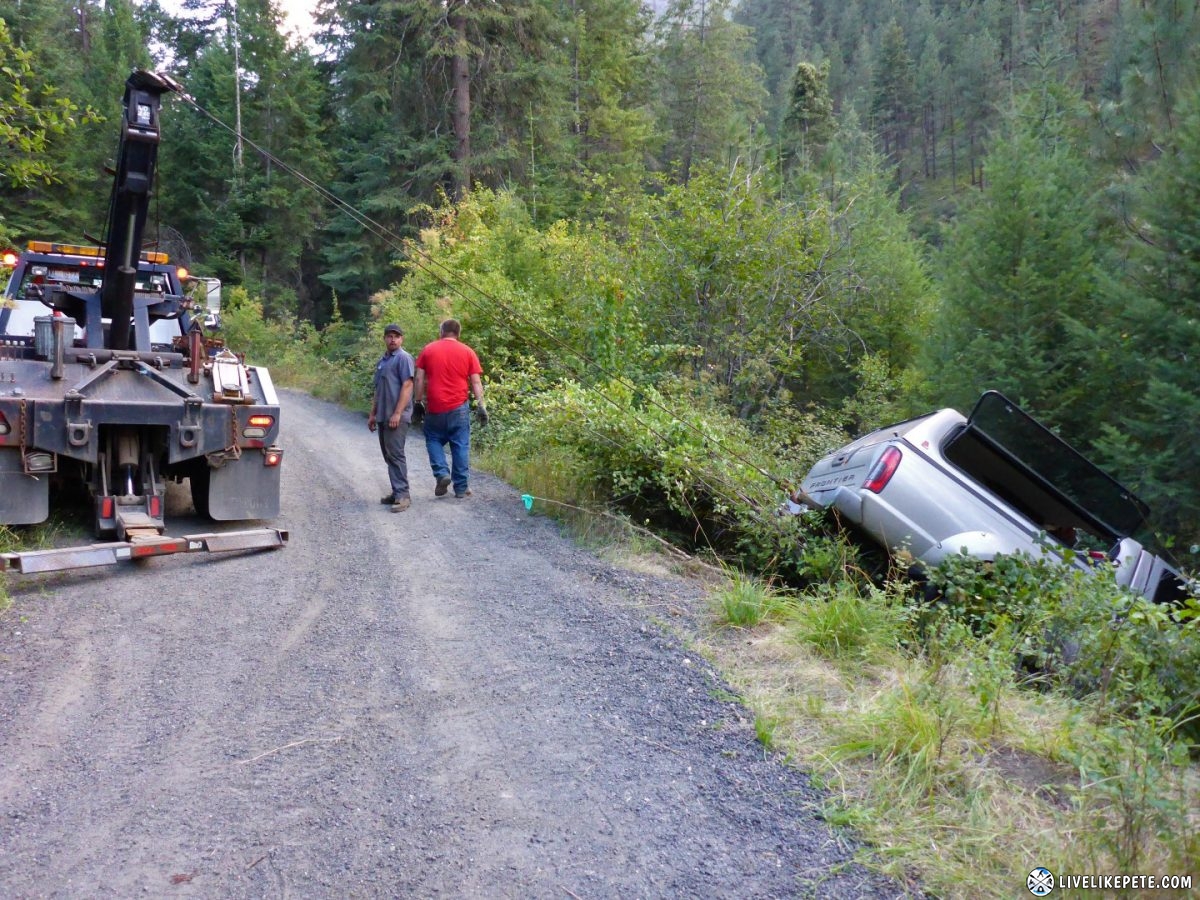 We got down to the Salmon River. We followed the river west looking for a good camp spot for the night.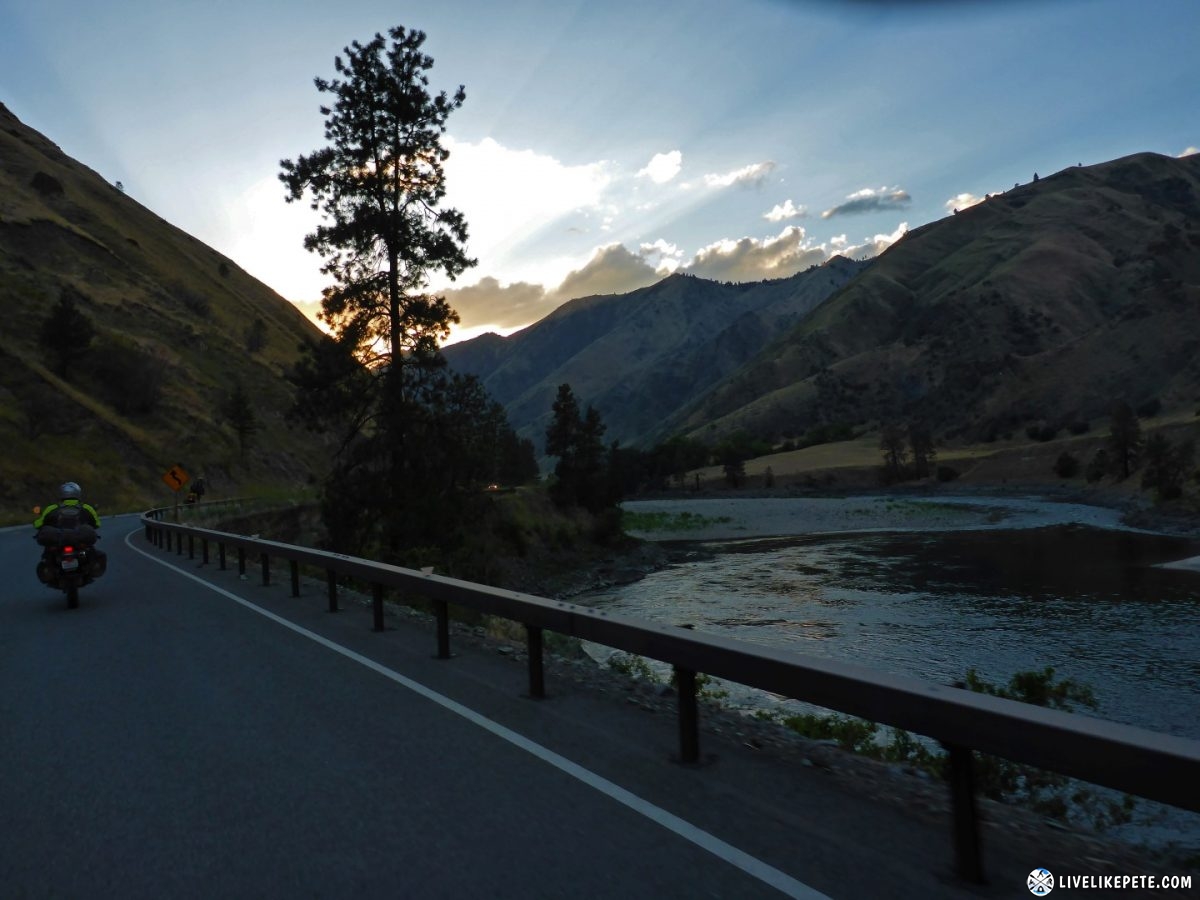 We spotted several amazing, white sandy beaches but they were either not accessible or were already taken by other campers.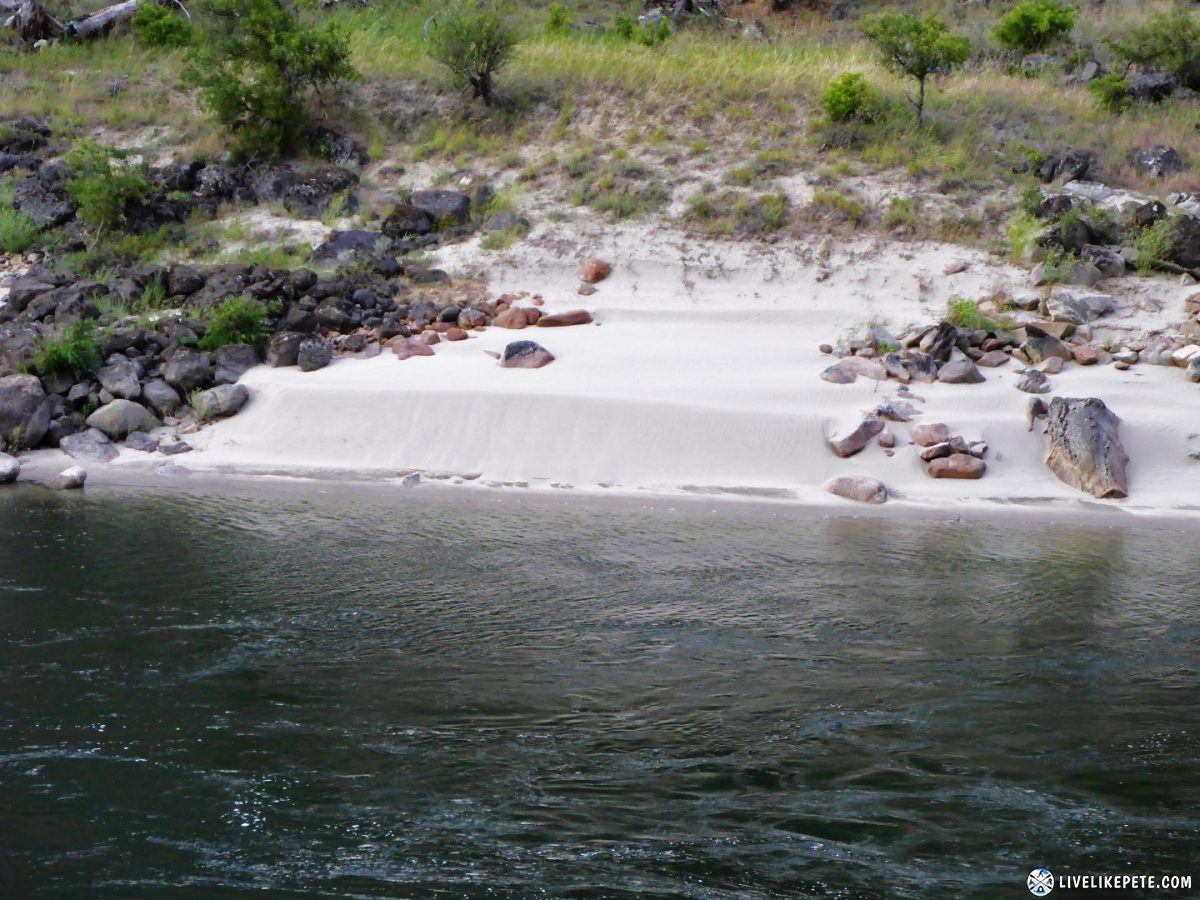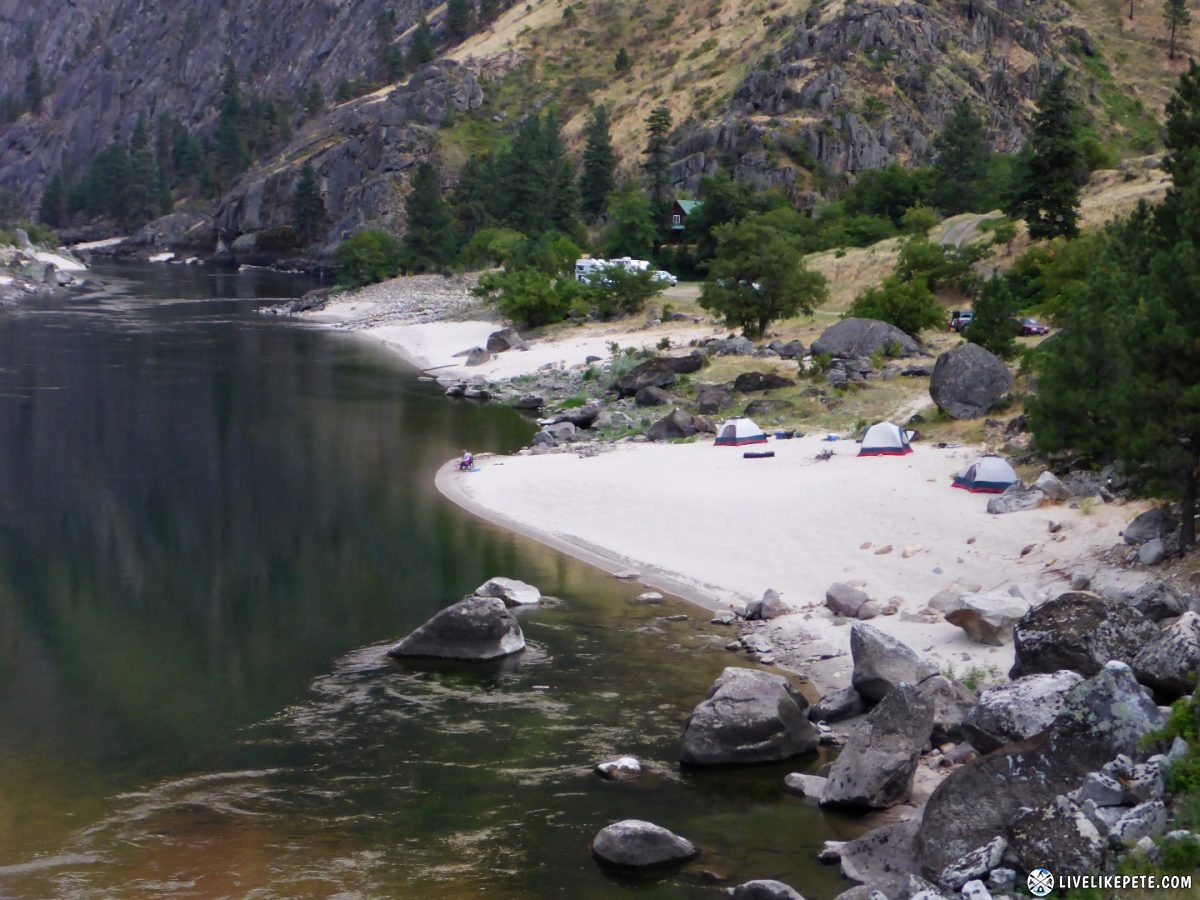 We crossed the Manning Bridge.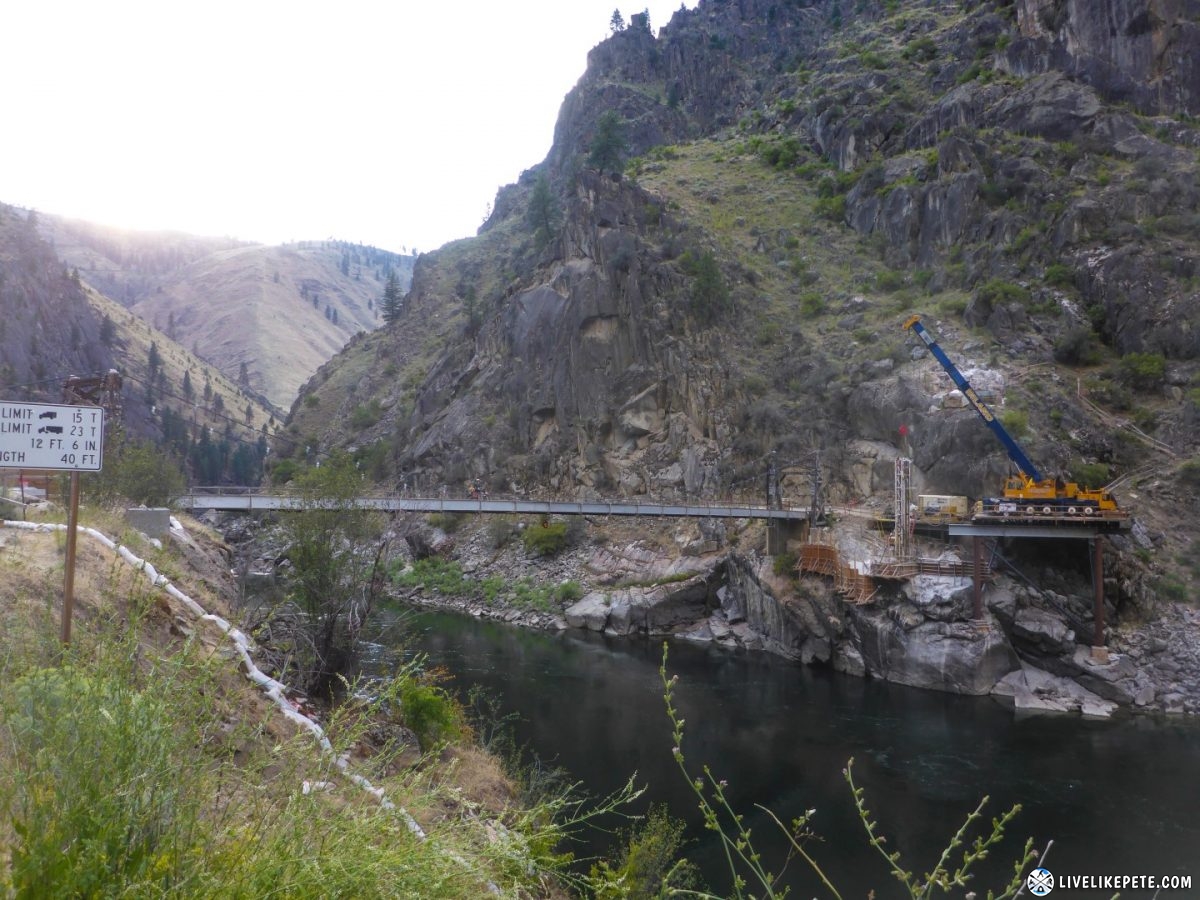 The wood looked very old and was under some sort of construction. That added a little excitement for crossing the river. I couldn't see taking a truck across this thing, but apparently it was strong enough.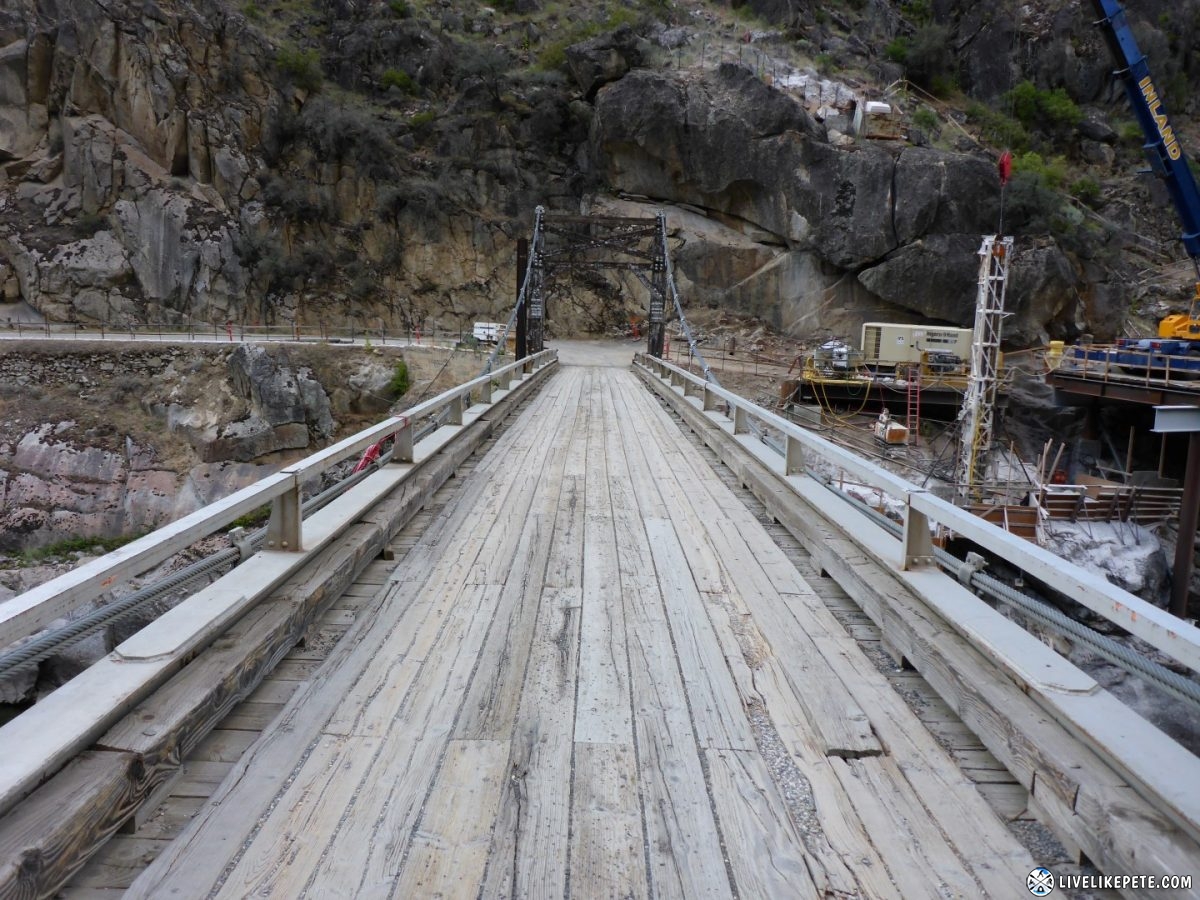 The view of the Salmon River looking east from the center of the bridge was incredible. I could sit there and just stare at this view for hours.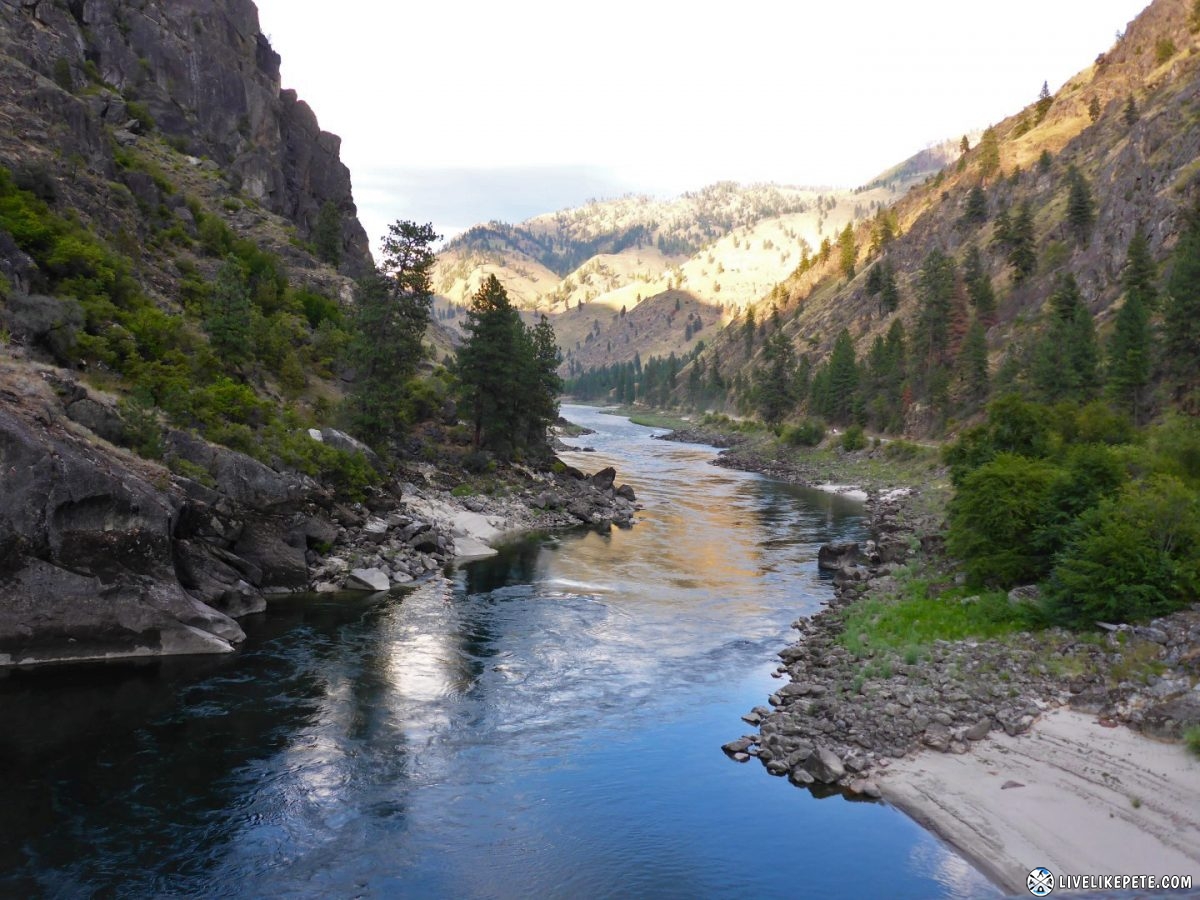 Looking back at the bridge shows how much distance it spans.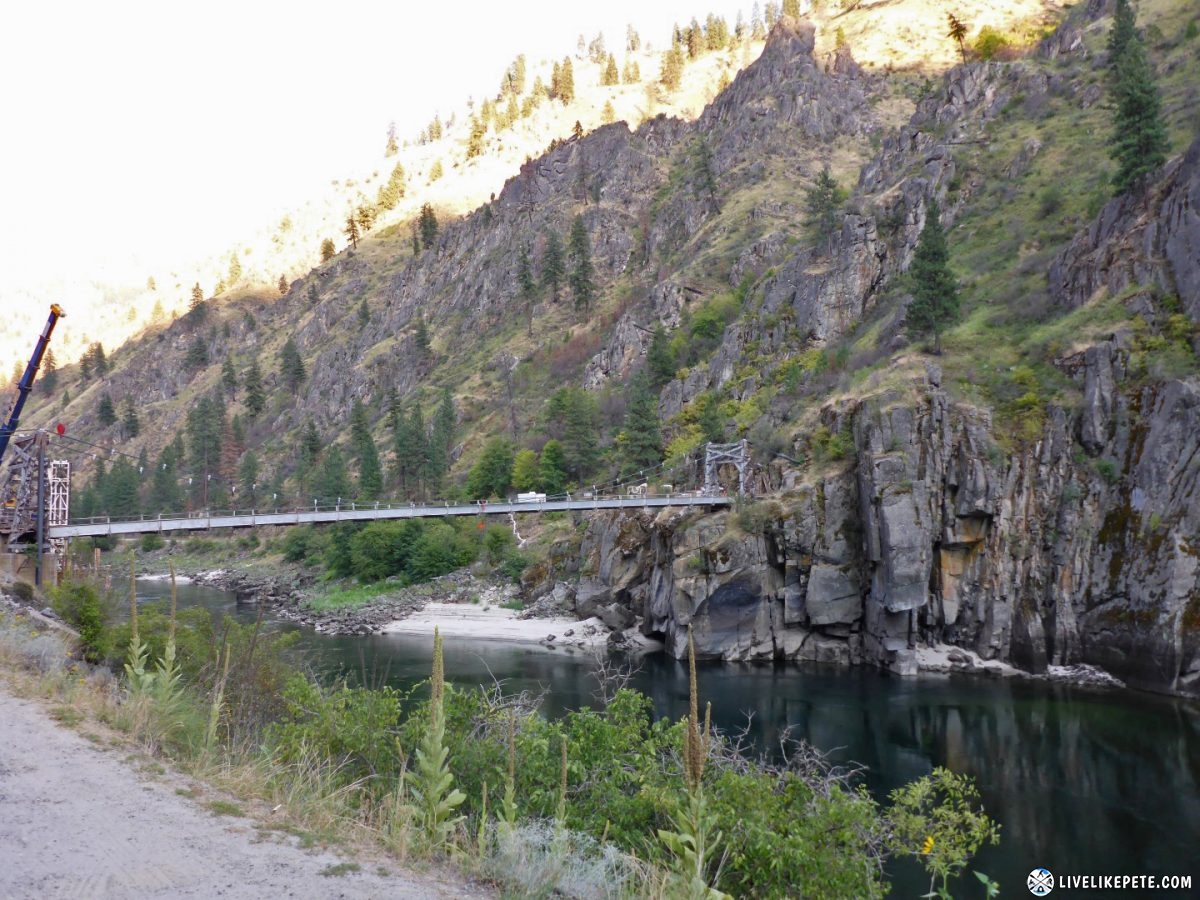 We found a spot on the river at a BLM Recreation Area, Island Bar. There were a few others nearby, but we were plenty spread apart so it worked out for us. There was no firewood, but the Salmon River was just steps away so that was great. It was also a free to use area. After our epic Deadwood camp the night before, our standards were high so Brian joked we needed to be 22 feet from the water for camp that night. It wasn't 22 feet, but it was walking distance so it worked.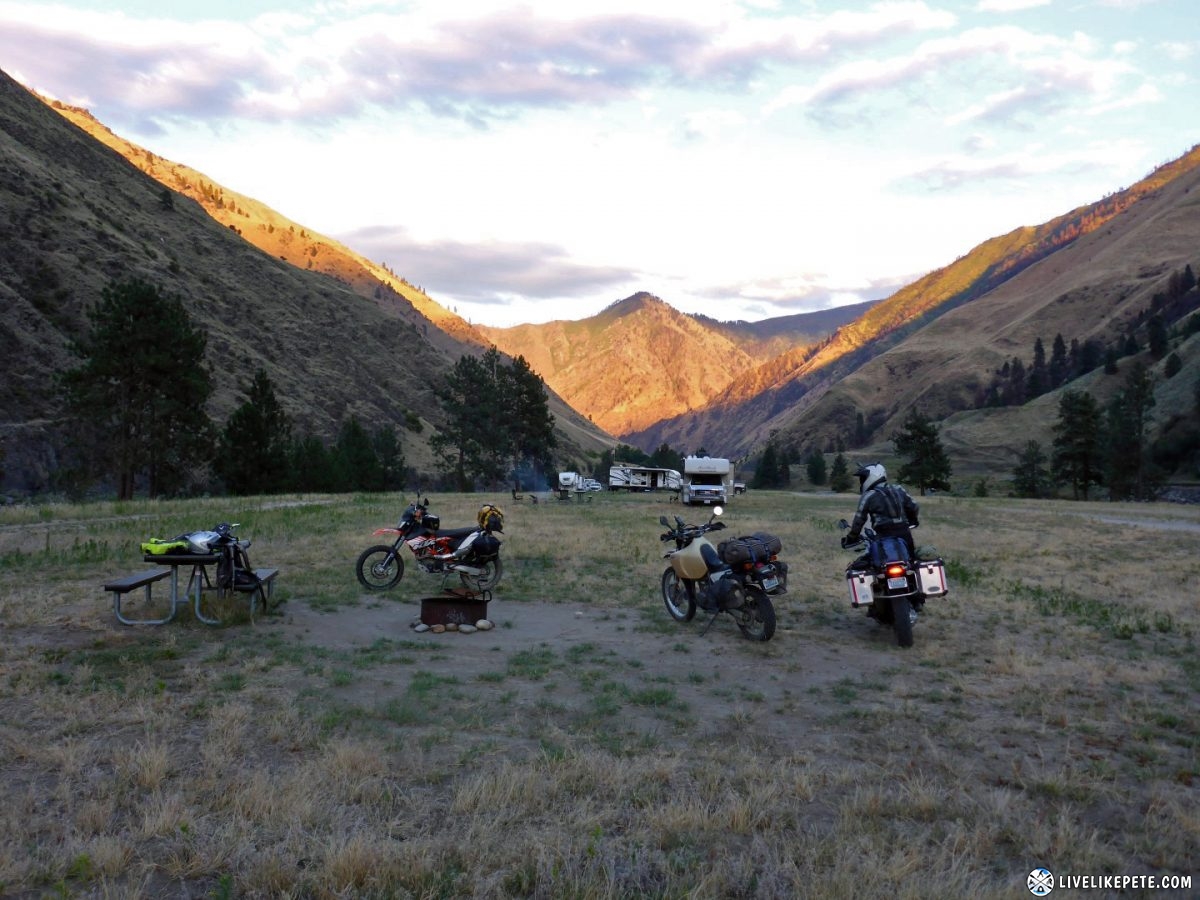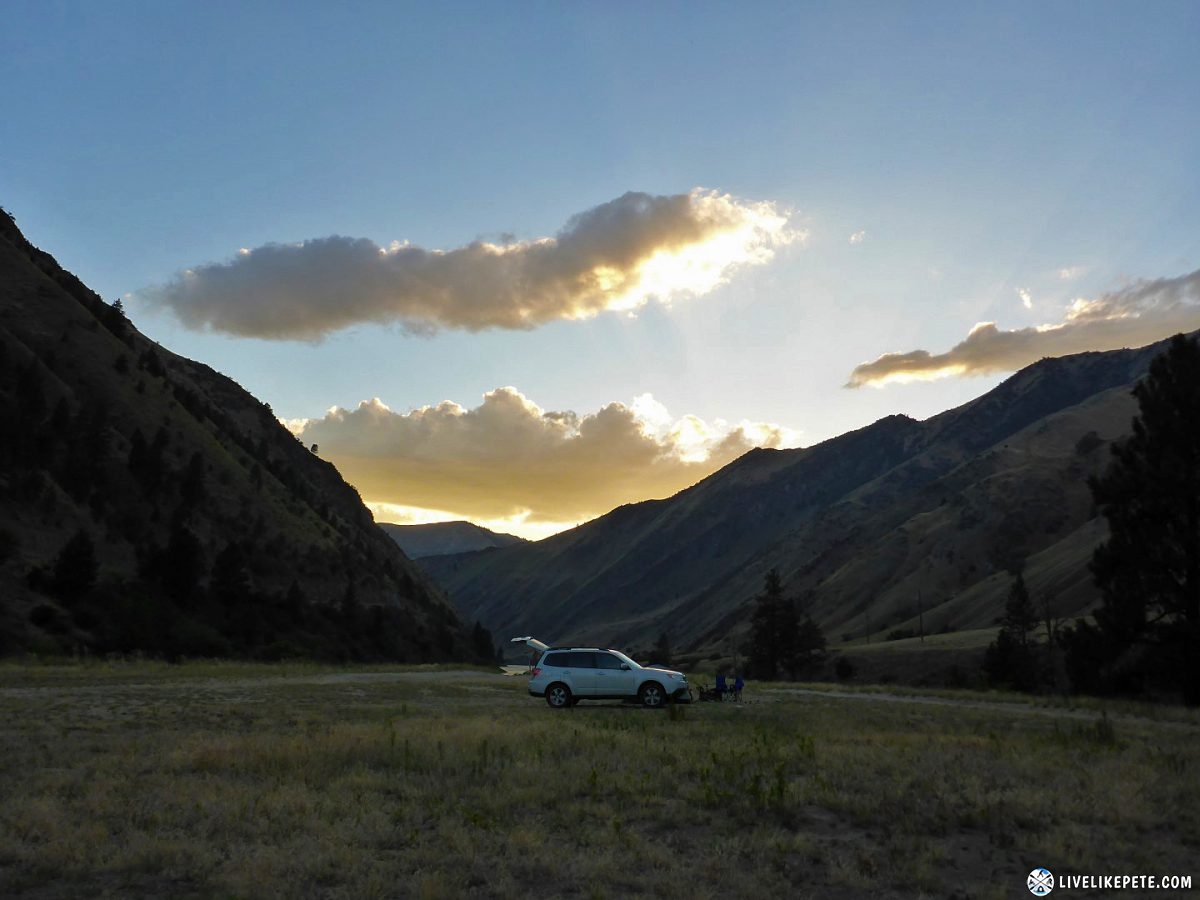 You can see the river behind Steve in this picture.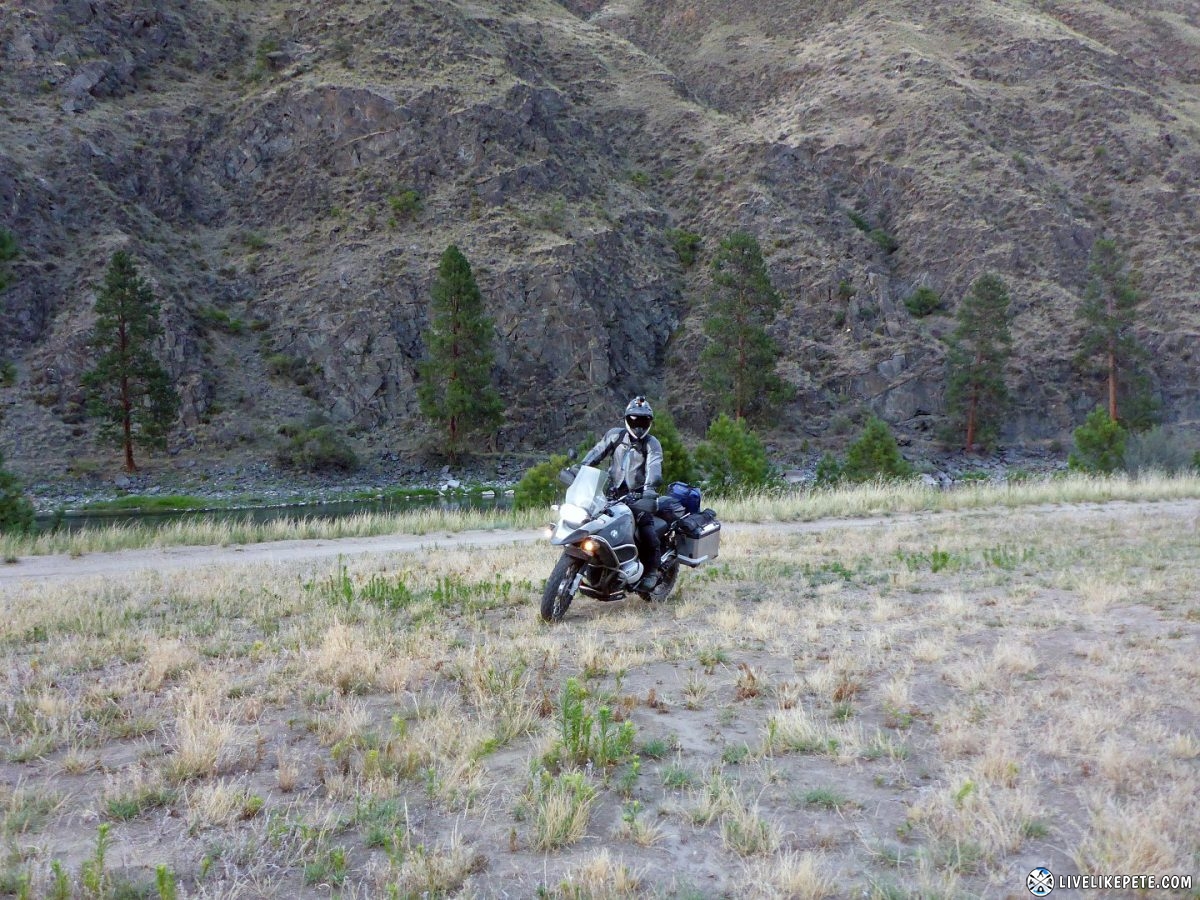 We got there just in time as the sun was going down. We set up camp, washed up in the river, then made some dinner. The picnic table was nice for sitting down and cooking.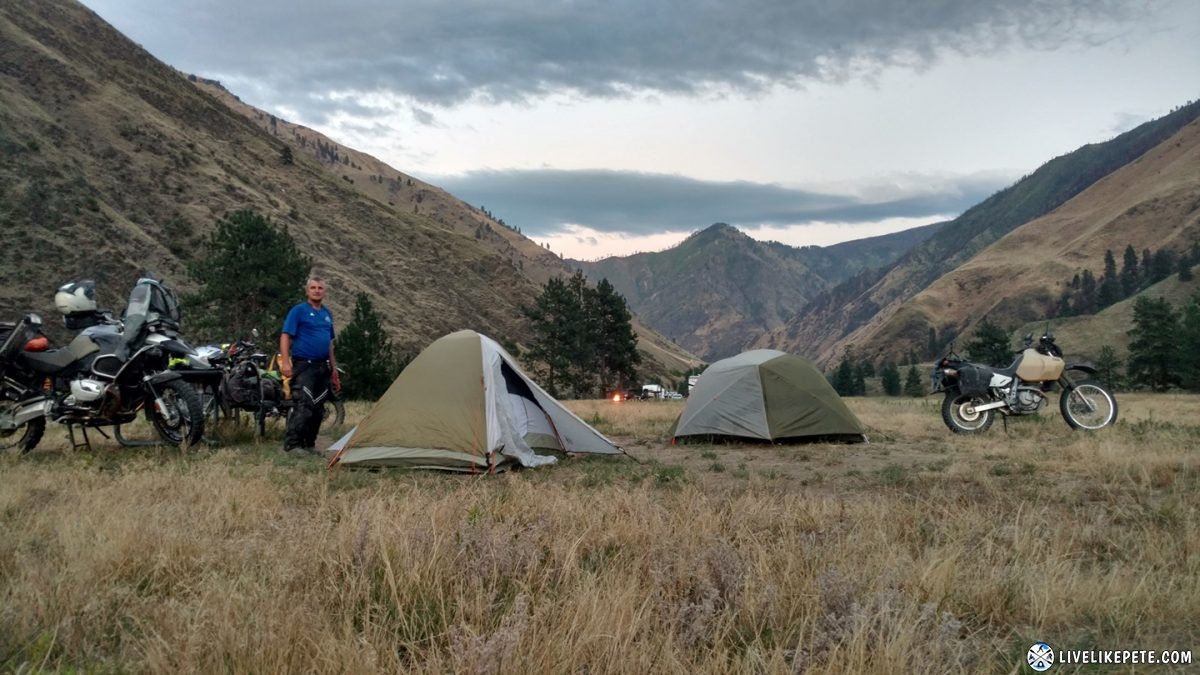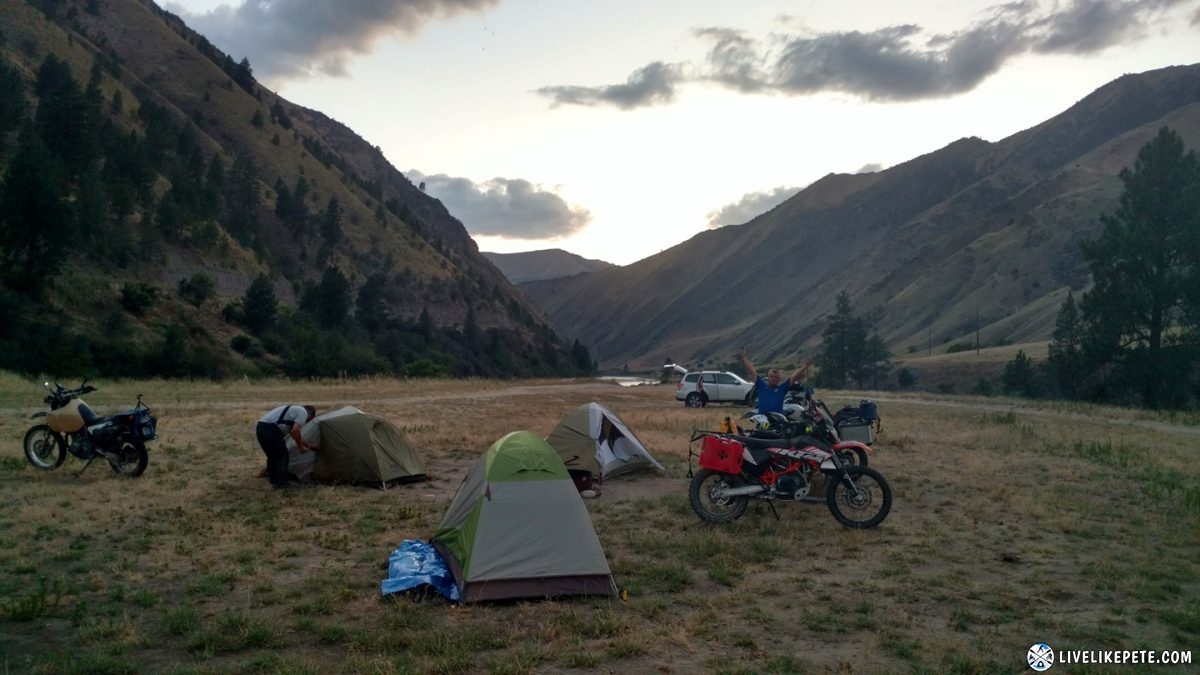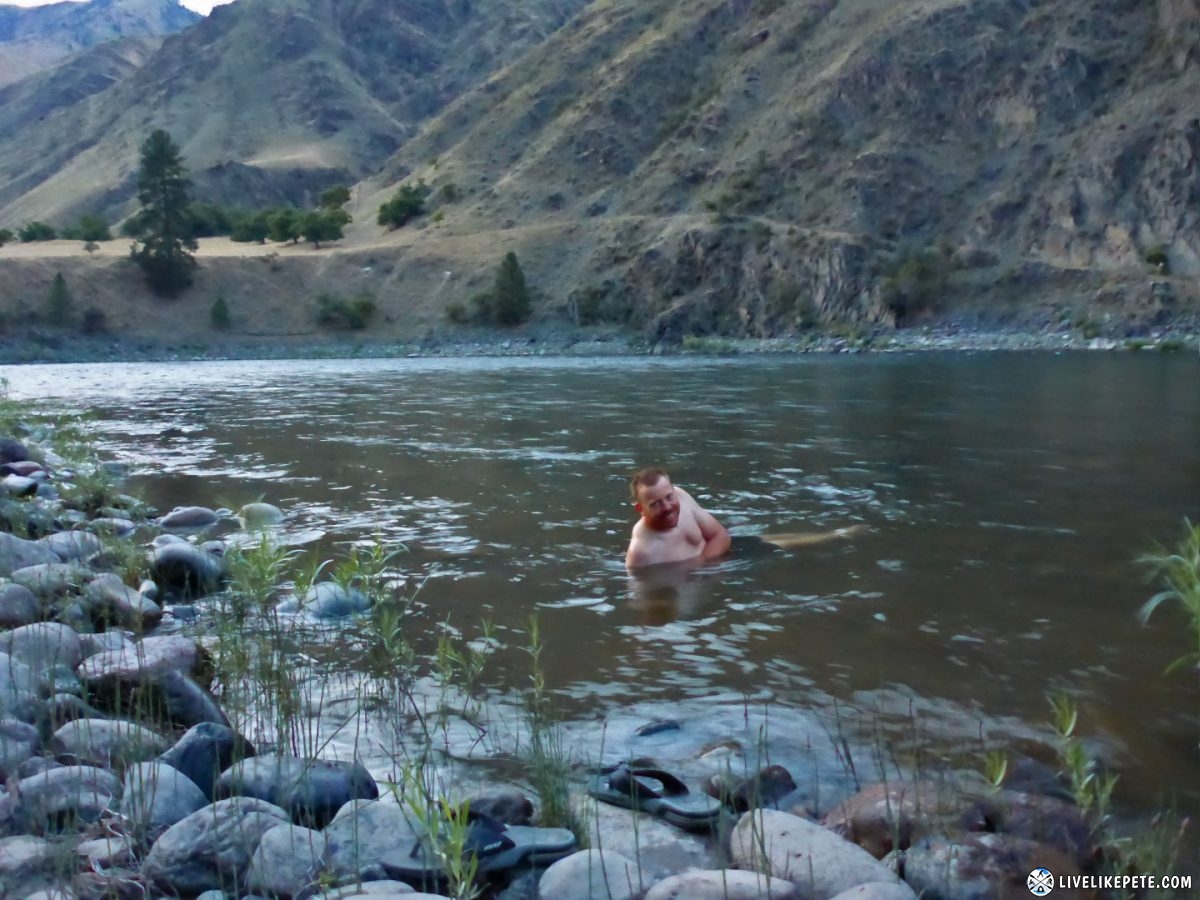 Steve made some brown rice, quinoa and Spam. I'm not much of a Spam fan, but it was really good. I went much simpler and had a can of Bumblebee Spicy Thai tuna and a tortilla which made for a tasty and filling tuna wrap. I also wanted to try one of my backpacking meals so I made my Beef Stroganoff and noodle meal. It was pretty good. I was surprised. I did find out, however, that you should always cut back a little on the recommended 1 3/4 cups of water. I had to drain some out because it was too much. Mental note for next time!
The moon was full and it lit the sky up as it poked out from behind the mountain around midnight.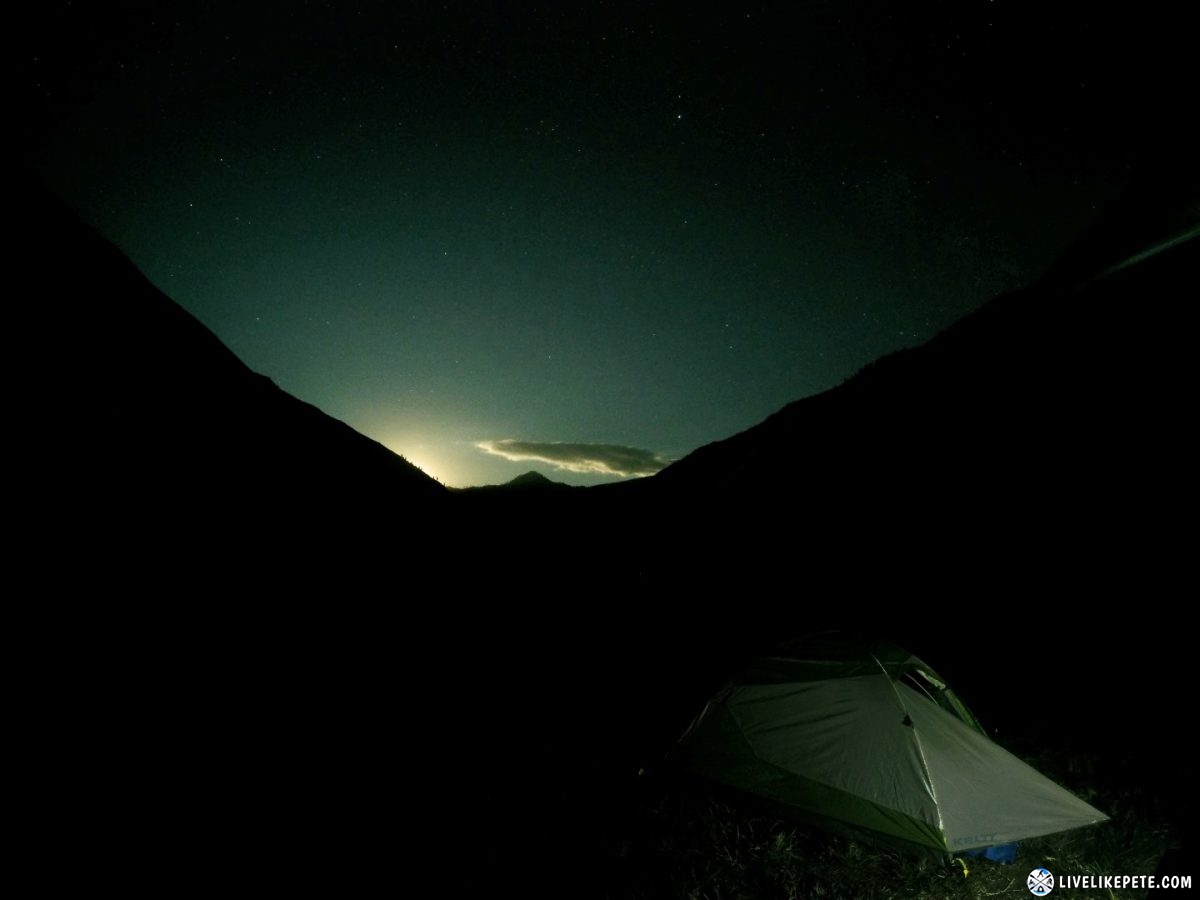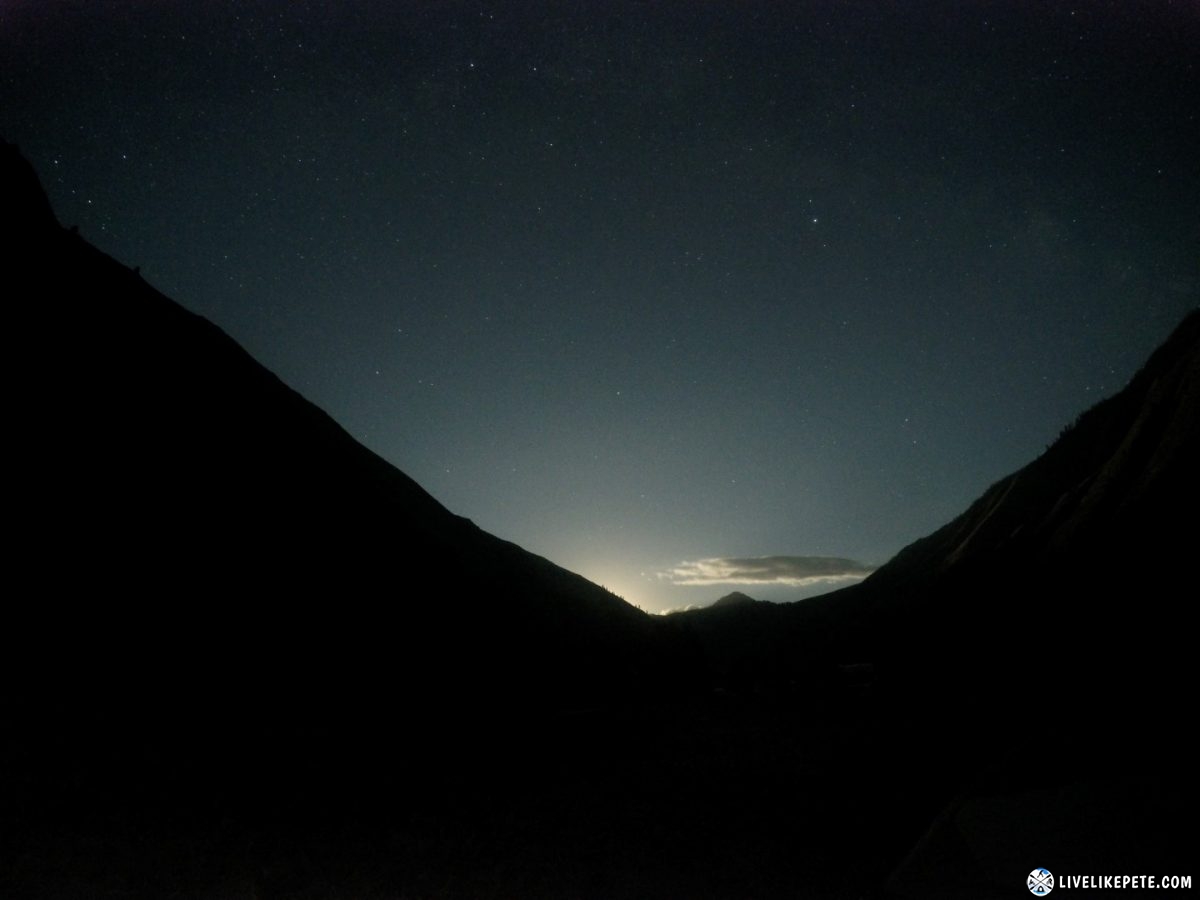 Brian called it a night and was already sawing logs when Steve and I walked down to check out the beach.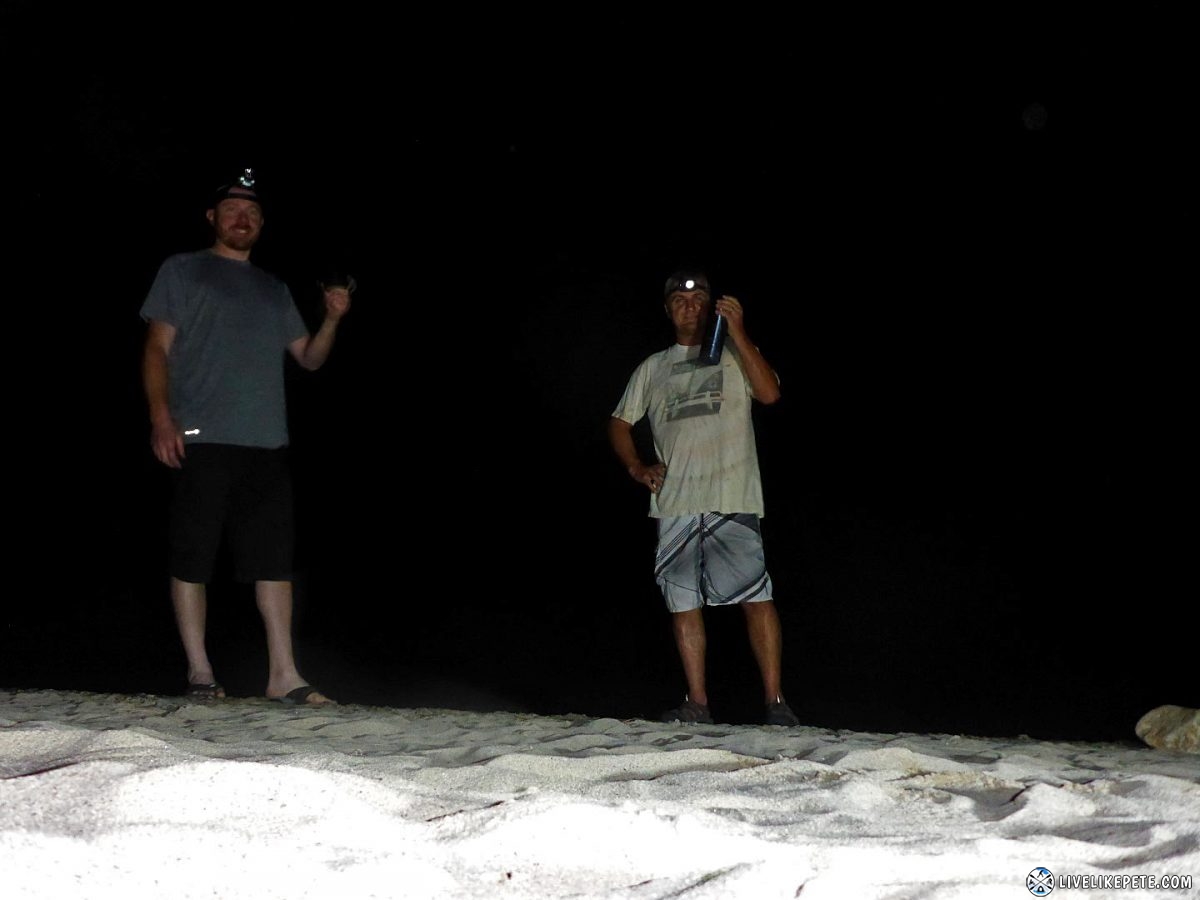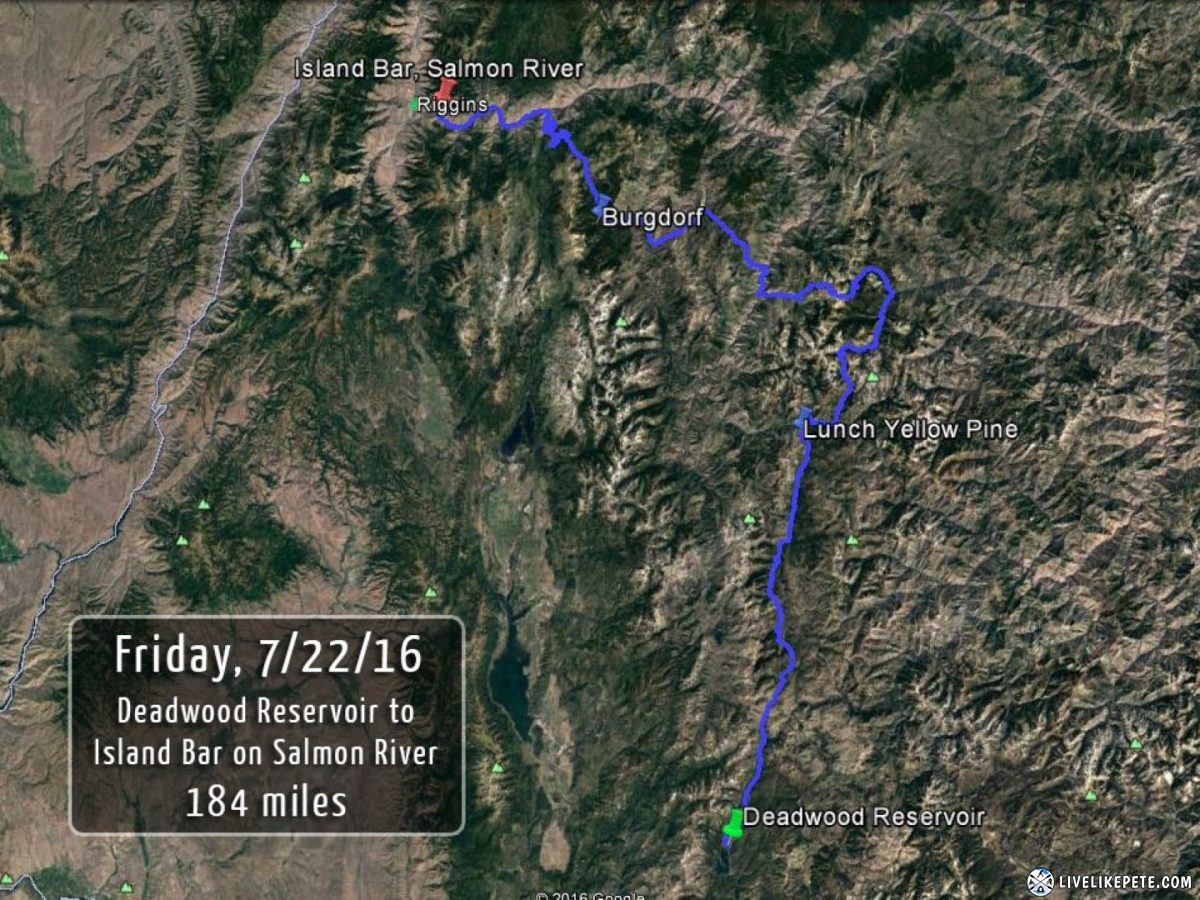 Interactive Map and GPX file download of Day 2
Download this track
Right-click HERE and [save link as] to your computer.
This will save the GPX file rather than a text file.
Comments
comments